We all know what Twitter is, and we're sure many of us have mixed opinions on it. It's like Marmite - you either love it or you hate it.
There are times where you can be sat for hours scrolling through the site and retweeting amusing posts, and there's also times where we have to immediately log off after seeing a controversial debate that has blown up way out of proportion.
There is one thing however, that Twitter never fails to provide - explosive celebrity feuds.
So we've had a look at some of the most explosive celeb twitter feuds you'd totally forgotten about...
Kim Kardashian West vs. Chloë Grace Moretz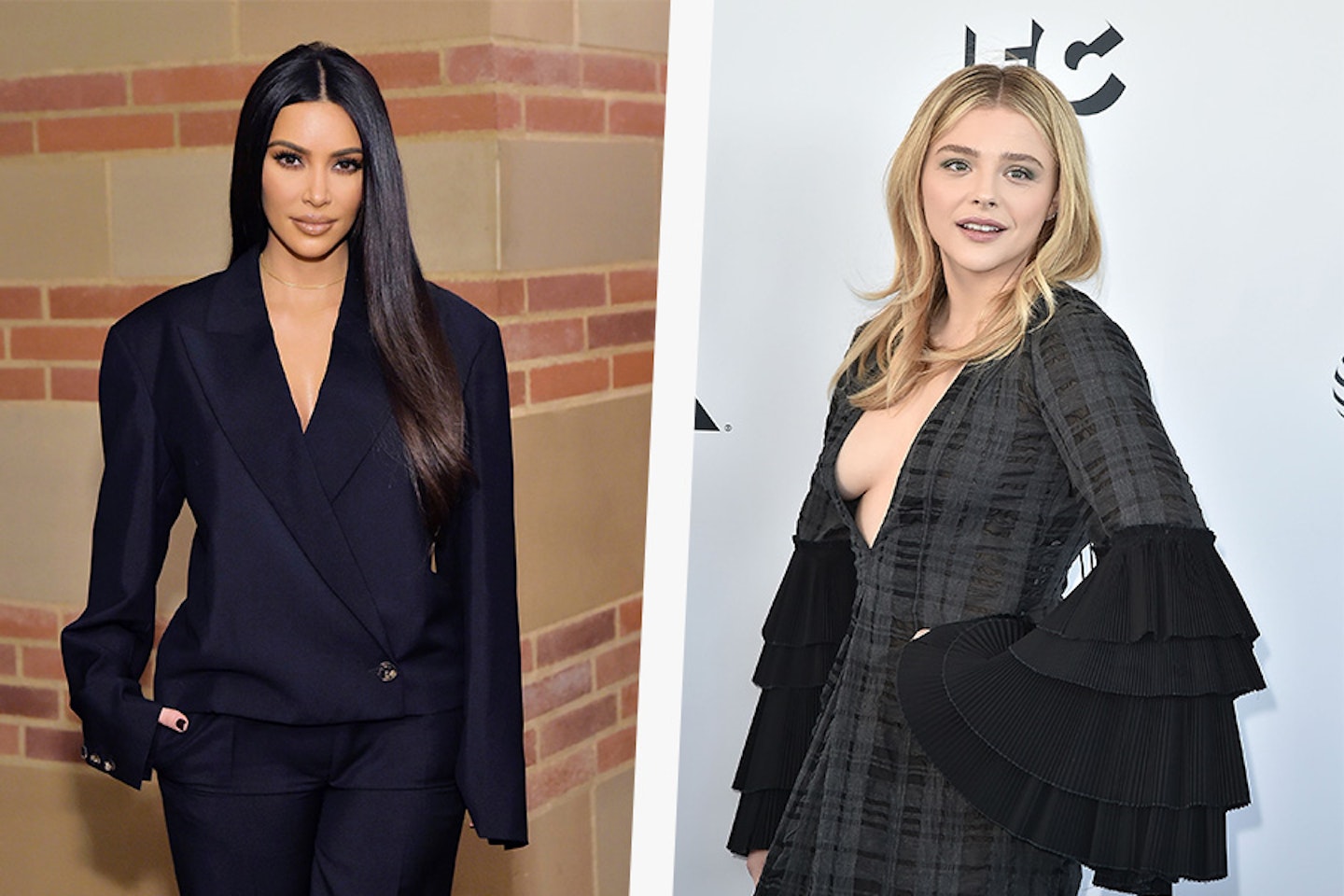 It all started in 2016 when Kim Kardashian West posted a nude mirror selfie to Twitter and captioned the snap, "When you're like I have nothing to wear LOL".
However it kicked off when actress Chloë Grace Moretz did not hold back on sharing her view and wrote, "I truly hope you realise how important setting goals are for young woman, teaching them we have so much to offer than-".
But, Kim K did not take this comment lightly...
She clapped back with a tweet claiming that nobody knew who the young actress was. And if there's one thing we all know, it's that Kim Kardashian is never afraid to clap back.
OUCH Kim.
We can only imagine what being shaded by THE Kim Kardashian West for the entire world to see, feels like...
Kim then pointed out that Chloe made the cover of Nylon's magazine in a fully nude shoot, so it was a tad hypocritical of her to try and shame her.
And then Chloe backtracked and defended herself, claiming that she didn't attempt to "slut-shame" Kim, but encouraged her to make better choices using her platform.
And if you thought that was it for Kardashian vs Moretz, you're wrong hun.
Back in 2016 when Kim Kardashian was feuding with Taylor Swift, Chloe kind of got herself involved when she tweeted, "Everyone in this industry needs to get their heads out of a hole and look around to realise what's ACTUALLY happening in the REAL world".
Khloé Kardashian wasn't having any of it and jumped to her sister's defence, by tweeting a pic of what a blonde girl bent over in a bikini showing off her backside. KoKo captioned the snap, "Is this the asshole you're referring to?"
Chloe was then quick to speak up and write, "Fact check, first photo is me filming my movie Neighbors 2, the second photo is some girl who was wrongfully photographed."
Could this squabble be any messier?
Later in 2017, once things had simmered down, during an interview with Variety, Chloe brought the feud back up again and said, "It's sad for [Kardashians] to reach out like that to a young woman"
We are keeping a close eye on these two!
Ariana Grande vs. Piers Morgan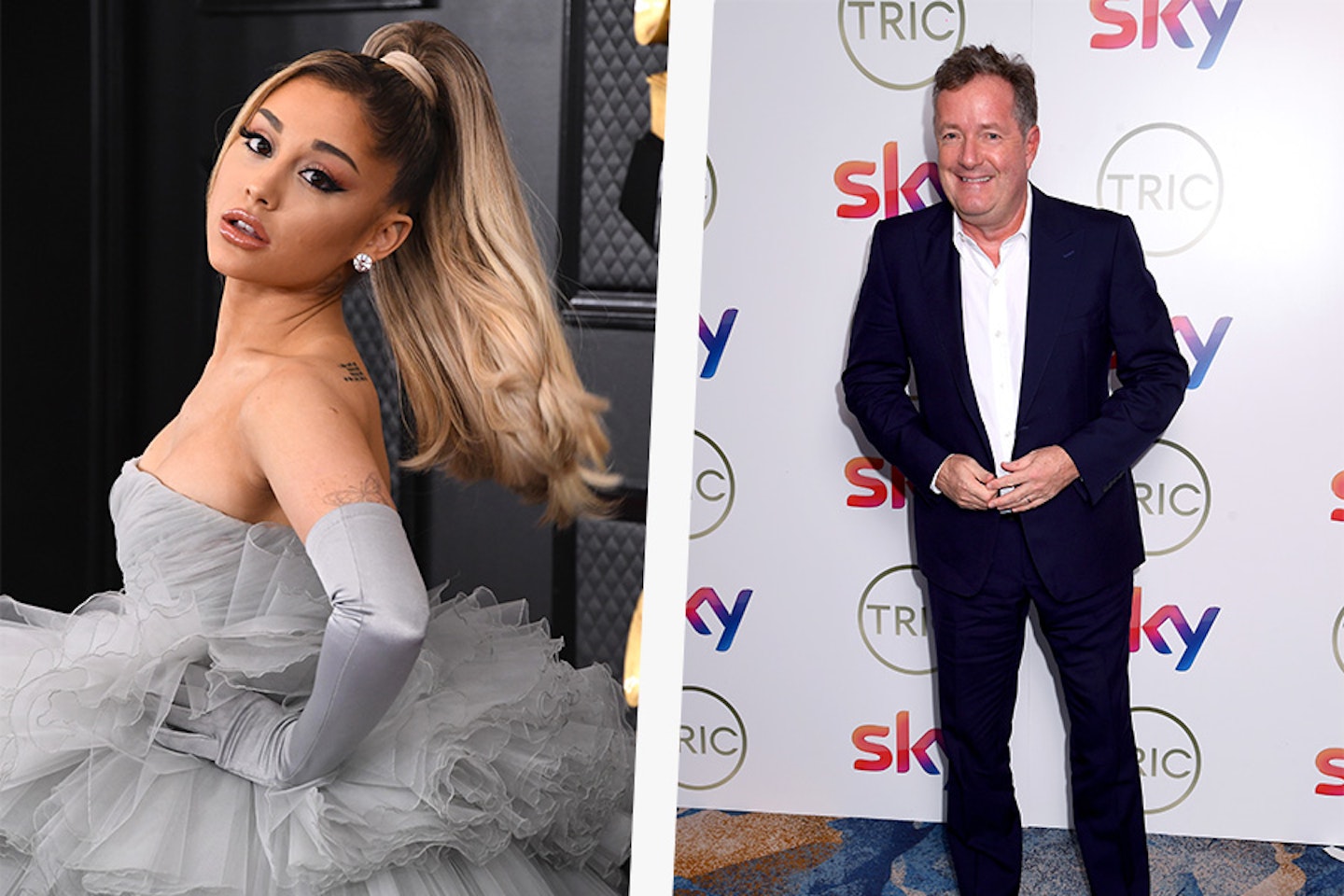 The feud between global popstar Ariana Grande and Good Morning Britain presenter Piers Morgan got fierce in 2018 when Ari's mum Joan Grande went at it over Piers's comments on female artists and nudity.
It all started when Piers Morgan took to twitter to accuse Little Mix of stealing a photo idea from the Dixie Chick's famous Rolling Stones cover.
Ari's mum Joan, soon took to twitter to defend Little Mix and called Piers out by saying, "Honestly what is wrong with you @piersmorgan? Didn't your mother ever teach you, if you have nothing nice to say, don't say it! You came for @TheEllenShow yesterday which was disgraceful, she is an angel. @LittleMix today, did you ever hear of paying homage? And... well never mind".
Piers then responded to Ari's mum by explaining that he was taught "to speak his mind and express his opinions".
He then went on to say, "As for Little Mix, I'd just prefer they use their talent to sell records rather than their nudity. As your own daughter does...!"
Ariana was real quick to step in and defend herself and all female artists but Piers hit back, thanked Ari for her words, but warned that he would continue to call woman out if they used nudity in their work.
Their feud continued with Piers admitting he criticises everyone regardless of their gender and Ariana sharing a photo of the TV presenter posing nude while promoting a new column he had written.
And in their final moments of feuding, Piers asks Ariana if his nude photo was her screensaver but she savagely responded and said, "Nah and it ain't your girls' either, I can promise you that".
However fast forward a year and the two appeared to put the past behind them after they bumped into each other at a LA restaurant and had a "chat"
Lily Allen vs. Katie Hopkins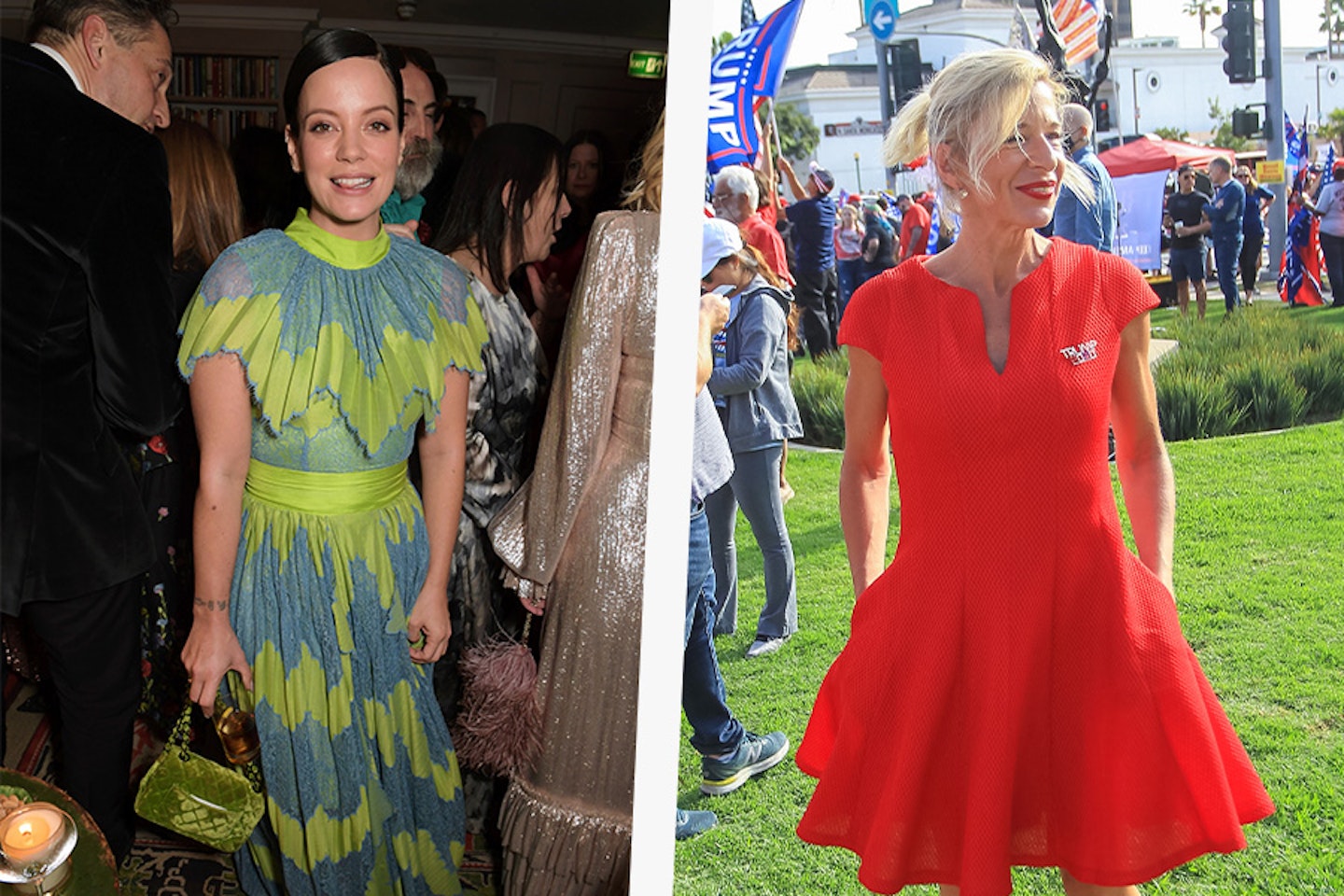 Lily Allen and Katie Hopkins are known for their public twitter spats.
As individuals, they don't take crap from anyone and will ALWAYS speak their mind.
However this argument kicked off in 2016 when Lily took to Twitter and claimed to have "accidentally" bumped into Katie's car whilst doing the school run, despite the fact that they both live hours apart.
Lily tweeted, "By the way @KTHopkins you parked outside my house yesterday, I think I might have knocked your bumper, soz".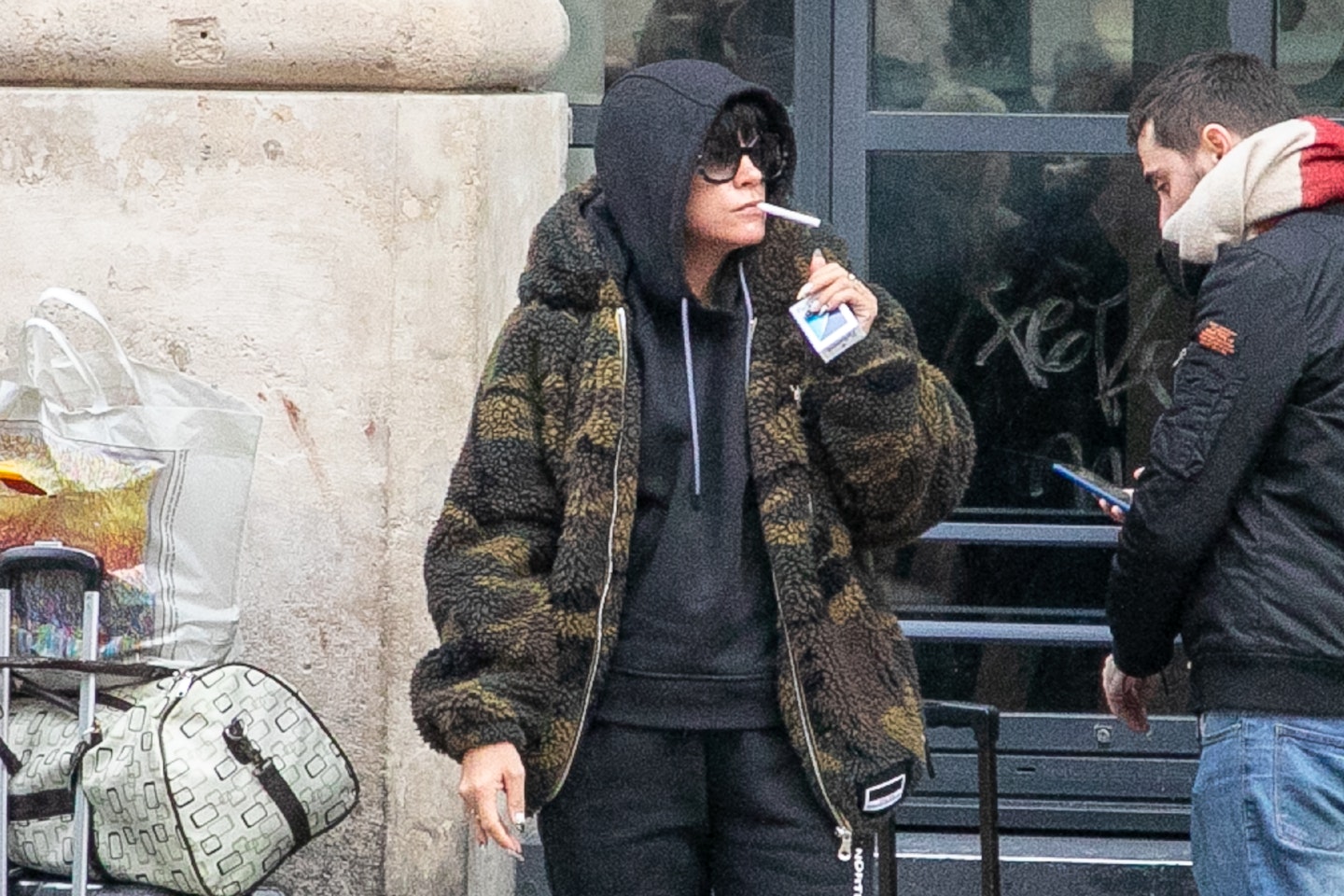 Katie didn't take kindly to the comment and hit back at the 'F-ck you' singer, "Respectfully, I don't park. I valet. And my driver knows better than to leave cars outside the homes of hookers," she replied.
Yikes!
Never one to shy away from a heated debate, Lily continued the argument by writing, "@KTHopkins respectfully, I'd rather be a sex worker than a Daily Mail columnist troll any day."
She then mentioned Katie's brain surgery by writing, " Couldn't they have taken the massive t--t part out of your brain while they were in there. It's your USP though I guess."
Lorde vs. Diplo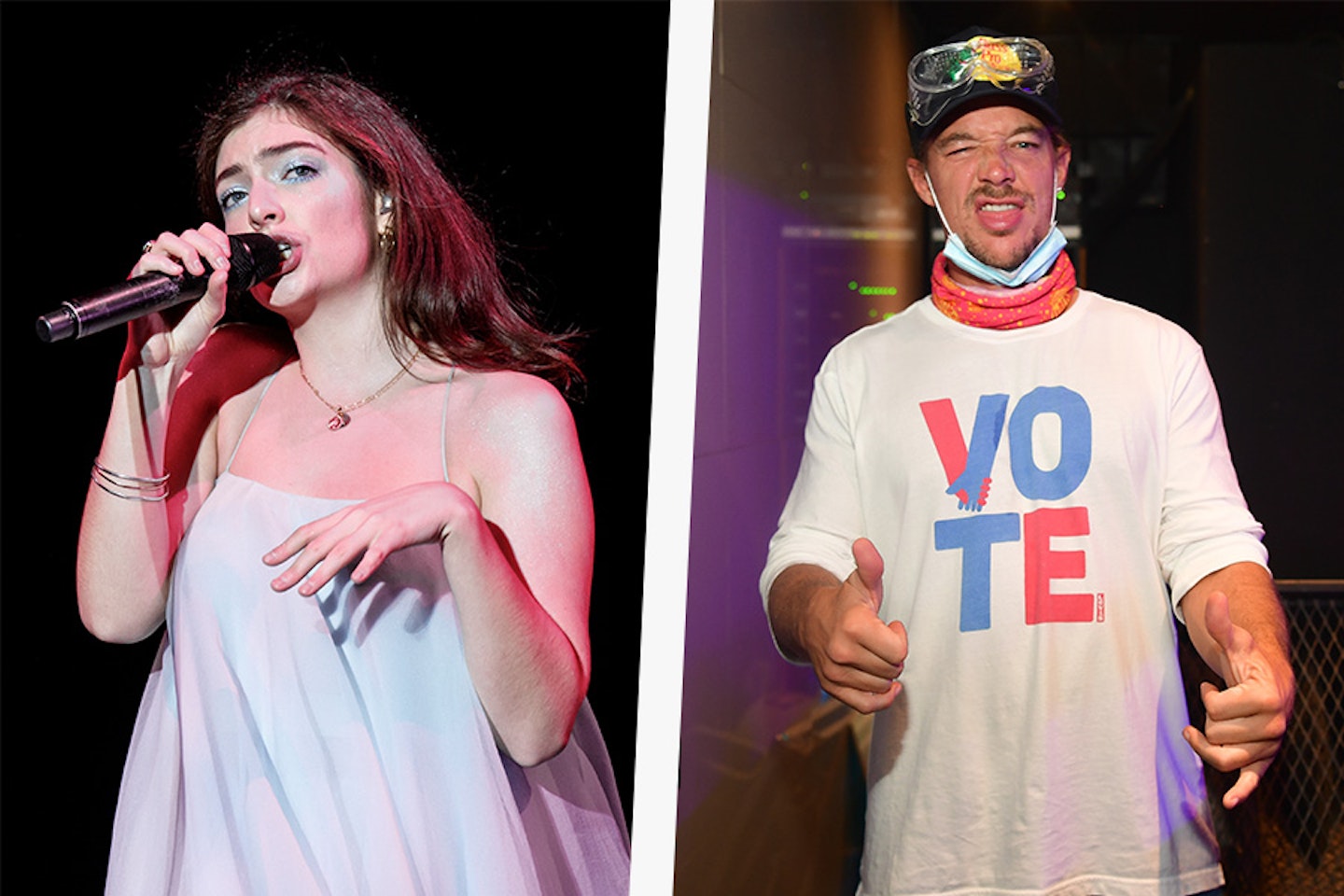 In 2014, Diplo randomly wrote a tweet out which said, "Someone should make a kickstarter to get Taylor Swift a booty".
We're really not sure what Diplo thought he was doing, perhaps it was an attempt at a mean joke? We're still unsure...
He then tweeted a link for a crowdfunding site which accepted donations for the cause...
Obviously Taylor Swift fans were straight on it, defending their beloved and had the same mindset as everyone else tbh - err, WTF.
After he insulted Swifties - which didn't bode well with anyone - Taylor's BFF Lorde got involved and tweeted, "@diplo should we do something about your tiny penis while we're at it hm".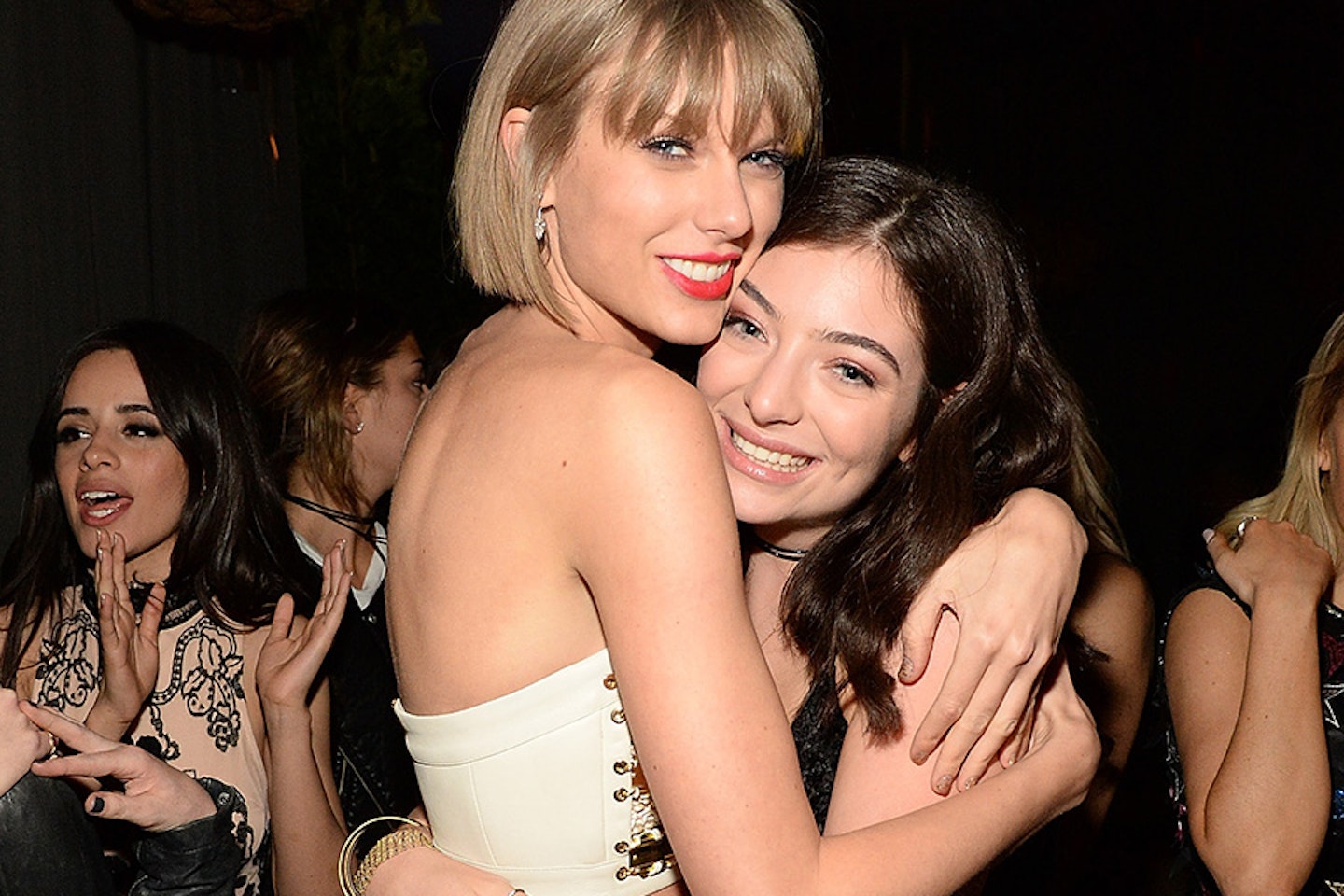 BOOM! (Mic drop)
Now that's a BFF Taylor is certainly lucky to have.
Also quick reminder: in 2014, Diplo was dating Katy Perry on/off, and it was no secret that Katy and Taylor had "Bad Blood" back then. So, for all we know, maybe this was nothing, but Diplo trying to take 'sides' with his at the time girlfriend?
John Cleese vs. Piers Morgan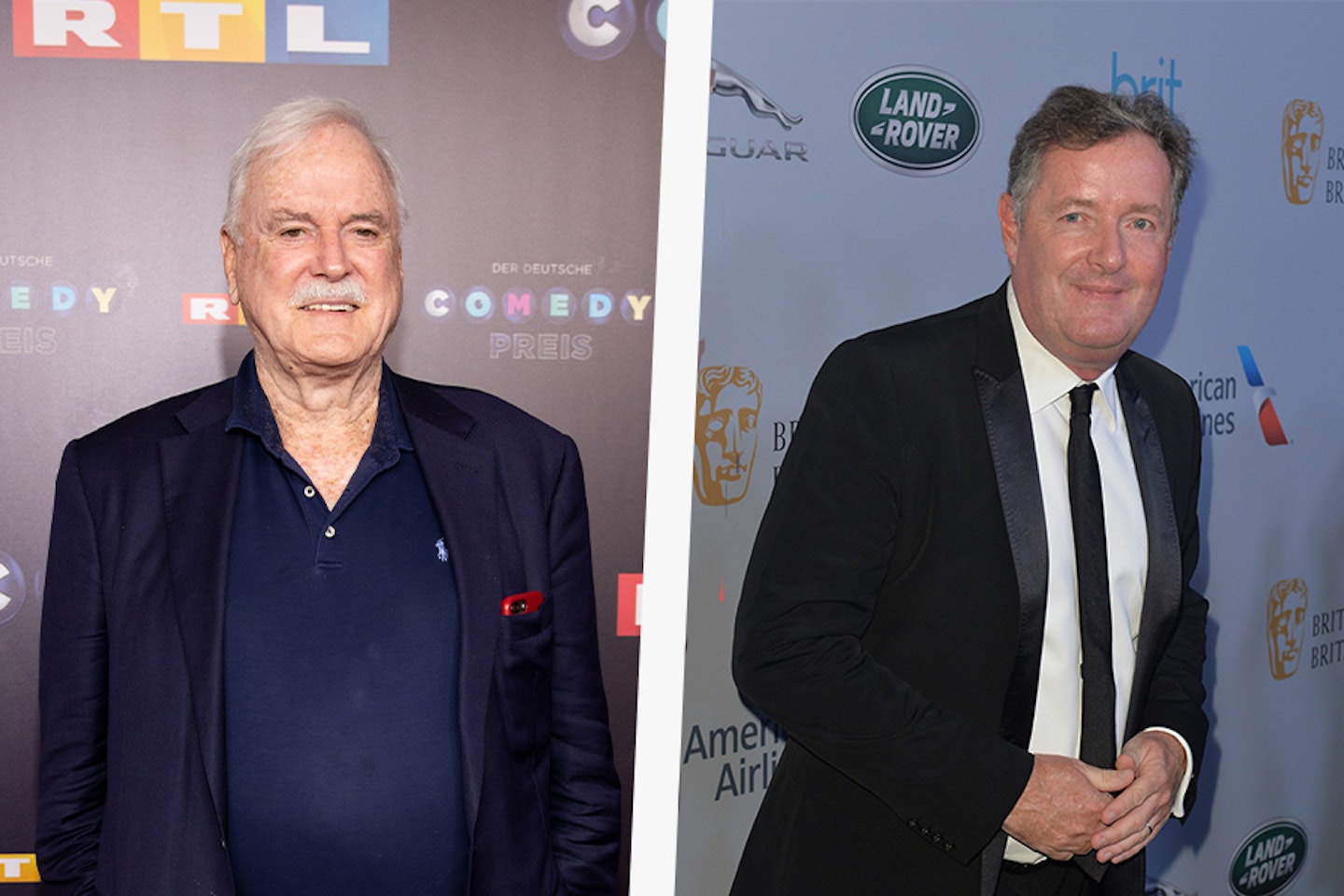 These two had their nasty online Twitter spat back in 2015 which was fuelled by Piers Morgan's article written about the crossing of paths they had in New York.
In the article, Piers recalls sitting in his favourite New York restaurant where he "turned to [his] left and spied Cleese at the very next table, literally two feet away".
Piers went on to explain that "For one tiny nanosecond, our eyes locked in mutual shock, then equally mutual withering contempt."
They apparently "avoided all form of contact – physical, verbal, visual" and Piers described the moment as being "magnificently British".
When Co-founder of Monty Python, and BAFTA Award-winning actor John Cleese got wind of the article, he didn't hesitate to tweet to his millions of followers saying "Piers Morgan writes that I didn't recognise him in a restaurant in New York. I did. I just didn't want to speak to someone I truly detest."
And I oop...
Piers didn't hold back before lashing out on Twitter writing, "No @JohnCleese, I said you DID recognise me & the revulsion was mutual... PS. When are you going to be funny again? It's been a few decades".
If there's one thing we know for sure, it's that Piers does NOT hold back when it comes to unnecessary comments.
Their argument continued with John asking the GMB presenter when he's going to be "talented" and Piers hit back and threw shade at his ex wives.
😱 😱 😱 That's gotta sting.
John then tweeted that his sassy tweet was his "most successful" and Piers' final tweet on the matter was, "Glad I was able to make you popular again."
Check out: Kayne West and Kim Kardashian's feud with Taylor Swift from where it all began...
Kim Kardashian and Kanye West's feud with Taylor Swift timeline (slider)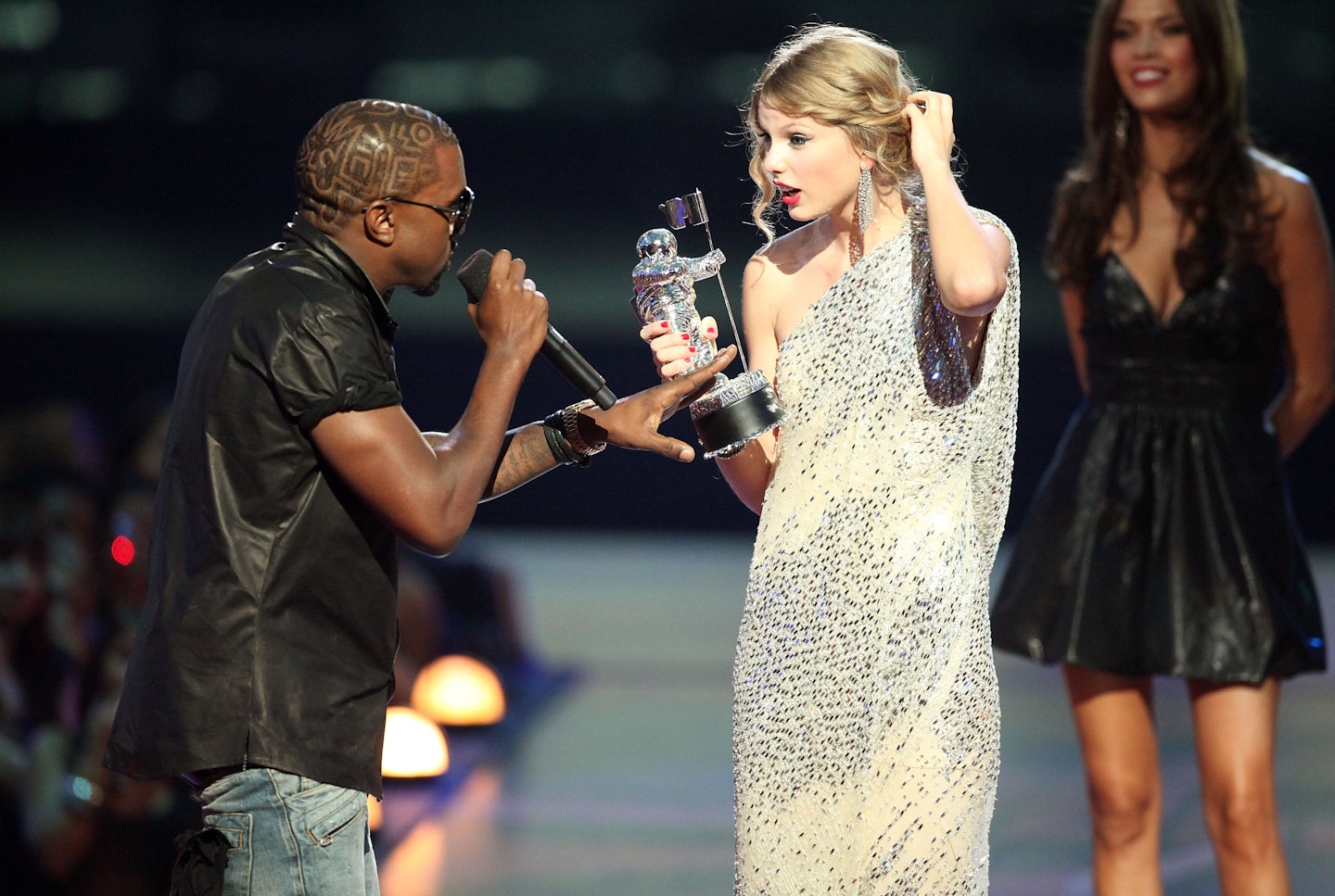 1 of 22
CREDIT: Getty
September 2009
Ah, the fateful moment where it all began. Taylor Swift, then 19, was accepting the Best Female Video award at the MTV VMAs when Kanye West jumped on stage to insist Beyoncé, who looked horrified in the audience, should have won the award."Yo, Taylor, I'm really happy for you and I'ma let you finish, but Beyoncé had one of the best videos of all time. One of the best videos of all time!" shouted Kanye as poor Taylor seemed on the verge of tears.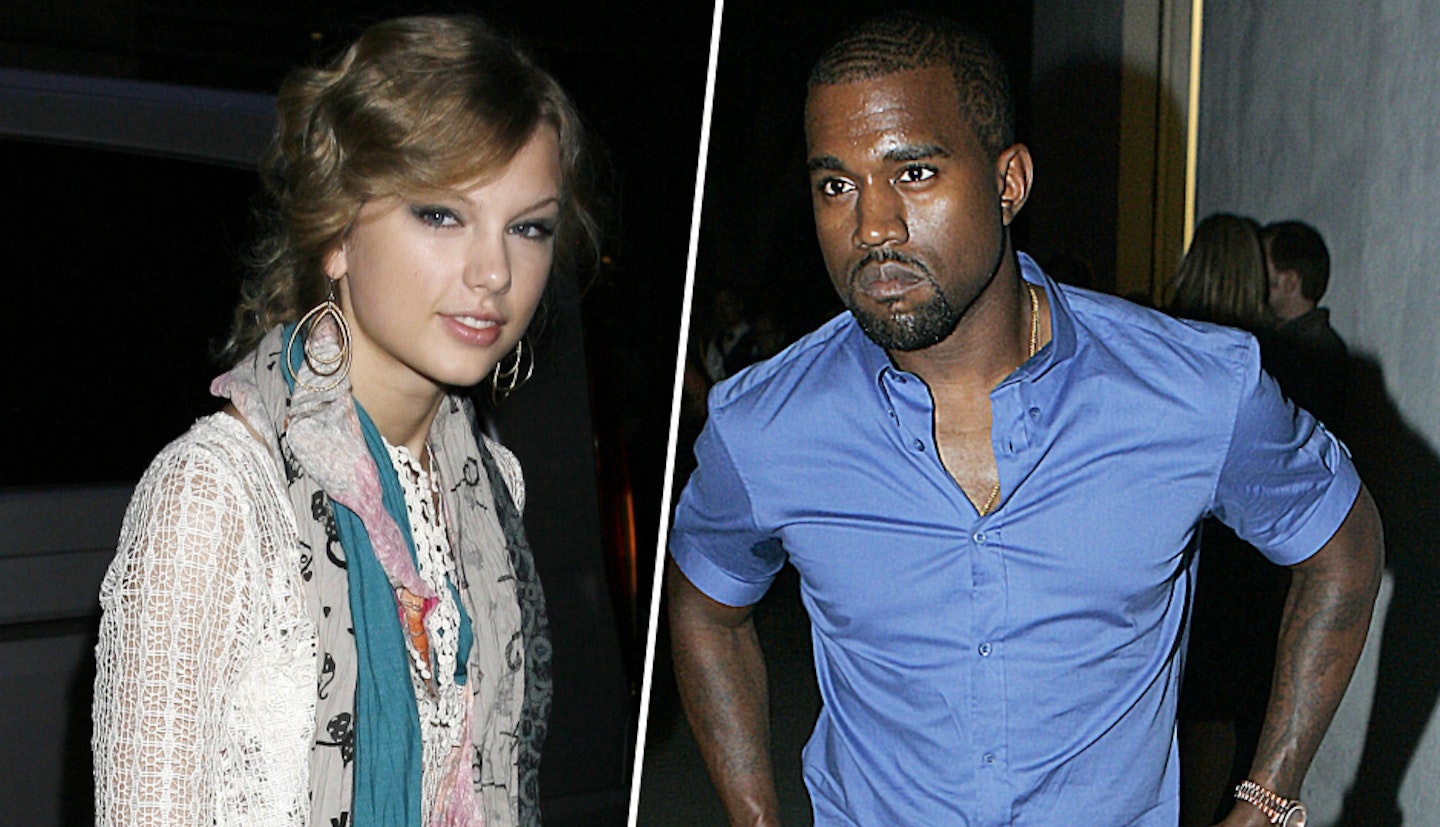 2 of 22
CREDIT: Getty
September 2009
After criticism from the likes of Katy Perry and Barack Obama (who branded him a jackass), Kanye calls Taylor to issue a personal apology."He was very sincere in his apology, and I accepted that apology," she says after their conversation.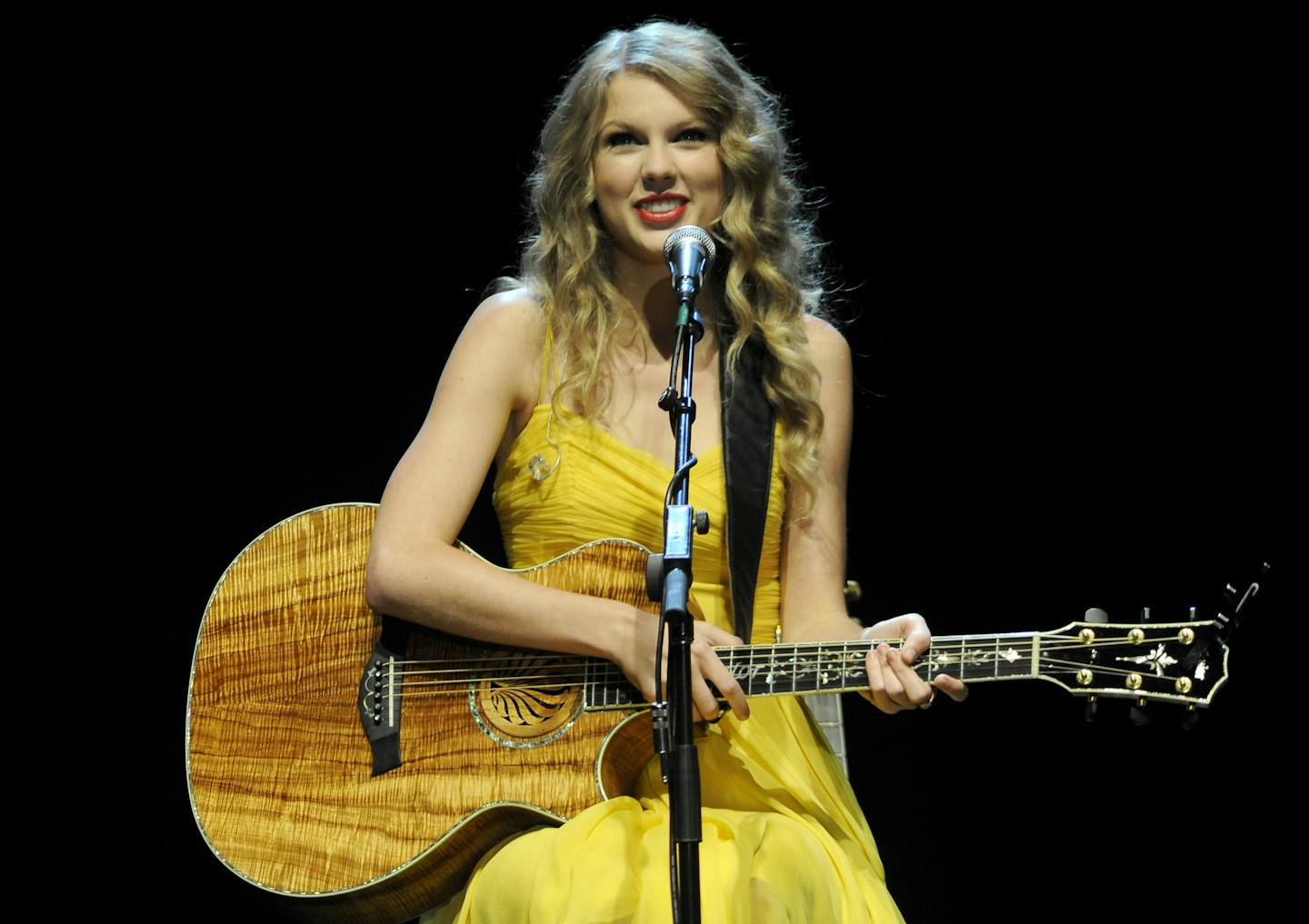 3 of 22
CREDIT: Getty
September 2010
Marking exactly one year since Kanye's stage invasion, Taylor performs her song Innocent at the 2010 MTV VMAs. She sings the lyrics, "What you are is not what you did. You are still an innocent," which many take as a subtle dig at the rapper.Kanye later backtracks on his apology and claims Taylor is exploiting the incident for publicity.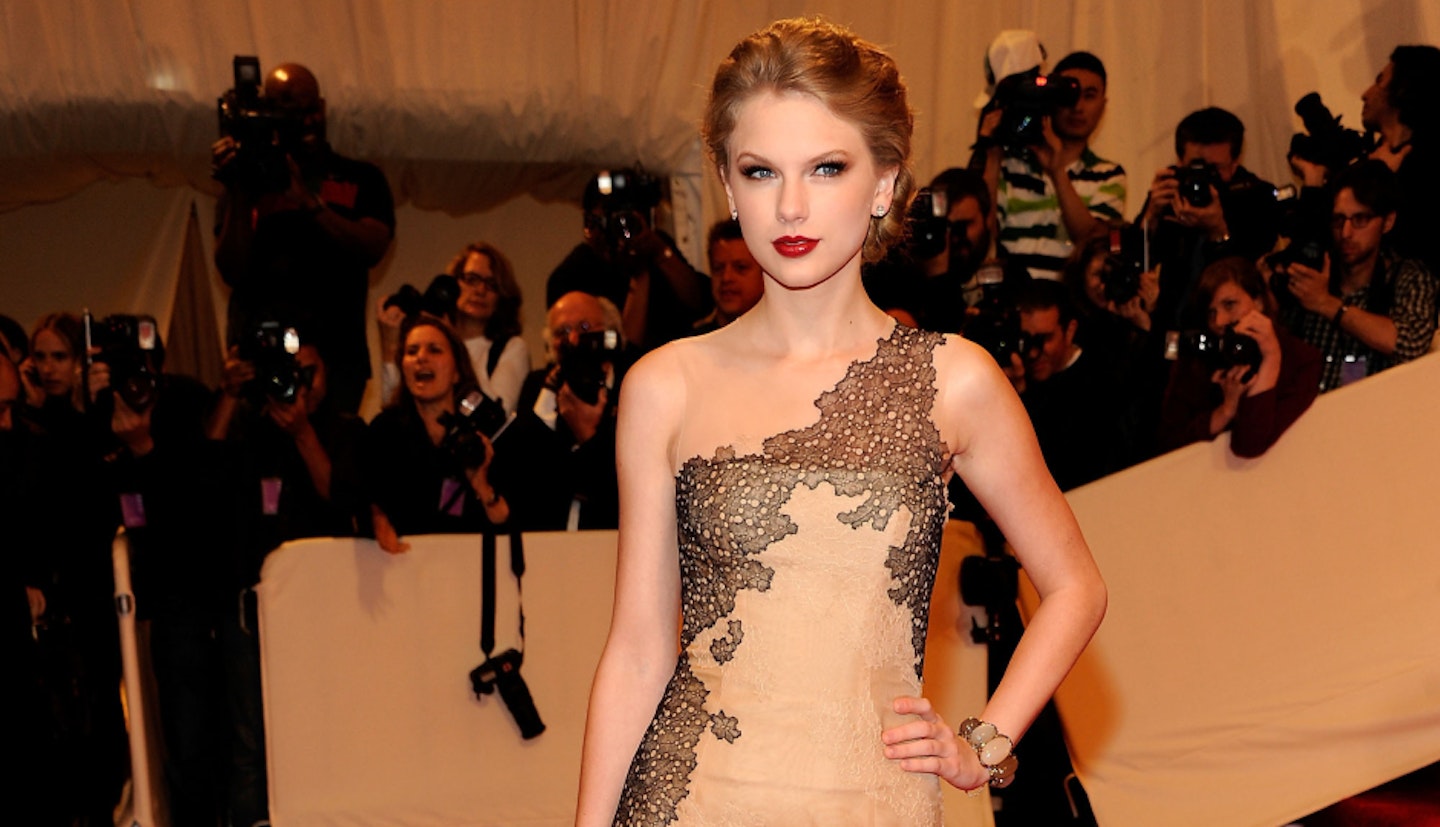 4 of 22
CREDIT: Getty
May 2011
Taylor and Kanye appear to have buried the hatchet after they're spotted high fiving each other at the Met Gala.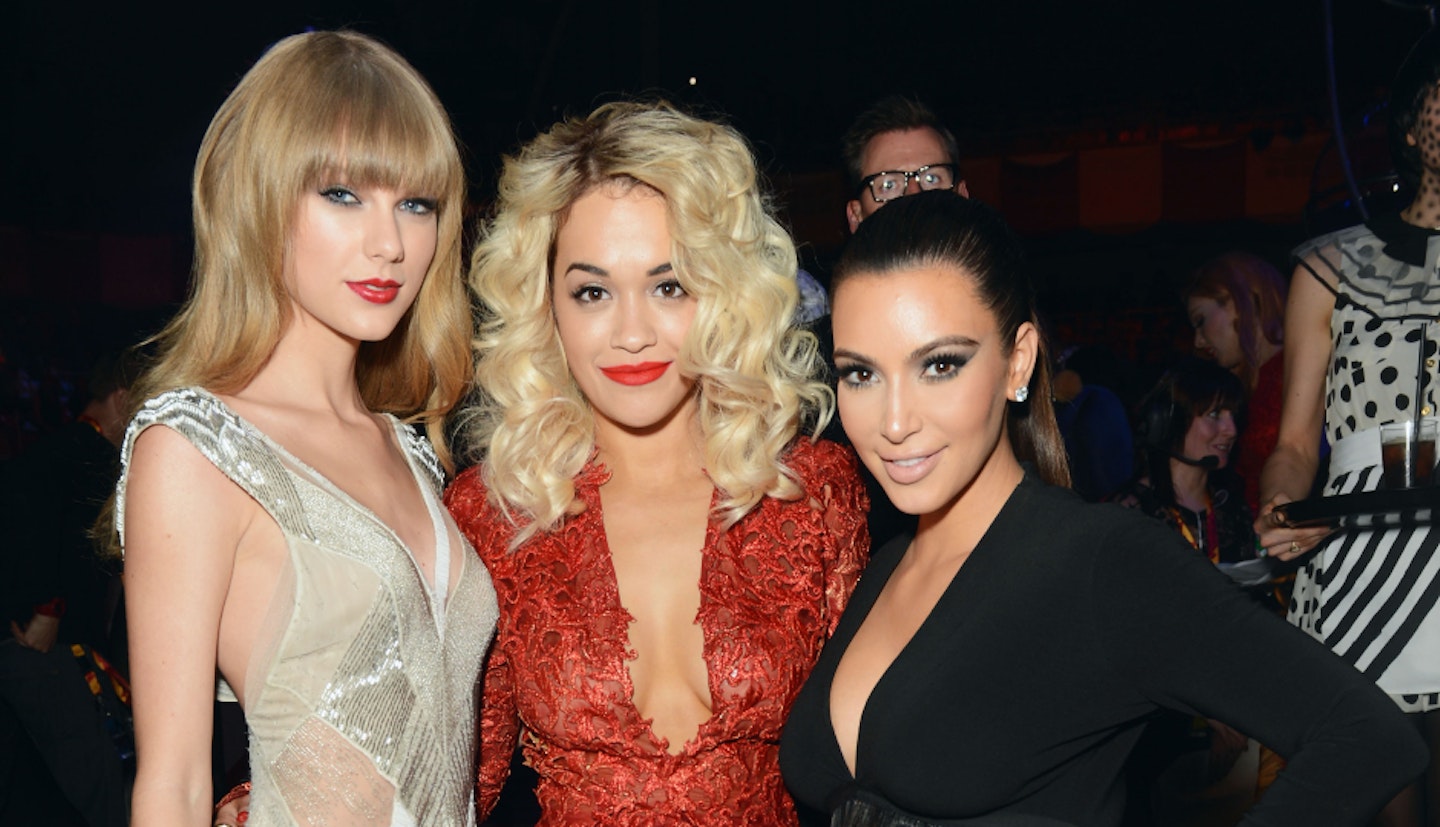 5 of 22
CREDIT: Getty
November 2012
Just weeks after Kanye proposes on her 33rd birthday, Kim Kardashian parties at the MTV EMAs in Frankfurt, Germany with Taylor and Rita Ora, who was dating her brother Rob at the time.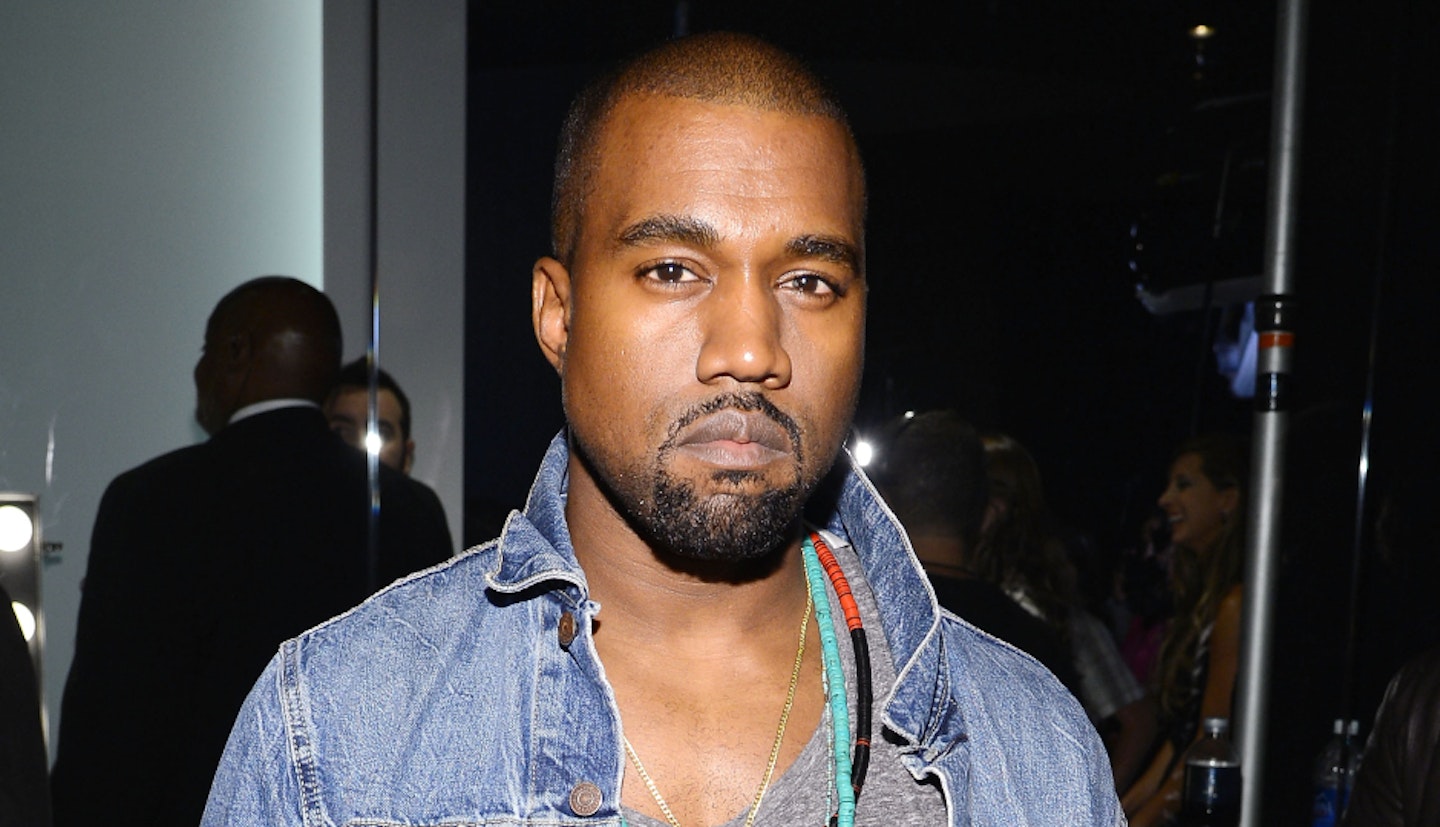 6 of 22
CREDIT: Getty
June 2013
In an interview with Rolling Stone, Kanye does a full 180 on his apology to Taylor and admits he only said sorry due to peer pressure. He tells the magazine he "doesn't have one regret" about the 2009 VMAs incident. Savage.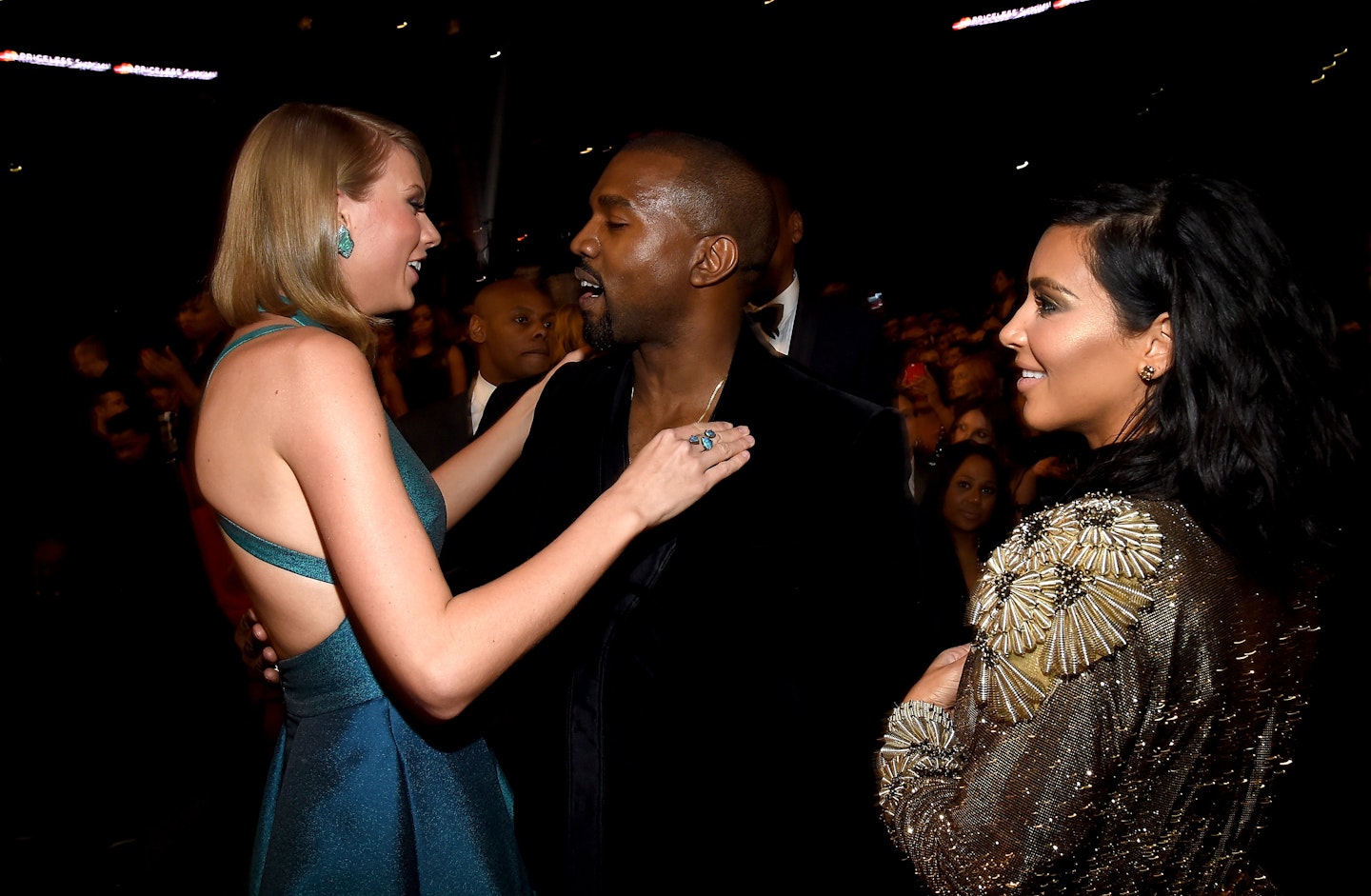 7 of 22
CREDIT: Getty
February 2015
Oh, how times have changed. Kanye and Taylor's relationship has never been better and they put on a very public display of friendship at the Grammys, where they pose for several photos with Kim and Jay Z.There's even talk of a collaboration between the pair, with Kanye telling radio host Ryan Seacrest, "She wants to get in the studio and we're definitely going to go in."
8 of 22
CREDIT: Getty
February 2015
KimYe and Taylor are reunited just two weeks later at the BRIT Awards where Kanye debuts his track All Day. New BFFs Kim and Taylor are spotted dancing together during the performance.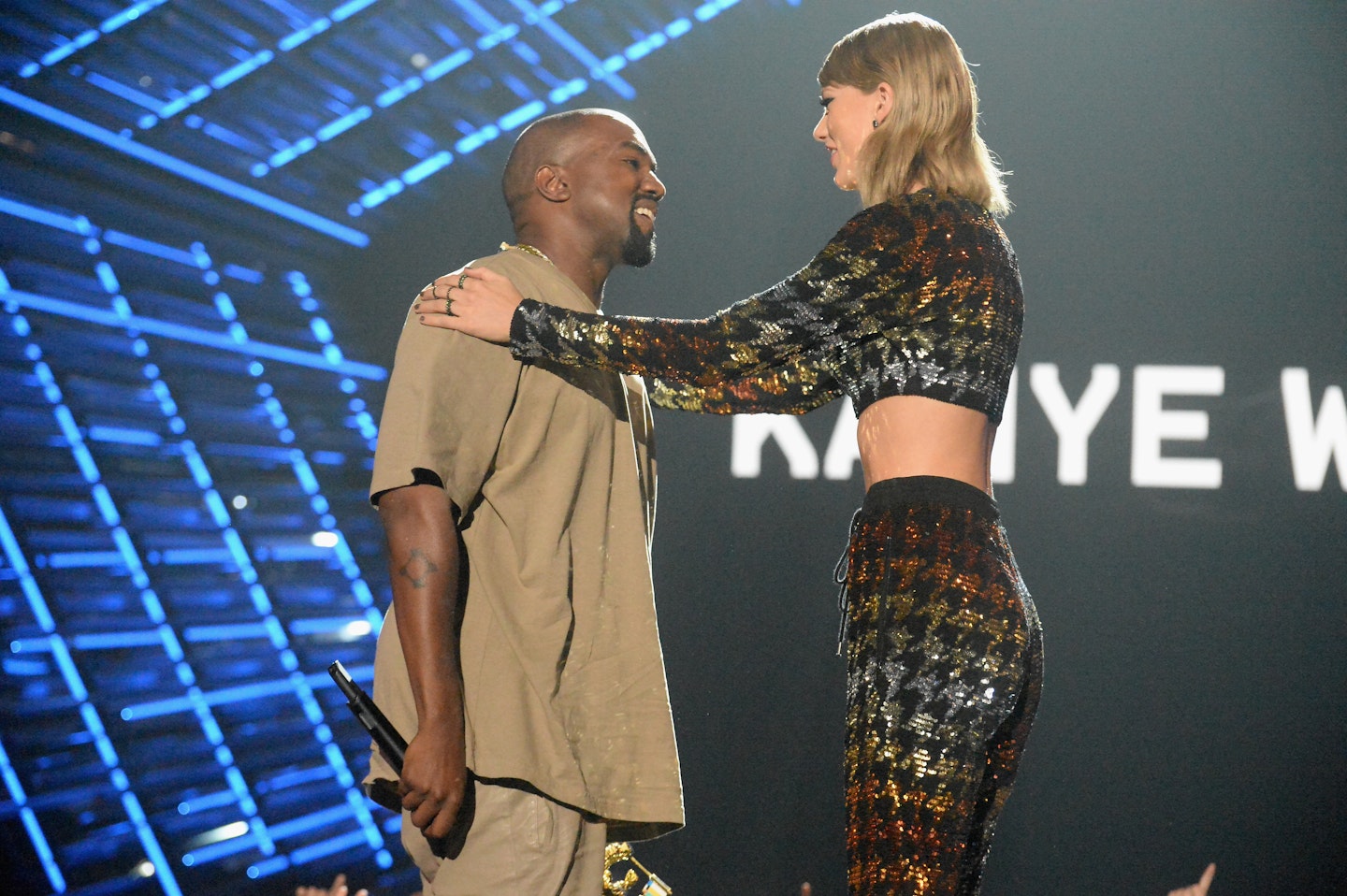 9 of 22
CREDIT: Getty
August 2015
Things come full circle for Kanye and Taylor at the MTV VMAs 2015 when she presents him with the prestigious Video Vanguard Award, six years after the initial incident.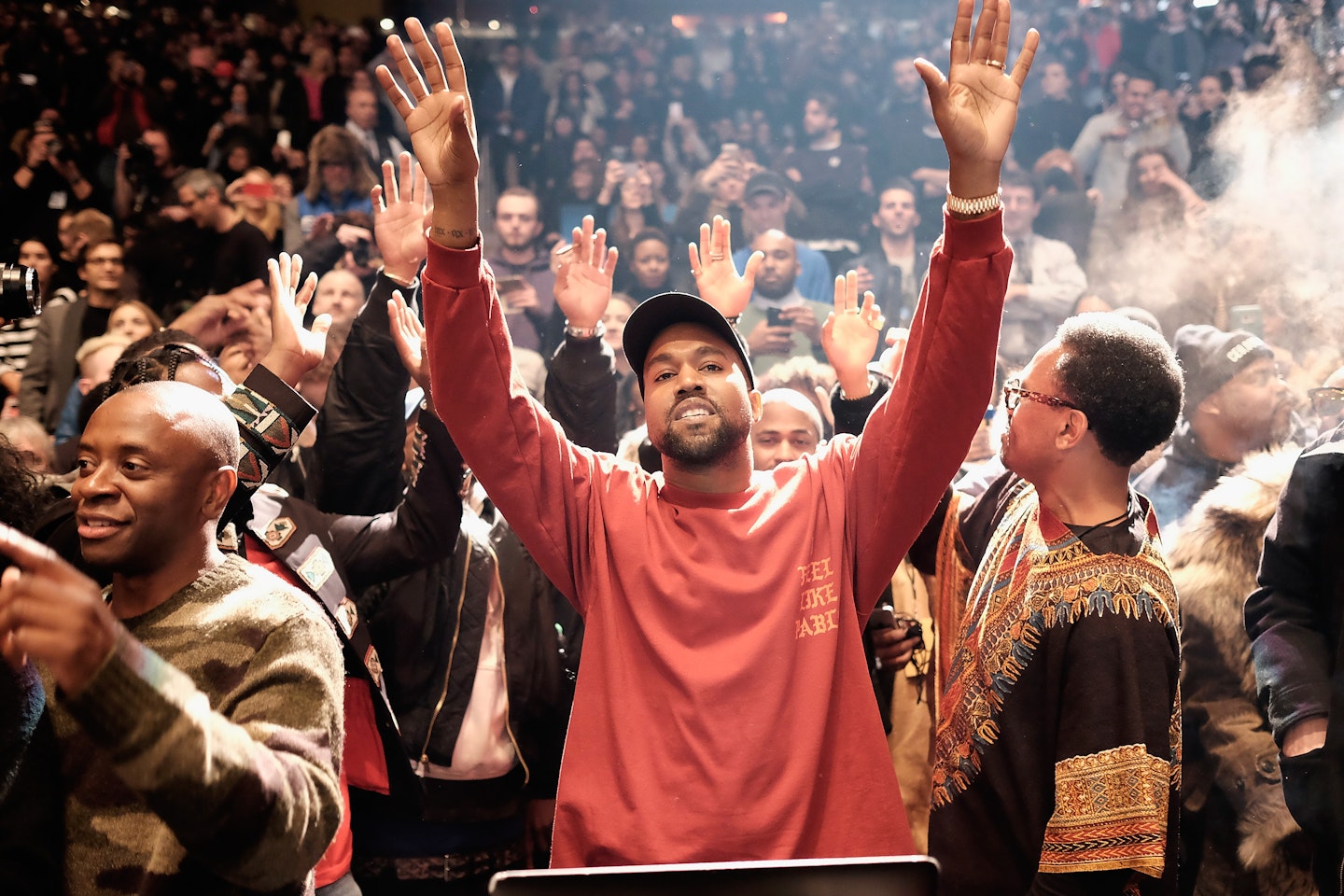 10 of 22
CREDIT: Getty
February 2016
Just when things were going well, Kanye drops seventh album The Life of Pablo which features the Taylor-referencing track Famous."I feel like me and Taylor might still have sex. Why? I made that b---h famous," he raps on the controversial track.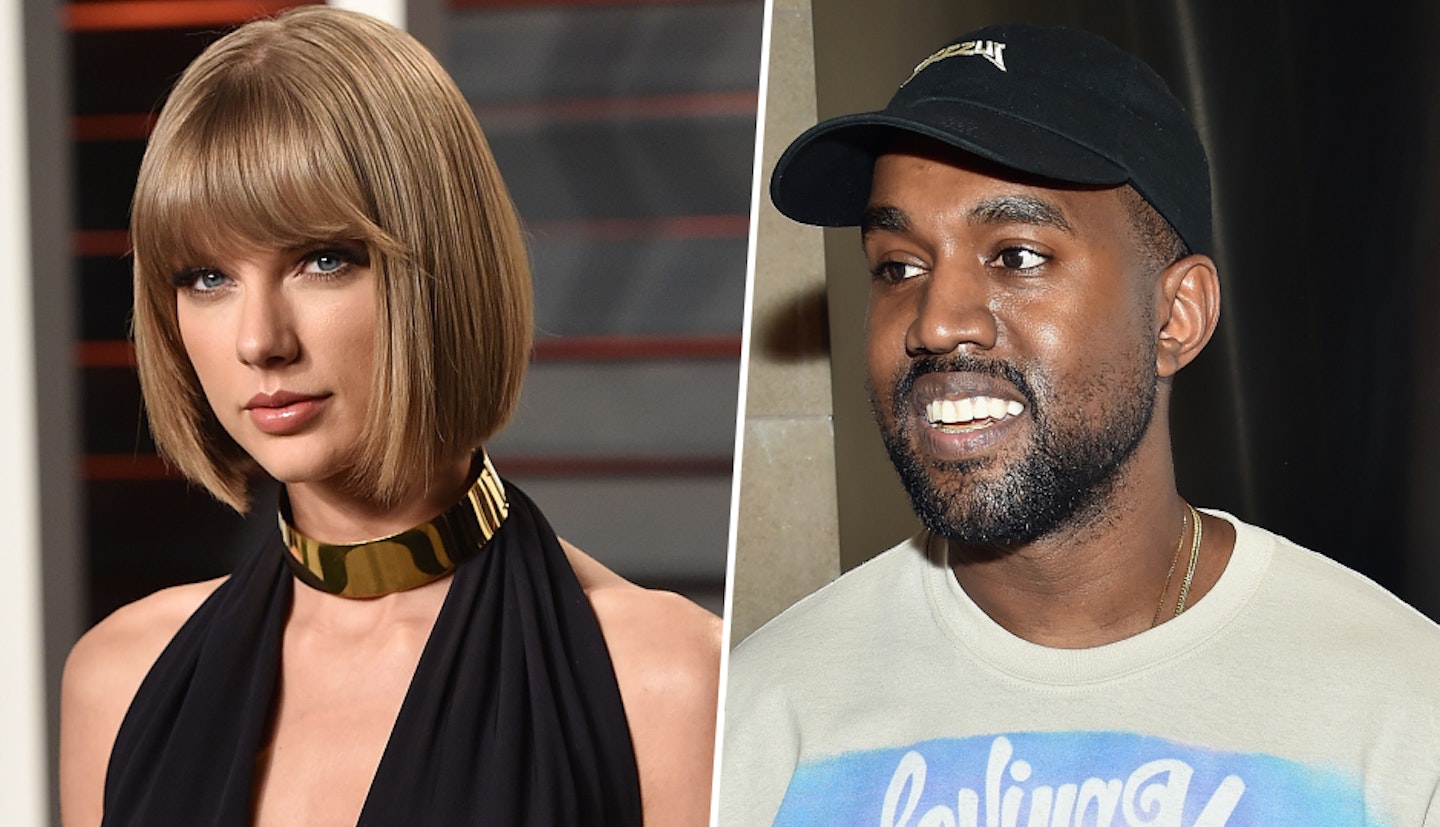 11 of 22
CREDIT: Getty
February 2016
Kanye claims Taylor approved the song and "gave her blessings" to the lyrics that reference her.This is immediately denied in a statement released by her representatives. They say, "Kanye did not call for approval, but to ask Taylor to release his single 'Famous' on her Twitter account. She declined and cautioned him about releasing a song with such a strong misogynistic message. Taylor was never made aware of the actual lyric, 'I made that b---h famous'."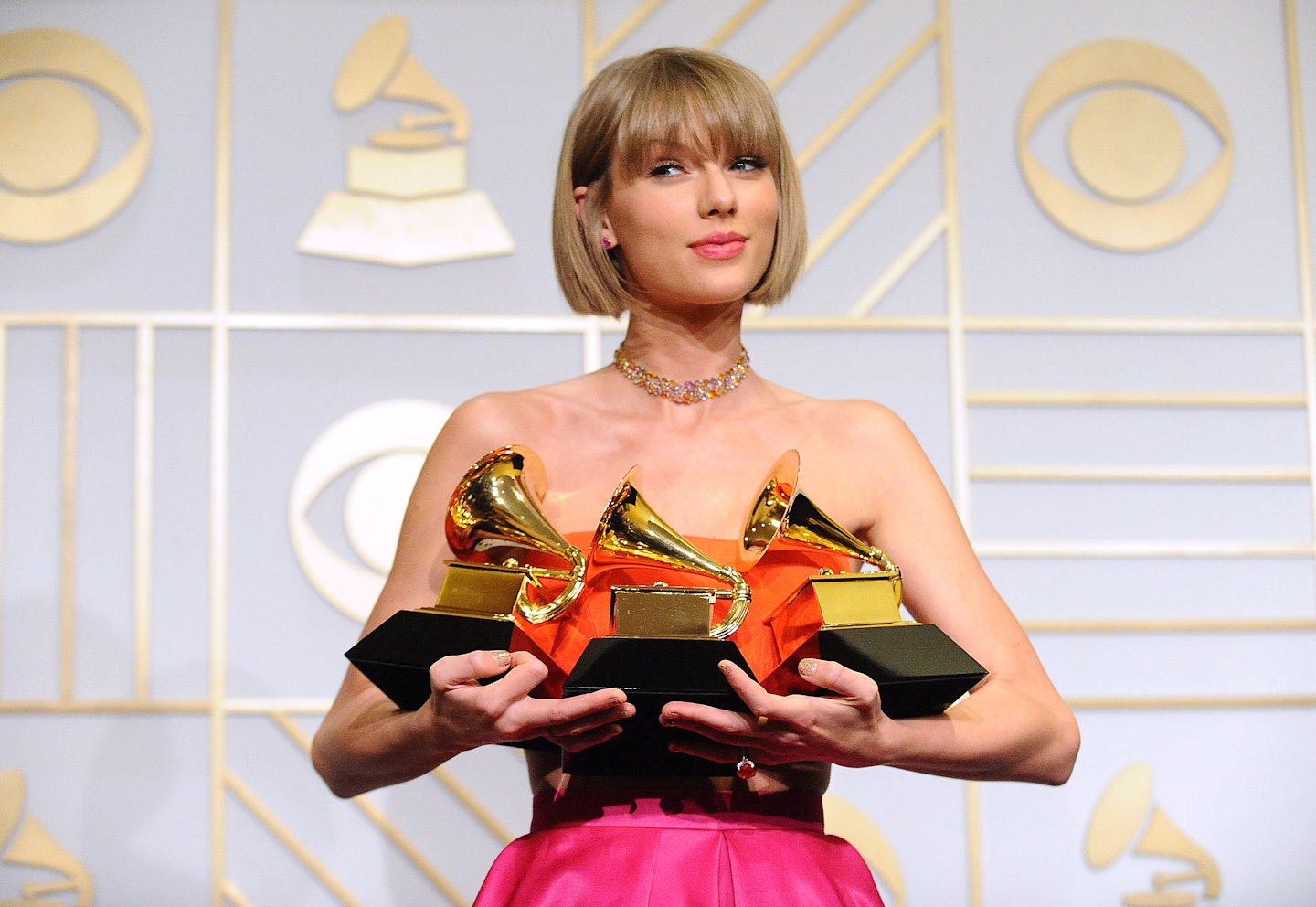 12 of 22
CREDIT: u00a9 Getty Images
February 2016
Days later, Taylor wins three awards at the Grammys. During her acceptance speech for Album of the Year, she throws major shade at Kanye.She says, "As the first woman to win Album of the Year at the Grammys twice, I want to say to all the young women out there—there are going to be people along the way who are going to try to undercut your success or take credit for your accomplishments or your fame."But if you just focus on the work and you don't let those people sidetrack you, someday when you get where you're going, you'll look around and you will know that it was you and the people who love you who put you there. And that will be greatest feeling in the world."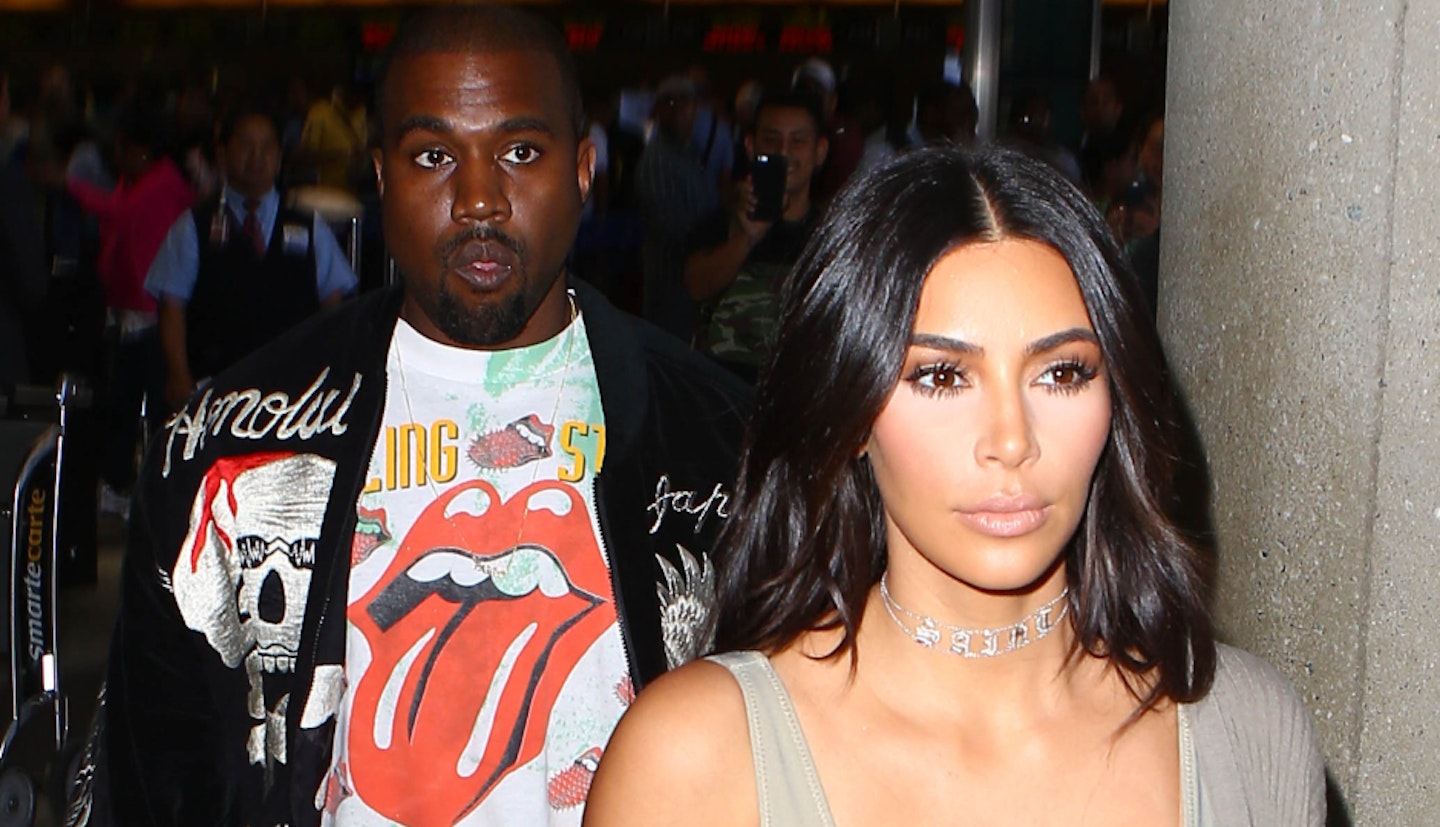 13 of 22
CREDIT: Getty
June 2016
Until now Kanye and Taylor have kept the beef between them but Kim wades in to defend her husband in an interview with GQ."She totally approved that," Kim said about those Famous lyrics. "She wanted to all of a sudden act like she didn't. I swear, my husband gets so much s--t for things [when] he really was doing proper protocol and even called to get it approved."The Keeping Up With the Kardashians star even claims she has receipts after revealing Kanye's phone call with Taylor had been recorded on camera.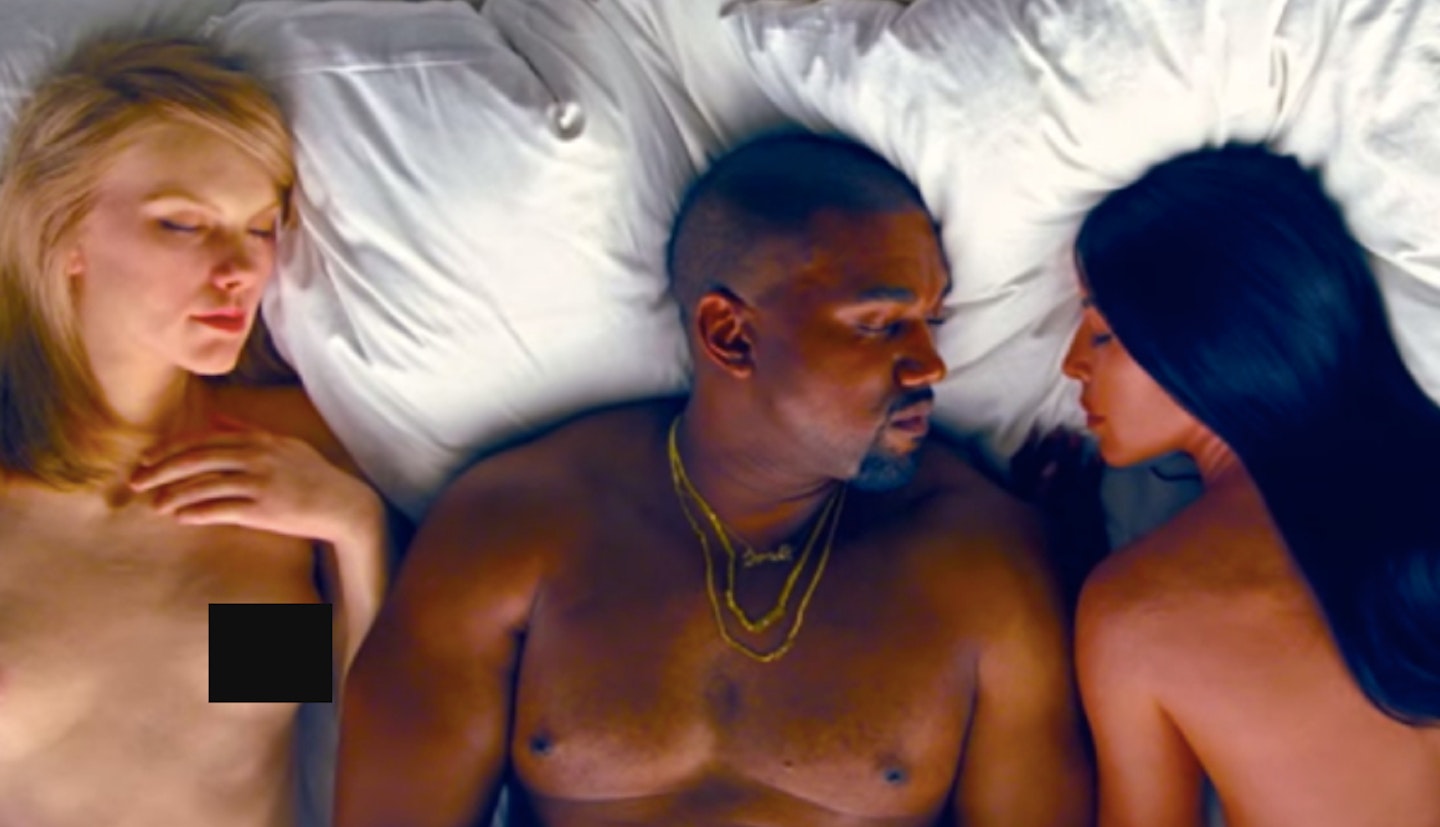 14 of 22
CREDIT: YouTube
June 2016
As if his contentious lyrics weren't enough, Kanye adds even more fuel to the fire with the NSFW video for Famous which depicts an extremely lifelike waxwork of Taylor naked in bed next to him and Kim.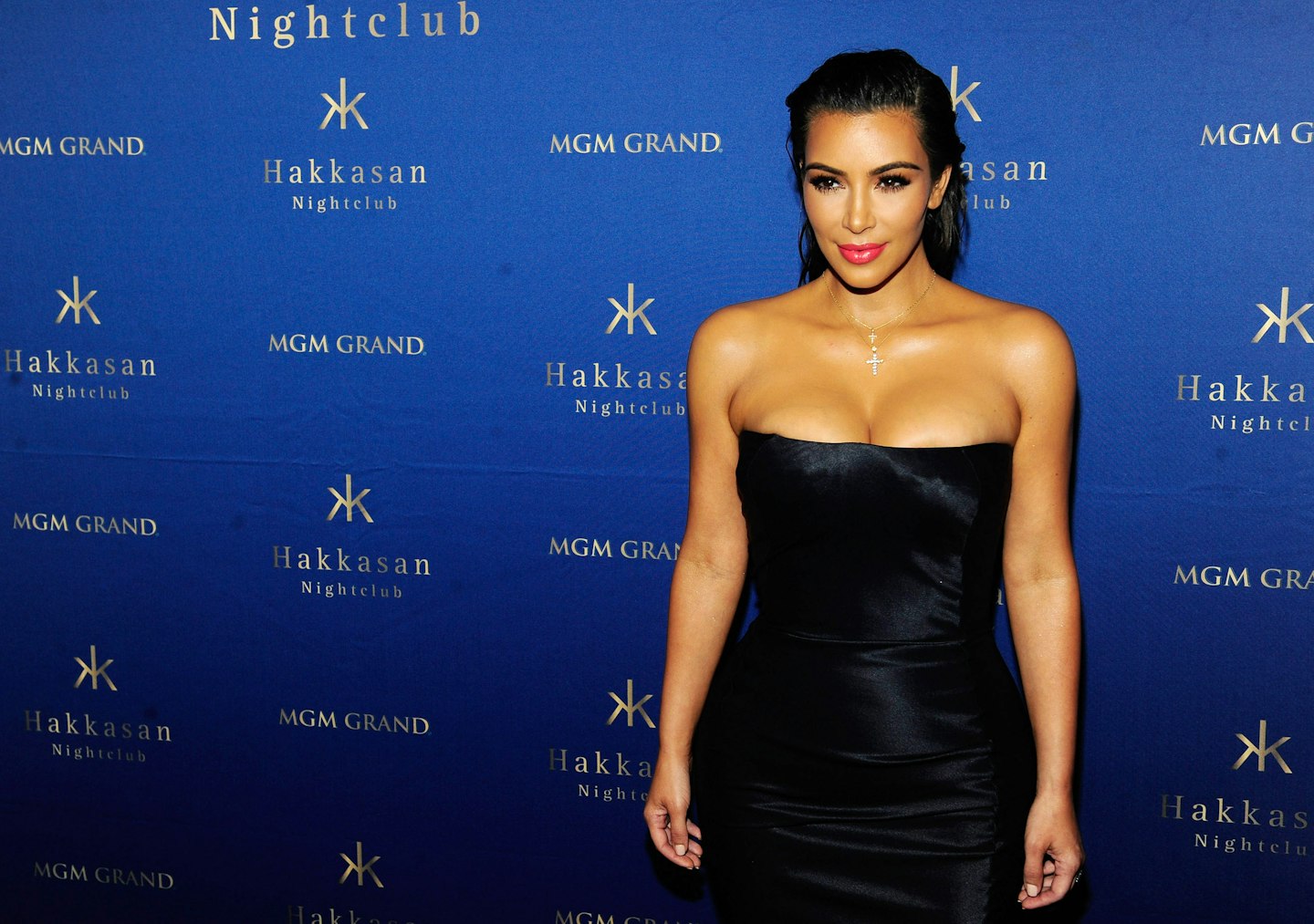 15 of 22
CREDIT: Getty
July 2016
Kim drops a massive bombshell by releasing a secret recording of Kanye's phone call with Taylor on her Snapchat.The Shake It Off singer can be heard thanking Kanye for "giving her the heads up" about the lyrics and the pair go back and forth about the "respect" they have for each other.After fans praise Kim for "exposing" Taylor, she shades the pop star by tweeting a series of snake emojis.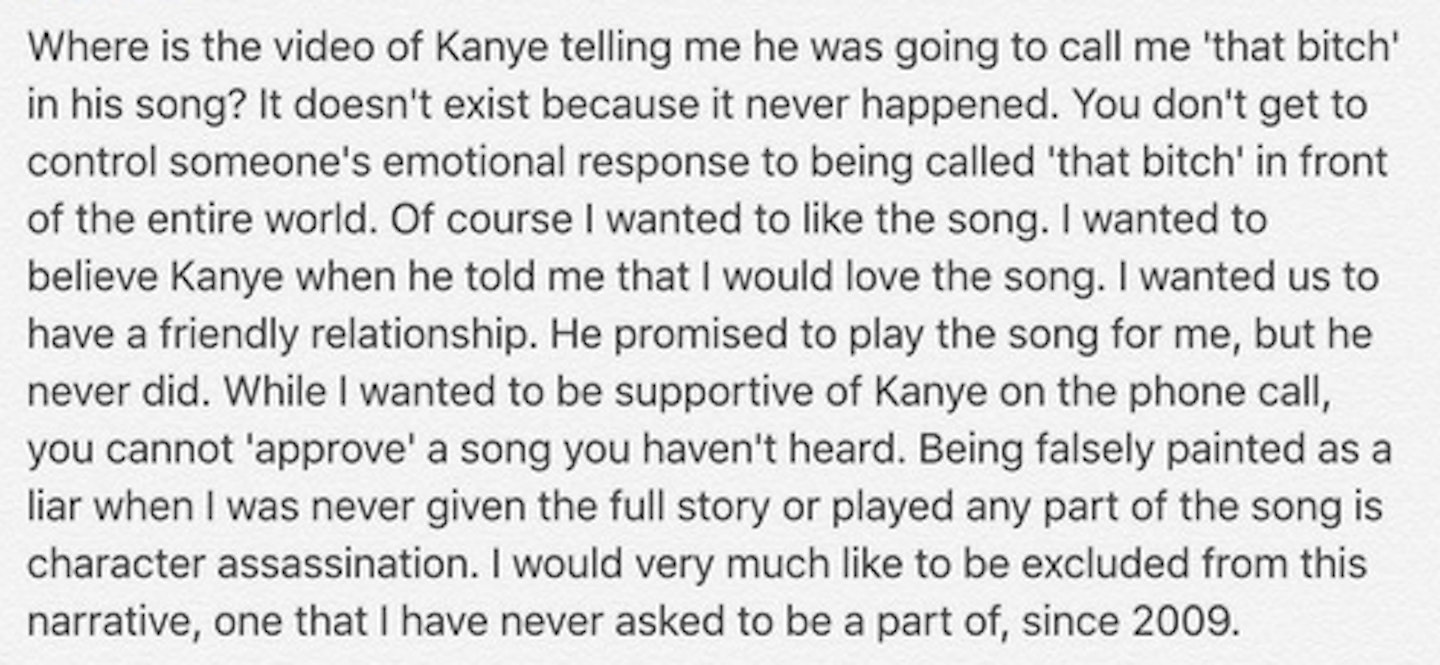 16 of 22
CREDIT: Twitter/@taylorswift13
July 2016
Taylor defends herself in a statement on Twitter, denying that Kanye ever told her he would call her a "b---h" in the song. In a move that births a series of hilarious memes, she asks "to be excluded from this narrative" of the feud.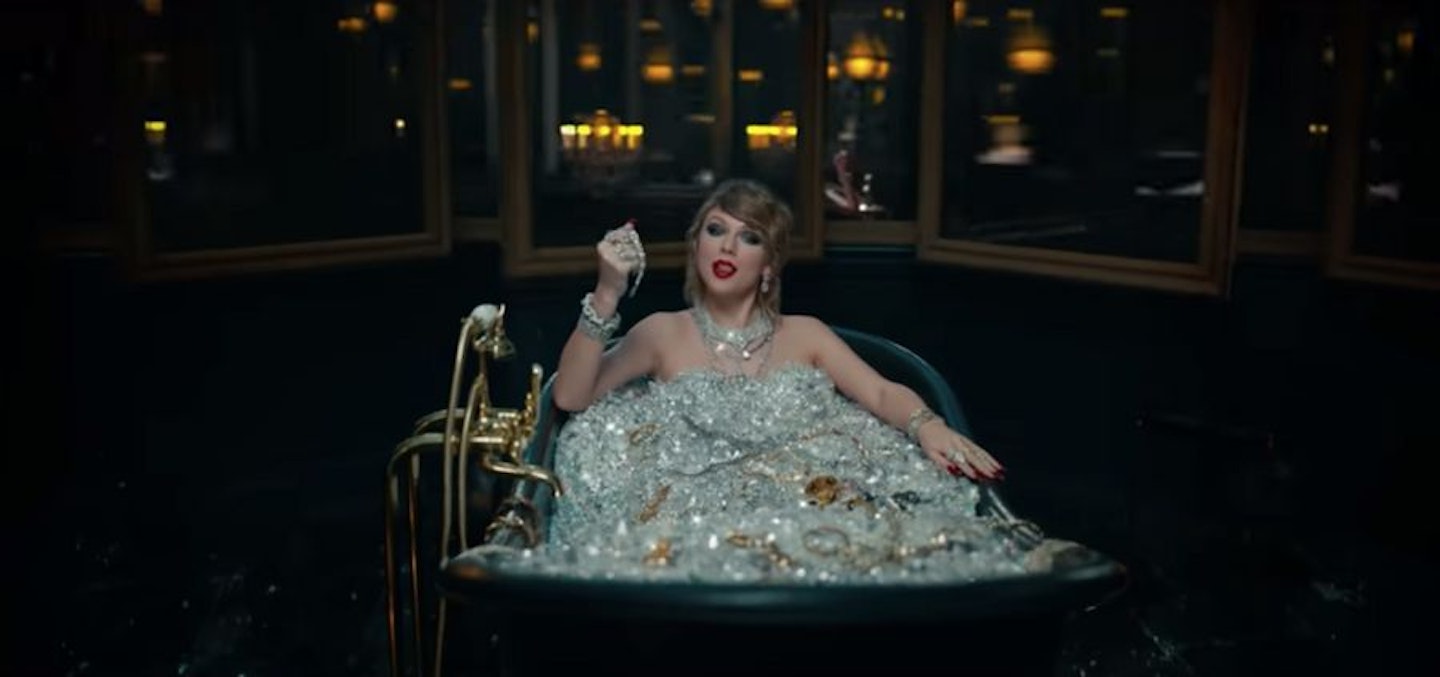 17 of 22
CREDIT: YouTube
August 2017
After deleting all of her social media posts, TayTay begins sharing videos of snakes. Surely a reference Kim's infamous tweet, right?She later drops new single Look What You Made Me Do, which fans think makes some not so subtle hints at KimYe. "I don't like your little games, don't like your tilted stage. The role you made me play, of the fool, no, I don't like you," sings Taylor.She's never confirmed the meaning behind the lyrics but Kanye performed on a titled stage during his Saint Pablo tour so it's not hard to work out who Taylor could be singing about.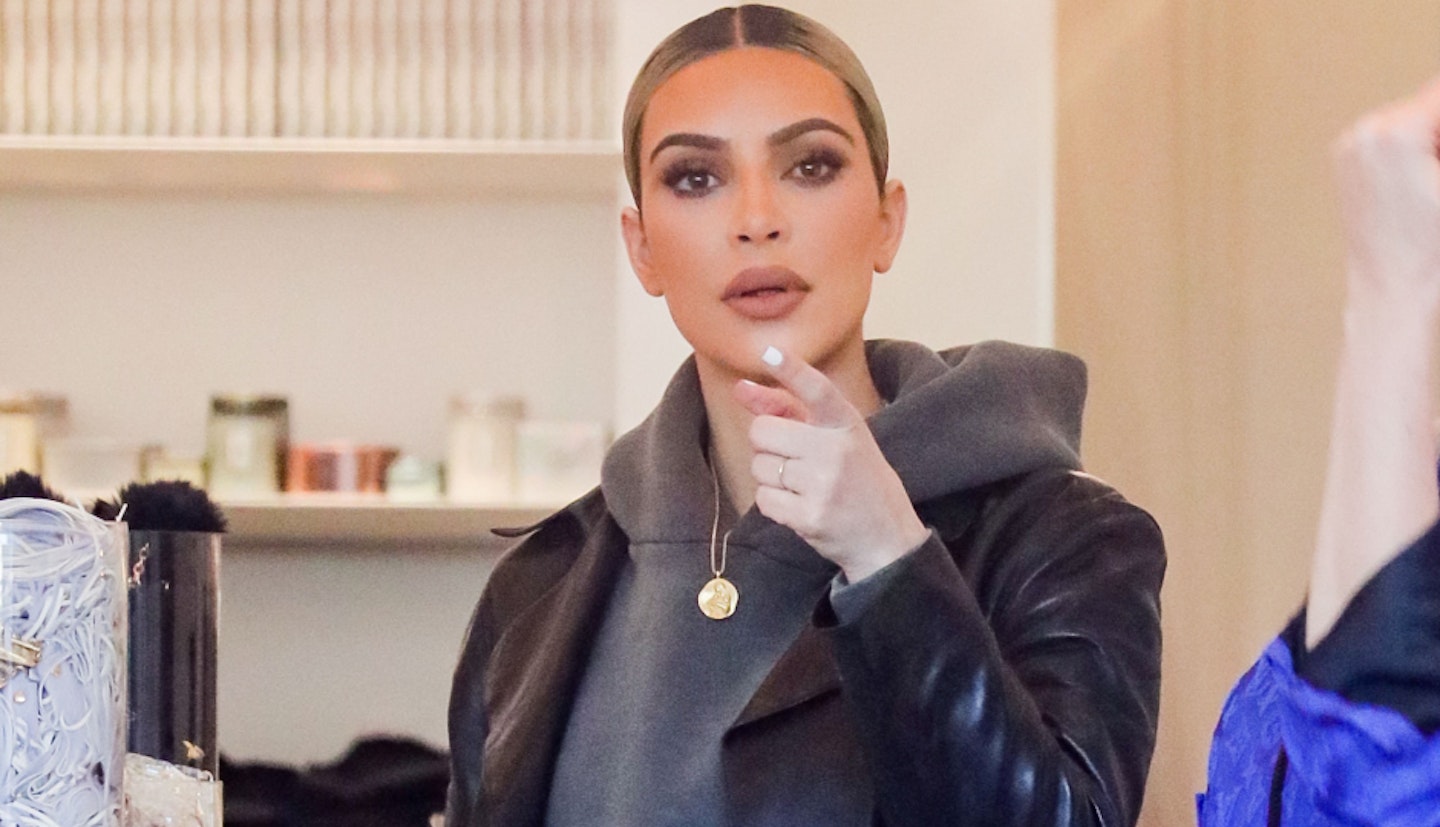 18 of 22
CREDIT: Getty
February 2018
To celebrate the launch of her Kimoji Hearts fragrances, Kim reveals she's gifting bottles of the scent to a number of famous faces, including Taylor Swift. In an Instagram video, she reveals she's even sending a gift to her "haters".In the video, Taylor is grouped with names including Piers Morgan, Bette Midler and Blac Chyna - all of whom have publicly feuded with Kim. Not very cryptic, hun.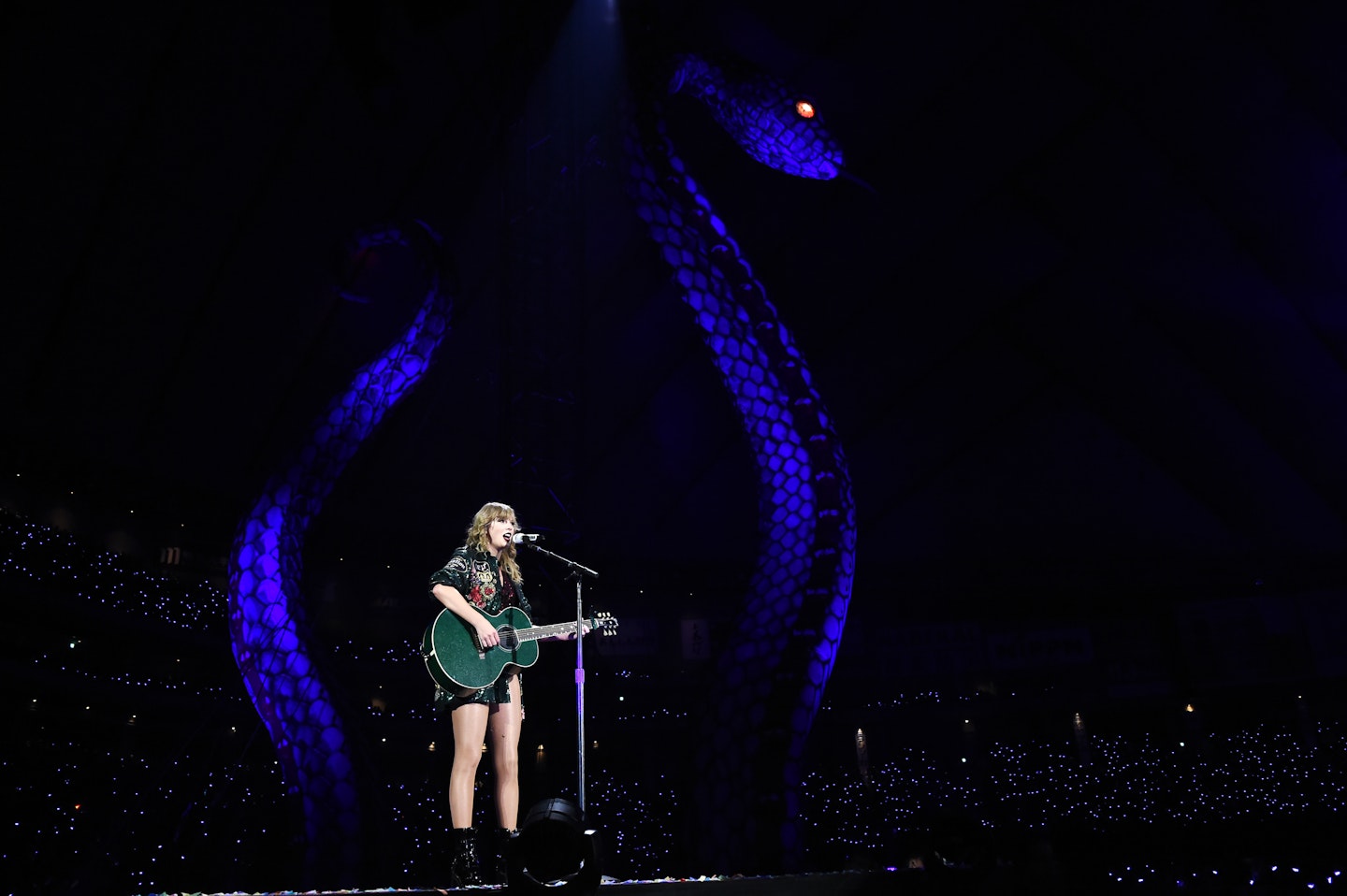 19 of 22
CREDIT: Getty
March 2019
Taylor reignites the feud by branding Kim and Kanye "bullies" in an interview with Elle magazine.She says, "In my experience, I've come to see that bullies want to be feared and taken seriously. A few years ago, someone started an online hate campaign by calling me a snake on the internet. The fact that so many people jumped on board with it led me to feeling lower than I've ever felt in my life."She also shares how she reclaimed Kim's snake comparison by performing with a giant inflatable snaked named Karyn on her Reputation tour. "It's the stadium tour equivalent of responding to a troll's hateful Instagram comment with 'lol'," she adds.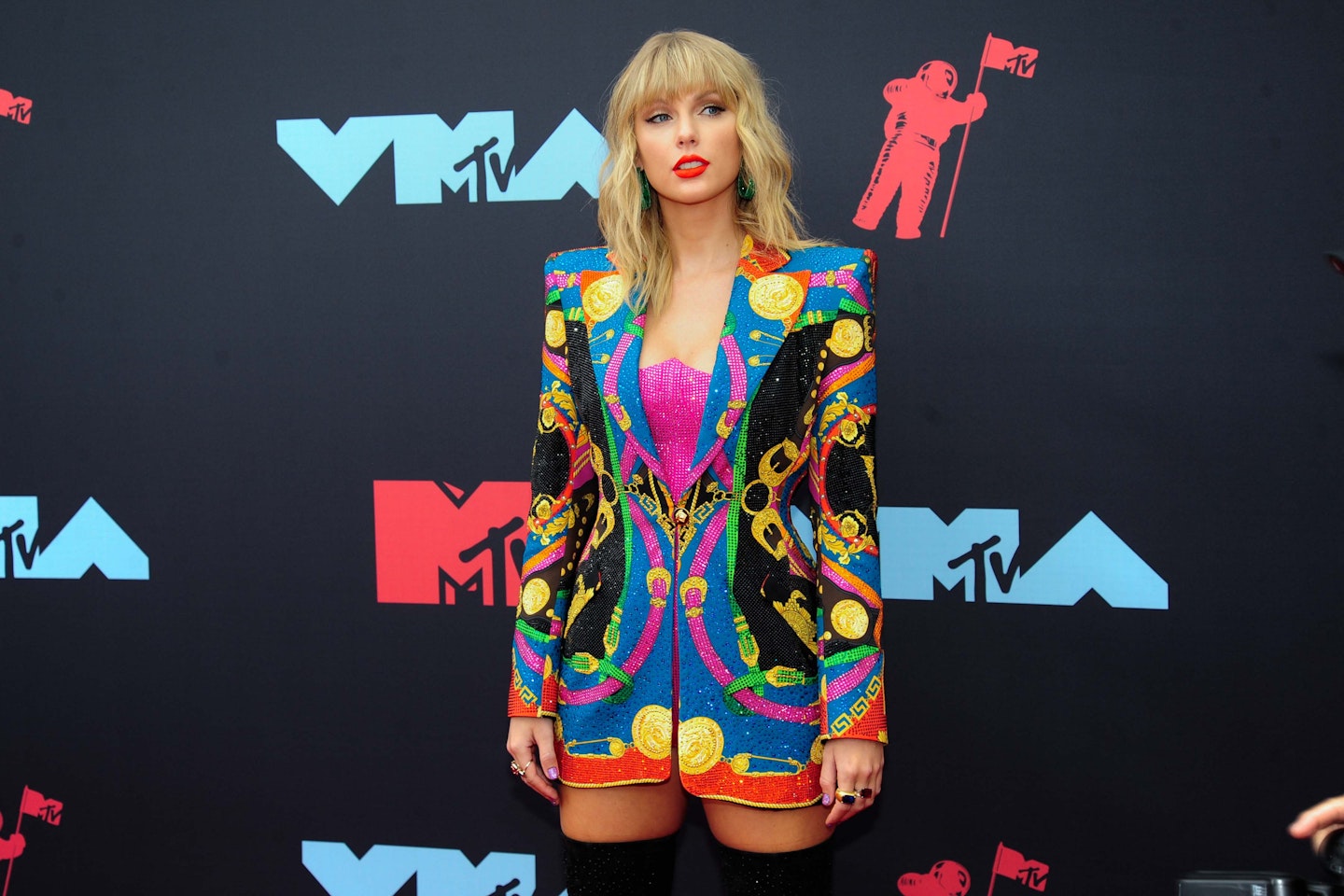 20 of 22
CREDIT: Getty
August 2019
10 years on from where it all began, Taylor admits her life felt "out of control" in the wake of her feud with Kim and Kanye.Opening up about being "cancelled" after Kim exposed her phone call with Kanye, Taylor tells Vogue, "I don't think there are that many people who can actually understand what it's like to have millions of people hate you very loudly. When you say someone is cancelled, it's not a TV show."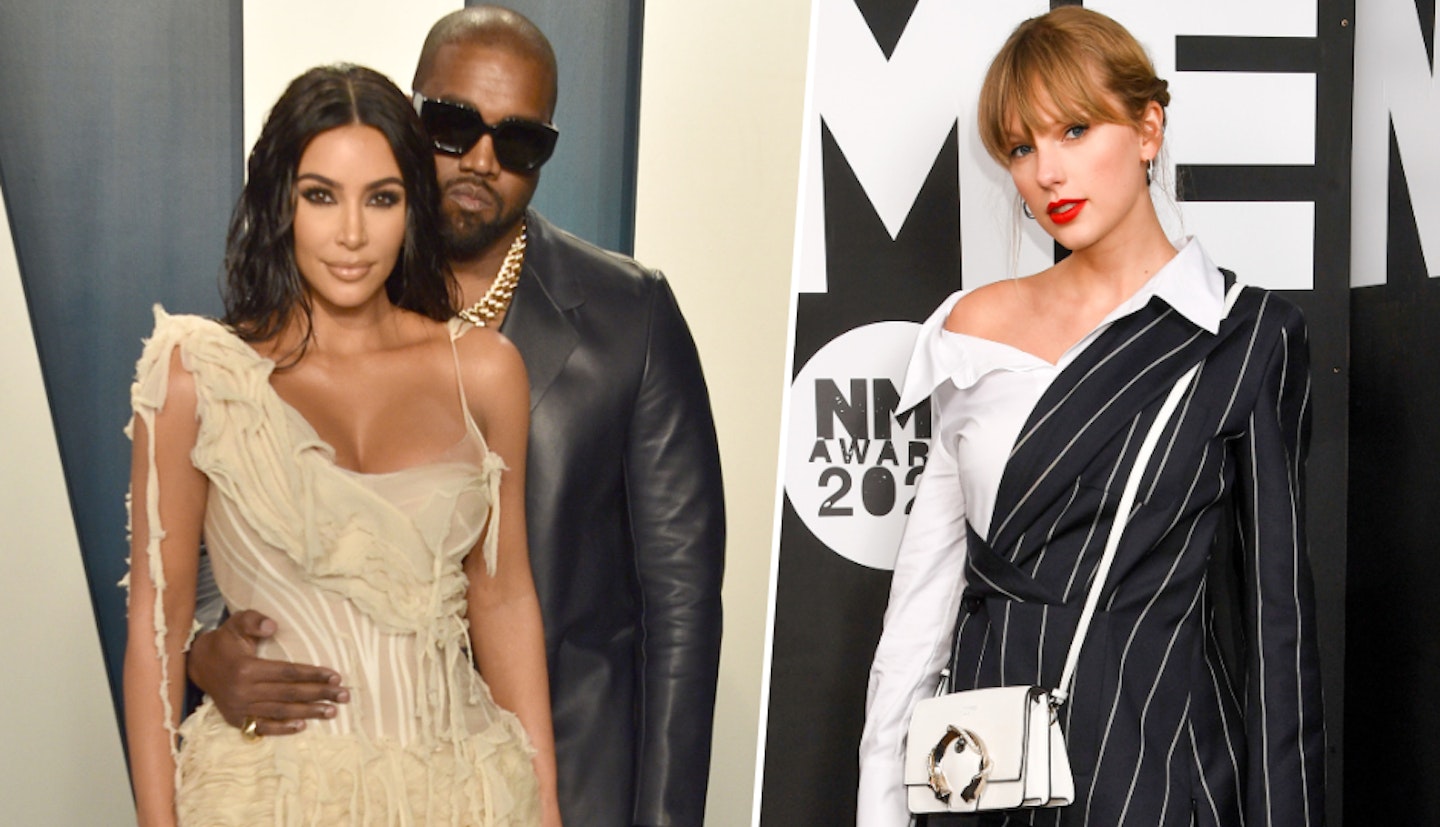 21 of 22
CREDIT: Getty
March 2020
It's been almost a full year since we've heard from them so surely Kim and Kanye have buried the hatchet with Taylor, right? WRONG.Their feud erupts once again in spectacular fashion after the full phone call between Kanye and Taylor is leaked, four years after Kim released footage on Snapchat, and it appears to vindicate T's claims she didn't approve his "b---h" lyric. Her fans soon get #KanyeWestIsOverParty trending on Twitter.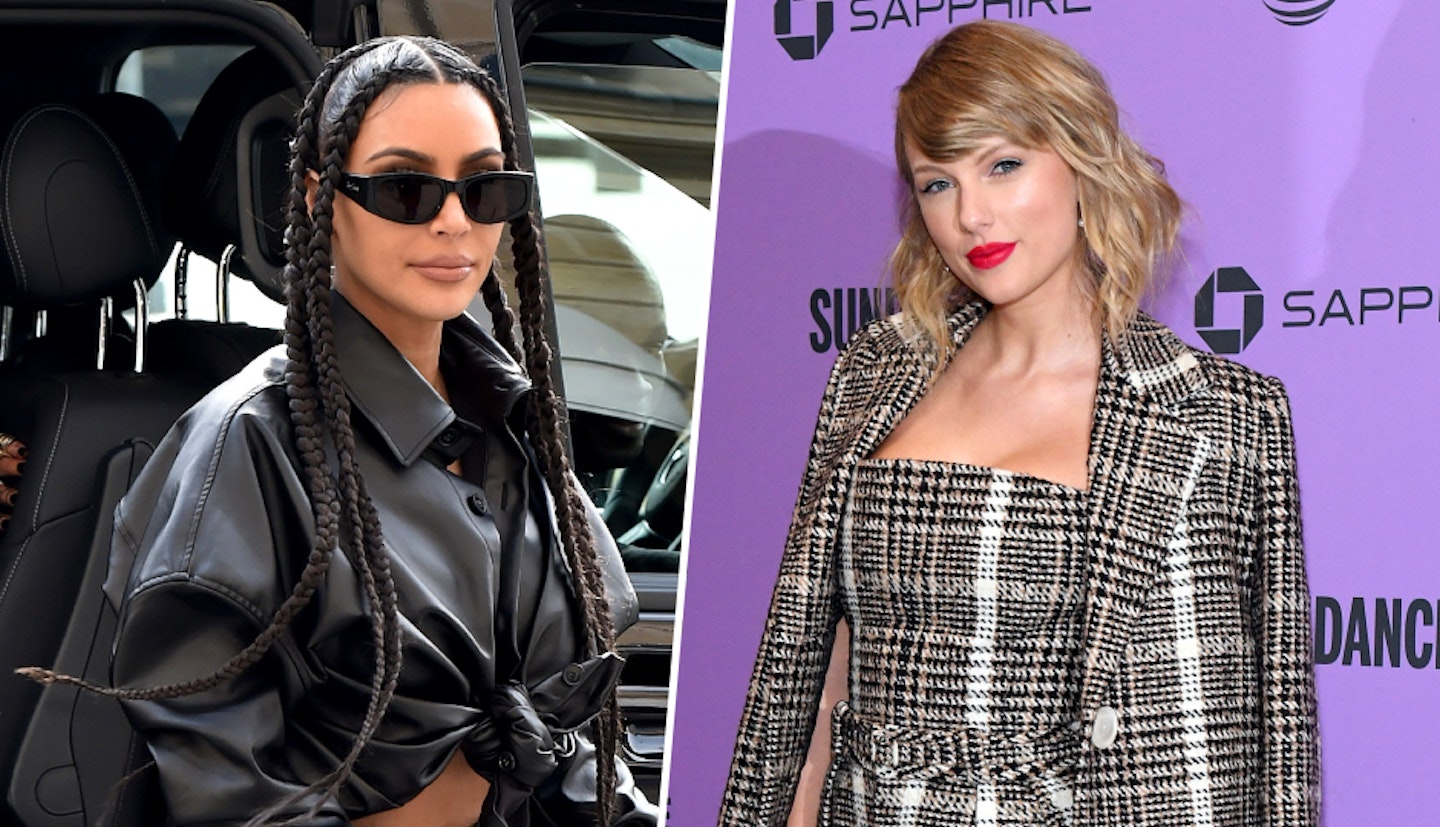 22 of 22
CREDIT: Getty
March 2020
After liking a fan's tweet throwing shade at Taylor, Kim breaks her silence on the leak in a furious rant branding her "lying" and "self-serving".Rather than hit back at Kim, Taylor asks for fans to donate to charity Feeding America amid the coronavirus pandemic. She can't help but insisting the leak proves she was "telling the truth the whole time" though.
WATCH: 'I'm the ugly version of Paul Mescal!' It's A Sin cast play Who's Most Likely To...?!
LOOK! MORE NEWS
Kylie Jenner accused of 'profiting off pandemic' as she launches own hand sanitiser
Zara McDermott 'edited Instagram snap to hide Maldives backdrop' after 'breaking Tier 4 rules for holiday'
Taylor Swift vs. Nicki Minaj
On 21 July 2015, the MTV VMA nominations were released, and amongst the nominations Taylor Swift was nominated for Video of The Year for her video Bad Blood. She celebrated by tweeting, "GUYS!! You got Bad Blood nominated for Video of the Year at the VMA's!!"
Shortly after Nicki Minaj complained on Twitter and Insta that neither of her blockbuster music videos - Feeling Myself or Anaconda - got nominated for the Video Of The Year award.
She tweeted a shady comment directed at MTV, saying, "Lol u guys did we miss the deadline??"
Understandably - she was pissed! She then wrote, "If I was a different 'kind' of artist, Anaconda would be nominated for best choreo and vid of the year as well".
Let's be honest it must be a kick in the teeth when you're a big time artist and you've spent endless hours, a high budget and lots of resources making not only one, but two HUGE music videos, for it not to be recognised by the MTV VMA's.
She then tweeted:
😬😬😬 Eek!
Things then took a turn when Taylor, whose music video to Bad Blood included the likes of Ellie Goulding, Cara Delevingne and Karlie Kloss, got involved.
"@NICKIMINAJ I've done nothing but love & support you. It's unlike you to pit women against each other. Maybe one of the men took your slot," she tweeted.
Nicki then replied and made it clear that she wasn't calling out Taylor, "Huh? U must not be reading my tweets. Didn't say a word about u. I love u just as much. But u should speak on this @taylorswift," she replied.
And after a fan thanked Nicki for having so much "strength and confidence", the singer admitted, "I'm not always confident. Just tired. Black women influence pop culture so much but are rarely rewarded for it."
Shortly after Taylor apologised and admitted she thought she was "being called out" before admitting she "missed the point, misunderstood, then misspoke".
Nicki then thanked her for apologising and that was the end. Phew, tbh.