It's the Oscars of body positivity, heat's celebration of the women who are inspiring us to treat ourselves with kindness.
These badass babes are shouting proudly about their sweaty gym routines, cellulite, period cramps and off-days. They are waving the flag for feeling a bit rubbish, but getting it done anyway. The perfect 2023 inspiration to help you to live your happiest and healthiest year yet.
Our judging panel has examined their social media feeds, tried out their workouts, pored over their podcasts and fangirled over their love of their fellow ladies.
We're proud to present you with your new celeb girl crushes – each one of them is a wonder women in their own right.
The judging panel
Tally Rye (@tallyrye)
Fitness coach and founder of the Train Happy movement, Tally is an advocate for intuitive movement and inclusive exercise.
Sarah Lindsay (@roarfitnessgirl)
Founder of Roar Gym, she has made the likes of Piers Morgan break out into a sweat with her PT sessions.
Louise Bennett (@louisesafferfitness)
heat's lifestyle ed and qualified PT knows a thing or two about celebrity workouts.
30) Amber Gill - age 25
Sassy Newcastle native Amber Gill was thrust into the limelight back in 2019, when she won the nation over with her Geordie charm and directness in the Love Island villa. After successfully embarking on her own fitness journey, the brunette bombshell is now helping others to live a healthier life with her fitness plan Amber Flexx – a 30-day challenge that involves eating pizza! She says, "I could never do a crash diet – I love my food."
29) Rihanna - age 34
How about a round of applause for new mama Ri-Ri? The singer is all about making women feel good about themselves, thanks to her sexy-yet-inclusive Savage lingerie, featuring sizes of up to 5XL. And that's before we get to her must-have Fenty skin and beauty products, helping women to look and feel their most confident selves.
28) Lizzo - age 34
Flying the body confidence and self-love flag, our fave gal Lizzo can be found over on her Instagram shaking her thang. The singer says, "Fitness doesn't have a look or a weight – I'm in the gym every day, but people don't believe that, because I've got extra fat, rolls and a big butt. It's OK to work out and not have a six pack." Say it louder for the people in the back.
27) Louise Thompson - age 32
The ex-MIC star has faced a number of health hurdles since having son Leo  in 2021. A traumatic birth left her hospitalised for five weeks and suffering from severe PTSD, and she's been super-candid about her road to recovery, opening up about her mental health and body image struggles. On a recent Instagram post, she admitted, "Looking through these photos, I noticed that you can see one of my scars through my gym leggings and I'm kind of cool with it. The way our bodies are designed for survival is pretty incredible, and this is part of me now. No more striving for the 'perfect body', what a waste of time that is." We couldn't agree more!
26) Sophie Morgan - age 37
Disability advocate and TV presenter Sophie works hard to ensure disabled people can have the same opportunities
as the non-disabled.
Do you ever feel like your disability holds you back?
Of course, but the thing that makes my life harder, my disability and my paralysis, is also the thing that motivates me. While it's a struggle and makes everything I want to do just that little bit harder, and in some cases feel unobtainable, it also gives me focus and renewed purpose. I'm so driven as a result of being so limited in some areas. It's an ongoing challenge, but it does give me that resilience.
How important is physical activity to you?
I don't really do sport, but I love to push myself physically. I recently learnt to scuba dive and I love it so much, and I keep fit in the gym, too.
You're working to try and make travel more inclusive at the moment, too…
For me, the biggest joy in life is travelling, but as a disabled person, it can be challenging. Airbnb has just launched a new "adapted" category on its search tool, which means thousands of homes have been added that have been modified to accommodate people with disabilities. There's step-free access, grab rails in the bathroom, floorplans to help you navigate the property – it's a really significant moment. It allows disabled people to have cheaper ways to stay available to them, whether it's for work, health reasons or just leisure.
Sophie joins hundreds of other Airbnb hosts in the new Adapted Category, listing her own home with accessibility features in London for others to enjoy whenever she is away
25) Millie Mackintosh - age 33
A big fan of starting her day with a workout, Millie seems to have mastered the juggle of squeezing in fitness around being a mum of two. "Is there a better feeling than taking a moment for yourself before your day really starts?" she says. Millie does a mix of weights and Pilates, and stays active by getting her steps in.
24) Alison Hammond - age 47
None of us can get enough of her infectious cackle – but did you know that Alison is also a weightlifting legend? She's often spotted over on her Instagram bossing those bars for the gals, and having a good ol' laugh while doing it. Can we come next time?
23) Maisie Smith - age 21
We're in awe of the former EastEnders actress and Strictly sweetheart, who wowed us with her gruelling efforts on Celebrity SAS. The star is an advocate of the "strong not skinny" mantra,  and we could all relate to her body confidence wobbles when she said, "It's taken me a while, but I'm starting to accept these aspects of myself that I've always seen as 'flaws'." Maisie, we salute you!
22) Rochelle Humes - age 33
A yummy mummy of three, Rochelle's hard work shows in her long and lean physique. A devoted fan of reformer Pilates, you can find her hanging out at the Zero Gravity studio or getting a sweat on with Bryony Deer – aka Pilates By Bryony. We were blown away by her motivation to keep herself and her followers moving during lockdown, running live Insta classes, and practicing right up to the birth of her youngest son Blake. Talk about dedication.
21) Georgia Kousoulou - age 31
No stranger to relationship and parenting dramas on her show Baby Steps, Georgia has bravely spoken about experiencing postnatal depression after the birth of her son Brody, now 19 months. She says getting back to her workouts is what helps her stay well…
How do you juggle fitness with motherhood?
For a while, I forgot how much I loved exercise. Also, taking myself out of the house for an hour is the best thing. The gym is in my garage, so it feels like I'm going out.
You've  also  had to support your partner Tommy Mallet through his ADHD diagnosis. How are you feeling?
Now,  we're in a good place – the house is better and, mentally, I'm in a better place. I'm back in a routine and I thrive on routine.
What has the last year taught you about coping?
Before, I felt like I wasn't doing things for myself, and fitness is an easy way for me to do that.
Watch Georgia & Tommy: Baby Steps on ITVX
20) Judi Love - age 42
Judi trains with Gogglebox star Marcus Luther at his boxing gym, and what does she tell herself when the going gets tough? "I have to speak to my body and say thank you for getting me here, thank you for all you've taken, experienced, fought against, carried, but somehow still moving, still enabling me to experience life… For that, I will try to respect you, love you, and care for you the best I can. But just know I will have Champagne, luscious food, and lots of fun." Amen, Judy.
19) Kate Ferdinand - age 31
Taking mum-tasking to the next level, Kate, husband Rio, and toddler son Cree spend their time hanging out in their home gym. But when she's not sculpting her abs on the mat with a kids' toy in hand, she's discussing the ups and downs of blended families on her podcast Blended.
18) Stacey Solomon - age 33
Super-mum Stace doesn't give swerving the gym a second thought – not when she's staying fit by running around after four children. Her best advice? She says, "When I feel insecure, I remember how grateful I am that my body has grown the loves of my life. Tell that voice in your head to get lost, because it's lying. You're so beautiful and your body is incredible."
17) Adele Roberts - age 43
We're totally in awe of the Radio 1 DJ and former Big Brother star. She has just recovered from stage two bowel cancer and has been fitted with a colostomy bag while she waits for her colon to heal post-surgery. Since then, Adele has been using her platform to share her experience and create awareness surrounding this "non-visible" disability, making the #ostomate community stronger. The courage, strength, determination and humour she's shown has been nothing short of superhuman.
16) Ellie Goulding - age 35
The toned abs on golden girl Ellie are total body goals, but more recently, the singer is prioritising how exercise makes her feel over how it makes her look. "I'm all about the science behind physical exercise," she stated. "It's so cool to understand how workouts affect your body - they increase endorphins and get the blood pumping, delivering fresh blood to your brain."
15) Davina McCall - 55
Not only does this epic lady seem to be getting stronger and fitter as she gets older, but her campaign to raise awareness around issues surrounding menopause and perimenopause has helped thousands of women get the help they need. Davina's been a regular in our round-up since it began because she's a real advocate for women to live healthy and happy lives.
14) Vick Hope - age 33
The Radio 1 presenter regularly bares her soul on issues of mental health in her Sunday night show, and despite having an extremely enviable bikini bod, the future Mrs Calvin Harris says she relies on fitness to keep her sane. "Getting plenty of exercise and eating healthily is what keeps me afloat and feeling human amidst the madness," she says. "Going to the gym not only keeps me in shape, but it brings balance to the day."
13) Gemma Atkins - age 38
The Hits radio presenter gives her super-fit Strictly partner Gorka Márquez a run for his money in their home gym. But what we really love about Gemma is that she shares the hard stuff – the 5am starts to squeeze in a workout before her three-year-old daughter Mia wakes up, the sweaty bits where she's struggled to get it done, and the adorable way she wants to pass on the message of a healthy lifestyle to her daughter.
12) Motsi Mabuse - age 41
This year's Strictly has seen Motsi cement her position as a true icon. She has championed everything from African hair to African dance, and we would sell a grandma for a rifle through her on-screen wardrobe. She recently spoke about how dancing gives her a dramatic transformation – not in her dress size, but in her mind – urging people to ditch the toxic "before and after" body pics.
11) Vicky Pattison - age 35
In a world of social media fakeness, we love that Vicky keeps it as real as possible on her Instagram. She talks about everything from PMT to cellulite, proving that even celebs have normal bodies. *Shocked face*. And her podcast  The Secret To… has become essential listening for us to find out all the juicy lifestyle secrets of her famous guests. G'wan, Vicky!
10) Olivia Bowen - age 28
Our 2022 winner and Love Island fave Liv is still at the top of our list. Since we've seen her last (when she was pregnant and we didn't even know it), she's become a parent to the cutest baby boy, Abel. We caught up with her to find out how mum life is treating her…
How has your fitness regime changed since having Abel?
I did Pilates and horse riding quite far into my pregnancy – until about 36 weeks. I had a difficult birth, so I didn't start to exercise again until seven-to-eight weeks after. I've started to run and go horse riding again – I'm just having to take it very slowly and build it up. I'm really happy I can get active again. Exercise is something I really did miss during pregnancy – it's my soul food.
Are you following husband Alex's fitness programme?
I'm in the gym once or twice a week. I stopped running for a while, because it was too high-intensity for me – that's when I got back into weights. Alex does train me and his workout app is really easy to follow  – but he doesn't take any shit from me. [Laughs.]
How has becoming a mum changed your relationship with your body?
Post-pregnancy, it's been hard because you only ever know yourself pre-baby, and you've got this new body to get used to. You need time to work out where you stand with your body and how you feel. I know when I'm happy, fitness makes me happy and I know when my body is happy.
9) Christine McGuiness - age 34
The former Real Housewives Of Cheshire star has called the gym her therapy after a huge year, which saw her marriage end. She's wrapped filming on a new documentary to raise awareness of autism in women and young girls, after she was diagnosed at age 33, and her debut children's book, Amazing Me, Amazing You, goes on sale next year. Superwoman? We think so.
8) Jennifer Lopez - age 53
It blows our mind that J-Lo still looks as fit as she did in her twenties. Posting videos of her gruelling gym sessions on her socials, we know that she works hard for that banging body. But for Jen, it's so much more than how many pull-ups she can nail. It helps to keep her motivated to be a better mum and a better businesswoman. She says, "It's not just a physical thing – it's about transforming every aspect of your life."
7) Maya Jama - age 28
Bringing all the good vibes, we're forever crushing on Maya. She starts her morning with all the good tunes and a dance around the house wearing feet weights. Opening up recently on her Instagram, the new Love Island presenter told her followers she's on a gains mission to increase her weight, becoming stronger and more toned – right behind ya, sister.
6) Frankie Bridge - age 33
For a third year running, Frankie continues to inspire us to strive to be stronger. We admire her raw honesty about her battle with an eating disorder. She also admitted she finds it challenging to feel love or kindness towards herself – a valuable reminder that we all need to judge our bodies a little less harshly.
5) Ellie Simmonds - age 28
This gold-medal-winning swimming legend strutted her stuff all over the Strictly ballroom,  and we couldn't get enough. While she's hung up her goggles and retired from the pool, Ellie still spends some early mornings smelling of chlorine, all while raising awareness of disabilities and dwarfism. You go, girl!
4) Gabby Allen - age 30
This year has seen ex-Love Islander Gabby transform her body as she led her Shape Up With Gabby community. If you've ever tried one of her workouts, you'll know that she is a motivation master, giving it 100 per cent to keep you on track…
Does the Shape Up app help with keeping you accountable?
Accountability is what keeps people on target. It is not about scales. I weigh more than I did a few months ago. I was really lean in the summer. I had been working towards going to Ibiza, so I was really on it. Since getting back, I've upped my calories – it's hard not to eat more stodge in the winter, but just stay consistent with your training. I still eat chocolate at Christmas time.
How much does your mental state affect your exercise?
My dog's been at my boyfriend's for a few days and my steps have halved – I don't know what to do with myself! He's just over a year now. I have found that everyday activity that I wasn't used to before. People underestimate how important it is to just hit that 10k steps a day. It really does help with your overall health and state of mind.
You've got big plans for Shape Up With Gabby in 2023 – what can we expect?
I'm launching my first- ever retreat in May, in Spain, and I have a Shape Up live event in February. I'm running a six-week January challenge that's always a big hit, too. It's for people who want to go hard for the first six weeks.
Find more info on the Shape Up With Gabby app at Shapeupwithgabby.co.uk
3) AJ Odudu - age 34
When it comes to lifting up other women, this lady is a pro. So, it's no surprise that she's actually pretty strong, too. Whether she's doing weights in the gym, smashing out a run, or stretching out with a yoga sesh, there are few physical activities AJ hasn't tried. "I did athletics, football and netball at school to get a medal, but I never actually won one, although I tried my hardest. Now, every time I do a 10k run or a half marathon, everyone gets a medal, so I'm making up for lost time!" Well, you can add another bronze medal to your stash, AJ.
2) Mel C - age 48
Nineties icon Sporty Spice is making strides towards spreading awareness about the dangers of sexism in sport. "It's ridiculous that we're fighting for women's sport to be recognised – but it is changing," she says, and this fierce female won't stop until the battle is won. When it comes to her preferred way of breaking a sweat, Mel has long been a fan of mixing up her training, combining running with yoga, martial arts and weights in the gym. As she explains, "Mixing up your workouts can stop you getting bored and help you stick to the routine."
1) Fleur East - age 35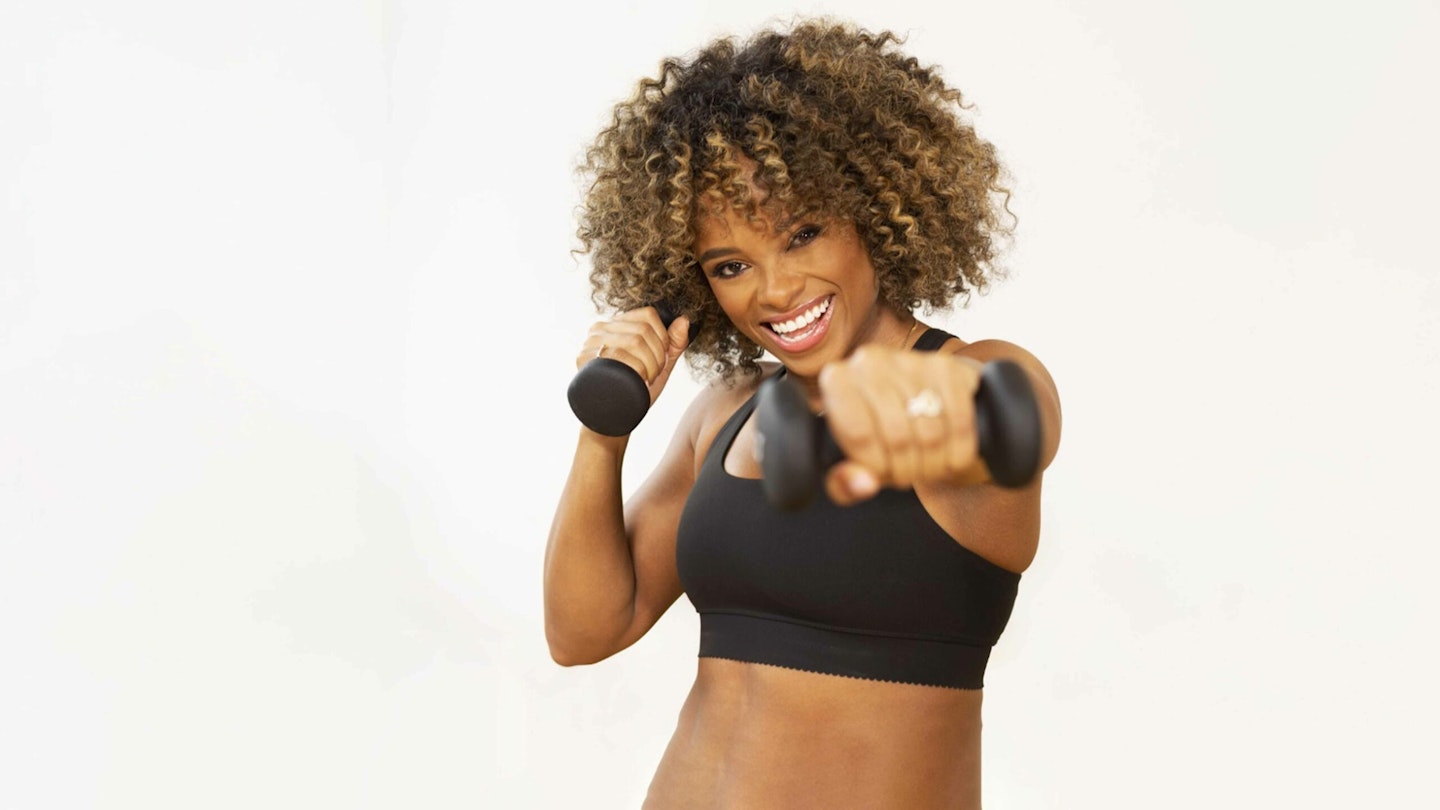 Our top honour for putting the sexy into squats this year goes to this 35-year-old firecracker. Fleur's wowed us with her discipline on Strictly, and this year has also seen the launch of her own fitness programme with international brand SWEAT. Not bad when you know she gets up at 5am every morning to present the Hits Radio Breakfast Show, too.
We squeezed in a chat with her to find out how push-ups before school helped her get strong, and how exercise helps her deal with whatever life throws at her…
Congratulations on winning our 2023 Fit List, Fleur! You've put your body through so many physical challenges. Which was the hardest?
Strictly is definitely up there, but when I did Don't Rock The Boat [the ITV show where celebs rowed the length of Britain] – that was so hard. The repetitive movement of rowing for hours on end was crazy. I had a moment where I realised that fitness was part of my life and wasn't just something to help me look good, then I just started to embrace more challenges, as I want to see how far my body can go and how strong I can actually be.
Have you always been sporty?
My dad used to get me and my sister to do push-ups in the morning before we brushed our teeth, so we'd wake up and do ten push-ups and then we'd get ready for school! I actually bumped into one of my teachers a few years back and he asked if I was still doing sports. He told me he always thought I'd be an athlete, so exercise has always part of my life.
How do you squeeze workouts  into your busy schedule?
During the pandemic, I learned that when I didn't have fitness in my life, I felt so sluggish. My personality was different when I wasn't working out. Fitness helped me get through a really hard time after losing my dad in 2020. I went into a really dark place, but as soon as I started working out again, I felt energised and it pulled me through. I used to work out in the morning, but now that I do the breakfast show on Hits Radio, there's no way that I'm waking up before 5am. So, it's become an evening thing before I go to bed, and I find that it helps me to sleep better, too.
Do you have any body insecurities, and how do you deal with them?
There is so much pressure on us. I got to the point when I was around 18 or 19, when I decided that I didn't want my life to be consumed by worrying about the things I'm not happy with. For example, I've always had big thighs. They're not going anywhere, no matter what weight I am, and I embrace that. I've never really had any boobs – you always want big boobs when you're growing up – but now I've realised that I like being able to wear a dress without a bra. I've always flipped everything I'm insecure about and made it something I can accept. There is so much my body can do. I might not be perfect, but that's not important. I can run up the stairs, I can lift my own bags, I can carry a load and I'm happy that I can do those things. That's what makes me feel powerful.
Are you careful about your diet and nutrition?
I have to be really grateful to my parents, as we always had home-cooked meals. We didn't have takeaways or processed food, and my dad was very strict about sweets and fizzy drinks – we didn't have them in the house. I was used to having a healthy diet from a young age and that definitely helps me now. My husband [French fashion designer Marcel Badiane-Robin] is the same. We always buy lots of vegetables and cook our meals from scratch. It helps with my skin, too – if ever I've fallen into unhealthy habits, I get a lot more spots and my skin gets dry. I'd always rather have a big plate of my mum's rice and chicken than a cake or sweets.
How well do you deal with stress?
I can bottle things up. If I'm in a professional setting and something is really stressful, I'll be the person who will try to stay calm. I like to be the vibe co-ordinator. I make sure everyone's OK. Even if I've had the worst day, you won't know about it, as I don't like putting my problems onto other people. But when I get home, God bless him, my husband will get it all. But that's healthy, as then I've got it out of my system. But in the moment I will maintain my cool.
Does having physical strength give you mental strength, too?
It's all in your mental attitude. You have to feel and believe that you can do something. Yes, you have to have a level of physical ability, but your mind can take you so much further. I take that mindset into everything I do in life, because whether it's family, relationships or work, it does make me stronger as a person.
You were announced as SWEAT's first UK trainer earlier this year. Was that a big moment?
It felt insane. I've always wanted to have my own fitness programme, so working with SWEAT is such a dream come true. I've followed so many of their  workouts, like Insanity with Shaun T, Jillian Michaels, so to have the opportunity to have my own is incredible.
What are your goals for 2023?
I don't have long-term goals. That's why I like HIIT workouts! But I want to do a lot more presenting and hopefully have my own show. I've already recorded new music, which will be out in the new year. And who knows what this Strictly experience will bring?
The Hits Radio Breakfast Show is on every weekday from 6am-10am. Fleur's new program, Energising HIIT with Fleur, is available exclusively on the SWEAT app