Woah, woah, woah! What's this all about?! Kourtney Kardashian may be considering taking estranged boyfriend Scott Disick back.
The couple recently split after pictures emerged of Lord Disick cosying up to an ex while on holiday in Europe.
Kourtney and Scott met for the first time since the pictures emerged this week so he could see their children Mason, Penelope and Reign, but it's now thought Kourtney may be thinking of giving Scott another chance despite all their issues over the years.
A source told People magazine: "Scott is not totally out of the picture. She hasn't made a final decision. Right now, she's just living day to day.
"She's not begging him to see the kids, but she also hasn't definitely said 'I'm never letting him back in again.'"
Keeping Up With the Kardashians star Kourtney is frightened of what the future might hold without Scott there to support her when he's on his best behaviour.
And the prospect of difficult times ahead are apparently making her think twice about her plans.
The source added: "For the first time, she's taking a hard look at what her new reality could look like.
"Before she just assumed nothing would really change, but now there's a strong possibility of life without him, and that's a scary thought for her.
"She was doing most of the work already, but at the end of the day, she would still turn into a single mum of three kids.
"She's figuring it out and taking it as it comes."
GALLERY: 101 Kardashian fashion disasters for you to feast your eyes upon
Grazia
Closer
Heat
101 Kardashian fashion disasters for you to feast your eyes upon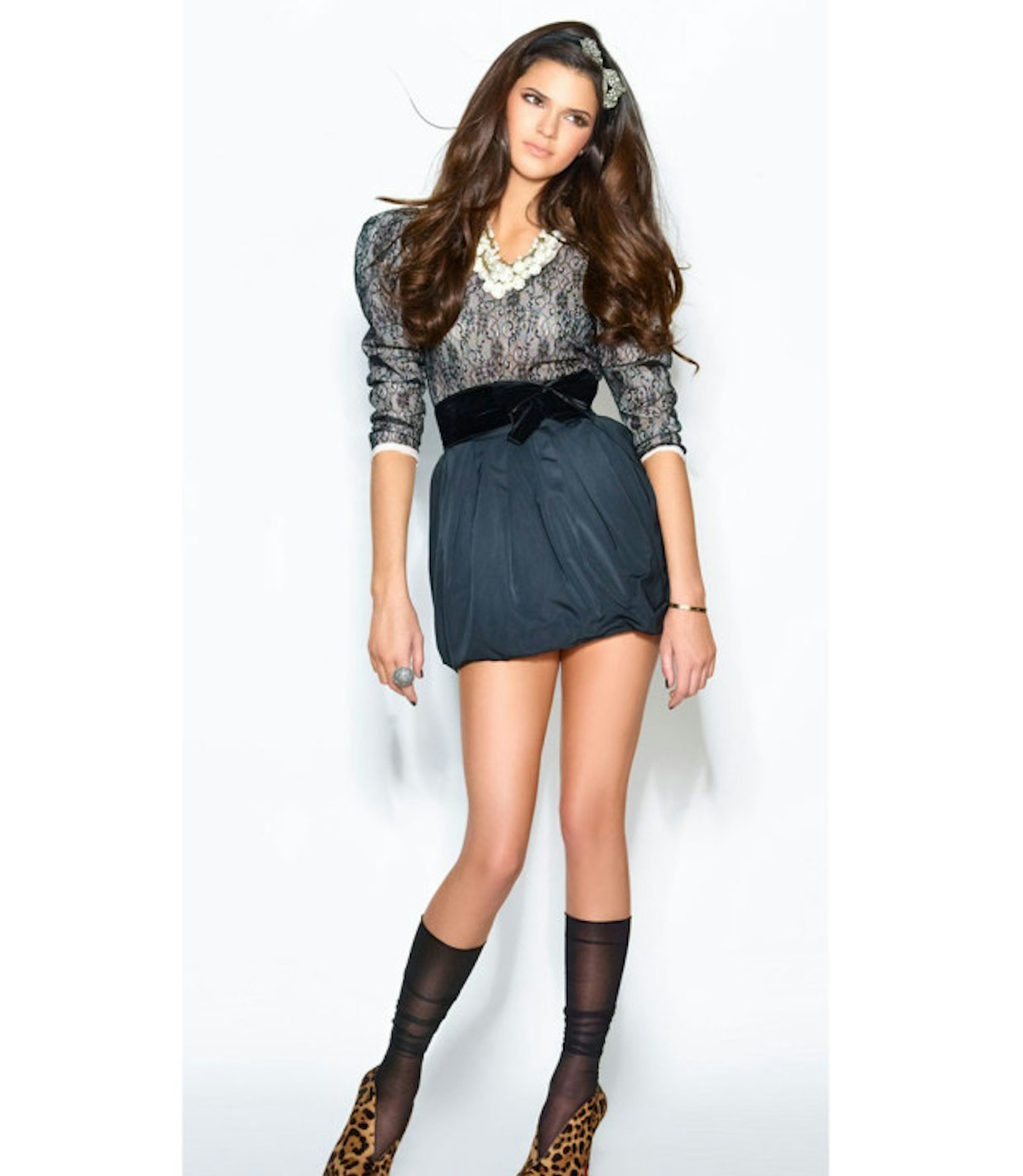 1 of 99
Socks appeal
Getting crafty with Kris' old hosiery, were we?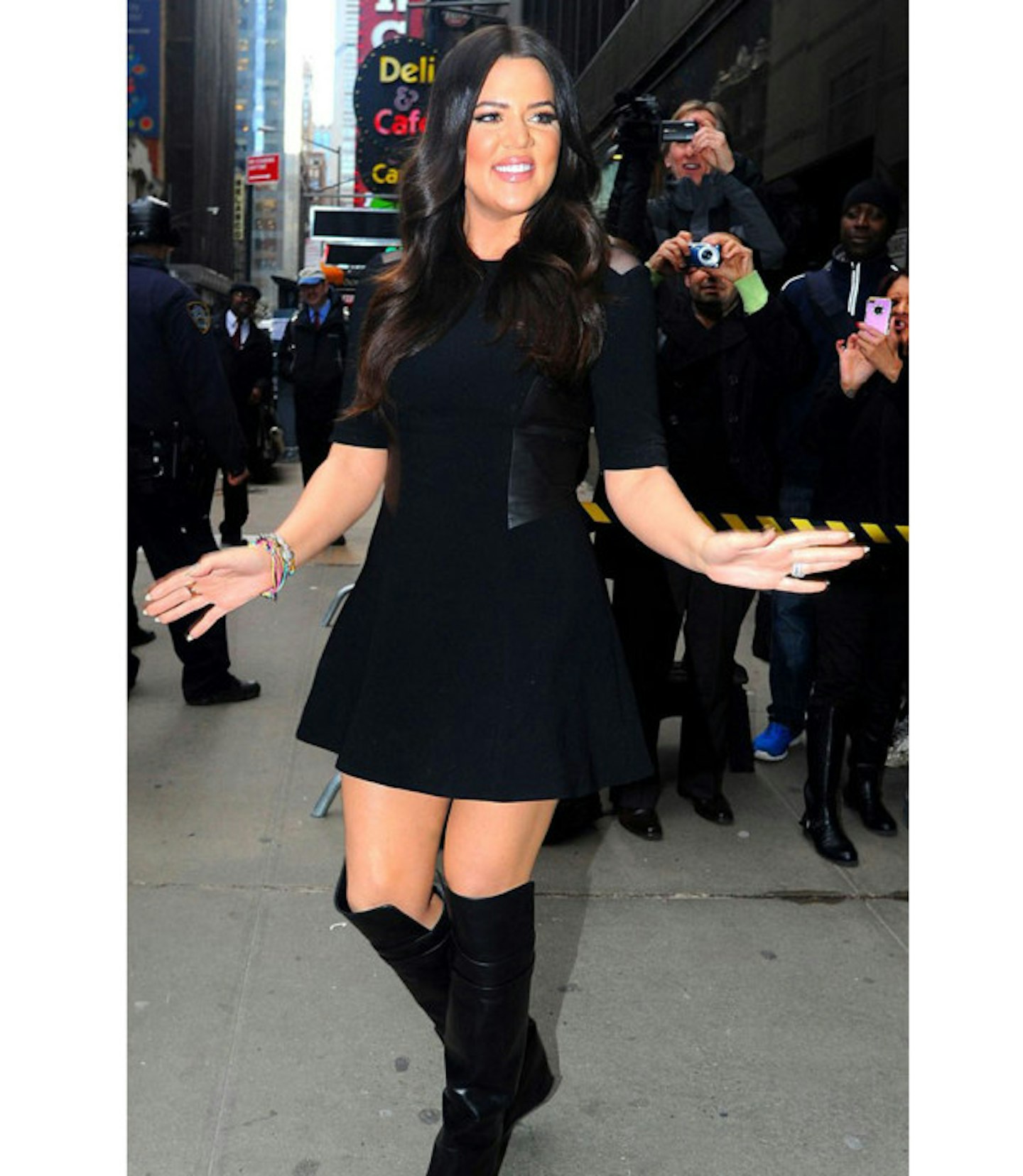 2 of 99
Getting pleathered
Where would one even buy tasselled pleather cowboy boots AND a matching pleather panelled dress?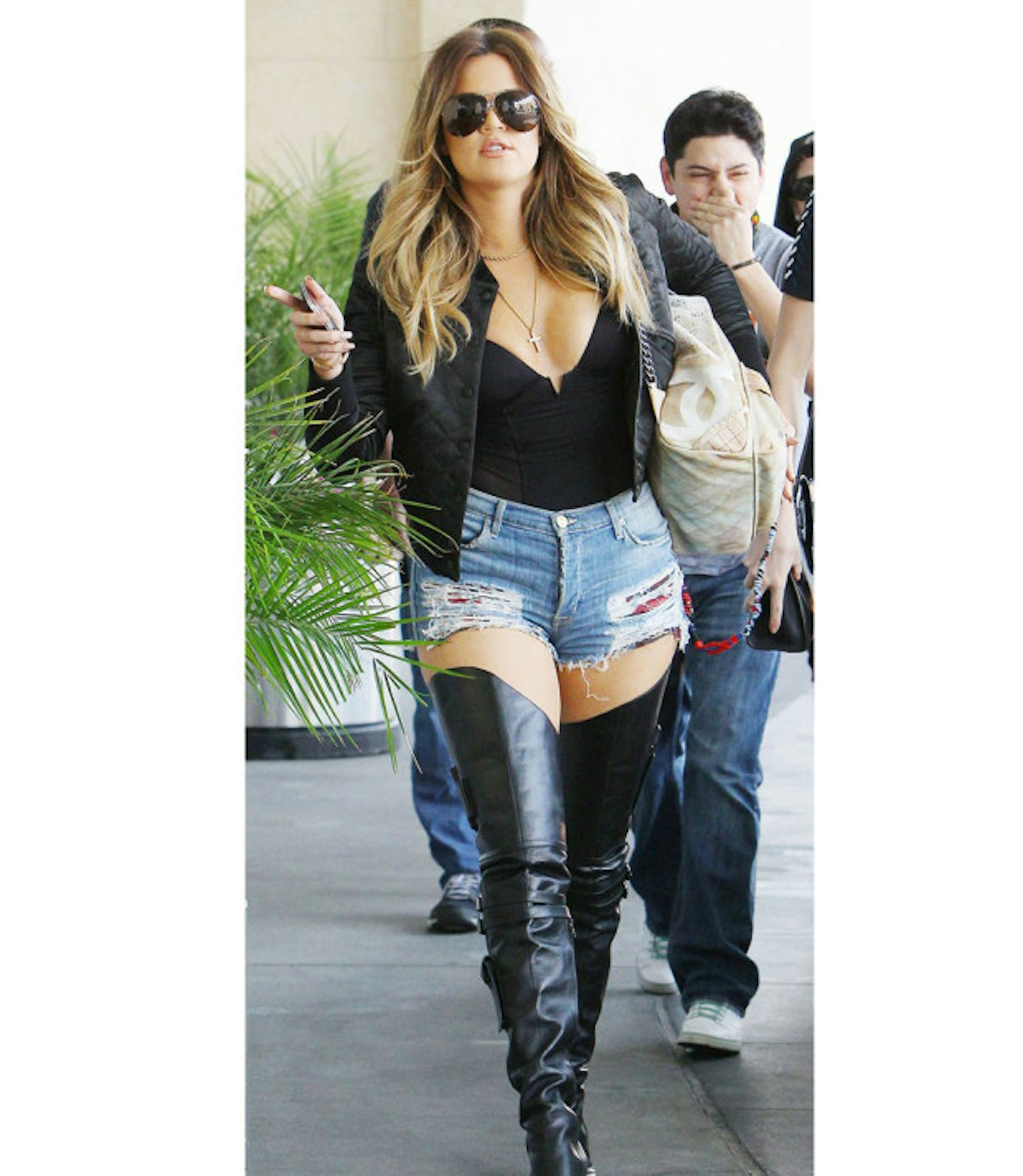 3 of 99
Thigh nigh
Having to be physically cut out of a pair of boots is probably a sign they're not the best buy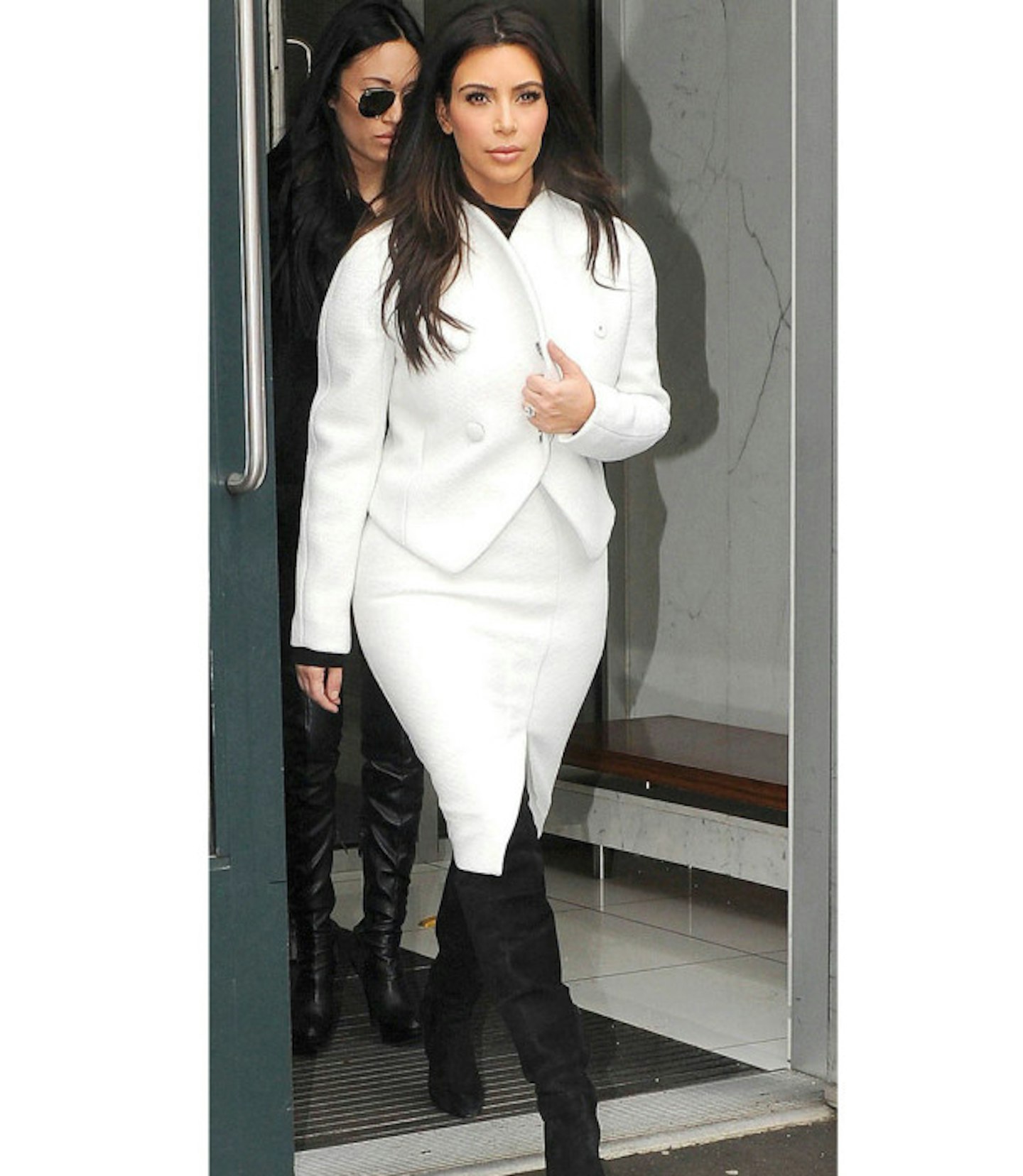 4 of 99
Lady in waiting
If Kim had a silver platter, we'd take her to be a member of a catering company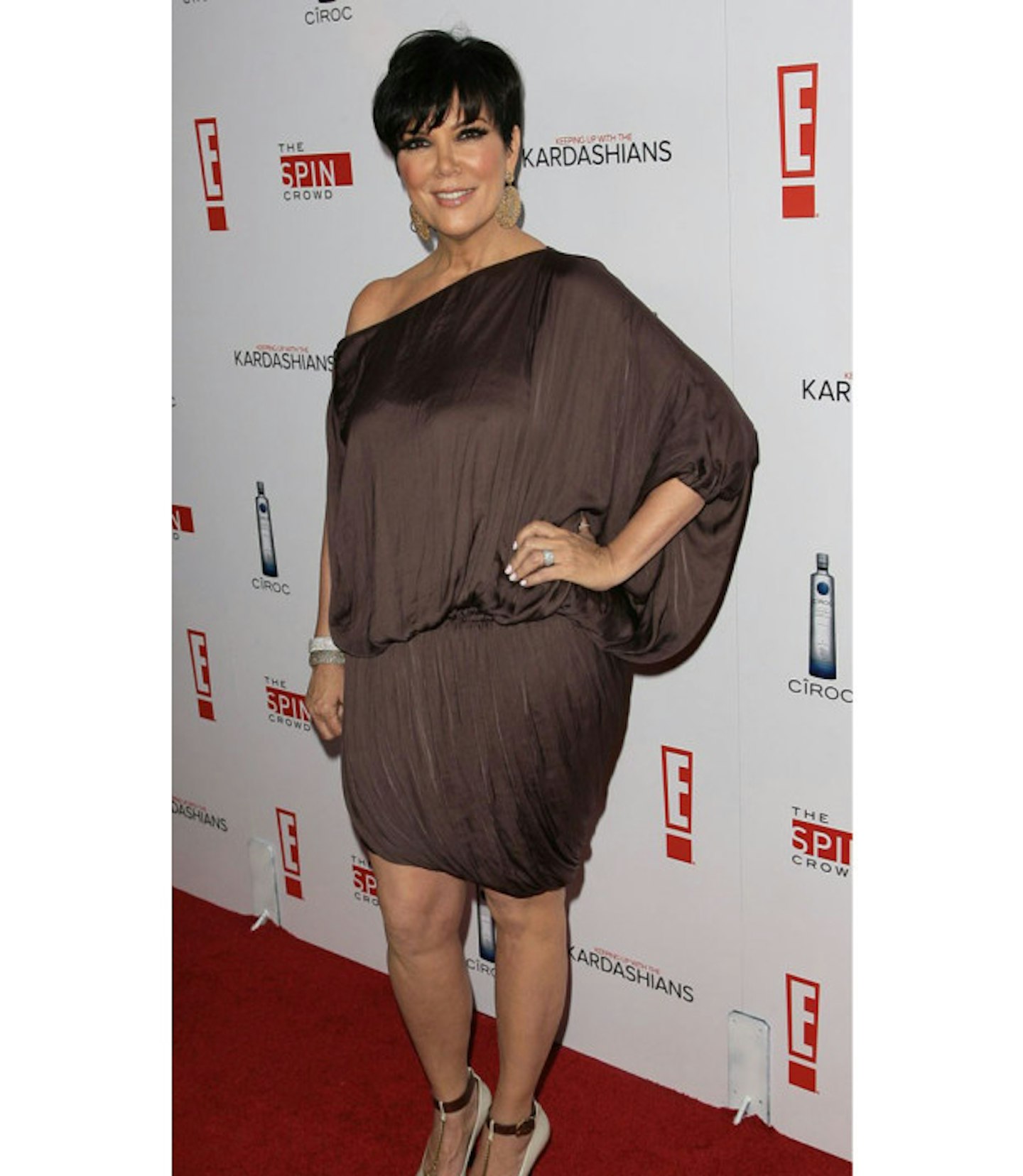 5 of 99
Sacking off
A shapeless dance sack is not appropriate red carpet attire. Sorry, Kris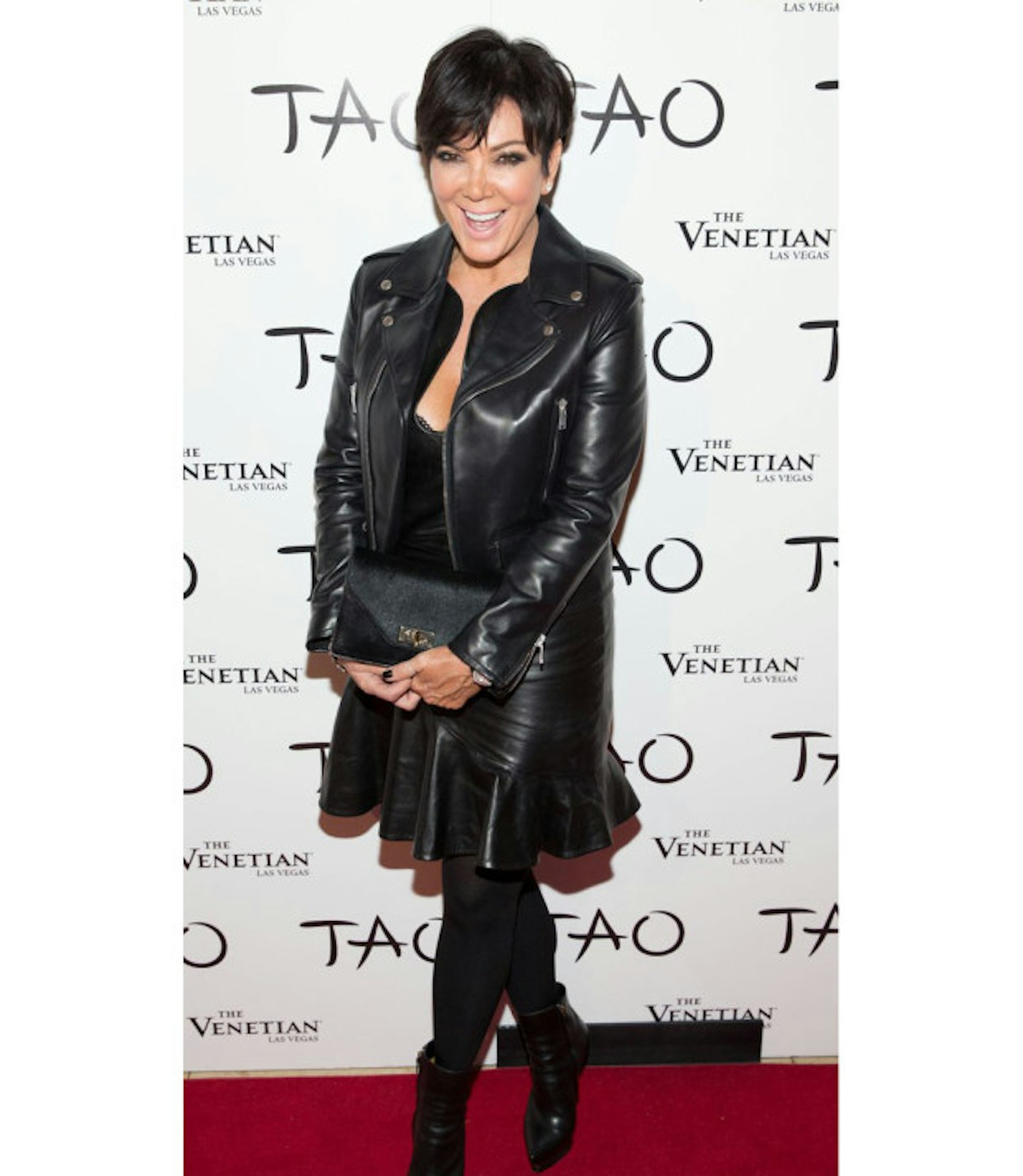 6 of 99
Leathering up
We hate to break it to you Kris, but nobody over the age of 30 should be wearing double leather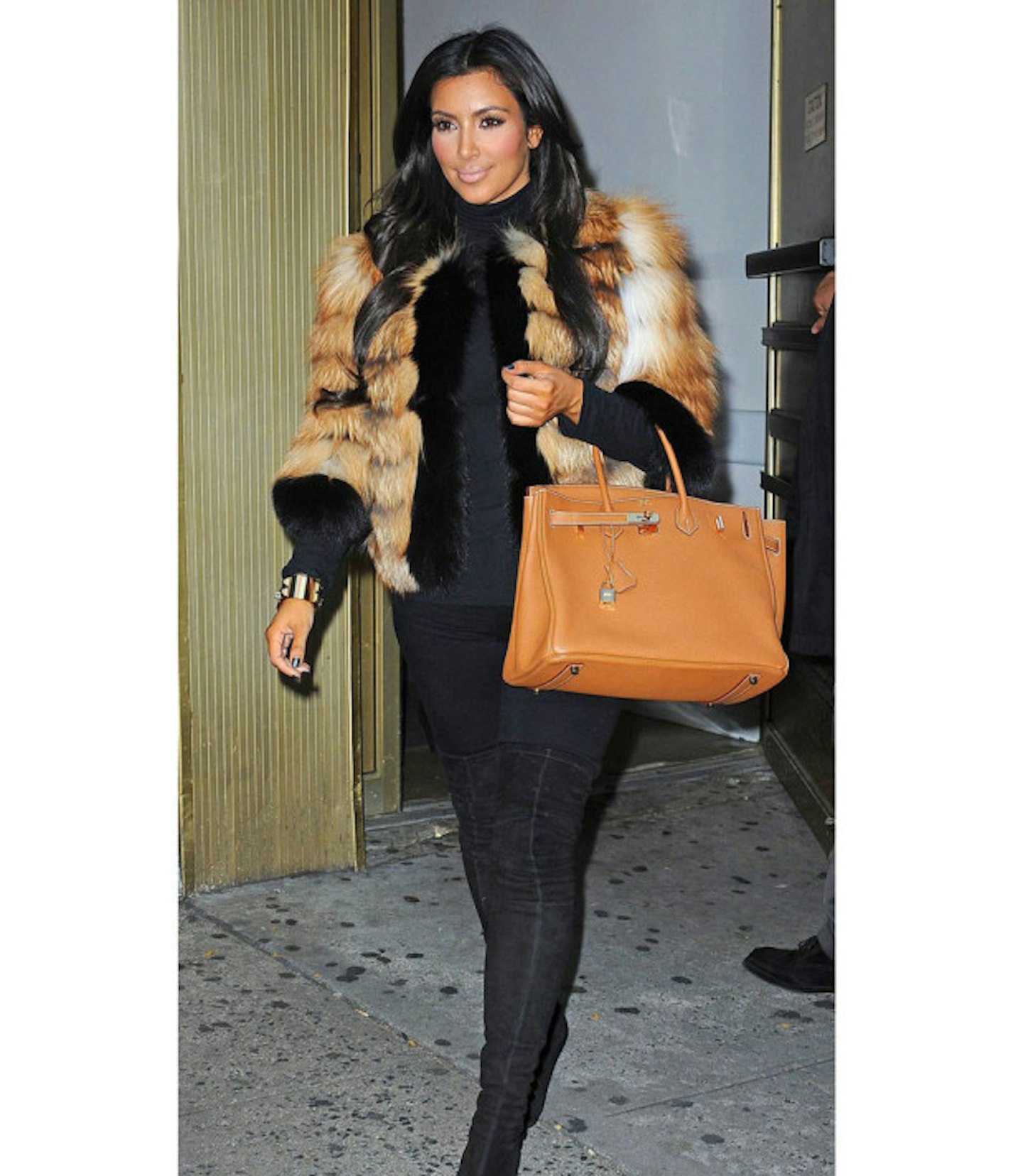 7 of 99
Super furry animal
We dread to think how many poor animals died only for an outfit to look this hideous
8 of 99
Jump for your life
Part dress, part jumpsuit, but definite no-no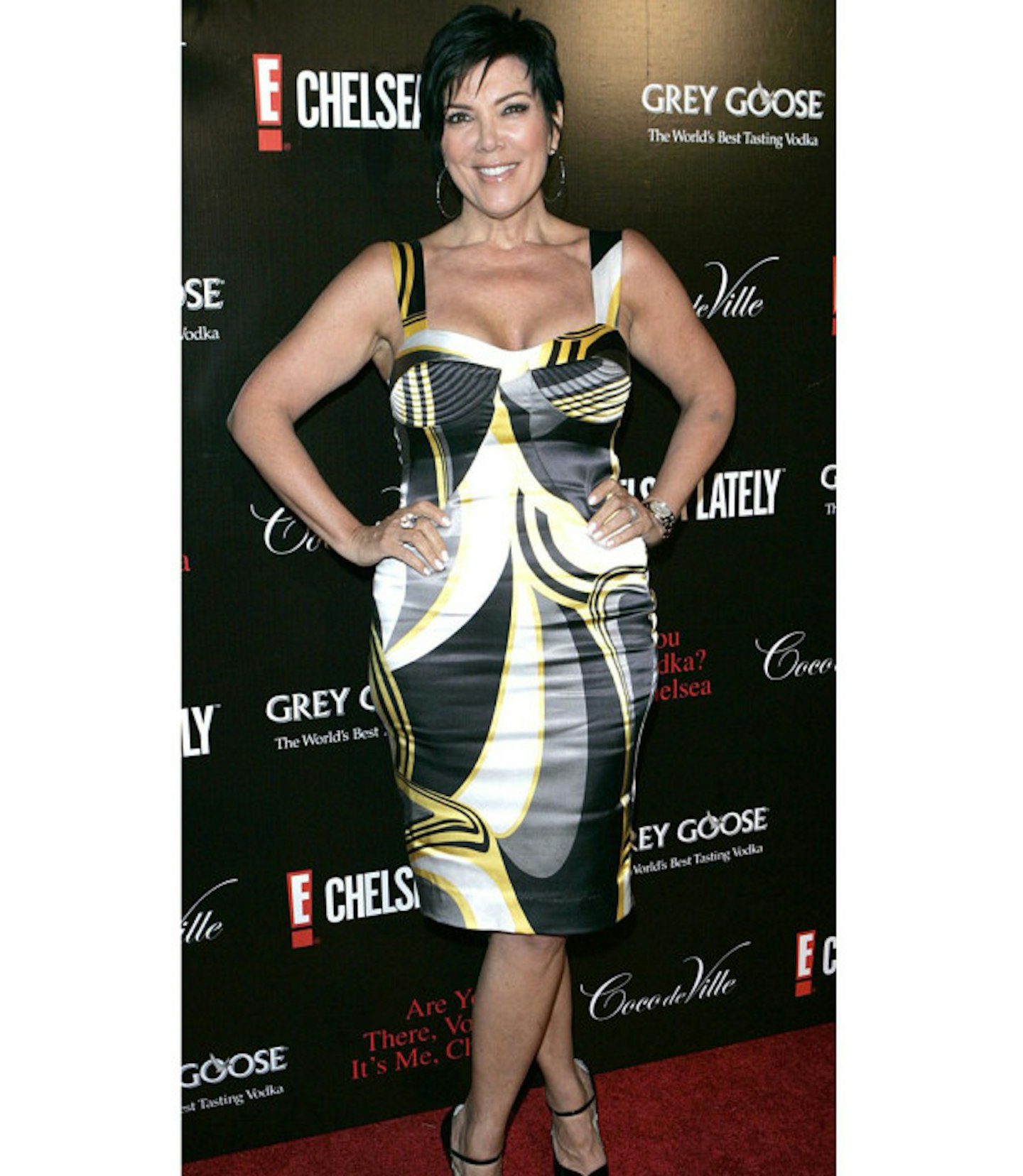 9 of 99
Pulling shapes
Except you won't be pulling anyone in that get-up Mrs J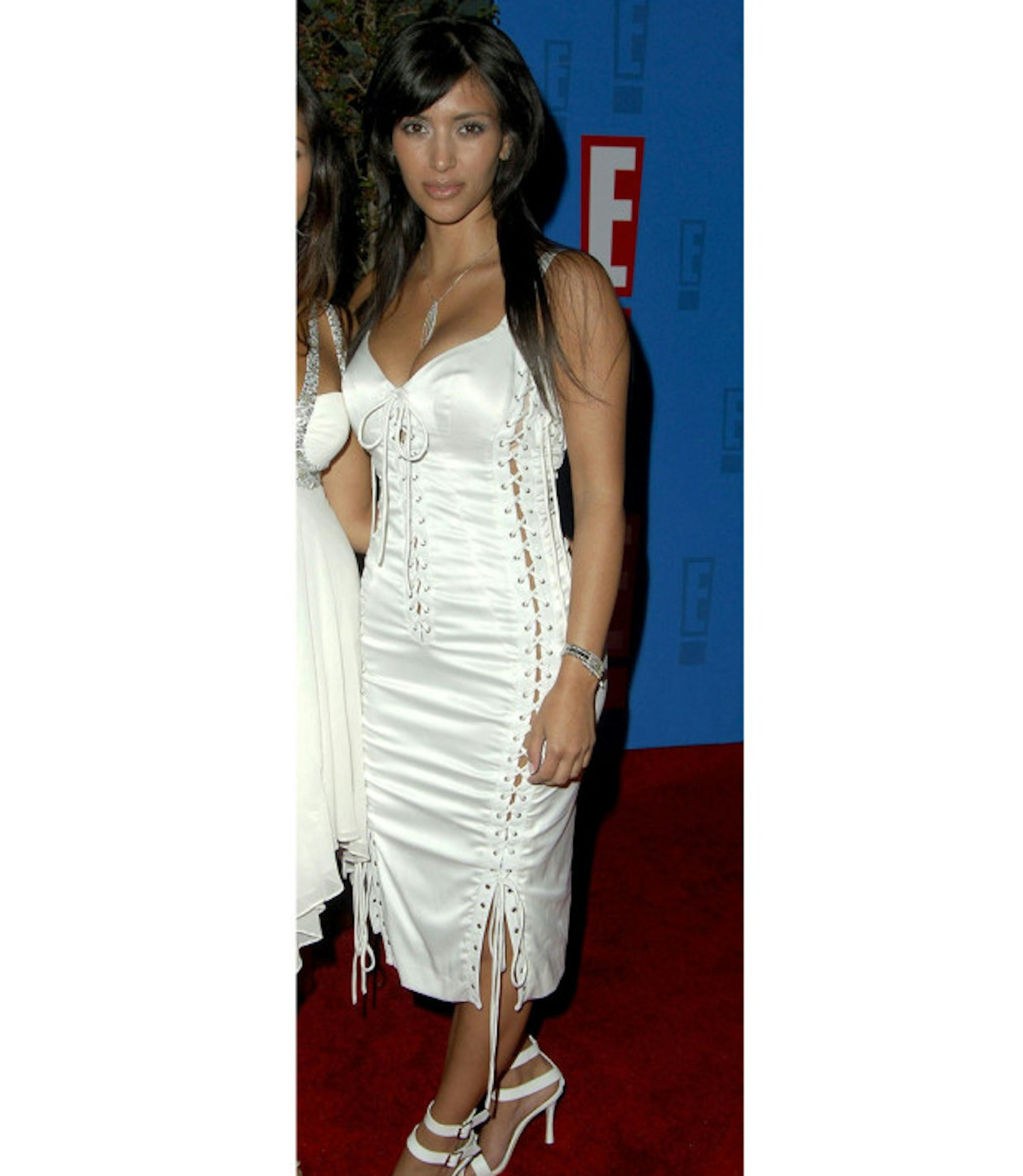 10 of 99
Lady in lace
We sincerely hope there's a zip at the back of that for health and safety reasons alone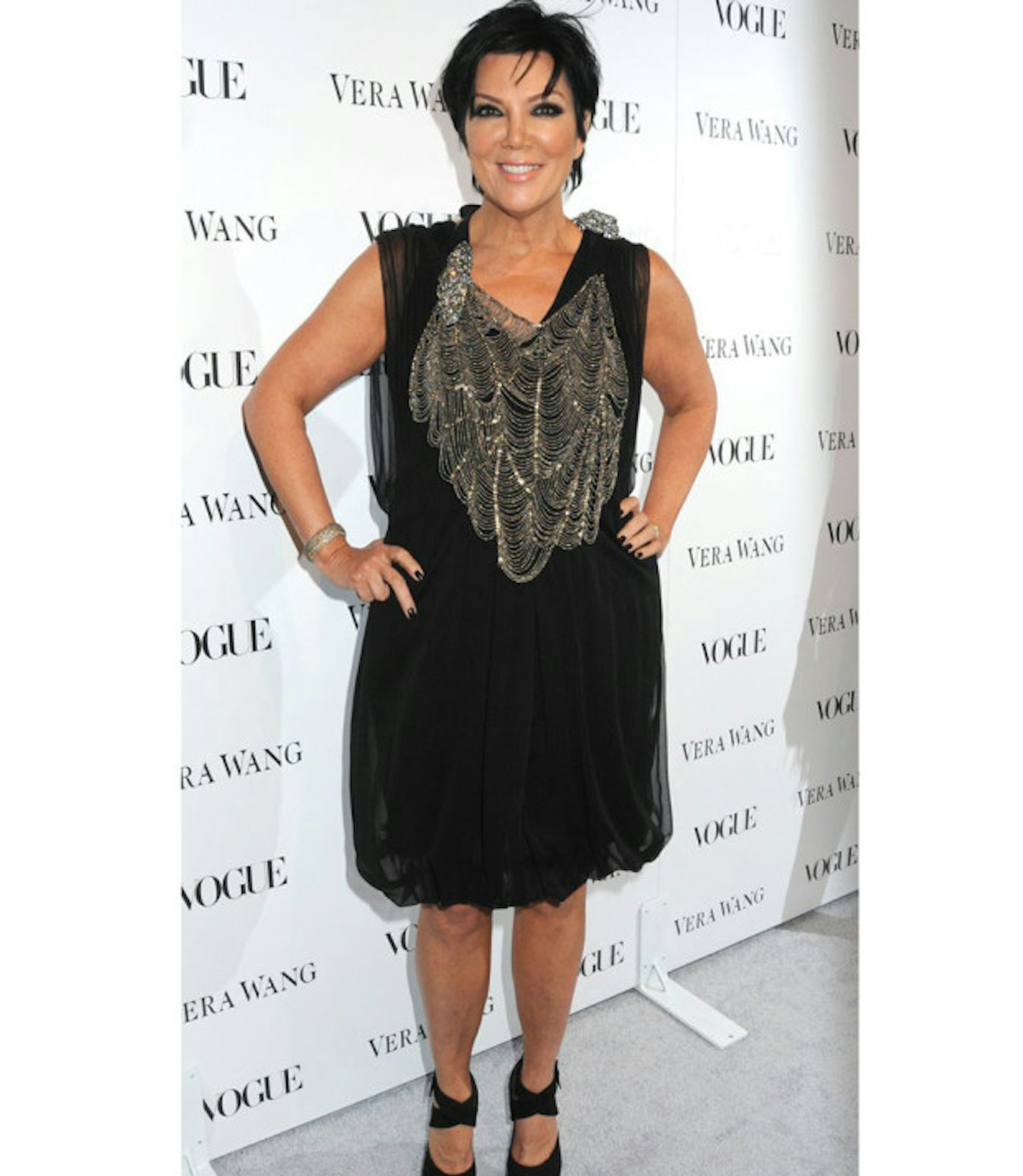 11 of 99
The Amazing Spiderwoman
Someone's hoping for an invite to Spiderman 3...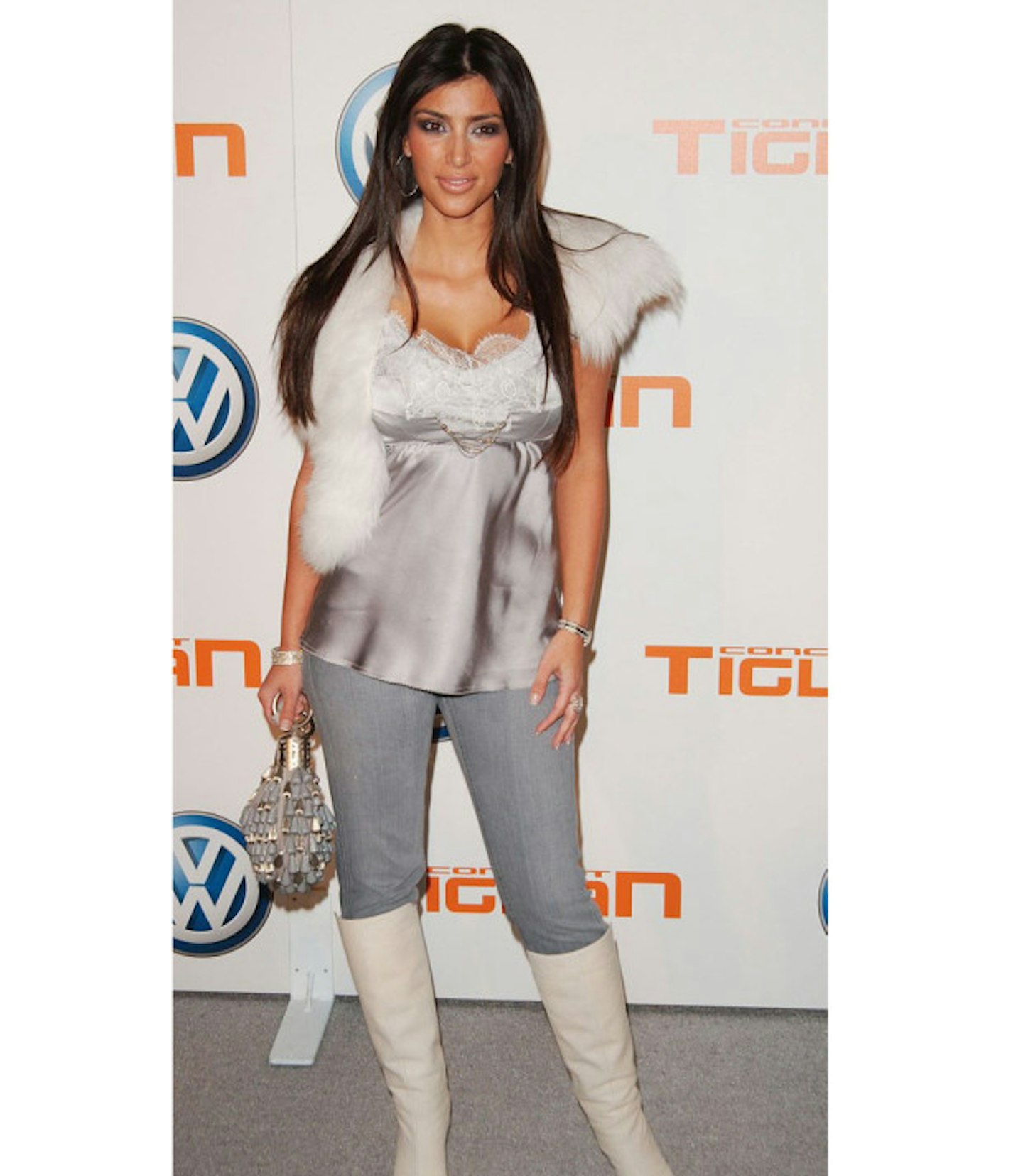 12 of 99
Nighty night
On the plus side, at least Kim won't have to change much when she gets ready for a snooze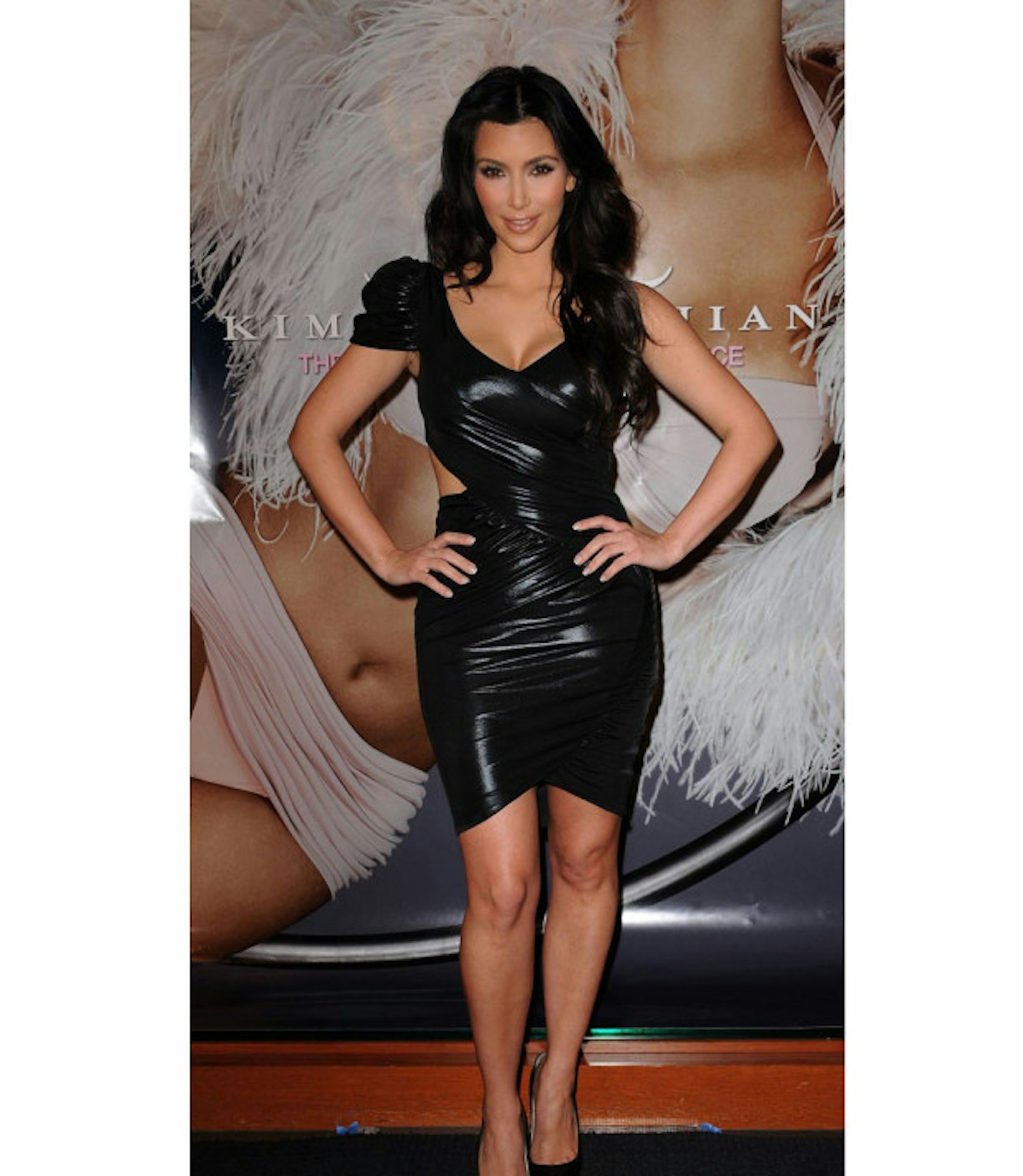 13 of 99
Wet wet wet
Kim handled having oil poured all over her really well considering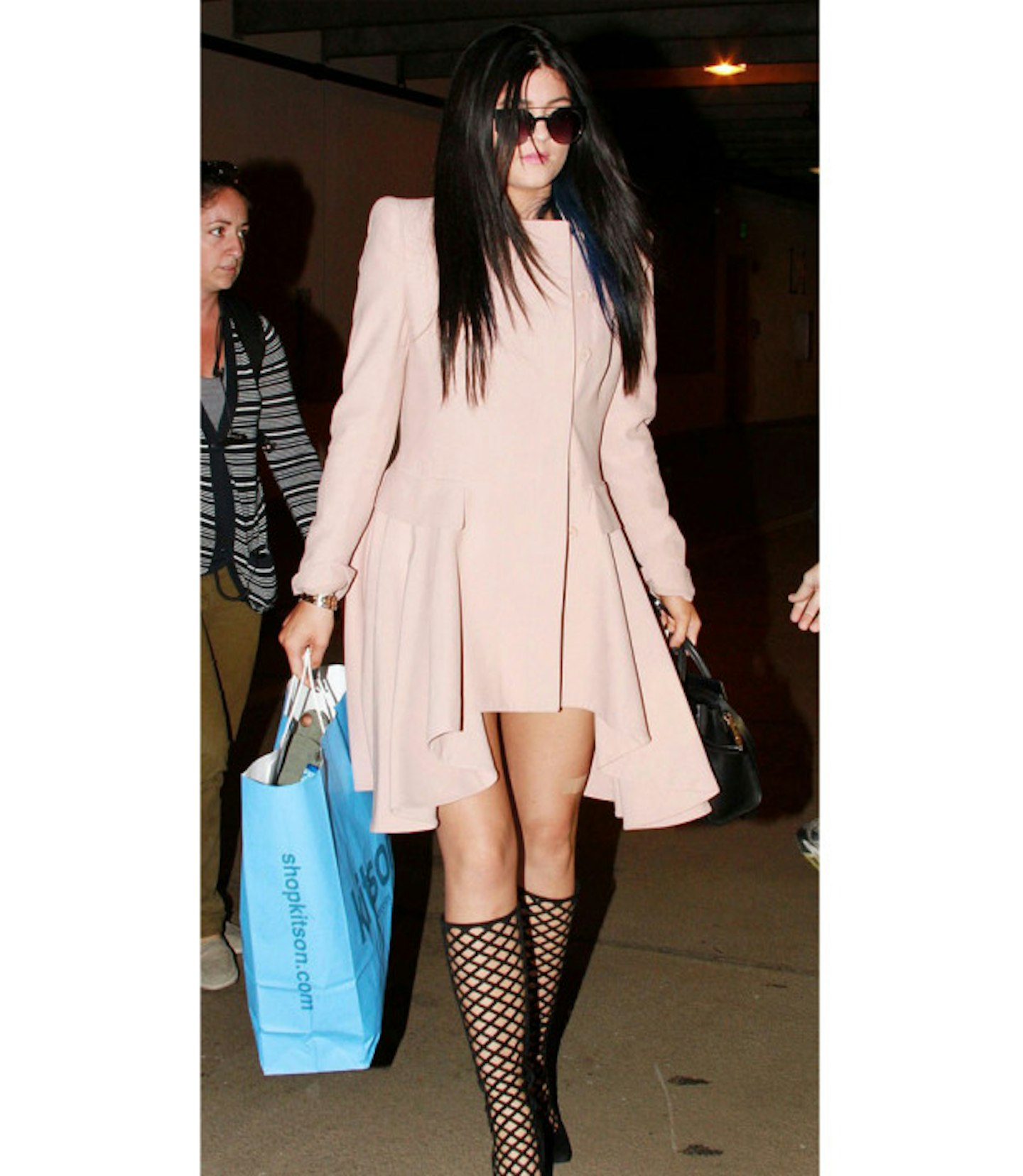 14 of 99
Mulleting over
We do hope Kylie's covered up under that mullet coat. We'll ignore the fishnet boots as they make our eyes hurt too much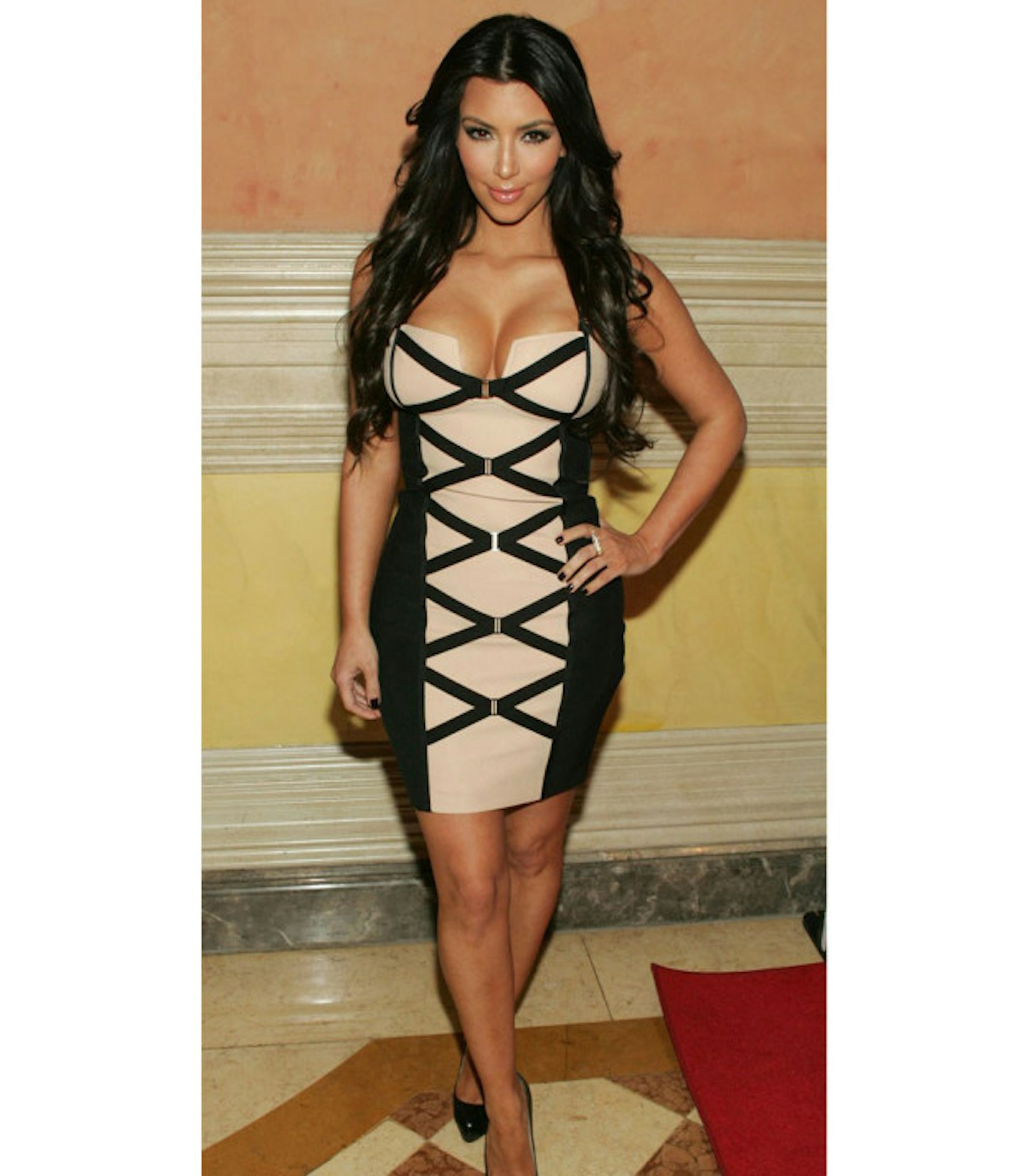 15 of 99
Brace yourself
Literally. Looks like Kim was very concerned about those puppies going astray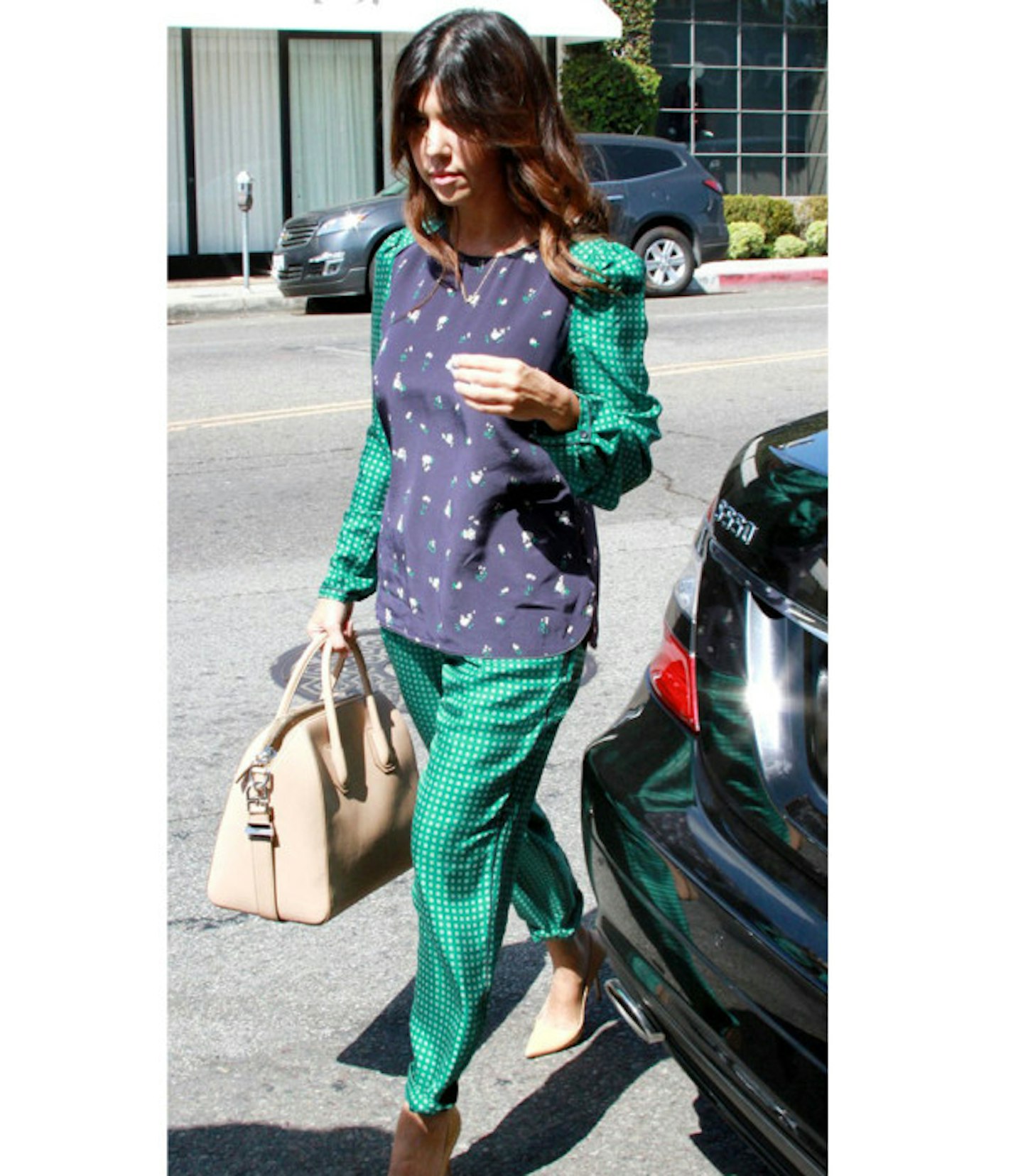 16 of 99
Ready for bed
Alright, Kourtney. It's not bedtime yet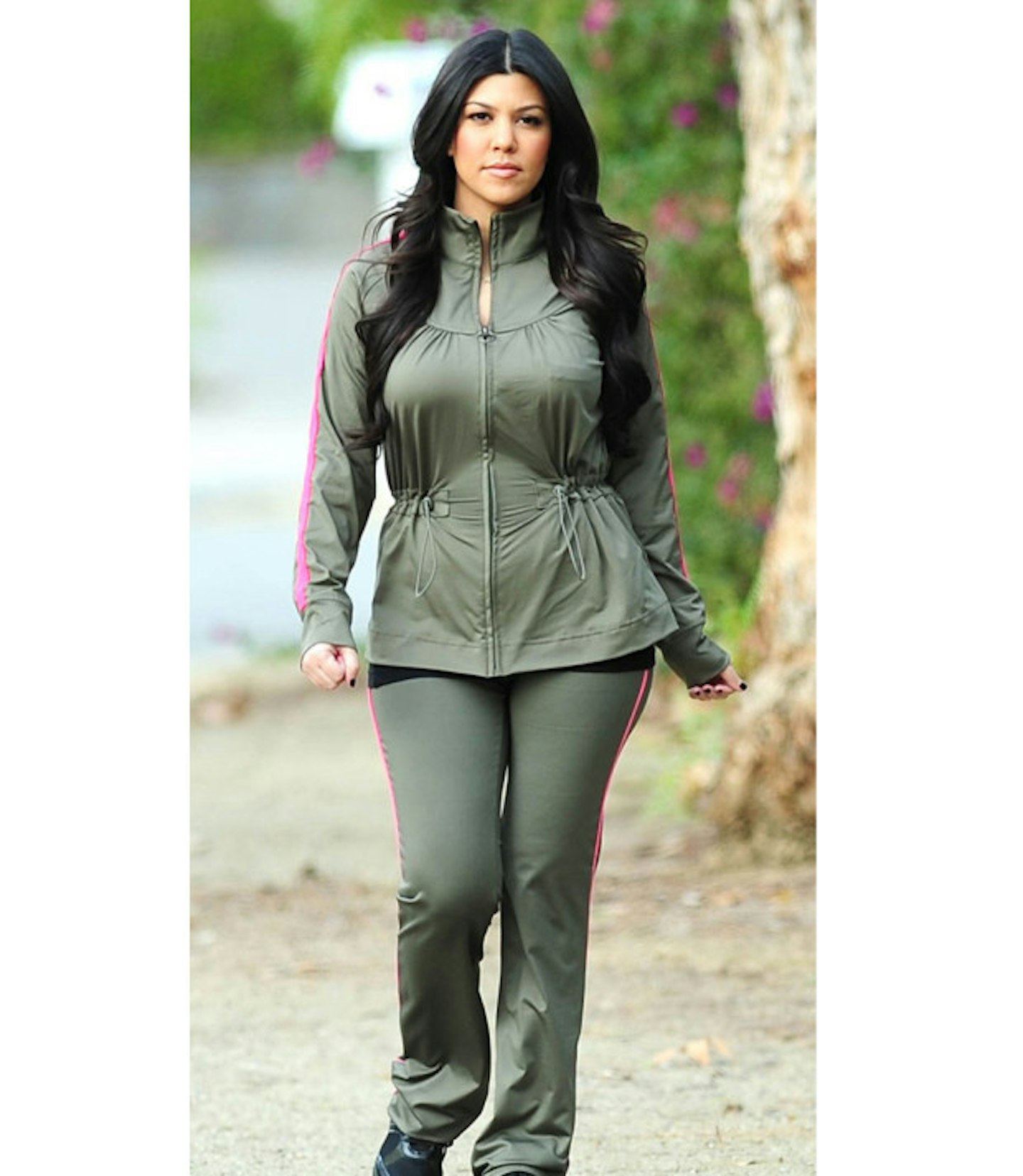 17 of 99
kourtney-kardashian-fashion-disaster-gym-khaki-tracksuit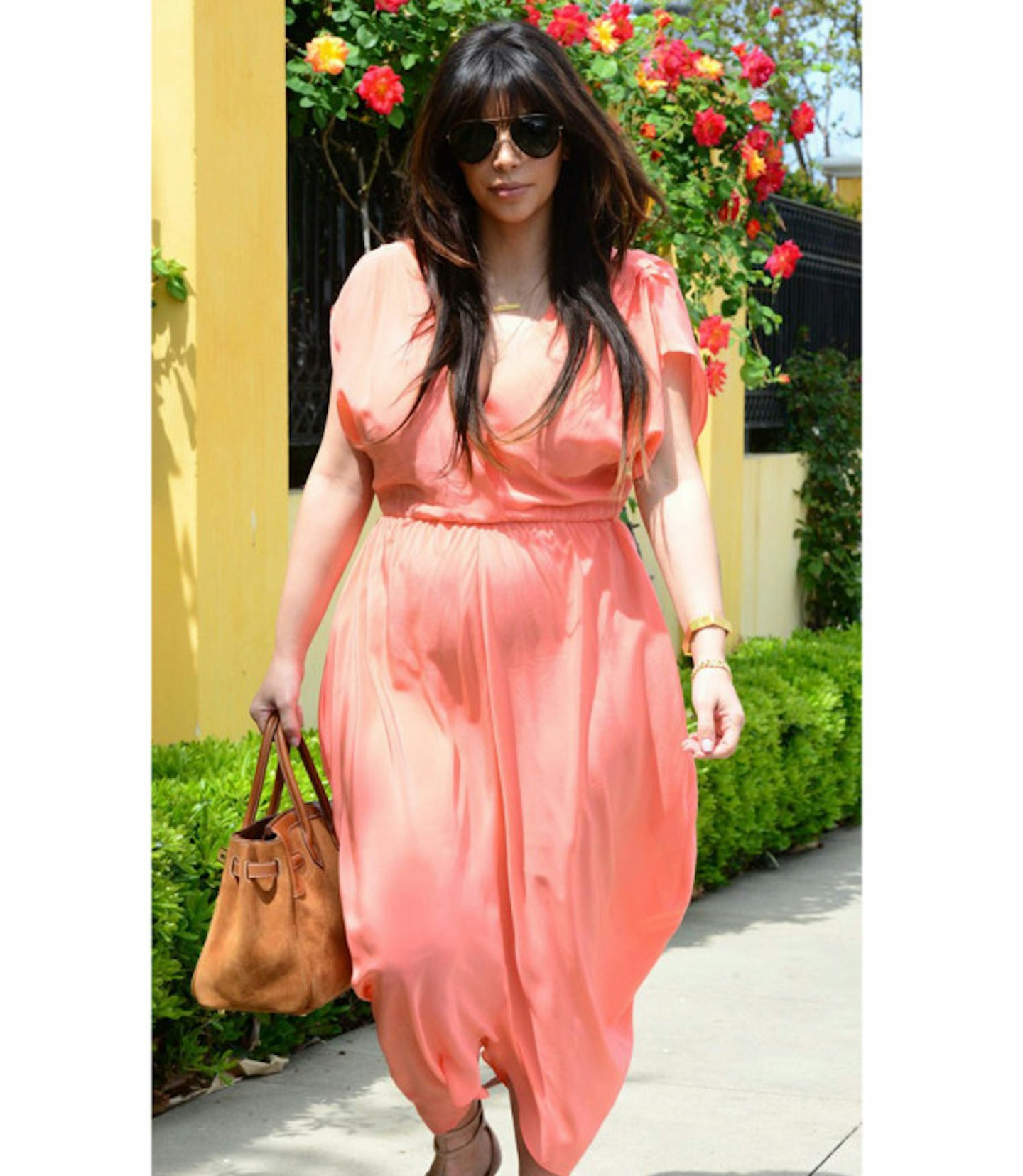 18 of 99
The Kardashian harem
One of Kim's unfortunate maternity wardrobe mistakes which we just can't bring ourselves to forget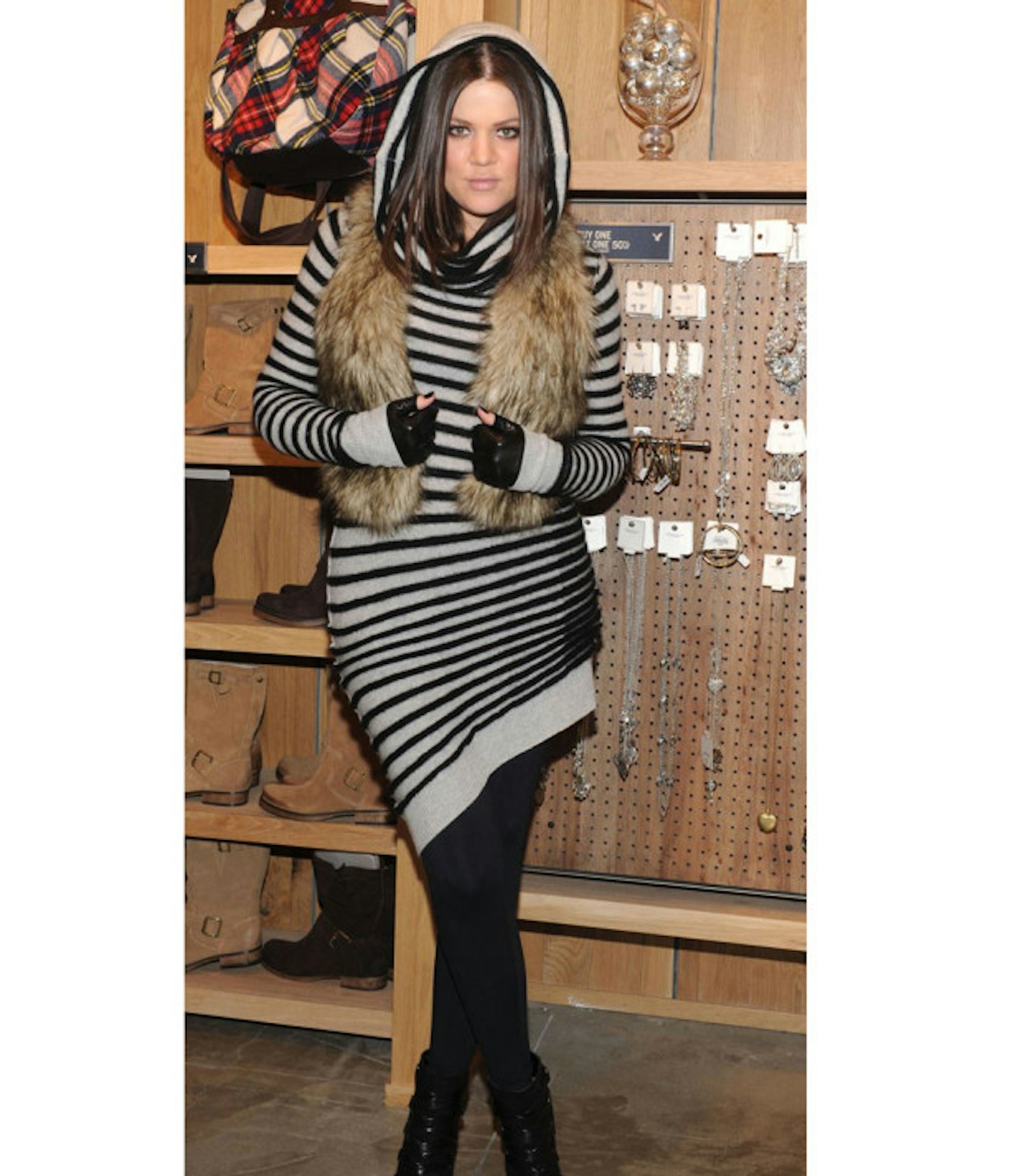 19 of 99
Snoody fox
How clever of Khloe to fashion a snood out of a jumper dress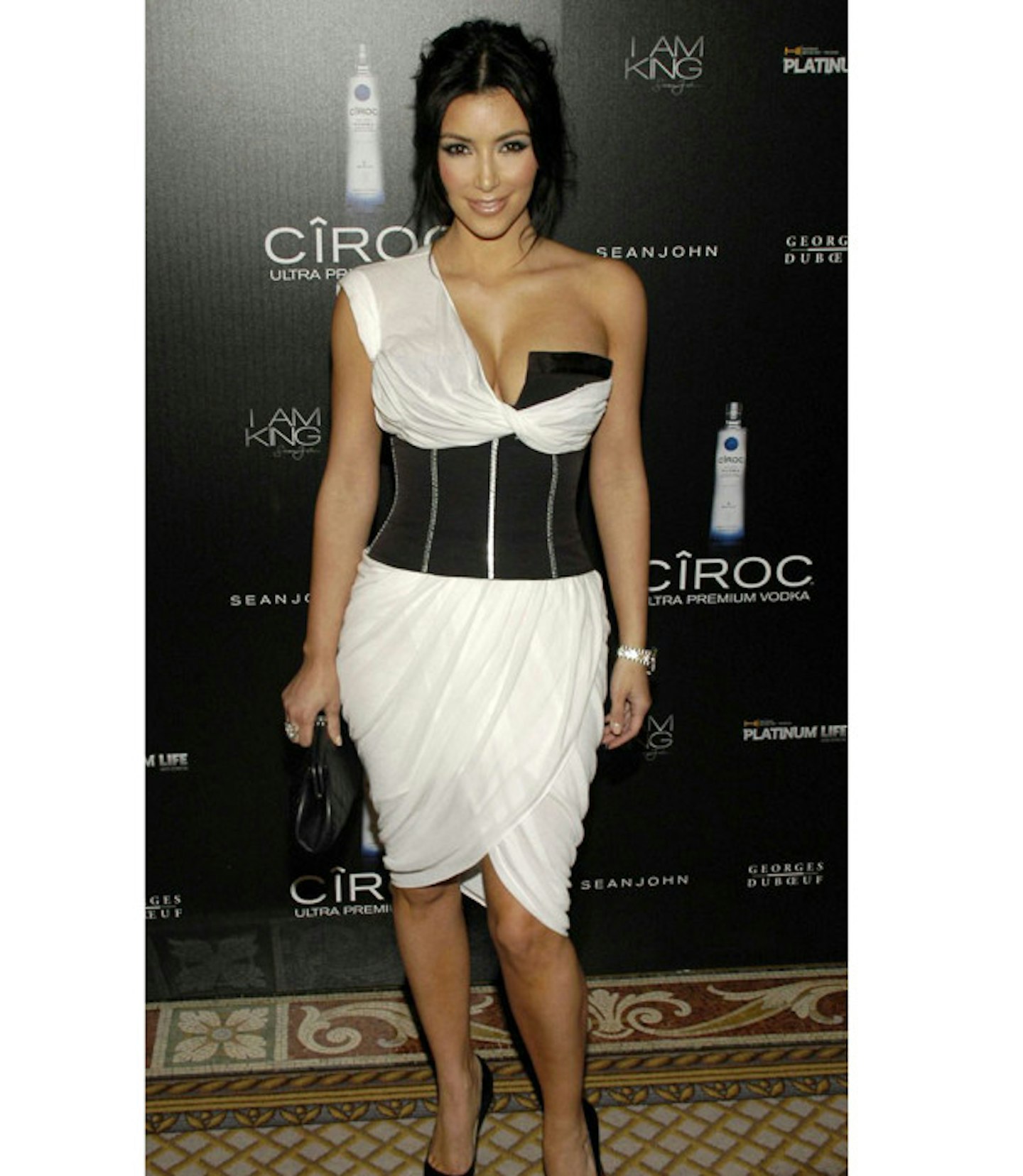 20 of 99
Pocket it
Lost a bit of your dress? Just borrow a bit of your hubby's pocket square instead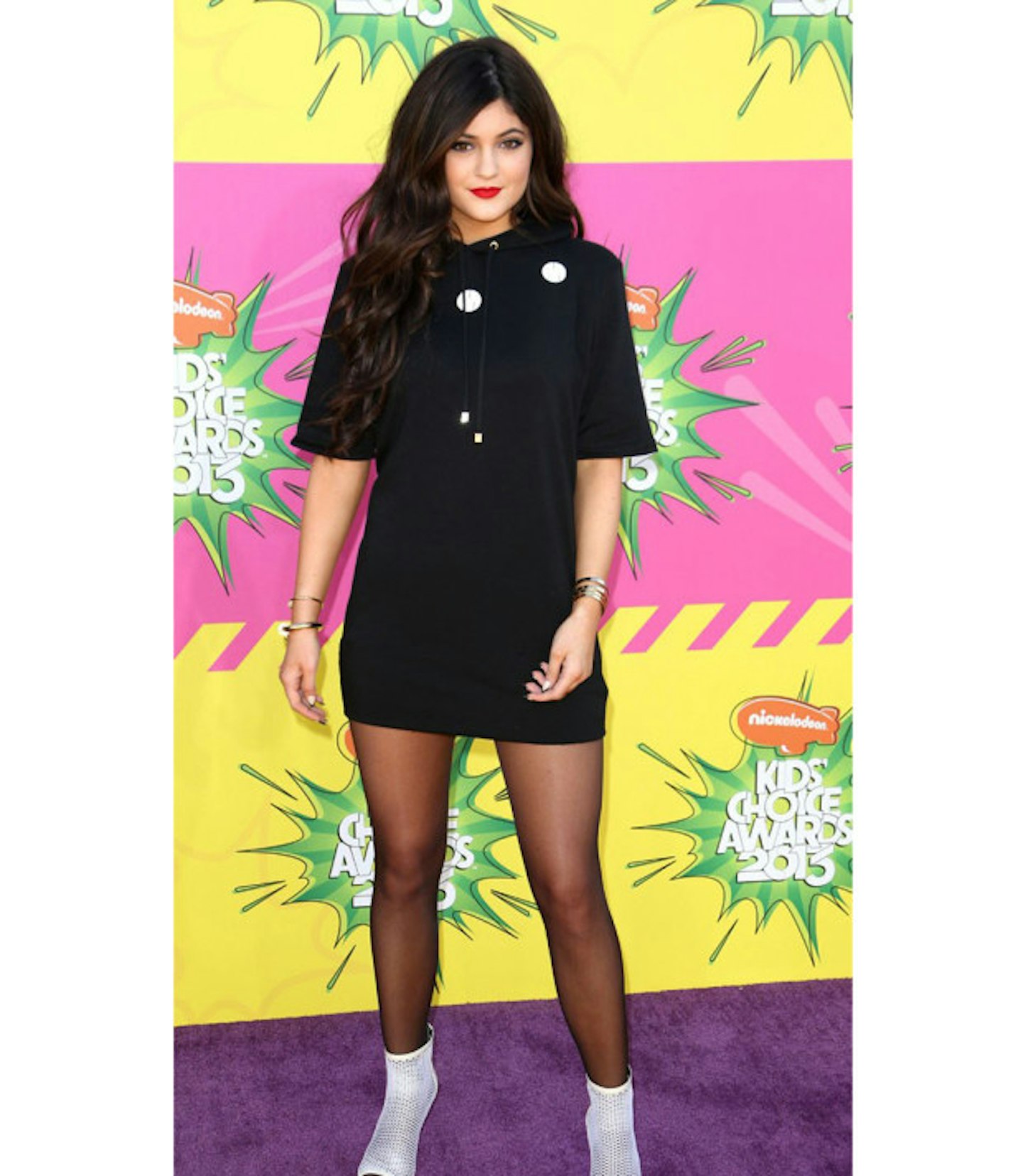 21 of 99
She was a skater girl
A skater boy hoodie fashioned into a dress - why not? THIS IS WHY NOT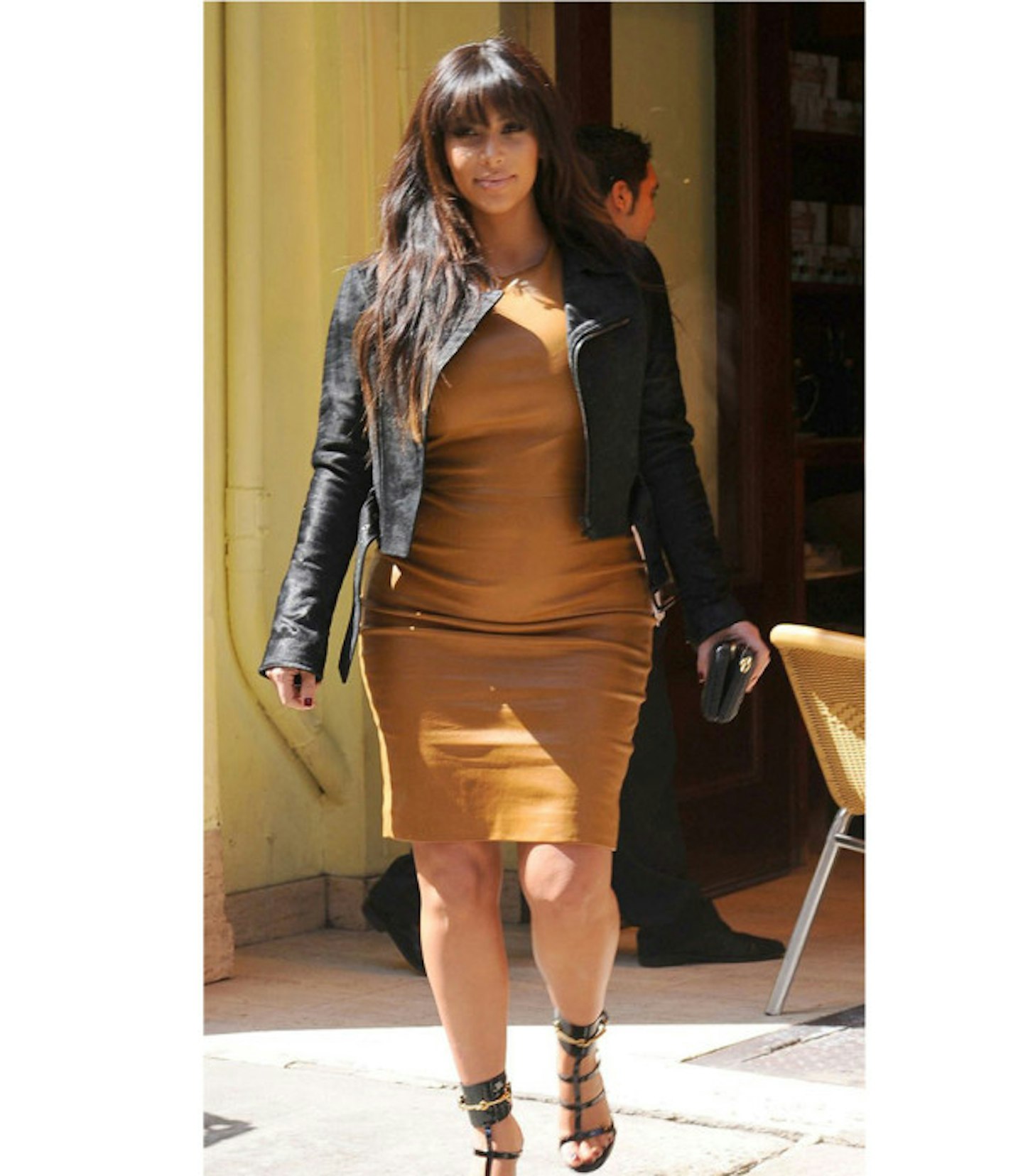 22 of 99
We see your true colours
Just the grossest colour we've ever seen basically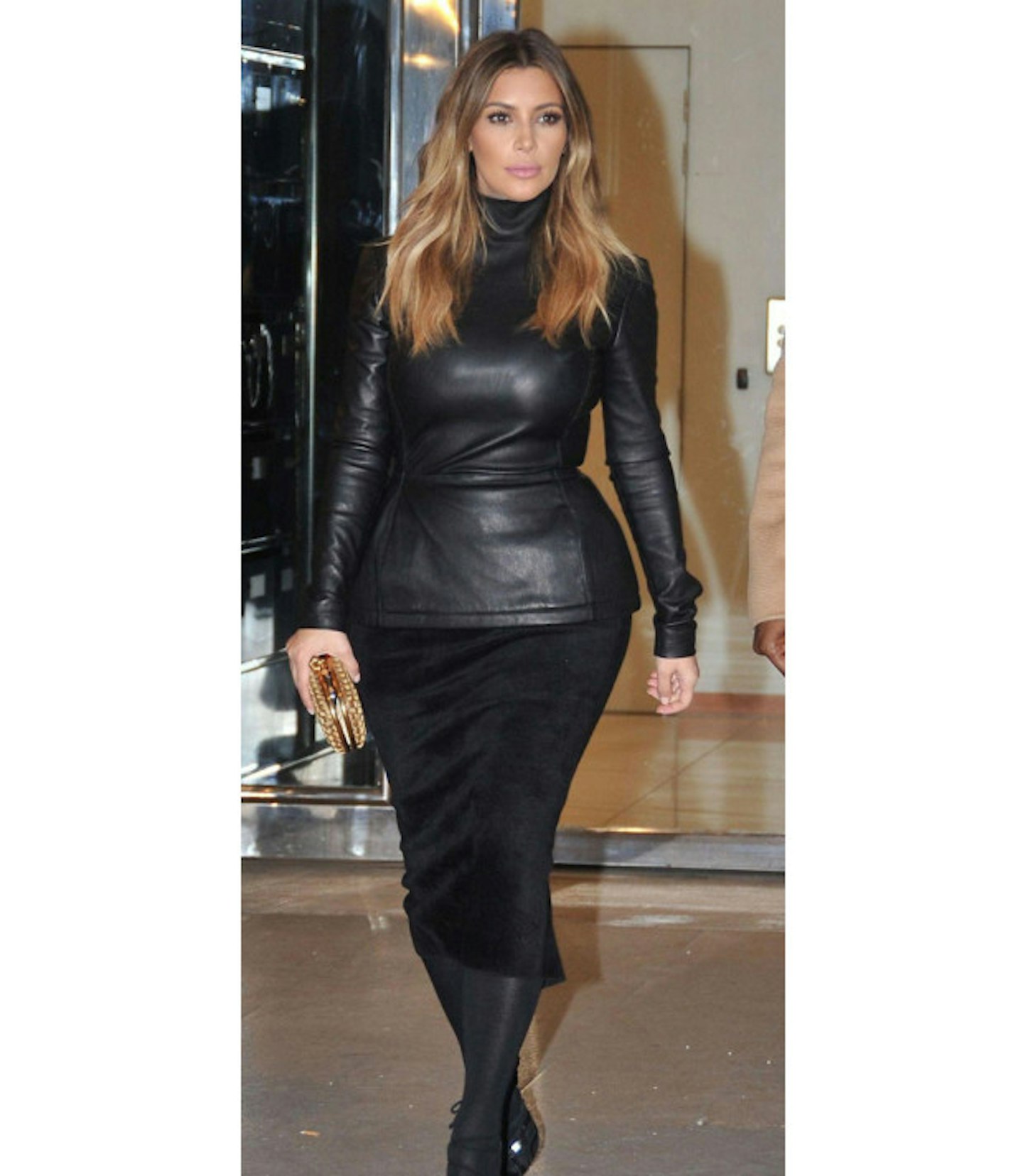 23 of 99
Hell for leather
Literally. This top is hell personified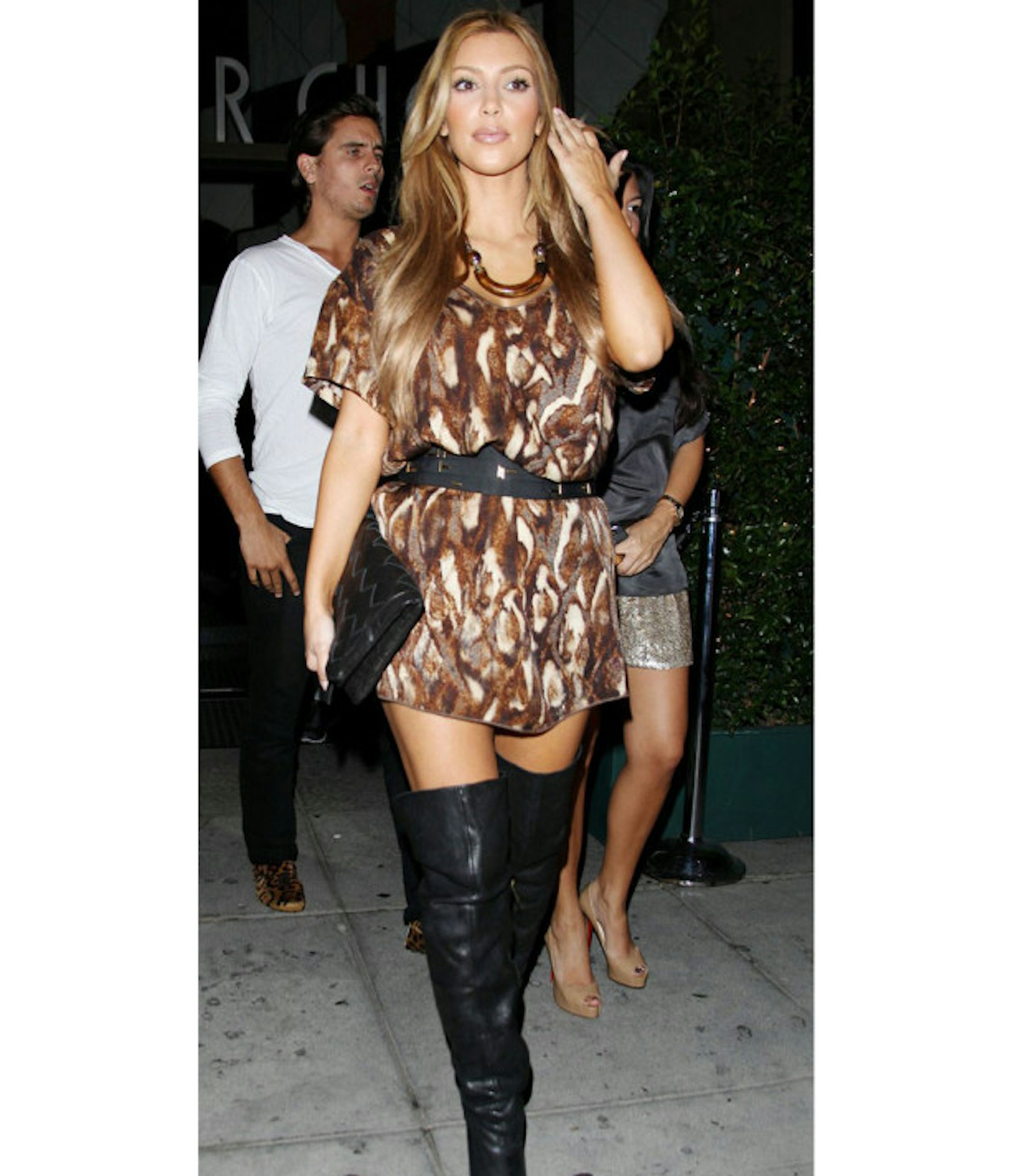 24 of 99
Ice-scream
If a dog ate a Magnum and then threw up all over your dress, this is what it would look like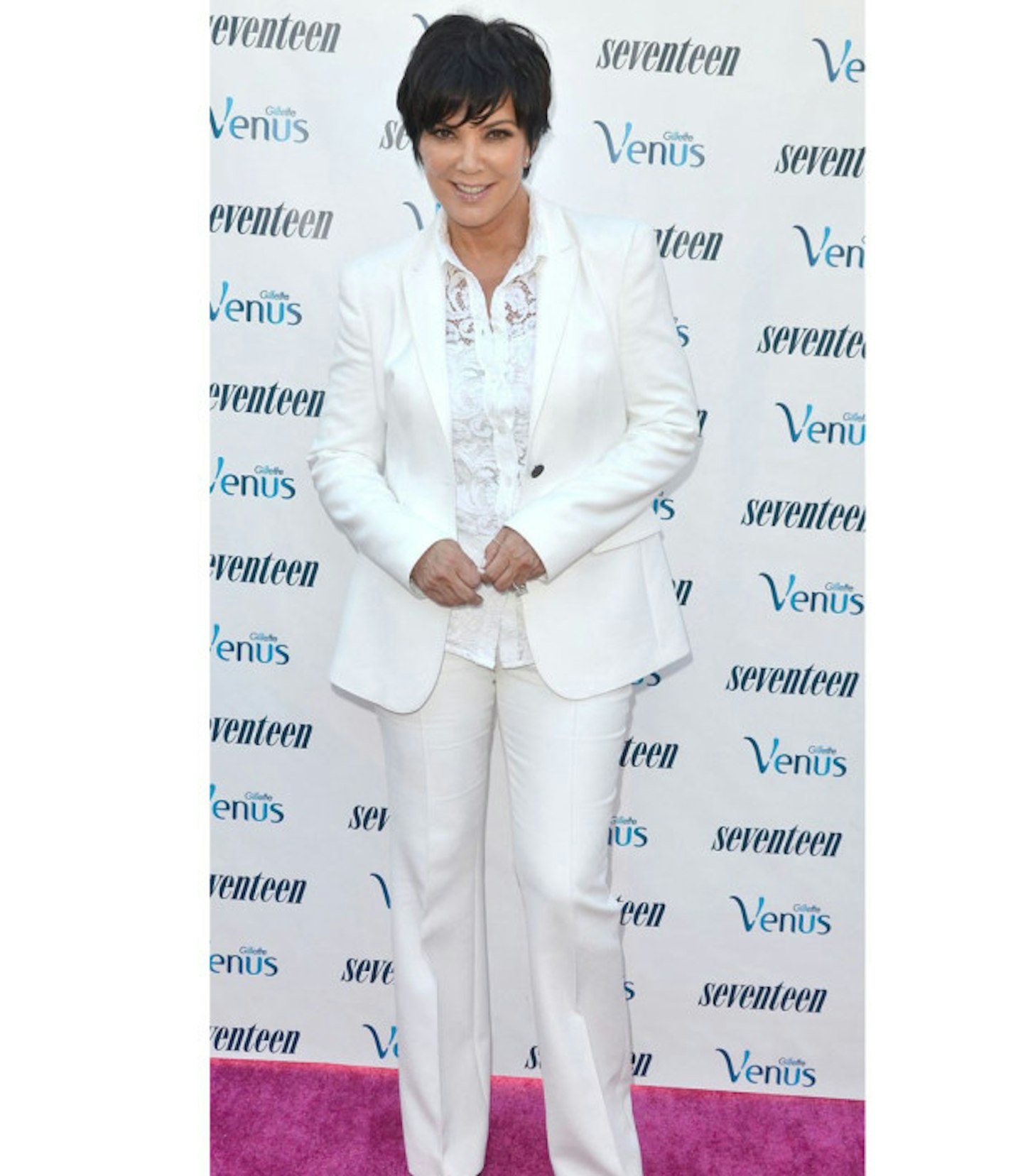 25 of 99
A bit of all white
In fact, a lot of all white. And that's definitely just all white, not all right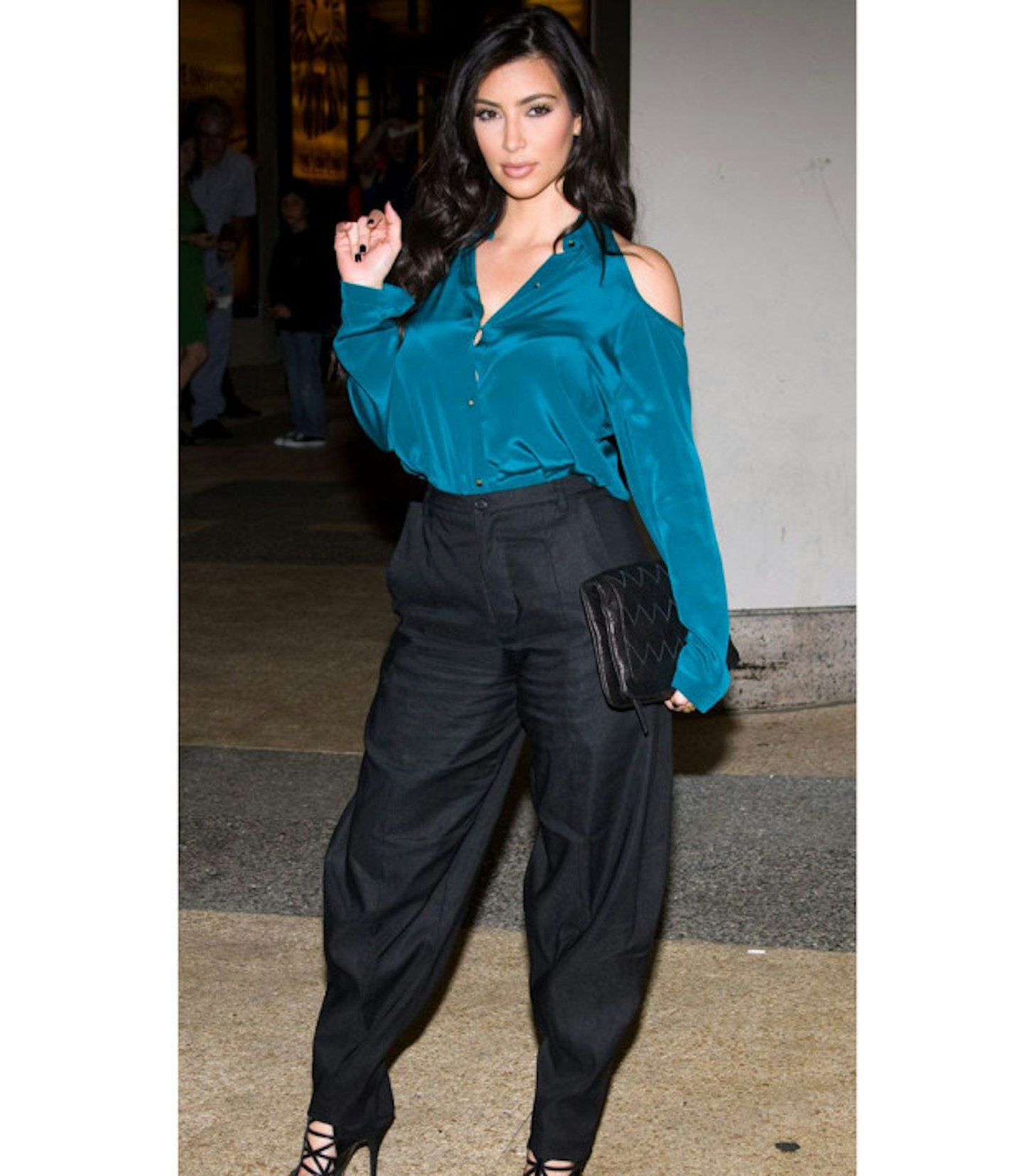 26 of 99
Baggy trousers
Now we know where the inspiration for Madness' song came from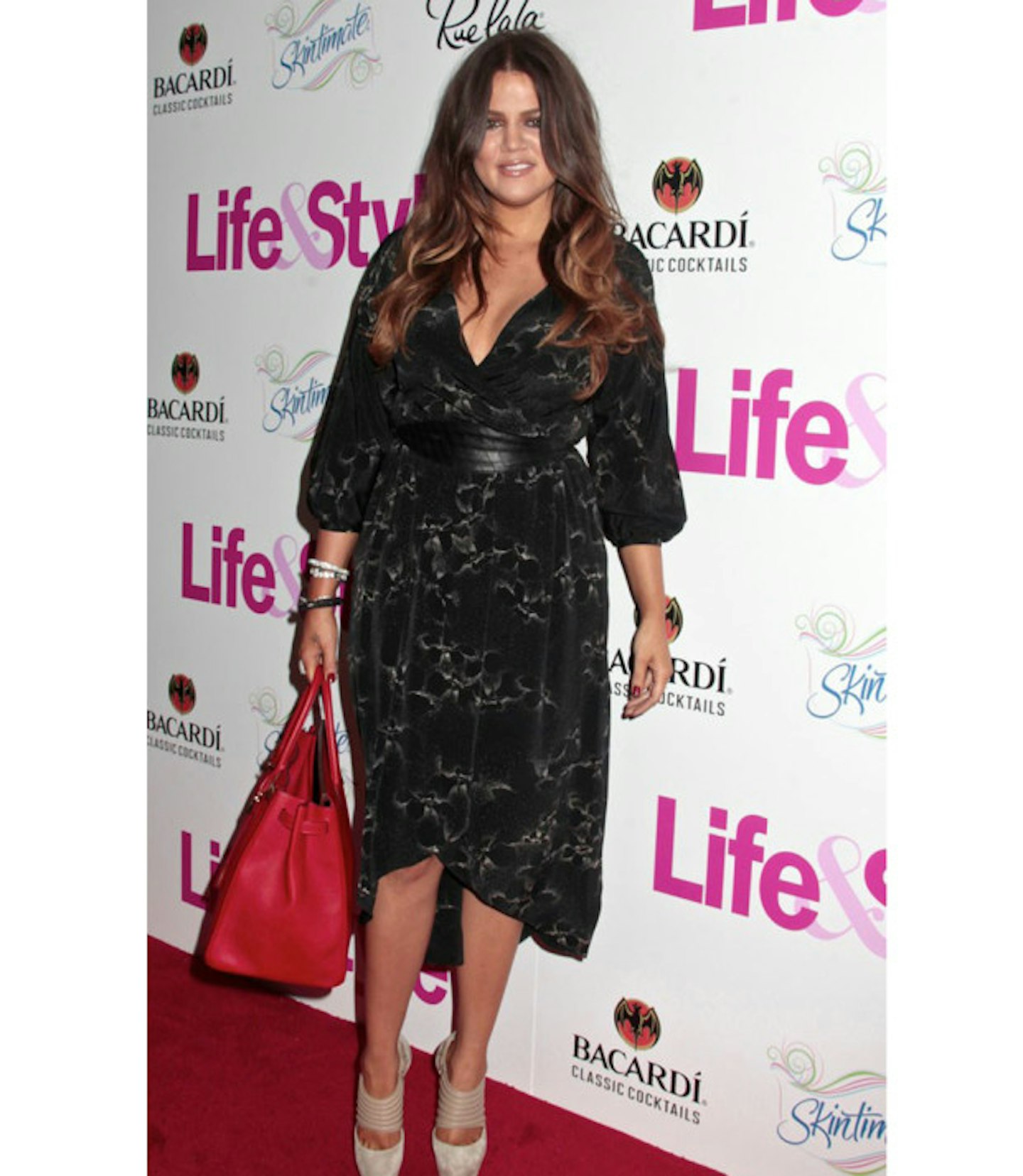 27 of 99
(Un)sweet charity
One of Kris' charity bin cast-offs?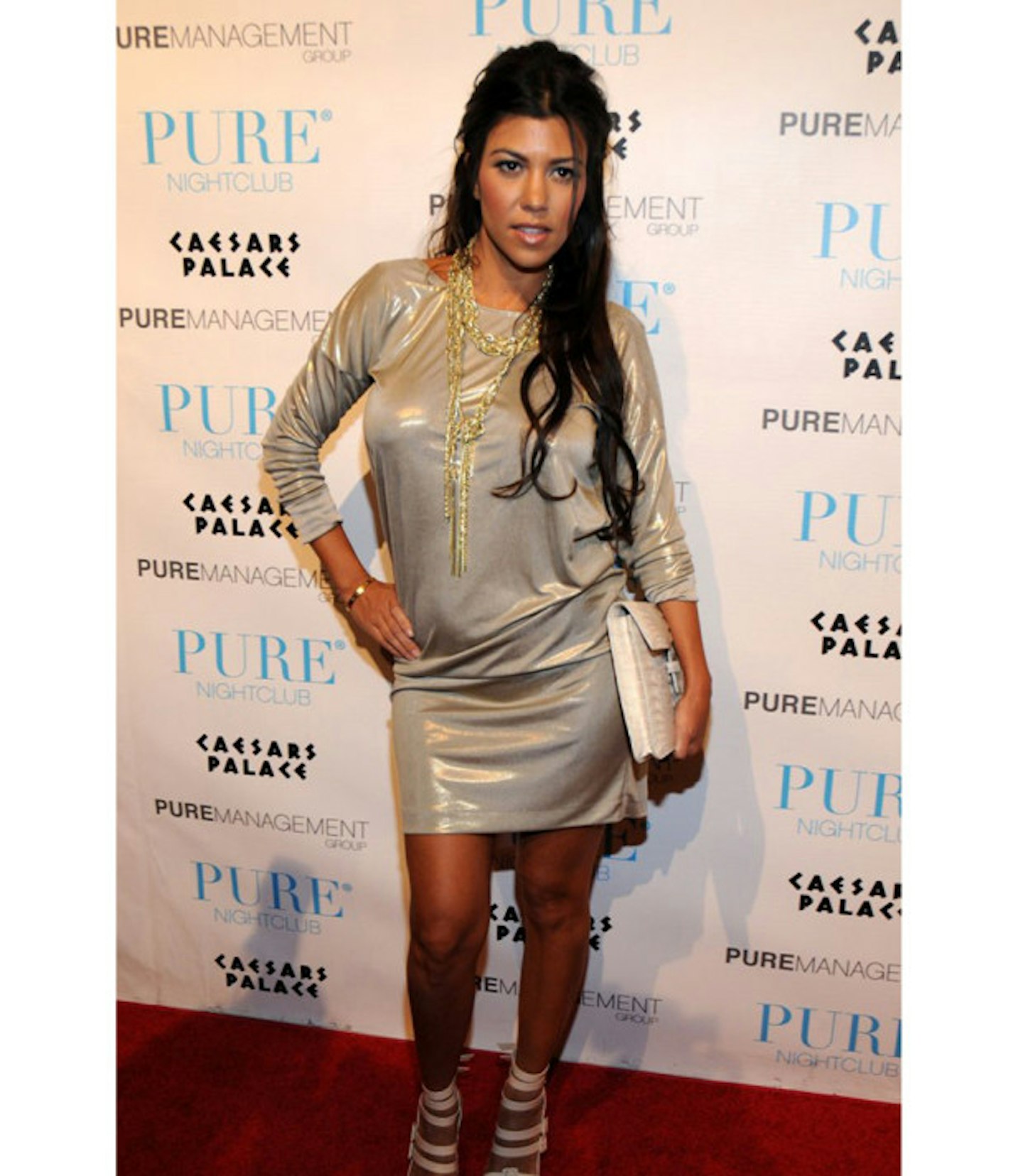 28 of 99
Cheapskate
Could a cheaper looking fabric exist if it tried?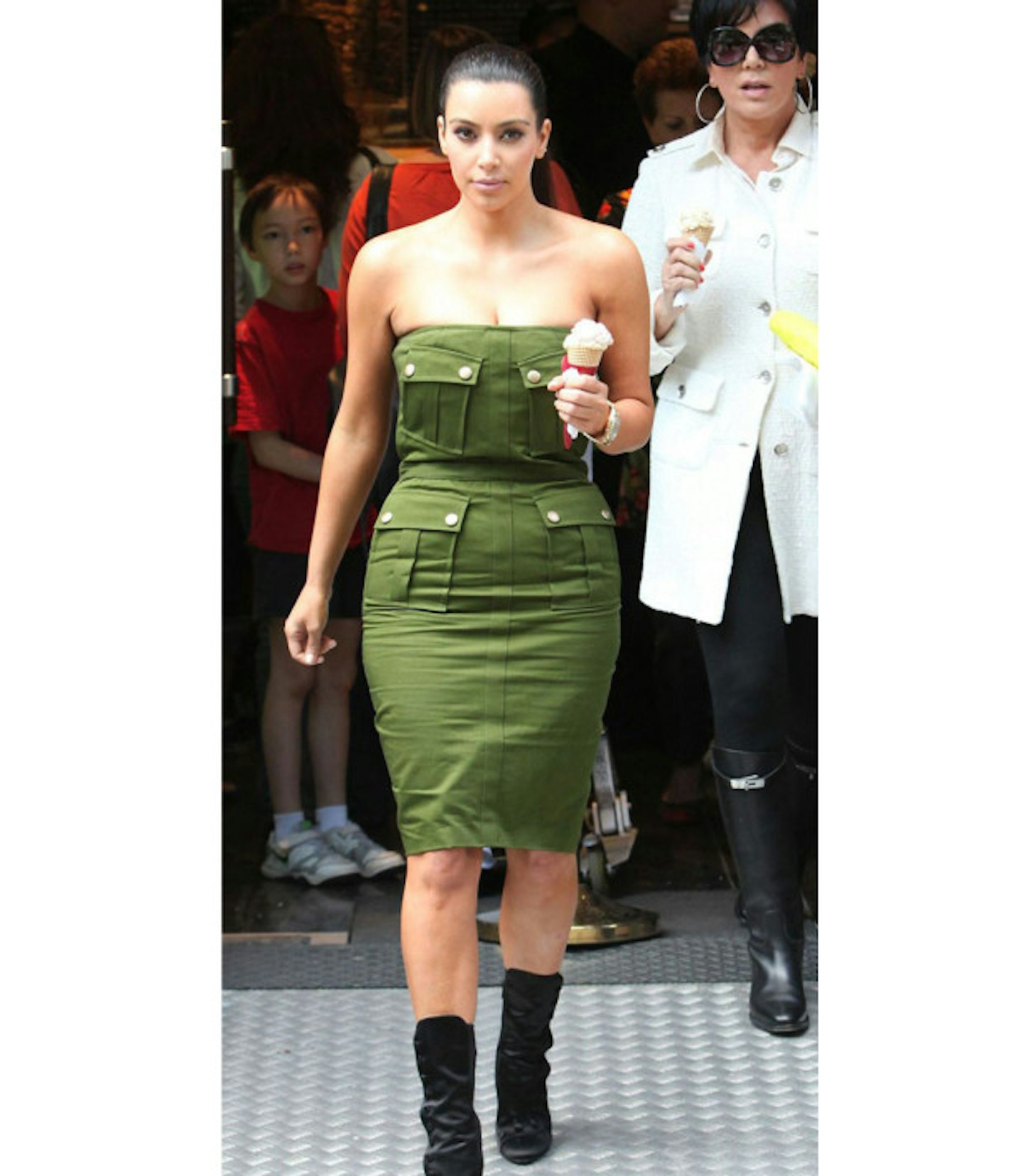 29 of 99
Serge-ashian
Sergeant Kardashian reputing for duty, ice-cream in hand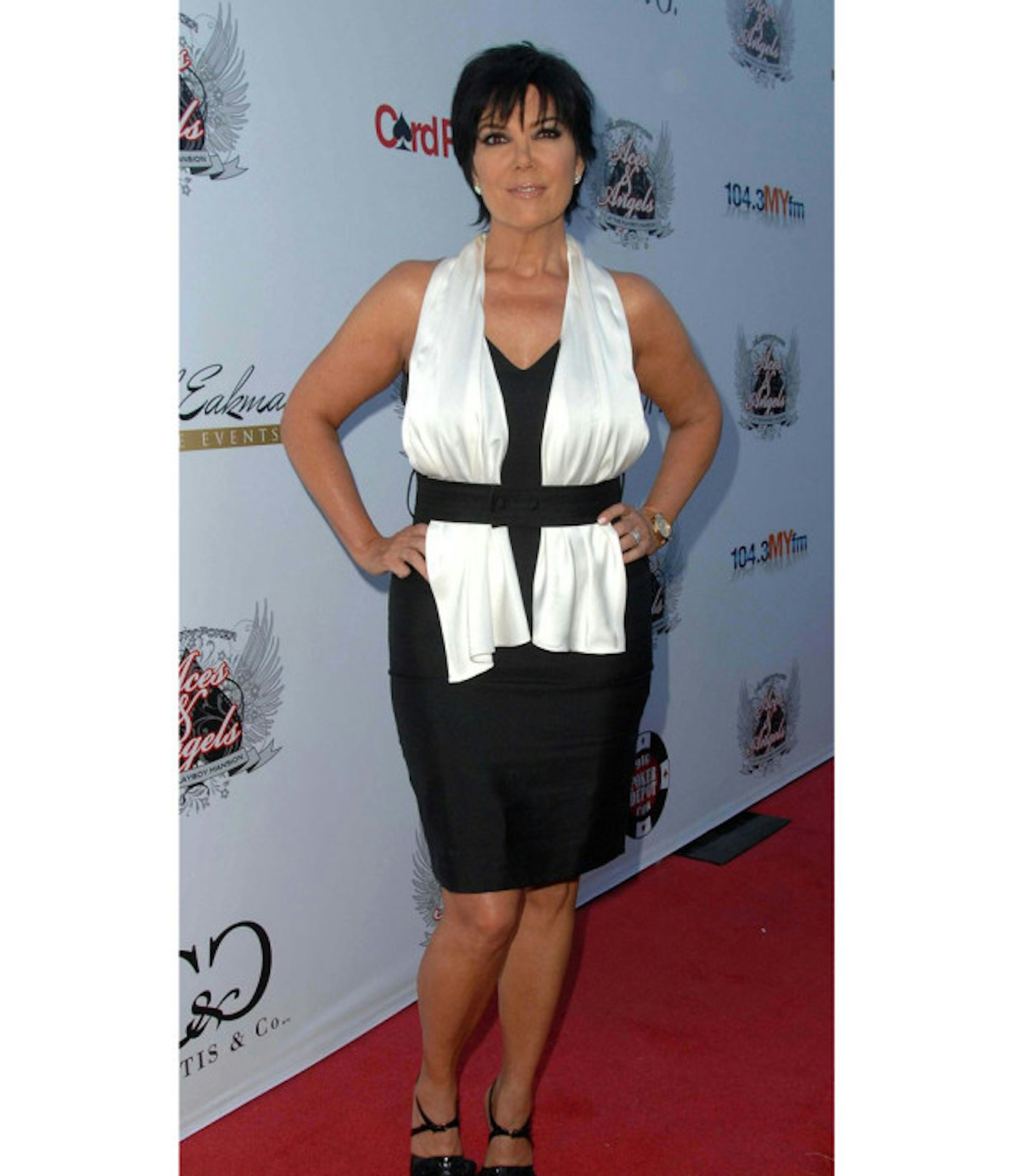 30 of 99
Doing things by scarves
When you can't find your people to hold your accessories, just make them a part of your dress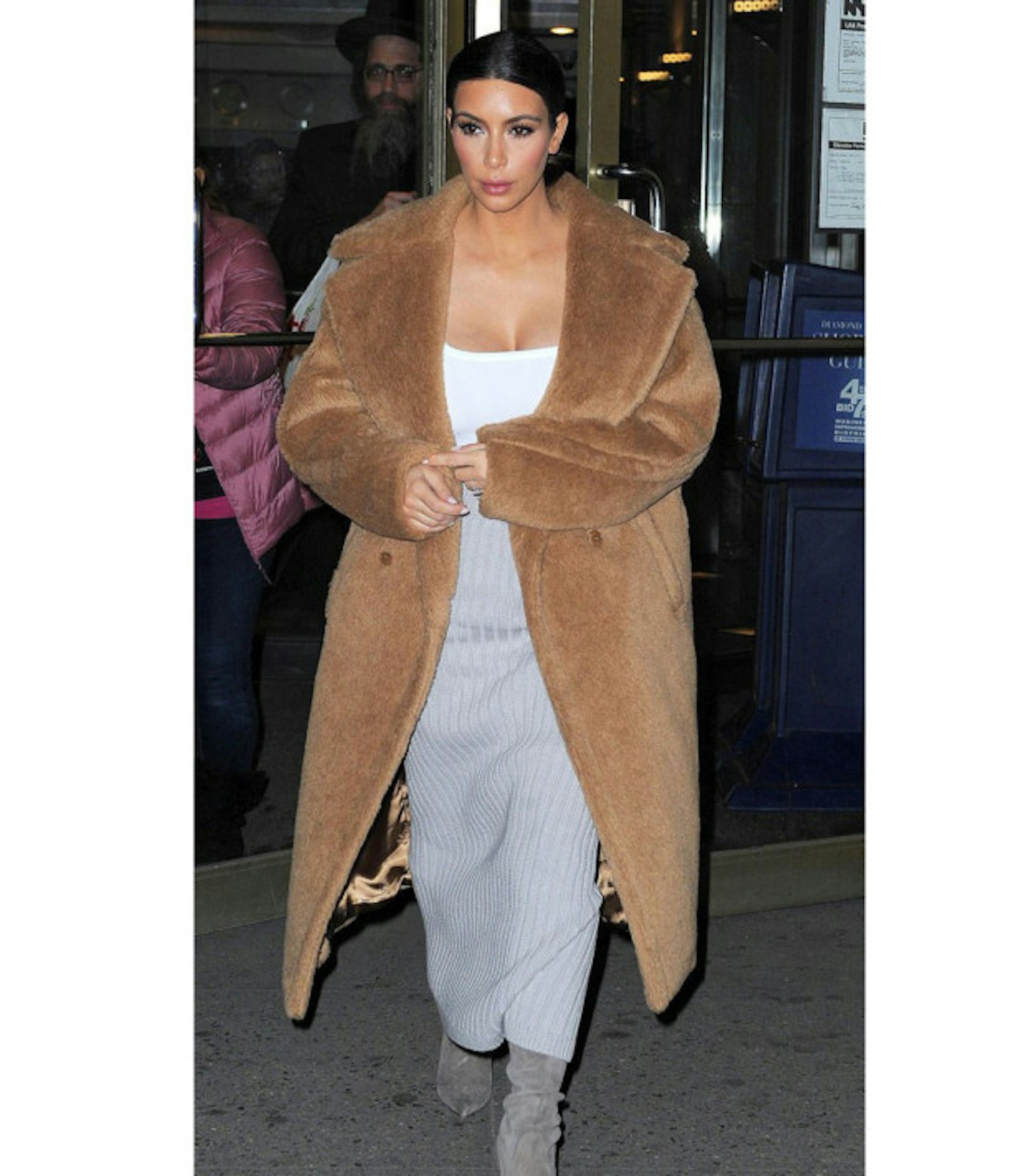 31 of 99
Knit wit
Kim accidentally stretched Kanye's jumper in the wash so decided to wear it as a skirt instead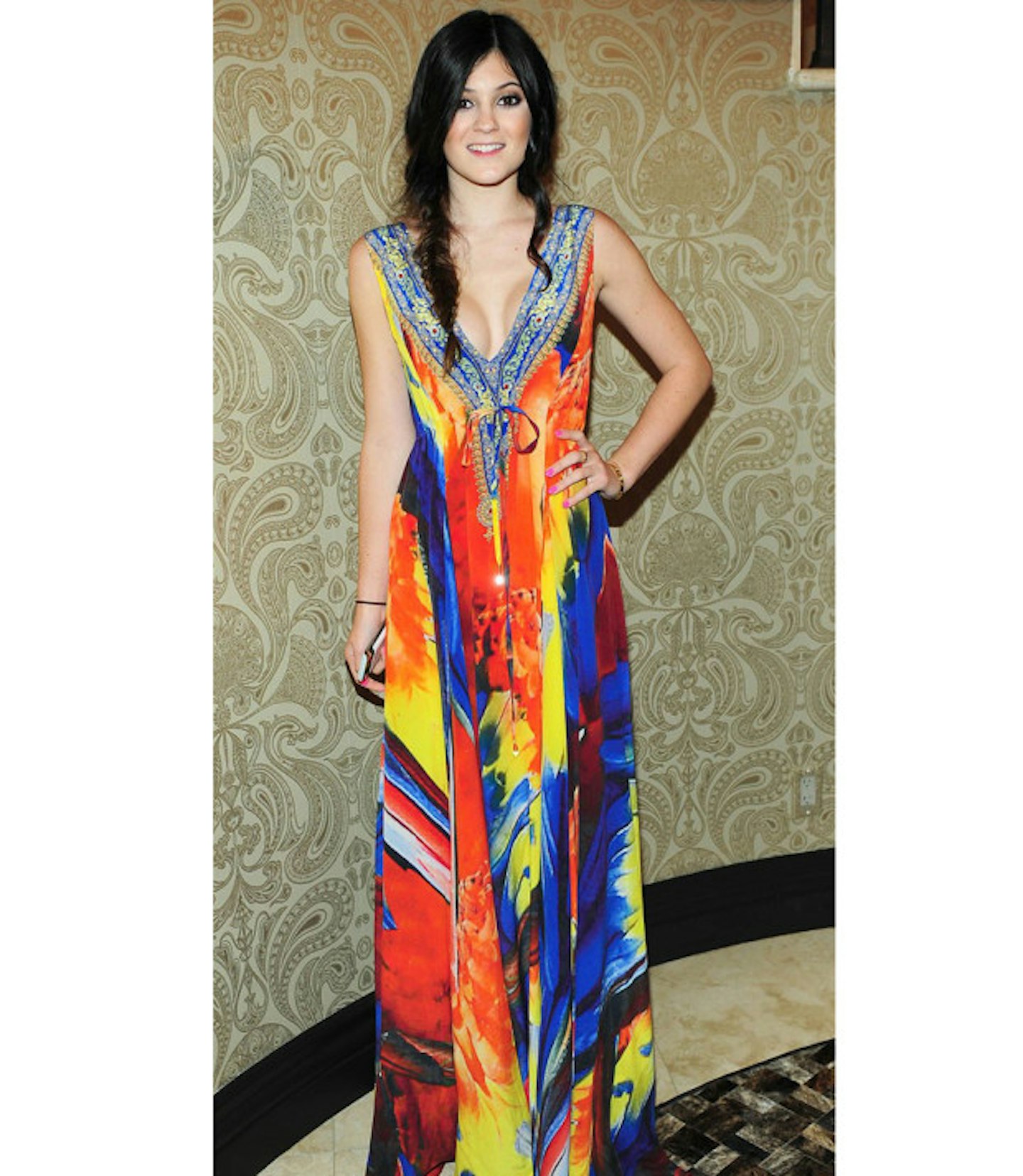 32 of 99
Primary fashion
Has a primary school class' entire box of art supples spilled over poor Kylie's dress?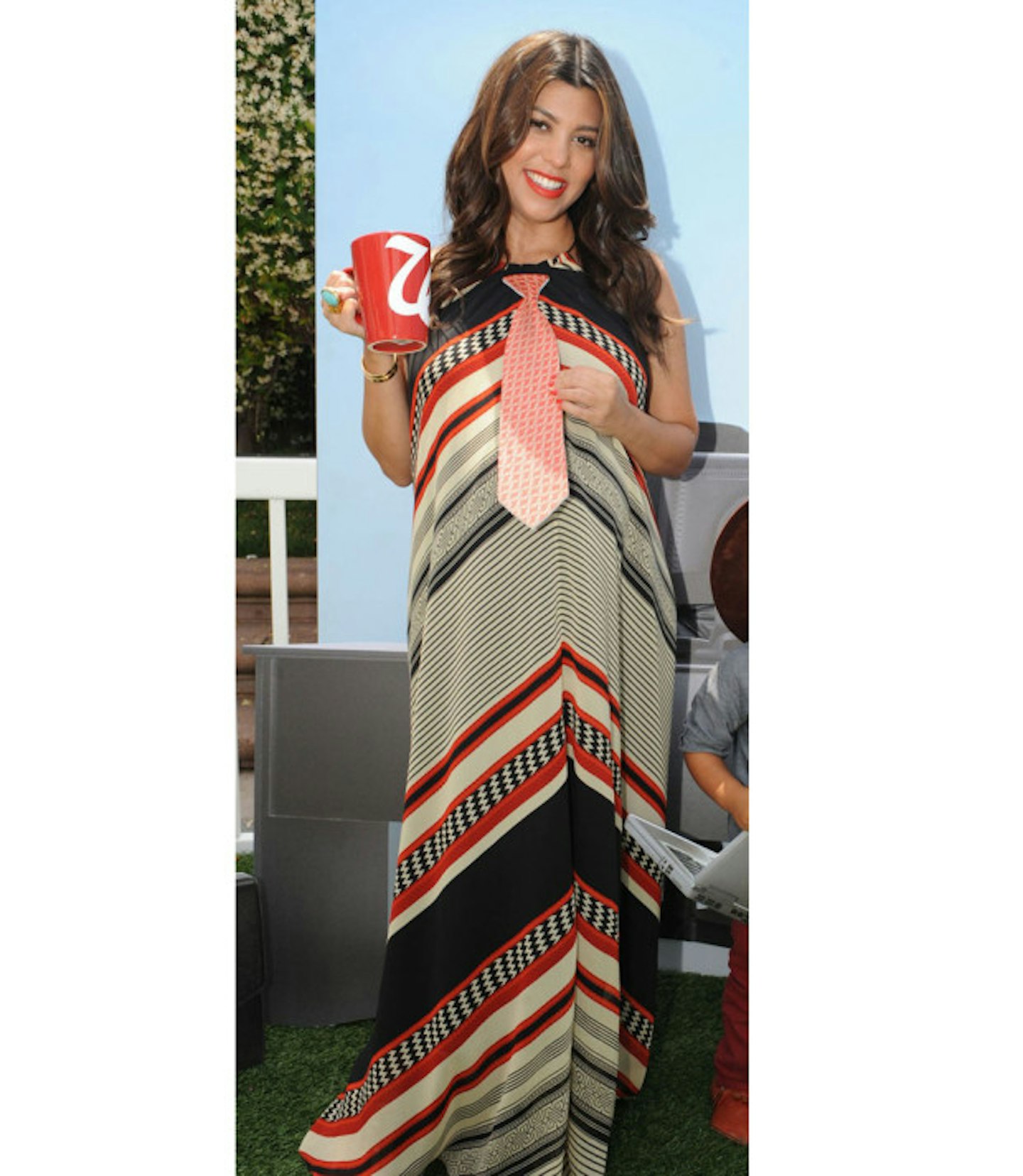 33 of 99
All tied up
That's what you should be Kourt. Arrested for unmentionable crimes to the fashion industry
34 of 99
All penned in
Seriously, that primary school class need to be more careful with their felt tips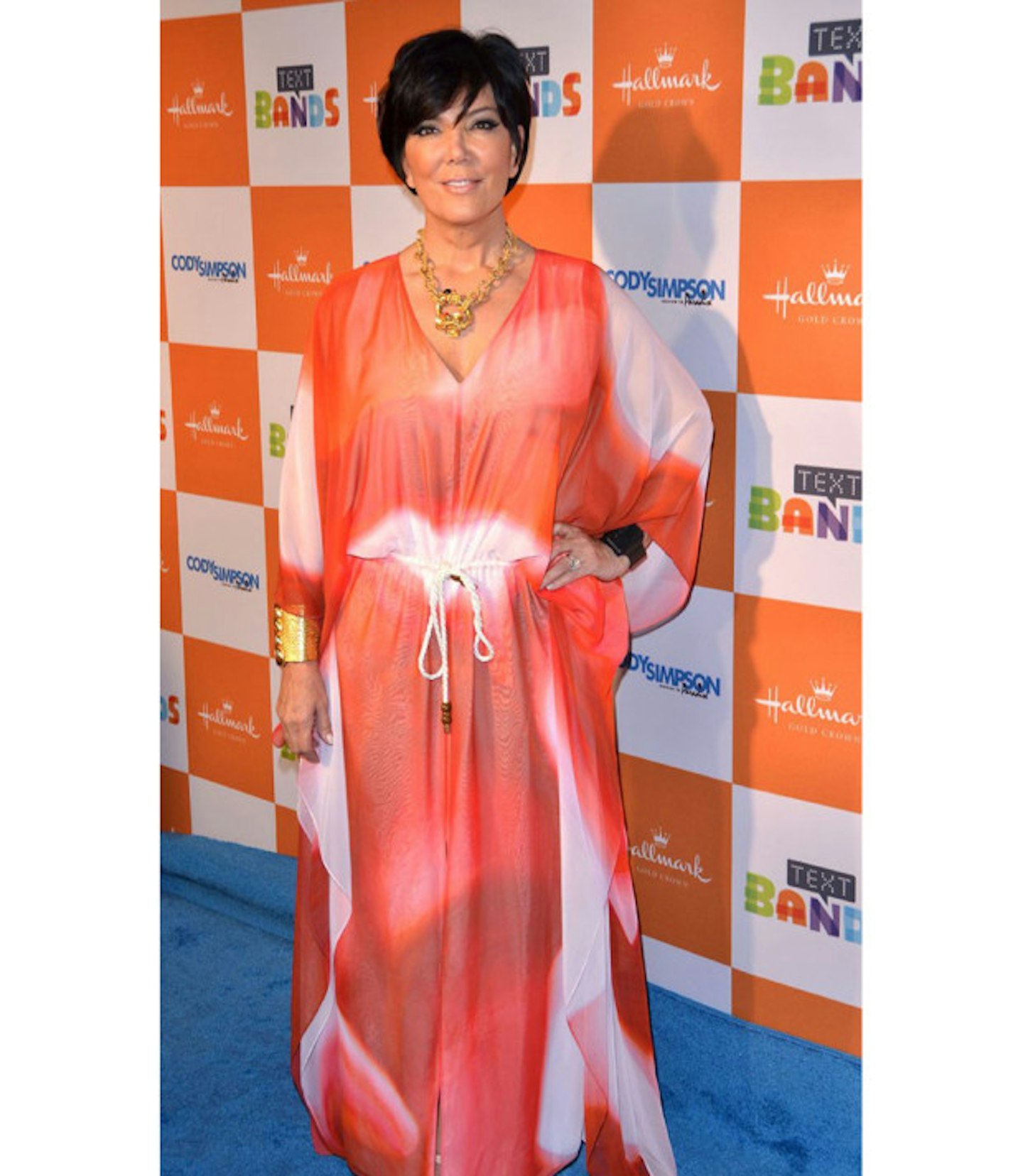 35 of 99
Beach ready
Who cares if it's a red carpet eh Kris? No need to change from your sunbathing stint on the shores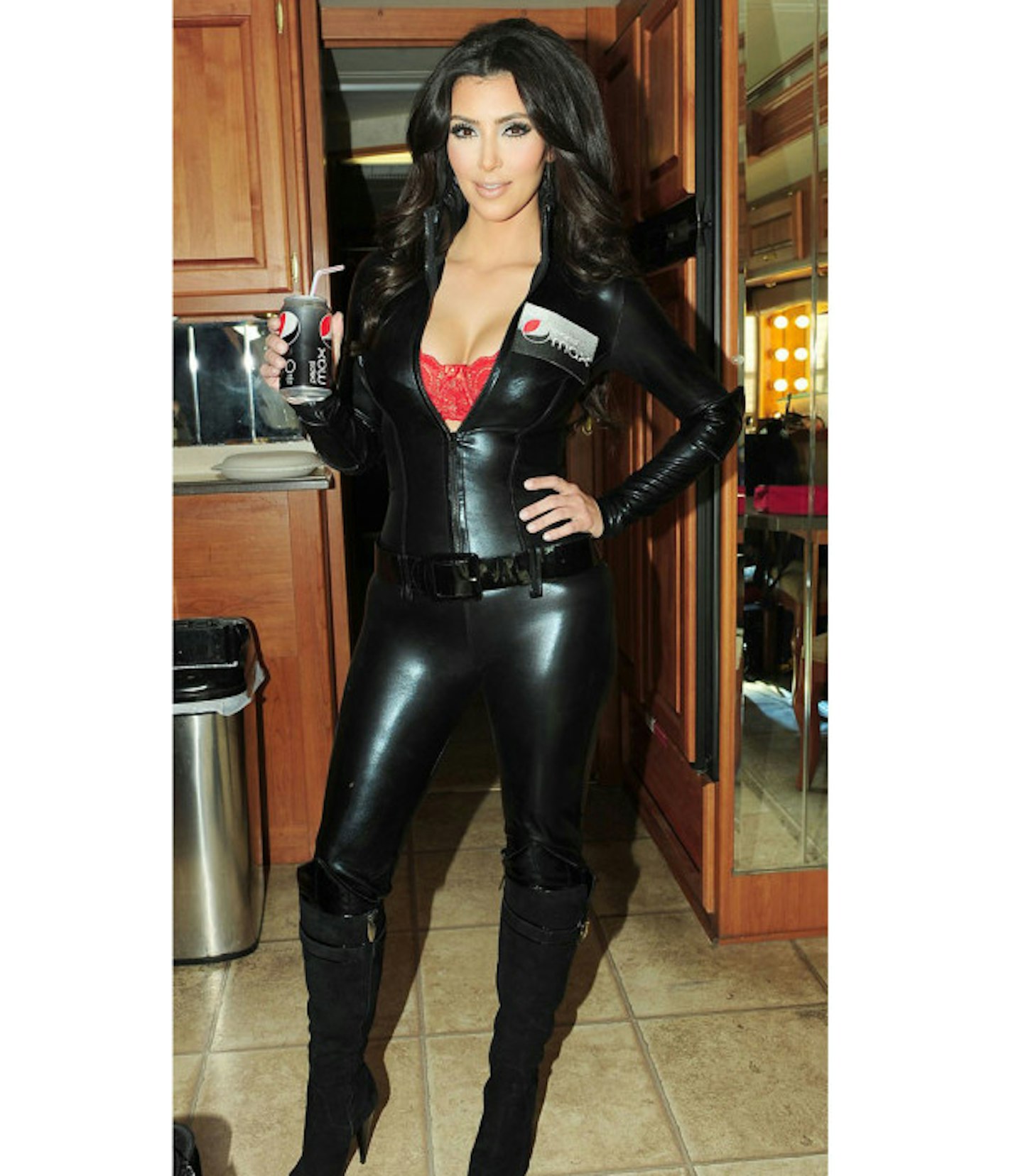 36 of 99
PVC to the max
To be fair, if Pepsi Max paid us £5k to wear this outfit we wouldn't say no either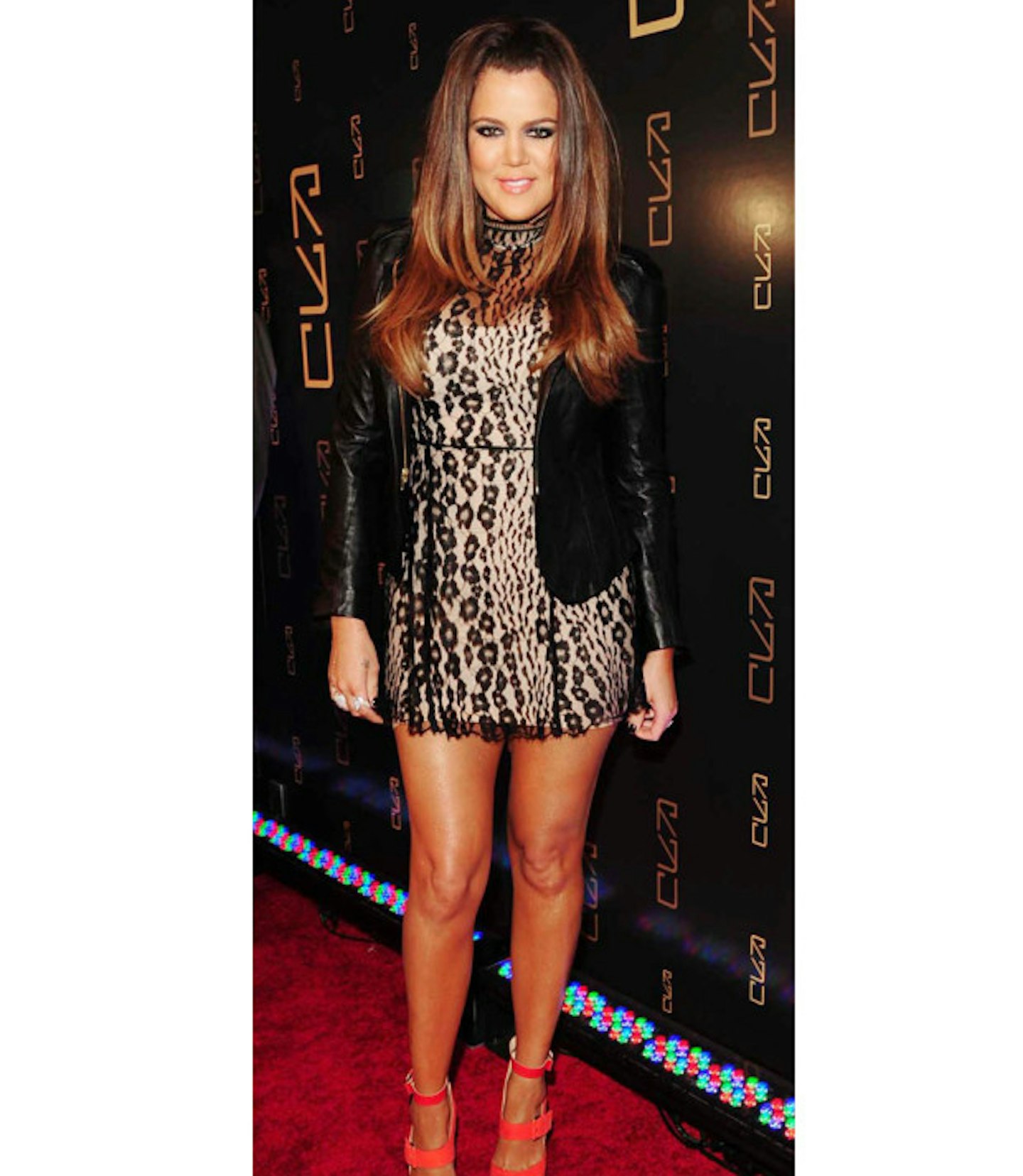 37 of 99
Child's play
Cracking pins, but did you really need to wear a child's dress to show them off?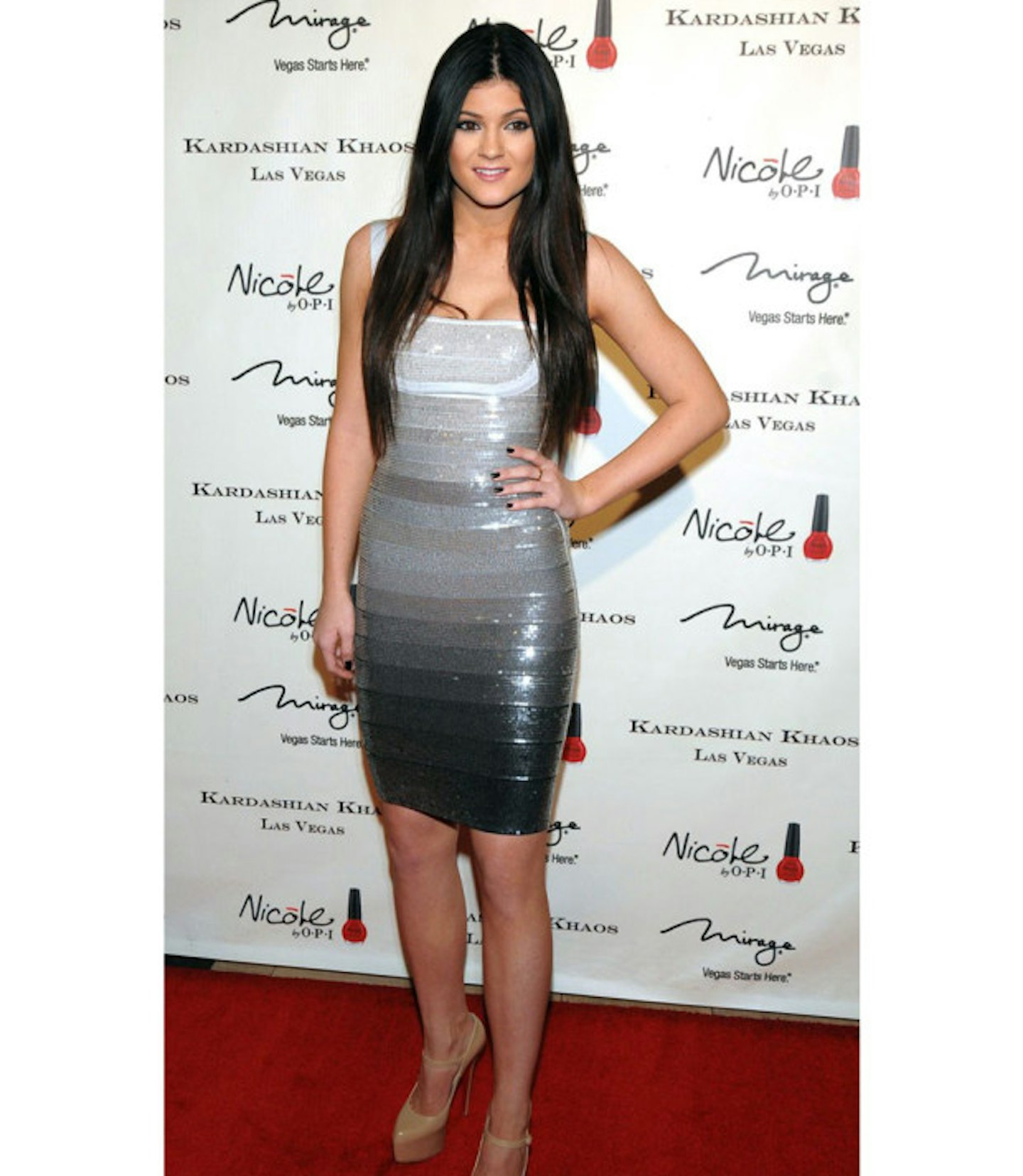 38 of 99
Bandaged up
Thank God Kylie's moved onto much more fashionable ground (literally) these days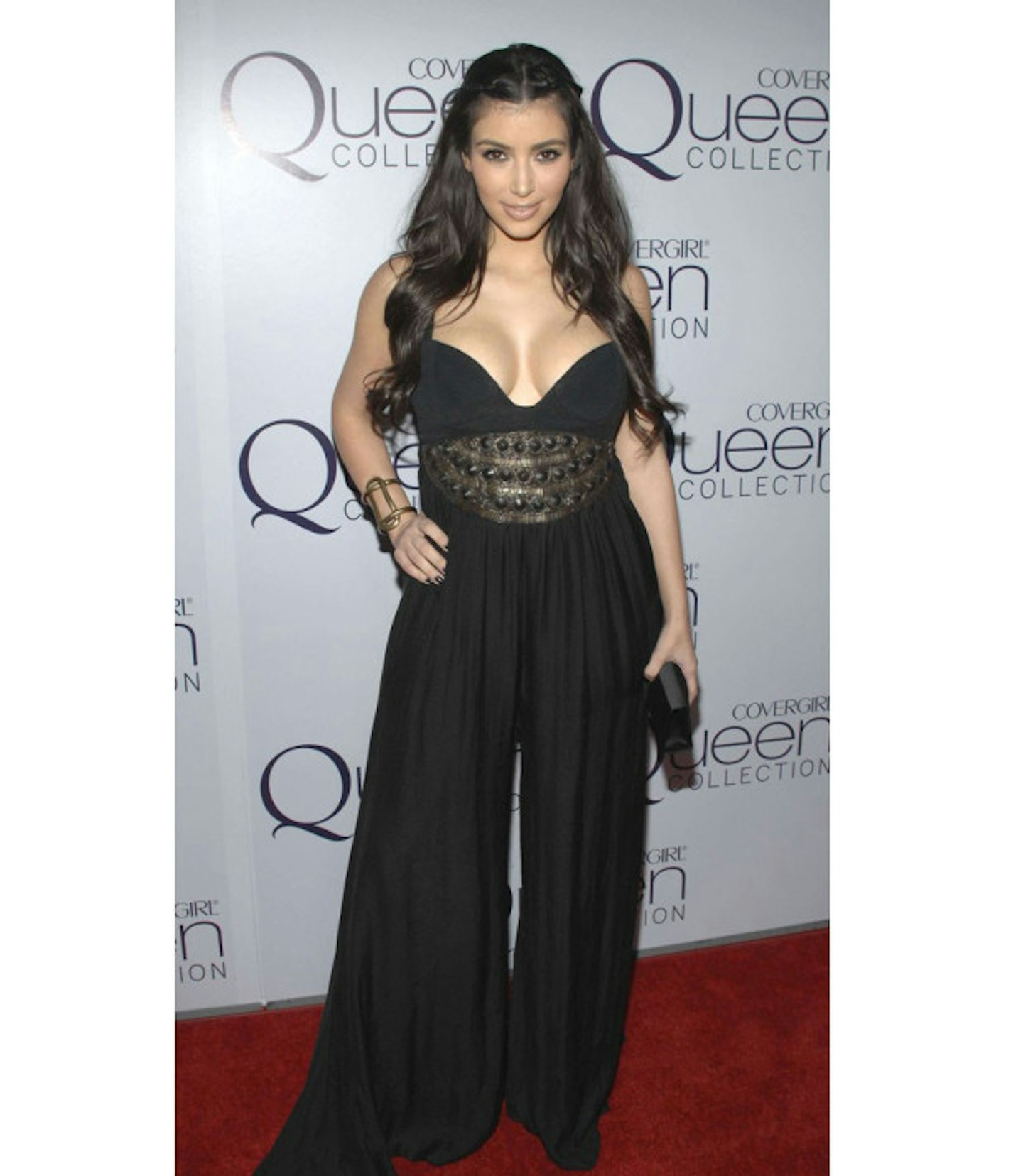 39 of 99
In-genie-ous
Now where's that bottle? That genie needs to climb back in, pronto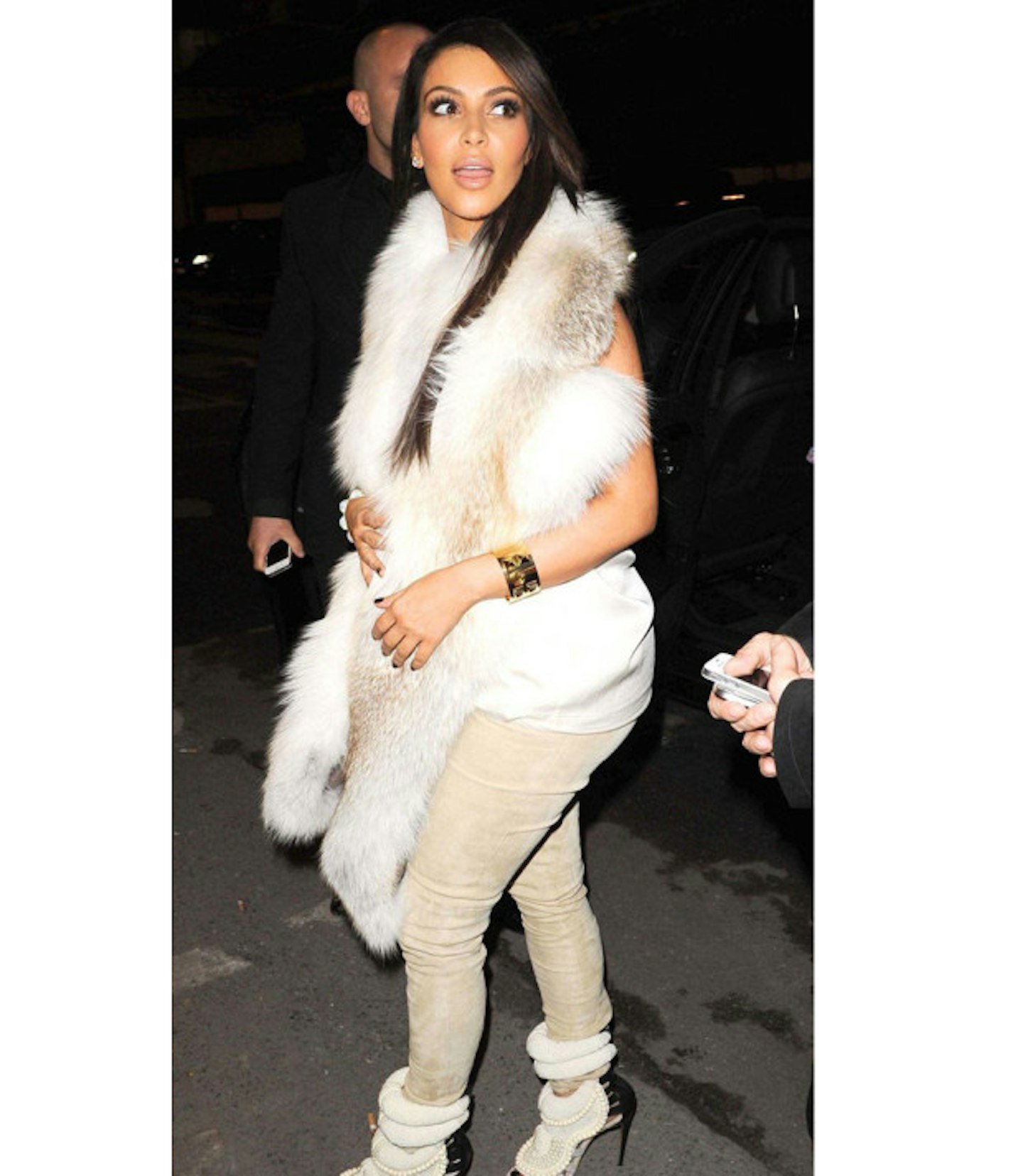 40 of 99
West is not best
The ultimate sacrifice: wearing your husband's awful shoe designs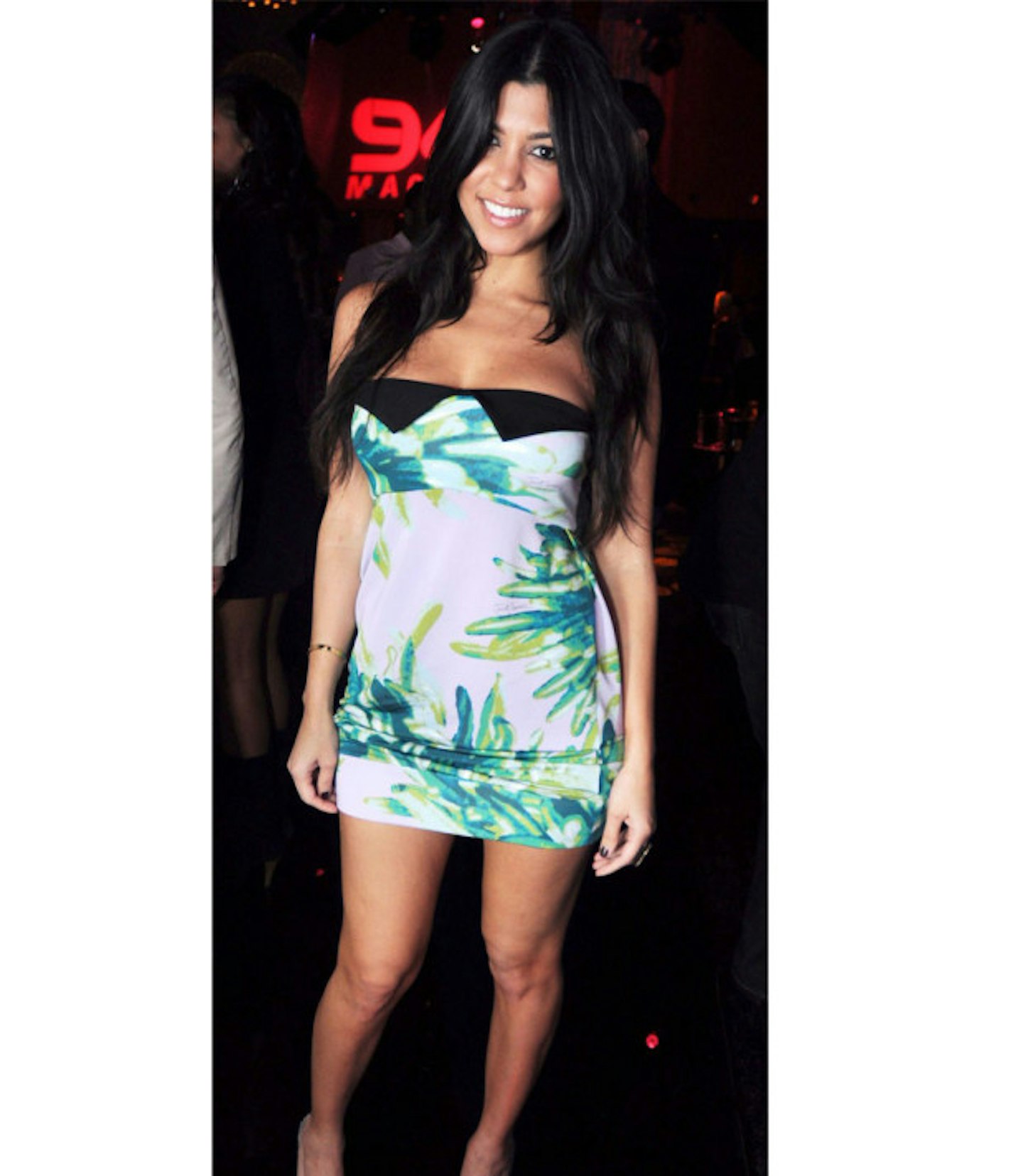 41 of 99
Getting hitched
When your dress isn't quite short enough, just keep hitching up and nobody will notice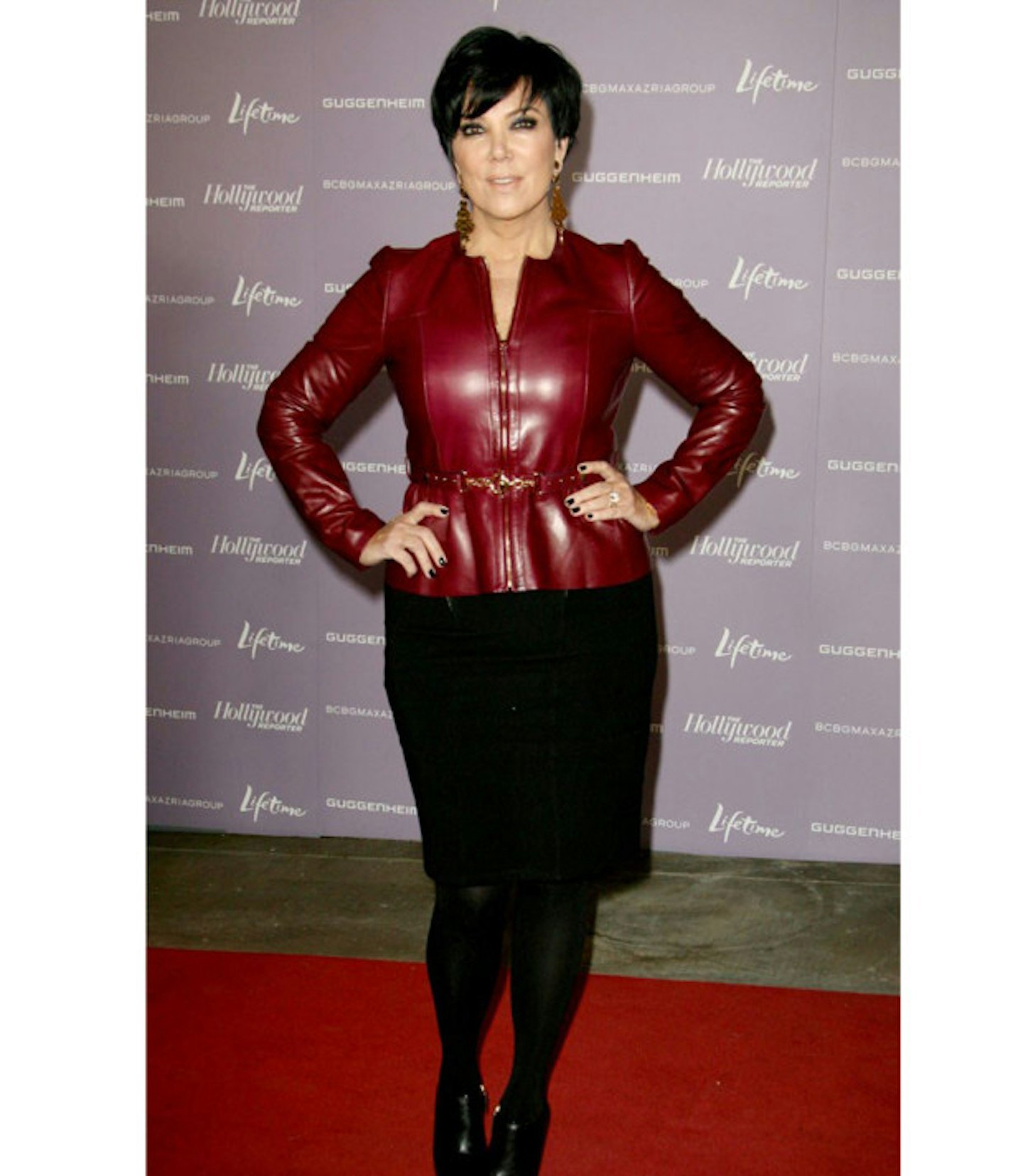 42 of 99
Pull yourself to-leather (please don't)
Seriously, what is it with the momager and leather?
43 of 99
Gold digger
Well that's certainly one way of attracting attention...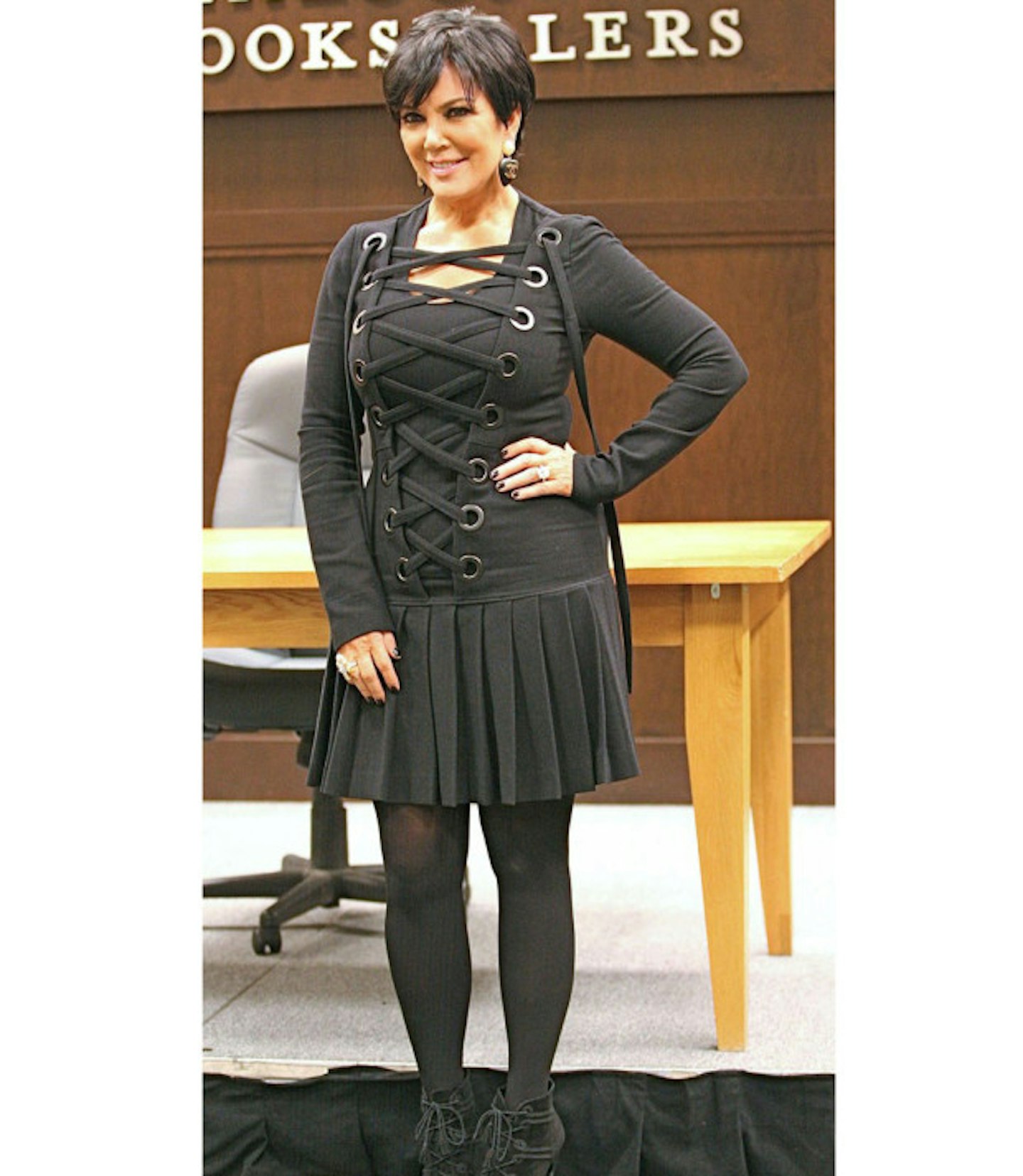 44 of 99
Straight laced
A corset from Gulliver's Travels? We think not, Kris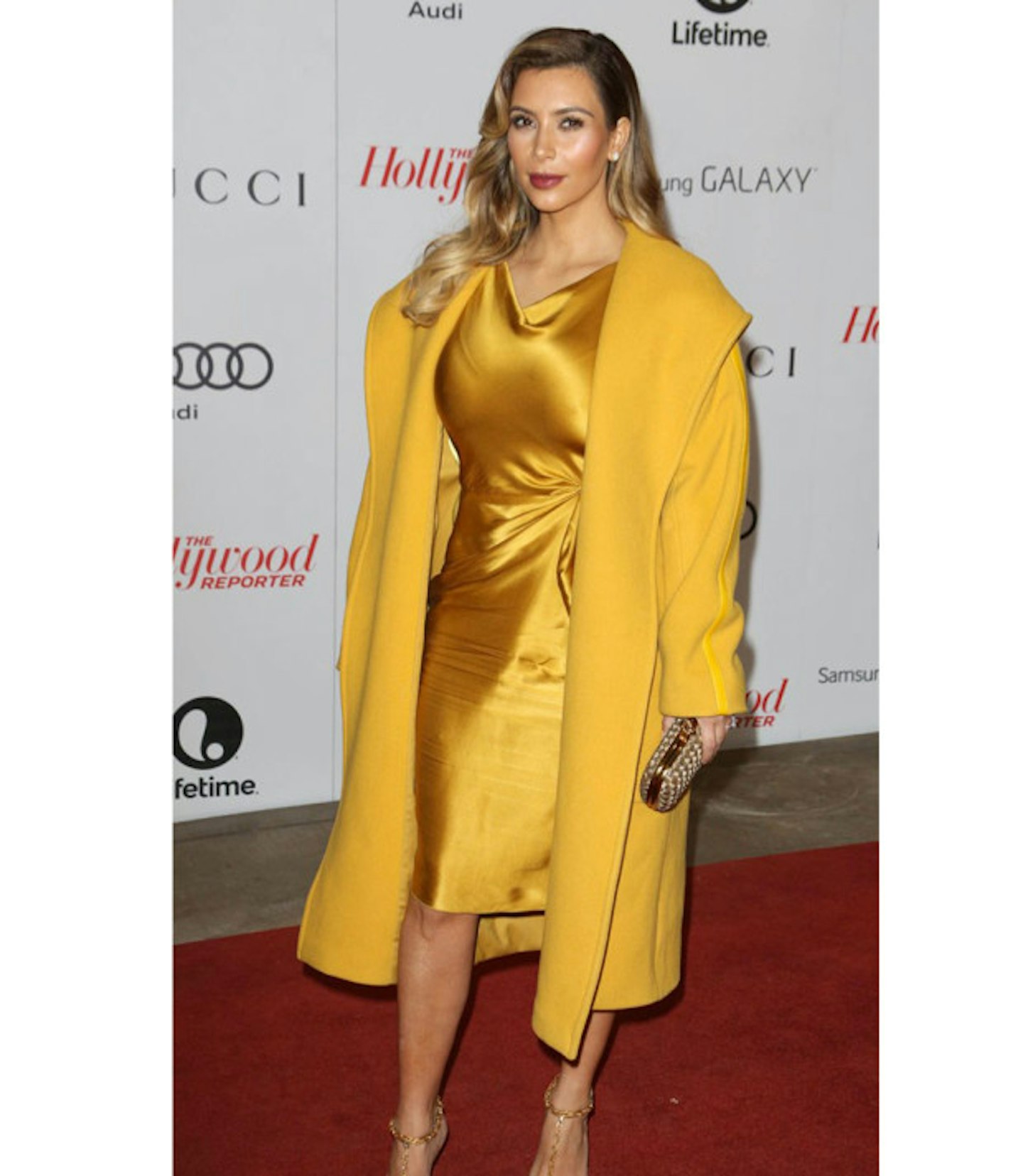 45 of 99
Kolonel Mustard
Not exactly the world's most flattering shade
46 of 99
Sheer horror
Talking of caterers, now here's another lady who's fallen into waiting on tables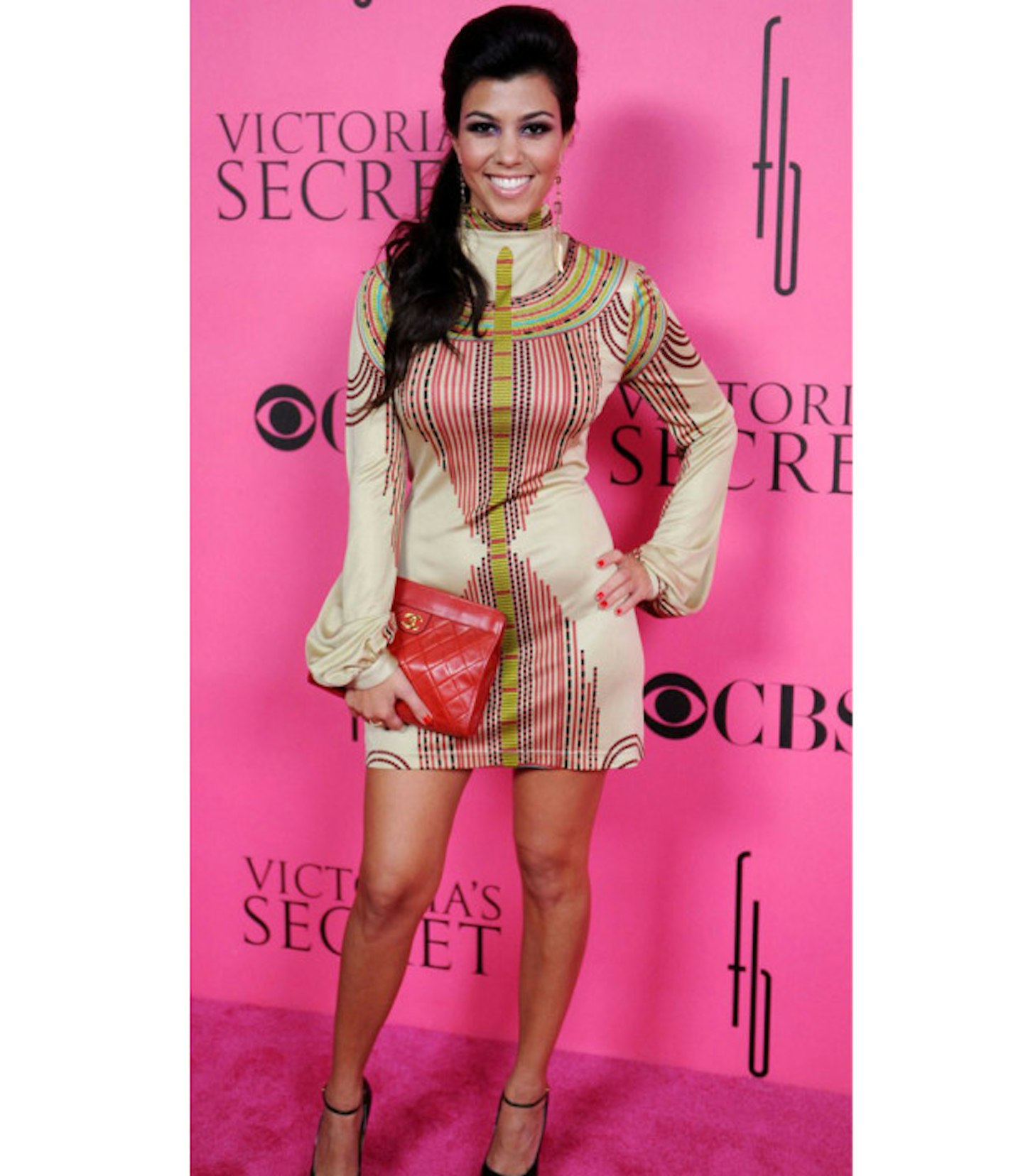 47 of 99
Austin Kowers
That's right Kourt, you should be cowering away in this awful shift dress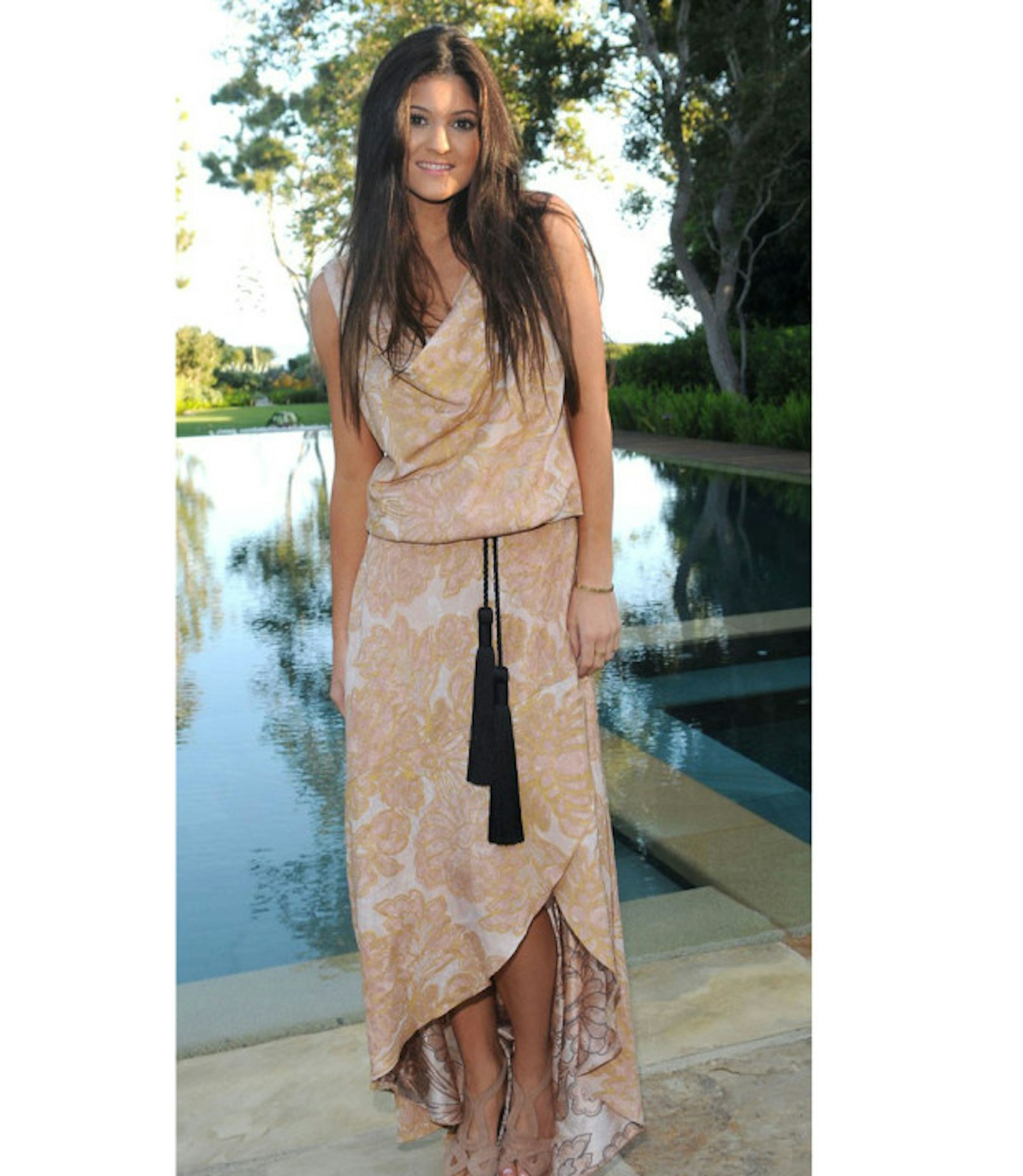 48 of 99
Close the curtain
No joke, we do actually think this is a real life curtain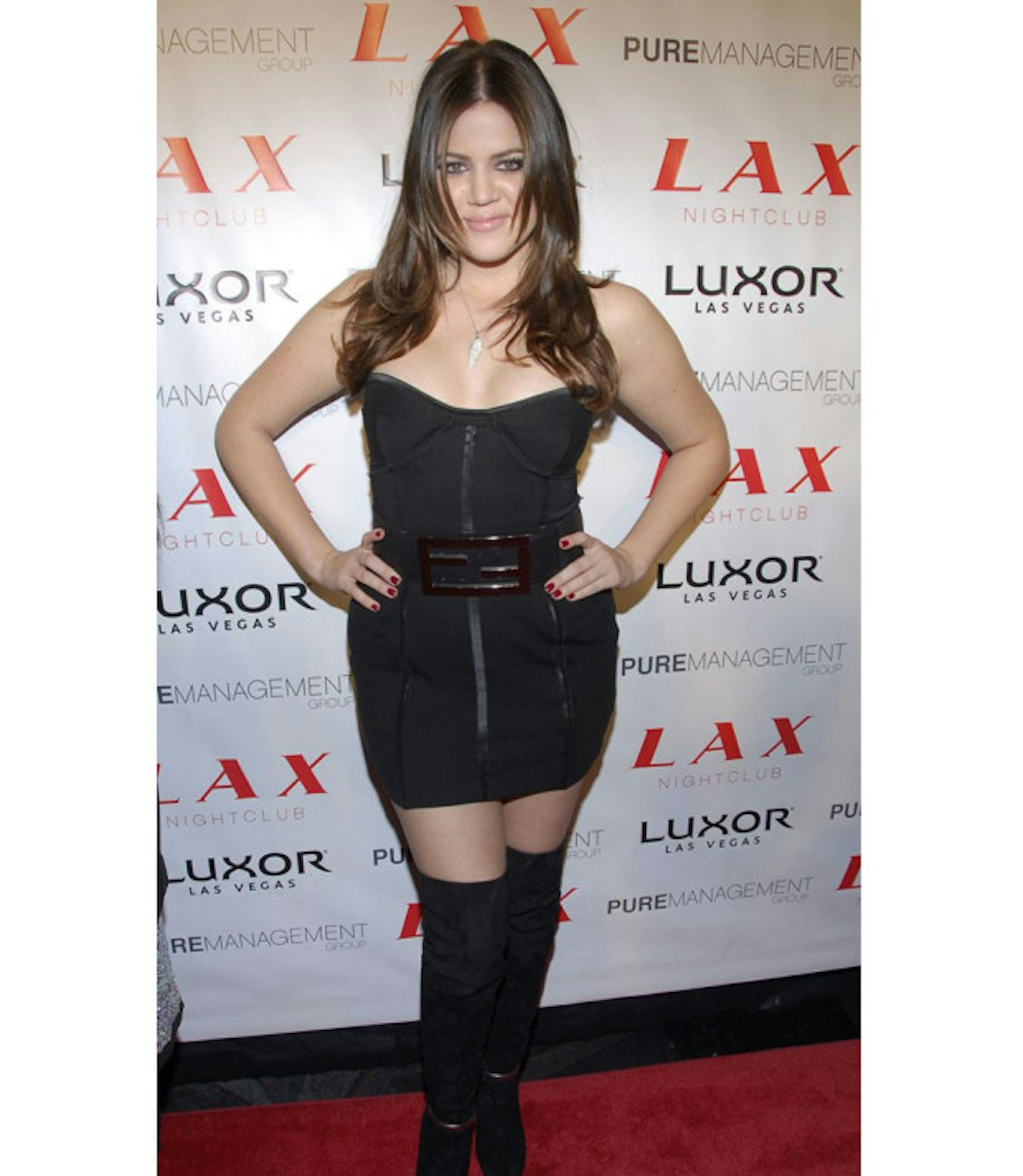 49 of 99
Hooking up
We see Pretty Woman was on at the weekend...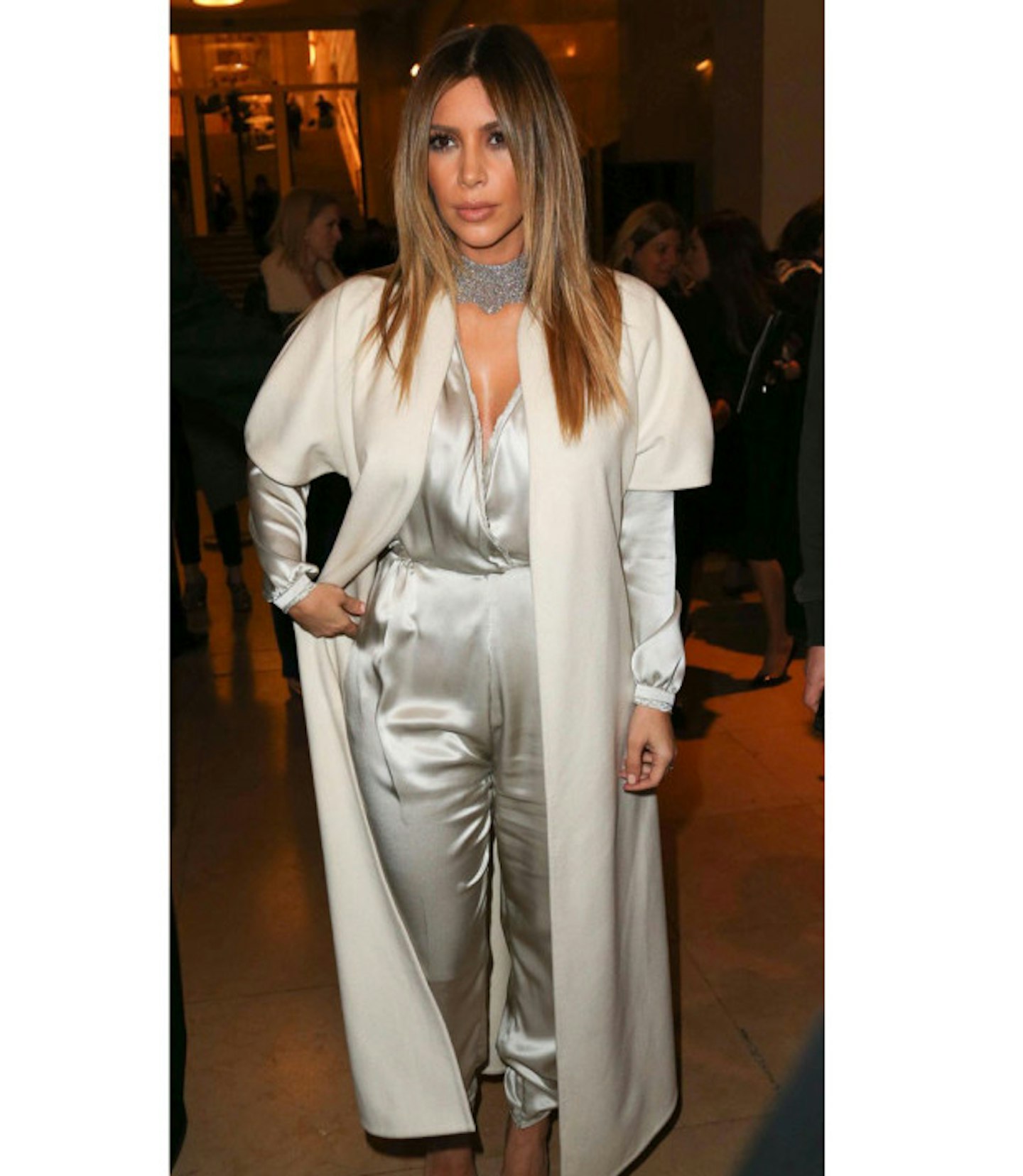 50 of 99
Jump (please don't)
If you're going to wear something of Hugh Hefner's, you could've at least tit-taped yourself into it, Kim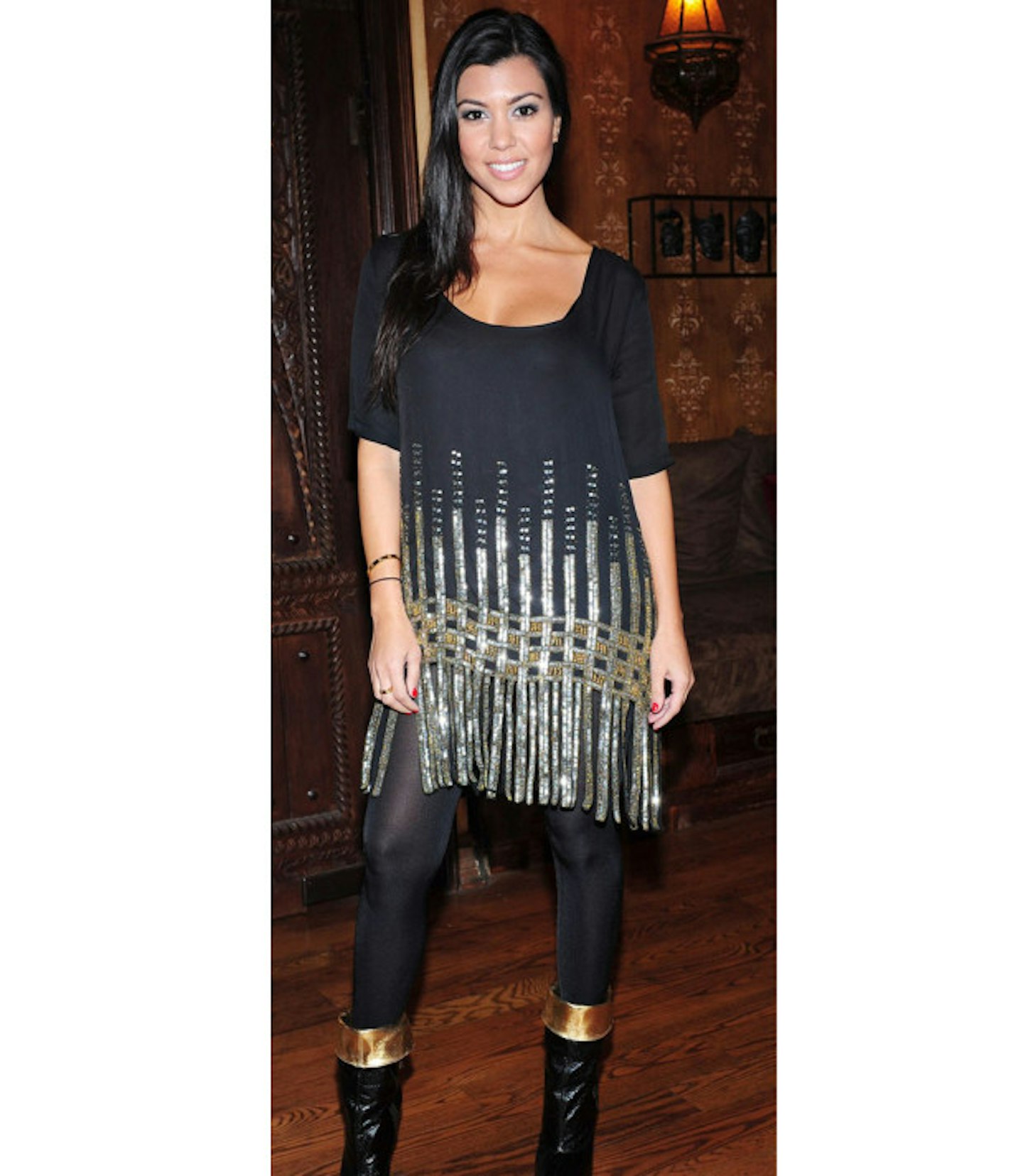 51 of 99
Off the cuff
Are those actual metal cuffs around Kourt's ankles? We've seen some pretty horrific sights, but we're seriously worried about her pain threshold now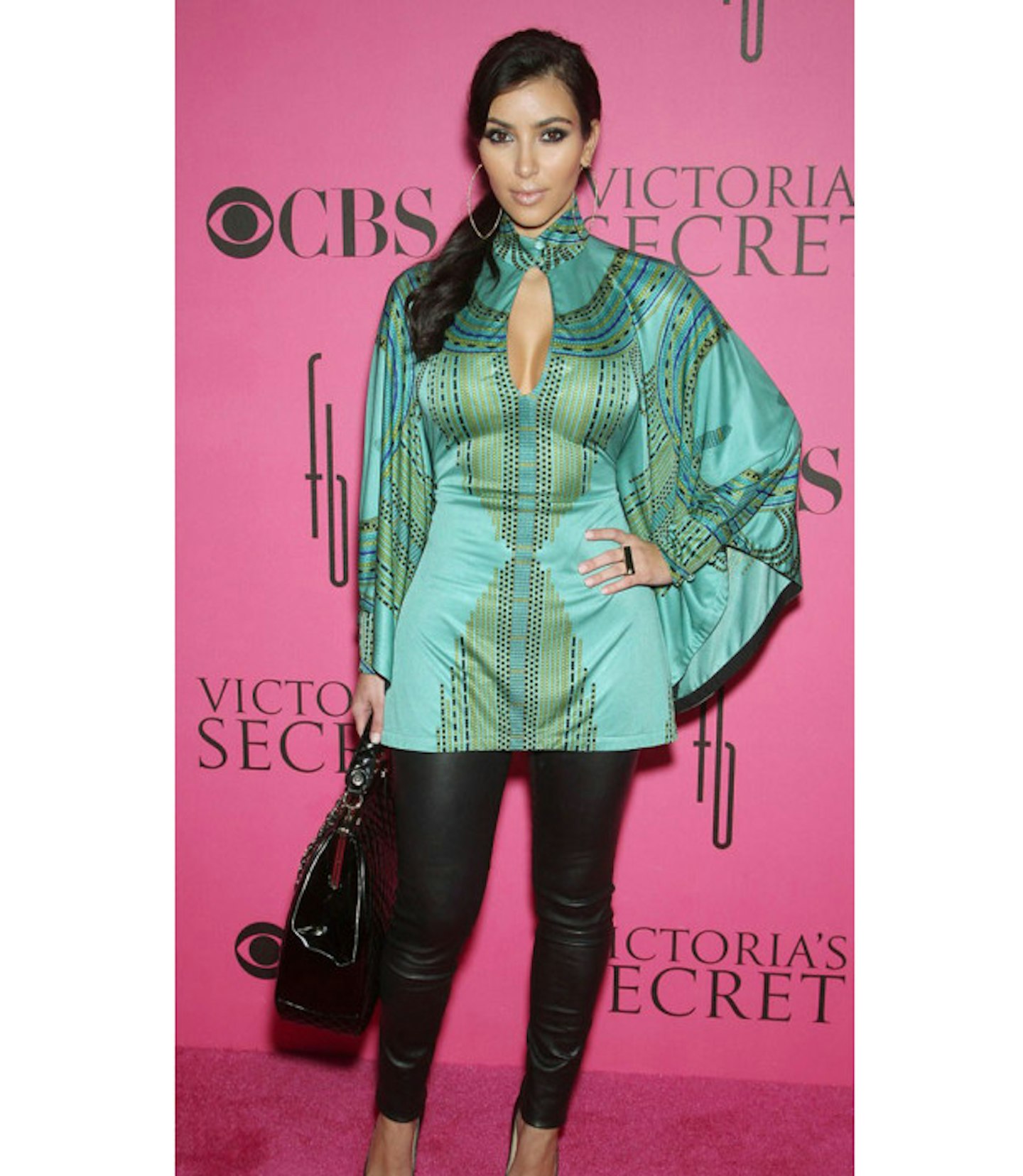 52 of 99
Through the keyhole
Keyhole tops are like sooooo '90s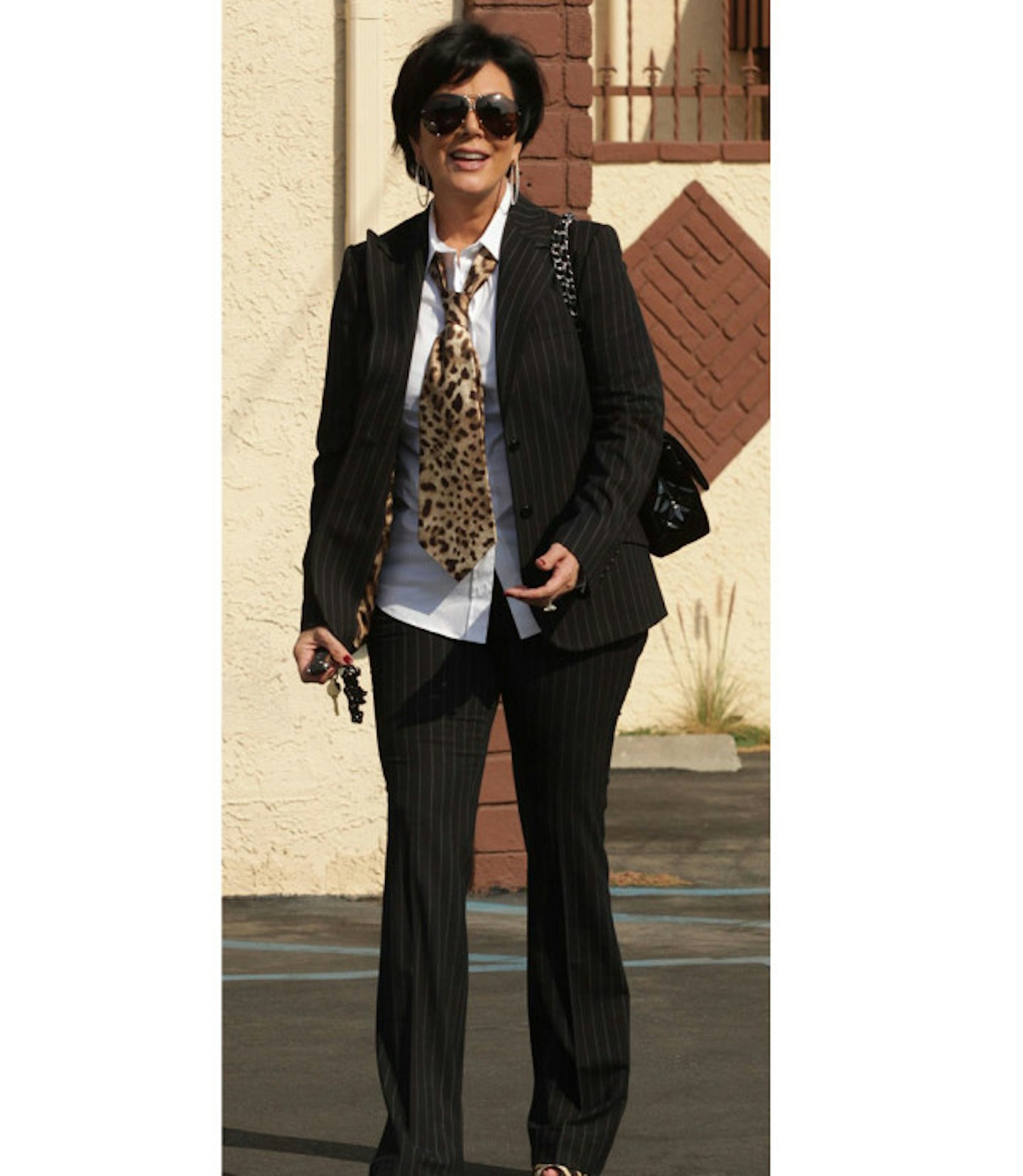 53 of 99
Grrrrross
Gangster chic with leopard accessories has never been a 'thing.' Sorry KJ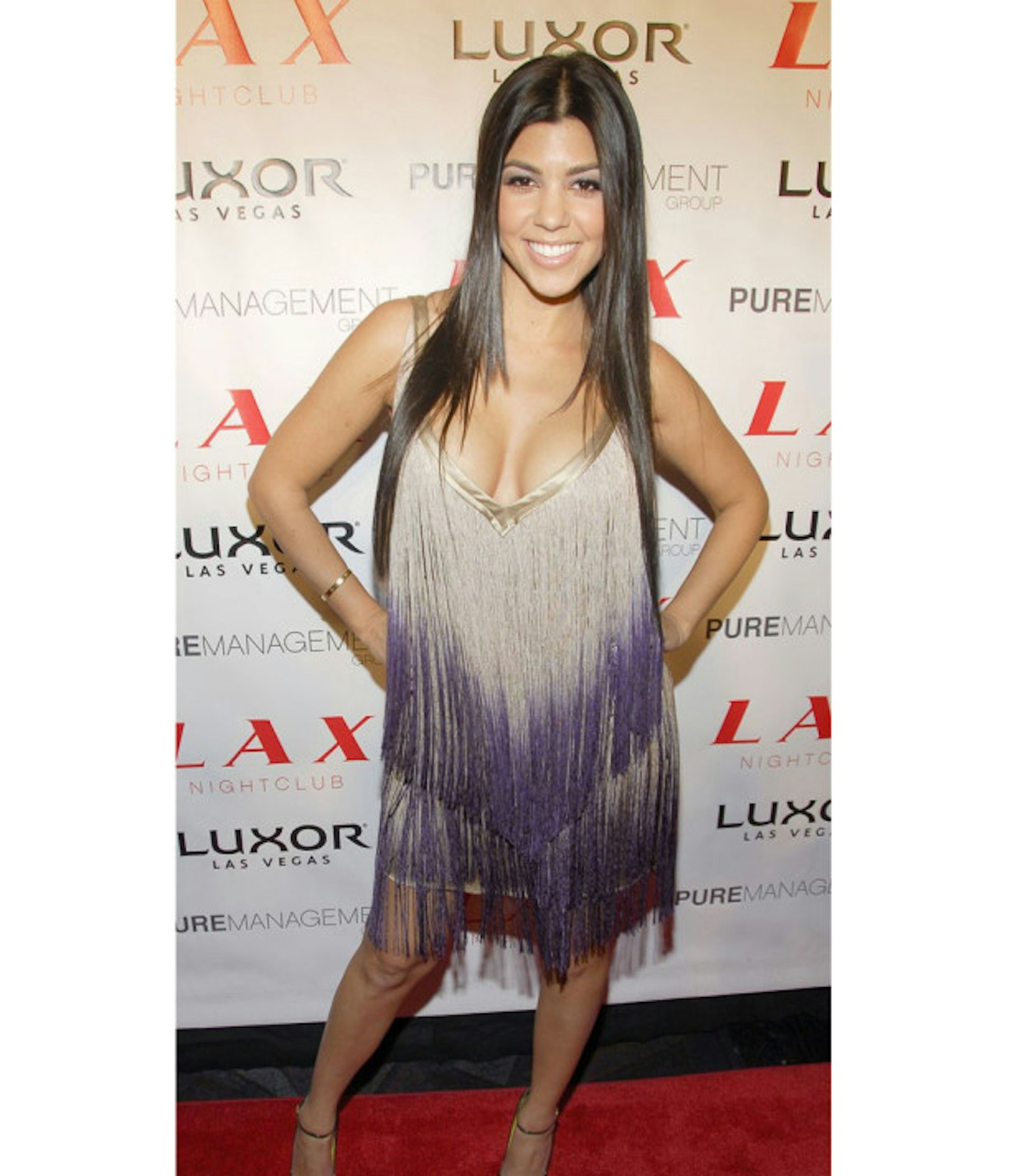 54 of 99
Full fringe
Been frolicking in a lavender field, Kourtney?
55 of 99
It's a wrap
We just wish that whole day was so that outfit can't penetrate our poor eyeballs anymore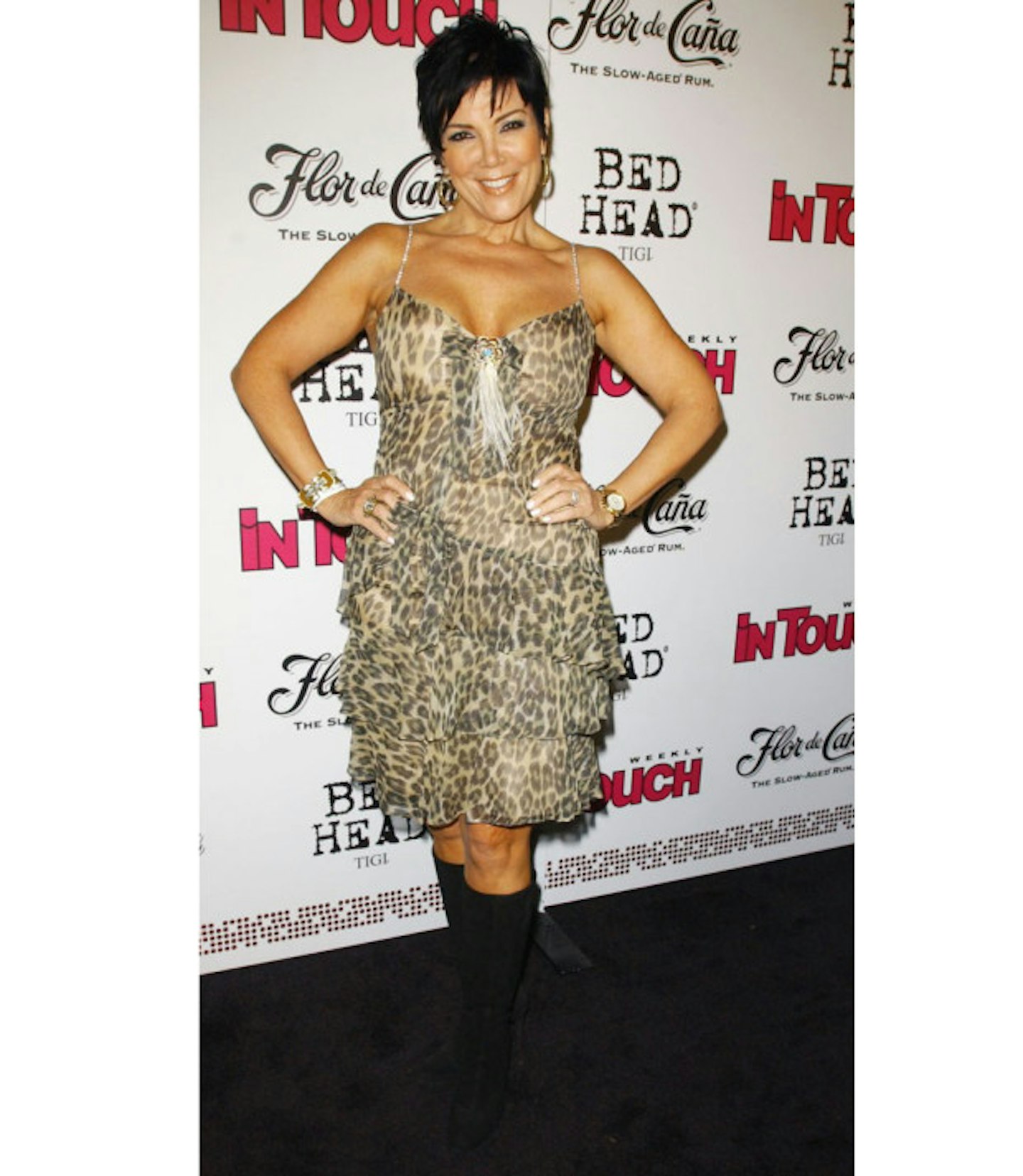 56 of 99
Daring to bare
We can only hope this was in response to a dare. Otherwise there is absolutely no explanation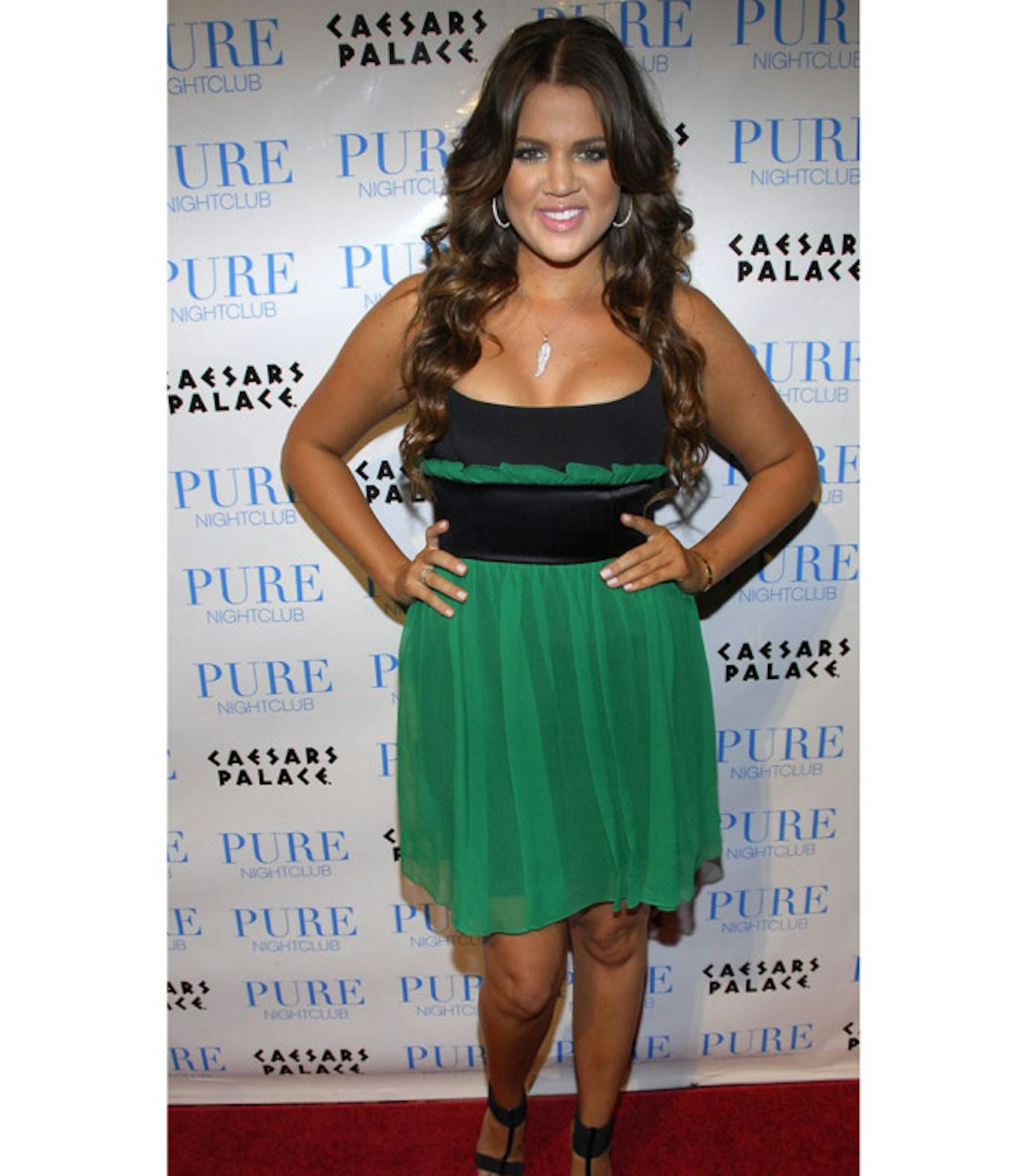 57 of 99
Reaching for the pot of gold
Khloe was very happy about competing in the Irish Dancing Championships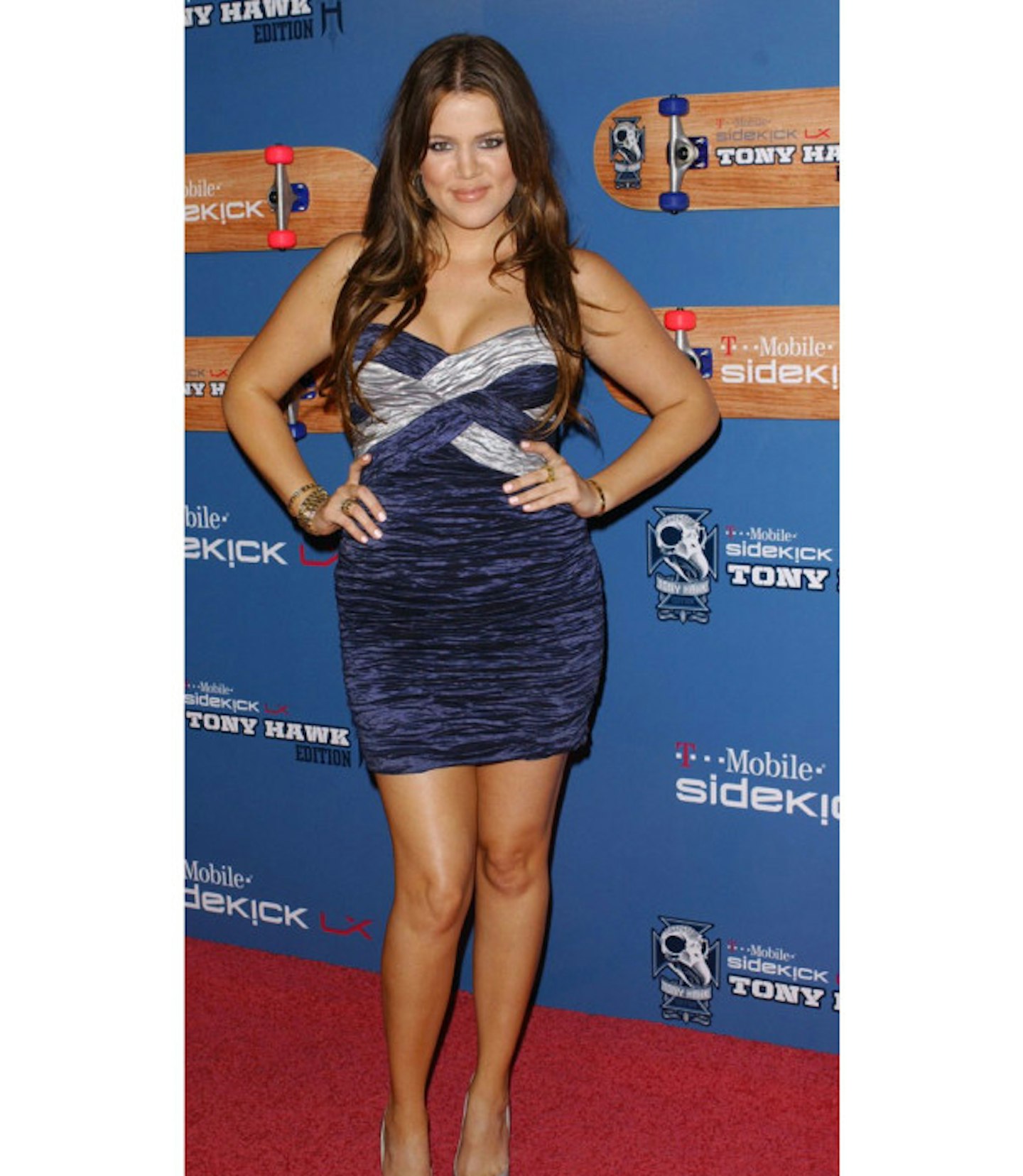 58 of 99
Misfit
Really. It's OK to wear clothes that fit you sometimes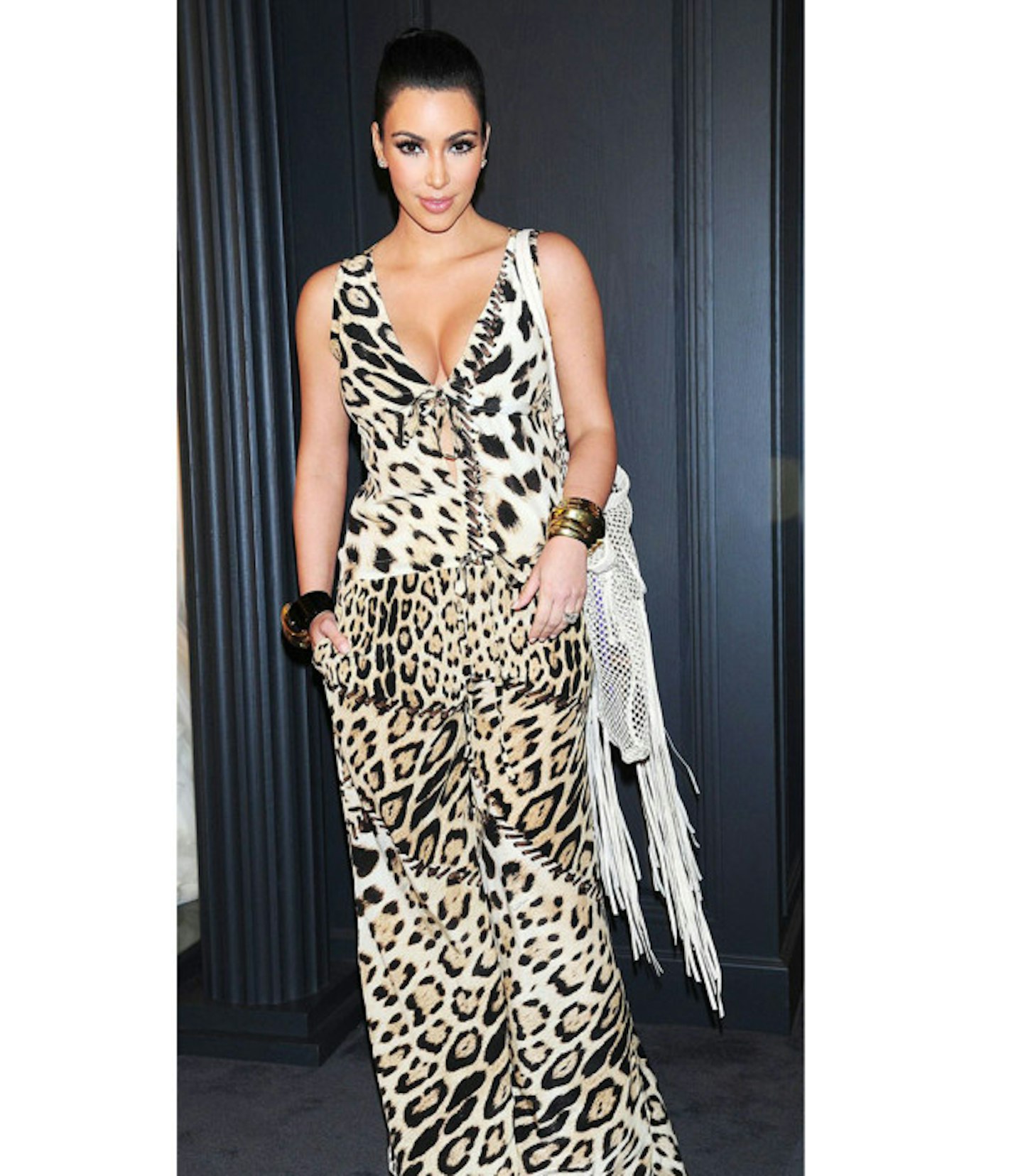 59 of 99
In leopardy
Leopard jumpsuits can be cool. But not if they involve palazzo pants and a lace-up front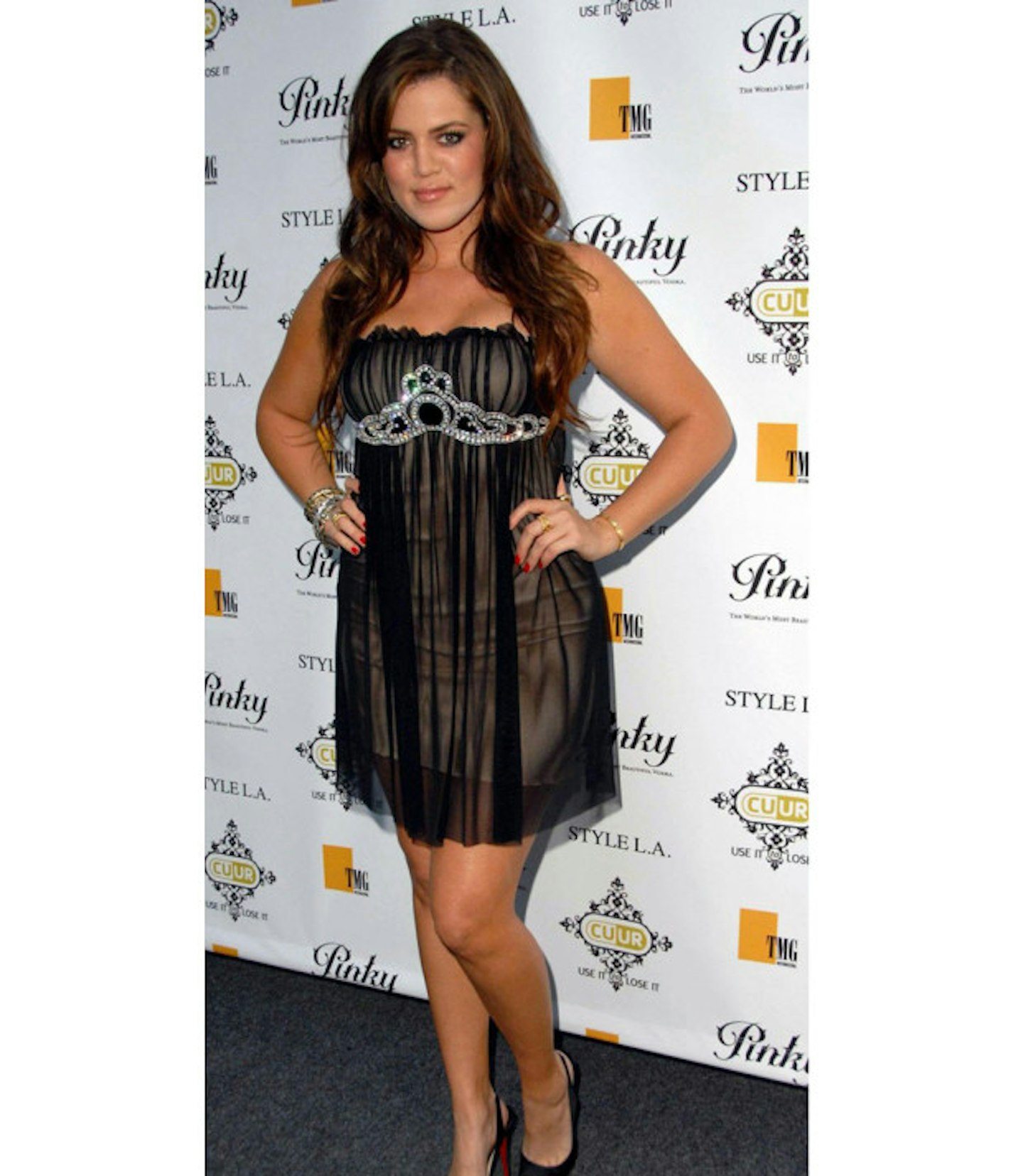 60 of 99
Linger-NAY
We must admire the fact you managed to stretch an old tiara under your boobs, Khlo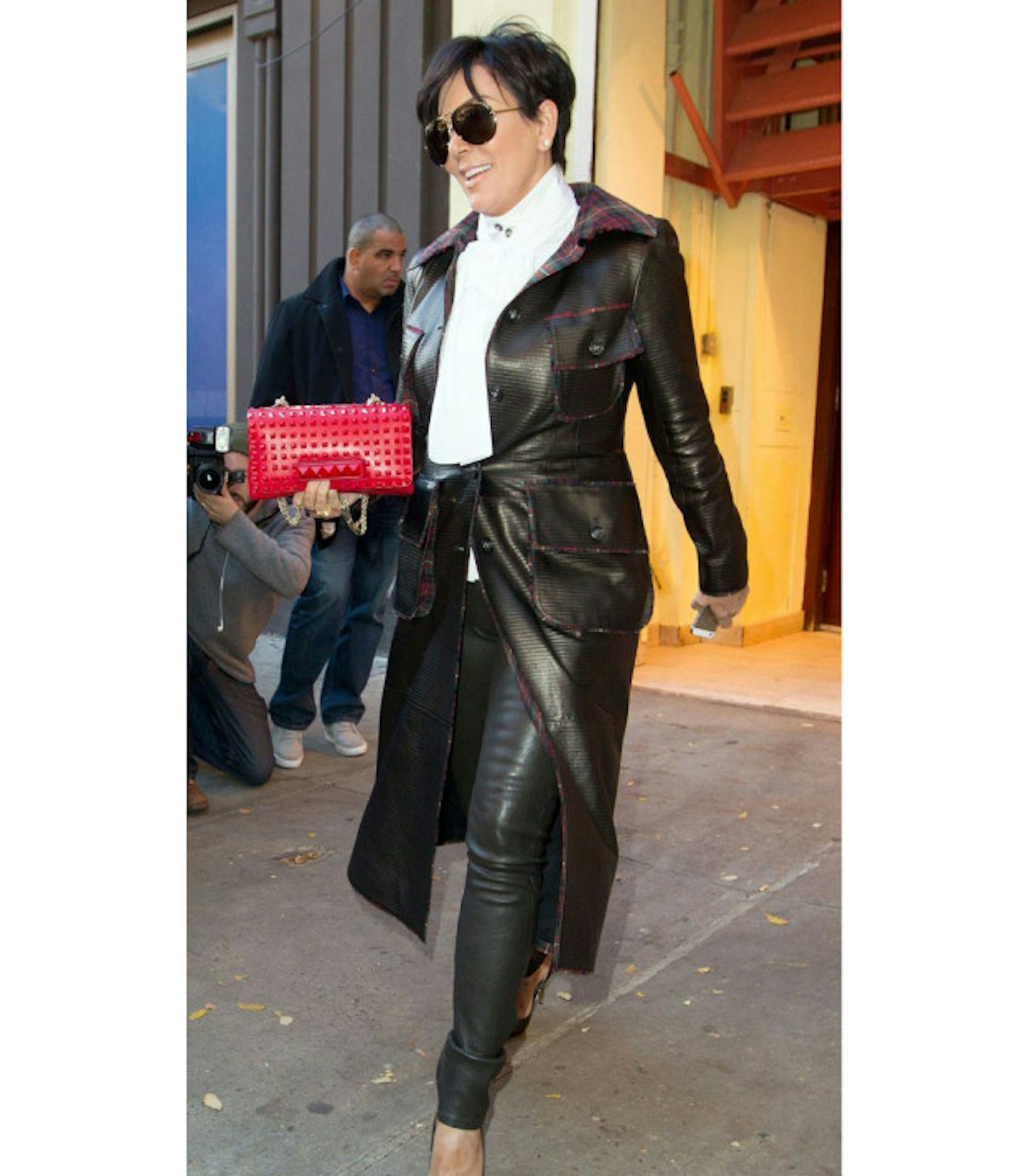 61 of 99
Trench warfare
Paying homage to Scotland in this leather jacket with tartan trim. We don't think the Scots will be too thrilled, mind you...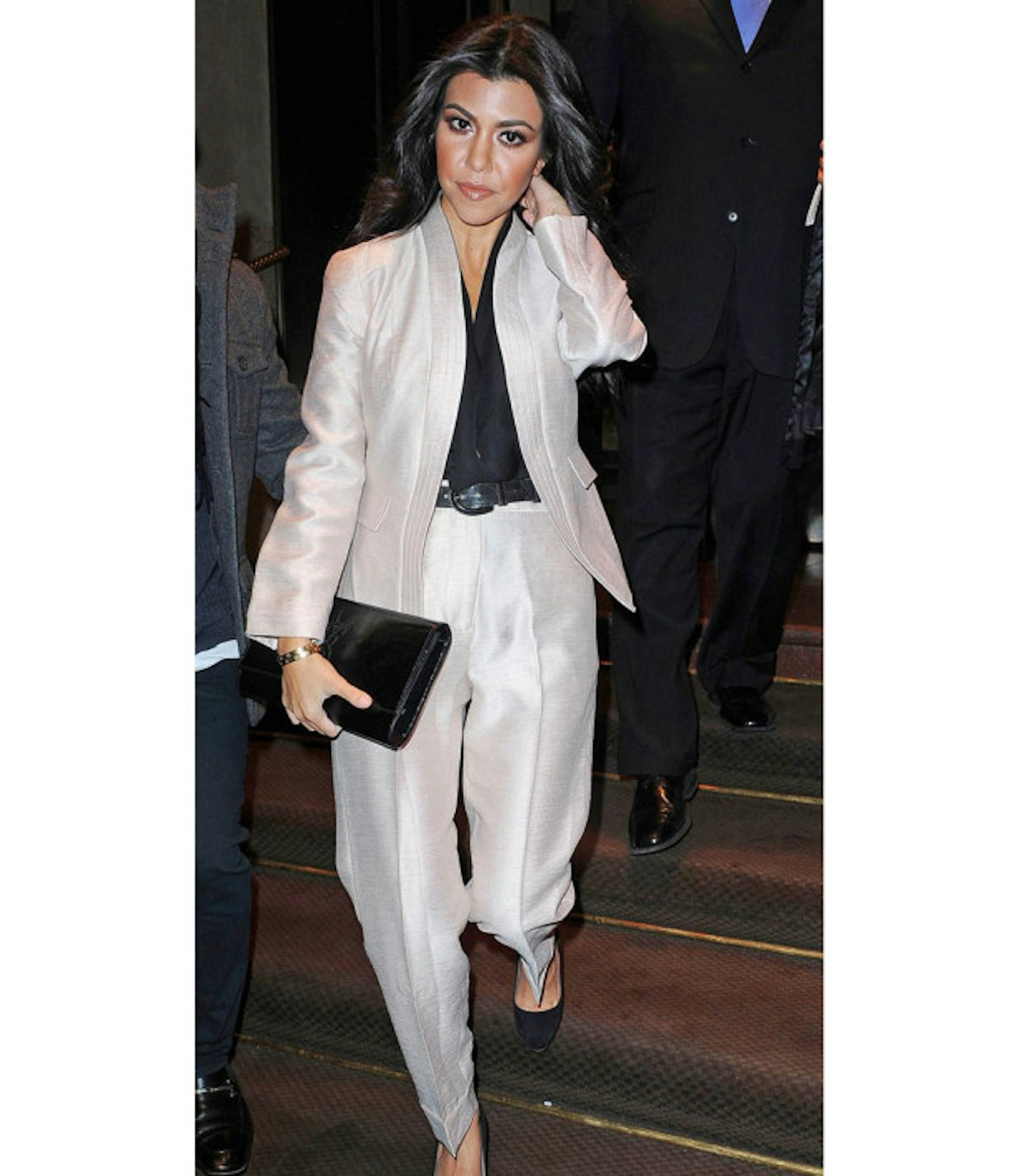 62 of 99
Silver surfer
Did Scott Disick give Kourtney his old trews? How kind
63 of 99
Jumping jumping
Maybe if you could just jump away, we'd never have to see that pantsuit again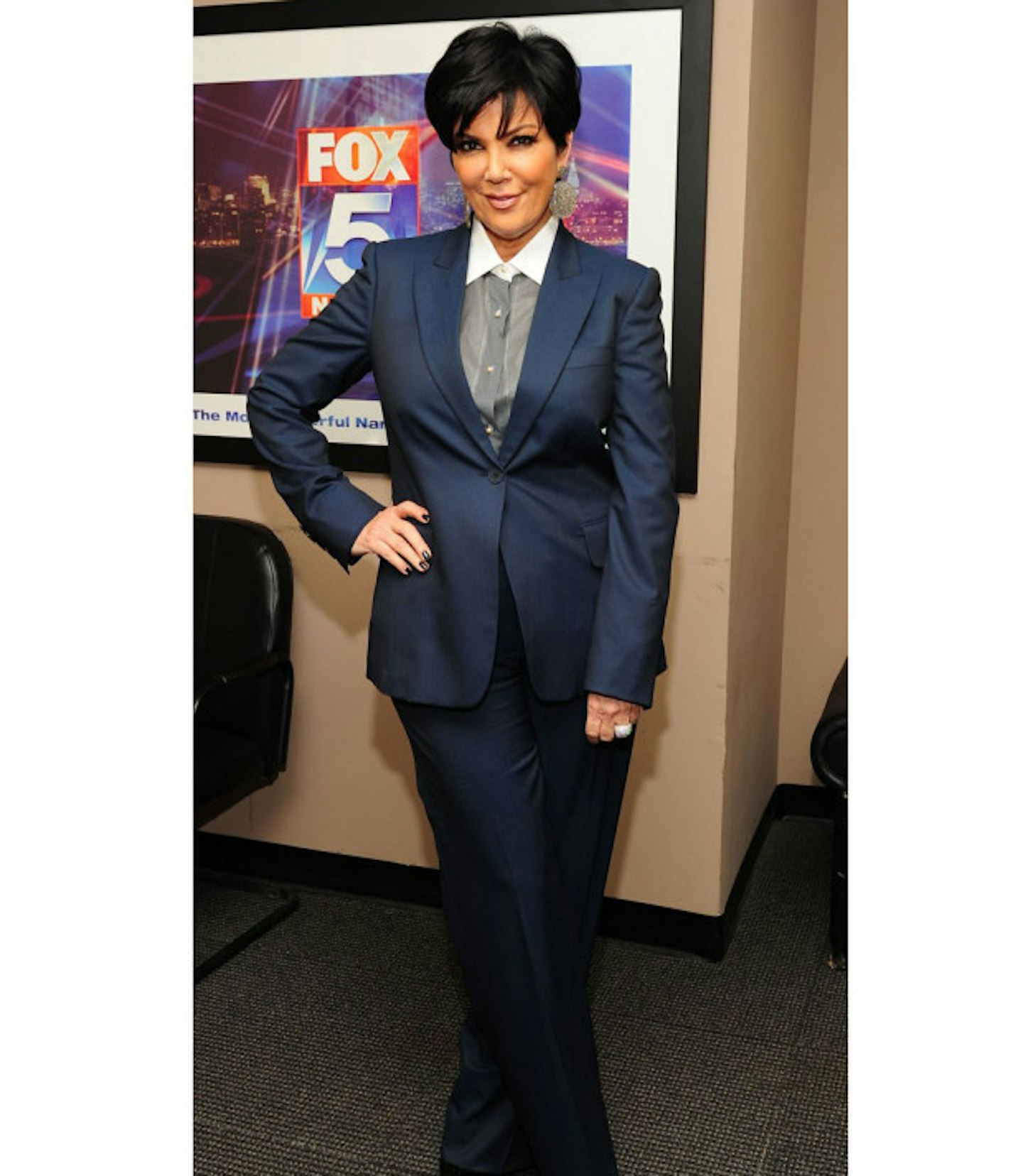 64 of 99
Suited and booted
Somehow we think we prefer the navy suit on Cara Delevingne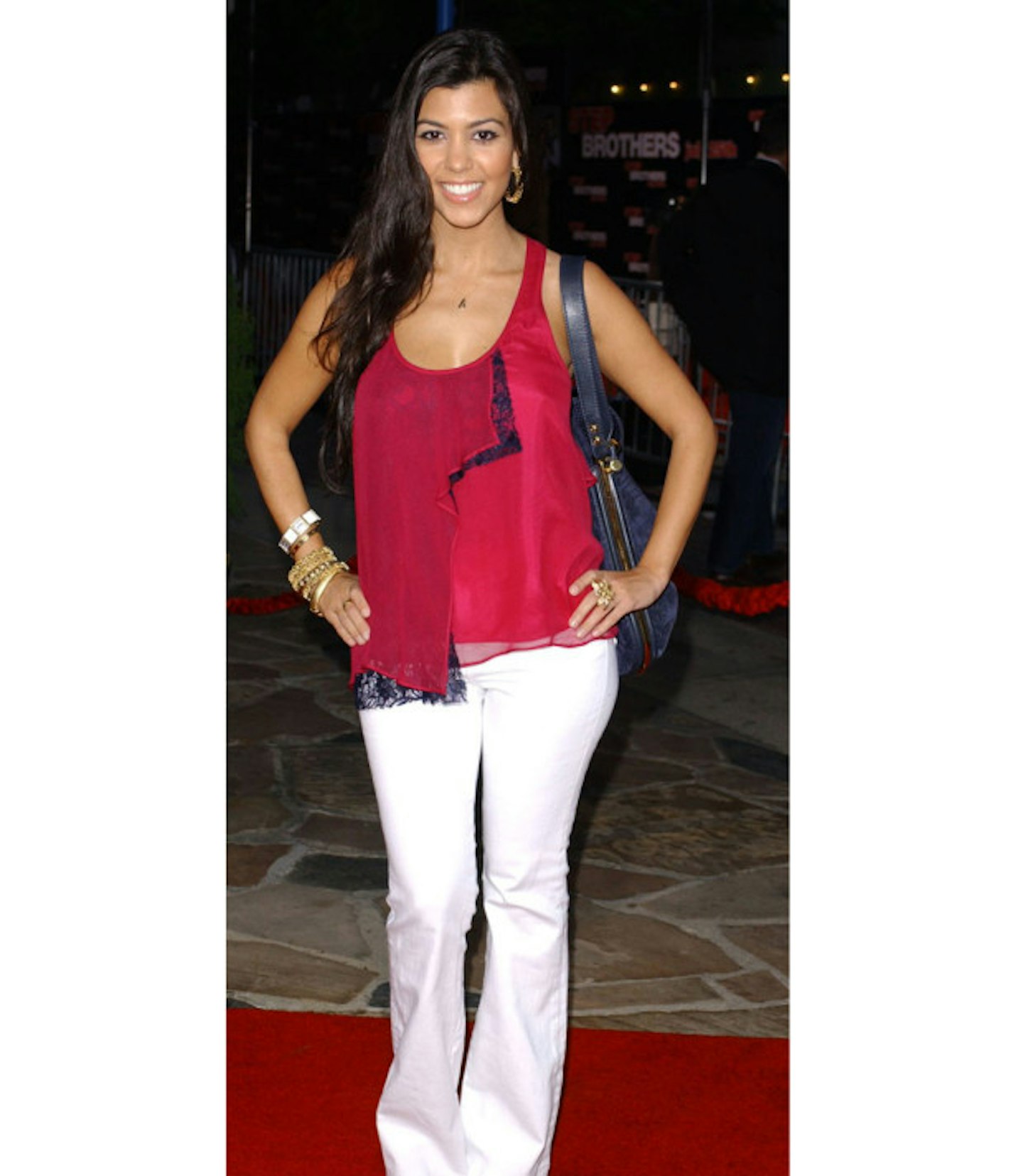 65 of 99
Sew no
Had an accident with the sewing machine, did you?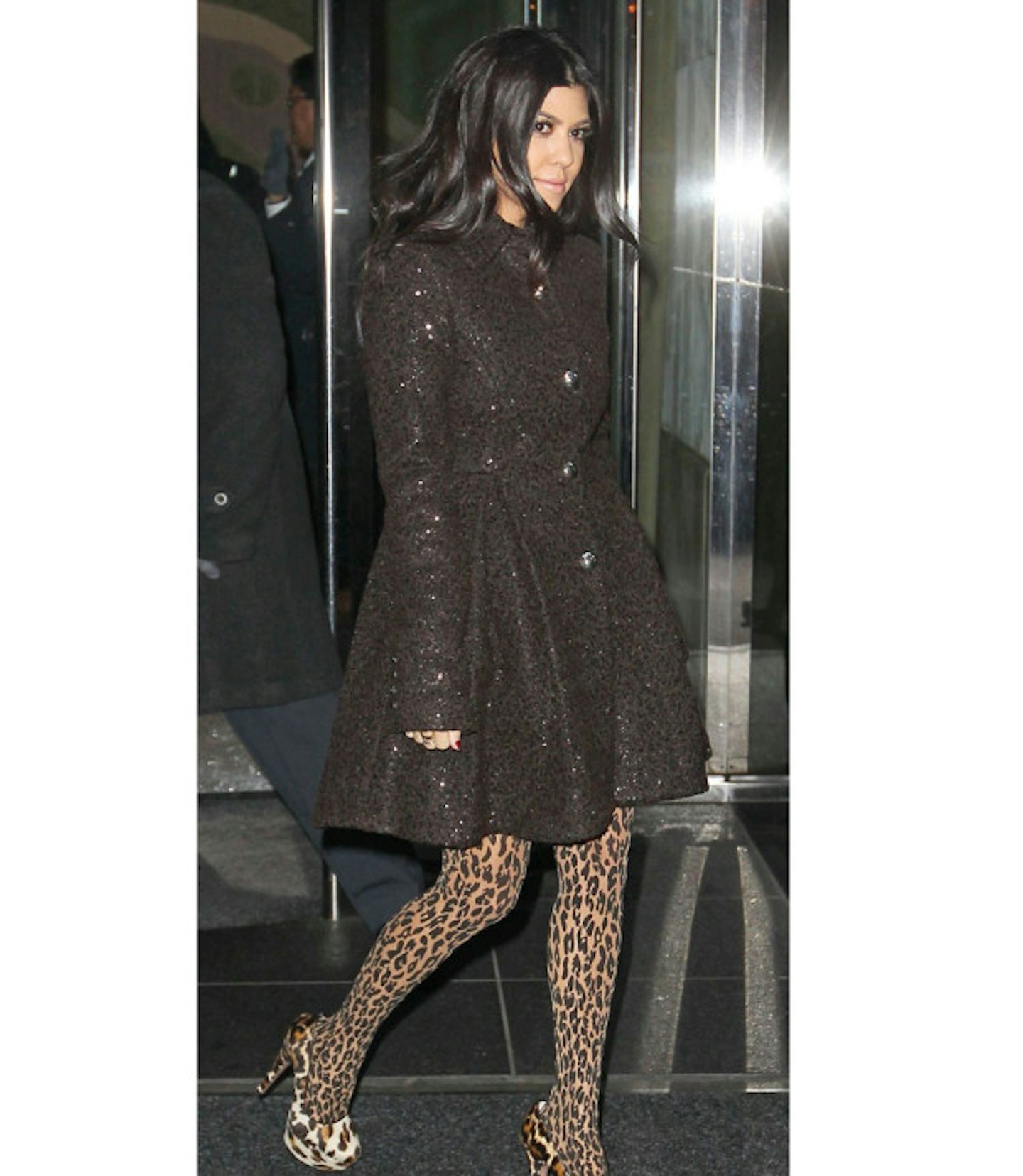 66 of 99
Feeling fierce
If there's one thing we've gauged about this family, it's that they are deffo not afraid of leopard print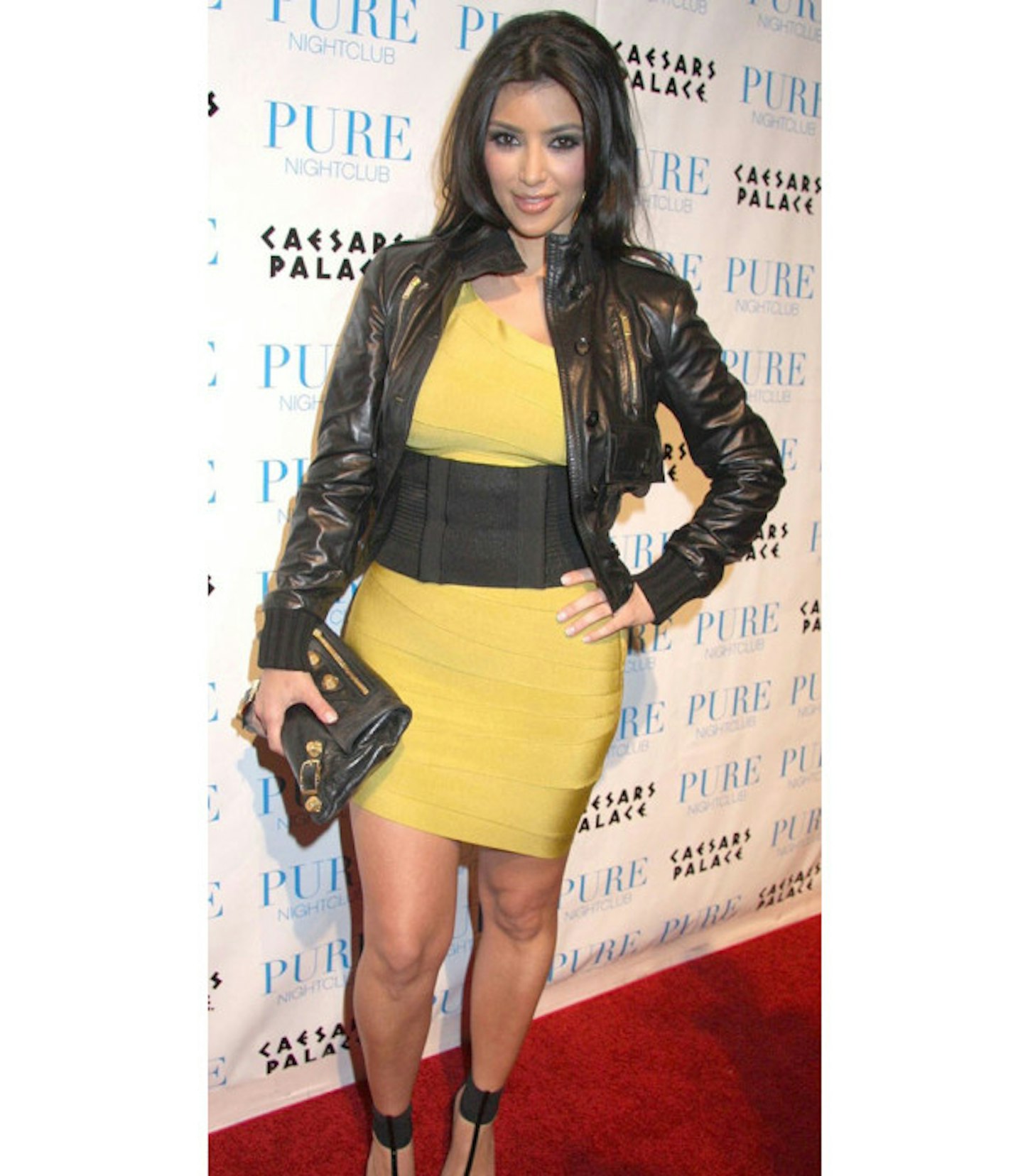 67 of 99
Plastic fantastic
Lee from 911 called. He wants his jacket back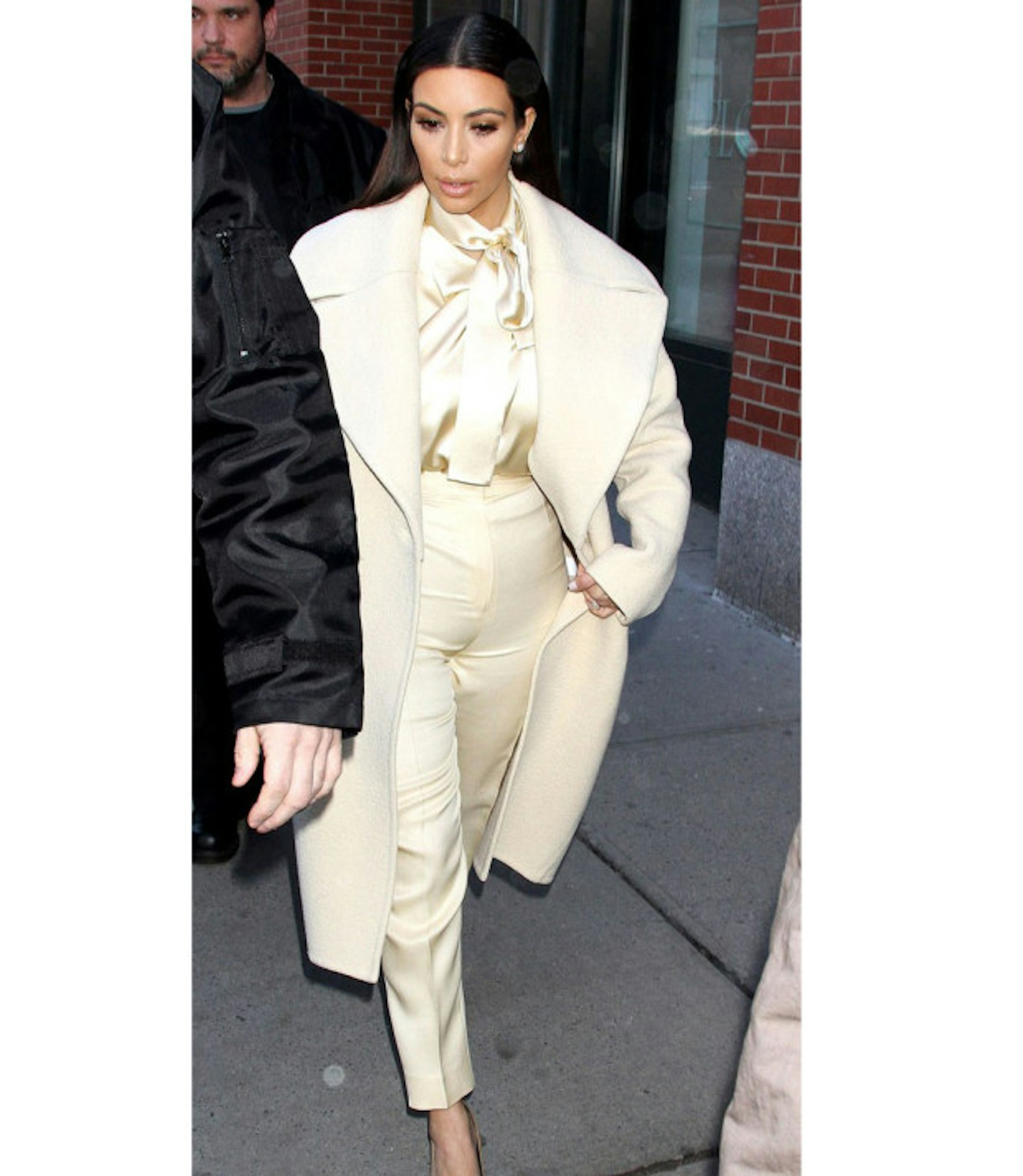 68 of 99
Creme de la creme de la creme...de la creme
Nobody can pull off top-to-toe cream, love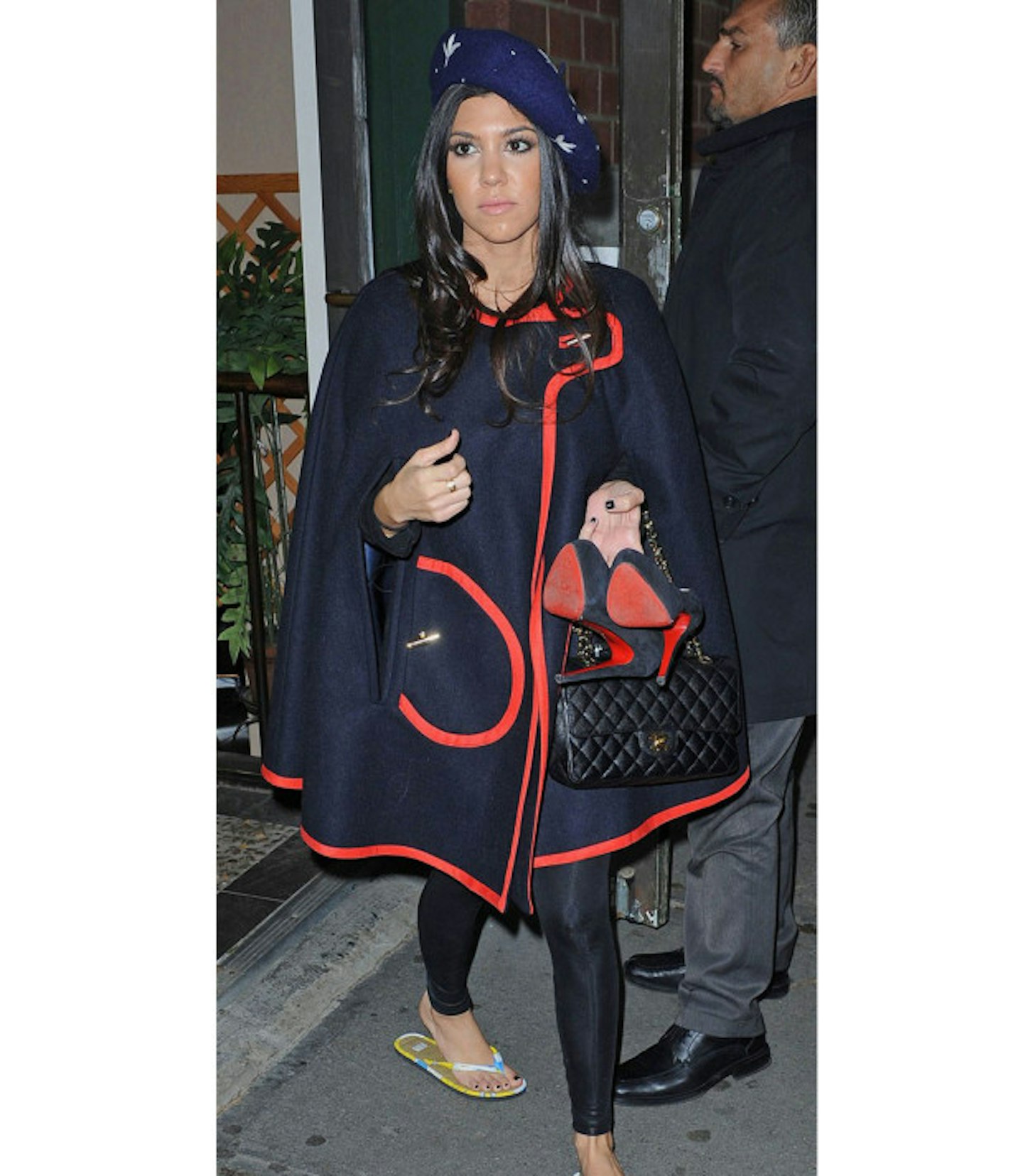 69 of 99
French miss
Part beach babe, part Parisian artist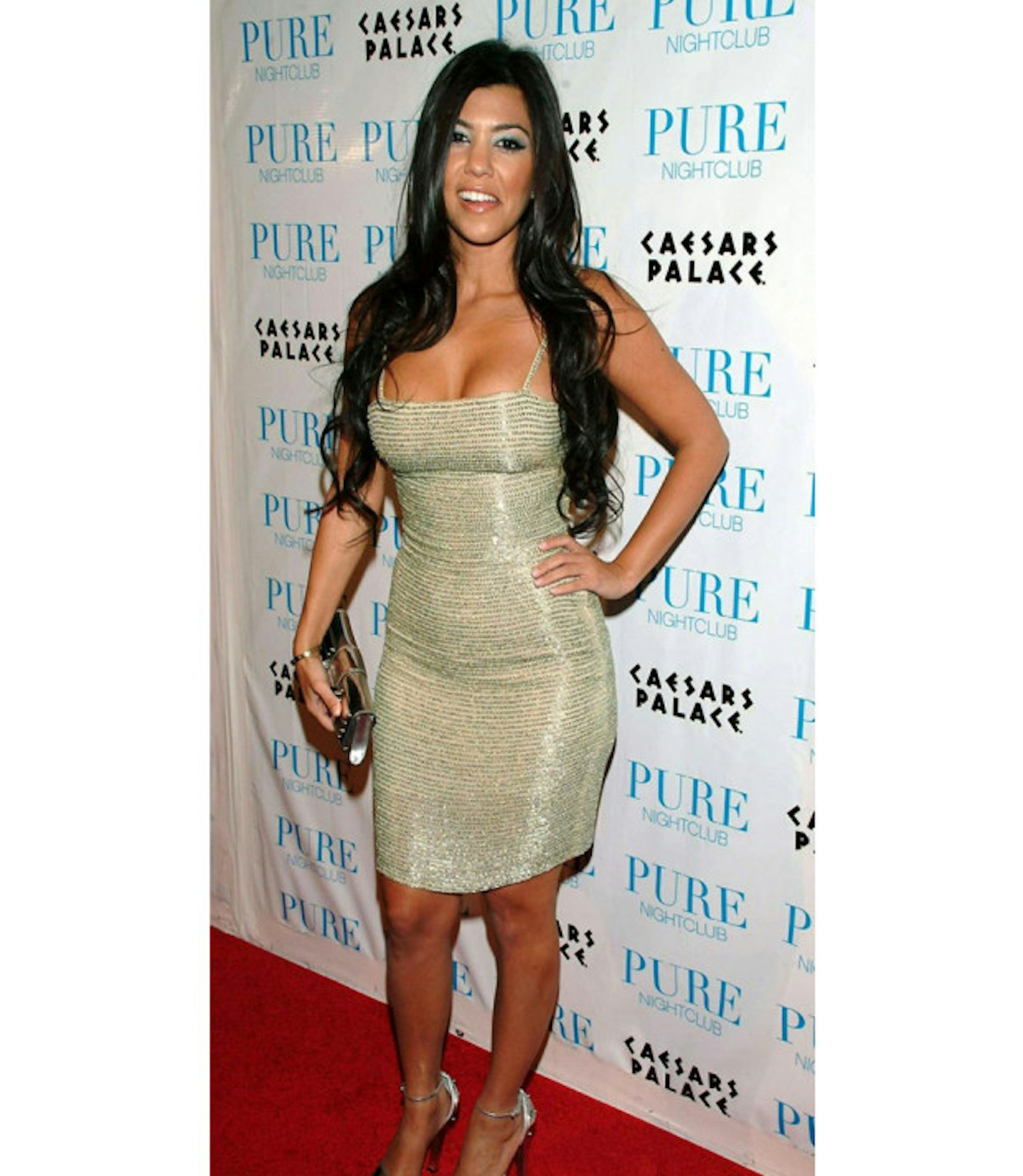 70 of 99
Time traveller
Been raiding Romy and Michele's costume cupboard? Surely you could've found something better than that old thing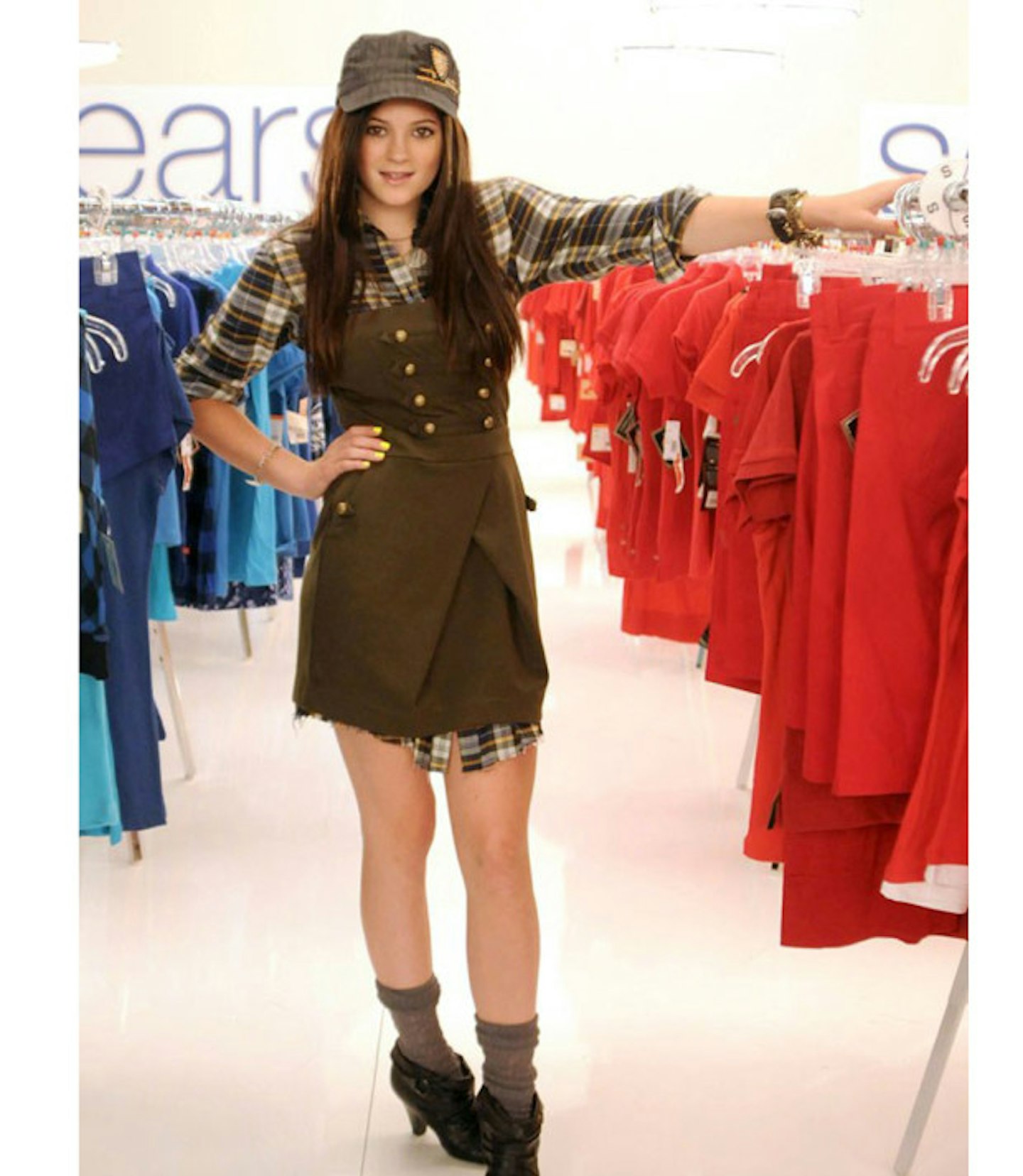 71 of 99
Scouting about
Joining the girl scouts, are we Kylie?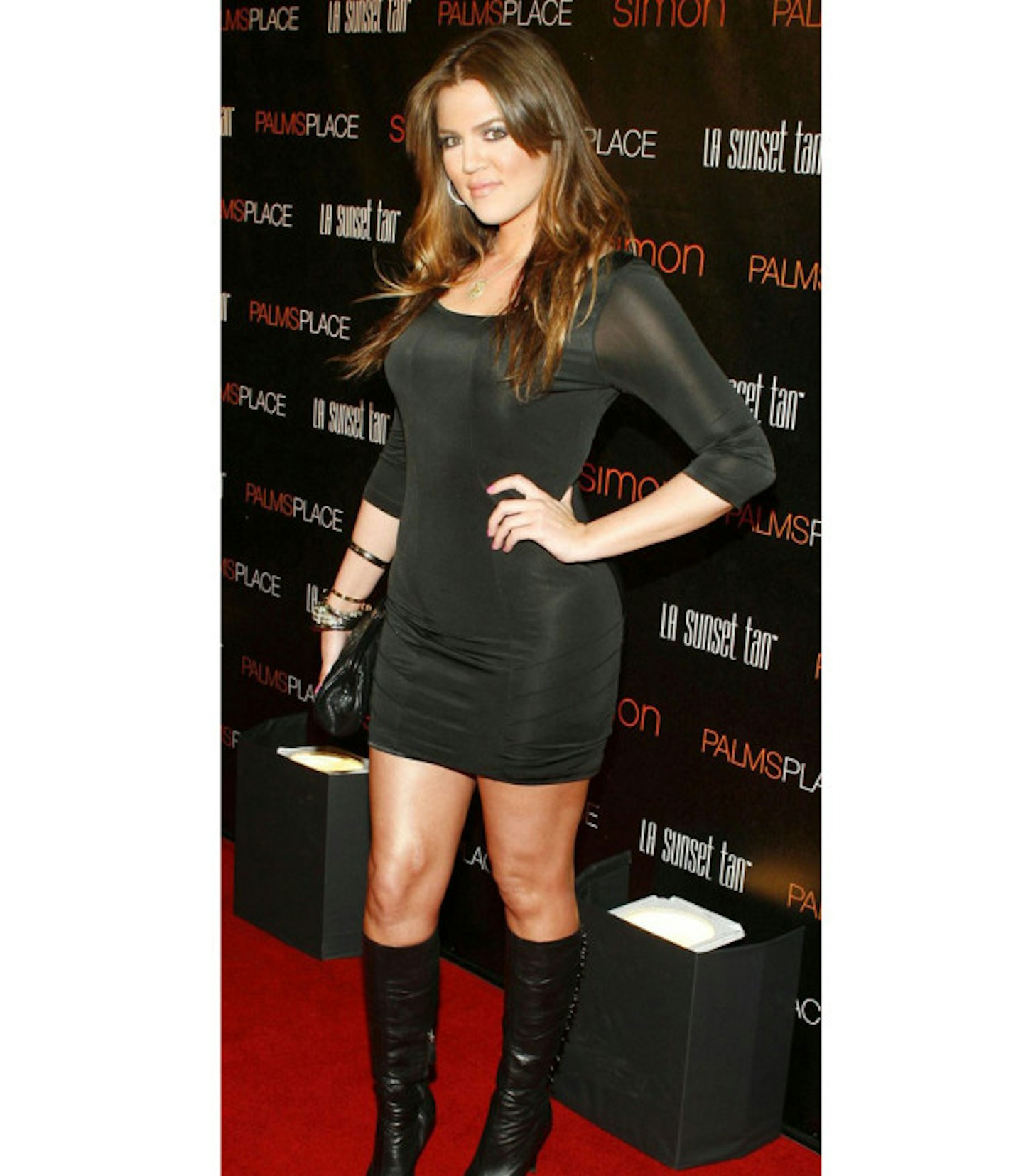 72 of 99
Reuse and recycle
And here's another way you can recycle your mum's old tights. Just in case the others weren't up your street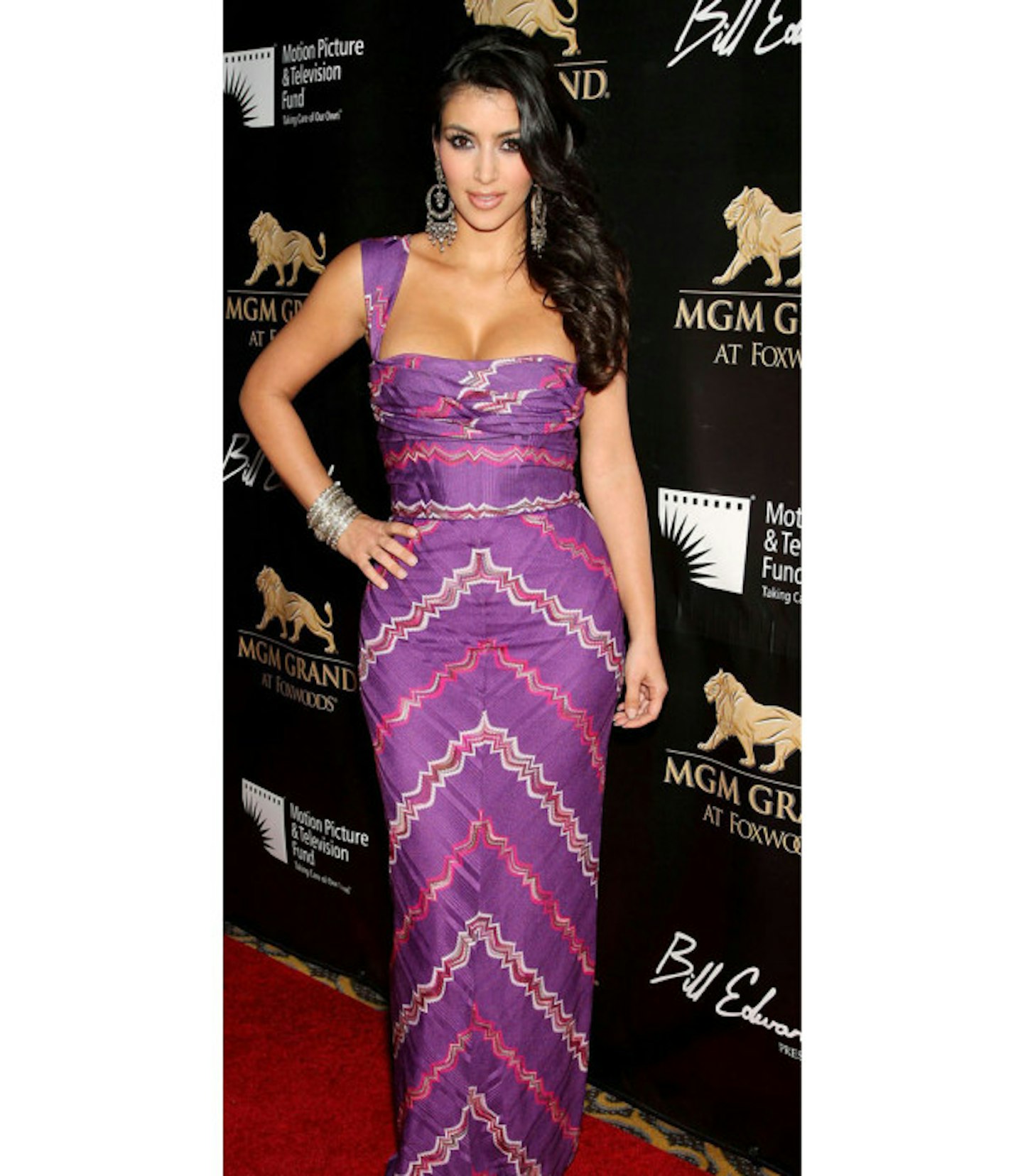 73 of 99
Kaleidonope
This is the kind of pattern we'd hope to see at the end of a kaleidoscope. Not on the red carpet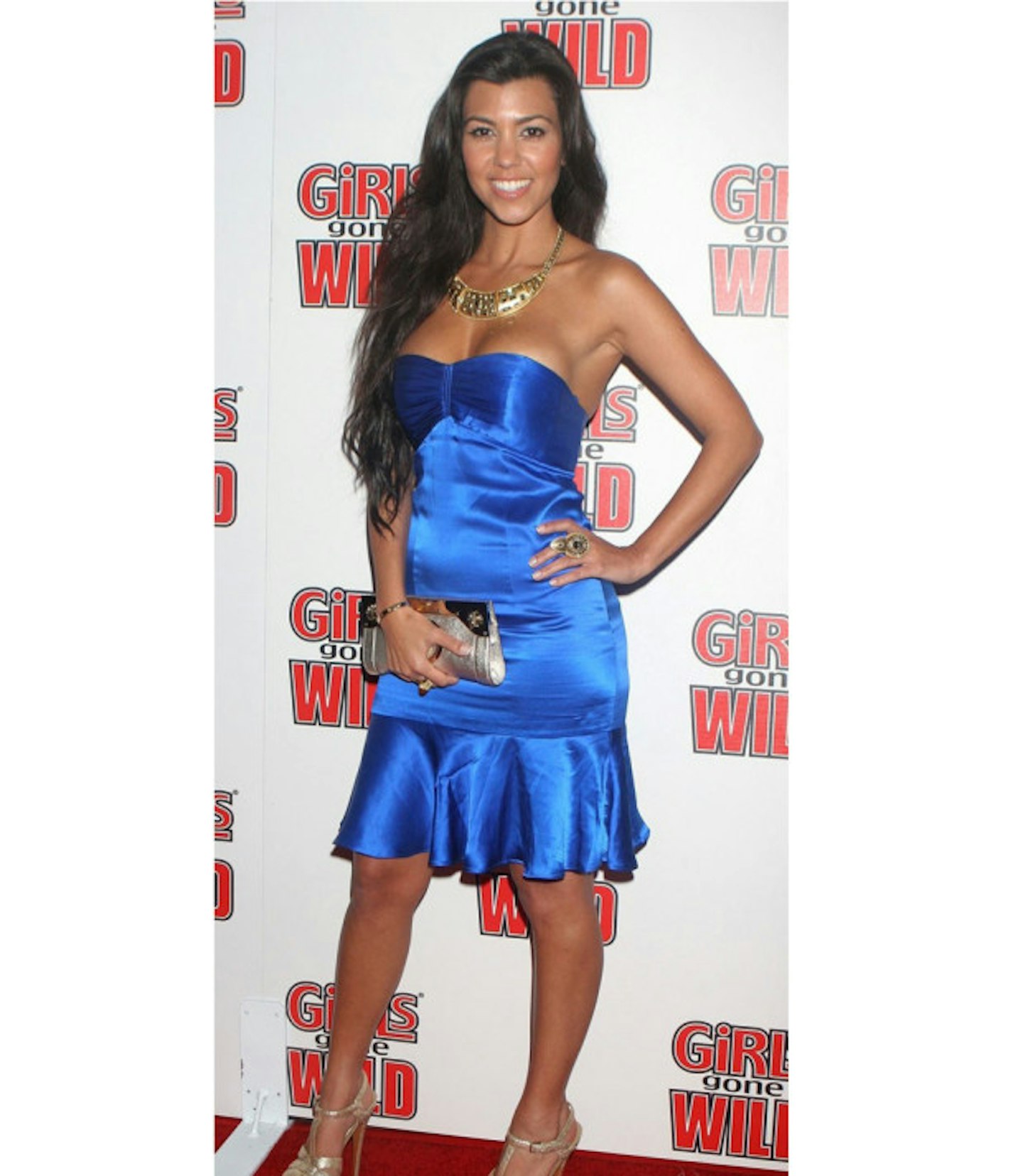 74 of 99
Feeling blue
How fresh faced does Kourtney look here? Let's just focus on that and not look down...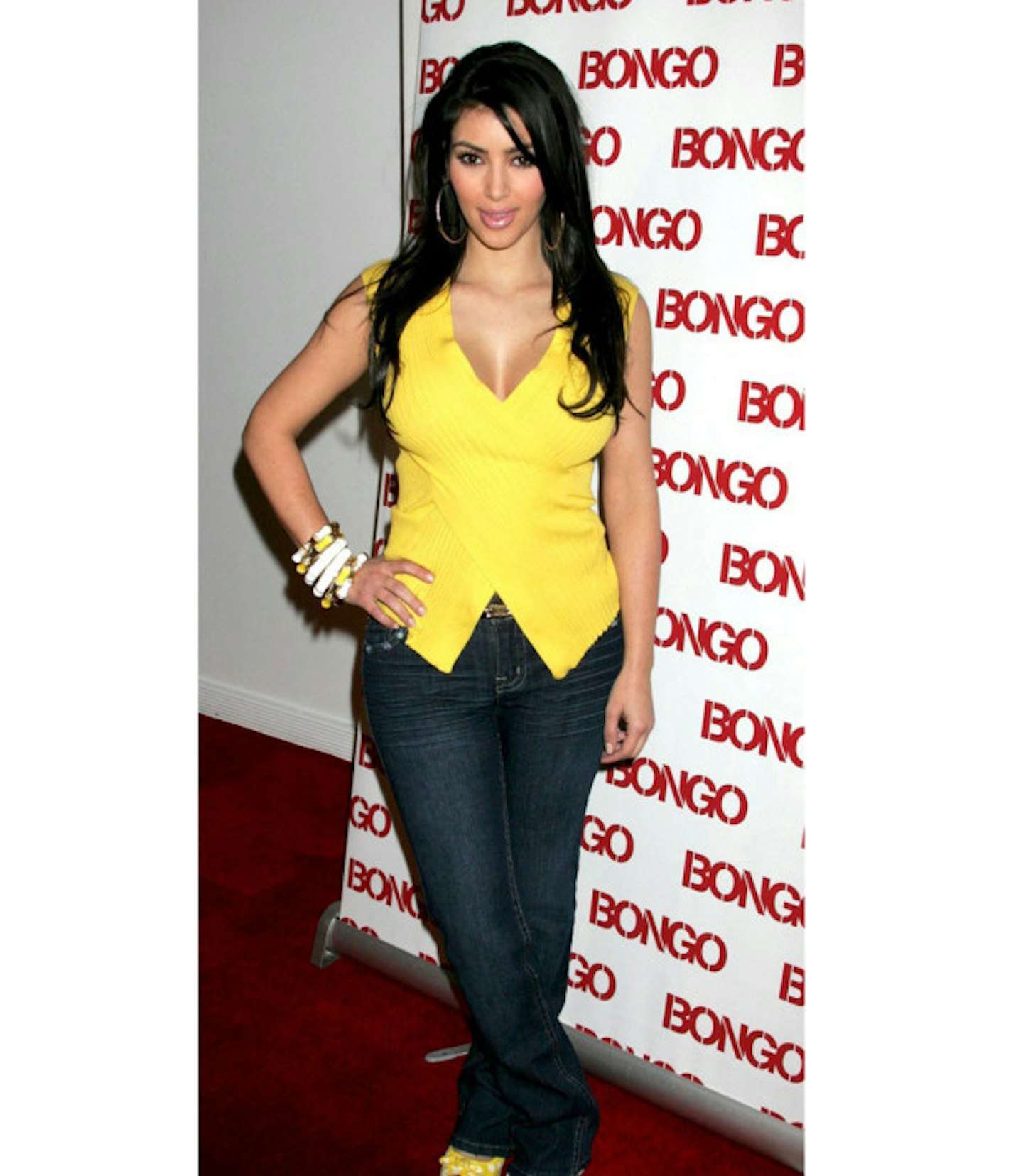 75 of 99
Walking on sunshine
Katrina (And The Waves) would be proud of this. Nobody else is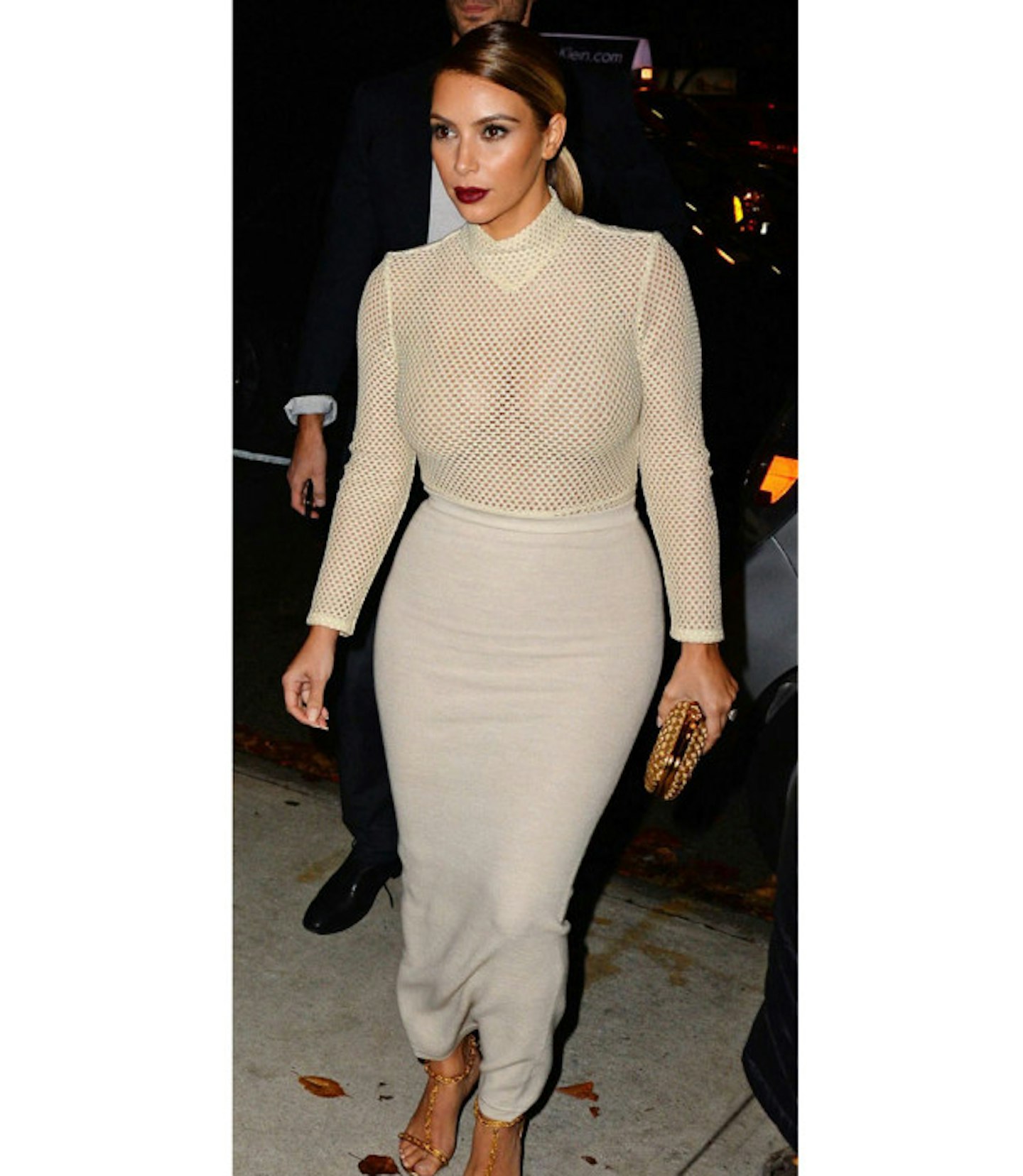 76 of 99
What a mesh
Turning yet another old pair of Kris Jenner's tights into a top. Such a resourceful family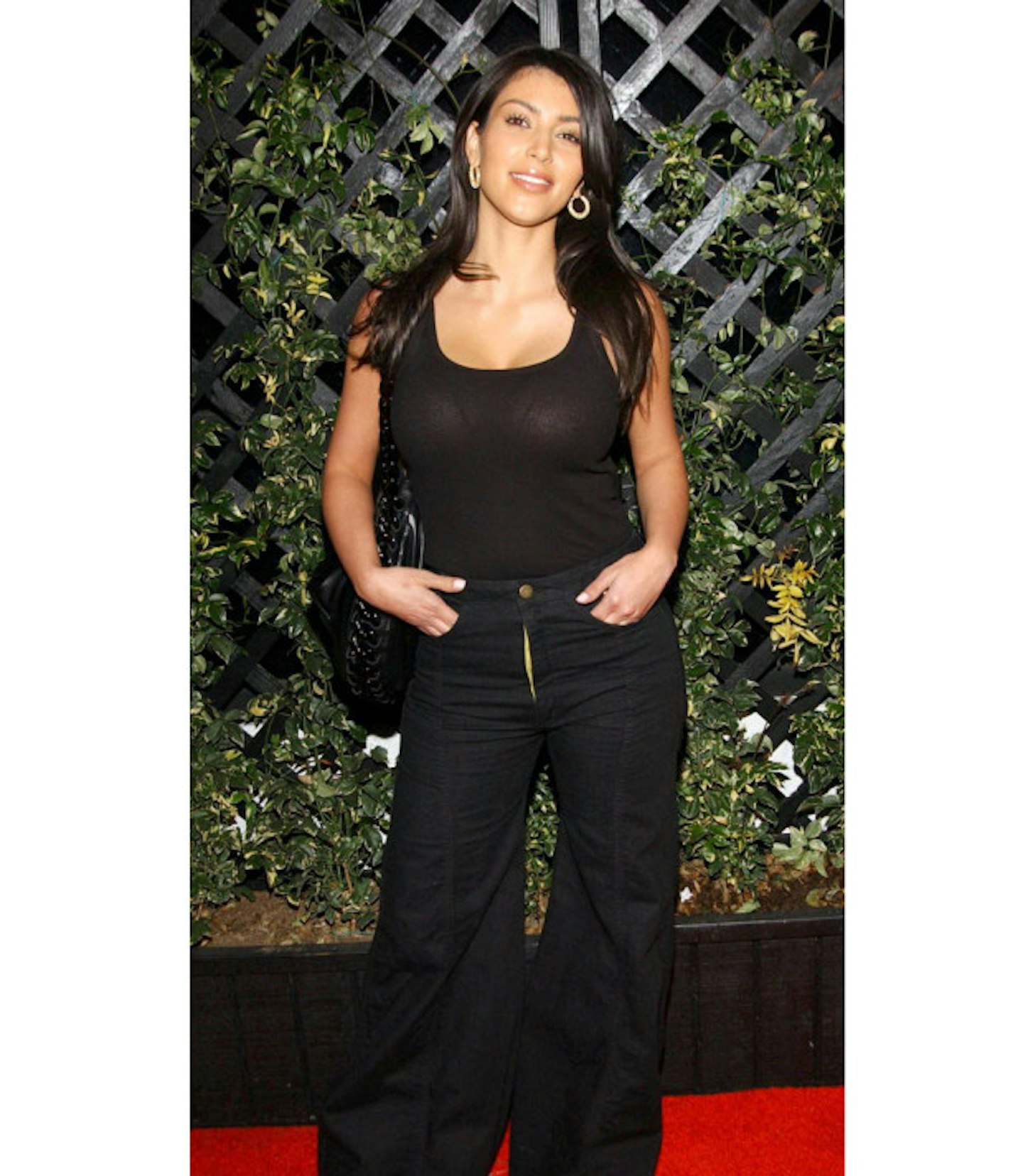 77 of 99
Mid-flight
Er, Kim? Your flies are undone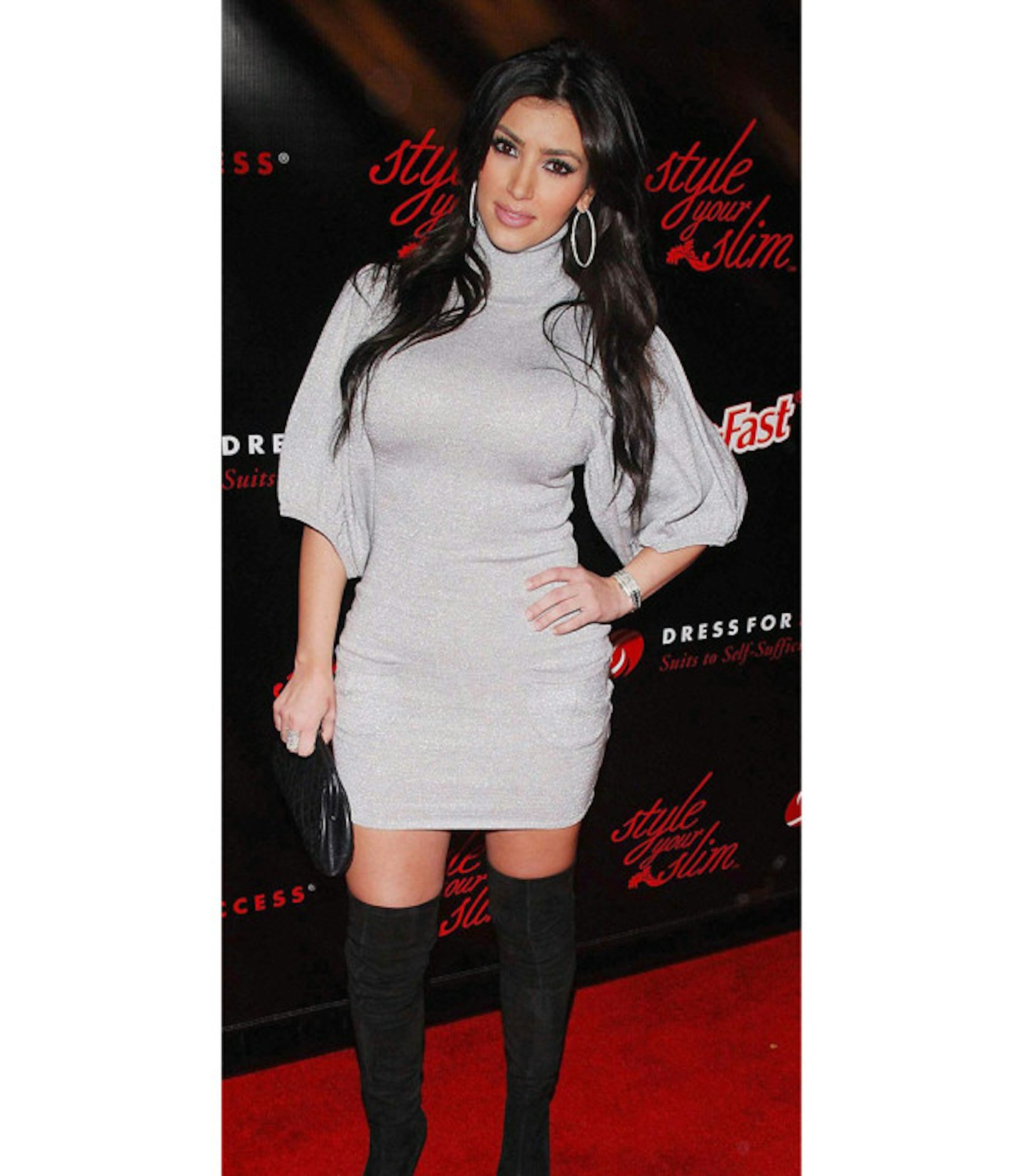 78 of 99
Winging it
Putting a whole new meaning to the term 'bingo wings'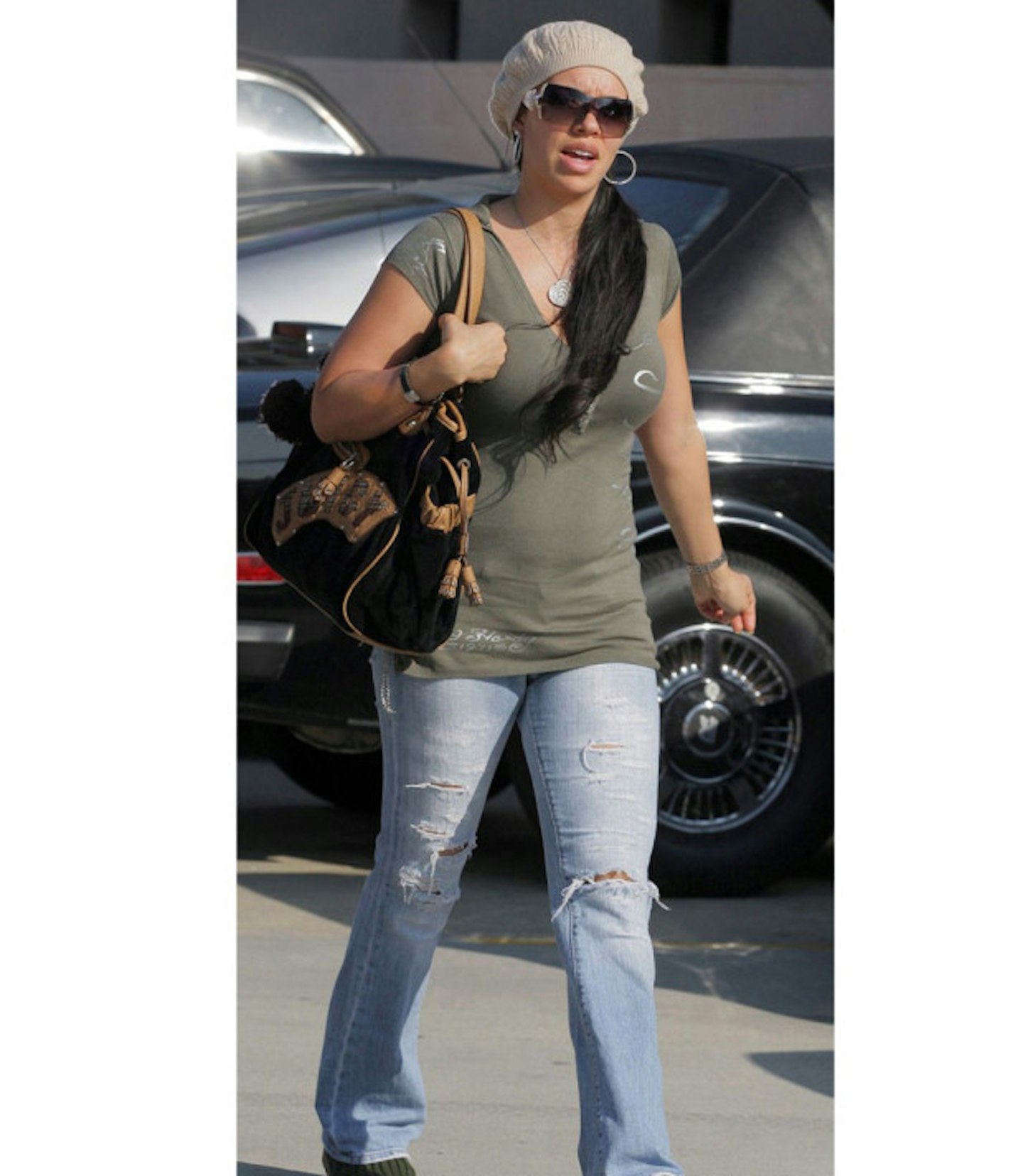 79 of 99
Slipping up
We know they're comfy, but your grandad's slippers are never meant to be seen outside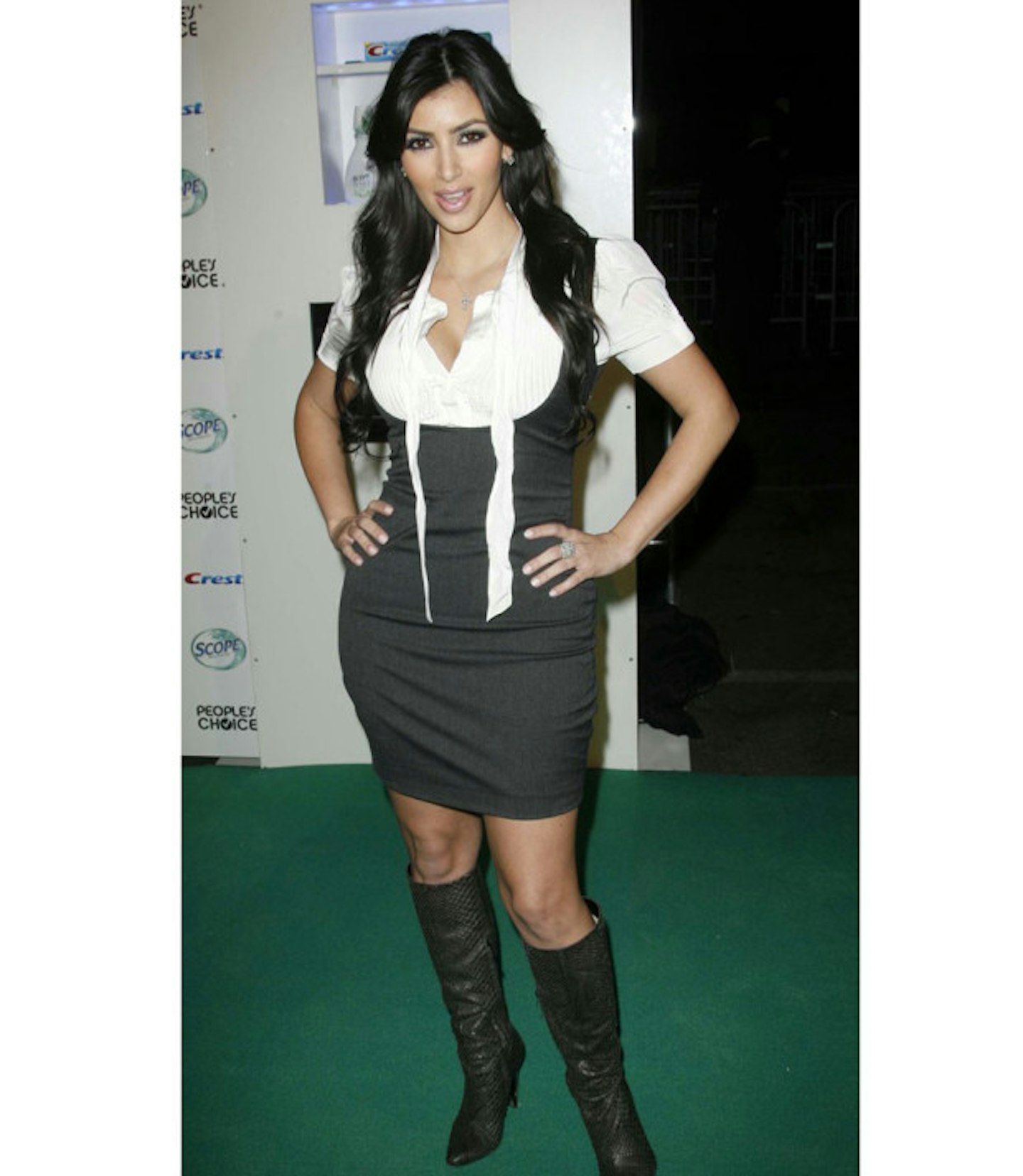 80 of 99
Get your crocs off
Remember that song by Jimmy Nail called Crocodile Shoes? Well erm, yeah...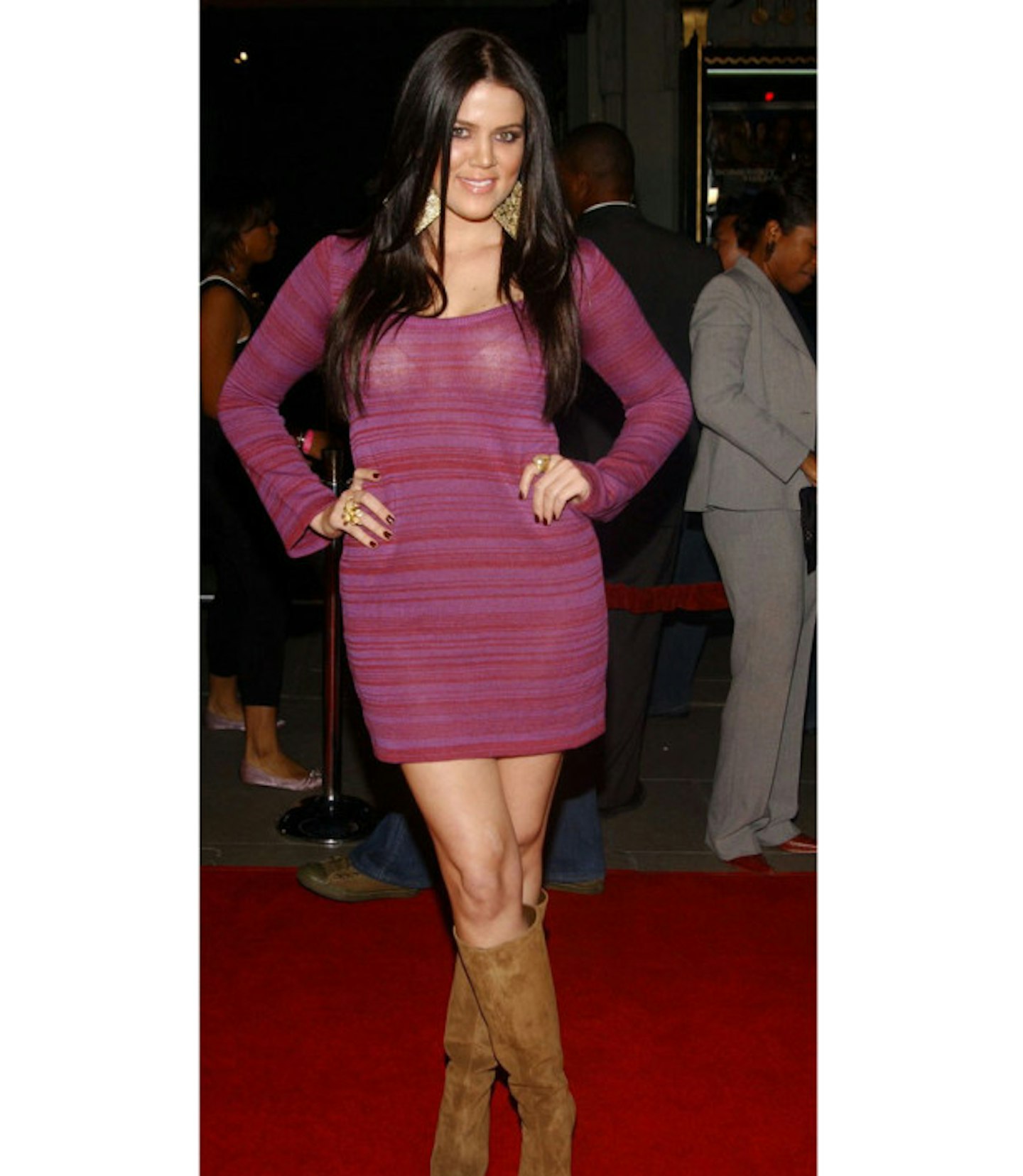 81 of 99
Sheerly does it
We bet that photographer was a happy chappy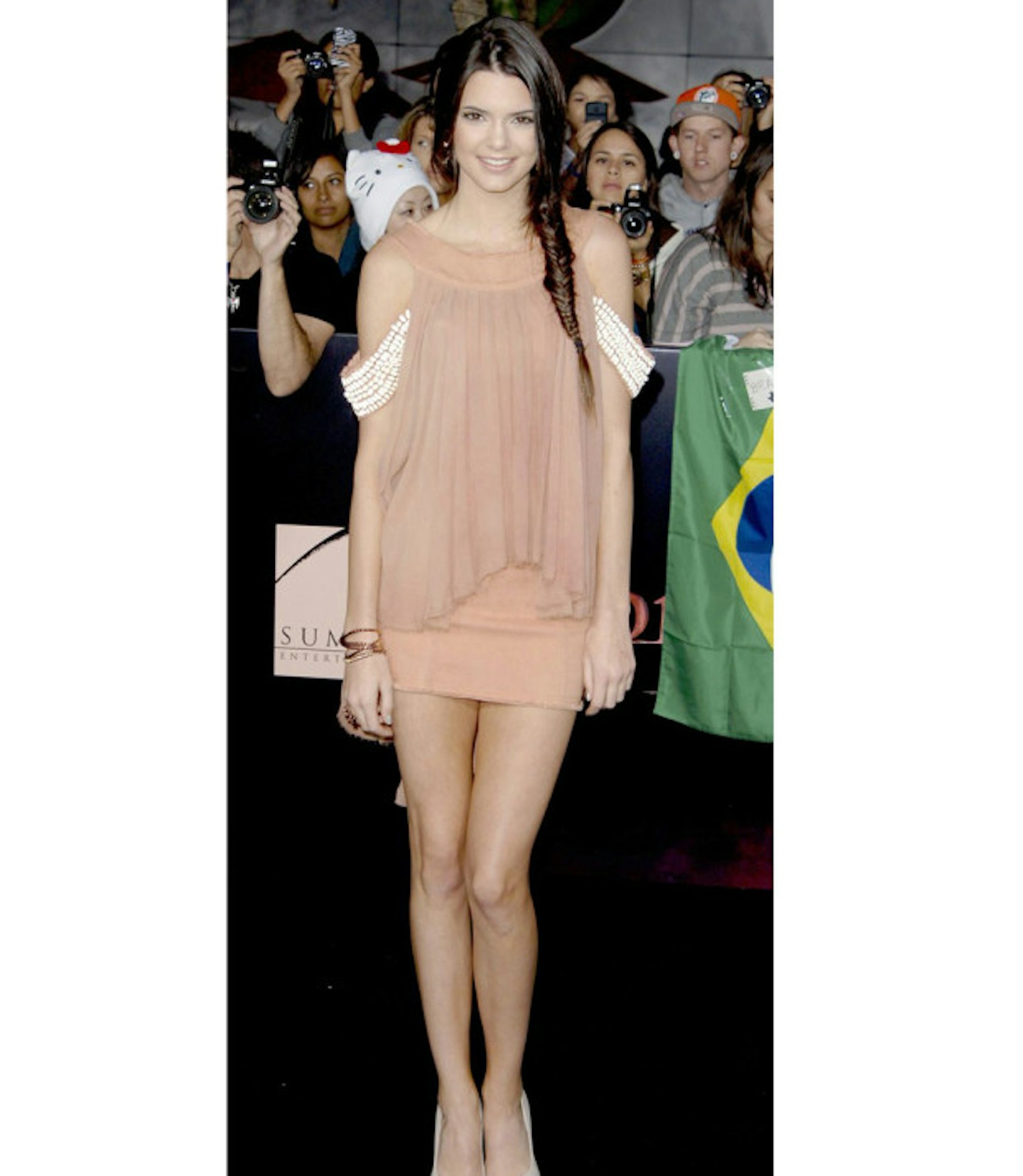 82 of 99
Just beachy
Has Kendall been combing the beach to make her weird shell sleeves?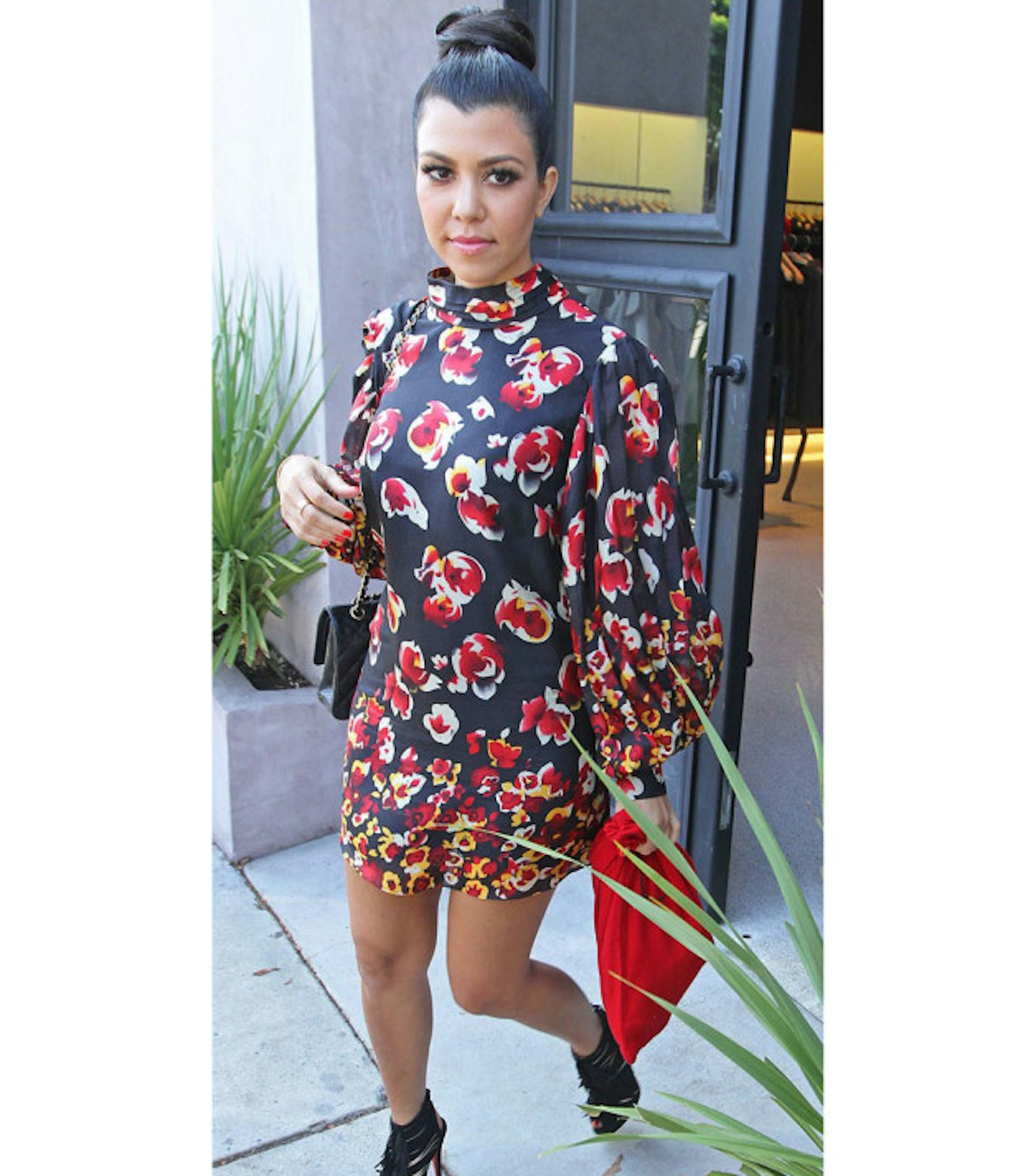 83 of 99
Flower power
Those flowers are certainly powerful. But not for the right reasons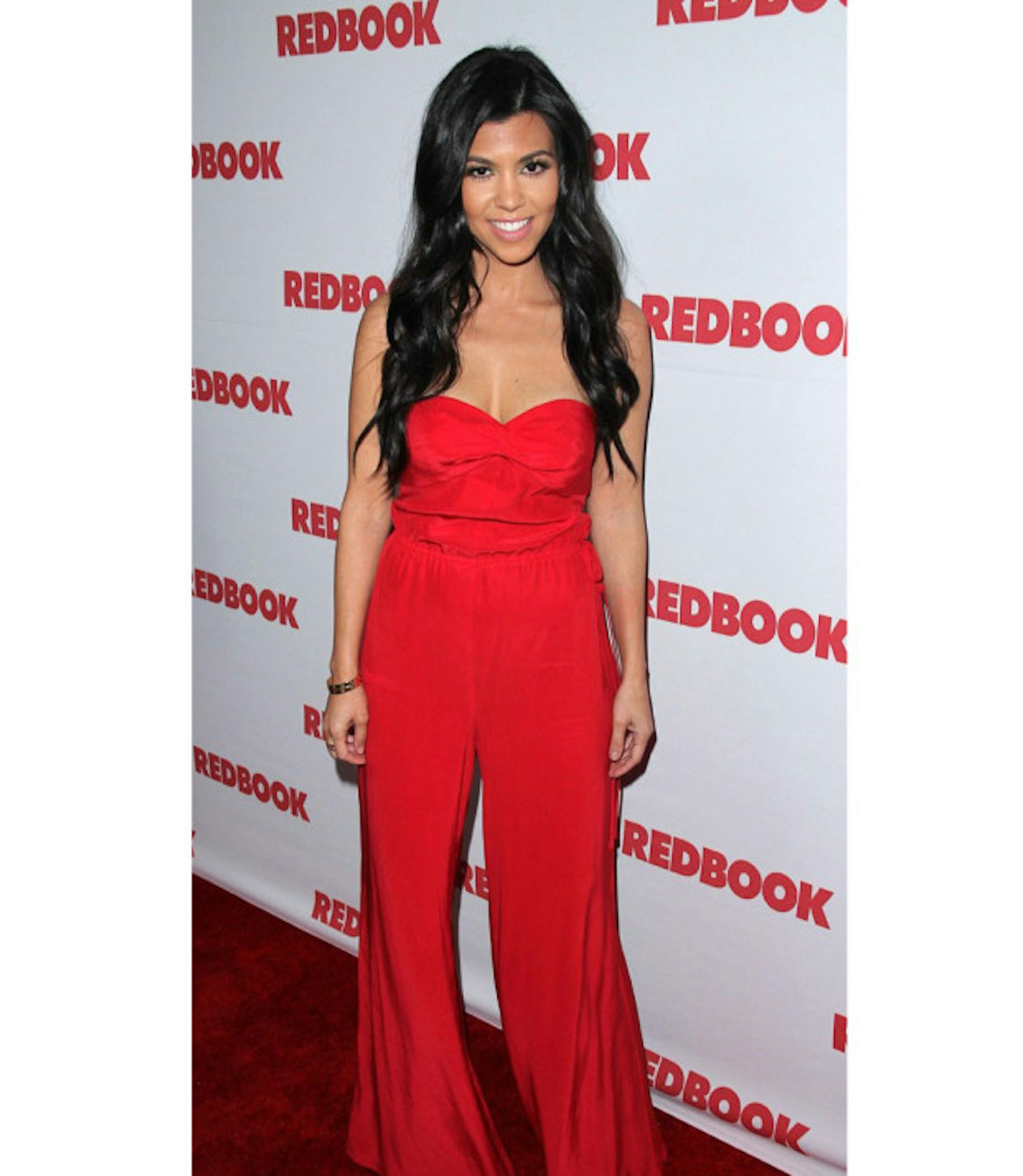 84 of 99
Lady in red
Oi Kourt, have you got any shoes under there?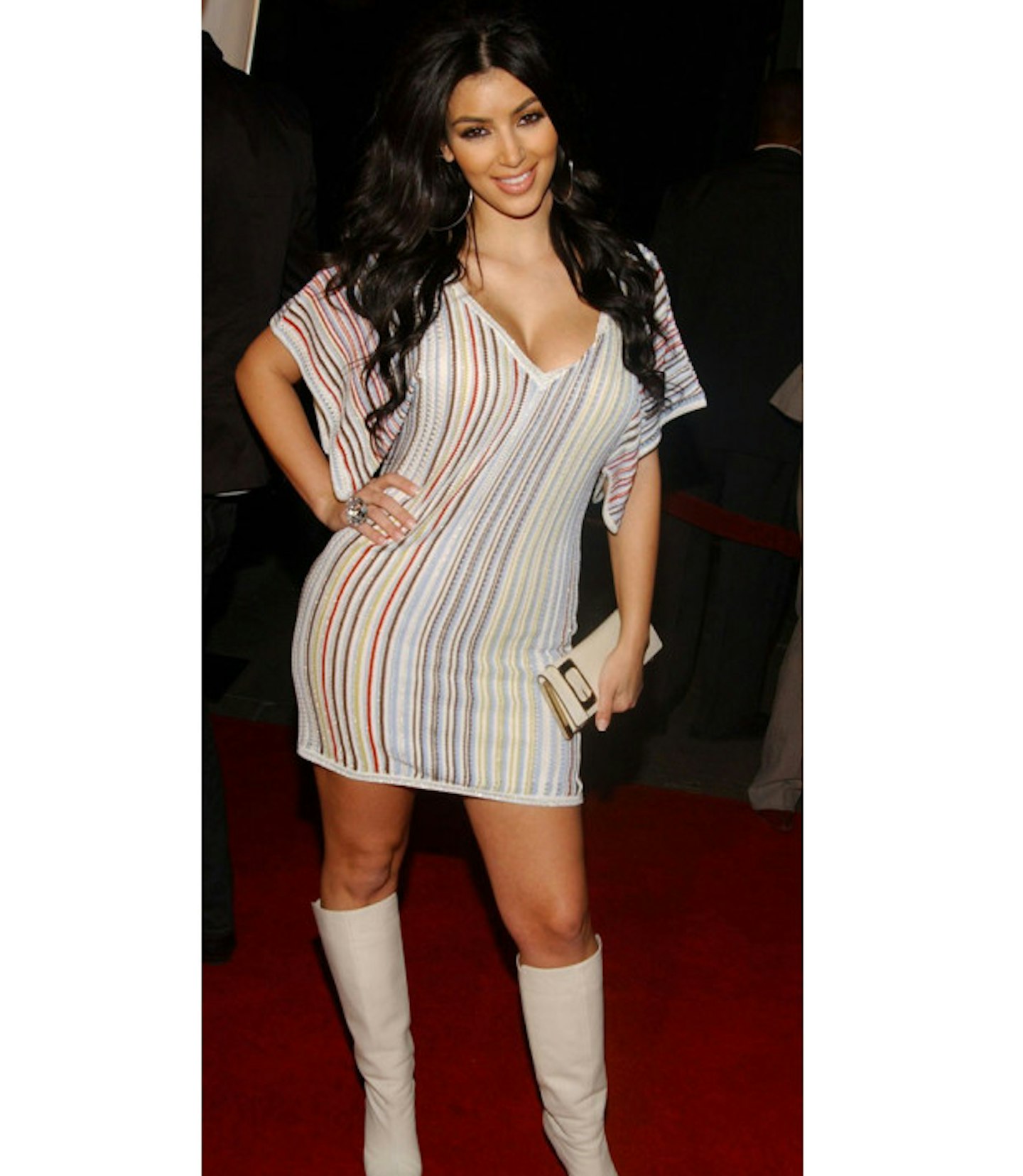 85 of 99
A cuppa tee
A stretchy old t-shirt simply will not suffice as an entire dress, Mrs West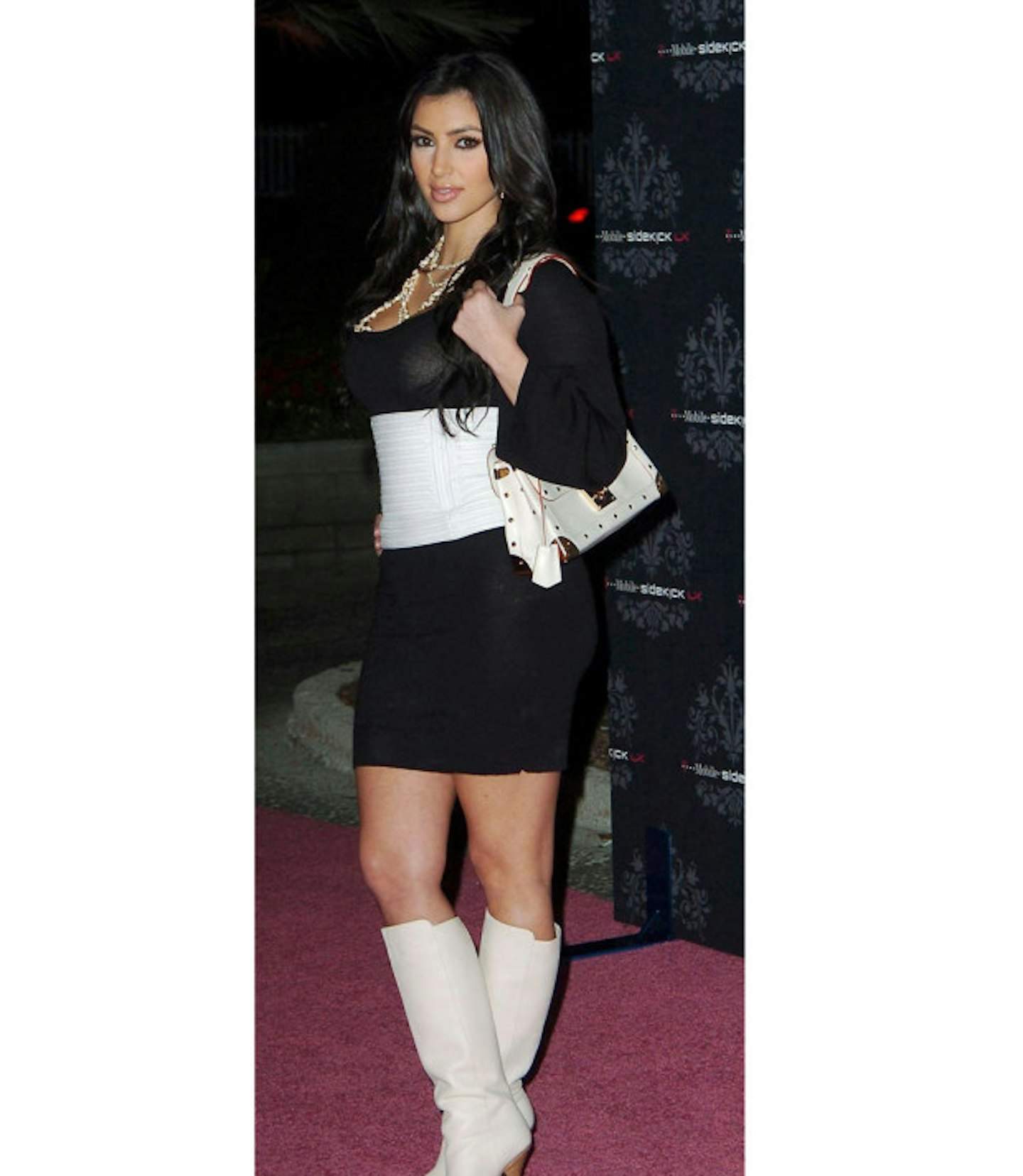 86 of 99
Bandaging up
At first glimpse, we actually thought Kim had suffered a serious stomach injury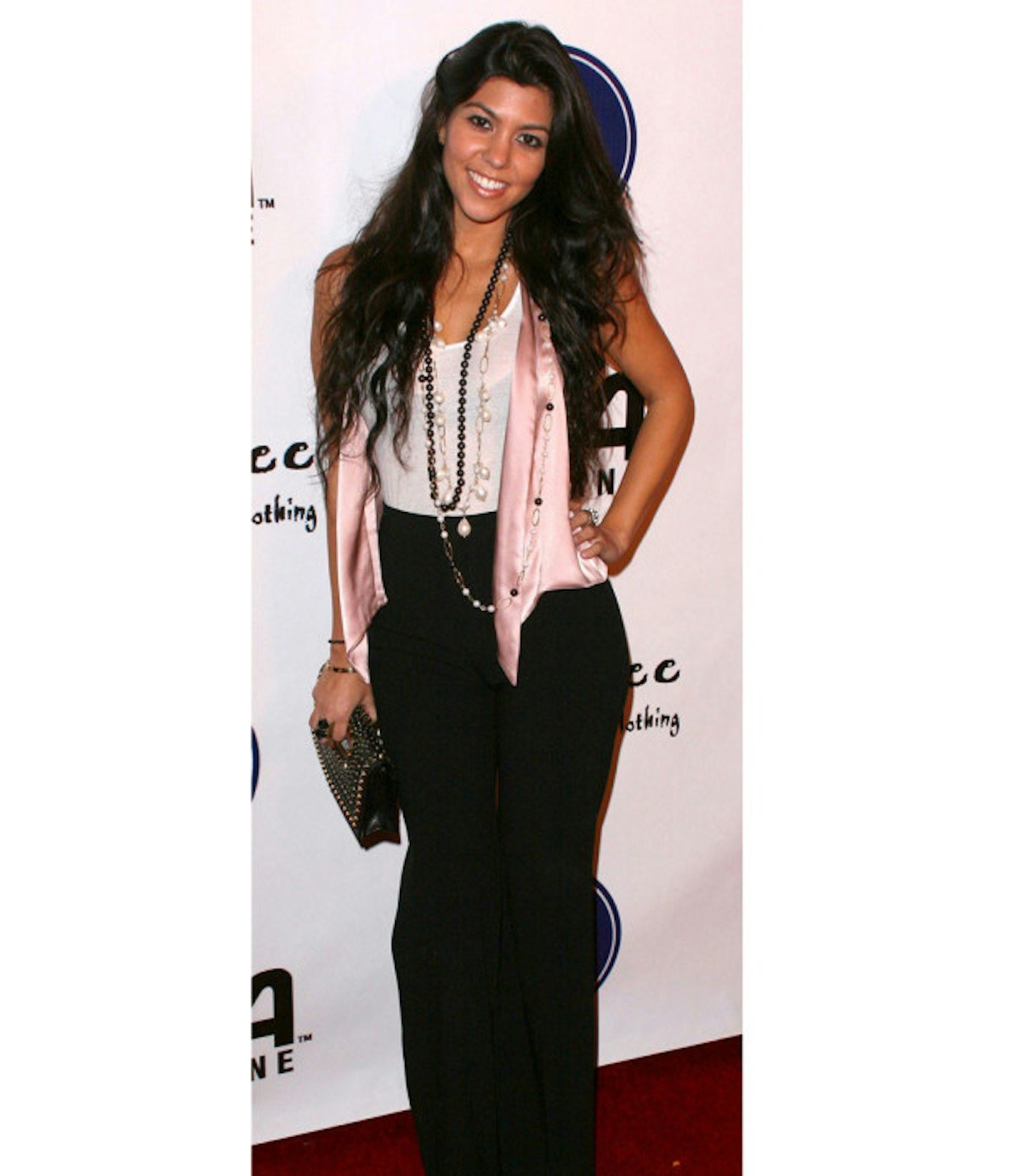 87 of 99
In the pink
So that's where all the Pink Ladies' jackets from Grease got to...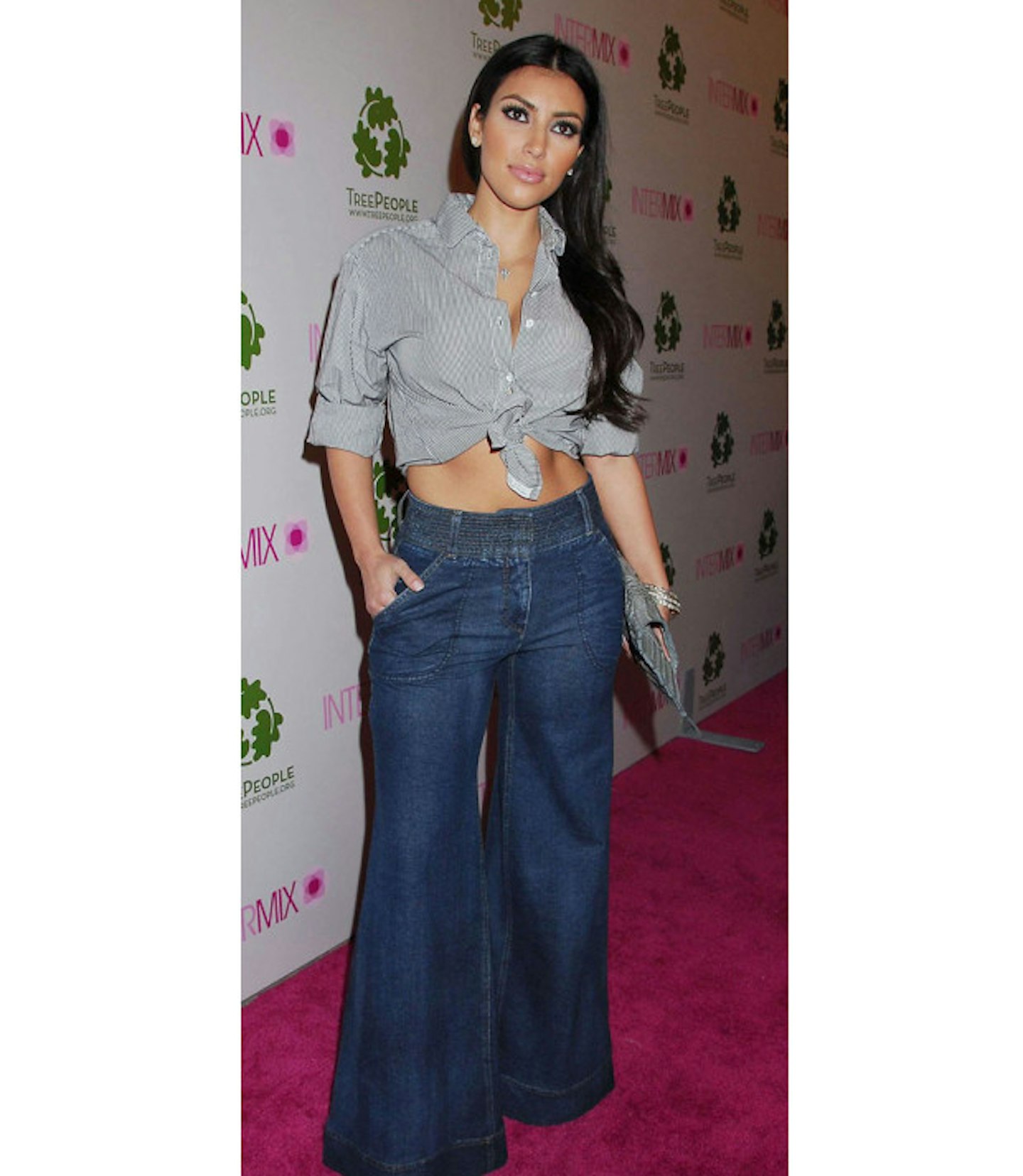 88 of 99
Flare mare
Someone's been digging out their old B*Witched albums...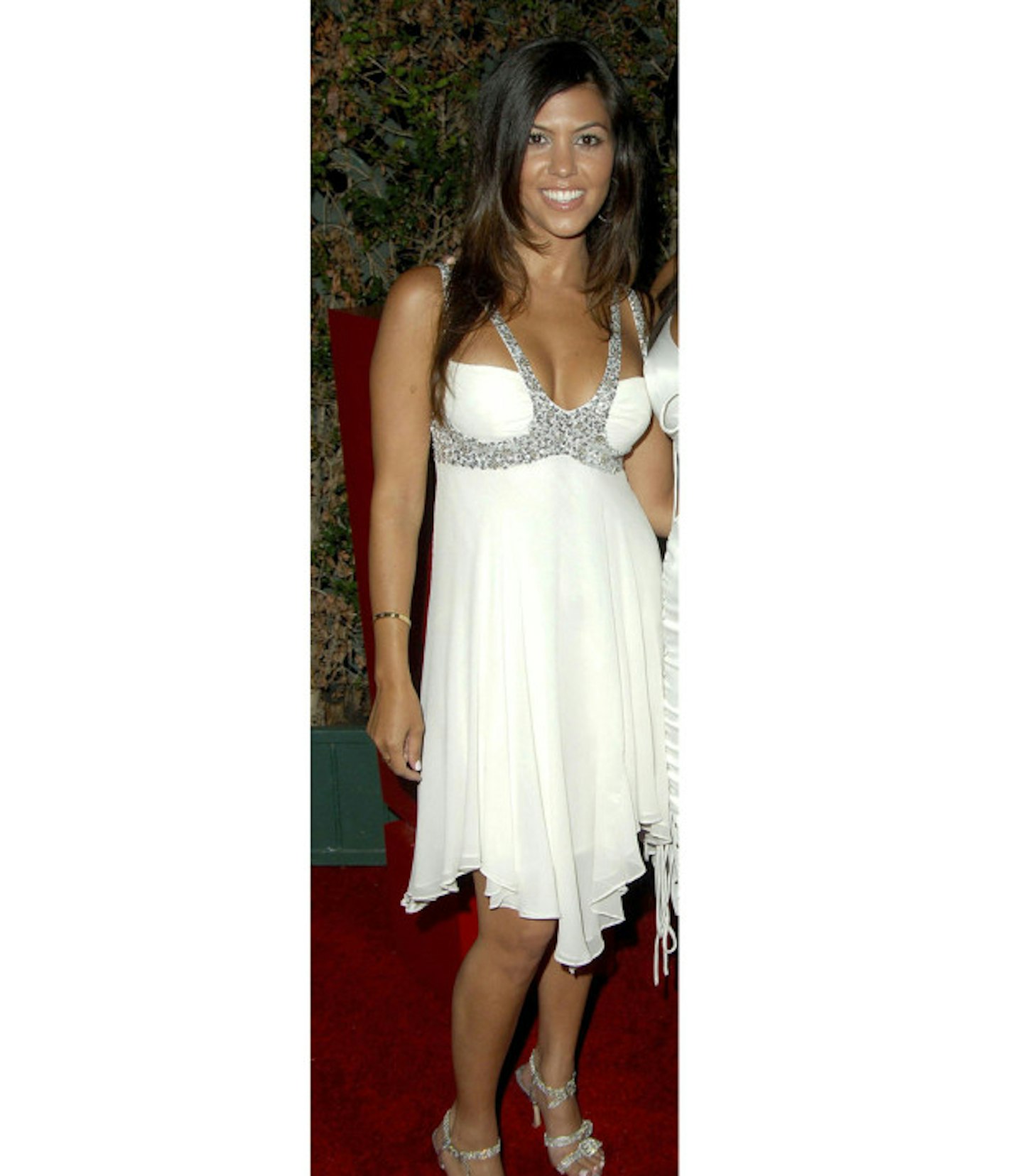 89 of 99
Disco dolly
How sweet! If you were going to an under-18s disco, that is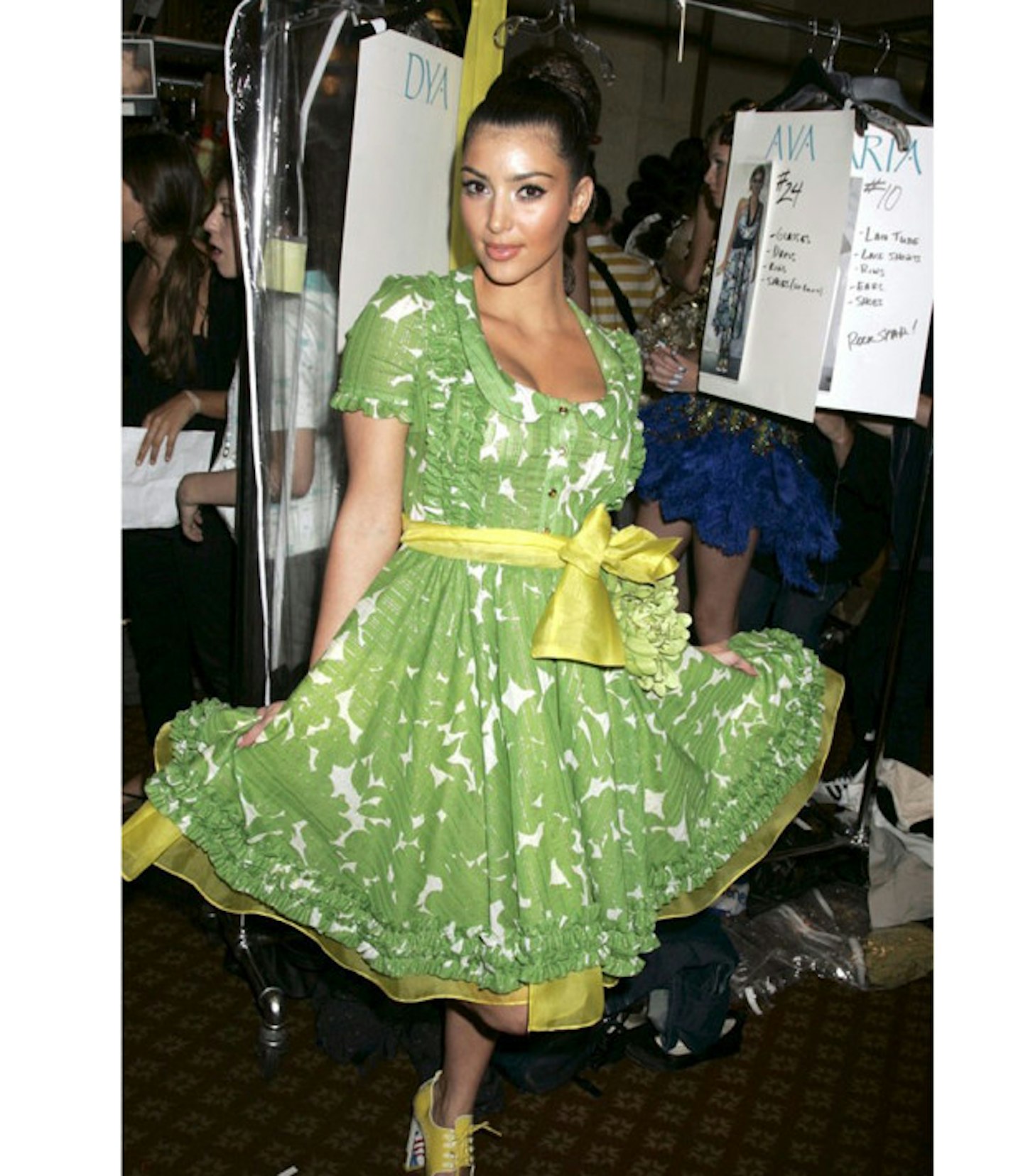 90 of 99
Pantomime Dame
Yes you've got the part. Now go and change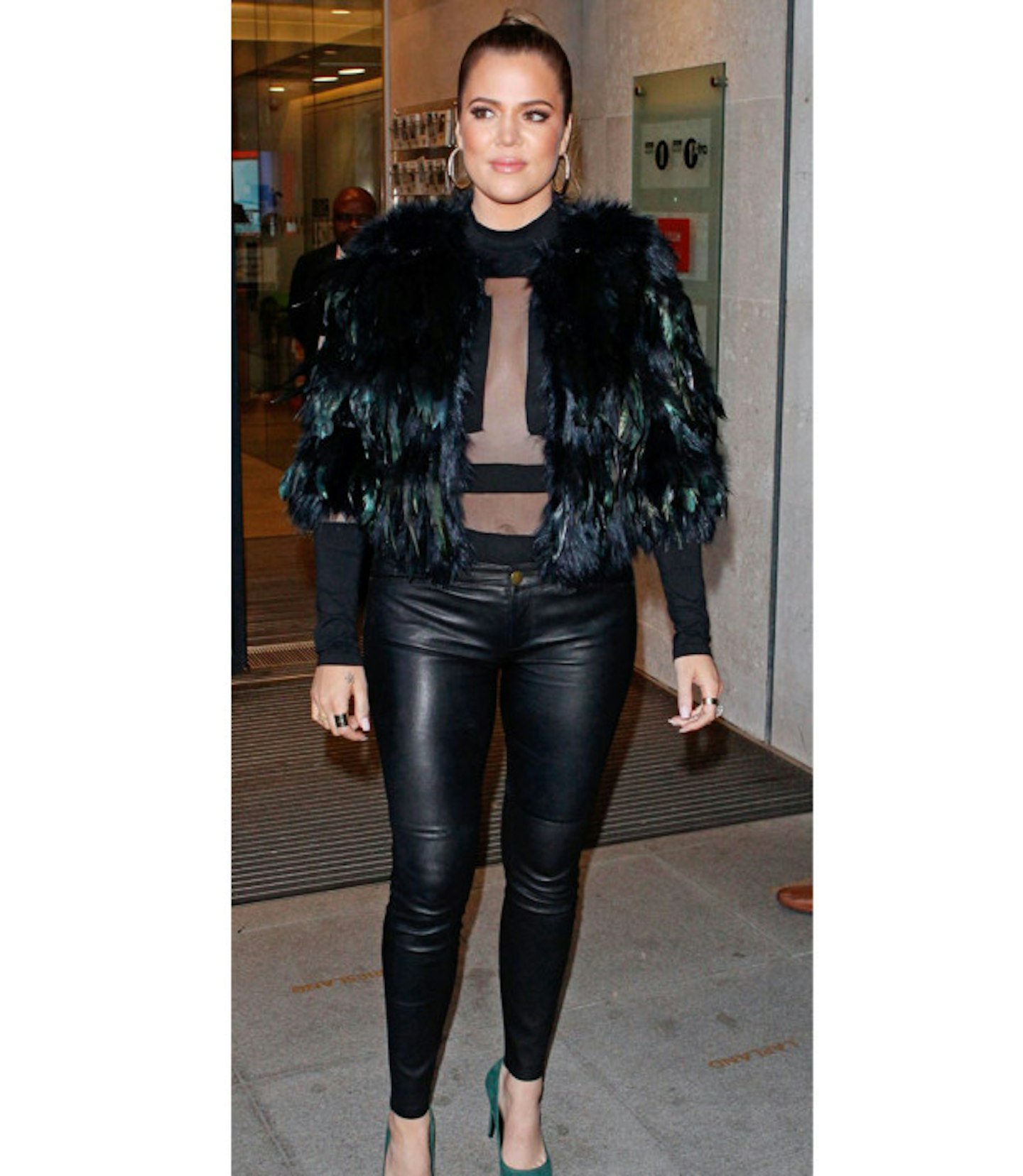 91 of 99
Scoring a Birdie
Big Bird called. He wants his feathers back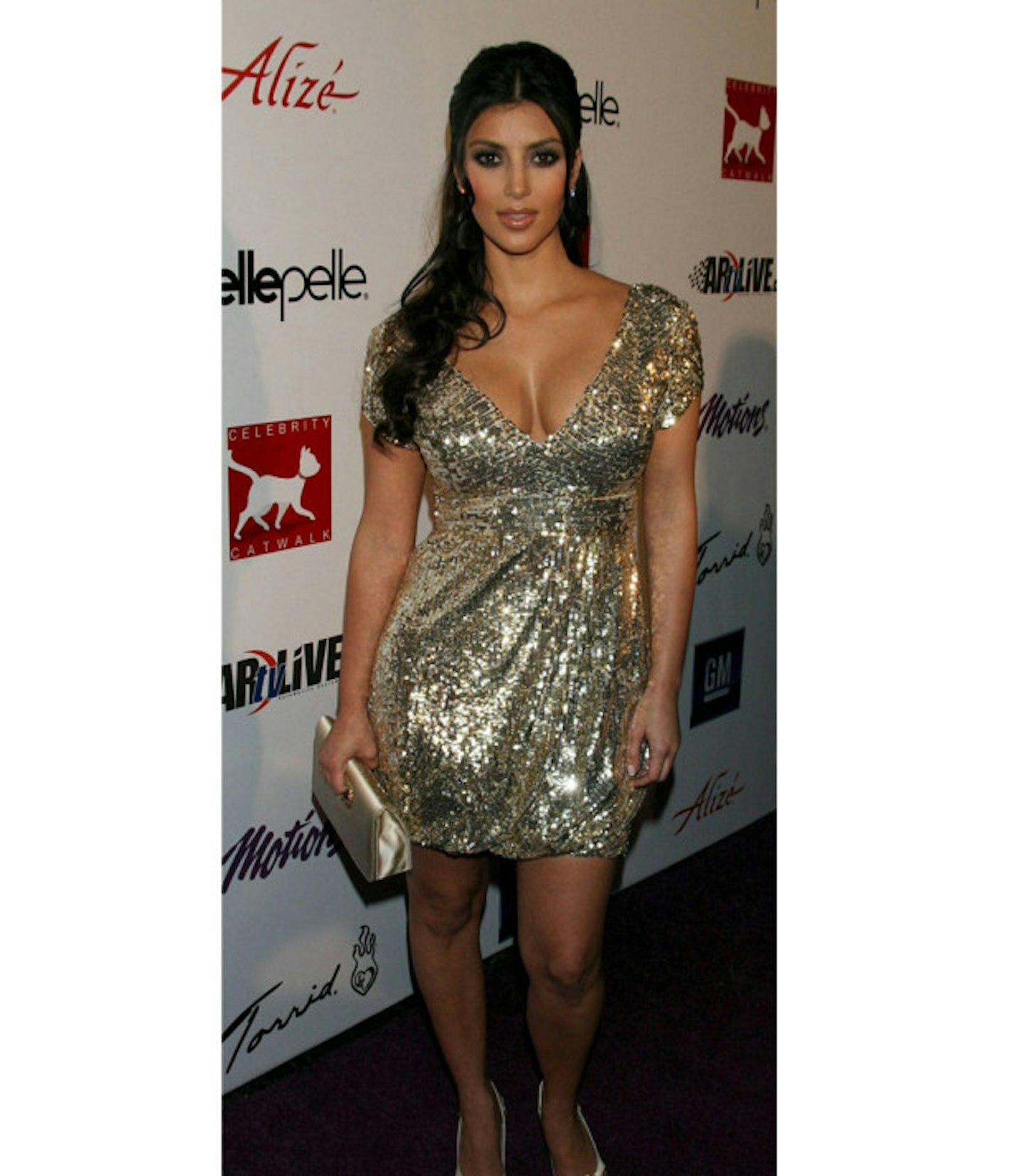 92 of 99
Glitz n' tits
What more could we ask for?
93 of 99
Don't be a square
Correction: don't wear a square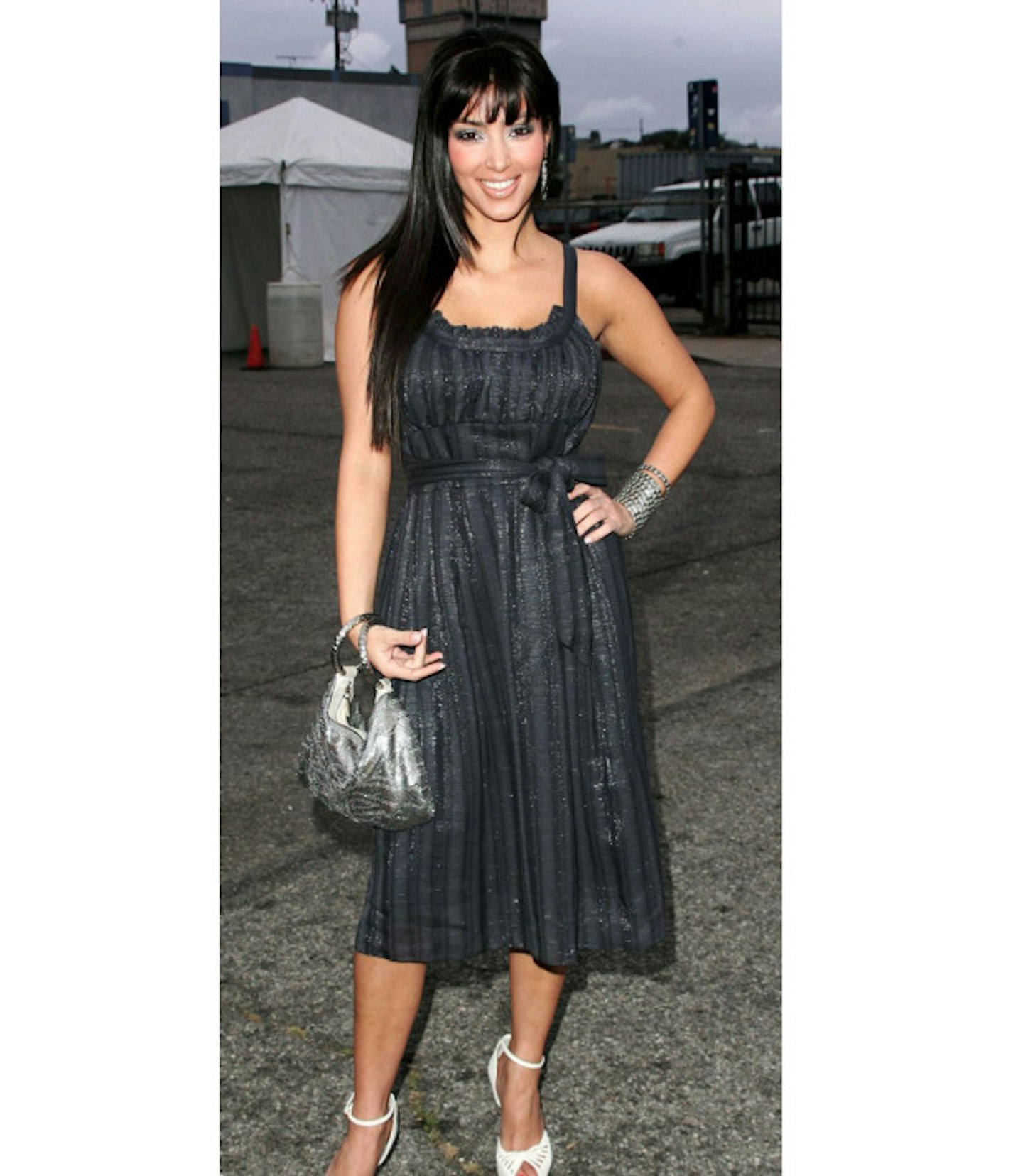 94 of 99
Dance dance
Does this photo remind anyone else of being dropped off in the car park by the parents before the school disco?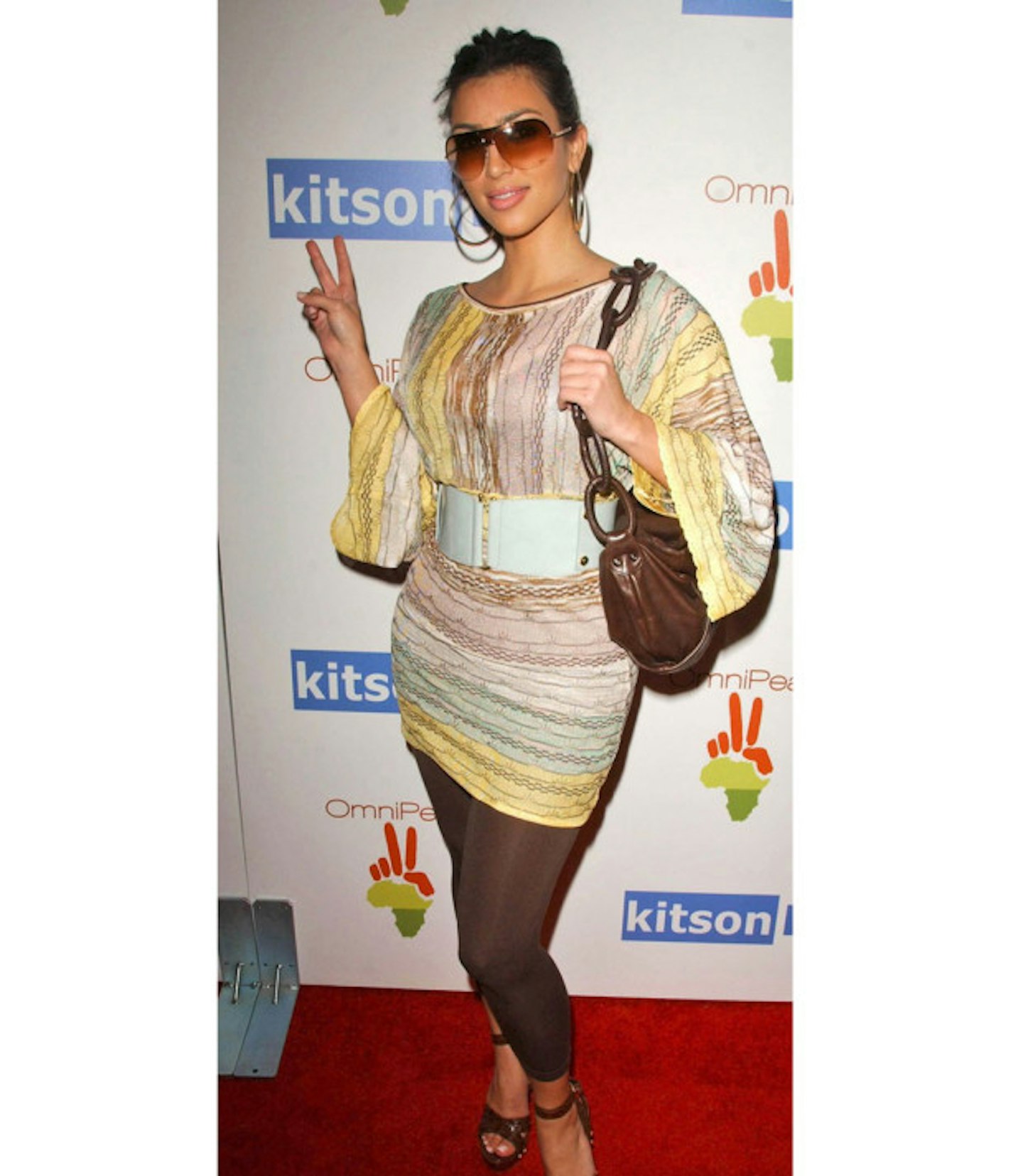 95 of 99
War and peace
We'll tell you when we'll peace out. When outfits like this don't exist anymore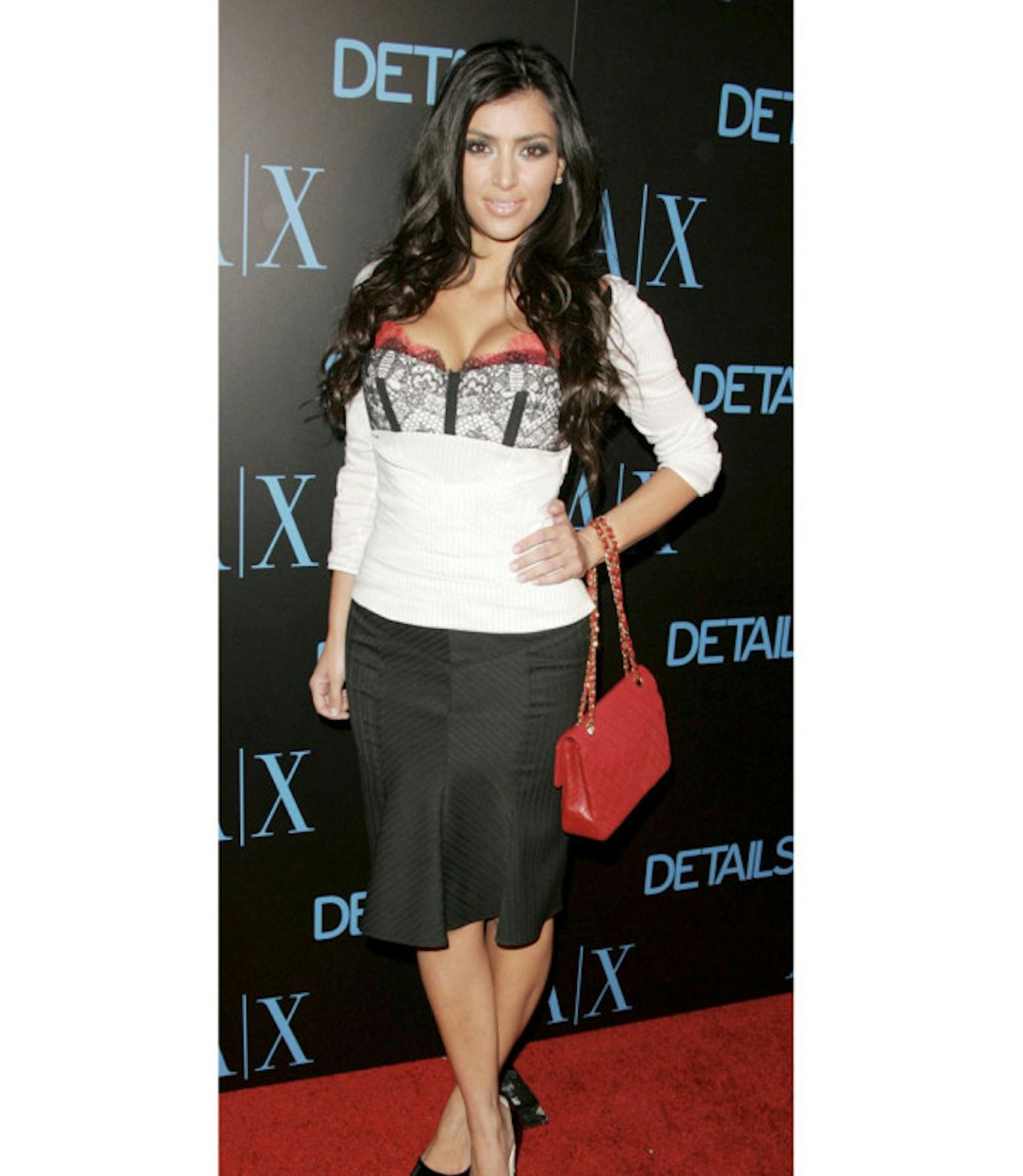 96 of 99
Club strip
Just in case you're wondering, yep this really is Kimmy K. But as to why she's dressed like a secretarial stripper, we have absolutely no idea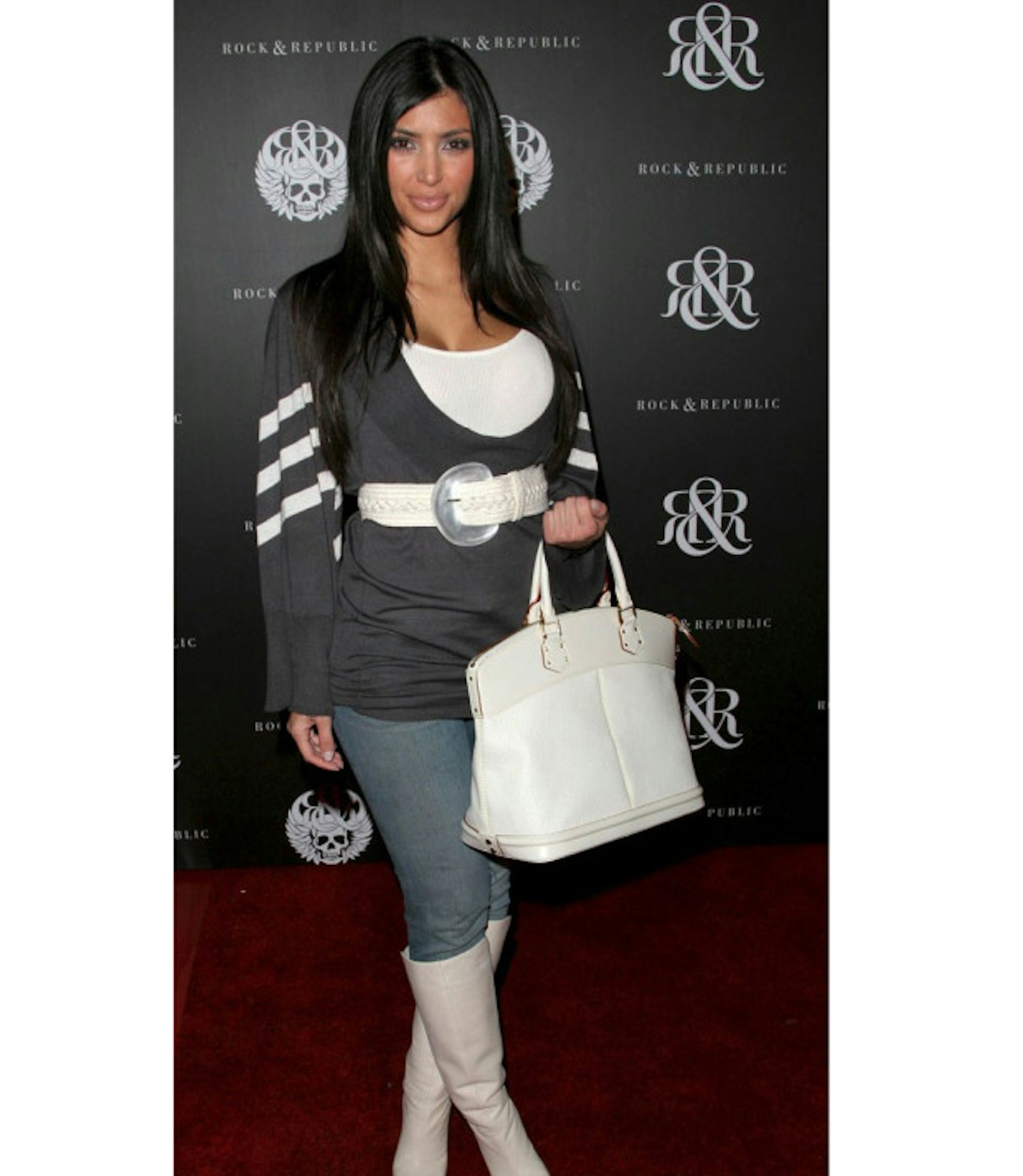 97 of 99
Buckle up
Fancy a bigger belt buckle, Kim?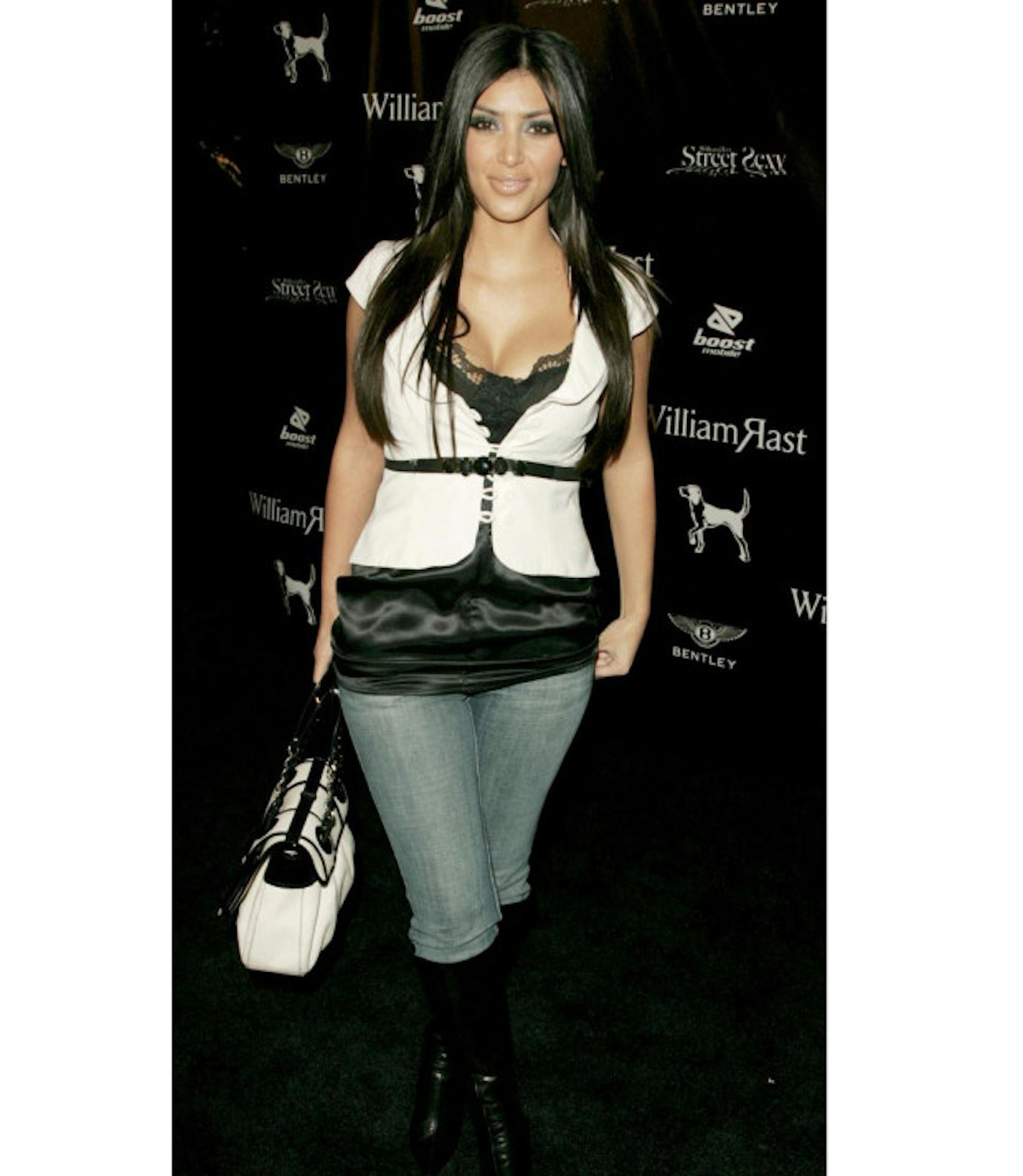 98 of 99
Mad for mono
Back in the day, KK was all about matching EVERYTHING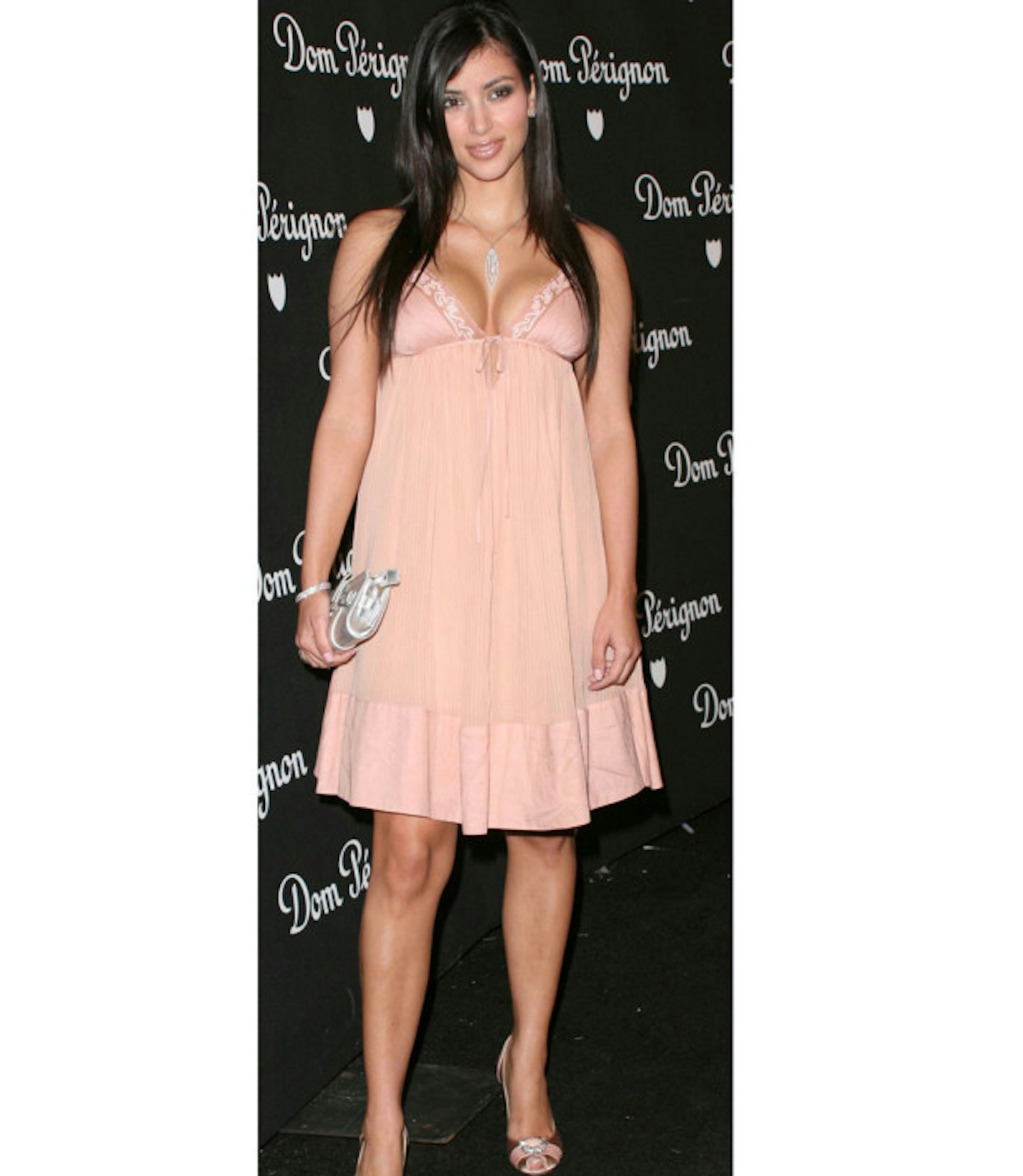 99 of 99
Peachy keen
Those poor bosoms don't have any room to breathe! Thankfully these days they have lots more