What are you doing this summer? Going to a festival in a field, surrounded by discarded cheesy chips, plastic cups and phlegm? Yes us too. However, we also had the luxury of a festival on a luxury liner (not just for the over 65s, it turns out!!) and we reckon cruise festivals are the next big thing.
Just ask TOWIE's Amber Turner who is appaz a huge fan of a festi-cruise.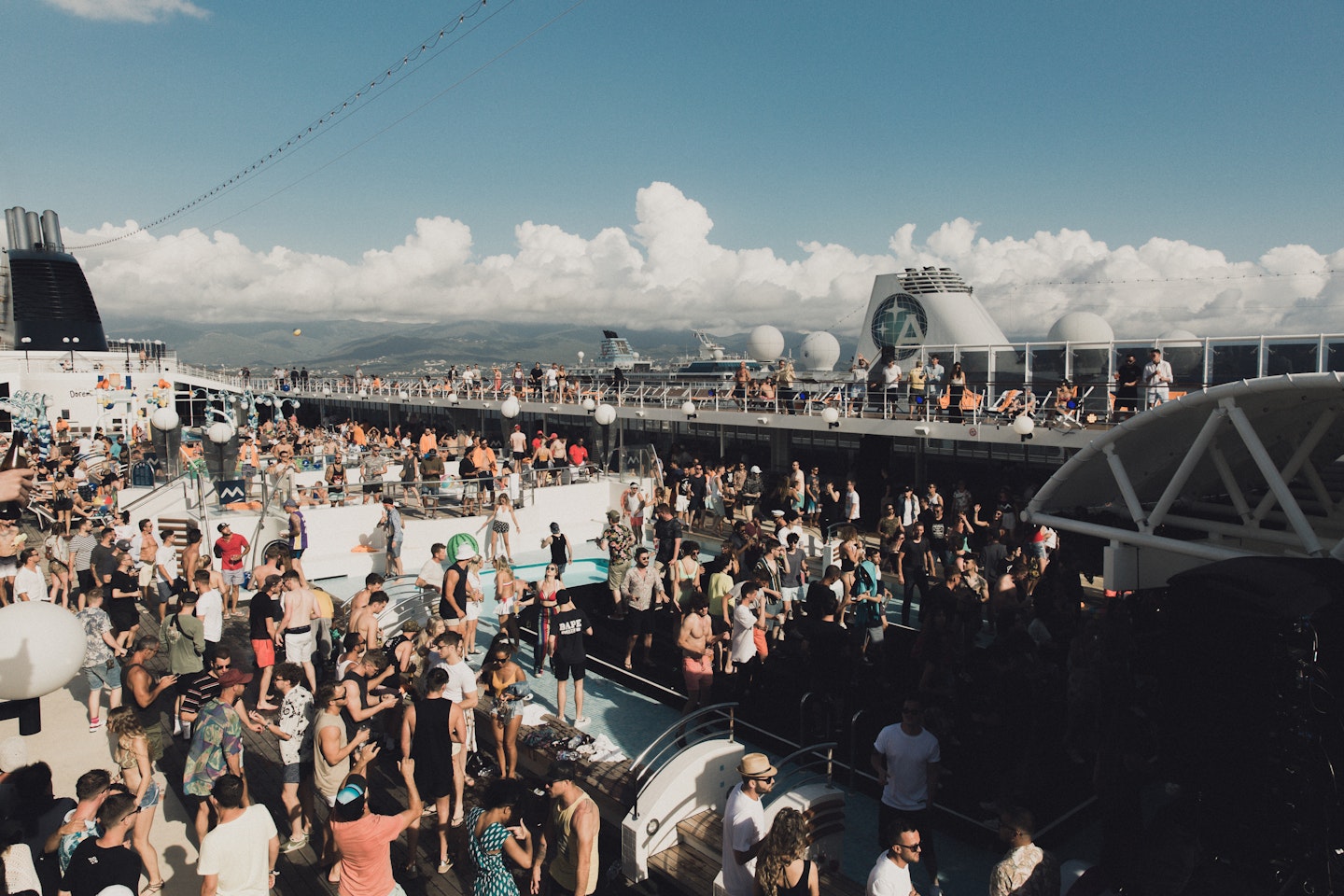 We went to MDRNTY cruise, a 72 hour festival which expertly combines the boujee comfort of a cruise liner and round-the-clock techno and house. By the third day the pulsating beats were so ingrained into our brains it became oddly soothing after a while.
The popular party ships sailed around the Mediterranean sea and stopped off at beautiful locations including Sardinia and Corsica - perfect for anyone hoping to get their Instagrid into check. Trust us, we didn't need a Valencia filter either.
Admittedly, the idea of being trapped in a confined space with a bunch of drunk strangers has never really appealed to us, however, we were pleasantly surprised with how clean and spacious the the 250 metre long MSC Opera felt, despite it's 2,500 guests.
Created with the idea of 'appealing to an international crowd looking for a mini-vacation with the luxury and comfort of a cruise liner, combined with the finest electronic music', it's the perfect festival-holiday combination.
SIGN US UP.
So, what was good about it?
The food, drink and Prosecco were all-inclusive which meant you could really enjoy yourself without the prospect of a tearful call to Halifax the next day when you accidentally bought the whole bar queue a tequila shot.
If you ever became bored of all the fist pumping and shuffling to techno greats such as Cassy and Ricardo Villalobos (imagine!), you were spoilt for choice, with a casino, a spa, electronic yoga, mini-golf and a fine-dining restaurant all on deck.
There was also a entire snack bar dedicated to pizza, which meant you could enjoy a gourmet cheesy triangle of love whenever you wanted. You could have free pizza at any time of the day. FREE PIZZA. Reader, this is the stuff that dreams are made of.
It goes without saying that the weather was also a massive selling point. Instead of having to put up a tent in the pouring rain while trying not to fall over in six inches of mud, think picture-perfect sunsets and pool party-friendly sunshine. We even got a tan.
Where there any downsides?
With rooms starting at a eye-watering $600 euros for three days, the festival wasn't cheap. However, with unlimited booze and food and world class entertainment, it did feel like you were getting your money's worth.
It was also a struggle to fully enjoy the excursions which started at a painfully early 8am. Yup, 8am. No one wakes up before then on holiday, especially when the long-awaited headline acts from the night before were just finishing their set then.
If one thing's for sure, though, you'll never want to set foot in a muddy festival field again after experiencing something as luxurious as MDRNTY Cruise. Nuh huh, honey. We want hot tubs and ocean views from this day forth. In a neat nutshell, it combined the boujee fine-dining with the no-sleep-for-three-days techno and it shouldn't have worked, but it really did.
Find out more about MDRNTY cruise here