After six years under an intense spotlight, which has shown no sign of dimming since they famously quit royal life in 2020, Prince Harry and Meghan Markle are used to a certain level of scrutiny. But as the couple stepped out in New York last week, with Harry giving a speech to the UN to mark Nelson Mandela day, they found themselves also making headlines for all the wrong reasons.
The release of Tom Bower's bombshell book, Revenge: Meghan, Harry And The War Between The Windsors, has left the former Suits actress "furious" – and Harry feeling yet more guilt over the pressure they keep coming under.
Some of the cutting allegations include that Harry's old school friends called him "f**king nuts" for dating Meghan after she scolded them for their sexist jokes at a shooting weekend and more royal fallouts with family members – including raking over the infamous bridesmaid dress incident that supposedly left Kate Middleton in tears.

The author paints an unflattering portrait of Meghan, 40, as  "unpleasant" and "unpredictable." And understandably, Meghan is not happy.
"She feels the book is very nasty and uncalled for. It's made her all the more determined to stand up for herself, but equally this is a sharp reminder that they have a colossal amount of repair work to do if this narrative is ever going to go away," our insider said.
"For all their bravado and stubbornness, Meghan and Harry don't want to be at war with the world forever and there's a lot that hasn't come out yet. This book is pretty savage, but the worry is that it's just the tip of the iceberg."
In one excerpt of the book, it is claimed that Meghan was furious that her cover feature in Vanity Fair – which was released a year into her relationship with 37-year-old Harry – focused more on her royal romance than her philanthropy work, as she was terrified the Palace would be angry at her and that she could lose him. But at the same time, it is said Harry was scared he could lose her because of all the pressure that came with dating him and even had thoughts about ending things to protect her.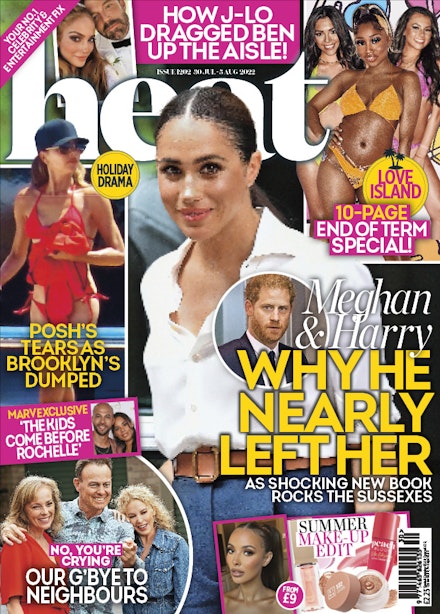 Our source adds, "Harry knew he wanted to marry Meghan as soon as he met her, but when their relationship became public, he was disgusted at the scrutiny she faced. He was worried she would leave him and even had thoughts of walking away himself so Meghan could have a normal life away from the pressure, he felt so guilty. He'd seen other girlfriends crumble before and didn't want the same to happen to Meghan. But neither of them wanted that and they've chosen instead to do things on their terms. Falling in love is the best thing that's happened to both of them."
But the couple – parents to Archie, three, and 13-month-old Lilibet – are said to have been hit hard by the book and have found some allegations "gut-wrenching" and we're told that they are still trying to process the "highly stressful" situation.
"The fact the author went out of his way to dig so thoroughly into their relationship has caused a good deal of anxiety," our insider adds. "There's a clear choice here for Meghan and Harry: stand up and fight back or soak it up and hope it all goes away in time, while taking the high road. They know the latter is probably their better option at this point."