Nicola Peltz has suffered yet another week of humiliating headlines, as new court documents exposed shocking details of the heiress' bridezilla behaviour – including white flowers that "weren't white enough" – in the run- up to her and Brooklyn Beckham's big day last April. And as fans label her "petty" and "spoiled", friends say she's been holding crisis talks with her new in-laws to help.
"This whole thing has been really upsetting for Brooklyn and Nicola," says an insider close to the couple, who met in 2019. "Nicola takes her image incredibly seriously and this latest round of bad press has turned them both into little short of a laughing stock and she's freaking out."
As heat previously reported, Nicola's been branded an "entitled rich person", and her family as "embarrassing" and "miserly", after her dad Nelson launched a court case against Nicole Braghin and Arianna Grijalba, the women behind Plan Design Events, for letting down his "world-famous actress" daughter and demanding his $159k deposit back. The planners have filed a counterclaim, labelling Nelson a "bully billionaire".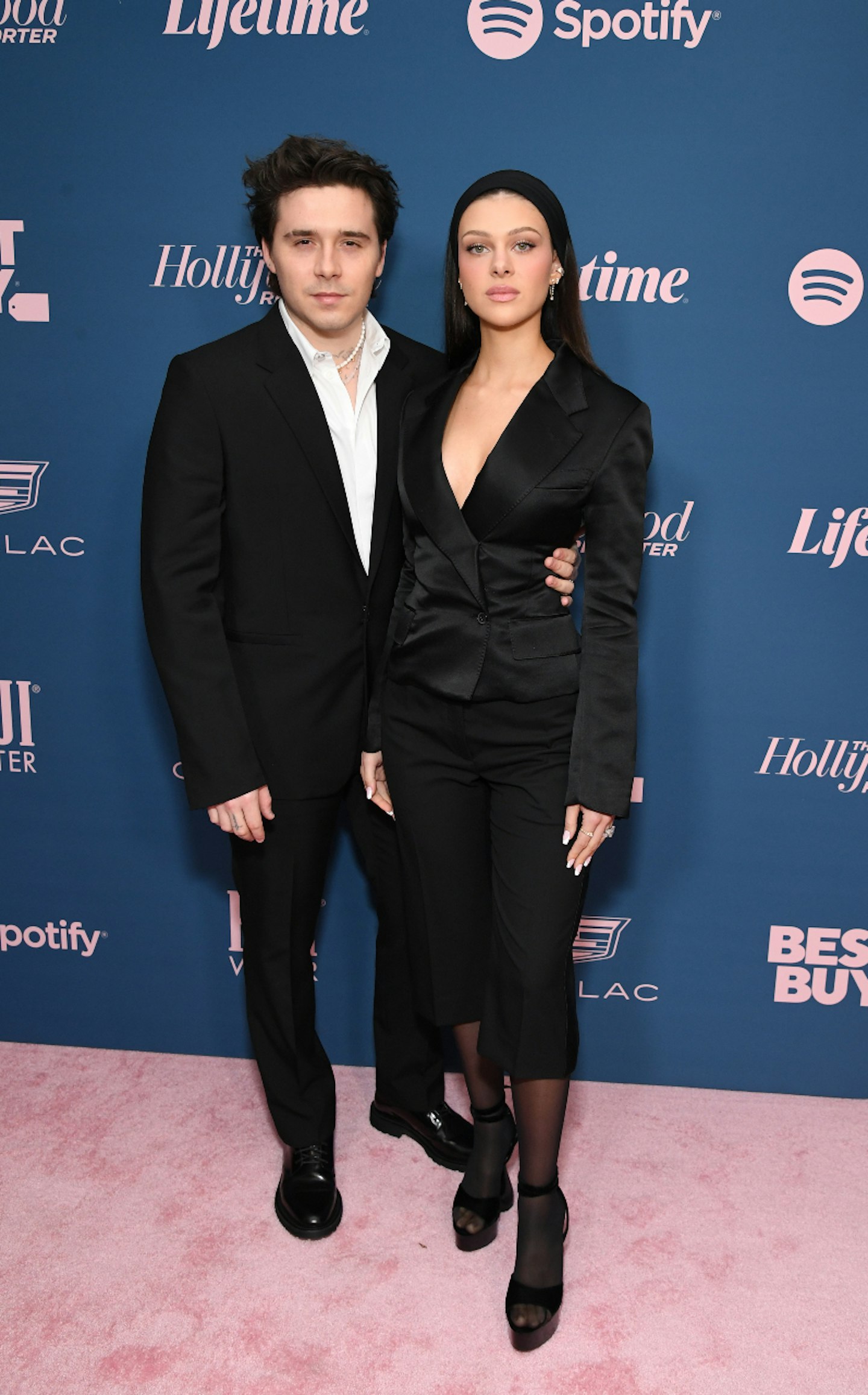 In their court papers, they reveal rows within the family, claiming Nelson tried to "cancel the wedding", calling it a "sh*t show". Nicola's mum Claudia persuaded him not to, telling him it'd "destroy Nicola's career". The planners – who were hired six weeks before the wedding and fired with two weeks to go – say they arrived to chaos, with multiple incomplete guest lists, no flowers, no cake, no confirmed hair or make-up artists, no photographer or videographer, and a bride who was "too busy" to speak to them on the phone. The documents also revealed how the 28 year old spent an impressive $100k on hair and make-up alone, begging the planners not to tell her dad because he would "kill her and be so mad".
And despite the highly publicised rift between Nicola and her in-laws, she's been swallowing her pride and asking them for help. "She's come out of this wedding saga looking like a spoilt brat," our source shares. "She and Brooklyn have been holding crisis talks with Vic and David, who know better than anyone how to get through a big scandal. They've learned that it's best to say nothing and take the high road whenever possible."
More revelations from the court documents reveal, "Both Claudia and Nicola had insisted that Victoria Beckham could not know about any internal mistakes regarding the ongoing planning of her son's wedding." But now it seems Vic is the only one who can help them. "Vic is giving them tough love and has told them everything she knows about how to survive a scandal in the spotlight. It's put both of them at ease because Vic really has lived through it all, being married to David. But while she is happy to help, Vic still feels a little under-appreciated by them both. She's hoping that with all this going on, it will bring them closer. Harper, Cruz, and Romeo are all desperately missing their brother still."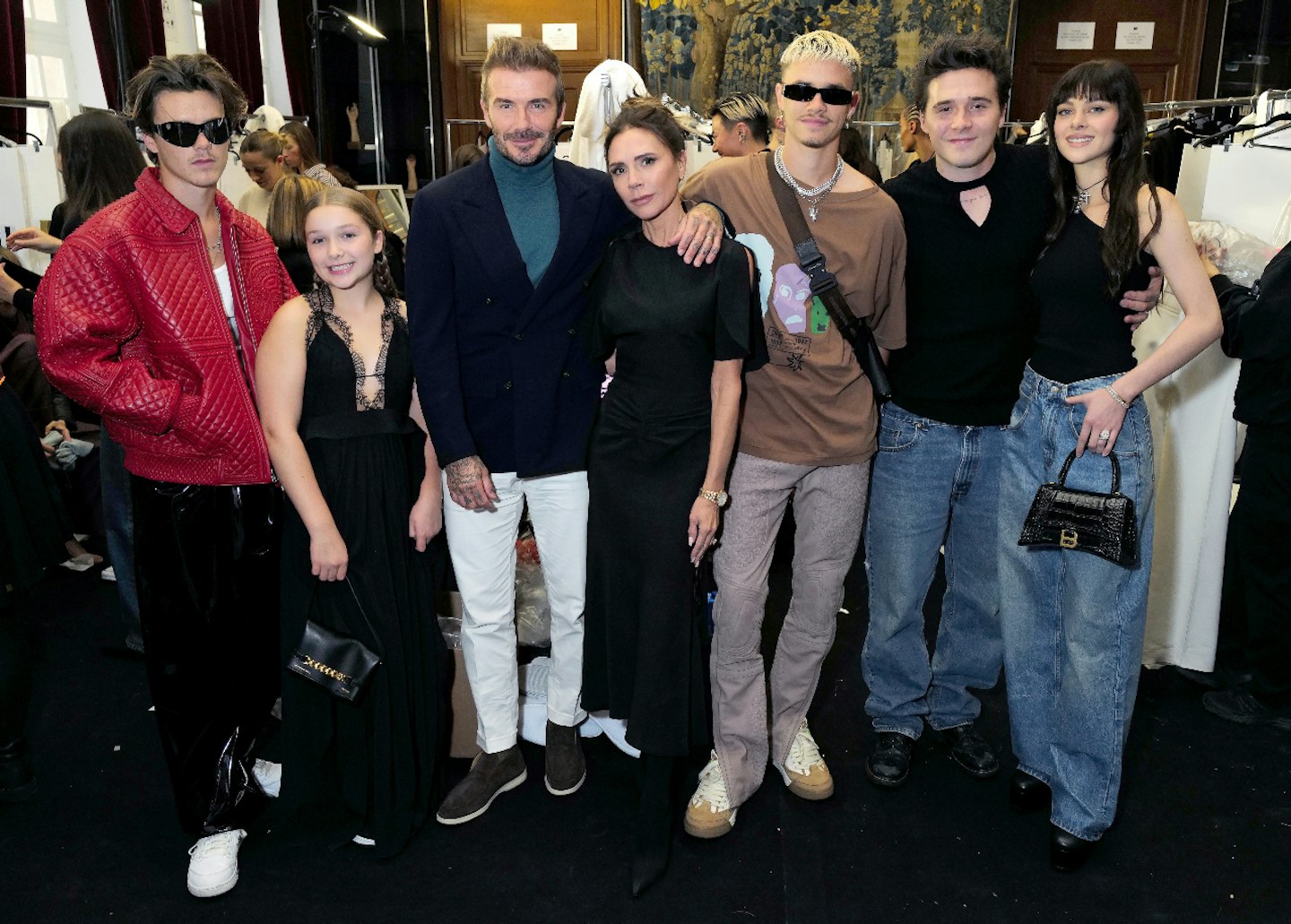 Youngest Beckham son Cruz turned 18 last week, bringing some much-needed fun in among all the scandal. Nicola even seemed keen to make nice, posting a birthday message to Cruz, who celebrated the milestone by enjoying his "first beer" with his dad and a gift of a £32k Rolex watch.
But complicating Nicola's PR nightmare last week was another leaked story, which revealed Hunter Biden – son of US President Joe Biden – begged for a date with the actress back in 2019, while he was in rehab. The then 48-year-old businessman told his cousin that his psychiatrist had suggested he date friend-of-a-friend Nicola, then only 24. They also talked about model Bella Hadid and actress Bella Thorne as possible candidates, as Hunter requested someone "rich, hot, and kind" to help him get over his ex.
"The whole story about Hunter Biden along with this wedding fallout has upset a lot of the family – particularly Brooklyn, who found the whole thing really disrespectful. They may be sharing a lot about their marriage in various magazine profiles, but this isn't something they want as part of their love story."