Ever since Casa Amor was introduced, it seems no one's bothered about loyalty anymore in the Love Island villas. Josh is cracking on with Kazimir, Adam's slithered on from Zara in his usual, snakey way, Sam now fancies Ellie, the list goes on... All of course EXCEPT, Jack Fincham. Lovely, loyal Jack who is head over heels with Dani Dyer! #Jani
Yes, his ex may have come into the villa, but he's not batting an eyelid, he's found his other half in Dani and just can't wait get back to her.
So when last night, the girls in the original villa were shown footage of Jack reacting to his recent ex, Ellie, arriving in Casa Amor, saying 'oh my god, oh my god, oh my god', shit really hit the fan. Dani broke down in tears, assuming the worst, having been given no context to the video.
Now, we all watch the show religiously, and #Jani is the kind of relationship we live for, it's genuine and doesn't deserve to be split up. So we have a question for the producers of the ITV show, why would you rock the boat, WHY?
Viewers have been tweeting their outrage at this cruel treatment of Dani, ever since the show aired last night on ITV. And no one's holding back...
love island reactions Dani Dyer crying on love island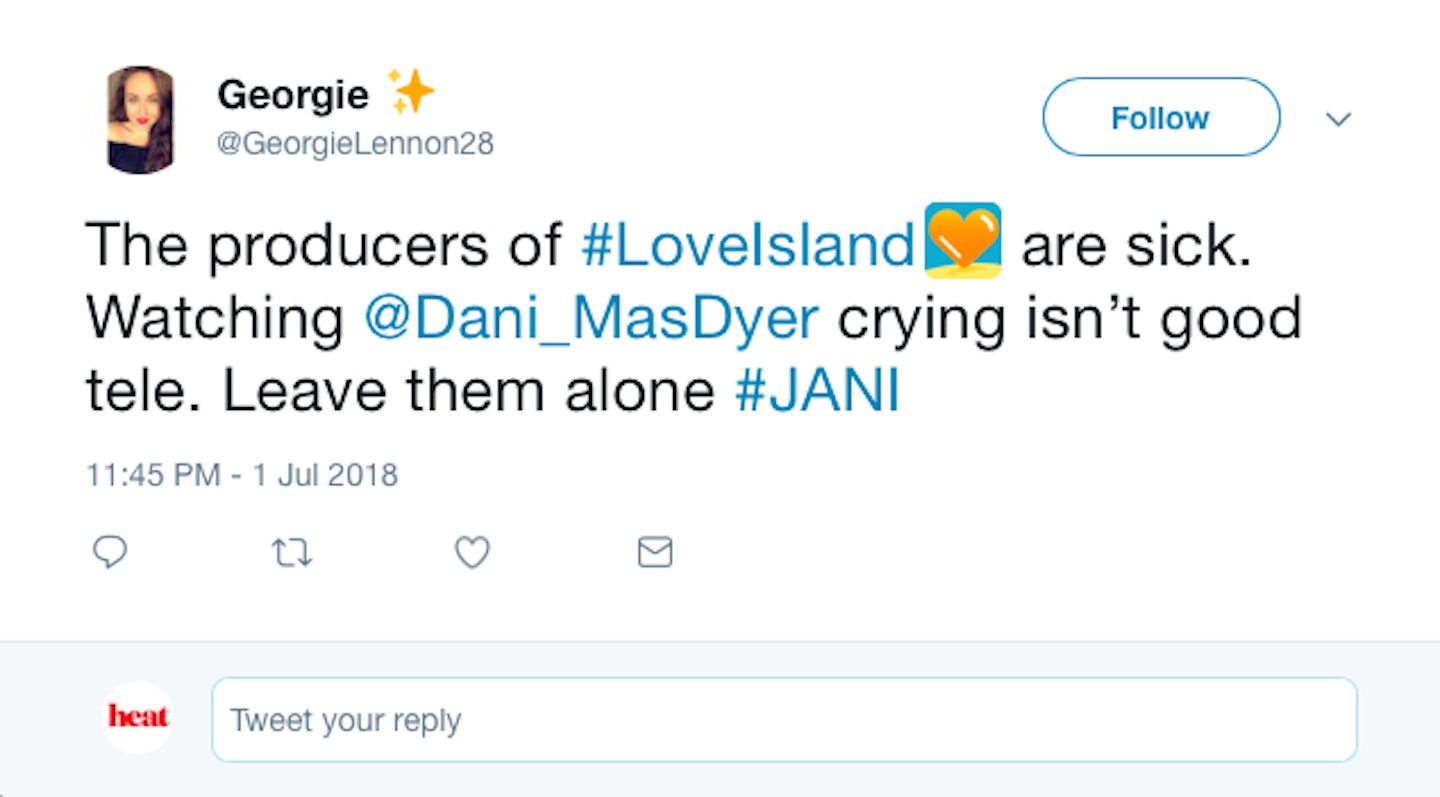 1 of 15
love island reaction 2
@GeorgieLennon28 tweeted slamming the producers of the popular ITV show, calling them 'sick' and saying that watching Dani Dyer cry was not her definition of good telly... You tell em' Georgie!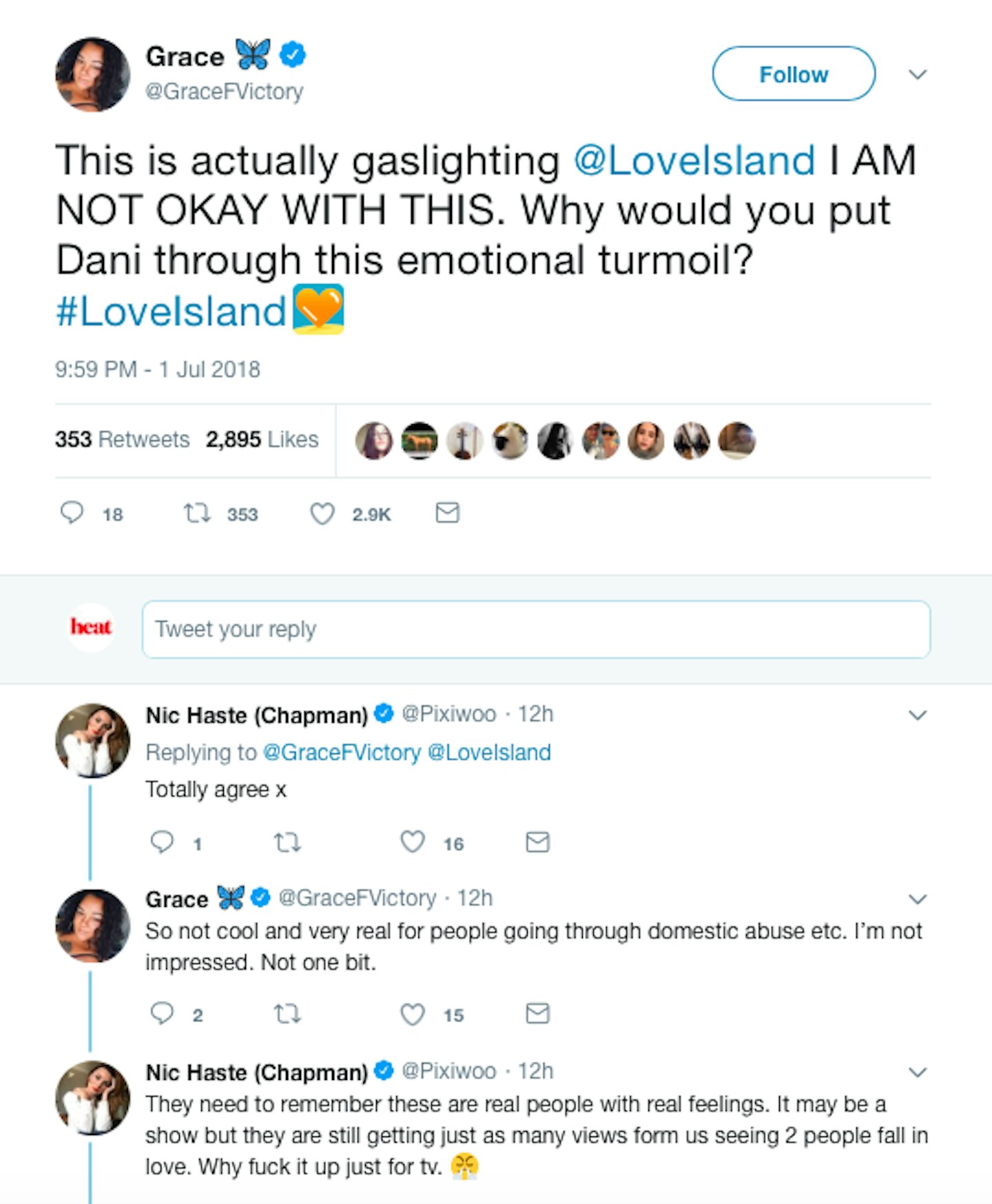 2 of 15
love island reaction 10
@GraceFVictory calls it gas lighting, saying Love Island 'I AM NOT OKAY WITH THIS.'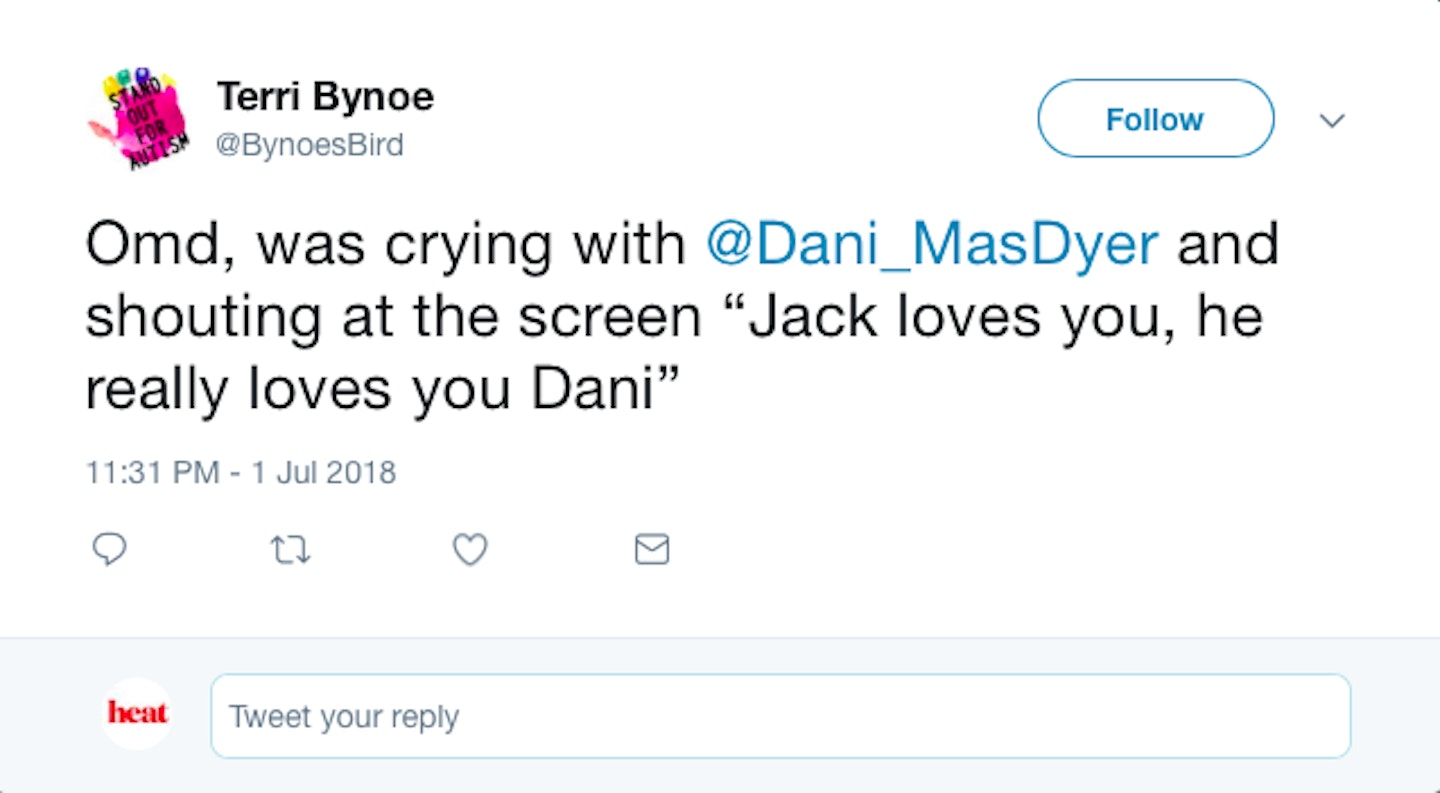 3 of 15
love island reaction 3
OMG us too. We were crying along with you @bynoesbird and the rest of the country last night.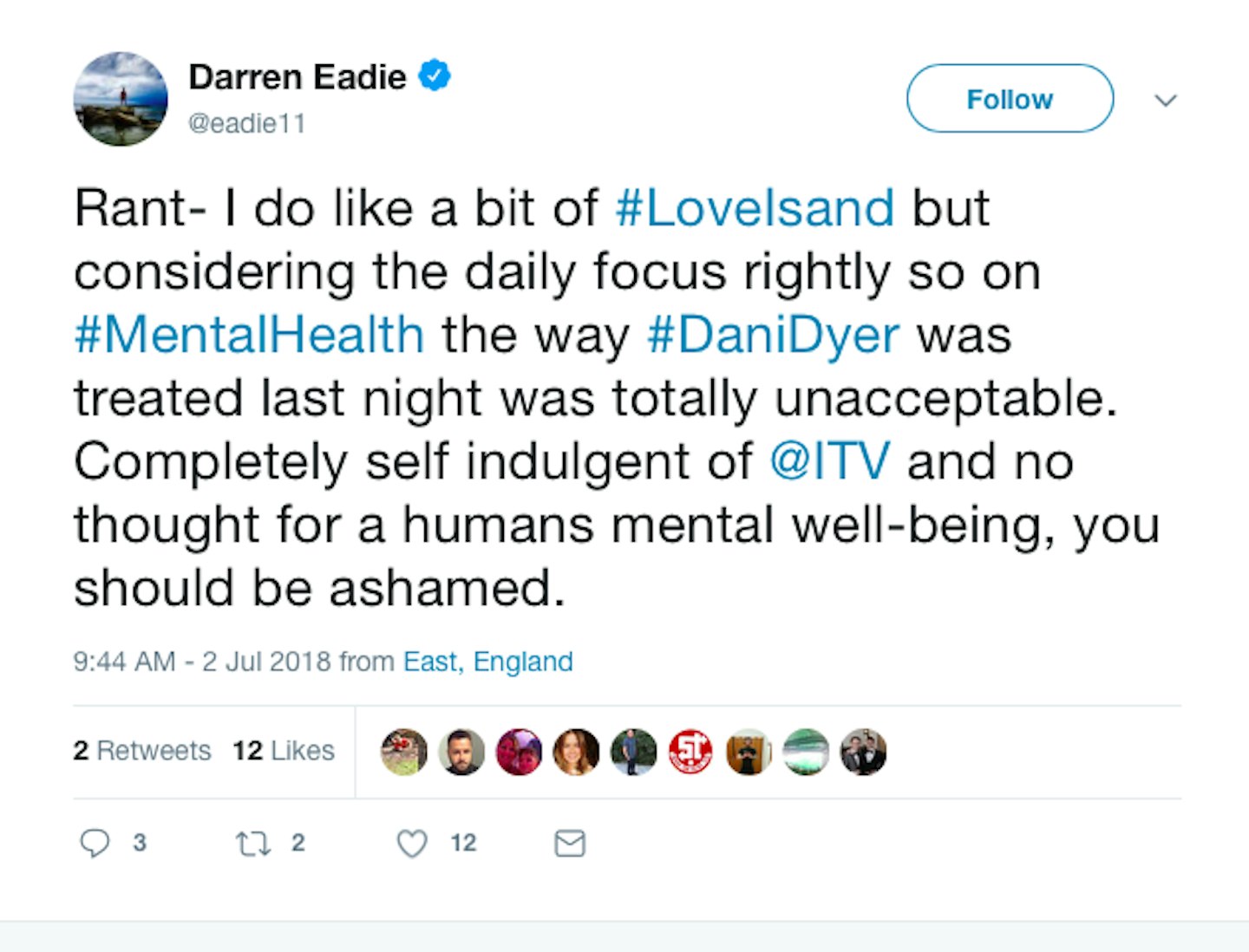 4 of 15
love island reaction 6
TV presenter Darren Eadie said what we were all thinking, by bringing up the mental health debate. He called it 'unacceptable' and 'self indulgent' of ITV to pay such little regard to Dani's mental wellbeing.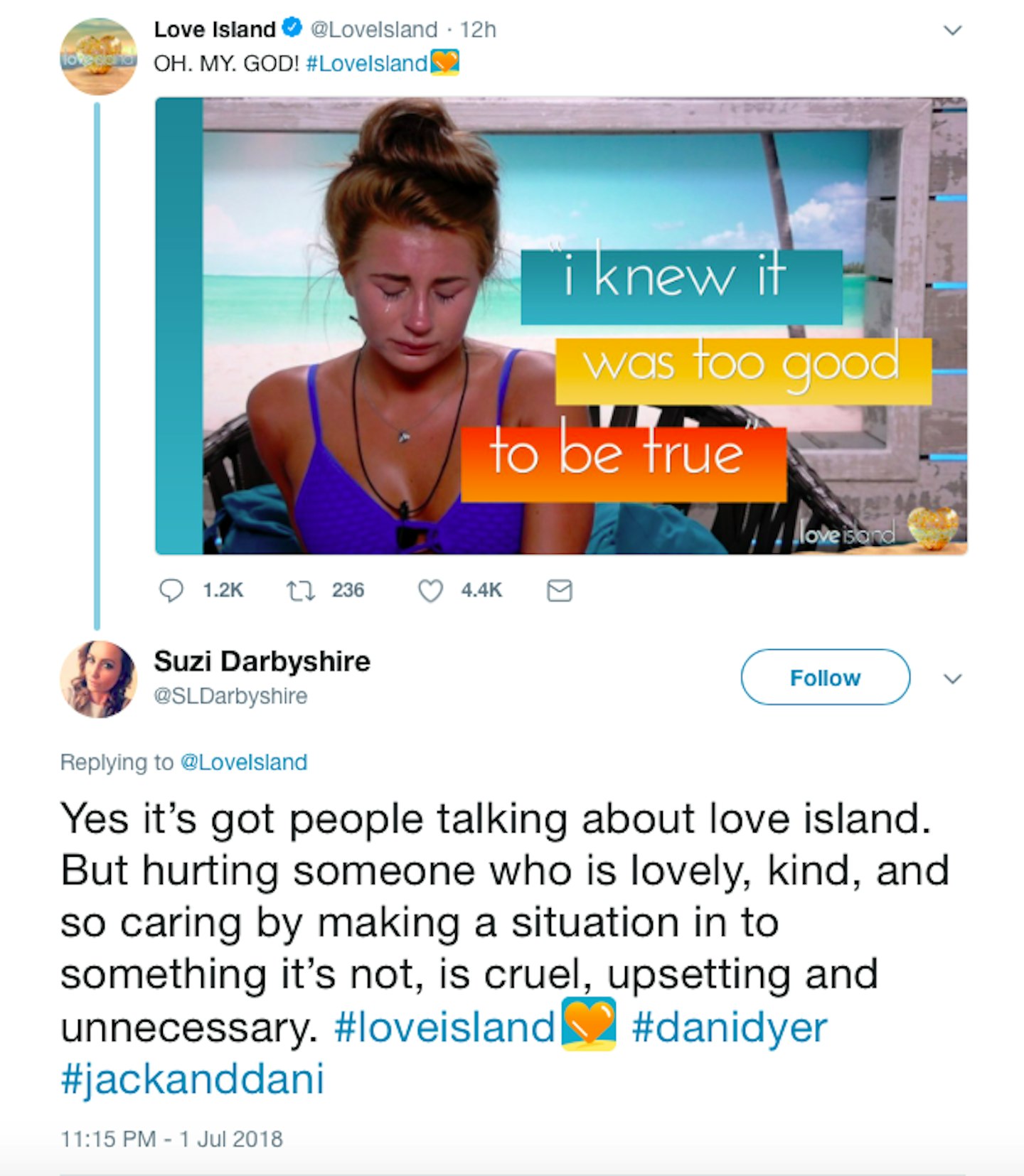 5 of 15
love island reaction 5
@SLDarbyshire calls the show's treatment of Dani simply 'cruel, upsetting and unnecessary' to upset such a 'lovely' and 'kind' person.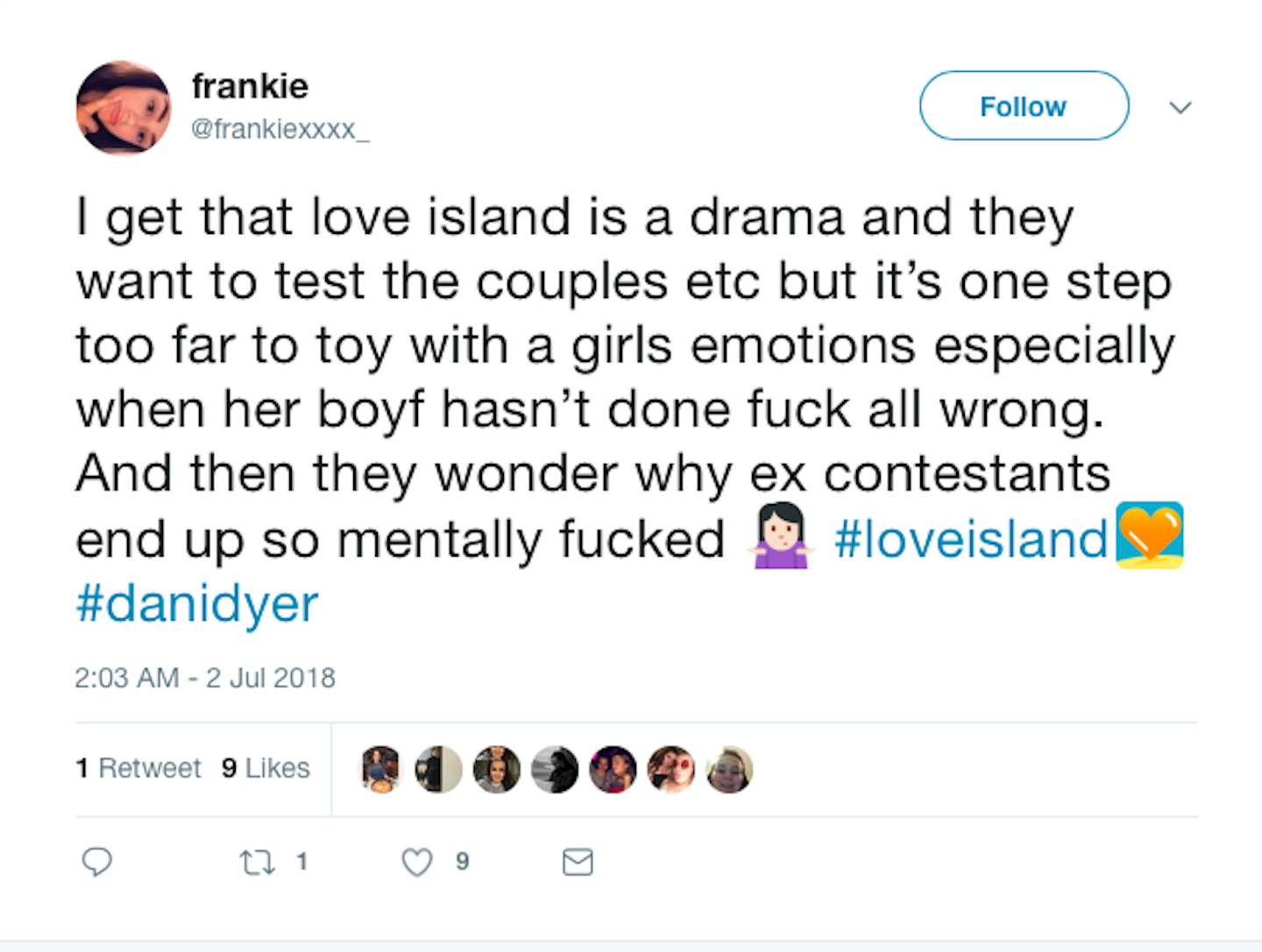 6 of 15
love island reaction 7
After the tragic announcement that ex love island contestant Sophie Gradon took her life just a couple of weeks ago, you'd think the show would be extra careful with how they treat their contestants. @frankiexxxx_ shows her anger saying 'it's one step too far to toy with a girls emotions.'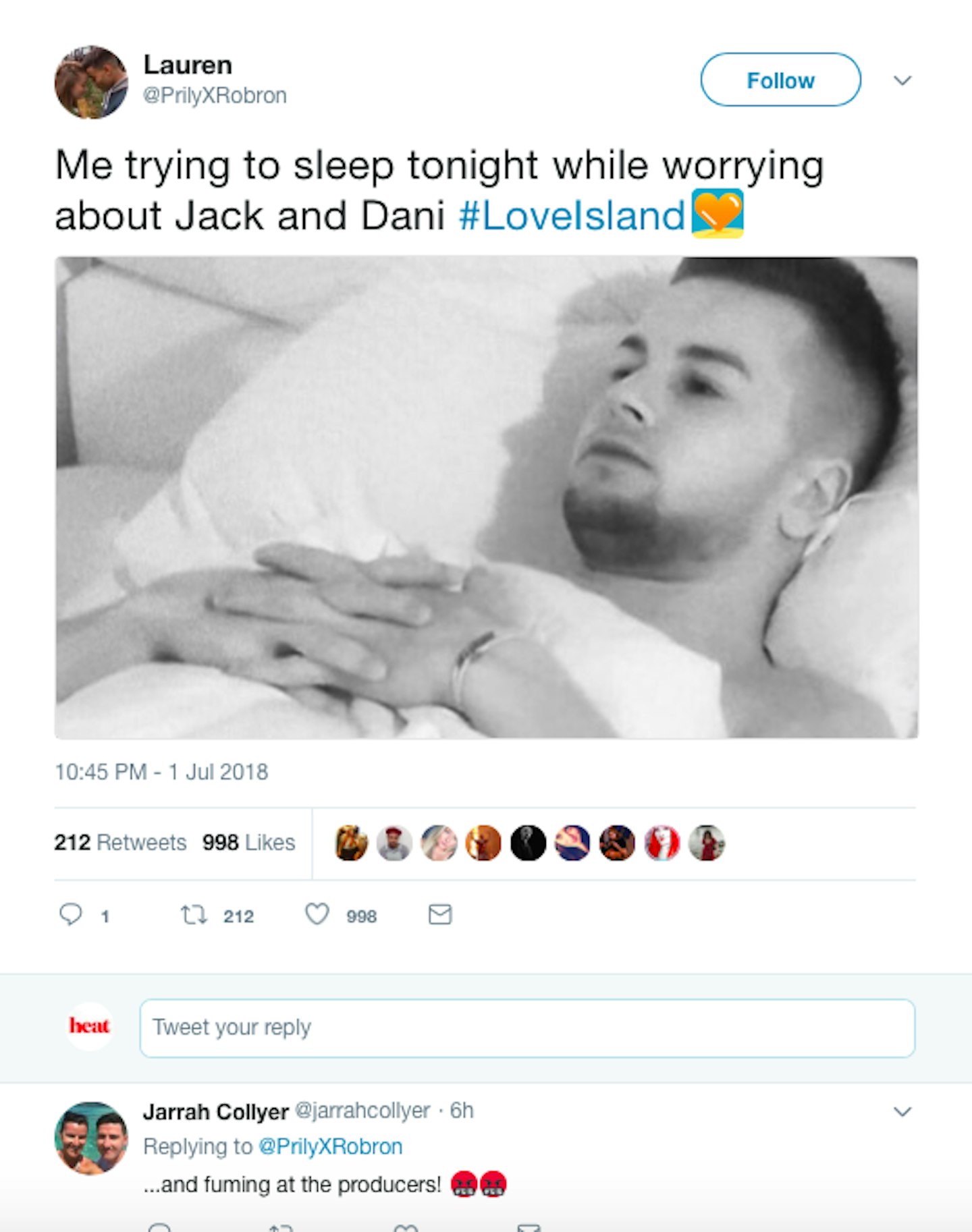 7 of 15
love island reaction 9
Oh @PrilyXRobron...us too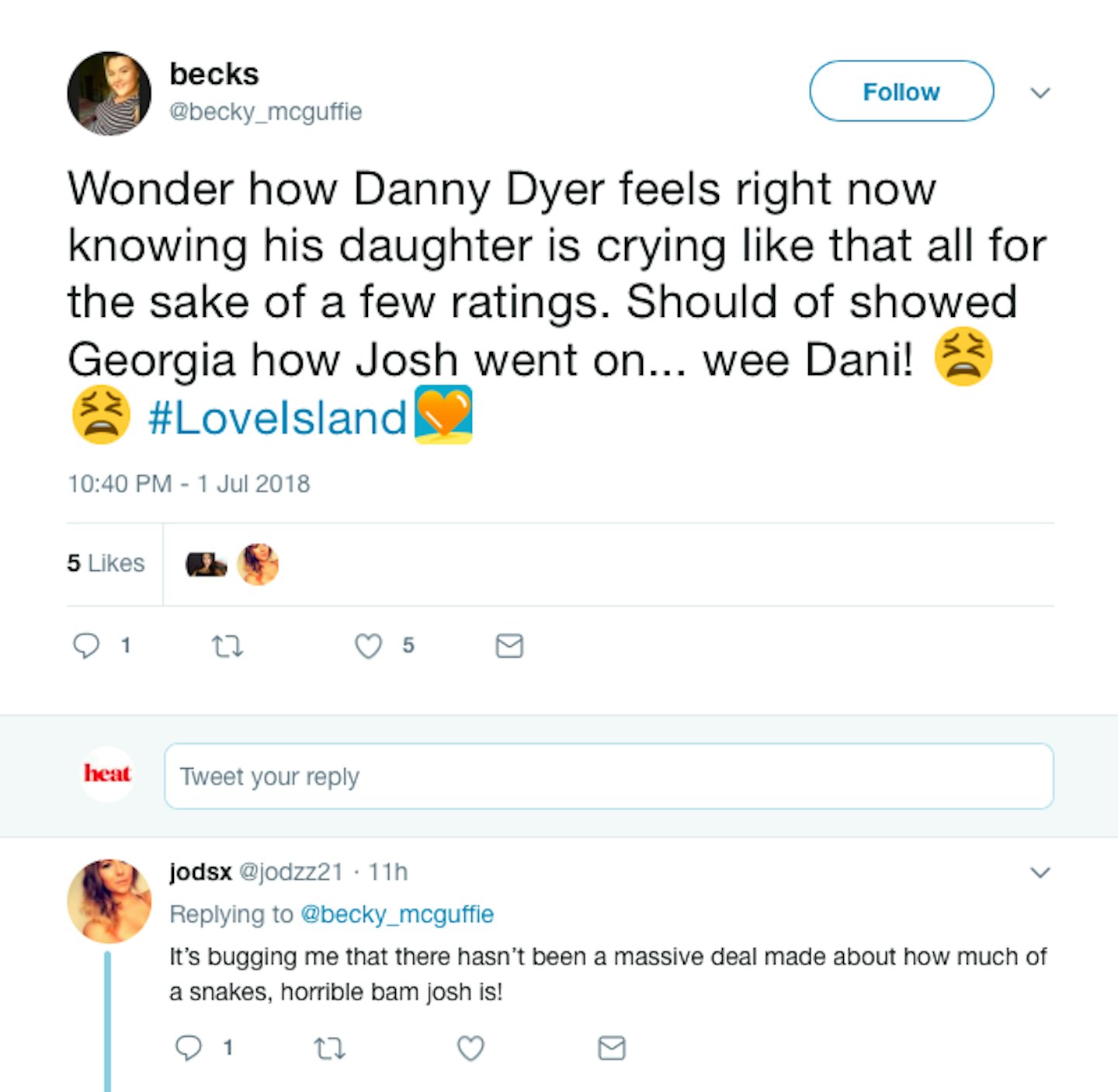 8 of 15
love island reaction 1
@becky_mcguffie calls out Love Island for making Dani Dyer cry 'all for the sake of a few ratings' - sympathising with dad Danny Dyer and how he must be feeling.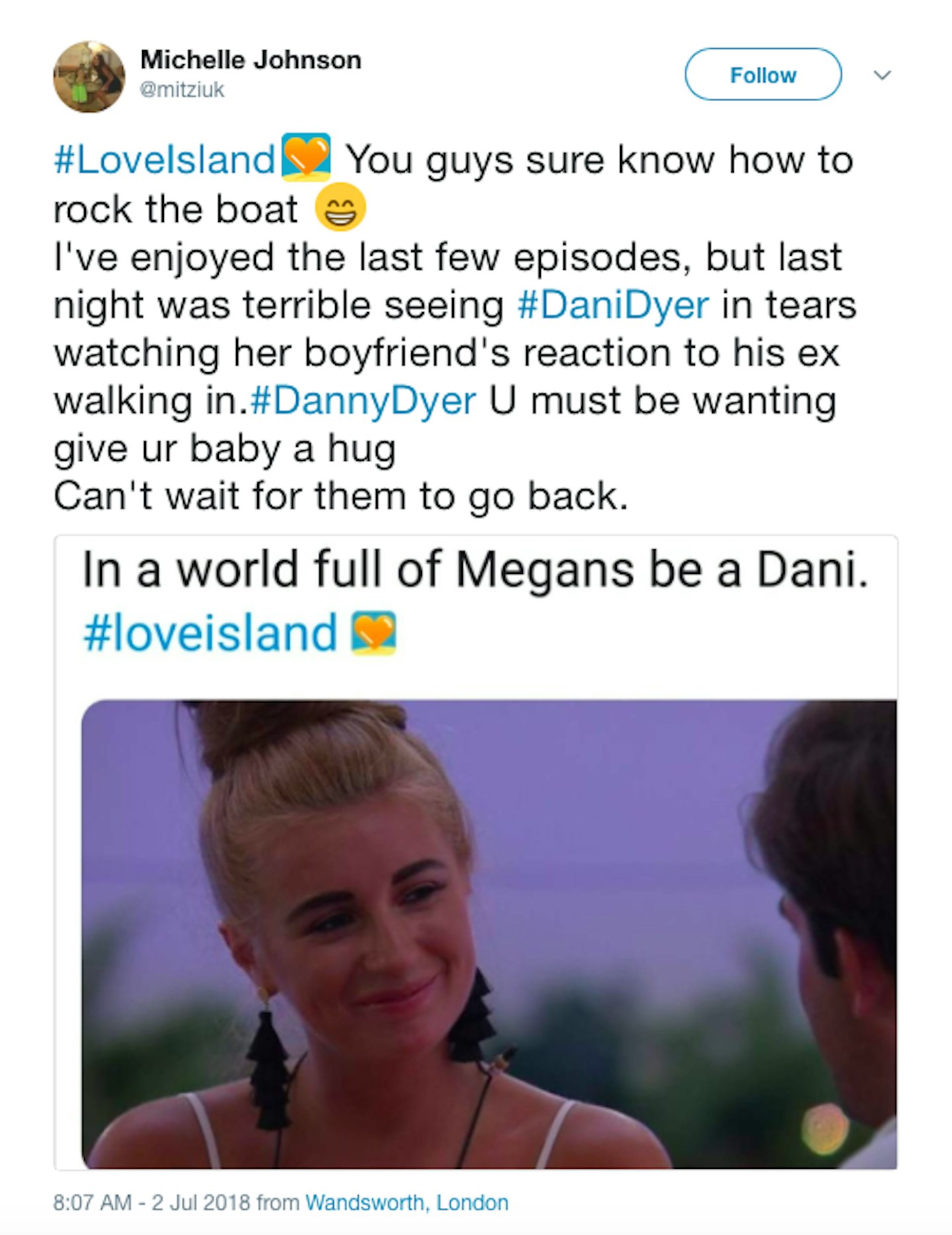 9 of 15
love island reaction 8
In a world full of Megans, be a Dani.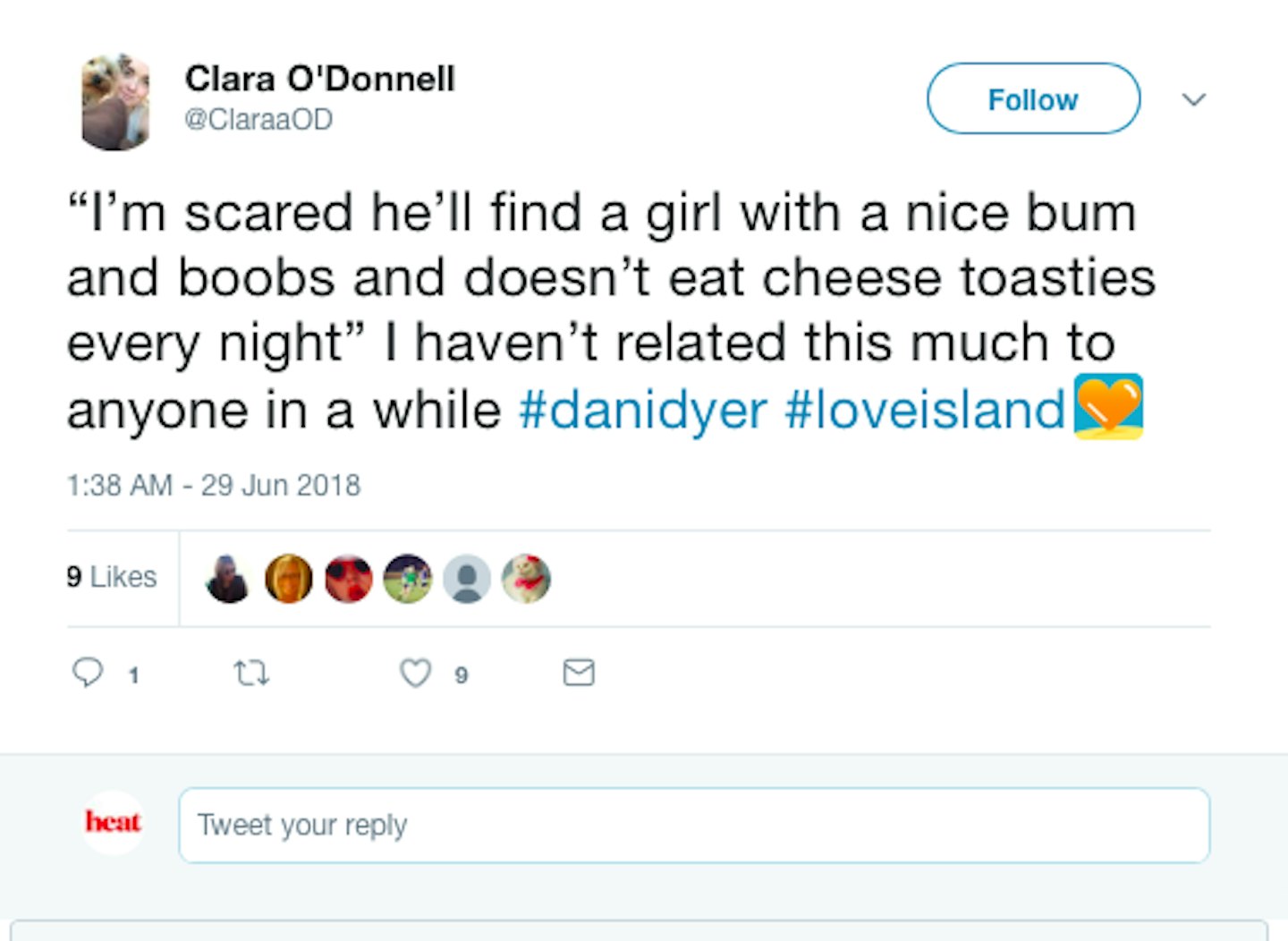 10 of 15
love island reaction 11
Bless Dani, Jack wants YOU, no matter how many cheese toasties you eat! But girl - we relate, @Clara0D.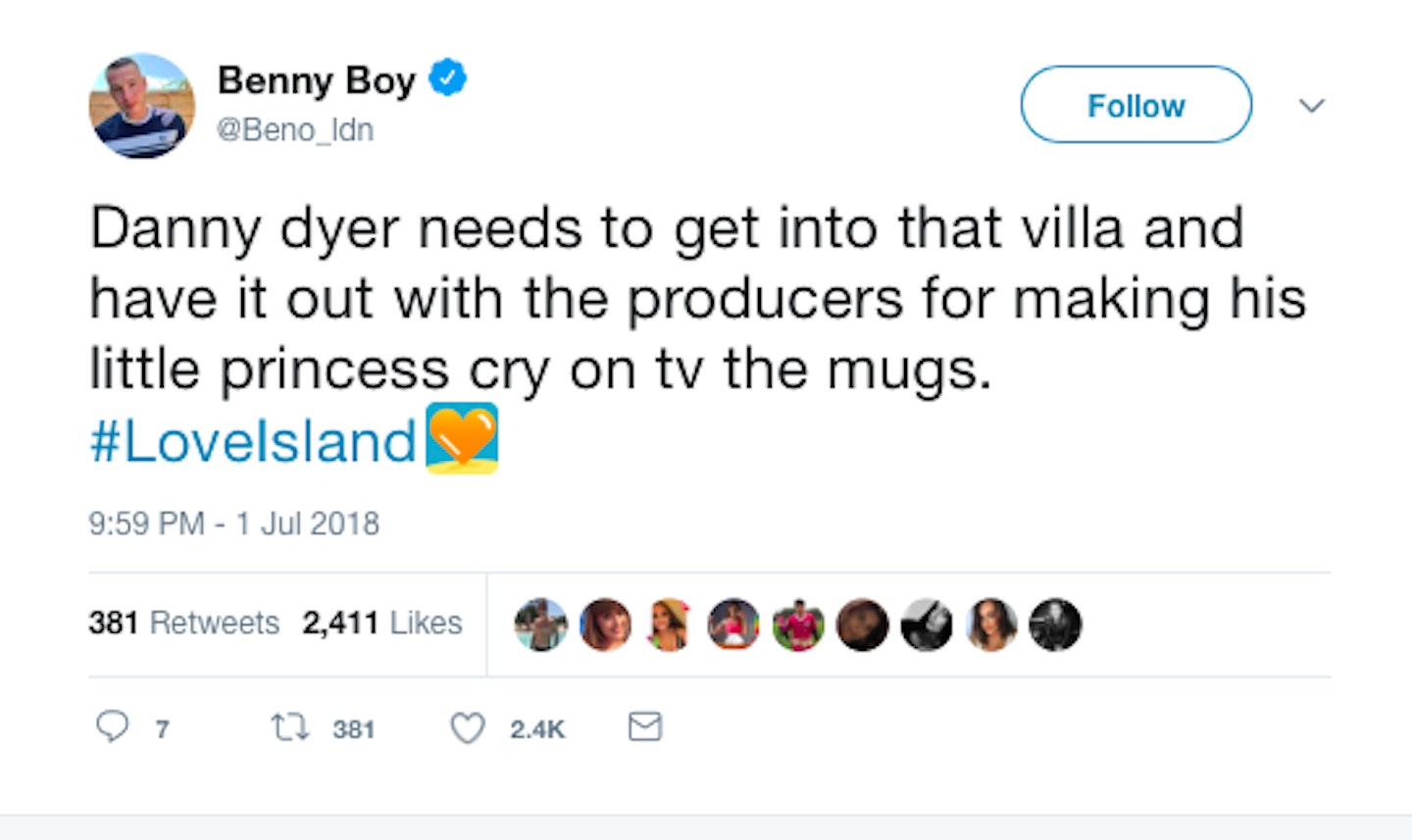 11 of 15
love island reaction 12
Social media influencer @beno_ldn got involved last night too, calling for Dani's dad Danny Dyer to 'have it out with the producers for making his little princess cry on TV the mugs.'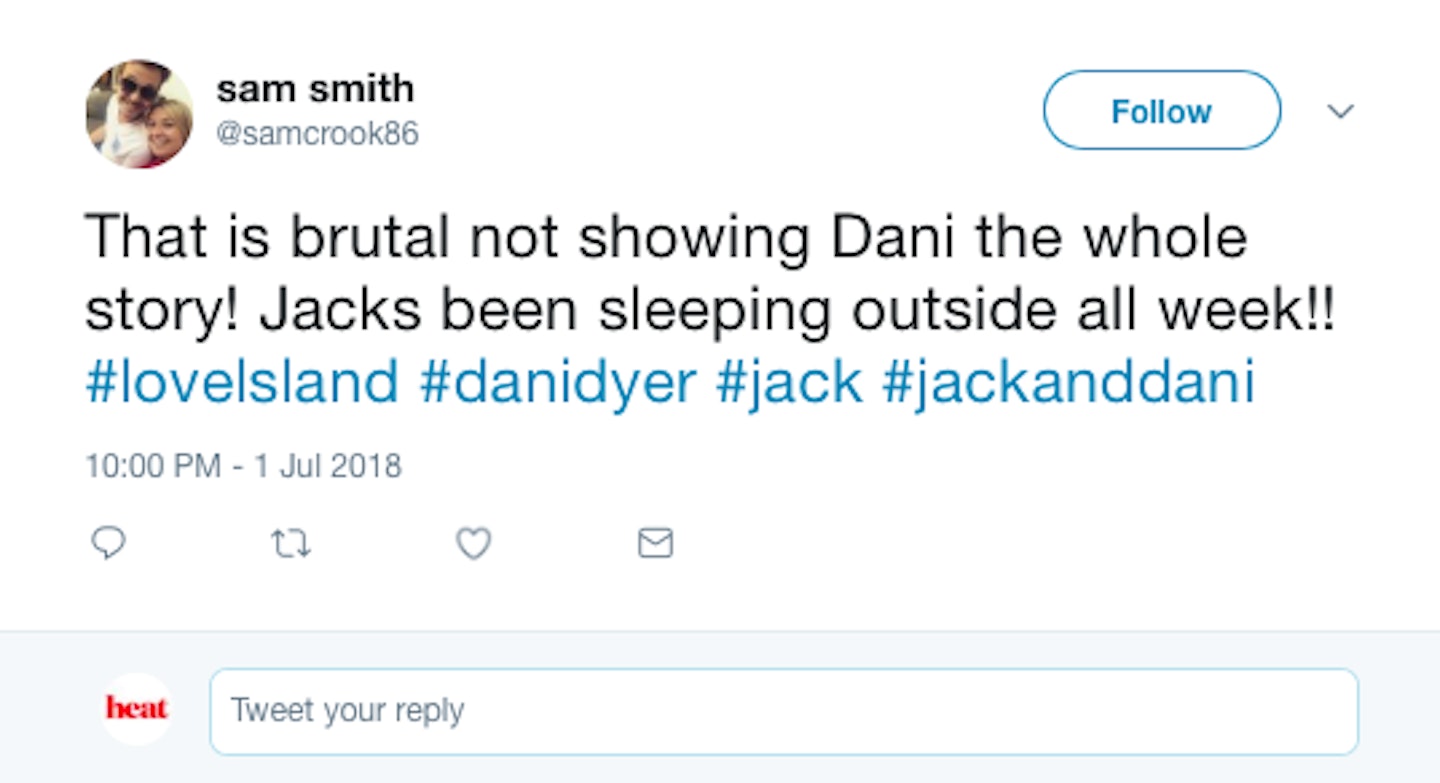 12 of 15
love island reaction 13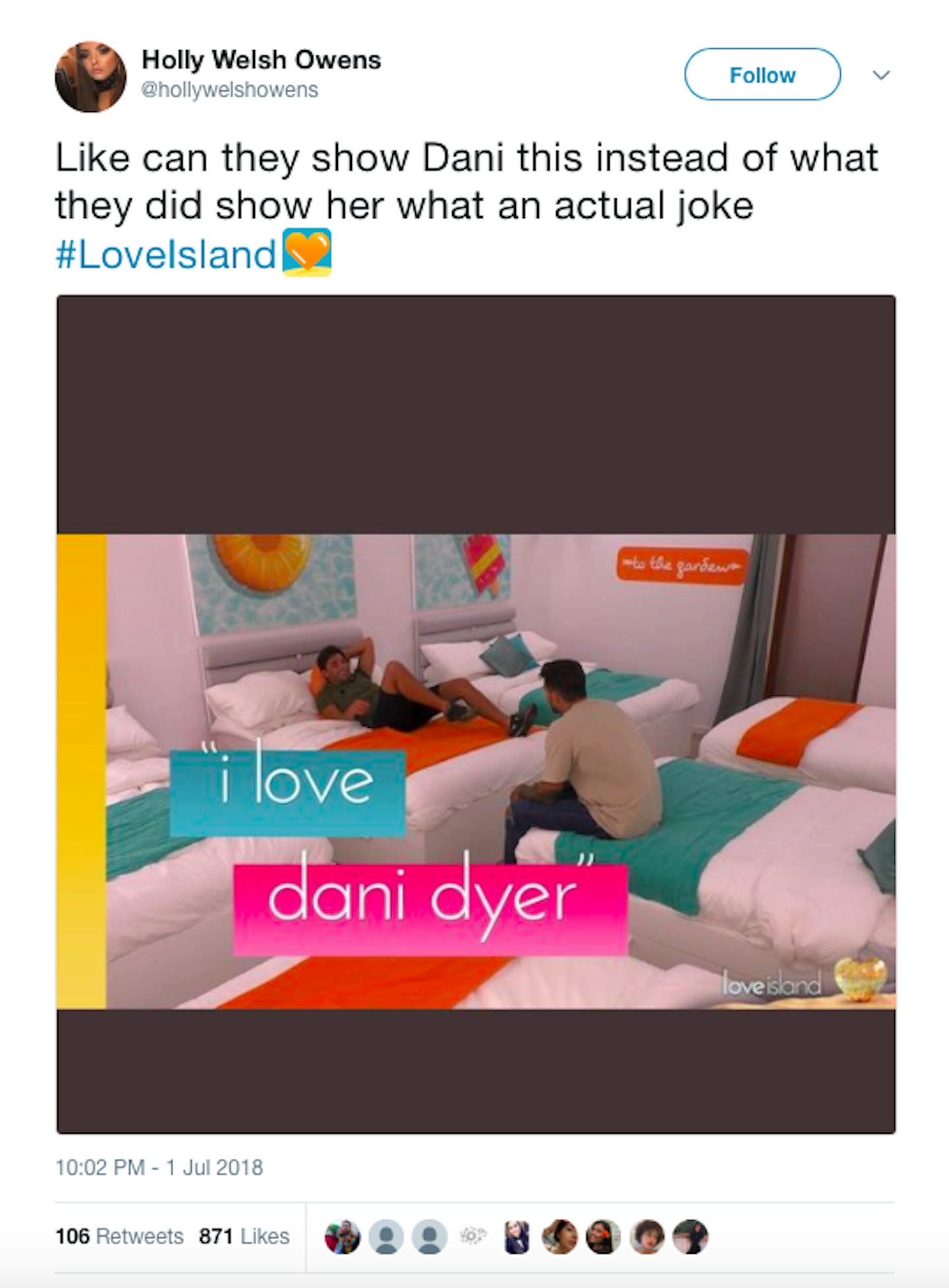 13 of 15
love island reaction 14
We're with you on this @hollywelshowens, can someone infiltrate the house and show Dani this screenshot pretty please?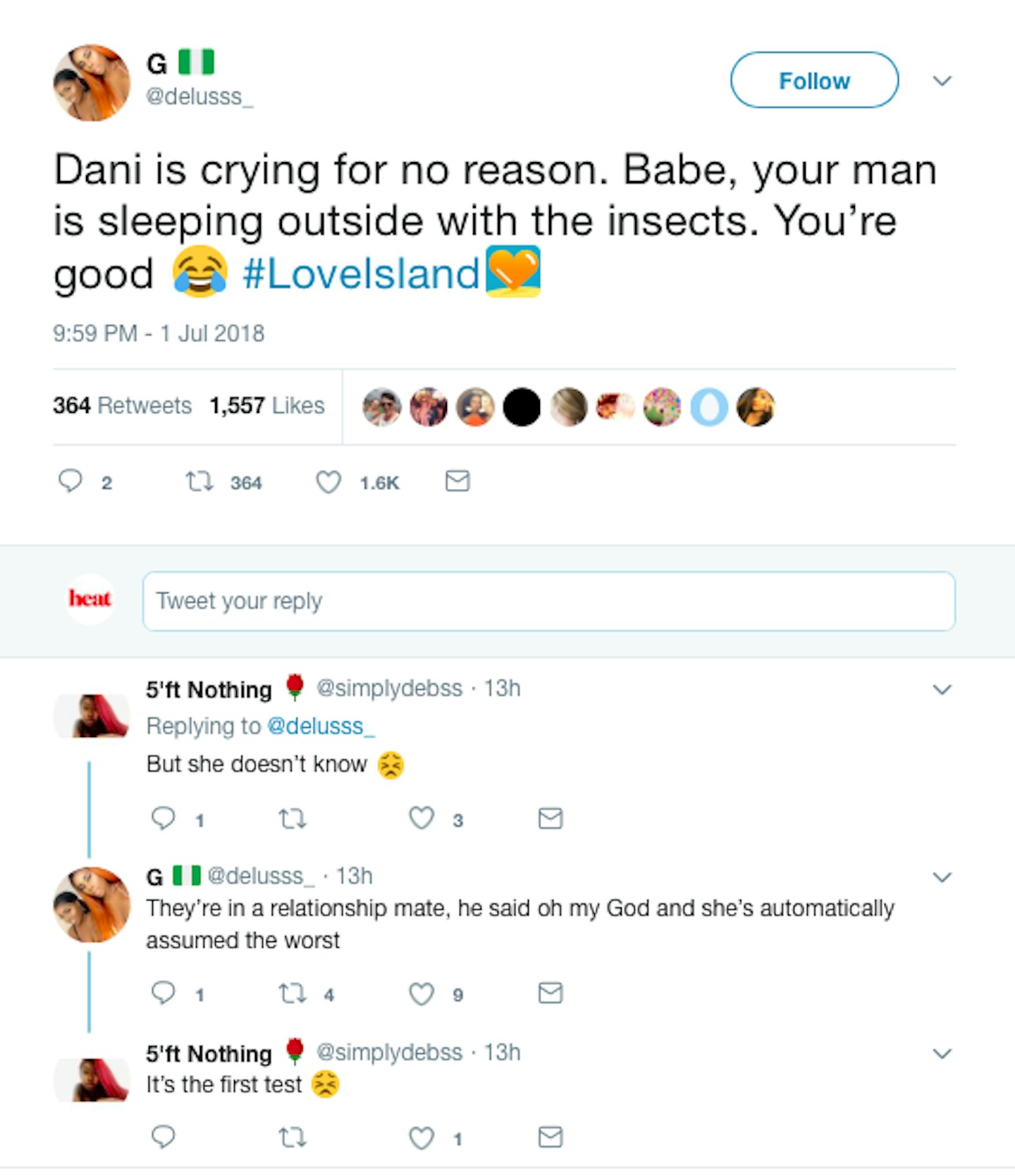 14 of 15
love island reaction 15
@deluss_ thought Dani crying was a bit much as Jack's been sleeping outside on the daybed. Hey - Dani doesn't know that!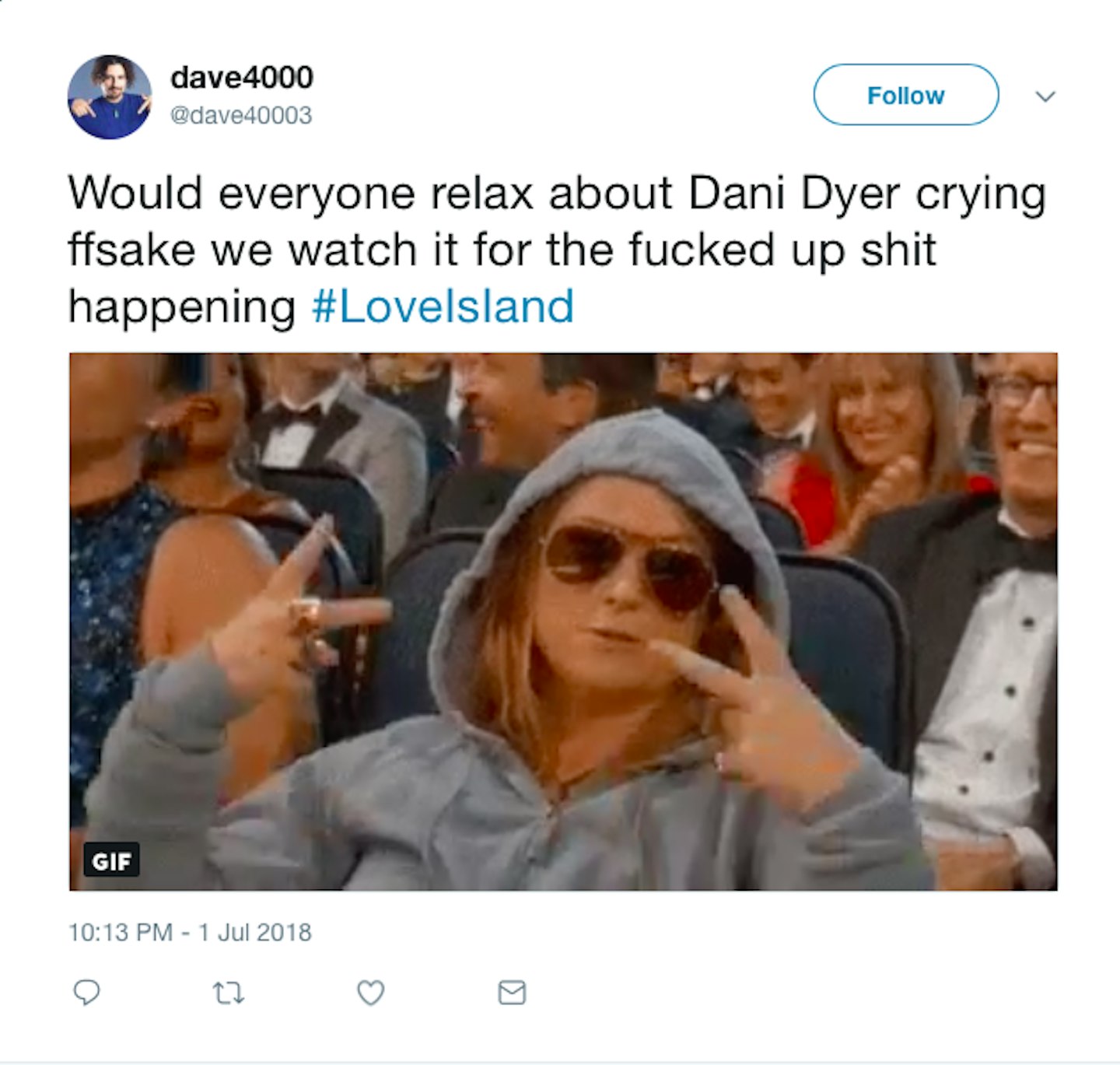 15 of 15
love island reaction 4
There's always one. Go home @dave4003, we're for team Jani!