We're two weeks into this series of Love Island and things are really starting to heat up.
Last night, tensions were high in the villa in the aftermath of Rosie and Adam's epic showdown and a recoupling only fuelled this further.
Following some snakelike behaviour from Eyal (he snogged Megan's face off in front of poor Dr Alex), Megan let the nation down when she chose to pair up with Eyal instead of Alex.
Seeing their pal downtrodden, Adam and Charlie took it upon themselves to come up with a master plan to distract Eyal and help Alex make his move on Megan. Adam's now semi-redeemed himself after his gallant role in the plan pretending to give a shit bout Eyal's star chat.
Anyway… In tonight's ep, the boys covert mission's is rumbled and Eyal is PISSED. The islanders also get some bad news about a SHOCK dumping.
Check out the latest Love Island spoilers
love island spoilers 14/06/2018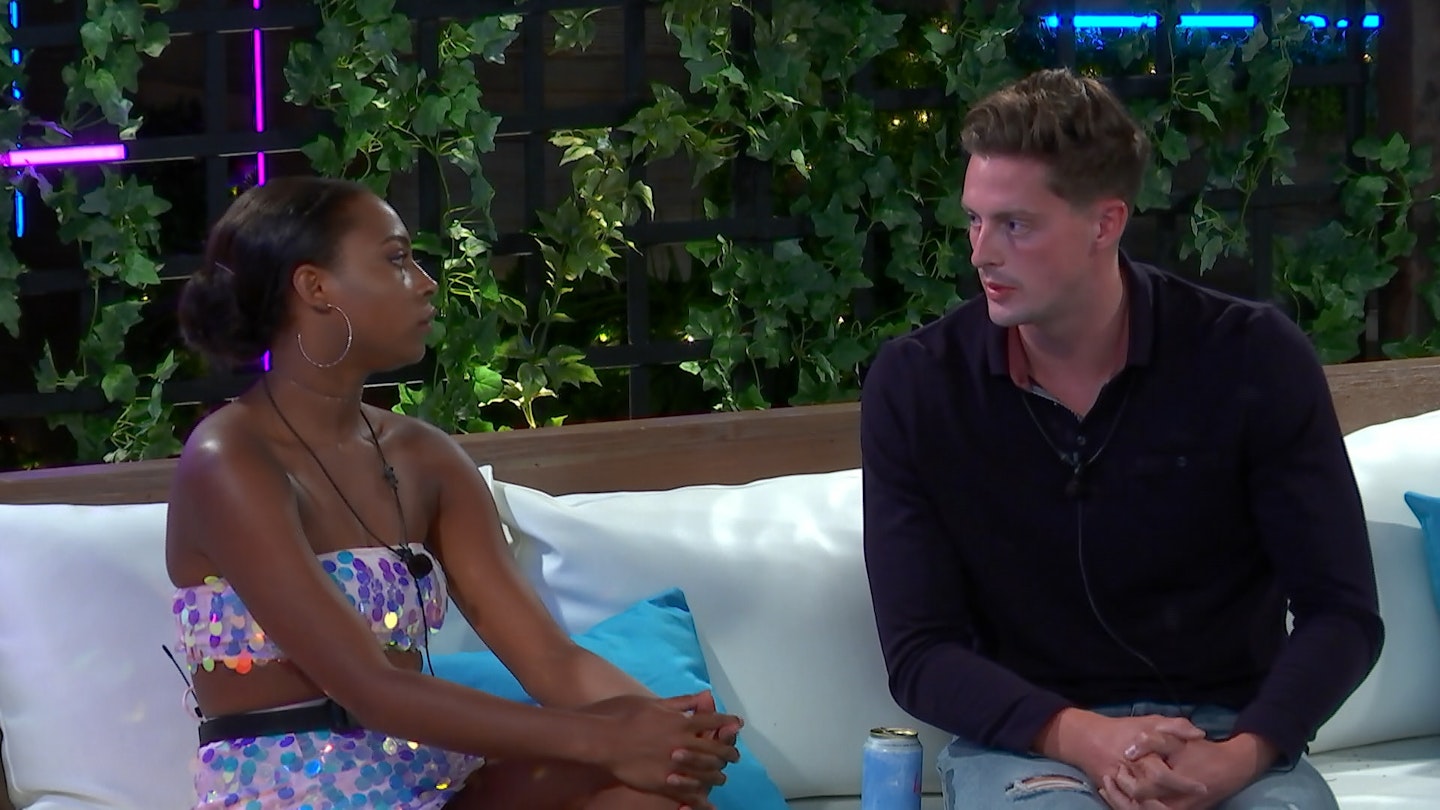 1 of 5
CREDIT: ITV2
1. The least compatible couple will be dumped from the Island
After days of high dramas and tense confrontations, the islanders receive their biggest bombshell yet. Eyal receives a text: "Islanders, tonight each couple must vote for the two couples who they think are least compatible. Those who receive the most votes risk being dumped from the island tomorrow. You must now discuss in your couples who you are going to choose and then submit your decision by text. You must not discuss your decision with anyone else #theglovesareoff #judgementday"Each couple slopes off somewhere private to discuss who they'll vote for. Wes tells Laura they need to put personal feelings for individuals aside: "The only fair way to do this is to answer the question, which is based on pure compatibility. It's not about who we like the most, who we get on the most with. I think that's completely unfair to do that. It's not something to be taken light heartedly."Alex and Samira feel particularly vulnerable due to the platonic nature of their couple. "We're the friendship couple – yeah of course we do feel vulnerable."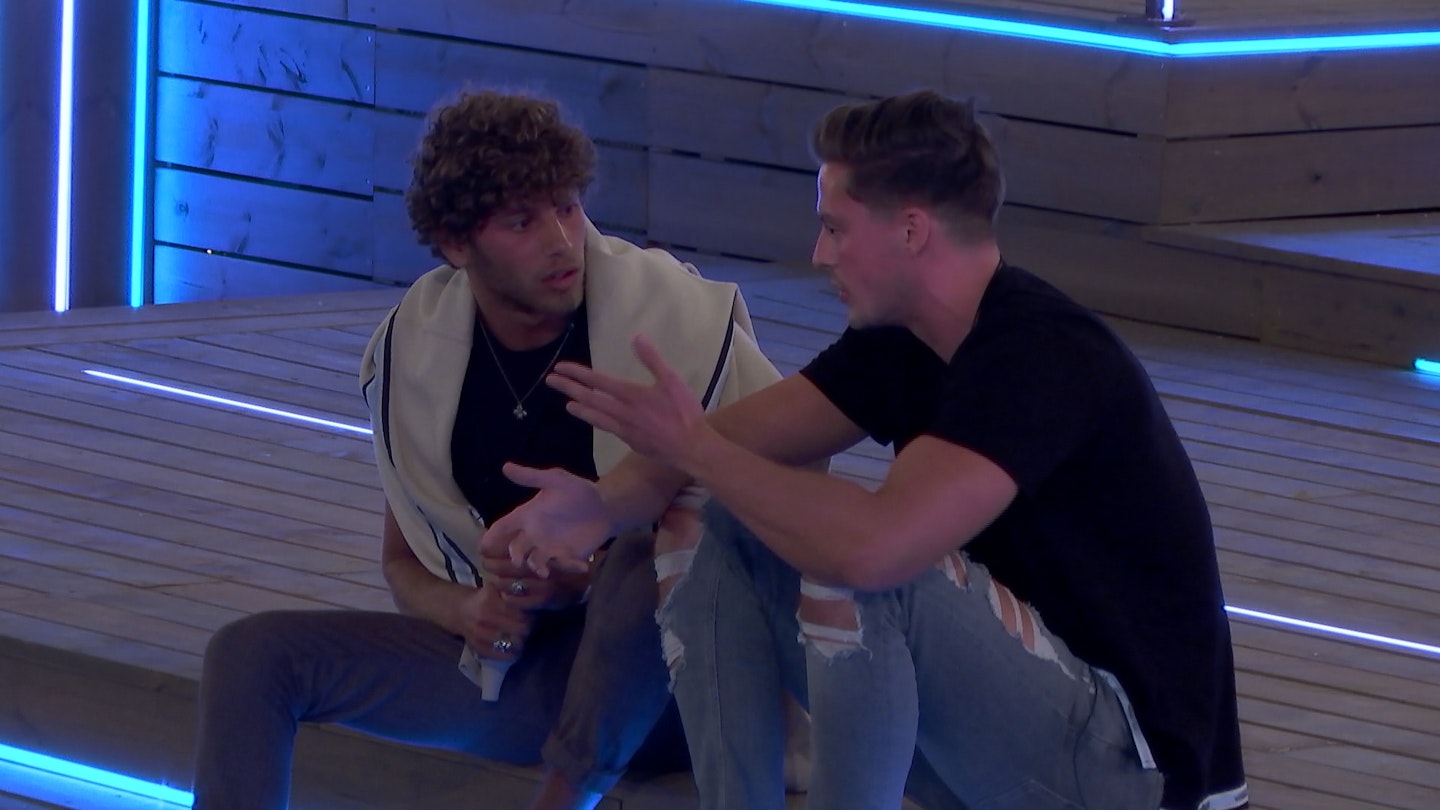 2 of 5
CREDIT: ITV2
2. Eyal's absolutely fuming with the lads
After losing out on the girl at the recoupling, Alex decides to up his game when it comes to pursuing Megan. But Eyal is pretty annoyed when he learns Alex has been pulling Megan aside to chat. He vents in the Beach Hut: "I just feel like Alex owed it to me to come and speak to me. He's just gone behind my back and not given me the opportunity to have my moments with her you know. He owes me the respect to come and say it to me before he goes and does it."The pair then have a one-on-one in the garden, with Eyal condemning Alex for not being honest with his pursuit of Megan. "I feel like you've kind of really gone and disrespected me when all I've tried to do is give you and show you the utmost respect," Eyal says to Alex. Alex later protests: "Basically I felt that before the recoupling I didn't get the opportunity to speak to her. You know the whole recoupling thing last night, I felt like you put a lot of pressure on that situation." Eyal tries to butt in, but new tough Alex isn't done yet. "You're not letting me speak, you're not having a conversation, you're just getting angry. I feel that in the last 24 hours, you've put pressure on quite a few situations. I don't feel that you gave me the space to talk to her, so I've gone and had a conversation with her. I just asked her 'what happened last night?', 'was it to do with the fact that I didn't lay it on thicker?' and actually, do you know what, part of it's for me to know, in the future should I be going for it? I didn't mean to upset you in anyway and I apologise for that."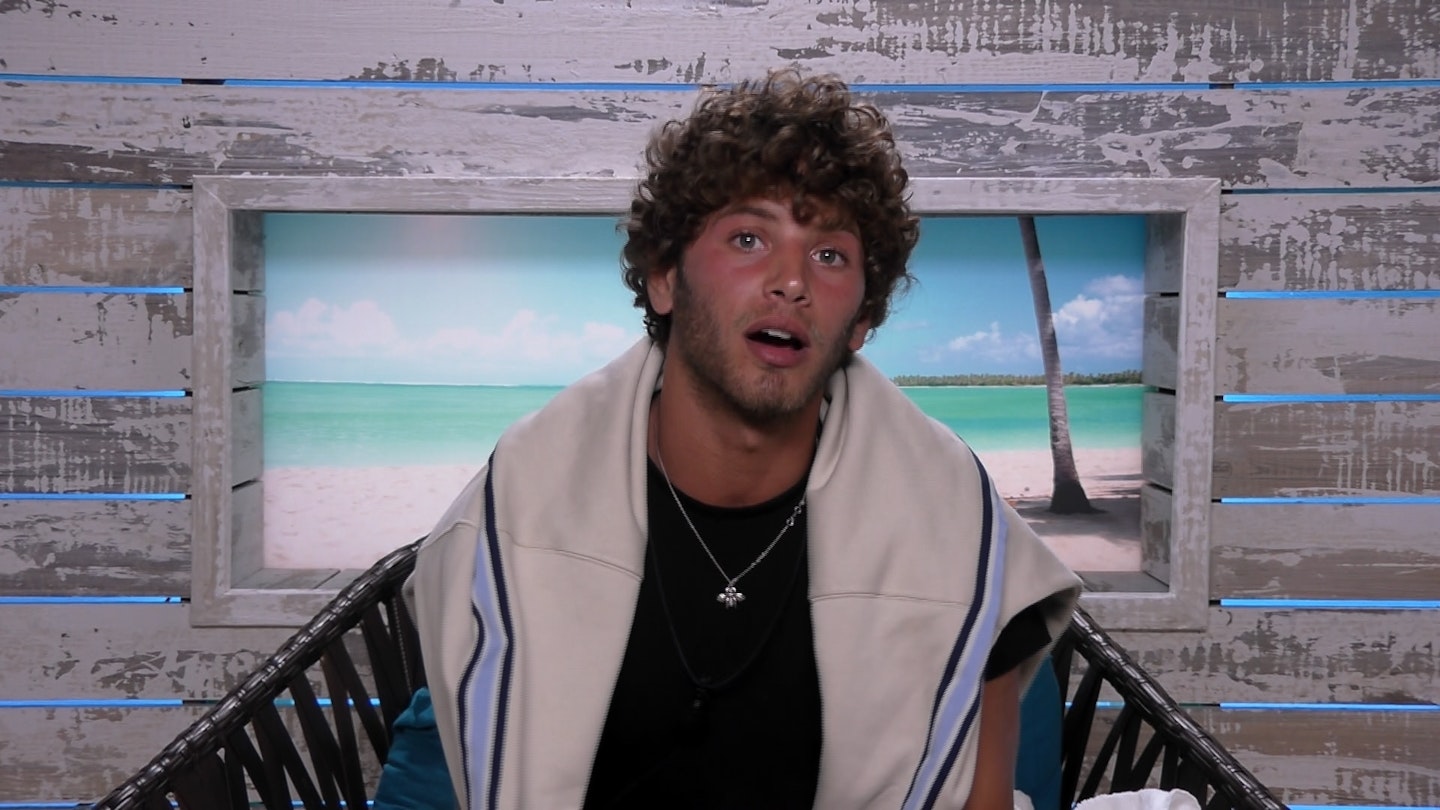 3 of 5
CREDIT: ITV2
love island
Eyal's frustrations are escalated when he learns that Adam and Charlie helped Alex get some alone time with Megan. He fumes: "I'm slightly p***** off, I won't lie, I didn't expect it from the boys. I want to say something but at the same time, Megan has told me in confidence and I don't want to rat her out because I think that will just screw things with me and her. So I don't know."He later confronts the boys, gathering them around the firepit. "You came up with this little plan but you obviously called me over and to be honest, one - you're mugging me off about what I believe in, but two - you sat there and had a plan so that Alex could go and take Megan off, and all I've ever been is loyal to each one of you. I'm fuming. If you would have called me over and just said to me 'we've done this because we want to give Alex a chance to get to know her and we feel like you should just stay here, I honestly, one million percent, would have been cool with that."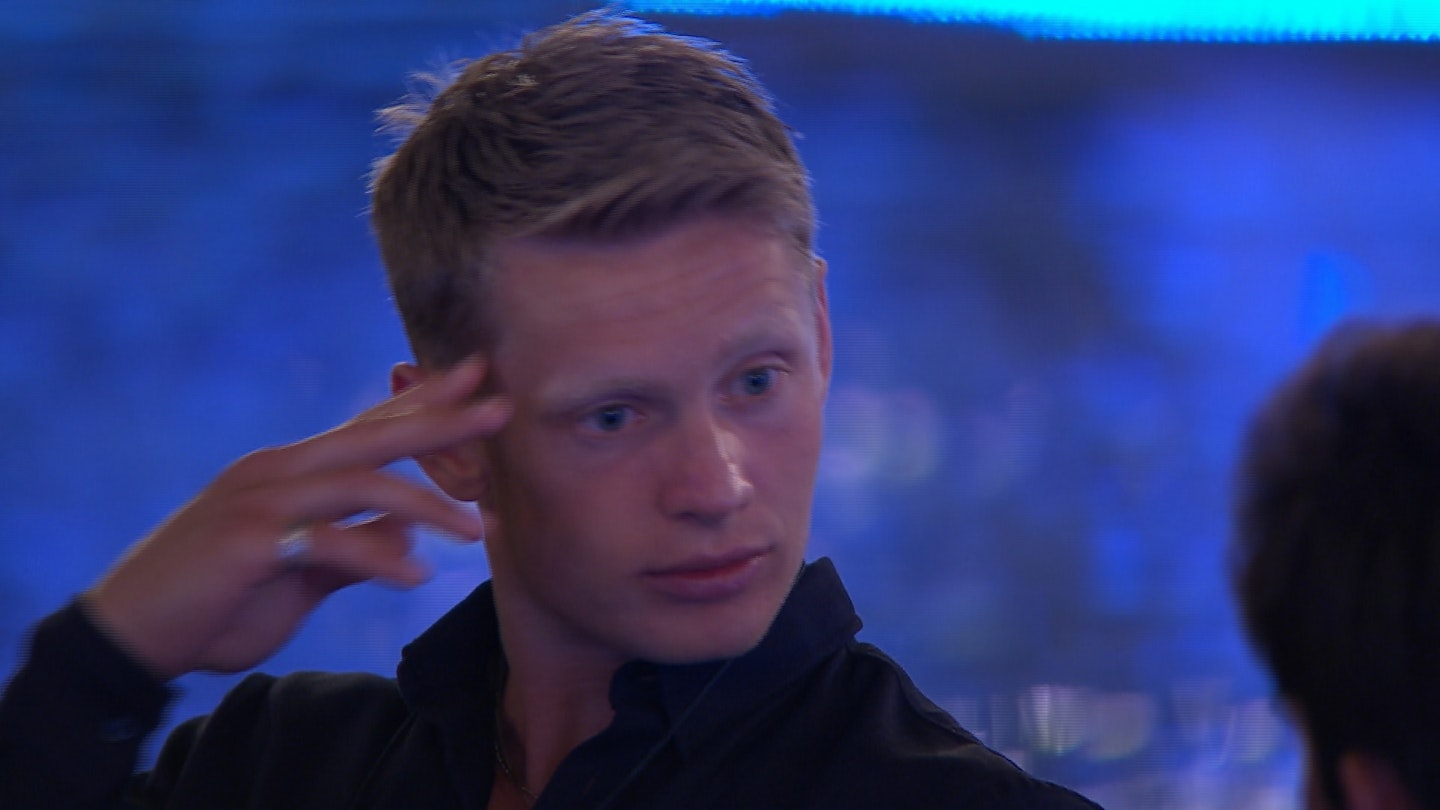 4 of 5
CREDIT: ITV2
3. Charlie's getting nowhere with Hayley
In other news, it's been approx. 2 minutes since Hayley and Charlie coupled up but Hayley's already getting the ick. Again. Charlie picks up on Hayley's frosty vibes, and admits: "I do want to get to know her more. But I feel as if she's being a bit muggy to me. I feel it's all coming from me. I compliment that girl every day, every time there's a group conversation, I go and sit with her. I've not had her once come up to me and hug me or kiss me." Jack offers some friendly advice to his new pal. "There's no one else in here that you want to couple up with. At the end of the day you were happy that she picked you. You wanted her to pick you. That says something in itself. She could have picked anyone she wanted really."Meanwhile, Hayley admits she's just not that into Charlie (let's just hope she doesn't make her feel physically ill a la Eyal)"I don't know where my head's at again, it's annoying me because I feel like I'm being dead fussy. But neither do I just want to rush something with someone… At the end of the day, if I've got some element of doubt in it I'm not going to put everything into that one person. That's not saying that I'm ruling him out getting to know him, as I am in a couple."
5 of 5
CREDIT: ITV2
4. Is it too much too soon for Laura and Wes
Despite being pretty comfortable chatting about moving in together and starting a family while on their first date, Laura's now worried Wes might be a little too into her. What a dilemma, eh? Her concerns about the age gap arise again after Laura learns Wes is 'falling for her'.She consults the girls the next morning."He said to me 'I think I'm falling for you' and I was just like 'don't say that to me'. Don't sit there and say 'you're falling for me.' You're not falling for me. It's been a week! I don't like it. He doesn't even know what love is. He's never been in love before." She later voices her apprehension in the Beach Hut: "It's very nice to hear, but I'm just very aware of people saying things that they don't mean or it's very early to be saying something like that. I know he didn't say love but for me it was similar. Maybe a miscommunication. But I really just want to be on the same page. I don't want him being like 'oh my god, I'm falling in love with Laura."Wes, however, defends himself and explains: "I'm just saying, I can see the start of it. If there was going to be a start it would be now. I've never felt this after a week so if I was ever going to say the 'L' word, this would be the start."He later admits he only has eyes for Laura in the villa. What a hun!