Ariana Grande is one of the BIGGEST names in pop. Not only did she release two albums in the space of less than six months back in 2018, but the pop superstar won the Number 1 spot on the Billboard 200 twice in that time with both albums.
Just a few months after releasing her amazing collaboration with Lady Gaga, 'Rain On Me', bagging them the Grammy Award for Best Pop Duo/Group Performance, the singer released her sixth album 'positions' after teasing new music earlier in 2020, much to her fans' delight! The collabs didn't stop there either, with her featuring on Demi Lovato's new track 'Met Him Last Night' in April 2021.
Here we take a look at Ariana's career and rise to fame - her transformation from a teenage TV star to a worldwide pop sensation with songs like 'Side to Side', 'One Last Time', and many more, and even launching her very own beauty brand R.E.M. Beauty!
Where is Ariana Grande from?
Ariana was born in Boca Raton, Florida, and when asked about her nationality in 2011, she described herself as an Italian American.
How old is Ariana Grande?
Ariana Grande was born on 26th June 1993, making her currently 28-years-old and her star sign is Cancer.
Who is Ariana Grande's brother?
Ariana has a half-brother called Frankie Grande, a dancer, actor, entertainer, producer and YouTube star, and the pair are incredibly close friends. After he appeared on the 16th series of Big Brother in the US in 2014, Frankie appeared on Celebrity Big Brother in the UK in 2016, finishing in 6th place.
Is Ariana Grande vegan?
In 2013, Ariana, who had always eaten meat sparingly, announced to her followers on Twitter that she had decided to become 100% vegan.
What are Ariana Grande's fans called?
Arianators! They started out as Ariana Army and then Tiny Elephants before settling on their current name.
How Ariana Grande became famous
Read up on Ariana Grande's career right here.
RADIO Ariana Grande career stacked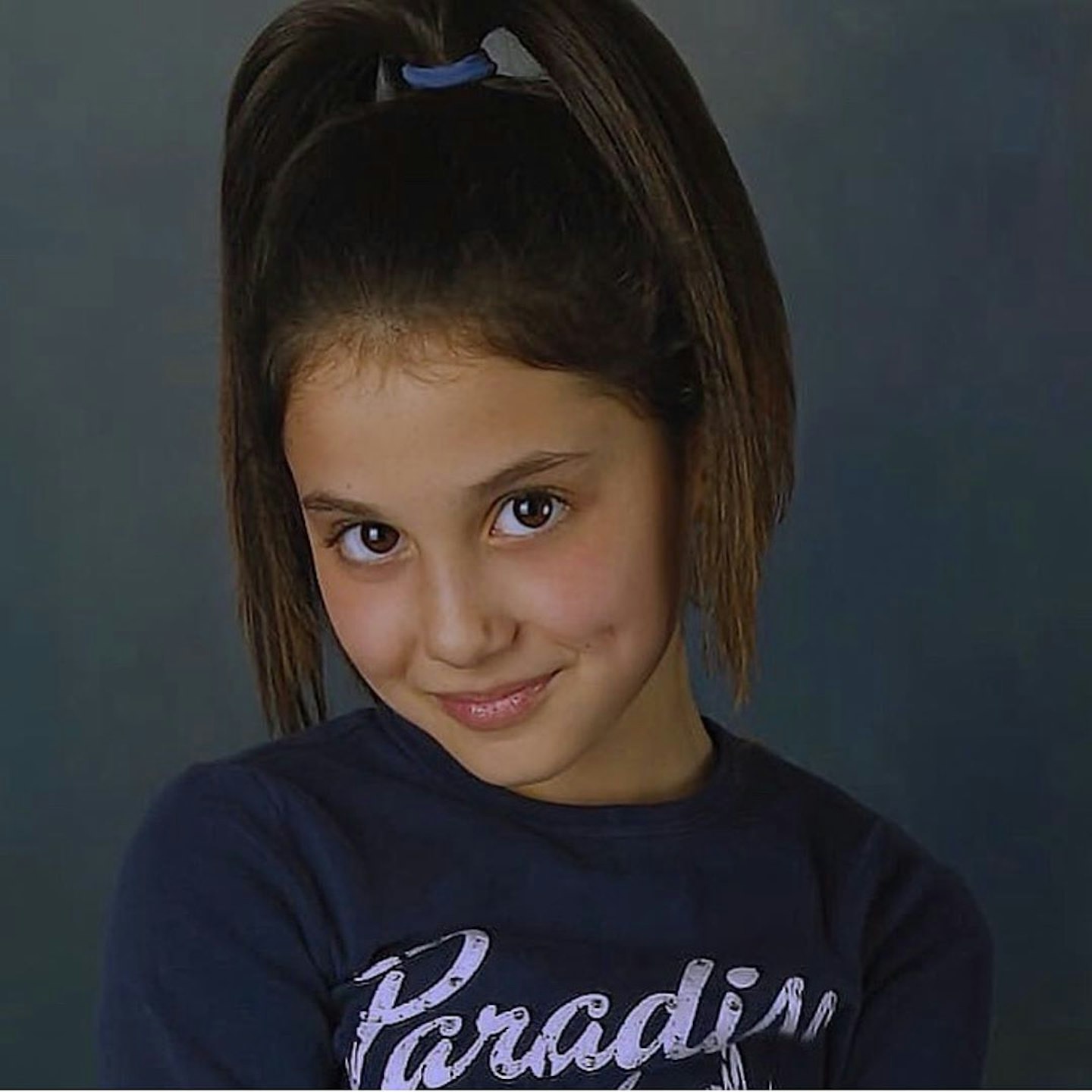 1 of 21
CREDIT: u00a9 Instagram/ Ariana Grande
Early life
Ariana was born in Florida in 1993 to CEO Joan Grande and company owner Edward Butera, who had recently moved the family from New York to the sunshine state. As a child growing up in Florida, she enjoyed taking part in school plays. Ariana then moved to New York as a young teenager, and in 2008 she starred in the Broadway musical 13.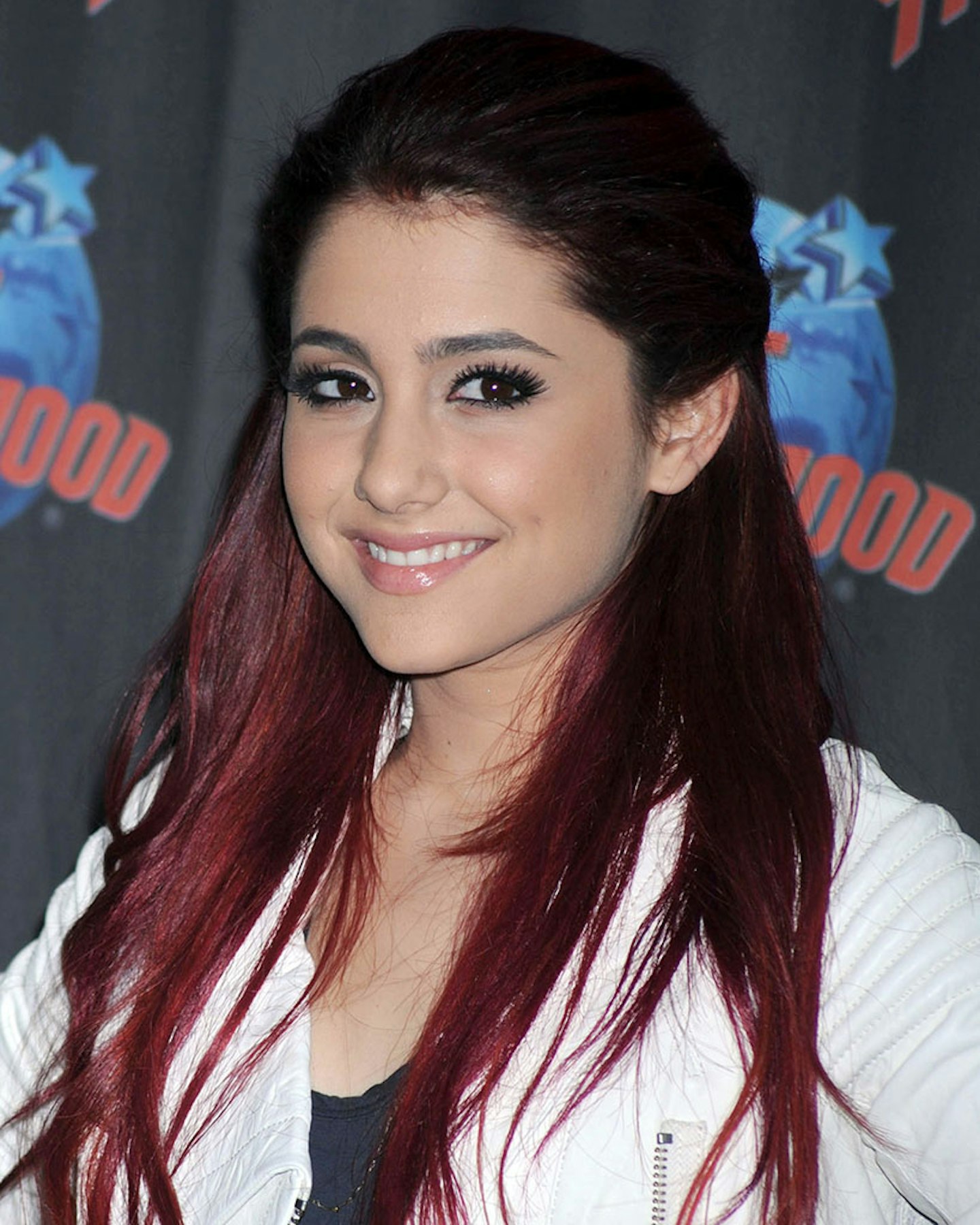 2 of 21
CREDIT: u00a9 PA Images
2010 - 2013: Victorious
After that she moved onto a Nickleodeon TV series called Victorious, where she played the role of Cat Valentine. Following four seasons on Victorious she then starred in two seasons of the spin-off series Sam & Cat before taking roles other TV and theatre roles.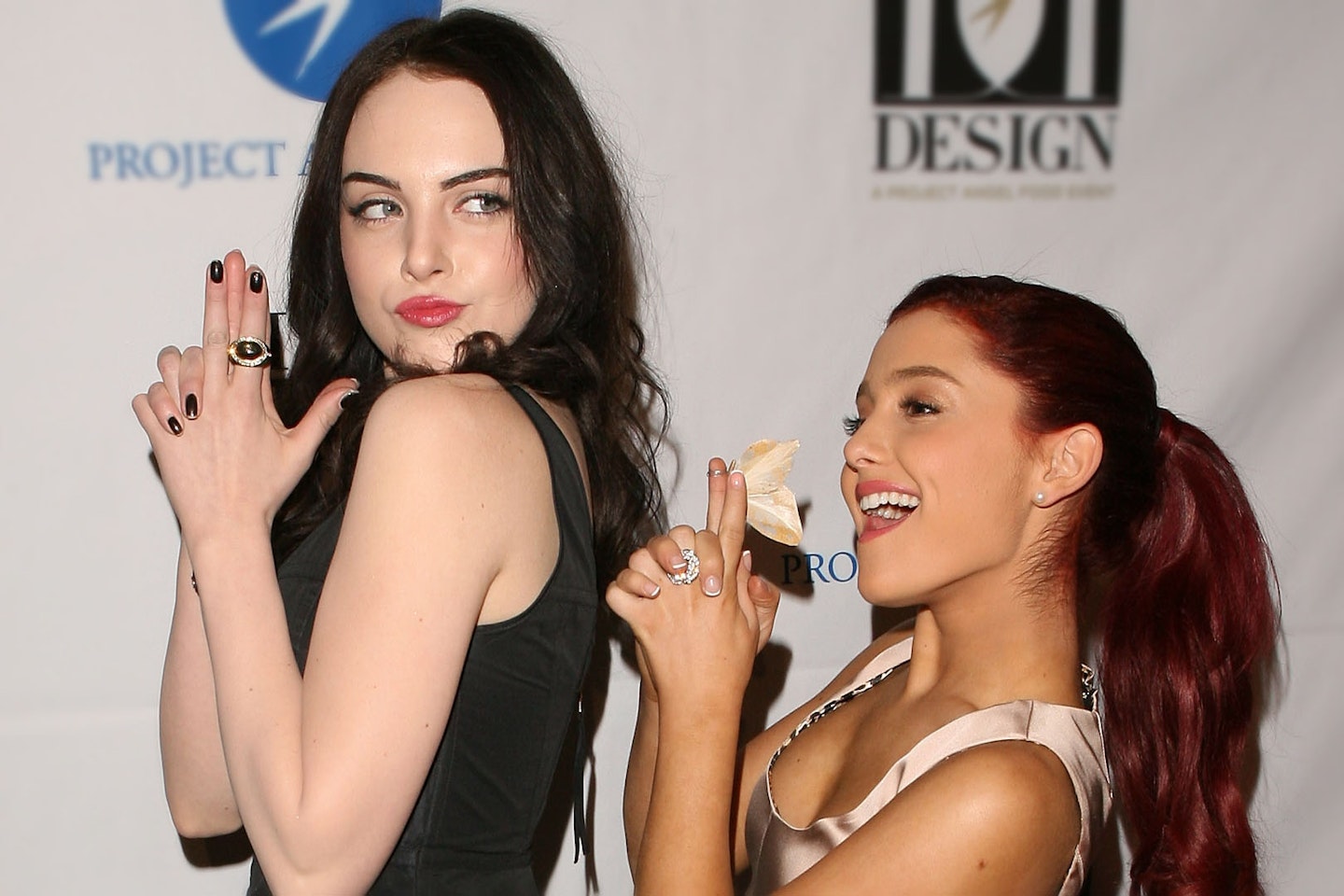 3 of 21
CREDIT: u00a9 Getty Images
2011: 'Give It Up'
Her move towards music started in 2011 when she featured on the 'Music from Victorious' album singing 'Give It Up' with her co-star Elizabeth Gillies.
4 of 21
CREDIT: u00a9 PR
2013: Debut album
In 2013, the singer released her debut album, 'Yours Truly', which she described as a "throwback" to the R&B music of the 1990s. The first single released from her album was 'The Way' and featured her former boyfriend Mac Miller.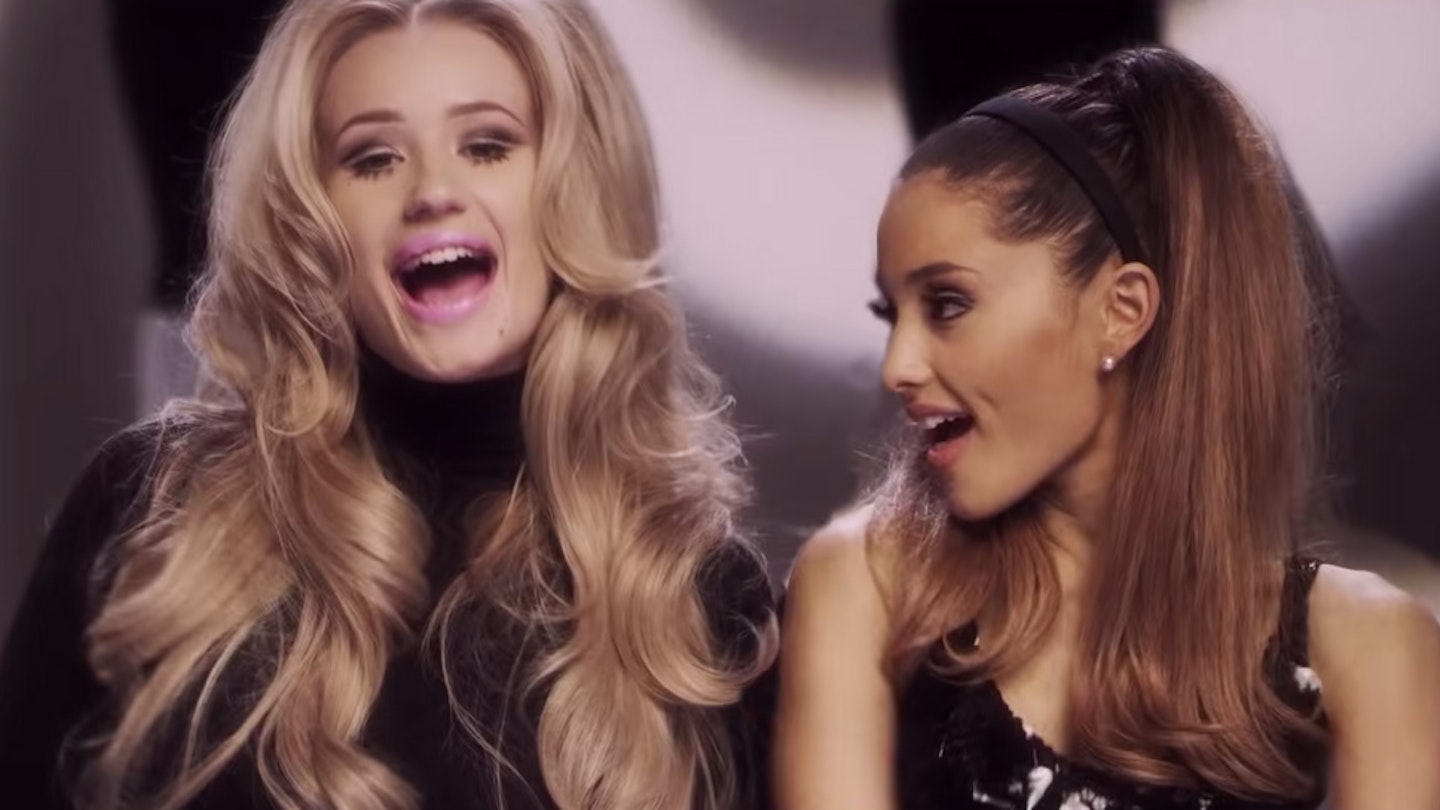 5 of 21
CREDIT: u00a9 YouTube/ Ariana Grande
2014: 'Problem'
It wasn't until 2014 and the single 'Problem' that Ariana Grande saw chart success in the UK. The music video for the song, featuring Australian rapper Iggy Azalea, won Best Pop Video at the 2014 MTV Video Music Awards and has now been viewed more than 1 billion times on YouTube.
6 of 21
CREDIT: u00a9 PR
2014: Jessie J collaboration
Following 'Problem' Ariana had a number of top 10 hits in the UK, including 'Bang Bang' with Jessie J and Nicki Minaj in 2014, working with Nicki once again on 'Side to Side'. She also saw huge success with 'One Last Time', which appeared on her second album 'My Everything', released in August 2014.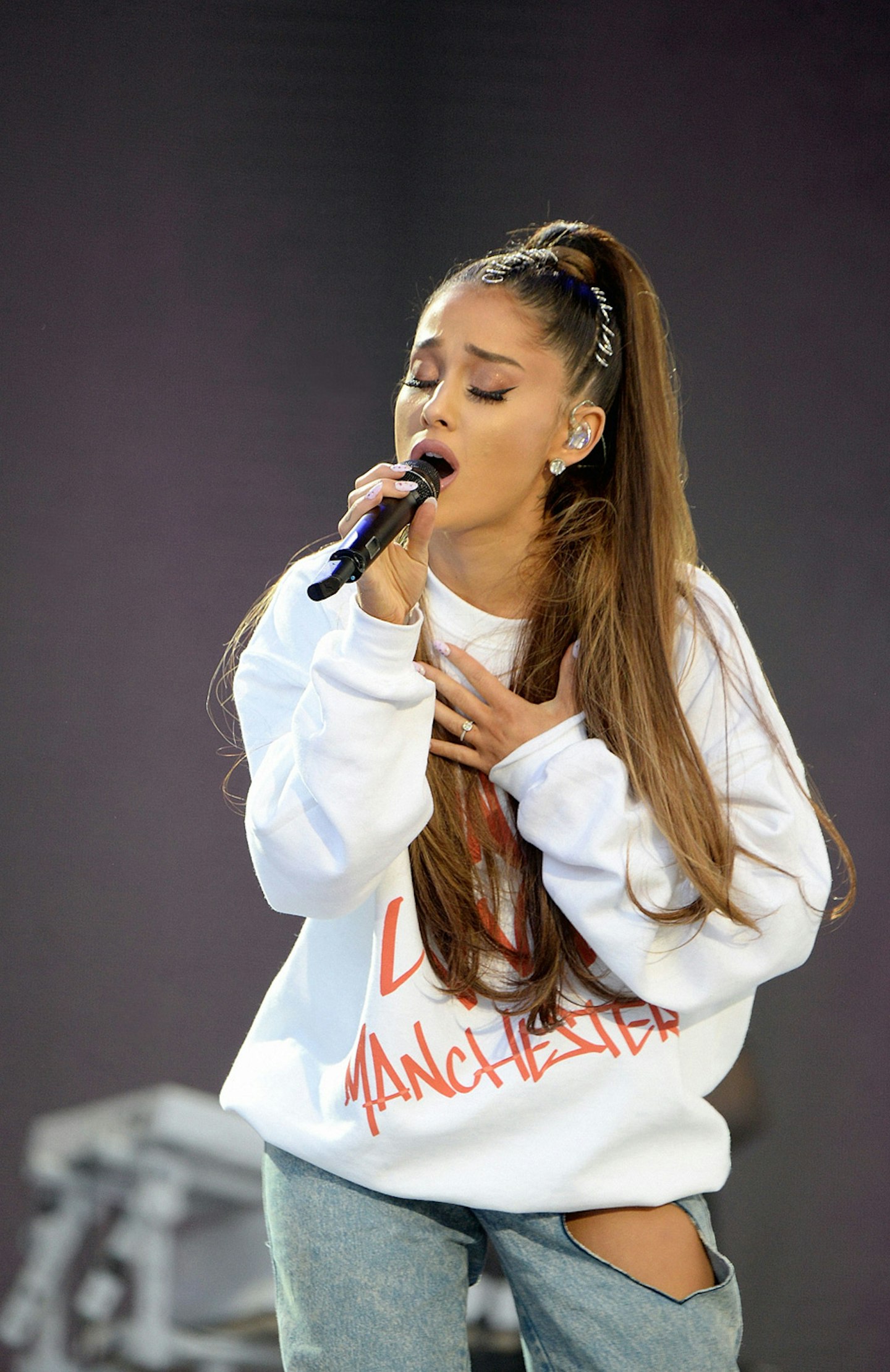 7 of 21
CREDIT: u00a9 Getty
2016: 'Dangerous Woman'
Ariana also embarked on her biggest tour to date - the 'Dangerous Woman Tour' supporting her third album 'Dangerous Woman'. Devastatingly, her show at Manchester Arena on 22nd May 2017 ended with a horrific tragedy when a bomb killed 22 people and injured many others.Following the terrible events of that night, messages of support for those affected poured in from around the world, including many from pop stars and celebrities.Ariana, along with her team, worked quickly to put on a show that would bring everyone together at such a difficult time. Less than two weeks after the attack, the One Love Manchester benefit concert took place, with a line-up that included Katy Perry, Little Mix, Miley Cyrus, Justin Bieber and many more artists - as well as Ariana herself.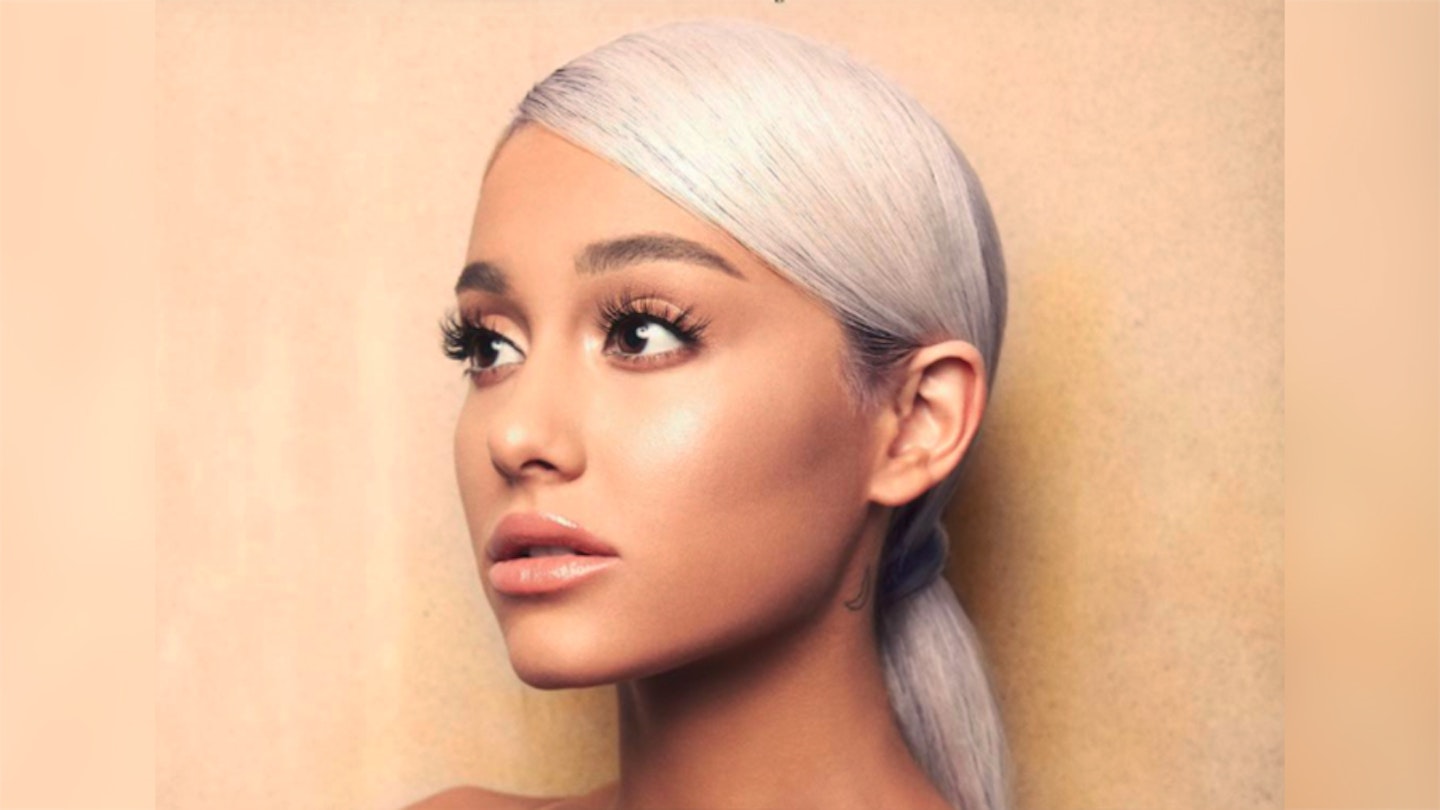 8 of 21
CREDIT: u00a9 Instagram/ Ariana Grande
2018: 'Sweetener'
Ariana understandably took some time off during 2017, but returned in August 2018 with her 'Sweetener' album which peaked at Number 1 in the UK and US, as well as many other countries around the world. It catalogued her dealing with everything she'd been through, as well as her relationship with Pete Davidson, which ended in October 2018.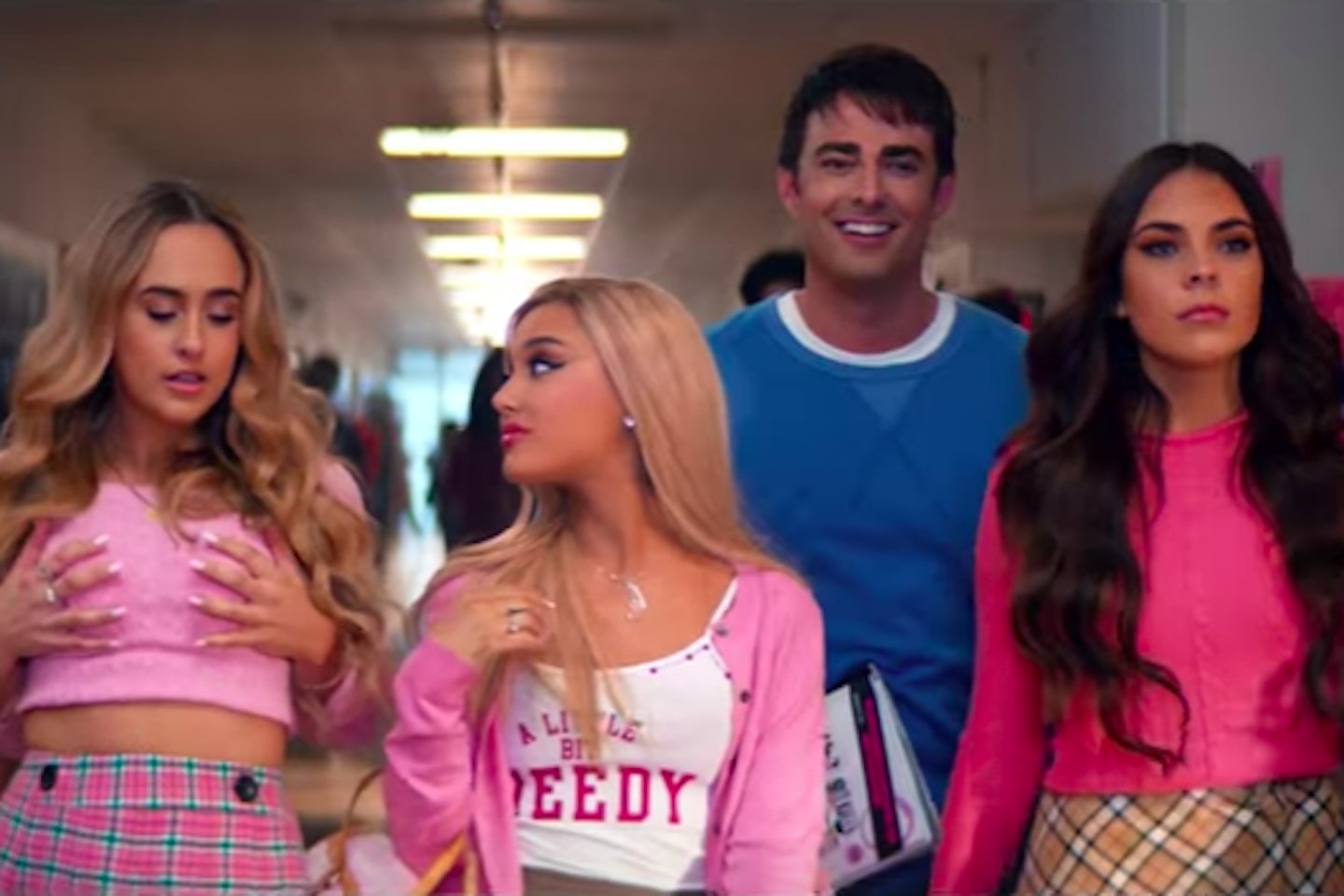 9 of 21
CREDIT: u00a9 YouTube/ Ariana Grande
2018: 'thank u, next'
Ariana suffered yet more loss in 2018 when her ex-boyfriend and close friend Mac Miller passed away. She paid tribute to him in beautiful Instagram posts, and even referenced him as an "angel" in her song 'thank u, next' - which practically broke the Internet with its incredible music video, taking inspiration from many iconic 90s and 00s teen films like Mean Girls.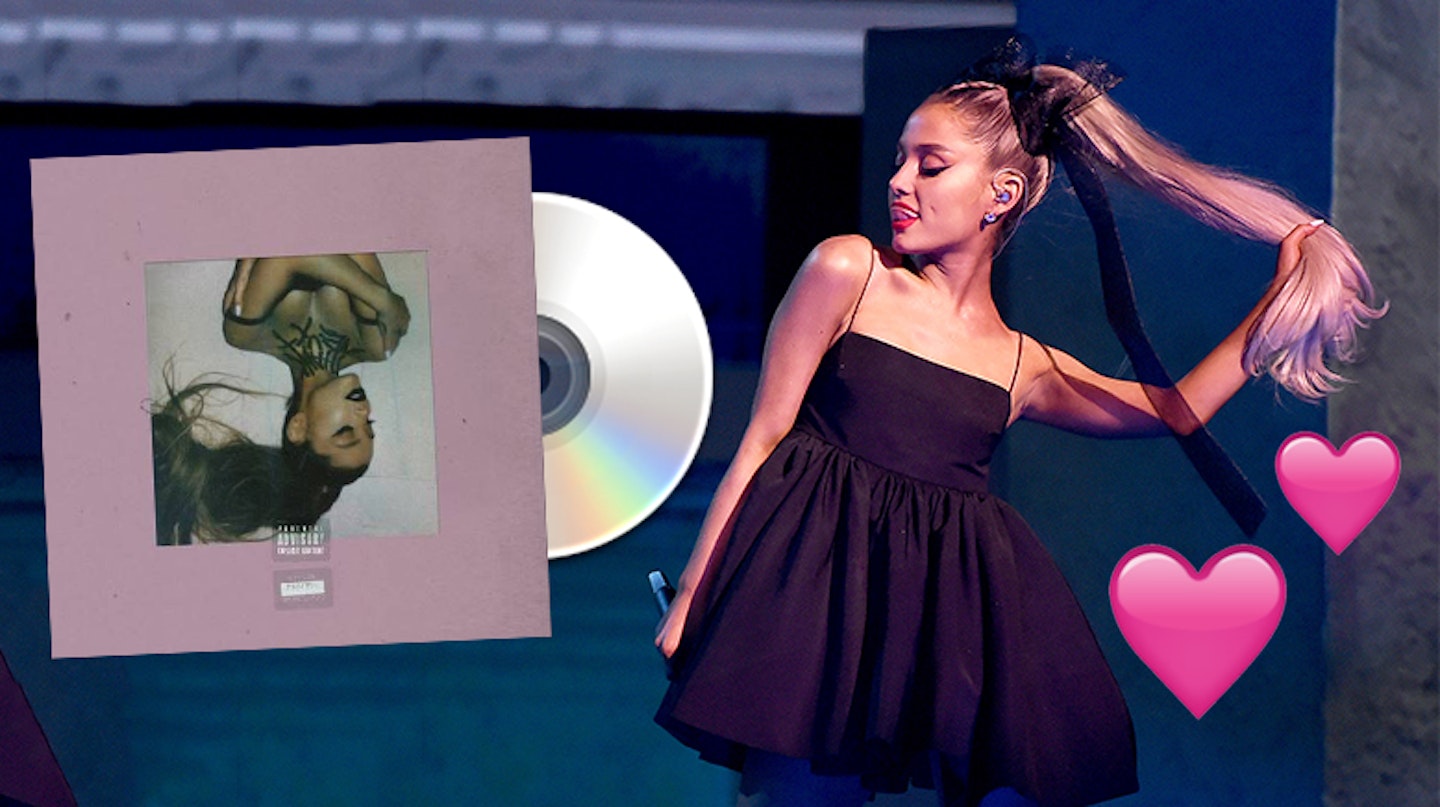 10 of 21
CREDIT: u00a9 Getty Images
2019: 'thank u, next' Take 2
...But Ari wasn't done there! Releasing her second album in less than six months, the album 'thank u, next' came out in February 2019, again topping the charts all over the world.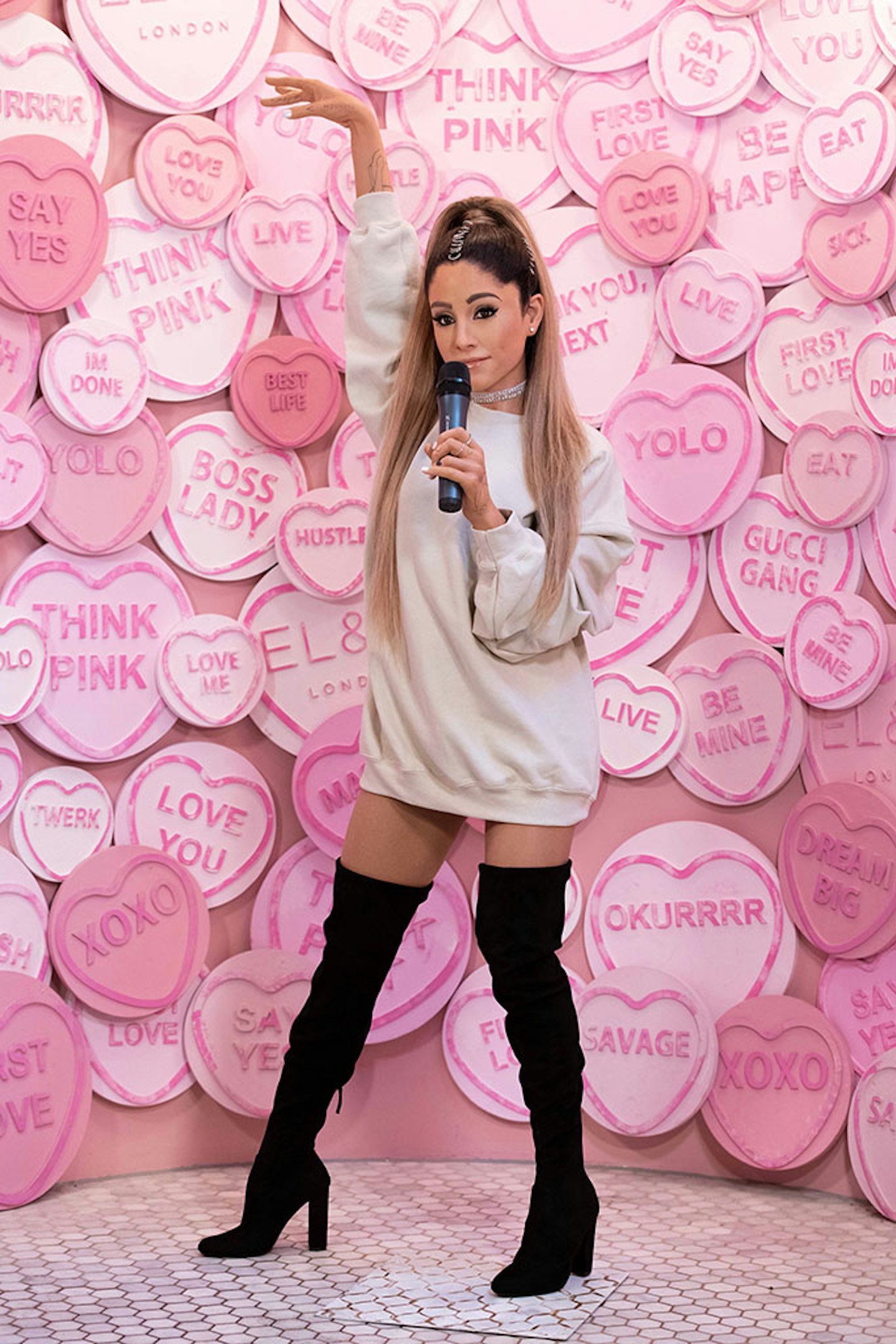 11 of 21
CREDIT: u00a9 Madame Tussauds
2019: Honoured with a waxwork
Ariana's waxwork at Madame Tussaud's was unveiled on Tuesday 21st May for an exclusive five-week residency starting on Friday 24th May. The final design of Ariana was chosen by fans, and Steve Davies, General Manager at Madame Tussauds London, said, "There is no doubt about it – Ariana Grande is one of the biggest female pop-superstars in the world right now and rightfully deserves this residency at Madame Tussauds London."Fans have been asking that Ariana's figure join our A List line up for some time and we loved working with them to decide the star's outfit. Much like the lady herself, Ariana's figure will be making her London appearance for a limited time only so Arianators should be quick to grab a chance to 'meet' their idol!"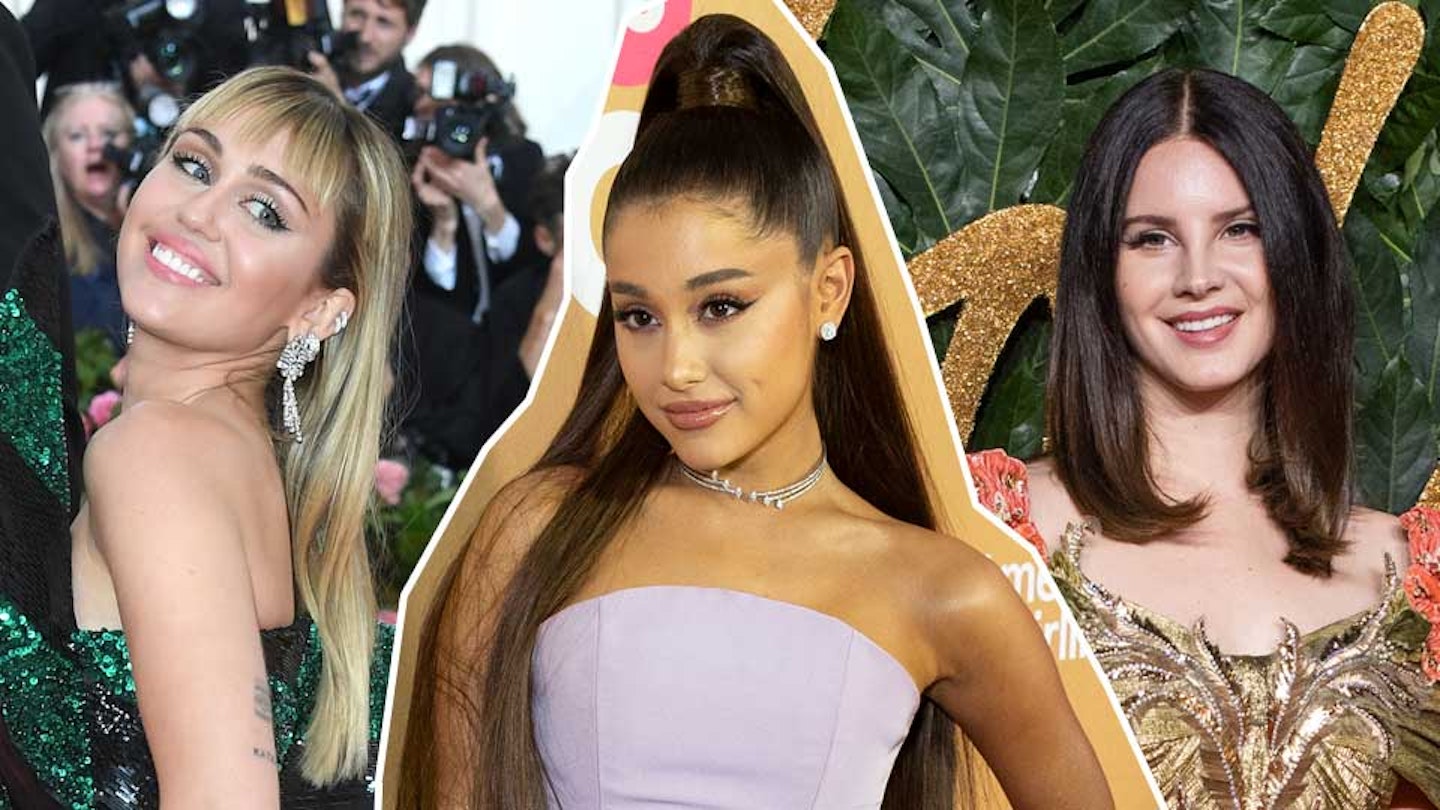 12 of 21
CREDIT: u00a9 Getty Images
2019: Charlie's Angels reboot
Ariana co-executive produced the soundtrack to the 2019 reboot of Charlie's Angels, singing the title track 'Don't Call Me Angel' with Miley Cyrus and Lana Del Rey.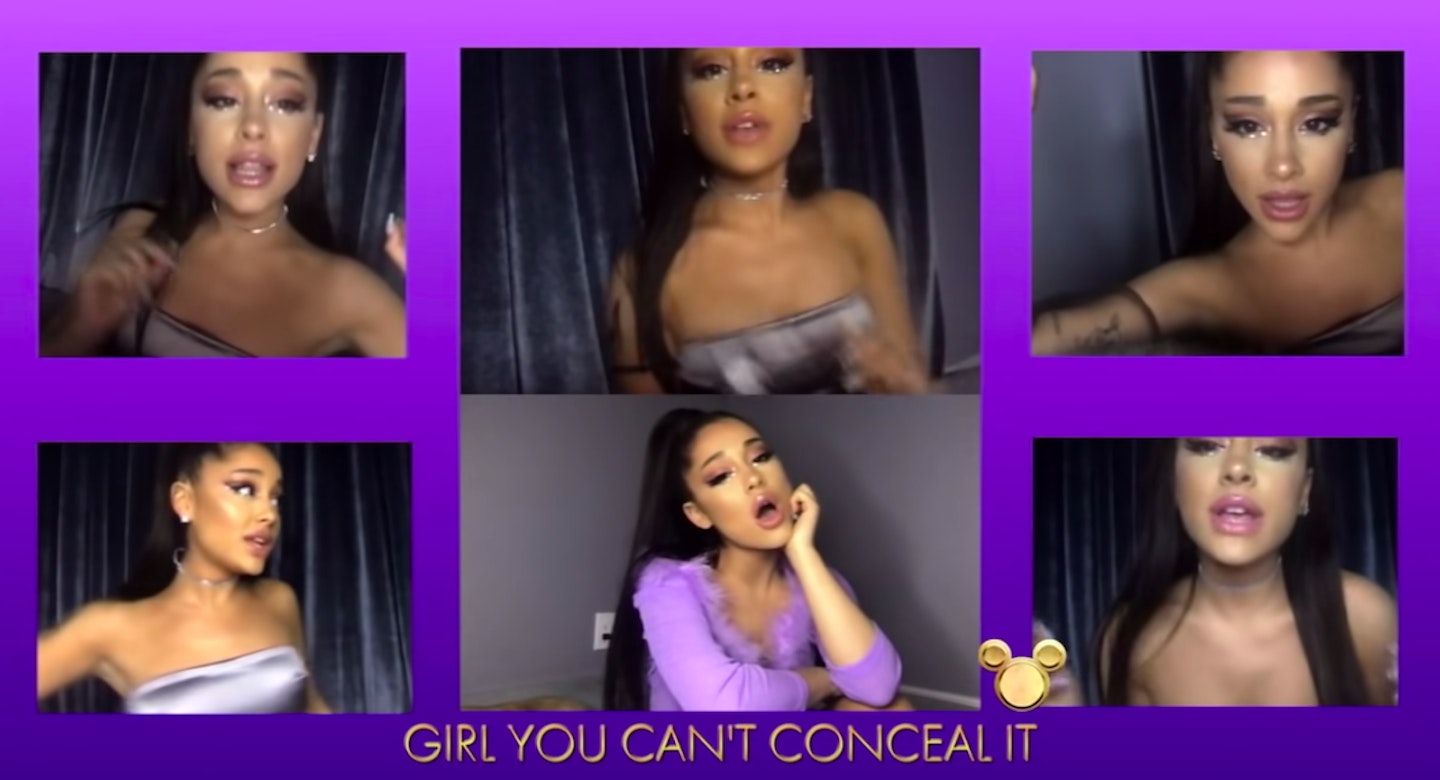 13 of 21
CREDIT: u00a9 ABC
2020: Potential casting in the live-action Hercules?
Ari took part in the Disney Family Singalong during lockdown in April 2020, singing 'I Won't Say I'm In Love' from Hercules - sparking calls for her to play the role of Meg in the upcoming Disney live-action remake of the 1997 animated original.
14 of 21
CREDIT: u00a9 Instagram & Twitter / Ariana Grande
2020: Surprise release of her sixth album
Ariana announced in October 2020 that her sixth album would be released that month! At the time, she released no other information about the record, keep her fans in total suspense.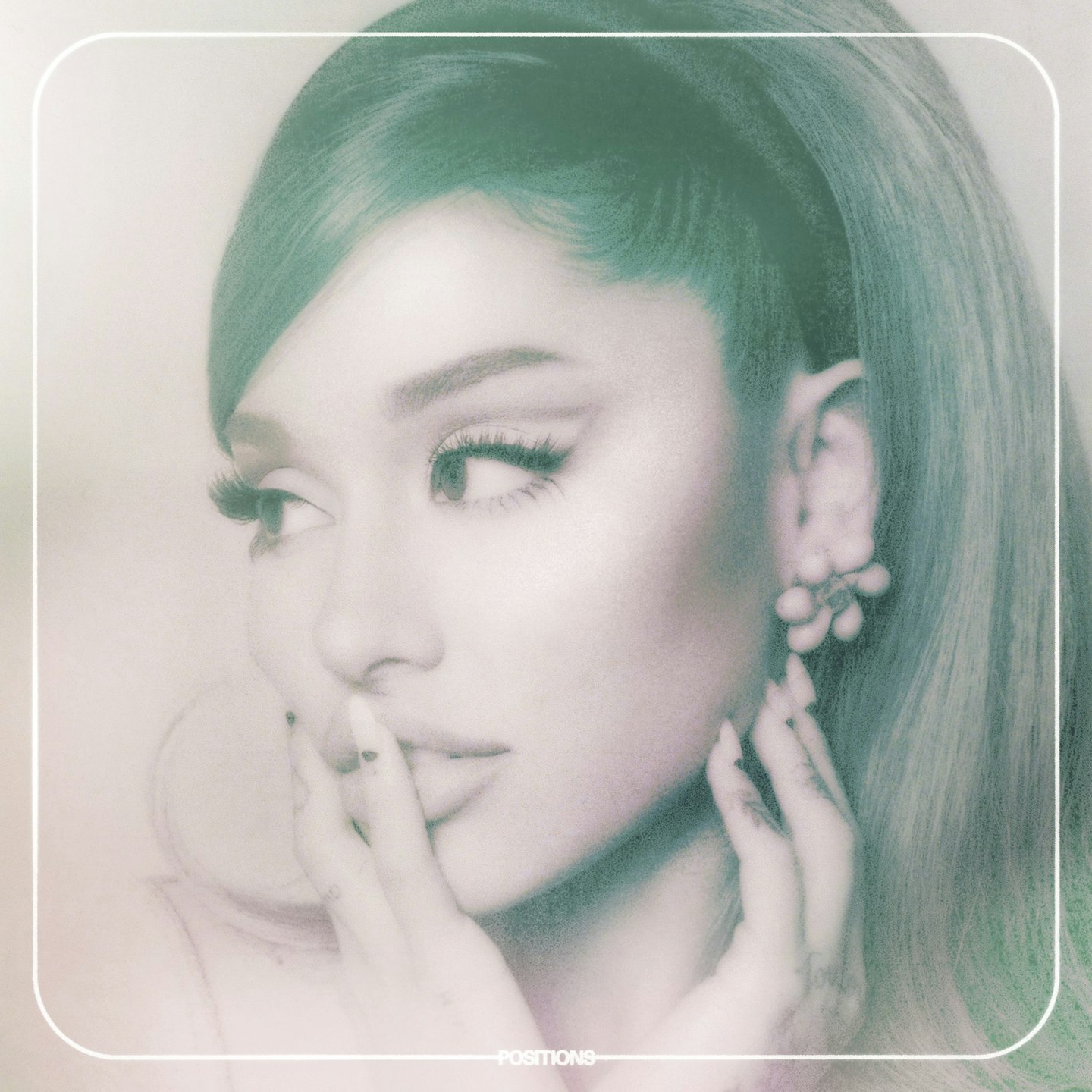 15 of 21
CREDIT: u00a9 Dave Meyers
2020: The release of her sixth album 'positions'
Ari then released her sixth album 'positions' just two weeks later on Friday 30th October 2020 - and fans were over the moon!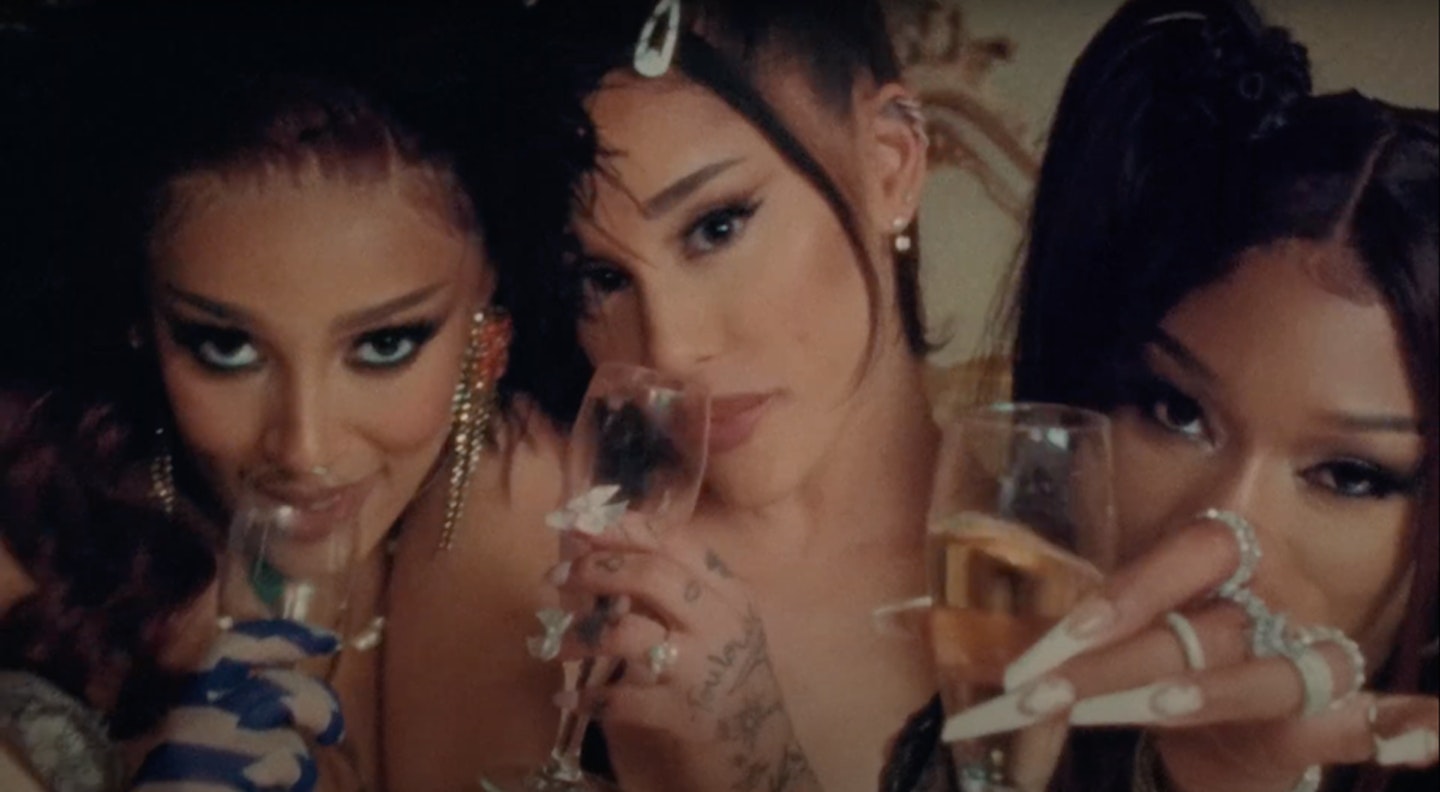 16 of 21
CREDIT: Ariana Grande u00a9 YouTube
2021: Ariana, Doja Cat and Megan Thee Stallion
In 2021, Ariana released a remix of her track '34+35' that featured on her album 'positions'. The track, '34+35 Remix', features huge names Doja Cat and Megan Thee Stallion and was a massive hit with fans. Later that year, Ariana returned the favour to Doja Cat, featuring on 'I Don't Do Drugs' from Doja's third album 'Planet Her'.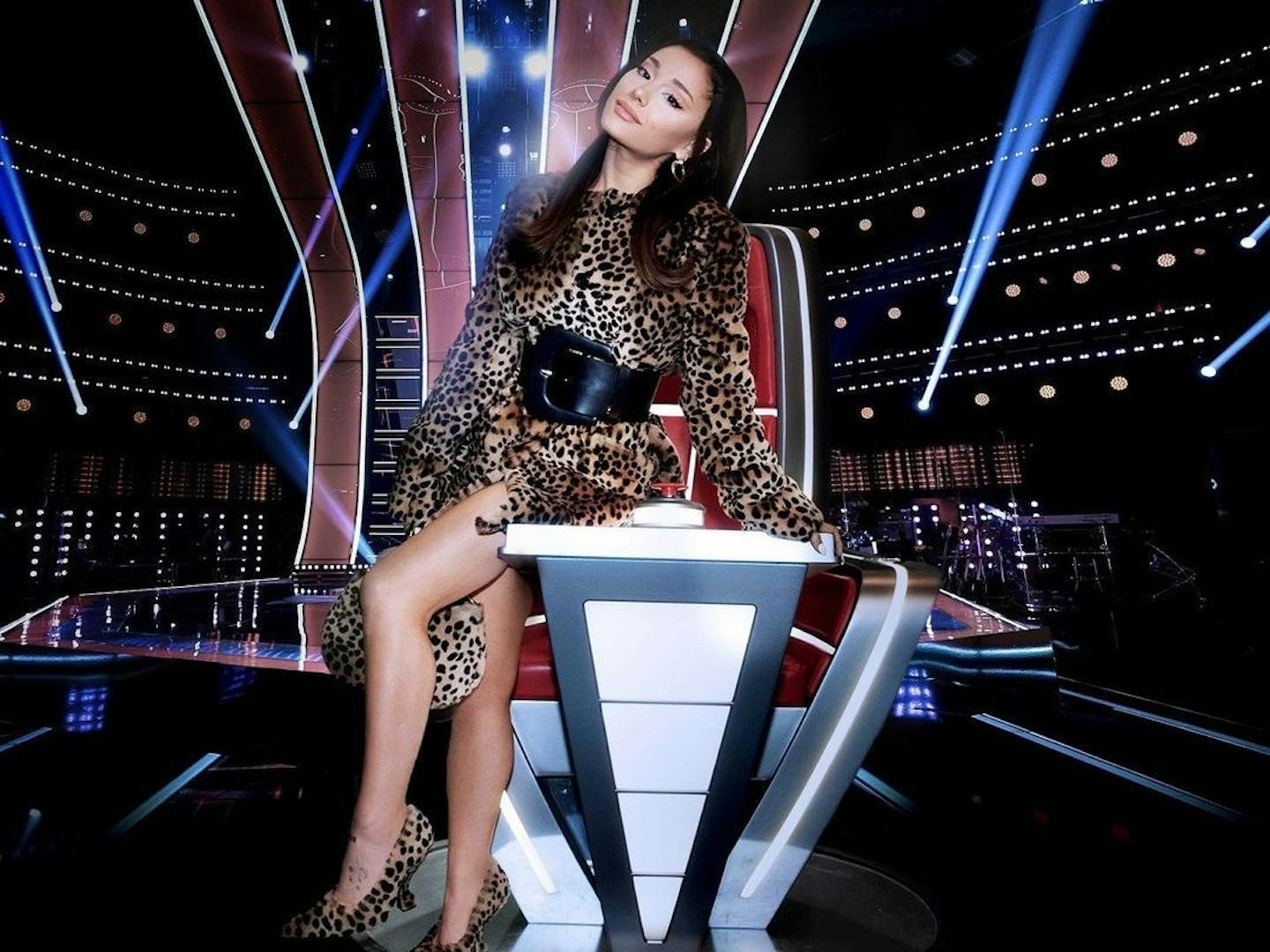 17 of 21
CREDIT: u00a9 NBC
2021: Ari joins the judging panel for The Voice
In March 2021, Ariana was announced to be joining the judging panel for The Voice US! She'll be replacing Nick Jonas on the panel and sit alongside Kelly Clarkson, John Legend and Blake Shelton when the show returns in September 2021.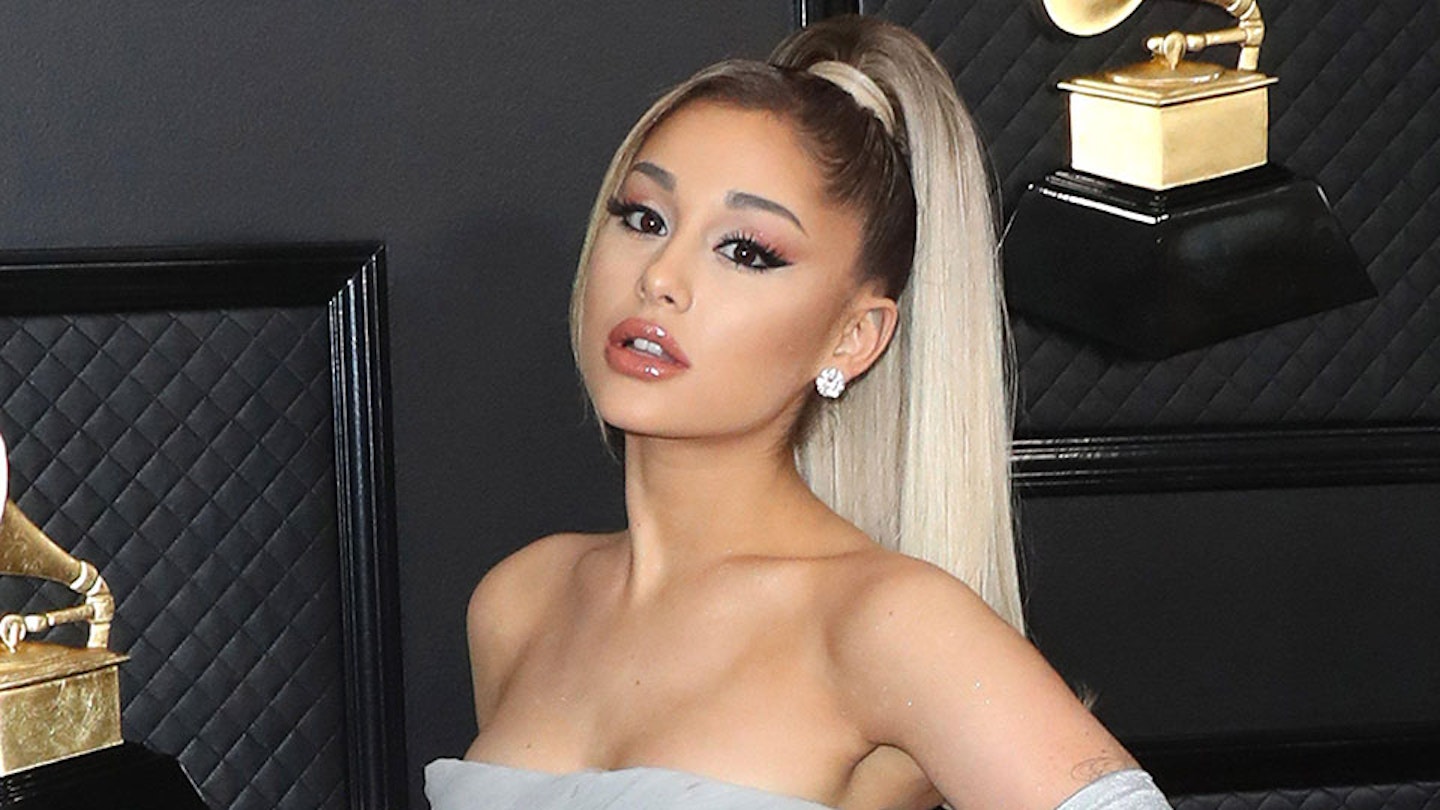 18 of 21
CREDIT: u00a9 Alamy
2021: Ariana Grande announced for new Wicked film
Ariana Grande was announced as Glinda in the upcoming film adaptation of Wicked, which is also star Cynthia Erivo. Ariana has been a fan of Wicked for many years, even taking part in an NBC special called A Very Wicked Halloween, to celebrate the fifteenth anniversary of the musical.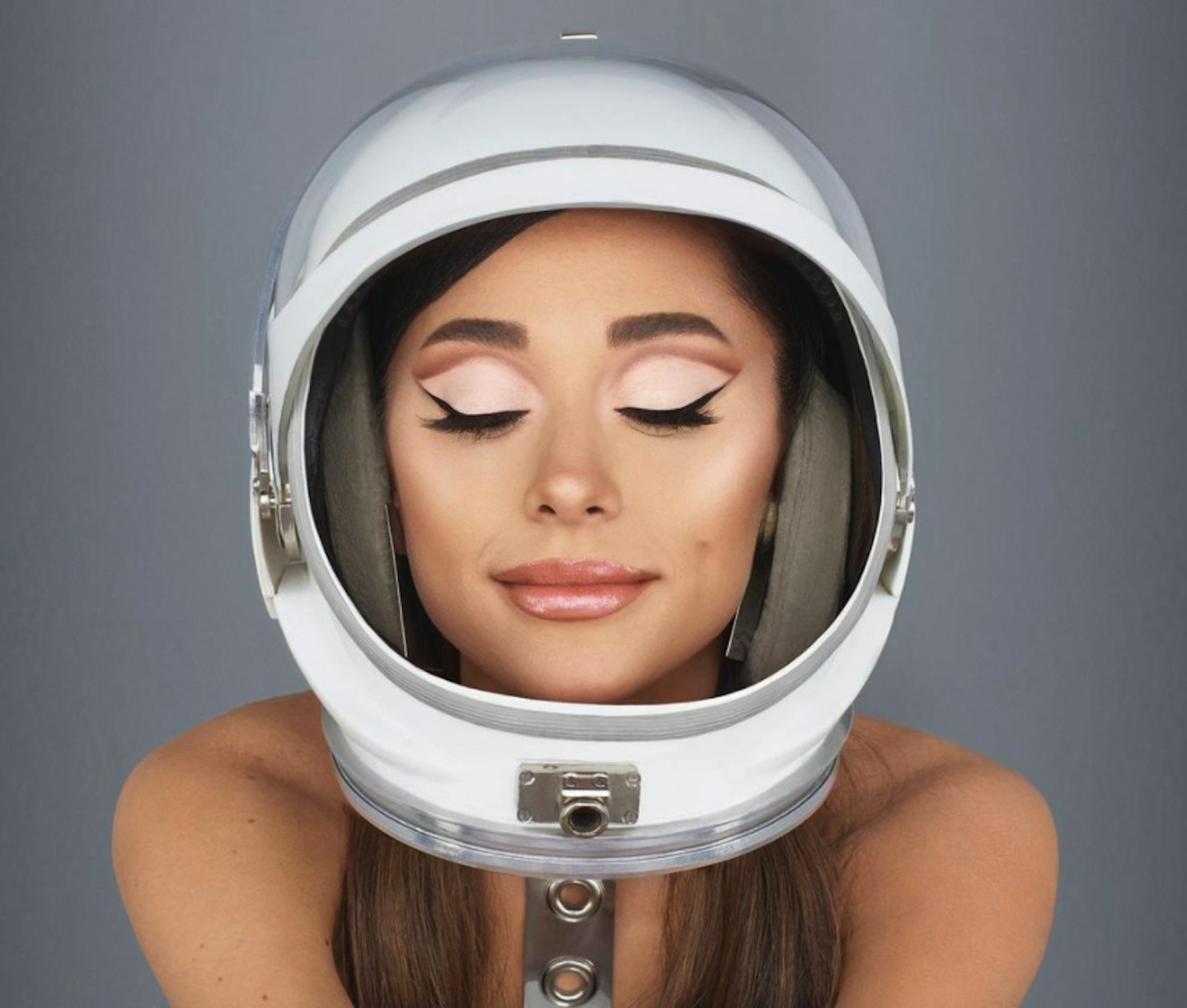 19 of 21
CREDIT: u00a9 Instagram r.e.m.beauty
2021: Ariana Grande releases her R.E.M. Beauty make-up range
In September 2021, Ariana Grande announced that she is launching her own beauty brand called R.E.M. Beauty. The make-up range was then launched in November 2021 and is described on the website as: 'r.e.m. beauty was created to empower you with the tools you need to bring your most vivid, limitless, and creative dreams to life.'Our products blend otherworldly ideas with real world innovation to inspire you to explore what creativity means to you.'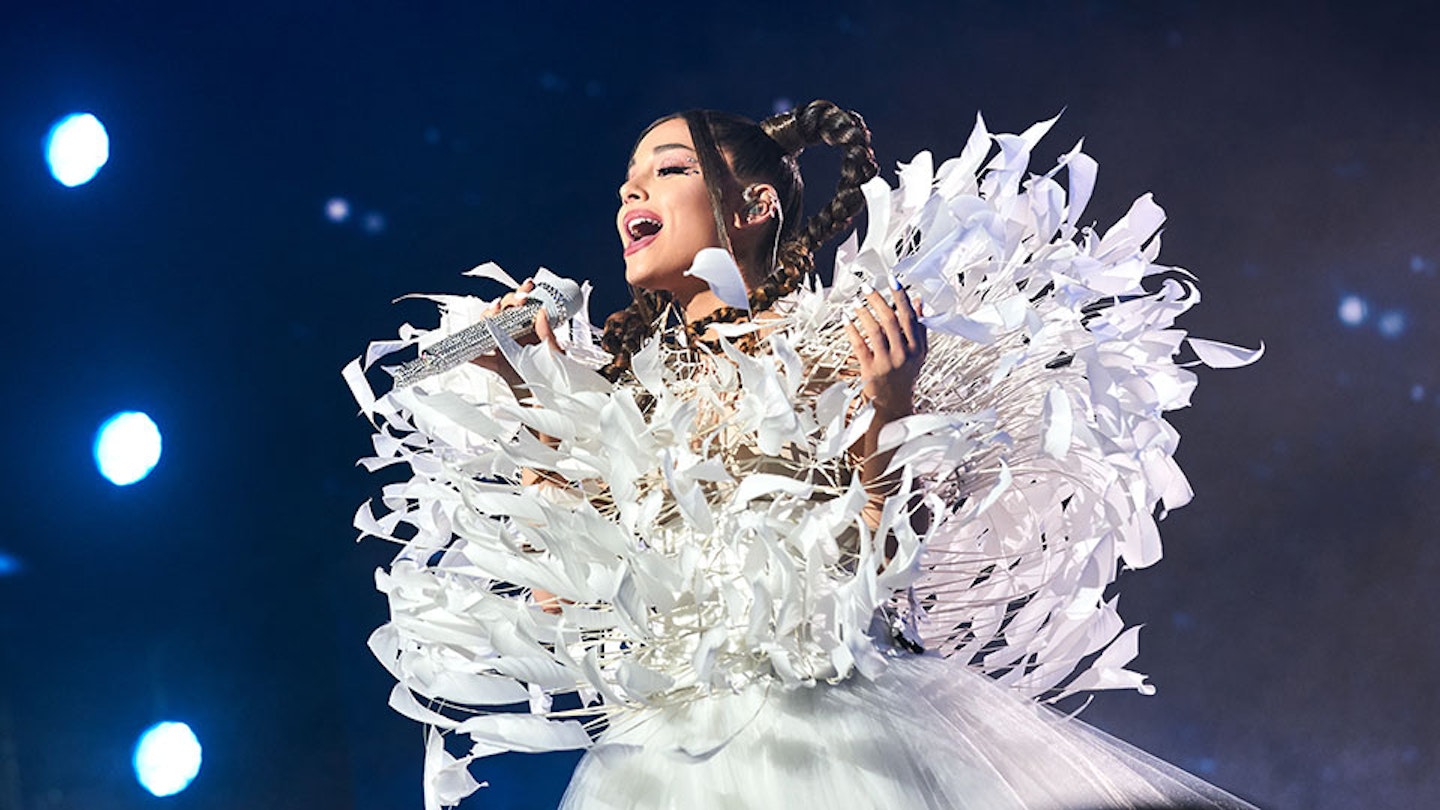 20 of 21
CREDIT: u00a9 Netflix
2021: Ariana Grande stars in Netflix film Don't Look Up
Ariana starred in the Netflix comedy drama Don't Look Up, written and directed by Academy Award winner Adam McKay. Ariana plays world-famous musician Riley Bina, who performs a song. According to Adam, the singer improvised some of the song which he immediately thought: "Oh, that's going in the movie".Don't Look Up also stars Leonardo DiCaprio and Jennifer Lawrence as astronomers try to convince the world that there is a comet threatening to wipe out life on Earth.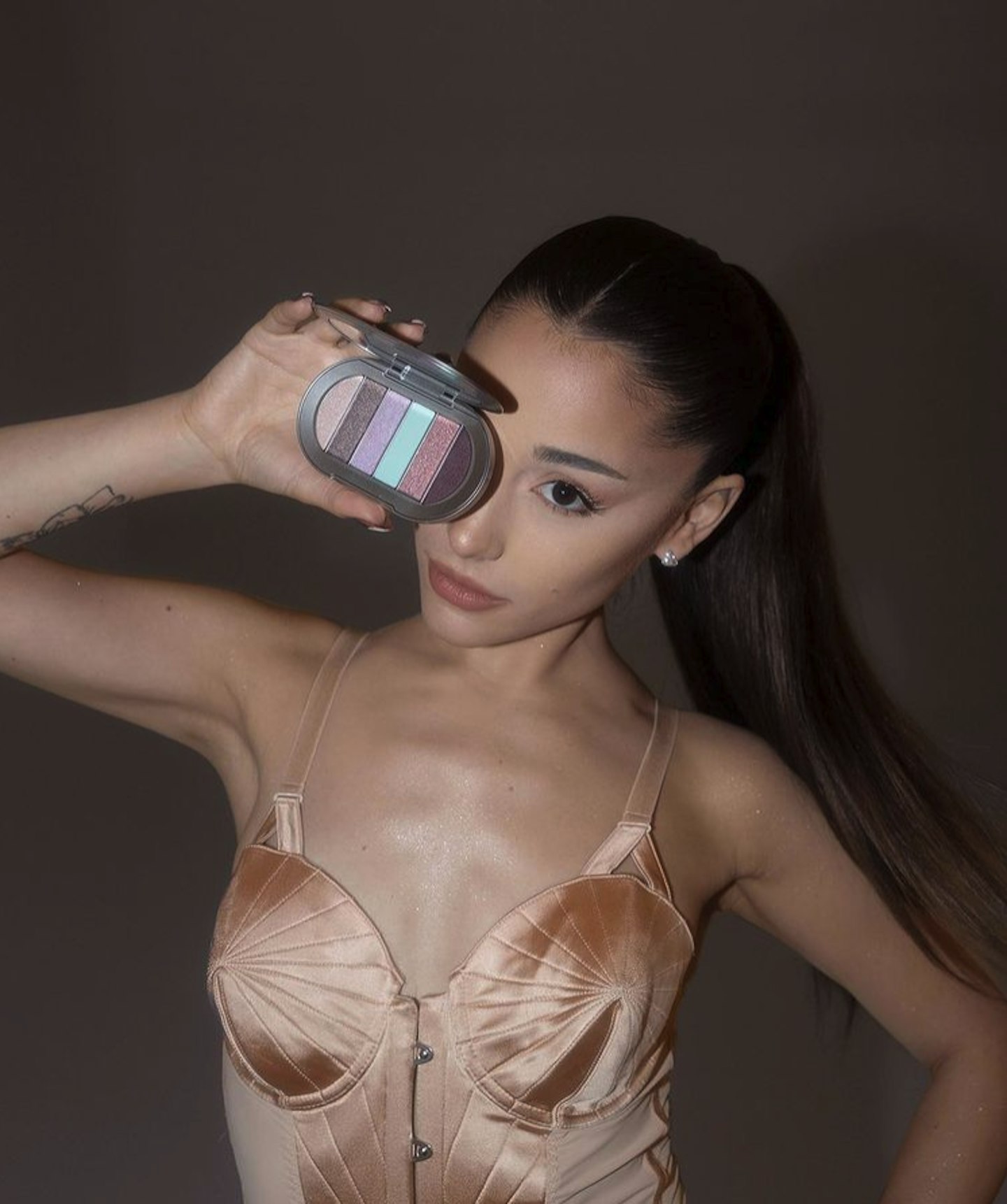 21 of 21
CREDIT: u00a9 Instagram r.e.m.beauty
2022: Ariana Grande releases Chapter 2 of her R.E.M. Beauty make-up range
In March 2022, Ariana released Chapter 2 of her R.E.M. Beauty make-up range. The singer shared a number of photos on her social media along with a promotional video.
WATCH: Ariana Grande performs 'I Won't Say I'm In Love' from Hercules
Ariana Grande's version of 'Beauty and the Beast'
But that wasn't the first time Ari had dipped her toe in the Disney world. In March 2017, Ariana teamed up with John Legend to record their version of the classic Disney song, 'Beauty and the Beast', to accompany the new live-action film of the same name, starring Emma Watson and Dan Stevens.
Ariana Grande's relationships
Ariana Grande and Mac Miller
At the One Love Manchester concert, Ariana Grande was joined on stage by her boyfriend at the time, Mac Miller. The couple sang the song they recorded back in 2013, 'The Way'.
The first time Ariana went public with their relationship was in September 2016 when she posted a photo on Instagram simply saying, 'baabyyy'.
However, in May 2018 it was reported that Ariana and Mac had separated, but remained on good terms.
In what was an incredibly emotional couple of years for the singer, her ex-boyfriend, Mac Miller, passed away in September 2018. A statement released by his family read, 'He was a bright light in this world for his family, friends and fans. Thank you for your prayers. Please respect our privacy. There are no further details as to the cause of his death at this time.'
Soon after Mac's death, Ariana broke her silence on social media with a touching photo. She also shared a video of him with the caption, 'i adored you from the day i met you when i was nineteen and i always will. i can't believe you aren't here anymore. i really can't wrap my head around it.'
Ariana Grande and Pete Davidson
Just a few weeks after her split from Mac, Ariana was linked to Saturday Night Live cast member, Pete Davidson. The couple then went Instagram official and a week later Pete had not one, but TWO tattoos dedicated to his new girlfriend. Pete's tattoo artist London Reese shared a picture on Instagram of Pete's new tattoo, a black bunny ear mask behind his ear.
Then, just a few weeks into their relationship, Ariana appeared with a large 'engagement' ring on her ring finger. Many fans thought she was engaged, and many publications also quoted sources close to the singer, including one who told US magazine: "They are a perfect fit. They are not rushing to get married. Their friends are really excited and supportive."
Sadly, the pair split shortly after Mac's death following four months of dating, and a source told TMZ: "that it simply was not the right time for their relationship to take off." Ariana then referenced both her exes in her incredible song 'thank u, next', which was released in November 2018.
WATCH: Ariana Grande - 'thank u, next' (Official Video)
Who is Ariana Grande dating now?
Ariana confirmed that she was dating her now-husband Dalton Gomez in the music video for her collaboration with Justin Bieber, 'Stuck With U'. The video starred many of the stars' famous friends, as well as the pair with their respective partners.
Dalton is a luxury real estate broker, and has worked for his company, the Aaron Kirman Group, for many years. The pair are thought to have started dating back in February, and have a good friend in common - Miley Cyrus.
A source told People in March that they'd "been hanging out for a couple of months... Ariana doesn't want to do another public relationship so she is trying to keep this one quiet, but she seems very happy with Dalton."
Ariana confirmed her engagement to Dalton in December 2020, sharing the news to her socials! Ari posted a number of loved-up snaps alongside Dalton, before showing off a massive diamond ring, with the caption, 'forever n then some'. (sic)
Is Ariana Grande married?
YES!! Ariana tied the knot with Dalton on 15th May 2021, in a small, private and 'intimate' ceremony in the backyard of her Montecito home in California.
Ariana took to her Instagram on 26th May to confirm the news that her and Dalton are now husband and wife, sharing a series of stunning photos of their special day. The singer wrote the simple caption: '5.15.21 🤍'.
Prior to Ariana confirming the news, a source told E!: "They always wanted an intimate ceremony. They decided to have the wedding this past weekend because their schedules are picking up and neither wanted to wait", adding that the ceremony was "always in the cards for summertime."
Ariana Grande's albums
Ari has released six studio albums through her career so far - famously dropping two in the space of just six months! Four out of five have hit Number 1 in the US, and she's scored three Number 1s in the UK. Her most recent sixth album 'positions' was released on 30th October 2020.
RADIO Ariana Grande albums stacked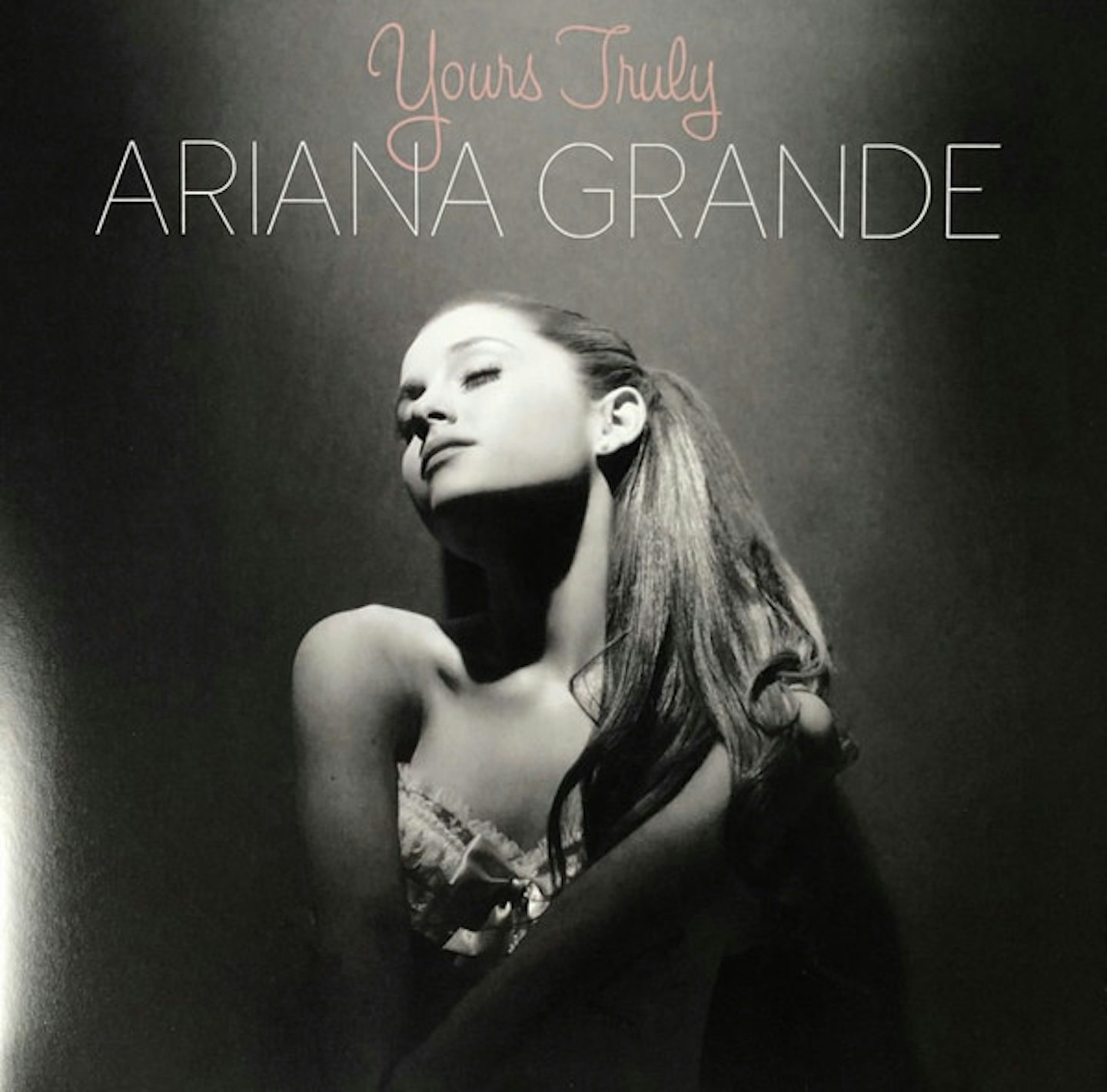 1 of 6
'Yours Truly' (2013)
Ariana Grande's debut album 'Yours Truly' was released in September 2013, peaking at Number 1 in the US and Number 7 in the UK. The track listing of the album is: 'Honeymoon Avenue', 'Baby I', 'Right There' (featuring Big Sean), 'Tattooed Heart', 'Lovin' It', 'Piano', 'Daydreamin'', 'The Way' (featuring Mac Miller), 'You'll Never Know', 'Almost Is Never Enough' (with Nathan Sykes), 'Popular Song' (with Mika) and 'Better Left Unsaid'.Of the album, Ariana told SheKnows, "They can expect a lot of honesty. It's like a direct... you know, it's like it used to be pages from my diary, instead of keeping diary, I would write songs about what was happening in my life. So it's really personal. It's a Motown throwback and pop at the same time, so it's '50s and '60s inspiration mixed with today."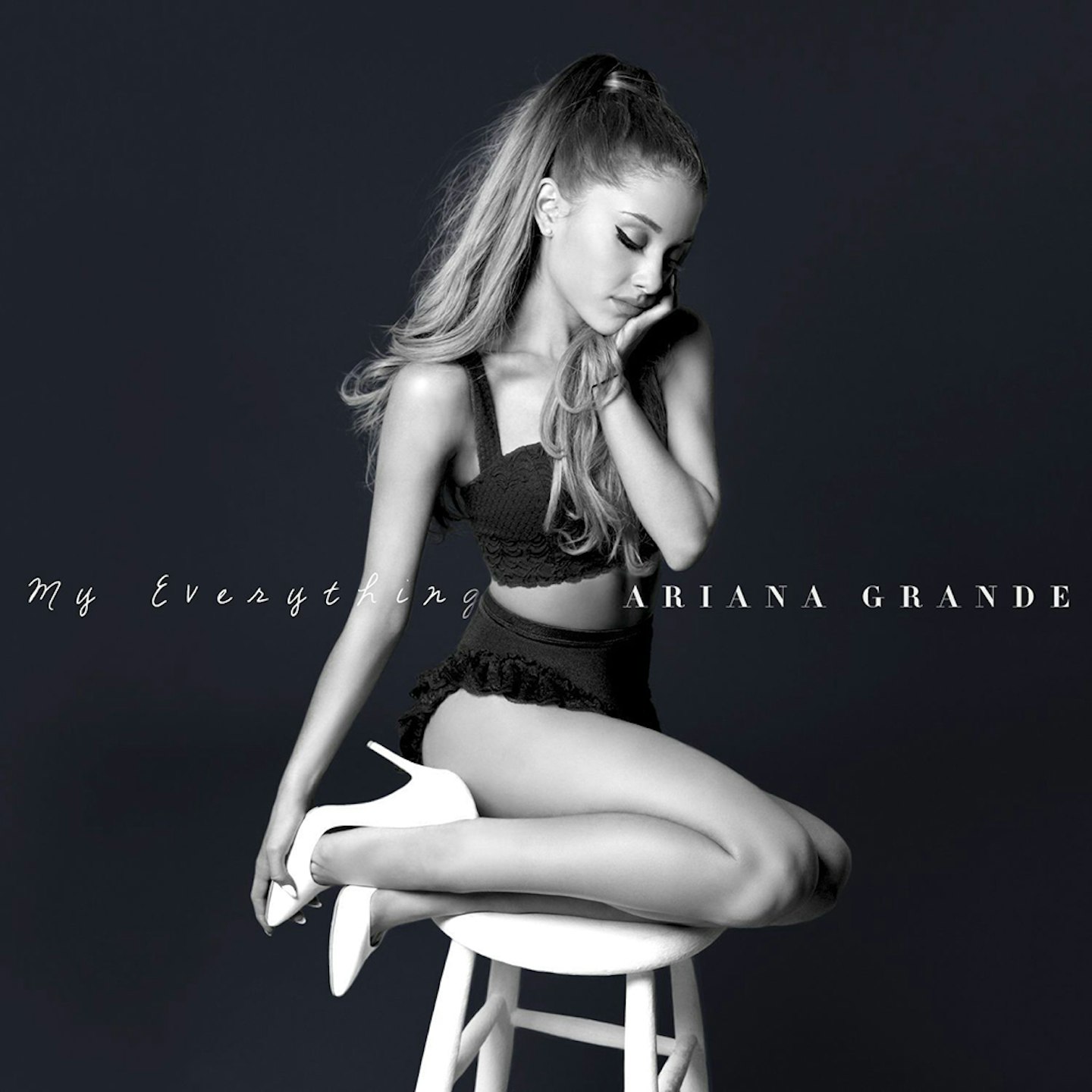 2 of 6
'My Everything' (2014)
Her follow-up 'My Everything' was released in August 2014, again peaking at Number 1 in the US and this time going to Number 3 in the UK. The track listing of the albums is: 'Intro', 'Problem' (featuring Iggy Azalea), 'One Last Time', 'Why Try', 'Break Free' (featuring Zedd), 'Best Mistake' (featuring Big Sean), 'Be My Baby' (featuring Cashmere Cat), 'Break Your Heart Right Back' (featuring Childish Gambino), 'Love Me Harder' (with The Weeknd), 'Just a Little Bit of Your Heart' (written by Harry Styles), 'Hands on Me' (featuring A$AP Ferg) and 'My Everything'. The deluxe version also included 'Bang Bang' featuring Jessie J and Nicki Minaj.She told Rolling Stone of the record, "It's an album that I want to do a little bit different. I don't want it to sound like an extension of Yours Truly. I want it to sound like an evolution. I want to explore more sounds and experiment a little bit. I have a bunch of ideas I'm very excited about and a lot of stuff cooking."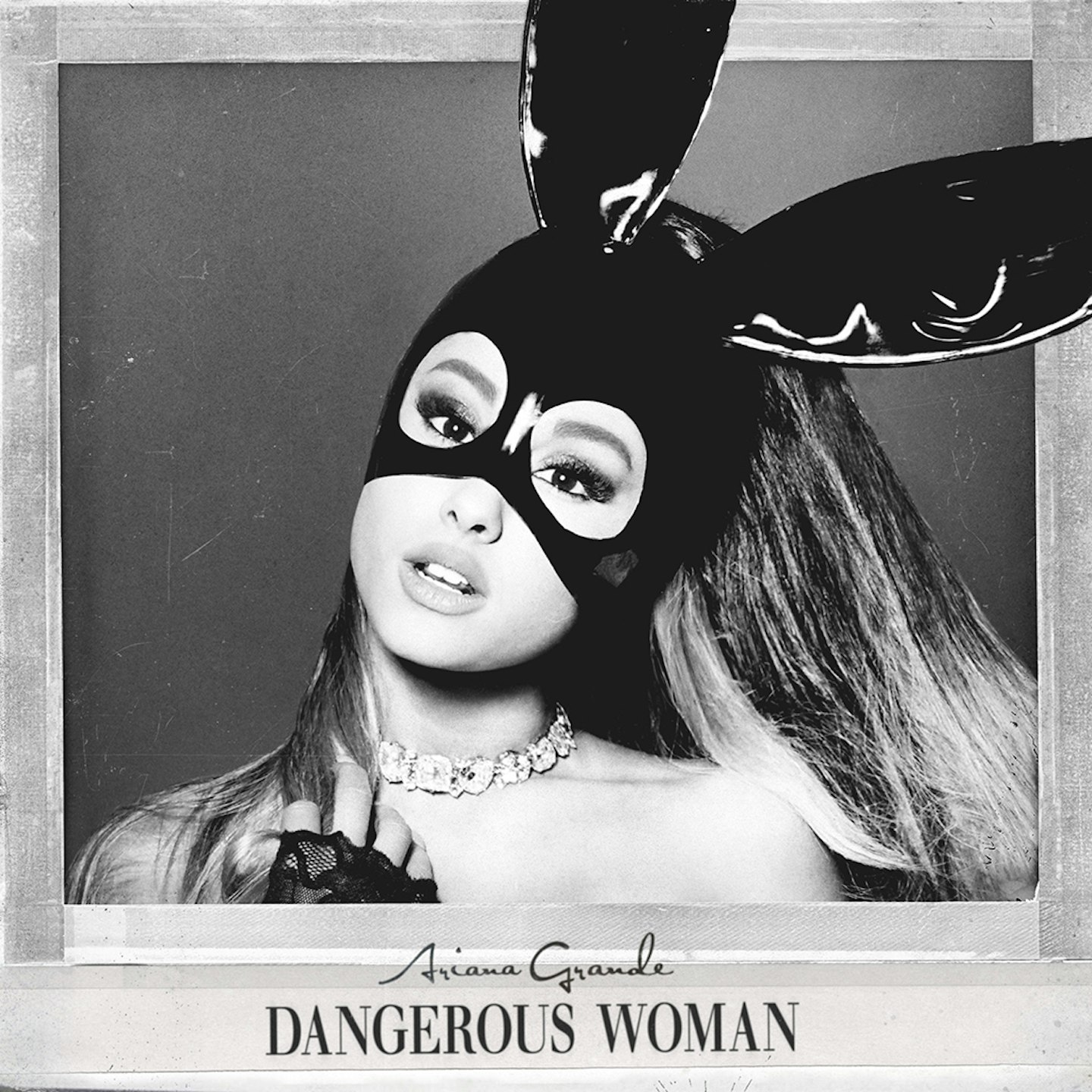 3 of 6
'Dangerous Woman' (2016)
Ari's third album was released in May 2016, once again going to Number 1 in the US, and this time, also scoring the top spot in the UK. The track listing is: 'Moonlight', 'Dangerous Woman', 'Be Alright', 'Into You', 'Side to Side' (featuring Nicki Minaj), 'Let Me Love You' (featuring Lil Wayne), 'Greedy', 'Leave Me Lonely' (featuring Macy Gray), 'Everyday' (featuring Future), 'Bad Decisions' and 'Thinking Bout You'.The album was nearly titled 'Moonlight', and Ariana explained the decision to change it, "'Moonlight' is a lovely song, and it's a lovely title. It's really romantic, and it definitely ties together the old music and the new music, but 'Dangerous Woman' is a lot stronger. To me, a dangerous woman is someone who's not afraid to take a stand, be herself and to be honest."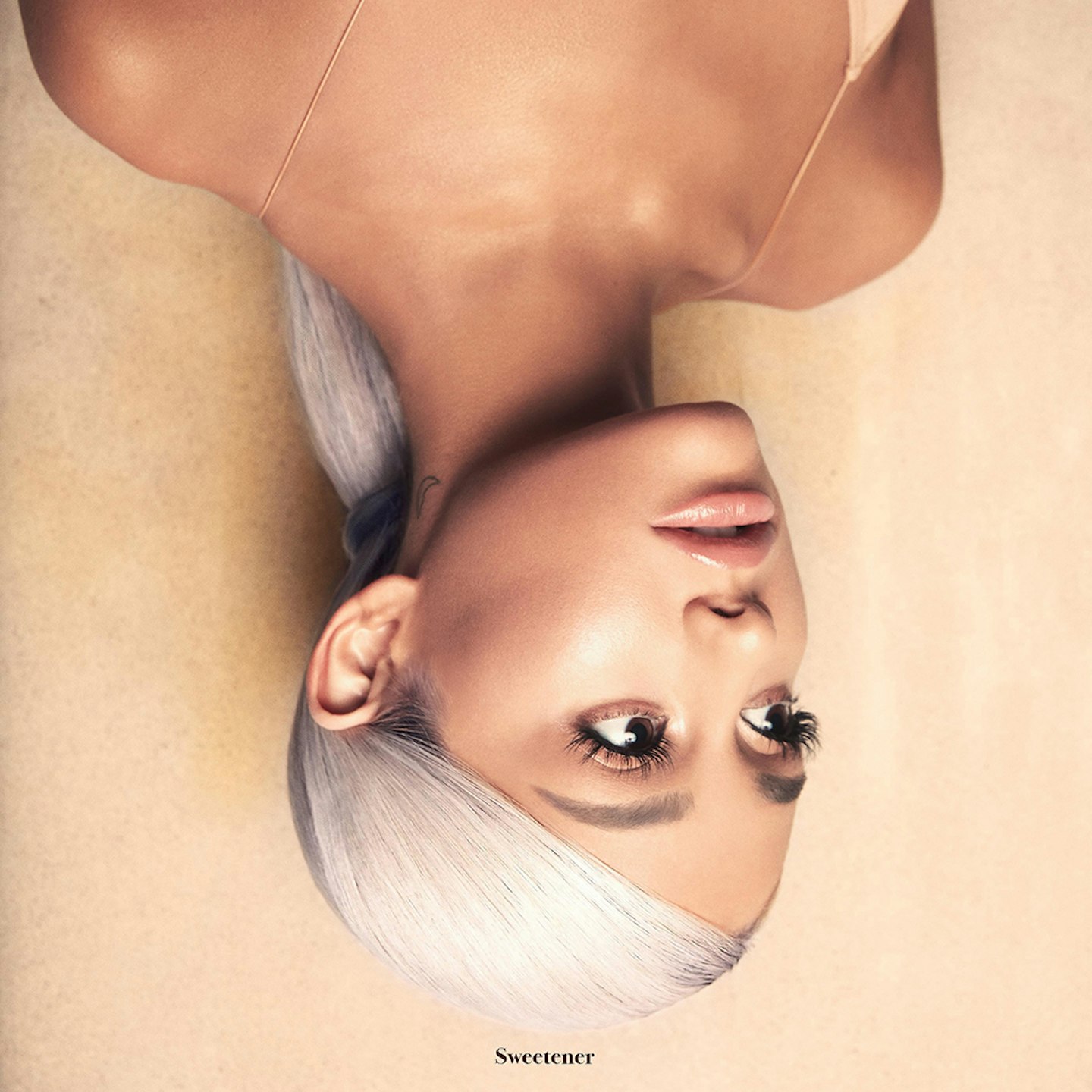 4 of 6
'Sweetener' (2018)
Ariana's fourth album 'Sweetener' was released in August 2018, topping the charts in 27 countries including the UK and US. The track listing is: 'Raindrops (An Angel Cried)', 'Blazed' (featuring Pharrell Williams), 'The Light Is Coming' (featuring Nicki Minaj), 'R.E.M.', 'God Is a Woman', 'Sweetener', 'Successful', 'Everytime', 'Breathin', 'No Tears Left to Cry', 'Borderline' (featuring Missy Elliott), 'Better Off', 'Goodnight n Go', 'Pete Davidson' and 'Get Well Soon'.'Sweetener' was Ariana's first record since the devastating attack in Manchester. Many fans and non-fans around the world praised her for her approach to the album - ensuring that what happened was in the bones of the record, but that it wasn't defining her.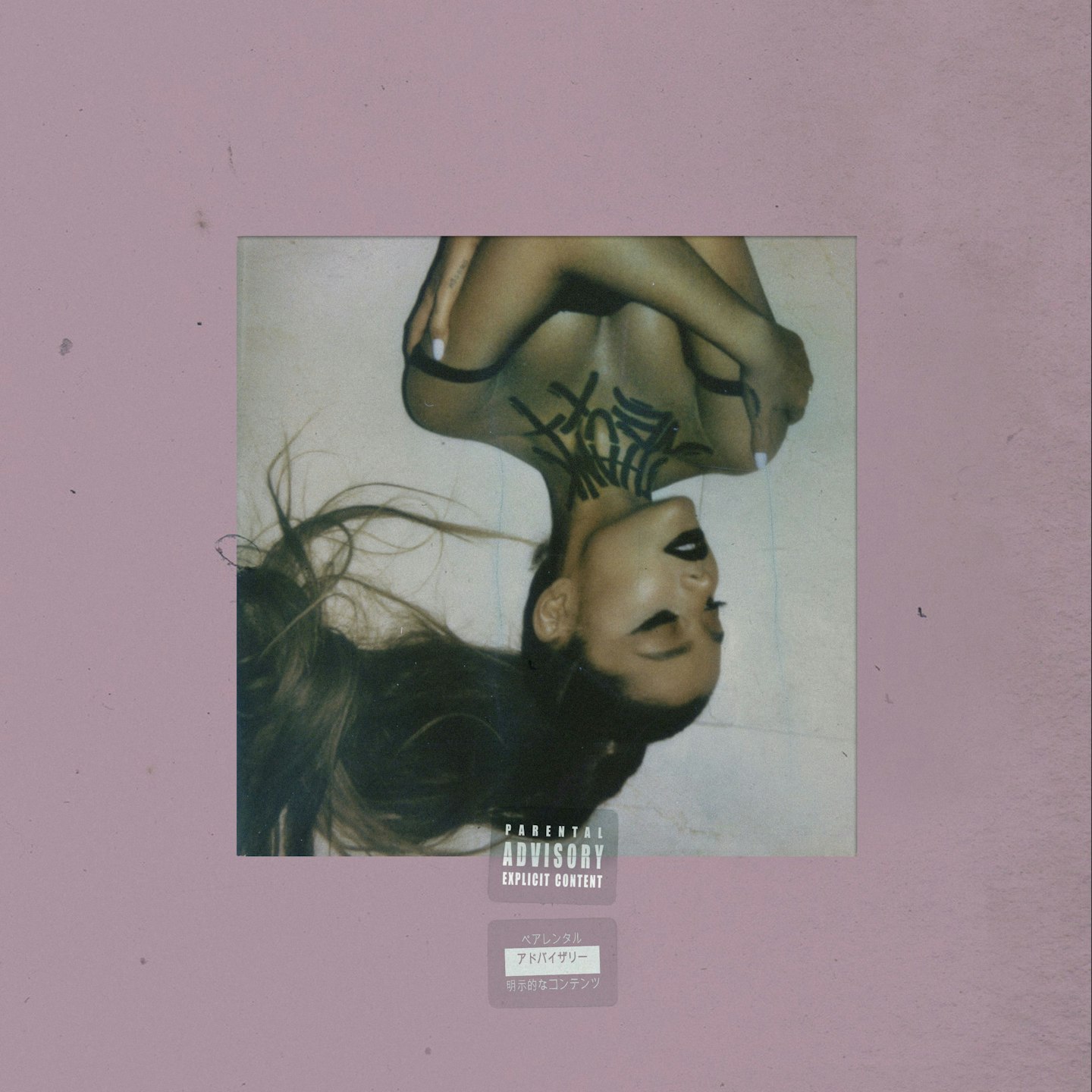 5 of 6
thank u, next (2019)
Less than six months after the release of 'Sweetener', Ari released 'thank u, next'. It went to Number 1 in both the UK and the US, and the track list is: 'Imagine', 'Needy', 'NASA', 'Bloodline', 'Fake Smile', 'Bad Idea', 'Make Up', 'Ghostin', 'In My Head', '7 Rings', 'Thank U, Next', 'Break Up with Your Girlfriend, I'm Bored'.The title track was hugely popular, partly thanks to the incredible music video in which Ari paid homage to many Noughties chick flicks. It also dealt with the death of her ex-boyfriend, Mac Miller, and her split from ex-fiancé Pete Davidson. Ariana promoted both 'Sweetener' and 'thank u, next' on her 'Sweetener World Tour' in 2019.She said of the album to Billboard, "I feel like there are certain standards that pop women are held to that men aren't. We have to do the teaser before the single, then do the single, and wait to do the pre-order, and radio has to impact before the video, and we have to do the discount on this day, and all this, and it's just like, 'Bruh, I just want to talk to my fans and sing and write music and drop it the way these boys do. Why do they get to make records like that and I don't?' So I do and I did and I am, and I will continue to."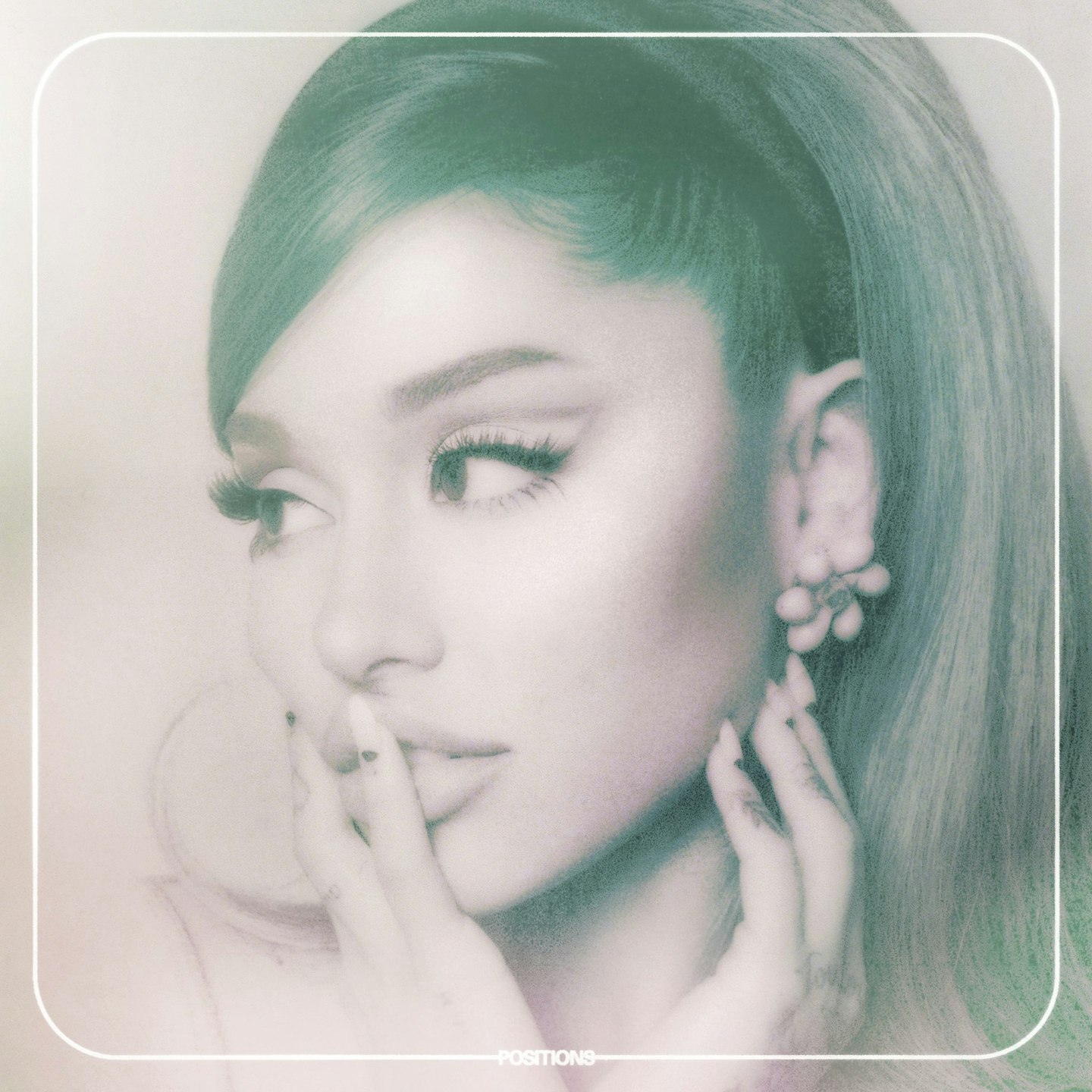 6 of 6
CREDIT: u00a9 Dave Meyers
'positions' (2020)
Ariana announced in mid-October that her sixth album would dropping that month, casually writing on Twitter, 'i can't wait to give u my album this month.' She then released 'positions' on Friday 30th October 2020, made up of the tracklist: 'shut up', '34+35', 'motive' feat. Doja Cat, 'just like magic', 'off the table' feat. The Weeknd, 'six thirty', 'safety net' feat. Ty Dolla $ign, 'my hair', 'nasty', 'west side', 'love language', 'positions', 'obvious', 'pov'.The record hit the top spot in both the UK and US album charts, and was in the Top 3 positions in 17 other countries. So far, it's been certified Gold in the UK by the BPI and Platinum in the US by the RIAA.
What is R.E.M. Beauty?
On 10th September 2021, Ariana revealed to her fans that she was officially launching her own beauty brand called R.E.M. Beauty. Sharing a stunning snap of herself with some pretty gorgeous make-up on, Ari wrote: 'thank you @allure . thrilled and honored to introduce you all to my baby @r.e.m.beauty with @allure on their 25th annual best of beauty cover !' (sic)
She continued: 'i began quietly working on this two years ago while on tour and i'm beyond excited to finally tell you a bit about it and for it to become yours this fall. 🌄' (sic).
Rumours had began to circulate about the range earlier in the year, with documents suggesting that it will include things such as concealer, eye shadow, lipstick, lip gloss, brow pencils and gels, highlighter, and eyeliner. So, pretty much a full face!
Ariana has now released Chapter 2 of her R.E.M. Beauty make-up range. In March 2022, Ariana shared a video promoting the new products.
Ariana Grande at the NASA headquarters
In a series of Instagram Stories, the 'One Last Time' singer revealed she'd been spending some time at NASA HQ, trying on a spacesuit and taking a ride in a rover in May 2019! Ariana captioned one of her Stories, 'Thank you for the coolest day of my life @nasa'.
Ariana Grande and Social House's 'Boyfriend'
Ariana Grande teamed up with American duo Social House on her summer hit 'Boyfriend'. The music video sees the pop star at a house party that gets out of hand. After a fight breaks out, Ariana takes matters into her own hands and fires heart-shaped lasers from her chest!
As well as releasing the 'Boyfriend' music video, she's also revealed some behind-the-scenes footage from the video shoot. Taking to Instagram, Ariana told her fans that it was a 15-hour day on just an hour's sleep! In the video she can be seen dancing with a feather boa.
WATCH: Ariana Grande's transformation through the years
Ariana Grande and Adele
After Adele posted a photo at Drake's birthday party, Ariana left a comment of appreciation - and fans immediately jumped on it as a sign that the two were friends and could possibly collaborate on a song together. Fans are now calling for Adele and Ariana Grande to collaborate.
Ariana Grande and Lady Gaga
In early 2020, many fans thought Ariana could be appearing on Lady Gaga's upcoming album 'Chromatica', meaning there could be a collaboration between Ariana Grande and Lady Gaga - and they were right!
The epic collab called 'Rain On Me' dropped in May 2020 and was hugely successful, with the pair also performing it at that year's MTV Awards in August, where they even picked up two awards!
The track even led the pair to being crowned with the Grammy Award for the Best Pop Duo/Group Performance earlier in March. The award marks Ariana's second Grammy win, after her forth studio album 'Sweetener' bagged her the award for Best Pop Vocal Album in 2019!
The star took to her Instagram to share her excitement with her fans, as well as Lady Gaga.
Ariana Grande's 2019 Halloween costume
Ariana freaked everyone out with her 2019 Halloween costume, dressing up as a character from an episode of 60's show The Twilight Zone entitled 'Eye of the Beholder'. The terrifying episode depicts 'normal' people has having slightly deformed faces with turned-up 'pig' noses and layers of 'skin' drooping down the face - and according to Metro.co.uk, Ariana spent a whopping five hours in the prosthetics chair to complete the look.
Is Ariana Grande on social media?
She sure is! You can follow Ari on Instagram and Twitter using the handle ArianaGrande.
Ariana is now the most followed woman on Instagram, she has become the first woman to reach 200 million followers on the social media site knocking beauty mogul Kylie Jenner off the top spot!
NOW WATCH: Little Mix reveal that their dream collaboration would be Ariana Grande
You can hear Ariana Grande's songs on heat.
Ariana Grande on The Voice US
In March 2021, US television channel NBC announced that none other than Ariana Grande would serve as a coach on season 21 of The Voice. She is reportedly the 'highest paid judge ever' with podcast host Rob Shuter revealing: "Sources say Ariana is getting a whopping 20 to 25 million dollars for the show, putting her in the same category as Katy Perry on American Idol."
Ariana has been delighting her fans with some stunning outfits throughout her time on the show - even wearing the EXACT same rainbow dress that featured in the iconic 2004 film 13 Going On 30!
In November 2021, the singer appeared in the usual spot in her judges chair rocking the colourful number, which was worn by film character Jenna Rink in the film.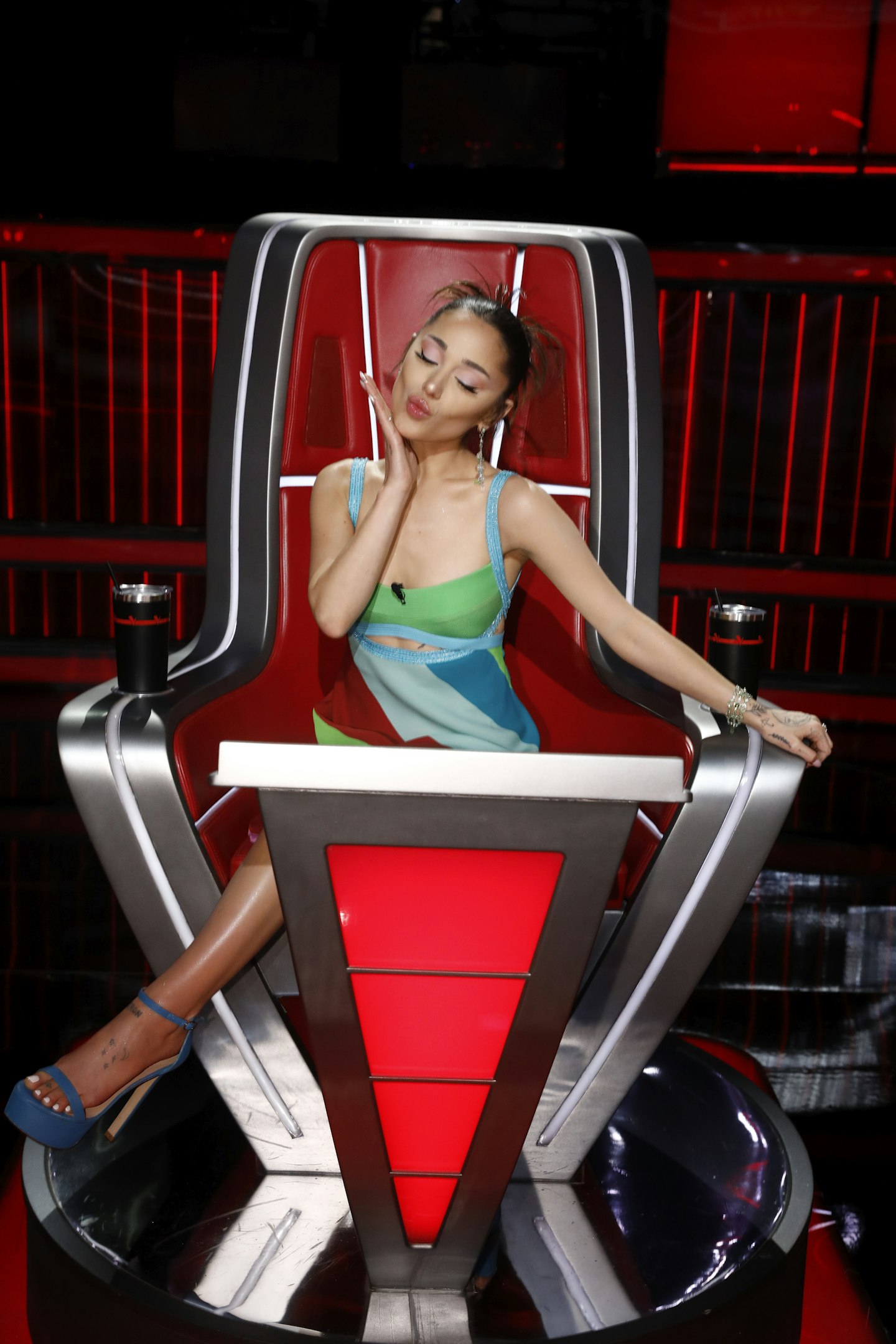 The rainbow-striped mini dress is from Versace's spring 2003 show, and Ari even added a spiked bun just like Jenna!
Ariana Grande gives away free therapy on Mental Health Day 2021
In October 2021, to mark World Mental Health day, Ariana took to Instagram to reveal that she has partnered with an online counselling service to give away up to $5 million (£3.6m) in free therapy.
She wrote on Instagram: "i acknowledge that there are very real barriers when it comes to accessing mental health resources, and while this is only one small gesture (and a much larger systemic problem remains) i wanted to do this again with @betterhelp in hopes of bringing access to a few more people and perhaps inspiring a few of you to try something new and prioritize your own healing. head to betterhelp.com/ariana to get your free month started."
Ariana Grande Wicked movie
In November 2021, Ariana landed the part ofGlinda in the upcoming Wicked movie!The singer was cast alongside award-winning actress and singer Cynthia Erivo, who will be playing the role of Elphaba. The pair both revealed their excitement at their parts on Instagram, with Ari sharing a series of pictures with her followers, writing: 'thank goodness 💘.'
Cynthia also sent Ariana a special note that read: 'Pink goes good with green. Congratulations Miss A, the part was made for you, I look forward to sharing this musical journey with you.'
The films has faced setbacks since it was first announced in 2016, with the pandemic pushing back filming. It is set to be directed by Jon M.Chu and filming is due to start later in 2022.
Ariana Grande in Don't Look Up
Putting on her acting hat, Ariana starred as herself in Netflix film 'Don't Look Up', released in January 2022. She stars alongside Leonardo Dicaprio and Jennifer Lawrence, who appear as a Michigan State professor and PhD student, trying to warn the world that a planet-killing comet is on a collision course with Earth.
She sings a duet with Kid Cudi, who plays her boyfriend in the film, and it is just glorious! We won't ruin the film, but you should definitely look out for the lyrics - which Ari apparently improvised in the moment!
Read more:
Ariana Grande's albums: Everything you need to know about her music catalogue
Ariana Grande's rise to fame from school plays to hit single 'Boyfriend'
How to listen to heat: