Justin Bieber is one of the biggest popstars in the whole world, and has shockingly been in the music industry for over 10 years now! After being discovered at the age of 13 by his manager Scooter Braun who found him on YouTube, Justin is now one of the most successful singers of his generation.
Justin released his sixth-studio album'Justice' in March 2021 featuring hits including 'Hold On', 'Anyone' and 'Holy', and also held a special live performance in Las Vegas on 9th July.
Although Justin has spent a pretty big chunk of his life in the spotlight now, there are still a few things that you may not know about him - so here are all the answers to your biggest questions about Justin Bieber!
1) How did Justin Bieber get discovered?
At the age of 12, Biebs finished second in a local singing competition. He then started singing covers as well as original songs, and put videos on his YouTube channel where he was discovered by Scooter Braun, who also manages Ariana Grande. He was then signed by Usher, who won the bid for Bieber over Justin Timberlake who also wanted to sign him.
2) When is Justin Bieber's birthday?
Justin Bieber's birthday is 1st March 1994, which makes him currently 28-years-old.
3) Can Justin Bieber speak French?
Justin Bieber is thought to be able to speak French fluently - which is hardly surprising, given that he is Canadian and the second language in Canada is French! Here is a compilation of him singing and speaking in French.
4) Is Justin Bieber friends with Drake?
He sure is! Not only are they both Canadian, and both child stars, but they're actually pals and spend time together occasionally. Drake even featured on Justin's song 'Right Here' in 2012.
5) Is Justin Bieber left-handed?
He is!
6) Can Justin Bieber do a Rubik's cube?
He can! Check this out:
7) What's Justin Bieber's favourite film?
He loves the movie The Notebook. He's also a huge Disney fan, and loves The Lion King.
8) What is Justin Bieber scared of?
He is claustrophobic and hates elevators.
9) Does Justin Bieber hold any world records?
He has a massive 14 Guinness World Records, including eight for his 2015 album 'Purpose' which were entered in the 2017 edition. He won:
First act to occupy all top three positions simultaneously on UK singles chart with his singles 'Love Yourself', 'Sorry' and 'What Do You Mean'.
Most followers on Twitter (male) with 85,235,563 followers
Most viewed music channel on YouTube with 10,478,651,389 views
Most subscribers on YouTube for a musician (male) with 20,711,202 subscribers
Most streamed album on Spotify in one week for Purpose
Most simultaneous tracks on the US singles chart
Most simultaneous new entries in the Hot 100 by a solo artist
Most streamed track on Spotify in one week for 'What Do You Mean'
He was also the youngest artist to ever have five number one albums in America, and his song 'What Do You Mean' was Number 1 in 18 different countries. Wow!
10) What is Justin Bieber's favourite sandwich?
His favourite sandwich is a tomato and mayonnaise.
11) What musical instruments can Justin Bieber play?
He can play the guitar, piano, drums and trumpet.
12) Where does Justin Bieber live?
Justin currently lives in a five-bedroom house in Beverly Hills as of March 2019, which apparently cost him and wife Hailey an eye-watering $8.5 million. He also once lived in Britney Spears' former house.
The couple also have a $5million Lakeside Mansion in Ontario, Canada.
13) How many tattoos does Justin Bieber have?
He's thought to have at least 50 tattoos.
14) How much do Justin Bieber's haircuts cost?
His haircuts are known to cost up to $750!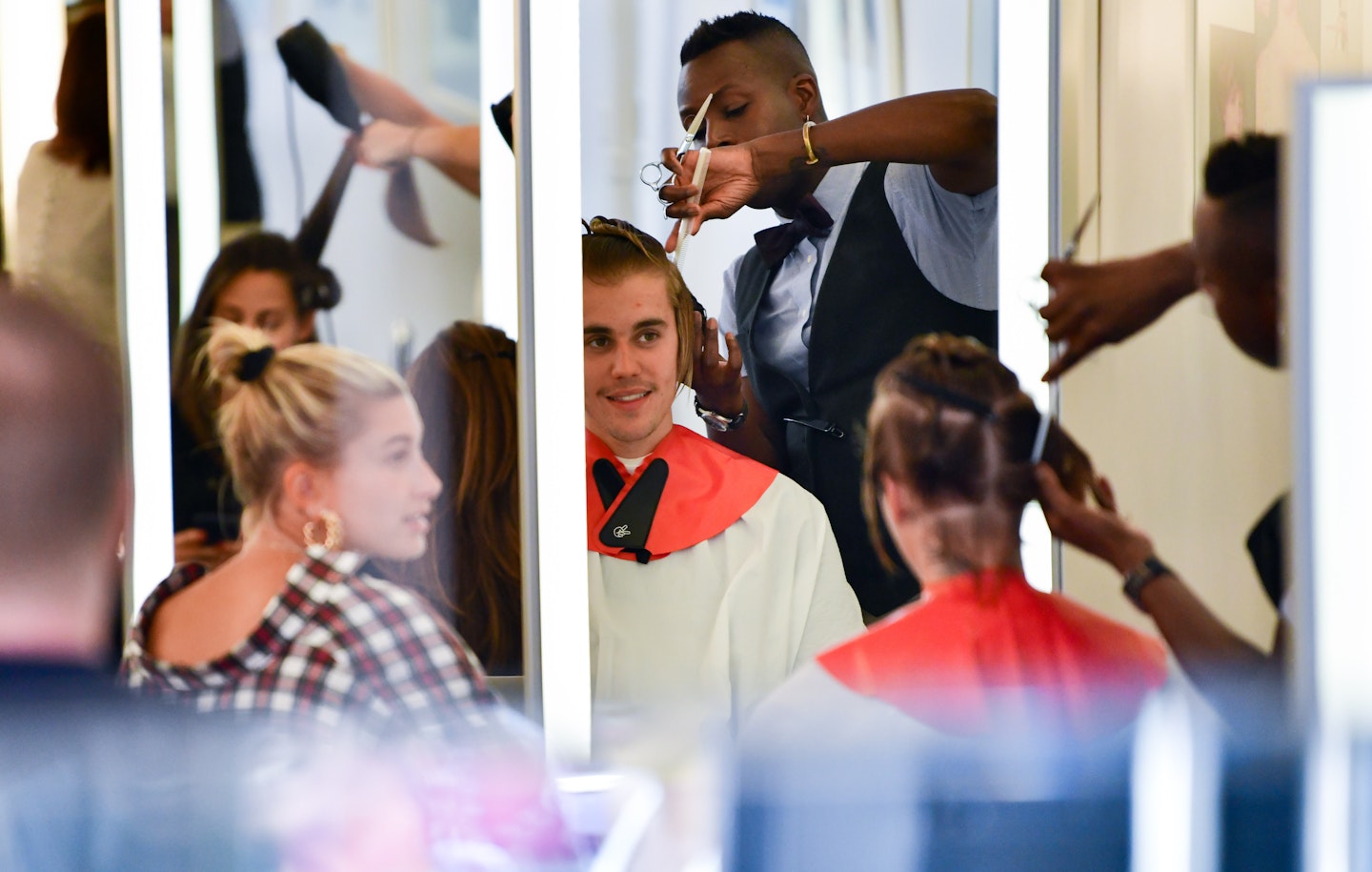 15) What is Justin Bieber's clothing line?
Justin Bieber has a clothing line called Drew House - named after his own middle name! The range includes a variety of camel-coloured corduroy items, like shorts, a hoodie and a shirt. It also has t-shirts and hoodies with the word 'drew' on and a smiley face logo where 'drew' serves as the mouth.
16) What is Justin Bieber's net worth?
He's reportedly worth an estimated $285 million.
17) What is Justin Bieber's favourite animal?
His favourite animal is a giraffe.
18) How tall is Justin Bieber?
He's reportedly 1.75m, or 5ft 9in. He also has size 7.5 feet.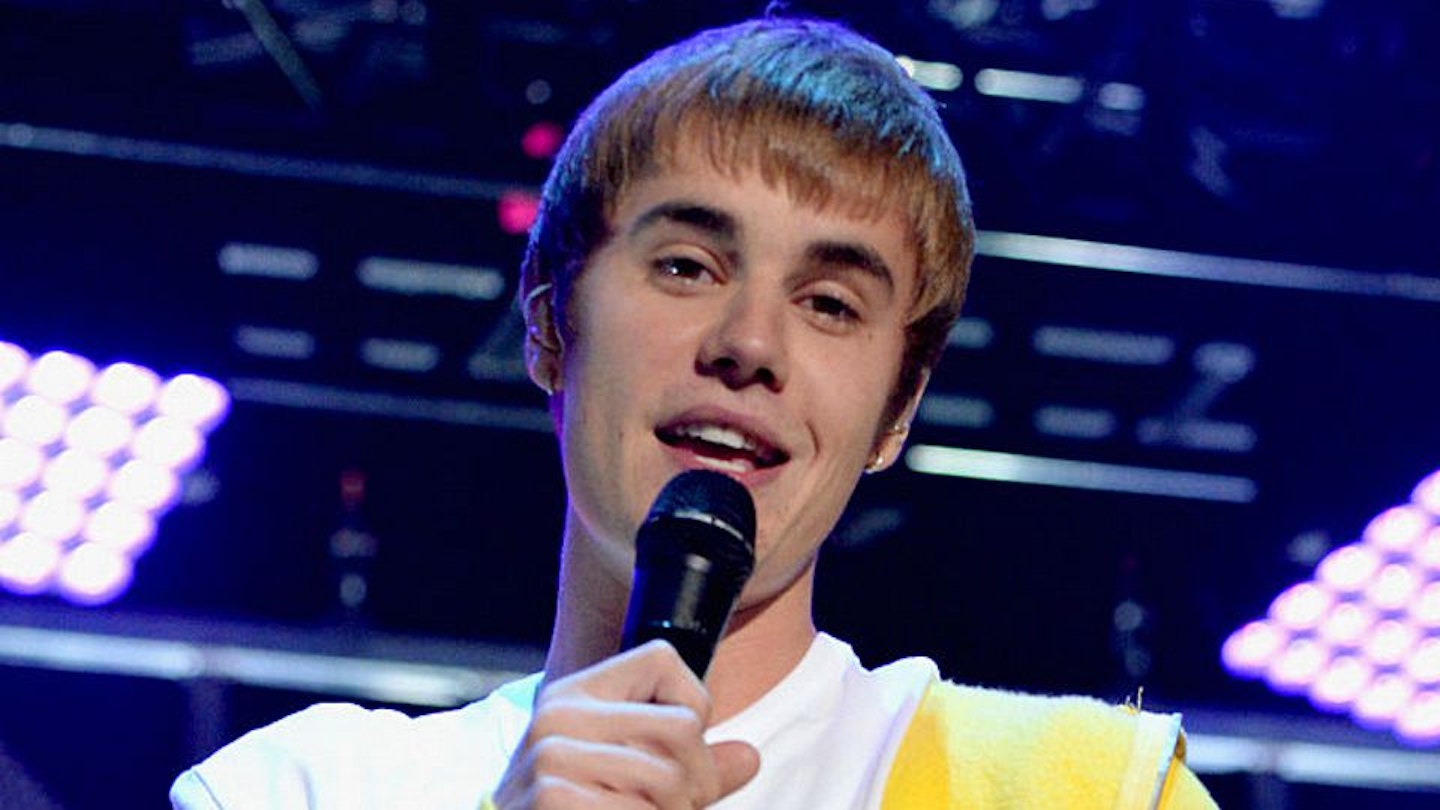 19) Has Justin Bieber ever taken some time out?
Yes! In March 2019, Justin revealed that he was taking a step back from making music in a heartfelt Instagram post. He wrote, 'So I read a lot of messages saying you want an album...
'I've toured my whole teenage life, and early 20s, I realized and as you guys probably saw I was unhappy last tour and I don't deserve that and you don't deserve that, you pay money to come and have a lively energetic fun light concert and I was unable emotionally to give you that near the end of the tour.'
He added, 'Music is very important to me but Nothing comes before my family and my health. I will come with a kick ass album ASAP.'
However in a live video on Instagram, Justin revealed that he would be releasing his fifth album in 2019! His wife Hailey could then be heard asking on the video, "This year meaning before 2020? I thought you already were doing it this year?" with Justin then saying, "Album coming out this year... Legit though, like this year."
We were later all graced with his album 'Changes' in 2020. This included hit tracks such as 'Yummy' and 'Intentions'. The 28-year-old also teamed up with the Lewisham and Greenwich NHS Choir to pay tribute to, and raise funds for, our amazing NHS! 👏
His sixth studio album 'Justice' was later released in March 2021.
20) What's Justin Bieber's song with Ed Sheeran?
May 2019 saw Justin release a collaboration with none other than Ed Sheeran, called 'I Don't Care'. Rumours of a collaboration started when Justin and his manager Scooter Braun shared a side-by-side photo of Justin and Ed standing in a similar pose in front of a green screen, simply captioned '10'.
Then, a week later Justin confirmed the collaboration. After counting down the hours to release, Justin then tweeted, 'It's out. I don't care', as the lyric video also appeared on YouTube.
Fans are now calling for a collaboration between Justin and Lewis Capaldi after they became friends on Twitter following Lewis' Justin-inspired selfie!
21) Justin Bieber has collaborated with many HUGE names
Which other artists has Justin Bieber worked with? Read up on our complete list of Justin Bieber's collaborations right here!
22) Justin Bieber is married!
He sure is! After dating on-off for a few months over the course of a few years, Justin and Hailey got married in secret in 2018. Justin confirmed the happy news on Instagram in November 2018, sharing a photo of the pair together with the simple caption, 'My wife is awesome.'
In August 2019, Justin posted a tribute to Hailey, thanking her for helping him through 'personal difficulties'. She commented on the post, 'so proud of who u are.'
Justin and Hailey had a second wedding ceremony on 30th September 2019. It took place at the Somerset Chapel before heading to the Montage Palmetto Bluff resort in South Carolina, and Justin shared some adorable pictures on Instagram from the event. Hailey also shared some stunning pictures of her wedding dress and beautiful ring.
In October 2021, Justin released a song dedicated to his beloved wife, named, you guessed it, 'Hailey'. On the track, he references his past, the present, and their future together: "We'll be diamond when our golden days are done."
23) Justin Bieber performed a virtual concert
Justin Bieber announced that he will perform a virtual concert as a digital avatar on 18th November 2021. Fans could watch a full show, with hit songs from his 'Justice' album, and were even able to chat to each other as well as play a role in what happens in the performance.
You can watch the trailer for Justin Bieber - An Interactive Virtual Experience below.
Justin Bieber and Ramsay Hunt Syndrome
In June 2022, Justin Bieber revealed that he had been diagnosed with Ramsay Hunt Syndrome, leaving one half of his face paralysed. The singer revealed the news in a video shared to his social platforms, revealing that the recent diagnosis was the reasoning behind cancelling some of his 'Justice Tour' dates.
In the video, Justin says: "Hey everyone. Justin here. I wanted to update you guys on what's been going on. Obviously, as you can probably see from my face, I have this syndrome called Ramsay Hunt syndrome and it is from this virus that attacks the nerve in my ear and my facial nerves and has caused my face to have paralysis."
As Justin blinks one eye, he explains: "As you can see, this eye is not blinking." The singer also showed how only one half of his face can smile, continuing: "I can't smile with this side of my face, this nostril will not move, so there is full paralysis in this side of my face."
Speaking on the cancelled tour dates, Justin explained: "I'm just physically, obviously not capable of doing them. This is pretty serious as you can see. I wish this wasn't the case but obviously, my body is telling me I got to slow down and I hope you guys understand and I'll be using this time to rest and relax and get back to 100% so that I can do what I was born to do.
"But in the meantime, this isn't it. I got to get my rest on so that I can get my face back to where it's supposed to be."
Scroll through to see Justin and Hailey Baldwin's relationship timeline:
Justin Bieber Hailey Baldwin relationship timeline stacked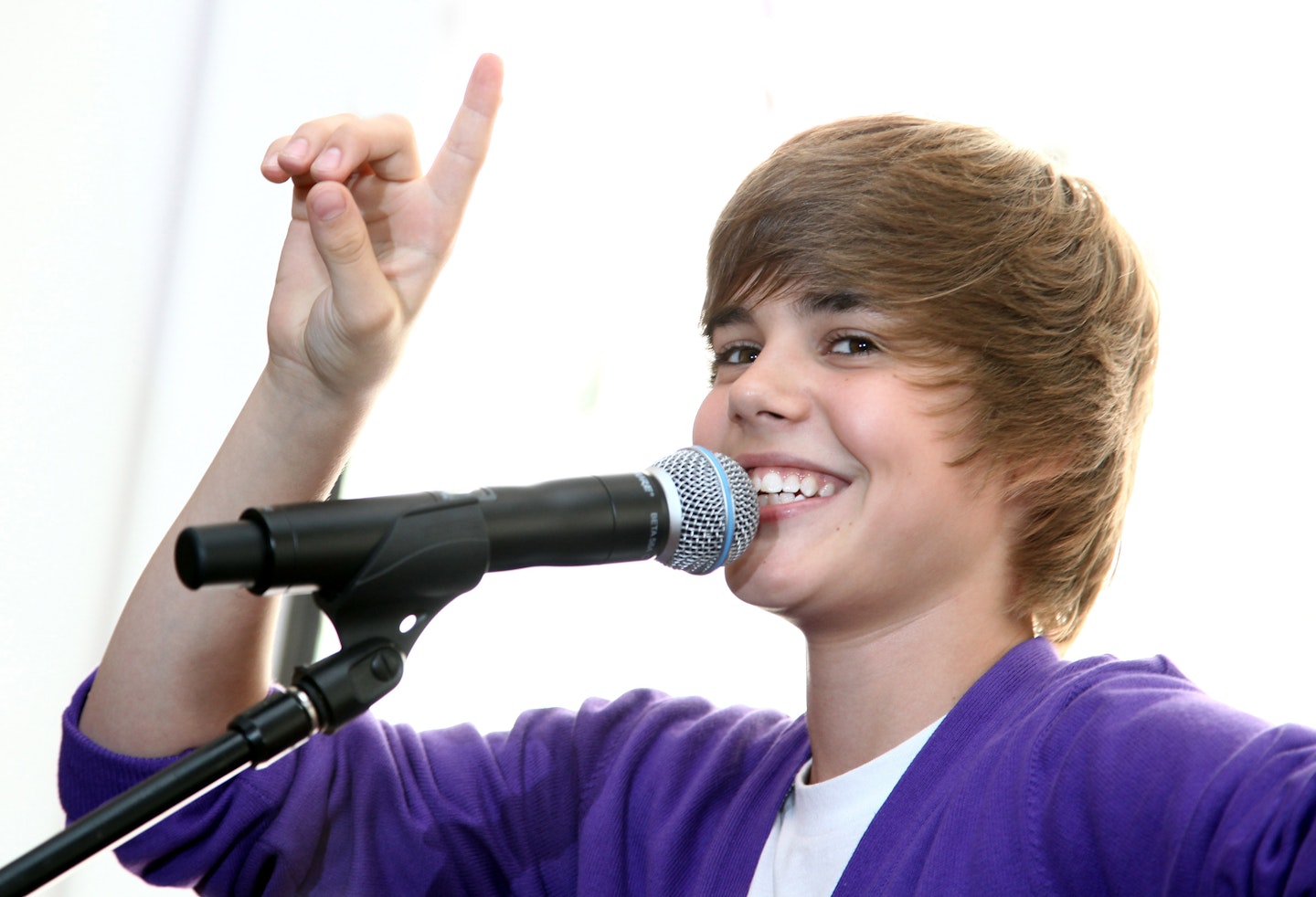 1 of 30
CREDIT: Shutterstock
2009 - Justin and Hailey first meet
A fresh-faced, full-fringed Justin Bieber was first introduced to future model Hailey Baldwin by her father Stephen Baldwin at one of Justin's concerts. In a video shared on the now-defunct social media platform Vine, Stephen introduces 13-year-old Hailey to 15-year-old Justin backstage at a show.
2 of 30
CREDIT: Shutterstock
February 2011 - Hailey attends Justin's Never Say Never premier
Hailey and her dad attend the premier of Justin's docu-film Never Say Never. They teens insist they are just friends.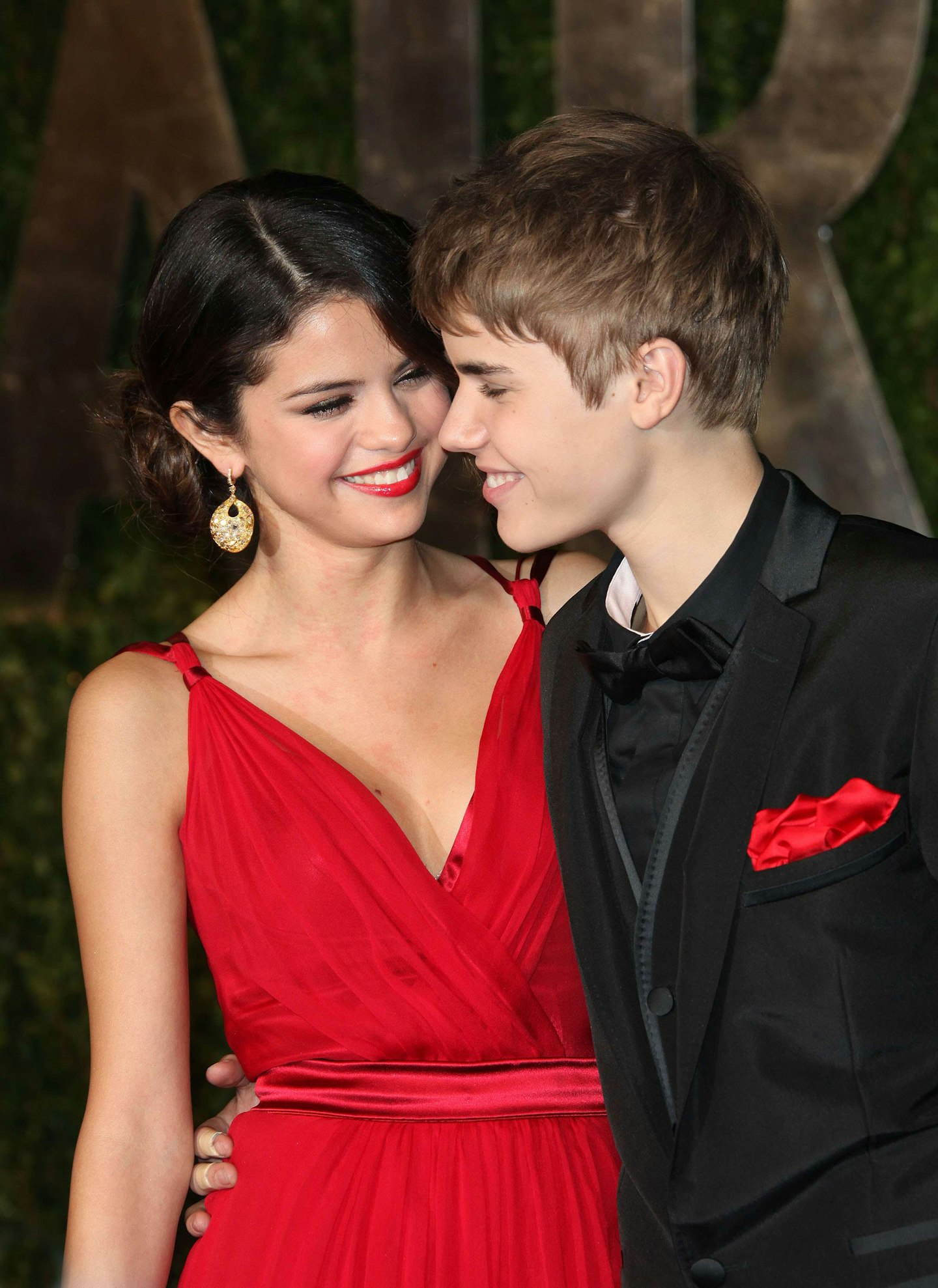 3 of 30
CREDIT: Shutterstock
February 2011 - Justin and Selena Gomez confirm their relationship
After months of speculation over their blossoming romance, Justin Bieber and Selena Gomez confirm their relationship at the Vanity Fair Oscar Party.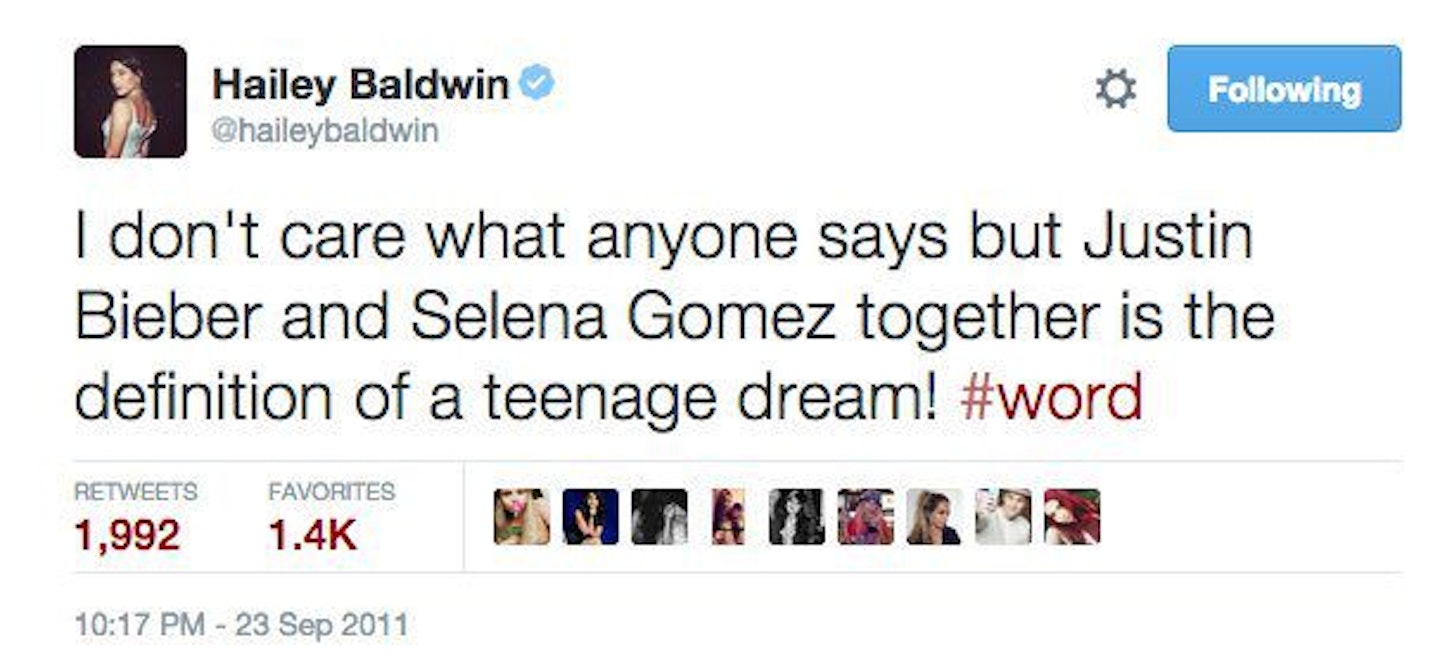 4 of 30
CREDIT: Twitter
September 2011 - Hailey supports Jelena on Twitter
Hailey tells the world she's a big fan of Justin and Selena's relationship, tweeting: "I don't care what anyone says but Justin Bieber and Selena Gomez together is the definition of a teenage dream! #word."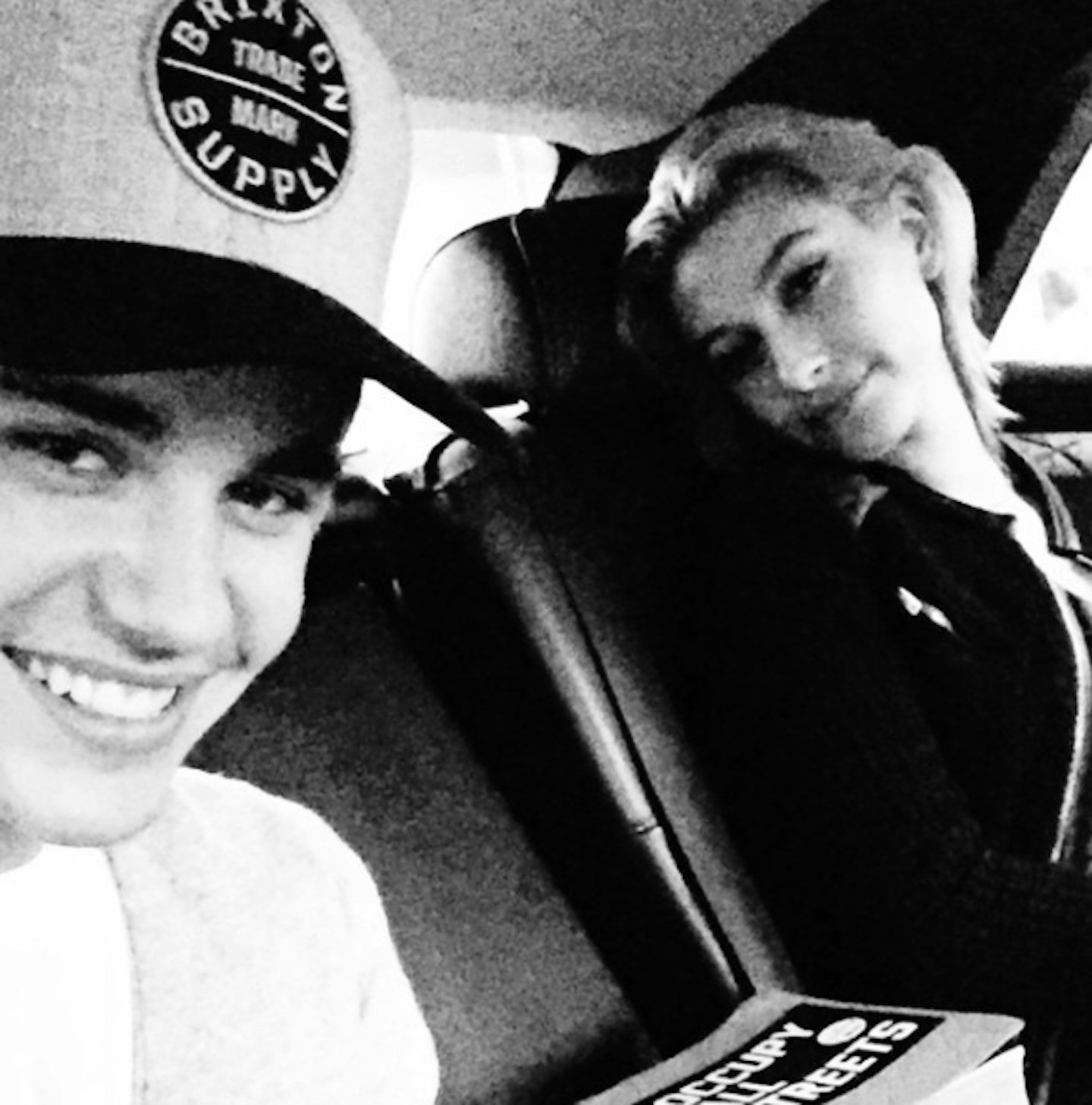 5 of 30
CREDIT: Instagram
December 2014 - Justin and Hailey deny romance
After spotted out together on a number of occasions, the relationship rumours come in think and fast. In December 2014, both Hailey and Justin maintain they're just friends.In an interview with E! News, Hailey explains: "I've known [Justin Bieber] since I was so young—since I was like 13—and we've just been good friends over the years. We have just stayed close and there's nothing more to it than that."A few days later, Justin addresses the matter on his Instagram. He shares a pic with Hailey and writes: "People are crazy. I'm super single and this is my good friend u would know otherwise [sic]".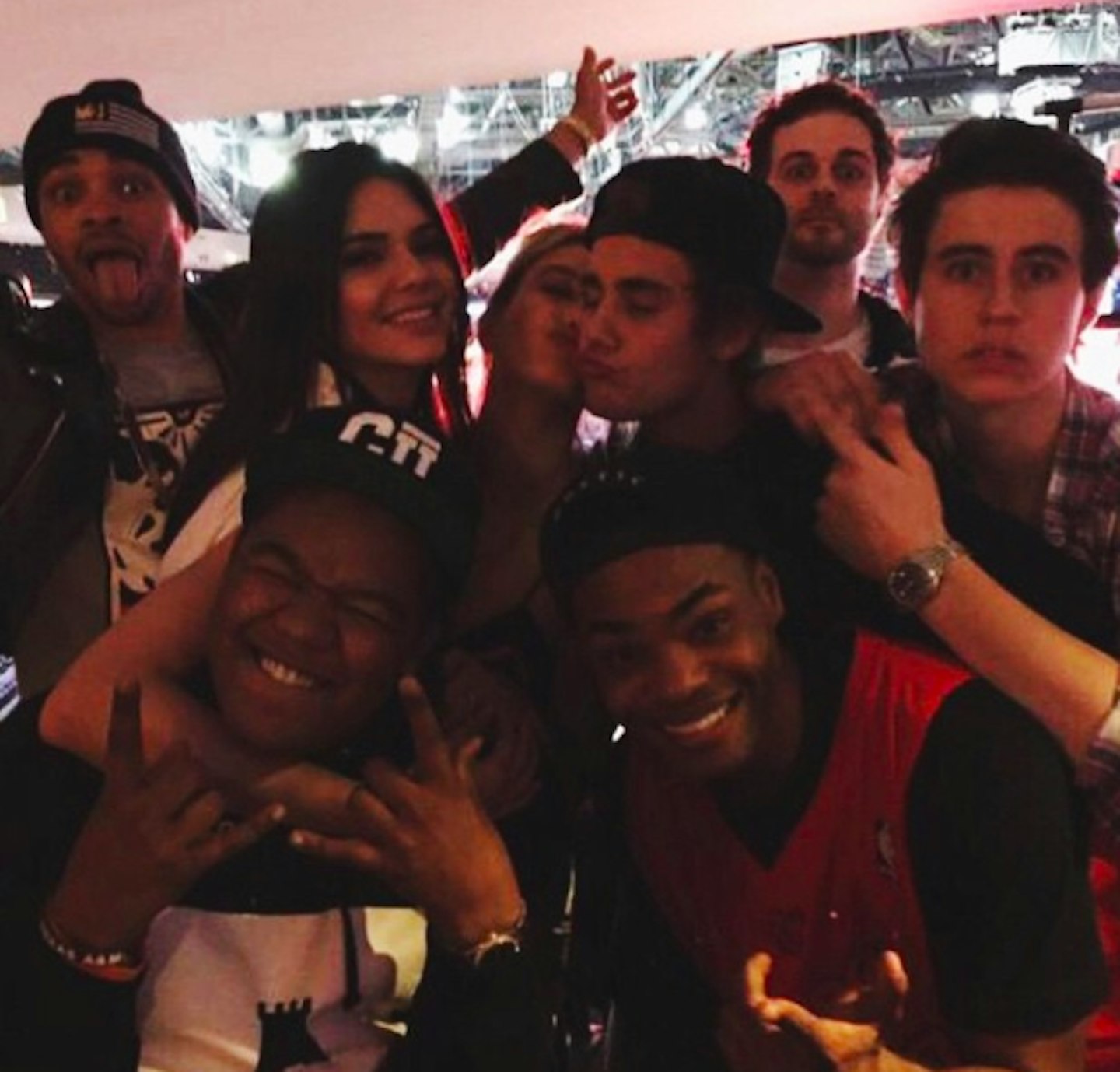 6 of 30
CREDIT: Instagram
January 2015 - Justin and Hailey party together
After seeing in the New Year together, Justin and Hailey are also spotted partying together at a Clippers game on 15th January. They look very cosy in a snap shared by mutual friend Kendall Jenner.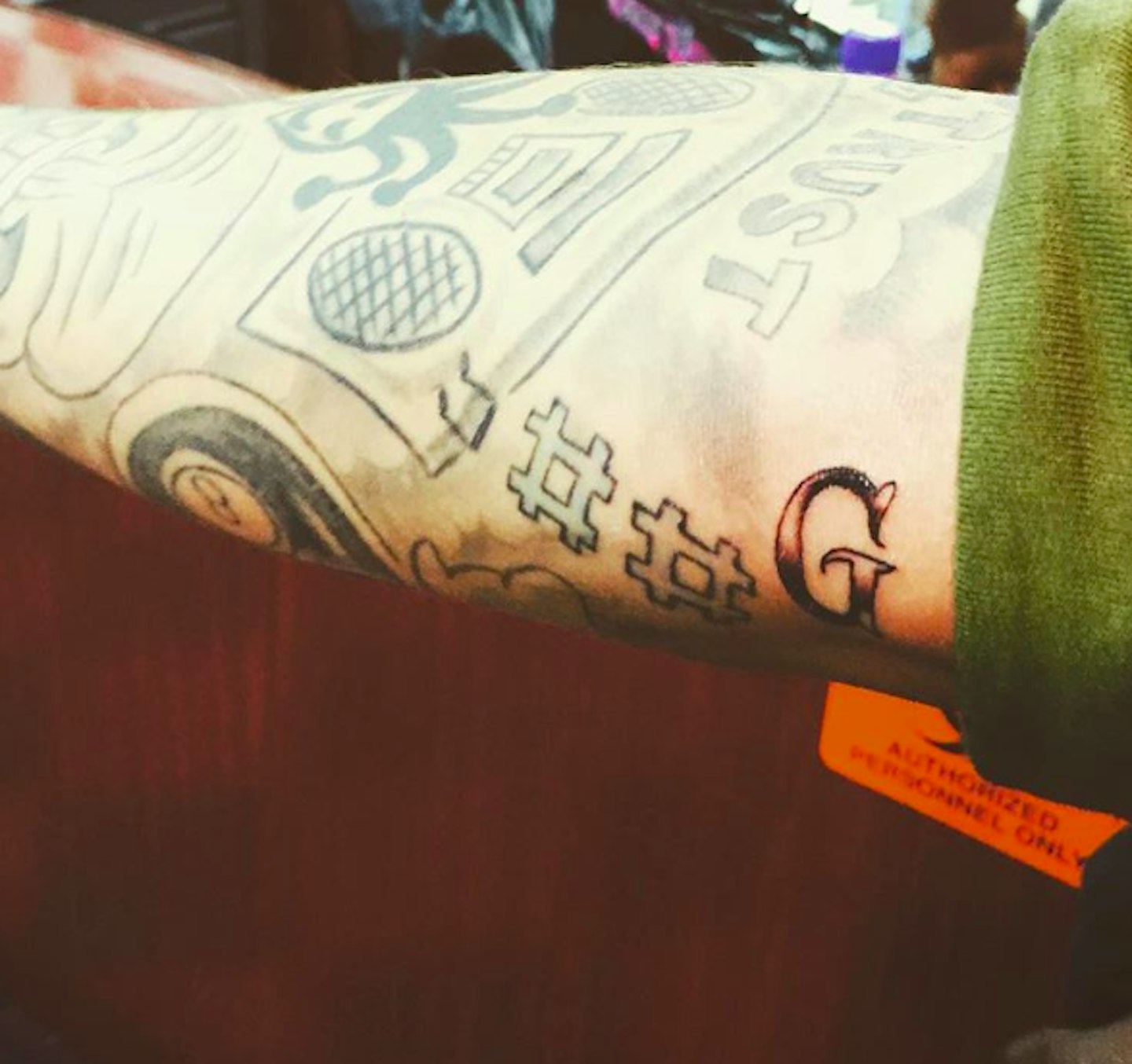 7 of 30
CREDIT: Instagram
July 2015 - Justin and Hailey get matching tattoos
Justin and Hailey decide to get matching G tattoos as a tribute to Georgia Veach - a young girl who attends their church and suffers from Lissencephaly.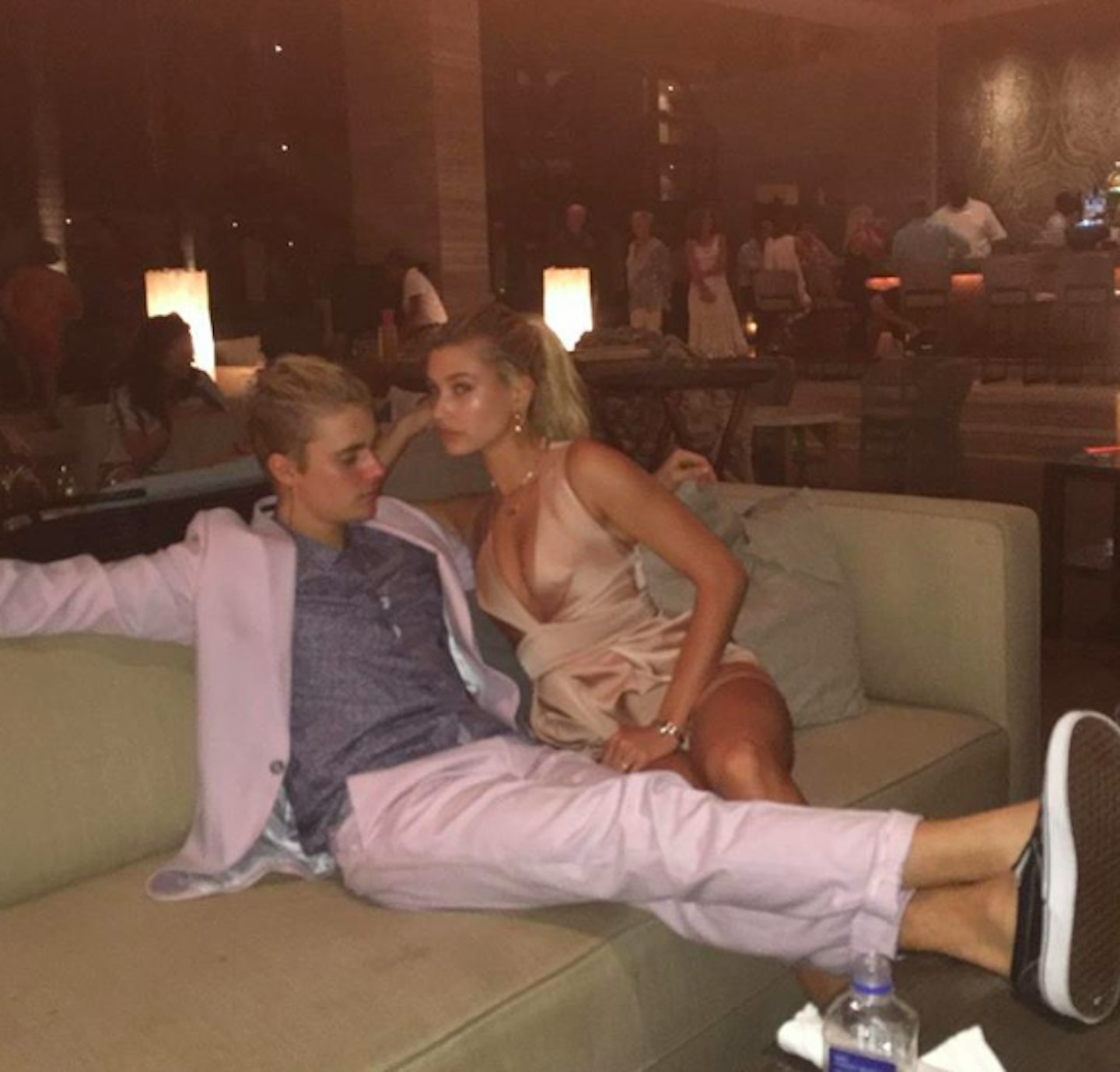 8 of 30
CREDIT: Instagram
January 2016 - Hailey and Justin holiday together
Despite seemingly re-kindling his on/off relationship with Selena Gomez in December 2015, by January 2016 it was apparently off again. Justin took Hailey on his family holiday to Anguilla, seeing the New Year in together again.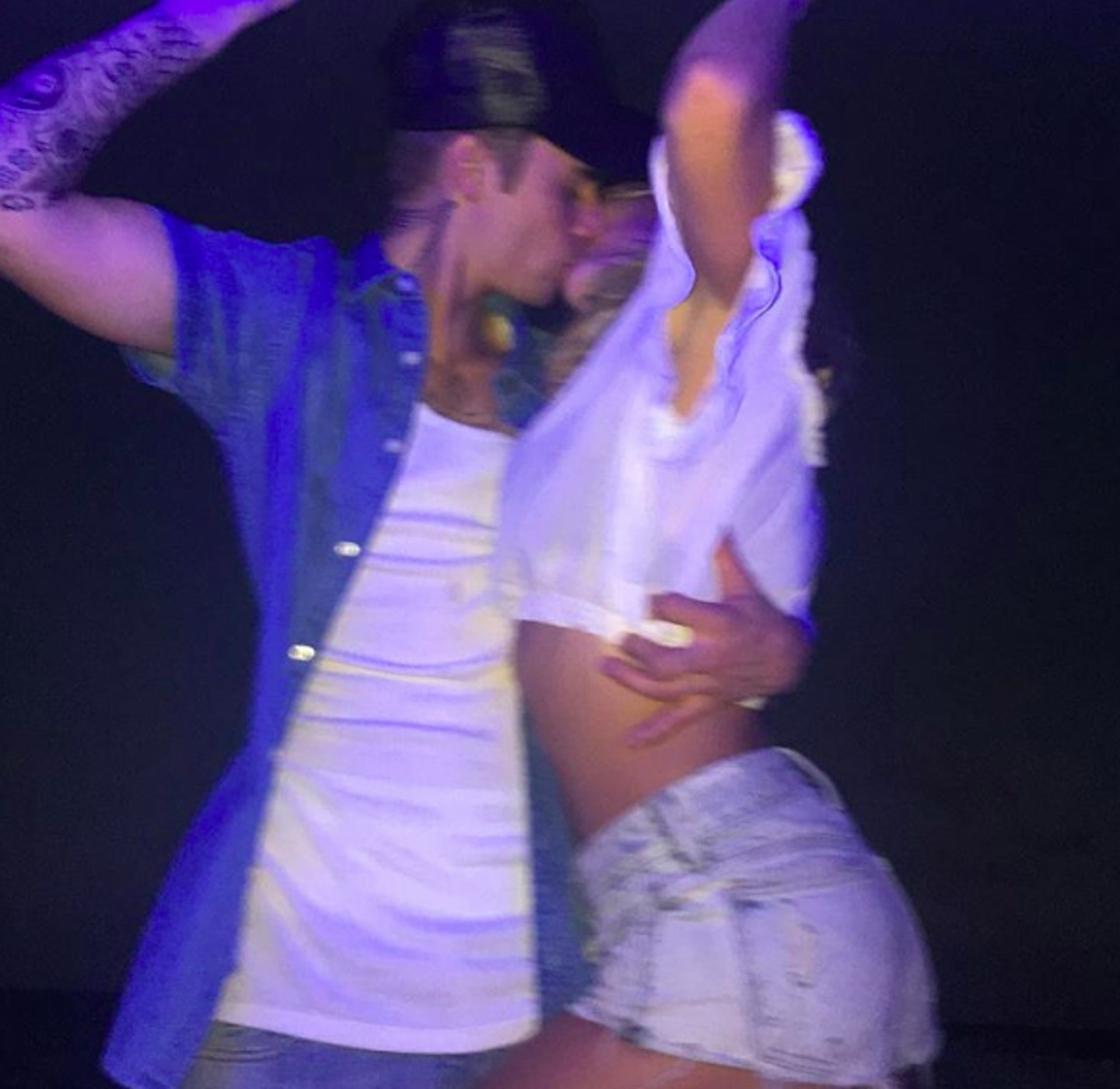 9 of 30
CREDIT: Instagram
January 2016 - They go Insta official
Justin confirms his romance with Hailey, posting a picture of them kissing on holiday.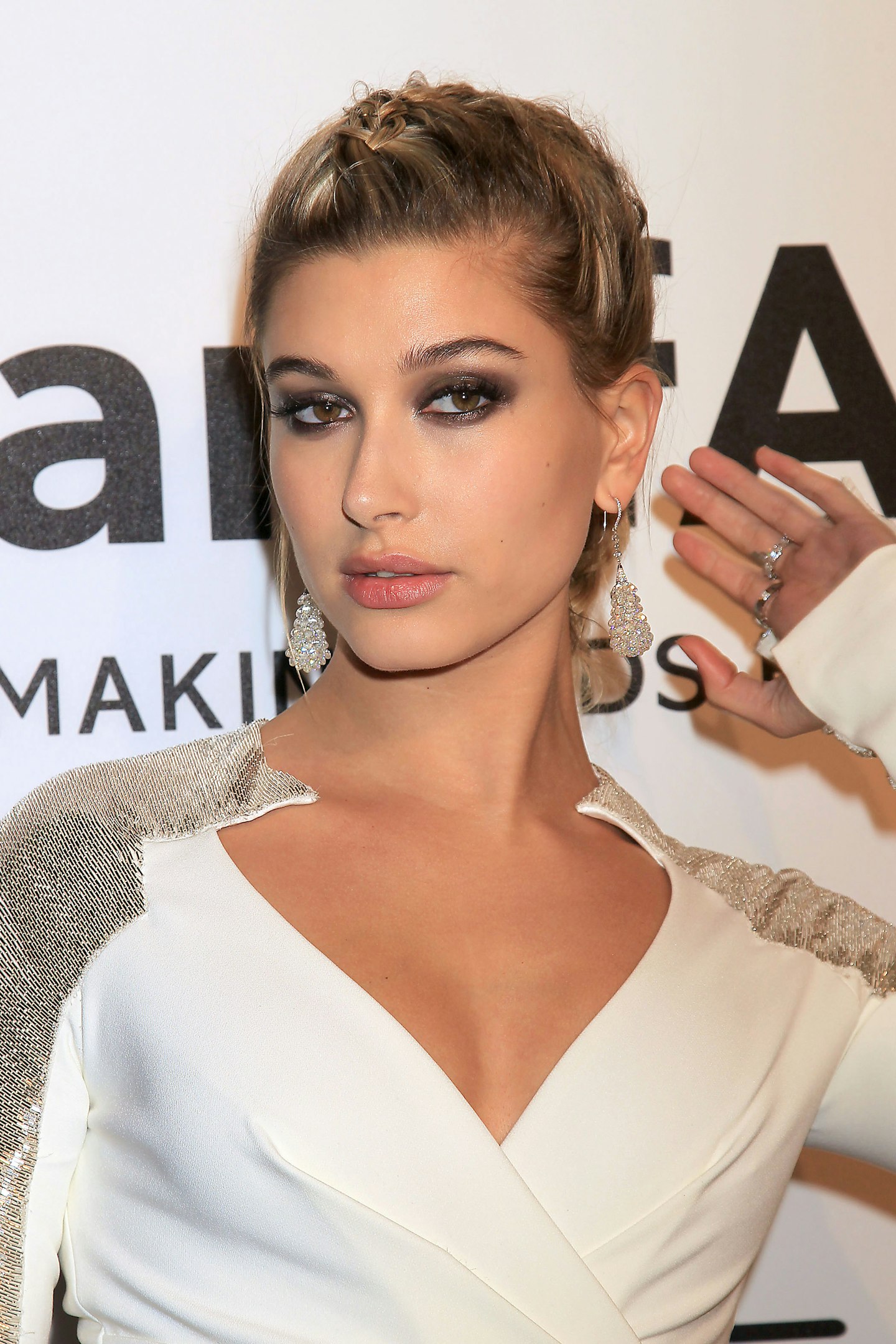 10 of 30
CREDIT: Shutterstock
February 2016 - 'It's complicated'
"He's about to go on tour," Hailey tells E! in Feb 2016."We are not an exclusive couple. Relationships at this age are already complicated, but I don't really like to talk about it because it's between me and him."In the same month, Justin told GQ magazine: "What if Hailey ends up being the girl I'm gonna marry, right? If I rush into anything, if I damage her, then it's always gonna be damaged. It's really hard to fix wounds like that. It's so hard... I just don't want to hurt her."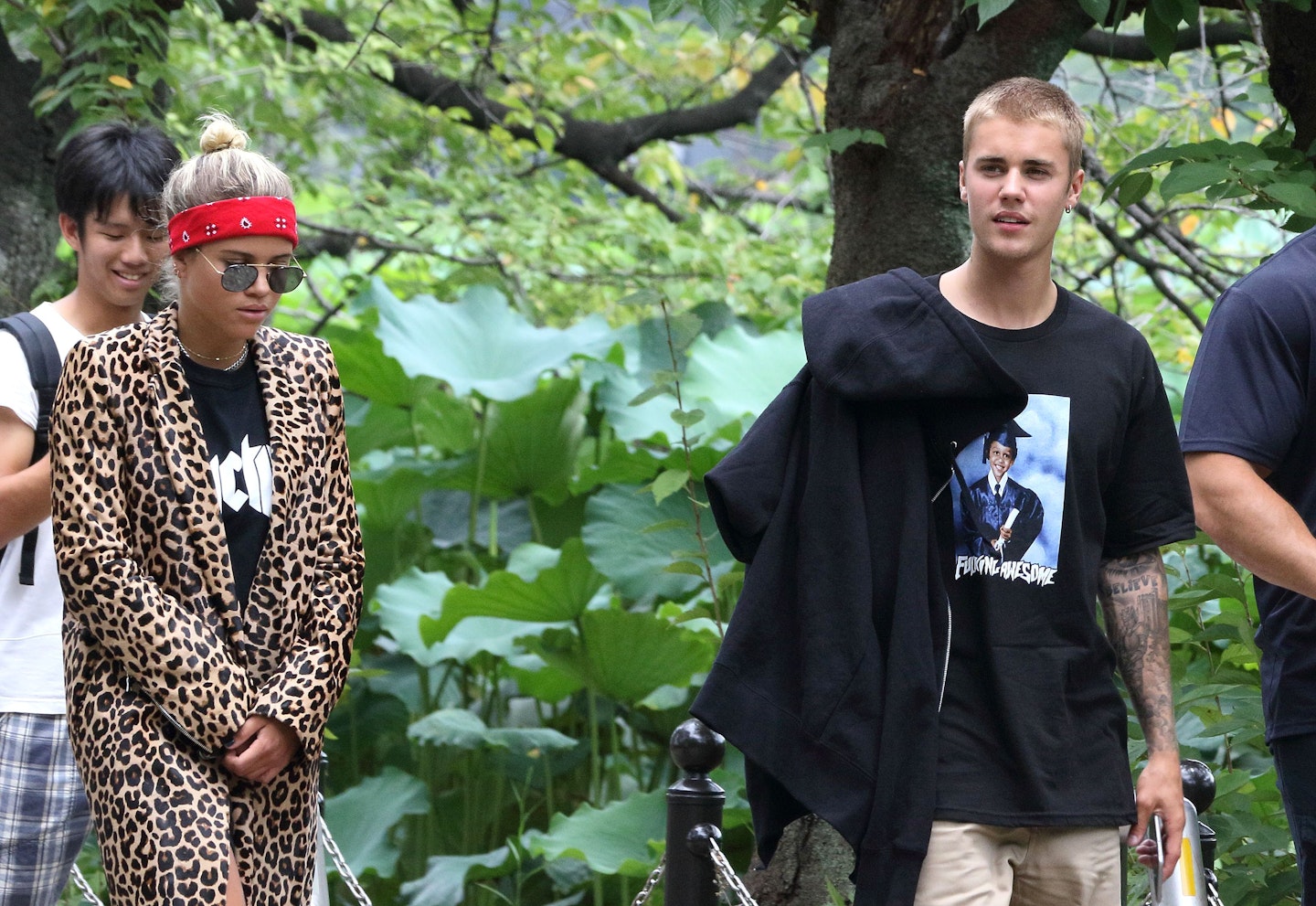 11 of 30
CREDIT: Shutterstock
August 2016 - Sofia Richie's steps onto the scene
A lot can change in six months. By August 2016 Justin has unfollowed Hailey, gone Insta official with Sofia Richie and SERIOUSLY upset Selena Gomez. After Biebs threatened to make his Insta private following the abuse Sofia had received due to the flurry of couple photos Justin had posted, Selena hit back. She wrote: you can't handle the hate then stop posting pictures of your girlfriend lol - it should be special between you two only. Don't be mad at your fans. They love you and supported you before any one ever did." Justin then deleted his Instagram.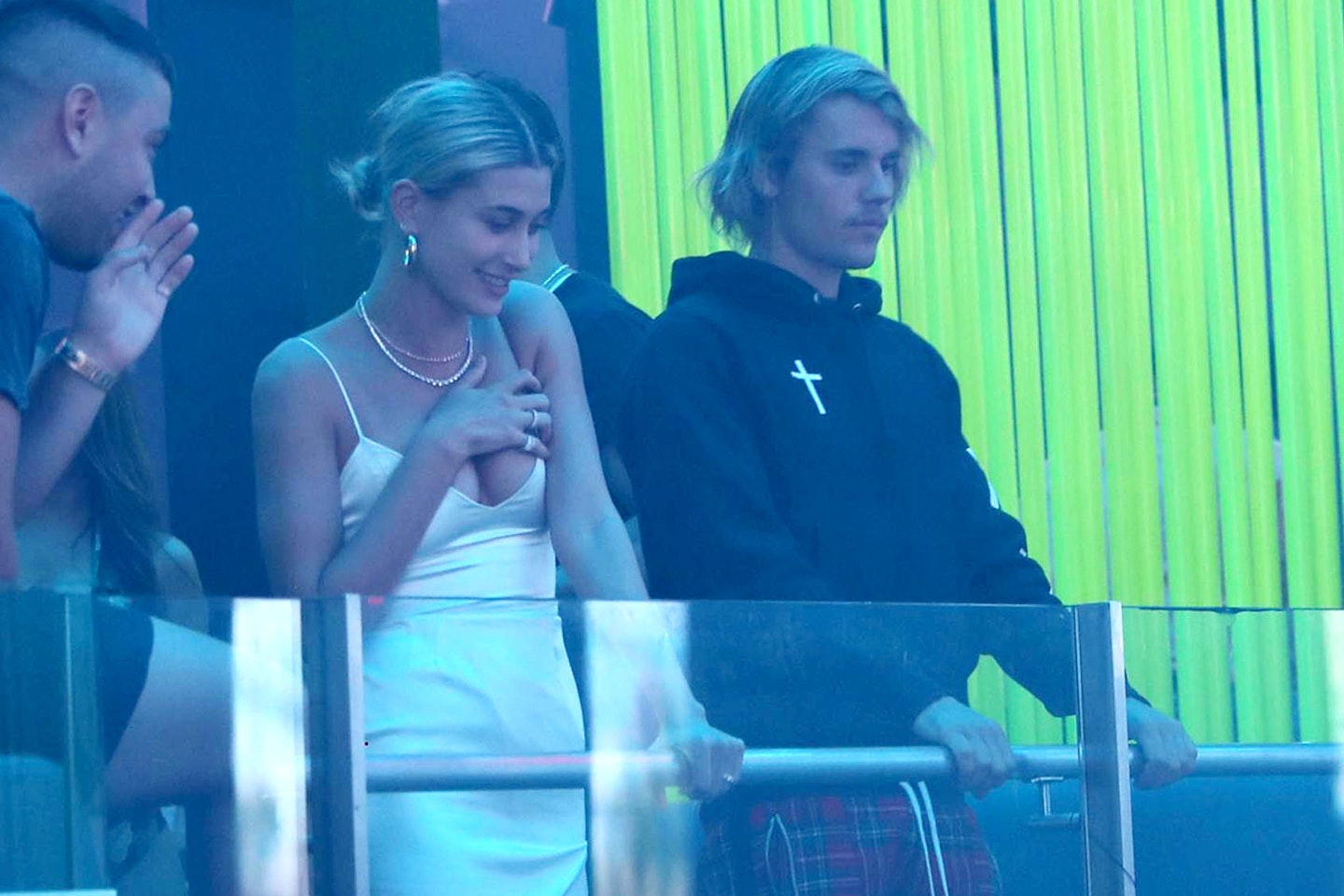 12 of 30
CREDIT: Shutterstock
June 2018 - Justin and Hailey are back together
After getting back with Selena in late 2017 and then splitting again around March 2018, speculation increases around that Justin and Hailey's rekindled romance. A video surfaces of the pair having a snog in New York City in June.In an interview with GQ, Justin hints Hailey is 'the one'.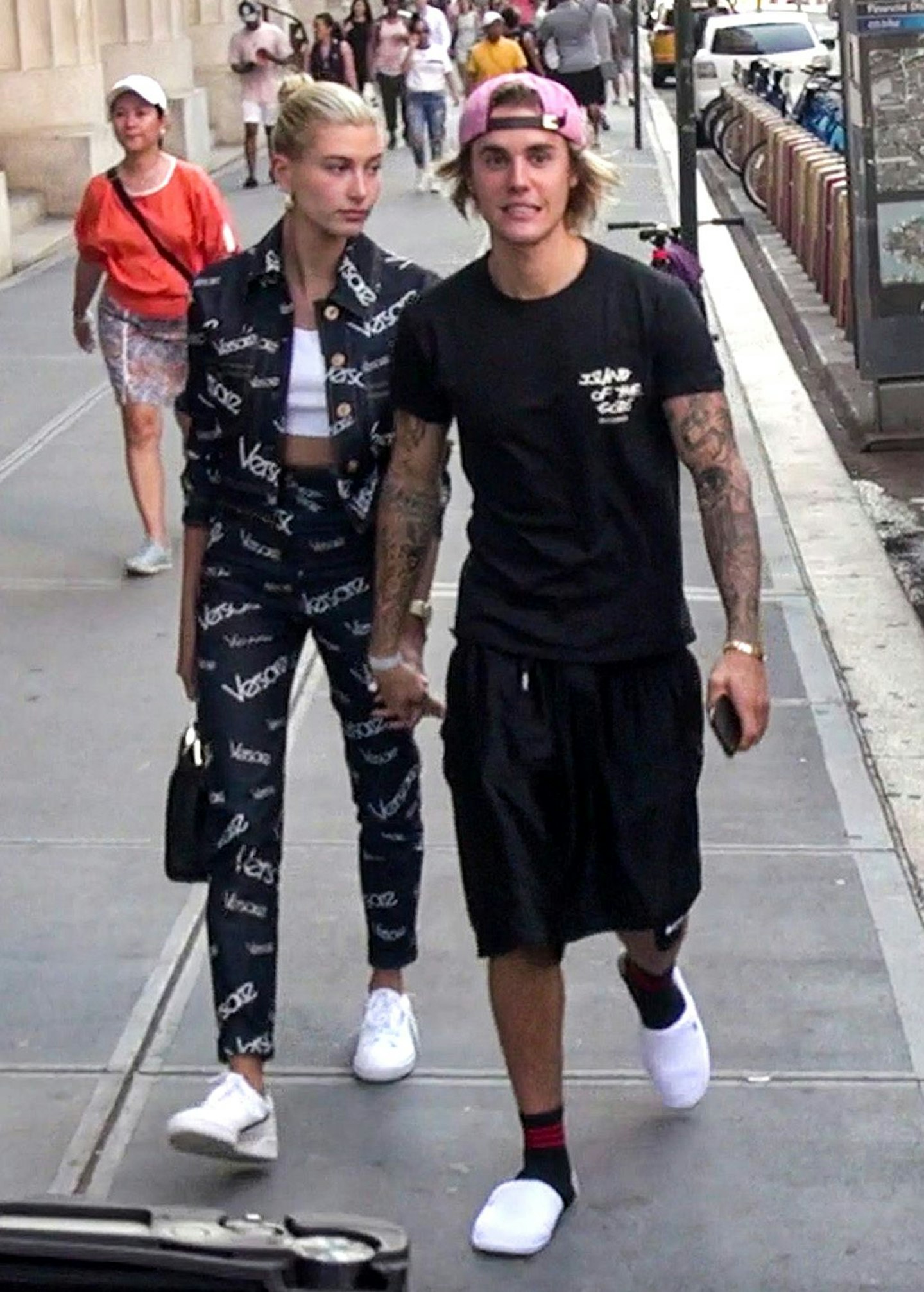 13 of 30
CREDIT: Shutterstock
July 2018 - Justin and Hailey are engaged
Justin reportedly proposed to Hailey at a restaurant whilst the couple were on holiday in the Bahamas on 7th July 2018. Fans apparently witnessed the moment, but Justin's "people" reportedly told them not to film it.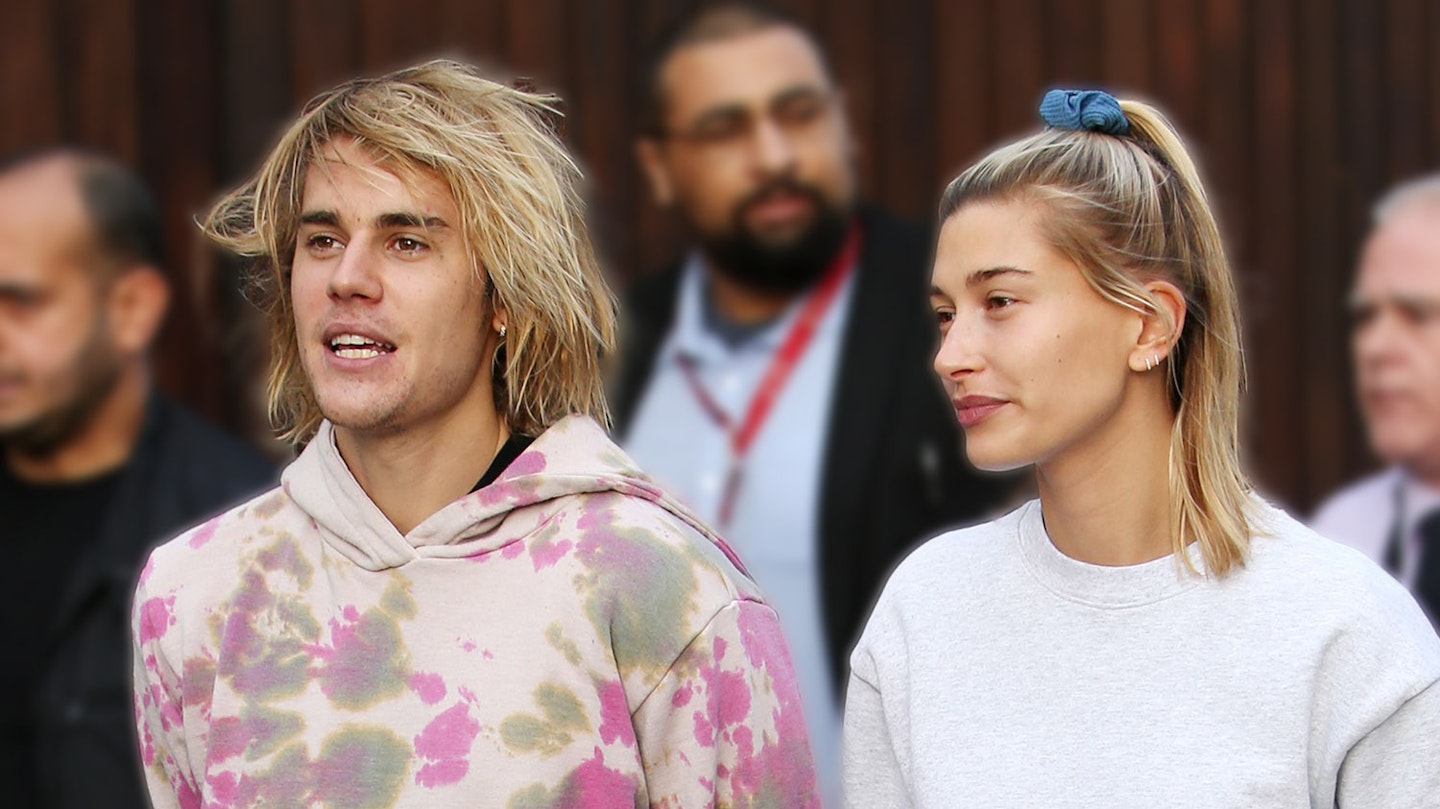 14 of 30
CREDIT: Shutterstock
July 2018 - Justin CONFIRMS the engagement to Hailey
Justin confirmed the engagement on Instagram, writing, 'Was gonna wait a while to say anything but word travels fast, listen plain and simple Hailey I am soooo in love with everything about you! So committed to spending my life getting to know every single part of you loving you patiently and kindLY.'I promise to lead our family with honor and integrity letting Jesus through his Holy Spirit guide us in everything we do and every decision we make. My heart is COMPLETELY and FULLY YOURS and I will ALWAYS put you first!'You are the love of my life Hailey Baldwin and I wouldn't want to spend it with anybody else. You make me so much better and we compliment each other so well!! Can't wait for the best season of life yet!. It's funny because now with you everything seems to make sense!'The thing I am most excited for is that my little brother and sister get to see another healthy stable marriage and look for the same!!! Gods timing really is literally perfect, we got engaged on the seventh day of the seventh month, the number seven is the number of spiritual perfection, it's true GOOGLE IT! Isn't that nuts? By the way I didn't plan that, anyways.'My goodness does feel good to have our future secured! WERE GONNA BE BETTER AT 70 BABY HERE WE GO! 'He who finds a wife finds a good thing and obtains FAVOR from the Lord!' This is the year of favor!!!!' [sic]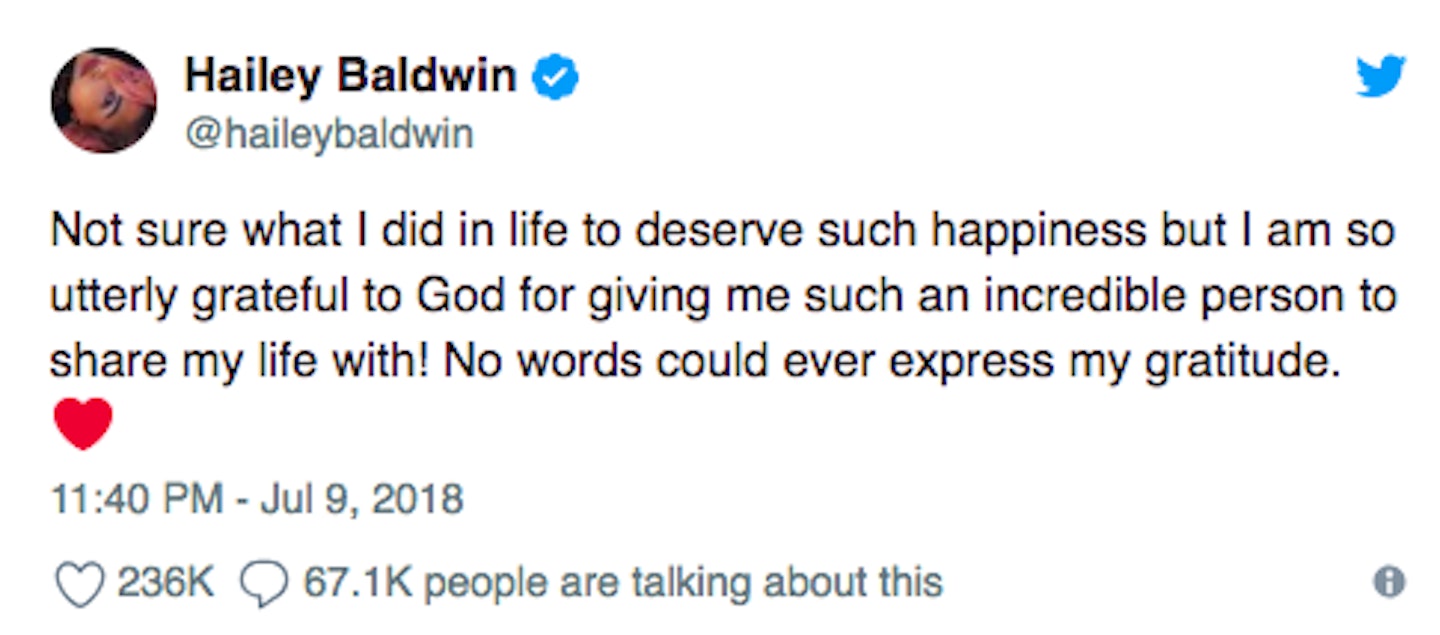 15 of 30
CREDIT: Twitter
July 2018 - Hailey confirms the engagement on Twitter
Hailey also confirmed the engagement, writing on Twitter, 'Not sure what I did in life to deserve such happiness but I am so utterly grateful to God for giving me such an incredible person to share my life with! No words could ever express my gratitude. ❤ufe0f'
16 of 30
CREDIT: Shutterstock
July 2018 - Justin and Hailey are reportedly already planning their wedding
According to Us Weekly, Justin and Hailey are hoping for a "small, intimate" wedding in Justin's native country of Canada. An insider close to the couple told the publication, "They are discussing having a very small wedding. They want something private, intimate. Justin loves Canada and is at home there. It's a special place for him and he'd love to get married there."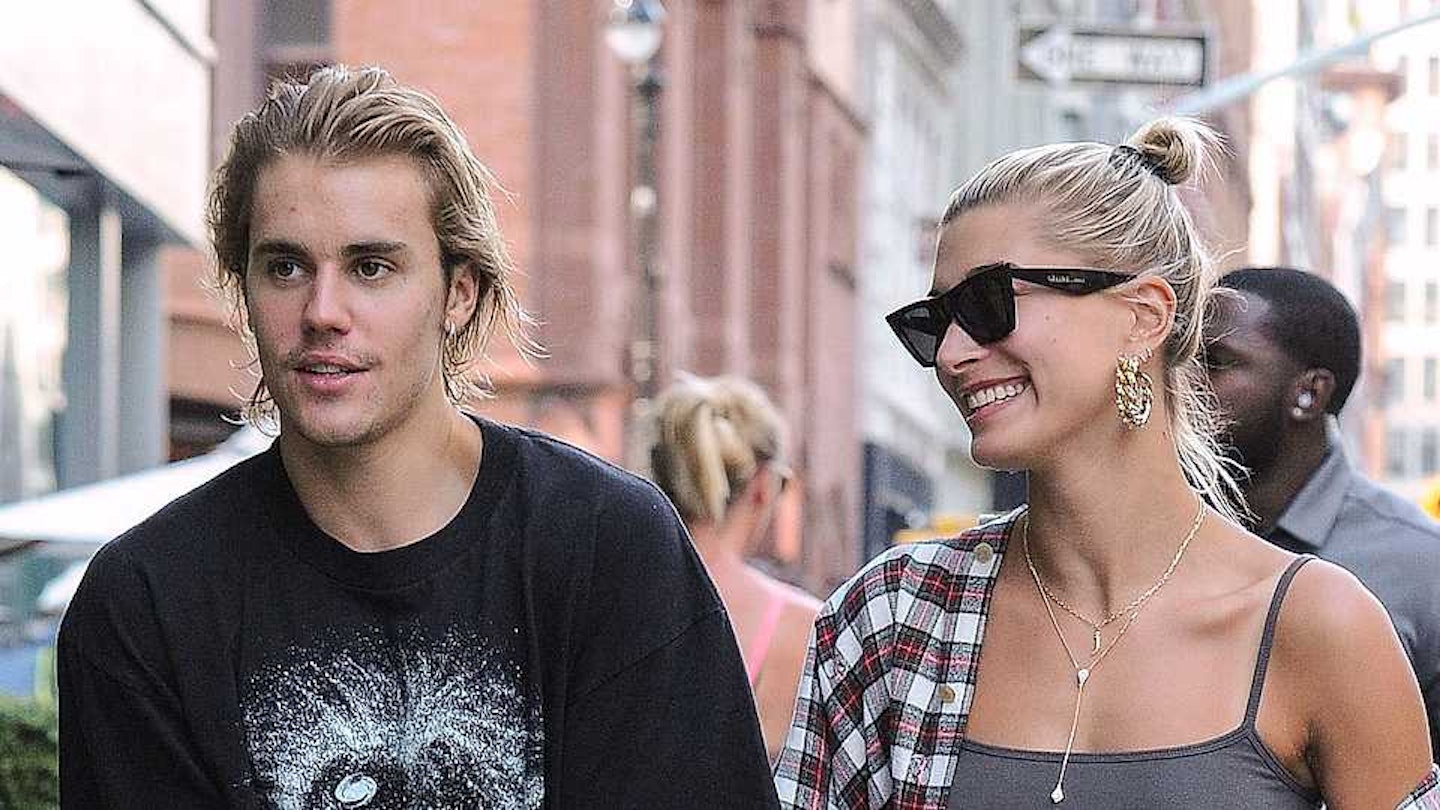 17 of 30
CREDIT: Shutterstock
August 2018 - Friends of the couple refute the rumours
According to US celebrity news site TMZ, sources close to the couple say they have decided "not to rush to the altar" and to wait until next year. The publication reports that "it's not because they're unsure," it's because they "feel they've made the commitment and that's the most important thing."They go on to add that a "solid source" has revealed that their whirlwind engagement shouldn't actually be considered as a quick decision, "Justin's been in love with her for a long time, so this didn't just come from out of the blue," adding that there were "a number of times" when Hailey and Justin got back together behind the scenes.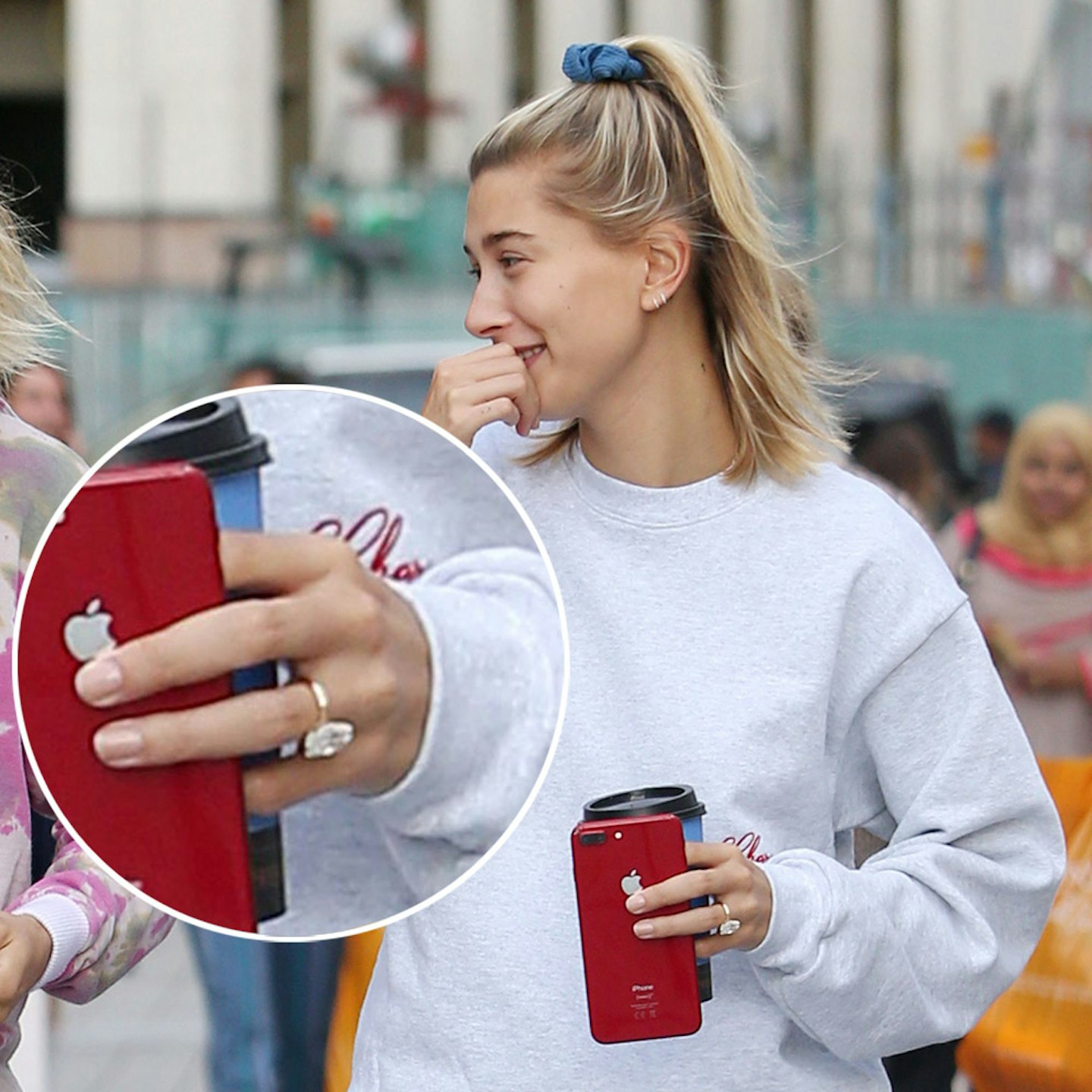 18 of 30
CREDIT: Shutterstock
August 2018 - Hailey shows off her engagement ring
Hailey debuted her HUGE engagement ring from Justin on a photoshoot for Vogue, sharing the snap on her Instagram profile.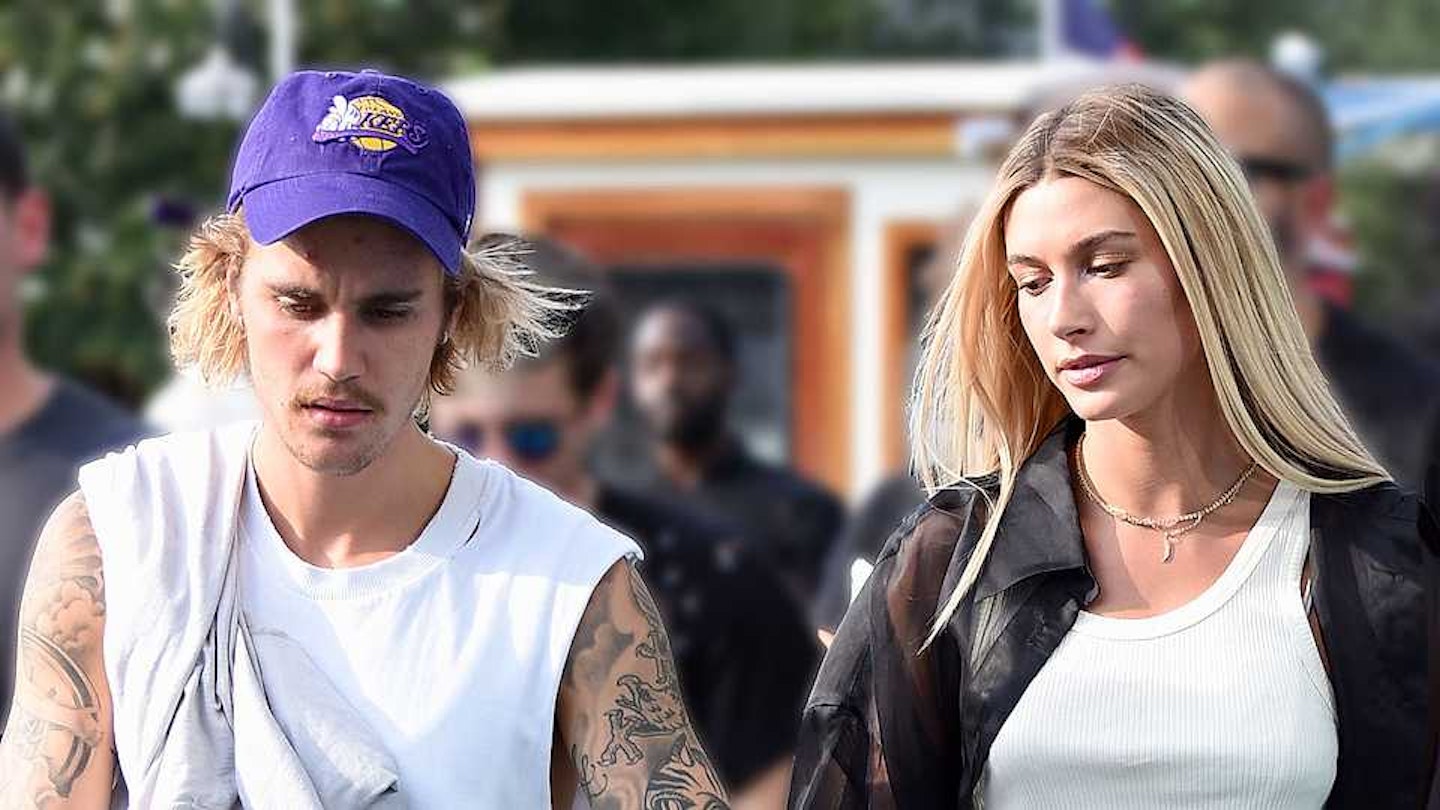 19 of 30
CREDIT: Shutterstock
September 2018 - Justin and Hailey spotted at NYC courthouse
Justin and Hailey were spotted outside a courthouse in New York City well-known for issuing marriage licences, with eyewitnesses telling TMZ that they were spotted there on the 13th Sept, and that Justin even became teary-eyed over their upcoming nuptials, reportedly telling Hailey, 'I can't wait to marry you, baby.'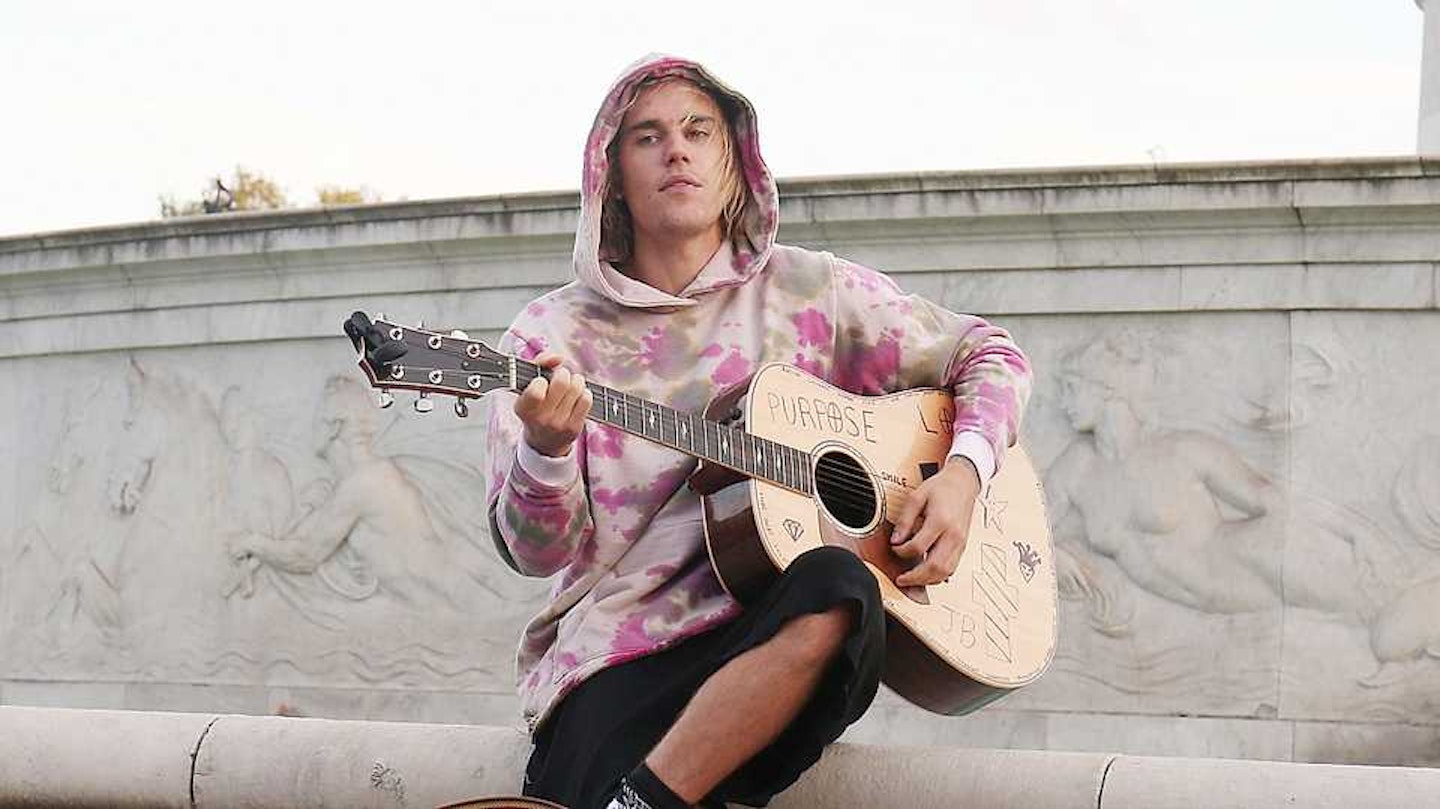 20 of 30
CREDIT: Shutterstock
September 2018 - Justin spotted busking outside Buckingham Palace
The loved-up pair took a stroll through London, with Bieber whipping out his guitar outside Buckingham Palace and serenading Hailey with an acoustic version of his hit song 'Cold Water' as Hailey and an array of excited fans looking on. One fan of the 24-year-old filmed the whole thing, posting the clip to his Instagram page for us all to enjoy. Alongside the video, the fan wrote, 'Justin Bieber singing in front of Buckingham Palace today! #shook #lucky #justinbieber #streetconcert'. [sic]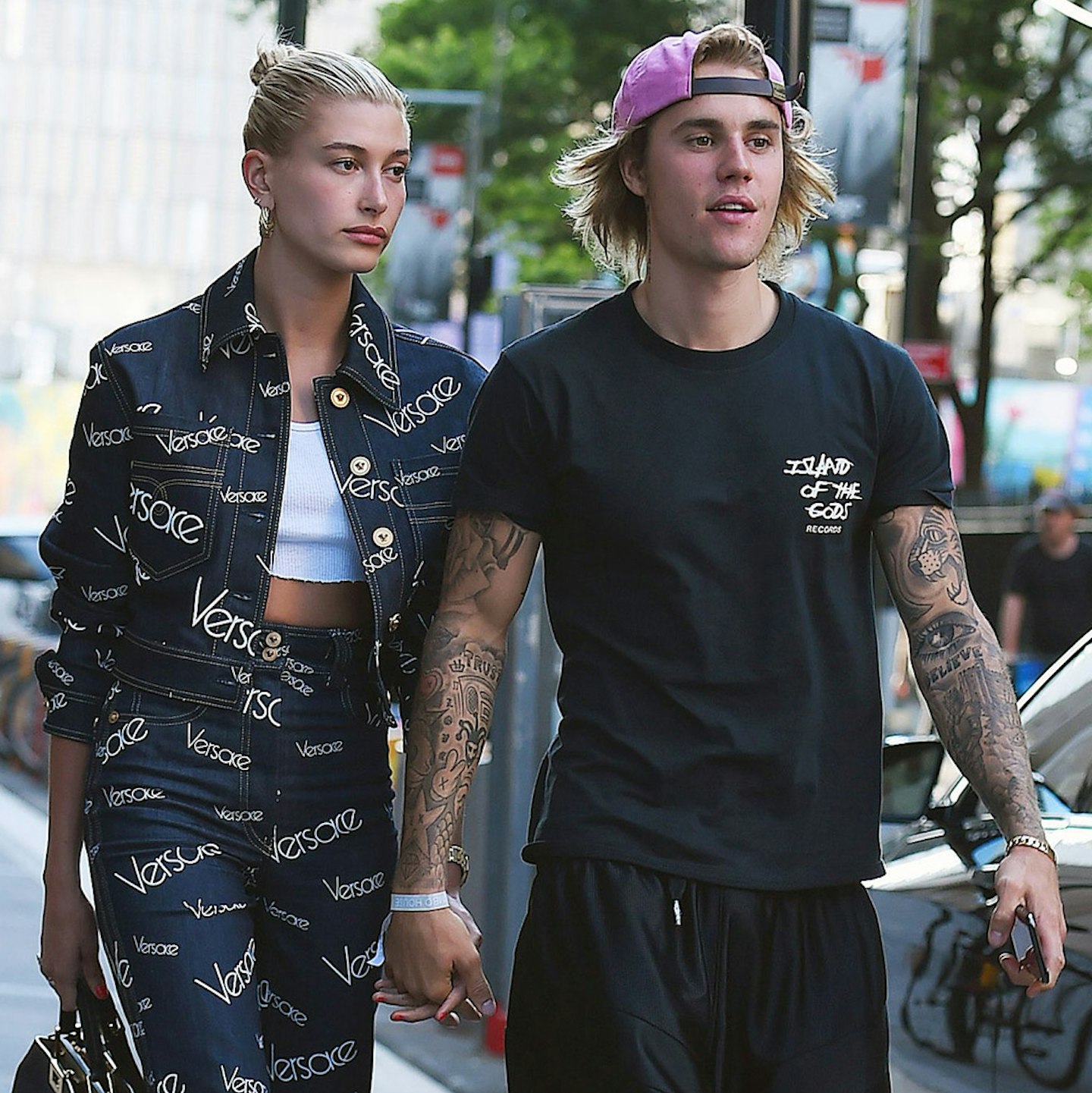 21 of 30
CREDIT: Shutterstock
September 2018 - Hailey opens up about her engagement
Hailey spoke out about the engagement in her first interview since Justin popped the question whilst they were on holiday in the Bahamas, calling it the "biggest OMG moment" of her life.Speaking to Coveteur, Hailey was very coy about the subject, but did say, "Well, I got engaged! I think that's probably the biggest OMG moment of the year for me, of my life. So that's probably top."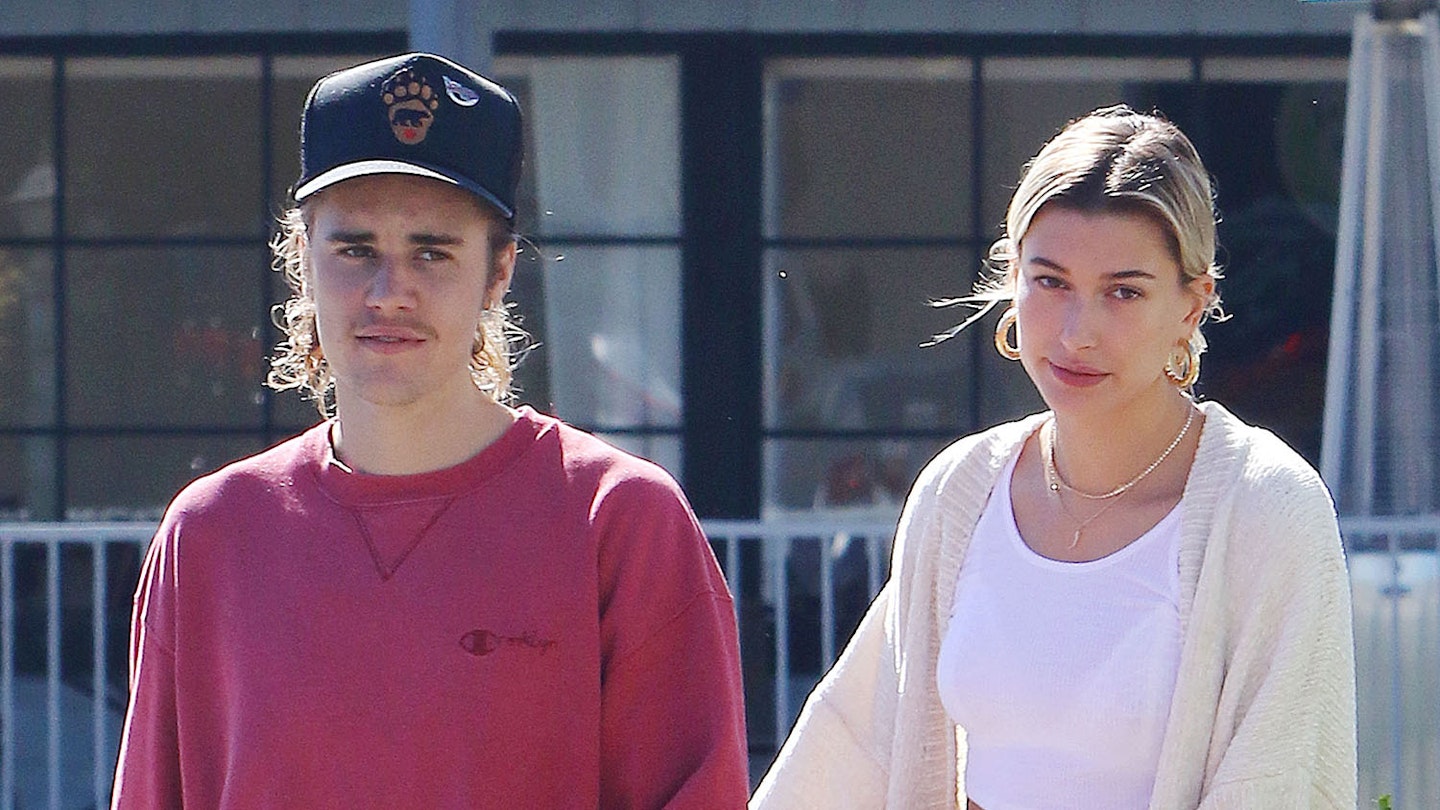 22 of 30
CREDIT: Shutterstock
October 2018 - Justin sparks rumours they're already married
The Daily Mail reported that Justin "let slip" he'd married his 21-year-old fiancée, as an eyewitness told the publication that they'd been dining near the couple at restaurant Joan's On Third in Los Angeles and had to ask.They told the publication, "I said to them, 'I don't want to say congratulations, but are you married?' Justin said, 'Yes, we are married'."He explained that they have their ups and downs just like every other couple. He said he has a lot of baggage and called Hailey 'an angel' for sticking by his side, but she just rolled her eyes."Well, that's pretty definitive!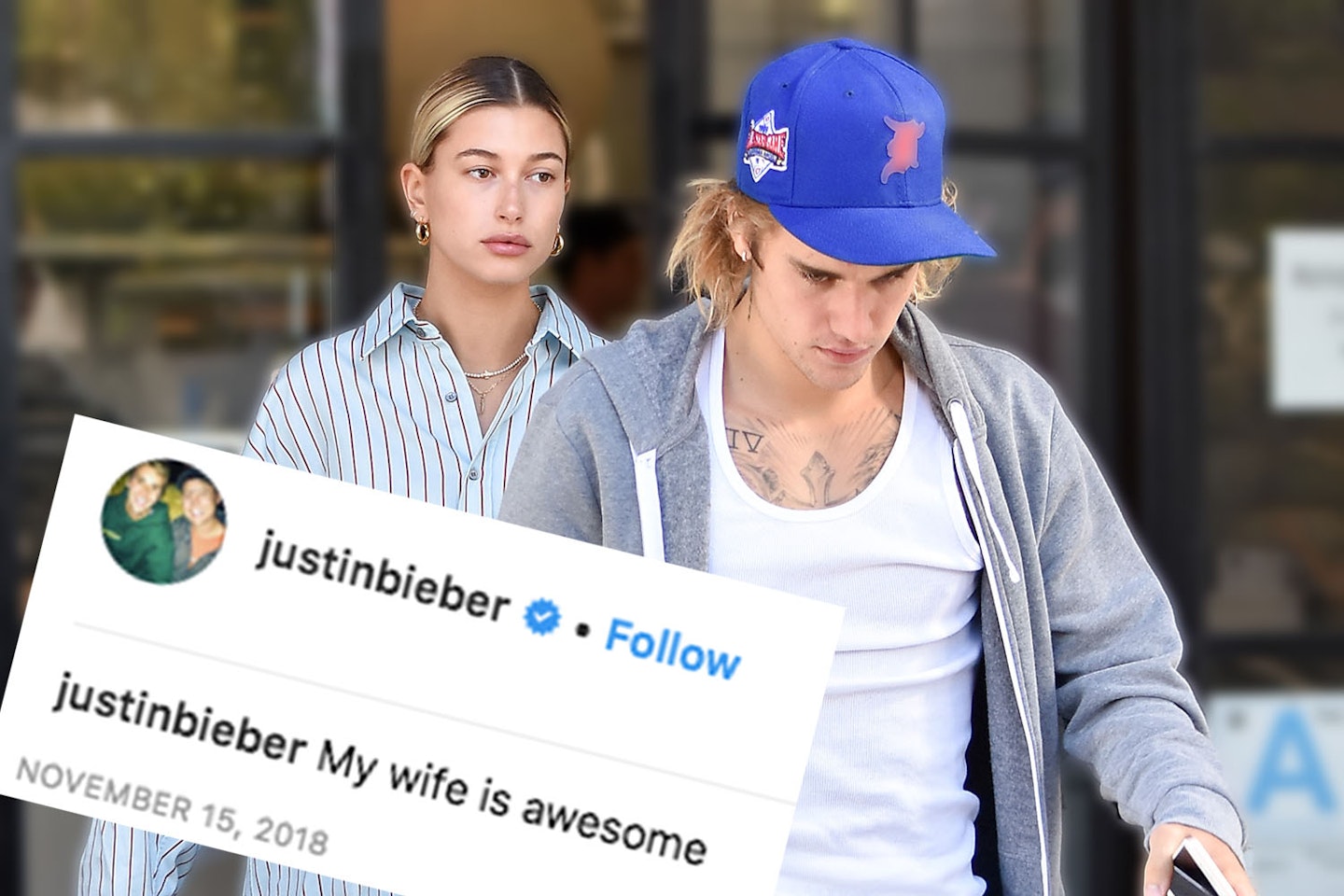 23 of 30
CREDIT: u00a9 Getty Images & Instagram/ Justin Bieber
November 2018 - Justin confirms he married Hailey Baldwin
In November 2018, Justin confirmed the speculation around his marital status with a very simple Instagram post that read, 'My wife is awesome.'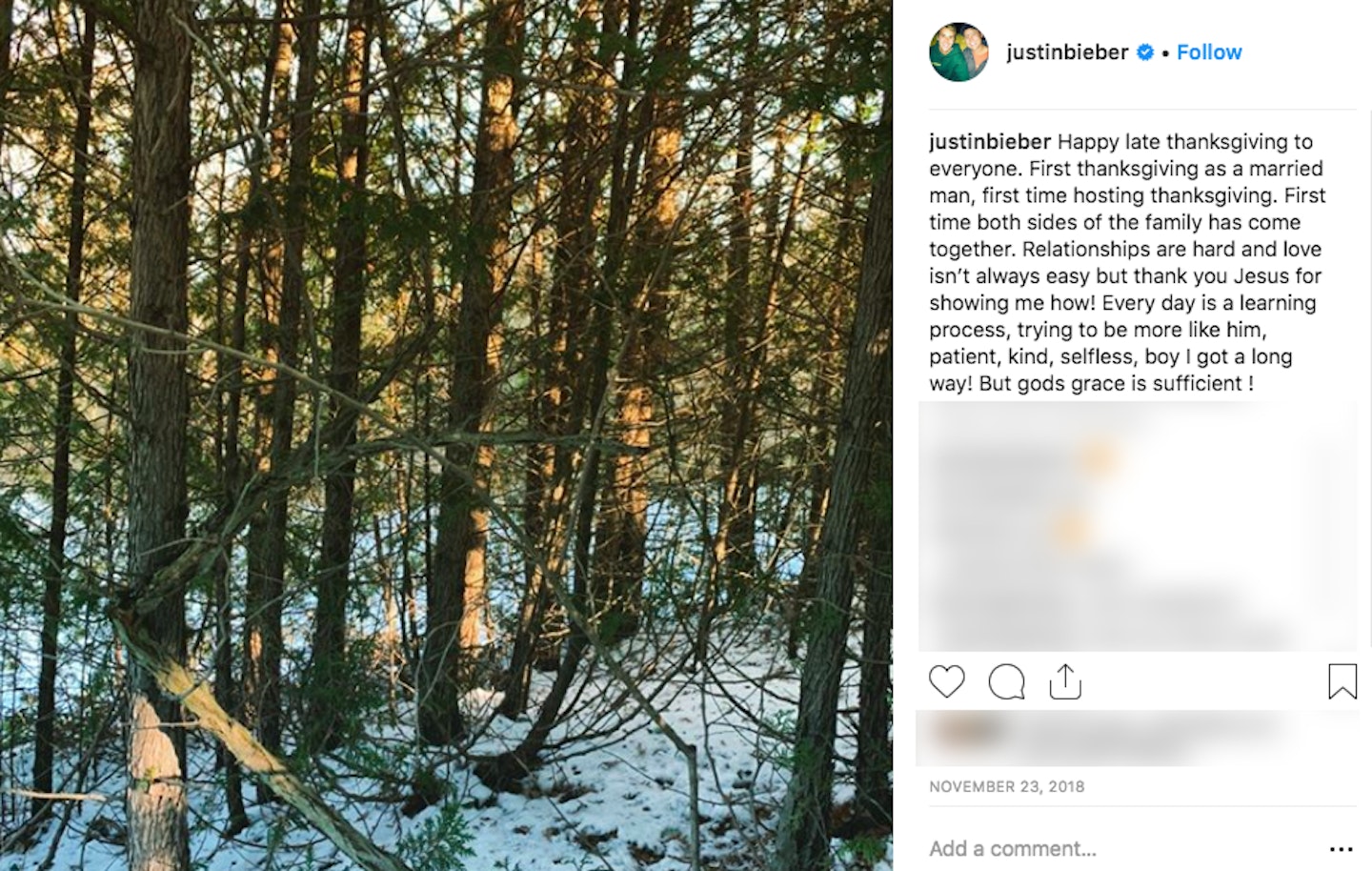 24 of 30
CREDIT: u00a9 Instagram/ Justin Bieber
November 2018 - Justin speaks out on his first Thanksgiving as a married man
In case there was any doubt, Justin spoke about being a married man once again on Thanksgiving in 2018. He wrote, 'Happy late thanksgiving to everyone. First thanksgiving as a married man, first time hosting thanksgiving. First time both sides of the family has come together. Relationships are hard and love isn't always easy but thank you Jesus for showing me how! Every day is a learning process, trying to be more like him, patient, kind, selfless, boy I got a long way! But gods grace is sufficient !' [sic]

25 of 30
CREDIT: u00a9 Instagram/ Hailey Bieber
November 2018 - Hailey changed her surname on Instagram to Bieber
Model Hailey also confirmed the nuptials on Instagram by changing her name to Bieber.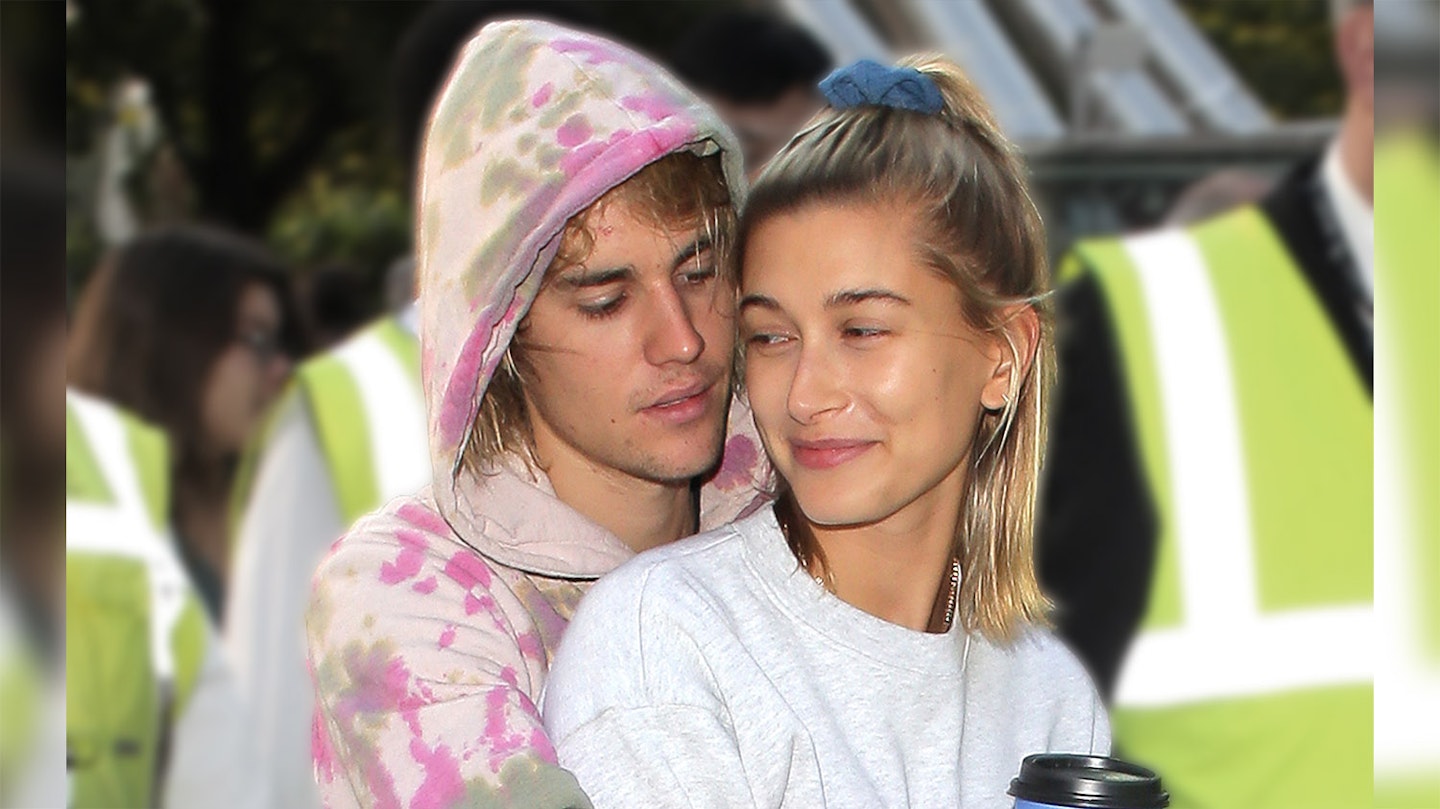 26 of 30
CREDIT: u00a9 Getty Images
January 2019 - Hailey and Justin are 'planning a big wedding'
Despite tying the knot last September, the Biebers are reportedly planning another wedding - but this time, they're going all out and are planning to "surprise" their guests with a big party. Speaking to Entertainment Tonight, a source close to the couple revealed that their big do will be on 28th February 2019, and they've already sent out 'save the date' cards.The source said that the newlyweds are "so happy and inseparable," and that they're "thrilled they can finally share their love and commitment with family and friends." They added, "They want the music, entertainment and exciting details to be a big surprise for their guests. There was no location included in their text, because they want complete privacy. Everyone is in full preparation mode, and Justin plans to use his personal DJ to spin on the big day. They truly are planning a beautiful celebration and a party to be remembered."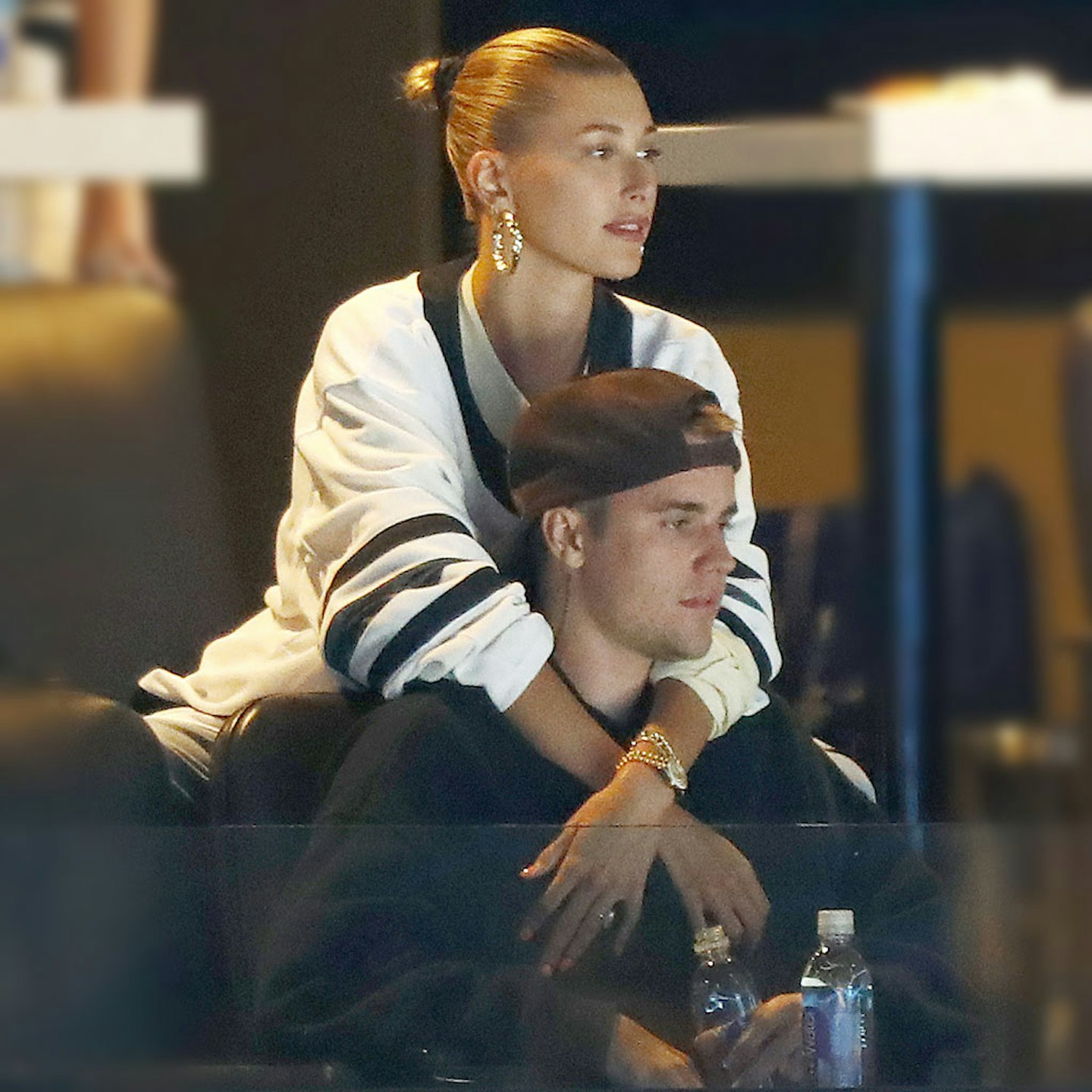 27 of 30
CREDIT: u00a9 Getty Images
April 2019 - Hailey and Justin prank the world with a pregnancy announcement
Fans were convinced Justin and his wife Hailey were expecting their first child on April Fool's Day after Justin shared a photo of a baby scan to Instagram with no caption. He then shared a photo of Hailey seemingly at the doctors having some sort of procedure, and wrote, 'If U thought it was April fools'. [sic]However, he later shared a joke photo of a baby scan with a puppy inside it, writing, 'Wait omg is that a,,, APRIL FOOLS'. [sic] The singer's prank didn't go down well with some people, with various fans slamming the couple for being 'insensitive', something he later apologised for.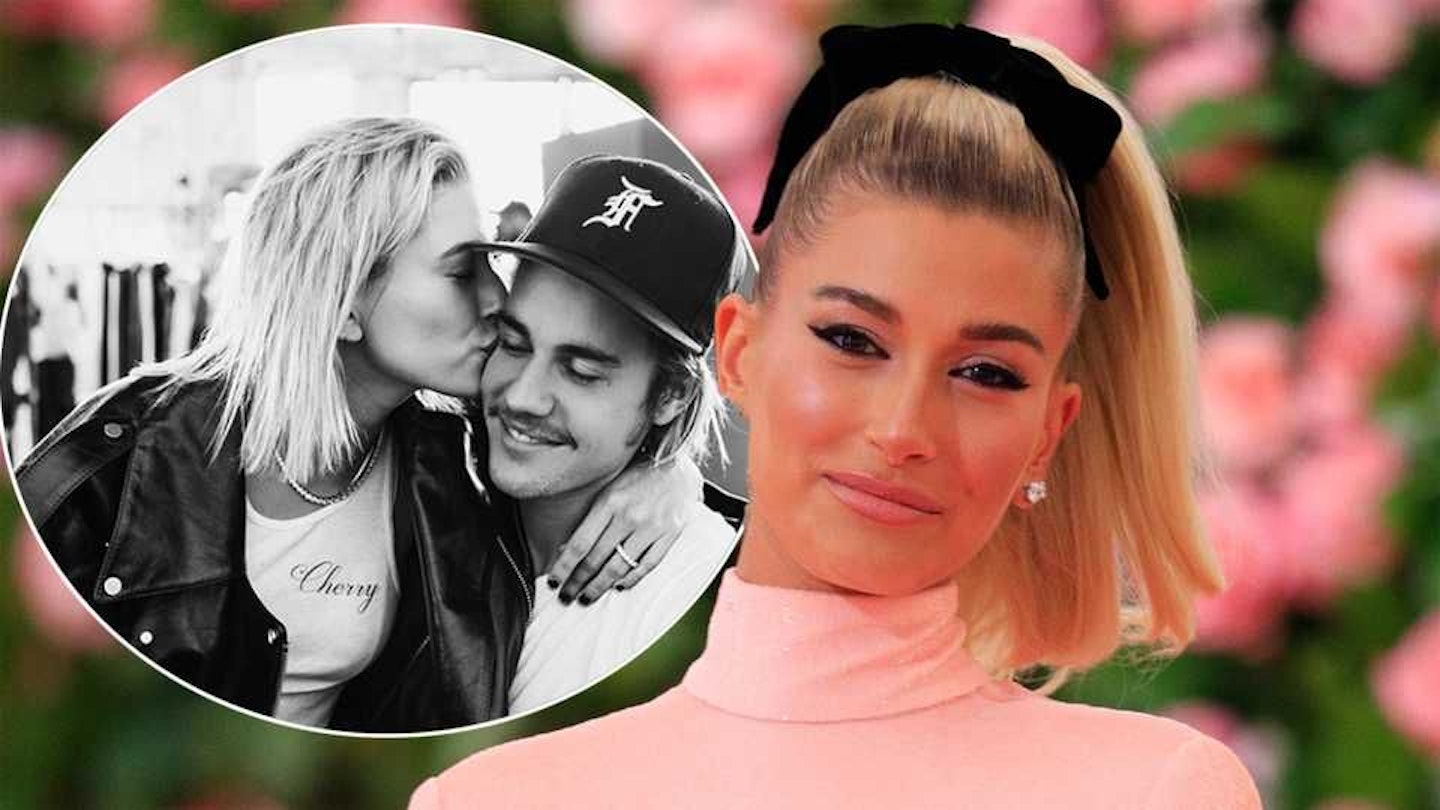 28 of 30
CREDIT: u00a9 Getty Images
July 2019 - The couple celebrate their 'proposal anniversary'
Hailey Baldwin shared the cutest tribute to husband Justin Bieber on their one-year proposal anniversary. Taking to Instagram, she posted a photo of the two on her Instagram, showing the couple relaxing with her head rested on Justin's shoulder.She captioned the image, '1 year ago I said yes to being your best friend for life, and today I have never loved you more.. life gets more beautiful everyday because of you, my heart belongs to you forever. Here's to learning and growing together.. ❤ufe0f'. [sic]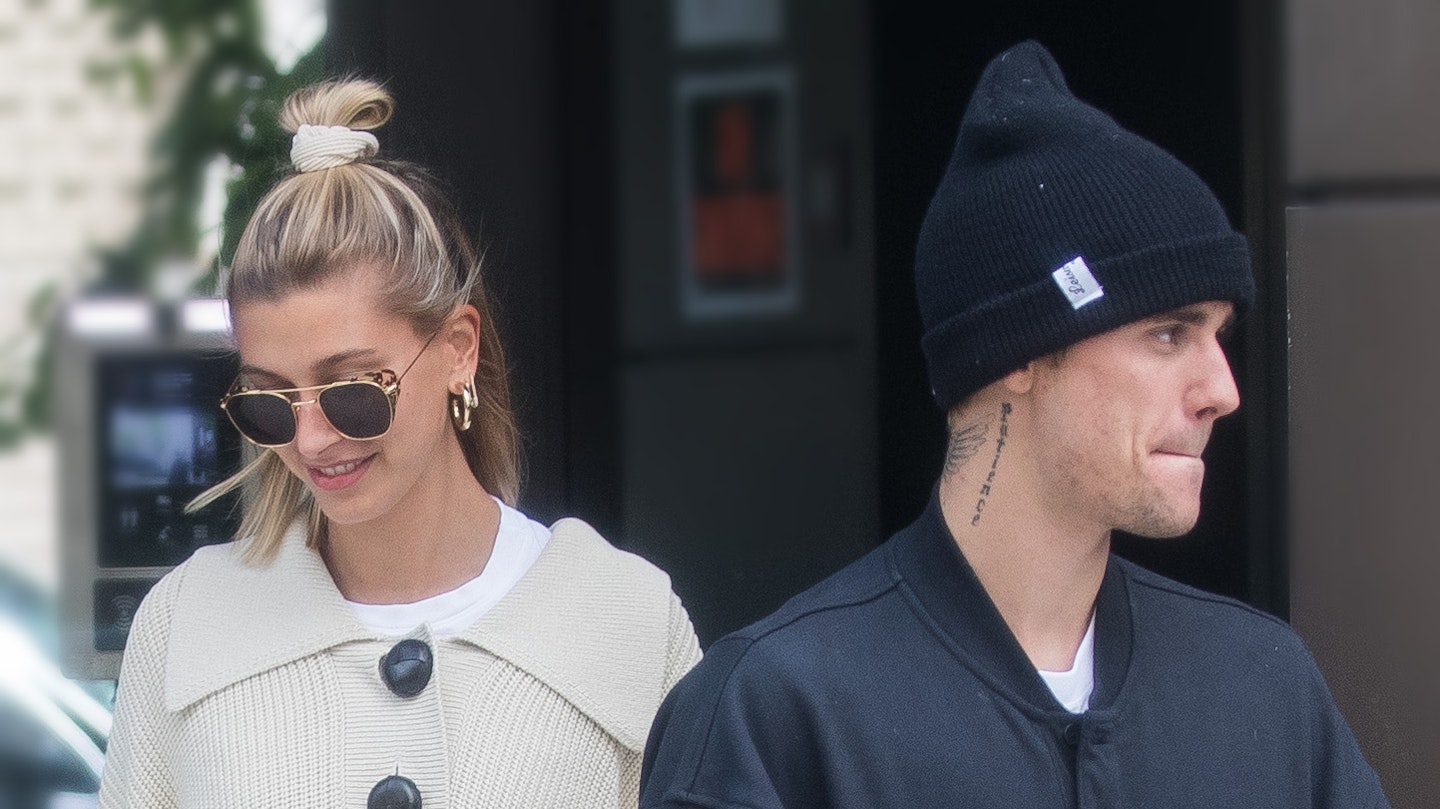 29 of 30
CREDIT: u00a9 Getty Images
August 2019 - Justin pays tribute to Hailey after she helped him through 'personal difficulties'
Sharing a video of himself singing at their church, Justin wrote, 'Sang at church last night. God is pulling me through a hard season. Having trust in Jesus at your worst times is the absolute hardest. But he is faithful to complete what he started.'I also want to thank my wife for being such a huge support in my life through this season.. it says in the bible count it ALL JOY when you face trials of various kinds. Sounds insane considering when u face trials u feel terrible.'But if we are grateful and worship god for what we do have in that season there is so much power in that... whatever pain you are going through just keep telling yourself THIS WONT LAST! Love you guys we in this together.' [sic]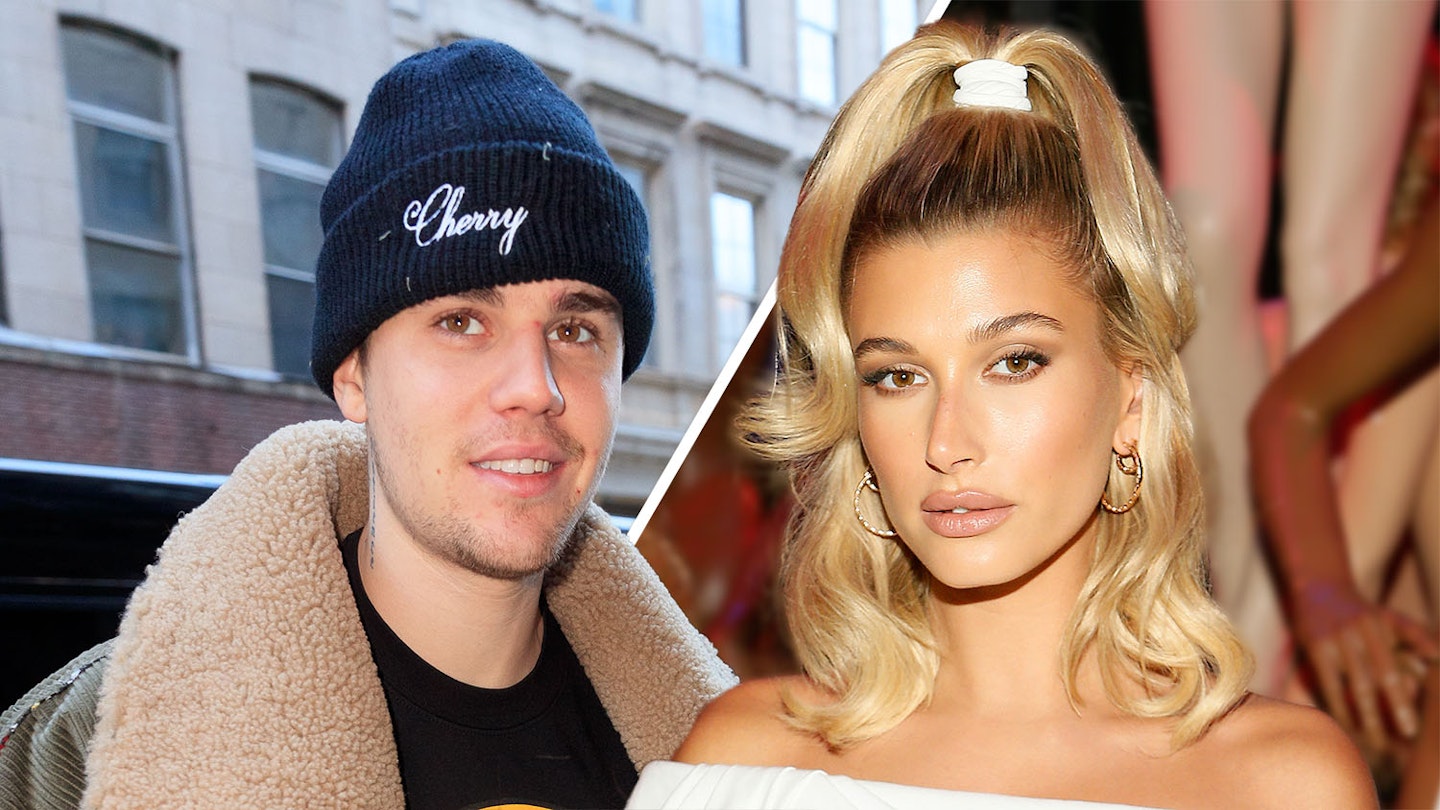 30 of 30
CREDIT: u00a9 Getty Images
September 2019
On 30th September 2019, Justin and Hailey held a second wedding ceremony at the Somerset Chapel before heading to the Montage Palmetto Bluff resort in South Carolina. Justin shared some stunning black and white snaps on his Instagram.
What is Justin Bieber's latest song?
Justin Bieber released 'Honest' with Don Toliver on 29th April 2022, the punchy and uptempo track is his first official release since 'Ghost', released in September 2021. The music video, described as a mini movie, sees the artists go off-piste in the mountains, wearing ski masks and riding skidoos.
What is Justin Bieber's next album?
Justin has yet to announce full details of his next album, but he has confirmed it is "in the works". Justin told Apple Music's Ebro Darden that although he doesn't have a date for it, they're "wrapping it up". He also revealed that American singer/songwriter/guitarist John Mayer is on the album.
Speaking about John Mayer on his album, Justin said: "(There's a) wicked guitar solo, so that was really cool for me," continuing: "He's someone who I've looked up to for a long time. So we were at Henson the studio, and I was working on this song and he came in and he's like, 'Can I go in the booth?'
"And I was like, 'Yeah, bro, go in.' And so he went in the booth and then he came out and he laid a guitar solo and it was just like, it was mind-blowing to see him actually operate in his gift like that, being able to like see it first-hand, because like he is on another level. It's insane."
Is Justin Bieber on tour?
Justin Bieber is currently on tour across North America, as part of his 'Justice' world tour. Justin opened the tour with a show in San Diego on 18th February, but then unfortunately tested positive for Covid-19 and had to postpone some of his shows.
A statement was released explaining: 'Due to positive COVID results within the Justice Tour family, we will unfortunately have to postpone Sunday's show in Las Vegas. Justin is of course hugely disappointed, but the health and safety of his crew and fans is always his number one priority.'
His 'Justice' tour will take him across South America, South Africa, the Middle East, Australia, New Zealand, and Europe, with performances in the UK in February 2023.
Is Justin touring in the UK?
He sure is! However, you'll have to wait a little bit, as he will be heading to UK ground in 2023. In November 2021 the singer announced the exciting news - the 'Justice' world tour will start in 2022, and firstly take Justin across five continents over 10 months, later including six dates in the UK the following year.
Check out the 'Justice' world tour UK dates below...
'Justice' World Tour UK dates:
Glasgow OVO Hydro - 8th February 2023
Aberdeen P&J Live - 11th February 2023
London The O2 13th & 14th February 2023
Birmingham Resorts World Arena - 22nd February 2023
Manchester AO Arena - 25th February 2023
Utility Arena Sheffield - 26th February 2023
You can hear Justin Bieber's biggest hits on the heat playlist.
Read more:
Justin Bieber's biggest and best collaborations: From Ed Sheeran to Ariana Grande
Shawn Mendes and Camila Cabello's full relationship timeline so far 💕
How to listen to heat: