Gin gardens, sandy beaches, BBQs along the Thames - there's plenty of reasons to get excited for the season ahead. To make sure you make the most of summer, we got in touch with DesignMyNight for the top 10 summer pop-ups across the UK, from London all the way to Edinburgh. Whether you're getting married (and divorced) at a futuristic Vegas-themed rooftop or sipping expertly made gin cocktails in a secret garden, there's no need to hop on a plane for summertime vibes.
best summer pop ups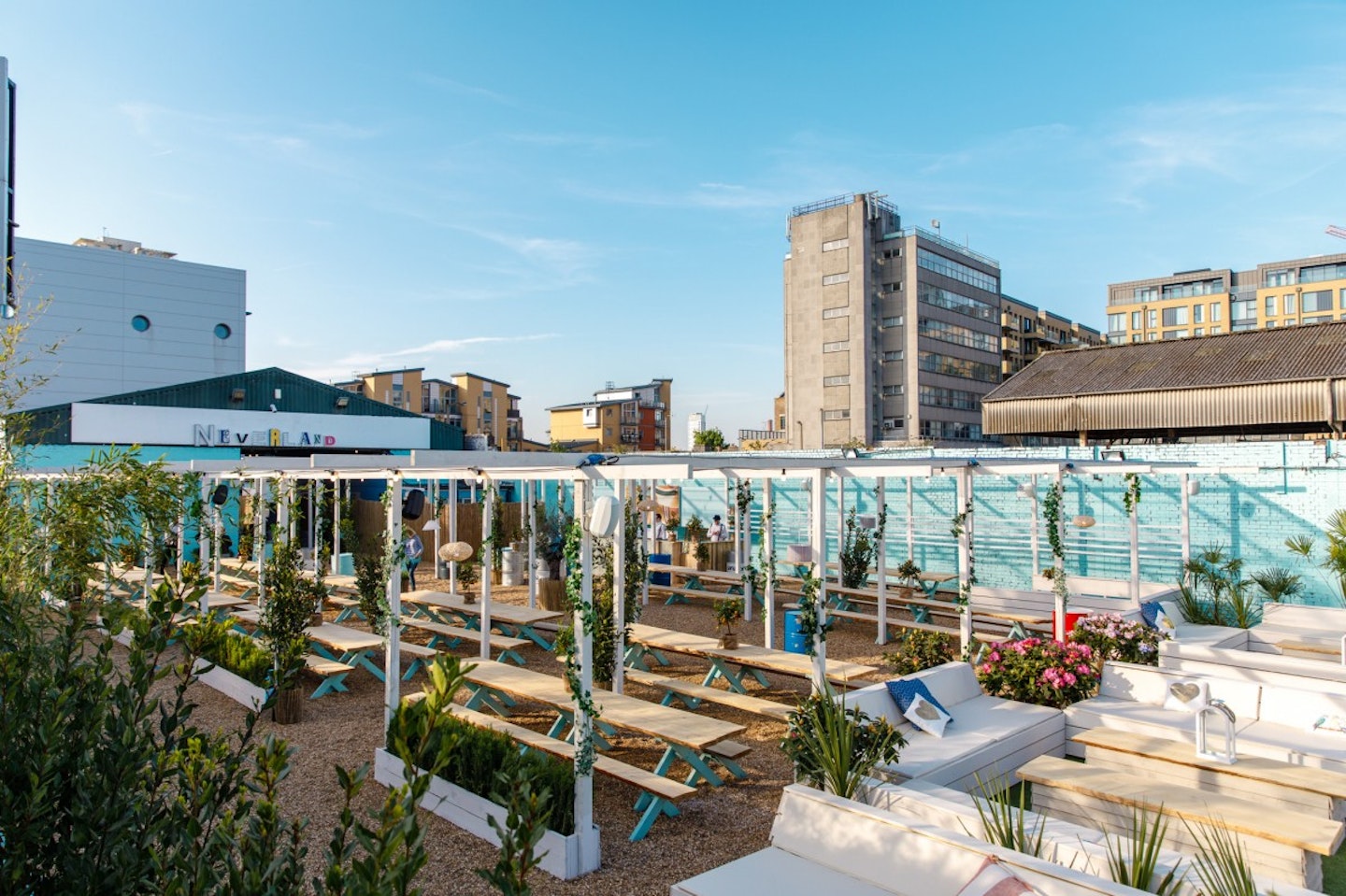 1 of 11
CREDIT: Neverland
Neverland: Fulham Beach Club - London
Throw on a pair of sandals and start praying to the weather gods. London's pop-up beach is back for summer, and it's bigger and better than ever before. Tucked away beside the Thames, Fulham Beach Club has giant daybeds, cabanas and pastel-coloured beach huts, alongside a whole host of activities, from prosecco pong to mini croquet. That's not all though - they've got a food offering from Jimmy's BBQ Club, yoga on the weekends and bottomless brunch with unlimited piña coladas.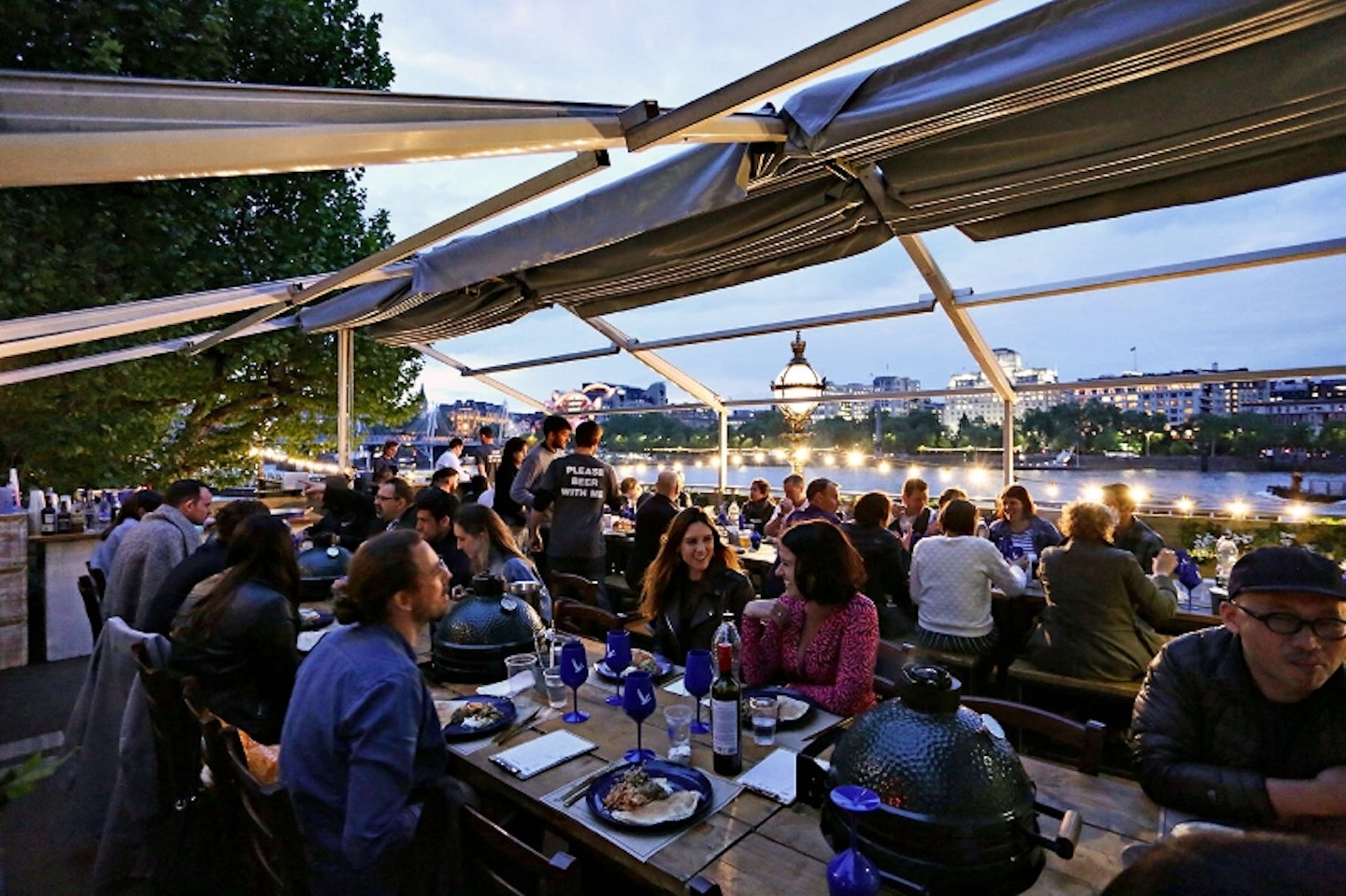 2 of 11
CREDIT: DesignMyNight
The BBQ Club - London
Sure, you could spend a whole afternoon in your back garden cremating Sainsbury's sausages and cursing into the wind, or you could down tools and head to The BBQ Club. Sitting along the banks of the Thames, this pop-up has the summer stamp of approval with riverside views, seasonal cocktails, and a six-course tasting menu that you cook yourself. From charred squid with avocado guac and lamb kebabs to griddles apricots, you'll never look at a disposable BBQ the same way again.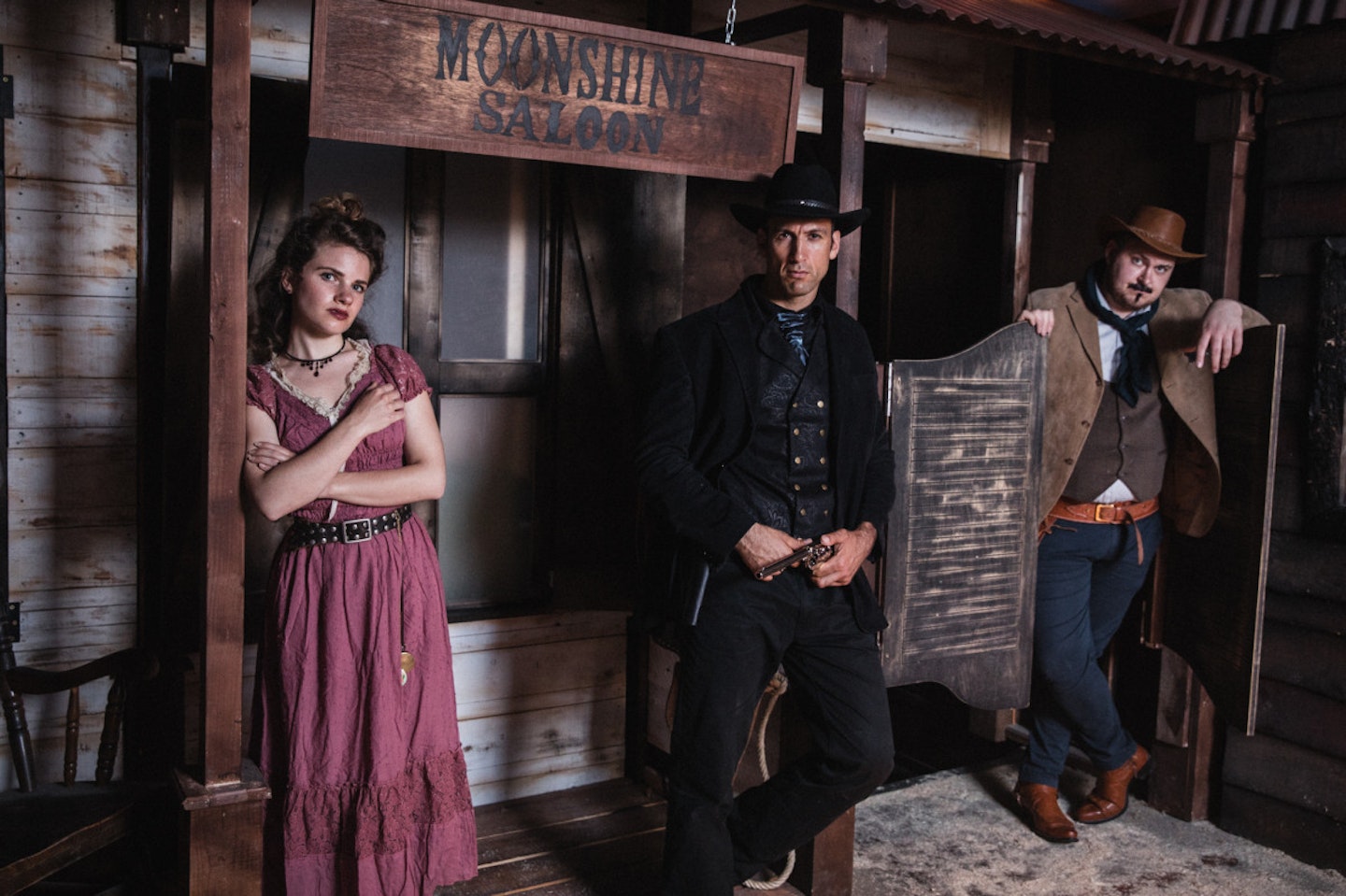 3 of 11
CREDIT: DesignMyNight
Moonshine Saloon - London
Moonshine Saloon mightn't be drenched in sunshine (it's hidden in a basement), but it's still listed as one of the coolest pop-ups to visit this summer. Taking you from London all the way to the wild west, you'll need to look the part by dressing up as a cowboy/cowgirl, and you'll need to bring along a bottle of your favourite booze too. Why? This joint is BYOB, and your liquor will be used to make 'illegal' moonshine cocktails. Just make sure you don't arouse the suspicion of the sheriff; he's on the lookout for bandits.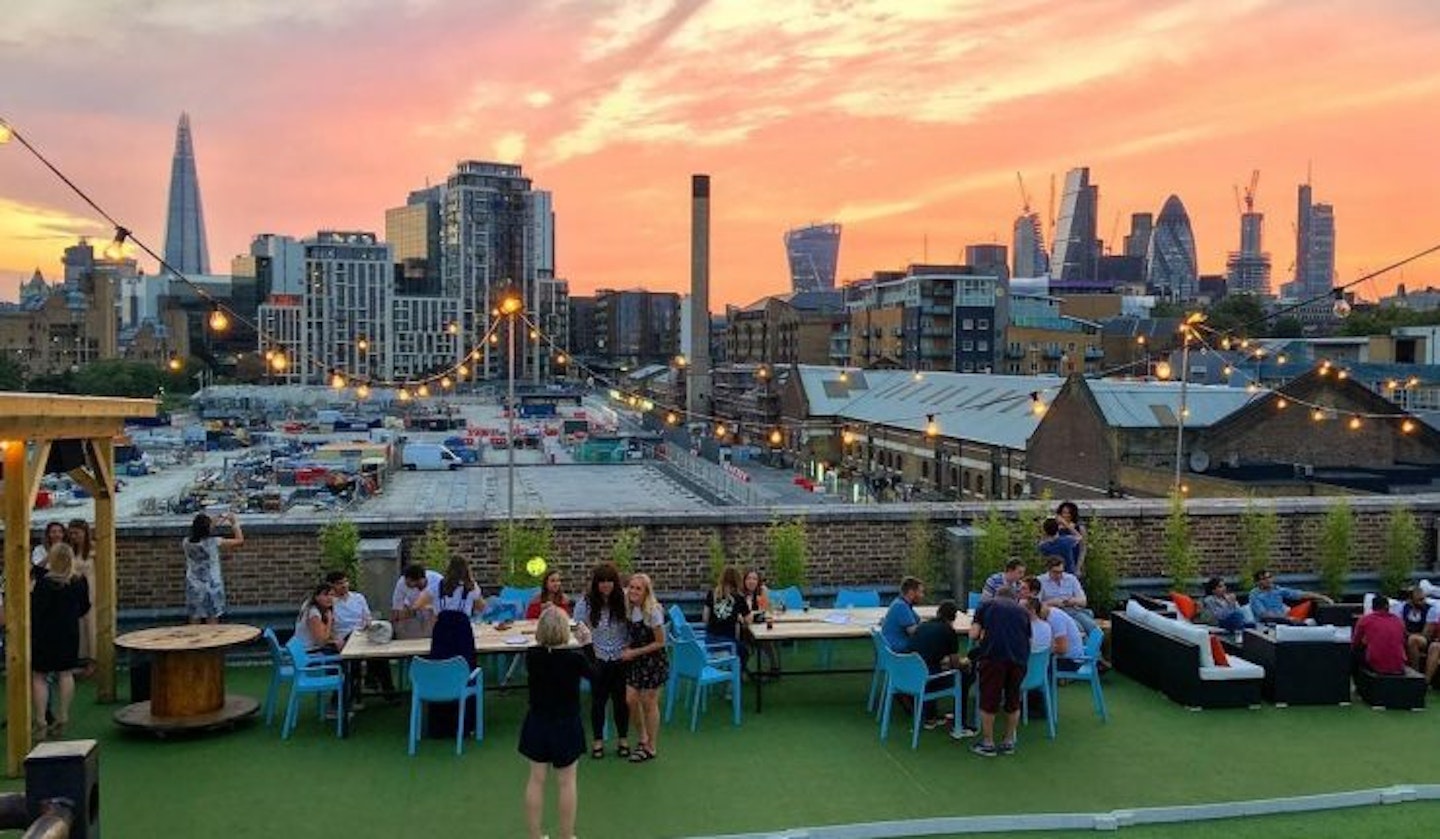 4 of 11
CREDIT: Skylight
Skylight - London
Worthy of appearing on Operation Transformation, Skylight was once an old abandoned car park, but is now one of London's coolest pop-up rooftops. Sticking around for summer with a plethora of seasonal cocktails (hello watermelon mojitos), you can either soak up the sun with a drink in hand, or book to play a few games of croquet or pétanque on one of their courts/lawns.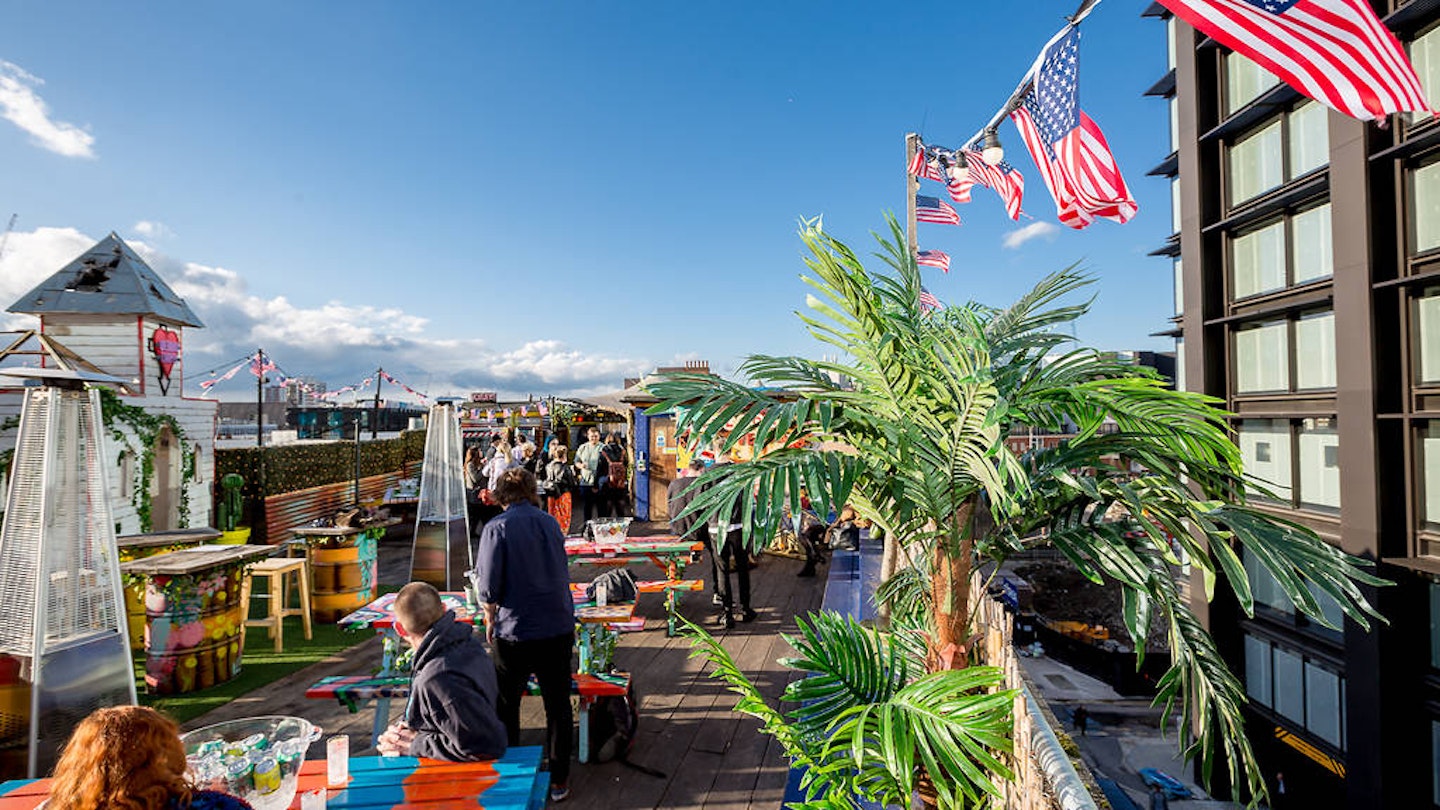 5 of 11
CREDIT: DesignMyNight
Lost Vegas - London
Never ones to shy away from a bizarre theme, Queen of Hoxton have transformed their rooftop space into a futuristic Lost Vegas-inspired playground. It has peanut butter and banana coladas, McVegan burgers, four cheese toasties, and you can get married in a chapel by an Elvis impersonator. Not feeling the whole 'till death do us part' thing? You can get divorce certificates in a vending machine when you come to your senses.
6 of 11
CREDIT: The Nomad Cinema
Nomad Cinema - London
Get with the programme, people. You don't have to be indoors to kick-back and watch your favourite flick. Nomad Cinema roam around the UK all year round, but they're taking things into the open air this summer. Popping up everywhere from Hyde Park Lido to Queen's Park, pick from The Shape of Water, Blade Runner and The Bride of Frankenstein.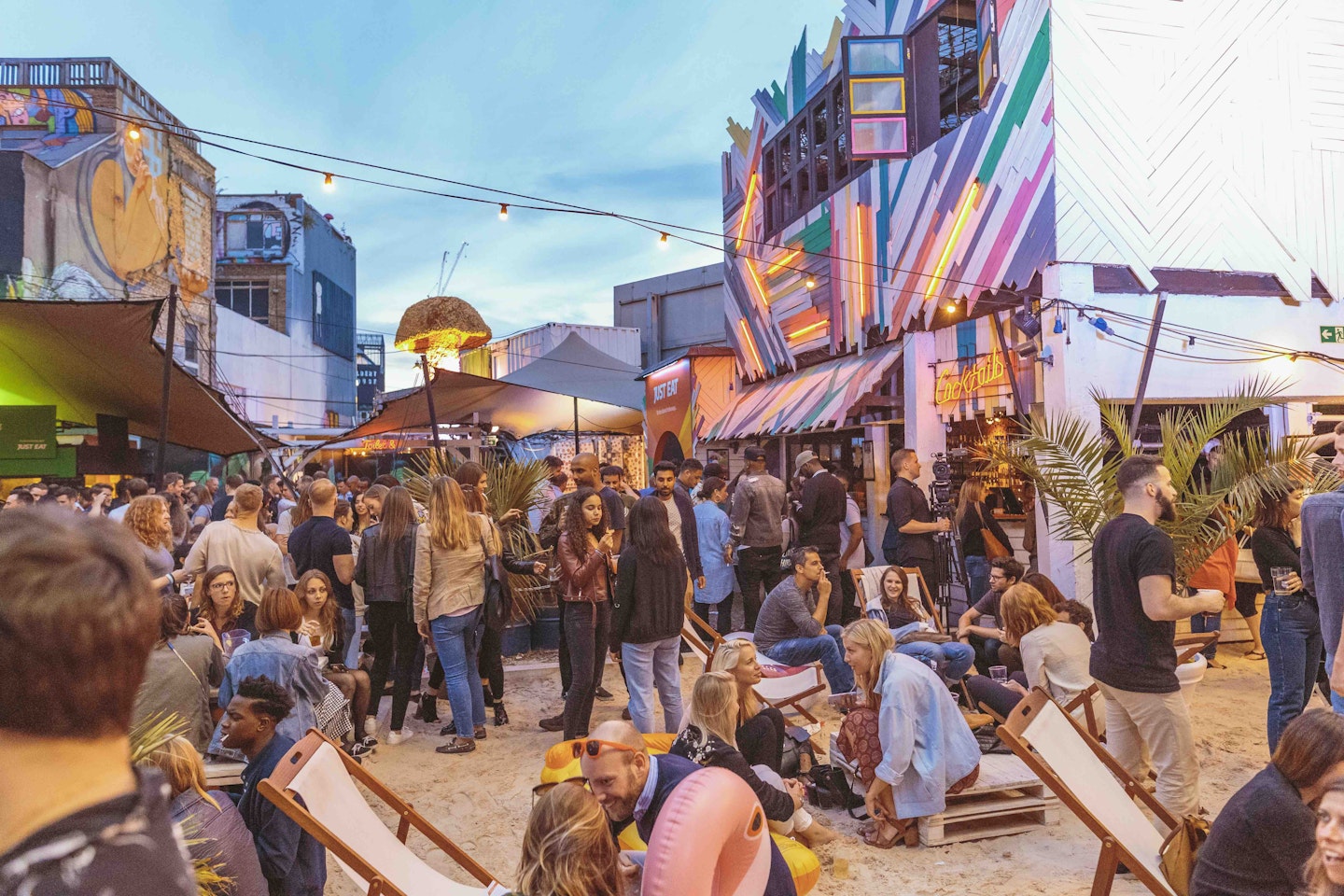 7 of 11
CREDIT: Last Days of Shoreditch
Last Days of Shoreditch - London
Last Days of Shoreditch are back at it again this summer, but this time around they've brought an Enchanted Garden to the middle of east London. Get ready for adult-friendly slides (that you won't get stuck in halfway down), hammocks, and karaoke booths to unleash your inner Mariah Carey. Food stalls haven't been forgotten about either with Crust Bros, Smokey Tails and Cheeky Burger dishing out the goods.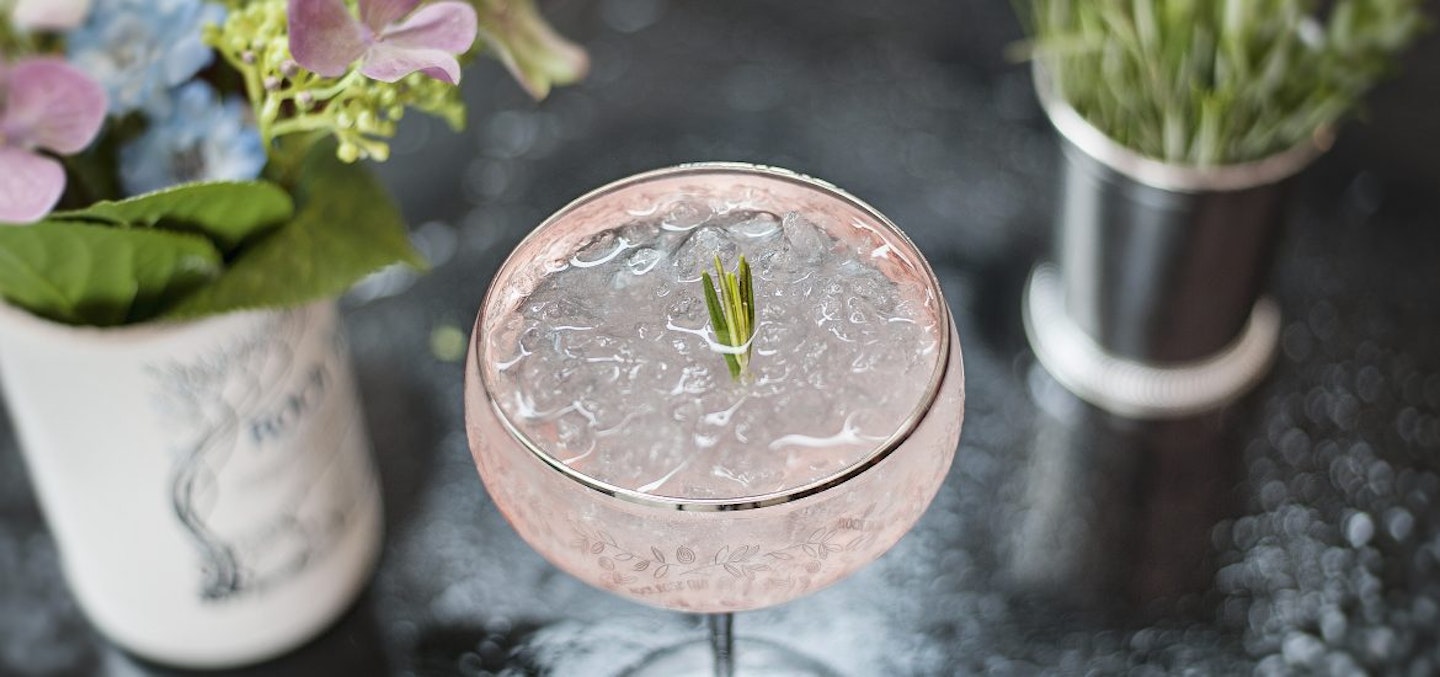 8 of 11
CREDIT: Radisson
Radisson Collection Royal Mile Hotel - Edinburgh
Just how much do you love gin? If you love it enough, make it a priority to visit The Radisson Collection Royal Mile Hotel. They've transformed their hidden terrace into a magical gin bar, in conjunction with Rock Rose - an award-winning gin from Scotland. With the preservation of bees in mind, every cocktail served will be presented with a pack of wildflower seeds, which help bees survive. Looks like guilt-free drinking exists after all.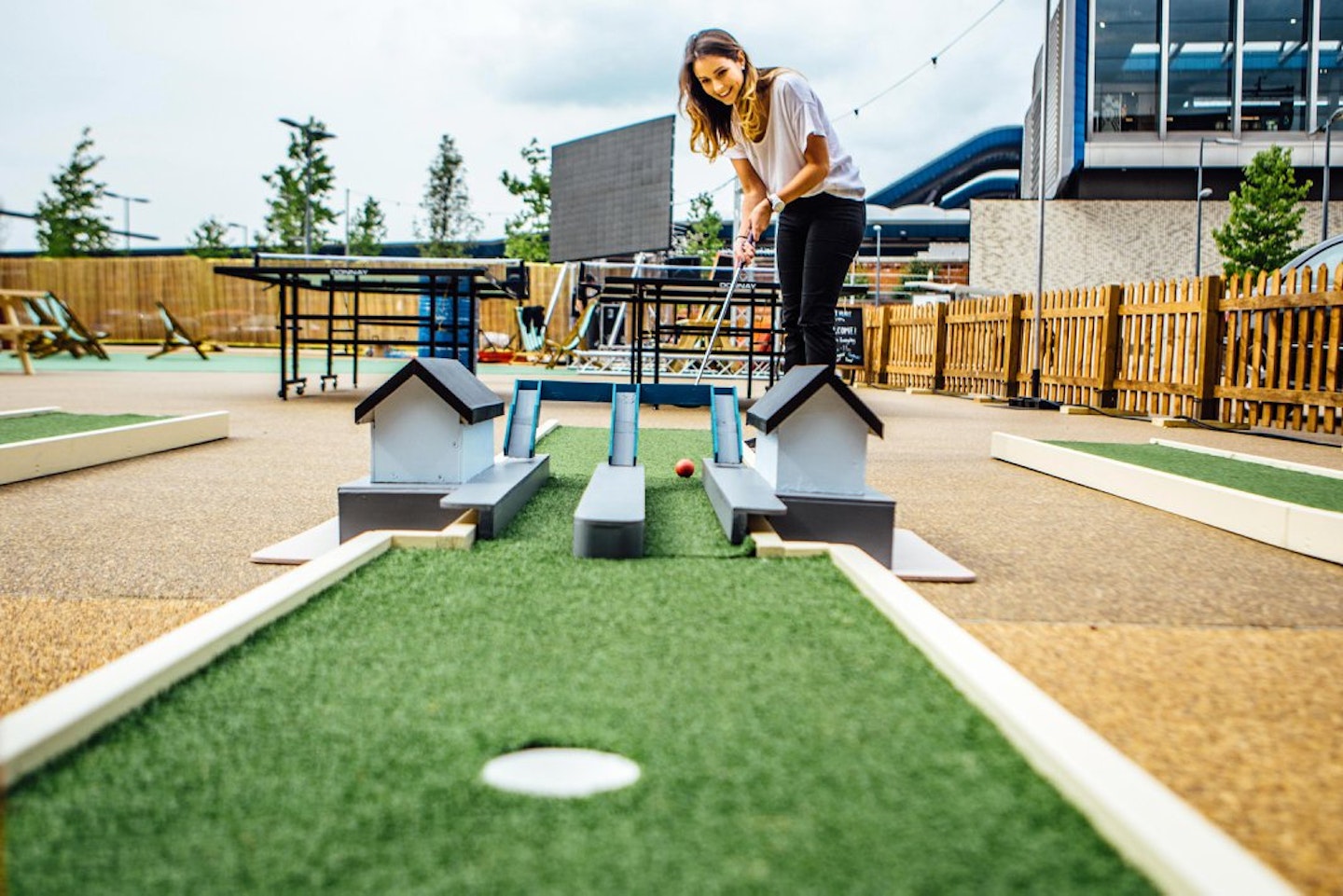 9 of 11
CREDIT: The Village
The Village - Reading
A pop-up that's got it all sussed? The Village at Station Hill is sticking around for the entire summer to bring the people of Reading a myriad of food and drink festivals, a vegan market, alongside a brilliant space to watch all the World Cup and Wimbledon action. With a stellar line-up of street food and minty mojitos, you'll find it hard to call it a night at this quirky pop-up.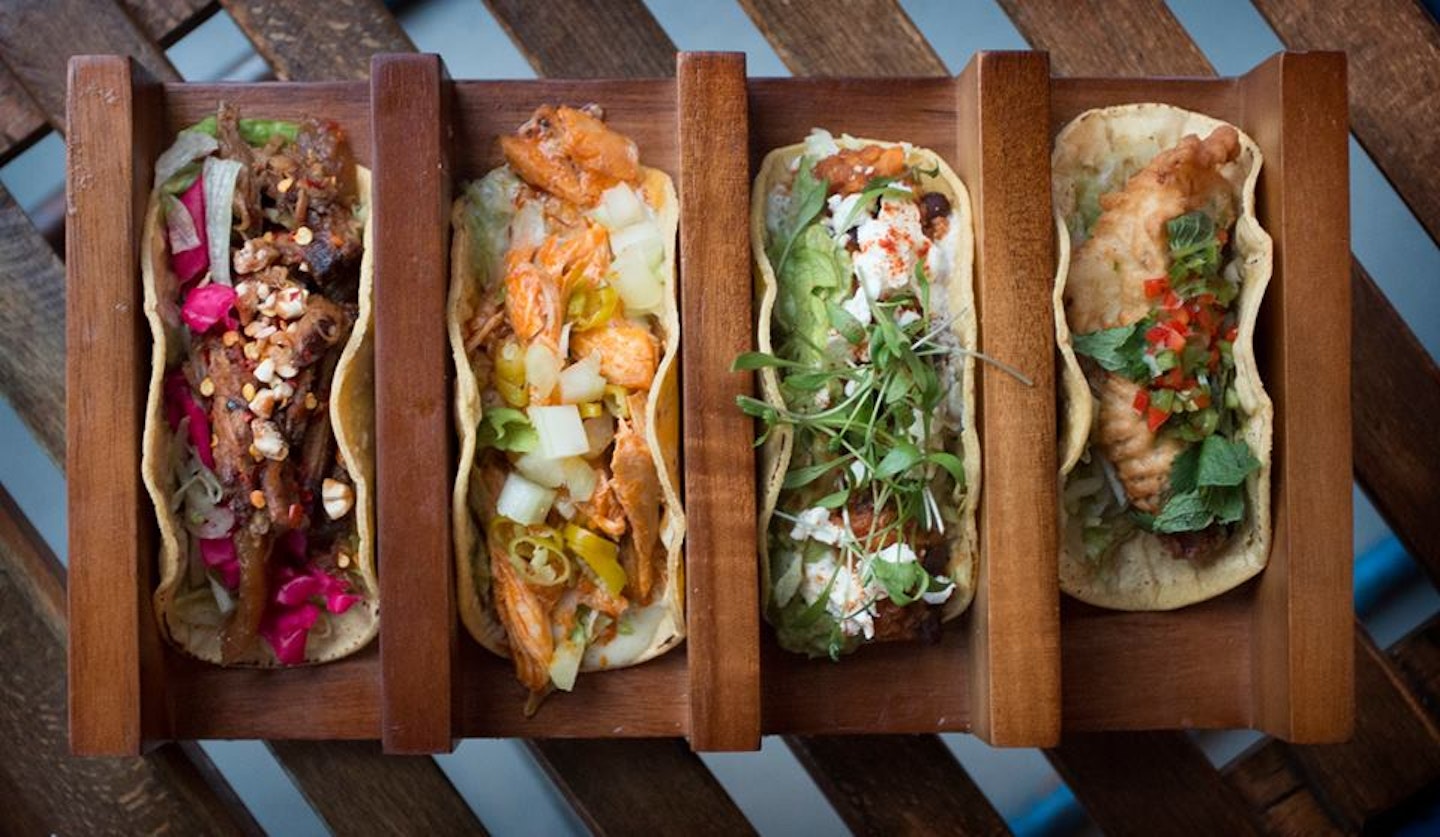 10 of 11
CREDIT: The Plough
Plough Boca Grande Taqueria - Birmingham
Forget spending a mini fortune on flights to Cancun, you can get a taste of Mexico right here in England, all thanks to Boca Grande. Popping up at The Plough in Birmingham, you can tuck into a menu packed with all kinds of tacos; from slow cooked chorizo to chilli battered cod. The drinks aren't a let down either. Slurp frozen margaritas, and if you're feeling adventurous, give the tequila sangria a test drive.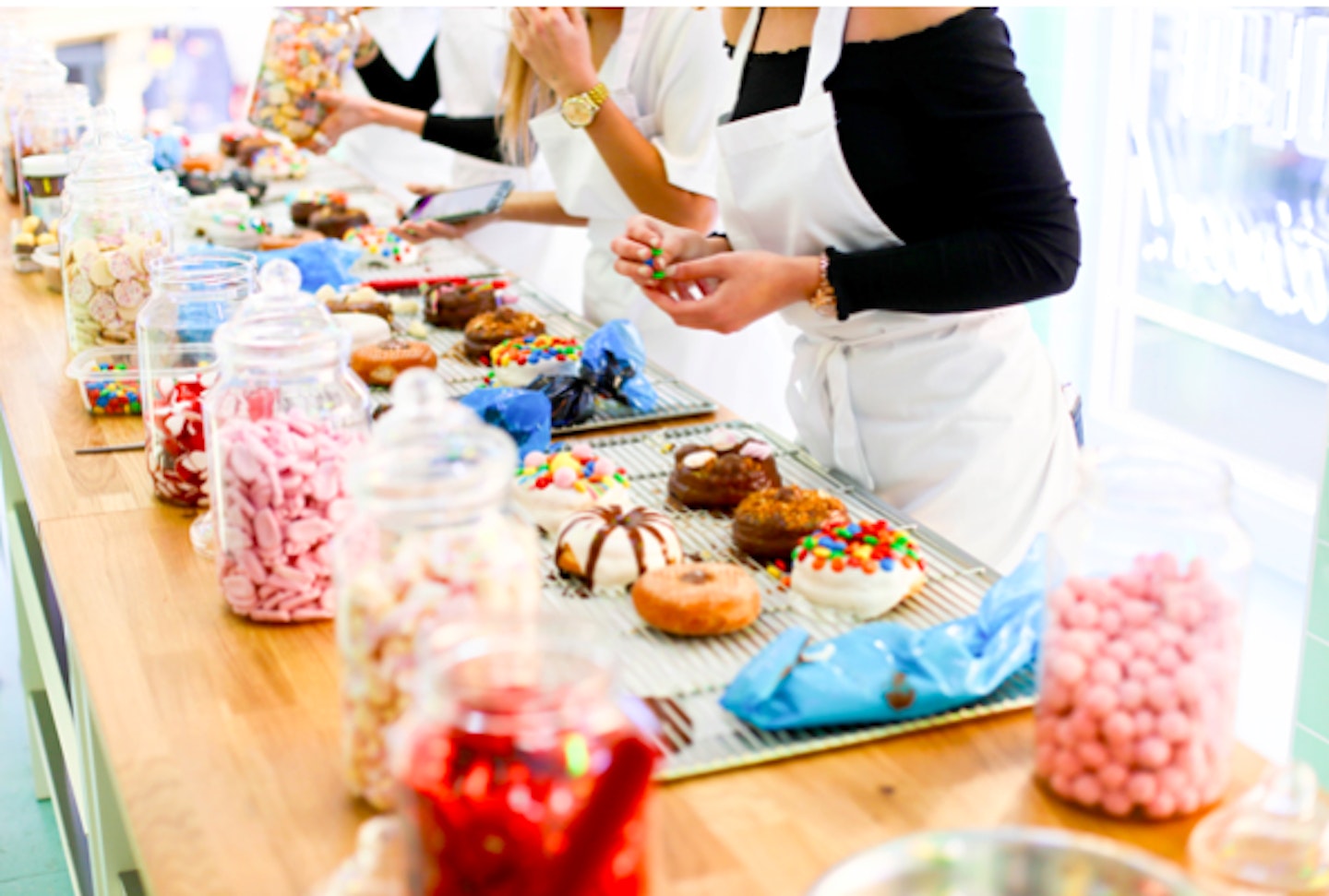 11 of 11
CREDIT: Doughnut Time
Doughnut Time's Doughnut Academy - London
Creators of the most delish doughy treats, Doughnut Time, are putting the dough in your hands this summer and have have launched their own Doughnut Academy. You'll have the chance to get those creative juices flowing then devour your handiwork in approx 0.3333 seconds. In each 2-hour class guests will glaze, fill and top four of Doughnut Time's best-loved creations. From the Nutella-loaded Love at First Bite, to It's Always a Gaytime bursting with delicious honeycomb custard; apprentices can then go dough-crazy and decorate their doughnut creations with an incredible selection of pick'n'mix and colour-popping glazes.
For more info on London's best pop-ups and other pop-ups across the UK, visit DesignMyNight and follow them on Instagram and Twitter.