Getting hitched soon and still haven't got a clue how to wear your hair? We get it. Between sorting out venues, tasting all the food and dealing with in-laws, planning a wedding can be super stressful so we thought we would do some of the hard work for you.
Wedding hair inspiration
Brie Larson took home the Best Actress Oscar at this year's Academy Awards but it was her chic half up, half down hair 'do we were all crushing on. Her twisted sections were set in intricate loops around a glittering, ornate hair accessory.
ghd UK ambassador Zoe Irwin thinks accessories are the way forward for brides this year… "Accessories are key for 2016 and you will see this trend range from young, bright and neon shades to high-end, chic embellishments as seen at Celine and Prada. This is a great way to quickly transform your look, adding an instant touch of glamour, making it the perfect trend for wedding season."
Bridal hair trends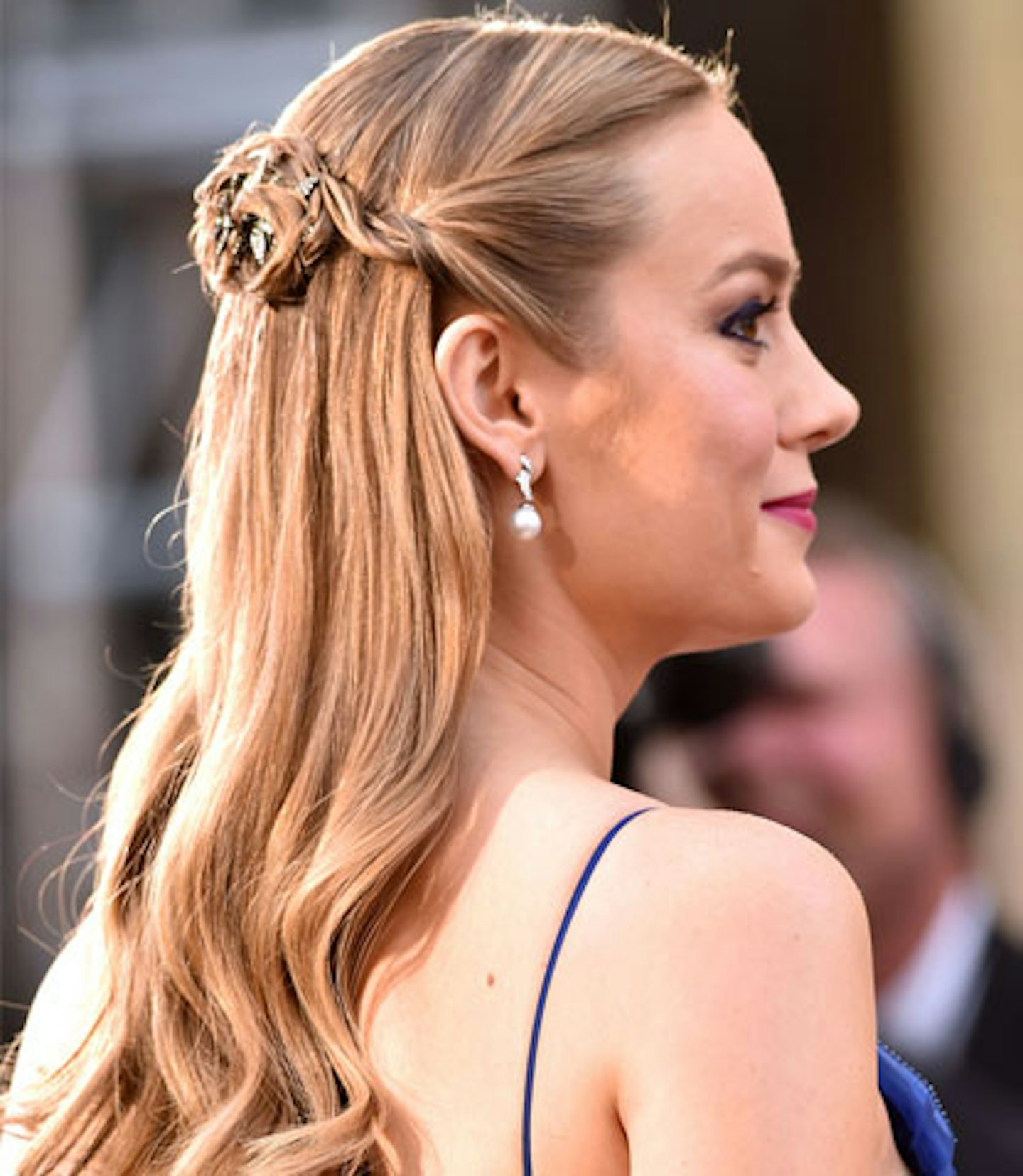 The trick to getting the hair accessory right is to make them part of your look rather than have them overwhelm it. ghd's head of education Jo Robertson knows a thing or two about trends… 'This season we have seen hair charms making an appearance at Erdem and Alexander McQueen, we will be seeing this on the street very soon with girls starting to adapt their costume jewellery by wearing necklaces in the hair and adapting broaches as hair charms. The look is eclectic and placement of the hair charms is to catch your eye but not obvious. When wearing hair charms your hair should have an ethereal texture to it with a slight movement or hair rolled, this should not be a perfect polished look and is the perfect bridal addition."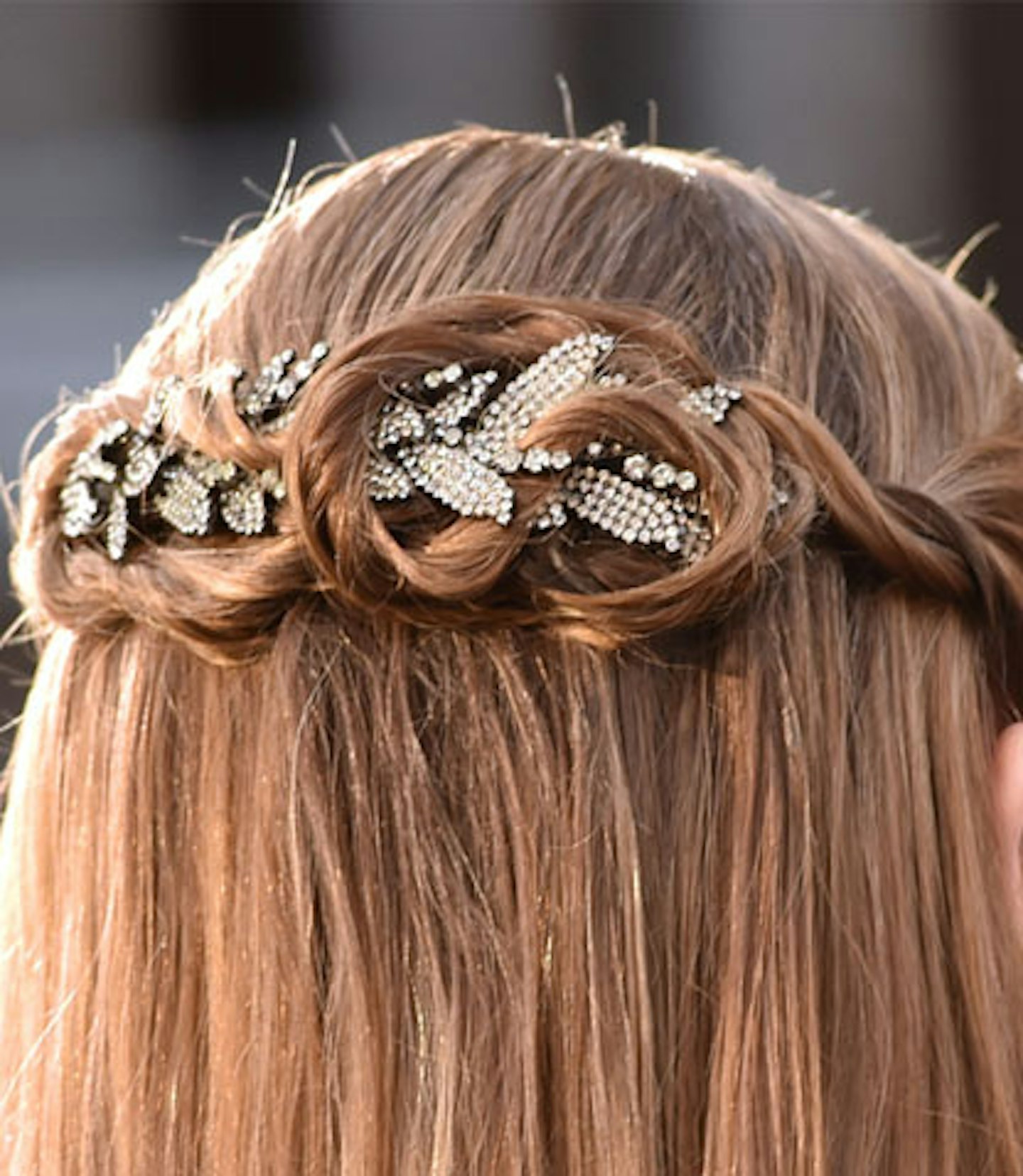 Simple, chic and subtly beautiful, this look works on most hair lengths. Sounds like the perfect bridal 'do to us! Brie's actual stylist, ghd ambassador Mara Roszak spilled the beans on how to get this stunning look…
Step 1
"I started by applying L'Oréal Paris Advanced
Haircare Extraordinary Oil Transforming Oil-in-Cream to
Brie's damp hair. Next, I parted the hair in the center and
blow dried with a round brush until totally dry.
Step 2
Once dry, I used the ghd platinum® stylerto touch
up the hair and help with any frizz or flyaways, whilst
keeping it healthy and shiny.
Step 3
Next, I sprayed L'Oréal Paris Elnett Hairspray all over
the hair for added hold.
Step 4
After this I used the ghd curve® classic curl tong, to
create a soft, loose waves throughout the hair. Once
there was a consistent, beautiful loose wave throughout,
I brushed the hair out with a boar bristle brush and used
the L'Oréal Paris Advanced Haircare Extraordinary Oil
Lustrous Oil Serum on the middle and ends of hair for
extra shine.
Step 5
Next, I took the front pieces of hair by the hair line on
both sides and twisted them, bringing them to the back
of head.
*Top tip: Pin in place first before adding embellishement
or jewels. I used fabric and materials that matched Brie's
belt on top of the pins, wrapping the extra hair that was
hanging around the fabric to create a finished look.*
Step 6
Lastly, I sprayed L'Oréal Paris Elnett Hairsprayall over
the hair for hold and L'Oréal Paris Advanced Haircare
Nutri-Gloss High Shine Glossing Mist for extra shine."
says Mara.