Detectives are currently searching 'a number of crime scenes' after a 28-year-old primary school teacher was murdered in public on Friday last week. Sabina Nessa, originally from Bedfordshire, was walking through Cator Park in Kidbrooke when she was killed at around 8.30pm.
Sabina's body was later found by a member of the public, with a post-mortem examination coming back inconclusive. Officers had initially arrested a man in his 40s on suspicion of murder, but he has since been released under further investigation.
Met Police are now appealing for information from the public. Detective Superintendent Luke Marks has asked people to get in touch if they saw anything suspicious in the park, and for motorists with dashcam footage from the surrounding roads to contact police.
'Our initial enquiries suggest that this attack happened at around 20:30hrs on Friday, 17 September, a time when the park was likely being used by many people from dog walkers to joggers,' he said in a statement. 'Sabina was found near the OneSpace community centre which we know is a facility used by lots of people and we would ask anyone who was in or around the area and who may have any information to come forward.
'Did you see someone loitering or acting suspiciously?' he asked. 'Or did you see someone leaving the area in a hurry, perhaps running away? If you have any information, it is vital you tell us. We are working around the clock to deliver justice for the family of this young woman, and we need your help to do it.'
If you have any information that could help, you can contact 0208 721 4266, or 101. Alternatively contact Crimestoppers.
Chief Superintendent Trevor Lawry, responsible for local policing in Greenwich, also made a statement promising to better patrol the area in order to appease rising fear that the suspect still remains at large.
'Our thoughts are first and foremost with Sabina's family and friends following this shocking incident and we will continue to provide our support to them as the investigation progresses,' he said. 'We know this incident will be worrying to those who live and work in the community. Over the next few days, they can expect to see extra high-visibility patrols both in and around the crime scene as well as other open spaces across the boroughs of Lewisham and Greenwich.'
Sabina's family have been informed, and a vigil has been arranged for this Friday at 7pm in Pegler Square, Kidbrooke Village (it has been misspelled as Peglar in the below tweet). The community will be paying their respects to Sabina and her family, with those attending encouraged to bring a candle to light for the vigil. The nearest train station is Kidbrooke Station.
The primary school at which Sabina worked has also put out a statement, with Lisa Williams - the headteacher of Rushey Green Primary School in Lewisham - saying the entire school was 'devastated by Sabina's tragic death.'
'She was a brilliant teacher; she was kind, caring and absolutely dedicated to her pupils,' Lisa said. 'She had so much life ahead of her and so much more to give and her loss is desperately sad.'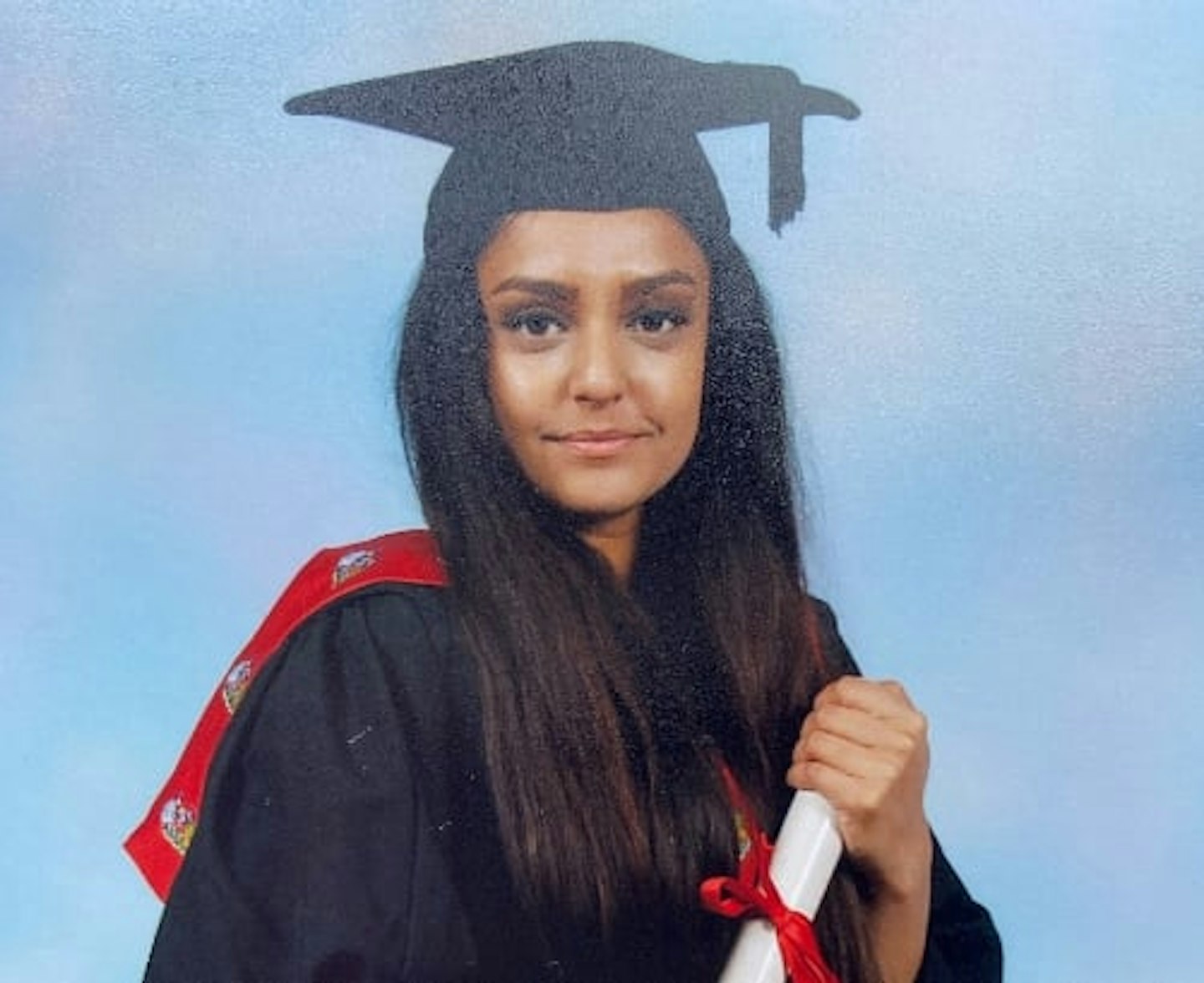 Social media users are now encouraging people to share their condolences and outrage about Sabina's murder, using the hashtag #SayHerName, in an effort to demand real protections for women from violence.
Last week, a watchdog report into how the police tackle violence against women – which was commissioned after the murder of Sarah Everard – found that ending male violence was 'not a priority' within the police. Recommendations were made to improve preventative violence measures, but alas, we need action for those recommendations and reports to ever matter.
Earlier this month, Grazia conducted nationwide research in partnership with GoFundMe, after holding a discussion on the issue of women's safety as part of our I Walk With Women initiative. Our research found 48% of women feel less safe when out alone now compared to six months ago, when Sarah Everard was murdered, despite 77% of both men and women agreeing the tragedy was a defining moment in terms of the conversation around women's safety.
This research has been carried out in partnership with GoFundMe, who have created a centralised hub for those wanting to take action and help charities working to end male violence; visit gofundme.com/iwalkwithwomen.
Read More:
Tackling Male Violence Is 'Not A Priority' Within The Police, Watchdog Report Finds
Nimco Ali: 'Male Violence Against Women Creates An Endemic of Fear'