We all know by now that face SPF is a staple in every toiletry bag - all year round - but with so many great brands available, how do you pick the perfect product for you?
We spoke to Consultant dermatologist for Stratum Dermatology Clinics, Dr Adam Friedmann, about choosing the right SPF.
"SPF is the most important product in any skincare regime. The absolute minimum factor for white skin should be SPF30. Darker skin tones can sometimes get away with lower SPF levels which might vary depending on how dark the skin is," he tells heat. "If in doubt, opt for a SPF50 so that your sunscreen is still giving a good level of protection as it fades."
But it's not just the factor to look out for. Dr Adam says we should use products with a higher number of stars of "UVA" protection, to give better levels of defence.
He explains, "While UVA rays have less energy and don't burn the skin, they do cause the skin to age and contribute to the development of melanoma and other skin cancers."
But how much SPF should we use - and do we need to re-apply?
Dr Adam says we should apply over half a teaspoon of SPF sunscreen to the face, neck and backs of ears, even on top of SPF moisturiser.
He explains, "SPF moisturisers are useful for short bursts of sun exposure but not suitable for longer stints outside as they may not give sufficient protection. This is because they are applied in a much thinner layer meaning that the SPF level may not be what is promoted on the bottle."
He adds, "If you're wearing make-up and generally keeping out of the sun, then it might not always be practical to top up your SPF - that's where an 8-hour SPF may be a preferred option.
"However, a once-a-day SPF will not survive a day of swimming, towel drying and sweating in the heat, so if you're heading to the beach or out for the day, then reapplying an SPF to the face every two hours is essential."
Not only does SPF keep us safe, but it helps skin remain youthful.
Dr Adam says, "Wearing a high SPF sunscreen also protects from the photoaging effects of ultraviolet B (UVB)."
So basically, if your #shelfie doesn't include a hero SPF, then you're not fooling anyone with your 50 step skincare routine.
SHOP: the best face SPFS 2022:
Just so you know, while we may receive a commission or other compensation from the links on this page, we never allow this to influence product selections.
SHOP: 12 of the best SPFs for all-year protection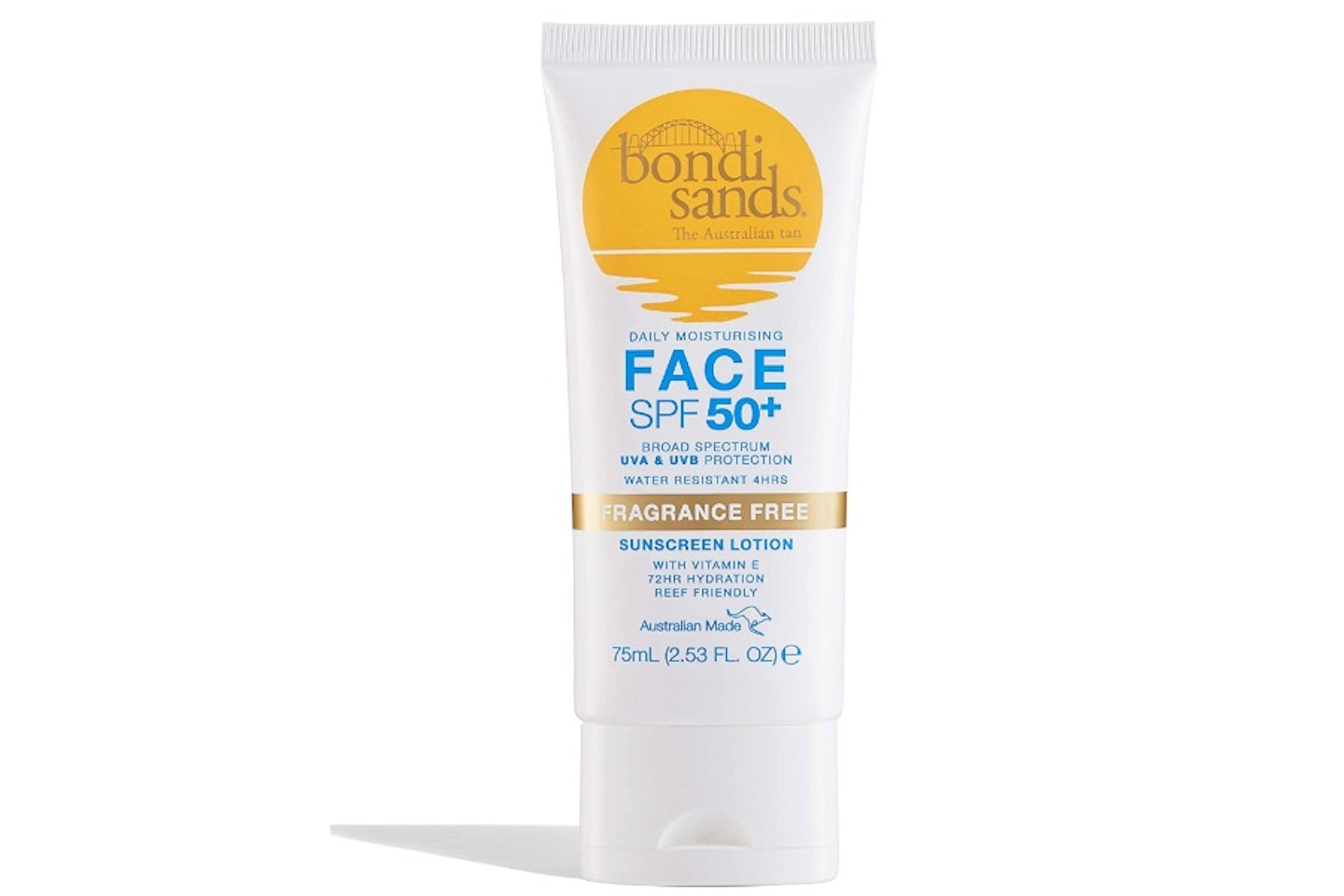 1 of 14
Bondi Sands Fragrance Free Face Sunscreen Lotion SPF 50+
Known for their flawless fake tans and high protection sunscreens, Aussie brand Bondi Sands have become a go-to for skincare. This face SPF is a bestseller and regularly sells out, so be quick. Pros: Formulated to deliver up to 72 hours of hydration, with added aloe vera and vitamin E, this SPF leaves your skin feeling moisturised and is also free from parabens and sulphates.Cons: Some customers claim the product made their eyes water, while others didn't love the shine it left on their skin.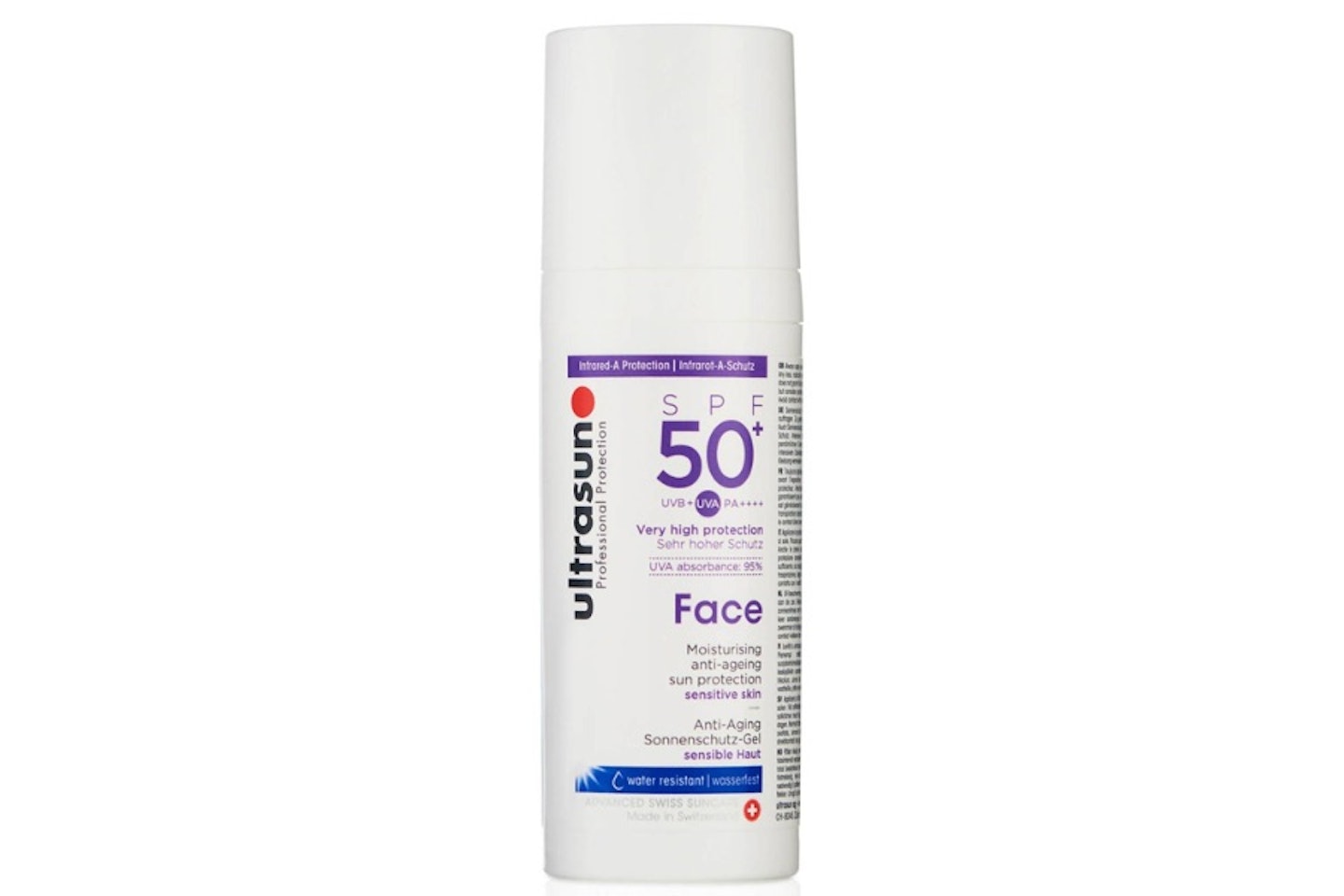 2 of 14
CREDIT: Ultrasun
Ultrasun Face Anti-Ageing Lotion SPF 50+ 50ml
Ultrasun's Face Anti-Ageing Lotion SPF 50+ is a multi-purpose face lotion formulated using the very latest skincare research and advances.Pros: Ultrasun is cruelty-free and suitable for vegan customers.Cons: This product contains titanium dioxide, so it has a slight white cast on application.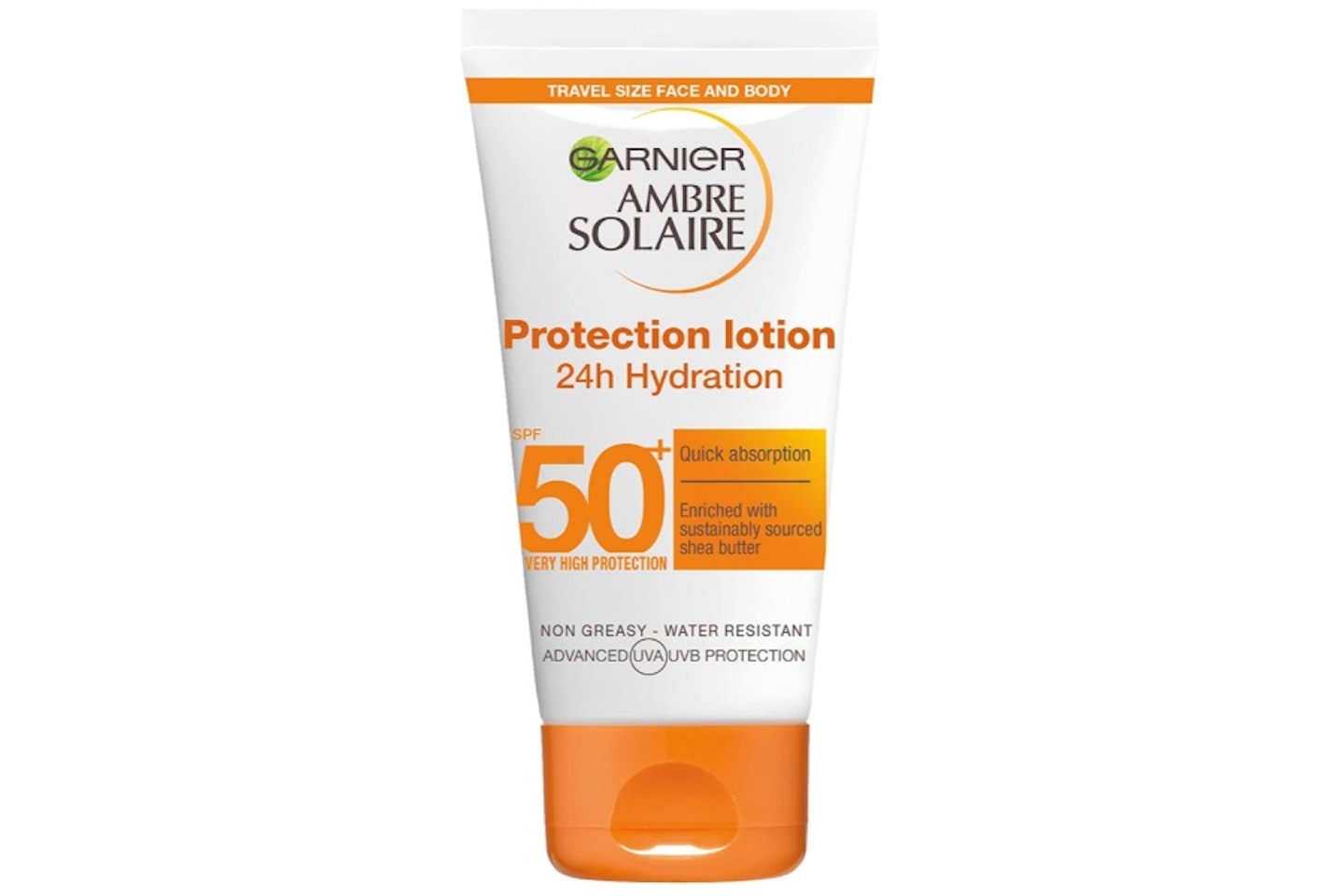 3 of 14
CREDIT: Garnier
Garnier Ambre Solaire Ultra-Hydrating Shea Butter Sun Protection Cream SPF50+
Garnier sun creams are a cult classic and this product, enriched with shea butter, is a best-seller. Pros: The 50ml size is small and light, making it perfect for carrying in airport hand luggage.Cons: While the packaging's recycling symbol shows that a financial contribution has been made towards the recovery and recycling of packaging, it doesn't mean the bottle is recyclable, so your local authority might not recycle it. However, check out recycling schemes at John Lewis and Boots for hard to recycle beauty products.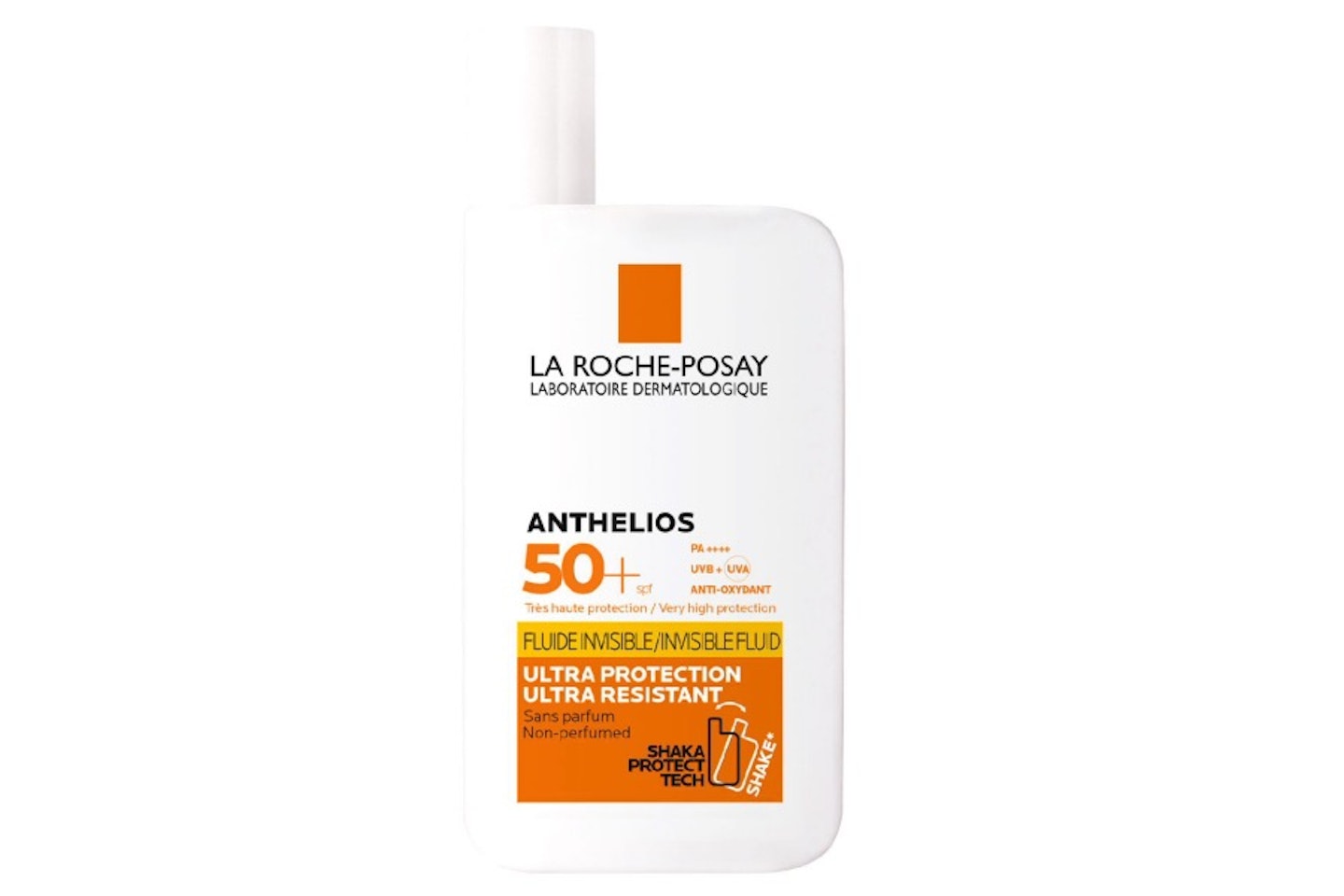 4 of 14
CREDIT: La Roche-Posay
La Roche-Posay Anthelios Ultra-Light Invisible Fluid Sun Cream SPF50 50ml
Specially formulated for sensitive skin, this SPF is resistant to water, sweat and sand. Pros: This product has great reviews. One customer said, "Being mixed race, I've struggled to find a sunscreen that doesn't leave a white cast & have spent HUNDREDS of pounds trying to find one that works for me. I bought this on a whim after seeing it pop on on a couple of blogs & I am so glad I did." Another said, "It is a great suncream for face, it's light and goes on smoothly."Cons: The formula is runny and can leave an oily finish.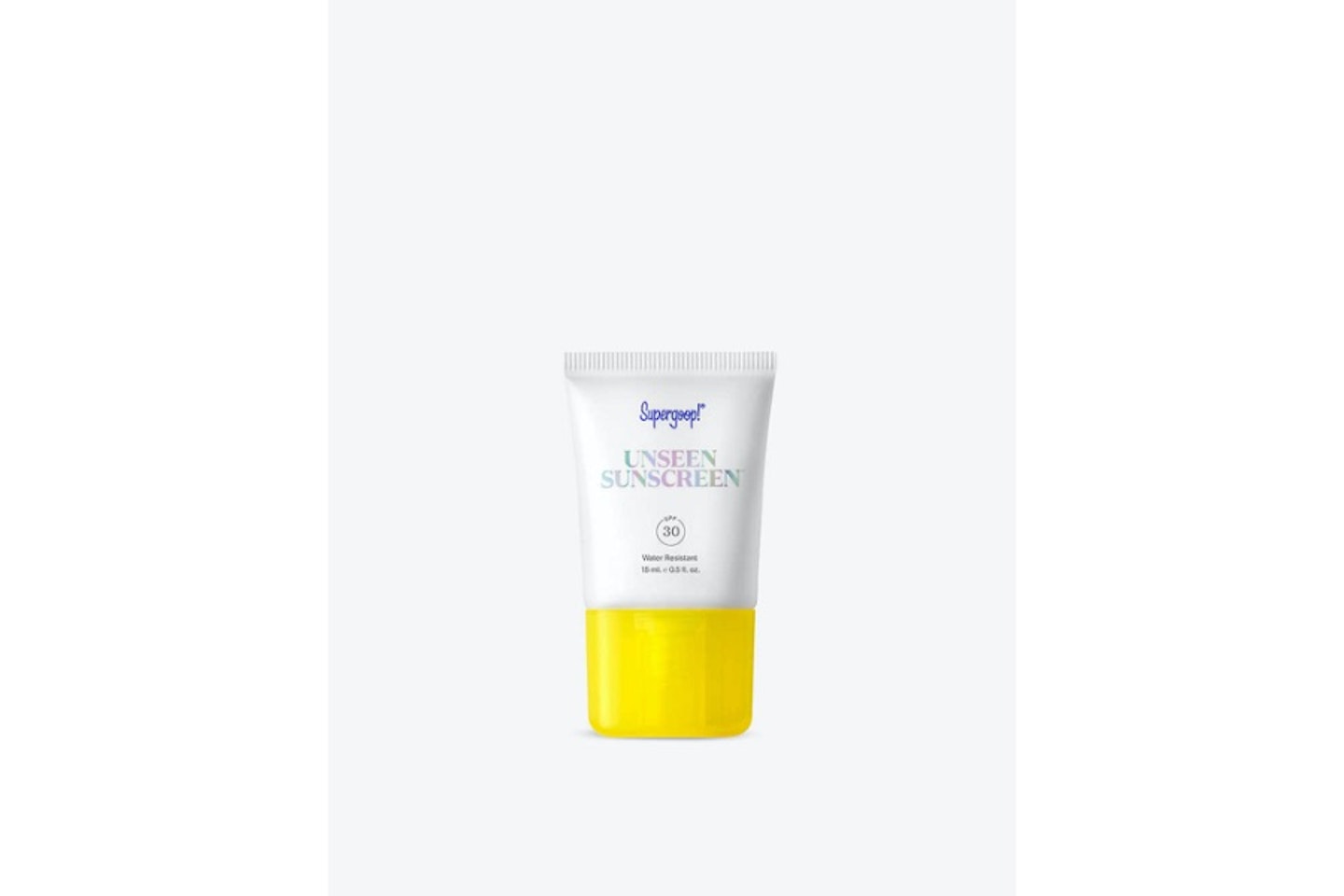 5 of 14
SUPERGOOP! Unseen Sunscreen SPF 30 travel suncream 15ml
SUPERGOOP! Unseen Sunscreen is Instagram's favourite new kid on the block.Pros: Fans claim this sunscreen is perfect underneath makeup and gives skin that glossy, gleamy vibe. Cons: At £15 for 15ml, this product is pricey for its small size. But what this lotion lacks in size, it more than makes up for in protection.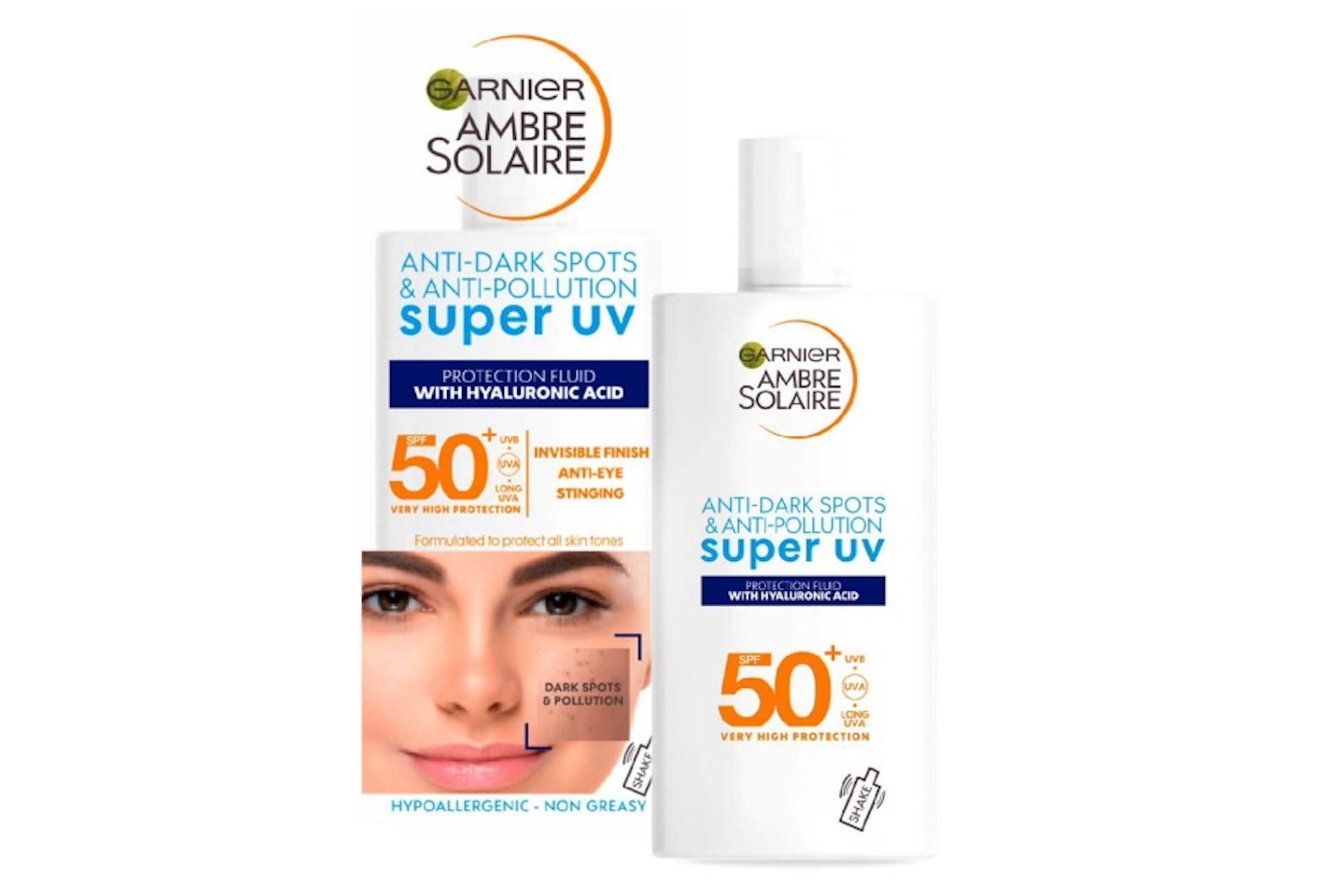 6 of 14
CREDIT: Garnier
Garnier Ambre Solaire Super UV Anti Dark Spots & Anti Pollution Face Fluid SPF50+ 40ml
This 'game-changer' SPF offers very high SPF protection to help prevent sun induced dark spots and also contains vitamin E and hyaluronic acid, to nourish skin. Pros: All Garnier products globally are officially approved by Cruelty Free International under the Leaping Bunny Programme. Cons: This isn't water-resistant, so you will need to re-apply more often.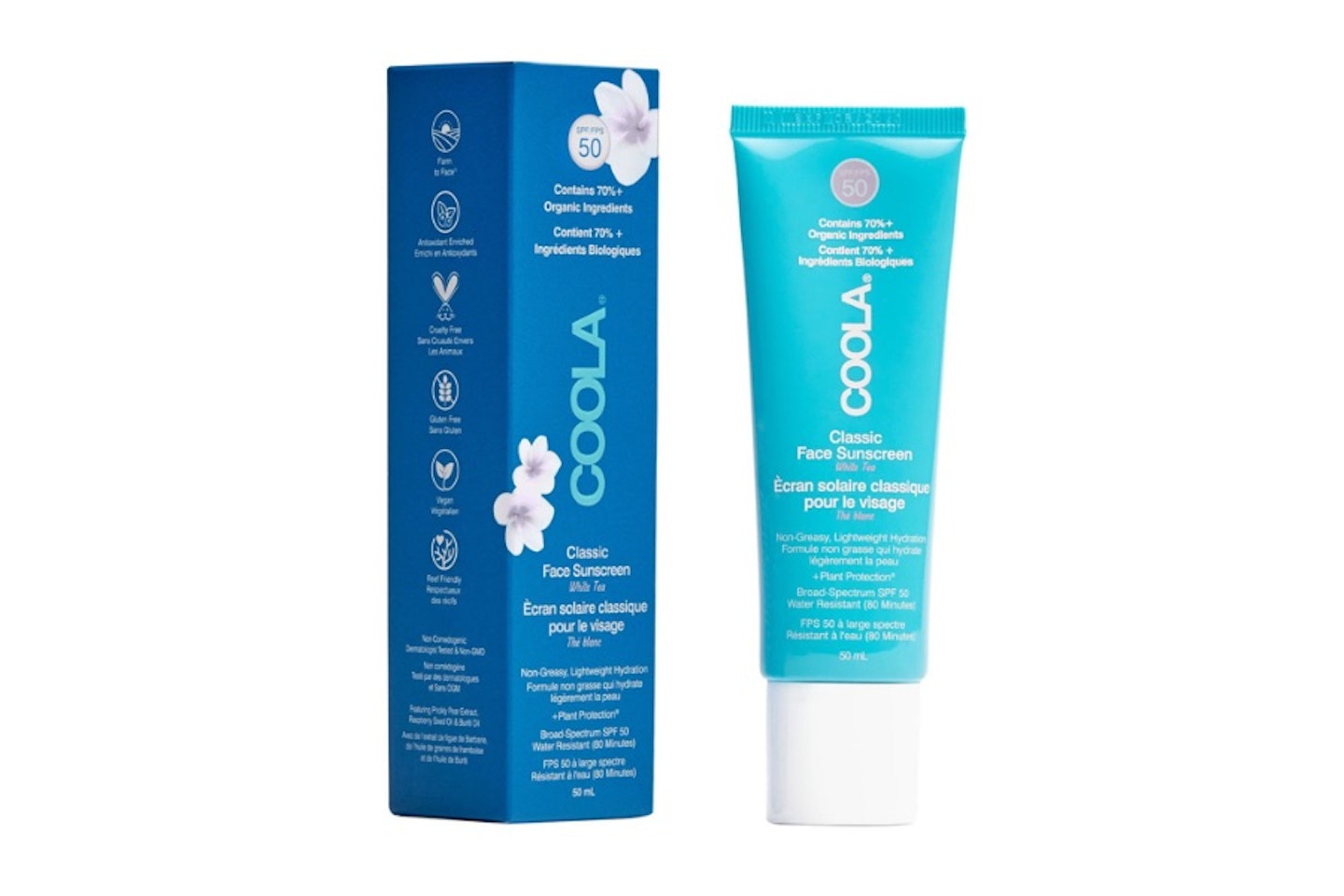 7 of 14
CREDIT: COOLA
COOLA Classic Face Sunscreen SPF 50( 50ml )
Committed to using the purest, performance-driven ingredients, of which 70% of which are organic, COOLA sunscreens offer broad-spectrum protection while nourishing skin.Pros: COOLA's tubes are made of sustainably sourced sugar-cane resin, which is 100% recyclable. Cons: This product isn't fragrance-free, however, one customer noted, 'The smell is lovely but subtle.'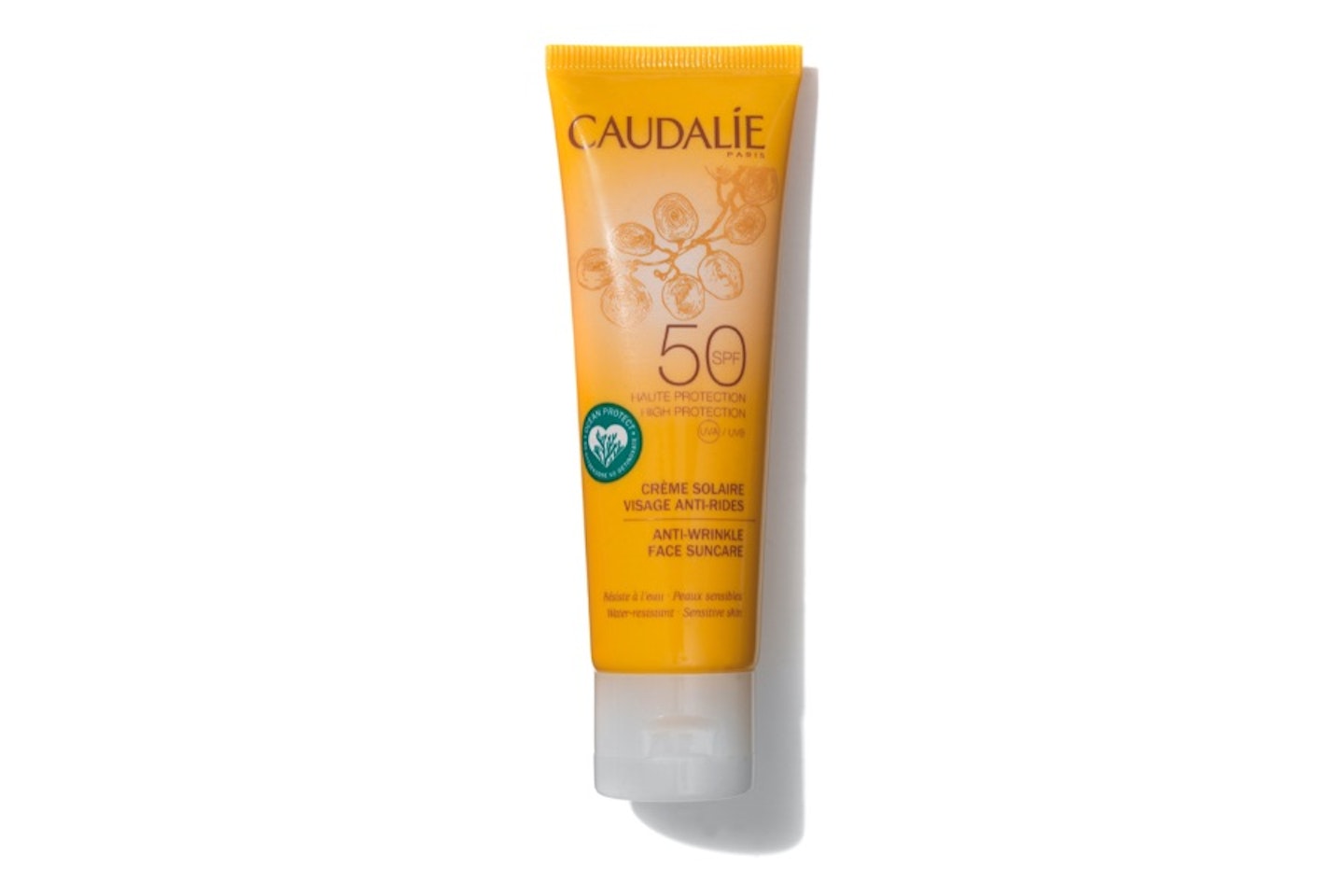 8 of 14
CAUDALIE ANTI-WRINKLE FACE SUNCARE SPF50
You can't go wrong with anti-wrinkle, right? This soothing moisturiser helps block damaging UVA and UVB rays while imparting hydration, nourishment and radiance.Pros: This is formulated without harmful chemicals, including oxybenzone and octinoxate, making it environmentally friendly for delicate marine ecosystems.Cons: Some customers claim the product encouraged break-outs.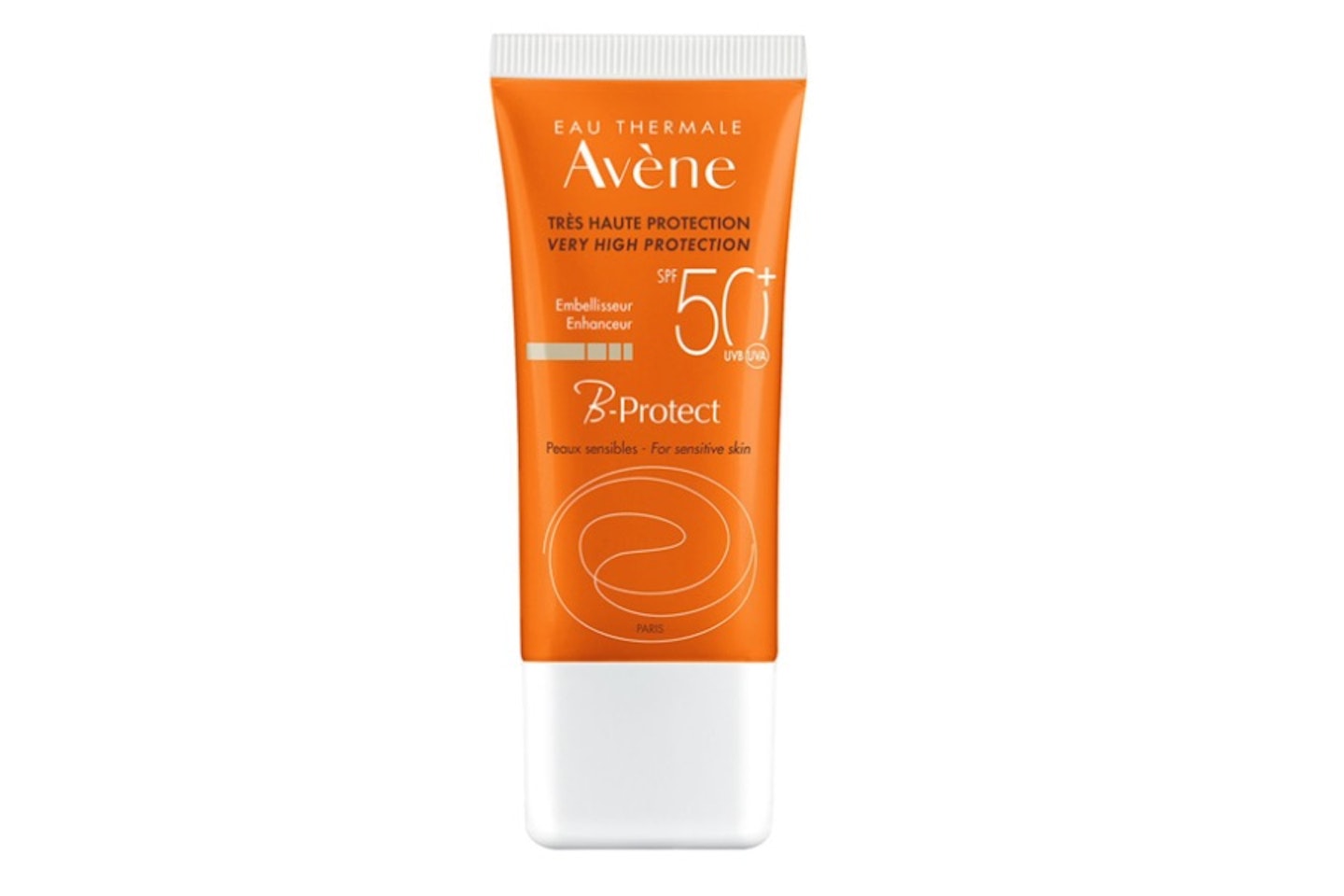 9 of 14
CREDIT: Avu00e8ne
Avène Very High Protection B-Protect SPF50+ Sun Cream for Sensitive Skin 30ml
Formulated for sensitive skin, this is a 3‐in‐1 facial skincare hero: anti‐UV, anti‐pollution, light tinted coverage. Pros: This product is great for days when you want light coverage but you don't fancy wearing foundation. Cons: With only one product available, this isn't great for matching skin tones, so it can appear too pale or too dark.
10 of 14
CREDIT: No7 / Boots
No7 Protect & Perfect Intense ADVANCED Facial Suncare SPF15 50ml
This hypo-allergenic lotion is highly recommended by customers and is a best-seller at Boots.Pros: This product has 5 Star UVA protection and contains a patented anti- oxidant complex, giving your skin advanced protection against the ageing effects of the sun.Cons: SPF15 offers low protection against the sun, and therefore isn't recommended for paler skin tones.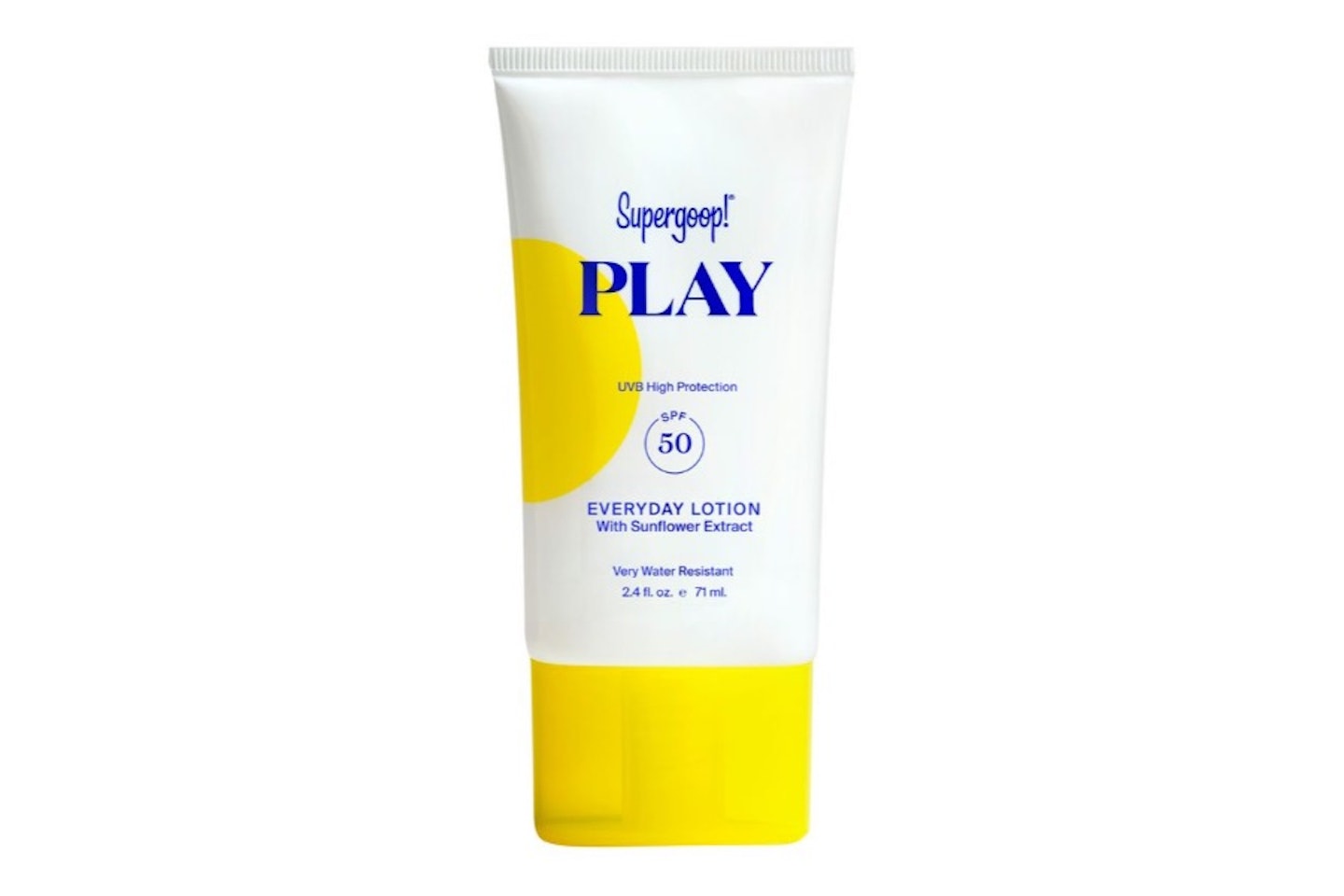 11 of 14
SUPERGOOP! Play Everyday Lotion SPF 50 with Sunflower Extract
Supergoop was born after founder Holly Thaggard's friend was diagnosed with skin cancer. The range has since won numerous awards. Pros: Fans include skincare guru Caroline Hirons who gave Supergoop! Play her seal of approval. She said, "No cast, suitable for dark skins, and is lovely under makeup. Winner winner chicken dinner."Cons: Some customers found the formula too greasy, even for dry skin.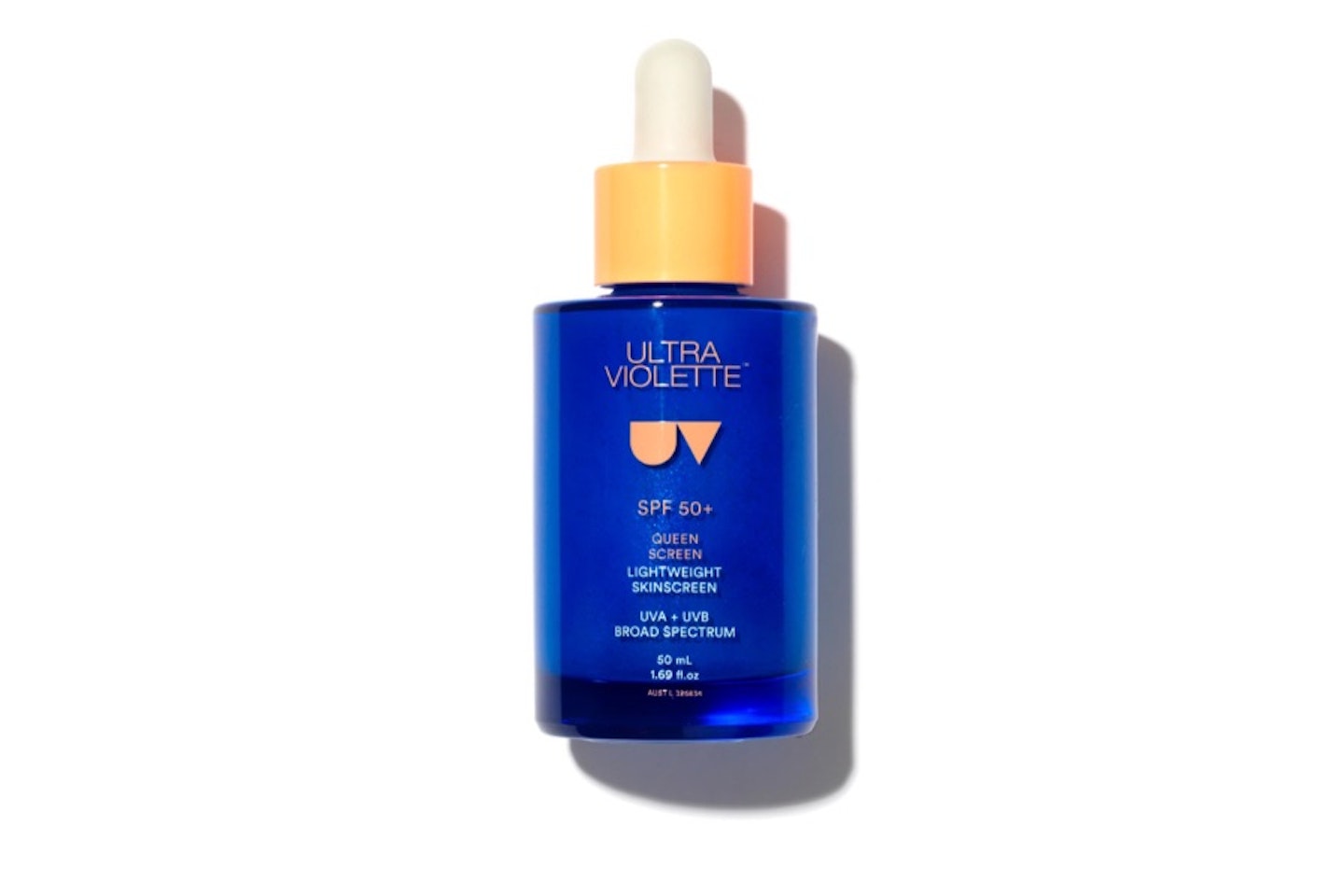 12 of 14
CREDIT: ULTRA VIOLETTE
ULTRA VIOLETTE QUEEN SCREEN LUMINISING SUN SERUM SPF 50+
Formulated to prevent pilling and any white cast, this silky serum also features an uplifting scent of fresh roses.Pros: This serum is a top seller on Space NK and has rave reviews and ALSO provides a vitamin C boost. We love to see it. Cons: Ultra Violette products currently cannot be shipped to the USA.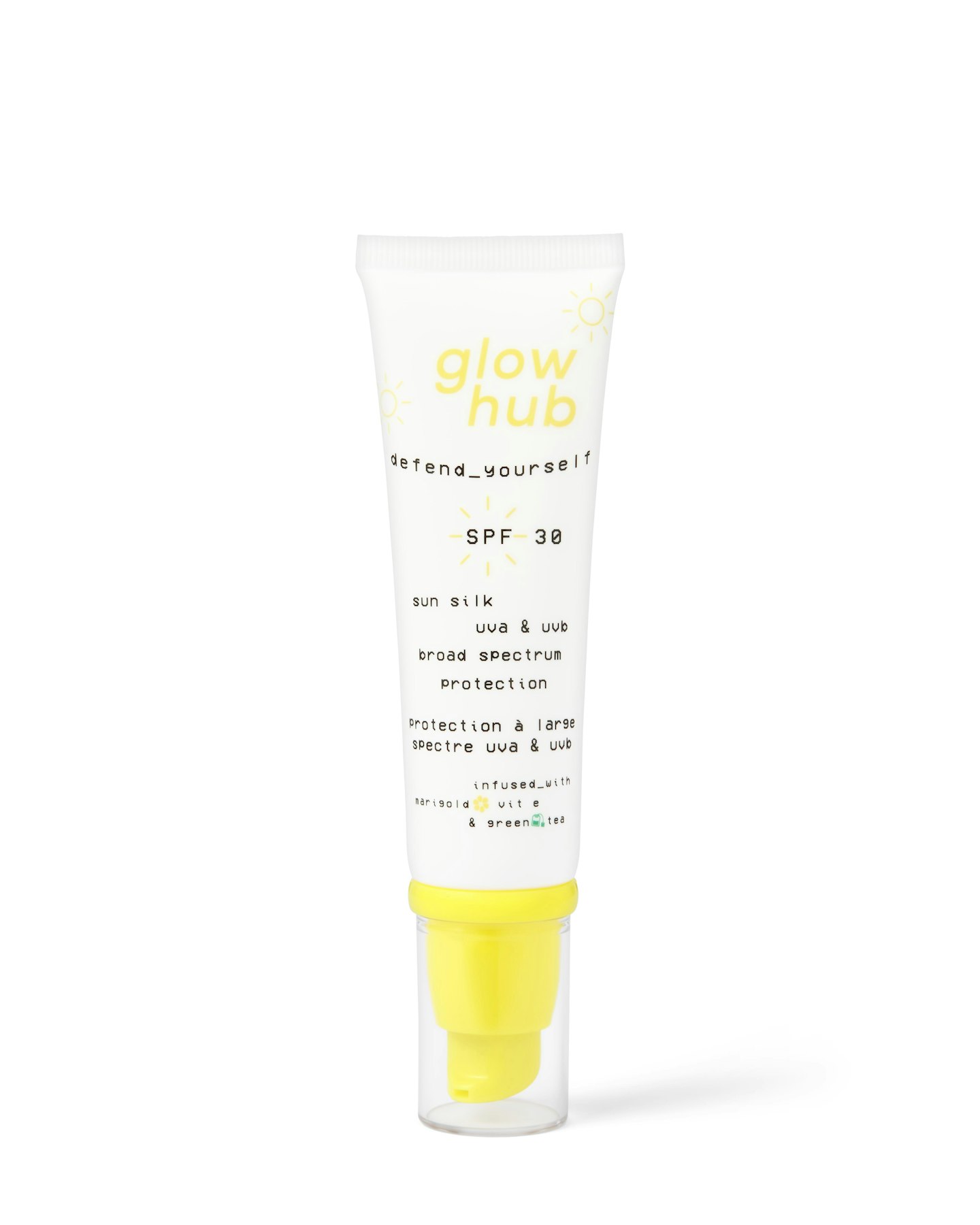 13 of 14
CREDIT: glow hub
glow hub DEFEND YOURSELF SPF
Gen Z fave glow hub have nailed cruelty free and vegan skincare and have officially completed your routine with this new SPF. Pros: They're called glow hub for a reason, as your skin will GLOW after using this SPF, with hardly any white cast at all. It's lightweight and glides onto your skin like a moisturiser - not greasy in the slightest. Oh, and the packaging is oh so cute. Cons: The only downside is that it doesn't come in factor 50 yet, fingers crossed for the future.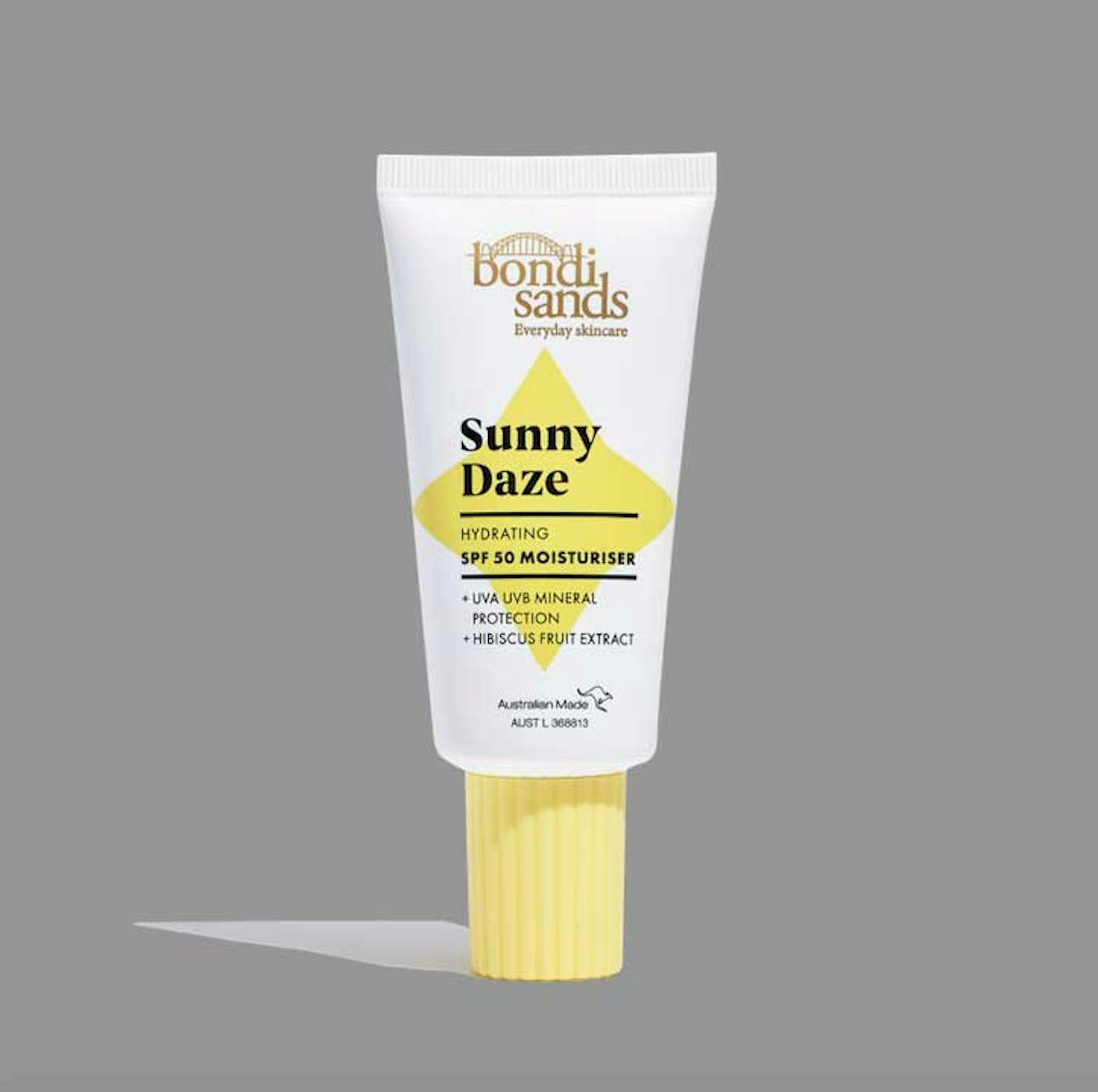 14 of 14
CREDIT: Bondi Sands/Boots
Bondi Sands Sunny Daze SPF 50 Moisturiser (50g)
Bondi Sands know a think or two about faking it until you make it when it comes to a bronzed glow, so it's no surprise that their SPF moisturiser comes in factor 50!Pros: This SPF is fragrance free so you won't get that suncream smell, is suitable for sensitive skin AND is non-comedogenic - so it won't clog pores. It also gives you a lovely glow and isn't greasy. Cons: The bottle is a little on the small side (which is a positive for those wanting to take it in the hand luggage on holiday).
NOW READ:
Huda Beauty launches new brand 'GloWish' and it's made for healthy-looking skin
And as tempting as it may be to work on your tan this summer, it's not worth turning a blind eye to the skin cancer risk - according to Cancer Research UK, some 402 people are diagnosed with skin cancer in the UK every day.
Key signs of skin cancer on the face include new or changing moles, new lesions that continue to grow and bleeding or non-healing areas.
Dr Adam says, "Monitor the face and the rest of the body for moles that change in size, colour or shape. Be aware of itching, bleeding, or crusting of moles too, which are all signs you need to book an appointment to get it checked by a consultant dermatologist."
Visit stratumclinics.com to find your local dermatology clinic offering skin cancer and mole check services.