Self-care will forever be our favourite hobby but we appreciate that recharging and putting yourself first looks different for everyone. Each week, we'll be asking the celeb lot to share their ideal self-care Sunday routines, the hard-working beauty products they recommend to their friends and which TV show they're currently binging…
This week it's all about Ashley Stobart and Lauren Harris, the hilariously down-to-earth duo who co-host the chart-topping Nip, Tuck, Not Giving A… podcast. The uncensored BFFs pride themselves on being open and honest about everything, whether that's plastic surgery, dating, careers or the beauty products that are actually worth spending your money on.
"We're all about being unapologetically yourself," Ashley tells heat. "I feel like women for years, we all have these conversations with our friends over coffee or a glass of wine, but you don't often hear them out loud like we talk about on the podcast."
Lauren adds, "We talk about the stuff you would only say to your closest mates and some people don't have these closest friends more than you actually realise. So we became their best friends who can hear our outrageous stories and our listener's stories, embarrassments, dating and sex and everything so they can feel better about themselves."
The duo sit down with heat and talk self-care routines, wise advice and the beauty dupes they can't stop recommending...
Hey girls! So for anyone new here, how did the podcast start?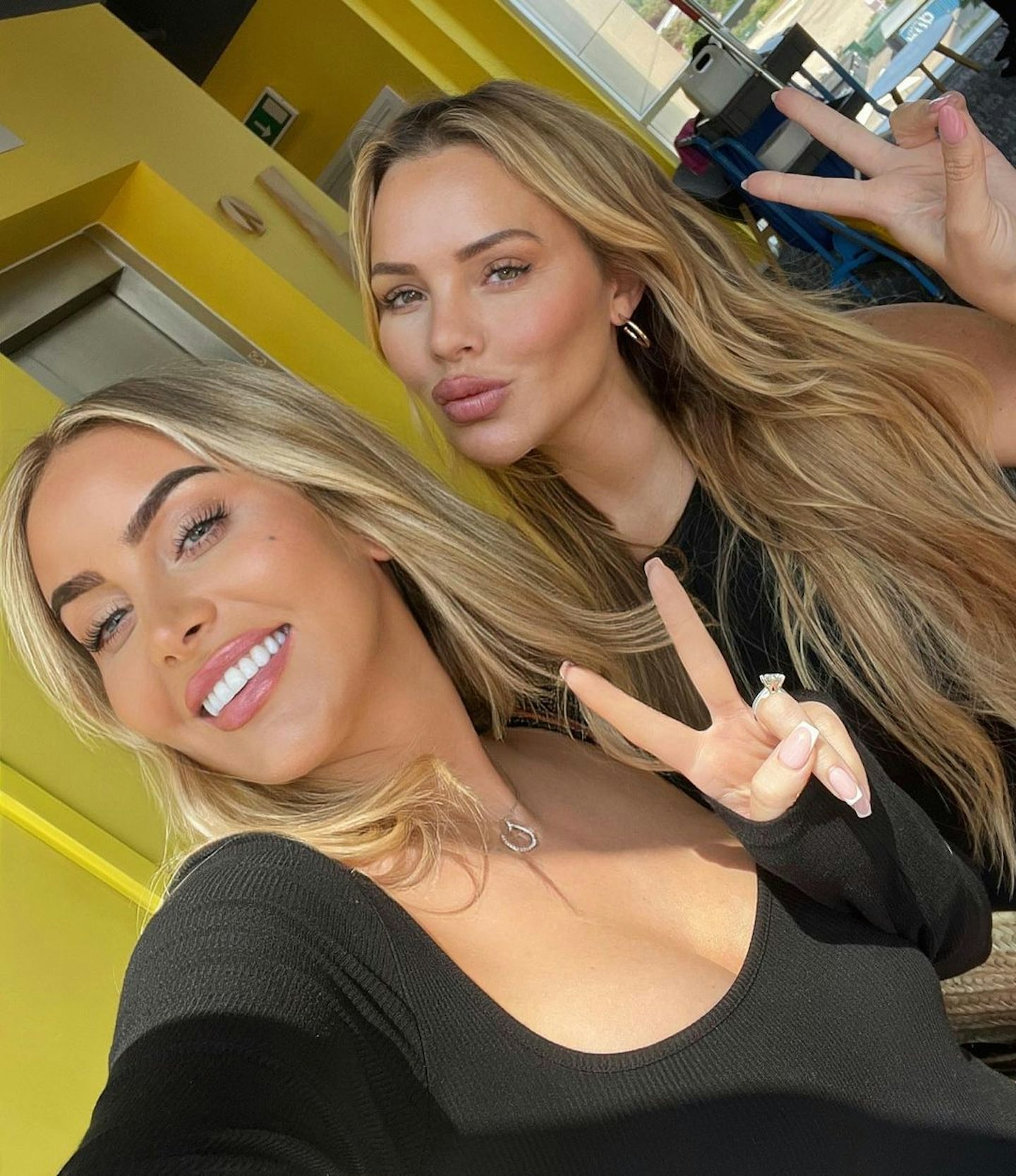 Ashley: We started the podcast around two years ago now and we did not think that it was going to go on for two and a half years!
Lauren: We were going to do just one, weren't we Ash?
Ashley: We did one episode and it went straight into the top ten on the first day, so we were like, 'Ah we best do another one then!' But Lauren had never listened to a podcast in her life. I had to explain to her what they were before saying I think we should do one together because me and Lauren have worked together for years in cosmetic surgery. During COVID, I started listening to other podcasts and I loved Call Her Daddy, especially when it was the two of them. It was so scandalous and I was obsessed with it. I felt like no one was really doing it in the UK catering to a, well, we're not older but...
Lauren: We would be in the older people camp on The X Factor!
Ashley: Exactly, so we saw a gap in the market and started it and here we are.
Do you prepare before filming the podcast?
Ashley: You know what, we could actually do it with our eyes closed, it is that spontaneous. We talk about current affairs, so that morning we'll talk about, for example, Maya and Stormzy getting back together. There is an aspect of it, though, whereby we go away and do a lot of research on beauty products. There's a section we do called Bargain Bucket.
Lauren: Which sounds much seedier than it is!
Ashley: We talk about make-up dupes, skincare dupes, hacks, bargains... so we go away and we really do use a lot of products.
Let's talk self-care! Can you talk us through your ultimate self-care Sunday?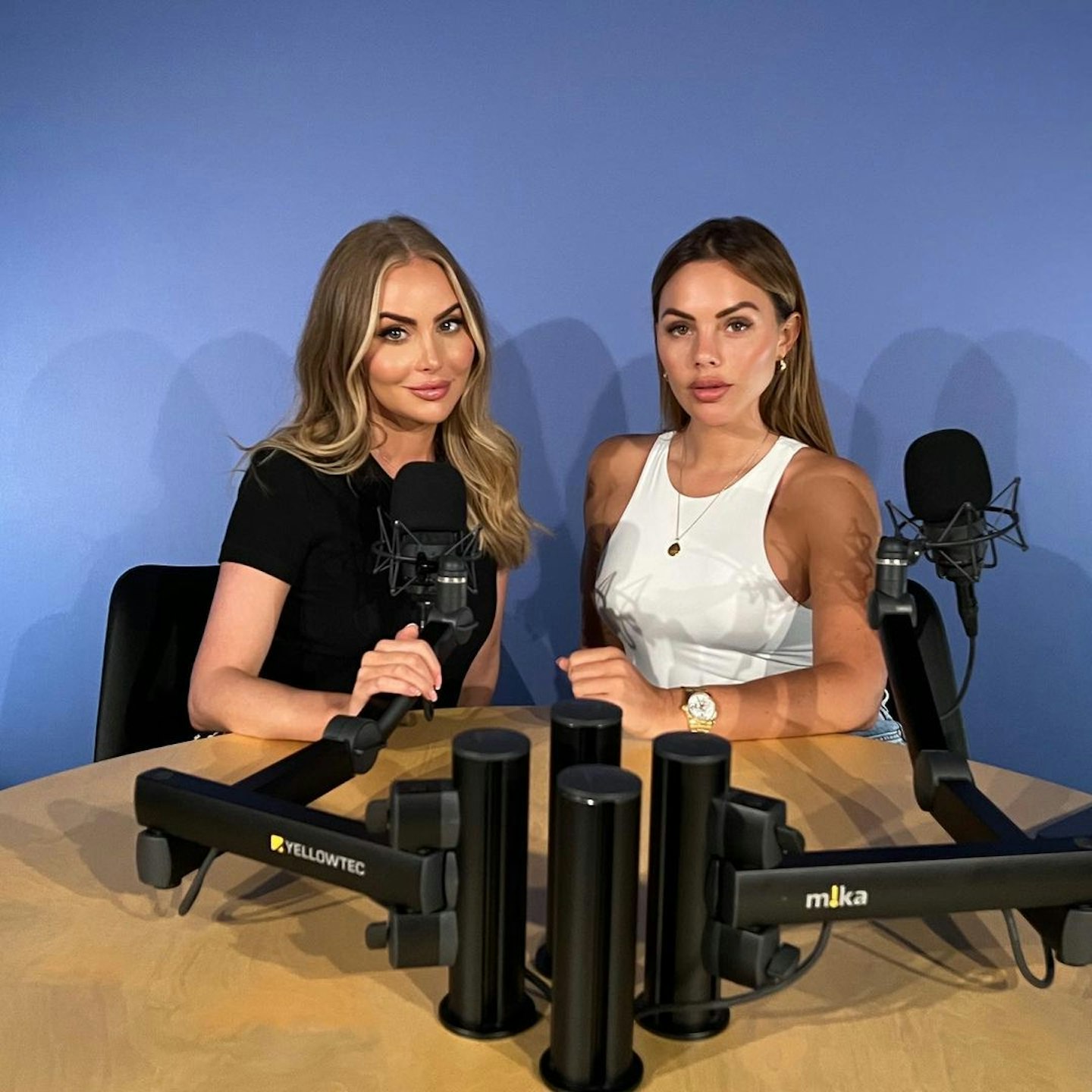 Lauren: We love Love Honey's Womanizer!
Ashley: Yes! Like literally turn your phone off, get rid of the kids and get a vibrator out.
Lauren: When it comes to self-care, we are quite similar. It's all about a nice skincare overhaul. We both use the Current Body LED Mask, don't we? It's so good.
Ashley: Yes, we love that. Self-care for everyone is different and can change at different stages of your life. For us, even sitting in the car park at the supermarket sometimes feels like self-care! To make the most out of self-care, we really swear by beauty devices. With beauty stuff, it's not just a cream or a bubble bath, you can actually have these devices at home, like the LED mask Lauren said. You honestly look like an alien when you've got it on.
Lauren: Yeah, but it's portable so you can kind of get about and still get your nails done and all of the rest of it when you've got it on and it feels really luxurious. One of the things we use our Sundays for, we record on a Monday, so for us, a Sunday is about getting ready for the week, taking time to relax and doing all the things that are going to prep you for the week. You've got your tan, you've shaved, you've got your hair mask, you've got everything ready so you're starting the week feeling really amazing, confident and ready to out there.
What are the really good skincare products you always recommend?
Ashley: So, as I said, Lauren and I have worked in cosmetic surgery together before we did the podcast and Lauren originally was a beautician so we've been in the beauty industry for ages. We swear by prescription skincare, and active ingredients.
Lauren: We swear by the Obagi Pore Therapy don't we, Ashley? That's one we recommend to everyone.
Ashley: Obagi and Skinceuticals are the skincare brands we go to for active ingredients. But also, we're approaching our mid-thirties now, so we're trying to undo a lot of the damage that we did in our teens and our early twenties. We're loving a supplement or two.
Lauren: Absolutely, I wish I started younger and I think we should be encouraging more young girls to start a little younger with this. I don't think you realise until you hit a certain age and then you think, 'Shit!' We use a supplement at the moment called RUCI, Ashley doesn't because she is pregnant, but I do and so did Ash before she had the baby. But basically, it's a liquid supplement with a pipette and it's really good for your skin.
Ashley: Then we love the Perricone products, the Deep Crease Serum is a staple for us. But also, CeraVe and L'Oreal have some really good budget skincare that will suit pretty much everyone's skin type and budget. We also love the AMELIORATE Transforming Body Lotion.
Lauren: Oh my god, that's amazing, especially for people who've got that kind of chicken skin on the back of your arms, the tiny pimples that some people get and you can't get rid of them. This is amazing for that, we recommend it to everyone.
Ashley: It's supposedly J-Lo's favourite body cream and her body's looking gorgeous.
What are your favourite budget beauty buys?
Ashley: You know what, Primark has been amazing with the beauty dupes recently. I used their Vitamin C Serum the other week and it was absolutely lovely. I also love the CeraVe Salicylic Face Wash which is fantastic.
Lauren: For a cheaper alternative to the Obagi, the Nip+Fab Glycolic Pads are really, really good.
Ashley: Then Aldi is coming through with the dupes and you can't go wrong with Weleda Skin Food, even though Lauren hates it and I love it.
What's the most #extra thing you've done in the name of beauty?
Lauren: I mean we've cut our eyelids off for god's sake! We've had a lot of cosmetic surgery, haven't we Ashley?
Ashley: Yeah, we've had loads of cosmetic surgery and we talk about it on the podcast a lot.
Lauren: We're really open about that.
Ashley: I've even had bum implants! But if you're talking treatment-wise, I've had a deer placenta facial, I loved that.
Lauren: I had that the other day, it stinks!
Ashley: I also swear by hyperbaric oxygen therapy, I go to this really expensive gym and they've got a hyperbaric oxygen chamber, which is expensive, but I think it's absolutely worth it. They've got Cryotherapy, infrared sauna, beauty light therapy, so I use those machines quite a lot. They're all for reverse ageing.
What are your daily wellness habits?
Lauren: Black coffee and a fag!
Ashley: So I drink celery juice every morning I swear by it, I'm addicted. I make it fresh every morning, 500mls of celery juice. I take hundreds of different supplements for fertility, anti-ageing and general well-being, which we talk a lot about on the podcast. I use an ice roller on my face every morning and I am loving that. I put my undereye patches on every morning. If I've not iced my face or on my under-eye patches, I cannot start the day!
Lauren: I love the mushroom supplements, like Dirtea coffee which is really good for anxiety and focus.
Ashley: We also swear by AG1 which has like 75 vitamins and minerals in it.
Are there any books that have changed your whole mindset?
Lauren: Yes! Why Men Love Bitches by Sherry Argov. We kind of give the same advice on our podcast. Me and Ashley have different advice a lot of the time on the podcast, but that book should be read by everybody. We quote things from it quite a lot.
Ashley: There's another one called Men Don't Love Women Like You and it's written by a man and it's brutal!
What's a great piece of advice you've been given recently?
Lauren: 'When you cry, the universe still smiles because it knows what's coming.' I think it's just the nicest because I really believe so much that everything happens for a reason. Even when something shit happens to me, I'm like, 'Lauren, that's because this is the plan and it's going to lead you to something else. You'll look back and pretty much every bad thing that's happened to me I've understood why.
Ashley: Mine is 'Say yes to everything and figure it out later'.
Lauren: Honestly, just fake it til you make it. That's what we've spent most of our lives doing.
Ashley: Yep, still doing it now!
Quickfire round:
What show are you currently watching?
Lauren: I've got Ashley into this, It's the weirdest show but it's so addictive. Open House on Channel 4.
Ashley: She's got me obsessed with that. Also, 90 Day Fiance UK.
How do you like your cuppa?
Lauren: I fast until roughly 2pm, so I have a black coffee with no sugar.
Ashley: I love having Earl Grey tea at the minute and my new hack is putting manuka honey in your coffee instead of sugar and it tastes really nice.
Go-to loungewear brand?
Ashley: Adanola and for pyjamas, The NAP Co.
Lauren: Same.
Favourite face mask?
Ashley: Perricone sheet mask and if you're going to be really boujee, the Current Body LED Mask.
Lauren: Yeah, that is just so worth the investment.
Go-to takeaway order?
Ashley: Chippy or Chinese.
Lauren: Mine is very, very specific. 12-inch margarita pizza and cheesy chips.
Favourite candle?
Ashley: We love the NEOM candles, they're really nice and not too many chemicals in them. They do a really nice spa one and a really nice Christmas one.