We love a bit of self-care and all this time at home has really given us an excuse to look after ourselves inside and out. Each week, we'll be asking the celeb lot to share their Sunday self-care routines, because taking care of yourself is more important than ever.
This week it's all about Nottingham-born besties Sophia Tuxford, 22 and Cinzia Baylis-Zullo, 23 who co-host The Girls Bathroom podcast. They pair make a hilarious and relatable duo as they give listeners advice on how to get through their own relationship drama whilst also sharing their own dating experiences.
So it's no wonder that The Girls Bathroom has just reached an impressive 10 million downloads. PHEW.
Sophia and Cinzia chat exclusively to heat about friendship, vision boards and their top tips on finding your dream career...
We love The Girls Bathroom! How did you girls meet? And what's the secret to long-lasting friendship?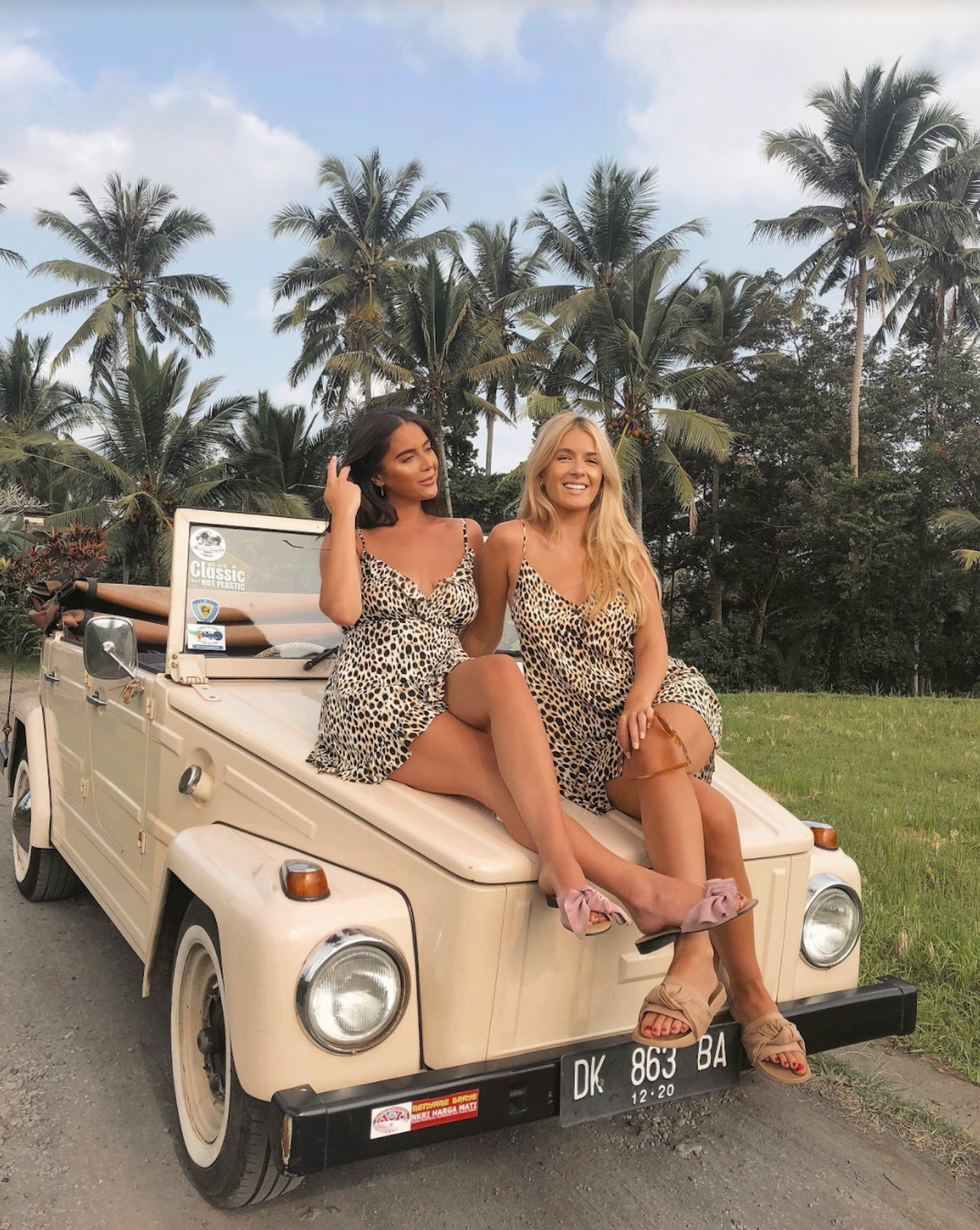 Cinzia: Well, we met at primary school. I feel like when you meet so young, it's so much easier to make friends when you're children. Obviously, we were instantly friends as kids!
Sophia: In the sandpit at school in reception.
Cinzia: We did ballet together and then for some reason, our friendship stuck and everyone else dropped off and we were like, 'Oh, it's just us!'
Sophia: I don't know what the secret to a long friendship is? What's the secret? I feel like it's because when we met when we were younger.
Cinzia: I think so. I think it's so much harder as adults to maintain and form a friendship.
Sophia: Right? I agree and the thing is, our lives have always been side by side, the same. We've always had the same hobbies and done the same stuff.
Cinzia: We're stuck together now, aren't we because we've got the podcast? Even if I wanted to get out, I couldn't! [laughs]
Sophia: There's no escape!
Do you experience trolls/ negativity online and what's your advice for anyone going through something similar?
Cinzia: I think naturally we've come to realise that just anything we're going to do, we're going to get negativity now at this point.
Sophia: You know what, I feel like the best quote is, 'If you don't know them personally, don't take it personal' and that's just what we try and remind ourselves. I would say that to anyone that was experiencing online hate, these people don't know you personally. You can't take it to heart because they don't know you personally.
Cinzia: I just feel sad for them. I'm like, 'God, imagine being so hurt in yourself that you're just spreading negativity onto others that you don't even know' and it's not even constructive criticism, it's just nastiness for no reason, so you've got to feel sorry for them. I think it's easier to cope that way.
Congrats on reaching 10 million downloads for The Girls Bathroom! How does it feel to hit such a milestone and why do you think the podcast has resonated with so many people?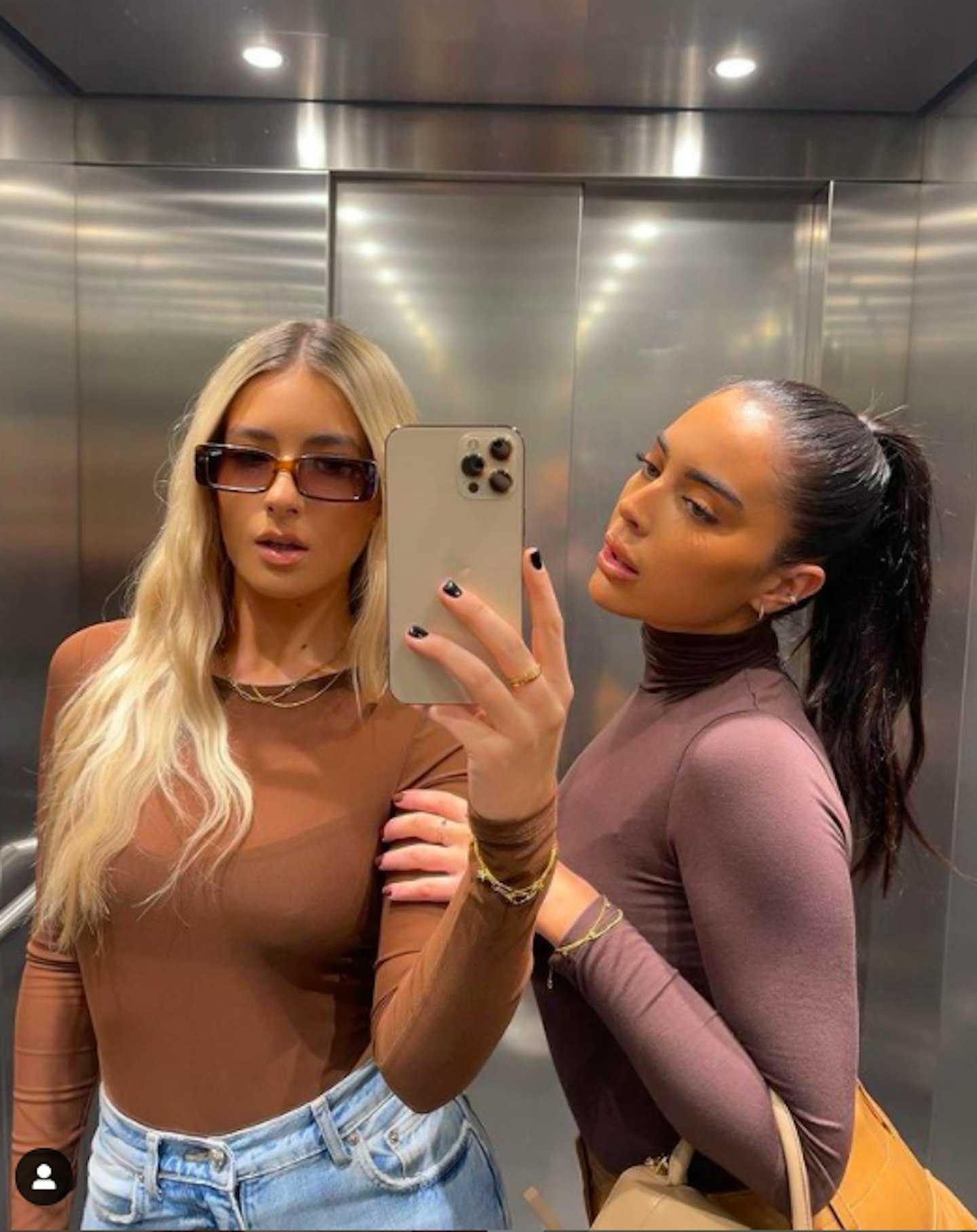 Sophia: It is crazy... actually crazy!
Cinzia: I think it's because we'd have these discussions ourselves like if Sophia had a boy problem or friend problem or if I had a boy problem, I'd come to Sophia and literally ask her. So it's kind of like we're all just friends and share advice and dilemmas and just try and get through it.
Sophia: And I feel like everyone listening can relate to at least one dilemma, each episode is always something that is kind of close to home for you or you're going through something similar. I think some girls find it reassuring to listen because I do. It's like, 'Oh, she has the same problem as me, we're all kind of going through the same stuff.'
Cinzia: Especially if you've got no one you can talk to one or no one you can share these things with. It's a little safe place where you can listen.
You are both absolute girl bosses! What advice would you give to someone who is trying to work out what their career goals are?
Cinzia: I think the first tip is just not to stress yourself out, because it can be such a long process figuring out what you want to do with yourself and knowing that it can change at multiple times in your life.
Sophia: You could find your passion at 40 and start an amazing career.
Cinzia: Right, that I think the key is not to rush it. Take your time.
Sophia: And I also think trial and error, don't be afraid to try things. If it doesn't work out, you can change. You want to experiment with these things and dabble in different areas. See what you naturally gravitate towards.
Cinzia: And also not to stress too much like we don't know if we're going to be podcasting forever or YouTubing, we probably won't be and it could be scary being like, 'oh god what are we going to be doing in 10 years time?' You just kind of got to trust the universe, trust the process and go with the flow.
Sophia: Also, don't put too much pressure on yourself to figure out so young. I feel like people nowadays are like, 'oh, by the time I'm 21 I have to have this amazing, huge blah blah blah'.
Cinzia: Especially if you're at school, at like 18 and have teachers telling you to have it figured out and know what degree you want. Yes, for some people that's a good path to take, but not for it's not for everyone. You just got to realise that.
Have you girls always been good at giving advice? And how can we give better advice to our friends?
Cinzia: I think advice given is easy because you're not emotionally involved. When you're not emotionally involved, you can detach yourself quite easily and just see the situation for what it is.
Sophia: Because giving advice and taking your own advice are two very different things. And I feel like it's easier to give advice, like on the podcast, for example, because we're not emotionally invested...
Cinzia: We don't know either person. It's not like I'm like, 'Oh, yes, Jessica, I know her'
Sophia: We just get the straight facts, the very black and white, like it is what it is, it's so much easier to see it from that perspective. It's so much harder when you know someone personally. Try and remove your emotions from the situation. I feel like then you can kind of see the situation for what it truly is, instead of making excuses for people... which is easier said than done. That would be my advice.
What's the best make-up tip you've ever discovered?
Sophia: Okay, you know when you're blending in your foundation? Give yourself a double chin when you're blending it and then it seamlessly matches your neck.
Cinzia: One thing that we do is, you know when people sometimes bake and let the loose powder sit? We kind of blend it in. I don't know if it's weird, but we push it rather than brushing it off. For some reason, I feel like it does make your foundation a bit more flawless and last a bit longer.
What's the most extra thing you've done in the name of beauty/wellness?
Cinzia: Oh, well we did purchase an at-home hair laser removal machine. We halved it and it was an investment. We had the intention of using it however for some reason we have not used it once.
Sophia: We got afraid!
Cinzia: We did get a bit afraid because apparently you're not allowed to use fake tan and stuff. So I'd say that was a big waste of money. We'll have to donate it...
Sophia: We just got a scared because it's like a laser and then people were telling us, 'you can't have fake tan on otherwise you'll burn yourself!'
What are your sleep patterns like and do you have any rituals to help you go to sleep?
Sophia: We have the best app which we both have to use to get to sleep. It's called the Calm app and it's basically this app which reads you sleep stories and there's like some sleep stories Harry Styles.
Cinzia: All different celebrities reading these stories and they're like an hour long
Sophia: you can just go to sleep with the voice of Harry Styles
Cinzia: The Harry Styles one is the best. It's like a love story, you feel like you're holding hands with Harry! He sends you off into the best sleep. I could recite Harry Styles' sleep story by heart.
Sophia: Same!
Cinzia: No, but honestly a sleep story or like ocean noises, because we both need to be around noise.
Sophia: We need noise to sleep. We can't sleep in silence. The Calm app is the best for a good night's sleep.
What's the one podcast that's changed your life?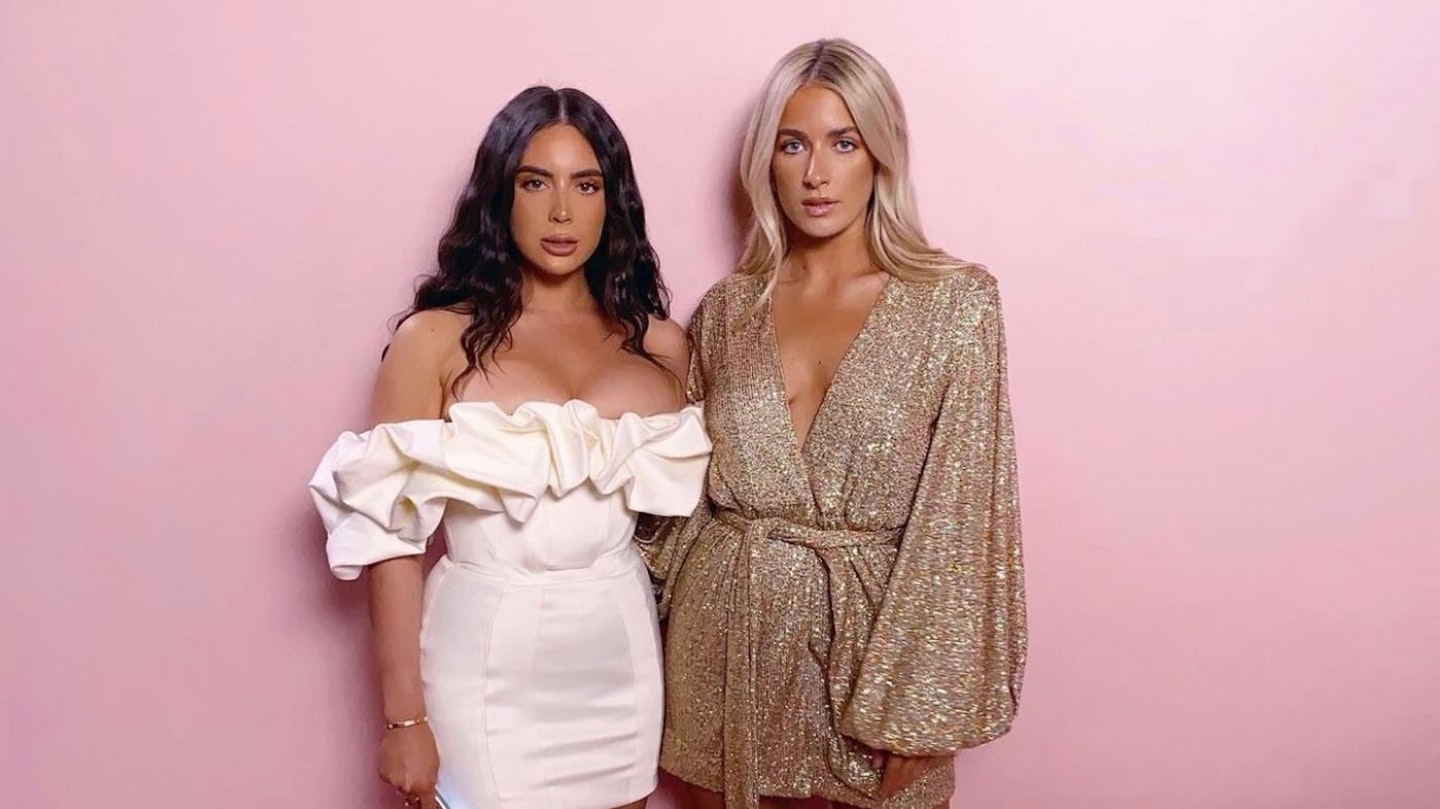 Cinzia: My favourite podcast right now is Anything Goes with Emma Chamberlain, she's so down to earth. Sophia loves her coffee brand.
Sophia: Yes, I do, Chamberlain Coffee.
Cinzia: Our little guilty pleasure is Frenemies with Ethan Klein and Trisha Paytas. They're just so interesting and it's just hilarious. They're like two hours long. We get them up on the TV because they film them for YouTube and stuff.
Sophia: I actually love to listen to a crime podcast. I listened to one last year but it was so good and I tell everyone to listen to it. it's calledThe Shrink Next Doorand it was just such a good story.
Cinzia: I'd say another good podcast if you want girl support and girl boss vibes is Mariana Hewitt's Life With Mariana podcast.She created Summer Fridays and she's the true definition of entrepreneur girl boss. She's really amazing.
What's a new beauty product that you've tried recently that you absolutely love and would recommend?
Cinzia: We're obsessed with taking off our makeup these days with a balm.
Sophia: The Elemis Pro-Collagen Cleansing Balm . We just got two new pots, literally like five minutes ago! It's so much better than make-up wipes. It's good for the environment and for your skin. It just melts your makeup off so easily, it's the best.
Cinzia: If you've never used one... I remember using a balm for the first time I was like, 'Wow.'
Sophia: It smells very spa-like.
And do you believe in the law of attraction and what's your experience been?
Cinzia: We do believe manifestation is is just about putting out good vibes, right?
Sophia: And just being open to opportunities you know, it's about like positive mindset and saying yes to things.
Cinzia: Like at the start of the year we made ourselves vision boards. We always have and I think it's just a really nice thing to stay positive.
Sophia: Almost being like, 'I'm gonna decide to have a good day today, I'm gonna decide to be productive'. Positive thinking counts for so much.
Cinzia: You should make a vision board and make it your screensaver on your phone, so you're reminded of your goals daily because you're looking at your phone all the time.
Sophia: On our laptops, our wallpapers on there are of our vision boards It's just every time you open it, it's just a reminder of what you're working towards.
How did you make your vision boards?
Cinzia: We got these boards from Hobbycraft.
Sophia: We've got digital ones on our laptops which you can make on Word. We actually went to Hobbycraft and made some physical ones. We had magazine cutouts and pictures that we found on Pinterest and printed them out.
Cinzia: Pinterest is the best!
Sophia: We got a corkboard with some cute gems on. They're in our offices and they're really cute.
Cinzia: But equally I made one on my iPad on Adobe Sketch. You can just add all the pictures, it's really easy.
What are your top tips for taking a flames outfit pic for Instagram? How long does the process take?
Sophia: Good lighting is an essential.
Cinzia: It literally is about good lighting. We kind of struggle when it's sunny because when the sun is above you, you look really shadowy on your face. So it does take a while to find a location, but once you find a location with a good pocket of light...
Sophia: We can bang it out like literally two minutes!
Cinzia: We could bang it out in five... on a good day. On a bad day, god you don't want to be there on a bad day! On a good day, we're super quick.
Do you use any photo editing apps?
Sophia: Honestly, just what they have on Instagram, just upping the brightness a bit, upping the saturation, adjusting the shadow.
Cinzia: I use Lightroom. Lightroom is the best you buy people's presets on there, so your feed is coherent if you're using the same filter. We plan our feeds, don't we? I use this app called The Grid.
Sophia: I use one called Planoly
Cinzia: They're good because you can put all the pictures you've got to post and put them in the best order and see what looks good and we always show each other and ask which orders are the best.
Sophia: I'm like, 'Cinzia, help me with my feed!' Shall I put this here or there?
What are your plans for hot girl summer?
Cinzia: I mean, fingers crossed we can go away...
Sophia: Some travel would be nice.
Cinzia: We'd love to just be amongst some heat, maybe on a beach...
Sophia: A beach would be lovely.
Cinzia: We're just doing what we want to do and having fun.
Sophia: Having fun having a good time. Just the two of us.
Quickfire:
Show you're currently binging?
Cinzia: Right, we literally just turned Friends off so let's just say Friends!
Sophia: We watch Friends all the time.
Go-to cuppa?
Sophia: I'm kind of basic when it comes to hot drinks. I just have it with oat milk. I don't have any sugars, I don't have any syrups. I'm kind of boring when it comes to hot drinks.
Cinzia: If I'm getting a hot drink I'm getting a green tea, it's very boring.
Favourite loungewear brand?
Sophia: Oh, SKIMS, we love it.
Cinzia: We've just discovered SKIMS, Sophia is literally wearing it right now.
Sophia: They've got amazing bodysuits and the leggings are like buttery. The quality is amazing.
Go-to take away order?
Sophia: Greek!
Cinzia: Oh my god, we're obsessed with Greek food.
Favourite face mask?
Cinzia: My all-time favourite is Lush's face masks called Mask of Magnaminty. It's the best for a breakout, I've literally been using it since I was 16 and we always go back to it.
Sophia: It's a classic.
Favourite candle?
Sophia: I like Zara home for a candle.
Cinzia: I like this brand called Alina Candles, they do these huge, like 12 wick ones so nice. And I love Caia Candle, I've got this bum candle, it's like a life-size bum, it's amazing!
Listen to 'The Girls Bathroom' chart-topping podcast across iTunes, Spotify and Google. New episodes are available every Wednesday.
Read more on heat:
Jess and Eve Gale talk self-care routines, fake tan and their £3 hack for clear skin
Courtney Black talks mental health, beauty routines and her go-to fake tan for bronzed skin
Francesca Allen talks brows, skincare and the £5 conditioner she uses for 'thicker hair'