Picture this: you're taking a selfie, the orange hues of the sun are hitting just right and your skin is absolutely GLOWING. Sound familiar? Golden hour is a godly gift, that makes any photo pop. Skin is airbrushed, hair is glowing and the IG potential is real.
But let's face it. As fab as that all sounds, golden hour is hardly a common occurrence. Whether we're snoring away as the sun rises (guilty), or bad weather is blocking a dreamy sunset. That perfect lighting isn't coming your way anytime soon... or so you might think.
As per usual, TikTok has come to the rescue with its latest obsession – and this time, your followers will thank you for it. Introducing the almighty; sunset lamps.
Vibey sunset pics with aesthetically pleasing lighting, ALL without leaving the comfort of your home? Yep, it turns out dreams do come true.
All you need to do is set up your sunset lamp, decide where you want to project your light and voila - it's time to pose. No time limit, cold wind or weird stares from people in public – just good vibes and influencer-worthy pics. You're welcome.
If you're interested in giving your IG the upgrade of a lifetime, check out our list below for the best sunset projector lamps.
SHOP: The best sunset lamps to buy online
The best sunset lamps 2023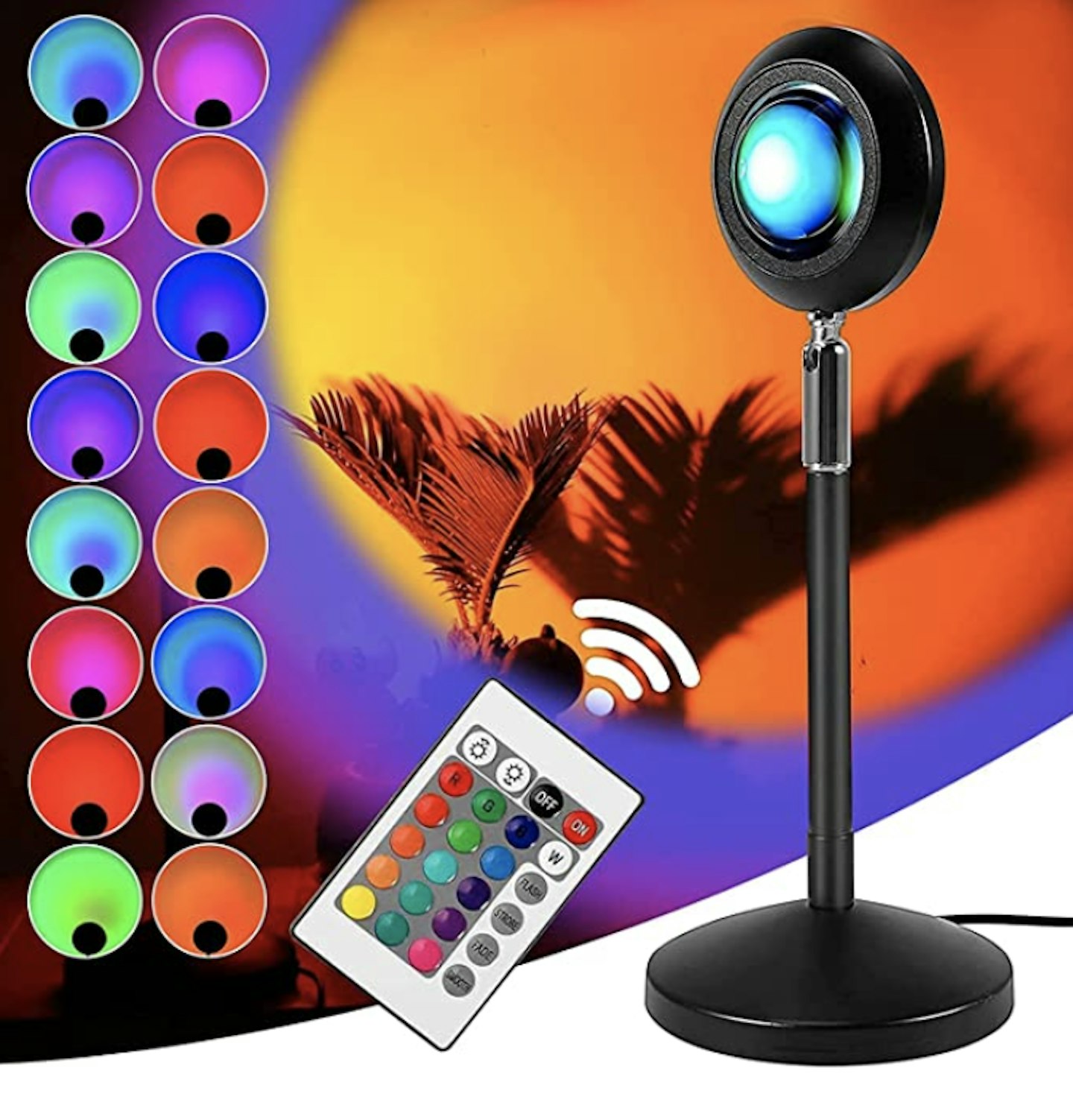 1 of 6
CREDIT: amazon
Sunset Lamp, 16 Colors Sunset Projection Lamp
Get yourself your very own sunset with this sunset projector lamp. The soft glow and sanguine hues make for photoshoot heaven, and the warm light can also elevate your date night, dinner parties or any other event by creating a soothing atmosphere. This particular lamp comes with 16 different sunset hues and a 360-degree steering head.
Review: "Very easy to set up, makes a gorgeous light and the multiple colours differ nicely. The only issue is using the mini controller, you have to get quite close to the lamp for it to work but that's not causing dilemmas."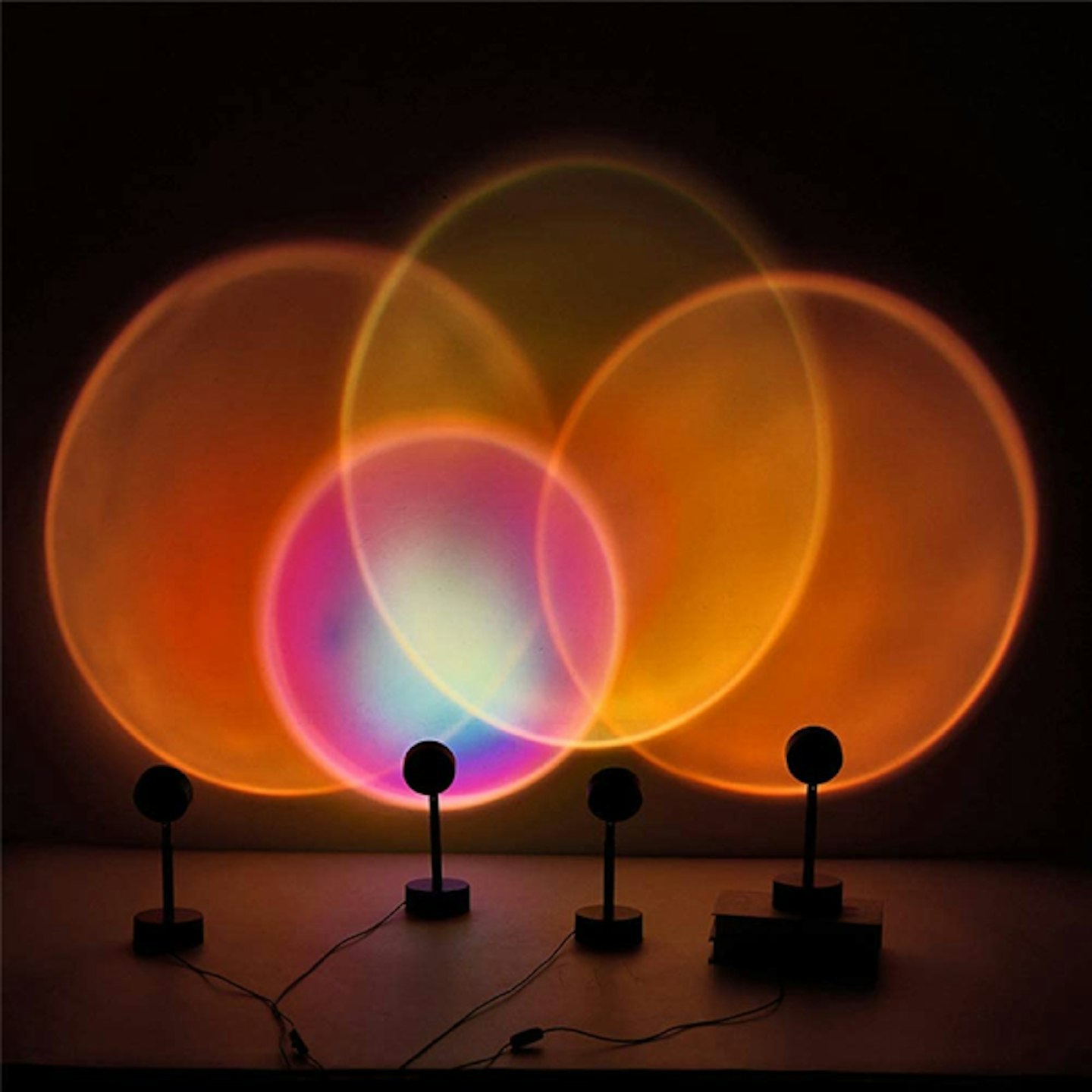 2 of 6
CREDIT: amazon
Mydethun Sunset Lamp Projection 180 Degree Rotation Rainbow Projector Lamp
Dreamlike colours and lighting that'll transform any room into a paradise. Create the perfect photo, party or evening chill set-up.
Review: "Plssss I thought I was gonna get ripped off for this or like get a really watered-down version but I'm so happy because it's literally amazing!!"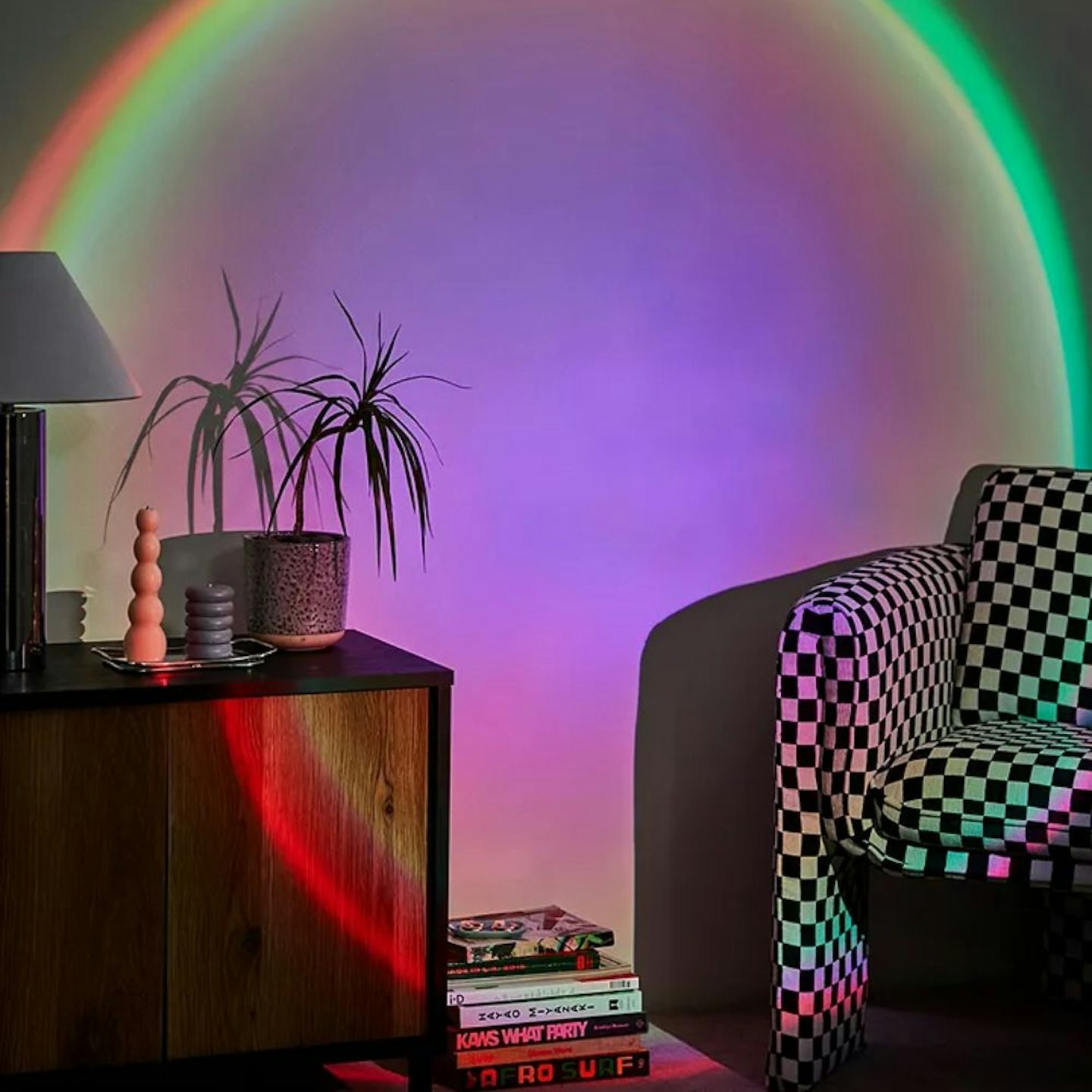 3 of 6
CREDIT: Urban Outfitters
Urban Outfitters Iridescent Sunset Projection Lamp
For a more iridescent glow, Urban Outfitters has this easy-to-use choice that will keep you colourful throughout the whole year.
Review: "Love it. Great lighting looks very cute and aesthetic."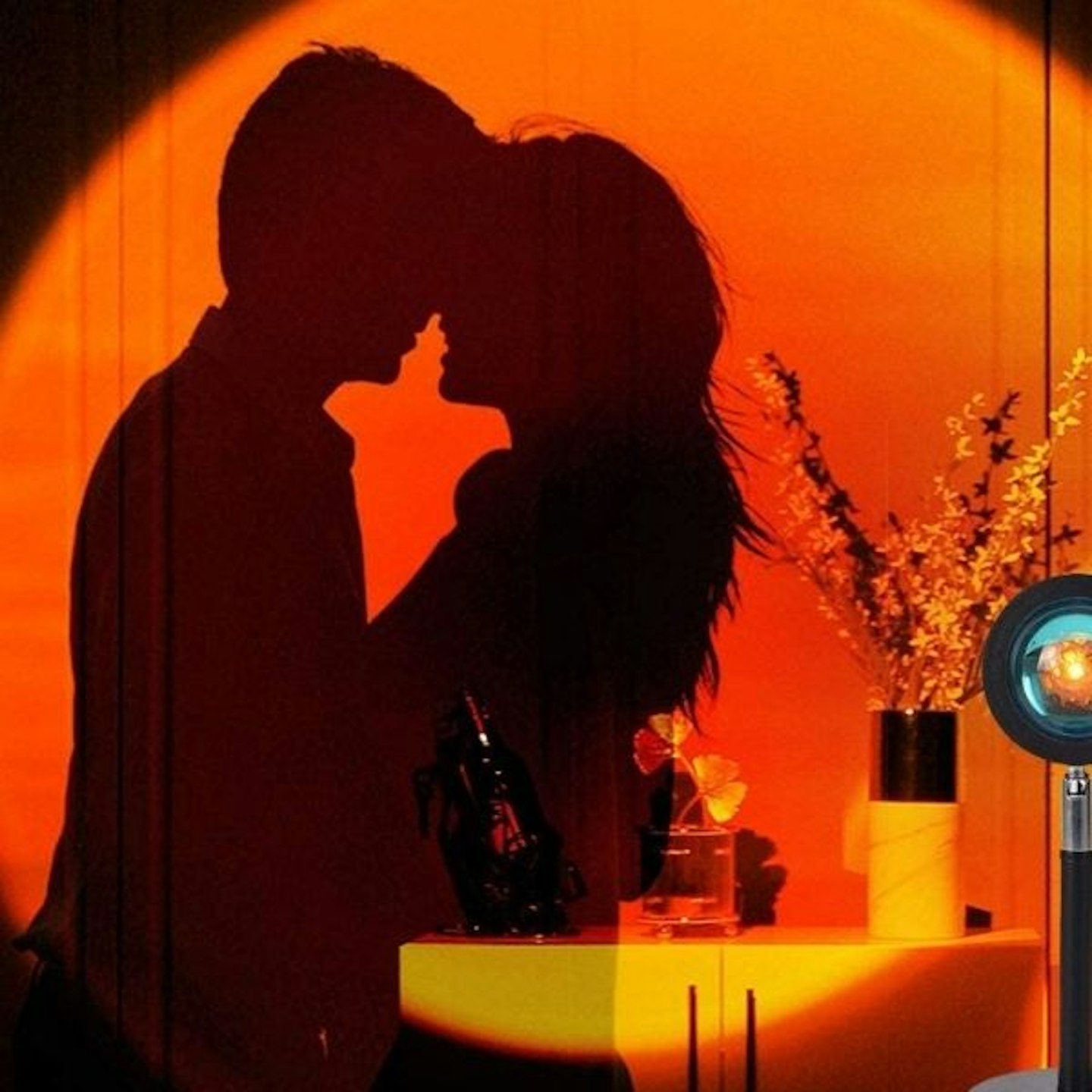 4 of 6
CREDIT: amazon
180 Degree Rotation Sunset Projection Lamp Led Light
Who needs rooftops when you've got one of these? With calming hues of orange and yellow, your room will feel like a summery oasis.
Review: "Made my room look so pretty as if the sun is always shining into your room... I recommend buying this for taking good quality photos :)"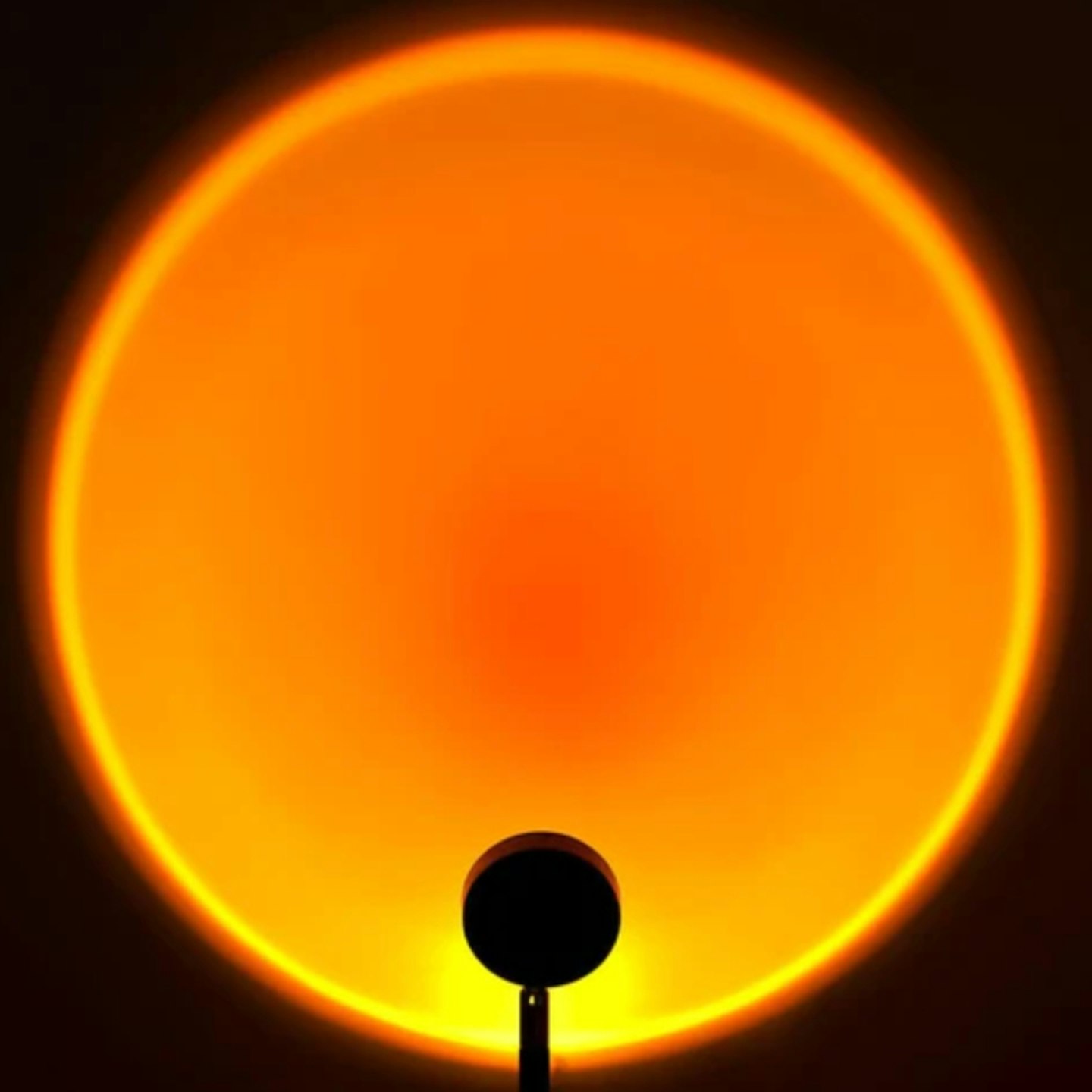 5 of 6
CREDIT: official sunset lamp
Official Sunset Projector Lamp™
When it comes from a website called officialsunsetlamp.co.uk, you know you're in for a treat. With an overall rating of 4.92/5 stars and 50,000 satisfied customers, it was voted the #1 Christmas Gift of 2021.
Review: "Love the red sunset colour it projects. It really lights up my room and makes me feel like there is a golden hour whenever I want. The projection does cover most of the room depending on how far the lamp has been placed. I will be buying their RGB Lamp too as a Xmas Gift for my sisters."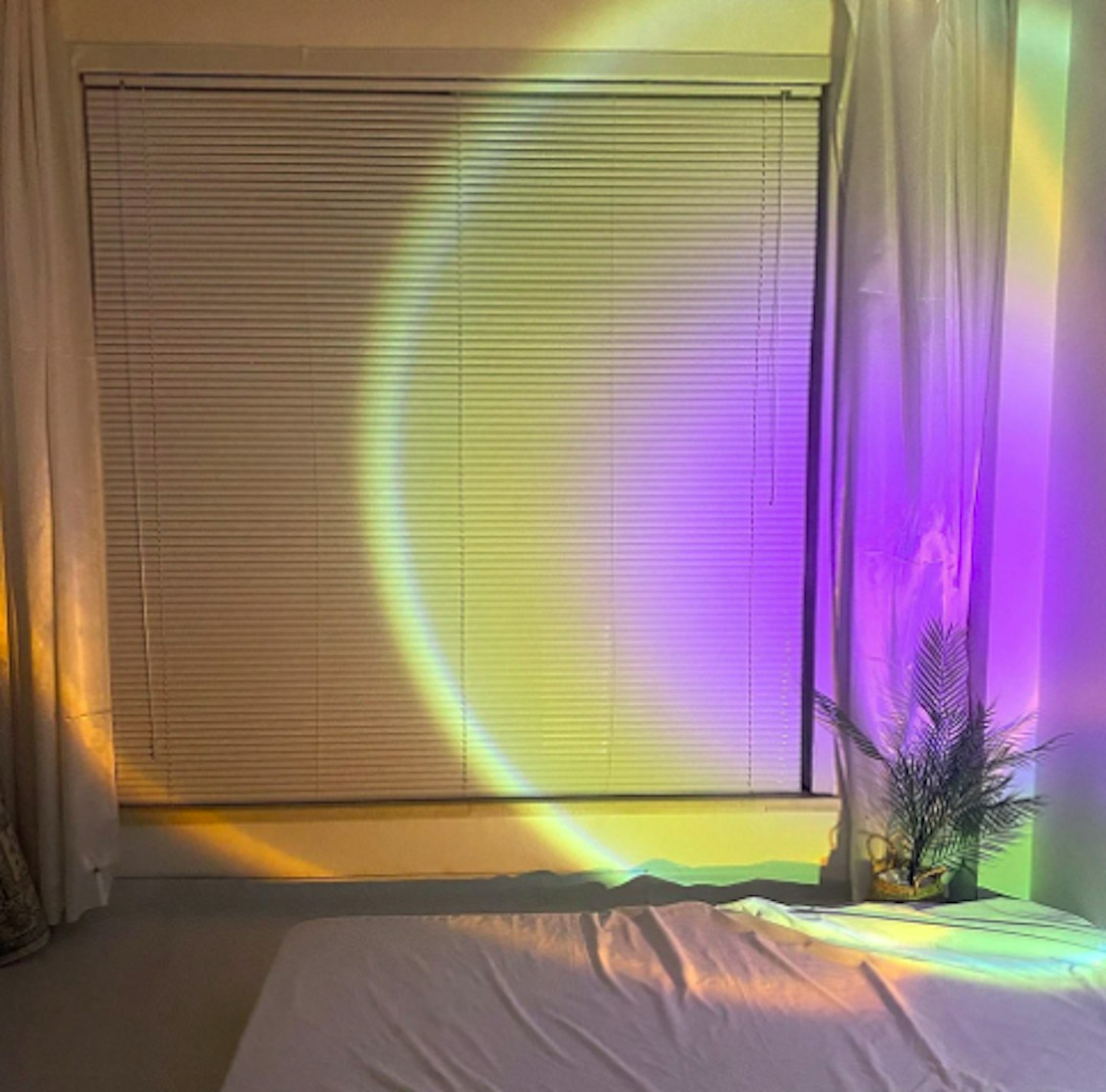 6 of 6
CREDIT: photo moon lamp
Sunset Lamp Projector Light Rainbow
Even though many sunset lights come with the typical orange tinge (replicating the usual sunset), rainbow sunset lights are becoming even more popular for those who want to use them during the day and still get an effect.
Review: "Bought this as a surprise gift for my girlfriend because she kept showing me videos of it on Instagram. I didn't think I'd love it as much as I do. Lights up our entire living room quite brightly, which is what I was hoping for. It's small enough to hide in a corner of a room, small and mighty for sure! Great value for your money. Definitely recommend."
Tips on how to nail the IG selfie
1. The higher the phone, the better: You hardly need us to tell you that taking pics from below is no bueno. Aim high, tilt your head up slightly and CHEESE.
2. Natural lighting is your BFF: Okay, so in the circumstance that an amazing sunset lamp isn't at your disposal, make sure you use all the natural lighting you can get. Whether you decide to take your selfie outside or in front of a big window, natural lighting will ultimately give you the most flattering glow.
3. Take as many as possible: The best way to nail the selfie is to keep snapping until you get the right one. Try different angles, locations and even clothing options until you're happy to click post.
4. Take it easy on the edit: Yes, blurring out your spots and any other blemishes is perfectly acceptable if that's what you want to do. However, when it comes to filters and other effects – less is more. Tone down the filter strength if possible and aim for a photo that looks as natural as poss.