Fans of Netflix's hit period drama Bridgerton will be familiar with Claudia Jessie for her turn as Elise Bridgerton, Daphne Bridgerton's little sister and Penelope Featherington's former bestie.
You may be surprised to hear, however, that Claudia's real age is actually a fair bit different to the character she is portraying on the show.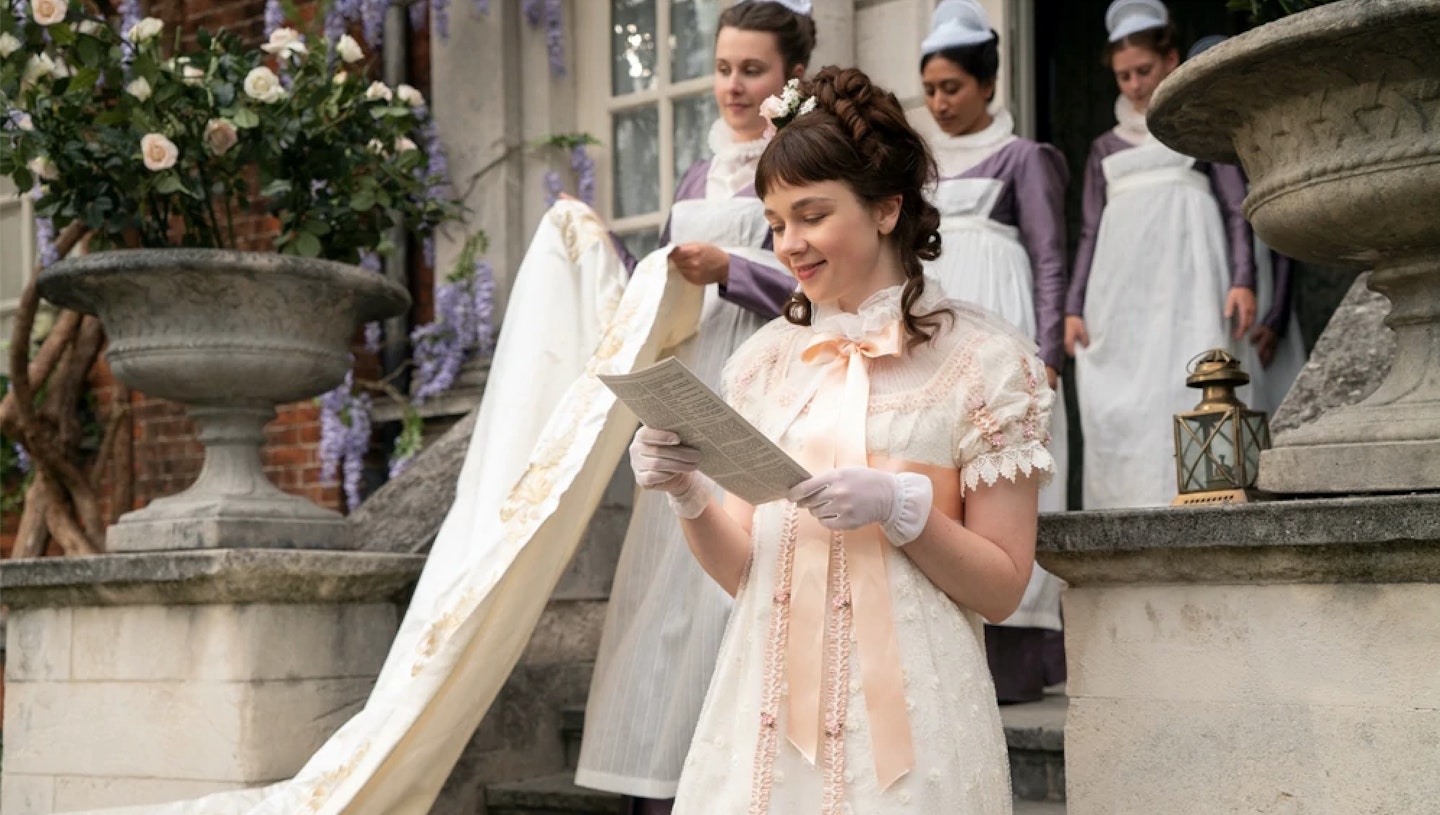 Eloise is supposed to be a teenager on the show and while audiences are used to actors playing roles a lot younger than their actual age (take Euphoria for example), many were shocked to find out Caudia's actual age. Claudia is in fact 32 years old...
Yep, you heard us right. 25 we could have guessed, late twenties would have been stretching it, but we would NEVER have guessed she was a day over 30.
Honestly, what is real anymore? Is the Queen really that old? Is Millie Bobby Brown actually in her 40s? Am I really the age I thought I was? Oh god that would explain the wrinkles...
Fans of the show also lost it after discovering Claudia's real age, taking to Twitter to express their shock.
One person wrote, "32 yrs old isn't old but Claudia Jessie looks wayyyyyy younger than her age. HOW?"
Another wrote, "Duuuude! She's my age!! Can you believe that? Amazing! Claudia Jessie, Looking good ❤️."
Well if the news of Claudia's age caught you off guard wait 'til you hear this. Nicola Coughlan, the actor who plays Penelope (a character also supposed to be a teenager) is 35 years old.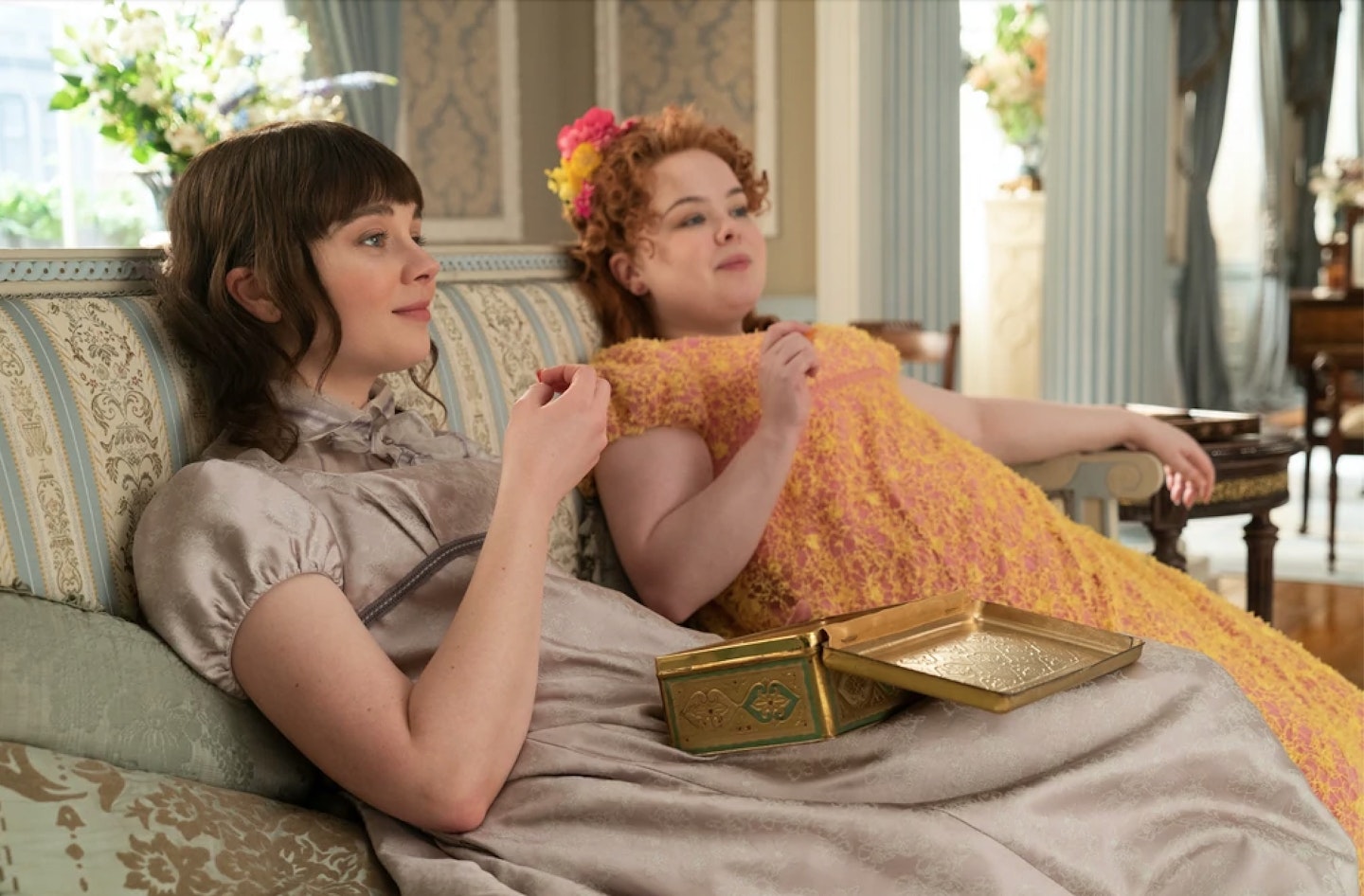 This will blow the minds of anyone who watches Derry Girls, as Nicola plays "16 year old" Clare Devlin.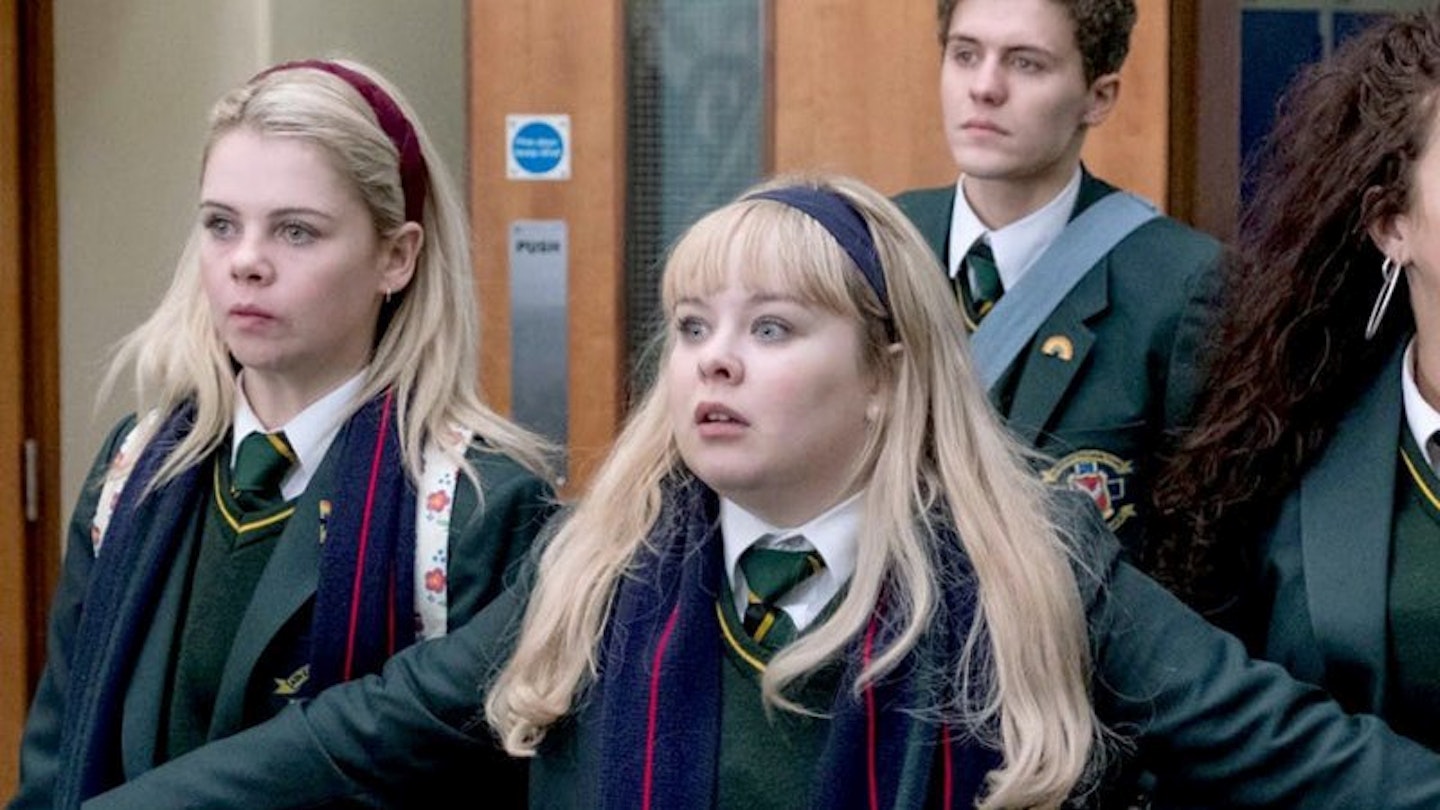 Fans of the shows took to Twitter once again to share their shock. One wrote, "I just googled Nicola Coughlan and she is MY age in real life but passes for a teenager?!"
Another tweeted, "So, I was asking my mom: "mom, how old you think the girl from Bridgerton, Penelope, is?" And she: "hum, 12" and I laughed and said the real age and she be like 😱. And now I NEED KNOW what you doing to be like that @nicolacoughlan? Tell me your secret, pls!!!!"
While the news of these actors ages is a shock, it should be taken as a testament to the power of they acting abilities that they are able to inhabit these teenage characters so effectively. We just hope they don't get typecast as teenagers going forward...
Check out the best Bridgerton dresses available to buy now:
SHOP: Best Bridgerton dresses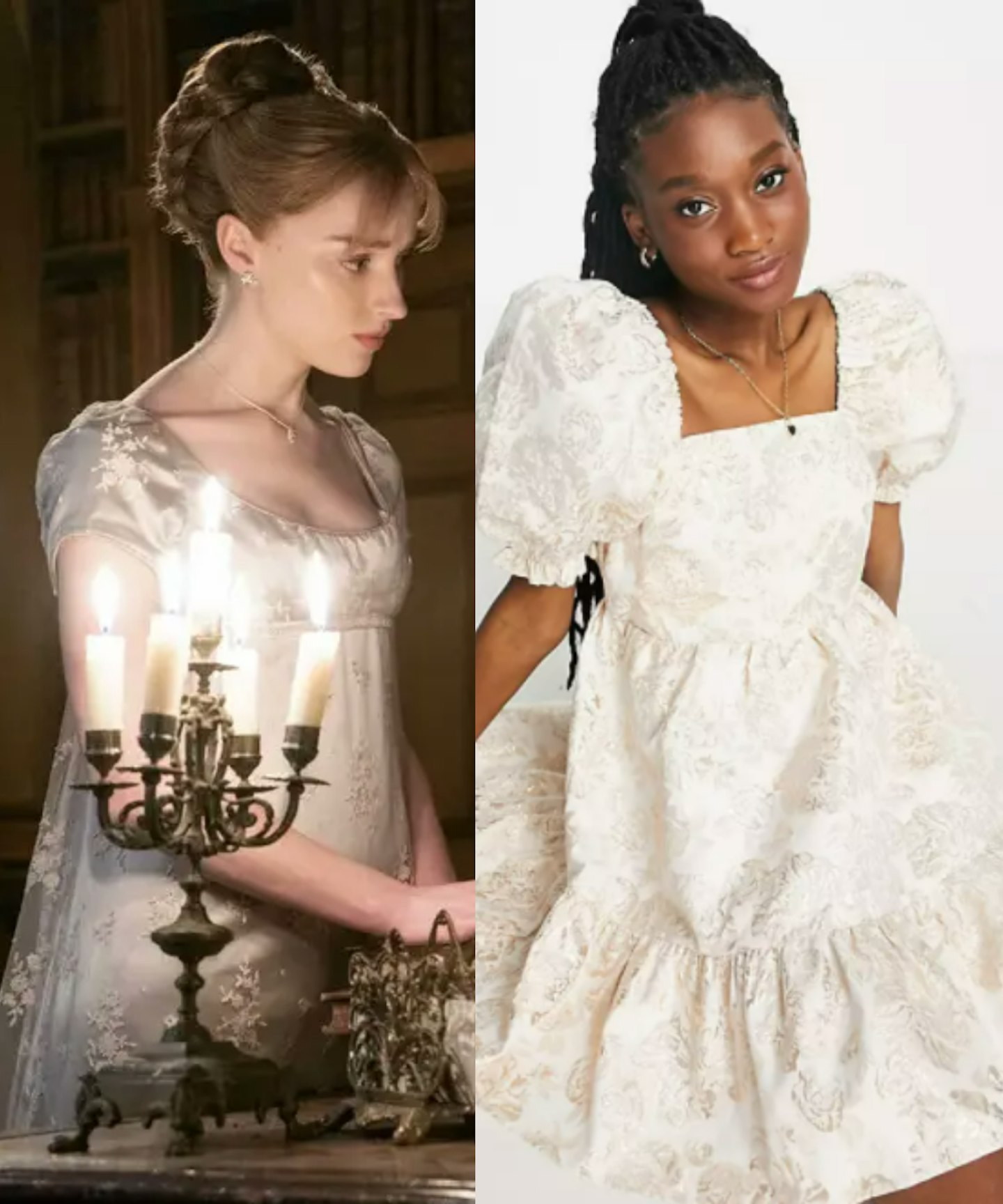 1 of 16
CREDIT: ASOS
Daphne's White Satin Dress - Miss Selfridge jacquard puff sleeve smock dress in gold
We saw this floral white satin dress on Daphne in the recent sneak peek pics of Season 2 Bridgerton and we can't get enough. This dupe from Miss Selfridge on ASOS is enough to melt our regency heart.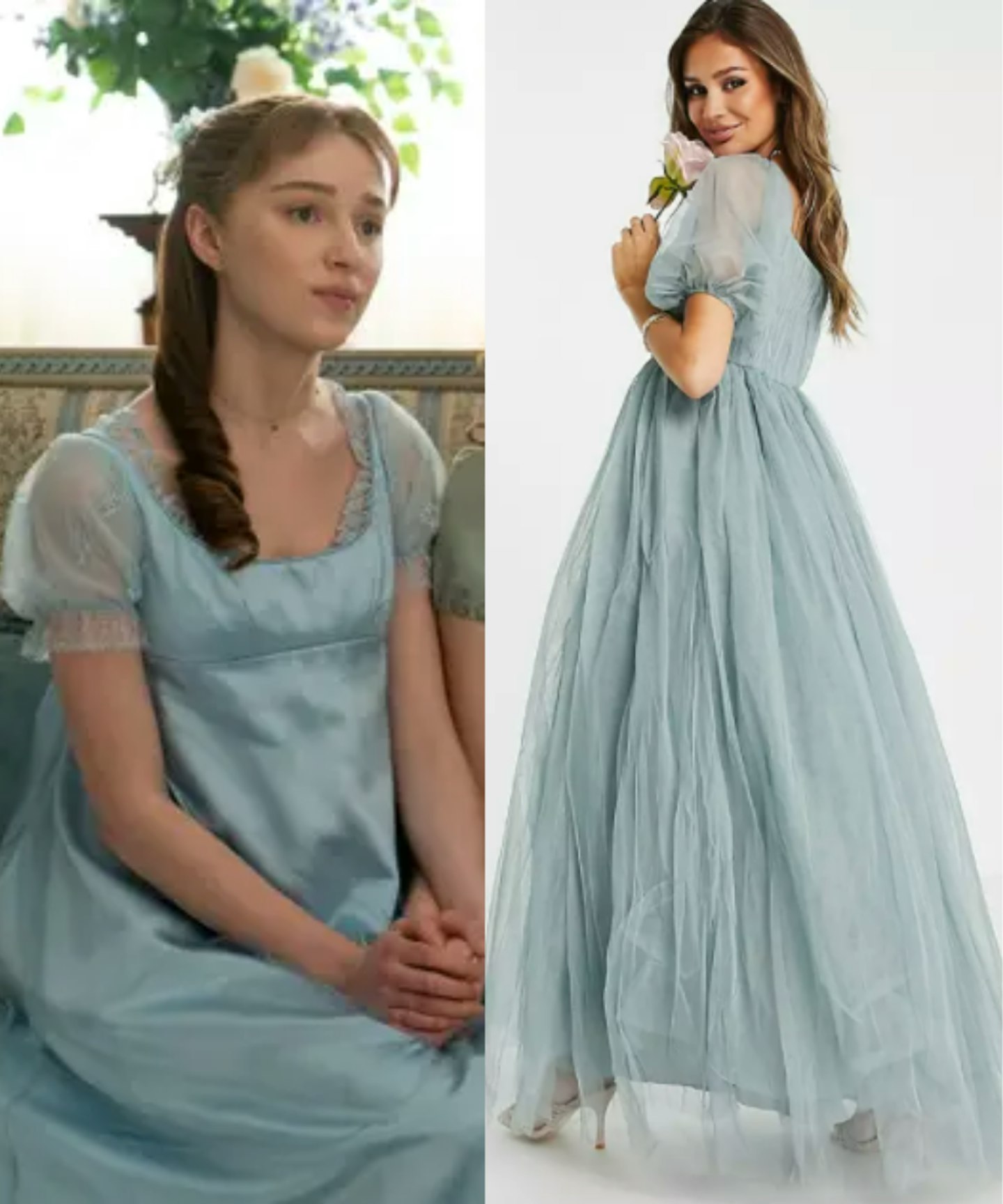 2 of 16
CREDIT: ASOS
Daphne's Blue Puff Sleeve Dress - ASOS DESIGN blouson off shoulder tulle puff sleeve maxi dress
Puff sleeves are everything Bridgerton and this ASOS option is giving mesh heaven. Put on your dress and feel like Daphne in this regency option.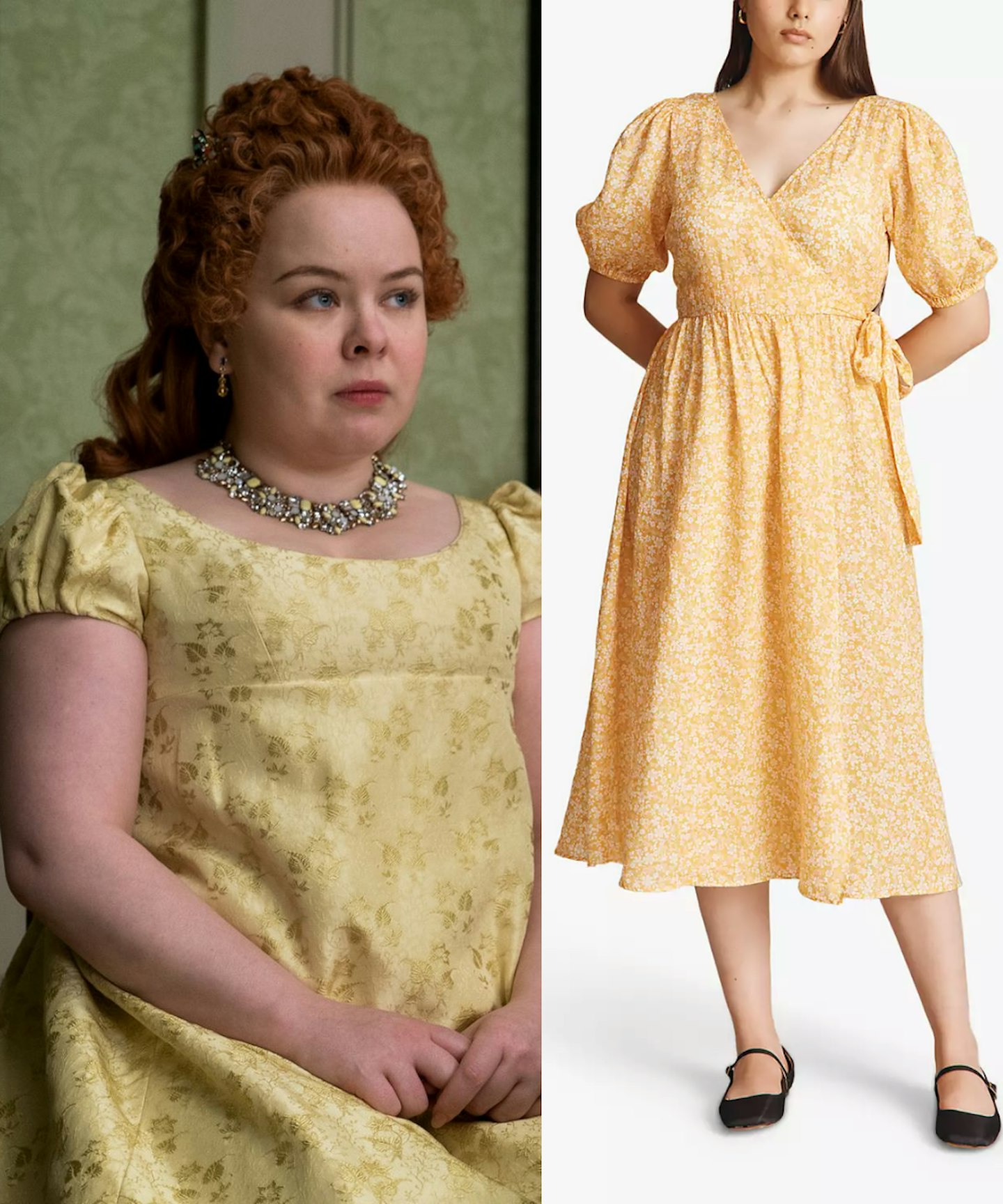 3 of 16
Penelope's Yellow Floral Dress - Ghost Ashley Ditsy Floral Mid Wrap Dress, Yellow
Penelope was a huge fave in the first season of Bridgerton and we got to know her through her colourful style. This floral vibe in yellow is sweet and we'll be snapping up a similar option from John Lewis.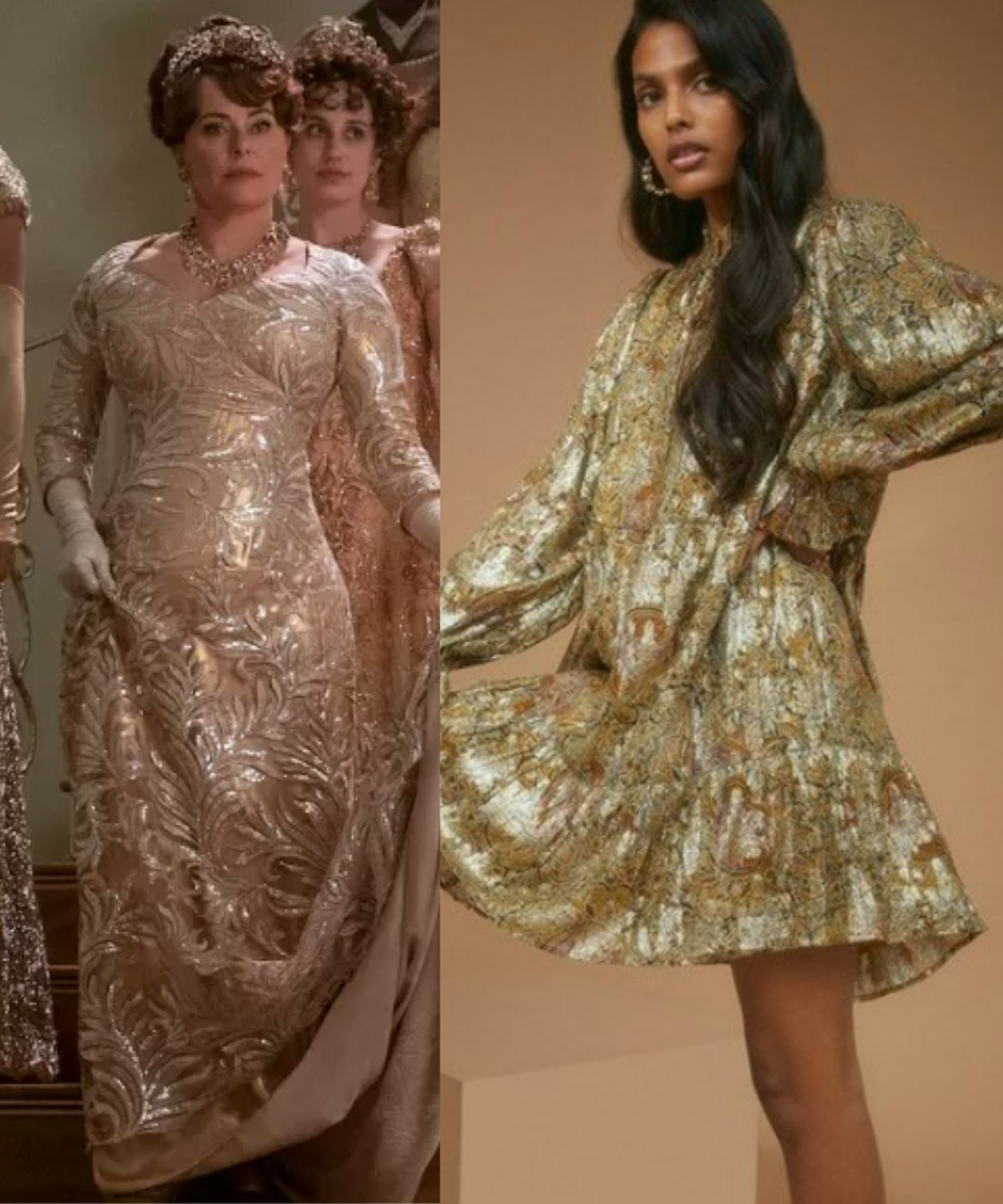 4 of 16
CREDIT: Oasis
Lady Featherington's Embroidered Dress - Metallic Paisley Printed Smock Dress
Embroidery and embellishment is another fave on our fave characters. Get a similar vibe to Lady Featherington's gold dress here on Oasis. Sparkle the night away.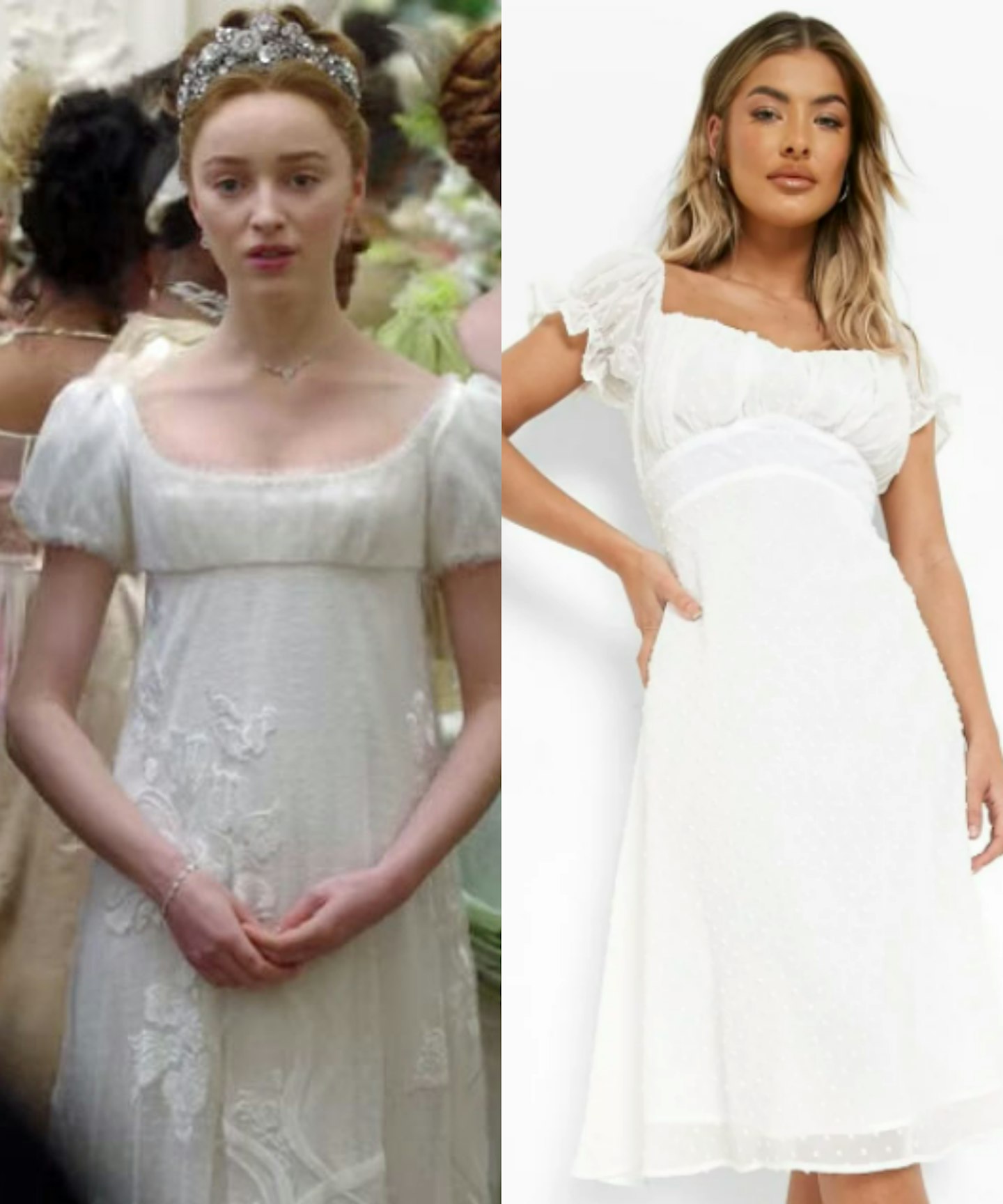 5 of 16
Daphne's White Bell Sleeve Dress - Dobby Off The Shoulder Tie Back Midi Dress
Daphne's white bell sleeves are to die for and you can grab this off-the-shoulder dress on Boohoo. Perf for spring and summer vibes.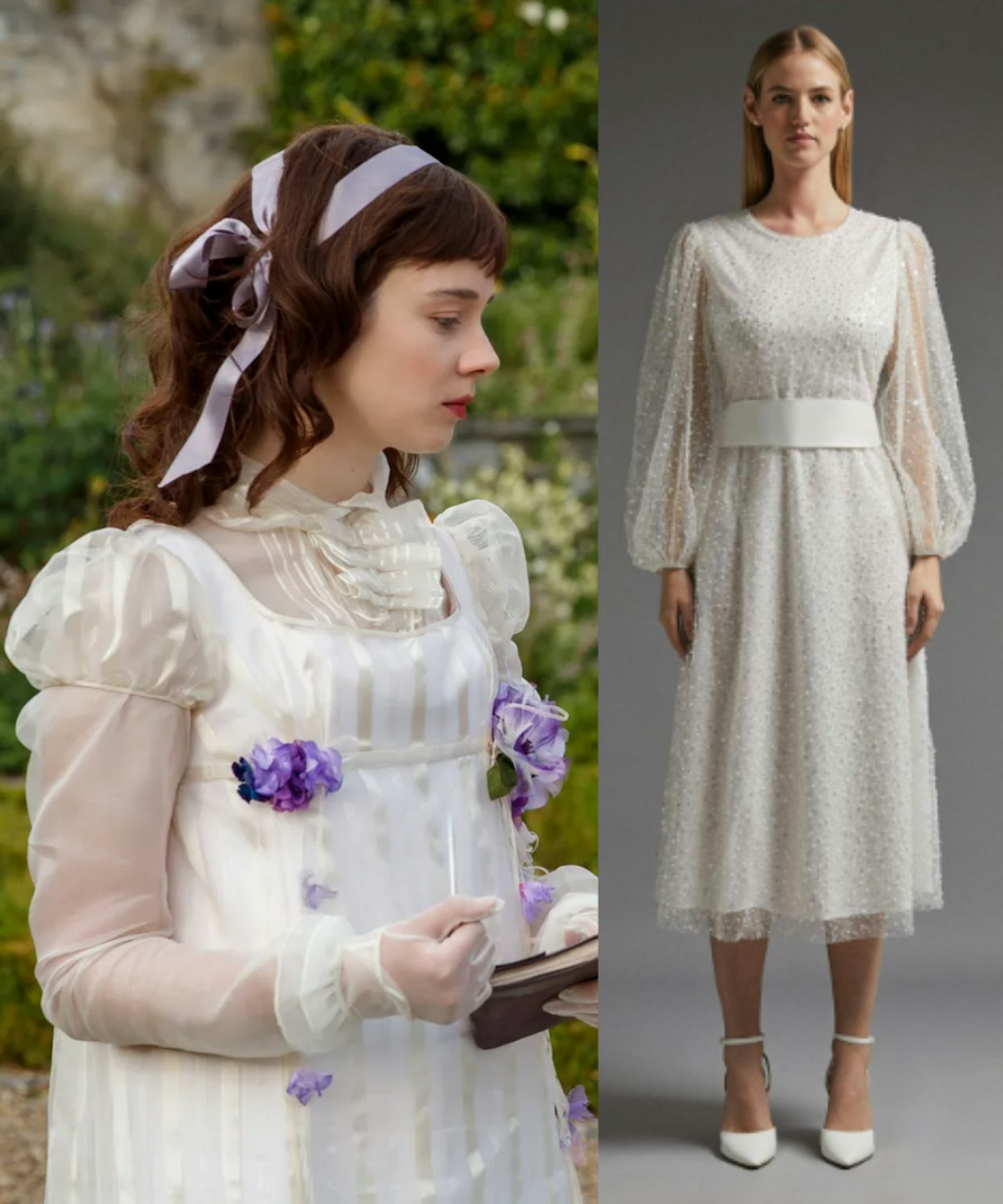 6 of 16
Eloise's Mesh Dress - Coast Embellished Mesh Long Sleeve Midi Dress
Eloise was known for being the introverted writer of the Bridgerton family, but we were loving her wardrobe too. This mesh dress is super sweet, and you can find a similar dupe on Coast.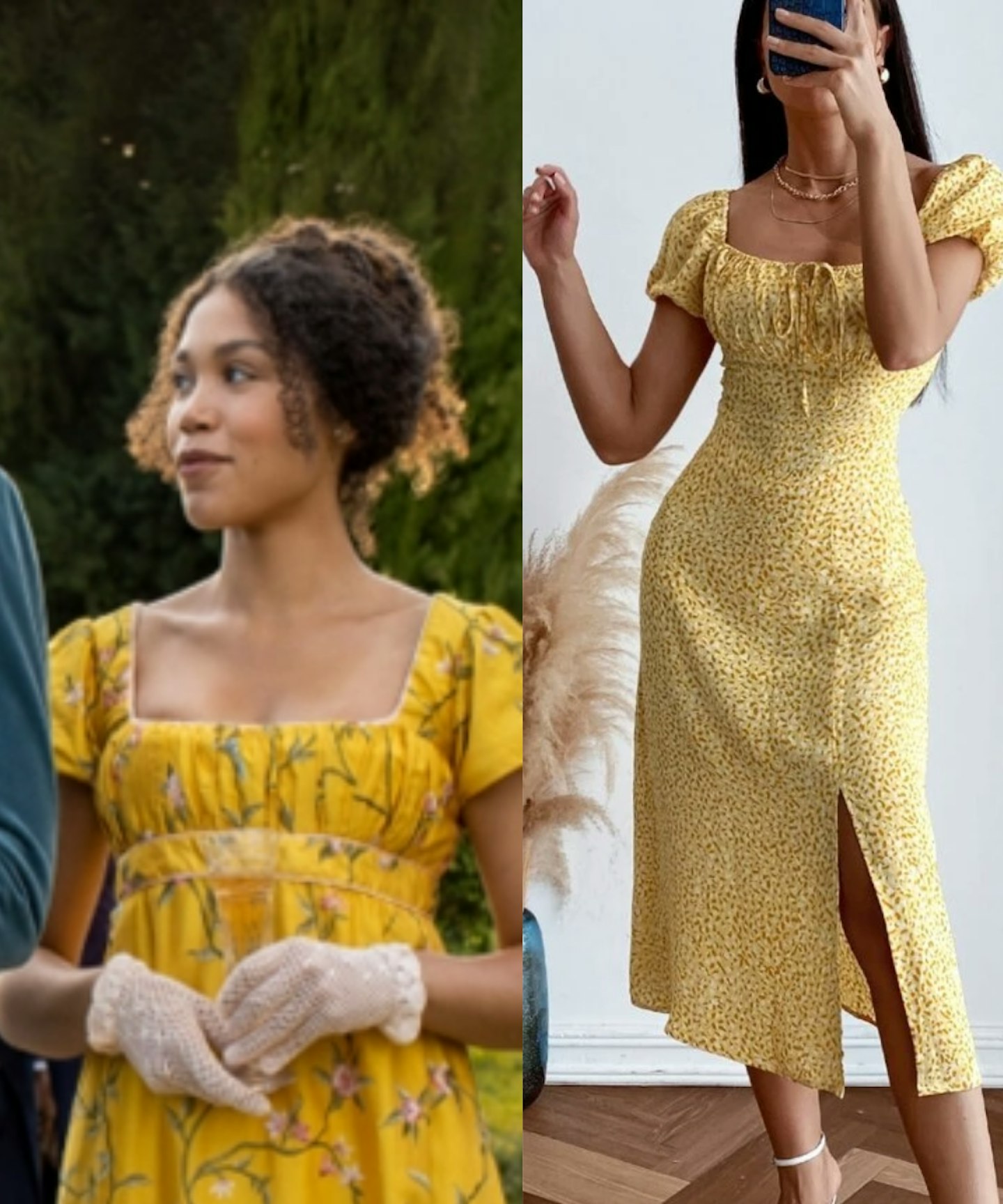 7 of 16
CREDIT: Shein
Marina's Yellow Floral Dress - Allover Print Square Neck Ruched Bust Milkmaid Dress
Giving cottagecore vibes, this yellow floral dress is totally Bridgerton, a similar dress as seen on Marina, cousin of the Featheringtons. We're snapping it up.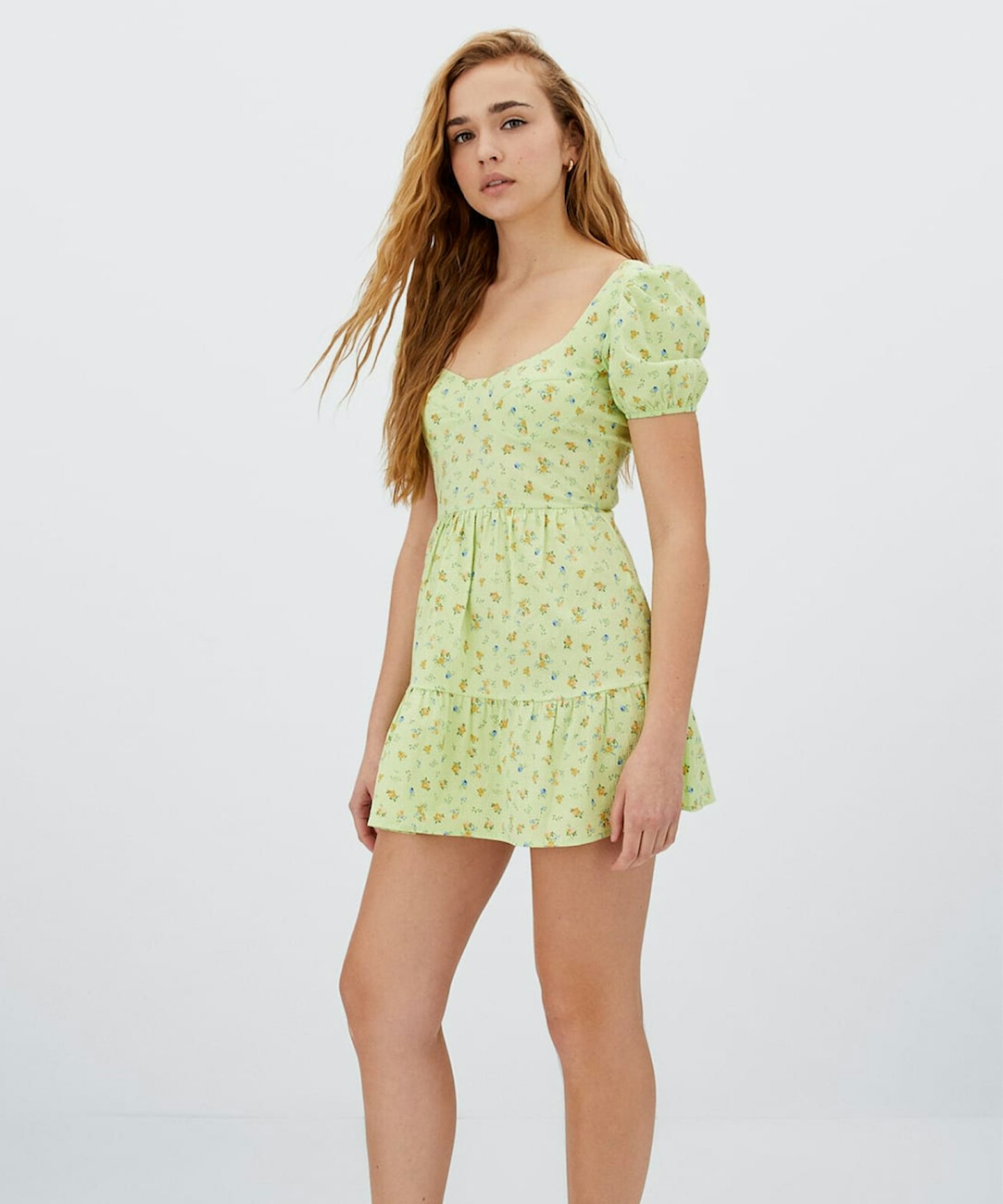 8 of 16
CREDIT: Stradivarius
Stradivarius Short Bridgerton dress with sweetheart neckline
Stradivarius even have their own line with Bridgerton, making it extra easy to buy the Regencycore trend. We love this short floral dress from the collection.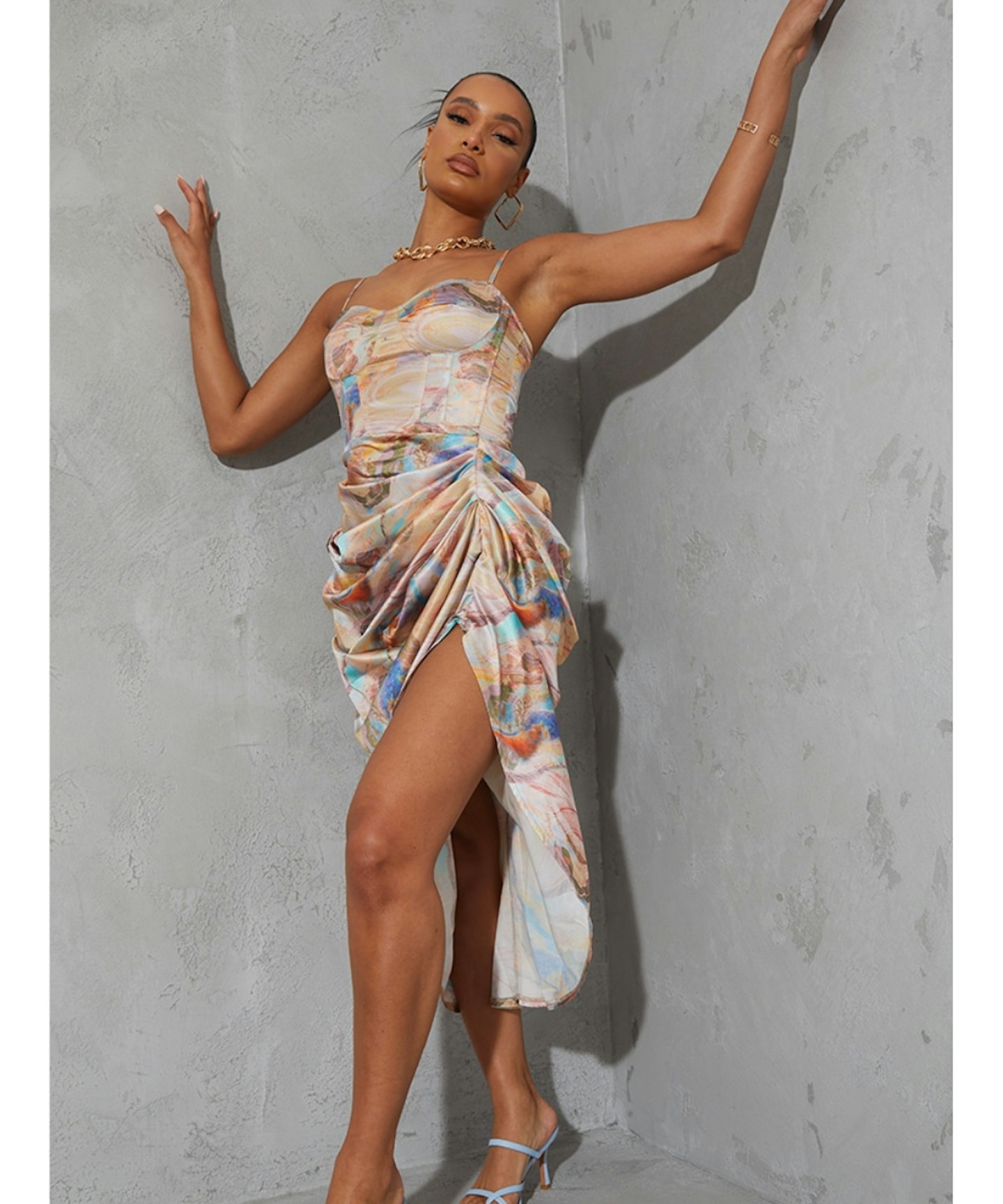 9 of 16
CREDIT: PrettyLittleThing
PrettyLittleThing Multi Marble Print Satin Ruched Skirt Corset Detail Midi Dress
Marble print, corset top AND ruched skirt? This dress from PrettyLittleThing screams Bridgerton.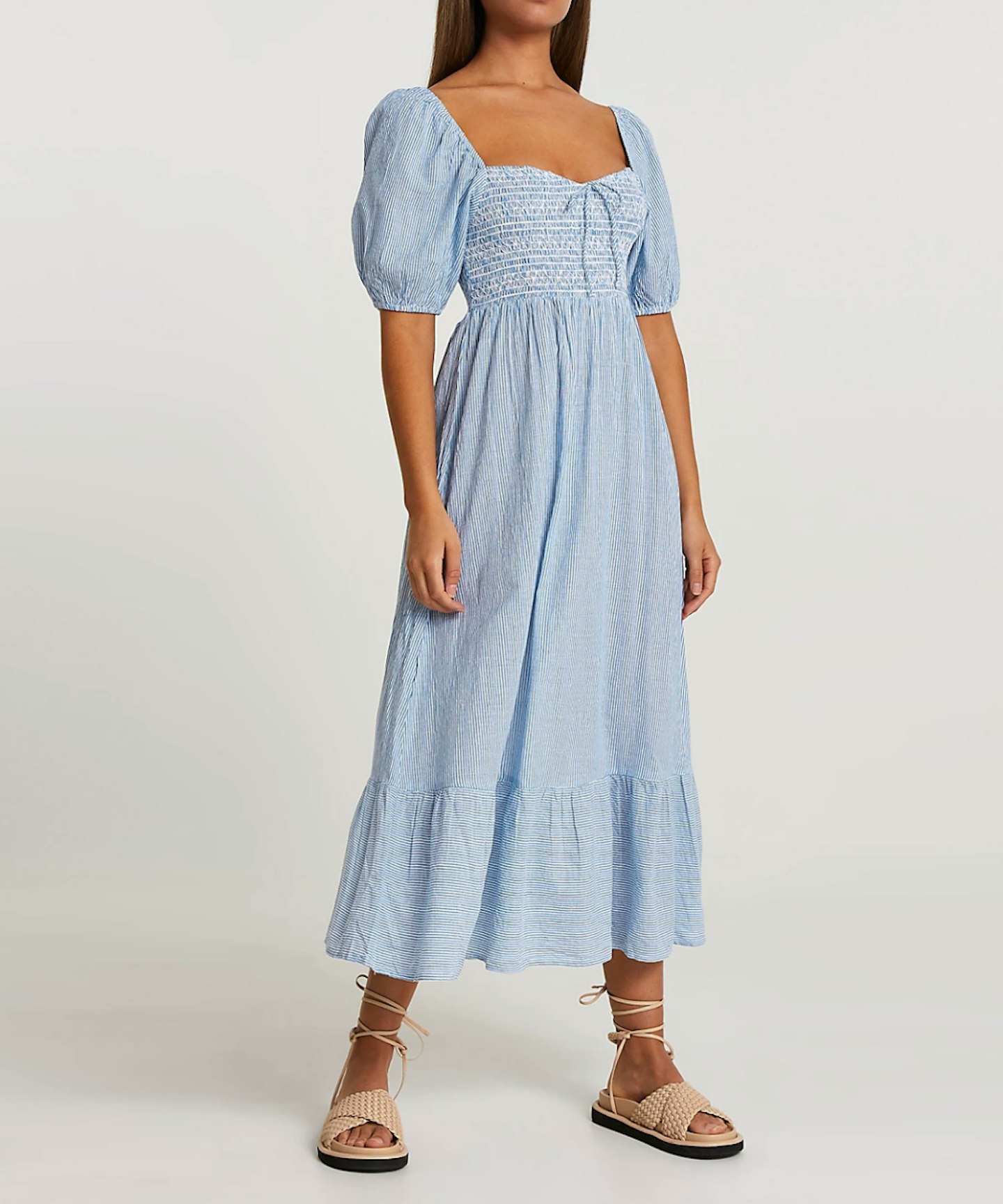 10 of 16
CREDIT: River Island
Blue Puff Sleeve Smock Midi Beach Dress Blue Puff Sleeve Smock Midi Beach Dress
Don't miss out on this blue puff smock dress, which will make you feel like you're ready for the Bridgerton social season in no time.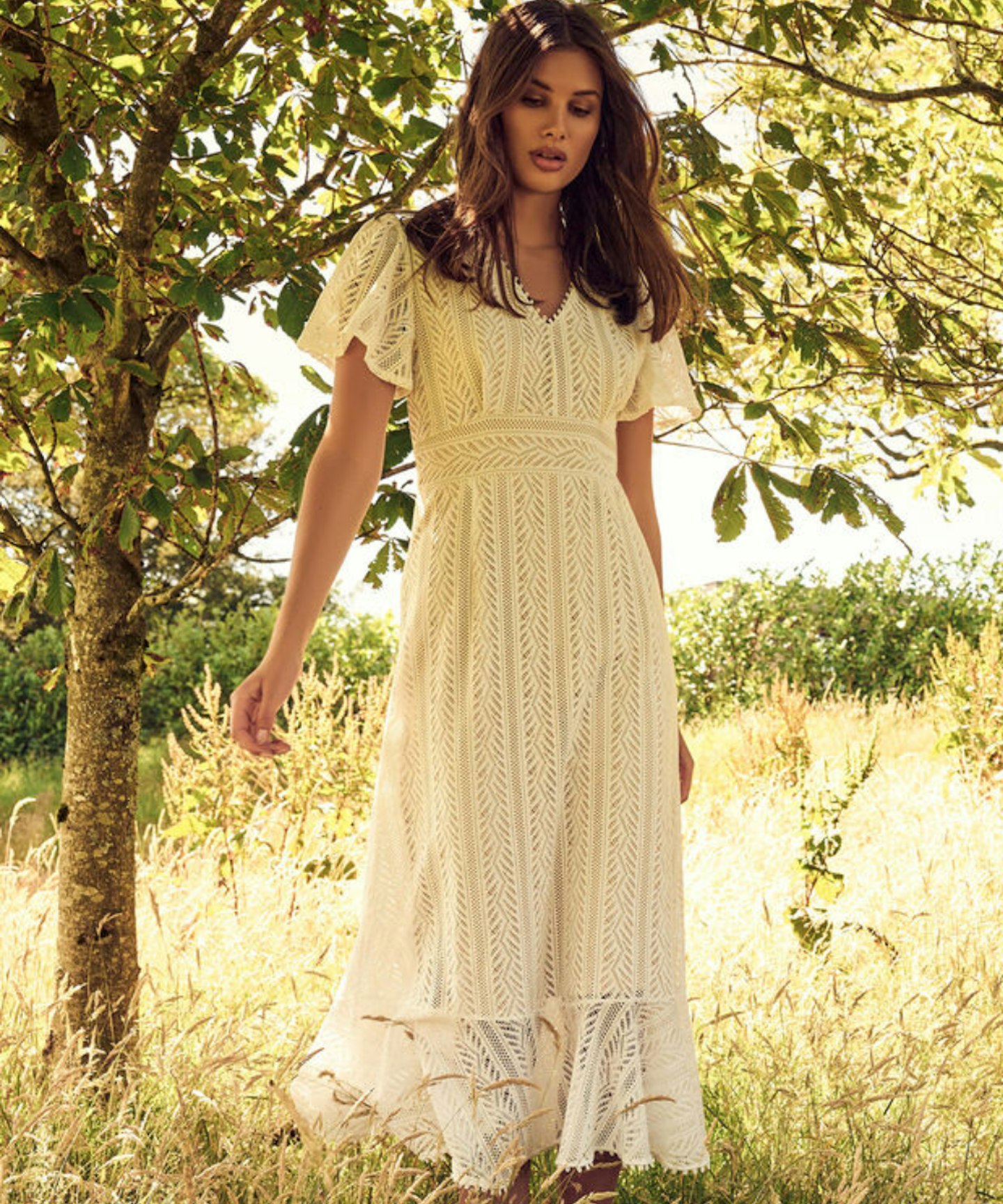 11 of 16
CREDIT: Apricot
Apricot Lace V Neck Midi Dress
Apricot is a perfect place to shop for any lavish ladies - just like this white v neck option which will have you feeling oh-so Lady Whistledown.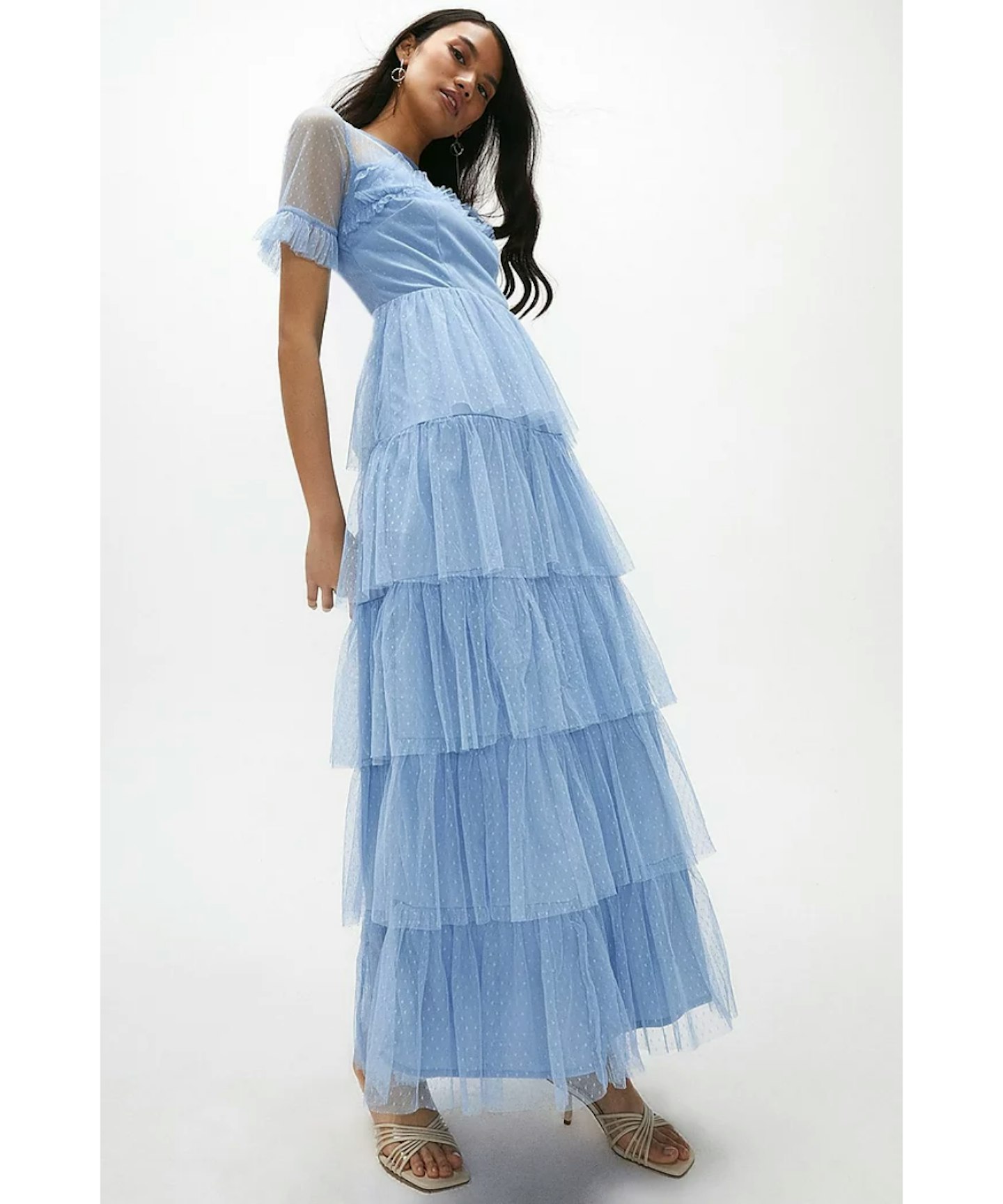 12 of 16
Coast Ruffle Tier Skirt Short Sleeve Maxi Dress
Ruffle up your wardrobe with this Coast tier skirt that is giving total regencycore. We love it in this blue, but it's also available in hot pink.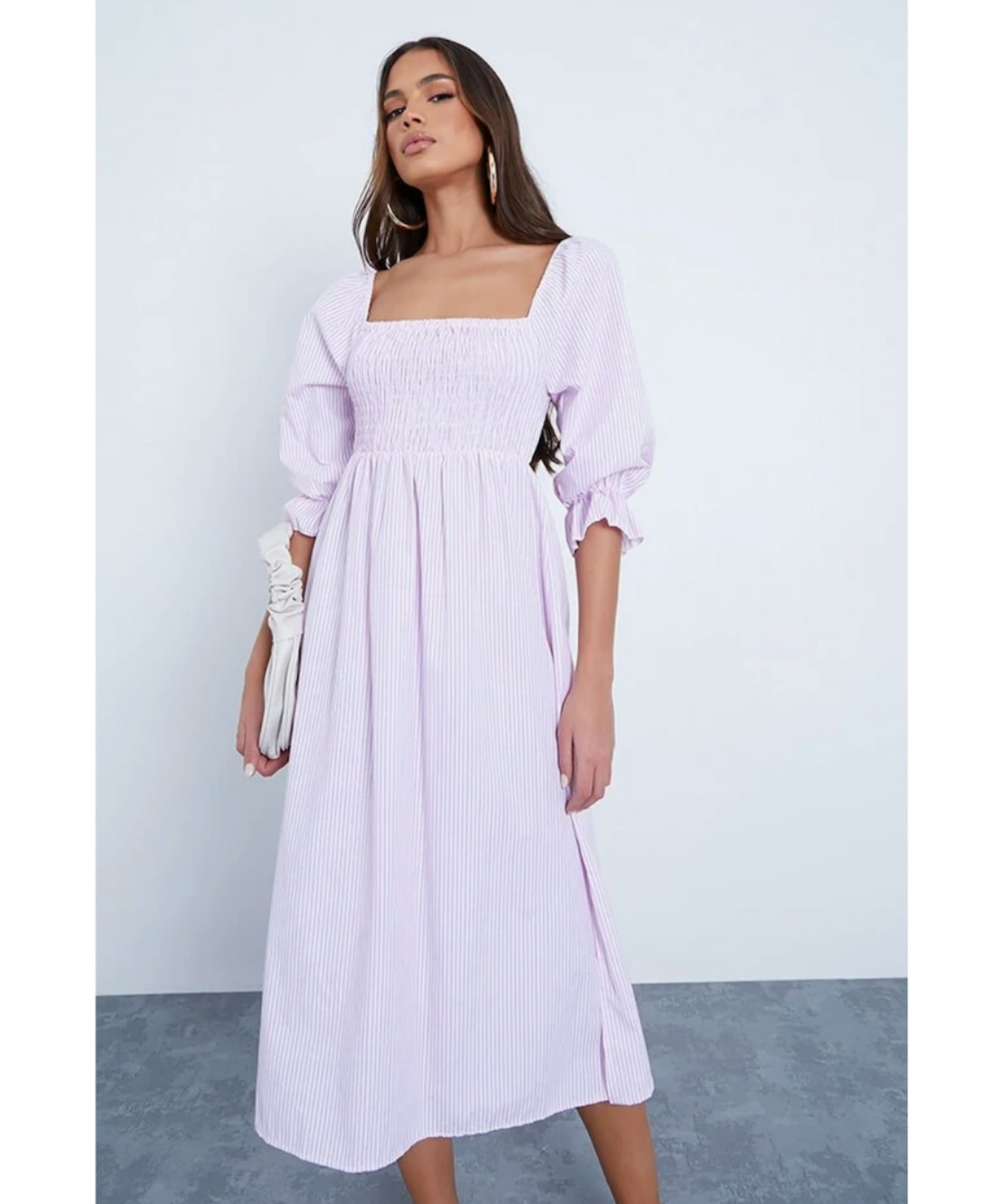 13 of 16
CREDIT: I saw it first
Pink Cotton Shirred Square Neck Midi Dress
Another fab smock-slash-puff-sleeve dress, this is super comfy and fits right into the Bridgerton trend. Grab one before it's gone.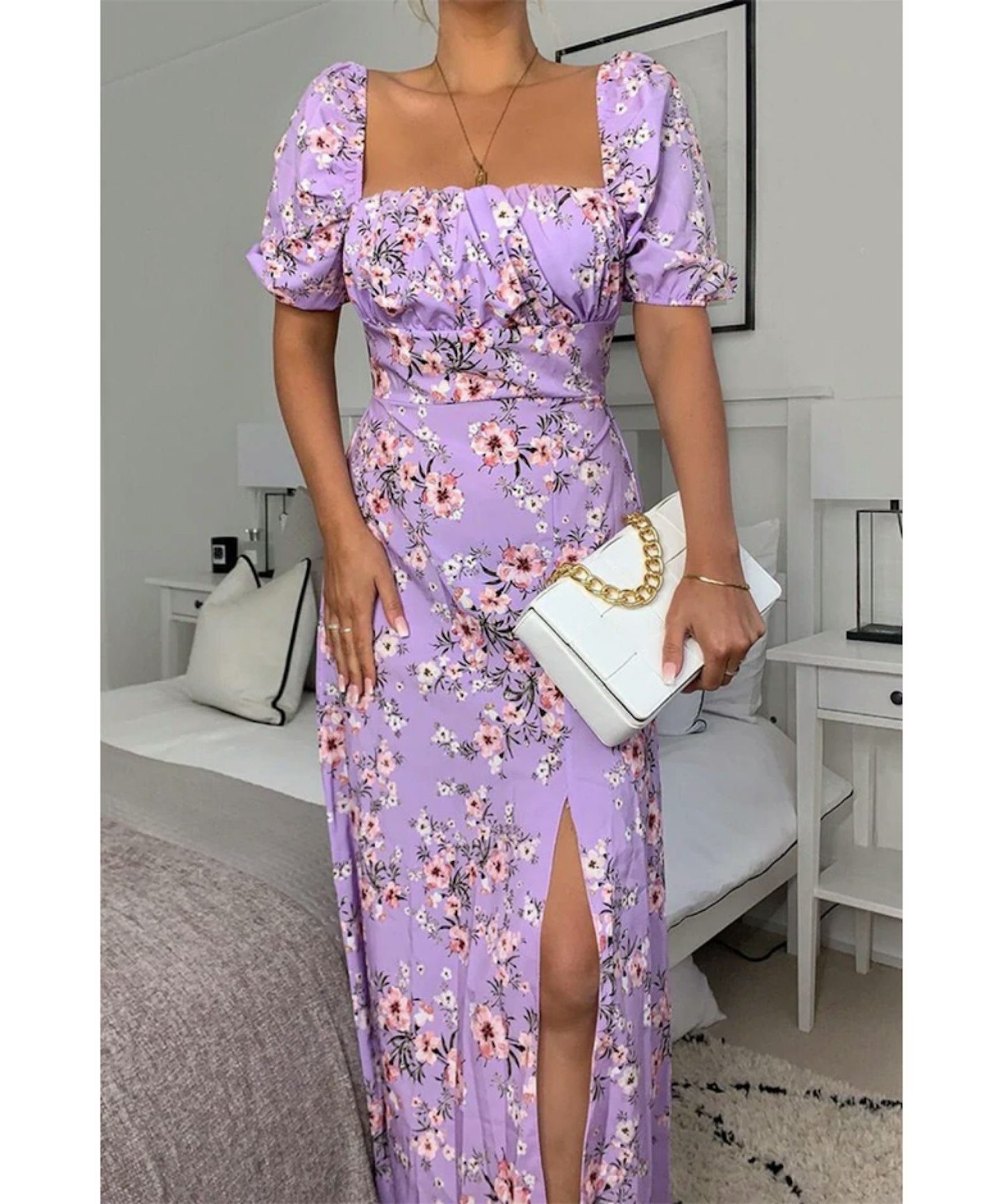 14 of 16
Lilac Floral Print Short Puff Sleeve Midi Dress
Floral was also a huge print in the first Bridgerton season, and we're ready for it to make a comeback. This lilac floral print puff dress is taking a spot in our wardrobe.
15 of 16
Queenium Vintage Summer Blue Aesthetic Cottagecore Dress
Another floral option, now in blue. This independent Etsy shop has a cottagecore vintage dress that would make Simon Basset swoon.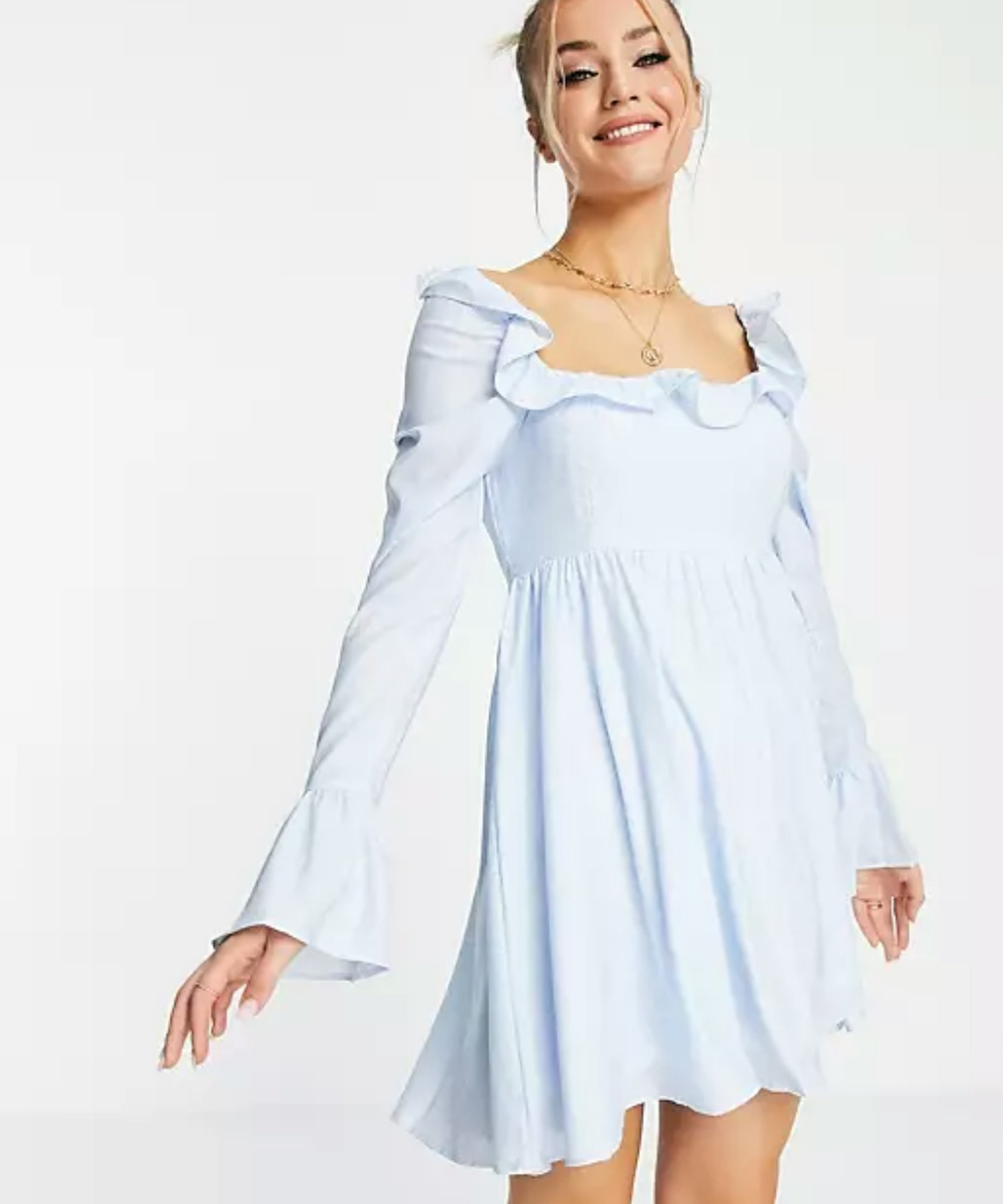 16 of 16
CREDIT: ASOS
In The Style x Lorna Luxe puff sleeve tie neck smock dress in blue ditsy print
Feel just like Daphne Bridgerton in this puff-sleeve ruffle dress from the In The Style x Lorne Luxe collection. Even better, it's totally affordable at £16 RN.
Watch! 'I Would Love To See Geoffery Have His Own Show 😂 ' Jimmy Akingbola Answers The Internet!
Claudia Jessie Line of Duty
Claudia Jessie is one of many Bridgerton actors to have also had a role in Line of Duty(honestly, we're still waiting on the crossover tbh). Before she joined Bridgerton she played Jodie Taylor, Line of Duty's Season 4 Detective Constable whose loyalty to Thandiwe Newton's DCI Roz Huntley almost proved her downfall. Her character went down well with fans of the show, but sadly not seen again post season 4.
Claudia Jessie House of Anubis
Before achieving fame through her role on Bridgerton, Claudia starred in the 90 minute finale movie of the House of Anubis, The Touchstone of Ra. She played Sophia Danae.
Does Claudia Jessie have Instagram?
Claudia isn't big on social media so doesn't have an Instagram account.