It has been announced by Netflix and the team behind the hit show Bridgerton that it has been renewed for a further 3rd and 4th series, with Lady Whistledown herself appearing on Netflix's Facebook feed yesterday to bear the exciting news, stating "Esteemed members of the Ton. It seems we have a rather special announcement. Bridgerton shall return for seasons three and four. This author shall have to add more ink". Huzzah!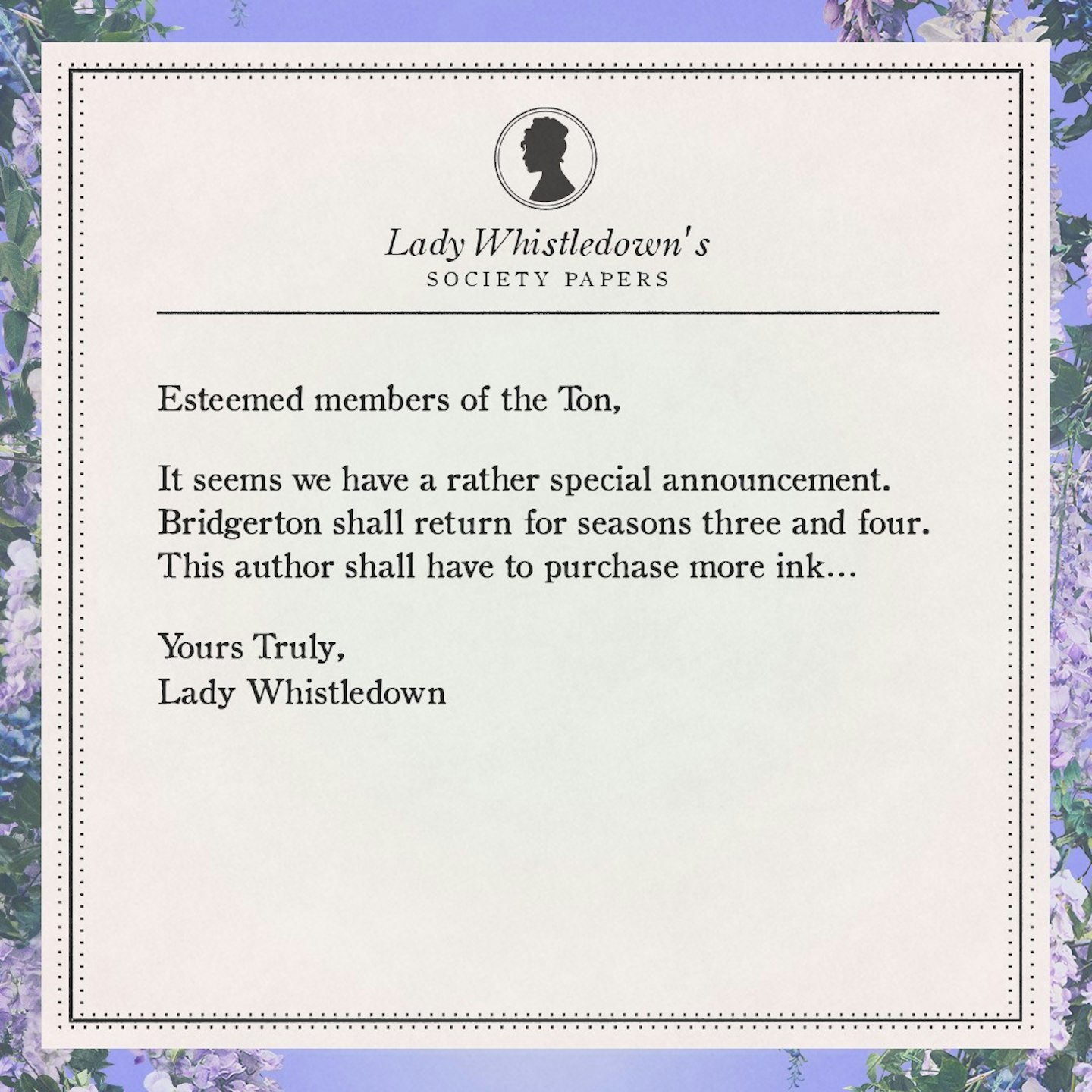 The news comes as the second season has just wrapped up its production. Luke Newton (the actor who plays the adorable Colin Bridgerton) announced the renewal on his Instagram, stating "Returning to the Bridgerton drawing room for another 2 Seasons! @bridgertonnetflix renewed for Season 3 & 4!"
It won't be long until Bridgerton has a season entirely focused on Colin, as, following the structure of the books by Julia Quinn, there are 8 books each focused on a Bridgerton child. Although only a 3rd and 4th season has been announced, we won't be surprised if the series lasts until a 8th, with perhaps a couple of spin offs (a show for Lady Danbury please!)
In a recent interview with Vanity Fair, show runner Shonda Rhimes remarks that a further 3rd and 4th season enables "you to plan in a creative way, storytelling wise. You can plan a long arc character, for instance".
In terms of future seasons, Rhimes states "there are eight Bridgertons. So by the time you get to [prepubescent] Hyacinth—oh, dear God, she'll be grown up by then. Obviously we're not going to match up a child!—we'll grow Hyacinth up and you'll see her story too"
CHECK OUT: the cast confirmed for season two of Bridgerton
WATCH 'WOW, Is That True?!': Shadow & Bone cast see how well they know each other
The second season arriving will be focused on the eldest Bridgerton sibling, Lord Anthony Bridgerton, and his journey to finding a Viscountess. Netflix released a statement on this, as well as the news that Regé-Jean Page, the Duke of Hastings, will not be returning to the show. But we already know this, have already mourned, and so we won't bring up old wounds again. It still hurts.
We are so excited for what future Bridgerton series has in store for us - who will be matched with who? What will Lady Whistledown expose? What scandalous thing will be done on a staircase next? And what other modern tunes will be turned into classical music - Positions by Ariana Grande? YMCA by Village People? Who knows - we're intrigued to find out.
Look! More news!
Stacey Solomon's shares bargain homeware buy that was inspired by Netflix's Bridgerton
Kristen Stewart looks unrecognisable in new film snaps as Princess Diana
Fans were disappointed to learn that Regé-Jean Page won't be appearing in the next season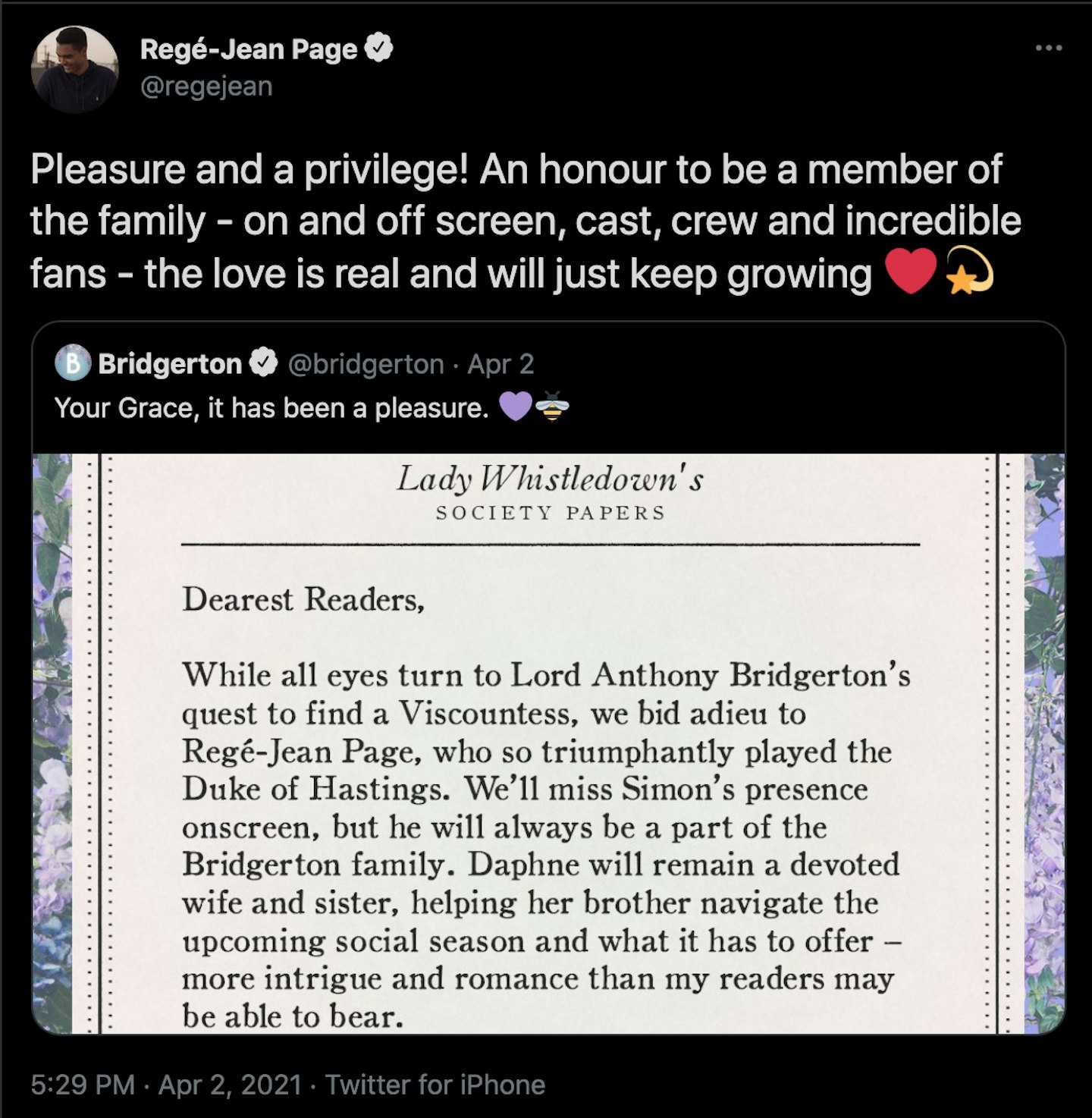 Responding to the announcement of his departure from Bridgerton, Regé-Jean, 31, took to Twitter, writing, "Pleasure and a privilege! An honour to be a member of the family – on and off screen, cast, crew and incredible fans – the love is real and will just keep growing."
Later, opening up about his exit with Variety, the actor revealed that he had always known his character would not be sticking around for multiple seasons.
Describing the Duke of Hastings' storyline, he said, "It's a one-season arc. It's going to have a beginning, middle, end."
"It felt like a limited series. I get to come in, I get to contribute my bit and then the Bridgerton family rolls on."
Well, Regé-Jean, we will be sad to see you go. Sincerely, everyone everywhere.