Ever since Geordie Shore's Holly Hagan announced she was engaged, after her footballer financé Jacob Blyth popped the question during a romantic trip to Ibiza, she's kept pretty quiet about her wedding plans.
But she has now shown her fans what the wedding might be like, especially after her OTT engagement party this weekend, which featured UNICORNS and all the Geordie Shore gang.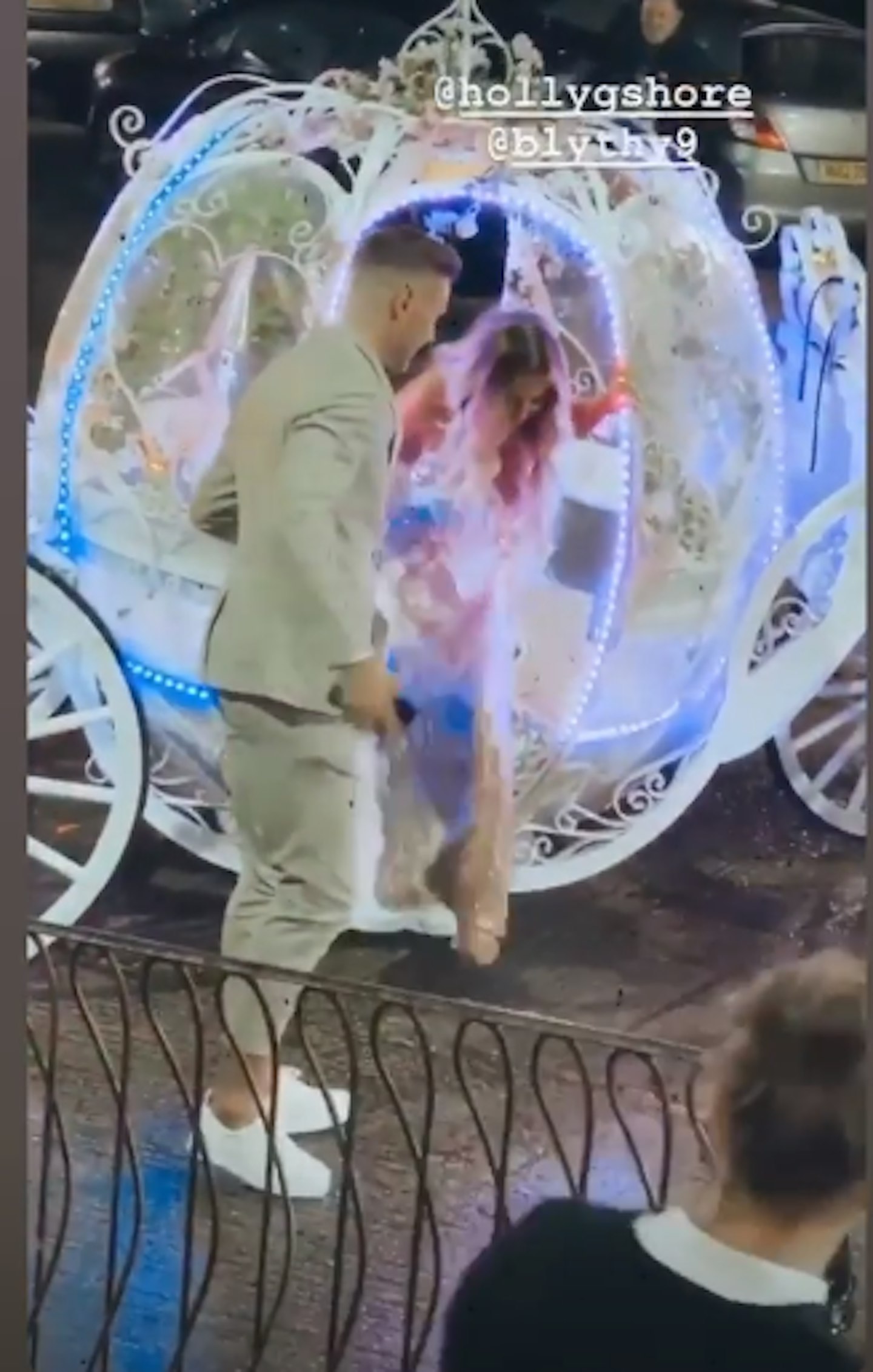 Documenting on her Instagram story about the night's events, the 27-year-old posted a video of her and Jacob turning up in a horse and carriage (just like Katie Price and Peter Andre's wedding), except there was one twist - the horses were dressed up as unicorns.
Yes really, we're not joking.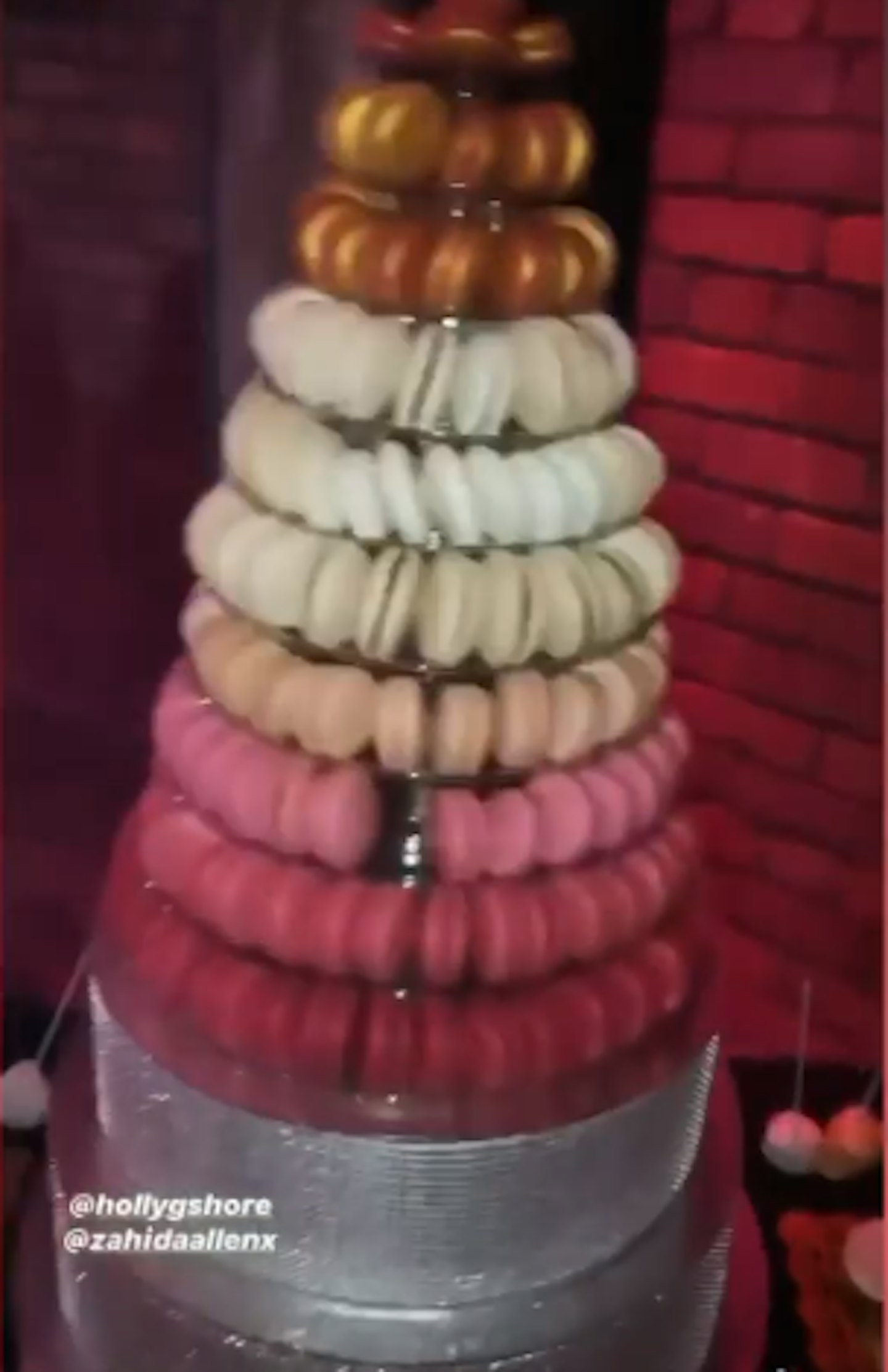 Inside the venue where the party was held, there was a huge dancefloor, complete with copious amounts of baloons, several cakes, including a macaroon cake, which could have served around 100 people.
And the party was literally like a wedding as Holly and Jacob took to the dancefloor to thank their guests for coming, and it looked like they were about to do their first dance.
CHECK OUT: Geordie Shore's most iconic moments
Geordie Shore's most iconic moments - SLIDER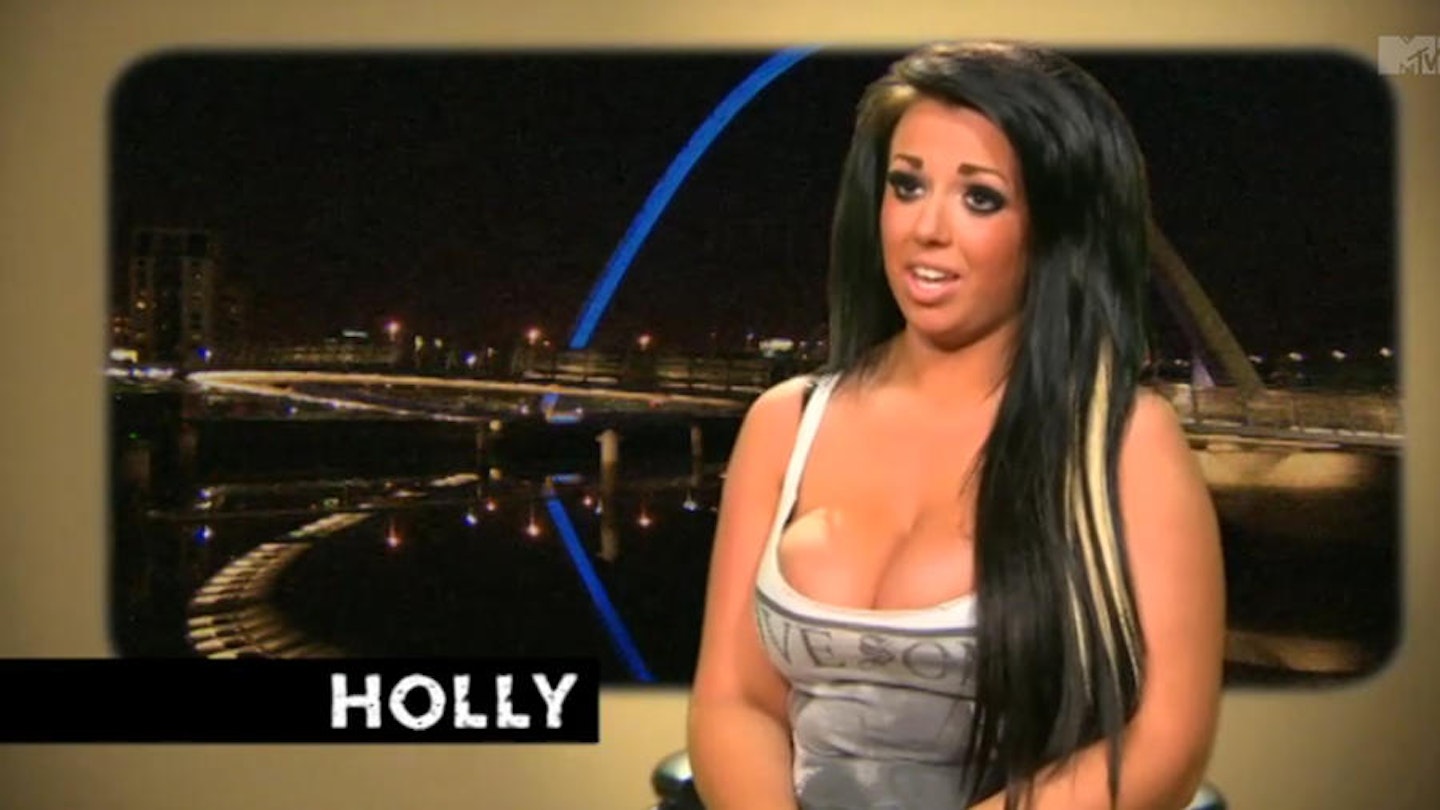 1 of 16
CREDIT: MTV
Holly gives Gaz a kiss on the penis
18-year-old Holly Hagan literally ran into the Geordie Shore house, excited to spend her teenage years exploring what the 'adult world' was really like and she really did get stuck in. It wasn't long into the first series before Gary Beadle had got out his penis, which Holly decided she wanted to kiss. Random, we know. Since then, Holly has dished the dirt on that encounter, after Gary said his penis resembled a "Sky remote control." Speaking to heat, she revealed, "It's not that big really."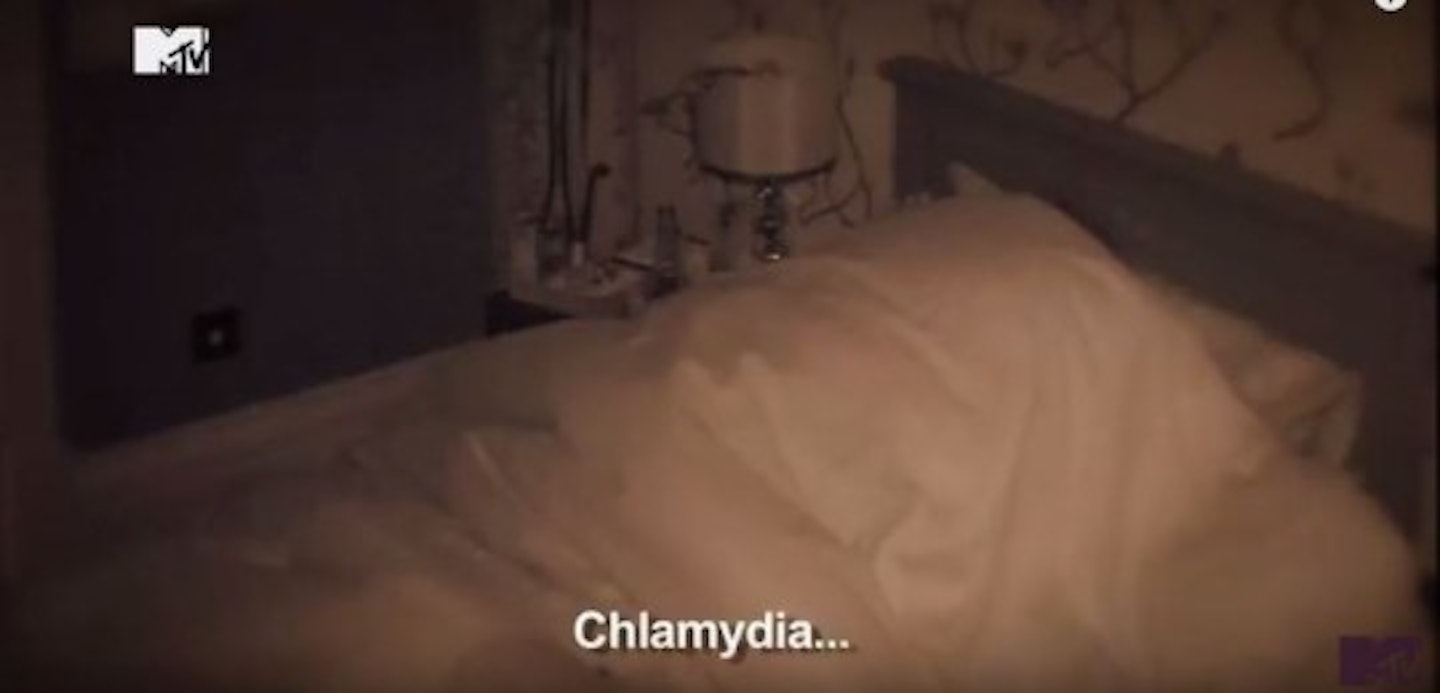 2 of 16
CREDIT: MTV
Sophie's 'chlamydia' moment
How could we have forgotten this? After Sophie Kasaei got into a relationship with DJ Joel Corry, it wasn't long before she started to miss her beau. But when he surprised her by visiting the house, Sophie whisked Joel to the bedroom after a night out for some alone time and it seemed like Sophie was really enjoying herself. Cue one of the most iconic moments in Geordie Shore history. Sophie decided to show how much she was enjoying herself by seductively saying, "Chlamydia", in Joel's ear.
3 of 16
CREDIT: MTV
Vicky spits in Jay's face
As series one progressed, the first house romance had been ignited between Vicky Pattison and Jay Gardner, with the pair deciding to share a room from day one. It looked like things were going swimmingly, until the pair got into a huge fight and ended up calling off their short-lived romance. In the midst of the fighting, Vicky then spat her drink in Jay's face, leaving him fuming. Vicky has since called her behaviour "disgusting and unnecessary."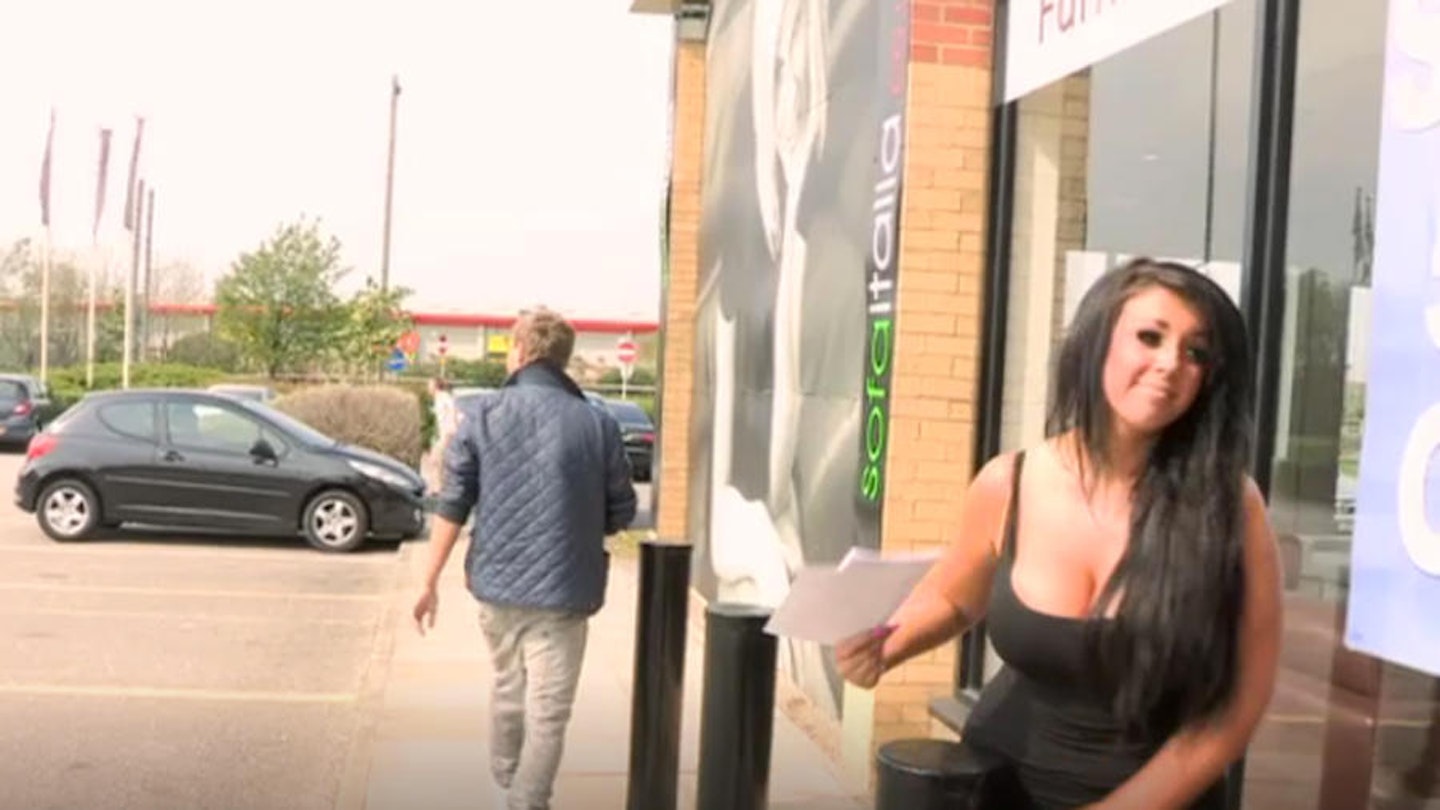 4 of 16
CREDIT: MTV
Holly dumps Dan outside a sofa shop in a retail park
It seems like a long time ago but Holly actually entered the Geordie Shore house with a boyfriend called Dan. However, their relationship soon broke down and Holly wanted to dump her lover. Obviously, in true reality TV style, the cameras followed Holly as she headed to end the relationship, filming her arguing with Dan then dumping him outside a sofa shop in a retail park. Ouch.
5 of 16
CREDIT: MTV
Charlotte weeing on Gaz
Ever since Charlotte Crosby and Gary got together, they were the ultimate Geordie Shore couple. Whilst they broke up more times than we've had hot dinners, they were firm fan favourites from the beginning. So after Charlotte and Gary had done the deed in Ricci Guarnaccio's nana's bed (so many questions), Charlotte farted to stop the awkwardness between the pair. Noting Gary's utter disgust, Charlotte found it all so funny that she just starting weeing…all over him, the bed and herself.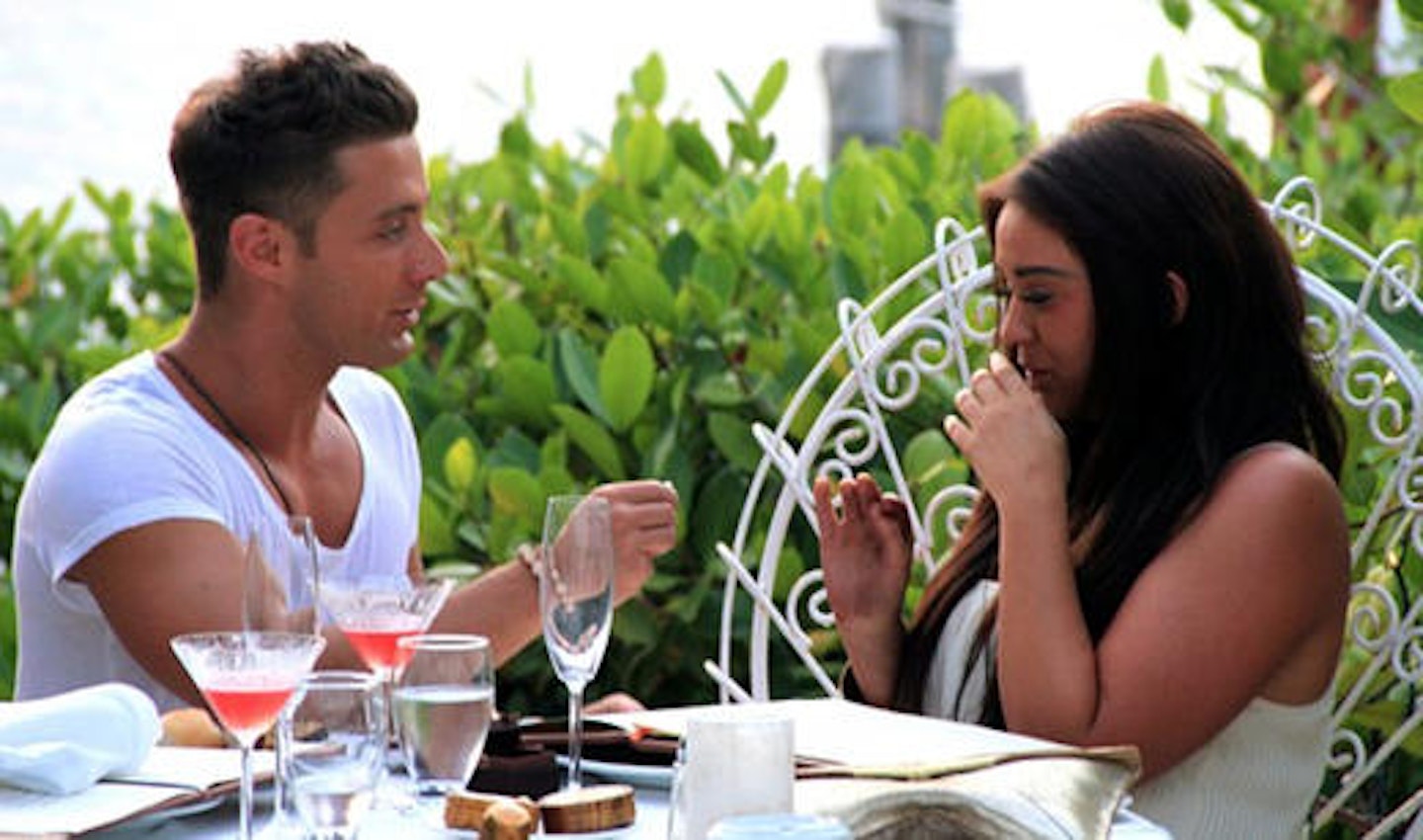 6 of 16
CREDIT: MTV
Vicky and Ricci get engaged
After Ricci entered the house in series 2, he swept Vicky off her feet, despite her having a boyfriend at the time. However, she eventually finished with him to be with Ricci, who eventually popped the question during the show's Chaos in Cancun series. This was much to the surprise of everyone, as their relationship was extremely fiery. The engagement was short-lived, with the pair calling it off months after and Ricci then left the show to go on Celebrity Big Brother.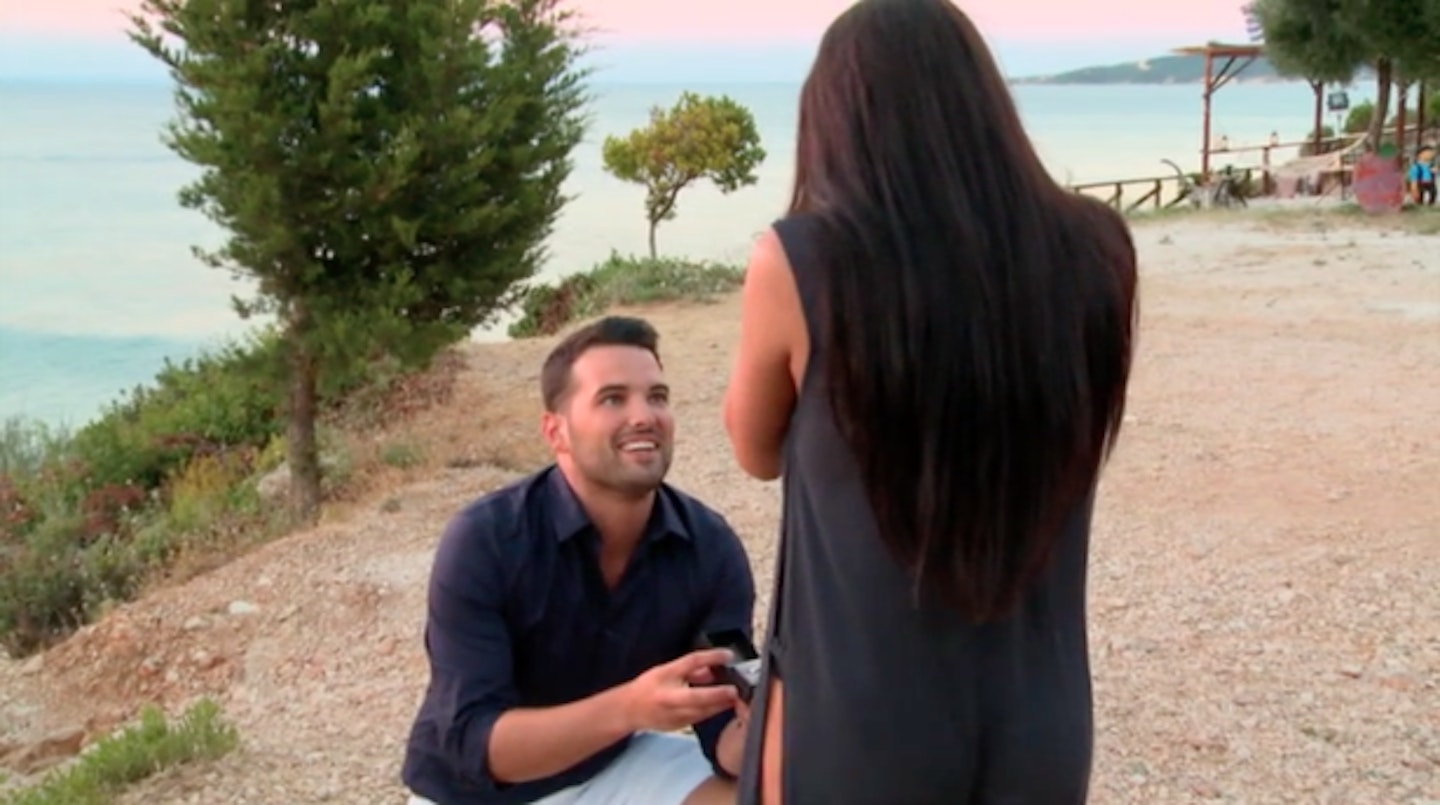 7 of 16
CREDIT: MTV
Ricky proposes to Marnie
And from one Ricky to the next, can you remember when ex-TOWIE star Ricky Rayment proposed to Marnie Simpson on the show? Again, this was a huge surprise to viewers, as the pair had only been officially dating for six months. Their engagement also didn't last long, with the pair splitting three months later.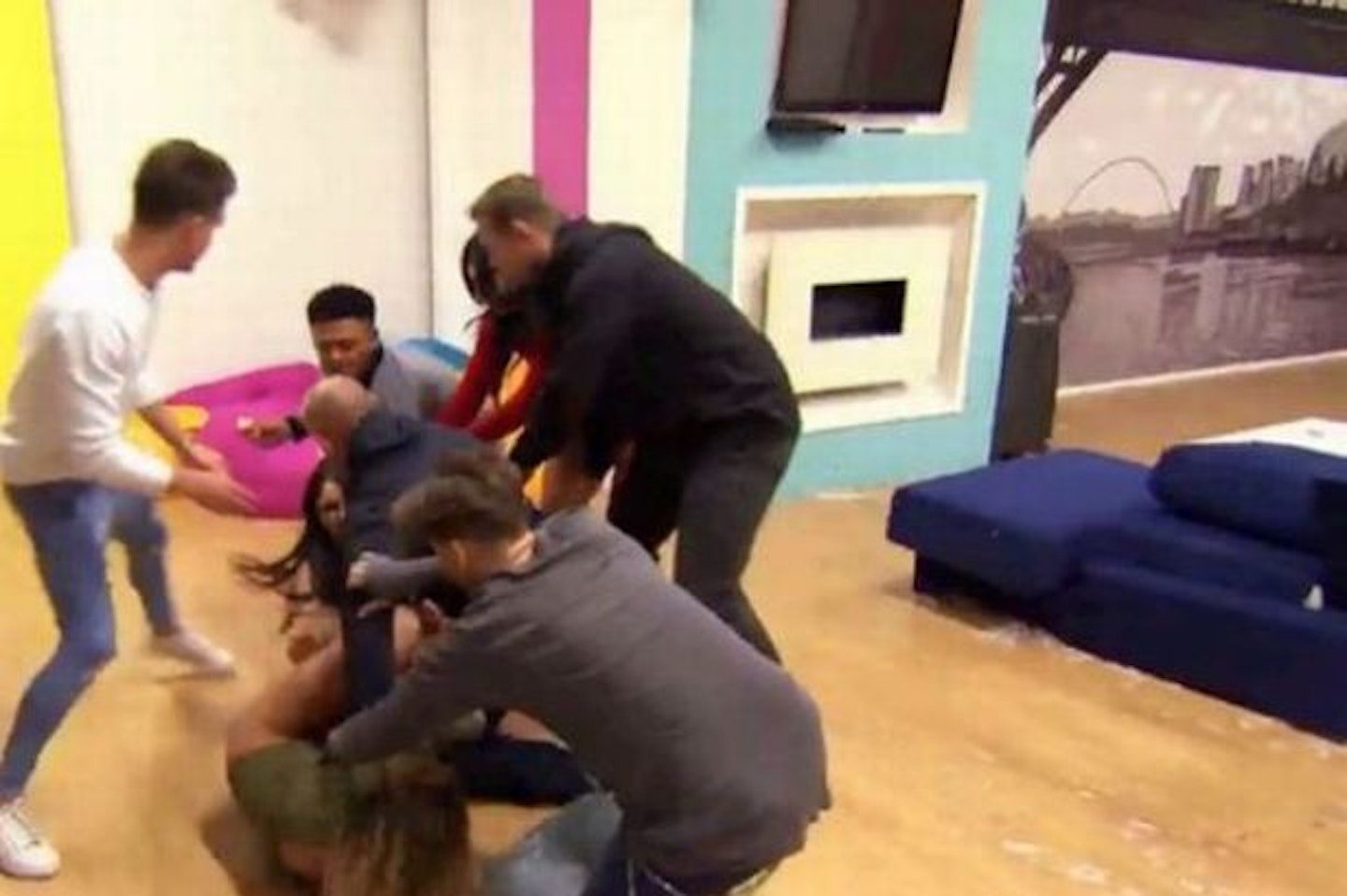 8 of 16
CREDIT: MTV
Charlotte and Marnie's fight
There's been plenty of fights over the years in the Geordie Shore house but this one takes top place. The fight between the two firecrackers broke out after Marnie stirred the pot after kissing Chloe Ferry's beau Marty McKenna. Obviously, Chloe went pure radge because she'd already 'bucked' him and then Charlotte got involved, leading to security having to pull them all apart. Charlotte then called Marnie "a big flirty slag with really long confusing hair." Savage.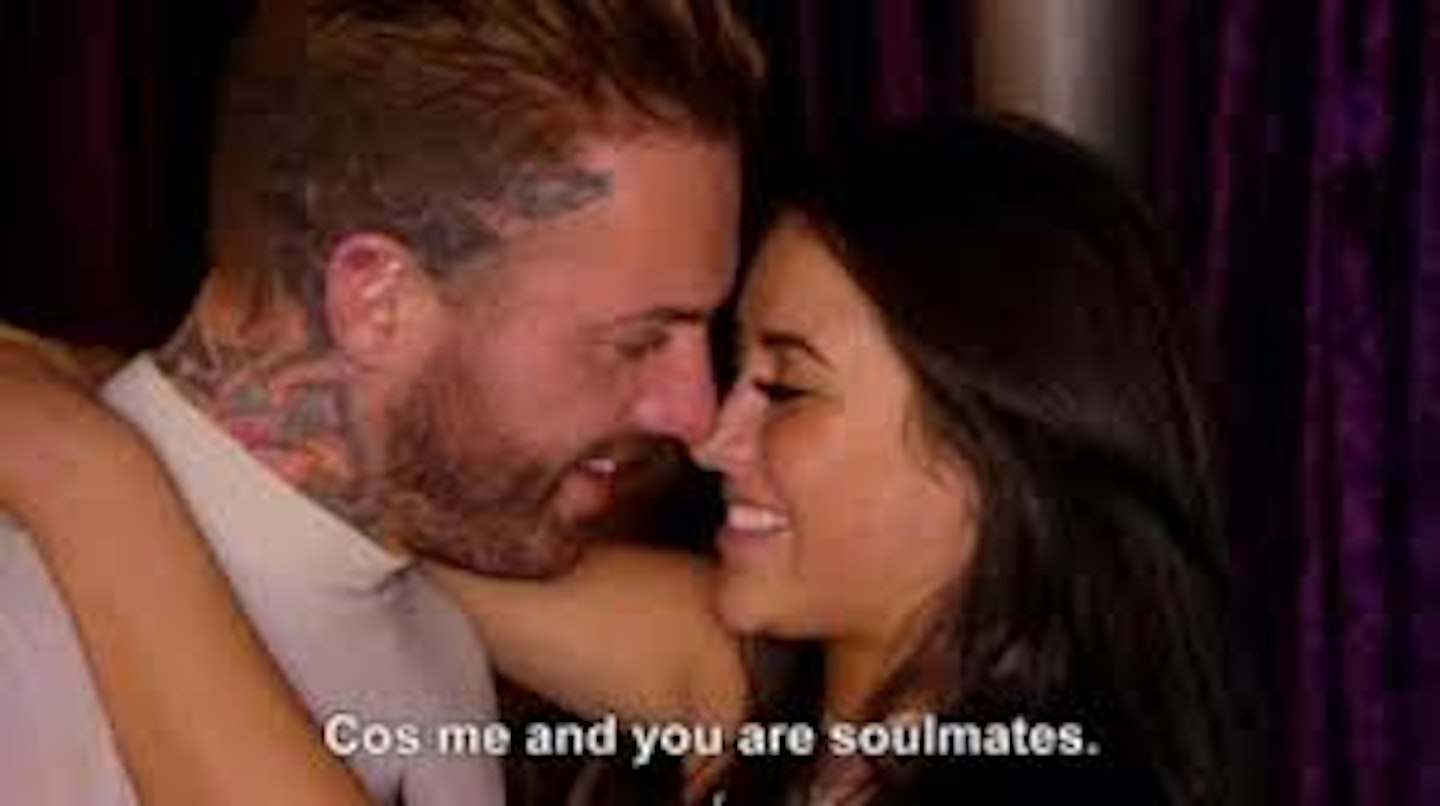 9 of 16
CREDIT: MTV
Aaron tells Marnie he loves her
Marnie and Aaron Chalmers' relationship was very on and off, with the pair loving each other one minute then ripping each others heads off the next. Can you remember when they got caught having sex in a factory's kitchen? But it seemed like it was true love for the pair, as after going back and forth, Aaron finally admitted he loved Marnie. Yet, it took him a while to get there as before he said those precious three words, he responded to Marnie admitting her love for him by responding, "I like your hair." Awkward.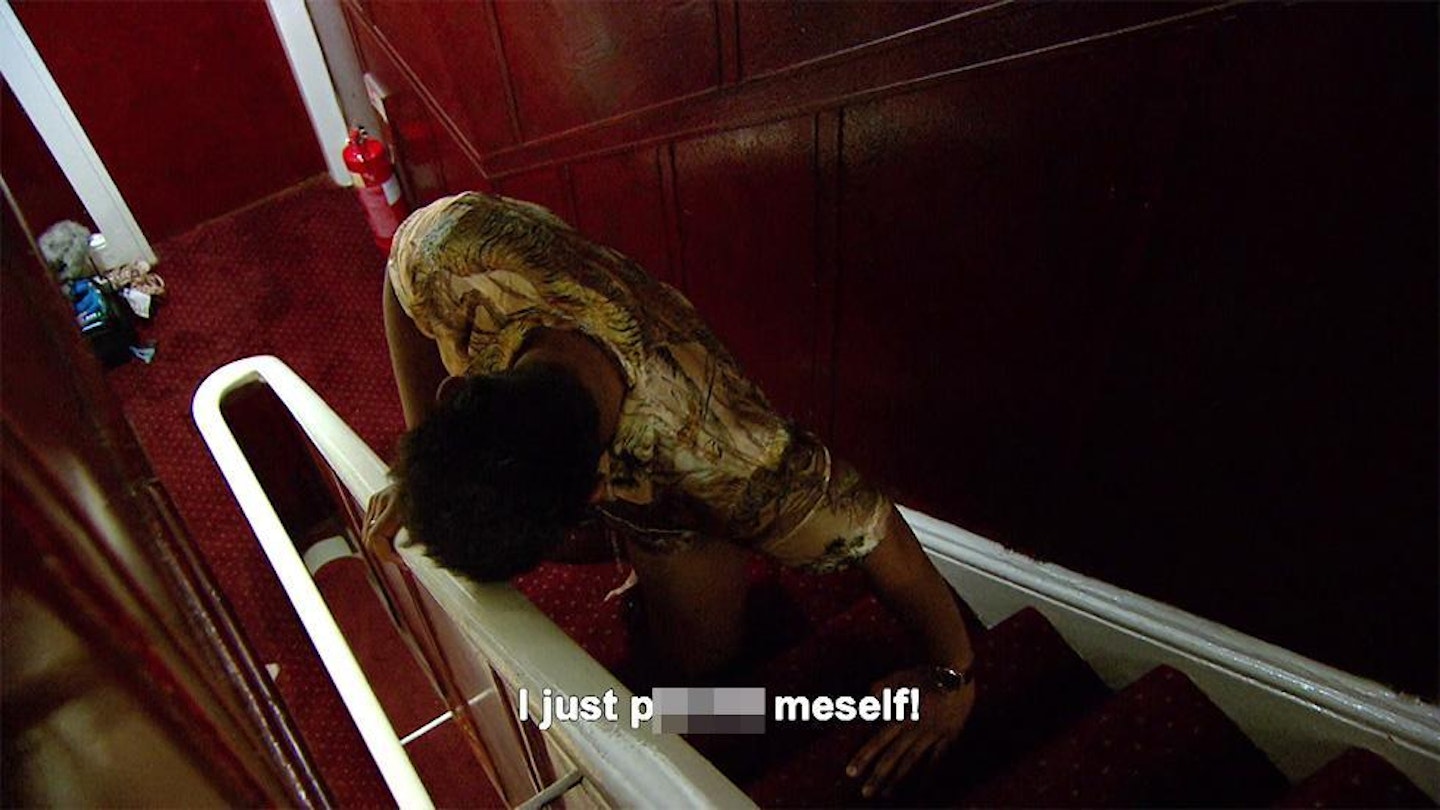 10 of 16
CREDIT: MTV
When Nathan wee'd on the stairs
It shouldn't have been hilarious but it was. One of our iconic moments was when Nathan Henry decided he needed to have a wee and couldn't hold it in so wee'd on the stairs. And if this wasn't funny enough, Chloe and Sam Gowland then ran up the stairs not knowing what he had done and fell into his luke warm piss. Lovely.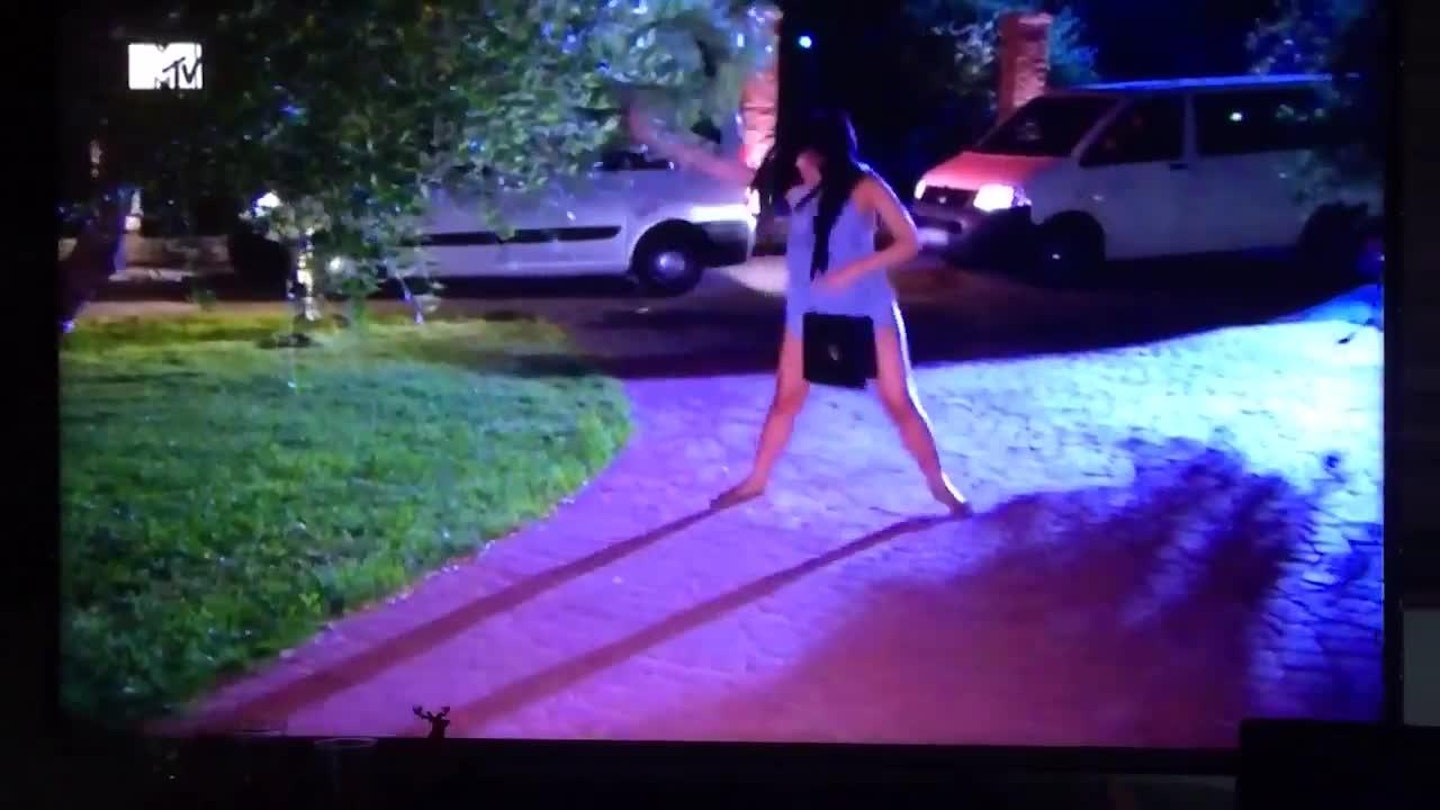 11 of 16
CREDIT: MTV
Chloe fighting a tree
Ever since Chloe burst onto our screens, her wild personality has made her a firm fan favourite, as well as all the questionable things she does whilst filming. However, this has to be one of her funniest moments when she started a fight with a tree because she believed the tree 'wanted to fight'. You simply cannot write these things.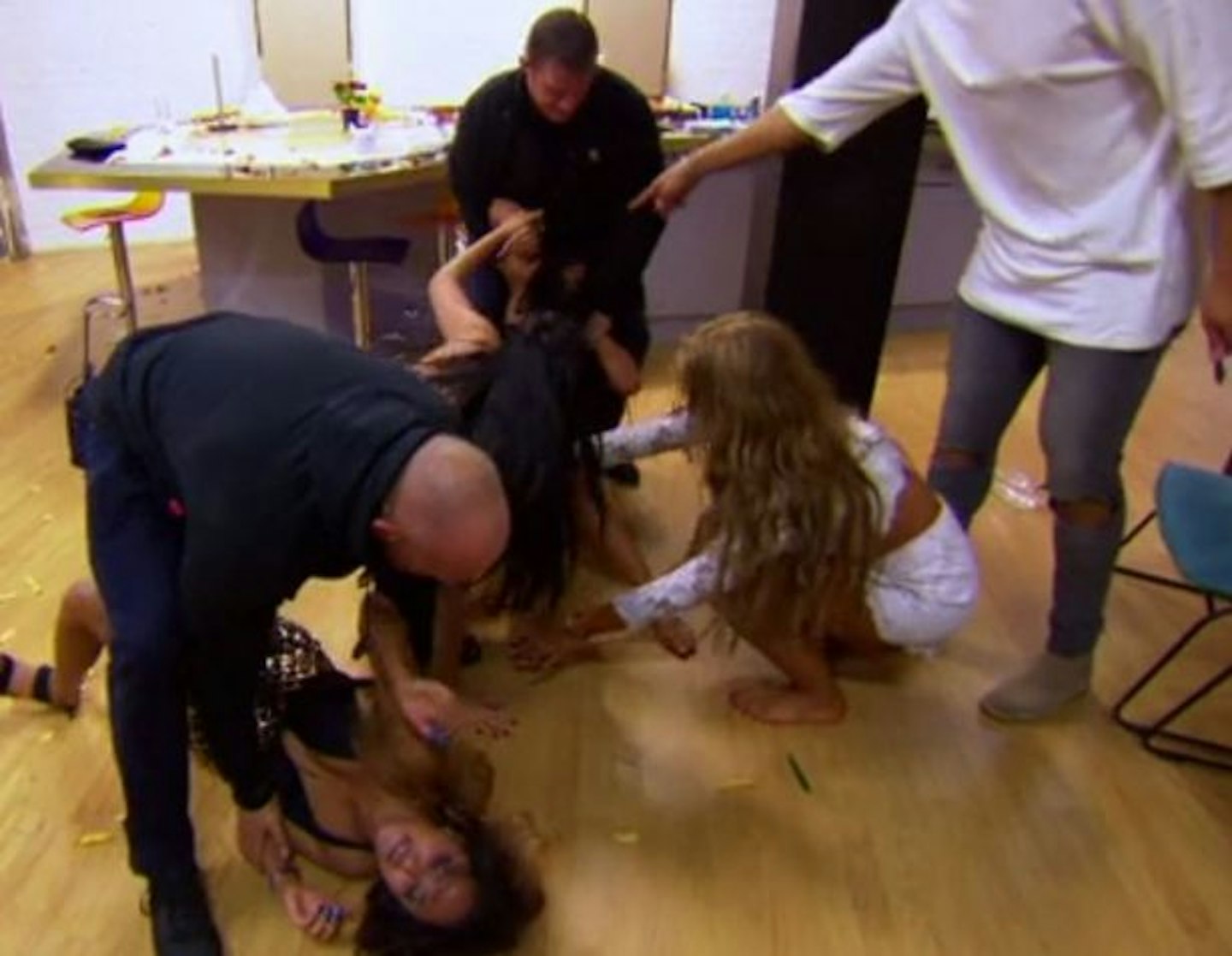 12 of 16
CREDIT: MTV
Chloe sent home after starting on Zahida
In one of the show's most recent series, the OG castmates saw around 10 new faces turn up at the house, after their boss Anna wanted to employ some new workers. However, with new faces comes new drama and new girl Zahida Allen got frisky with Marty in the back of a taxi. What Zahida didn't realise was how volatile Chloe and Marty's on-off relationship was and their late night antics sent Chloe wild, and she attacked Zahida, having to be pulled apart by security. Chloe was booted from the show but returned later on in the series.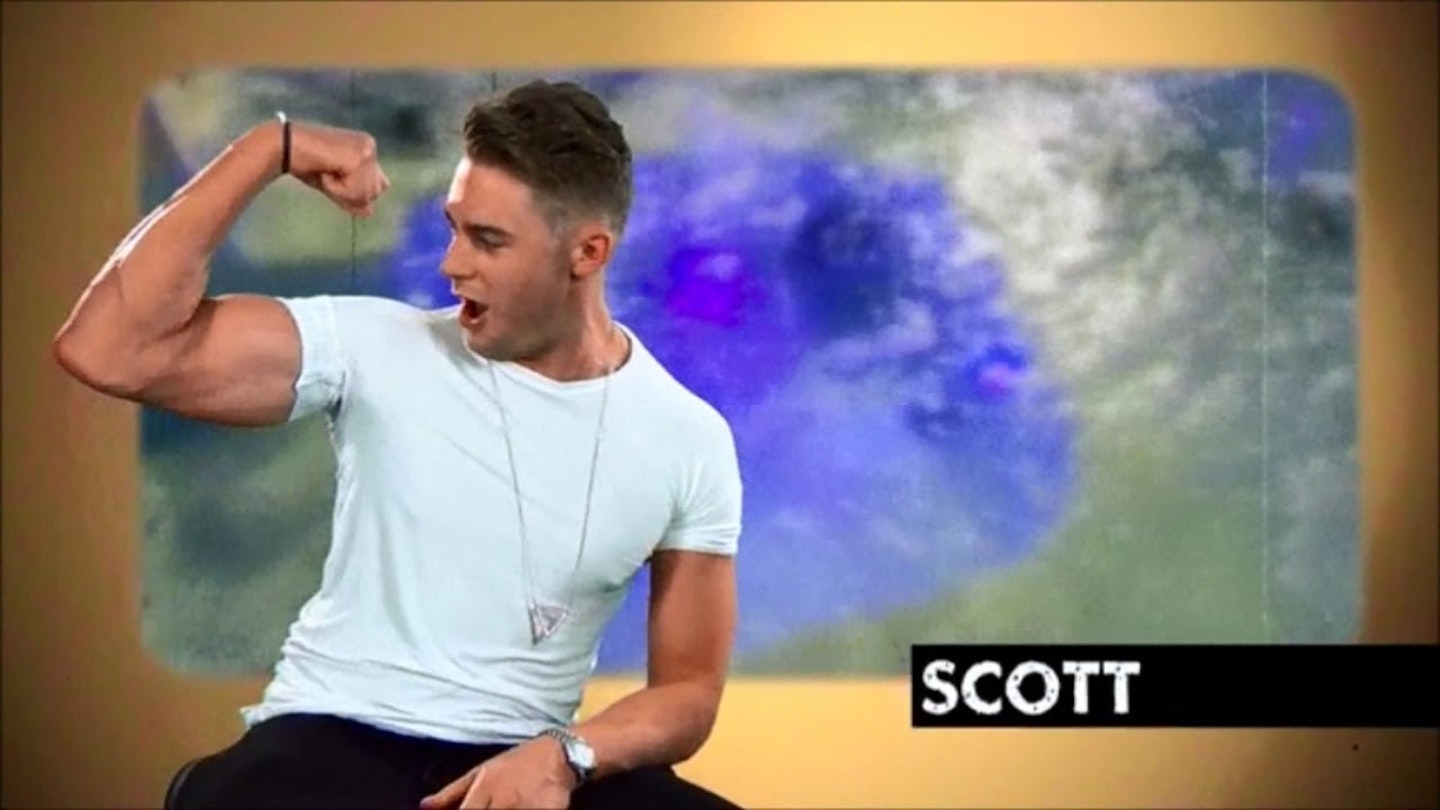 13 of 16
CREDIT: MTV
Scotty T's threesome gets interrupted
Scotty T thought he was going to have the night of his life when he brought home two women for a threesome... on a waterbed. However, he instead got summoned out of his bed to speak with Gaz for a deep convo. Better luck next time Scott.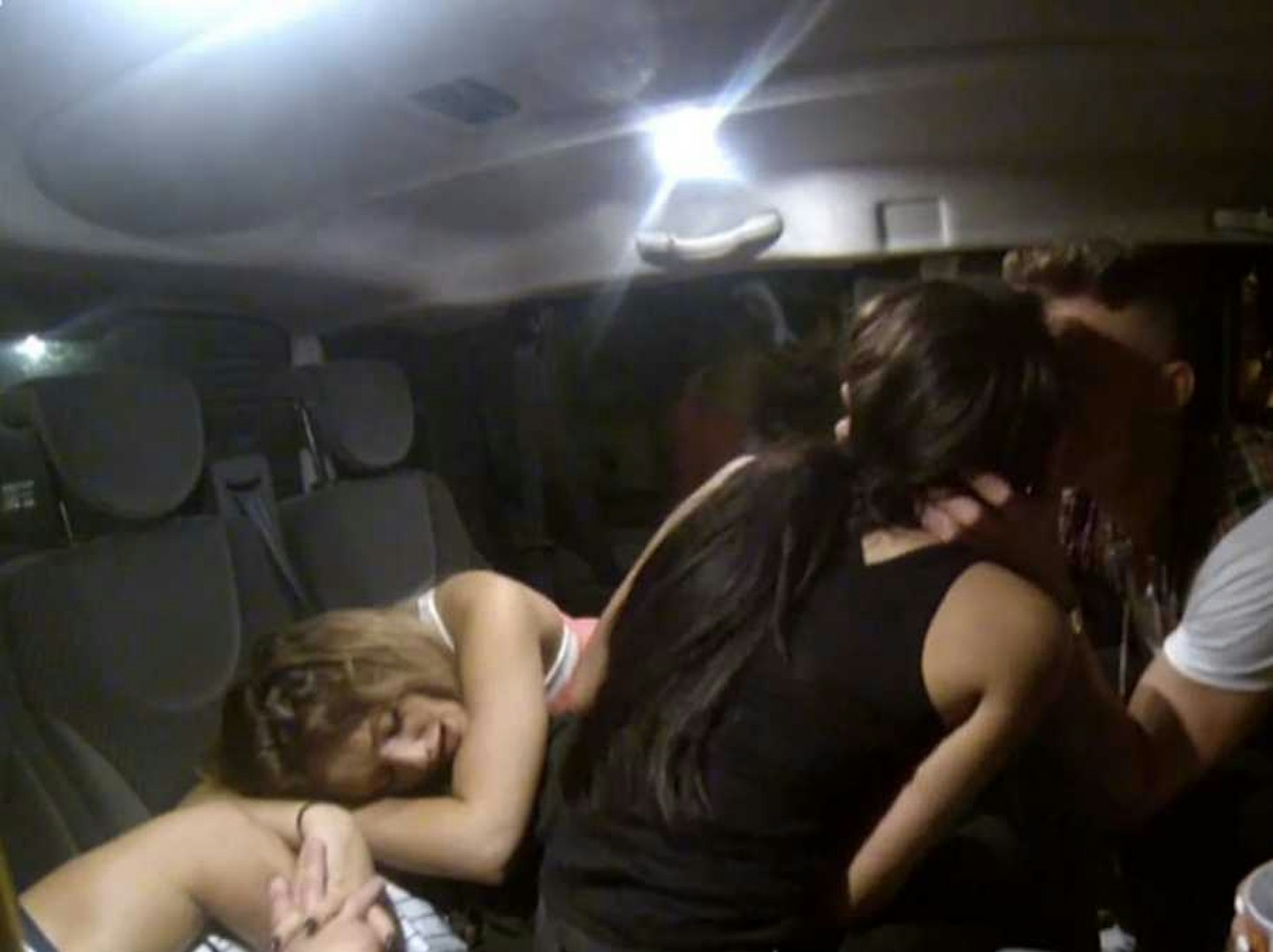 14 of 16
CREDIT: MTV
Back of the taxi orgy
When you thought you'd seen it all, you really hadn't until this moment. An orgy in the back of a taxi. TV gold. After the crew had been partying wild in the town centre, they were all heading back home to the Geordie Shore house. Bored, and very drunk, one of the cast members suggesting having an orgy, which they all were keen on (except Chloe who's alseep at the back). Marnie and Scotty T get carried away and passionately kiss, leaving Aaron fuming and he leaves the house.
15 of 16
CREDIT: MTV
Chloe goes plant pot crazy
How can we forget Nathan deciding he wants a calm and peaceful bath to then be rudely awakened by a drunk Chloe raiding the bathroom with only one thing in sight - the plants. As she goes plant pot crazy, she swings the pot around with dirt going aboloutely everywhere, turning the clean bathroom into a soiled mess.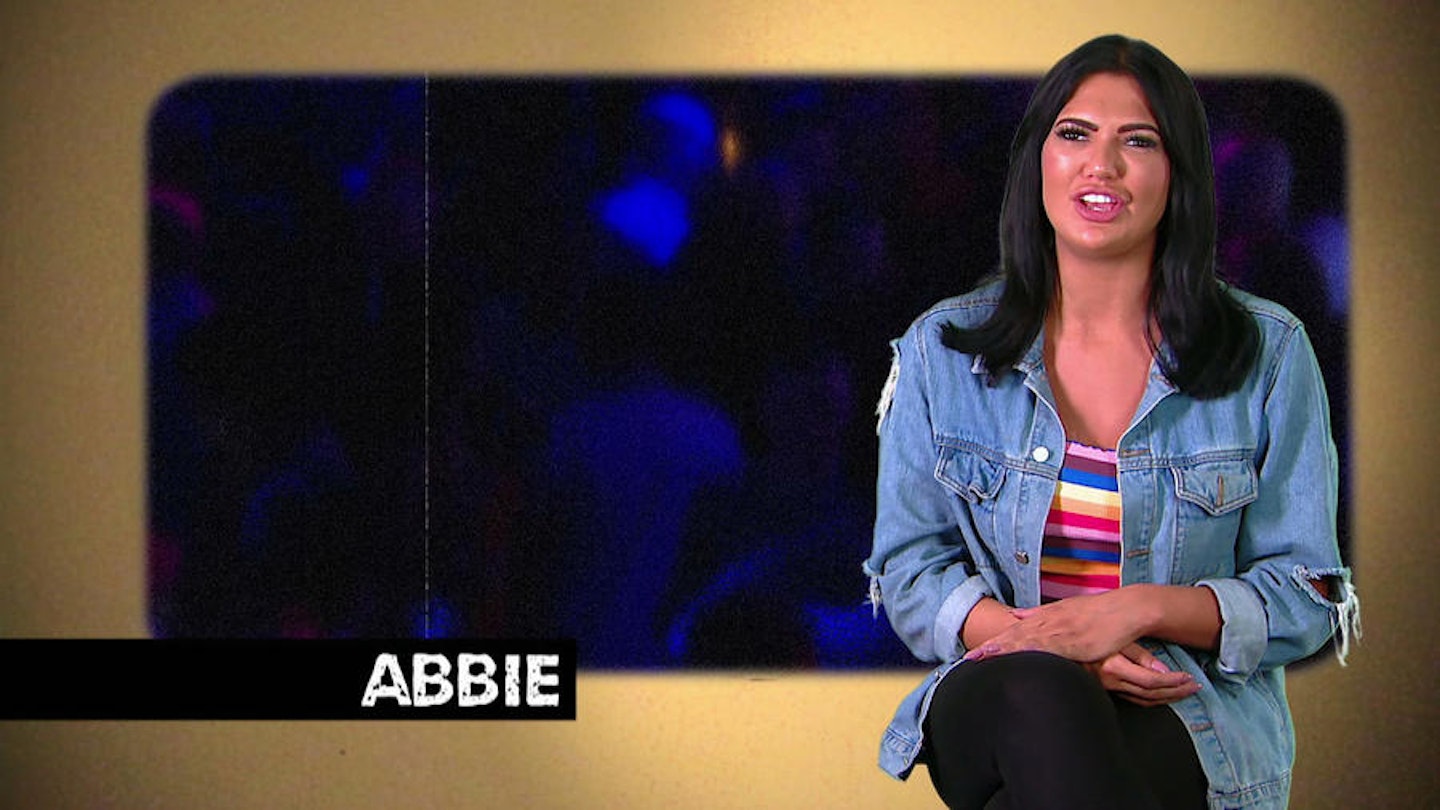 16 of 16
CREDIT: MTV
The Abbie, Chloe and Sam love triangle
Abbie Holburn kept it no secret that she fancied Sam when former Love Islander turned up as one of the new cast members. However, Chloe also had her eyes set on the hunky lad, meaning they found themselves at logger heads. After the pair fought it out over several episodes, Sam decided to pick Chloe as they were more similar, leaving Abbie upset.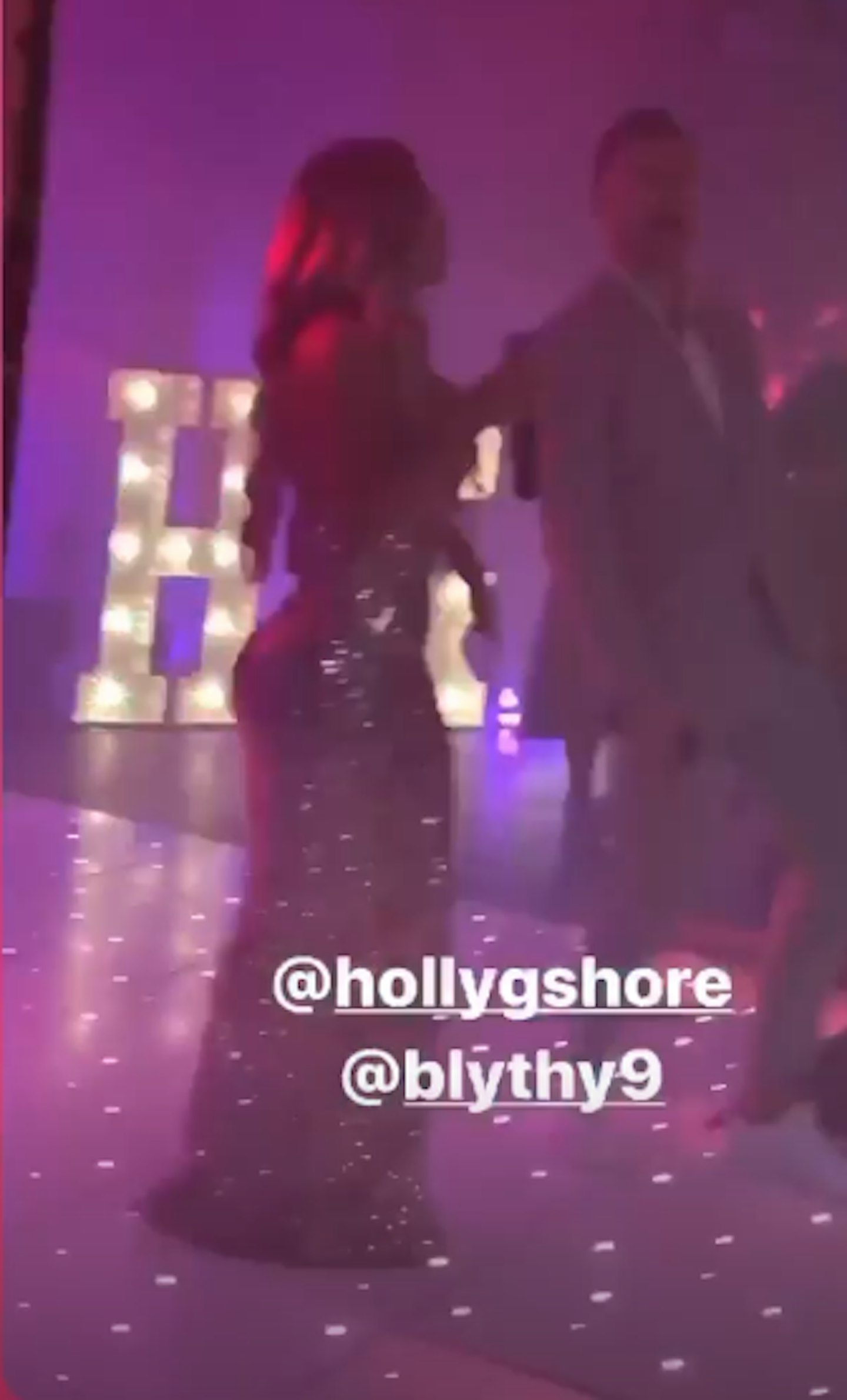 And we NEED to talk about Holly's dressed which was stunning.
Dressed in a pink, glittering gown, Holly looked amazing with her high-neck dress, cut out at the clevage, which showed off her curves and eccentuated that booty.
She certainly looked the part, alongside her co-stars and BFF's Charlotte Crosby and Nathan Henry.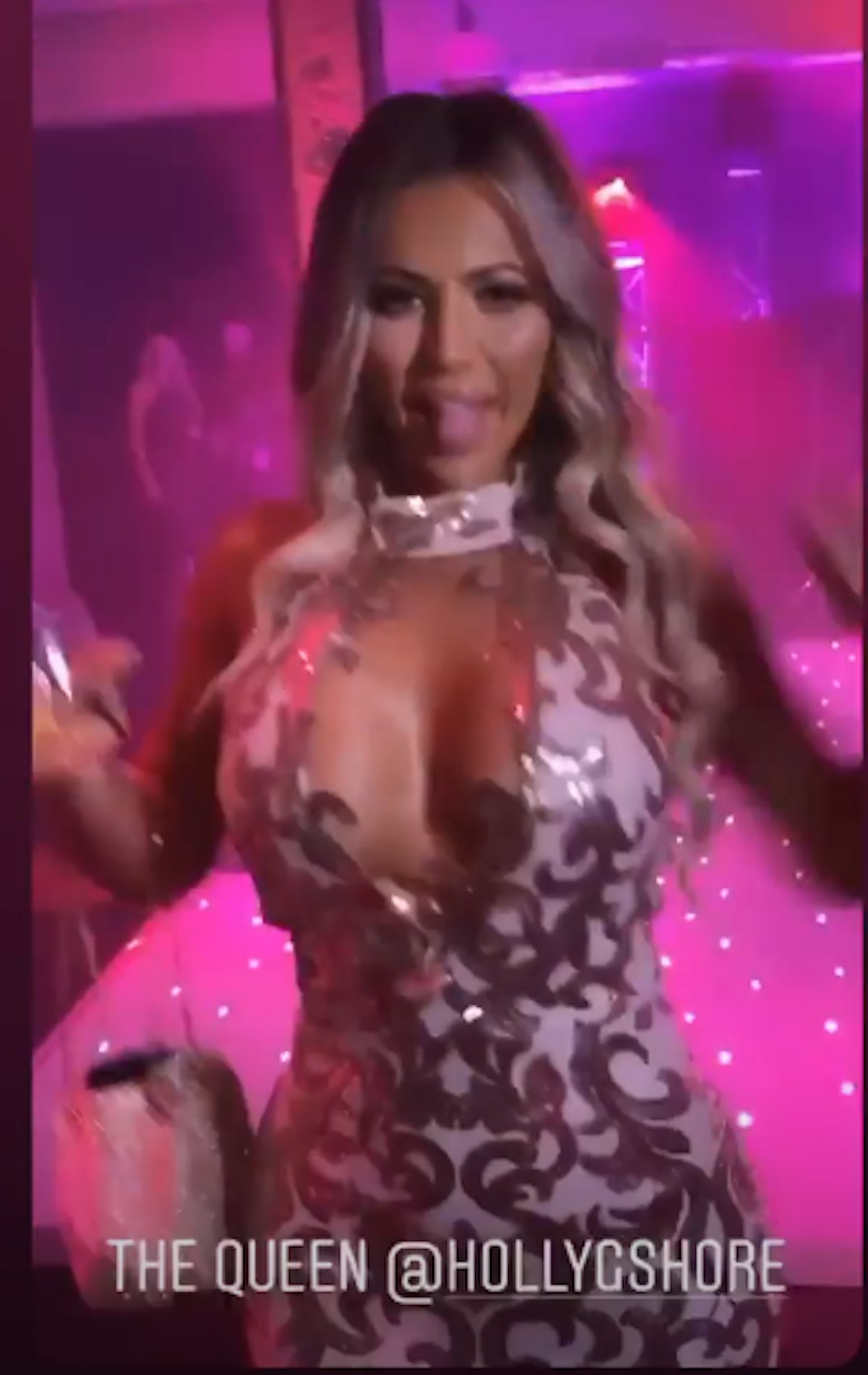 NOW WATCH: Gaz Beadle and Holly Hagan react to old Geordie Shore memories!
READ MORE celeb news
Inside Sophie Kasaei's wild birthday party featuring fire, Towie stars and lots of bed action
Geordie Shore's Bethan Kershaw reunites with Beau Brennan after 'quitting' show
A Kardashian has broken their silence over Caitlyn Jenner's I'm A Celebrity appearance
Holly's fans were quick to comment on her posts, with one fan writing, "There she is ❤️❤️❤️ you both look gorgeous 😍", while another commented, "You look incredible and love the unicorn entrance 🙌🏽❤️❤️❤️."
A third said, "You both looked incredible! The best night ❤️❤️❤️❤️" and a fourth added, "Loveee this u guys looked amazing what an entrance... when is the wedding 😁😁."
This looked like the party of the century. Where was our invite Holly?!
If you love Little Mix and Lewis Capaldi wrap your lugholes around heat Radio. Listen now.