Walk into Jennifer Aniston's house this festive season, and as well as a pad that's tastefully decorated with furniture fit for Architectural Digest, you'll find you can't move for mistletoe. Well, probably.
After declaring recently that she has "no interest" in getting married again, it seems Jen isn't averse to a festive flirt, as an insider tells heat that she's been enjoying some holiday hook-ups.
"While she does want to meet someone special, this is probably the longest period of time Jen has ever been single," we're told. "So, she's been enjoying some casual dates. It's all very discreet and Jen isn't expecting anything serious to come out of them. It's more of a no-strings type deal – she's just having fun and waiting for some magic to happen."
The 53 year old's last long-term relationship was with husband Justin Theroux, who she separated from in 2017, just two years after the pair got married. And it seems she's happy to wait for the right man to come down her chimney before she takes any of those dates further.
"Jen's official line is that she's happy to wait for Mr Right, and he needs to be an equal match to her," we're told. It's not entirely impossible she'd date a non-famous type or someone low-key, like her close friends Sandra Bullock and Julia Roberts did, but really she'd be best suited to someone in her own league, like exes Brad Pitt and John Mayer, or her co-star Jon Hamm."
Jen was recently pictured laughing and joking with Jon while the pair filmed on the set of The Morning Show, and while the 51 year old is currently dating actress Anna Osceola, it hasn't stopped Jen having a little Christmas crush.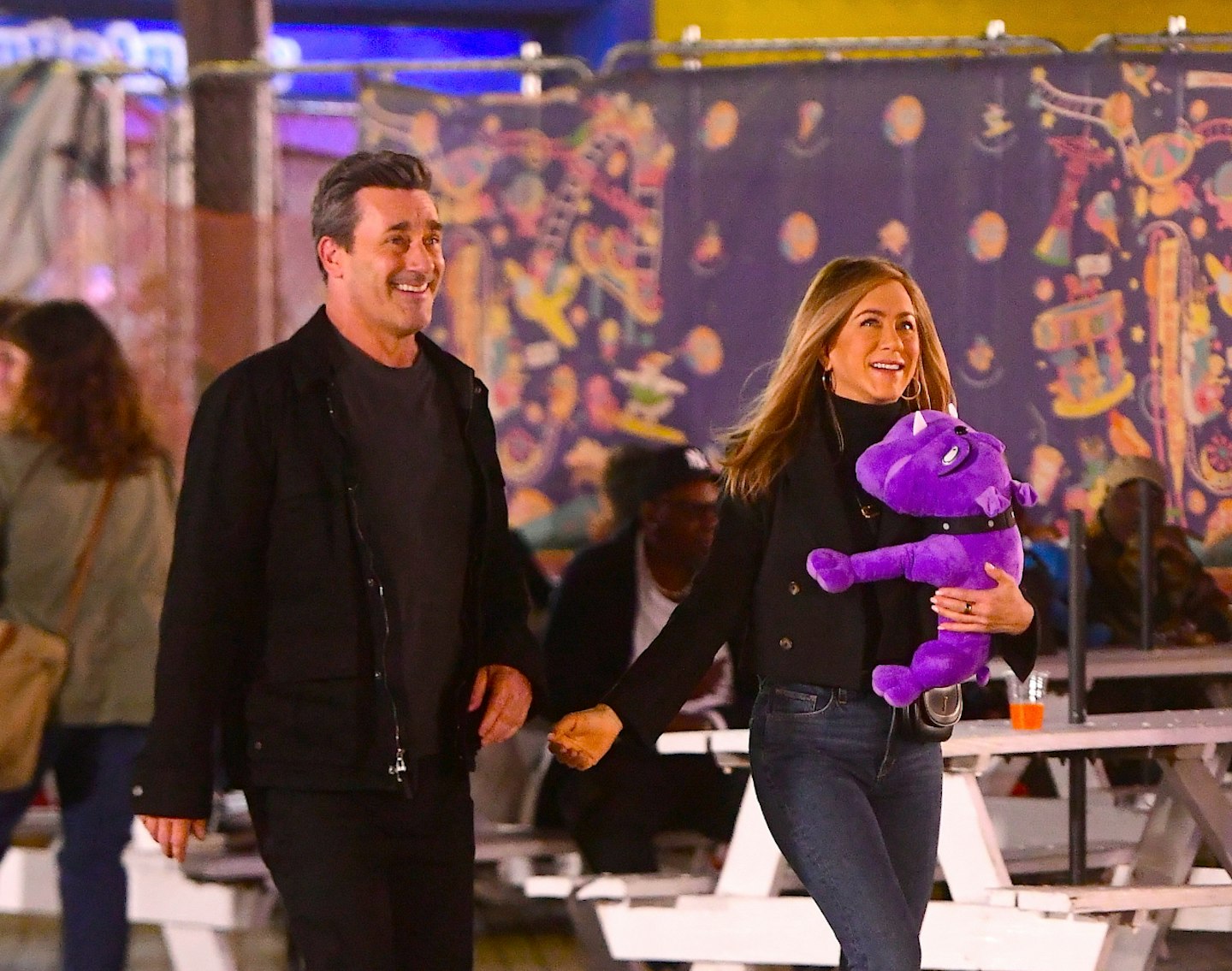 "Her crush on Jon is common knowledge – she'd be with him in a heartbeat if he were single and showed interest," our insider shares. "But even though they've had a blast filming together and hanging out, sadly for Jen, he's in a serious relationship." Her co-star has even featured on Jen's Insta feed, helping to promote her Vital Proteins range.
For now, it seems Jen is content with waking up to her dogs on Christmas Day and will not be expecting Santa to bring her a gift-wrapped man… yet. "Her hope is that the new year will bring her new luck," we're told. "She's not lost faith that there's the right guy out there for her somewhere. It's just a case of being patient and trusting in fate. And, in the meantime, she's definitely not lonely!"