This time a year ago, we'd never have believed Victoria Beckham and her daughter-in-law Nicola Peltz would be cuddling up for family photos, wearing matching outfits and even cheers-ing matching drinks.
But last week the former rivals made it clear they'd put any animosity behind them as they shared "the most beautiful week" together, swapping love-heart emojis and kisses all over Instagram. And heat has been told that the fashion designer is determined she'll never let anything fracture the Beckham brand again…
"The family want to appear as one big, happy unit," says an insider close to the former Spice Girl, who along with husband David, 48, is mum to Brooklyn, 24, Romeo, 20, Cruz, 18, and 11-year-old Harper.
"Vic started this year determined to get Brooklyn back in the heart of the family – Nicola, too. They couldn't have been more welcoming to her on this trip, and Vic made sure it was all really relaxed and laid back. They all gave Nicola and Brooklyn big hugs and everyone was excited to catch up and make a fuss of them.
"Victoria and David hated the tension between them, they especially hated how it affected the other kids. It's the one thing that matters to them most – and they're so relieved that Nicola has finally moved on from her seeming resentment of the family. Of course, there are a few niggling issues – a lot has happened, but Vic had to do this for the sake of her family. She jokes that she and Nicola are frenemies, but things are so much better than they were."
Fans were delighted last week when VB, 49, and Nicola, 28, both shared a series of intimate pictures from their trip to the Beckhams' Cotswolds estate. "The most beautiful week, I love you all so much," wrote Victoria alongside photos showing the whole gang enjoying drinks, heading out to dinner and chilling by alake.
Beside more shots, which she tagged everyone in, she wrote, "Such a happy weekend x I love u". Nicola replied referencing a pic of Brooklyn hugging Harper, commenting, "The last pic", adding weepy emojis. Victoria also posted snaps of Romeo with his girlfriend, Mia Regan, captioning them, "We laughed a lot! Kisses." Actress Nicola also posted her own pictures with Posh, as well as several of her cuddling Harper, declaring the trip to be, "So much fun being with everyone", adding, "Love you all so much!"
Tensions have been high since that $4million wedding last April, hosted by Nicola's billionaire dad, Nelson, 80. As heat previously reported, there were rumours of feuding around the nuptials, as it was claimed Nicola was upset with Victoria taking over planning – made worse on the day itself, when singer Marc Anthony reportedly made a speech about the mother of the bride.
The big issue centred around the dress, though, after rumours that VB was offended that Nicola refused to wear a wedding dress designed by her. Nic later insisted, "I was going to and I really wanted to, and then a few months down the line, she realised that her atelier couldn't do it." Things got worse when a friend of Nicola's spoke out publicly to say Nicola "never, ever" intended to wear a Victoria Beckham dress, because "she has too many actually talented designer friends".
heat's source continues, "From Nicola's side, she's still a little sheepish about everything that's happened. A lot was said in interviews – by her, not by Victoria – and she's embarrassed about that. But she wants to put it behind them. In hindsight, she would have done things differently – she knows how important Brooklyn's family is to him. He's told her how much it matters that she's involved, too, so she's making a big effort. She really wants to show the Beckhams, especially Vic, that she can be one of them. She's also wised up to how much influence Vic has in the showbiz world…"
The thawing between the alpha females began in April, as Nicola and Brooklyn celebrated their first wedding anniversary. As we told you at the time, the Beckhams headed to Nicola's $95million family home in Palm Beach – the scene of the crime – for a reunion visit.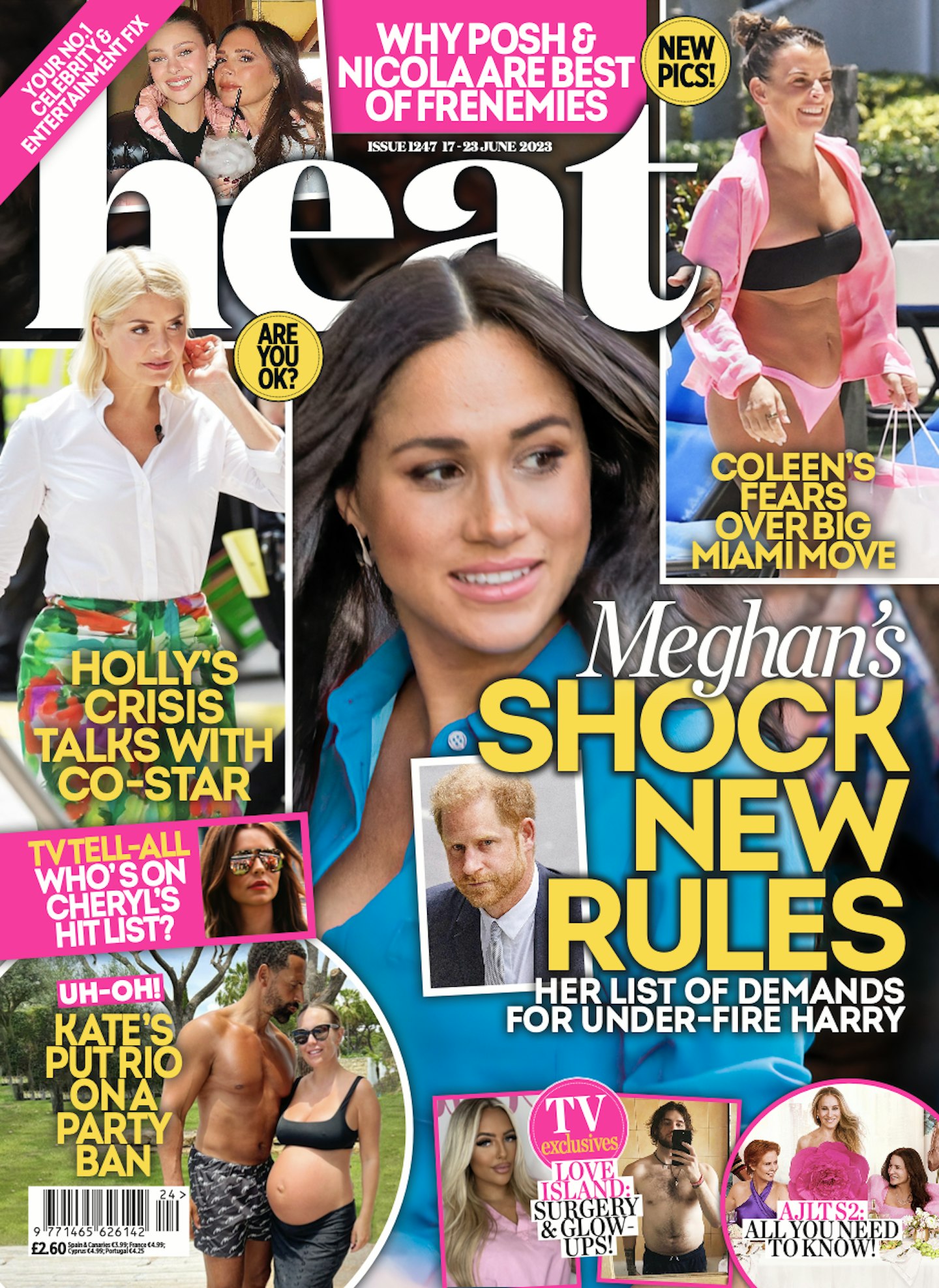 VB shared an emotional post on Instagram, writing, "So special to be together to celebrate your 1st wedding anniversary, we love you." It came after a humiliating few months for Nicola, as her billionaire dad decided to sue her wedding planners. The Bates Motel star was labelled a "spoiled, entitled, rich person" and her family "embarrassing" and "miserly" as he demanded his $159,000 deposit back for his "world famous actress" daughter.
Our source says, "For Vic, it's not about saying all is forgiven, but she's more than happy to sweep it under the rug. She totally gets why Nicola turned into a bridezilla. As for Brooklyn, she and David understand that he pulled away from them, because he was desperate to find his own identity and independence with Nicola. So they're happy to move on from the feud and forget it. As far as they're concerned, it doesn't matter what happened or what was said. Victoria and David just have to accept that Nicola was brought up differently, and is quite high maintenance. But, going forward, they're happy to consider her the Beyoncé of the family, if that'll keep her happy!"
WATCH: Annie Murphy On Schitt's Creek Fashion And Singing Saweetie With Salma Hayek