Even though it feels like Brooklyn Beckham is 15 years old (he's actually 23), we at heat are very much interested in his love life.
Chances are, if you're here, you're very much interested too, especially as his multi-million dollar wedding finally occurred at the weekend and it was INCREDIBLE.
We all know that Brooklyn has found his forever love (he's had endless tattoos dedicated to Nicola, which are all pretty hard to remove), let's take a look back at the relationships which didn't work out as well...
Who has Brooklyn Beckham dated?
Brooklyn has, as far as we know, dated Tallia Storm and Chloe Moretz back in 2014, Emma Montagu in 2014, Sonia Ben Ammar from 2015-16, Sophia Ritchie in 2016-2017, Afton McKeith and Madison Beer that same year, followed by Lexi Wood, Lexi Panterra, Alex Lee Aillón and Hana Cross in 2018. Wow, that was a mouthful.
He was also rumoured to be back with Chloe Moretz around 2018, too, but we guess nothing came of that since the eldest Beckham son has been with actress Nicola Peltz since 2019, following his rumoured fling with Lottie Moss, and the couple eventually got engaged in 2020.
So let's learn a few more deets, shall we?
Who is Nicola Peltz? Dating from 2019 - present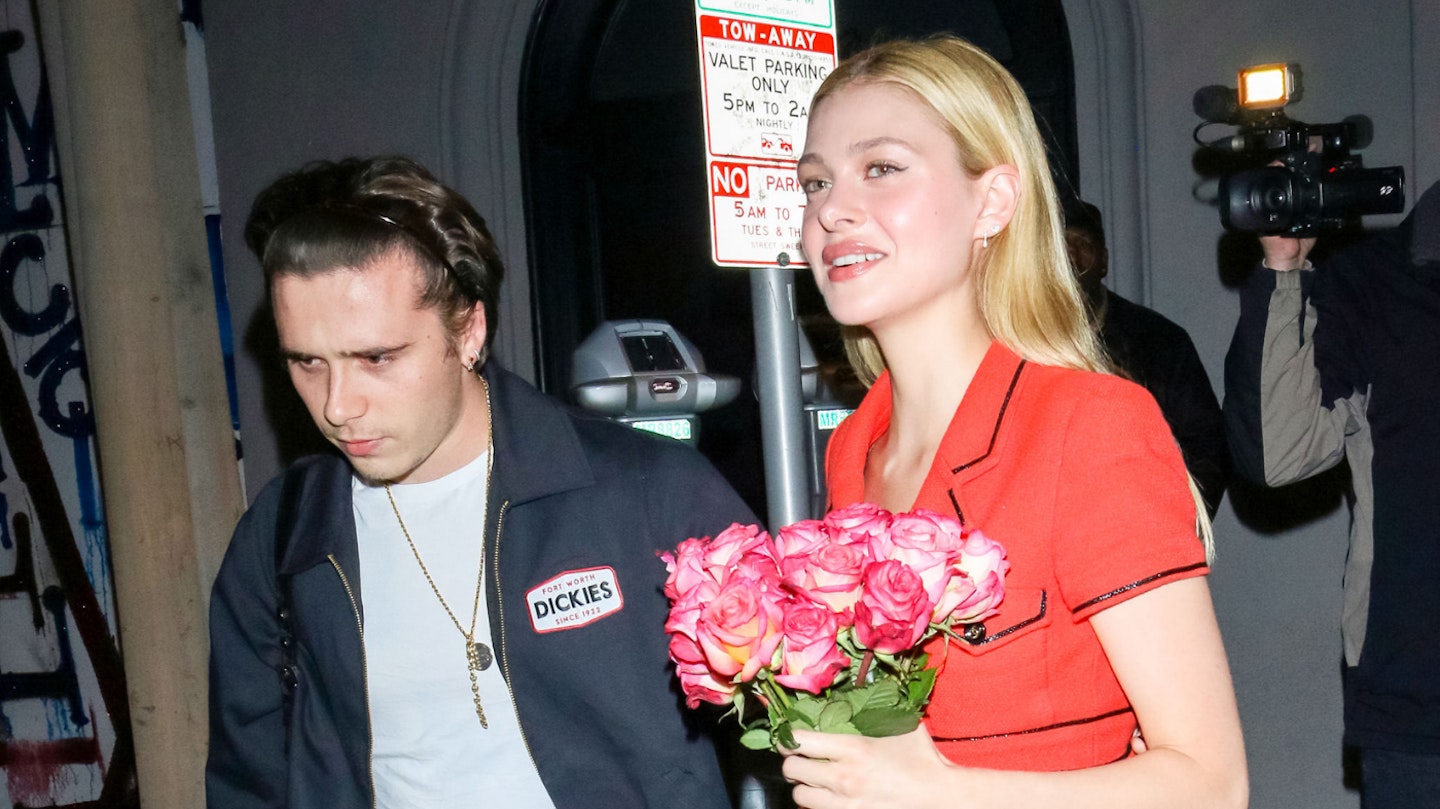 Nicola Peltz is a 27-year-old American actress. She was born in Westchester, New York, to billionaire parents Claudia and Nelson.
Nicola has starred in the likes of Bates Motel, Transformers: Age of Extinction and The Last Airbender.
How did Brooklyn Beckham and Nicola Peltz meet?
Nicola and Brooklyn went Instagram official in January 2020, and were engaged just seven months later in July but it was revealed in an Instagram Q&A with the couple that they actually met as early as Coachella 2017, reconnecting in 2019 when they eventually fell in love.
Announcing her son's engagement online, Victoria Beckham wrote on Instagram, "The MOST exciting news!! We could not be happier that @brooklynbeckham and @nicolaannepeltz are getting married!
"Wishing you so much love and a lifetime of happiness 🙏🏻We all love you both so much x"
How did Brooklyn Beckham propose to Nicola Peltz?
Well, we all know Brooklyn clearly learnt a thing or two from his dad, David Beckham, who met Victoria when he was just 22.
It's clear that when Brooklyn knew, he knew. Sharing details about the moment he proposed, Brooklyn said on his TV show 'Cookin' With Beckham', "Over a year ago now. I got like a bunch of flowers and candles. I got down on one knee and got the ring out and she didn't have a clue what I was doing.
"She just started crying her eyes out, but she didn't say yes for like five minutes.
"I was sweating like 'Oh no', it was a long five minutes."
He also admitted to HELLO magazine that if it wasn't for the coronavirus pandemic, they would have married sooner, saying in 2021, "We've been engaged for a year and if Covid wasn't a thing we'd have liked to have been married already, and it has been a bit difficult...
"You know, I've only just started to travel again, I'm travelling a little bit now but hopefully, it'll be next year."
Brooklyn and Nicola FINALLY got married on 9 April 2022 and it was a HUGE showbiz affair with guests including Eva Longoria, Mel B and Gordon Ramsey. There was no expense spared at the star-studded event, which was covered in Vogue.
What is Nicola Peltz's net worth?
Nicola's net worth is estimated to be around $50million (according to Celebrity Net Worth) and, since her engagement to Brooklyn, that brings their joint worth as a couple to a whopping $60million.
Where is Brooklyn Beckham's wedding venue?
The wedding took place at Nicola's parents £72million estate in Florida and looked AMAZING.
It has also been revealed that the happy couple have changed their names to match each others with Brooklyn taking Peltz as his middle name whilst Nicola is now officially Nicola Peltz Beckham.
Where are Brooklyn Beckham's wedding pictures?
The wedding was covered by Vogue but Nicola and Brooklyn have shared some of the photos from their big day to their Instagrams too.
Nicola naturally looked gorgeous in a Valentino dress, complete with a lace train.
What does Brooklyn Beckham do for a living?
Brooklyn entered into the world of work as a model. He started modelling in 2014 at the age of 15. He has appeared in magazines such as Vogue China, Miss Vogue, Interview, L'Uomo Vogue and T Magazine.
In 2016 Brooklyn started modelling for Burberry but it was a year later that he announced that he would be studying photography at Parsons School of Design.
He then published his first book of photography - What I See - in June the same year and it was interesting...
As of right now, Brooklyn is working as a chef and in 2021 he teamed up with Facebook to create Cookin' With Brooklyn, an eight-part cooking series. It was not especially well received...
Who are Nicola Peltz' parents?
Nicola's parents are Claudia and Nelson Peltz, the latter is a founding partner at Trian Fund Management and a chairman at US fast-food chain Wendy's. They are billionaires, meaning Brooklyn is somehow marrying into a family richer than his own (WOW).
Lottie Moss: dated 2019
According to reports, Brooklyn and Lottie - the younger half-sister of iconic supermodel Kate Moss - enjoyed a "secret fling" in 2019. It's claimed Lottie made it clear that their liaison wouldn't lead to anything serious.
However, the fling reportedly left Brooklyn's parents, David and Victoria, concerned that he could become "the new Calum Best". A source told The Sun on Sunday, "The idea of a girl doing a kiss-and-tell on their ­little boy is basically David and Victoria's worst nightmare. It's all a bit embarrassing. The whole thing seems a bit too close to home."
Lottie's ex Alex Mytton also recently alluded to a relationship between the pair during an episode of Jamie Laing's Private Parts podcast when the pair recalled how Brooklyn had allegedly asked the reality star turned DJ to "play some good music" while he was playing at a club.
"I think he was trying to shag Lottie," the Made in Chelsea star claimed.
Brooklyn Beckham and Hana Cross: dated 2018-2019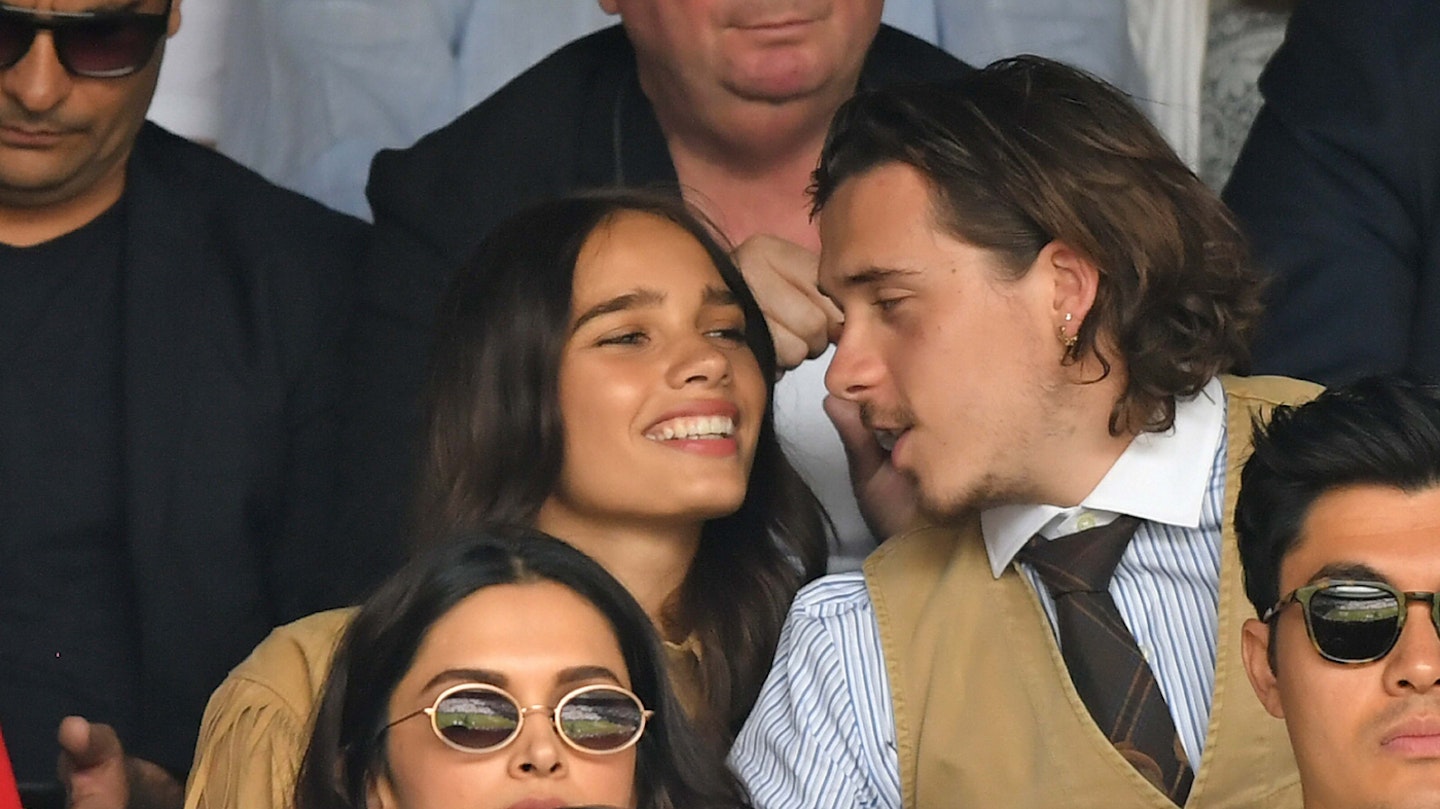 Brooklyn and model Hana dated for nine months in what was said to be a 'fiery' romance.
The pair were spotted on various outings, including Wimbledon and Coachella 2019, holding hands and the like but when July ended and Roger Federer et al put away their tennis whites, the couple were not to be seen together again and, well, we guess it wasn't to be.
Brooklyn Beckham and Alex Lee Aillón: dated 2018
According to Pop Sugar, Brooklyn and model Alex dated casually for around two months, but the pair never made their romance official and after two months, the budding photographer was dating someone else.
Alex is now dating Pierce Brosnan's son, Paris.
Brooklyn Beckham and Lexy Panterra: dated 2018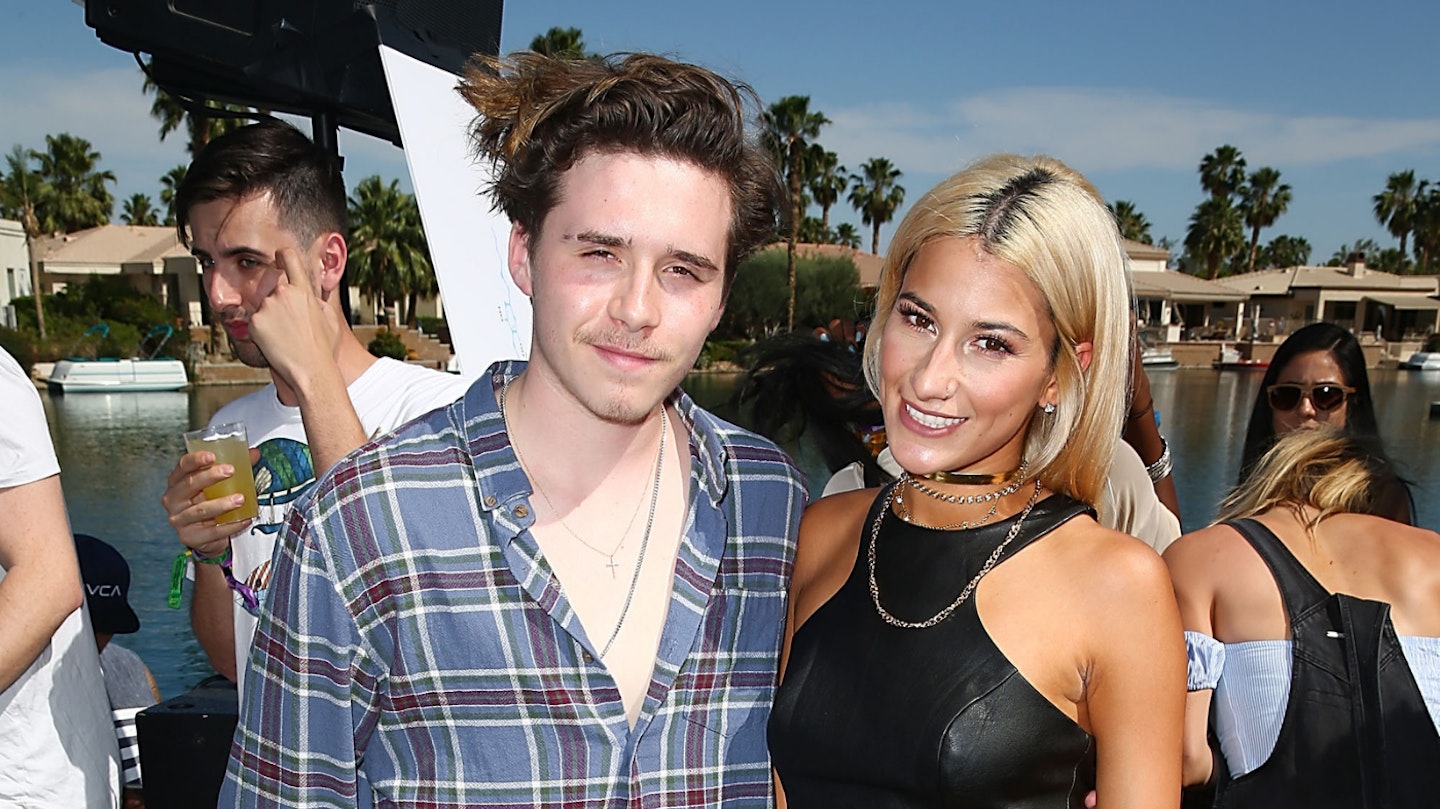 Brooklyn and Lexy's romance was a short story in his extensive love history. The Beckham son told fans on Instagram that he loved the online fitness model/dancer "to the moon and back" and several months later, Lexy, who's ten years older than Brooklyn, told her followers that the pair had had a "perfect night" together. Ooo-errr.
By August 2018, Brooklyn was supposedly seeing Alex, but Lexy and Brooklyn crossed paths again in 2019, when they were spotted kissing once more.
Ooo-errr indeed.
Brooklyn Beckham and Lexi Wood: dated 2018
Dated is a stretch with this gal, but Brooklyn was spotted kissing the Playboy model in April 2018 amid much speculation that he was still seeing Chloe Moretz. Alas, the sighting confirmed a truth on the contrary...
Brooklyn Beckham and Madison Beer: linked in 2017
Brooklyn was linked to then 18-year-old Madison Beer in July 2017 after they were spotted together at something called 99.7 NOW's Summer Splash concert (we aren't sure either).
Madison then revealed in August she'd dumped him, stating that she "can't do long distance". Pretty brief fling, then.
Brooklyn Beckham and Afton McKeith: 2017
According to Us Weekly, Brooklyn and Afton (Gillian McKeith's daughter) - who was reportedly one of the former model's classmates in school - dated while he was on one of his several breaks from former girlfriend Chloe Moretz.
Brooklyn Beckham and Chloe Moretz (AGAIN) become boyfriend and girlfriend: September 2017
For the 452nd (third) time, it was reported that Chloe and Brooklyn were together in September 2017.
Brooklyn shared a shot of himself walking down a corridor, and then later that day, Chloe shared a similar black and white shot of herself.
Chloe also commented a heart on an Instagram that Brooklyn uploaded of himself, so, you know, if that doesn't prove it then we don't know what does.
Brooklyn Beckham and Chloe Moretz: became his girlfriend in 2016
By January of 2016, Brooklyn and Chloe had been linked again (after first getting together in 2014) when they were spotted by Peopleeating at a restaurant in London. By April, they'd seemingly confirmed their romance in an Instagram post (which has now been taken down - cry).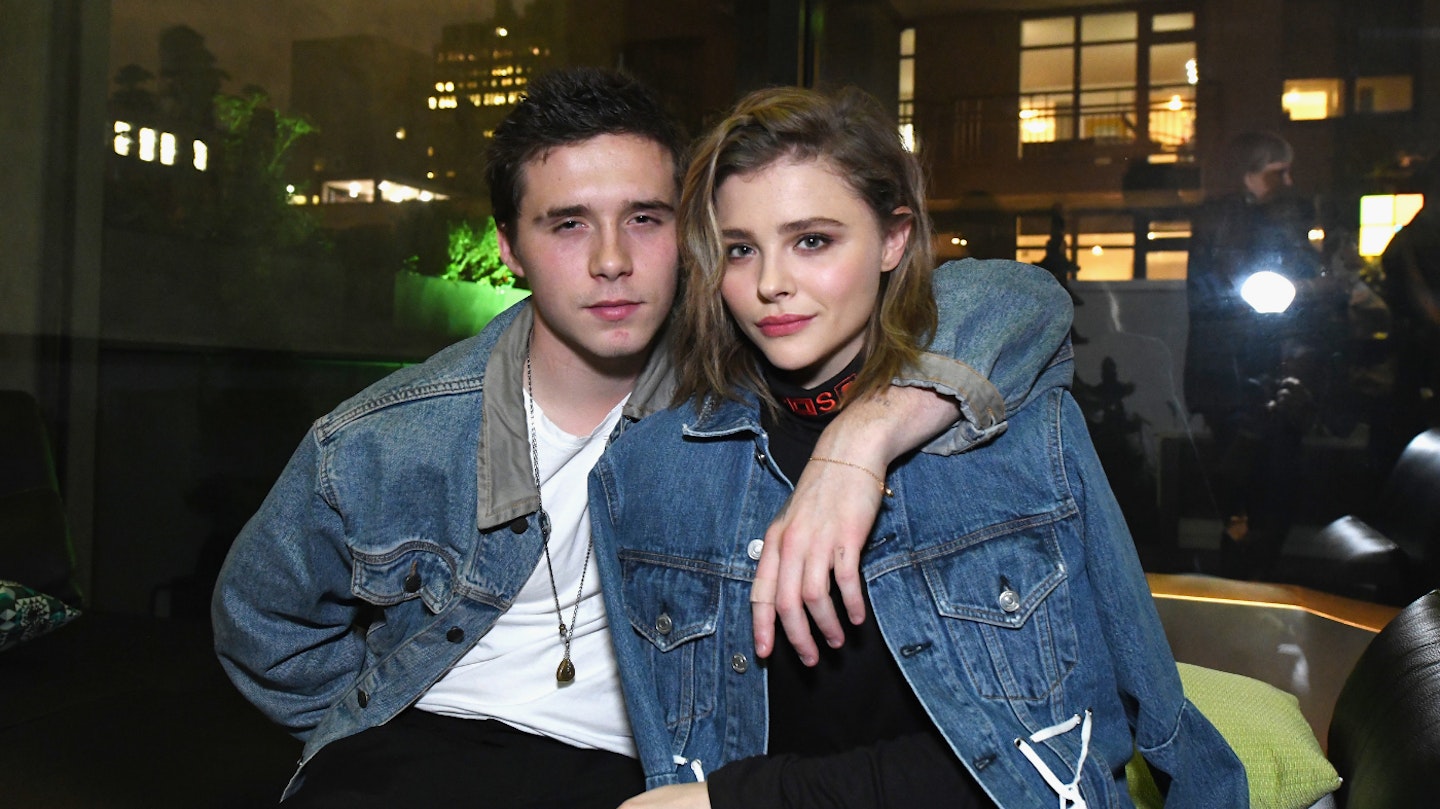 Chloe then double confirmed the relationship while on Watch What Happens Live with Andy Cohen, and they shared several more loved-up selfies and said cute things about each other.
On The Talk, she claimed that they kept their relationship hidden because of their respective celebrity status.
"We were always running from paparazzi...it [was] affecting our relationship... we were like, if we were more upfront about it... and just let them take our photo—they aren't going to care."
She also said the CUTEST THING EVER to Access Hollywood.
"I think [Brooklyn is] used to powerful women in his life," she said. "I mean, his mom is a very powerful woman. I think he admires kind of what I stand for and he's always like, 'Go do your political thing, Chloë.'"
The pair then split up in September 2016, and our hearts were BROKEN because love was officially dead.
They reportedly split after getting into a fight at a Coldplay concert, which frankly sounds like an awful night in every respect.
It was later reported that Brooklyn didn't, unlike Chloe, didn't want their relationship to get any more serious.
Uh oh.
Brooklyn Beckham and Sonia Ben Ammar: dated in 2015
In October 2015, after a whole year had passed sans sightings of he and Chloe, Brooklyn was spotted cuddling French model Sonia Ben Ammar at a concert – and she featured in one of his Instagram posts.
Brooklyn Beckham and Chloe Moretz: dated in 2014
At this point in his life, Brooklyn's most publicised relationship was with Chloe Grace Moretz, who he reportedly met at Paris Fashion Week in 2014.
They were first spotted together while skating in LA (edgy) in July of that year.
Chloe remained coy about speaking too much about their relationship, telling Teen Vogue, "What I find really interesting about Brooklyn – and what I really love about that kid – is that he is passionate about what he wants, which is to be a professional soccer player."
WATCH: They Can't Keep Their Hands Off Each Other!' Sam Heughan & Caitriona Balfe React To Outlander
Look! More news!
Emily Blackwell: who is the Made in Chelsea star and YouTuber?
Lucinda Strafford speaks out on her boyfriend and things don't sound good
How tall is Brooklyn Beckham's wife Nicola Peltz?
Nicola Anne Peltz Beckham isn't as tall as you might expect at just 5'4".
Is Nicola Peltz on Instagram?
Yes, Nicole Peltz is on Instagram @nicolaannepeltzbeckham
Is Brooklyn Beckham on Instagram?
Yes, Brooklyn Peltz Beckham is on Instagram @brooklynpeltzbeckham and frequently posts snaps of him and his actress belle - cutie.