Working at heat, we could say we're incredibly knowledgeable about reality TV, it's our bread and butter.
We've seen a lot of shows come and go over the years and we have our favourites (Love Island being one of them, of course), but as years have gone by, viewers of ITV2's Love Island have been dying for producers to provide some diversity and have grown tired of the same format – whether that be body type, skin colour, ethnicity or sexuality.
Despite the show starting in 2015, it was only in 2021 when Love Island included their first disabled contestant Hugo Hammond and only two openly bisexual contestants have appeared on the show, Megan Barton-Hanson and Sharon Gaffka (not that they were allowed to couple up with females, though.)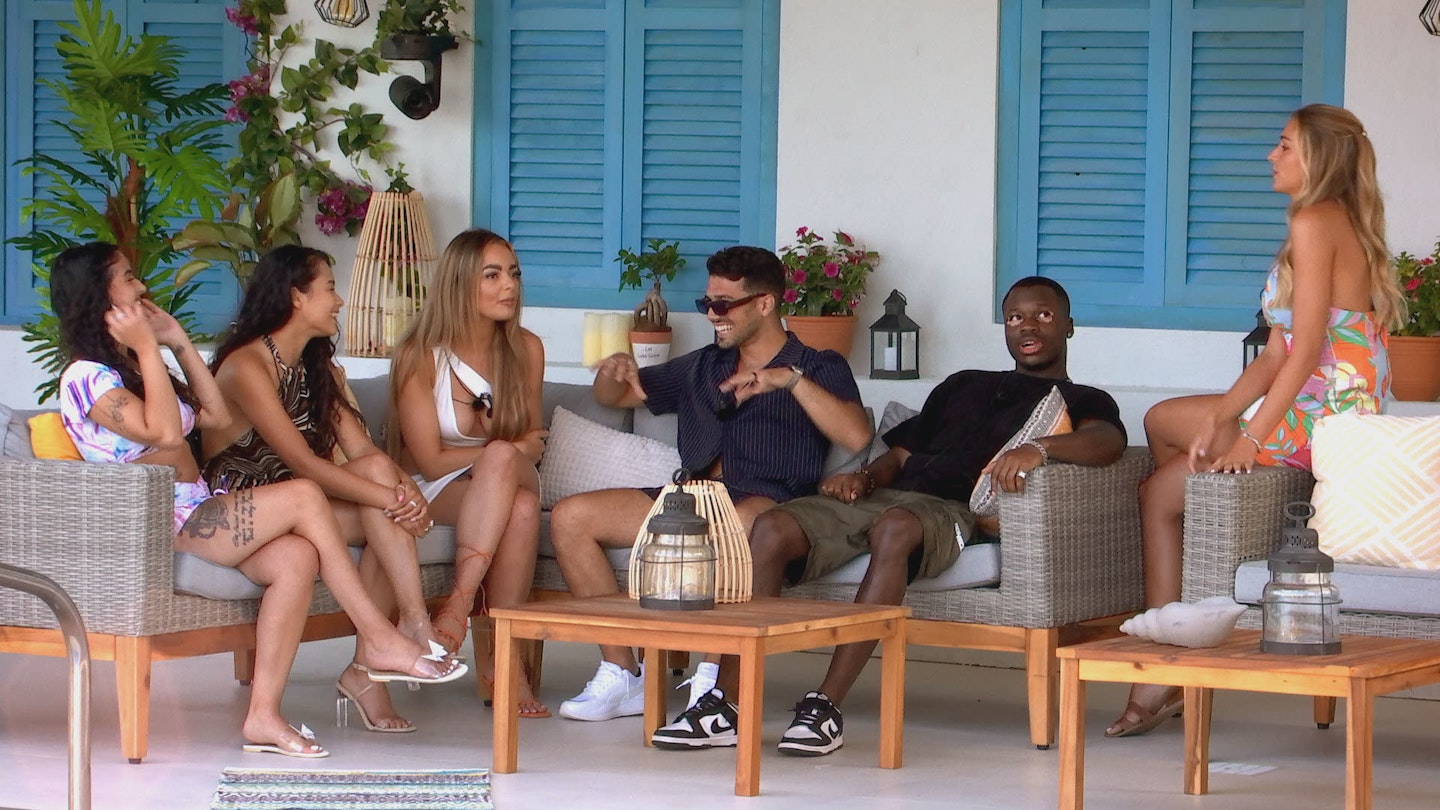 It's something that Love Island bosses have addressed in the past, with ITV commissioner Amanda Stavri saying that including LGBTQ+ contestants on Love Island would present "logistical difficulties".
As we wait for another series of Love Island and hopefully a promise of more diversity, BBC Three have gifted us Love In The Flesh, presented by Love Island alumni Zara McDermott.
Despite it being slammed by critics as a Love Island knock off (sigh), the new series, centred around chucking singles in a villa with people they have been talking to online during lockdown but never met 'in the flesh', has done more for diversity in only four episodes than Love Island has in years.
We're only slightly into the new series of Love In The Flesh, but it was so great to see the diversity we've been begging Love Island to provide for years: normal bodies, belly rolls, mum tums, stretch marks, a same-sex couple, couples who have known each other for five years, couples who know a lot about each other, and some who have already exchanged a couple of cheeky nudes.
Now, we don't want to say the singles appearing on Love In The Flesh are only there for love, as the lure of being an 'influencer' and gaining Instagram followers is definitely on some contestants minds (we're talking to you, Brandon).
We're also not going to ignore the fact that the new singles were also teased as 'the most popular singles on dating apps' for a reason - they are BEAUTIFUL and popular. As the contestants in question are pretty similar to the classic Love Island stars, the new series could probably do more, but we're only one series in, and they've done VERY well when it comes to casting.
Zara McDermott is also a breath of fresh air and slips into her presenting duties with ease. Unlike Love Island, where you only occasionally see host Laura Whitmore at dumpings, Zara is there every day, having a friendly natter or trying to stir up the important conversations.
Look! More news!
Love Island's Sam Bird shows off 'lean' transformation and wowza
Love Island's Belle Hassan shows off fake freckles trend and looks INCREDIBLE
Sure, Love Island is a powerhouse when it comes to testing the couples resilience, with the iconic Casa Amor twist, the ingenious and savage tasks that push couples to the absolute limits, creating the drama that we all LIVE for. This is something that Love In The Flesh can't really compete with. Yet.
Over the years, though, Love Island has come under fire for testing the Islanders way too much and often is so far away from real life it's no surprise some former couples come away from the show hating each other. Remember when Dani Dyer broke down in tears when she found out her partner at the time Jack Fincham was living with his ex-girlfriend in Casa Amor? Or the brutal 2021 movie task that tricked the Islanders into watching past footage of themselves from the villa. That just wouldn't happen in real life and shouldn't happen on telly either. Sometimes, it goes too far and takes away the opportunity to form a genuine and happy connection.
WATCH: What Zara found on Sam's phone 😱 and Love Island Fallouts | CELEBRITY PHONE UNLOCKED
Love In The Flesh is a refreshing take on the dating show format and in comparison, we would say Love Island is the top dog but with an Instagram filter placed over the top.
If you're looking for your diversity pleas to be answered, you simply need to give Love In The Flesh a watch. You'll spend the time invested in the couples, not in how perfect they look or whether they are 'playing a game', but because they're genuinely just like you.