If one of your goals for this year is to give your make-up bag an ethical makeover, it doesn't mean hours of trawling the internet in the hopes of finding obscure vegan make-up brands.
In fact, as many huge brands turn their back on animal testing – and animal products – it means that you may already be well on your way.
Here, we've listed some of our favourite brands that prove being committed to staying cruelty-free doesn't mean compromising on quality, price or creativity. With everything from cruelty-free lipsticks to vegan foundations, we've got all bases covered.
Real Techniques
Proving that cruelty-free make-up brushes can be top quality, Real Techniques' synthetic brushes are fab for anyone who wants a budget – and animal–friendly set.
Products we love:
We'd be lost without RT's Makeup Sponges and the Flawless Base set is our go-to for everyday make-up.
Anastasia Beverly Hills
Anastasia Beverly Hills' products are 100% cruelty-free, although some products contain beeswax or honey, therefore it isn't a vegan brand. Many cult faves, such as the DipBrow Pomade, are vegan.
Products we love:
As mentioned previously, the DipBrow Pomade is a must-have for perfectly on-fleek eyebrows.
The Sultry Eyeshadow Palette is CONSTANTLY out of stock, so if you can get your hands on it, then do. It's like gold dust. In the meantime, we're loving Modern Renaissance.
Huda Beauty
Created by make-up artist, YouTuber, influencer and all-around badass, Huda Kattan, Huda Beauty took the beauty world by storm after launching in 2013.
While the brand isn't totally vegan, many of its products are. Plus, it's entirely cruelty-free and stands against animal testing.
Products we love:
It's so hard to pick just a couple from Huda's range, but we have to shout out the amazing #FauxFilter Luminous Matte Liquid Foundation and the stunning Gold Obsessions palette.
We're also loving the brand new GloWish Cheeky Vegan Blush Powder and GloWish Luminous Pressed Powder - skin-loving, vegan products that are designed to let your natural beauty shine through.
KVD Beauty
Founded by vegan beauty lover, Kat Von D, KVD beauty carried on what she started with a completely vegan, as well as cruelty-free, make-up line.
Products we love:
Want an eyeliner that can withstand an ACTUAL car crash? KVD Beauty is famous for its Tattoo Liner, after a review went viral in 2018. Can't beat that!
We also love the Lock-It Foundation for a base that will last you well into the early hours.
Lush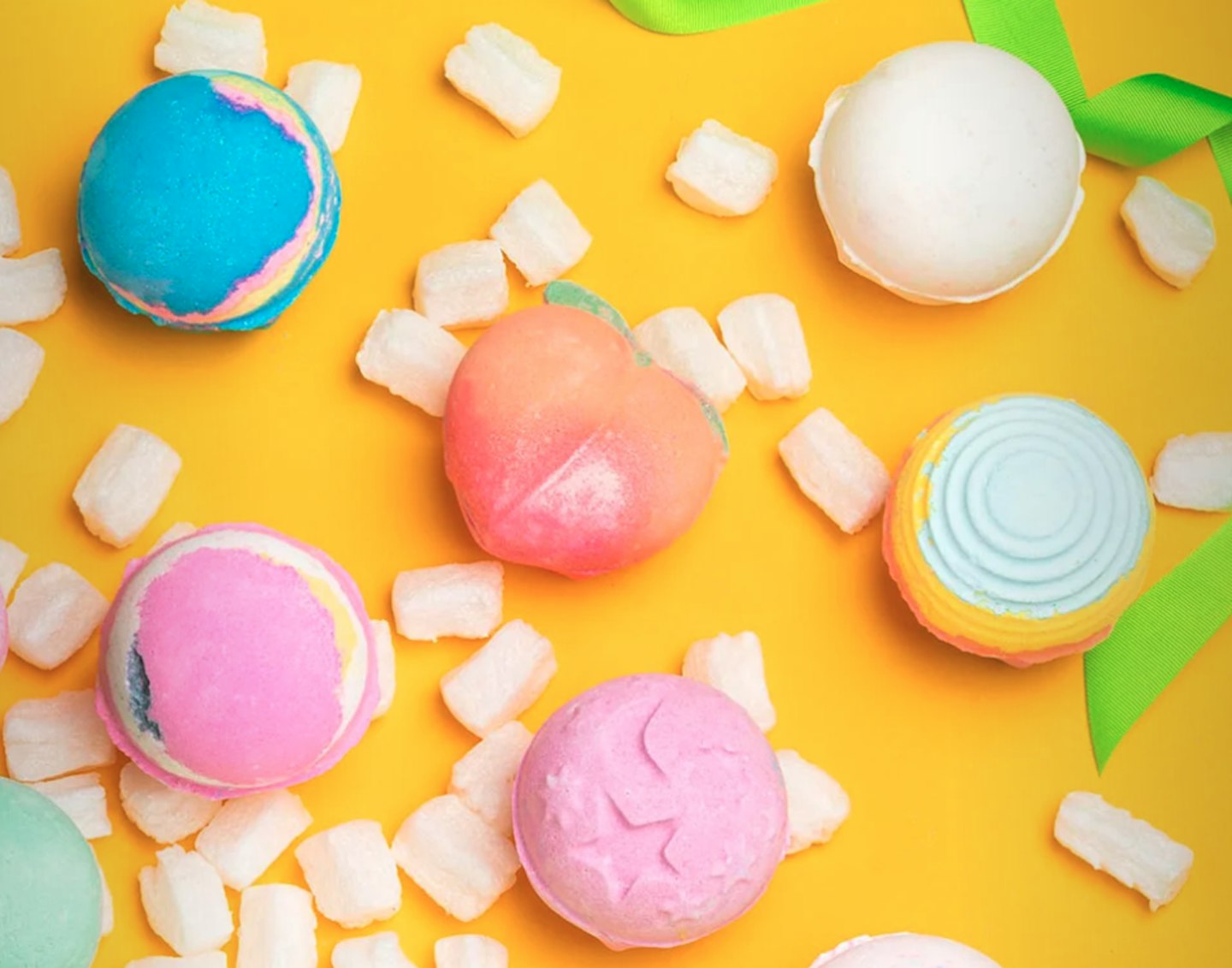 Lush actively fights against animal testing, is committed to ensuring it is fair trade AND creates environmentally-friendly products. Plus, everything smells – well – LUSH.
We'd be lost without the Mask of Magnaminty and the gorgeous Sleepy Body Lotion.
Illamasqua
Think of Illamasqua, and you'll likely think of dramatic eyeshadow palettes and soft rose blushes. The brand houses hundreds of vegan products and never tests on animals.
Products we love:
The Hydra Veil Primer guarantees all-day make-up, even for those with the oiliest skin. Need! The Beyond Powder Highlighter is perfect for a subtle glow and is loved by make-up artists.
By Beauty Bay
Designed for the beauty-obsessed, Beauty Bay's own range is vegan and cruelty-free, as well as super affordable. With make-up, skincare, brushes and more on offer, you'll really be spoilt for choice.
Products we love:
We're particularly obsessed with the gorgeous palettes on offer, such as the Fiery 2.0 42 Colour Palette to really get creative. We also adore the Lipgloss Quads and STUNNING rose gold make-up brush set.
BLEACH London
This female-founded brand started its life as a seat-and-sink in East London's WAH Nails, but has now reached dizzying heights of popularity. Available in numerous shops across the country and online, BLEACH London's focus on fantastically weird and wonderful hair care is right up our street. Plus, its strand-saving products are cruelty-free and vegan.
Products we love:
The White Toner Kit is a must-have for bright blondes - nothing beats it. We also love BLEACH's range of pastel and bright shampoos and conditioners to revive your colour, and the reincarnation mask for when your hair is in need of a little TLC.
Barry M
The stuff of our teenage dreams, multi-coloured Barry M nail varnish still makes up the majority of our collection. Currently, ALL Barry M products are vegetarian and 97% are vegan. Its nail category is 100% vegan.
Products we love:
Fortune Teller and Liquid Chrome are up there as our all-time favourites for something a little special.
Charlotte Tilbury
Our cosmetics queen, Charlotte Tilbury, is not only committed to ensuring her products are cruelty-free, but she also created Pillow Talk, which we are forever grateful for.
Products we love:
We always reach for CT's products for a night out. We're loving Pillow Talk Diamonds for a moisturising shimmer, the ICONIC Magic Cream for everyday hydration, and Wonderglow for a flawless complexion.
ICONIC London
You'll have seen ICONIC London on the Instagram pages of every beauty influencer -it's responsible for THAT gorgeous, shimmering setting spray. All its products are 100% cruelty-free and the brushes and Illuminator are totally vegan.
Products we love:
We can't not mention the Prep-Set-Glow which leaves skin hydrated and glowy (a must-have for those holiday Insta snaps!). We also love the Triple Threat Mascara, which is loved by celebs like Kim Kardashian.
Marc Jacobs Beauty
Proving that quality and cruelty don't go hand in hand, Marc Jacobs Beauty is a champion of abandoning animal testing in the luxury cosmetics market.
Products we love:
For the ideal under-make-up base or even just to mattify your skin, reach for the Under Blurring Coconut Face Primer. We also adore the Velvet Noir Major Volume Mascara for quick, even and jaw-dropping lash coverage.
Tarte
Not only are Tarte's products eco-friendly, but it strives to produce cosmetics that look fab and leave your skin feeling fab, too.
Products we love:
Life wouldn't be complete without our trusty Shape Tape Concealer and we love the Tartelette palettes - specifically the Juicy Amazonian Clay Eyeshadow Palette.
Makeup Revolution
This beauty start-up made waves with its affordable dupe-worthy products, which are PETA-certified cruelty-free and never tested on animals. There's also a large range of vegan products available.
Products we love:
Looking for a Shape Tape dupe? Makeup Revolution's Conceal & Define Concealer has long been hailed as a great budget option. We're also big fans of its Magic Cream dupe, the Revolution Pro Miracle Cream.
bareMinerals
bareMinerals offers nourishing and cruelty-free products, so it gets a big, fat yes from us.
Products we love:
If the Complexion Rescue Tinted Moisturiser Hydrating Gel Cream changed your life, put your hands up. We also love a spot of the Mineral Veil Powder.
Urban Decay
Although the brand's parent company, L'Oreal, is not considered cruelty-free, Urban Decay is certified by Leaping Bunny, meaning its products are never tested on animals.
Products we love:
Naked Palettes. Forever and ever, Amen. Oh and throw some All Nighter Setting Spray in there for good measure, too.
Ella & Jo
Cruelty-free brand, Ella & Jo has a whole range of fun products to shop. Their first ever launch was a make-up brush cleaner, but since then the brand has branched out into skincare and more.
Products we love
Their Hydrating Hyaluronic Serum and Melt The Day Away Cleansing Balm are our total skin saviours.
Nanshy
PETA-approved brush brand, Nanshy, offers professional standard beauty tools that are synthetic and really won't break the bank.
Products we love:
Nanshy's Starter Brush Set and Eyeshadow Brush Set are all we need.
HASK
HASK is the haircare brand of the stars and is passionate about being a cruelty-free brand. The team makes sure its suppliers and vendors supply safety and regulatory information on ingredients, showing they're involved in the whole process. Its products are also sulphate, paraben and gluten-free.
Products we love:
When it's time for a little hair TLC, we reach for the Argan Oil Repairing Shampoo. It leaves hair lightweight and silky. Still on the Argan Oil hype, we also adore the Repairing Hair Shine Oil (which is SO affordable) to get rid of that unwanted frizz.
Pixi
With everything from hydrating milky serums to mud cleansers, Pixi is the place to go if you want luxury cruelty-free skincare.
Products we love:
Pixi's Glow Tonic will change your skin forever. We promise.
D'Alchemy
This vegan luxury anti-ageing skincare brand is from Poland. All its products are based on plant hydrosols, plant extracts and essential oils from organically grown or wild growing plants. It's a plant lover's heaven.
Products we love:
The Super Rich Multi-Hydrator is perfect if your skin needs some real hydration TLC. Over time, skin will be radiant, firmer and silky smooth.
SheaMoisture
Need a dry skin or hair saviour? Look no further than SheaMoisture. The cruelty-free hair and body care brand makes all its products with natural ingredients and is certified organic.
Products we love:
The African Black Soap Balancing Conditioner makes your hair feel brand new and the Curl Enhancing Smoothie is a favourite of curly girls.
7th Heaven
They're the face masks we all know and love, always there for a girly sleepover or hen do. 7th Heaven masks are affordable, vegetarian (vegan where possible), cruelty-free and PETA certified.
Products we love:
7th Heaven's clay masks are all the rage and luckily, you can get them in bumper packs. The Coconut Protein Rescue Mask is also a brilliant weeknight hair reviver.
Paul Mitchell
The haircare brand not only enforces cruelty-free policies, but Paul Mitchell also supports environmental organisations and alliances to ensure the planet is looked after.
Products we love:
Both protecting and long-lasting, the Hold Me Tight Hairspray is wonderful for holding your curls but brushes out easily. Want silky hair? The Conditioner from Paul Mitchell detangles, smoothes and isn't greasy, and one bottle will last you ages.
Eco Tools
The name MIGHT be a bit of a giveaway, but Eco Tools are cruelty-free, use recycled materials and their packaging is environmentally friendly.
Plus, their mini brush sets are PERFECT for weekends away. Win-win.
Products we love:
The Facial Cleansing Brush has short but soft bristles, making it a great option for those with sensitive skin. We also ADORE the fan brush from the Start The Day Beautifully Brush Set for everyday use.
The Body Shop
Although The Body Shop used to be owned by L'Oreal, the company is now owned by a Brazilian cosmetics company called Natura, which means it's entirely cruelty-free.
Products we love:
We live for the Friday night mask session and the Himalayan Charcoal Purifying Glow Mask is a winner. If you haven't invested in a body yoghurt yet, what are you waiting for? The Mango Body Yogurt is light, silky, absorbs quickly and smells divine.
Pacifica Beauty
Pacifica is well known in the vegan beauty world for its innovative products - especially vegan fragrance. 100% vegan and cruelty-free, you'll find everything you need on its site and you won't need to remortgage your house to afford your wish list.
Products we love:
For glowy summer coverage, we reach for the Alight Multi-Mineral BB Cream. We also love the Silver Moon perfume, perfect for a cosy scent lover. Want more cruelty-free perfumes? We've got you.
What are the benefits of switching to cruelty-free and vegan make-up?
If you're thinking about transforming your collection into something a little more animal-friendly, then you'll be glad to know that there are plenty of benefits to doing so.
Not only can you glam up with a clear conscience, but vegan beauty products with plant-based formulas often contain all-natural ingredients that are brilliant for your skin. If you have sensitive skin, you'll generally be less likely to suffer from reactions.
Many of the ingredients will be sustainably sourced and the products may have recyclable packaging, so you'll also be doing your bit for the environment, too.
It's difficult to find brands which do test on animals these days, which is great for our furry friends across the globe, but always check a brand's website and packaging before you part with your hard-earned cash.
Main Image Credit: Charlotte Tilbury