For the average person, an in-depth knowledge of all makeup and beauty is basically impossible. Which red lipstick will suit which skin tone? What type of foundation is right for which skin type?
Luckily for you, dear reader, we're in the business of beauty myth-busting and our latest mission is primers. What is a primer, do you really need one and which ones are the best for keeping your makeup on your face throughout the day available on the high street?
The current trend is for silicone primers - but if you've got sensitive or dry skin, they might not suit you so well. There's also the environmental impact to consider as we're now moving away from using plastics in beauty products. Some of the products we tried have tiny amounts of silicone in, but aren't silicone-based.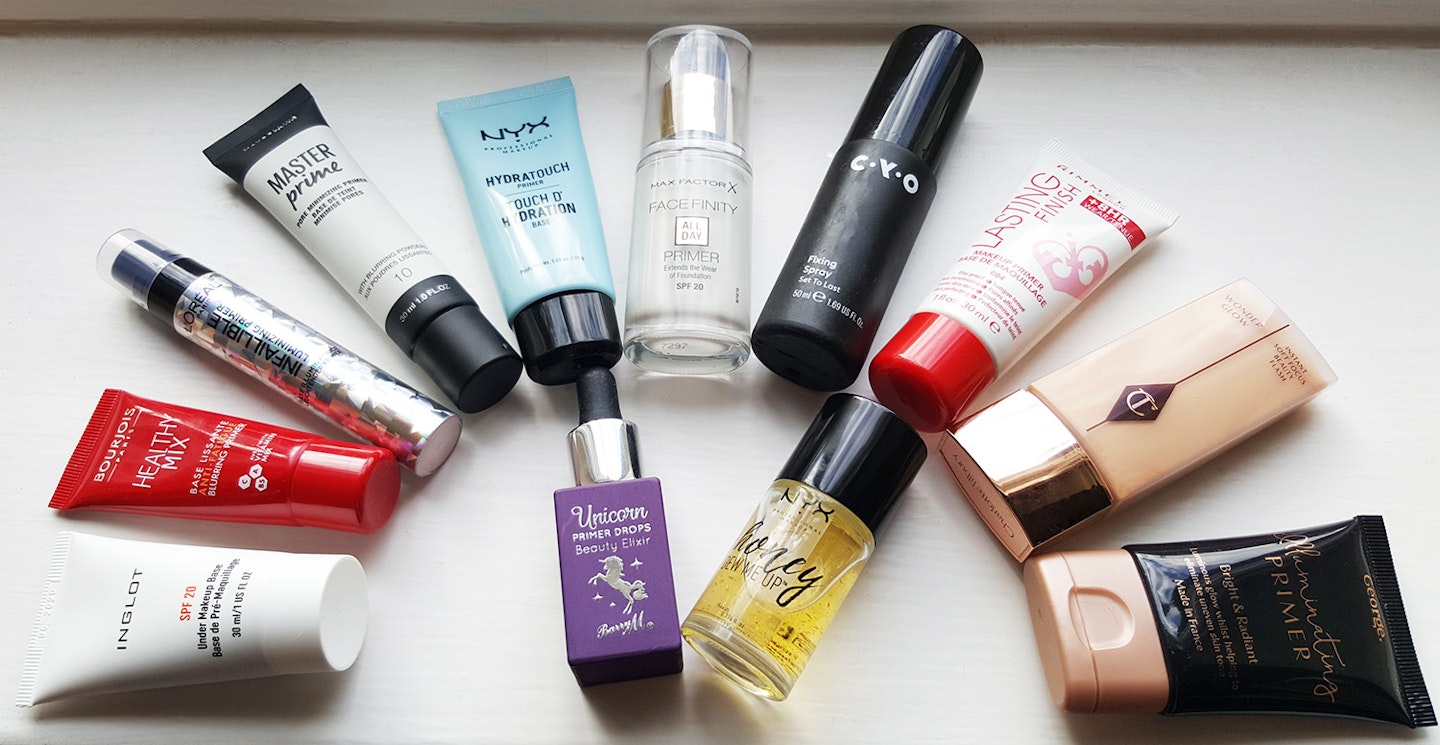 Since we're not COMPLETE makeup experts ourselves, we sought advice from a professional makeup artist to find out exactly what the deal is. Katie Moran works for INGLOT, and told us everything we need to know.
What is a primer?
"A primer is a makeup product used before foundation to improve coverage and to lengthen how long the makeup will last. You can get primers for every skin type (dry, oily or normal) to even out your skin tone and to neutralise a certain skin type.
"It acts as a barrier between your skin and the foundation to hide and fill imperfections such as lines and pores. Some primers contain colour-correcting properties to disguise red skin or broken capillaries in the skin such as Inglot's HD colour correcting primers."
Are primers an essential part of the makeup routine?
"A primer is a very essential part of a makeup routine! Prepping the skin with a primer before applying makeup will be the making or breaking of how the makeup will sit, cover and last on the skin."
Are silicone primers good?
"The main purpose of a silicone primer would be to mattify the skin. It reduces the appearance of sebum (oil) in the skin and leave you with a silky finish. This primer should only be used on oily to combination skin as it will reduce the presence of oils and ensure that the foundation will last much longer on the skin than without it. But it would not be good for dry skin."
Are non-silicone primers good?
"A non-silicone primer would be better for dry to normal skin as most of them are likely to contain oil which is what dry skin needs. Some primers even contain an SPF, protecting your skin from the drying rays of the sun and keeping It moisturised all day long - for example, Inglot's SPF 25 primer."
Are there any other benefits of using a primer?
"Primers such as the SPF-containing primers can be used as a moisturiser to keep your skin feeling soft and fresh all day long and is a beautiful alternative to makeup when mixed with a liquid illuminator or B.B. cream. Colour-corrective primers, such as a peach primer, give a subtle but lovely coverage to the skin."
Which non-silicone primers are the best on the high street?
We may receive commission for purchases made through our links
Also wearing:
Benefit Cosmetic's Boi-ing! Industrial Strength concealer in 01.
NOW WATCH: heatworld review ASDA's beauty range
If your favourite music icons are the Spice Girls and your favourite Ks are Kylie and the Kardashians, you need heat Radio in your life! heat Radio is portable, so you can listen to us on the move. Simply download our app from your phone's app store or listen on DAB Digital Radio UK, on Freeview Channel 716 or online at heatradio.com and at heatworld.com. We're on all the smart speakers too, just say "play heat Radio."
NOW READ:
The weird and wonderful beauty ingredients we can expect to see in 2020