It's the most wonderful time of the year, and no, we're not talking about Christmas, it's spooky season.
It's time to embrace all things Halloween from pumpkin carving, binging your fave scary movies or stocking up on the best-themed gifts.
As well as this, it's also time to get prepared for the festivities and parties that pop up, and just as much as we love putting our costumes together, they wouldn't be complete without a killer glam look to go with them.
We've chatted to beauty expert, content creator and author of Beauty, Hair, Style Sophie Hannah to show us how to achieve some of the easiest looks without the stress. So, sit back, relax, and get ready to be inspired…
Look 1: Bleeding Eyes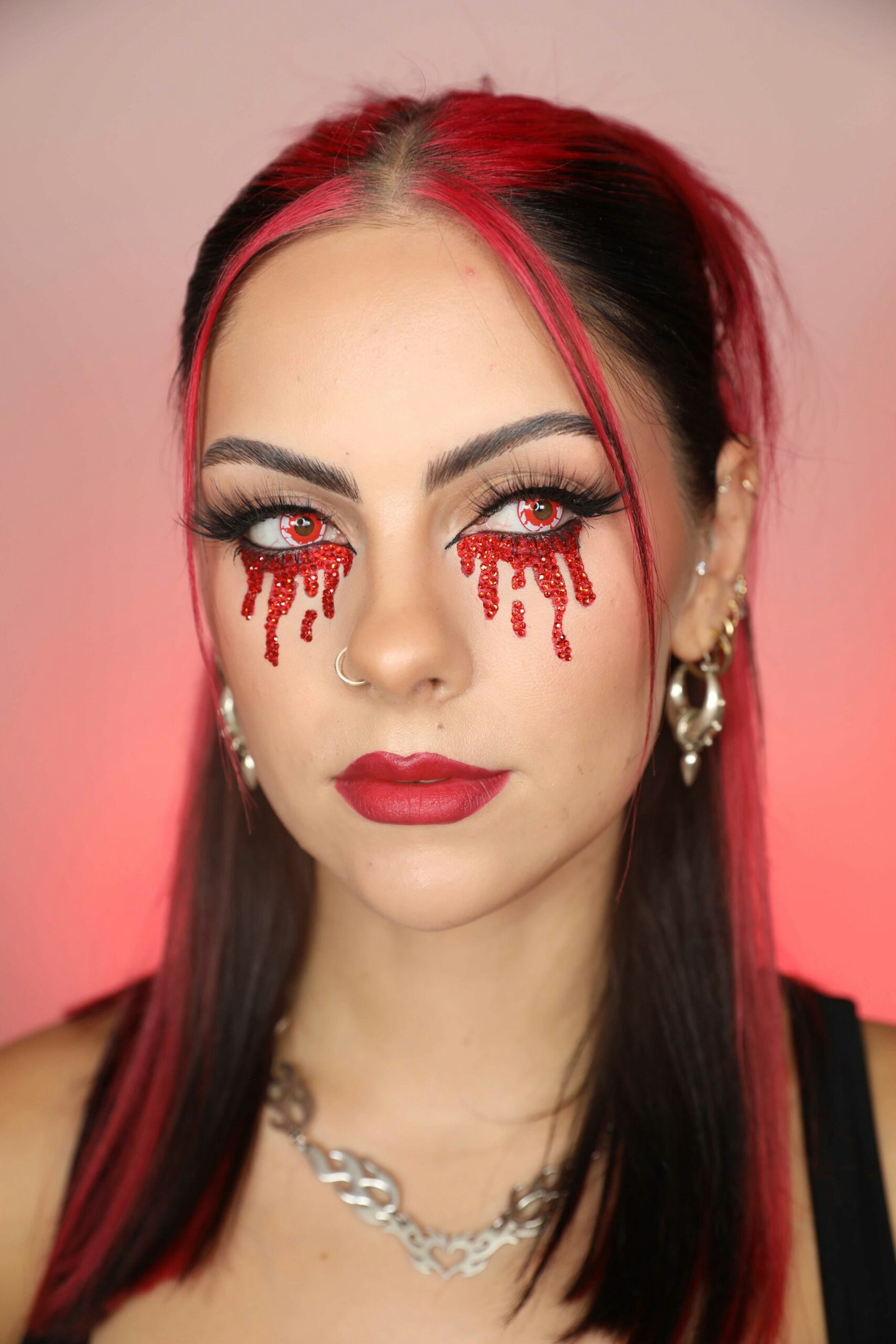 Step 1:
Using a brown eyebrow pencil, sketch an outline of drips under each eye and fill in using red face paint.
Step 2:
Add a black wing liner and bring it out on the inner corner. Then add a black kohl to your waterline.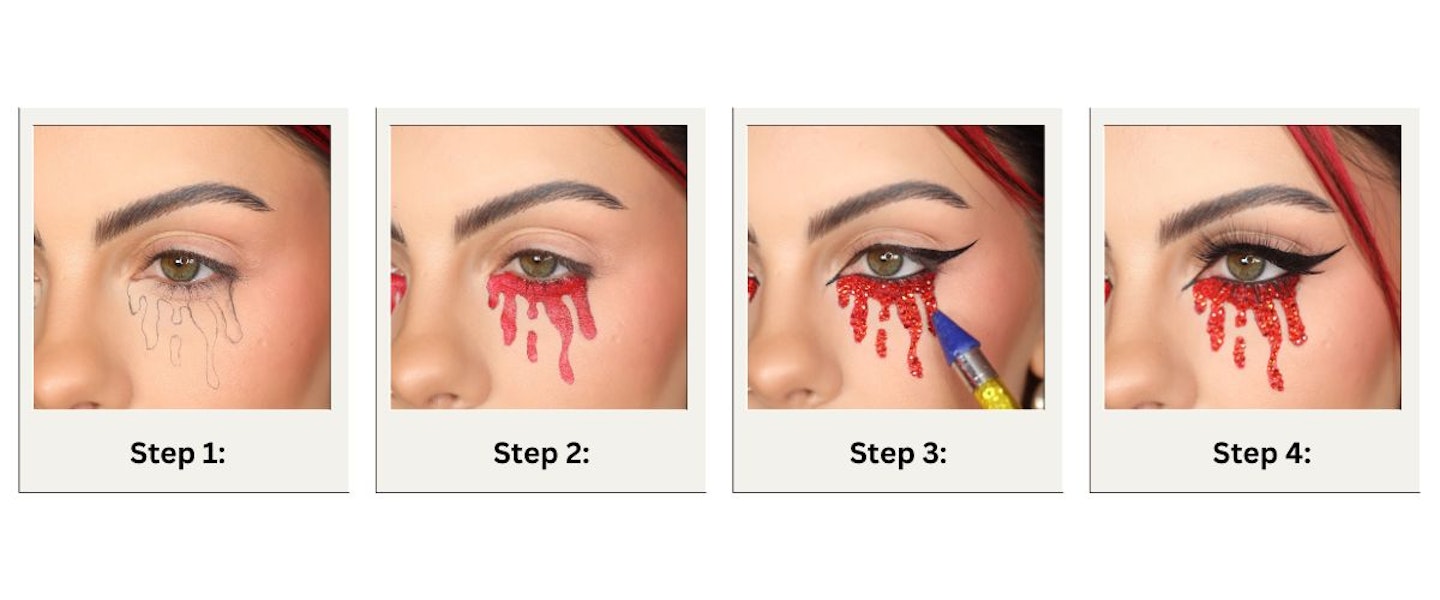 Step 3:
Taking red rhinestones, place them on top of the red drips using lash glue. Top tip, use a rhinestone applicator pen over tweezers, it will make things a lot easier.
Step 4:
Draw on a sharp wing liner in black and add mascara or lashes to finish off. I use Eylure 132 Volume and Length again.
Finish off with a bold red lip such as Charlotte Tilbury's Airbrush Lip in Ruby Blur. Add a spooky element with red vein contact lenses.
Look 2: Devious Devil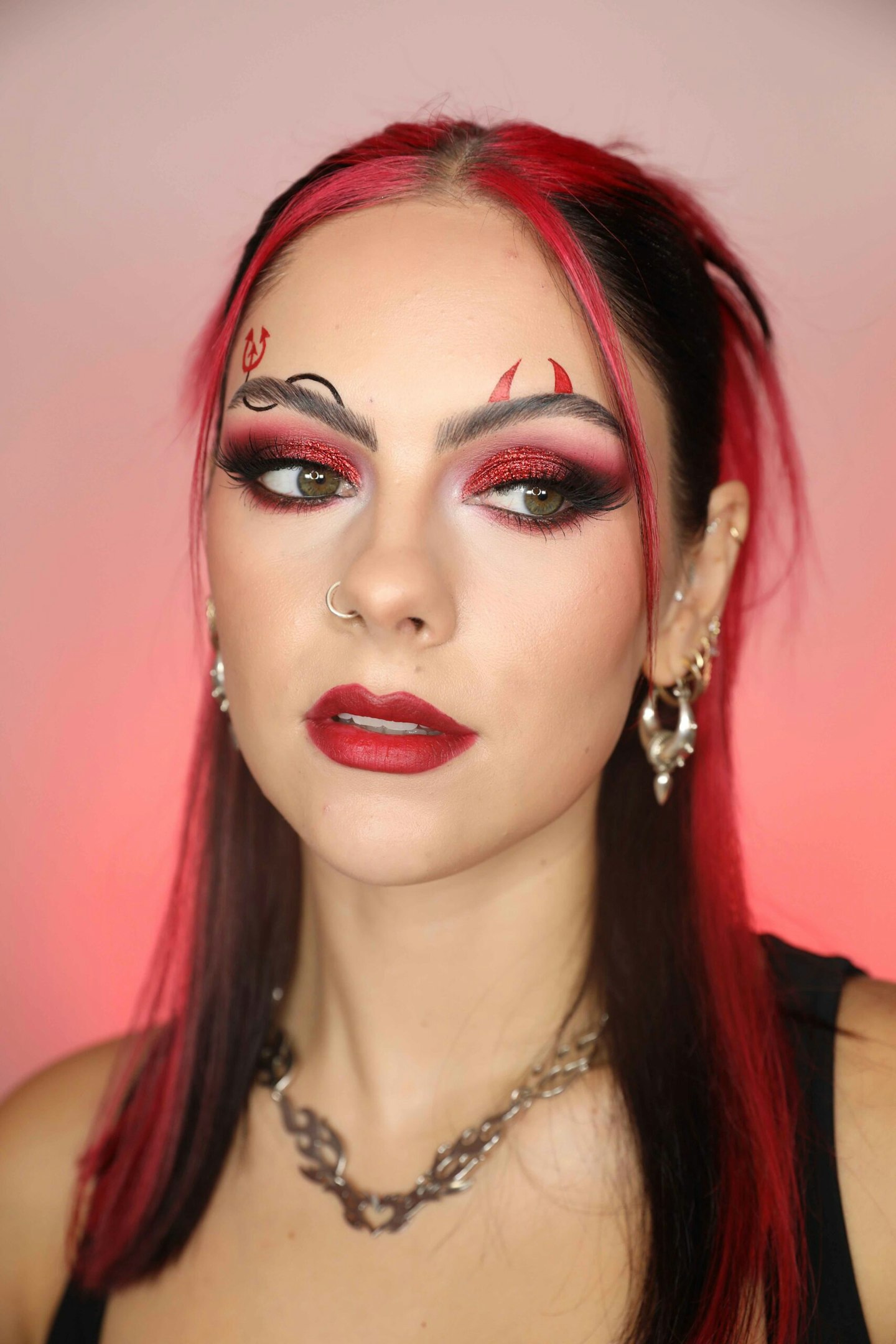 Step 1:
Prime your eyes and take a red eyeshadow, buff the product into your crease, under your eye and wing it out. Use a mix of brown and black to add depth.
Step 2:
Create a half-cut crease by applying a creme metallic eyeshadow along the natural curve of your eye socket. Then you can add sparkle with red glitter.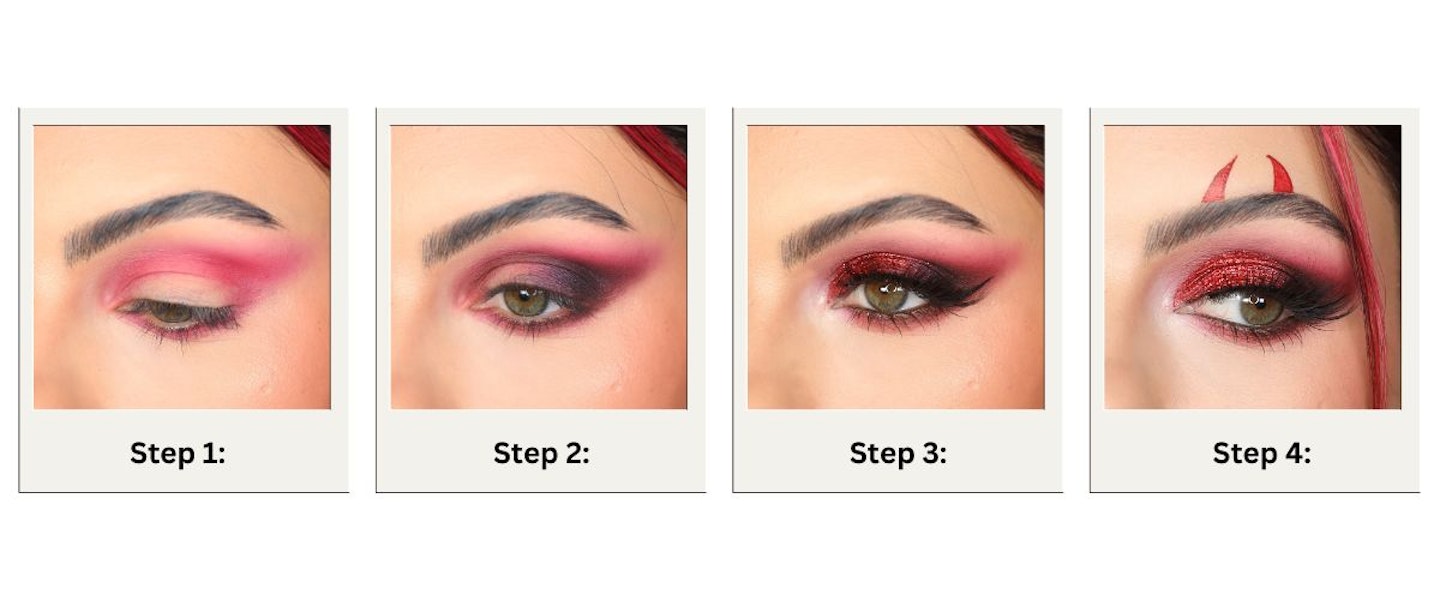 Step 3:
Finish off the eye look with either mascara or false lashes. I've glued on the Pink Fishes x Anna Lingis Allure Collection lashes.
Step 4:
Taking some face paint, paint on devil horns above one eyebrow and a devil tail wrapping around your other and finish with a red lip.
Look 3: Jigsaw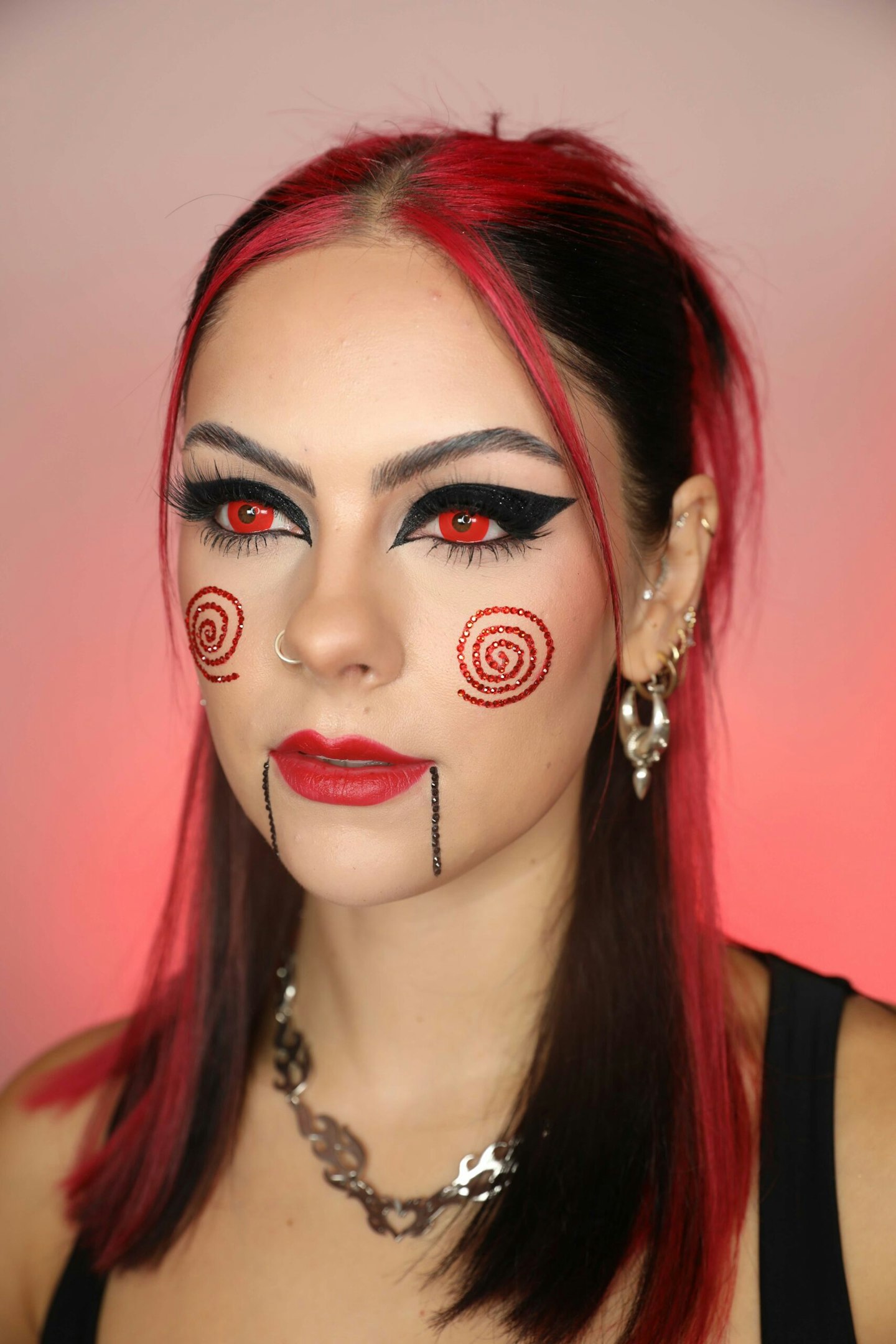 As much as we're fans of the usual spooky suspects such as ghosts, devils and a drop of blood, TV programmes and films serve some of the best inspo. So, it's only natural that one of the most iconic villains is always a popular choice.
Step 1:
Using a black kohl pencil, sketch a line following just above the natural shape of your crease, wing it out, and bring it into the outer corner of your eye. Fill in the shape using a black cream eyeshadow.
Step 2:
Then wing out the inner corner with a sharp liquid eyeliner and apply a black glitter eyeshadow to make it pop and finish off the eye look with mascara or lashes.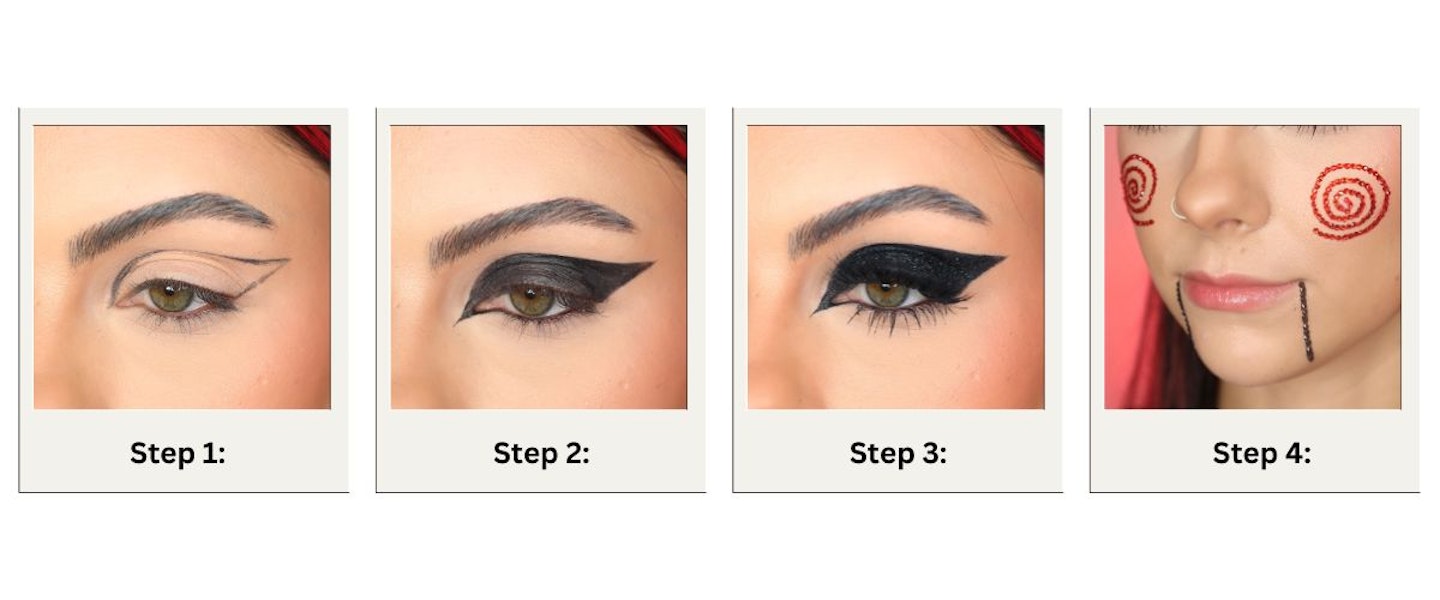 Step 3:
Taking red and black face paint, use a thin brush and create two spirals on your cheeks and two straight lines vertical from the outer corner of your lip down to your chin.
Step 4:
Then add some red and black rhinestones with eyelash glue and a red lip.
Look 4: Easy Skull tutorial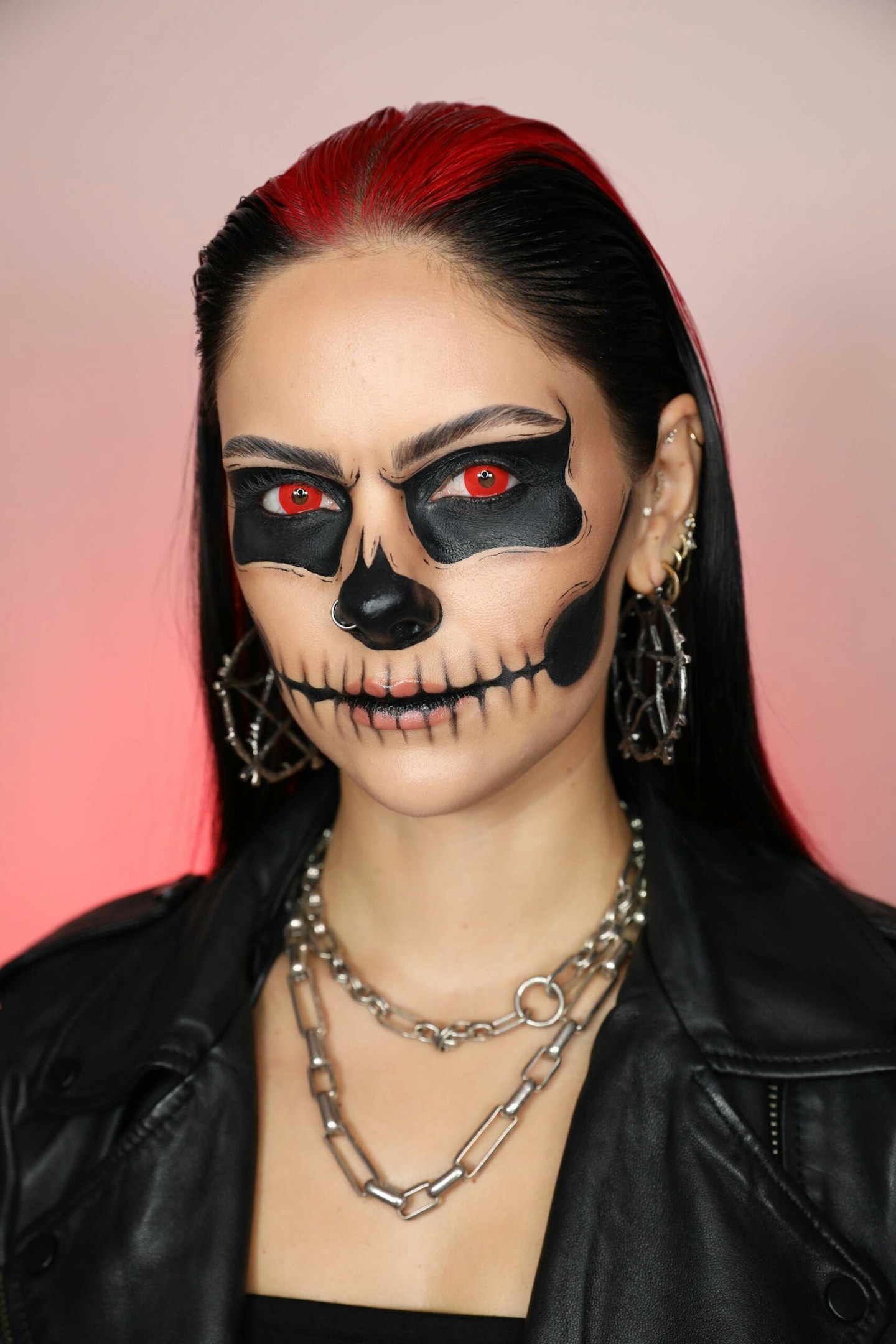 If you're someone who fully embraces make-up when it comes to dressing up, then Sophie's easy skull tutorial is one of the best.
Step 1:
Take a brown kohl eyeliner and sketch out a skull makeup design. The great thing about using a kohl eyeliner first, is that if you make a mistake, it's easy to buff out and rectify.
Step 2:
Taking black face paint, you're going to fill in the eye, nose, and cheek areas. A little tip: outline first, then fill in. And take a liquid liner to clean up the edges and sharpen the outline.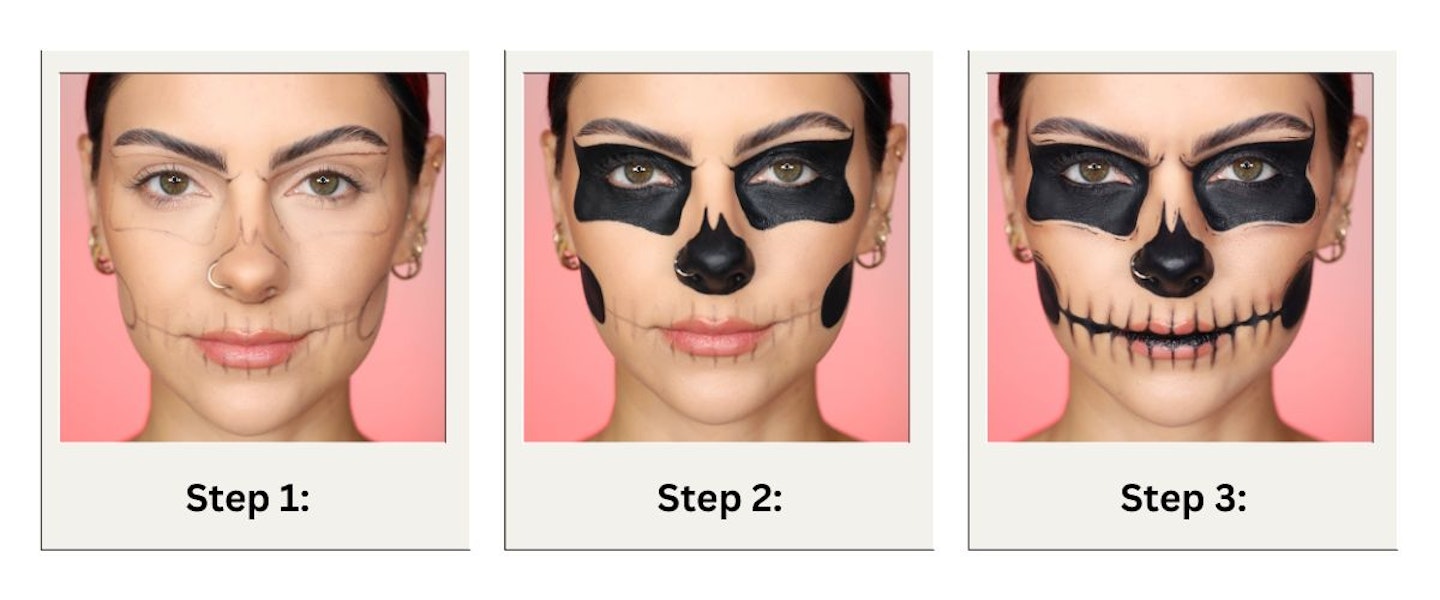 Step 3:
Moving onto the mouth area, sketch over the vertical lines lightly and make the horizontal line thick. Then round the edges of the inner lines to create a teeth-like effect.
Step 4:
Using a brown eyeshadow shade around the edges of the black areas around the eyes, the top of the nose and along the cheeks. Then, with your liquid liner, lightly sketch a few lines over the shadowed areas around the edges of the black. This is going to give some depth to the look.
And there you have it. Whether you're having a chilled movie night with the girls, or are attending a special event, then these makeup looks will take you from every day to ghoulishly acceptable in no time.