Some people say that the brows are the best at framing the face - so why wouldn't you make them look their best?
Of course, you can pluck, tweak, wax, get HD brows etc. as after all, no one wants two big bushes on their face, but a quick eyebrow tinting session can give them an energising uplift.
There are plenty of options for conjuring up thick, statement brows in seconds with the likes of makeup looks, including brow pencils and brow-growing serums. These are great to embrace the clean girl aesthetic without going overboard. And then you have treatments such as HD brows, microblading which can help However, more and more brow enthusiasts are turning to eyebrow tinting on the regs to take their brow game to that next level.
But what is eyebrow tinting exactly? Does it suit all hair types? Where should you start? And how does it work?
Well, don't worry, we've got your brows, boo.
What is eyebrow tinting?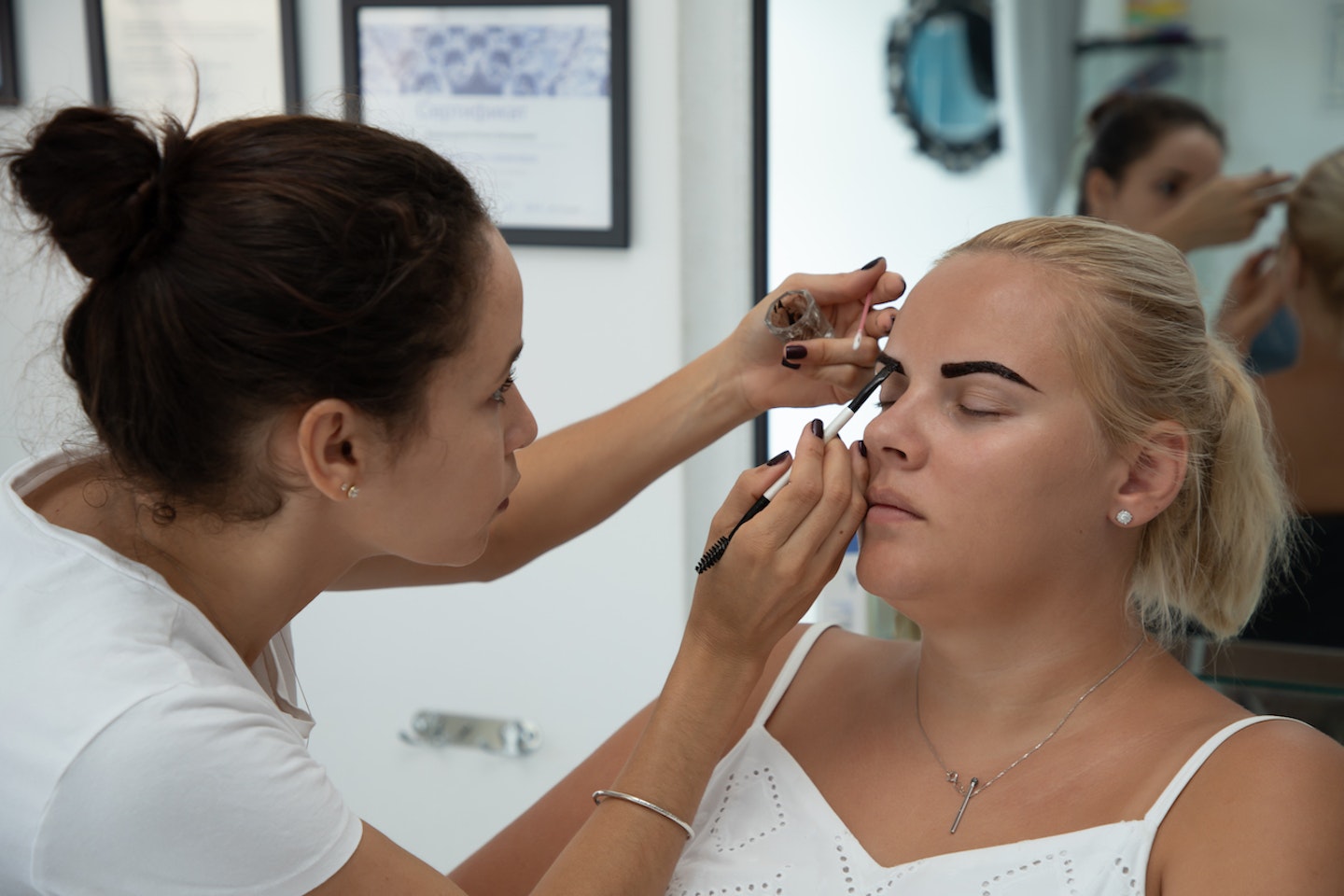 Eyebrow tinting is simply the process of applying a semi-permanent dye to the brows as a means of enhancing and shaping them. Just like hair dyeing, this can be done professionally at a salon or at home - if we're being honest, the same risks apply. If you can do it yourself at home, there are some great products out there, but if you want stress-free precision and flawless execution, and let's face it, who doesn't? It's always best to get them done professionally.
The biggest advantage to choosing (quality) tinting is that the results can last up to several weeks (think choosing waxing over shaving), so you can pretty much cut eyebrows out of your morning routine.
How long does an eyebrow tint last?
The brow dye can usually last up to anything between three to eight weeks. However, it all depends on how you treat them after with such things as how often you're washing your face and getting them wet, what type of makeup remover you use and sun exposure.
One of the key facts to know and to make the dye lock in straight away is to not get your eyebrows wet for the first 24 hours.
If you're looking to make your new brows last longer, experts advise pairing eyebrow tinting with a keratin treatment or using products with conditioning qualities to keep them hydrated.
When it comes to the time before you're due a revamp or simply can't get booked in for a while, there are countless eyebrow gels which come with a tint that you can use daily to give them that boost.
How do I choose the right colour?
This one's actually quite simple: your eyebrow colour should match your skin type and an aspect of your hair colour. For a natural look, your new brows should be two shades darker than your hair colour. Go darker if you're looking to bring the DRAMA, but speak to a professional for the best advice.
What do I need to know if I am tinting at home?
Trying to do things yourself is obviously a great money saver, however, it comes with its own risks that you may end up regretting. All you need is a slip of a finger and you could've extended your brows by 3cm.
First thing to do before applying the dye is to make sure your eyebrows and the area around them are prepped. Firstly brush through the hairs with a spoolie-style brush so they are separated. Then get a small amount of Vaseline and wipe it around the brows so no dye will transfer to where it doesn't need to.
That being said, you can maintain killer brows with these at-home eyebrow tinting kits and you certainly don't need an NVQ in beauty therapy to use them, but definitely read the instructions carefully.
How do you remove eyebrow tints?
If you find once you've delved in, it's not to your liking or you've accidentally gone five shades darker than you wanted then thankfully there are some ways to remove eyebrow tint.
Using oil-based makeup remover and clarifying shampoo is a good start. You can also cleverly cover bold brows using a mineral-based foundation or powder to lighten the tint - then deal with battling the beast when you have some you time.
So whether you go big and bold with a dramatic new brow look or want to give them some simple TLC, then tinting can be your way forward.