Despite false eyelashes turning blinking into an Olympic sport, falsies are undoubtedly the final layer of pretty much every single make-up look. However, we've spent many years poking ourselves in the eyes, sticking our fingers together with eyelashes glue and constantly reapplying our lashes mid night out after they fall into our espresso martinis. Not ideal. We're assuming you have somewhat of a wobbly relationship with false eyelashes based on the fact that you're here; unless, of course, you really mucked up that false eyelash application and can't see your screen properly.
However, thanks to TikTok, Instagram and YouTube and simple hacks from make-up artists (and a couple of Love Island stars, tbf), applying false eyelashes has got a little simpler and we're here to pass on the knowledge because we're totally good that way.
WATCH: So, how do you apply false eyelashes?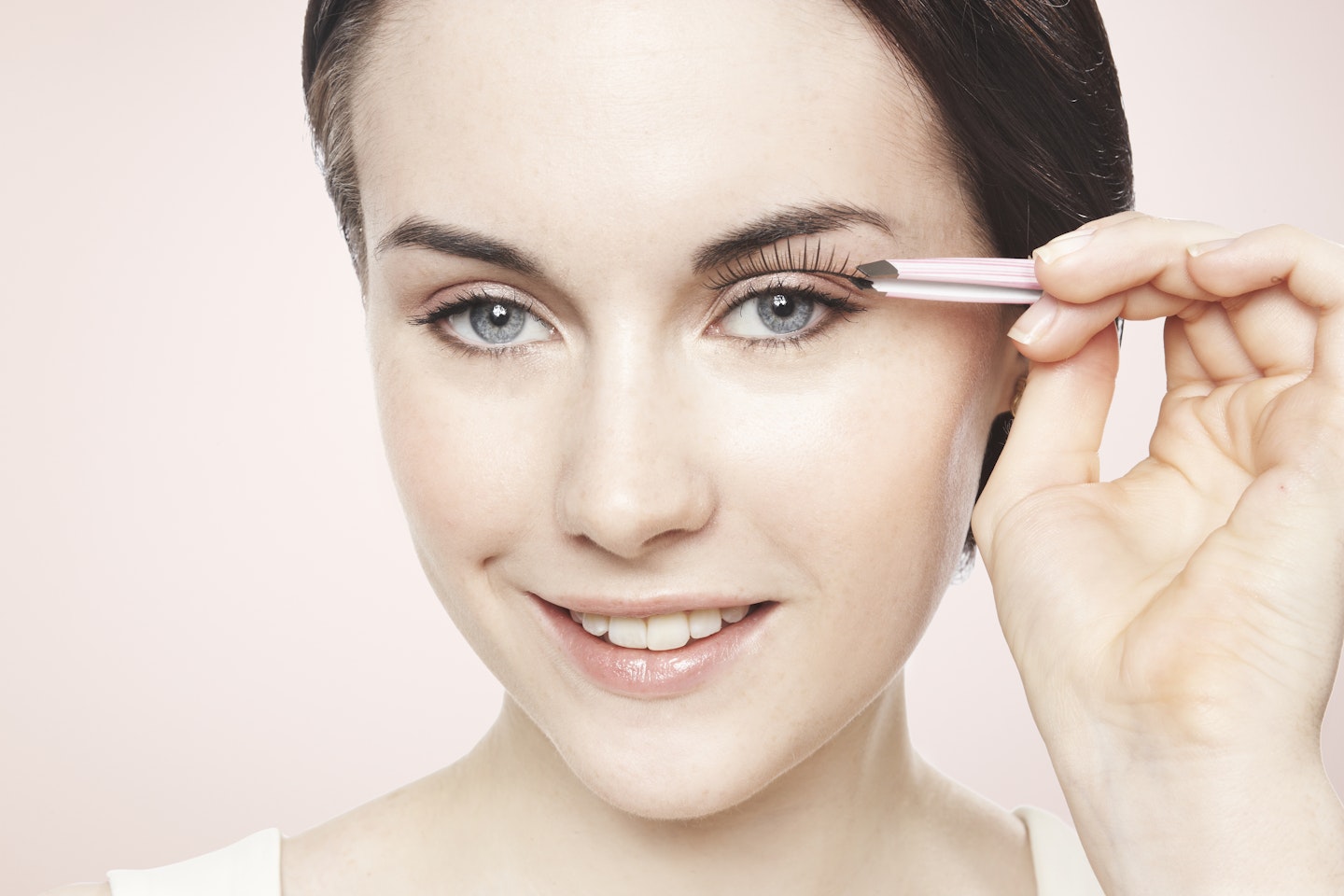 We've done a little bit of research, and we've found the easiest step by step guides to apply false eyelashes from TikTok. We like quick, simple and workable here at heat, so hopefully these will help save your false eyelashes game.
Here's a quick summary: the key is place, don't force.
It's like we always say: if in doubt, TikTok.
So how do you apply false eyelashes? A step-by-step guide...
Pick the right false eyelashes for you - experiment and be patient with yourself (we would recommend a pair like these beginners)

Give your natural eyelashes with a light brush or comb and a wipe.

Curl your eyelashes.

Apply eyeliner.

Apply mascara.

Apply eyelash glue to the centre of the false eyelashes (generous amount), then spread with a q-tip. Do not pour lash glue directly on to the eyelashes.

We know your friends are pre-drinking and an Uber is on the way, for the love of your eyelashes, wait 30 seconds for the glue to dry before applying to your real eyelashes.

Adhere the strip to your lash line (where your eyeliner is) and press it into place using tweezers.

Apply black eye liner to hide the lash strip from view.

Add another coat of mascara.
Trust us, your eyes will be eye humping cameras like Kim K in no time. Just be patient with your lashes - we can't stress that enough.
What are eyelash tweezers?
Eyelash tweezers help you position your lash without getting glue all over your fingers. They're super cheap and should be a staple in all eyelash lovers make-up bag. If your partial to getting your fingers stuck together, or God forbid, stuck to your face after applying eyelash glue, then eyelash tweezers may just be your new best friend.
Description
For less than £3 these eyelash tweezers will help you apply your false eyelashes.
The geniuses over at Dose Of Lashes have made things even easier with their adhesive liner, allowing you to apply the adhesive directly to the lash line and then just attach the eyelash to the lash line which will stick straight away.
This is available in clear which just looks like they've stuck their lashes down with normal glue, or black if the user wants to get that liner look as well. It works very much the same way as magnetic lashes minus the magnets. They told heat, "Our Dream Liners are perfect for beginners as the user doesn't need to be an expert at applying glue to the lash band and then trying to apply the sticky lash which can be difficult for beginners."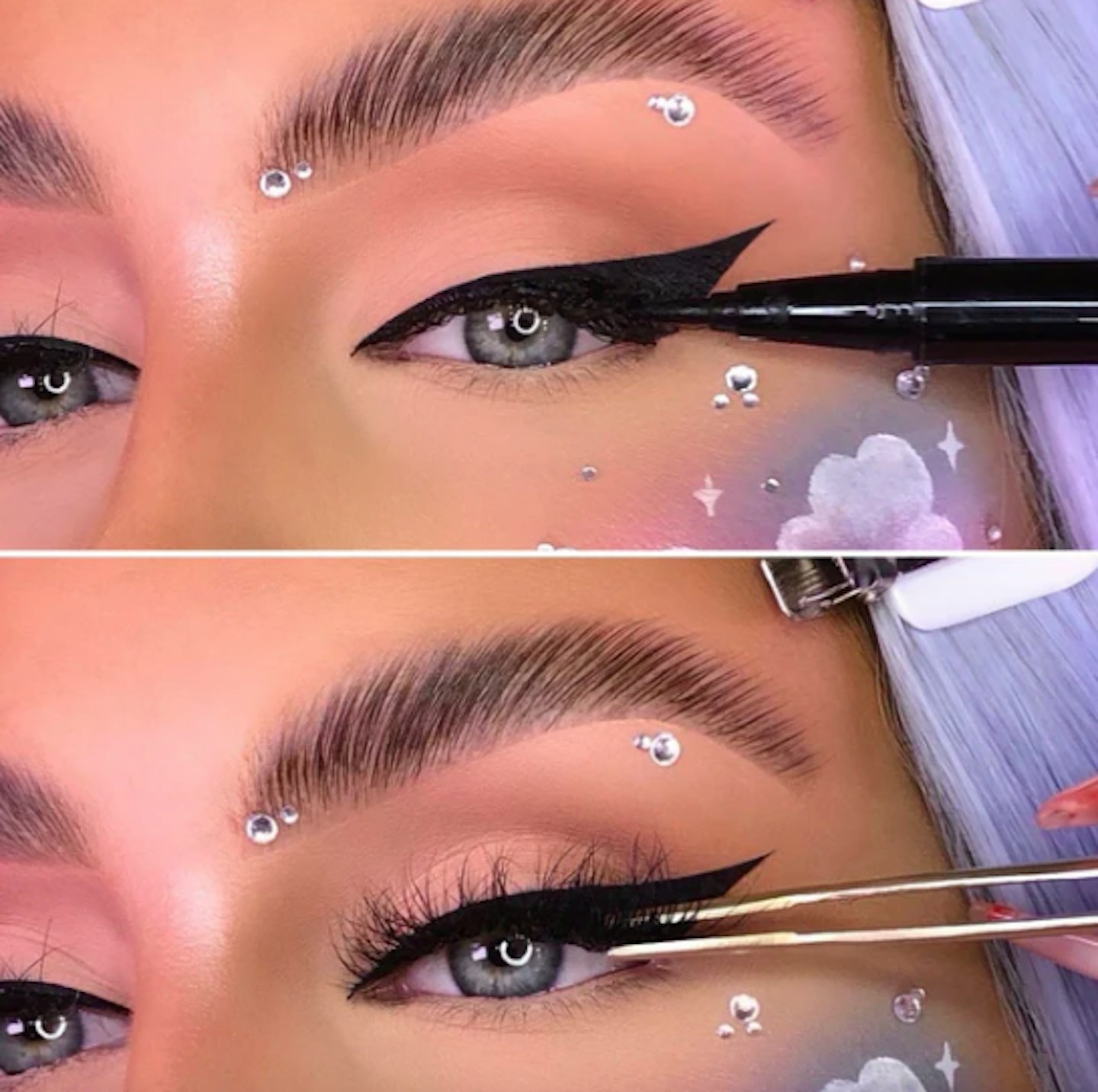 Dose Of Lashes
How to apply false eyelashes without glue
If you don't want to use glue, because your eyes are super sensitive or you have had a bad experience using glue, you can make a homemade alternative using sugar, honey, and water. You can also use heated flax seeds and water.
Magnetic lashes are also becoming more popular and eco-friendly. They attach by using two magnetic strips that snap over the lash line or you can apply a magnetic eyeliner before you place the lash. Plus, they last a lot longer than lashes that need glue.
How to apply false eyelashes according to the Instagram eye makeup gawds
Thanks to Instagram, there's now hundreds of little tips and tricks to help make a life easier. Here's a couple of our faves below:
How to apply false eyelashes when you wear glasses
If you're a glasses wearer, wearing false lashes can be a little annoying as the lashes can clash against your frames all night long, making it feel like two moths are trapped behind your lenses *shudder*. Don't be put off though, as opting for eyelashes that are a shorter length and have more of a dramatic upward curl will be your saviour.
And if all else fails, ask a drag queen
These queens of queens understand false eyelashes, in fact, some of them wear two or three pairs on top of one another for a guaranteed slay and we have all the respect.