New hair, who this? Once you've taken the plunge and dyed your hair a gorgeous shade, you want to keep your stunning blonde or silver hair looking fabulous for longer with the best silver shampoos. This bold look is not for the faint-hearted, but we're absolutely all over it.
And, we're not the only ones obsessed with this gorge hair trend. Over the last few years, some of our fave celebs have been rocking this cool AF look making their hair look extra glossy.
Queen Gaga, for example, has rocked the look more than a few times and looked amazing doing it.
Let's get to it then. If you're new to the world of silver shampoos, have newly bleached hair or natural blonde, then you're probably scratching your head thinking what on earth does this do? Well, we've got you.
What does silver shampoo do?
Just like hair toner, silver shampoo banishes the unwanted yellow undertones that can occur when dying your hair. And, we're on board for creating gorgeous grey locks.
According to L'Oréal, "Also known as purple shampoo, silver shampoos like L'Oréal Professionnel Série Expert Silver Shampoo, contain a deep purple pigment that acts as an anti-yellowing agent to counteract hair brassiness. This neutralises strong yellow tones in artificially blonde, grey or silver hair, helping you maintain a beautiful cool colour."
SHOP: The best silver shampoos 2023
The best silver shampoo UK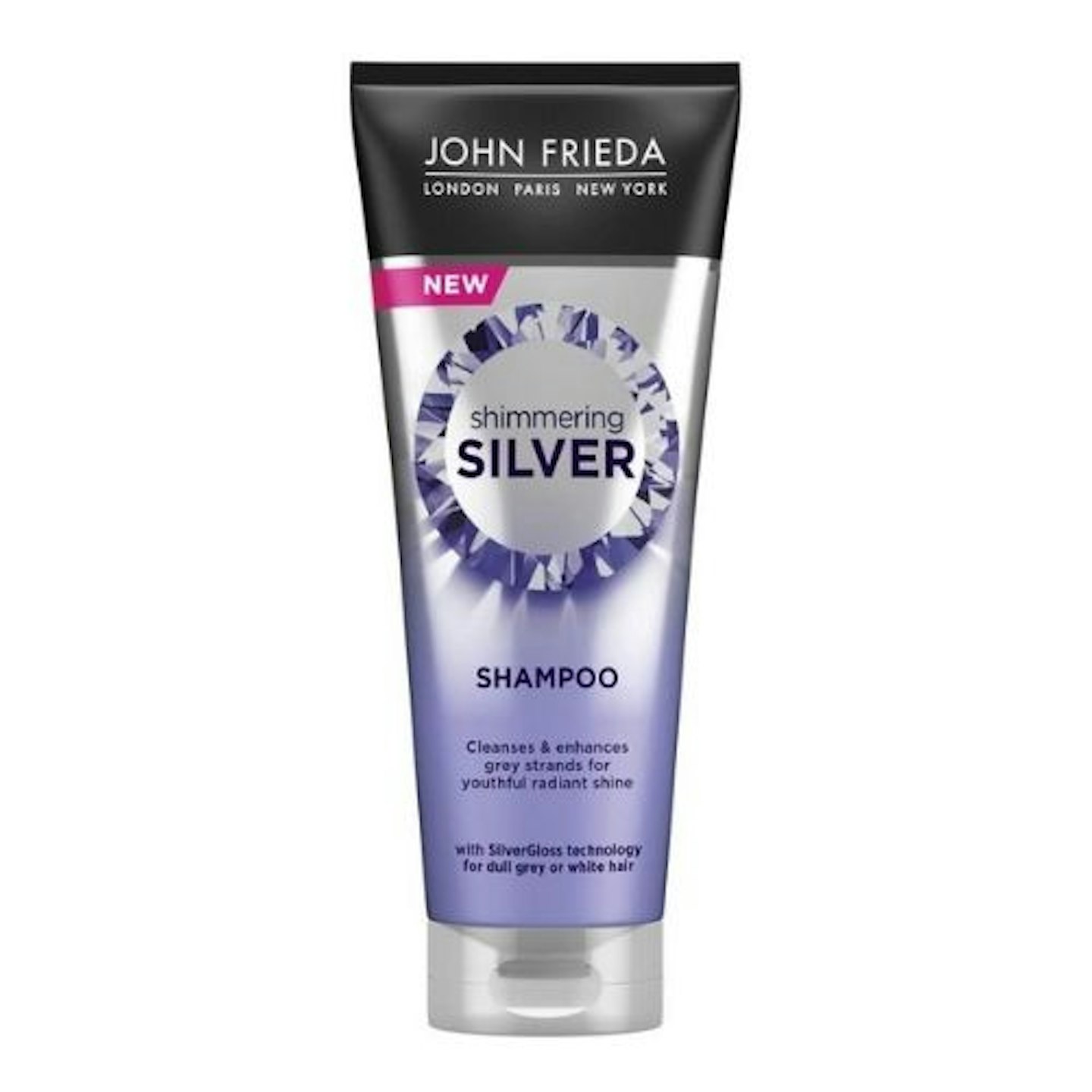 1 of 12
CREDIT: John Frieda
John Frieda Shimmering Silver Shampoo
Editor's pick for silver hair: Anyone with full grey or white hair can TRANSFORM their style thanks to the silver gloss technology in this lit shampoo. Counteract brassy tones and get a radiant shine.
Need to know: Volume: 250ml
Additional features: Uses silver gloss technology.
Verdict: The John Frieda Shimmering Silver Shampoo helps lighten hair, add grey tints and leaves a silky, soft feeling. The beauty essential gets a 5/5 from us.
Review: "The absolute answer to my blonde going grey hair, adds highlights and tone."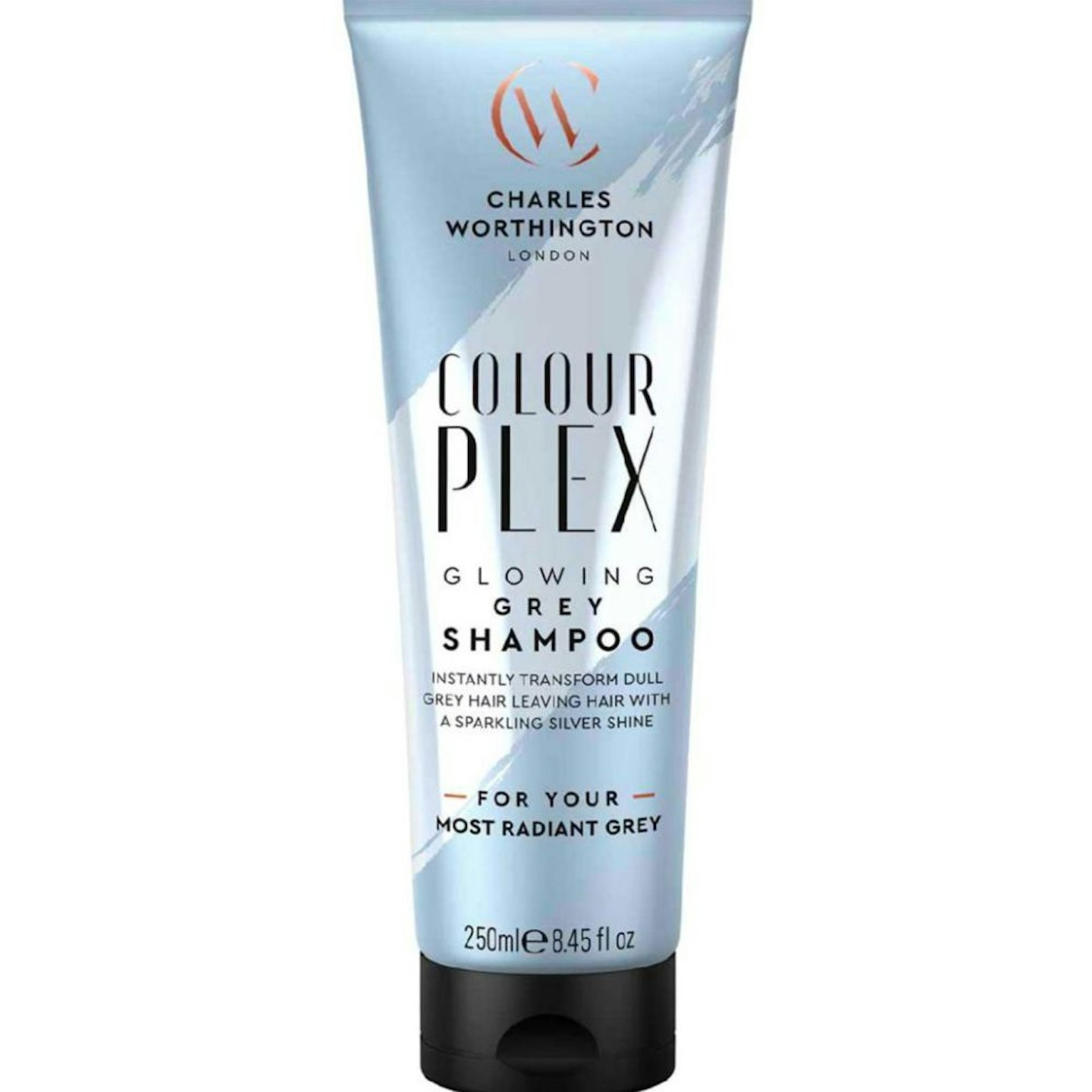 2 of 12
CREDIT: Charles Worthington
Charles Worthington Colourplex Glowing Grey Shampoo 250ml
Best silver shampoo for grey hair: Grey hair deserves its shine too, and with Charles Worthington's Colourplex range, you can sure trust that your hair's going to be smooth and silky.
Need to know: Volume: 250ml
Verdict: Being suitable for naturally grey hair as well as bleached 'dos, the Charles Worthington is an easy addition to any hair routine.
Review: "I love this shampoo so much. I grew my greys out during lockdown and they now look even better thanks to this shampoo. The shampoo is easy to use and leaves no residue after rinsing. It left my hair so clean but soft too and it really enhanced the grey colour in my hair."
3 of 12
CREDIT: Fabuloso
Fabuloso Platinum Blonde Toning Shampoo
Editor's pick for platinum blonde hair: We're obsessed with the Fabuloso Platinum Blonde Toning Shampoo- it's a secret game-changer that we're willing to expose just for you. Vegan, cruelty-free, and made without sulfates, parabens or gluten: it's the perfect candidate- and boy does it deliver.
Need to know: Volume: 250ml
Review: "The best shampoo for blonde hair. Very pigmented violet tones and sulphate and paraben free. Hair is left shiny and ashy blonde."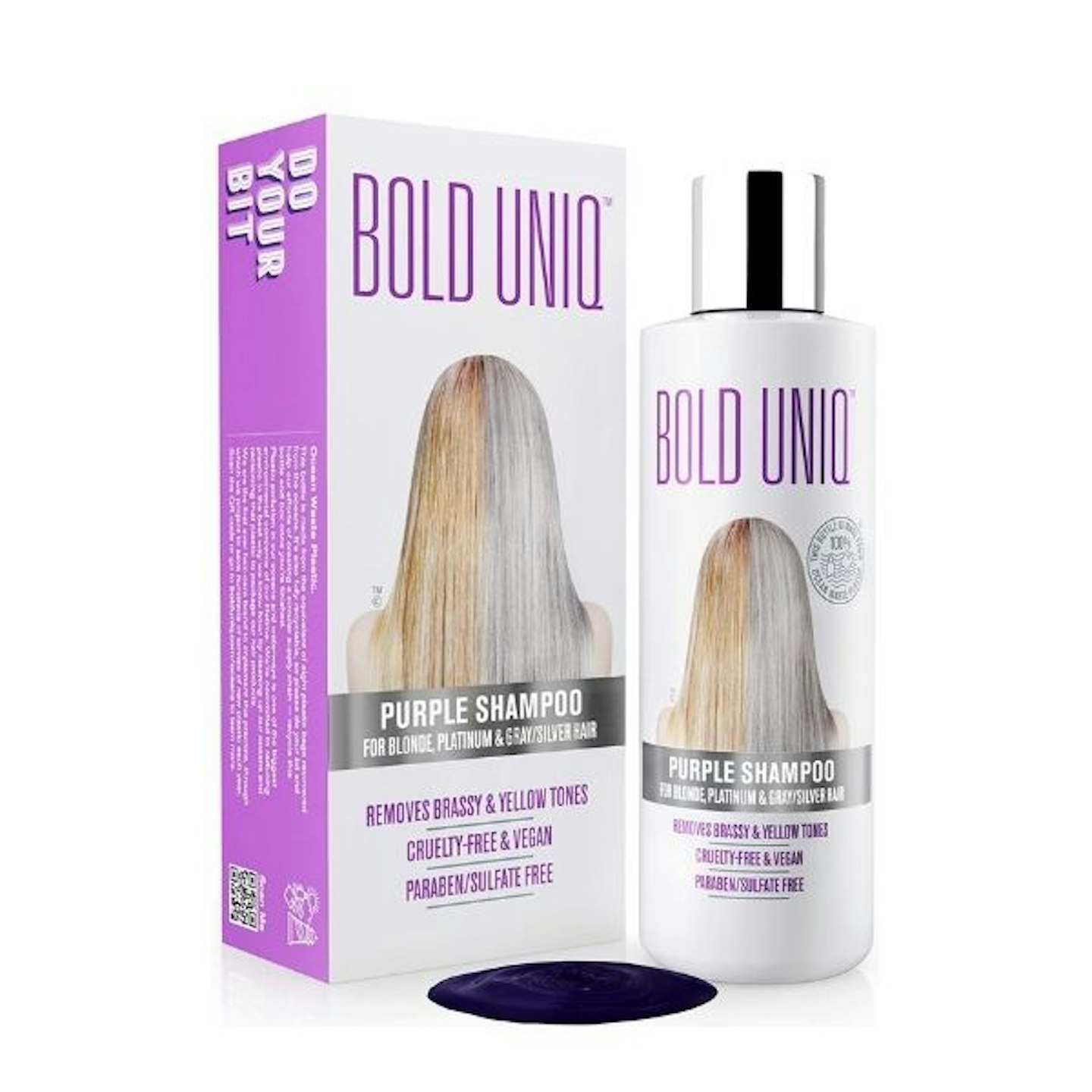 4 of 12
CREDIT: Bold Uniq
Bold Uniq Purple Shampoo for Blonde Hair
Best for fast results: Paraben and sulfate-free, this silver shampoo will counteract any unwanted yellow hues and boost cool tones for an ashy, platinum result.
Need to know Volume: 250ml
Additional features: Sulfate and paraben-free, vegan-friendly, formulated with vitamin B5 to soften hair and add shine.
Verdict: This is a highly effective silver shampoo that will remove any brassy, gingery tones from your hair within minutes. Be warned: it will stain your hands if you don't wash immediately.
Review: "Wow!! How have I never heard of this before?! I don't write reviews very often, but for this I had to. I have ombré hair and the blonde had started to go yellow/orange, as it always does. This did exactly what it says it will do. I left it on for two minutes and my hair is now a beautiful ash blonde. I cannot believe how good this stuff is, it is truly amazing. Fantastic product and no I wasn't paid to write this!"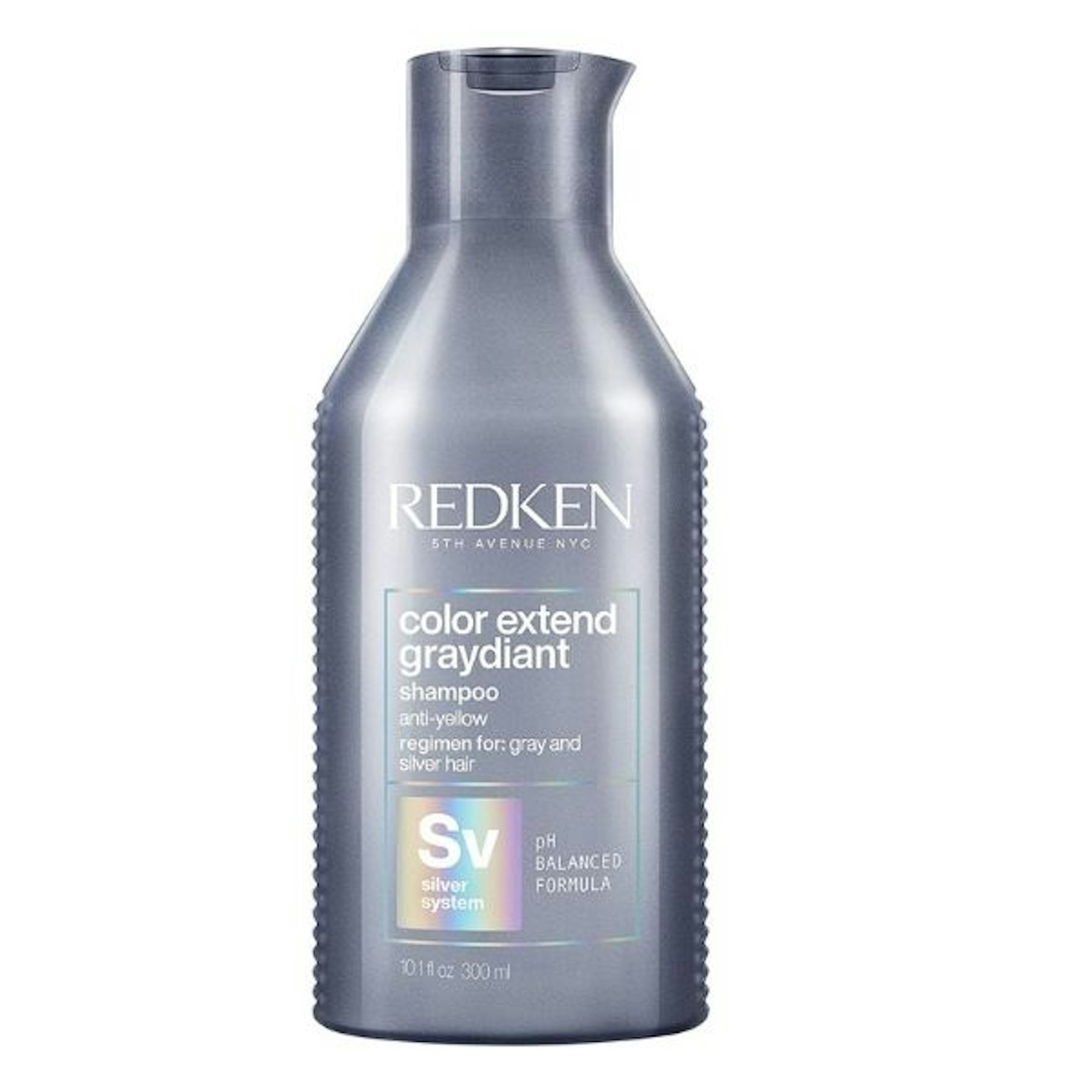 5 of 12
CREDIT: Redken
Redken | Color Extend Graydiant
Best professional silver shampoo: In terms of professional toning solutions, Redken is up there as one of our faves. Powered by science, this formula will lift brassiness, and colour correct yellow undertones, leaving you with strong, shiny silver and grey hair.
Need to know Volume: 300ml
Additional features: Infused with citric acid and the SV silver system to remove unwanted yellow and orange hues.
Verdict: If you want long-lasting, salon-standard results, look no further.
Review: "The best purple shampoo I have ever used by far! Leaves my hair soft, smooth and smells great."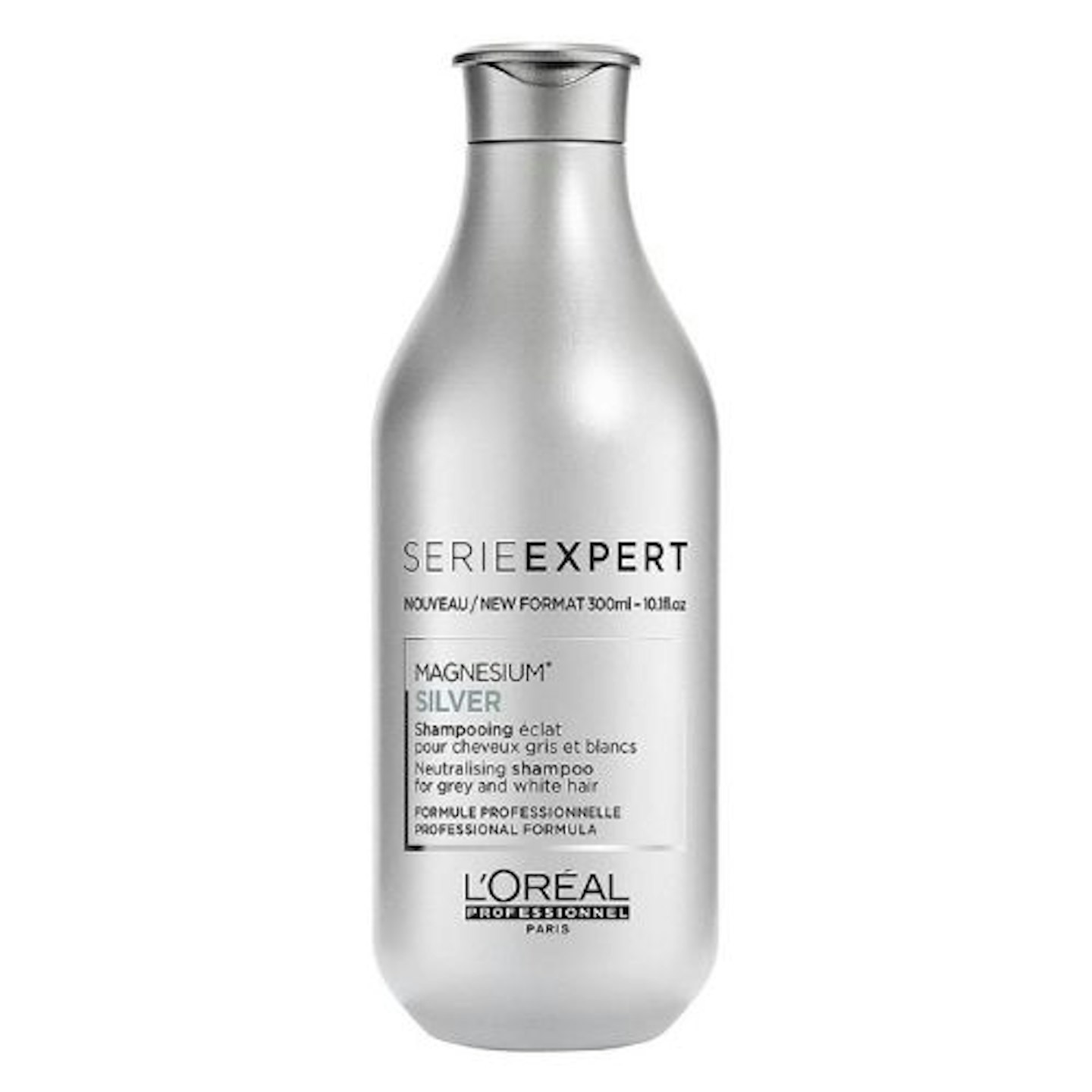 6 of 12
CREDIT: L'Oréal
L'Oréal Serie Expert Silver Shampoo
Best for blondes: Take unwanted yellow, brassy tones and transform your locks into your inner ice queen. You'll never have a dull hair day again.
Need to know: Volume: 500ml
Additional features: Glossy shine finish.
Verdict: Overall, if you're looking for a hair product that will take your hair from being yellow to white, this is a fantastic option. We love that we can see a difference from the first time using it. The only downside to this shampoo is the fact that it can leave your hair dry.
Tried and tested review, Commercial Content Writer, Lily Anderson said: "I was shocked at how well this shampoo actually worked. The brassy tones in my hair completely vanished and I was left with locks that were SUPER blonde. Although not quite silver, it left my hair with a fresh look- just like I'd just popped dry shampoo in my roots. I know, you know what I mean..."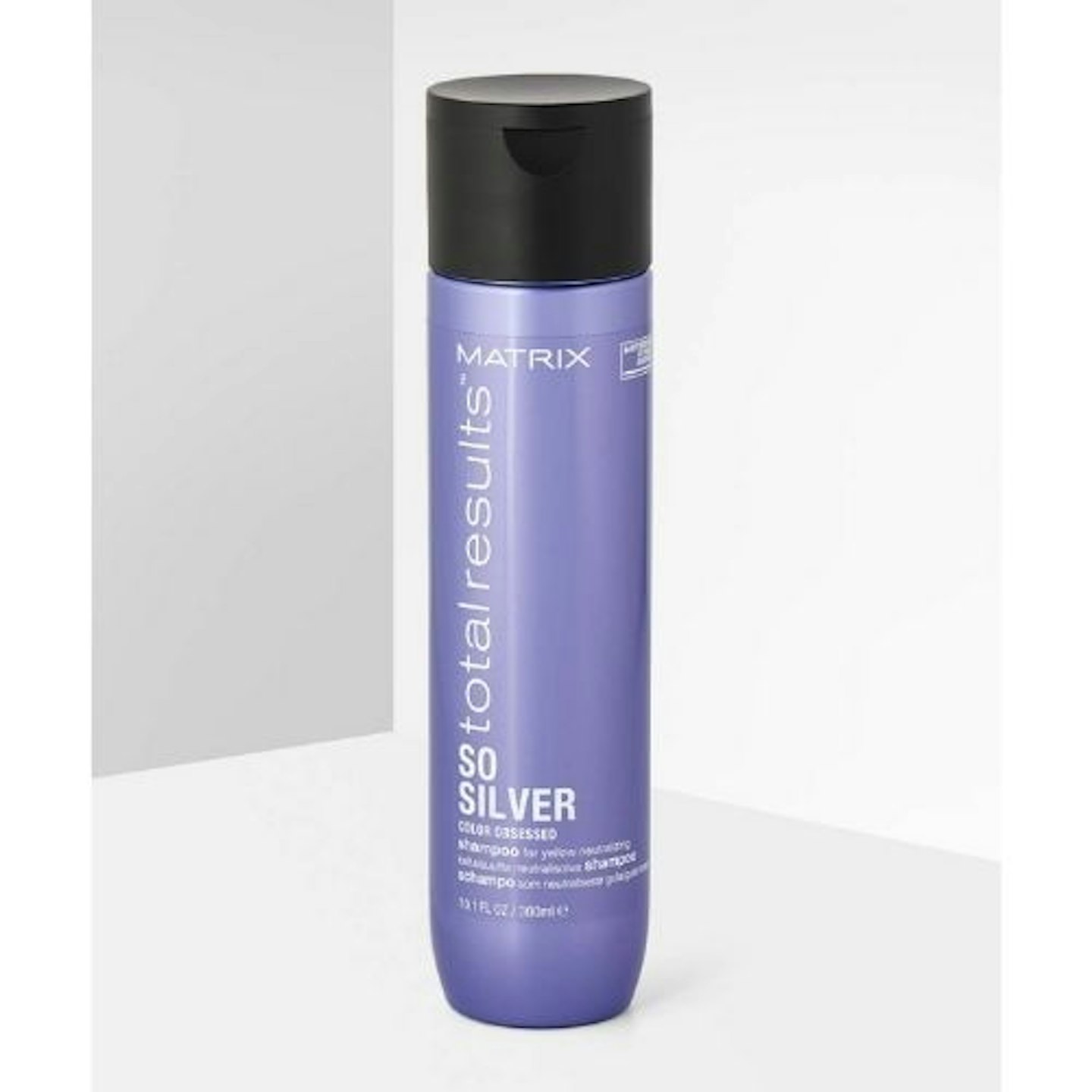 7 of 12
CREDIT: Matrix
Total Results Color Obsessed So Silver Shampoo
Best for all hair types: Cool violet tones are where it is at. Counteract unwanted brassy tones thanks to this incredible product.
Need to know: Volume: 300ml
Verdict: Best for blondes, platinums and greys. Plus, we love that it works for all hair types and textures.
Tried and tested review, Commercial Content Writer, Lily Anderson, said: "Despite frantically worrying that my shower was going to to turn a shade of purple (it didn't), this shampoo has done wonders for my hair. It smells different to other purple shampoos that I've used before, it was almost fruity. As soon as I dried my hair, I could see the yellow had mellowed and left me with a babein' blonde do'. Very small tints of silver could be seen on my first go, definitely will be a cute build up over time."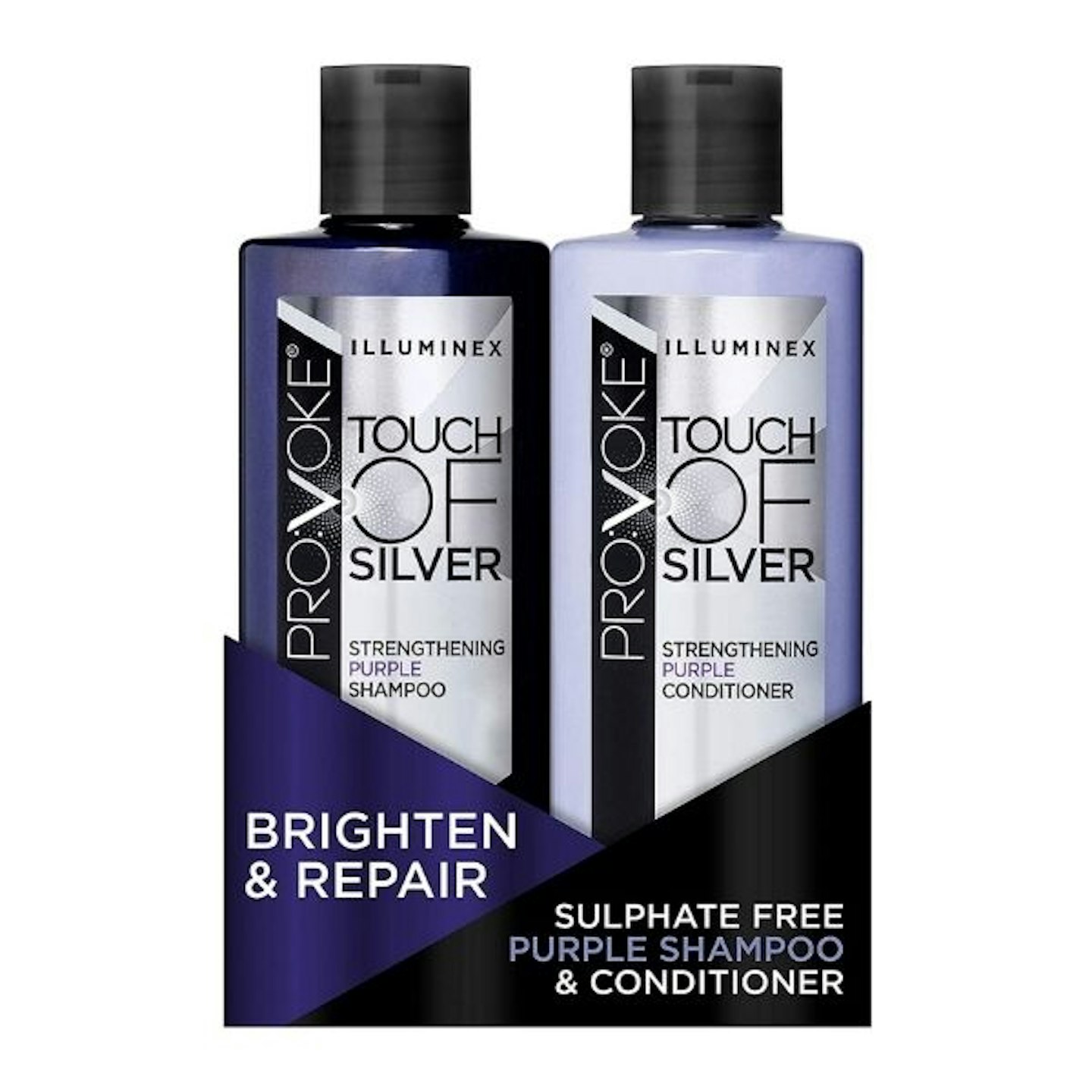 8 of 12
CREDIT: PRO:VOKE
PRO:VOKE Illuminex Touch of Silver Strengthening Purple Shampoo and Conditioner
Best 2-in-1 shampoo and conditioner: As part of its most advanced haircare range, PR0 is bringing us a silicone, sulphate and cruelty-free shampoo that will enhance, strengthen and condition your hair, all in one magical formula.
Need to know: Volume: 400ml
Additional features: Contains aquaplex for extra hydration, sulfate and silicone-free.
Verdict: This shampoo duo will lift brassiness with one wash, leaving it soft and silky thanks to the powerful conditioner.
Review: "Great product. Transforming my dull blonde into bright beautiful flowing locks! Great value for shampoo & conditioner."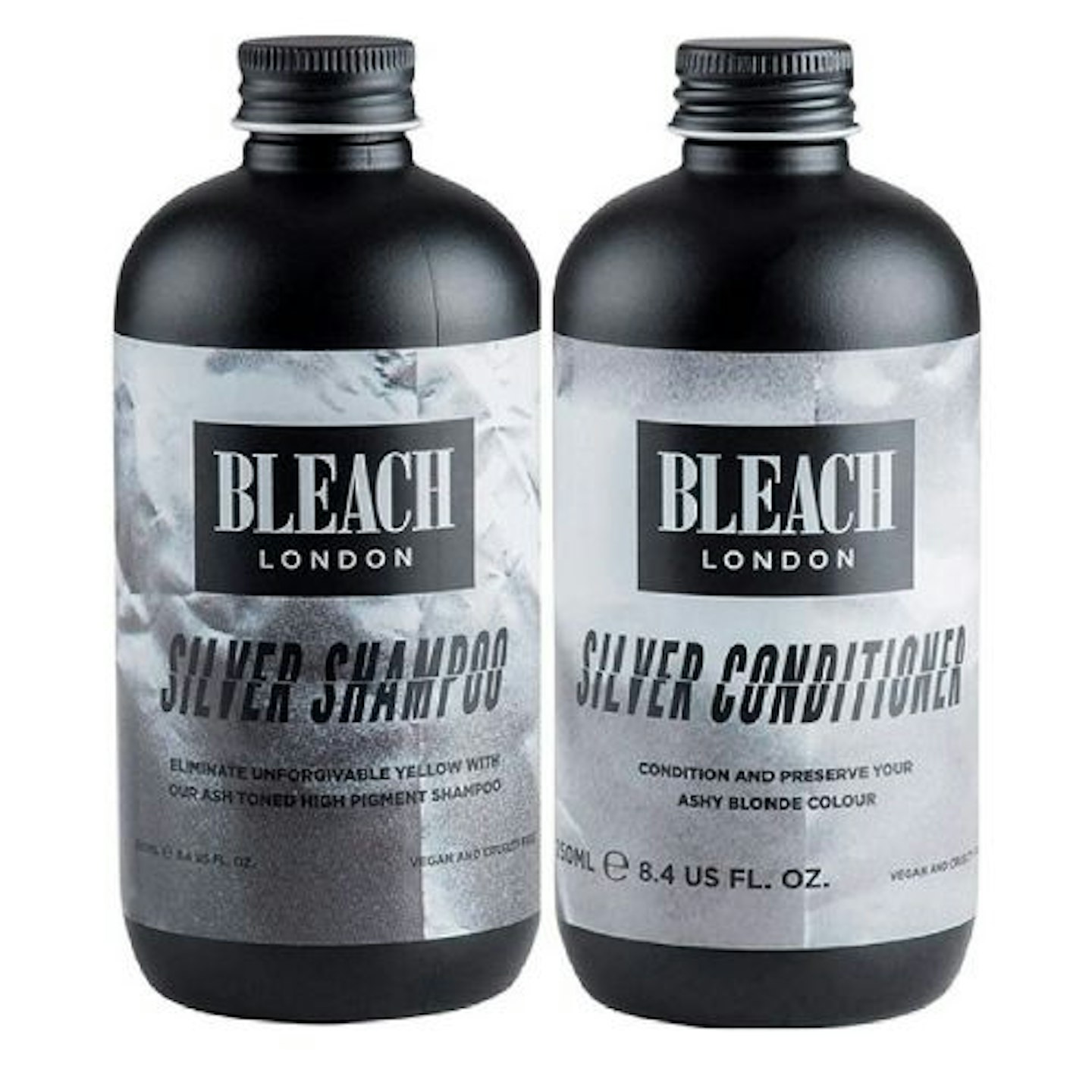 9 of 12
CREDIT: Bleach London
Bleach London Silver Shampoo and Conditioner
Best value: Maintain and nurture your blonde hair thanks to this incredible silver shampoo. We're all about this shampoo and conditioner duo. You can also bag the Bleach Silver Conditioner here too.
Need to know: Volume: 250ml
Additional features: Uses wheat proteins and vitamin B5 to moisturise hair.
Verdict: The shampoo is so strong! You might find that this turns your hair more of a purple or blue colour than silver. Try using less product and leave it at least two weeks before reaching for this product again.
Tried and tested review, Jade Moscrop, Deputy Commercial Content Editor, said: "Bleach London is my go-to when it comes to hair dyes, so it's natural I'd go to them for my toning needs, too. This toning shampoo and conditioner leaves my hair smelling great, feeling great and knocks out any unwanted warm tones. I use it a couple of times a month to refresh my hair."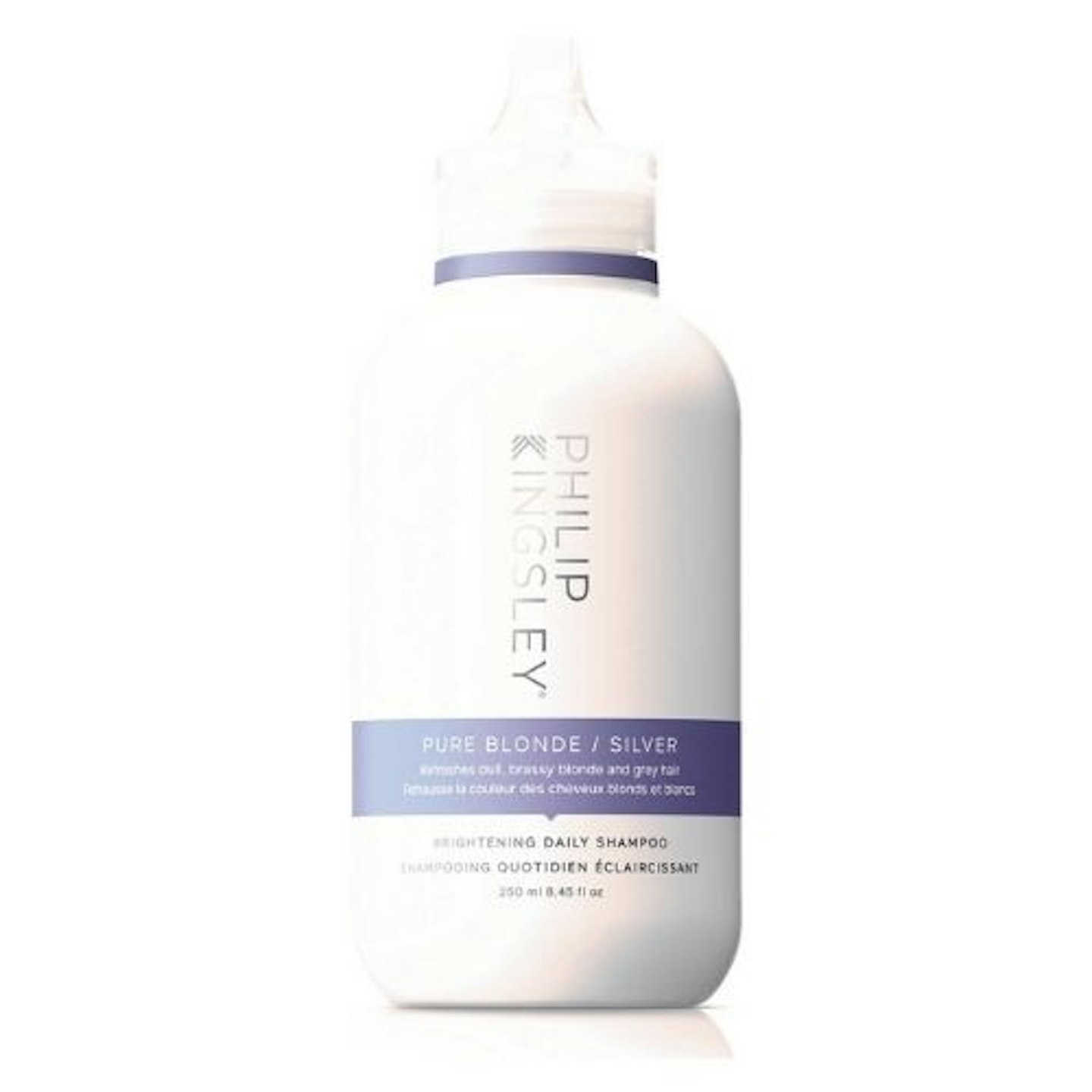 10 of 12
CREDIT: Philip Kingsley
Philip Kingsley Pure Blonde/Silver Brightening Daily Shampoo
Best for shiny hair: Get the most out of your new hairstyle and look after your scalp thanks to the Philip Kingsley Pure Silver Shampoo. We're all about the gorgeous shine this gives off.
Need to know: Volume: 250ml
Additional features: Formulated specifically for grey and bleached hair.
Verdict: A good brightening shampoo if you have time to use it every day.
Review: "My hair feels good and a little goes a long way, gives my blonde streaks a little lift in-between visits to hairdressers."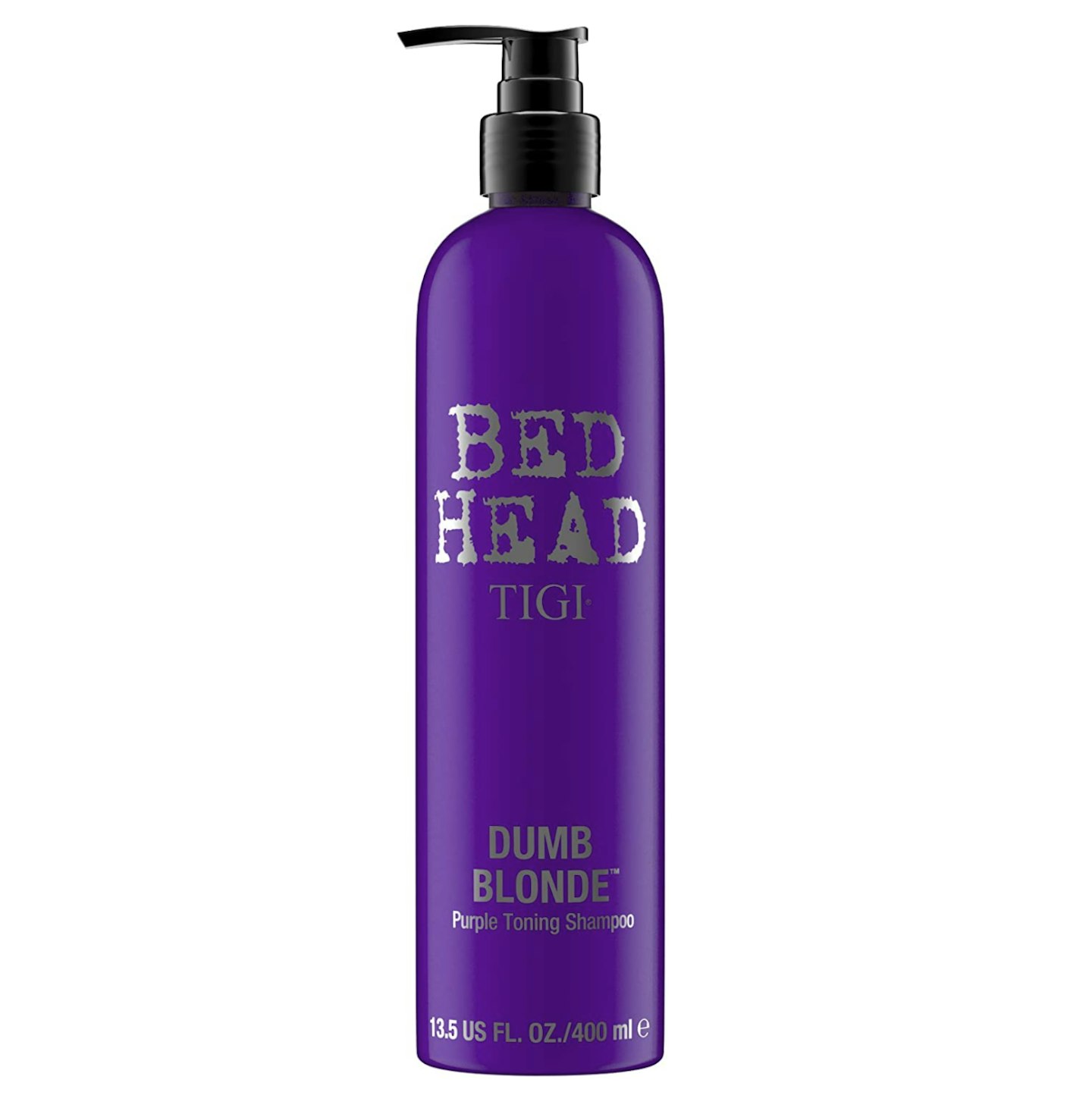 11 of 12
CREDIT: Bed Head
TIGI Bed Head by Tigi Dumb Blonde Purple Toning Shampoo for Blonde Hair
Best scent: This Dumb Blonde toning shampoo from Tigi is anything but dumb - it's powered by violet pigments to improve blonde hair vibrancy and shine, while refreshing and detangling too.
Need to know: Volume: 400ml
Additional features: The fragrance has a tropical twist.
Verdict: We'd totally recommend this shampoo for anyone with blonde hair. Not only does it leave your hair with a cool colour, but it'll detangle and leave your strands frizz-free.
Review: "I was sceptical about this shampoo, but I'm a convert. My hairdresser suggested a toning shampoo for my ashy blonde with silver tones coloured hair. After a couple of weeks the colour started to change as I would expect, but after a couple of washes with this shampoo, it looked freshly dyed. My hair smells great, its softer, stronger & the colour is amazing, SO SHINY! Very powerful shampoo, you don't need to use it every day. I can't recommend this enough!"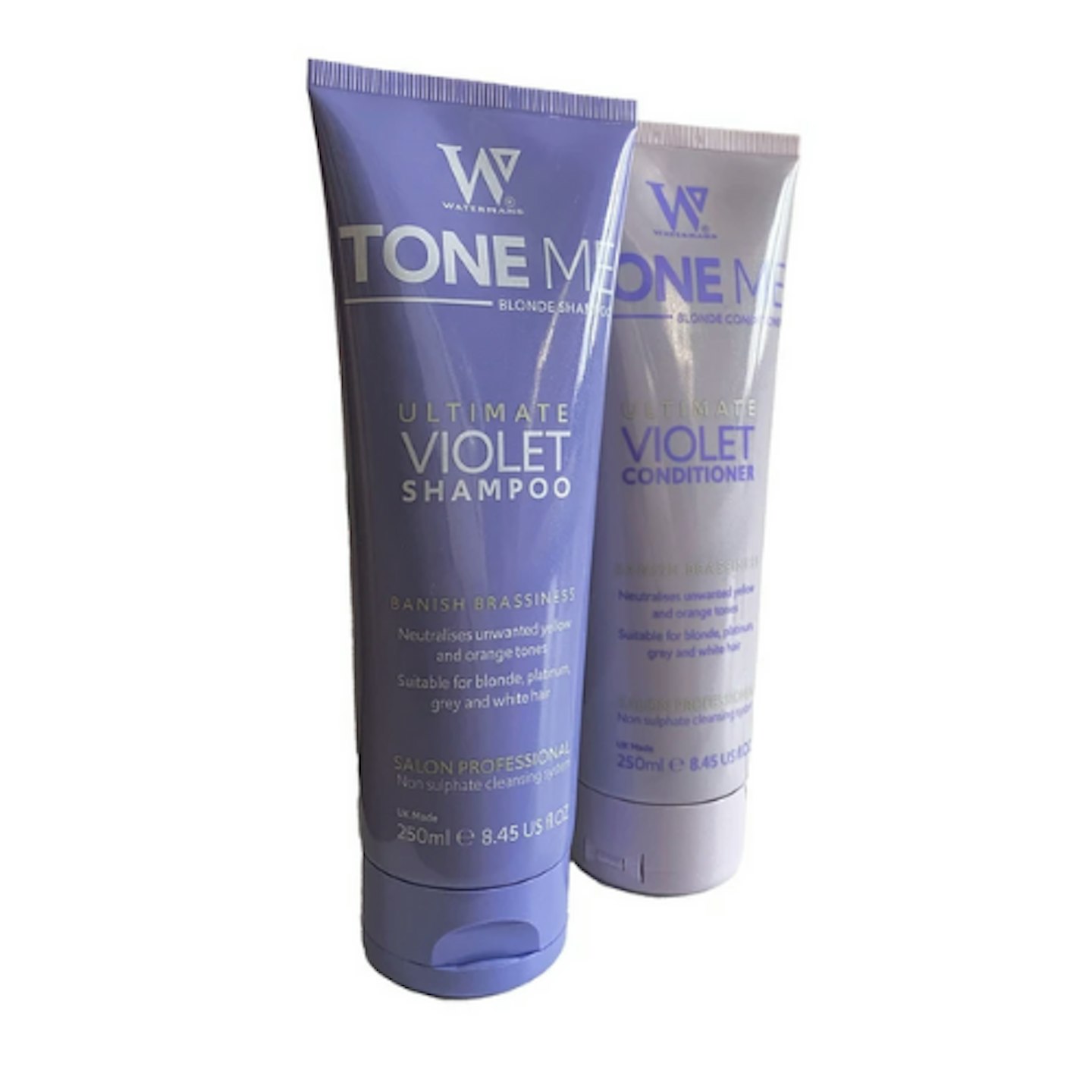 12 of 12
CREDIT: Tone Me Blonde
Tone Me Blonde Shampoo & Conditioner Set
Best for strengthening: This useful set is so versatile for whatever hair mood you're feeling, and totally banishes brassiness. It contains a hair growth complex, so it'll look after your hair as well as protect the gorgeous colour.
Need to know: Volume: 250ml x 2
Additional features: Neutralises orange and yellow tones whilst keeping hair healthy.
Verdict: The vegan-friendly formula is great and prevents breakages, and we love that it comes as a set. It's a really good option for salon-standard coloured hair at home.
Review: "I know my hair is in safe hands with this set."
Where to buy silver shampoo?
Need to get your hands on some silver shampoo, stat? Here are some of the best online retailers, where you can bag plenty of options.
We're talking about everything from how long to go between washes and results on different types of hair...
How to use silver shampoo?
From the best pink hair dye to the best hair mask, there are lots of ways that we can transform our hairstyles. Don't reach for the silver shampoo to change yourself, reach for it to level up and feel like the best version of yourself.
Not sure how to use silver shampoo? Follow our step-by-step guide on how to use silver shampoo:
Step one: 48 hours before using any new product, do a patch test. This will ensure you don't suffer from any reactions.
Step two: No bad reactions? Fast forward two days and it's time to hop in the shower.
Step three: Gloves are really handy for applying the silver shampoo, as it can leave stains on your hands.
Step four: Adjusting to the length of your hair, apply a golf-ball-sized amount of shampoo to your wet hair.
Step five: Work the shampoo into your scalp and finally, onto the ends of your hair.
Step six: Let the silver shampoo work into your hair for five minutes.
Step seven: Rinse the shampoo from your hair.
Step eight: Use your favourite conditioner or a silver conditioner for the best results.
Tips from an expert: Leigh Keates from John Frieda
Now you know where to buy and how to use the goodies, it's time to find out how you can put this hair product to good use. We had the chance to speak to Leigh Keates, Creative Director and Hair Stylist Ambassador for John Frieda to get some tips on how to make the most of silver shampoo.
Is silver shampoo healthy for your hair?
"If you use silver shampoo correctly and follow the instructions then it isn't bad for your hair. I'd always recommend following the manufacturer's instructions as if you leave in for too long then your hair can be left with purple tones. And, the overuse of silver shampoos could potentially over-process the hair so avoid this.
"John Frieda recommends that you gently massage into wet hair until the product fully lathers, and ensure that the product is fully rinsed out. For optimal results, follow this with a matching conditioner, such as the John Frieda Shimmering Silver Conditioner."
Can silver shampoo be used on different hair colours and types?
"Silver shampoos have a specific use and are not suitable for all hair types. They are used to brighten blonde hair, neutralising brassy tones. I would not recommend using them on other coloured hair."
Will mixing silver shampoo with a regular shampoo work for a toned-down look?
"This would certainly work, you can also achieve this by emulsifying in your hands with water to dilute before applying to your head and leaving it on your hair for a shorter amount of time. "
How long should I go between washes to preserve my silver colour?
"This all depends on the colour you want to achieve, the hair type you have and the condition that your hair is in. There is no specific rule here. The less you wash your hair, the longer the colour will last."
What products should be avoided so that silver shampoo lasts longer?
"Once the silver shampoo has been rinsed it has done its job. Using the shampoo regularly, washing with high-quality water and avoiding daily pollutants will ensure that the colour lasts longer. Using heat on your hair will also assist in keeping the brassy tones at bay."