Hailey Bieber may be known for being married to the most important Justin in the world (sorry Timberlake- you mess with Britney, you mess with us), but Hailey Bieber, formally Hailey Baldwin, is an icon within her own right.
Born into the famous Baldwin family in 1996, she trained as a ballet dancer but went on to work an illustrious modelling career. Ralph Lauren, Guess, Vogue - you name it, she's graced it. Most importantly, it's fair to say that every outfit we see Hailey Bieber wear is an instant classic.
No matter when or where the paparazzi catch her, she is always looking STUNNING. She has this modern and unique fashion style that we want to replicate.
But of course- we don't have that Hollywood bank account that the Biebers have, so here are eight Hailey Bieber looks recreated using high-street brands.
This means you can dupe Hailey's style while also being able to pay your rent. We love to see it.
SHOP: The best Hailey Bieber outfits and how to recreate them
Hailey Bieber's best looks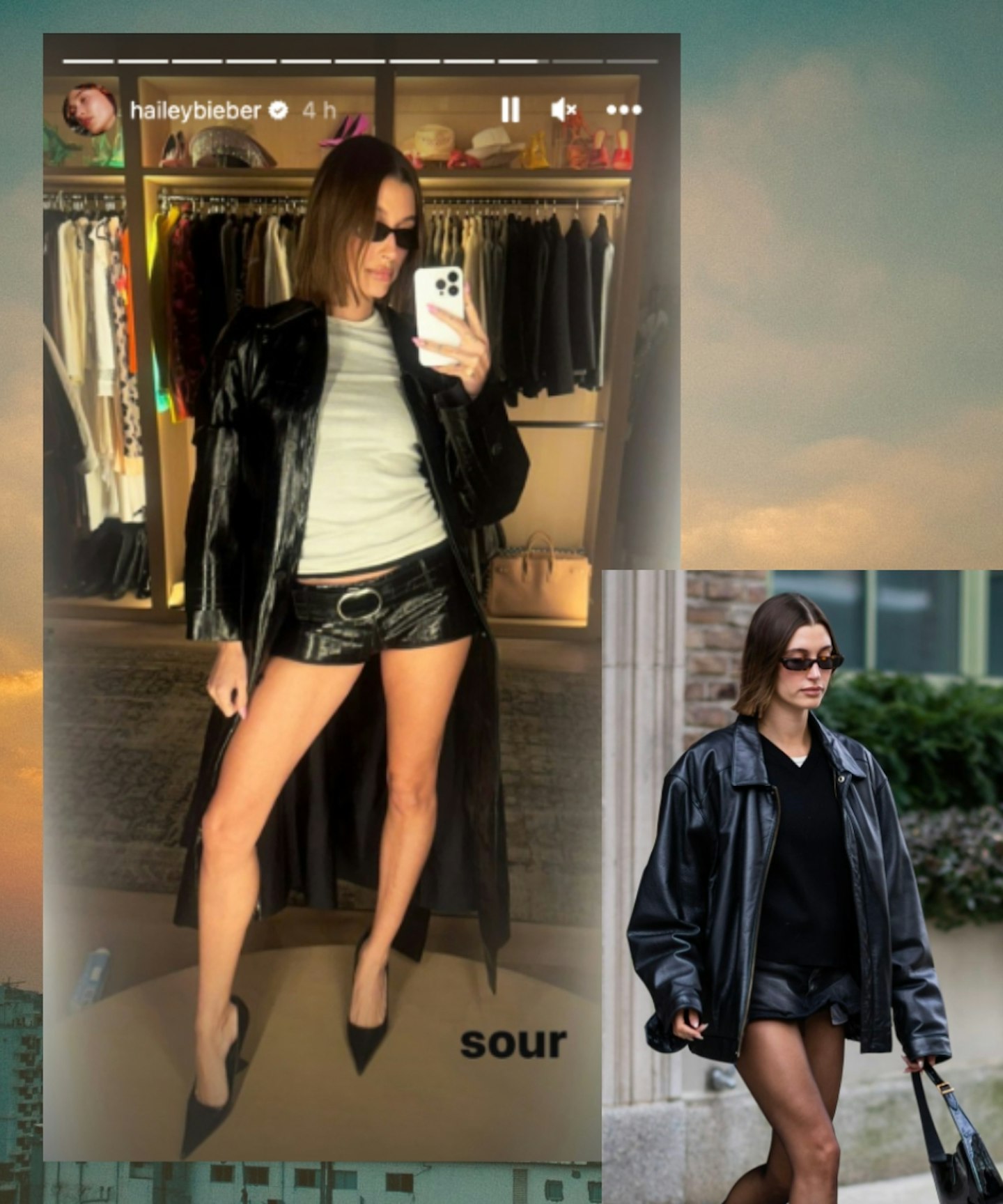 1 of 44
CREDIT: @haileybieber, getty images
Hailey's Double Leather Sour Look
In her most recent fashion statement, Hailey basically said "hire me for the next Matrix movie, STAT." We've got everything below that you'll need to recreate the look.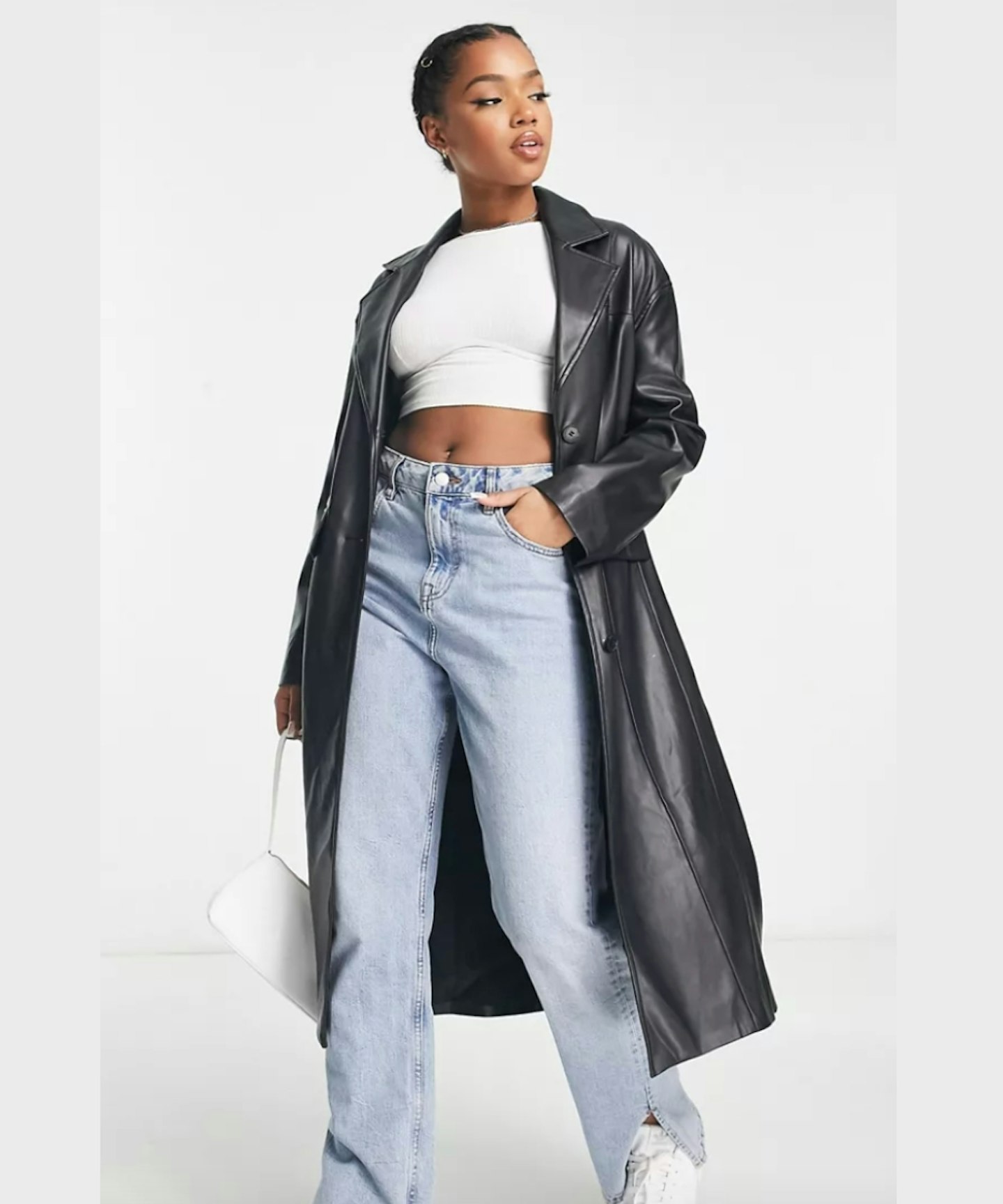 2 of 44
CREDIT: asos
Bershka Faux Leather Seam Detail Tailored Coat in Black
Long leather jackets have been thriving on the fashion runways already in 2023, and we couldn't be happier.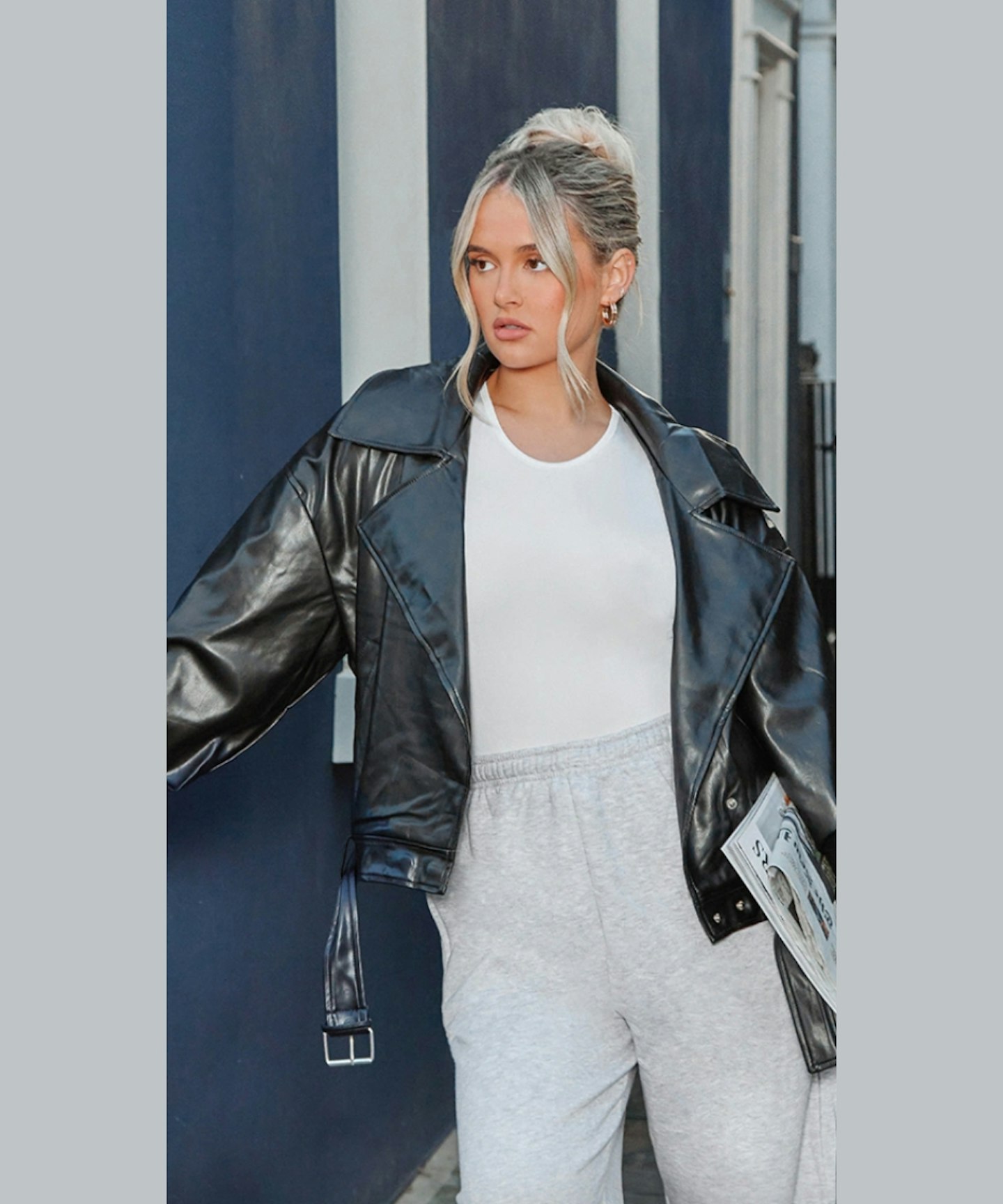 3 of 44
CREDIT: prettylittlething
Black Faux Leather Relaxed Fit Belted Biker Jacket
Paparazzi caught Hailey on the streets of NYC in her leather outfit- although she had replaced her Instagram story long leather coat with a cropped biker coat. We've got a perfect dupe here from PLT.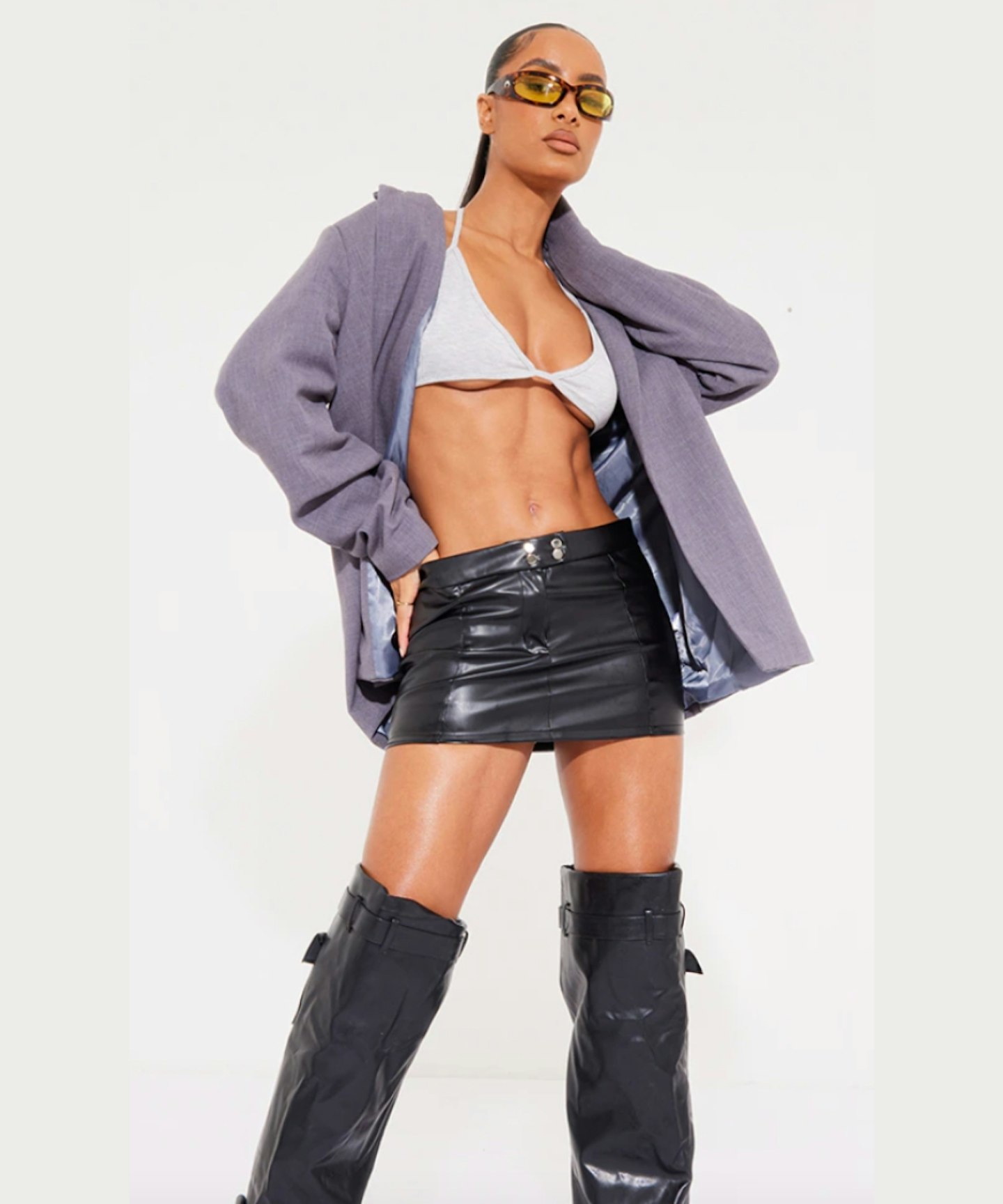 4 of 44
CREDIT: prettylittlething
Black Faux Leather Low Rise Micro Mini Skirt
There's a new trend- the "no-pants" looks. That of course, means trousers, in America. The "no-pants" trend means something completely different here in the UK...😬 Basically mini skirts are back, so grab one while you can.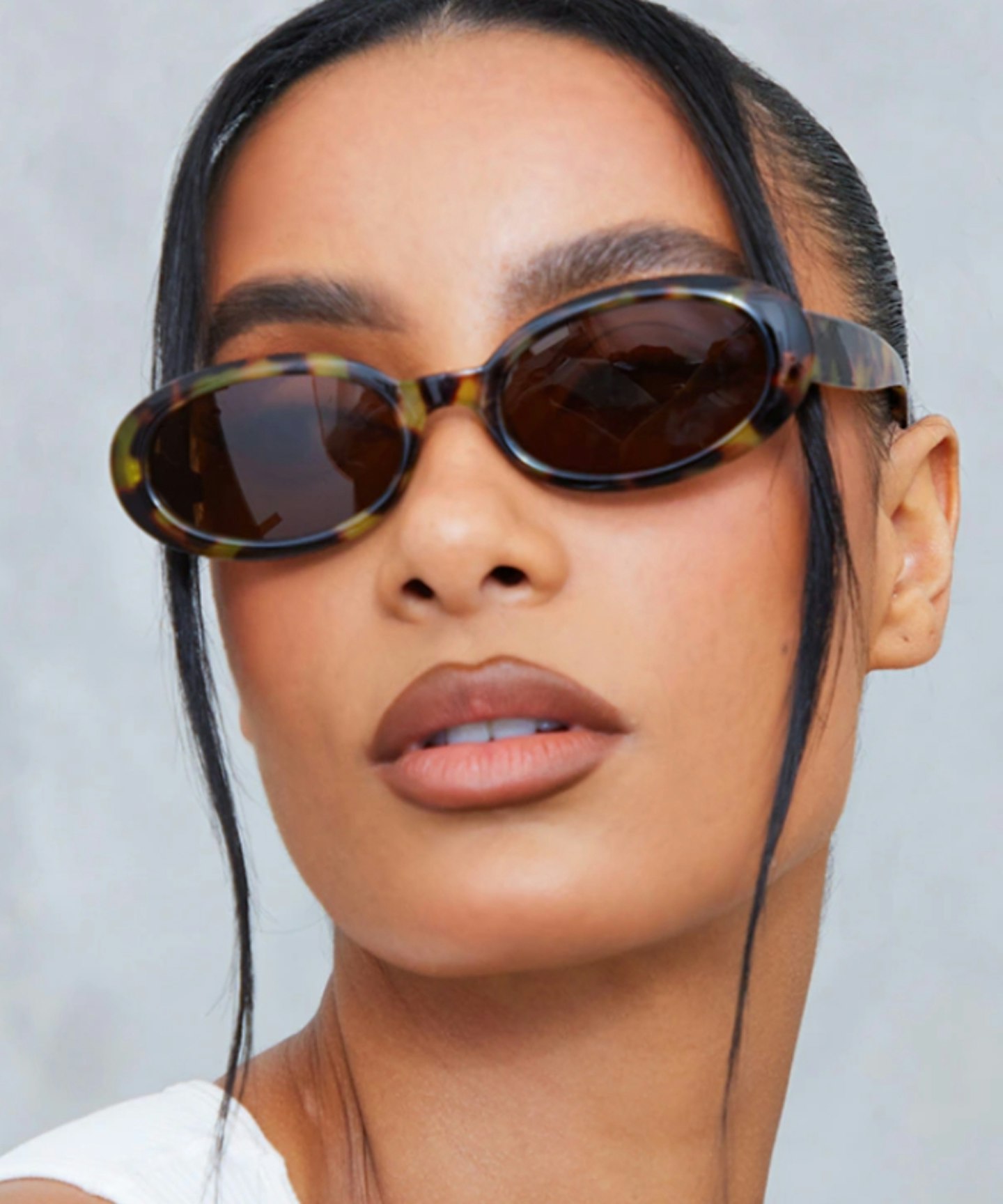 5 of 44
CREDIT: pretty little thing
Taupe Small Oval Sunglasses
Hailey loves to incorporate tortoiseshell elements in her outfits, and we can't blame her. It's such a simple way to jazz up a look.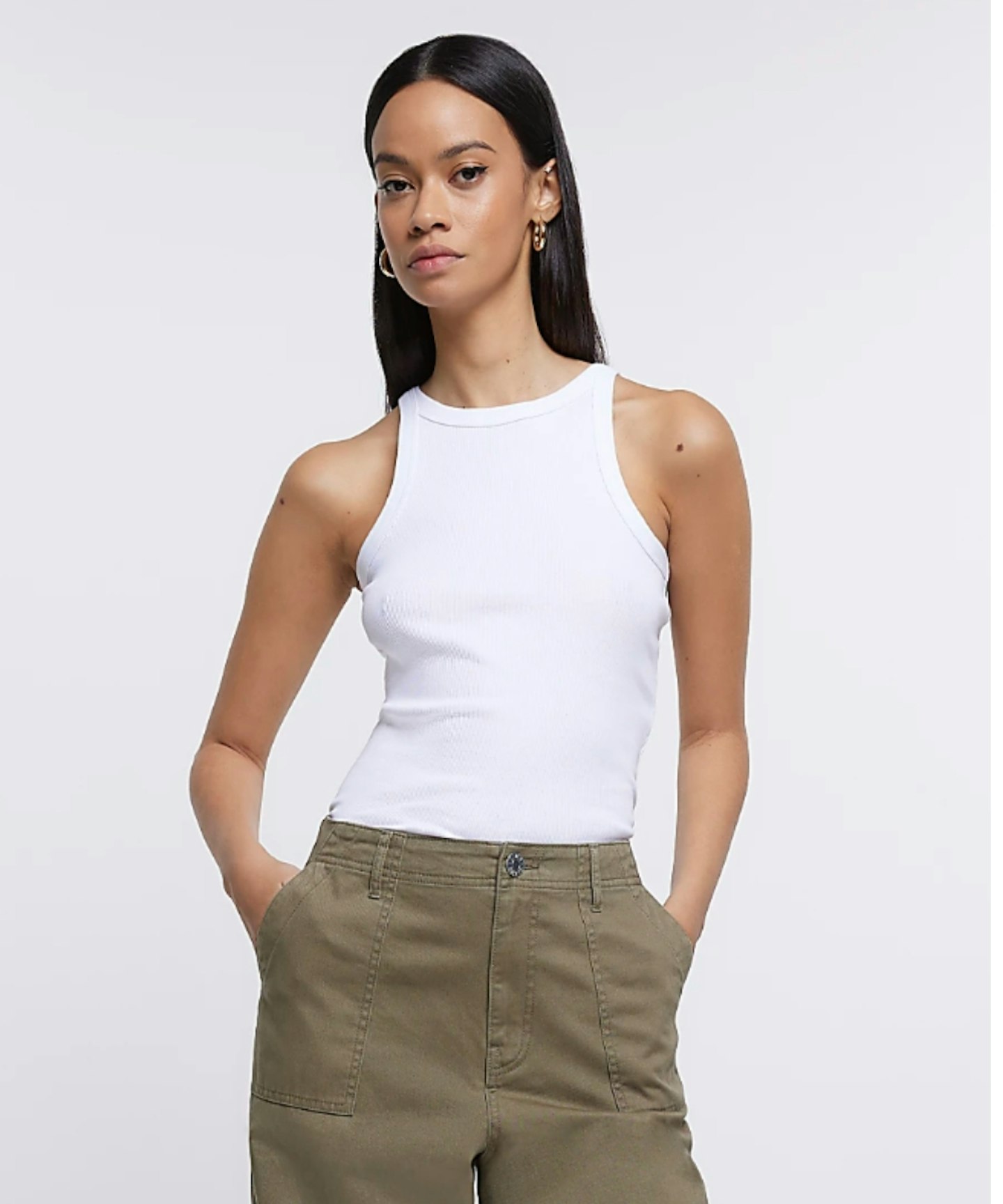 6 of 44
CREDIT: river island
White Rib Racer Vest Top
In her Insta story, you can see she pairs her leather jacket with a simple white racer vest.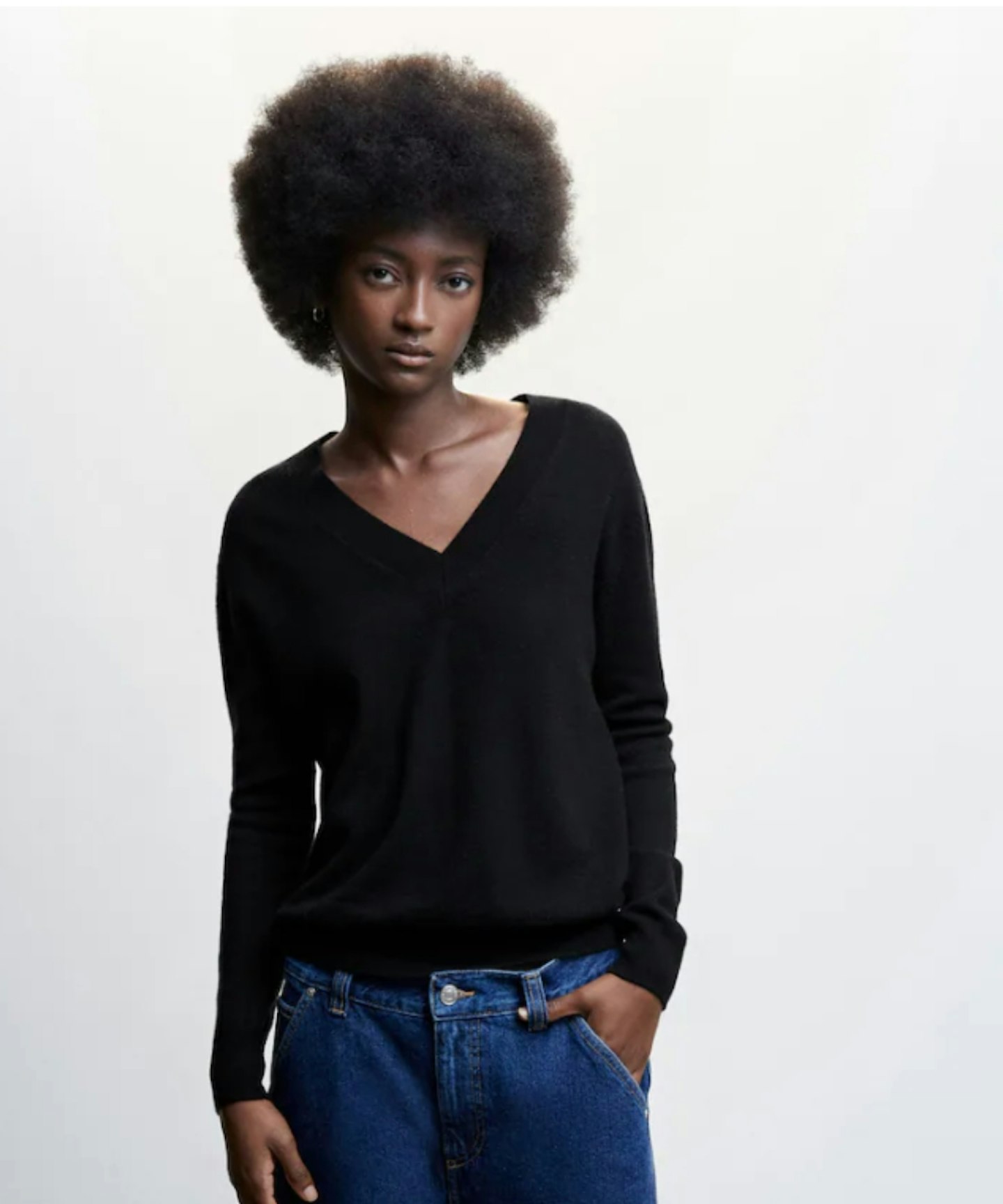 7 of 44
CREDIT: mango
100% Wool V-Neck Sweater
Once out on the streets, she layers a v-neck wool jumper on top of her vest.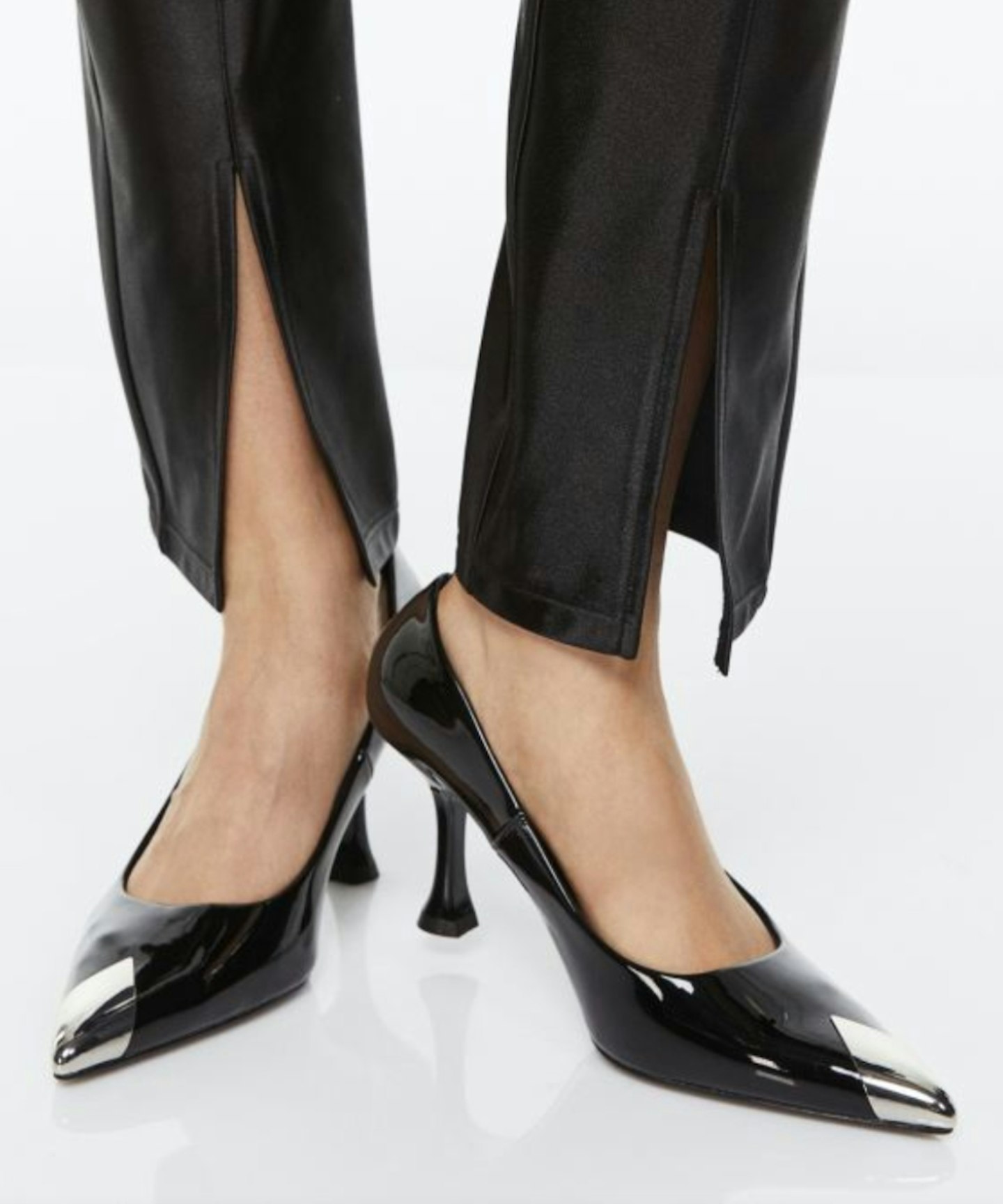 8 of 44
CREDIT: h&m
Court Shoes
Finish off the look with some classy court shoes.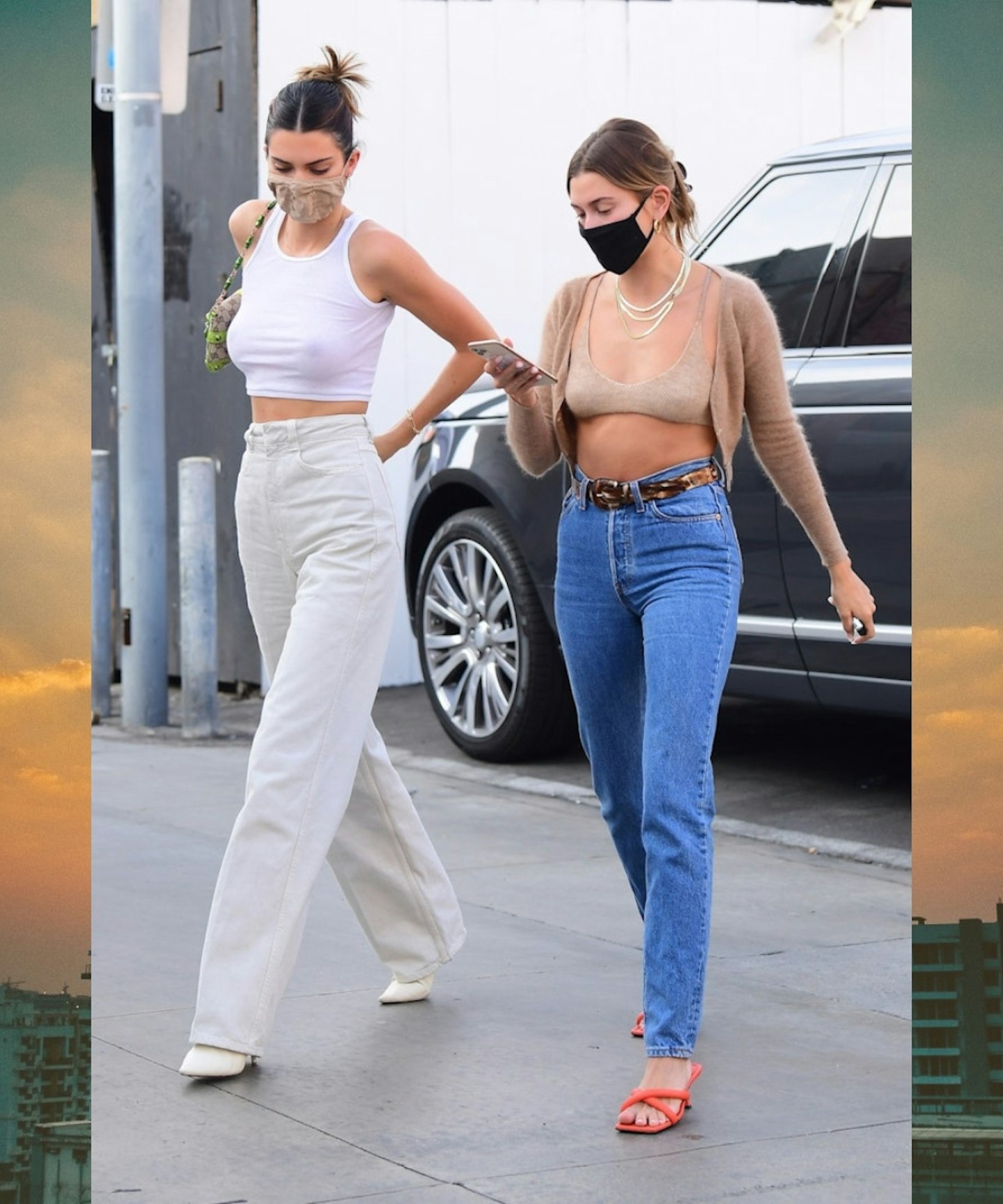 9 of 44
CREDIT: Getty Images
Hailey's Cardy Co-ord Look
The second outfit we're duping is this chic co-ord cardi look, worn when Hailey was spotted out on the town with her bezzy mate Kendall Jenner. Iconic duo.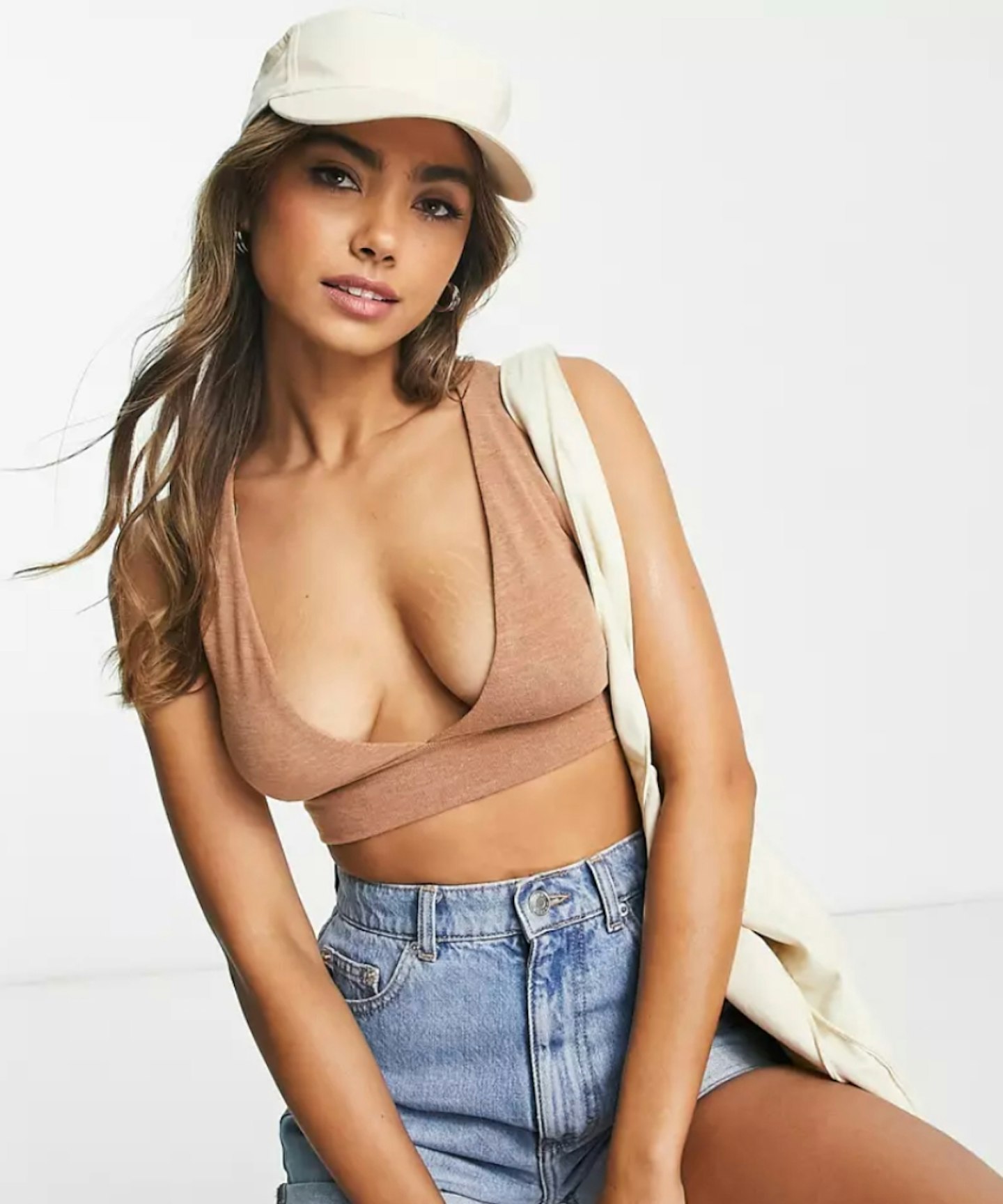 10 of 44
CREDIT: ASOS
Gilli Halter Neck Back Crisscros Detail Top in Camel
We love that you can get this ASOS bralette in the same tan, camel brown colour as Hailey's. Keep scrolling for a camel cardi to pair with this.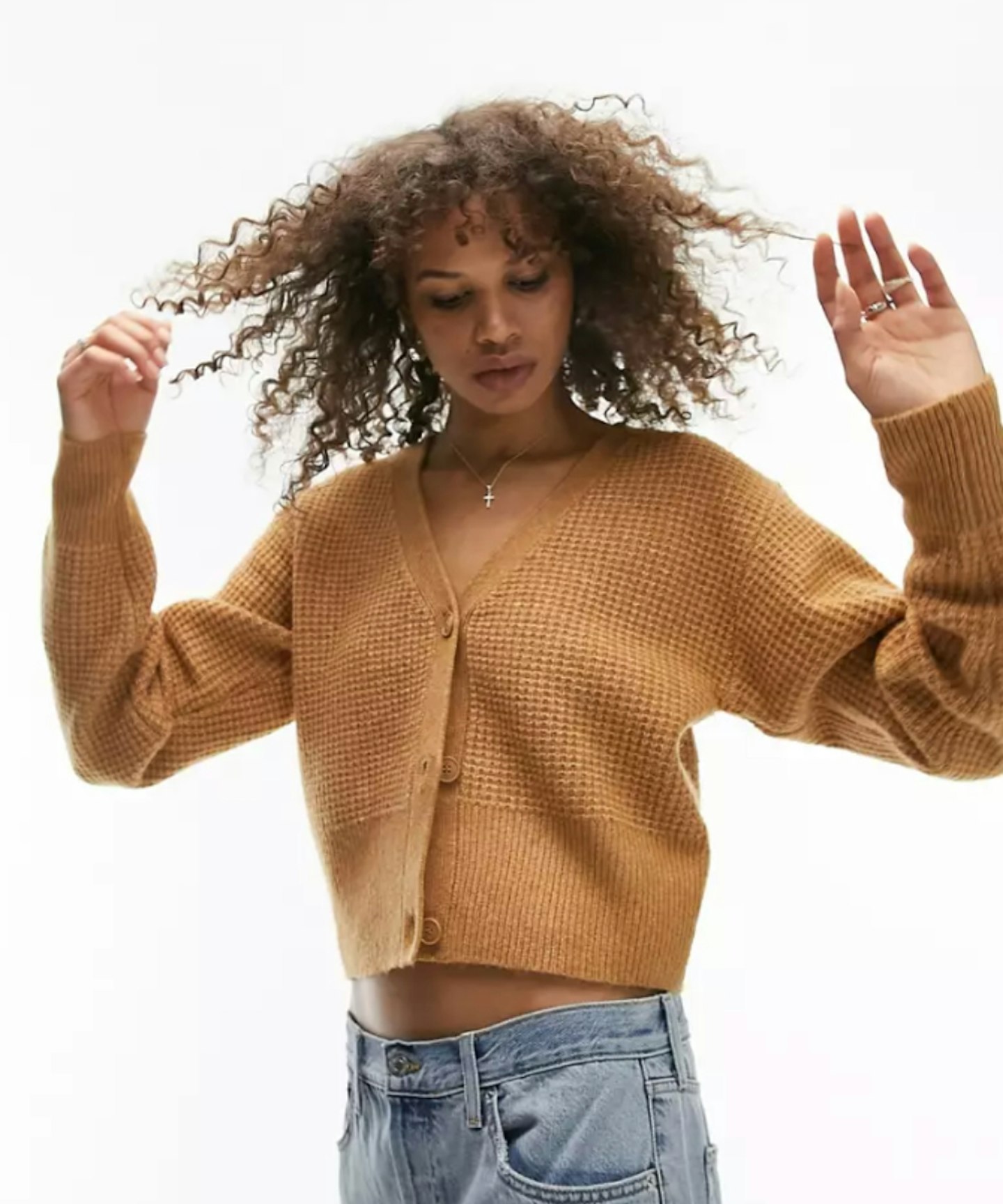 11 of 44
CREDIT: asos
Topshop Tall Knitted Textured Crop Cardigan in Camel
Gotta love a cardigan. Cosy and chic.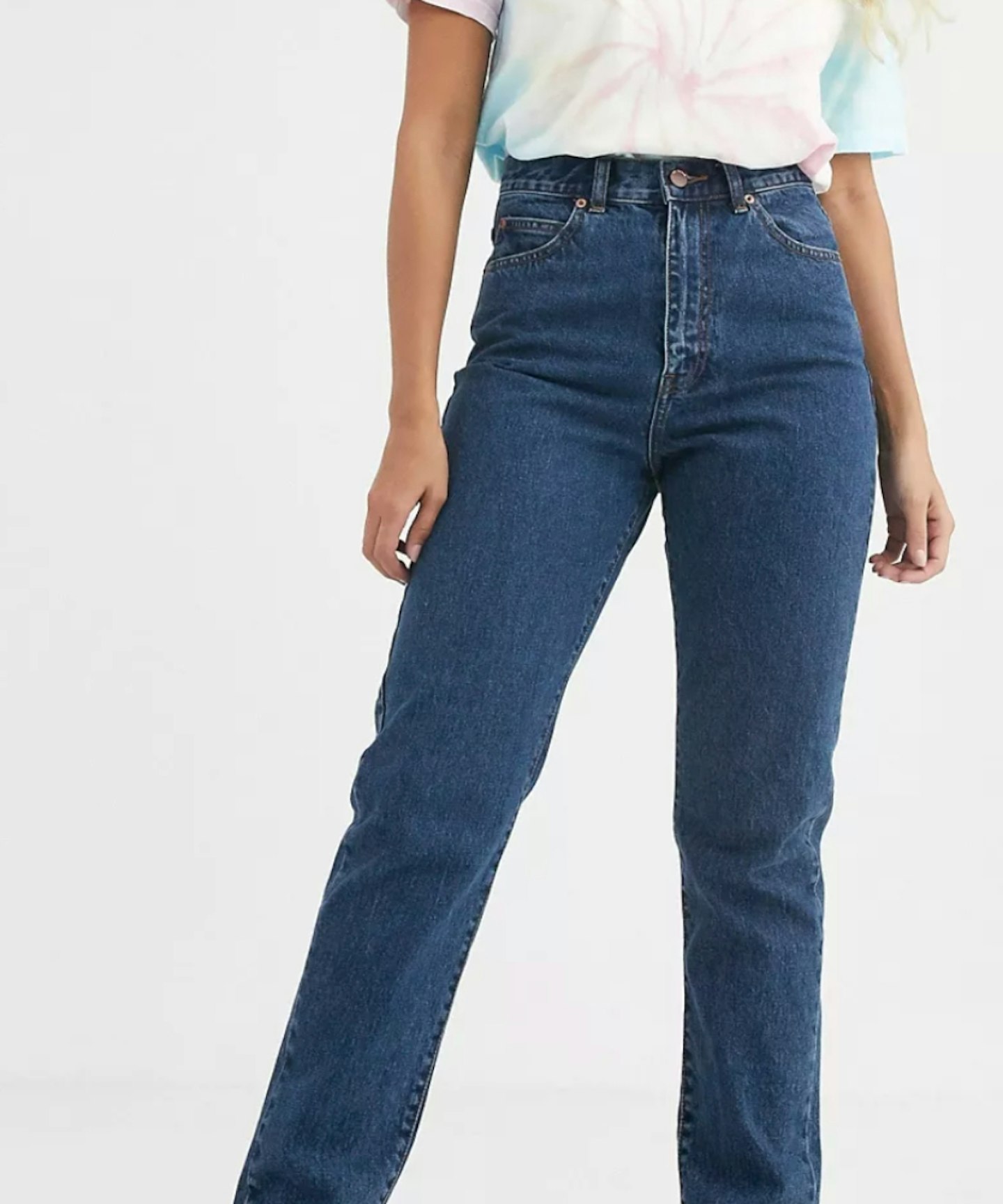 12 of 44
CREDIT: ASOS
Dr Denim Nora High Rise Mom Jean in Mid Retro
Hailey is a fan of the mom jeans, and so are we. They literally look great on EVERYONE. Even our nan could rock them.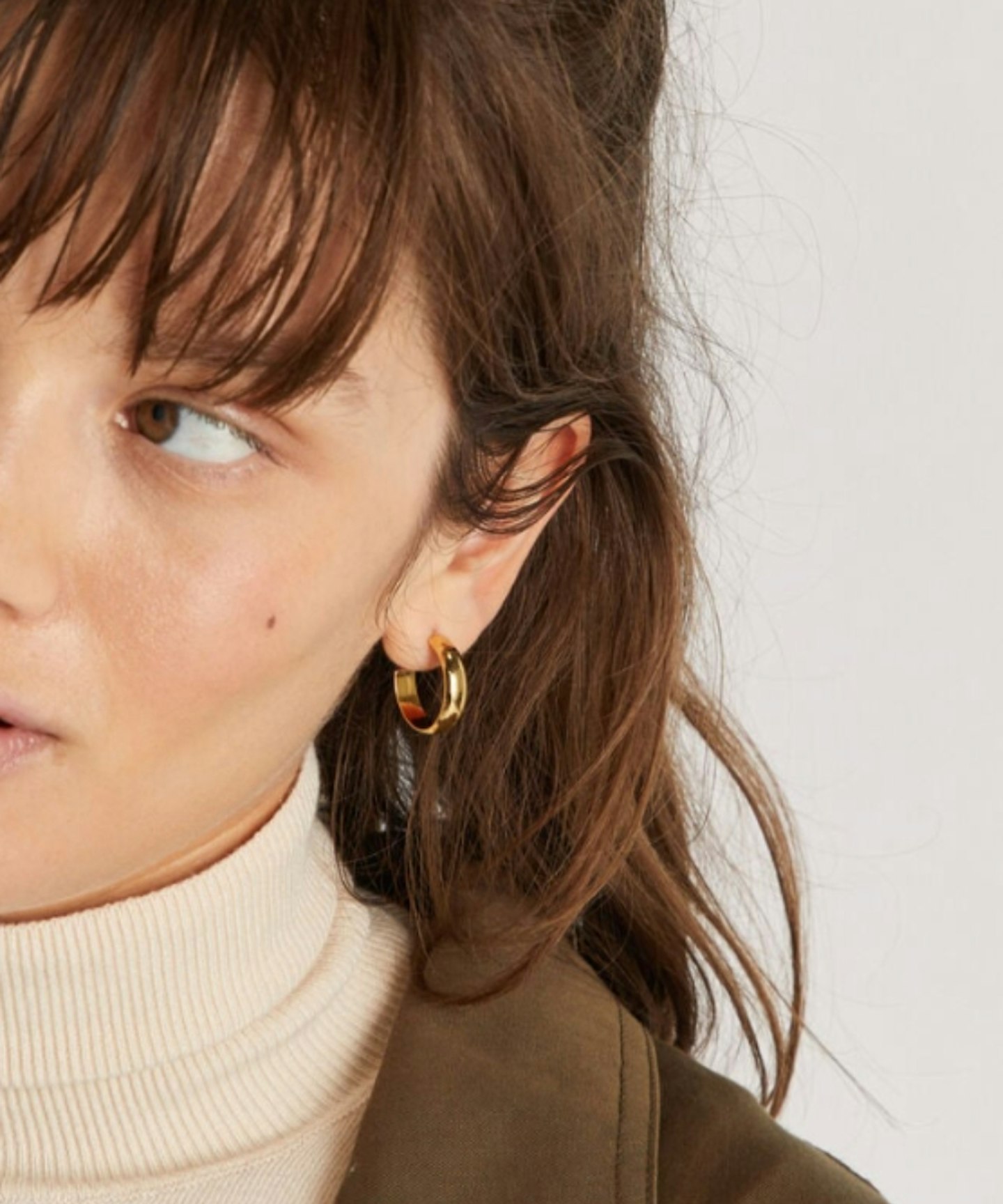 13 of 44
CREDIT: accessorize
14CT Gold-Plated Small Chunky Hoops
Small, sweet, and pretty neat.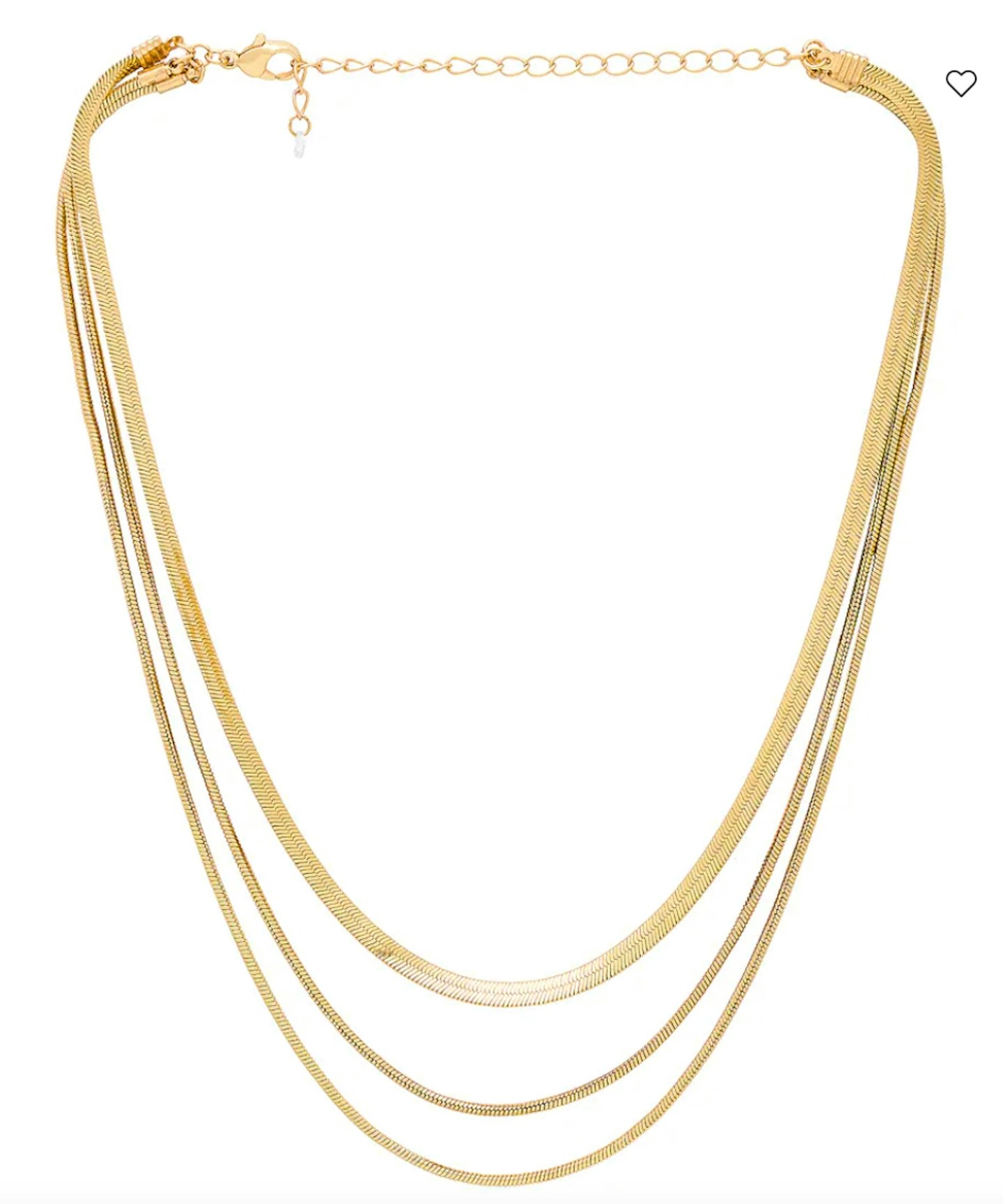 14 of 44
CREDIT: revolve
Layered Herringbone Necklace
Hailey wears this necklace in multiple outfits. For some reason, it's really exciting when you see a celebrity wearing the same thing twice. It makes them almost... human?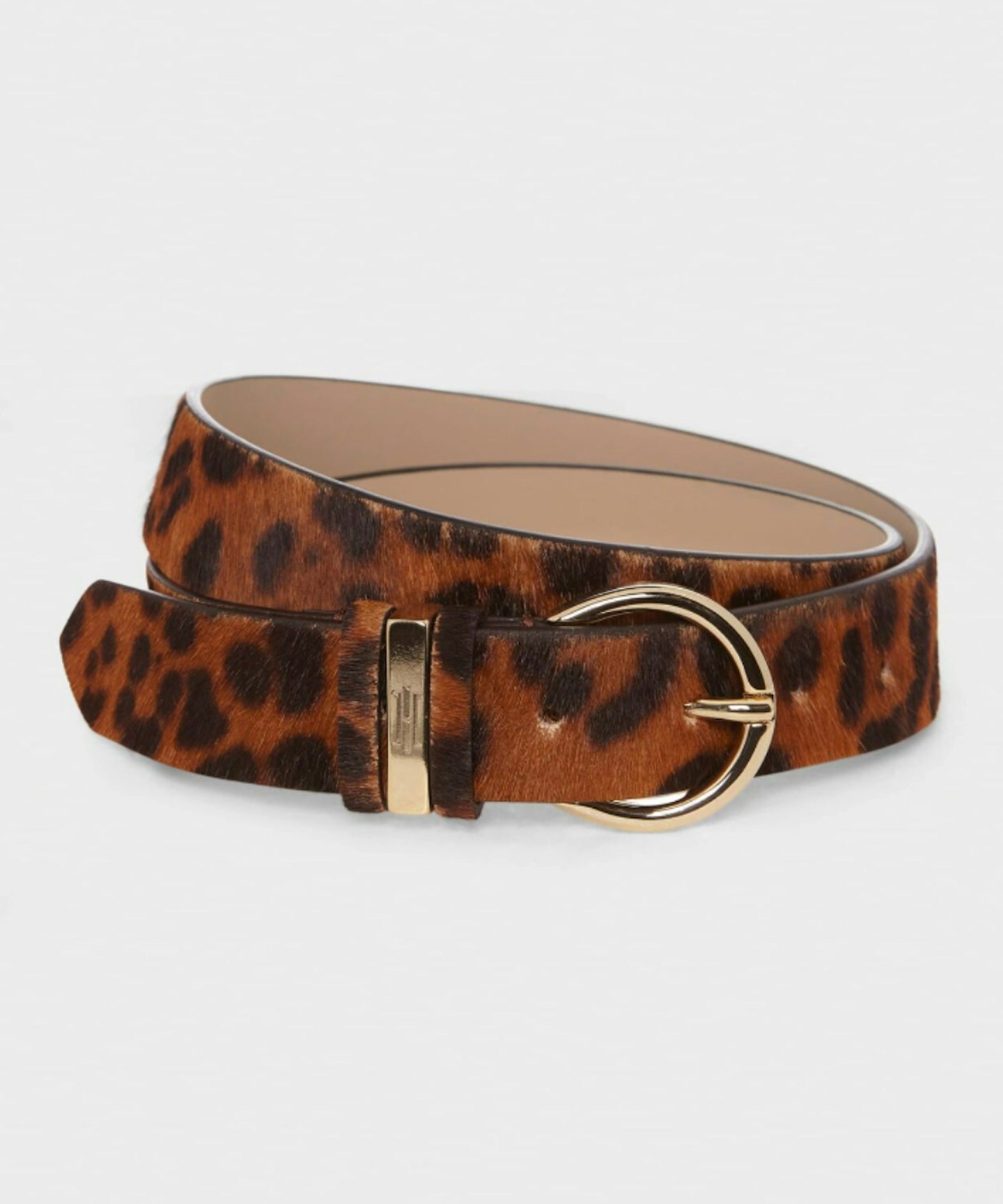 15 of 44
CREDIT: hobbs
Eugenie Leather Belt
Animal print is a vibe that never goes out of style.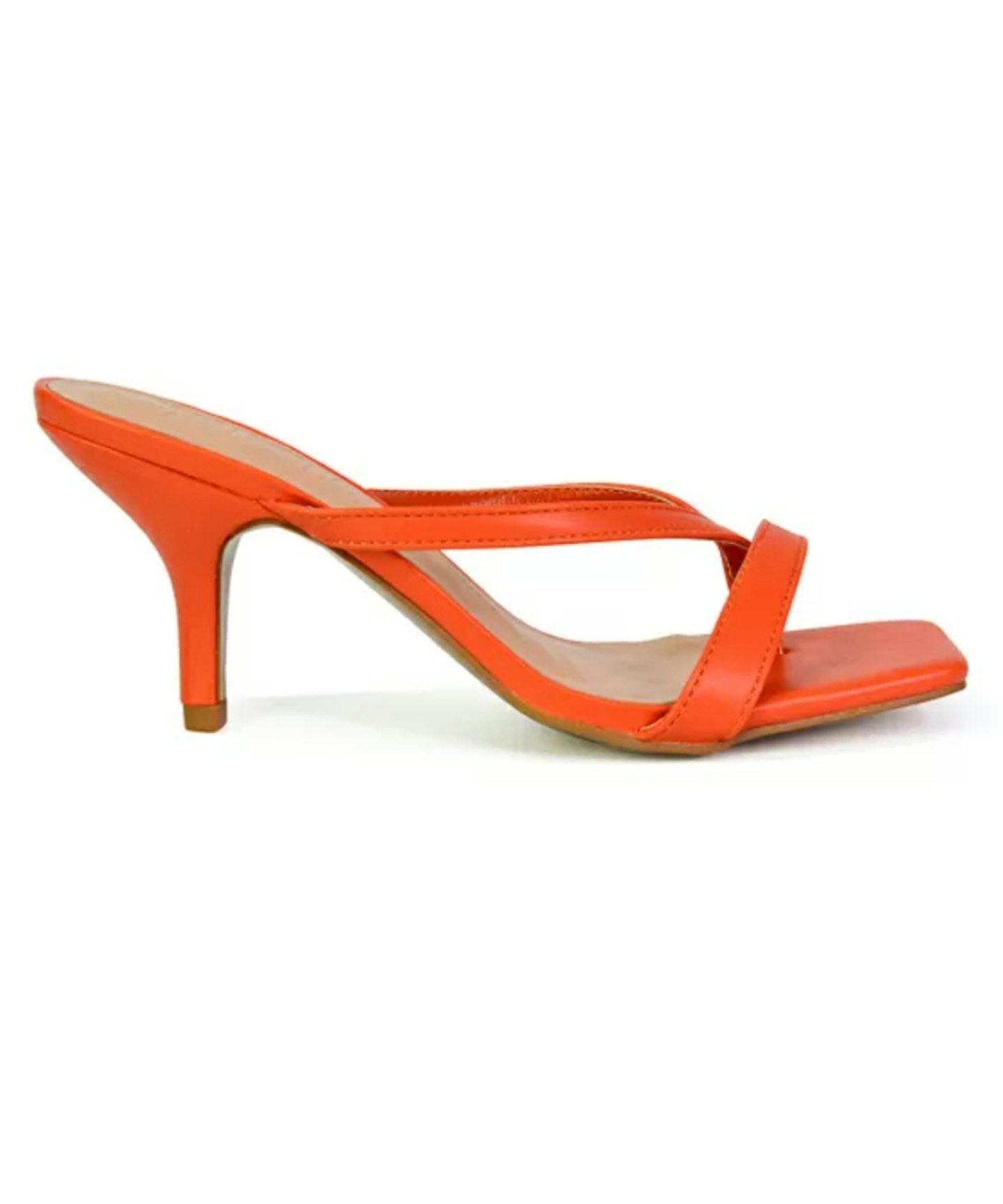 16 of 44
CREDIT: XY london
Daria Square Toe Post Strappy Slip on Low Mule Heel Sandals in Orange
Finishing off with these gorj mule heels which replicate Hailey's shoes perfectly. Giving 100% L.A vibes.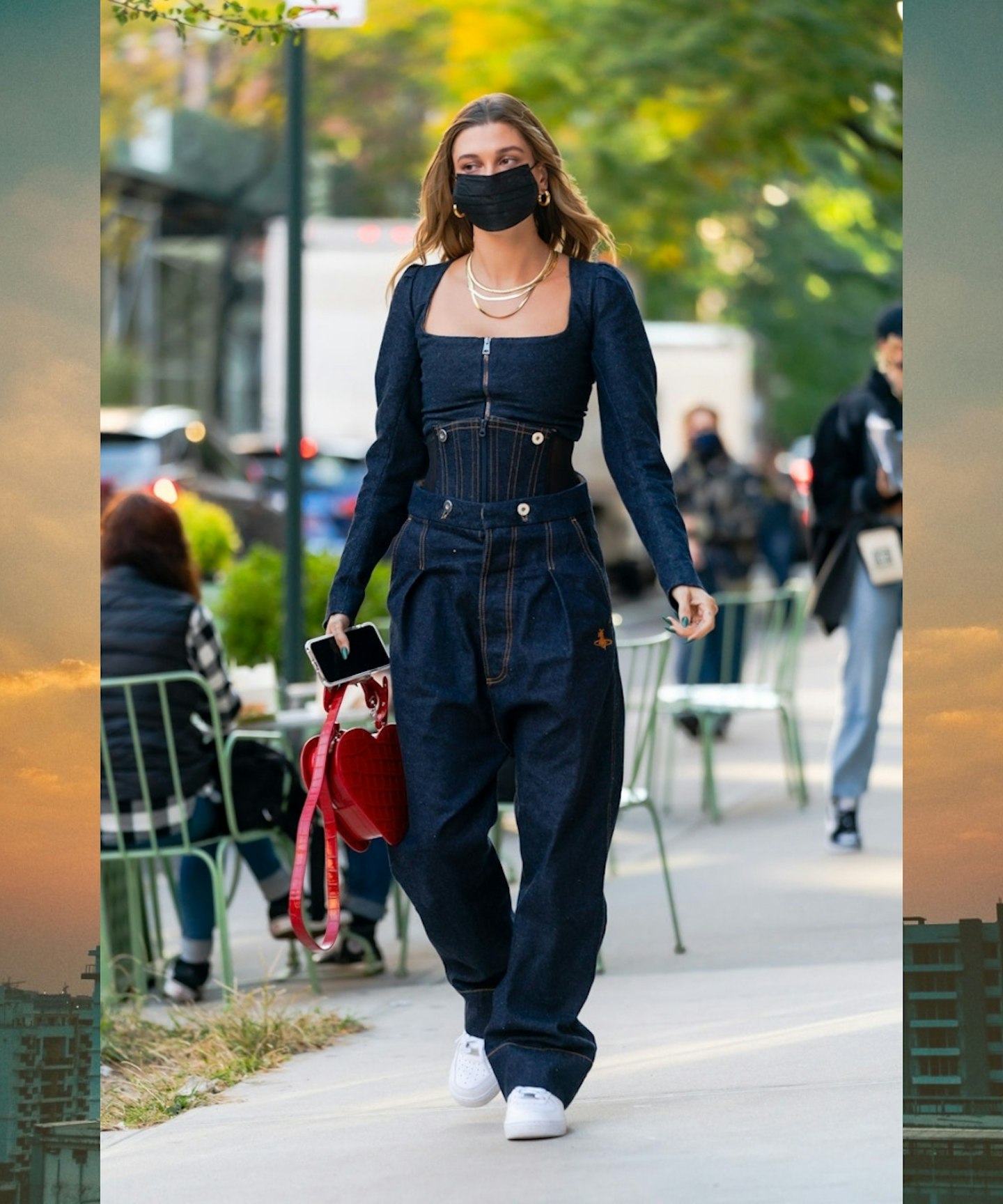 17 of 44
CREDIT: Getty Images
Hailey's Jean Corset Jumpsuit Look
Another one of Hailey's looks is this quirky jean-corset jumpsuit outfit. No doubt it cost a fortune, so we've got all the different elements to make up the jumpsuit look, at a fraction of the price.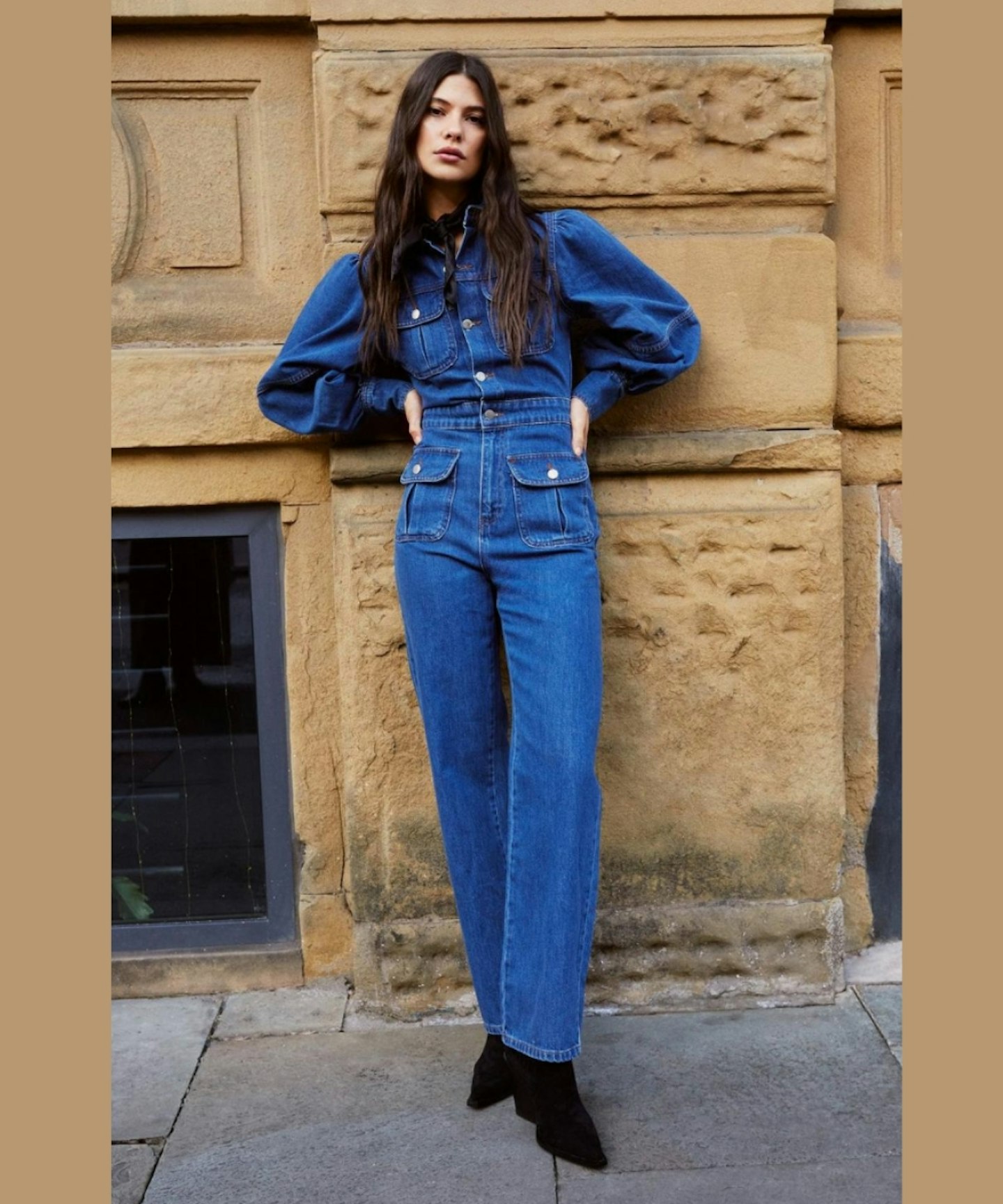 18 of 44
CREDIT: warehouse
Denim Puff Sleeve Pocket Front Jumpsuit
Denim will be taking over the fashion runways in 2023, so get in there early and buy this fabulous jumpsuit.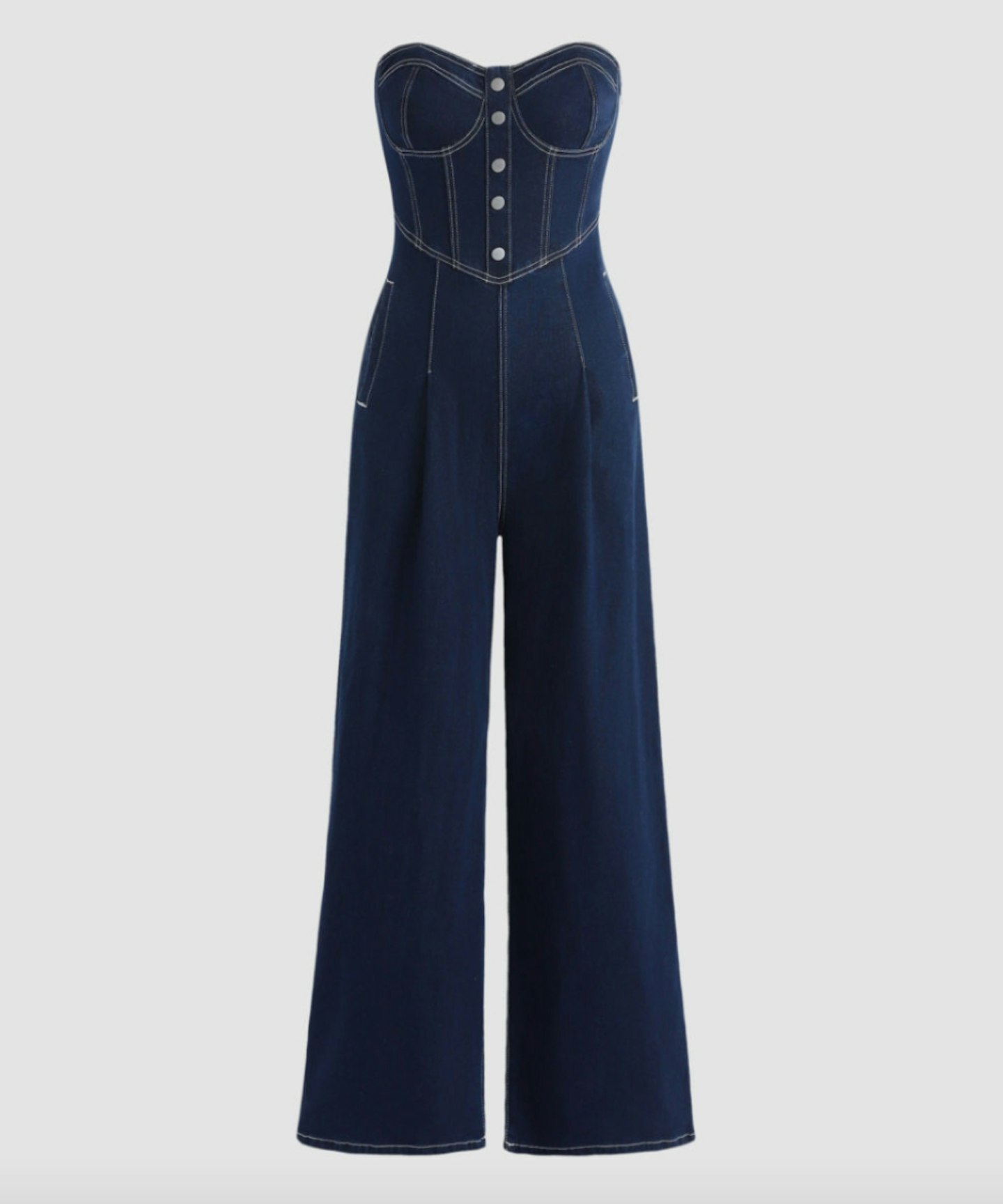 19 of 44
CREDIT: cider
Corset Denim Strapless Jumpsuit
If you're looking for a more affordable dupe, that brings in the corset elements from the original, look no further than this number from Cider.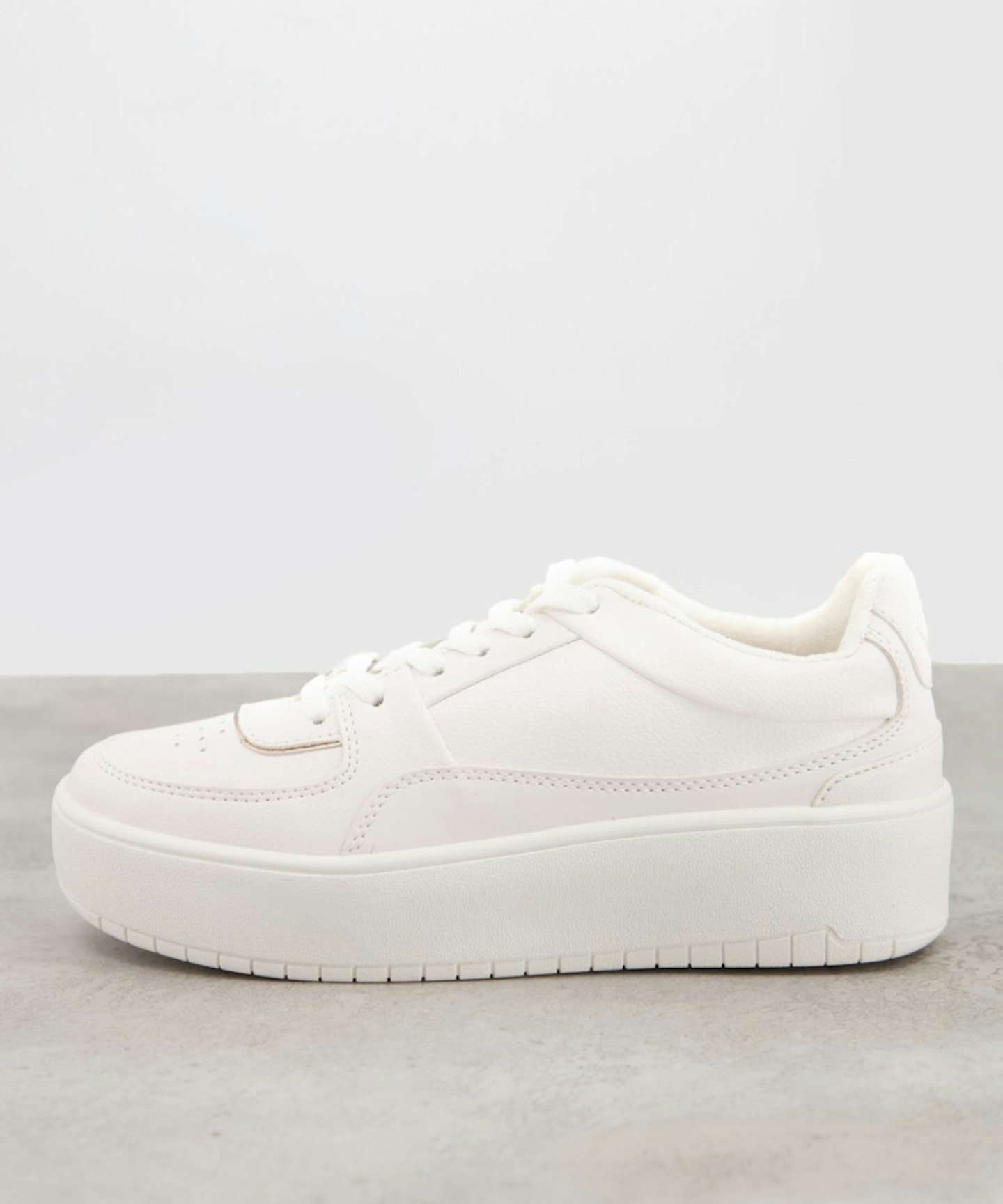 20 of 44
CREDIT: ASOS
adidas Originals Nizza Platform Trainers in White
Hailey tends to wear very expensive trainers but why spend a bunch of cash when you can get cheaper duplicates for half the price. Think smarter, not harder friends.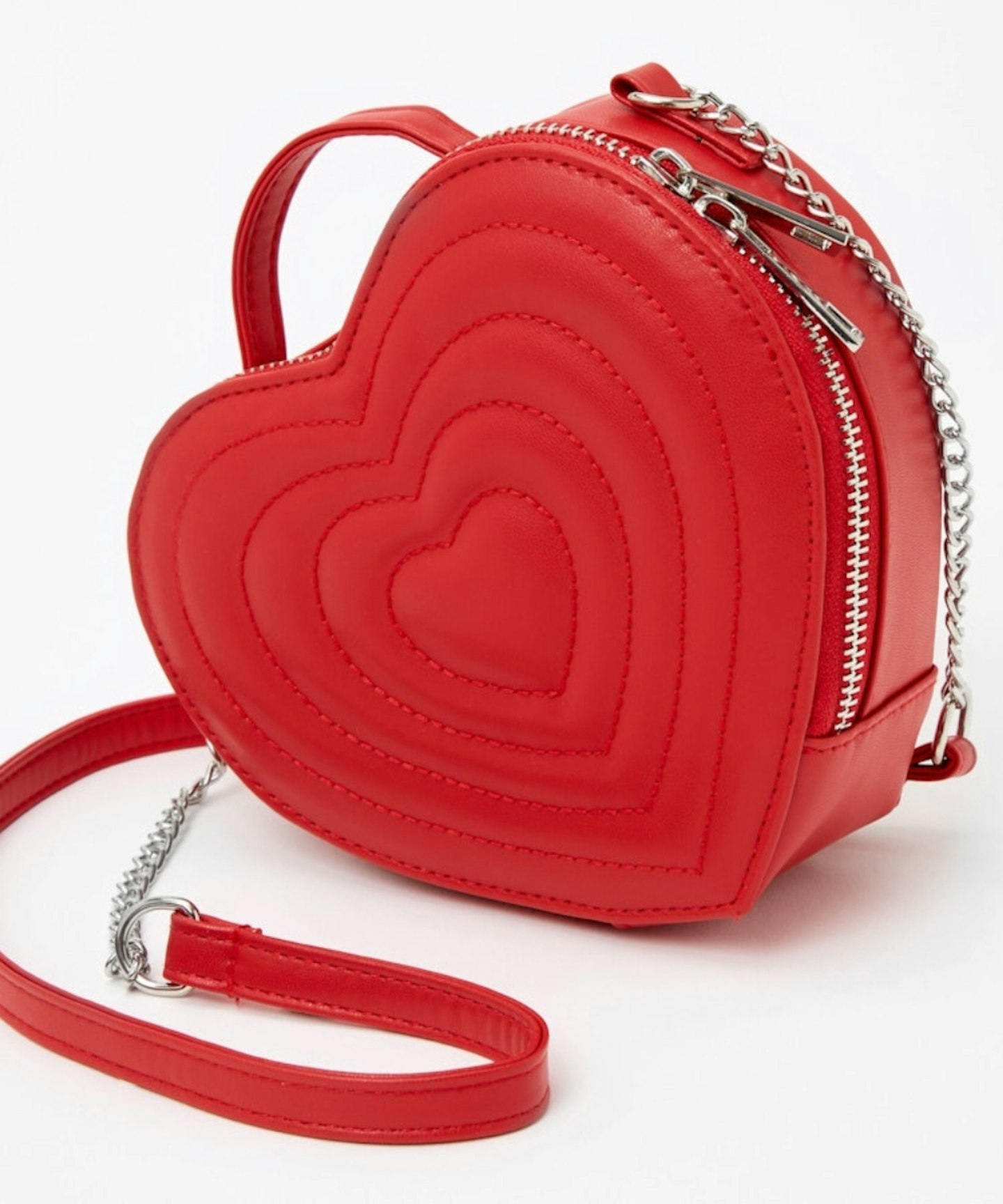 21 of 44
CREDIT: Claires
Quilted Heart Crossbody Bag - Red
We love Hailey's love heart bag and we've duped it with this replica from Claires. Come through Claires.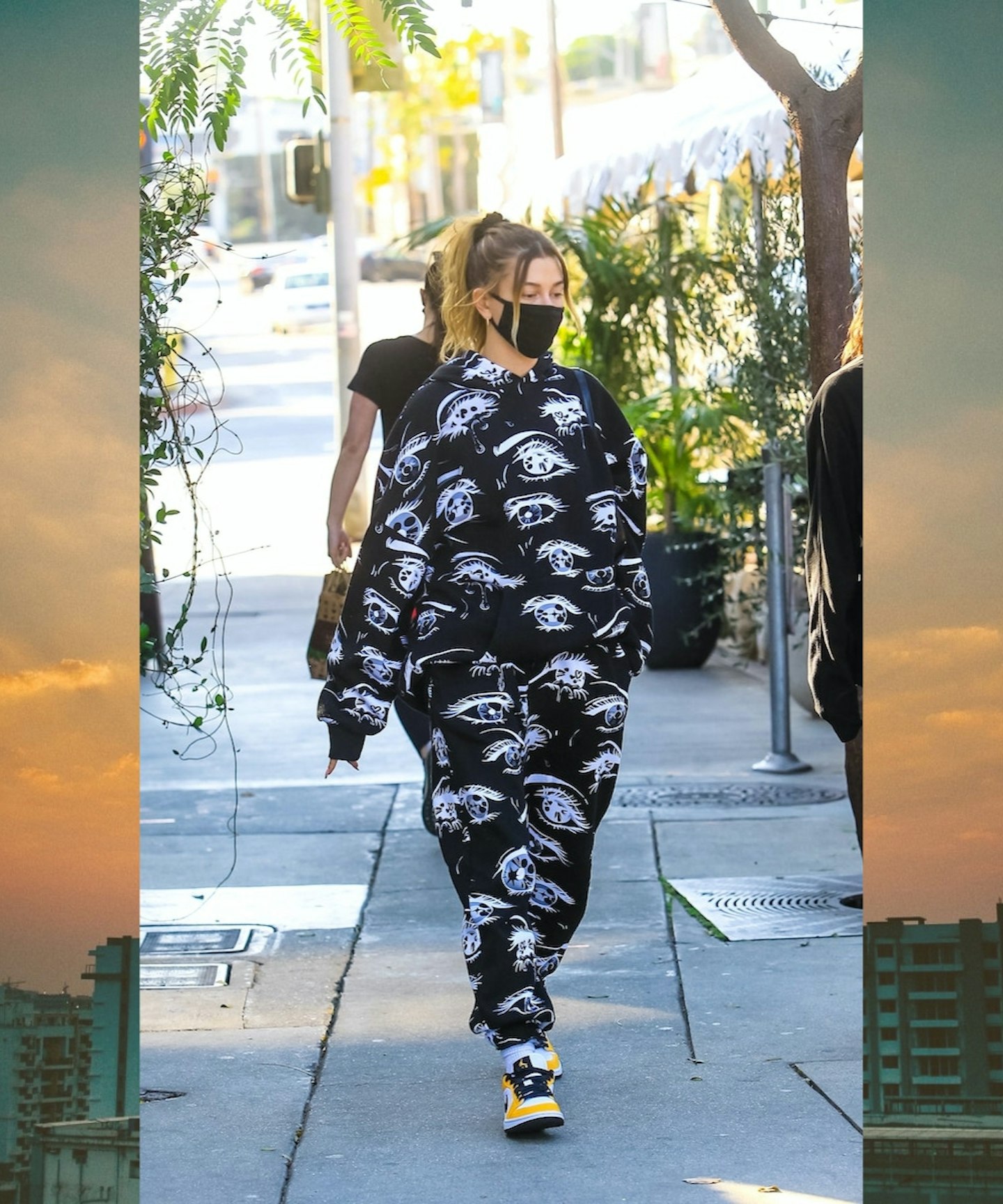 22 of 44
CREDIT: Getty Images
Hailey's Patterned Tracksuit Look
Here Hailey is wearing the Bershka x Billie Eilish collaboration tracksuit. Unfortunately, this collection is now sold out, but the party's not over yet - we have a great alternative to replicate the look.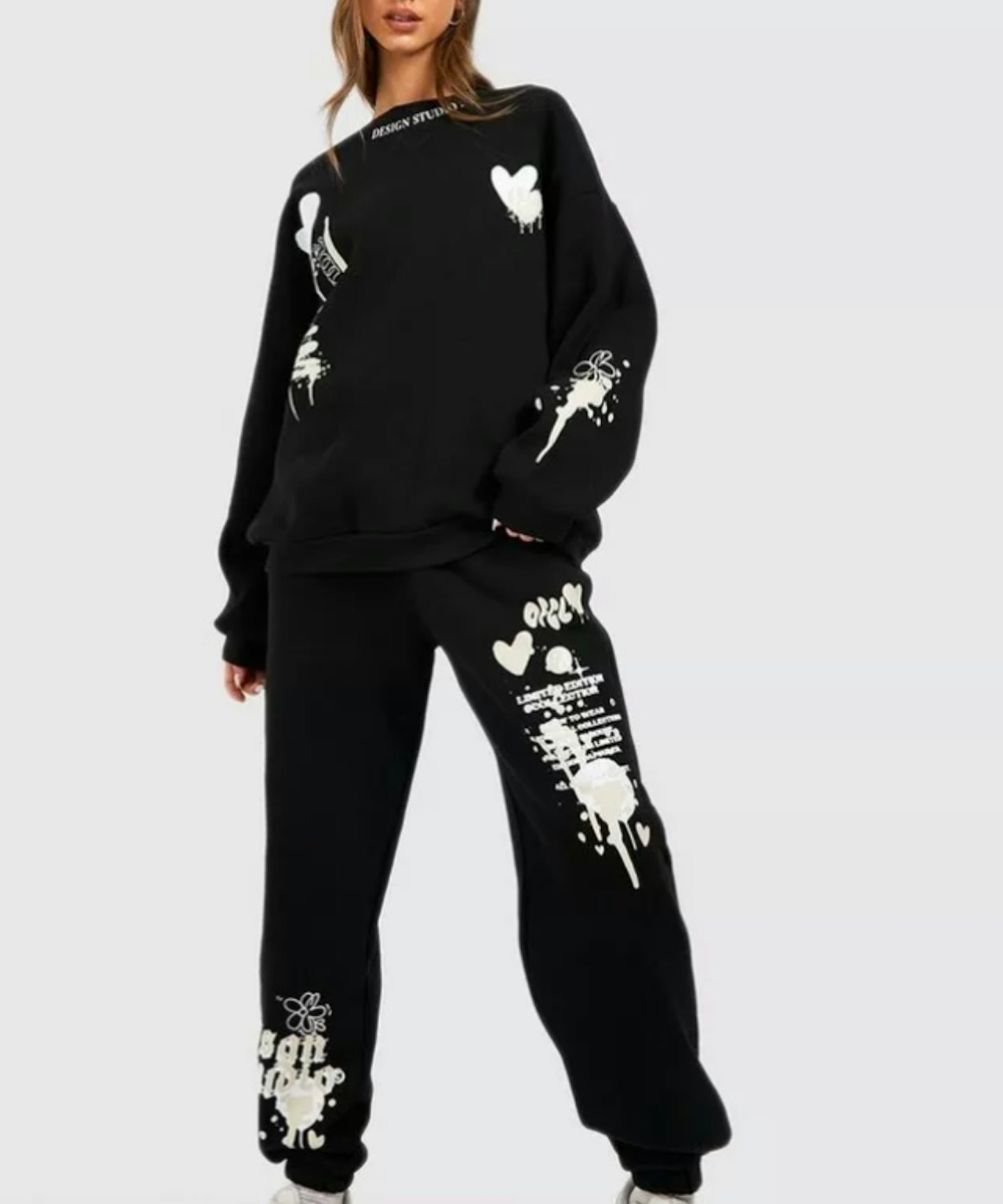 23 of 44
CREDIT: boohoo
Multi Graffiti Print Sweater Tracksuit
A fantastic substitute tracksuit set from boohoo, with a quirky pattern similar to Eilish's design.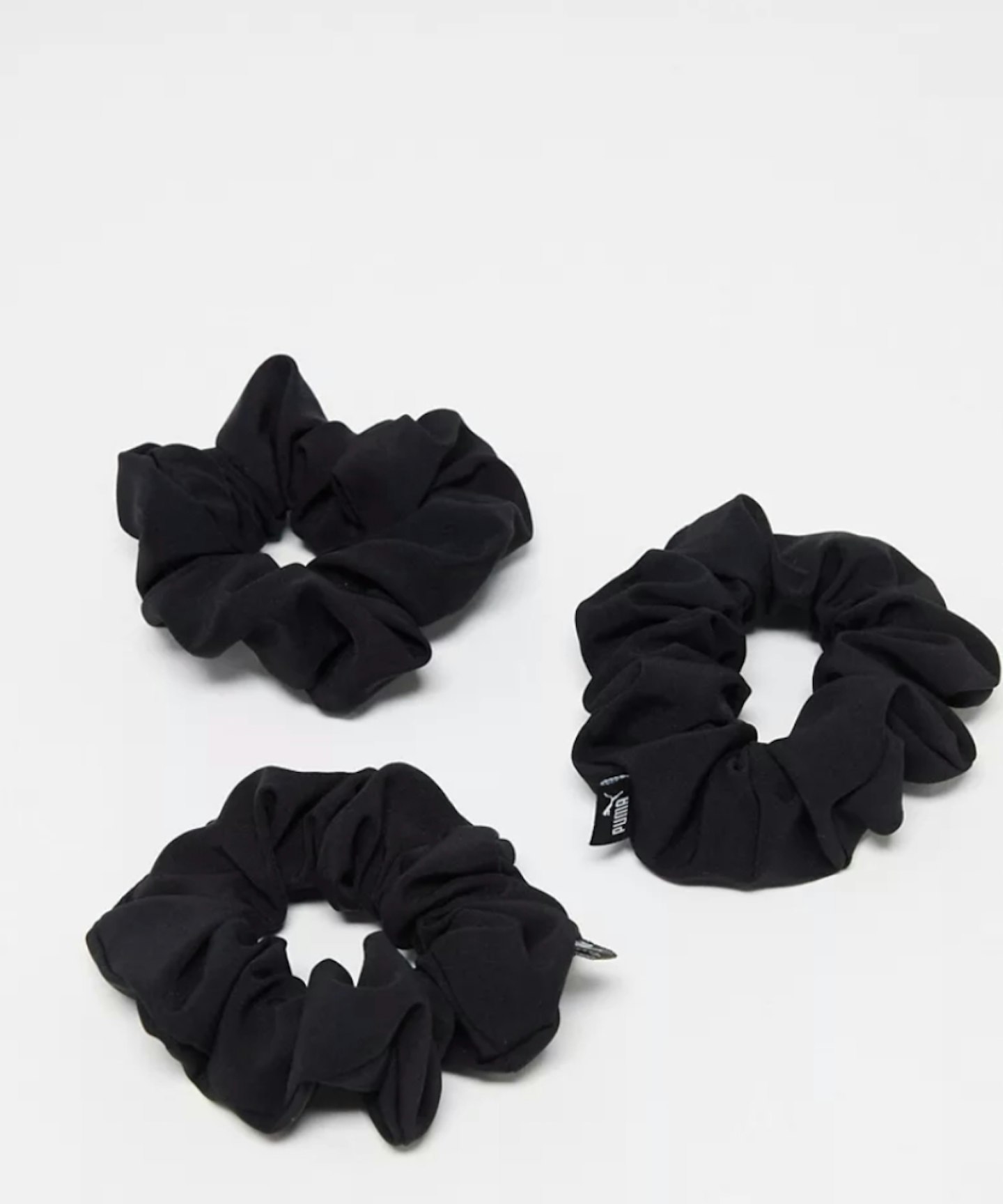 24 of 44
CREDIT: ASOS
Puma 3 Pack Scrunchies in Black
In her outfit, Hailey wears a cute black scrunchie, but with this pack from ASOS, you get three in a pack for only £9.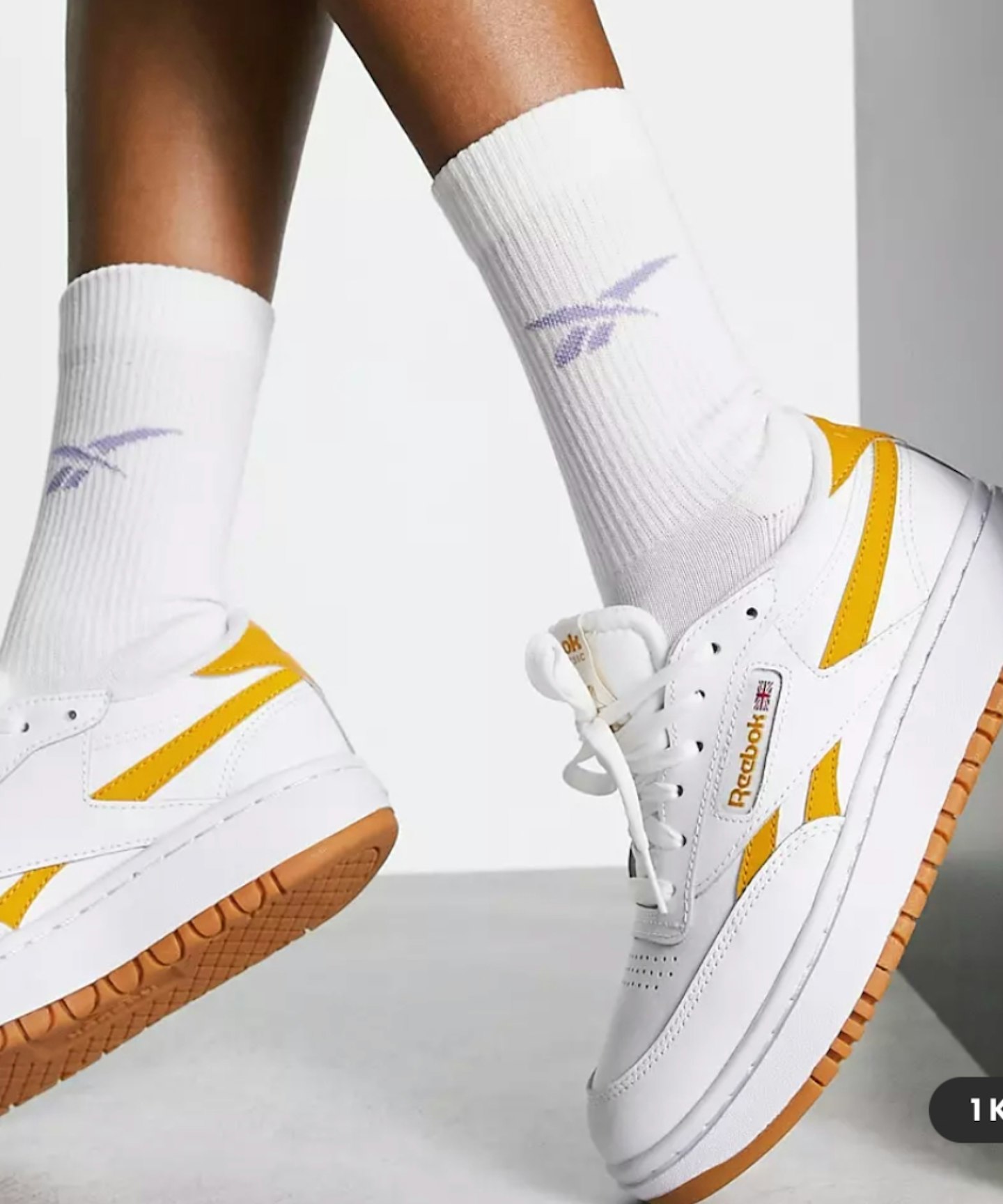 25 of 44
CREDIT: ASOS
Reebok Club C Double Trainers in White and Orange
Air Jordans are WAY too expensive, so here are some trainers from Reebok with colour blocking that are under £100.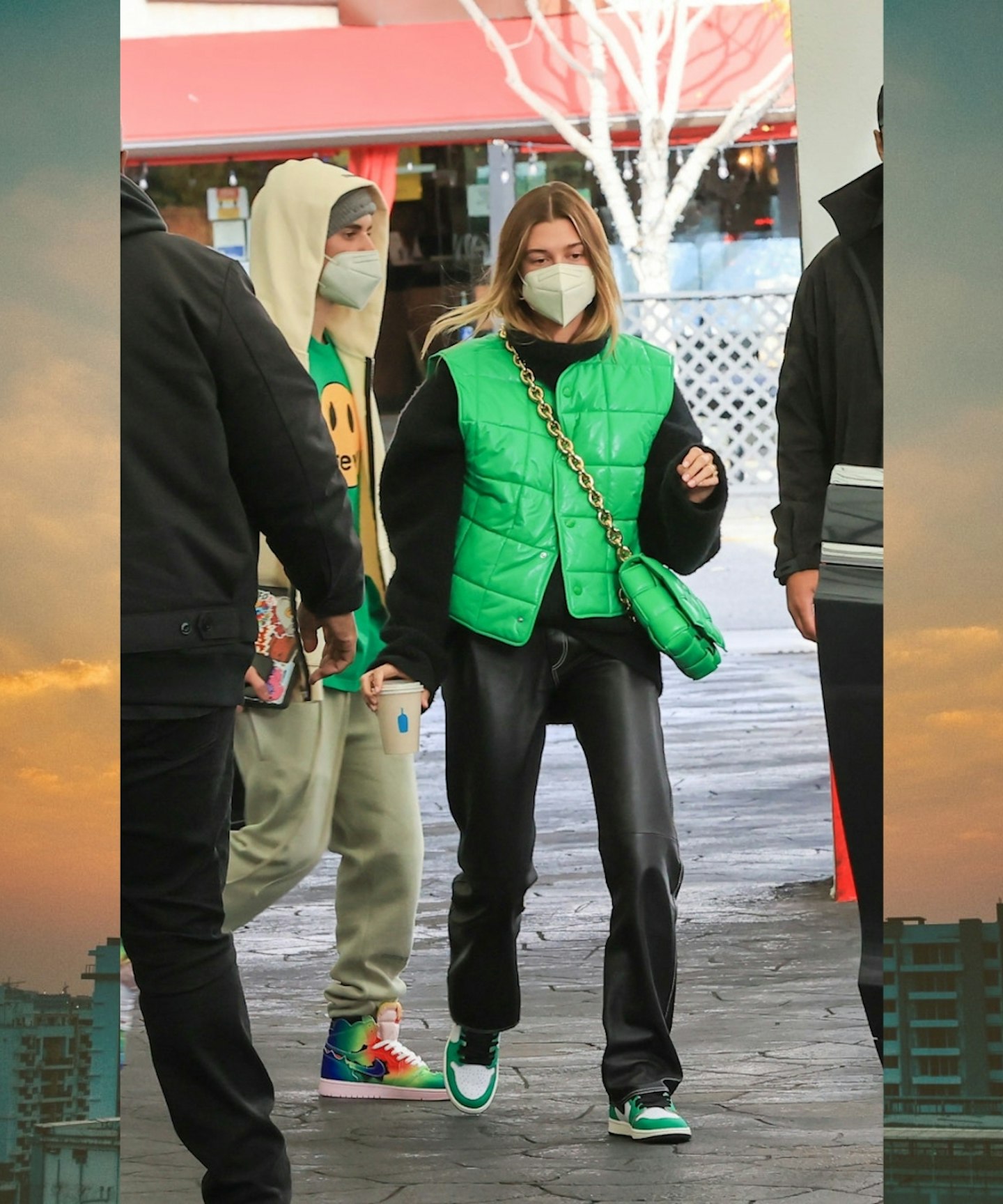 26 of 44
CREDIT: Getty Images
Hailey's Neon Puffer Gilet Look
This look from Hailey is defo our favourite of the bunch. It's unique, and futuristic, but also super comfy looking. (Coffee cup not included!)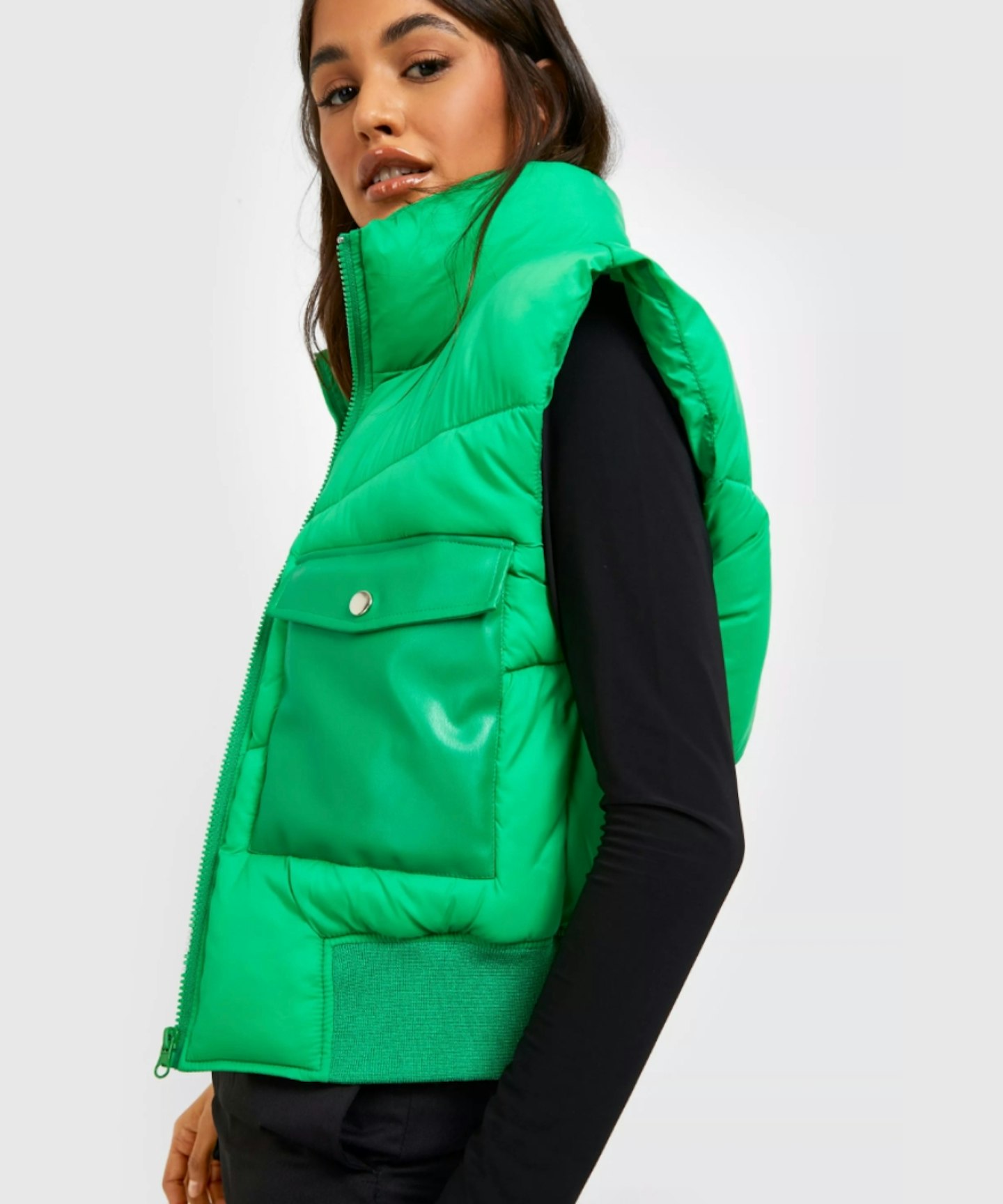 27 of 44
CREDIT: boohoo
Pocket Detail Gilet
TADAAA. Get an exact replica with this neon puffer gilet from boohoo.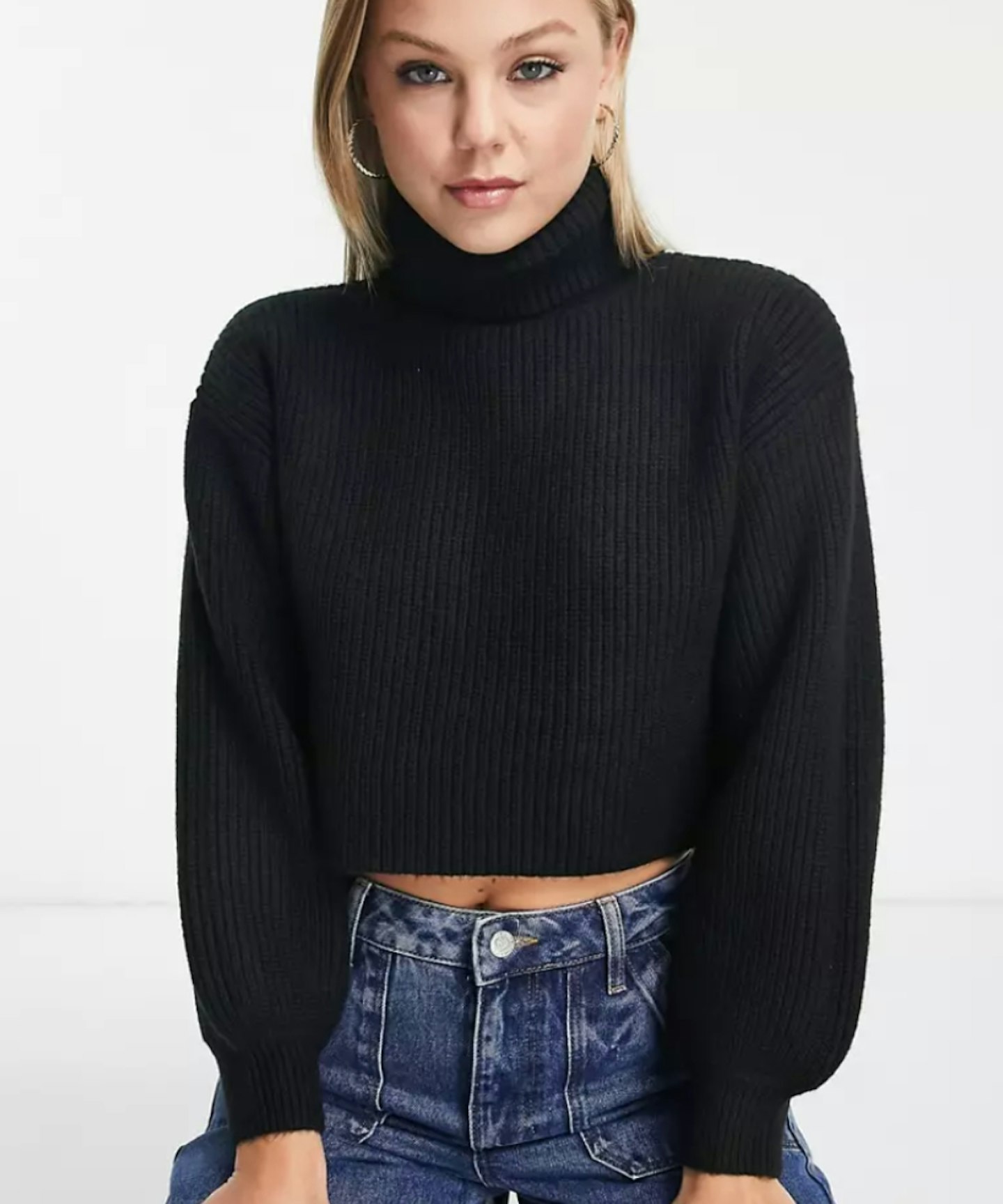 28 of 44
CREDIT: asos
Monki Roll Neck Jumper With Balloon Sleeves in Black Knit
Underneath the neon gilet, rock this black balloon sleeve sweater, which gives off the big-shoulder vibes that Hailey seems to love.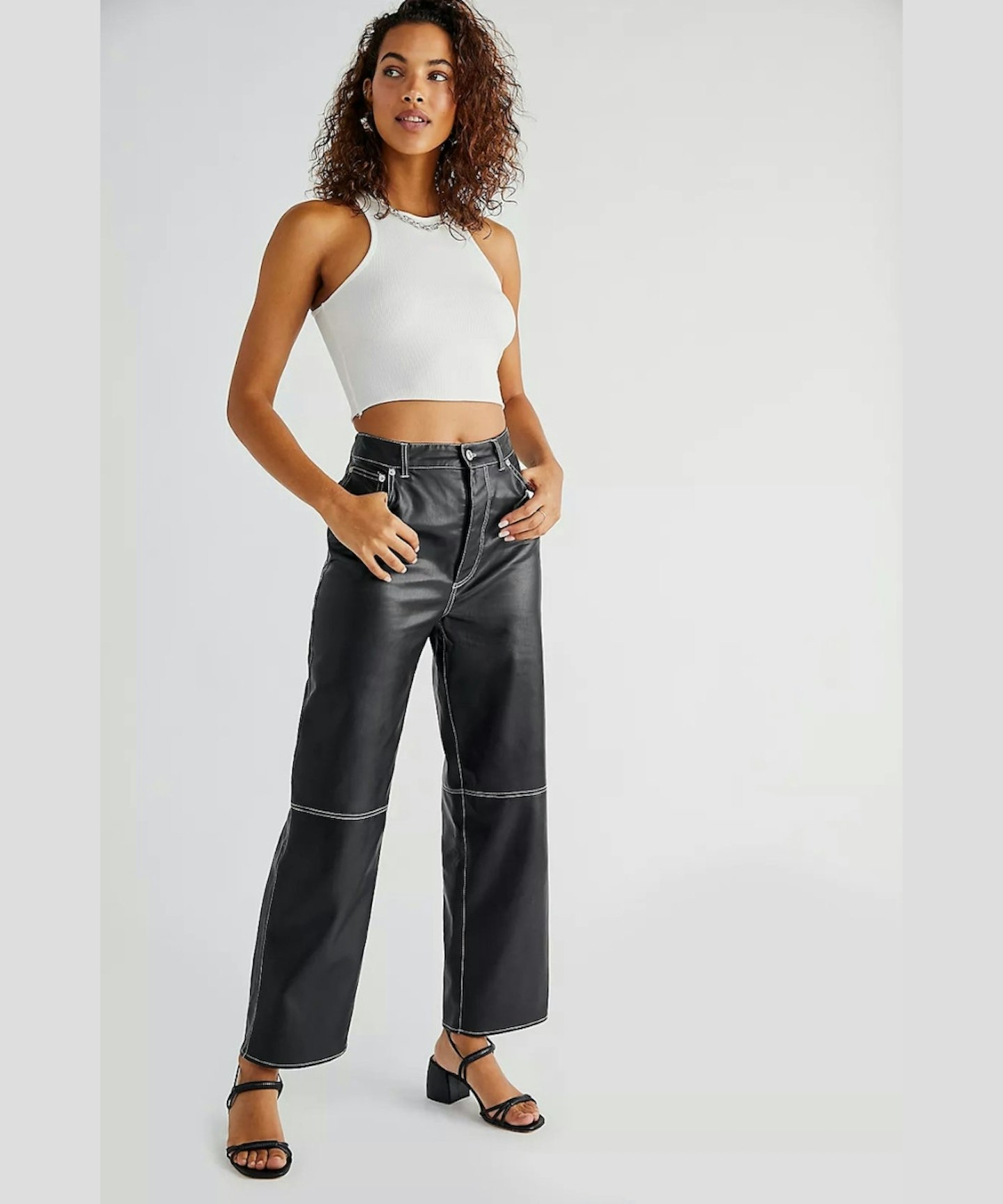 29 of 44
CREDIT: Free People
The It Factor Vegan Pants
These trousers from Free People retain the same leather texture and detail as the original- and it's vegan!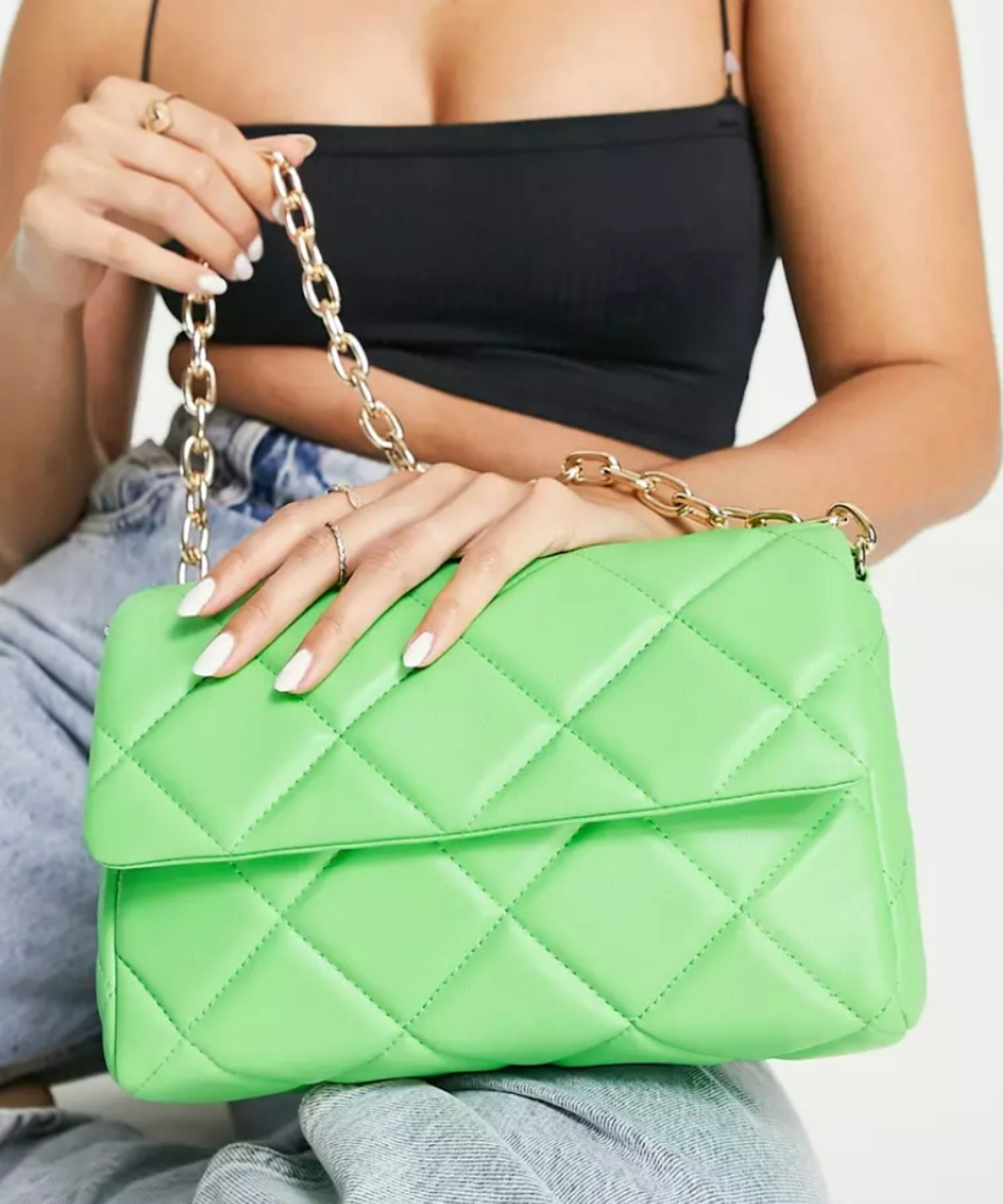 30 of 44
CREDIT: asos
Monki Quilted Shoulder Bag in Bright Green
Match your bag to your gilet with this neon number.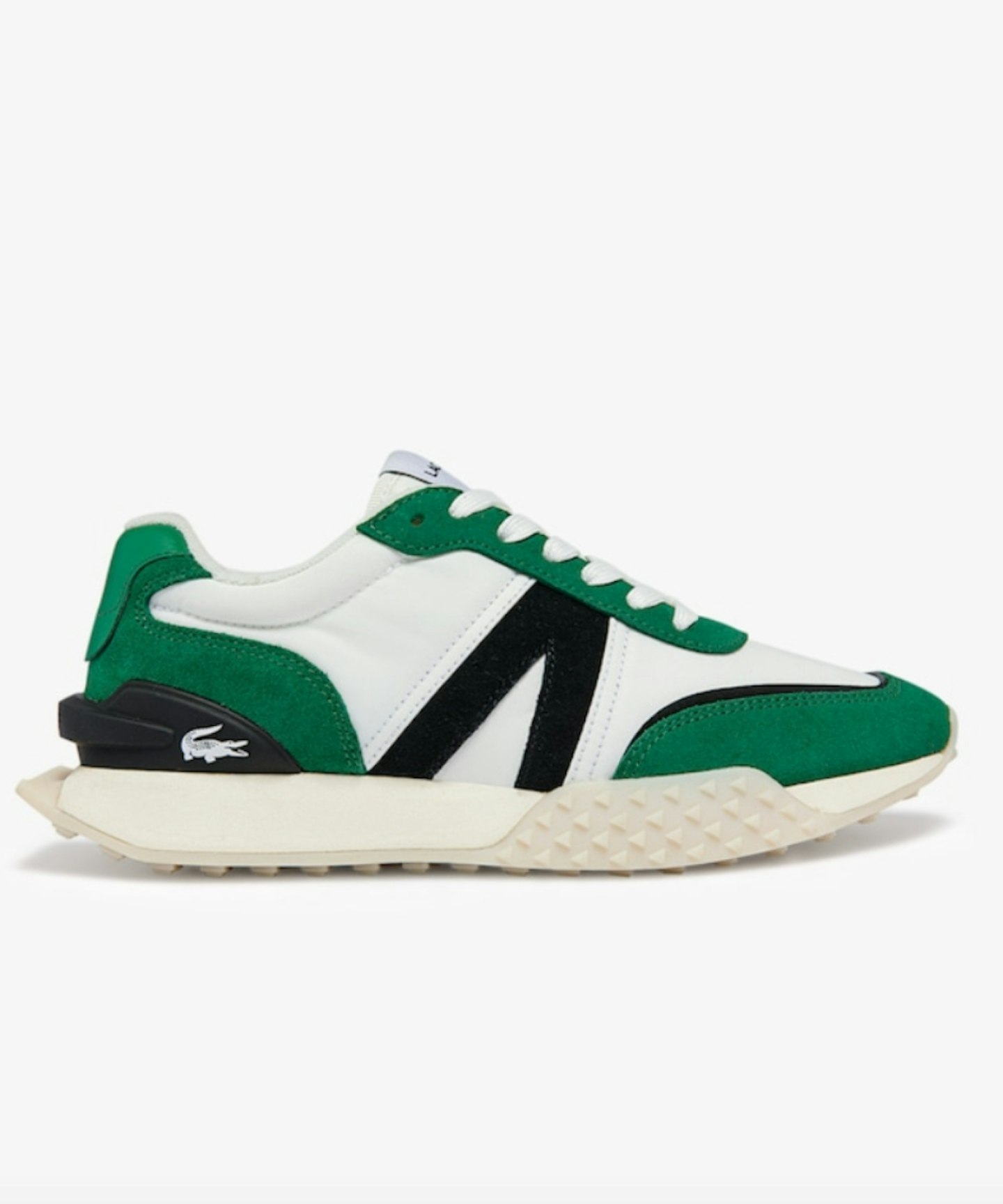 31 of 44
CREDIT: lacoste
Women's L-Spin Deluxe Textile Accent Trainers
These green Lacoste trainers are a perfect dupe for Hailey's Airforce shoes.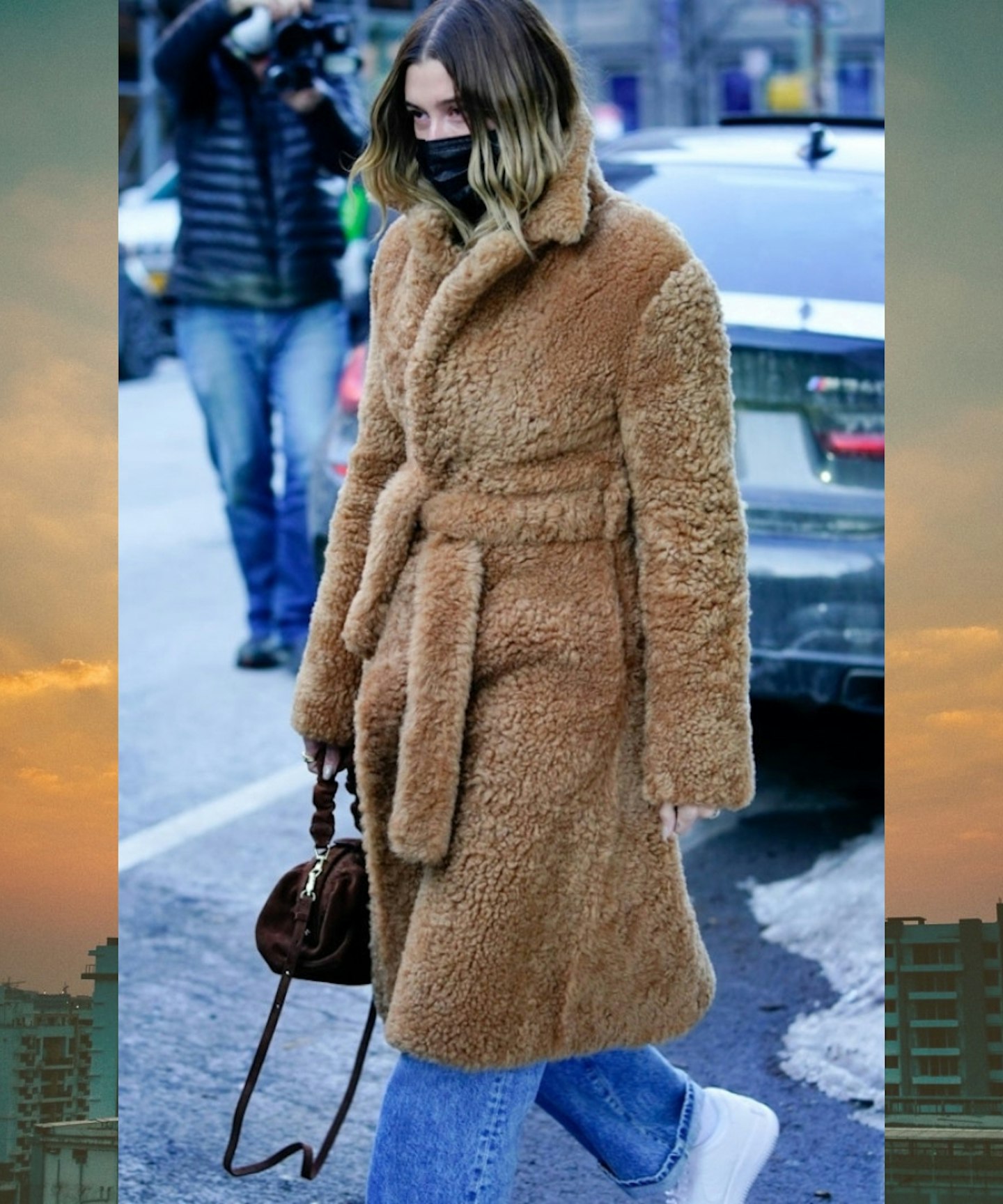 32 of 44
CREDIT: Getty Images
Hailey's Teddy Coat Look
Hailey clearly loves a fluffy coat, and who can blame her, for the cold Canadian weather? Those in the UK can relate.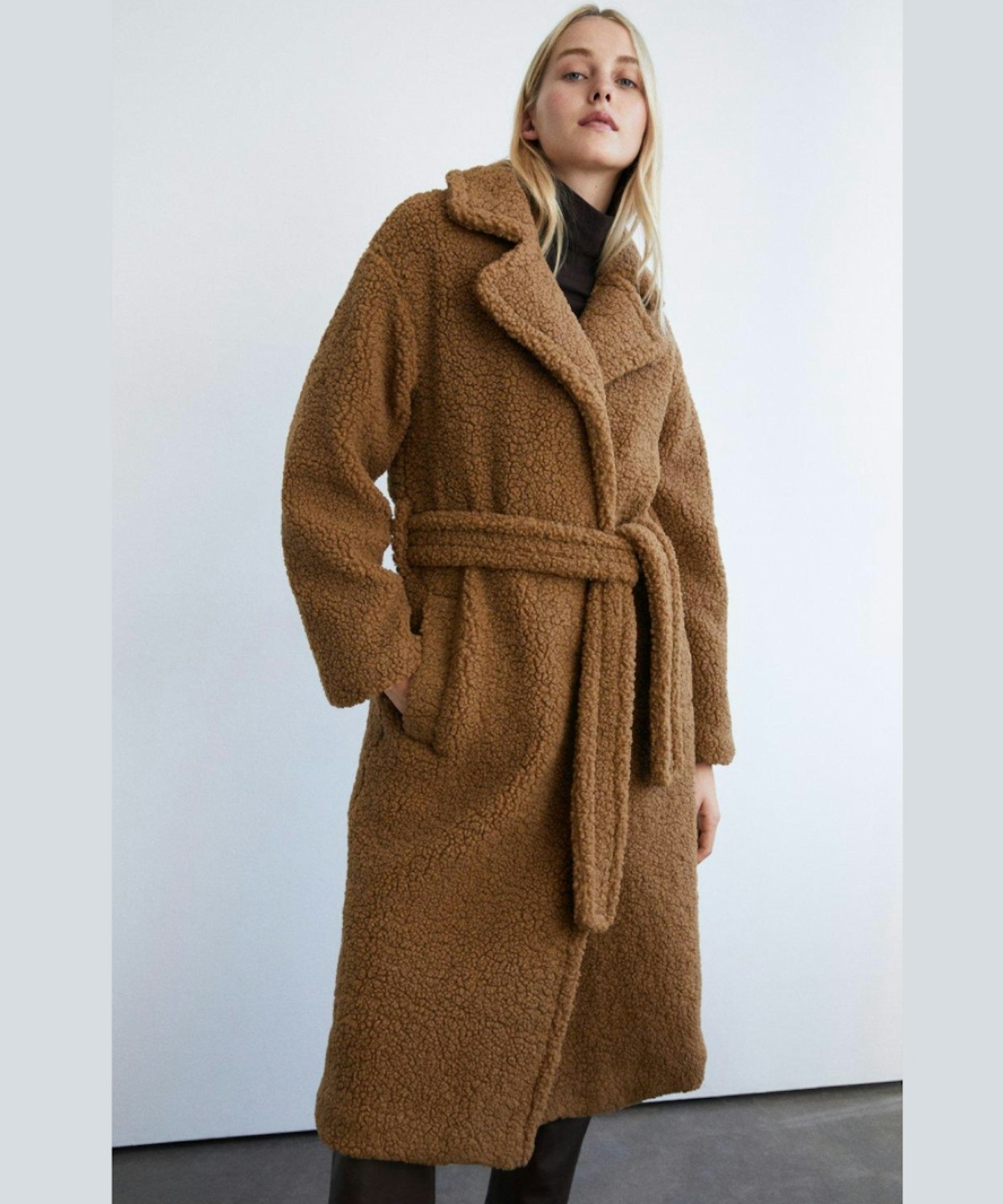 33 of 44
CREDIT: warehouse
Belted Long Line Teddy Coat
Dressing gowns aren't just for lounging in anymore- they're a fashion statement.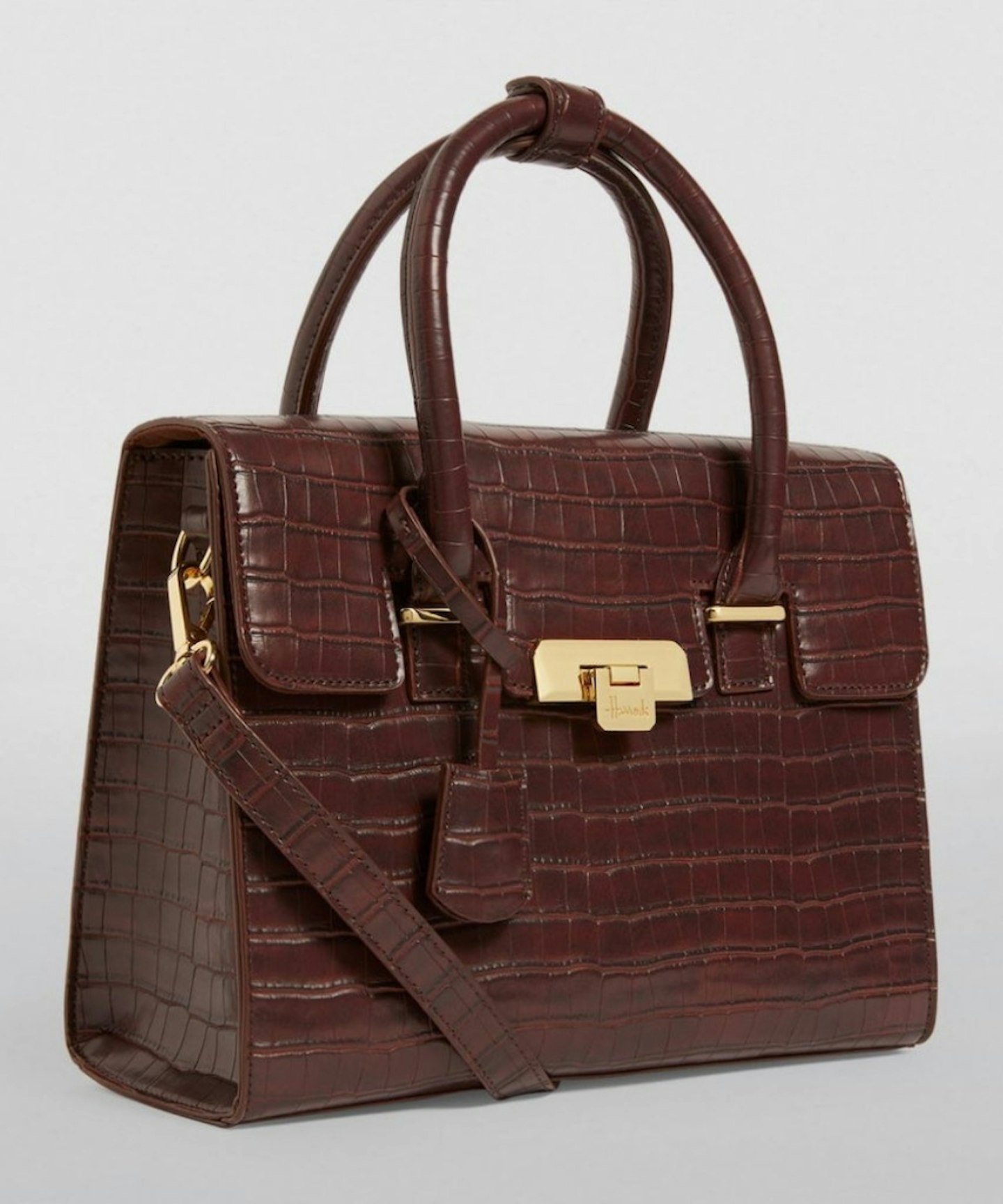 34 of 44
CREDIT: Harrods
Harrods Mini Battersea Shoulder Bag
Hailey's original bag seen in the photo is from Manu Atelier and costs £435. Or you could just buy this similar bag from Harrods for only £50. The answer is obvious.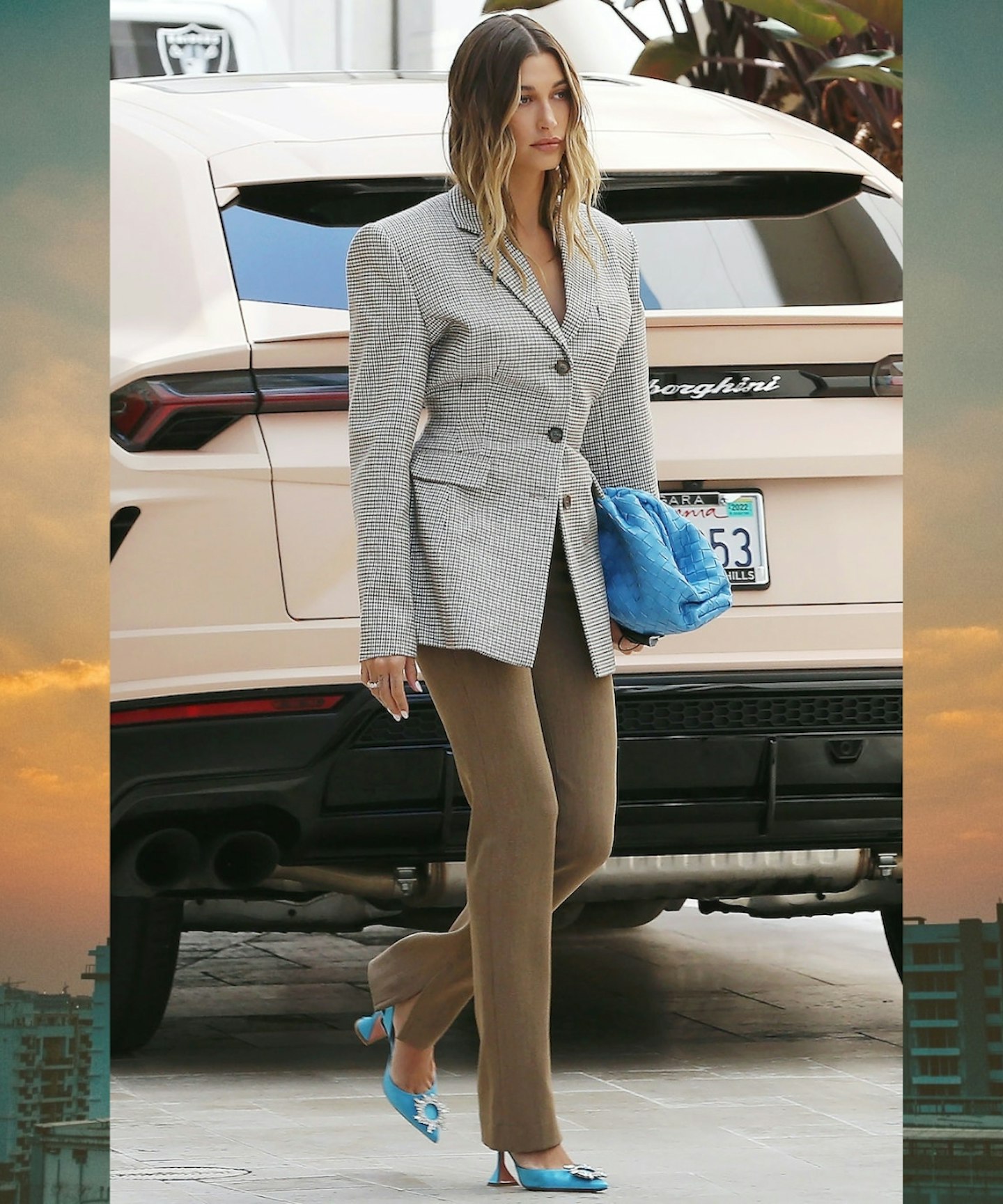 35 of 44
CREDIT: Getty Images
Hailey's Checkered Shoulder Pad Look
Hailey combines ginormous shoulder pads, checks and beige brown with ease. And so can you. Keep reading to find out how.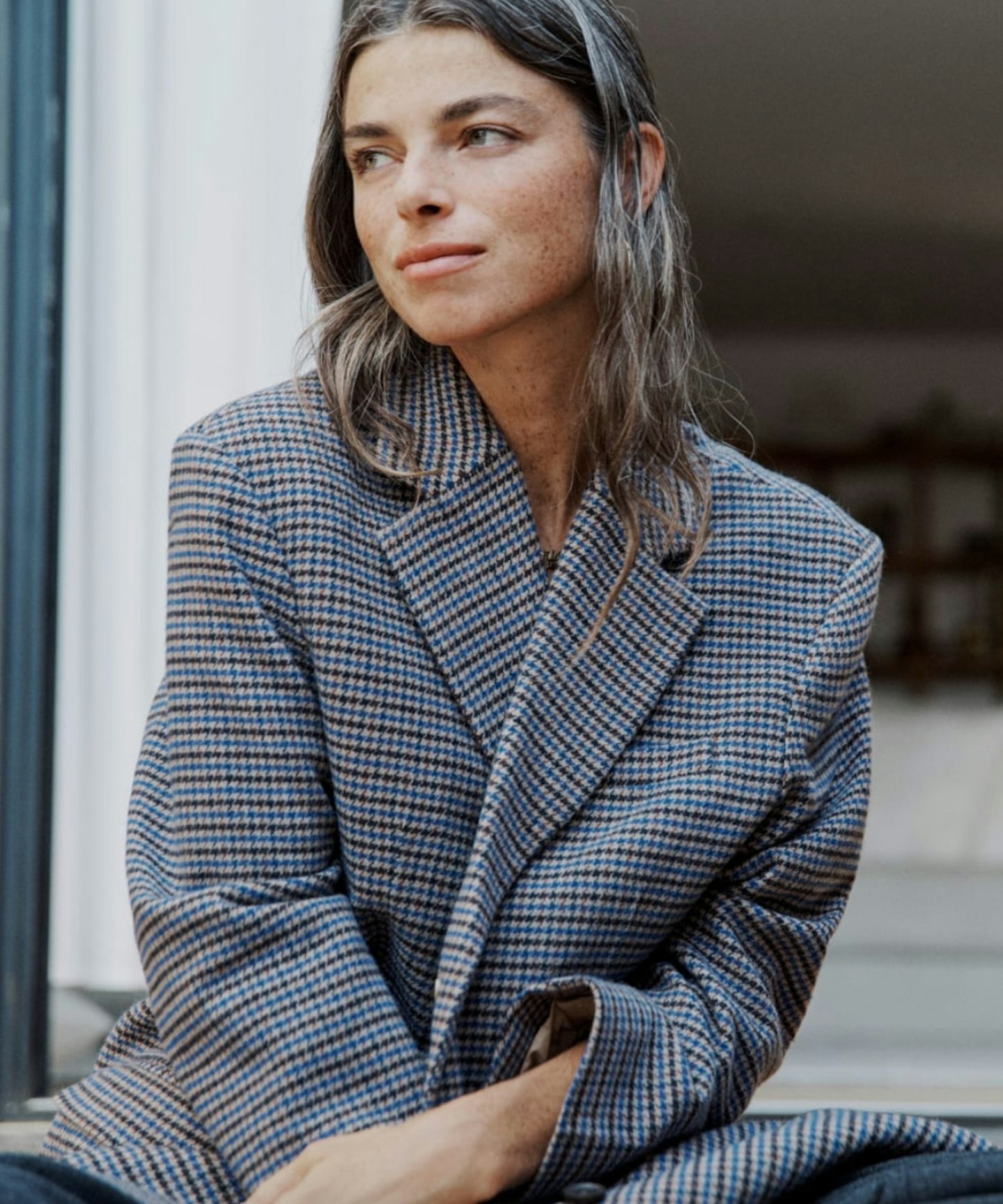 36 of 44
CREDIT: everlane
The ReWool® '80s Blazer
With checks and a strong shoulder pad game, this tailored blazer is a match.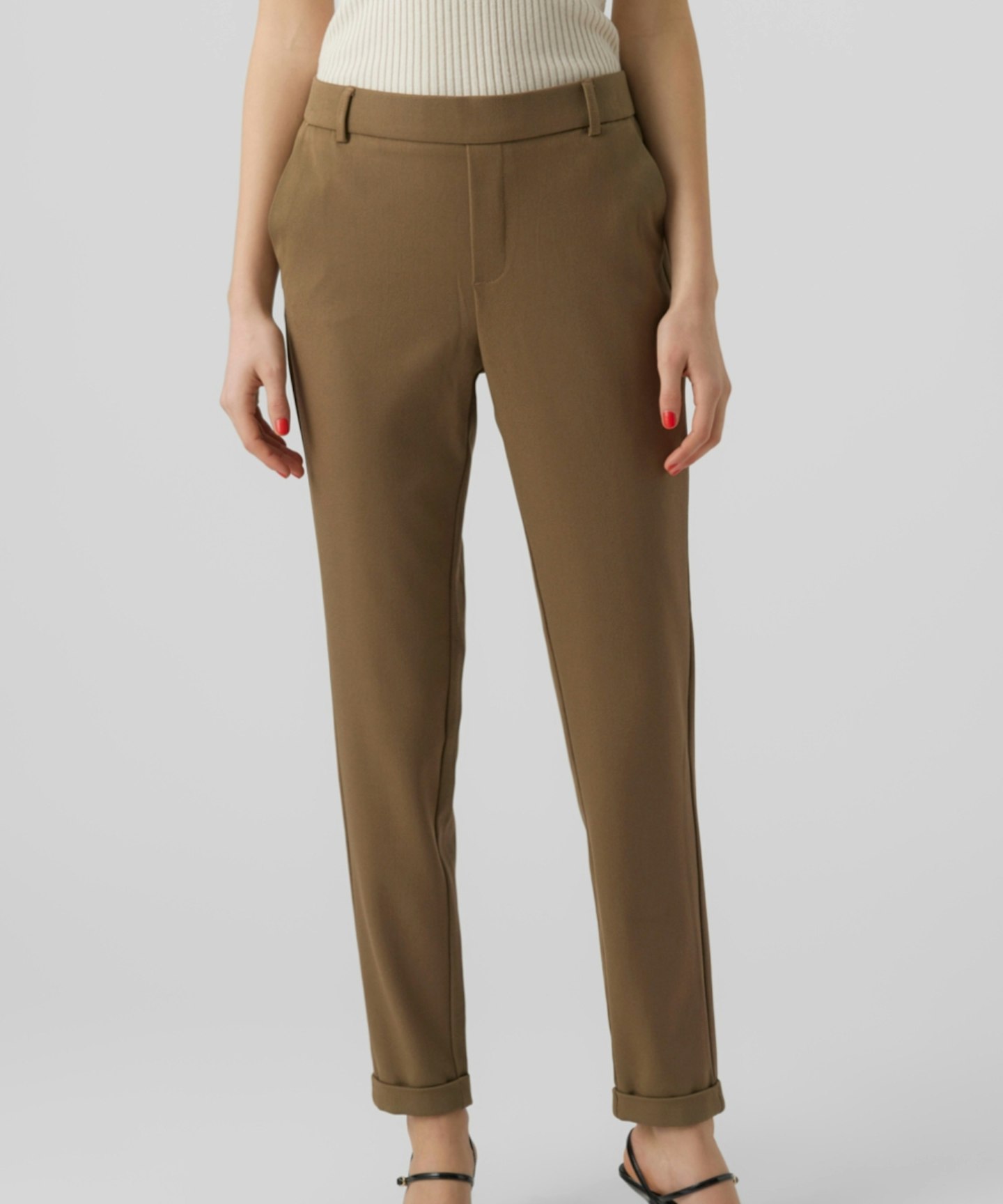 37 of 44
CREDIT: vero moda
Regular Fit Mid Waist Fold up Hems Trousers
Here's a great recreation of Hailey's original tan trousers.
38 of 44
CREDIT: asos
ASOS DESIGN Simba Embellished Bow Slingback Stiletto in Blue
Holy smokes- a perfect dupe for Hailey's original Amina Muaddi heels! These give us major Cinderella vibes.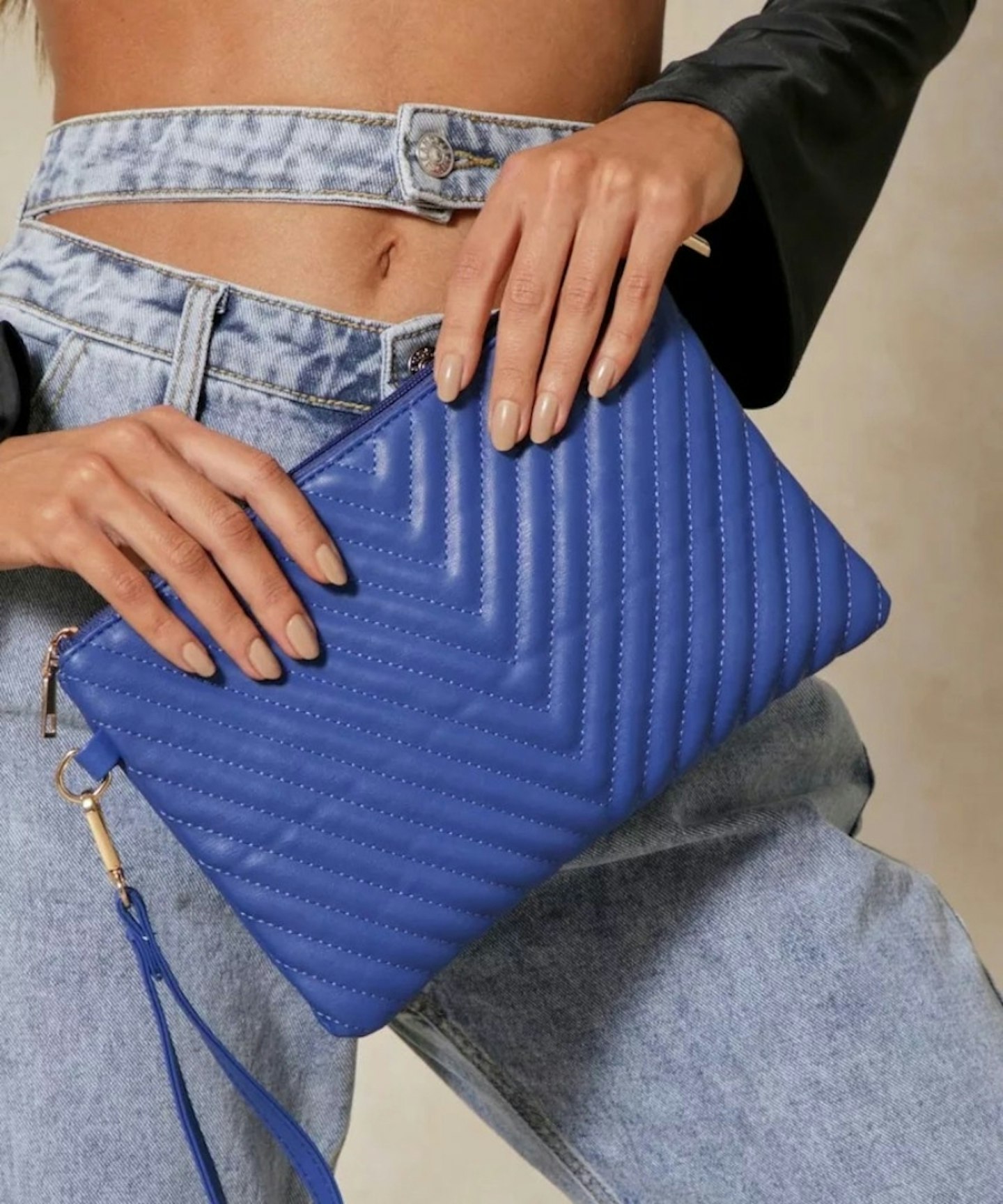 39 of 44
CREDIT: Debenhams
MissPap Quilted Zip Clutch Bag
The humungous clutch bags Hailey - what exactly are you needing to carry around with you? Here's a more reasonably sized dupe...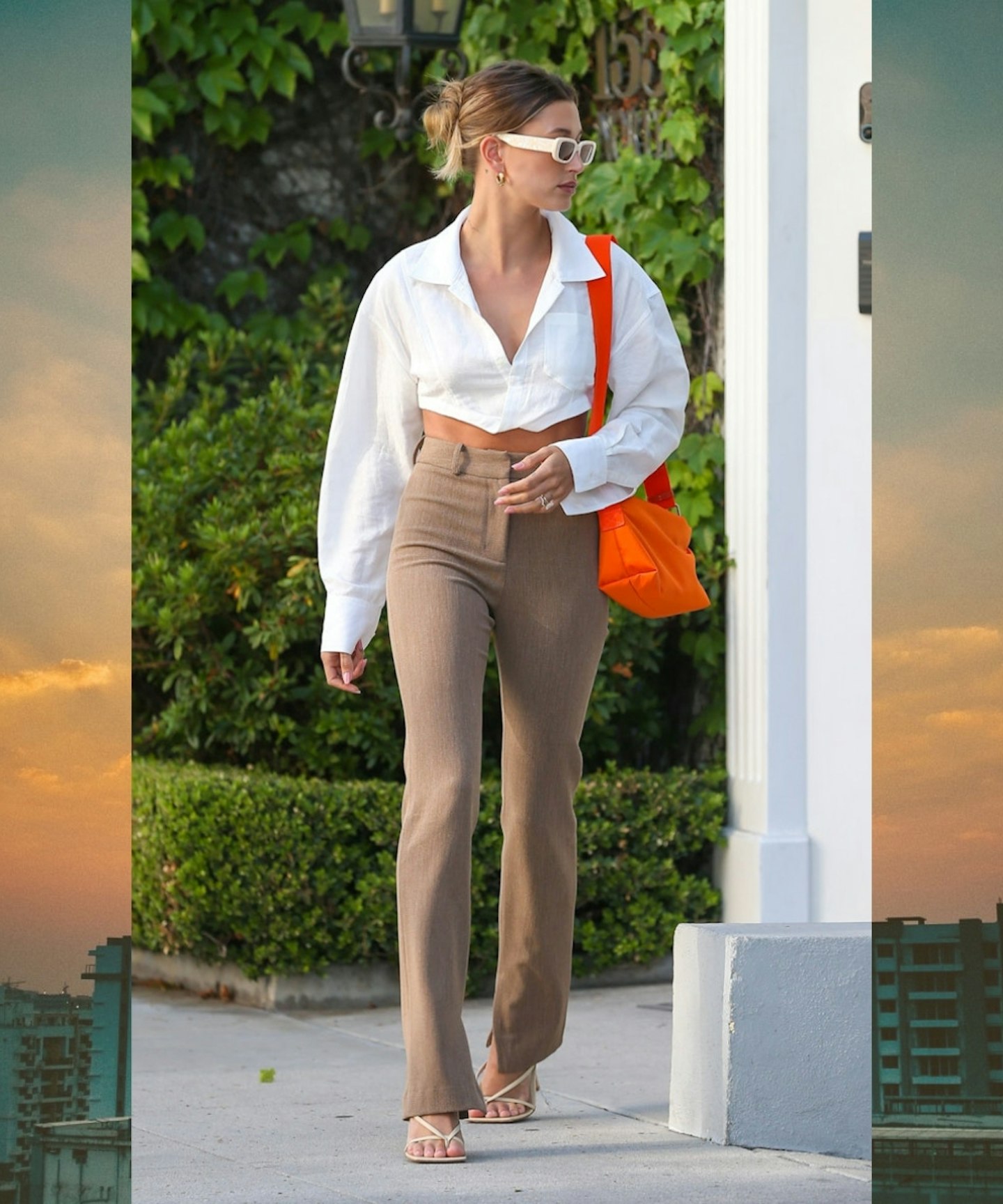 40 of 44
CREDIT: Getty Images
Hailey's Cropped Shirt Look
Our final Hailey Bieber paparazzi look is this stylish summer set-up.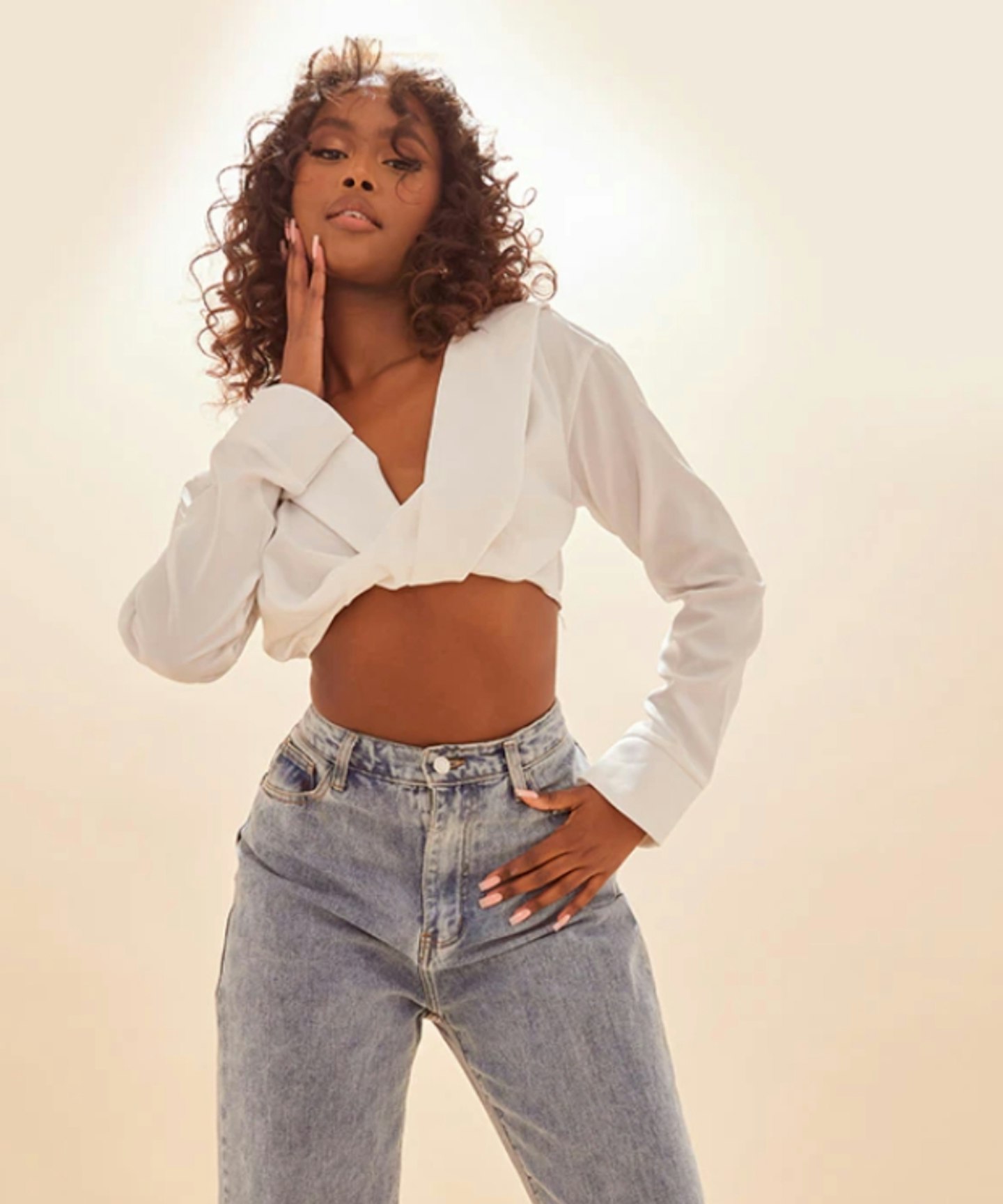 41 of 44
CREDIT: prettylittlething
White Satin Bardot Twist Front Crop Blouse
Cropped for your pleasure. Ok, that came out wrong. Basically, it's a cropped white shirt.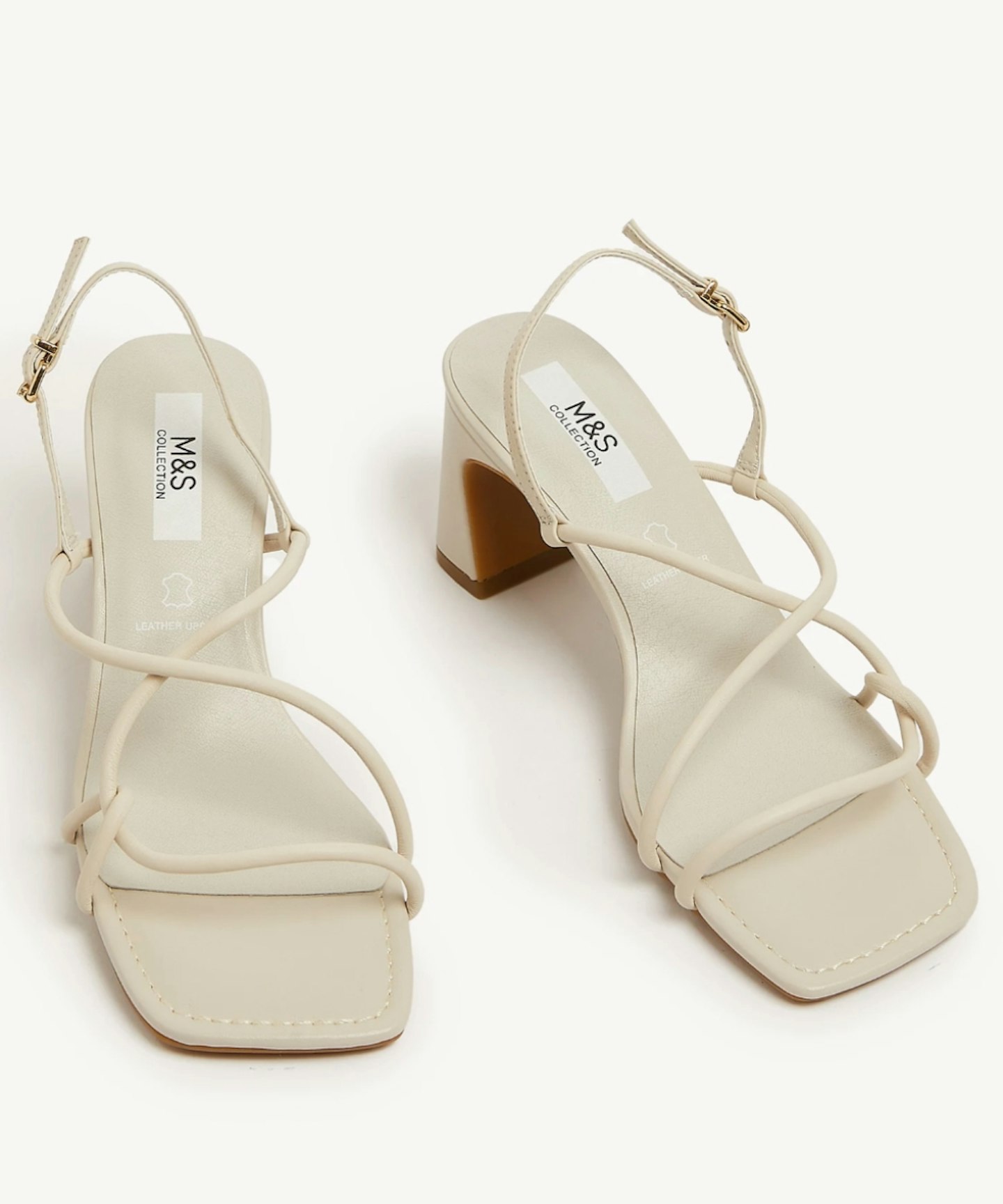 42 of 44
CREDIT: m&s
Leather Strappy Statement Sandals
What a match! The shorter the heel, the longer our patience lasts while wearing them.
43 of 44
CREDIT: asos
Calvin Klein Jeans City Nylon Shoulder Bag in Coral Orange
Finally, a normal-sized handbag from Hailey. This coral number from ASOS is a beaut.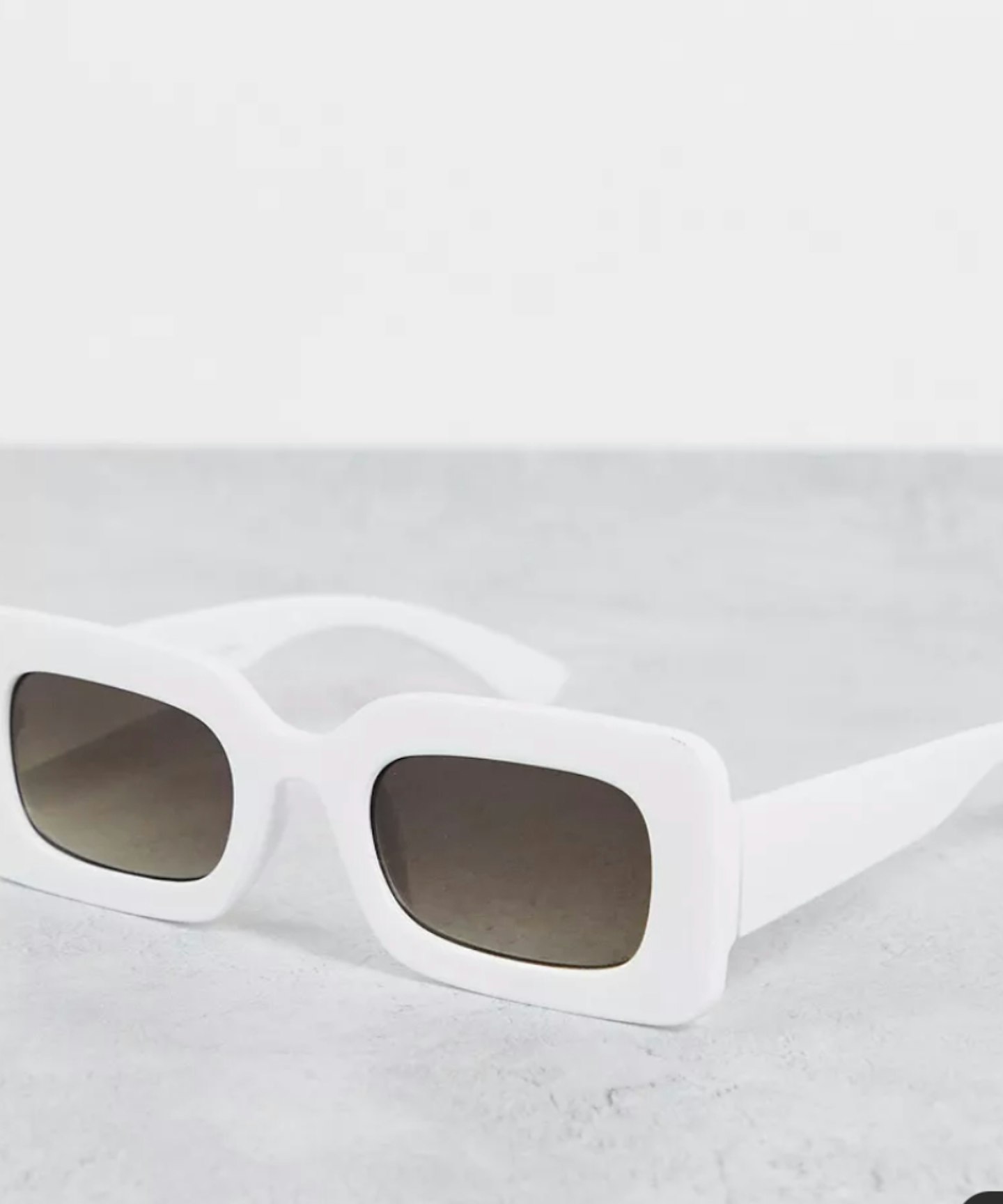 44 of 44
CREDIT: ASOS
Pull&Bear Square Sunglasses With Contrast Black Lens in White
To top everything off, here are some very swanky sunnies from ASOS.
And that's your Hailey Bieber wardrobe- sorted!