Let's be honest, Molly-Mae Hague has pretty much smashed it since leaving the Love Island villa and now she's dropped her second shoe collection with Ego but this one also includes bags.
The Love Island 2019 star is one of the most successful stars off the show - and despite it being just over a year since the final - she's dropped a couple of collections with Pretty Little Thing, launched her own business Filter By Molly-Mae and now she's collaborated with Ego again.
Molly-Mae's range is full of sandal heels, thigh high boots and handbags that look boujee AF but for a fraction of high end brand prices and honestly, we need it all in our lives ASAP.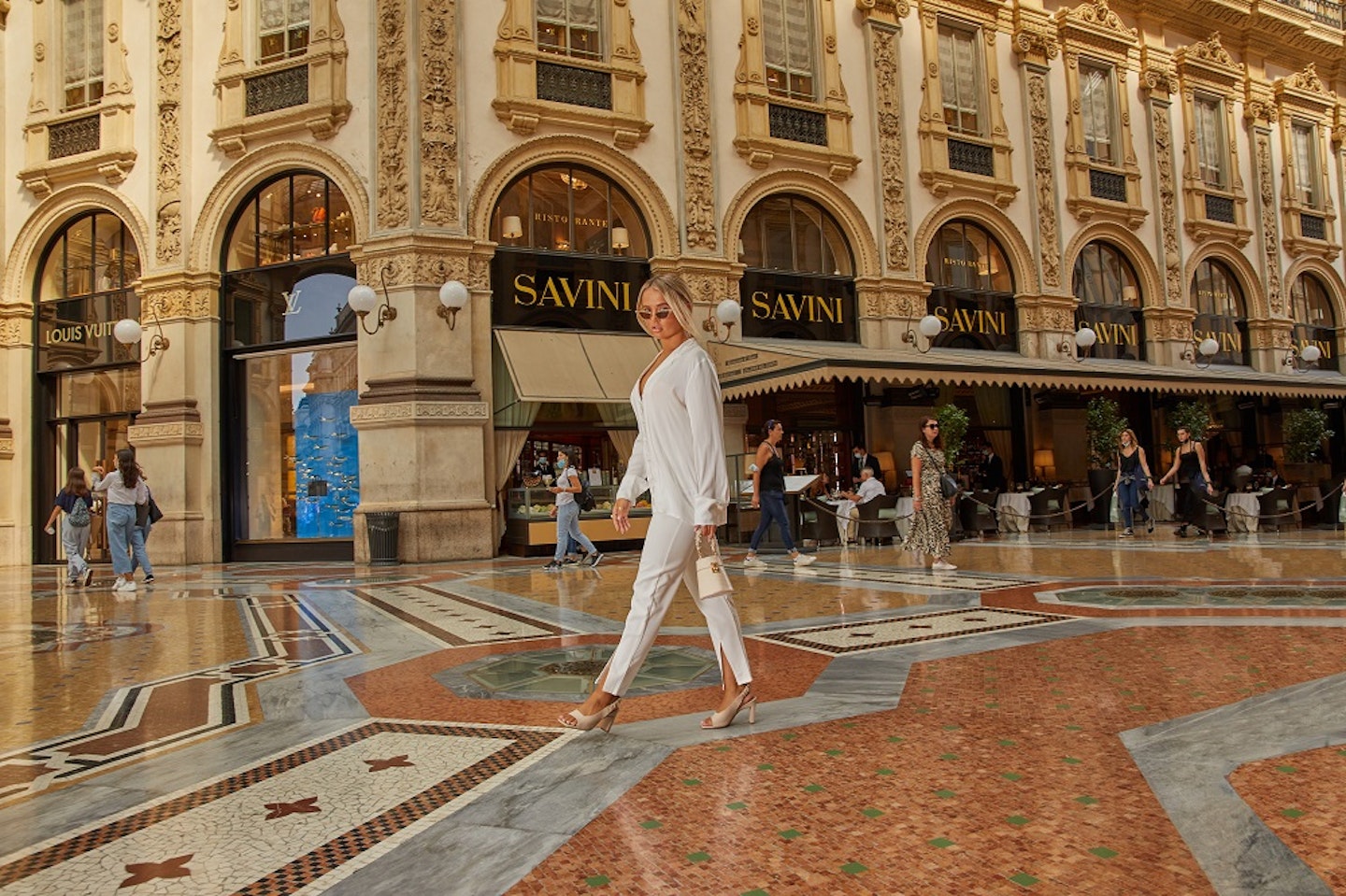 The influencer has managed to keep this under wraps and it's not the first time either because for her first collection she kept her collab a secret all throughout lockdown until the launch in July.
Molly's collection starts at £14.99 and it's actually out right now. So of course, us being well, we've had a look through the collection and picked out our favourite pieces...
Check out: Molly-Mae Hague's second Ego collection
While we may receive commission for purchases made through our links, we never allow this to influence product selections
Molly Mae's second Ego shoe collection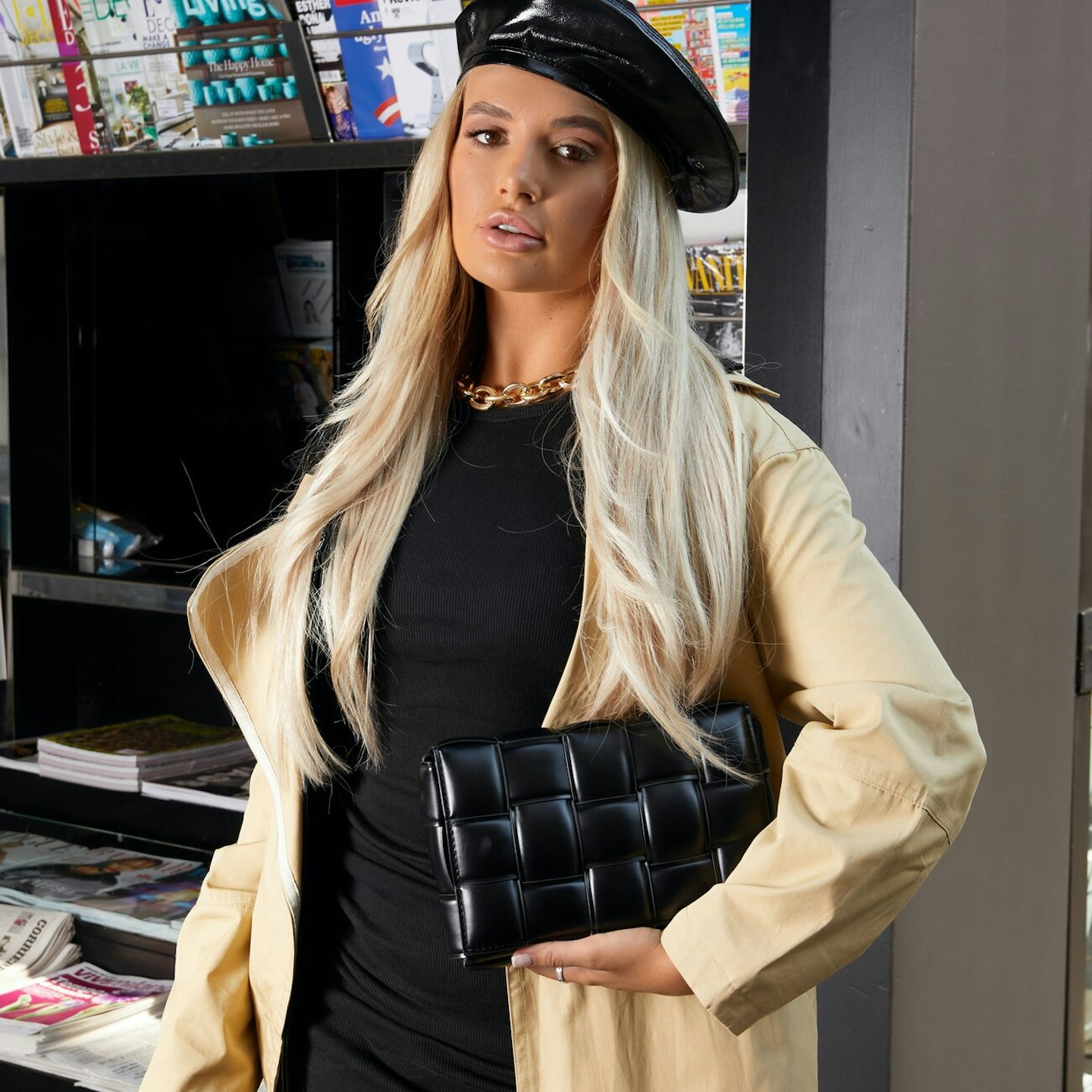 1 of 11
CREDIT: Ego
Mae Quilted Cross Body Bag In Black Faux Leather
Although you can't see it this bag actually has straps so you can wear it across your body or as a clutch bag like Molly-Mae.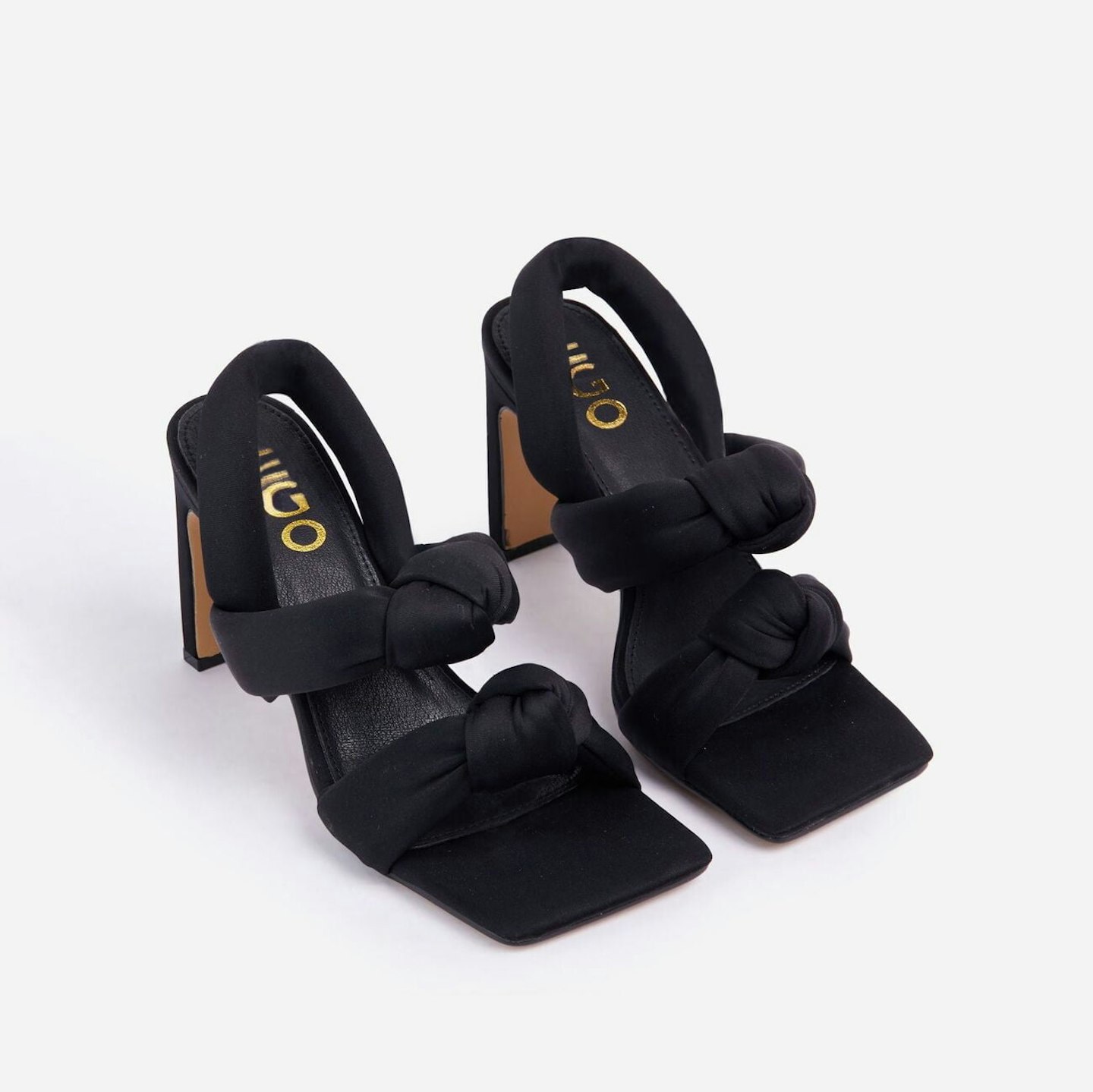 2 of 11
CREDIT: Ego
Infatuated Padded Knotted Detail Square Peep Toe Thin Block Heel Mule In Black Lycra
You can't go wrong with black heels because they'll literally go with EVERY outfit. We have to say, we're loving the padded knotted detail on these ones though...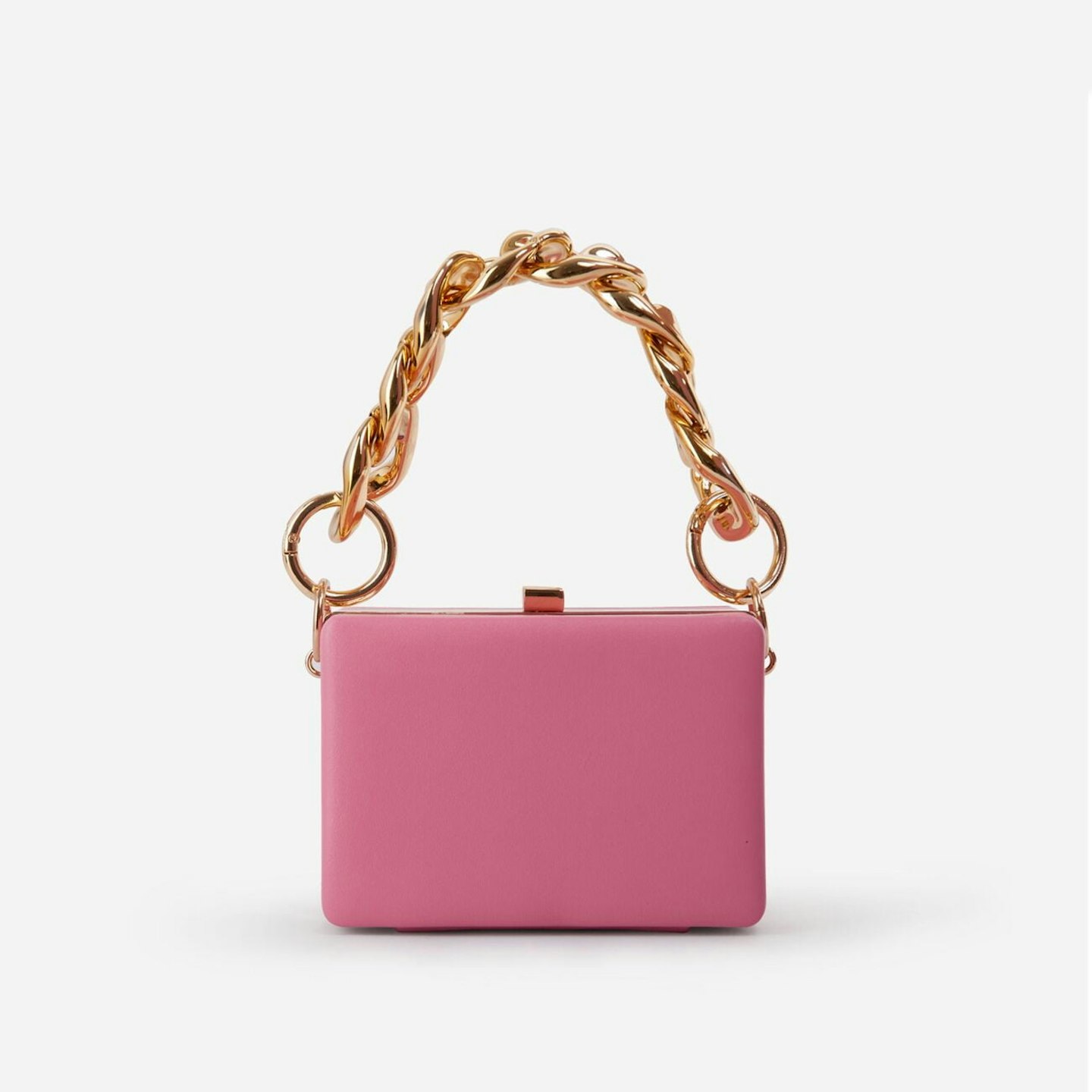 3 of 11
CREDIT: Ego
Kady Chunky Chain Box Bag In Pink Faux Leather
This pink bag is what dreams are made of. It's SO cute and we absolutely need it for our next night out (that'll end at 10pm but still).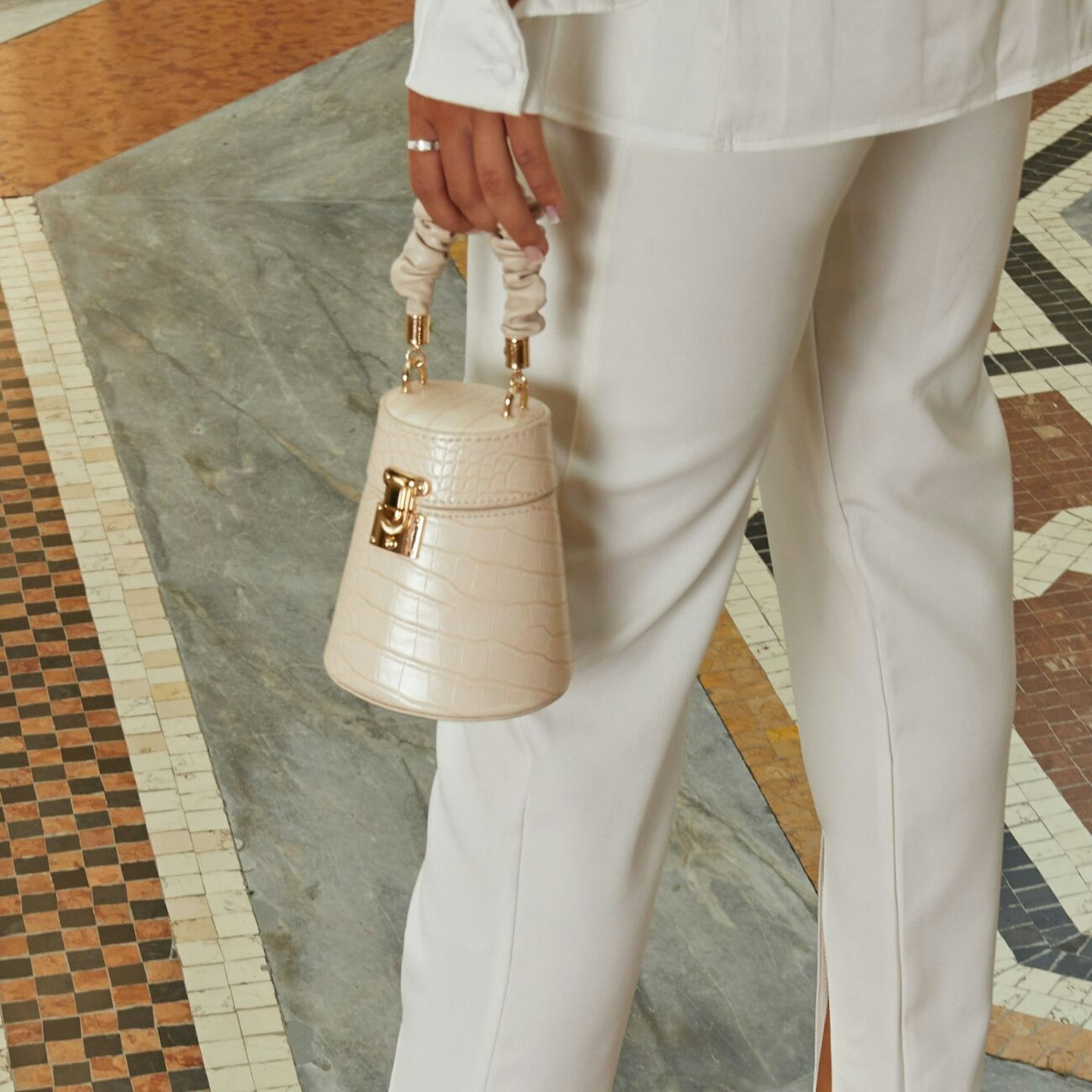 4 of 11
CREDIT: Ego
Florence Ruched Handle Mini Bag In White Croc Patent
In the words of Gretchen Wieners - this bag is so fetch. Seriously it's so different to a normal clutch bag, you'll have your friends asking where you bought it.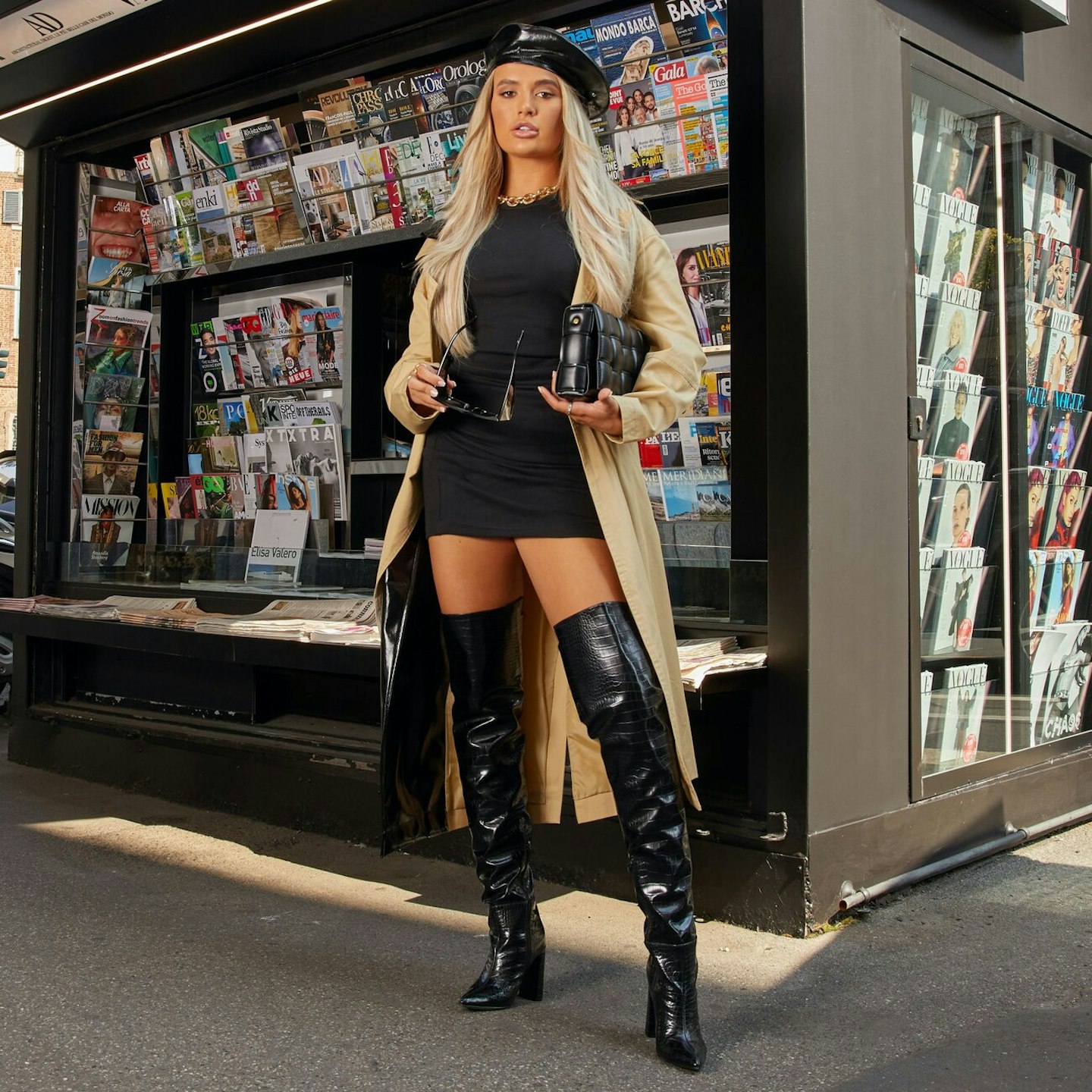 5 of 11
CREDIT: Ego
Visionary Block Heel Over The Knee Thigh High Long Boot In Black Croc Print Patent
We are obsessed with these black croc printed patent thigh high boots. We'll definitely be wearing these all throughout autumn and winter.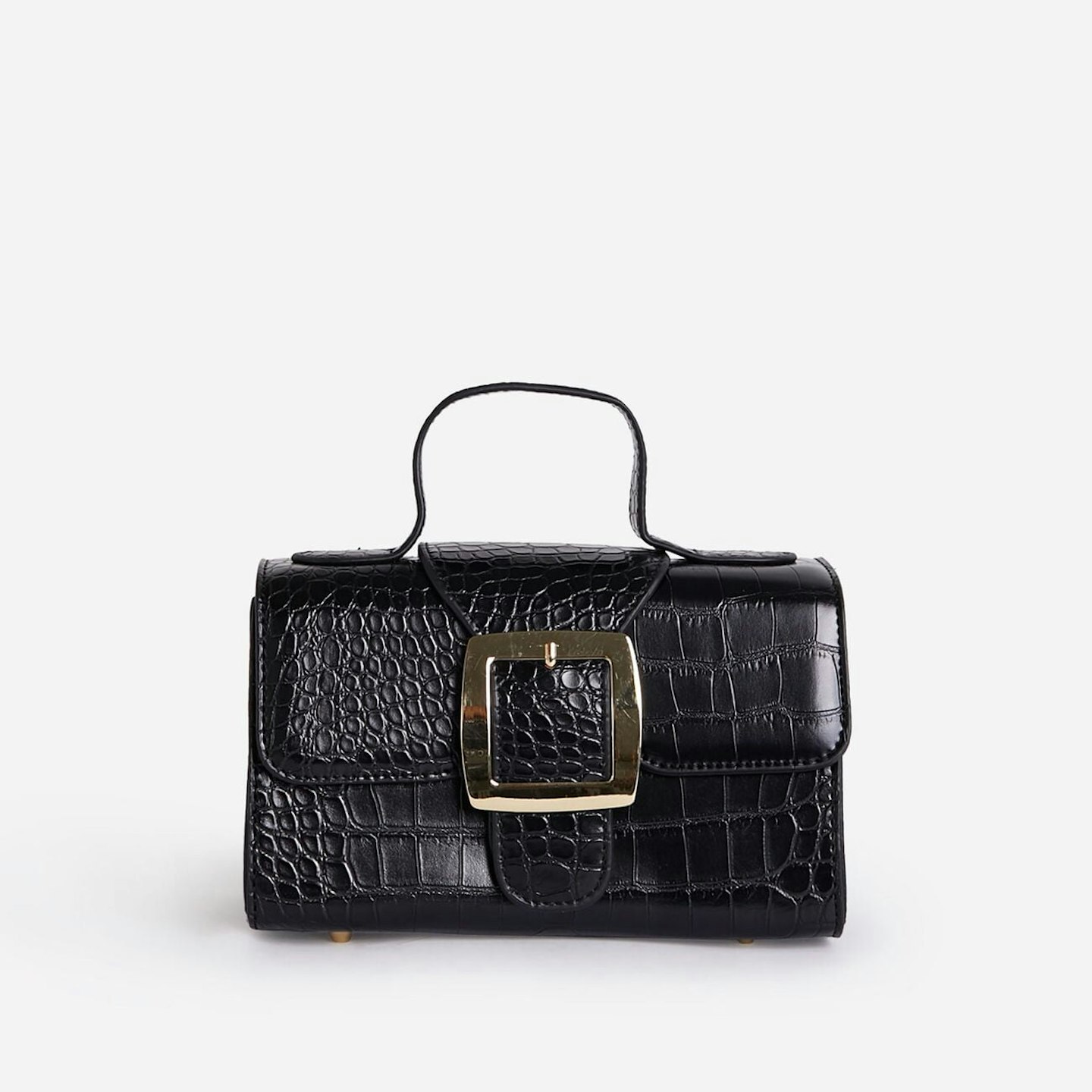 6 of 11
CREDIT: Ego
Arabella Buckle Detail Rounded Handle Mini Bag In Black Croc Patent
If you've watched any of Molly-Mae's hauls on Youtube then you'll know she loves a little bag so we're not surprised this one is in her collection.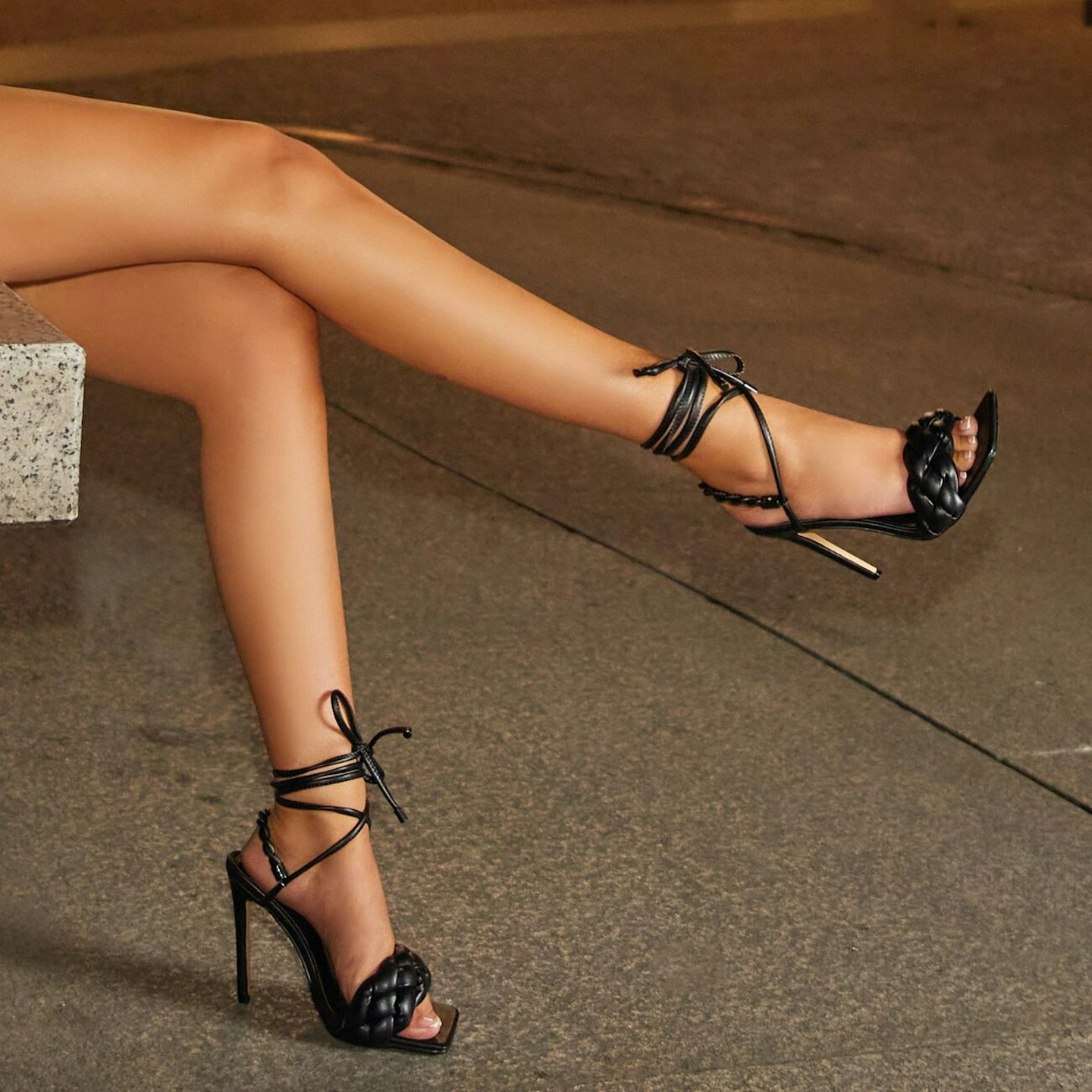 7 of 11
CREDIT: Ego
Cascade Lace Up Braided Detail Square Toe Heel In Black Faux Leather
Despite the fact that we're not really going out as much as we were before we've noticed these braided sandal heels all over Instagram. Perfect if you're going for brunch with the girls.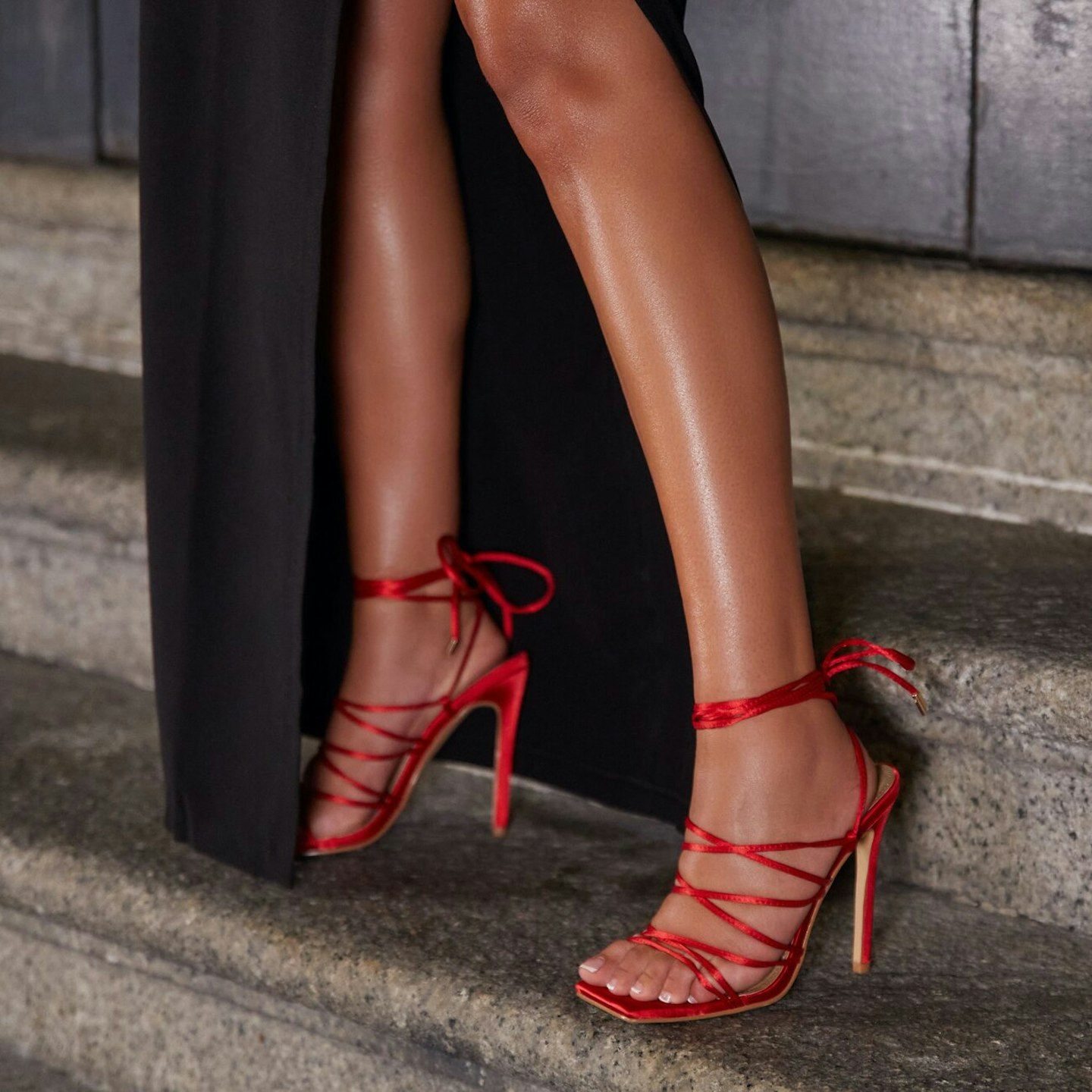 8 of 11
CREDIT: Ego
Donatella Strappy Lace Up Square Toe Heel In Red Satin
We're in desperate need of some killer red heels and these ones are just meant to be in our wardrobe, tbh. We love the strappy detail.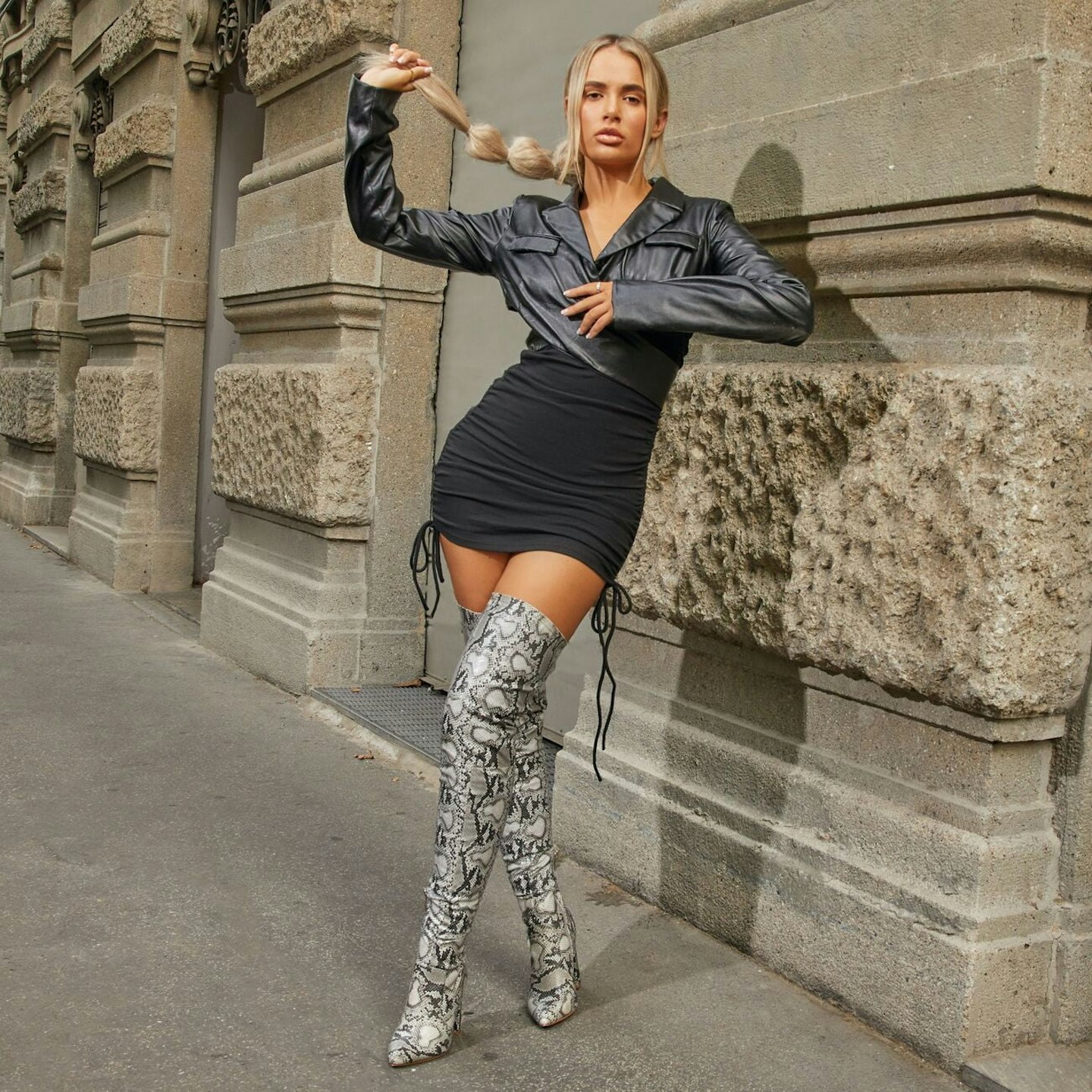 9 of 11
CREDIT: Ego
Invasion Block Heel Lace Up Over The Knee Thigh High Long Boot In Grey Snake Print Faux Leather
OK a little pricey compared to the rest of the collection but you can't really go wrong with thigh high boots. Wearing trousers? Thigh high boots. Mini skirt? Thigh high boots. Little black dress? You guessed it - thigh high boots.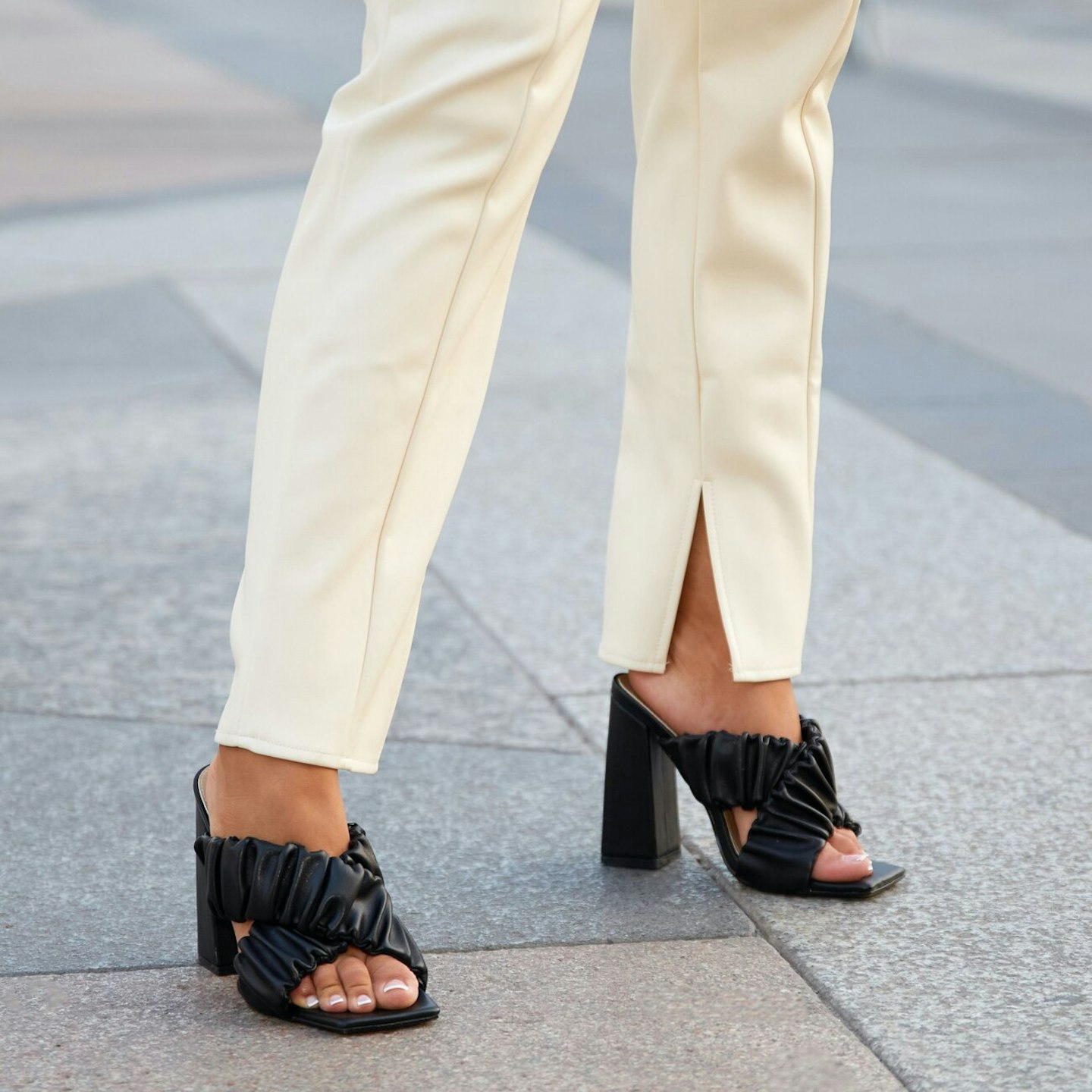 10 of 11
CREDIT: Ego
Larchmont Ruched Cross Strap Square Peep Toe Flared Block Heel Mule In Black Faux Leather
These peep toe heels are SO cute and we're definitely getting boujee vibes from them. We also love the fact that they're block heels - they're waaaay more comfy.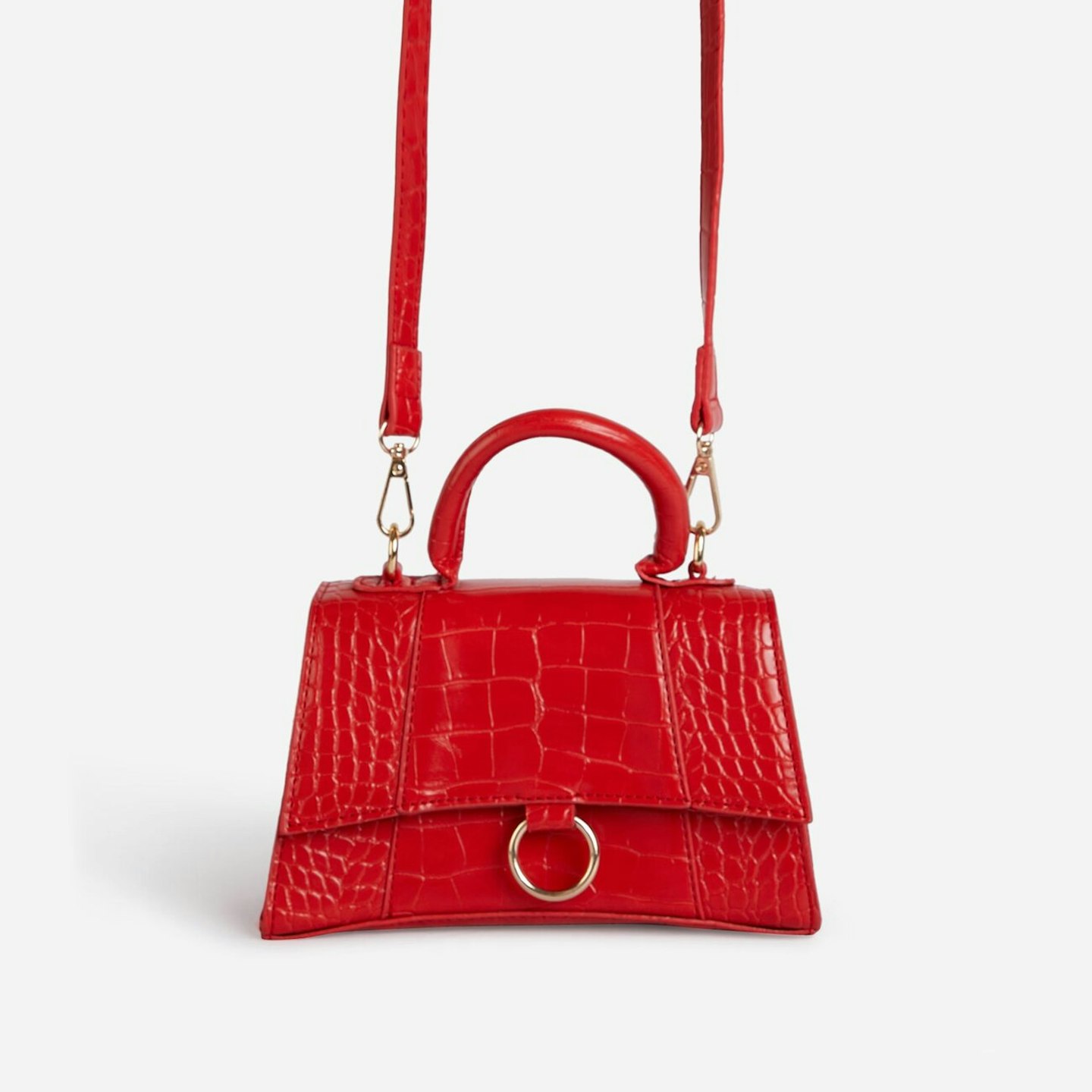 11 of 11
CREDIT: Ego
Georgie Ring Detail Tote Bag In Red Croc Print Patent
Another bag that you can't go wrong with. This one is perfect if you want to add a little colour to your outfit.
WATCH: 'I Never Slept With Them, Have You?' We can't believe Shaughna asked Pete this! | Dating Dilemmas
READ MORE
This coat is so popular it has its own Instagram account - and it's perfect for winter
Speaking about her collection, Molly-Mae has said, "I'm so excited to bring out my second collection with ego and had the chance to shoot the campaign this time in Milan which was amazing.
"I wanted to create something different from the first collection with more of a street style feel. My two current favourites from the edit are 'show off' and 'new me' because they're both such a statement style and match perfectly with my outfits. I hope everyone loves the shoes as much as I do."