Jack Fowler - aka one of the hottest ever Love Island stars - has revealed he's swapping his reality TV star career for a music career.
The 2018 Islander announced the news on Instagram and revealed that although he first teased his new job months ago he's finally dropping his first song and music video.
"Been holding this back for a while, even through meningitis. Timing needed to be right and I finally feel like now it is.
"Not staying in one lane... Hope you guys love my music as much as I do... so tell your aunty, to tell her friend to tell her step mum's cousin that it's dropping on 27.03.20," he wrote on Instagram.
Check out: Love Island 2018 cast - where are they now?
Slide 2 of 70
ITV

Love Island cast 2018

From Love Island 2018 winners Dani Dyer and Jack Fincham to Casa Amor's Savannah Darnell and Kaz Crossley, here's what all the islanders are doing now...

Shutterstock

Kendall-Rae Knight

Kendall was initially coupled up with Niall Aslam but dropped him like a rainbow fish shaped potato when Adam Collard slithered over. She was dumped by the scaly one when Rosie Williams caught his eye and ended up being the first person to leave the Love Island villa.

Instagram

Kendall-Rae Knight

Fast forward a few days and Kendall had already forgotten Adam after a hot date with Love Island 2017 star Kem Cetinay. Go, Kendall. She has since gone on to become a Boohoo ambassador (a Love Island alumna rite of passage), she launched her own range of fake eyelashes and has partnered up with underwear brand With Love Lilly. Oh, and she had a nose job too.

Shutterstock

Niall Aslam

Niall left Love Island of his volition and the nation (well, us anyway) cried into our cornflakes as he was 100% our favourite man to win.

Shutterstock

Shutterstock

Hayley Hughes

Hayley was initially coupled up with Eyal Booker but the pair did not hit it off. She later tried to make it work with Charlie Frederick but, alas, the pair were dumped on day 13. She's perhaps best known for sharing her insight on Brexit.

Shutterstock

Hayley Hughes

Hayley has subsequently spoken out about her abusive father and her mother's brave escape from him. She's also defended the Brexit comments she made in the villa. Oh, and she even dated DJ Tom Zanetti who played at one of the villa's pool parties. Hayley took to Instagram to tell fans, 'I believe the most important relationship we have is the one we have with ourselves'. You do you, Hayley.

Shutterstock

Charlie Frederick

Charlie lasted a heady five days in the villa. He coupled up with Hayley but was left frustrated when she failed to return his ardor.

Shutterstock

Shutterstock

Rosie Williams

Rosie entered the villa with Georgia Steel on day four and was drawn to show villain Adam. Despite her giving him a hand based sex act, he moved on to Zara McDermott and tried to pretend it was Rosie's fault.

Shutterstock

Rosie Williams

Rosie was dumped from the villa on day 20. She then had a late night McDonald's with Kem, and a lovely day out with Niall. In a bizarre turn of events, she was also snapped with the Chris Nothman who plays Mr Big in Sex And The City ¯_(ツ)_/¯

Shutterstock

Eyal Booker

It's our strongly held belief that Eyal is one of the fittest Love Island contestant ever. We wouldn't want to be caught in a camp fire chat with him, mind. He had two unsuccessful relationships in the villa and was booted out when Meg Barton Hanson pied him off in favour of Wes Nelson.

Instagram

Eyal Booker

Since leaving the villa Eyal's been hanging out at festivals with Caroline Flack, and has talked of re-igniting his music career. Awks. He also had a stint on Celebs Go Dating but still didn't find love. Oh, and he took part in Celebs on the Ranch, alongside reality TV legends Bobby Norris and Louie Spence. Eyal has actually found love with Real Housewives of Beverly Hills star Lisa Rinna's daughter Delilah Belle Hamlin.

Shutterstock

Zara McDermott

Zara lasted ten days in the villa, in which time she went for Adam despite witnessing the way he treated Kendall. She didn't spend time getting to know any other islanders, which is the reason they gave for dumping her.

Shutterstock

Zara McDermott

Zara may have lost out on £50,000 but she won at love - for a time. She said she'd wait for Adam and despite snogging yet another woman in the villa, when he was dumped he and Zara made things official. They broke up shortly before Valentine's Day 2019 after he reportedly spent a night in a hotel room with two women. She's now dating Made in Chelsea's Sam Thompson.

Shutterstock

Savanna Darnell

We had high hopes for Savanna when she entered Casa Amor. Sadly, she failed to capture any of the boys' imaginations and she was sent home before making it into the main villa.

Instagram

Savanna Darnell

Savanna has released a single called Bye Bye and we have to admit that it's quite catchy. She's also appears in the new Disney Aladdin movie and she's currently touring the UK as a dancer in Thriller Live Musical.

Shutterstock

Jordan Adefeyisan

Jordan tried to make things happen with Georgia Steel in the villa. She stayed faithful to Josh Denzel...and we know how that ended.

Instagram

Jordan Adefeyisan

Since his five day flash in the villa, Jordan has mainly been hanging around looking hot by walls. Lovely stuff.

Shutterstock

Dean Overson

Oh, Dean. He set his sights on Megan but didn't stand a chance against fitlord Alex 'Glasses Alex' Miller.

Instagram

Dean Overson

After his brief stay in the villa, Dean started hanging out with fellow dumpee Jordan in northern clubs . He's since posted a lot of 'blue steel' photos on his Insta page for spons and ads.

Shutterstock

Charlie Williams

Charlie was (perhaps) put in Casa Amor as blonde bait for sex lobster Dr Alex. She failed to light his fire and he pied her in favour of Grace Wardle. More on her later.

Instagram

Charlie Williams

Since her brief stint in the villa, Charlie has mainly been working on her Instagram game.

Shutterstock

Alex Miller

Alex 'Glasses Alex' Miller scored very highly in our sexiest Love Island contestants line-up. Sadly, he paired up with Megan, which is probably why he was dumped after finding himself in the bottom three least popular couples.

Shutterstock

Alex Miller

Since leaving the show, Alex has mainly been looking HELLA sexy on Instagram. We're still big fans. Alex also reignited Love Island feuds when he left the official Love Island group chat just months after the show finished. Awks. He also now sells rude videos of himself on an adult site...

Adam Collard

Adam Collard

As the villa's King Snake, Adam did incredibly well to stay in the Love Island for 33 days. That's 33 days of mugging Kendall, Rosie, Zara and Darylle off. Bless them.

Instagram

Adam Collard

He and Zara McDermott split after seven months when he reportedly dumped her by text. He then appeared to send a BRUTAL message to his ex via Instagram. Ouch. He regularly posts topless pics of himself so, there's that.

Shutterstock

Ellie Jones

Ellie was never going to be popular in the villa - she entered as Jack Fincham's ex, putting Dani Dyer's nose right out of joint. She ended up in a very odd partnership with Sam Bird before being dumped from the show.

Instagram

Shutterstock

Darylle Sargeant

Darylle lasted seven days in the villa after being chosen as Adam's lucky fourth (not counting Megan) lady in Casa Amor.

Shutterstock

Darylle Sargeant

She's since had an absolute hoot on Love Island: After Sun and been to see The Dreamboys, where she apparently met and charmed Jake Quickenden. Not a bad life TBH. She's also started up her own microblading business.

Shutterstock

Grace Wardle

Grace was pretty quiet when she entered Casa Amor which she put down to a lack of vitamins. Sure, Grace. Sure. She was dumped after ten days which is actually not a bad run.

Instagram

Grace Wardle

Since crashing back into reality, Grace has kept us up-to-date on Instagram - and is the owner of her own hairdressing company in London.

Shutterstock

Frankie Foster

Frankie got together with Samira Mighty and she was devastated when he was revealed as the least popular man in the villa and booted out. Not devastated enough to follow him straight out though.

Instagram

Shutterstock

Samira Mighty

Samira was in Love Island from day one but was initially paired with Dr Alex (bleurgh) before entering a slightly odd coupling with Sam Bird. She followed Frankie out of the villa, four days after he got the boot.

Instagram

Shutterstock

Sam Bird

Sam and his suspiciously small eyebrows started life in the villa with Samira, before returning from Casa Amor with Jack's ex Ellie Brown on his arm. He then swooped in when Georgia was left broken hearted by Josh, but we weren't convinced they had the 'real deal'. Bizarrely, the couple chose to split up in order to stay in the villa. But days later, they proved doubters wrong by choosing to walk out of the villa as a couple.

Shutterstock

Sam Bird

Sam did the media rounds with Georgia for three months before they split in October 2018. Sam claimed Georgia's ex was the cause of the break up, something Georgia denies. As for those teeny tiny brows, he's since had them preened and re-shaped.

Shutterstock

Georgia Steel

Illustrating a whole new definition of 'loyal', Georgia kissed best pal Laura Anderson's boyfriend Jack Fowler. But before this fall from grace, we have to admit that Georgia was a good friend to the girls in there. She was left apparently heartbroken when Josh Denzel dropped her for Kazimir Crossley - but she quickly perked up again with Sam Bird.

Shutterstock

Shutterstock

Jack Fowler

Quite frankly, we were relieved when physically flawless Jack came in and 100% took Laura's mind off muggy Wes Nelson with one flex of those biceps. But the pair didn't work out, and he cracked on with surfer chick Laura Crane. Yes, it is a bit awkward that both girls shared the same name but it didn't stop him.

u00a9 Rex/Shutterstock

Jack Fowler

Despite proving himself to be a totally 'hot dad' in the baby challenge, he was booted out with Laura in the final week. They have since split - but Jack got us hot under the collar once again when he returned to our screens in Celebs Go Dating.

Shutterstock

Laura Crane

Surfer chick Laura had a short stint in the villa but managed to grab the attention of coupled up boys Jack Fowler and Dr Alex George. She chose Jack and the pair made a BEAUTIFUL couple.

Shutterstock

Laura Crane

Alas, Laura was booted out of the villa quicker than you could say 'surf's up'. But at least the pair got to spend time with their little Aubrey in the baby challenge. Aww. Laura and Jack have since split up. In November 2018 Laura was rushed to hospital where she was later diagnosed with the life-threatening infection sepsis. She's now dating Made in Chelsea's Tristan Phipps.

Shutterstock

Dr Alex George

Dr Alex had an odd ride in Love Island. At first an object of pity, he then revealed himself to be hella entitled when Ellie Brown rejected him, and was a cad to the only woman who cared for him, Alexandra Crane.

Instagram

Shutterstock

Alexandra Cane

Alexandra genuinely seemed to fancy Dr Alex which just goes to show that there's someone out there for everyone.

Shutterstock

Shutterstock

Wes Nelson

It's fair to say that we were NOT fans of Wes Nelson in the villa after he dumped our sweet princess Laura Anderson in favour of Meg Barton-Hanson, who we actually quite like too.

Shutterstock

Wes Nelson

Since leaving the villa after somehow coming fourth, Wes moved in with Megan. He kept himself in the public eye with a drama-filled appearance in Dancing on Ice 2019. Wes and Megan broke up in early 2019, before he moved on with fashion influencer, Alicia Roddy. They've since split.

Shutterstock

Shutterstock

Megan Barton-Hanson

Since leaving the show, Megan has become a huge talking point in popular culture. From defending a woman's right to have plastic surgery to openly discussing mental health problems - this girl is flying the flag for women everywhere. Arguably, she's come out with the best prospects. She and Wes split in January 2019.

Shutterstock

Shutterstock

Shutterstock

Josh Denzel

Josh entered Love Island on day eight and entered a never-quite-right partnership with Georgia, before dumping her for Kaz.

Shutterstock

Josh Denzel

Since leaving the villa he's appeared on Lorraine as a business correspondent. Sure... He stayed with Kaz until January 2019, after the pair embarked on a tropical holiday. He's returned to his previous job as a presenter and has been travelling over the world for it.

Shutterstock

Instagram

Paul Knops

Paul has since been to Burning Man and posts frequent, smouldering, pics of himself on Instagram. He and Laura have broken up and he was SAVAGE about it. He's also spoke out on whether Love Island is fake or not...

Shutterstock

Laura Anderson

Laura had one heck of a journey in Love Island. She eventually took second place because we could ALL feel for her.

Shutterstock

Laura Anderson

We didn't hear much about Laura to start with other than about her new hair and new face. But then she got together with another Love Islander in a coupling we did NOT see coming, Fair play to Laura, he's an absolute studmuffin. The pair broke up after just a few weeks but have since reunited.

Shutterstock

Jack Fincham

Jack was paired up with Dani Dyer on the very first day of Love Island and a sure fire love thing was born.

Shutterstock

Jack Fincham

Since leaving the show, Jack got his feet well under the table with the Dyers. Frankly, we don't blame him. He moved in with Dani, bought a dog with her and even spent Christmas with her. Drama struck when Dani announced they split in December - but alas, she took back her words just a few days later and confirmed it was just a silly argument. But the pair split for good in April 2019. Weep.

Shutterstock

Dani Dyer

Dani captured the nation's heart on Love Island and went the full distance, winning the show after a whopping 59 days in the villa.

Shutterstock

ITV

Ellie Brown

Ellie entered the Love Island villa with Zara McDermott. She had the misfortune of coupling up with Dr. Alex, before turning to billionaire Chelsea boy, Charlie Brake.

Instagram

Ellie Brown

Whilst Ellie and Zara's friendship has gone from strength to strength, we can't say the same for Ellie's love life. Although she moved in with ultra-rich Charlie, their relationship soon came to a bitter end - which was televised on the Love Island Christmas Reunion. Oh, the joys of reality TV.

ITV

Charlie Brake

Charlie was a late arrival to the Love Island villa and only got to chance to couple up with feisty Geordie, Ellie Brown before he was booted off.

Instagram

Charlie Brake

Other than bickering with Ellie, Charlie didn't make much of an impact during his time in the Love Island villa - but once the heir stepped returned to UK soil, all hell broke loose. Charlie was linked to TOWIE's Ferne McCann, which thus sparked a huge fight between pals Zara, Adam and Ferne at the glitzy NTAs. Charlie opted for another Love Island fling - but not before returning to his TOWIE type-on-paper, when he snogged Amber Turner.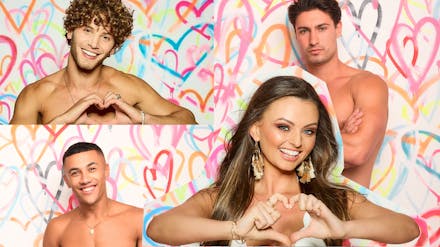 1 of 69
CREDIT: ITV
Love Island cast 2018
From Love Island 2018 winners Dani Dyer and Jack Fincham to Casa Amor's Savannah Darnell and Kaz Crossley, here's what all the islanders are doing now...
Jack's has described his vibe as "laid back and sexy for the ladies" and his first song titled Back to Yours is all about meeting a girl in the club and going back to her house because his "main chick" is at home.
Hmm.
Last year Jack revealed that he was launching his music career but later this month we'll finally get to hear and see what he has been working on.
The Love Island turned Celebs Go Dating star has said his music video will drop on his Youtube channel soon and omg we're buzzing.
WATCH: "I'm gonna wife her" Jack Fowler pranks Jack Fincham in the Love Island group chat. 😂
READ MORE
Love Island's Paige Turley: 'I've STILL not received my prize money'
Love Island's Eva Zapico reveals the surprising question she was asked by producers
Love Island's Wallace Wilson shares 'air time' post and we're crying
Jack wouldn't be the first Love Island star to attempt to launch a singing career – remember Chris Hughes and Kem Cetinay's song Little Bit Leave It? Not going to lie we're still obsessed, tbh.
Last year we got to see Samira Mighty, Eyal Booker, Wes Nelson and Zara McDermott join forces and compete as No Love Lost on Celebrity X Factor.
Unfortunately things didn't work out and it appeared that love actually was lost because Samira quit the band and Wes has since teased a solo career.