Oh, we love when celebs get a lil' shady on social media and we love it even more when fans can't help but comment on their passive aggressive thoughts and feelings. The latest drama revolves around one of our fave Love Island winners, Amber Gill, and her rumoured new romance with professional footballer Jen Beattie.
We do have to admit that we are a little bit obsessed with the Love Island 2019 winner and her consistently exciting love life. Actually, we're a little bit obsessed with Amber Gill in general, and who could blame us? She's drop-dead gorgeous, a style icon, a party animal, a comical genius on Twitter, and she never - NEVER – minces her words.
Naturally, if you win arguably the biggest series of Love Island EVER, we're going to be following your stardom journey pretty closely, and by that we mean your love life. Since winning the show alongside ex Greg O'Shea, Amber has been linked to personal trainer Jon Hosking, footballer Fikayo Tomori and 'secret boyfriend' Rory Calhoun.
And, of course, Amber was also linked to model, businesswoman and reality star Teddy Edwardes earlier this year - and it is she who appears to be throwing shade the Islander's way.
Taking a scathing swipe at Amber on her Instagram story, Teddy claimed she would "never date someone in the public eye again".
She added, "The embarrassment of always being caught up in lesbian dramas on the shade borough is actually too much."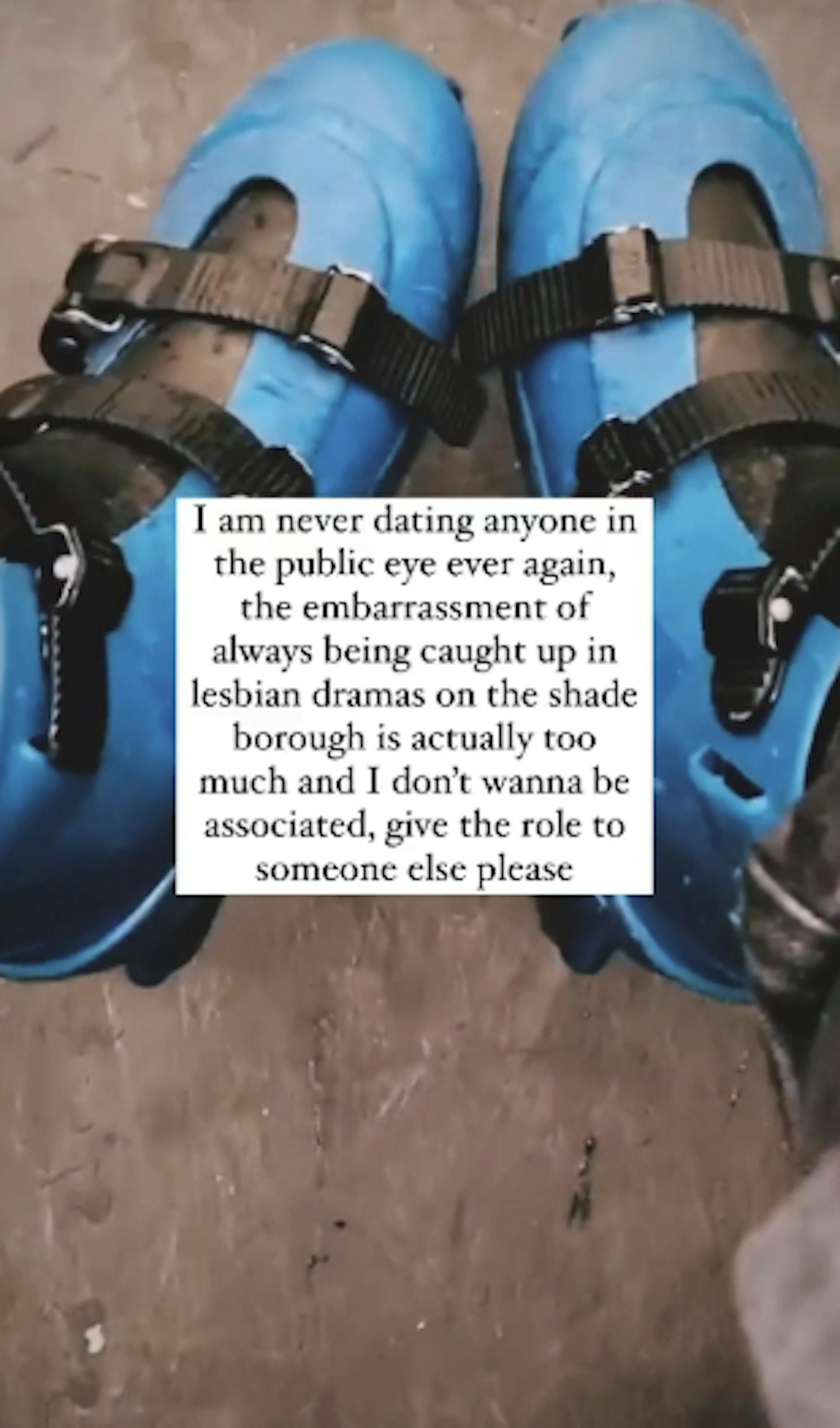 Teddy also went on to share an not-so-cryptic TikTok that had her followers in hysterics and and left us convinced that her shady social media posts were definitely about Amber.
Lip-syncing to the sound "a win is a win", Teddy added the caption "When she immediately gets a new girl but you don't have a constant headache anymore." SHOTS FIRED.
The comment section was full of Teddy's followers laughing along with the joke, "BRUTAL TEDDY IS FUN 😂" but also with people picking up on the idea it is aimed at Amber and Jen, "If this is about who I think it is - she better not cause Miss Arsenal any headaches lol."
Uh oh, Amber doesn't seem to be the kinda gal who will take it lying down, so watch this space as we sense a retaliation could be coming Teddy's way.
Who is Teddy Edwardes?
Teddy is model, businesswoman, producer and founder of the queer and inclusive Lick Events.
How old is Teddy Edwardes?
Teddy is 32 years old, she was born 2 March 1990.
Who is Teddy Edwardes' famous Love Island ex?
Teddy is apparently the former flame of Love Island 2018 icon Megan Barton-Hanson, so she clearly has a type: Islanders as she also dated winner Amber Gill. We love to see it - we'll take any queer Love Island representation we can get, tbh 🏳️‍🌈🏳️‍⚧️❤️.
Does Teddy Edwardes host a BBC Three show?
She sure does. Teddy hosts the new BBC Three show, Big Proud Party Agency, a reality series where LGBTQ+ party planners compete to plan epic blow-outs and bring their fabulous queer parties to life.
Hang on, is Teddy Edwardes on Unbreakable?
Yep, Teddy also starred on BBC One's Unbreakable which sees celebrity couples put through their paces to prove they're the perfect pair. She appears on the show with her former girlfriend British BMX champion Shanaze Read, although it seems they aren't in fact unbreakable as they're no longer an item.
Does Teddy Edwardes have Instagram and TikTok?
Yep. You can follow this icon on Instagram @teddyedwardes and on TikTok at @teddyedwardes.
LISTEN to the latest episode of the heat 7 podcast
WATCH Amber tells us which A-LISTER slid into her DMs 😱 as we unlock her and Anna's phones 📱💥