Charlie Brake is best known for his stint on series four of Love Island (one of the best series) where he was coupled up with Ellie Brown. He first appeared in Casa Amor but made his way to the villa after getting with Ellie.
Although he didn't make it to the final, many will still recognise him from his time in the villa and during his brief stint on Ex On The Beach. However, relative to other cast members from that series, Charlie has been fairly quiet since his time on the show.
Who is Charlie Brake dating?
Charlie Brake recently posted a picture of him with a new lady friend on his Instagram Story. He reposted a photo she had posted on her account and in the snap Charlie and the mystery girl Hattie Snook appear to have been skiing.
The pair appear pretty cosy with Hattie even putting her hand on Charlie's knee... Maybe they're on a romantic getaway?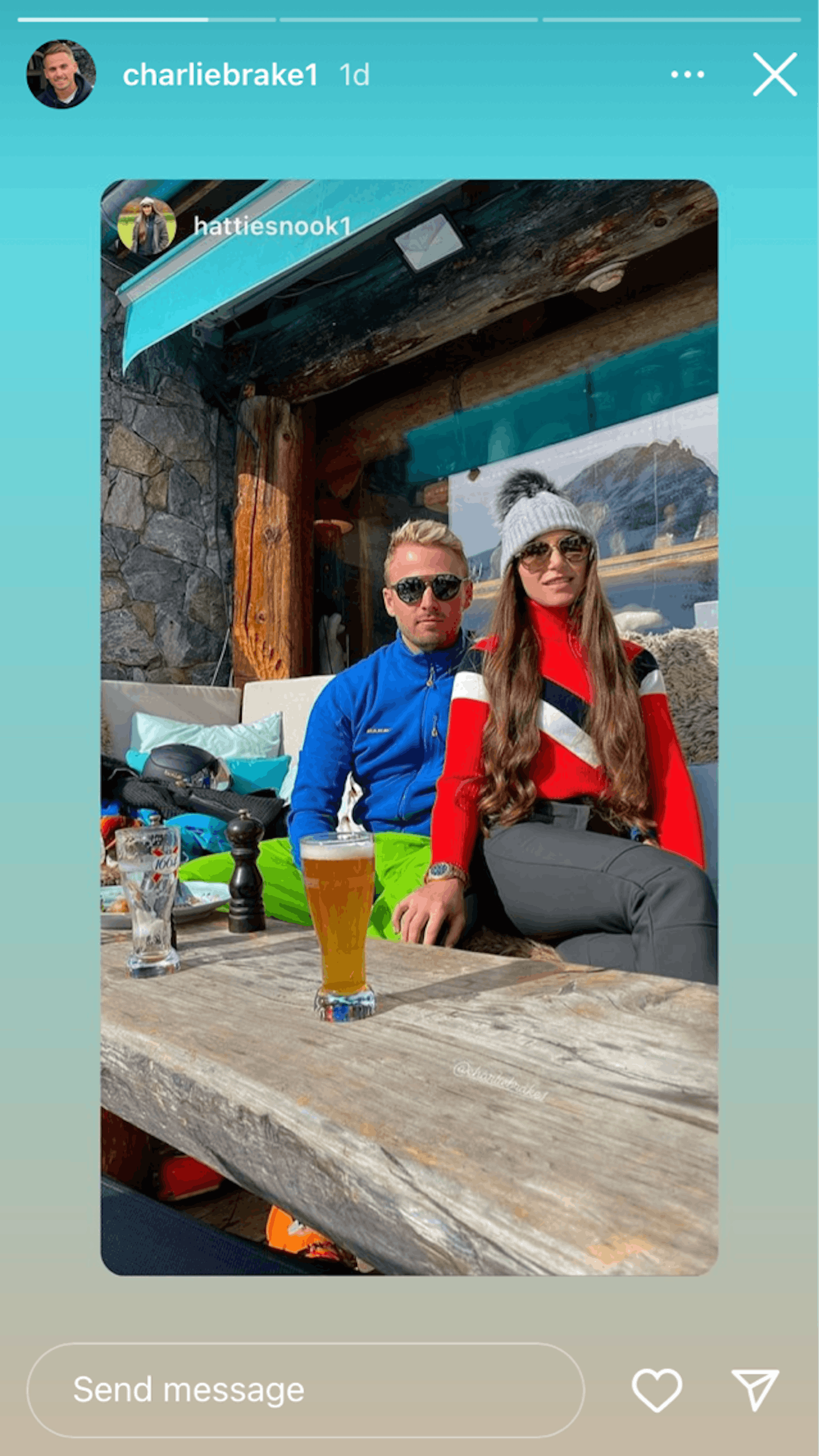 Other than her name there' not really really much known about Hattie.
Her Instagram account is private but in her profile picture she can be seen donning a tweed cap and wearing what looks like a hunting jacket. She's giving us some strong countryside vibes, suggesting she's the perfect fit for Charlie.
There is also a Depop account under her name that appears to be inactive. You can see from the account that she has expensive tastes as she was able to sell a pair of boots for a whopping £250.
Charlie's relationship with Hattie follows a trend of his post Love Island relationships remaining pretty private. However, back in 2020he was rumoured to have been dating Wheel Of Fortune presenter Jenny Powell - we know, weird right?
Who is Charlie Brake?
Charlie Brake is a socialite and entrepreneur best known for his time on Love Island, where he was coupled up with Ellie. Outside of Love Island he also appeared on Ex On The Beach with Ellie (oops spoiler... their relationship didn't really pan out).
Right from joining the show, Charlie was separated from the other Islanders due to his wealthy background, leading some to label him the all-time richest Islander. He even later admitted to keeping his net worth secret from the other islanders.
Check out: Love Island 2018 stars - where are they now?
Look! More news!
Love Island's Scott Thomas shows off major transformation and flippin' heck
Olivia Attwood's been a shady lady about her Love Island co-stars 👀
How old is Charlie Brake?
Charlie is 27 years old. He was born on the 5th of January 1995, meaning he is a Capricorn for those into their astrology.
Where is Charlie Brake from?
Charlie is from Chelsea. He might've been a better fit for Made In Chelsea than Love Island, although Charlie may disagree - he revealed in 2018 that he had previously auditioned for MIC, but didn't have any luck.
When was Charlie Brake on Love Island?
Charlie was on Love Island back in 2018 as part of series four. He joined on day 26 through Casa Amor and stayed until day 43.
What happened between Charlie Brake and Ellie Brown?
While the sparks were flying on the show, things didn't really pan out for the couple once they left the villa. Things looked good in the beginning, with the pair quickly moving in together but it soon became clear things were not going to pan out.
While Charlie announced their split on Instagram, Ellie later claimed she hadn't been told the statement was going to be released so was effectively broken up with over Insta (ouch).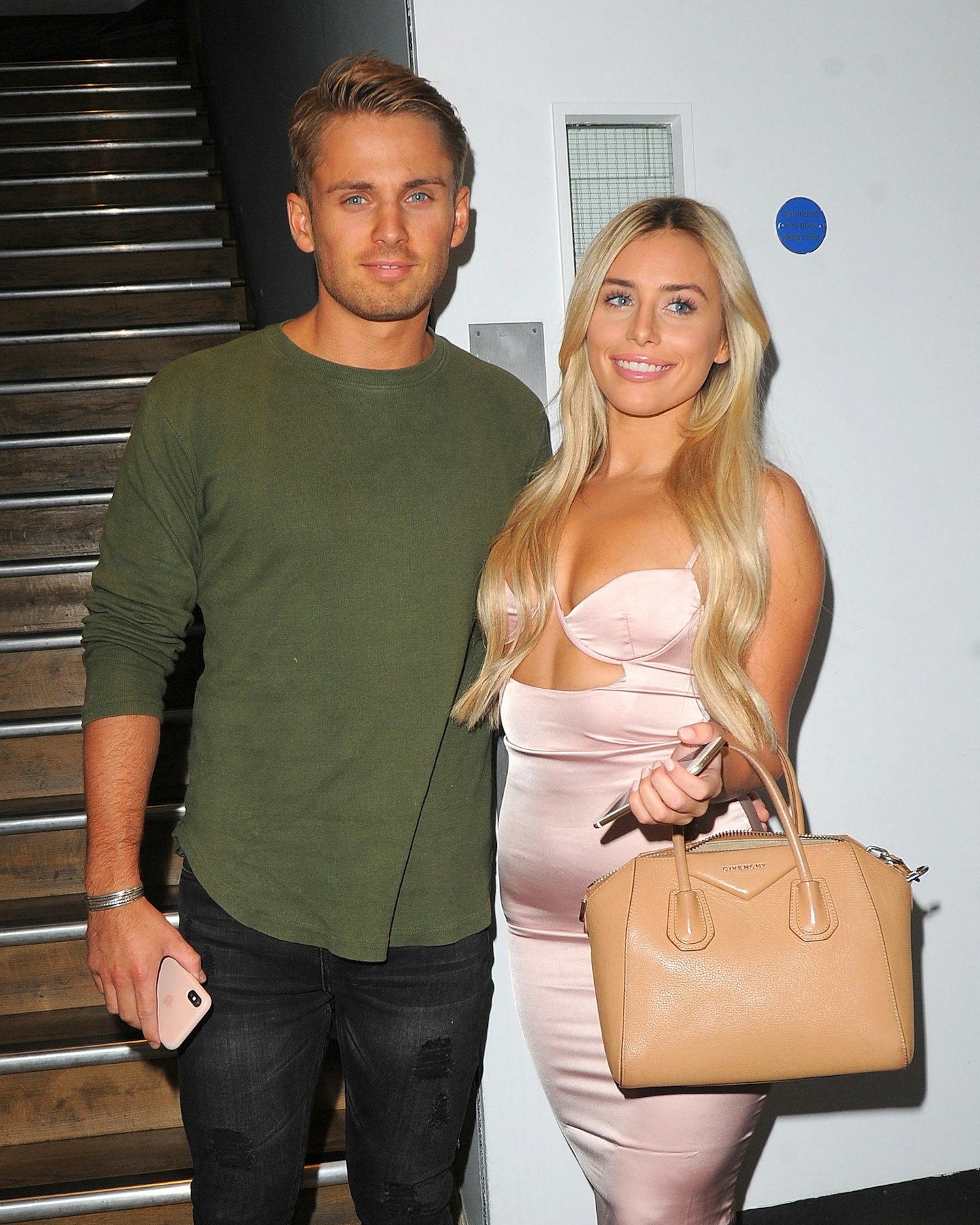 It all came to a head at the Love Island reunion, with an intense argument between the two. They then reunited again on Ex On The Beach but things didn't exactly go swimmingly for the pair.
What does Charlie Brake do for a living?
In addition to being a socialite, Charlie is also an entrepreneur. He started the hard seltzer company Naughty Water last year, in the depths of lockdown. It doesn't seem like he has plans to return to TV anytime soon.
WATCH: Love Island: Under The Duvet - HAVE GEORGIA AND ELLIE MADE UP?? #Awks
Where does Charlie Brake's wealth come from?
Charlie inherited his wealth from his family. His grandfather started the food distribution company Brakes. In 2002 the business was sold to a US-based private equity firm for £434 million, making the families of each of the three founding brothers £80 million each. Yep, you heard us right... Charlie's family's rolling in it.
What is Charlie Brake's net worth?
Charlie's net worth is unclear. When he was on Love Island he told Jack Fincham that although his family we wealthy, he himself was not a millionaire. This was in 2018, so in the time since appearing on the show and starting his seltzer business, this may have changed... Who's to say?
Does Charlie Brake have Twitter?
He does - although he deleted his account last year for a bit following some controversy, it is now back up and running. You can follow him @Charlie_Brake.
Does Charlie Brake have Instagram?
He does and you can follow him @charliebrake1.