Sometimes interviews can be hard going, and the phrase "pulling teeth" can spring to mind. This is very definitely not one of those interviews. In fact, heat can basically sit back and relax, because the chemistry between Emma Willis and Nick Grimshaw is such a joy to watch.
While the pair have briefly worked together before, The Great Home Transformation is the first time they've presented a series together, and they are now basically like old pals. In fact, mid-interview, they're arranging a date for Nick, 37, to visit Emma, 46, at her house.
With their new show seeing them getting involved in DIY to help transform family homes, we chat with the TV presenters about their own DIY disasters, the best celeb homes they've been to, and what they would chuck out from their homes if their partners (Emma's husband Matt Willis and Nick's new fiancé Meshach Henry) didn't have to know…
What's The Great Home Transformation about?
Nick: Emma and I meet families whose house is sort of working against them, and they need a design solution to make that house work for them.
Emma: We put cameras into their house to learn how they live – like heat maps – and where we find cold spots, we try to create what they are lacking and help make their life work better.
Sounds high tech…
E: It's only high tech for the three days that the cameras are in. And then once Nick and I get in there, it's...
N: …Low tech. [Laughs.] No, I do like the high-tech stuff. I like that, with a lot of design, there's a science to it. We figure out exactly what is doing their head in – it's not just like, "Oh, we don't like the colour blue." It's very specific. So, I actually quite like the science. I'd like someone to come and do it at my house.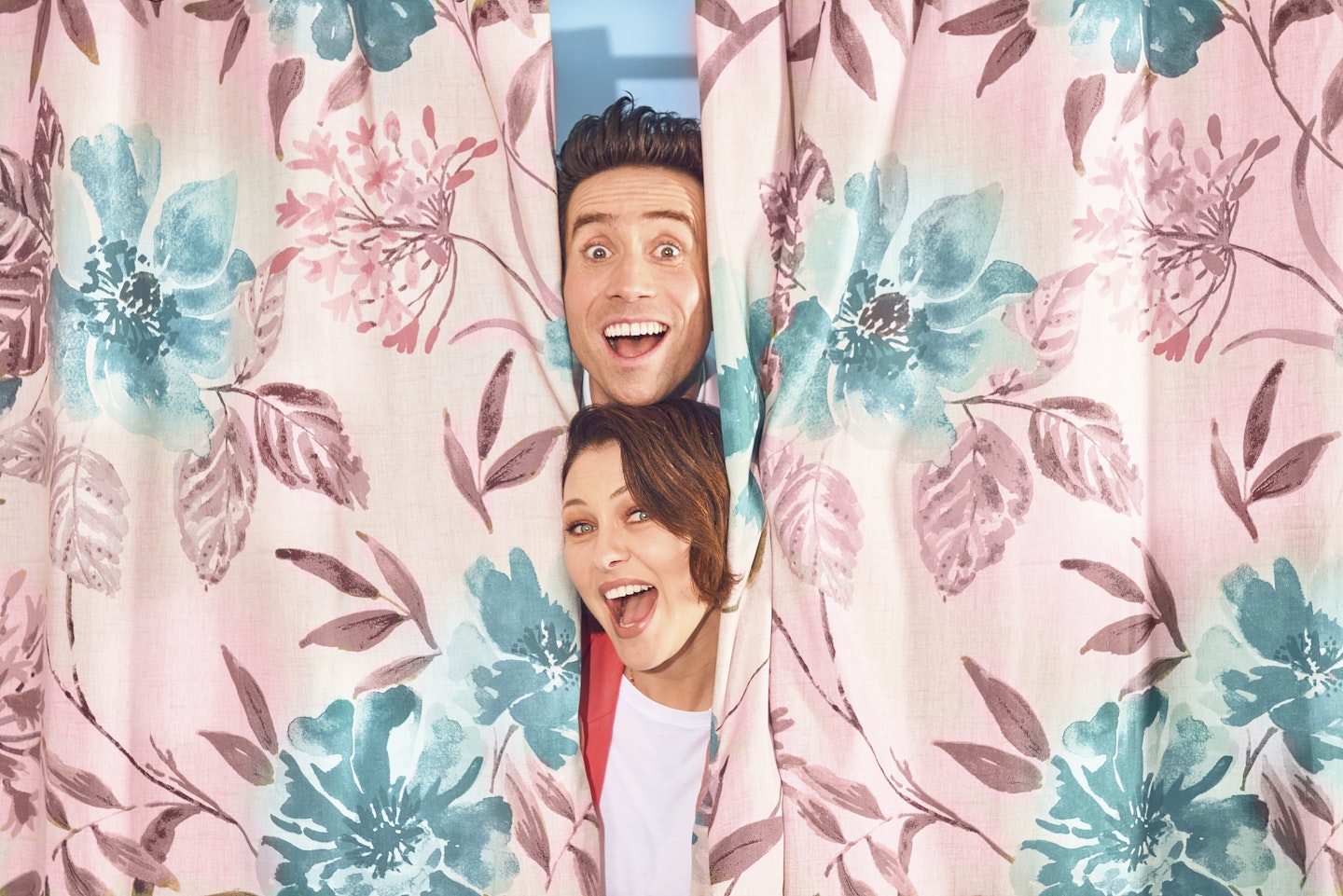 Was it quite emotional at times?
E: Always! Each family has a reason why they need it or something that they've been through, and this is an experience that will help change them as a family going forward. So, the two things that were a big draw for me and Nick was the human story aspect of it, and also actually being allowed to get involved and get our hands dirty.
N: It was really emotional. I don't think that I knew it was going to be that emotional, and I don't think the families knew, as well. I think I cried at every one.
E: You did. I've actually met someone who cries more than me!
How have you found working together?
E: Terrible.
N: Hated it. No, it's been really nice. [Emma grabs Nick's hand.] Your hand is cold, mine are so warm! And that's why we work. Do you know, with Ant and Dec, one of them always has a cold hand and the other one's boiling hot?
E: [Laughs.]Yeah. Who would you be?
N: Ant, with this forehead! No, it's been dead nice to get to work with Emma, it was the reason I wanted to do it basically. We'd met before on the radio, and we did The One Show together twice. That was kind of it. We just had a laugh all day, which is what you want.
E: You're going to work with a whole crew that's lovely, and then, when you know that you get on really well with the person that you're on screen with, it's just like you're at work with a mate. I mean, how can you not like your job? And then you're doing interiors and ripping stuff apart, which is what we both love as well. So, we were like a match made in heaven.
Were either of you fans of the classic design shows like Changing Rooms?
N: I used to watch Changing Rooms like it was event telly. I absolutely loved it and used to wait for it each week.
E: All of those shows – Changing Rooms, DIY SOS, Grand Designs… In our house, it's either a home makeover or hospital show, kids' telly or Peaky Blinders.
N: Yeah, we just watch everything on houses, and I have to watch Nigella or Stanley Tucci in bed every night. And Gogglebox! But yeah, I used to love all those design shows and still do.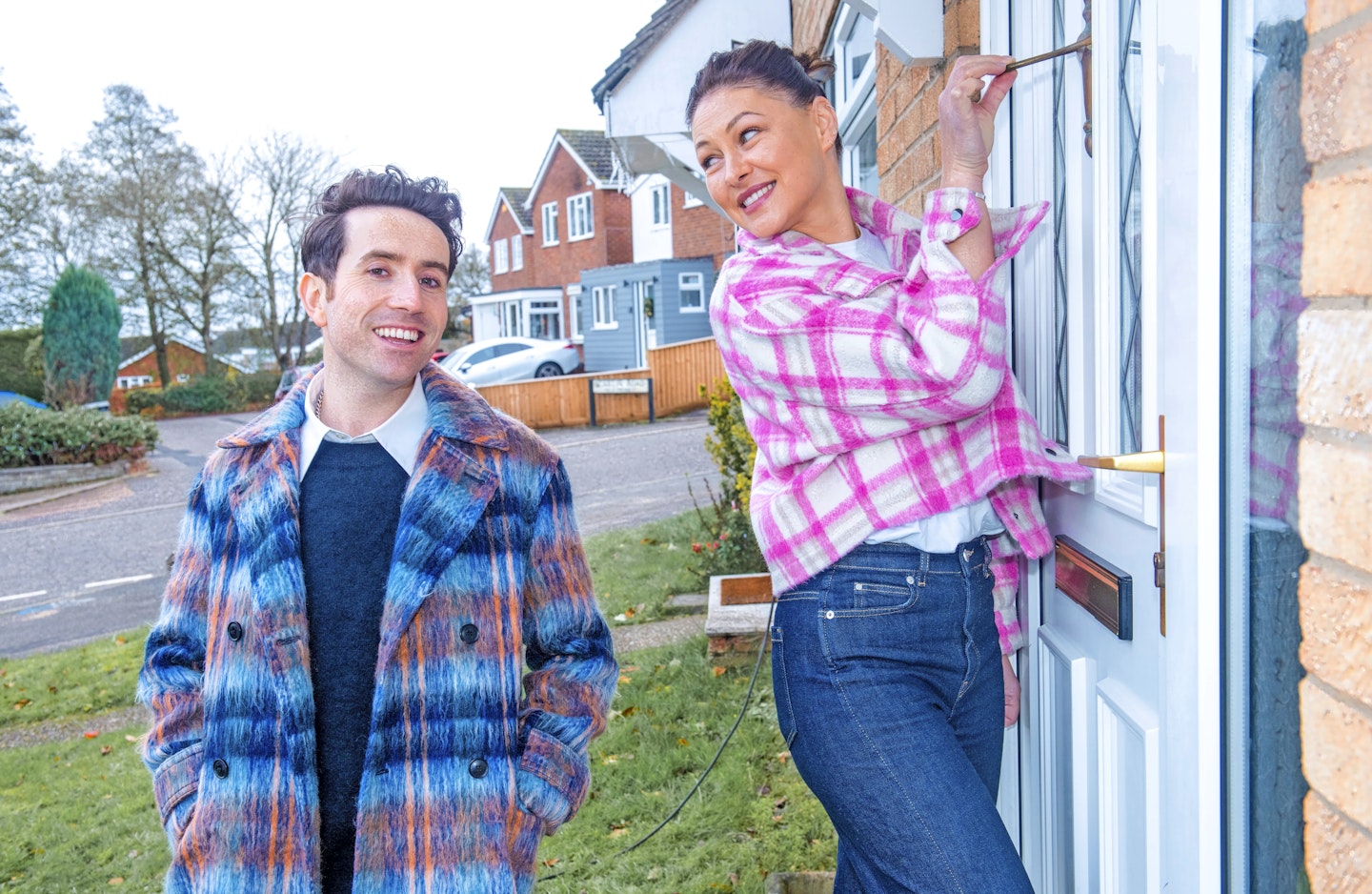 If you could make a wild change in your own homes – say, a fireman's pole or a sex swing – what would you want to add?
N: Well, there's no point having a second sex swing.
[Everyone laughs.]
E: My kids really want a slide that goes from their bedroom down into the lounge. That'd be fun.
N: They've got that in the Prada office. Miuccia Prada's got one, she slides out of her office.
Well, if Prada have it, you've got to! Which celeb home would you love to have a snoop around?
E: I got asked this the other week, and do you know who I said? [To Nick] Yours! Have you seen his house on Instagram? It's gorgeous!
N: Just come round and have a nosey.
E: Great. Ask and you shall receive.
N: I'd quite like a nose around Grace Jones' house. I bet she's got a lot of good stuff. [To Emma] I'm only not saying yours because I've already got a date to come to yours.
What's the best celebrity house you've visited?
N**:**I went to Simon Cowell's house and it looks exactly like what you think Simon Cowell's house looks like – it's like Judges' Houses. You eat dinner around a fire in the garden and the fire's all around you. It was really Simon Cowell-y: marble, black, white. Little Mix were there! That's how much it was Simon Cowell's house, there was a girl band on the balcony.
Nick, we've spied some lovely homeware on your Instagram (@thirty sixand ahalf) – but have your two dogs ever ruined anything?
N: They really want to piss on a nice rug I bought in Istanbul. They piss all over it constantly. It has to be dry cleaned, and once one dog's pissed on it, then the other one's like, "Oh, I want to piss on it as well!" You have to clean it over and over. I've spent thousands cleaning it.
E: As long as you're not pissing on it.
N: I'm not pissing on it. It's this one rug and I don't know why.
E: Maybe with a dog nose, they still smell something even after it's been cleaned.
N: It's in the spare room now – cleaned, obviously.
E: The dog piss room? [Both laugh.]
What gets the most compliments in your home?
N: A light that I've got in my lounge, which I bought specially to go behind the couch for Celebrity Gogglebox. I looked for one for ages because I hated the light fitting that was in from when I moved in. I found one and bought it, and then when we go on Gogglebox, you can't even see it. I spent weeks looking for it because they'd said, "We need a light, we need something to fill this gap", and then [I got the light] and they were like, "Actually, the cameras don't pick it up."
And what about you, Emma?
N: Matt Willis?
E: Yeah, probably! We have got a nice sideboard, which is actually an old workbench. It's even got a vice on it. We bought it at this reclamation place in the Cotswolds. It's really nice. They built a sort of cabinet under it, so now it's just filled with kids' shit.
Is there anything in your house you regret buying?
N: I bought a statue of an English bull terrier after not going to bed in Ibiza. I was like, "That's nice", and then I forgot about it. It's a massive, disgusting statue of my dog [Pig, Nick's bull terrier]. But they didn't ship it for about eight months. I'd totally forgotten about it, so one day someone just knocked on my door and was like, "There you go!" It's absolutely disgusting.
Look! More news!
Too Hot To Handle's Emily and Cam have split amid EXPLOSIVE allegations
Zara McDermott drops major hint about the future of Love In The Flesh
Wait, is Zara McDermott's FIT brother set to join Love Island?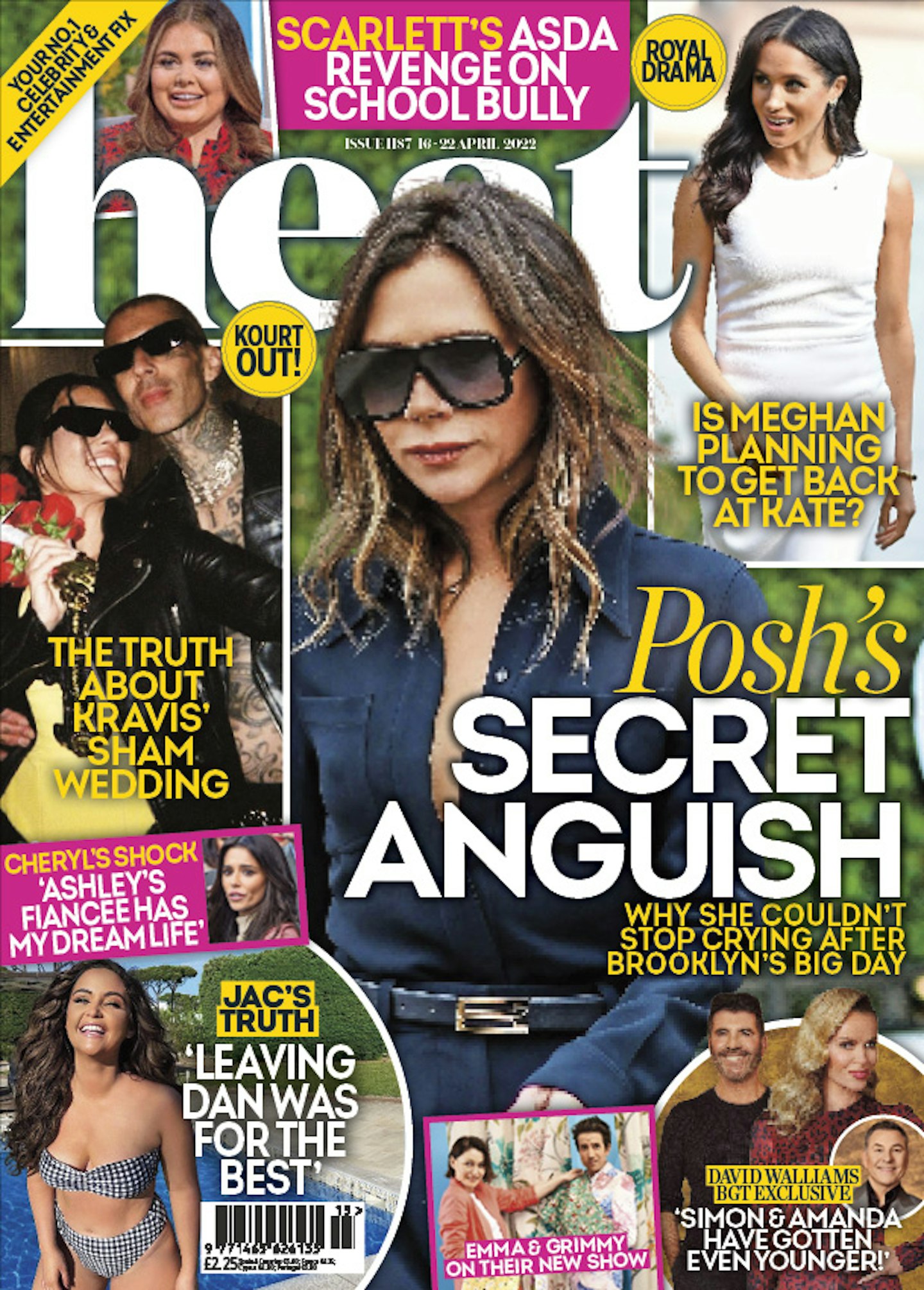 What was your worst DIY fail?
N: We painted our spare bedroom a high-gloss red. It was really disgusting. It was giving us Moulin Rouge. We had to decorate again immediately.
E: I think our biggest failure is not decorating. We moved into our house, ripped it apart, and got it to a point where it looked liveable and it was just all white. Then we went, "OK, let's just stop!" And we didn't start again until recently. I've got pictures – six years later – just propped up against the wall, not hung up. You put them up and you're like, "Shit, that makes such a difference! And I could have done it six years ago." So, that is probably our biggest fail, that we were lazy and stopped.
Is there anything in your home that your partner loves, but that you wish you could get rid of?
E: We've got about 60 guitars in our house. Well, 60 is an exaggeration, but there's definitely got to be ten to 15, and we've got flight cases and two pianos. But only one piano gets played. Only three guitars get used. So, I mean, I love that [Matt] loves music. And it's great that the kids have it there. You kind of think, "Oh, they'll just pick it up…" They never pick it up. But Matt's got his own little man-cave room, and now that it's all in his room, he's like, "I don't need this many guitars."
N: I would just say some of Mesh's clothes. He's got so much stuff he doesn't wear, so I would like some of the clothing to be removed, please.
What's your favourite thing in your home?
N: Bed, I think – it's got to be your bed. We decorated our bedroom last year, because it was sort of unfriendly since we moved in in 2016. For five years, I just hated the bedroom. And then it was like, "Why don't we decorate it, so we like it, because we sleep in it every day?"
E: I've got a trunk that Matt bought me, this old trunk with my initials on it. And I use it like a memory box. My wedding dress is in there, the kids' hospital bands are in there, and their first haircuts are in there, too.
N: What a mental box if someone else found that!
The Great Home Transformation is on Wednesdays at 8pm on C4. Catch up now on All 4