Despite whispers of tense talks and empty sofas, it has been confirmed that Holly Willoughby is set to stay as host on This Morning – with a source telling heat we'll be seeing a very different side to the presenter when she returns to our screens next month.
Following the recent Phillip Schofield scandal and allegations of a toxic work environment behind the scenes, tensions seemed to continue backstage at ITV's flagship daytime show. And after 42-year-old Holly's extended summer break, there have been persistent rumours that ITV's golden girl may not return to the flagship daytime show. But now, it's been confirmed by bosses that she will be back as lead presenter from September, accompanied by a rotating series of co-hosts.
We're told this career U-turn has left Holly feeling stronger than ever when it comes to her position on the hit TV show. Our source says, "Holly's had a lot of time to think about her future. At first, she was feeling so battered by all the negative stuff, she thought it might be time to just bow out and start a new chapter, focusing on her family and [her lifestyle brand] Wylde Moon, instead. She'd almost made her mind up to start afresh, but then she decided to stop overthinking everything."
The source continues, "Holly gave herself a little freedom to let her hair down and find what makes her happy again, and that's what brought her back. She was so angry and frustrated, and that had been building up for a while, but she's realised that TV presenting is her passion. She's done a little personal coaching and has really found her voice. She wants to be seen as a powerful figure in the TV world and a voice for women, too – not just as a sidekick."
Earlier this year, This Morning was left rocked after Phillip, 61, quit as lead presenter after more than 20 years in the role. The move came after he shockingly admitted that he'd lied about an affair with a much younger male colleague while he was still married, insisting his co-stars had no idea. Soon after Phillip resigned with immediate effect, ITV bosses attempted to diffuse the situation with an on-screen statement from former BFF Holly, but celebs were already taking to social media to share their own damning experiences of the TV show.
Former doctor on the show Ranj Singh released a statement claiming he'd been "managed out" after raising concerns over the environment there, stating, "I took my concerns directly to the top of ITV – the culture at This Morning had become toxic." Likewise, former Friday host Eamonn Holmes also had choice words about Holly, saying that the star had "stabbed Phillip in the back" and was "as false as he is".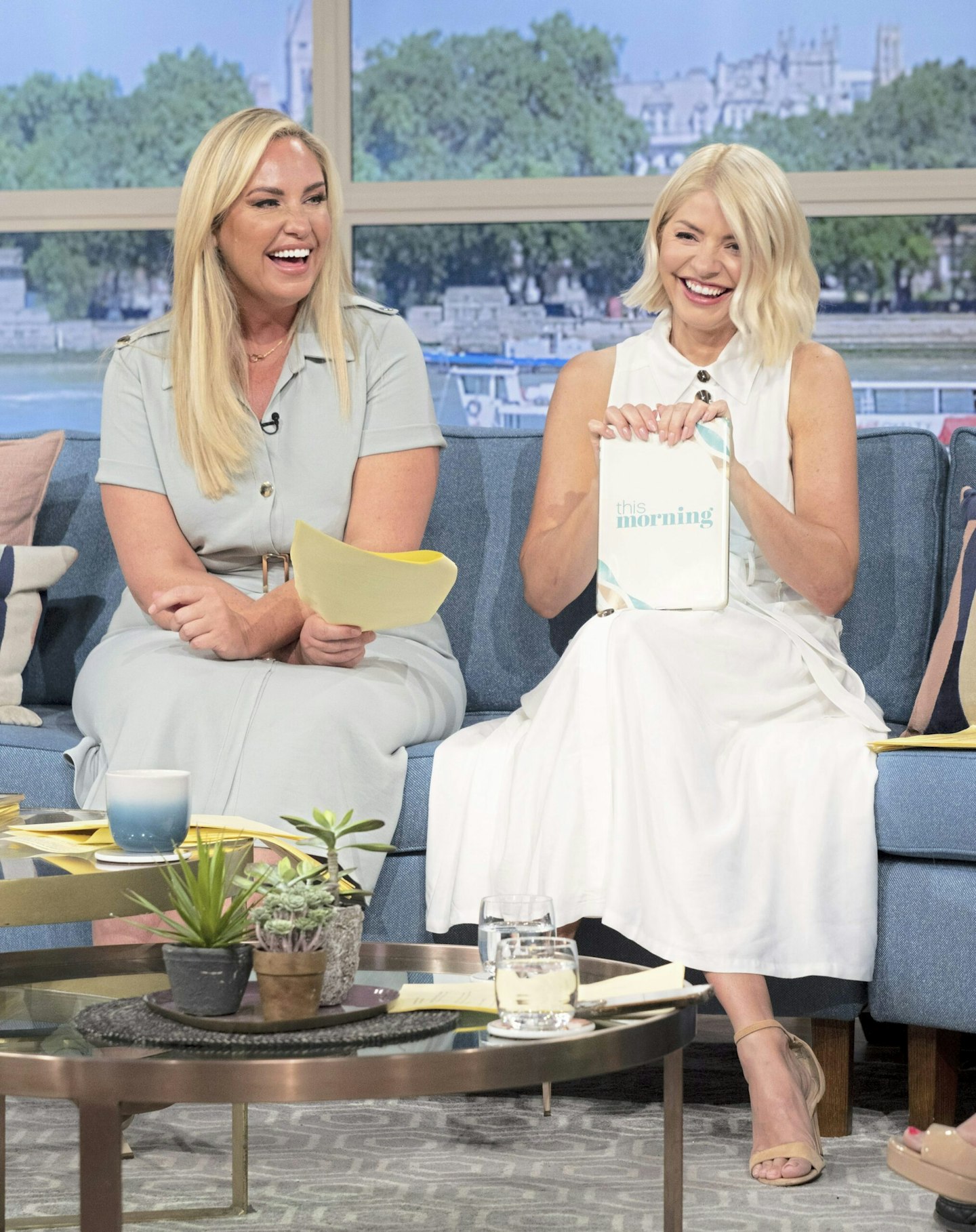 But having weathered the storm of negative press, the clouds are finally clearing. After enjoying much of her summer at her holiday home in Portugal, our source says having a bit of distance from the show has given Holly the perspective – and power – she so desperately needed. "She really had an awakening this summer," we're told.
"Holly never really put herself or her ambition first, but now she's over following anyone else's plan. She's decided to come back to the show to further her career, and she's going for it."
Having sat down for some tricky conversations with her bosses, we're told viewers can expect to see a new Holly on their screens next month. "Holly's done playing the smiling nice girl and is now in her 'taking no shit' era," reveals our source.
"She's always come across as someone who was a team player, super-accommodating, a very motherly figure and always reasonable. She was the total opposite to Phil – with him, it was always his way or nothing. In the weeks after his departure, Holly felt the execs saw her as a soft touch. She's been pushed around before by some of her co-stars and crew, but she's made it clear that will not be happening again. Holly's the bankable star now and she knows that. Without her, it all descends into chaos."
As Holly preps to be the sole face of the award-winning show, we're told she's shunning her nice-girl image and isn't afraid to step on some toes to defend her reputation. "She's made it very clear to ITV that she has multiple offers and options on the table," says heat's insider She's the one with the power here and she wants to be treated with the respect she deserves. Now, she'll be fighting for what she wants – and anyone who has anything to say about her better watch out."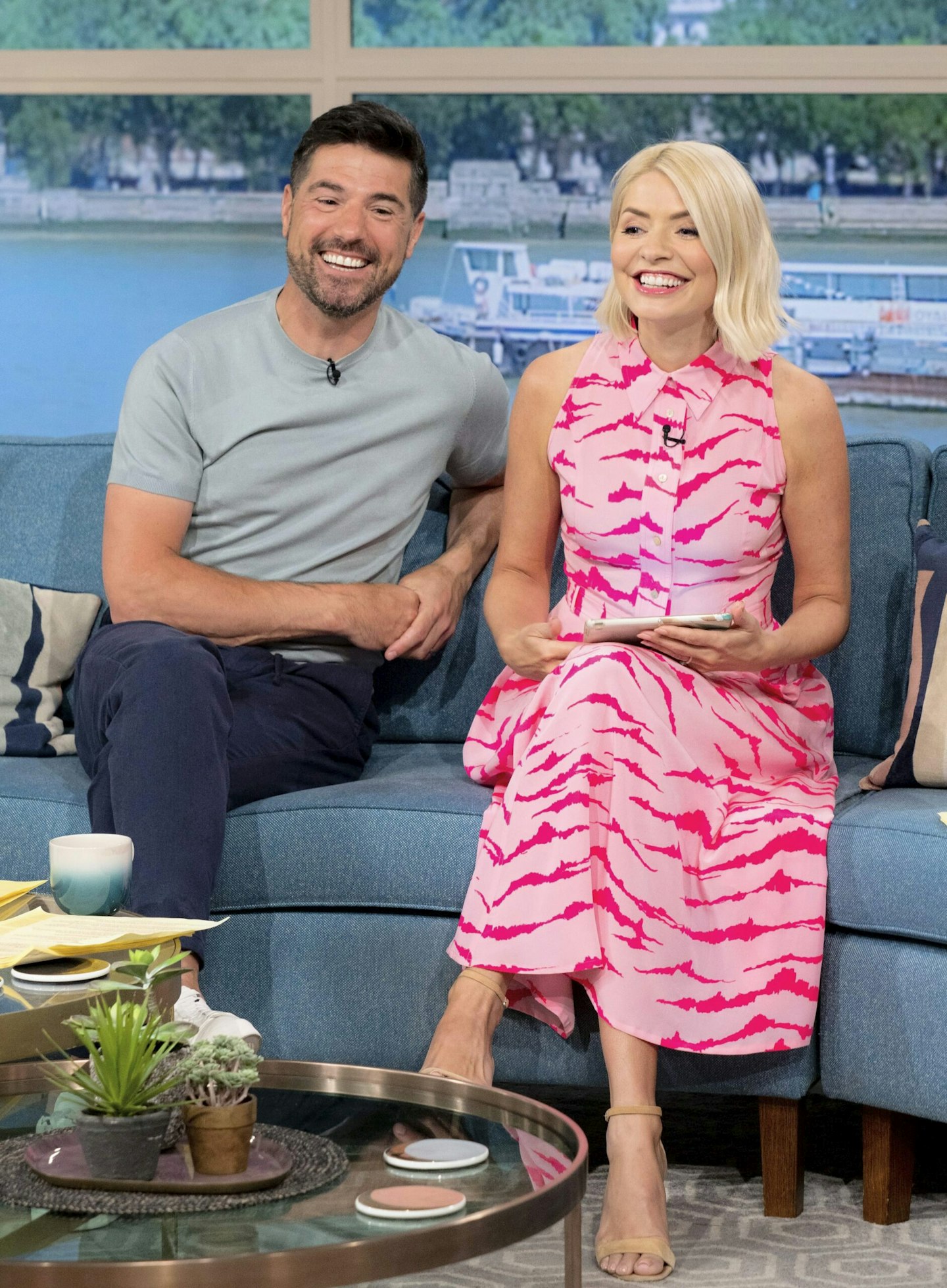 And with this new Holly 2.0 era very much underway, we're told the mum of three isn't afraid to let her hair down and have some fun. Our insider reveals, "One big change for Holly is going to be her image. When all the scandal was going on, she found her image becoming much more matronly and buttoned up – but that's just not who she is and she's sick of faking it. The truth is, Holly's a lot more edgy in her personal life and she wants to incorporate a bit more of that into her look."
Fans caught a glimpse of an edgier Holly during this summer's Glastonbury festival – with our insider revealing the star is a huge fan of indie music. Embracing her inner wild child, the star partied for 12 hours straight at the iconic festival with husband Dan Baldwin, 48, and close pals Peter Crouch, 42, and Abbey Clancy, 37.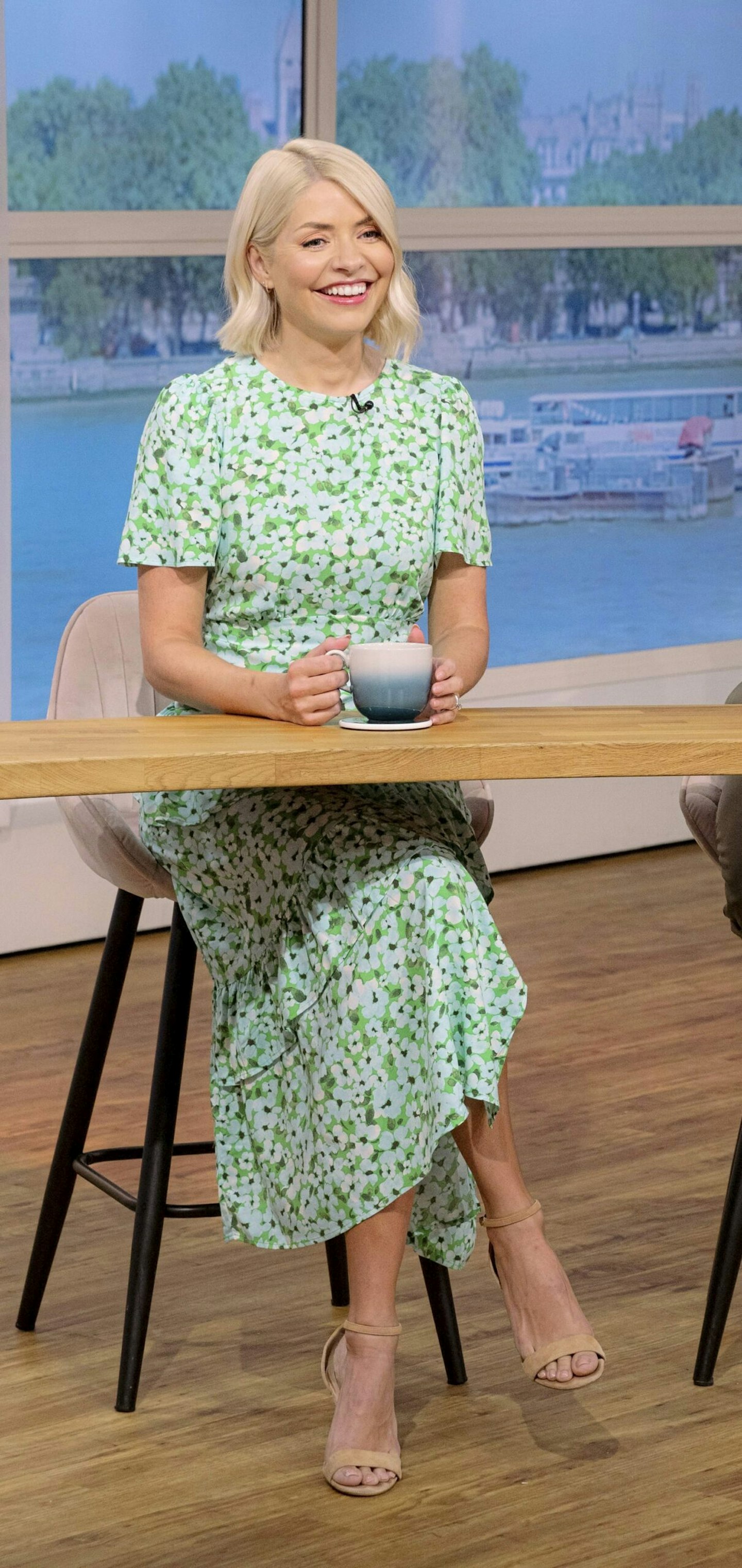 Opening up about her "magic" time at the festival in her Wylde Moon newsletter, Holly wrote, "What is it about going to a festival that makes you feel about 20 again? There's something so freeing… as if you've entered a world that encourages you to leave life's worries and responsibilities at the gate."
Now, taking her own advice and leaving her stress off-camera, we're told Holly's prepping to finally show fans a glimpse of the real her.
"She wants to be a more authentic version of herself on screen as she walks into this chapter," our insider says, adding, "Daytime TV has a reputation for being ruthless, but that's not how Holly wants to come across. She's a caring mum, and kind and generous with her friends – she's excited to bring out that side of her."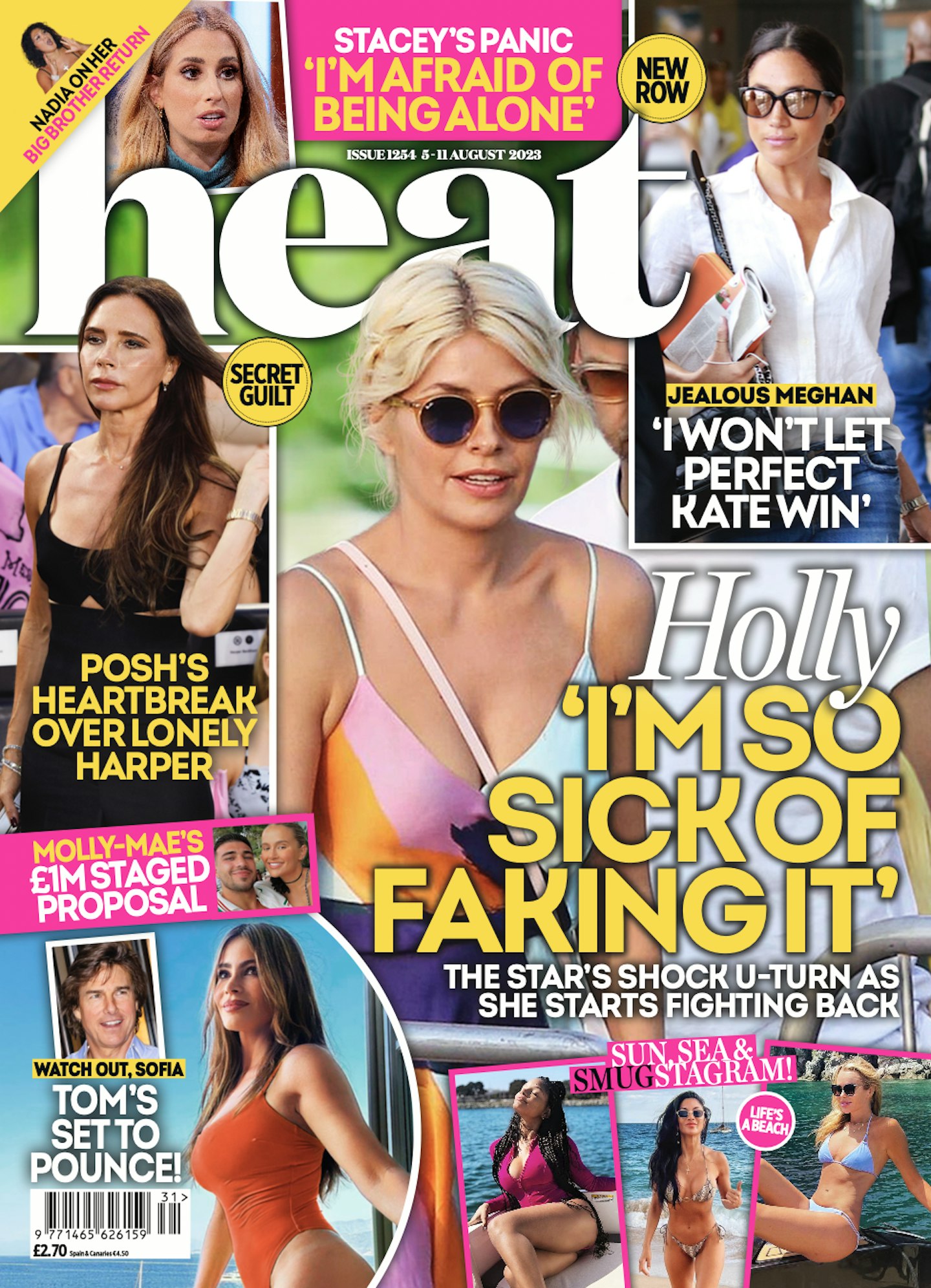 And after watching those around her fight their battles, we're told Holly is more certain than ever that her showbiz career will stand the test of time.
"She wants to make a success of This Morning after the scandal, but she wants to do it her way," reveals our insider.
"She's seen how TV icons can fall from grace, and she's adamant she won't let that happen to her.
WATCH: Catherine, Elom, Leah & Montel On Love Island Drama | Heat Dates