It's fair to say that Charlotte Tilbury's Hollywood Flawless Filter has the world in a chokehold. The multi-purpose gleamy formula can be used as a primer, foundation and highlighter and is loved by all the celeb lot, including Ekin-Su Cülcüloğlu, Gigi Hadid and Kate Moss. I have been using it for over a year now (still going strong with the same bottle!) and it's my favourite for that just-been-to-a-fancy-Cotswolds-spa gleam that I am forever trying to emulate.
So when Maybelline's Instant Age Rewind 4-In-1 Perfector Glow Foundation finally launched in the UK and promises all the glowy benefits of the original I had to try it. Especially when it's just £12.99 - almost a third of the price of Charlotte Tilbury. More money for spicy margs and Adanola leggings, amirite?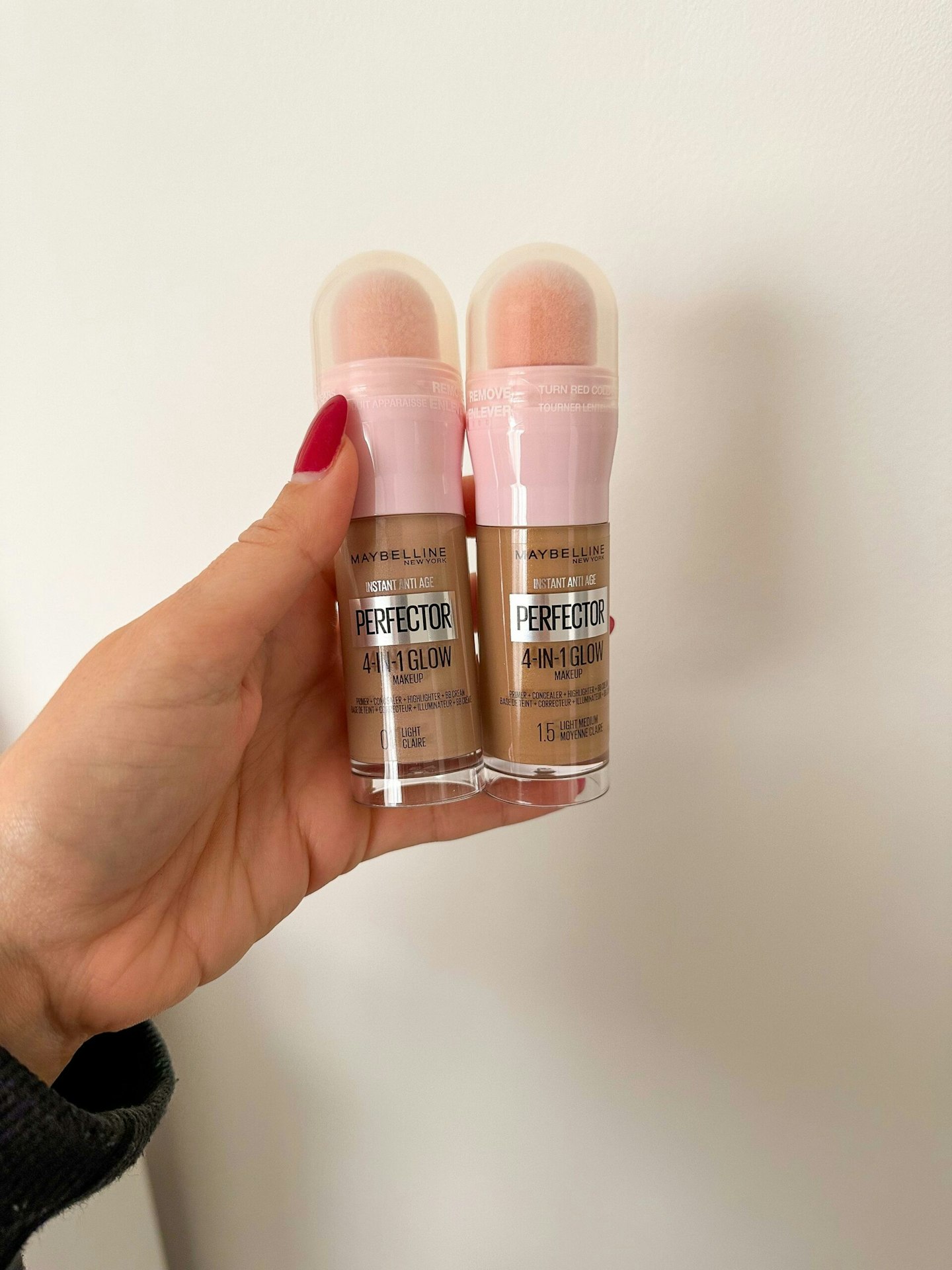 In the name of journalism, I tried both the Maybelline 4 in 1 Glow and the Charlotte Tilbury Hollywood Flawless Filter side by side and here are the surprising results...
The main difference is the applicator, Maybelline's 4 in One Glow has its iconic sponge head (the same as loved Anti Age Eraser Concealer, £7) whilst, Charlotte Tilbury uses a chubby wand. I loved the cushiony feel of the sponge and it feels very comforting on my skin, especially when doing your make-up at the crack of dawn (read: 8 am.) You do get slightly more control of the product used with the wand, but it's definitely a dealbreaker.
Now for the actual product - it is very hard to tell the difference and both give a delicious, lit-within look. What a day. After consulting my housemate, the Hollywood Flawless Filter is a teeny tiny bit more glowy, but after painting each side of my face with each product, most people would fail to see any difference. In fact, I could run to Sainsbury's Local for my daily snack and no one would bat an eyelid.
I was impressed with the coverage from Maybelline's 4 In 1 Glow which covered any redness while still feeling ultra-lightweight. I would personally use this underneath foundation and perhaps a bit on my cheekbones as a glossy highlighter, but it also makes the perfect skin base for holidays and fun in the sun.
Now let's talk shades. I used the lightest shade '01 Light' in the video which was the perfect colour for my skin tone, despite naturally having a bit of a tan. I would say go down a shade or two, which is something people noted in the review section, too.
Is Maybelline's 4 in 1 Glow worth it?
Yes, yes and YES. Save your pennies and get yourself Maybelline's superb Glow Perfector.
Of course, if you fancy a well-earned treat, CT's Hollywood Flawless Filter is unquestionably good and has managed to last me a full year, so the price per wear works out incredibly cheap anyway. But there really isn't much in it at all. Spend just thirteen pounds and look like you were destined to join the cast of Made In Chelsea. You're welcome.