Self-care will forever be our favourite hobby but we appreciate that recharging and putting yourself first looks different for everyone. Each week, we'll be asking the celeb lot to share their ideal self-care Sunday routines, the hard-working beauty products they recommend to their friends and which TV show they're currently binging…
This week it's all about Love Island mega-babe, Tasha Ghouri. After coming fourth in season 8, the 24-year-old quickly won over the nation thanks to her cool AF fashion sense, hilarious TikToks and for being relationship #goals with fellow Islander and now-boyfriend Andrew Le Page.
Since leaving the villa, the star has worked for plenty of huge brands and is the proud ambassador for eBay and L'Oreal.
Tasha was also the first-ever deaf Islander to enter the villa and continues to raise awareness for the death community and highlighting how she doesn't see it as a disability but a 'super power'. 👏
Tasha chats exclusively to heat about her make-up favourites, the meaning of self-care and really wise advice...
On self-care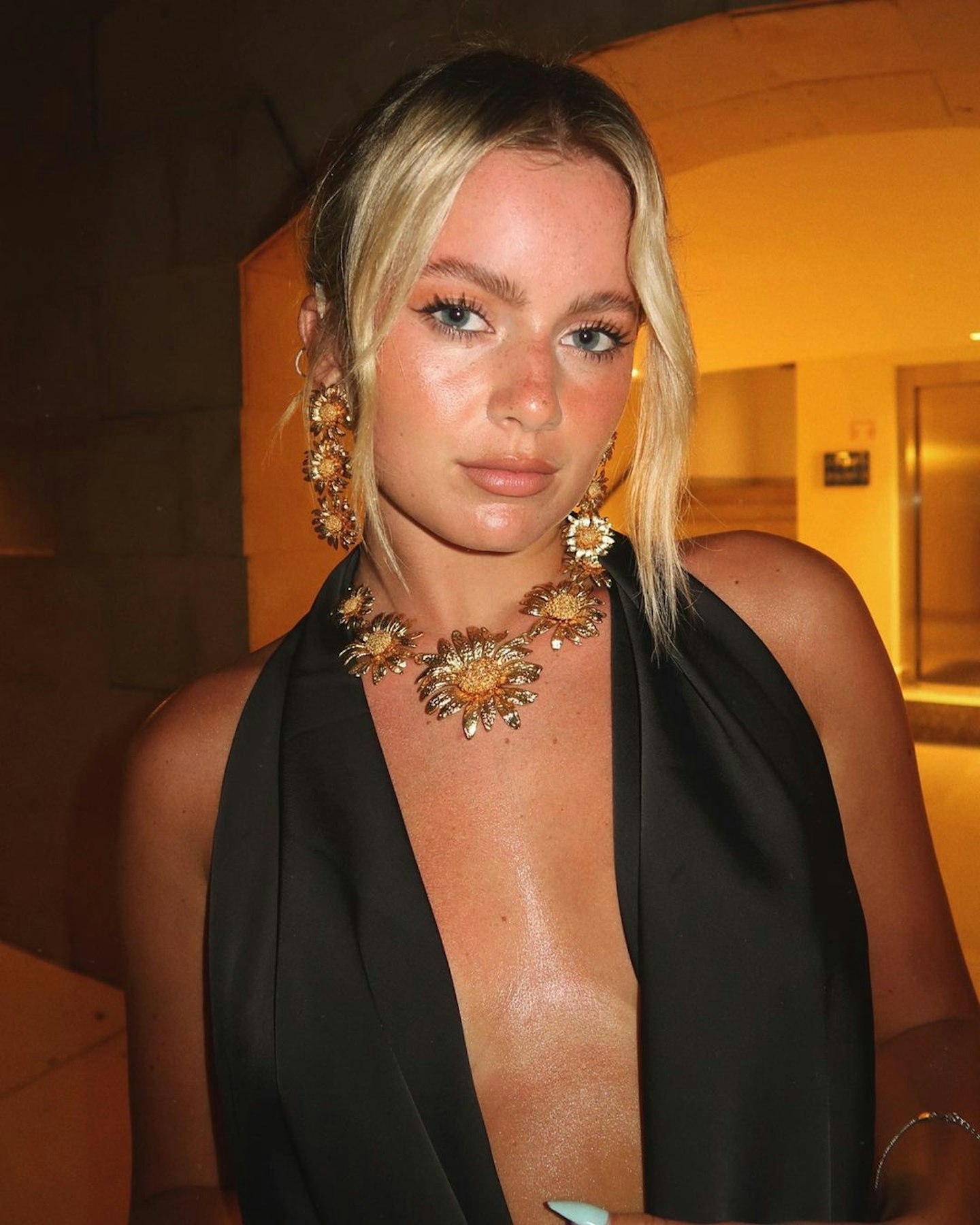 What does the perfect self-care Sunday look like for Tash?
"My Sunday looks like being in the flat, doing a deep clean, doing all my washing. I love to kind of have that reset day of, 'Okay, this is Sunday and it's the start of the new week'. I'm 100% that person that if I know my washing needs to be put away, I need to put it away – I can't leave it for a few days. If I get it done, then it's done. Sorting out the flat, I know I don't have to stress for the rest of the week. I like to do a massive clean and maybe go to the gym if I'm in the mood.
"Maybe brunch too. We've got some nice brunch places around us, so we go there sometimes and just have a nice little walk, and collect all my parcels and packages. My go-to dish is everybody's favourite – smashed avocado and poached egg on sourdough toast.
"I finish the day by just watching movies all night – or binging a TV series! I can't watch one episode every single day, I have to binge it all."
On skincare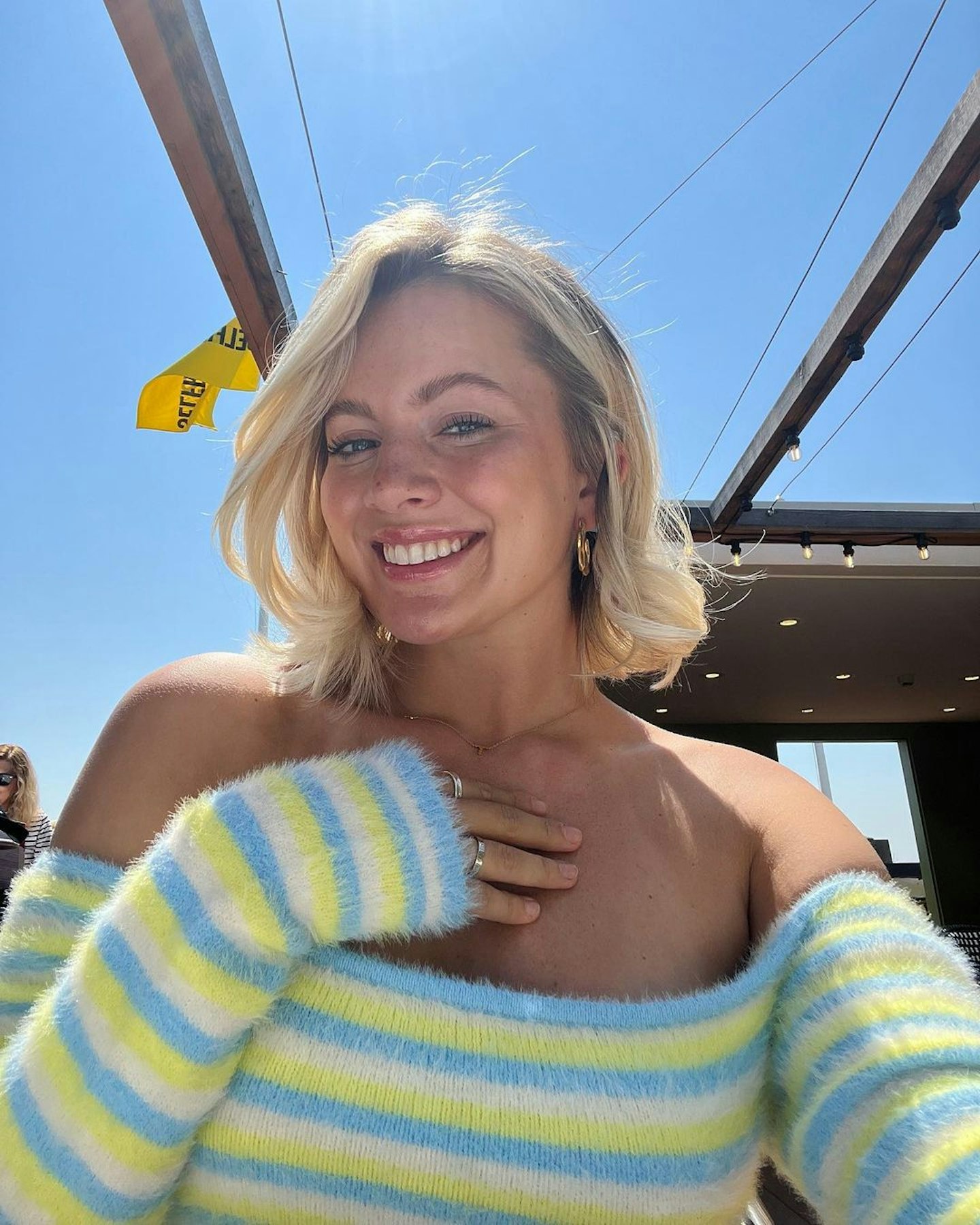 "I love looking after my skin. I actually had chickenpox when I was 16, and the second time it massively affected my skin. I had it all on my face. As an adult, you get it worse, so after that, I really had to start doing my skincare. Even to this day, that's why I'm so invested in it.
"I feel like doing skincare is my self-care. I love looking after myself and I feel like self-care is so important. It's a bit of self-love as well. I used to really hate it, but now I'm like, 'Damn, I love it'. It's a bit of time to yourself in the bathroom and just really relaxes you before going to bed. You feel fresh and ready for a good night's sleep.
"At night-time, I do a whole routine. I wash my face, cleanse, exfoliate, serum, hyaluronic acid, and moisturiser. And then in the morning, I just use a serum and moisturiser. I love to use the Charlotte Tilbury Magic Cream. I love it, it gives you the nicest glow. I also swear by the L'Oreal Revitalift Clinical 12% Pure Vitamin C Serum and I've noticed such a difference in my skin since using it. I love using L'Oreal.
"Andrew does use L'Oreal Men Expert for skincare as well, but he's very lucky. He's got great skin and he never uses anything! He just wakes up and is like, 'Okay, I'm ready to go' I'm like, "No, no, you need to put something on!"
On budget beauty buys
Are there any cheap-as-chips beauty products Tasha can't be without?
"I've got the Maybelline concealer – I absolutely love it. I've been using it recently and it's got really good coverage. It's got a nice glow it, so it's not too cakey.
"I use the L'Oréal Revitalift Clinical SPF50, which is so good to put on your skin. If you're not wearing make-up for the day, just put that on. SPF is so important! Even if it's not hot, you can still cause damage to your skin, so SPF is one of my top tips for anyone out there.
"I love Essie Nail Gel Couture . I love to use nail varnish – I've got a lilac on now! I've taken a step away from acrylics and I'm just embracing my natural nails more, so I've been using a lot of Essie varnishes to make my fingers look cute!
"I wore acrylics back-to-back for years, and it got to a point where my nails were so fragile and would damage and break easily. So I thought, I'm just going to take a break and actually try and regrow my nails stronger. To be fair, it's going really well. I'm still getting used to not having the nails though. I like that feeling of tapping on your phone!"
On make-up hacks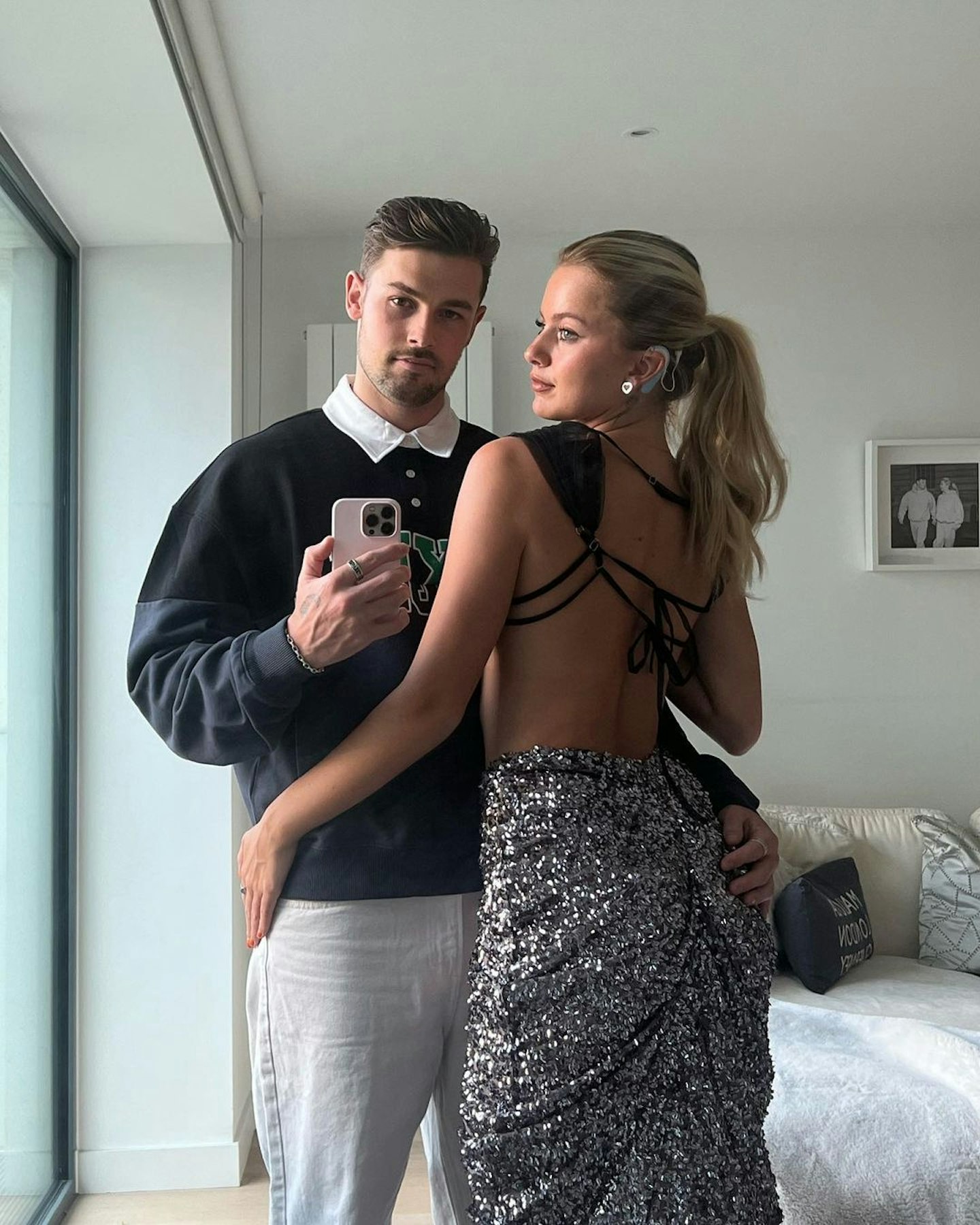 Tasha is the queen of a summery make-up look, so what are her favourite tips for achieving The Glow?
"I like to mix my serum in with my foundation to get that really nice glow. Mix a bit into your foundation, and it gives you a sunkissed, kind of blurry look.
 "I actually use bronzer on my eyelids too. I've got creamy bronzers that I use, and I'll put that onto my eyelids to give it that extra kind of sunkissed look. It's a good tip for if you don't have your eyeshadow pallet – it makes a good backup option!
"And I love to put blush on my nose – I just really love it on the tip. I think it looks super cute, and kind of like you're blushing all the time.
"Also, eyebrow pencils! I use eyebrow pencils for eyeliner – you can just use your brow pencil and do a little eyeliner look for it. They're all good hacks for if you forget anything, so I love them."
On her daily uniform
"Surprisingly, my day-to-day outfit is trackies or cargos and an oversized t-shirt!
"My staple kind of outfit is cowboy boots – I love my cowboy boots. I think in the villa, that was obvious. I wore them quite a lot. A lot of mine are from Simmi London. I obviously work with them and have my own collections, so my recent collection is a lot of cowboy boots. That collection has tassel ones, knee-high ones… they're all that I've been wearing. I love them. They're great for festivals coming up this summer.
I also love oversized bomber jackets. I just have a thing where if I wear shorts or a crop top, I have to wear something baggy. I'm that kind of girl where I can't just wear tight clothes. I have to have baggy on top.
"I think with my outfits, I just like to be creative and play around. I want to think outside the box, and that's kind of how I enjoy my passion! Don't get me wrong, sometimes the looks can be a little bit like "What is she doing?" [Laughs] But I just like to experiment. There's no point holding back in life – you may as well go for it and see what happens."
On make-up during shoots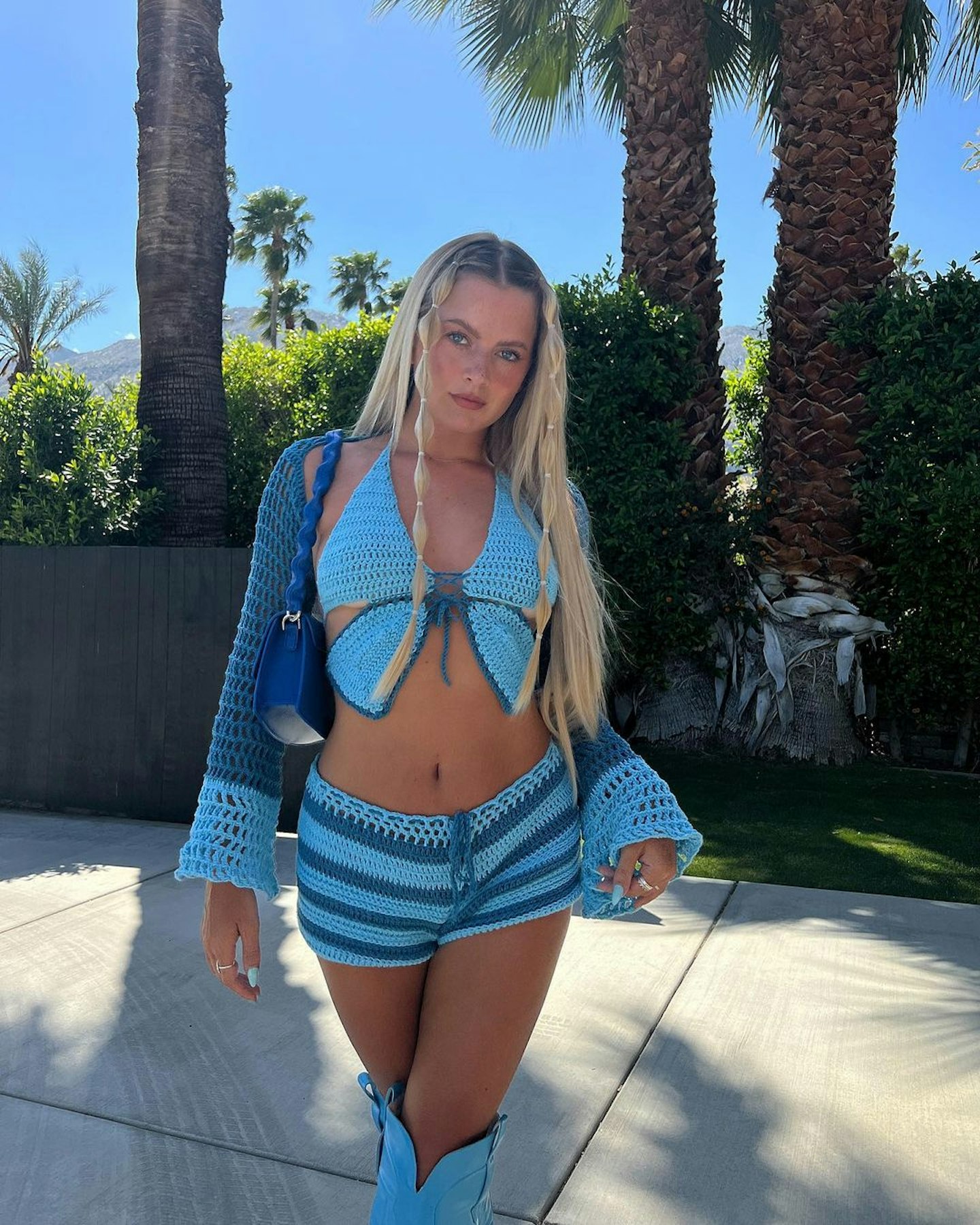 "Even on shoots with make-up artists, I always go for a glowy look. I do get oily skin on my T Zone, so it's important to have powder to apply – but not to the point where it's really baked! You want a loose powder to make sure nothing shines through on camera.
"Most brands we use on set are Charlotte Tilbury, L'Oreal, Rodial, Refy make-up – I love Refy. And sometimes we use a bit of Armani as well – they do have quite a few nice bits. We don't really use that many brands or products. I like to have my make-up very natural and light. I don't like it too heavy, so we limit what I use on my face.
"I love a glossy lip – put as much gloss on me as possible! I feel like on set it's just so beautiful to have that glowy, glossy look. I use Refy Lipliner in Rosewood and then I use Fenty Gloss Bomb Glass Slipper. That's in my handbag every single day – I've got it on now actually! It's my favourite kind of look – it's pinky and glossy, but natural as well. It's the perfect go-to day look."
On selfie tips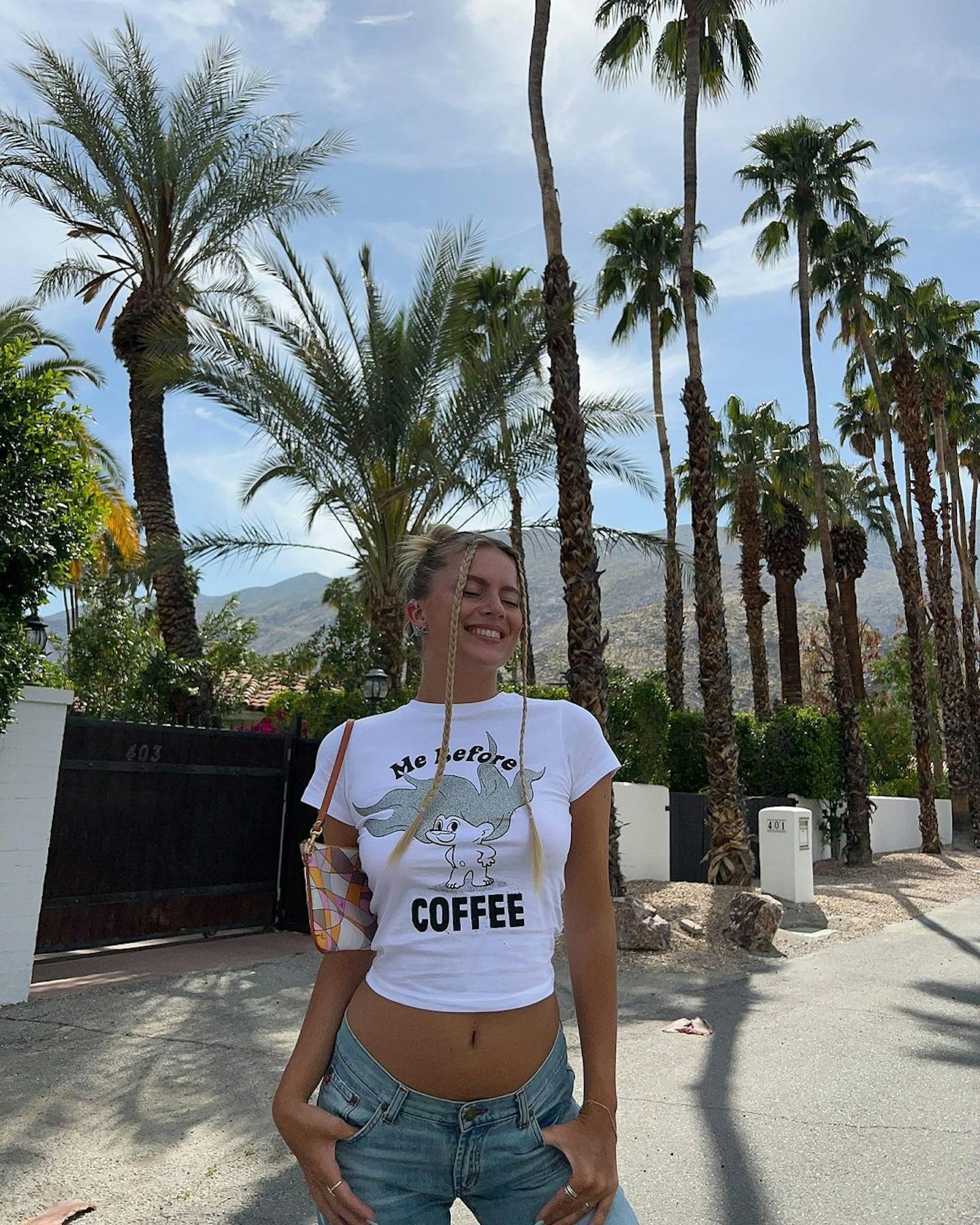 "It's all about lighting and angles. Make sure the sunlight is on your face, but sometimes it's best to not be directly in the sun. You want it really light and bright.
"Don't put your back to the sun, otherwise, it'll be shadowed behind. It's all about where the light is and finding your angle, but also just have fun! It doesn't have to be the best selfie! It can be a great selfie no matter what you're doing, just out with friends and enjoying your time."
On daily wellness habits
"Limiting social media. I like to take breaks from my phone. If I'm watching TV or I'm at the gym, I try not to go on my phone and social media as much as I can. Obviously, it's my job and work, so I try and disconnect as much as I can.
"I try to fit going to the gym into my routine as well. I try to be consistent– it's as much a mental thing as physical.
"I also think just lighting candles. Is that a thing? I just love to light candles and relax. Or I put my oil diffuser on and chill. I think that's just such a nice smell. It really relaxes me a lot in my own home."
On really great advice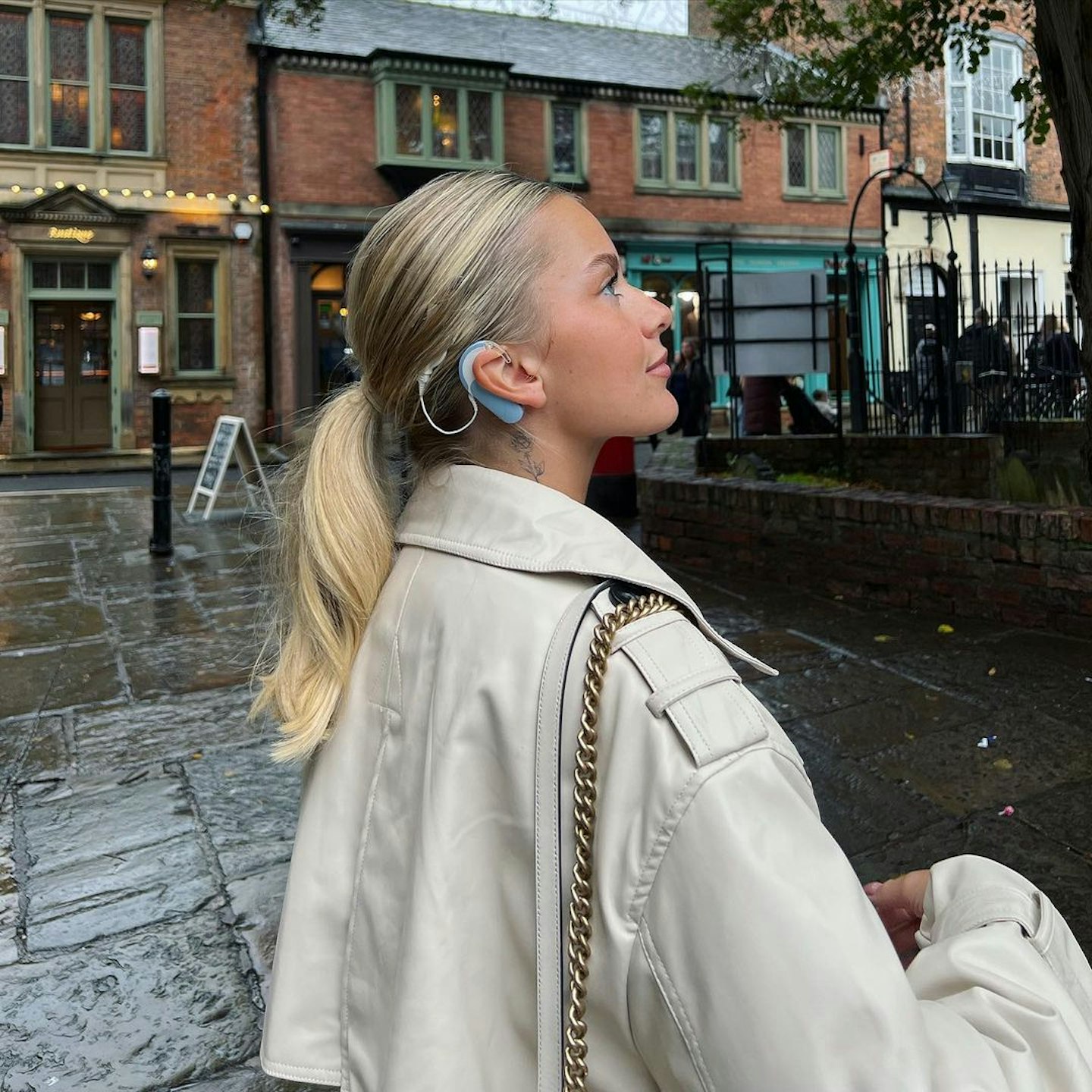 "No one else is you, and that's your biggest power. That's a quote I go by every single day. If you're ever feeling lost, you just have to remember who you are as a person. Your biggest power is that no one else is you! That's what makes you stand out. So that's important – remember that even when times get hard, you can get through it all by staying true to yourself."
Quickfire round:
What show are you currently watching? Citadel on Amazon Prime. It's so good!
How do you like your cuppa? Yorkshire tea with oat milk. I like it quite milky. A very, very light colour.
Go-to loungewear brand? Sisters and Seekers.
Favourite face mask? Dr Jart's Rubber Mask. I love it! it's so nice and refreshing.
Go-to takeaway order? An Indian, all day every day. I love curry – it's my favourite.
Favourite candle? Yankee Candles, in any scent that's sweet and fresh. I love the cotton kind of smell, or something strawberry and berry!