TikTok, you've done it again and we are eternally grateful to you. From blow-dry hacks to make-up tips, and now the discovery of Amazon's swimwear, we're obsessed.
If you, like us, didn't know that Amazon even did swimwear, you're in for the best news ever. Not only does Amazon stock some absolutely killer bikinis, but they're also amazing quality and very happily affordable.
TikToker, Lauren Wolfe, one of Amazon's biggest fans and the "Queen of finding cute things on Amazon" took to the social media platform to declare her love for its swimwear last summer. In the clip now re-making the rounds on TikTok, one particular three-piece bikini stood out to us all.
TikTokers flooded the comments amazed at everything Amazon had to offer, sharing, "who knew Amazon was going to be my go-to for swimsuits", and simply "adds to basket immediately."
The star of the TikTok, this gorgeous Celucke Women's 3 Pieces Bikini, is to-die-for and at only £10, we can't resist.
Read more: 22 viral TikTok products you can totally buy on Amazon
Believe us, we never thought we'd be hopping on Amazon to order bikinis for our summer hols, but here we are and we're not complaining.
Read more: The £4.50 tool making TikTokers' hair look like this
Boasting a large array of bikinis, swimsuits and stunning sarongs, Amazon has everything you need to get pool party ready just in time for summer 2022. We've scoured the Amazon site and all of TikTok to find the best amazon swimwear has to offer, check out our top picks right here.
SHOP: The best Amazon bikinis for summer 2022
The best Amazon bikinis according to TikTok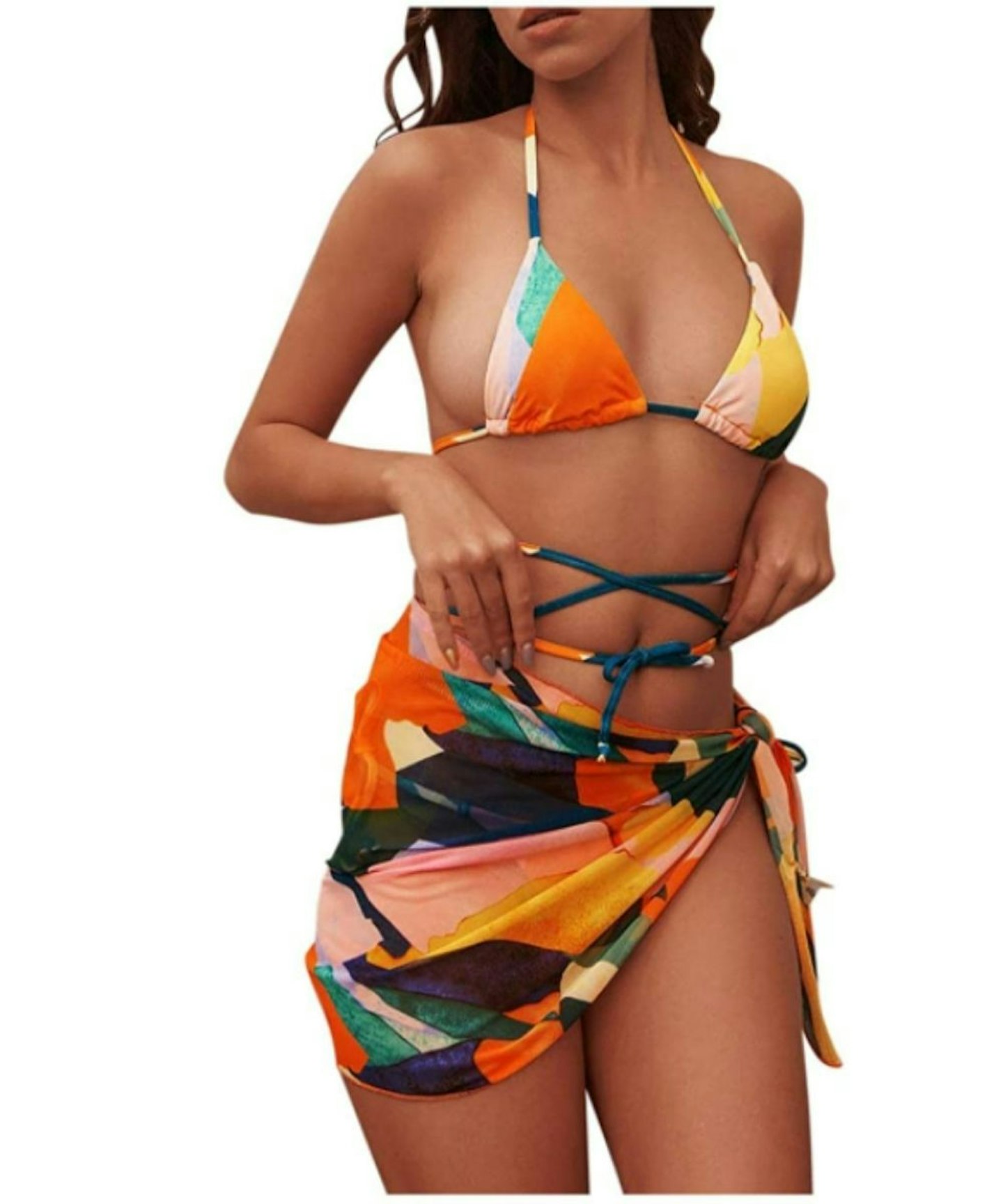 1 of 11
Celucke Women's Three-Piece Bikini Set, Summer Floral
THE iconic three-piece bikini, I mean how could you possibly resist this…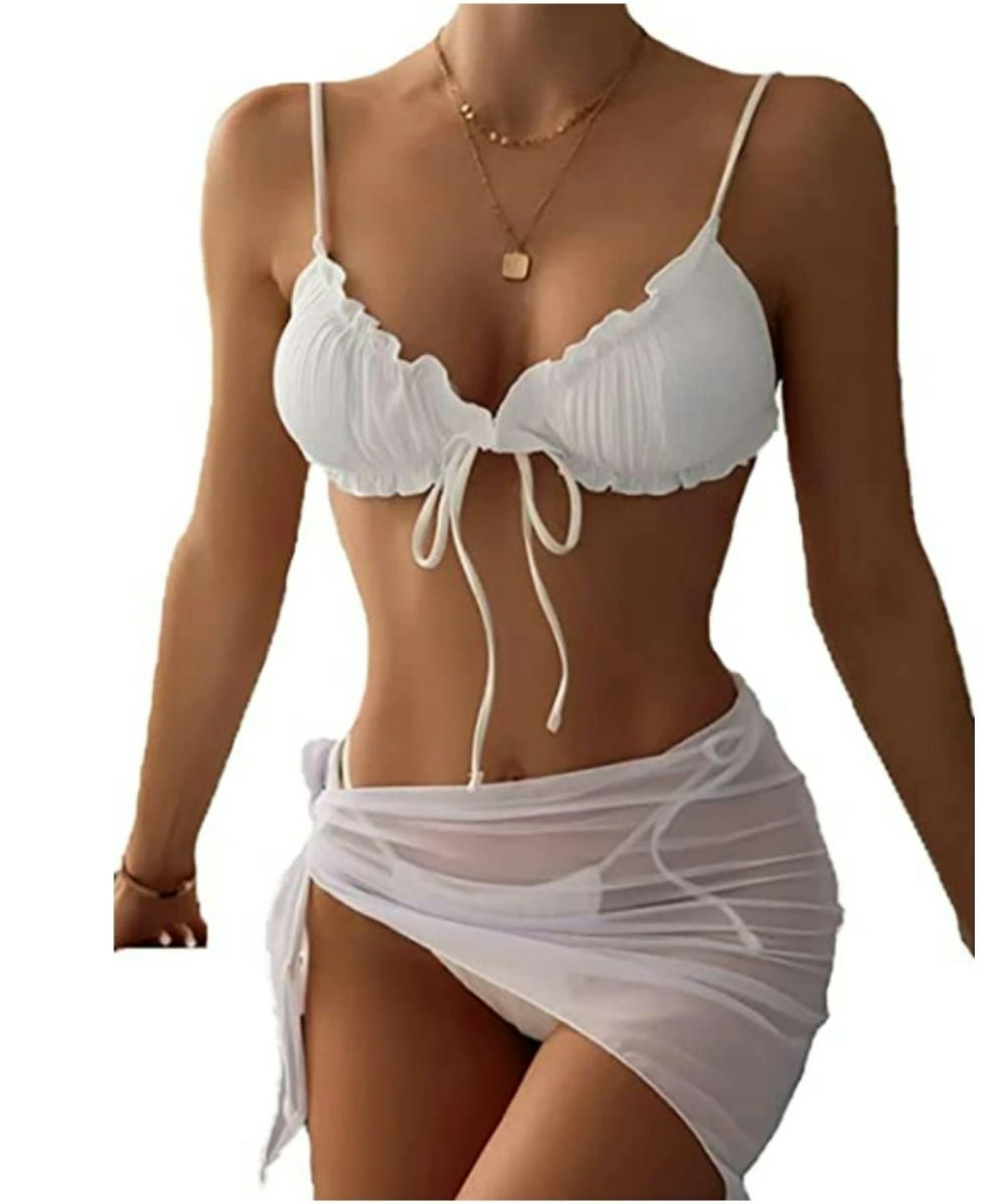 2 of 11
Lilosy Ribbed Thong Brazilian Three-Piece Bikini Set
We're loving this three-piece white set, perfect for relaxing by the pool and making that glowing tan pop.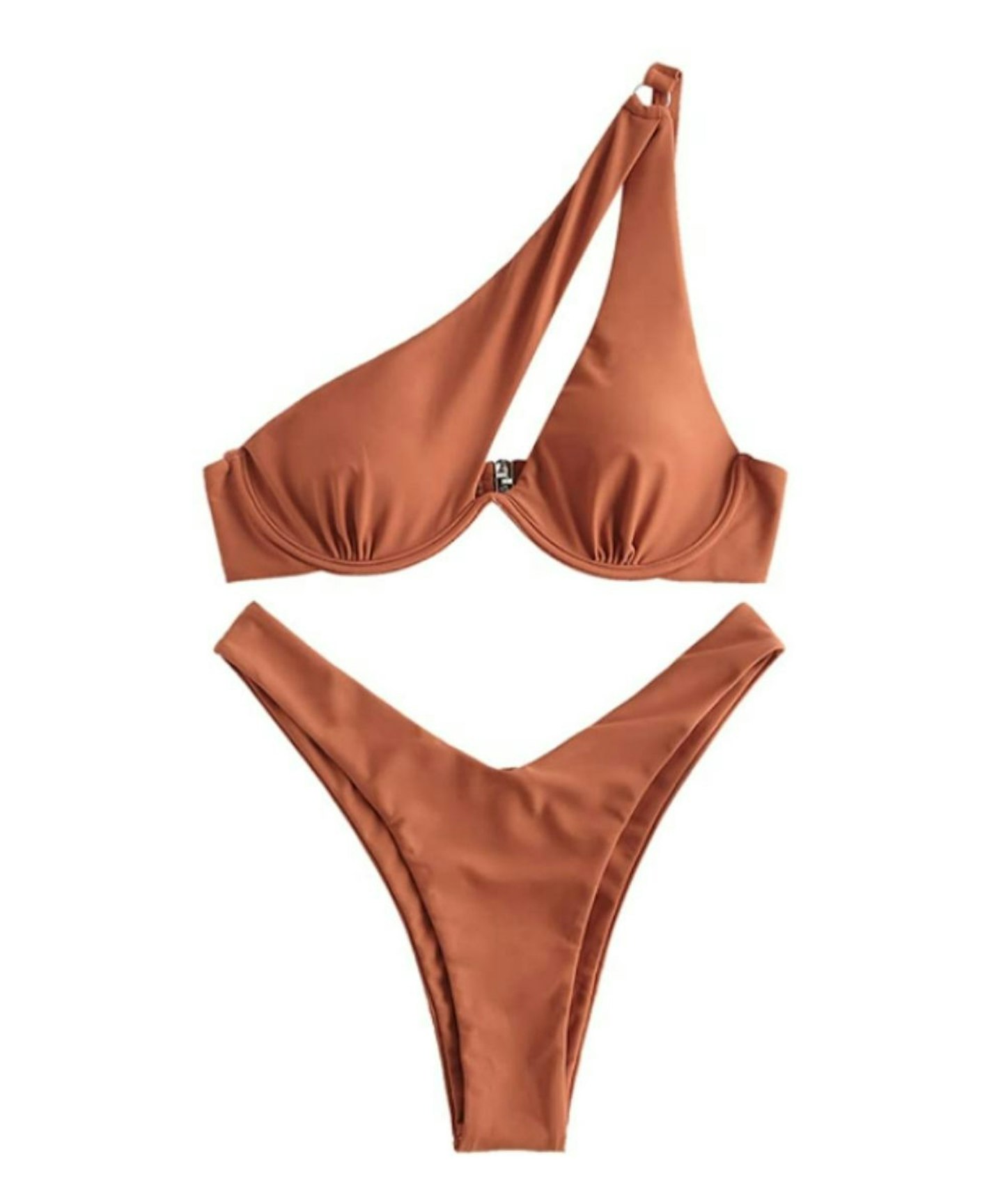 3 of 11
One Shoulder Triangle High Cut Bikini Set
Super flattering and comfortable, this two-piece has all the potential to become your fave go-to bikini.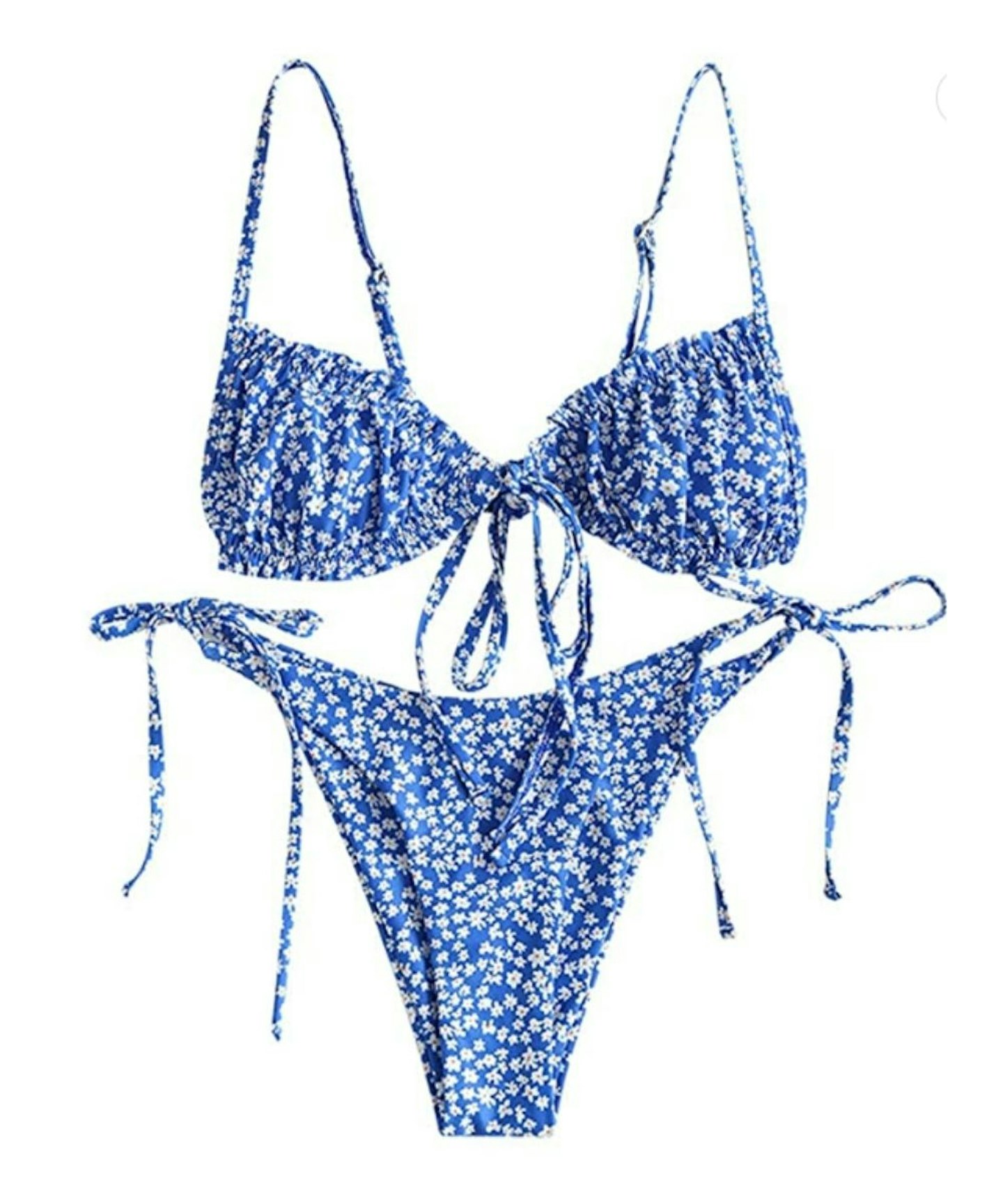 4 of 11
FEAPHY Women's Cut-Out Triangle Bikini Set
Patterned with an eye-catching ditsy-floral print and boasting some great reviews this bikini is perfect for summer.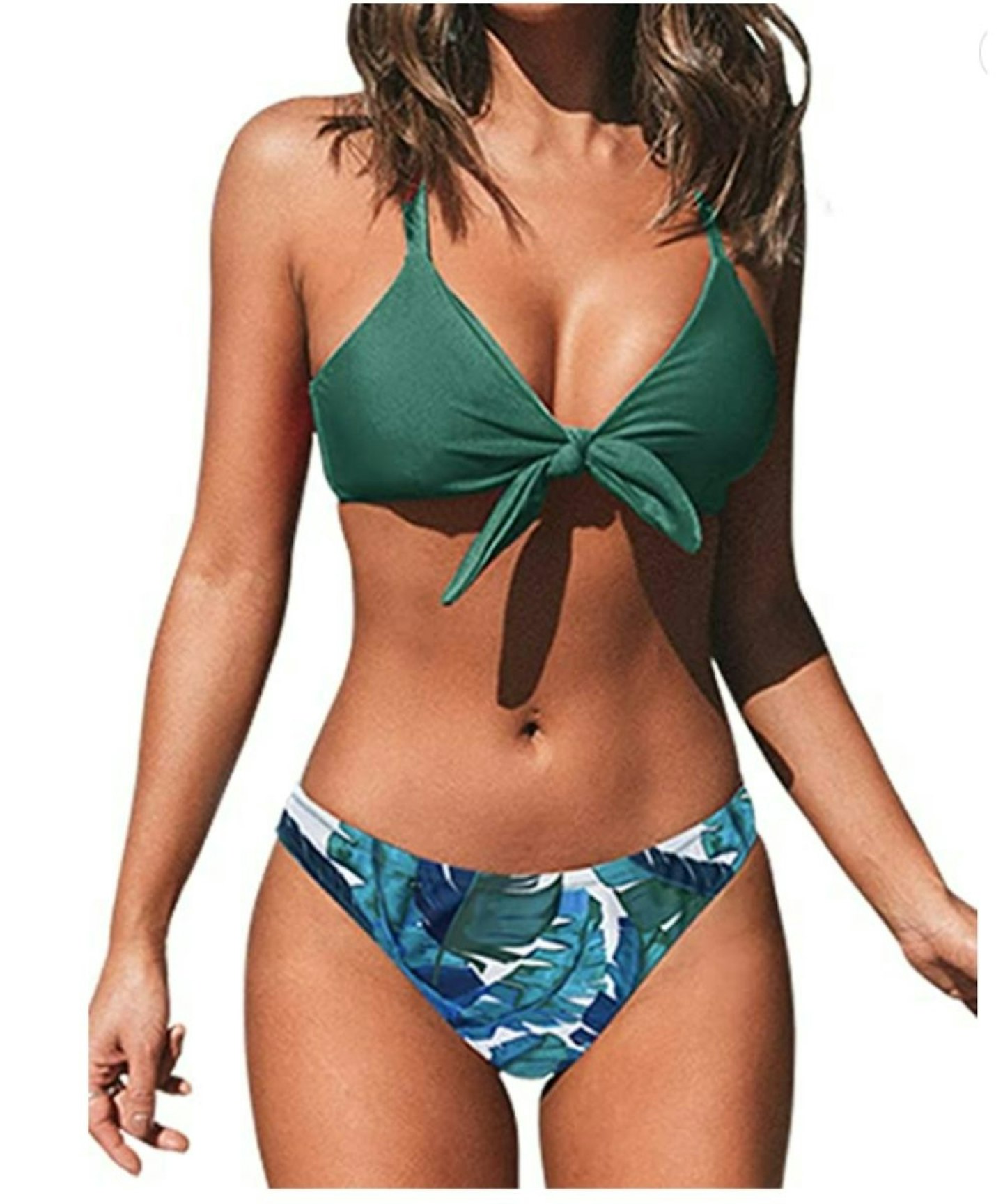 5 of 11
Women's Leaf Print Knot Adjustable Two Piece Bikini
Featuring a gorge knotted front and palm print bottoms this bikini is ready for its tropical getaway.
6 of 11
Women's One Shoulder Ribbed Bandeau Bikini Two Piece
This bikini set has a striking one-shoulder top, textured ribbed stretch fabric and medium-coverage briefs that sit comfortably – an essential for your next beach holiday.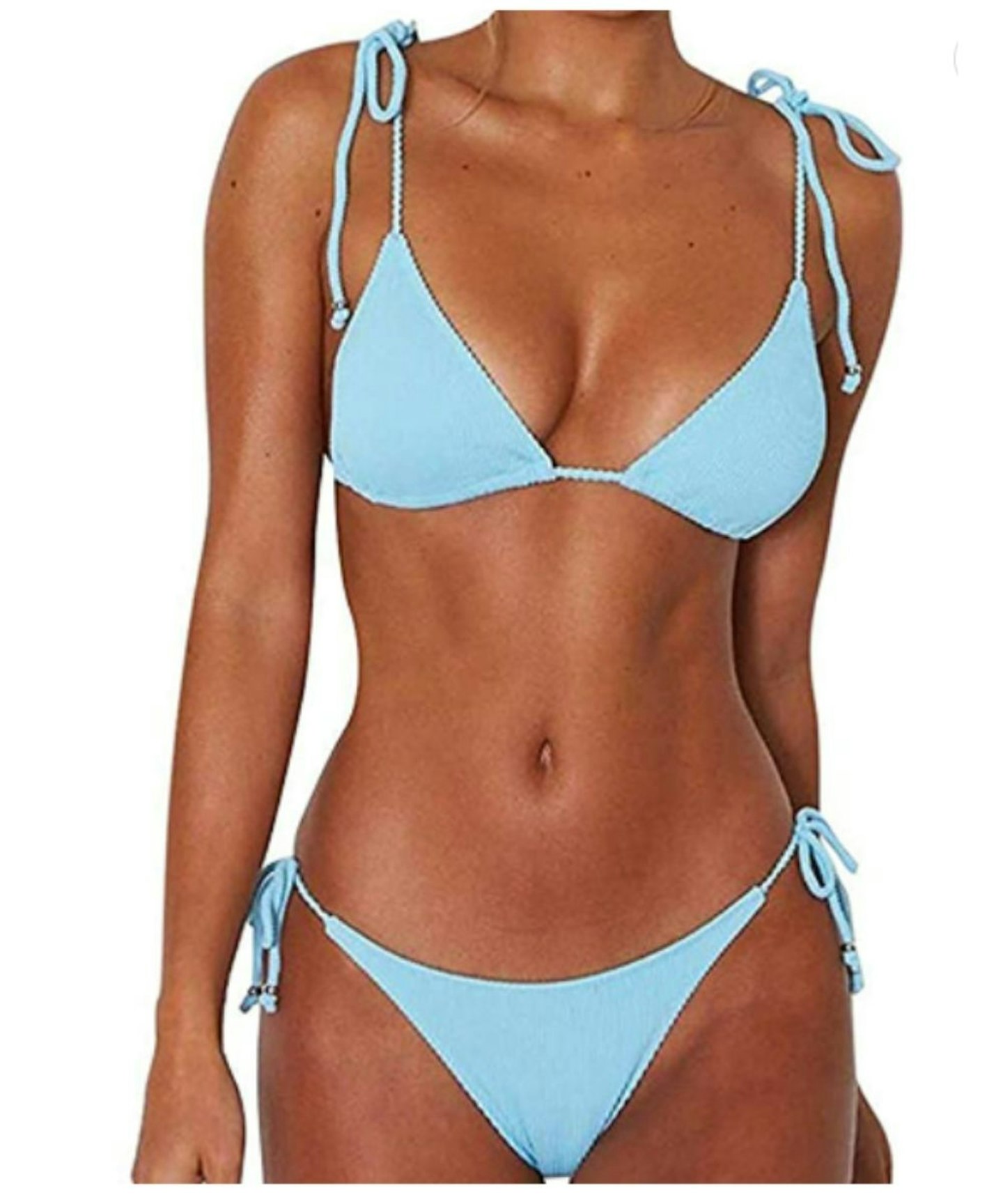 7 of 11
CheChury Two-Piece Brazilian Bikini Set
Durable, quick-drying and ultra-flattering, this simple bikini is the perfect cut for optimal sunbathing.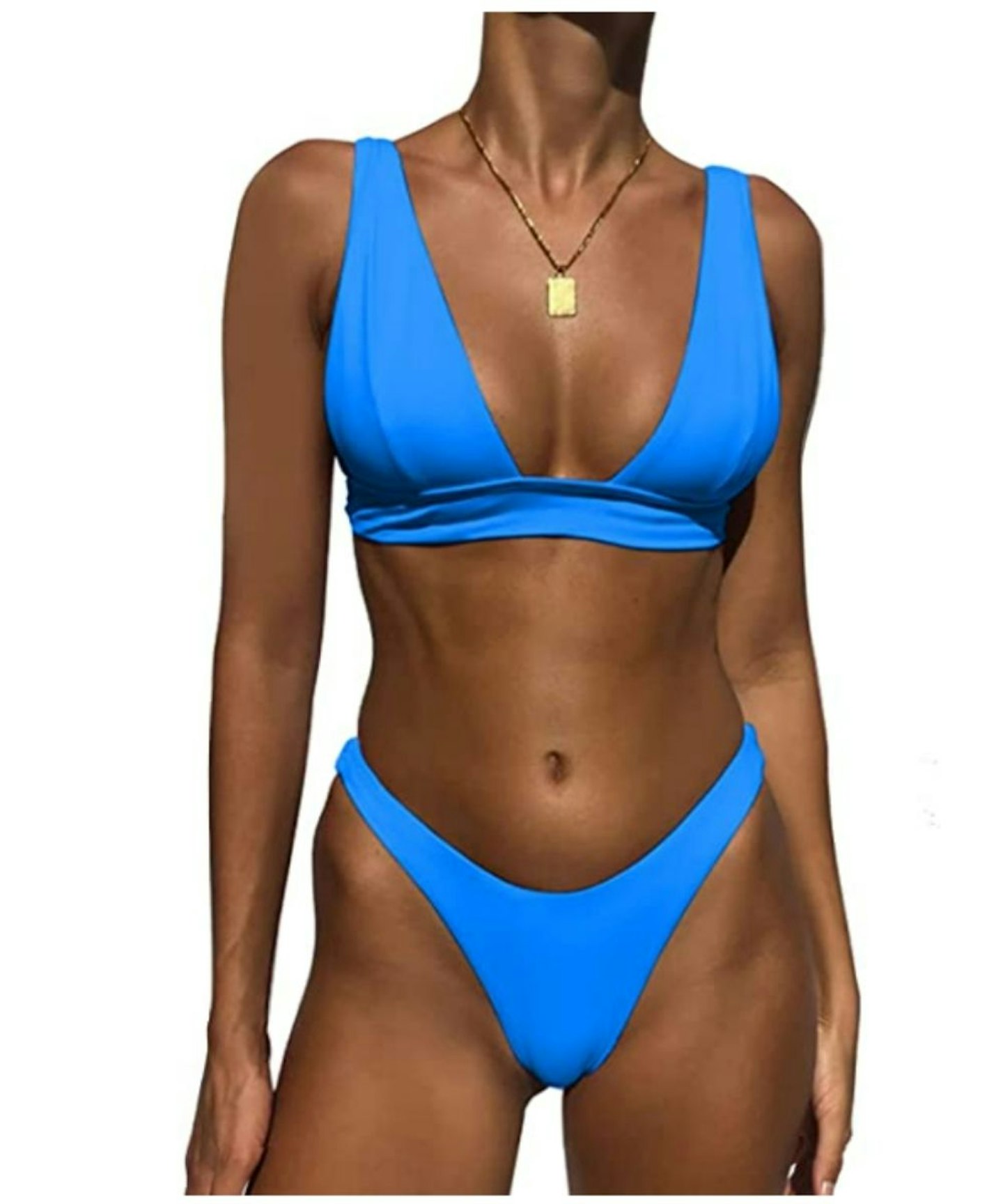 8 of 11
WODECASA Women's Triangle High Leg Bikini
We're LIVING for this blue. High cut bottoms and a plunging neckline, we love this classic bikini for a summer vacay.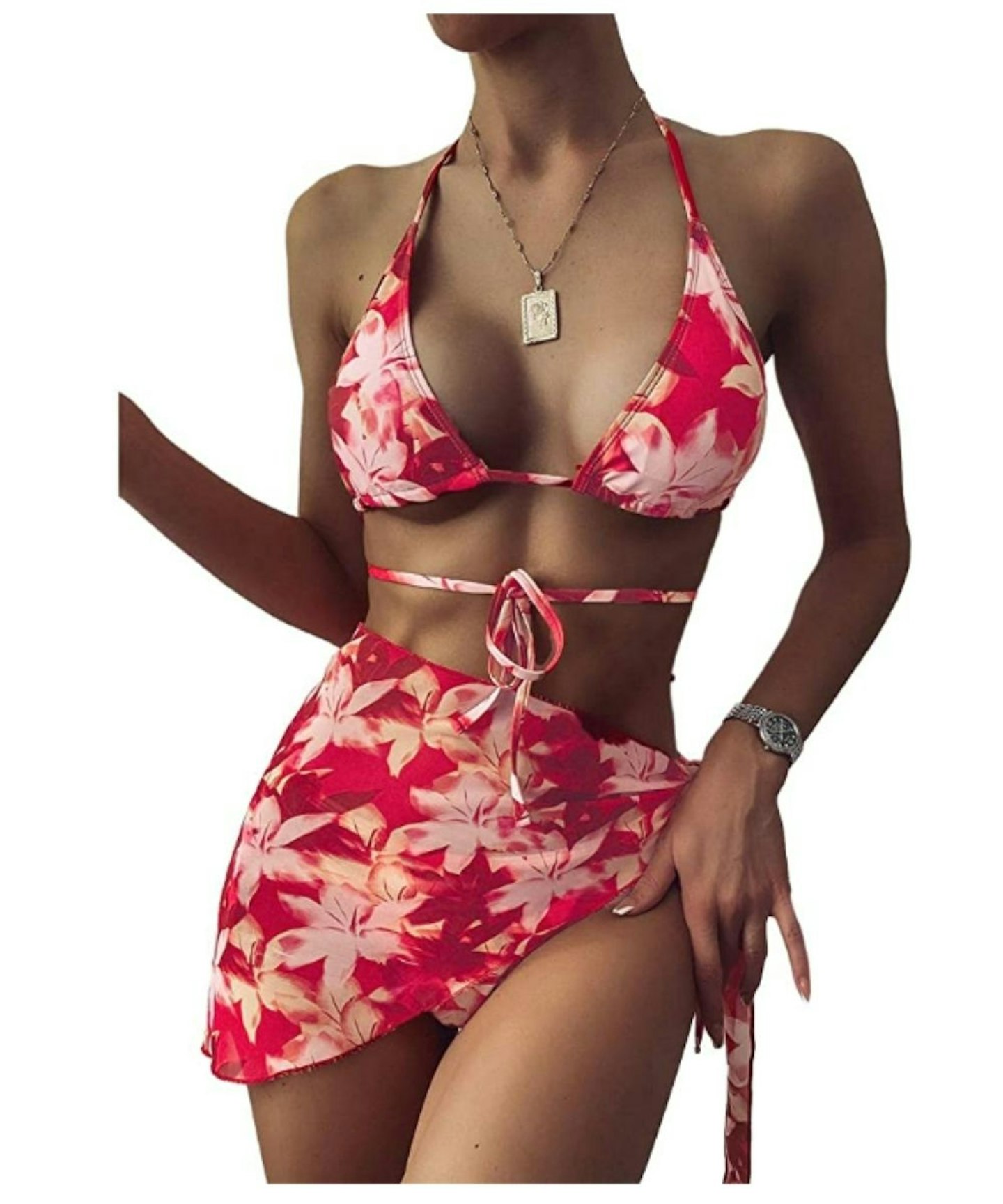 9 of 11
Tie Back Halter Triangle Three-Piece Bikini Set with Mesh Skirt
Another stunning three-piece bikini option this time in a gorge red floral that screams take me on a tropical getaway.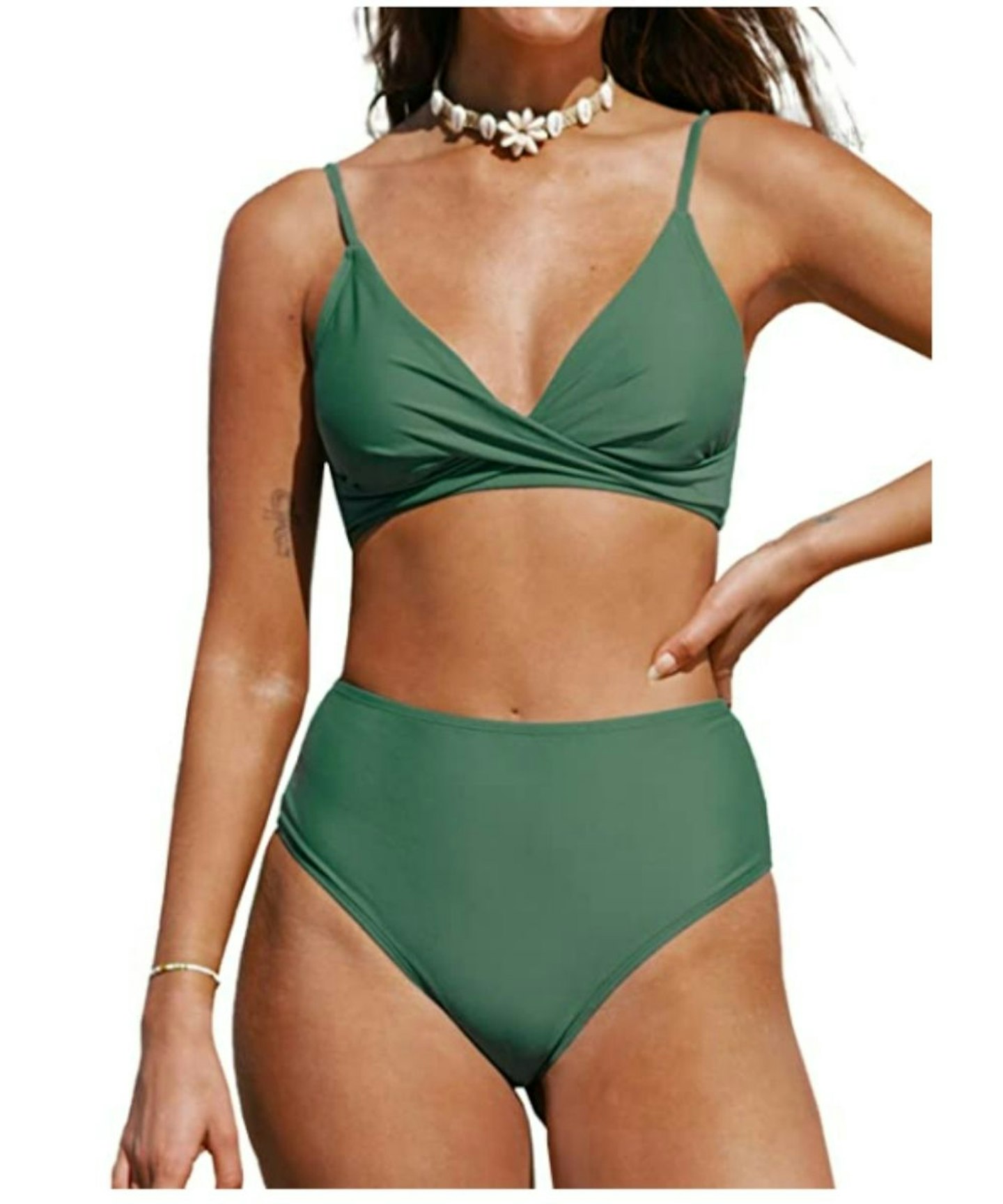 10 of 11
Women's V Neck Ruched Bikini Set
If you're a fan of a high-waisted bottom, this bikini is right up your street.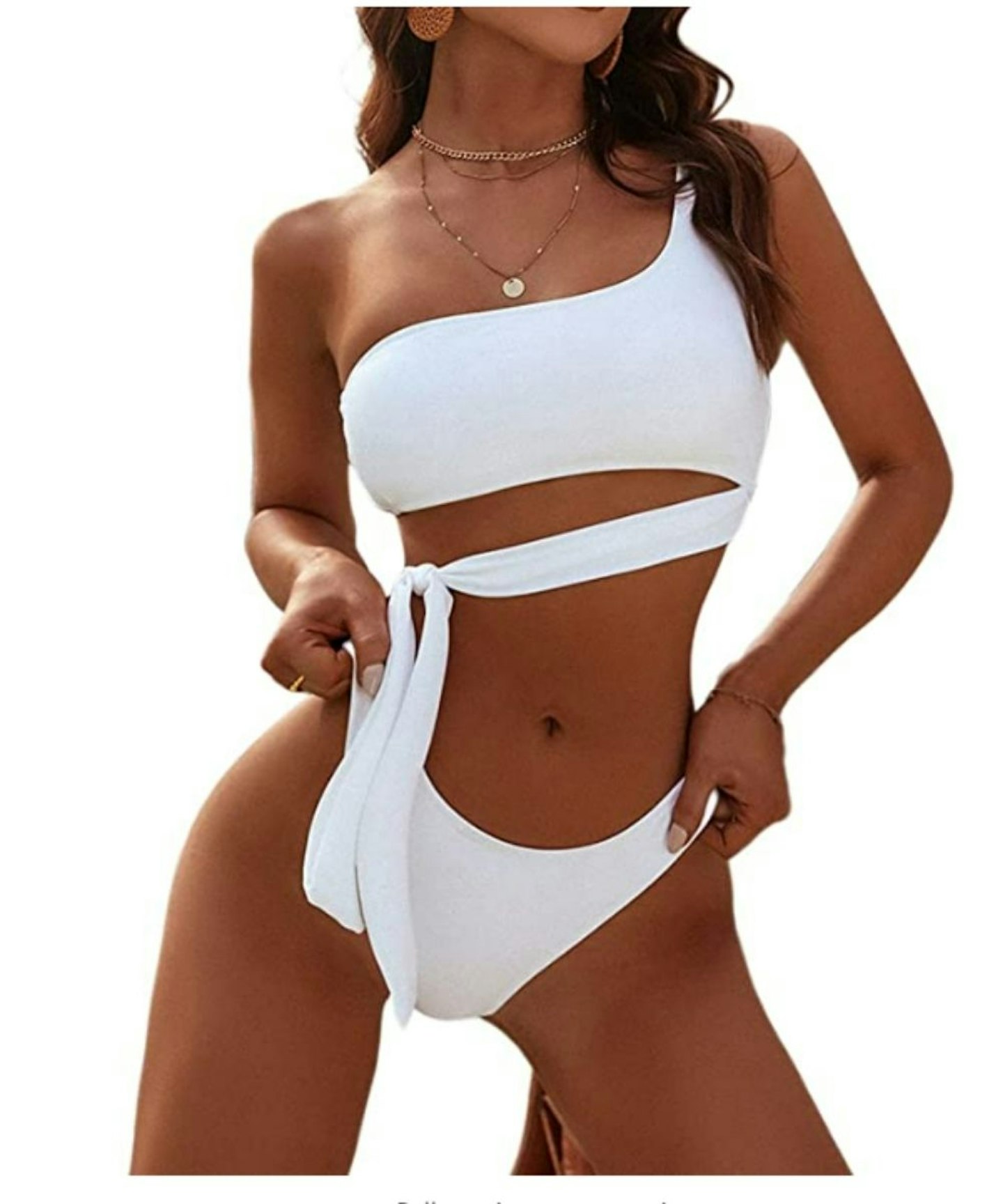 11 of 11
Blooming Jelly Women's One Shoulder Two-Piece Swimsuit
Made of soft, quick-drying and high-quality fabric, this two=piece swimsuit is both on-trend and a classic so you can wear it for many summers to come.