We all know the struggle of getting dressed in the summer.
We want something floaty, yet flattering. Fun, yet wearable. Airy, yet modest. And in the midst of a heatwave, we really are too tired to start pairing things together.
Our pals at River Island understand this and have gifted the world the Blue Puff sleeve tie dye midi dress which is, quite frankly, the easy-breezy dress of our dreams.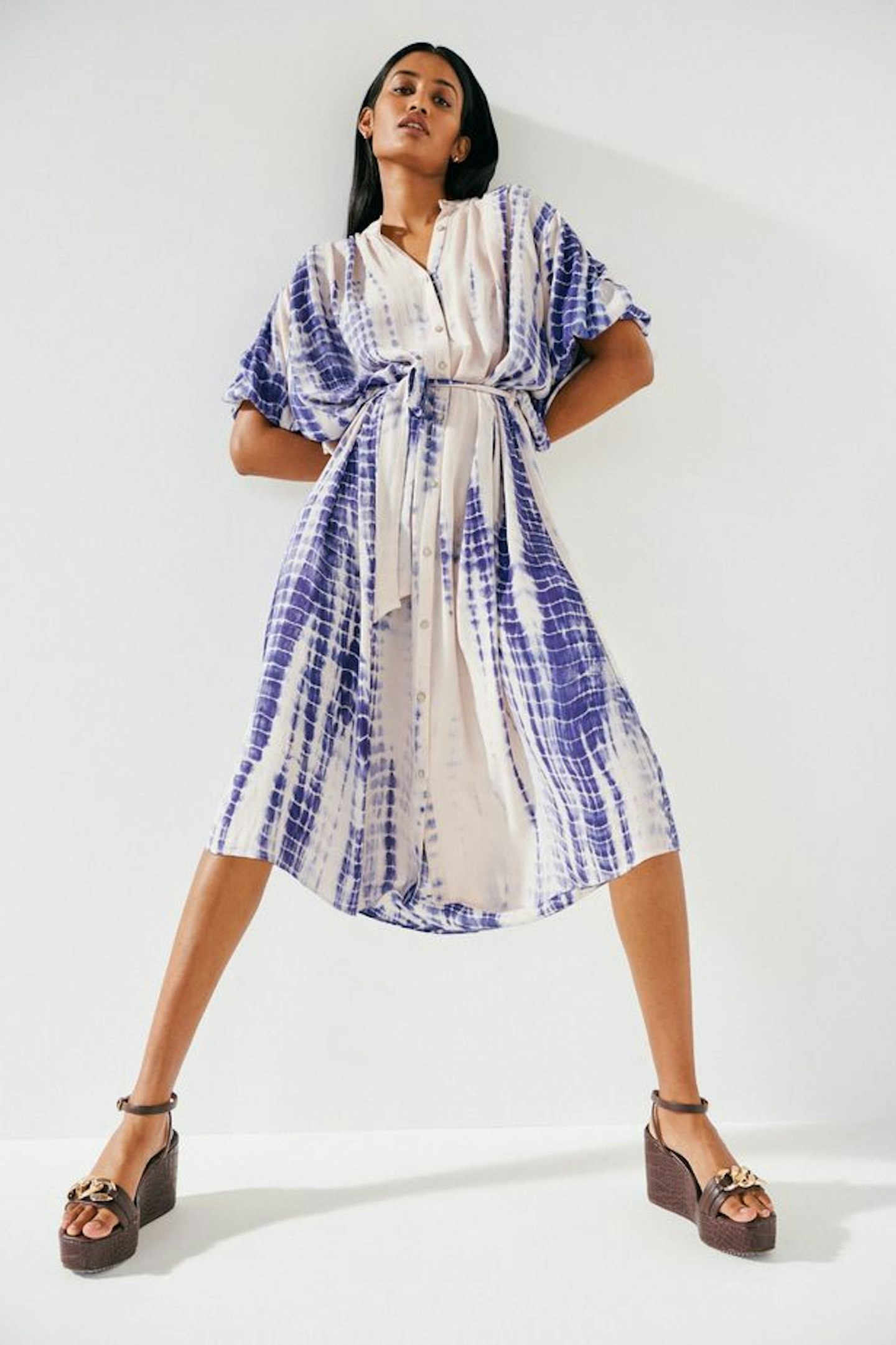 The tie-dye print ensures it's quirky, without making us feel like we've raided a fancy dress shop. The belt means we can accentuate our waist, whilst revelling in the floatiness of the frock.
Don't just take our word for it, the dress has popped up on our Instagram Explore page almost as often as 'post-lockdown photo dumps' and smug post-workout selfies.
Fashion influencer Sinead Crowe shared a snap of herself wearing the River Island dress and paired it with a cute woven basket and matching espadrilles. Perfect for that laid-back holiday vibe, amirite?
Petite fashion influencer Chloe-Jade Story showed that it still looks babein' on shorter girls and dressed hers up with this season's flip flop heels.
She added, "Surprisingly my favourite is this tie-dye dress, I'm not usually a pattern girl but the cut is so flattering and it's great to push yourself out of your comfort zone."
Meanwhile, Nimi Blackwell wore her River Island dress with a looser waist tie, which shows how cute and versatile the dress really is.
The dress is available from River Island in sizes XS to XL and won't be around for long, so er, don't dilly dally!
Now! More news!
What to buy from H&M new in, according to the heat style team
Pride 2021: 10 fashion and beauty buys that actually give back to the LGBTQI+ community
Non-rubbish ways to feel er, less rubbish
Start a new hobby: whether it's pottery or baking bread, now is the time to make the most of your free weekends and quiet evenings. Anything that gets us off our phone for a bit gets a yes from us.
Make your bed first thing: a tidy bedroom equals a tidy brain, people. It will take you less than a minute and will help you feel more... y'know, together.
Invest more in your friendships: the pandemic has meant we've felt more alone than ever before. Remember second and third-tier friends? Send WhatsApp messages, forward memes and even make their day with a thoughtful letterbox gift. Ah, we feel better already.