The Girls Bathroom's Sophia Tuxford and Cinzia Baylis-Zullomay be best known for dishing out great advice on their chart-topping podcast, but they are also undeniably sublime at putting together an outfit.
In fact, we are known to use their Instagram grids as a pre-made Pinterest board.
From bright colour blocking to that butterfly top from Coachella, the BFFs never play it safe when it comes to fashion and we love seeing which funky ensemble they'll wear next.
Sophia and Cinzia sat down with heat to chat through their favourite fashion brands, styling tricks and the one thing they would never, ever wear...
Hello girls! So, what's a new fashion brand you've discovered recently?
Cinzia: I think our newest favourite brand is this one called Shondel.
Sophia: It's like vacation and holiday wear.
Cinzia: It's such a beautiful slow fashion brand, it's all handmade crochet.
Sophia: So many colourful bits.
Cinzia: it just really represents us, we love colour.
What's an item of clothing you've bought recently that you love?
Sophia: I recently got some great denim shorts, I always feel that denim shorts are the hardest thing to find.
Cinzia: They are.
Sophia: I found a really good pair that fit really nicely from Agoldeand they're really comfy. They've got stretch and they're not too short, so I'm really chuffed with those.
Cinzia: They're a really great denim brand, they also do the best jeans. They also do these leather/denim hybrid trousers, remember I had those in New York? They're really cool. For my next trip, I got myself a Jacquemus beach bag, one of the woven bags in turquoise. It's such a staple for summer, I can't wait to wear it.
What is your favourite styling trick?
Sophia: We love a bit of DIY.
Cinzia: We DIY'ed Sophia's Coachella outfit from a pair of denim jeans. We love cutting up denim shorts, but our favourite thing is cutting up white vests to make them fit perfectly, whether they're a bit long or...
Sophia: Because I'm always in a vest.
Cinzia: Yes, Sophia's staple is always a white vest.
Sophia: Sometimes they've got to be cut. It gives them more of a lived in, cool girl look vibe.
What is your current everyday uniform?
Sophia: Jeans and a white vest! Trainers and a leather jacket maybe.
Cinzia: I've been loving aSKIMS bodysuit with a pair of joggers or a pair of jeans and some trainers.
What's your current go-to outfit for going out out?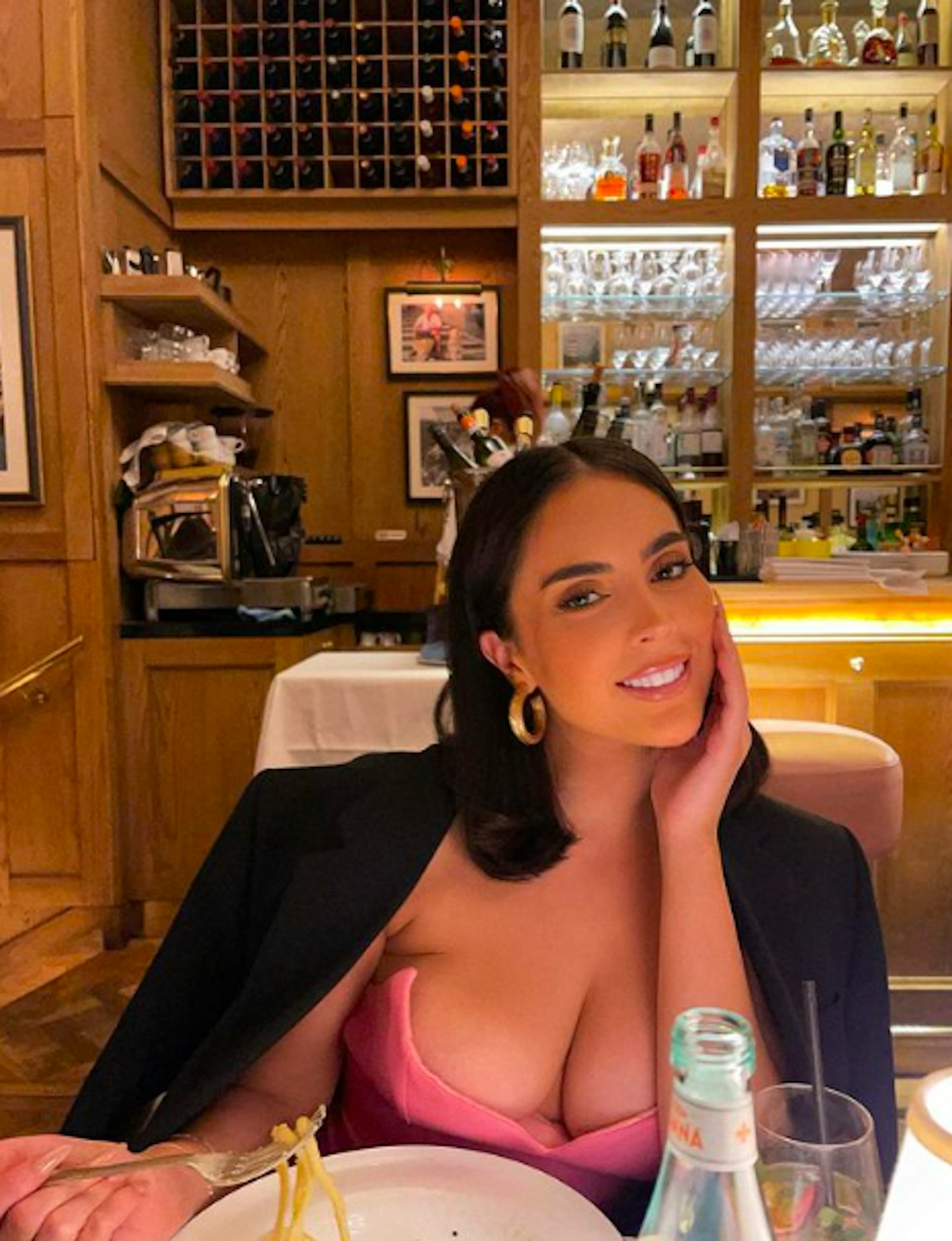 Cinzia: It's all about a good corset.
Sophia: Something that's really flattering, supportive and sucks you in.
Cinzia: We like to feel secure and sexy and a corset for us is just perfect.
Sophia: Because you can wear it with jeans, leather trousers or a skirt.
Cinzia: We love a corset.
Who are your favourite people to follow online for fashion inspo?
Cinzia: We love a bit of Leonie Hanne, she's the queen of every event. The queen of Coachella, the queen of Cannes Film Festival, queen of Fashion Week and her day-to-day looks are always amazing.
Sophia: We also love Conna Walker.
Cinzia: We're obsessed.
Sophia: She pulls out these incredible pics and street style, it's alll really wearable.
What's your favourite fashion item in your wardrobe right now?
Cinzia: Something I've worn the most is my New Balance trainers, they're the 550's. I've worn them pretty much every day I've been in London, they're just the best.
Sophia: I never invested in sunglasses, but at the end of last year I bought two pairs of YSL sunglasses and I just love them. I feel like they really elevate a look and now I really see why people invest in sunglasses. I think it's a really lovely accessory that will last. I got the black Hayley Bieber ones and they will last a lifetime.
Cinzia: Yeah, I think they make an outfit look really chic.
READ MORE: The Girls Bathroom's Sophia and Cinzia talk podcast secrets, fall-outs and how they choose dilemmas
What trend are you most excited for in 2022?
Cinzia: We love colour and we love colour blocking. We love pinks, we love blues…
Sophia: We love orange, we love green
Cinzia: We love switching up our nail colours as well, that's one of our favourite things to do. Though right now I have nude, so I'm not one to talk. We also want to get back into our nail art. Last summer we loved our nail art and we need to bring that back.
What is something you would never ever wear?
Sophia: Jeggings.
Cinzia: We would never ever wear jeggings.
Sophia: But never say never! We don't like to rule anything out.
Cinzia: I think unless they invented a really cool fabric that looked like a real pair of jeans…
Sophia: We don't like to take it too seriously. Fashion is supposed to be something fun.
Cinzia: Never say never, but as it stands, we would never wear leggings.
What's your top tip for anyone wanting to find their own style?
Cinzia: I think it's all about experimenting and trial and error.
Sophia: I also think it's about trying clothes on and seeing what you're comfortable and feel good in. Because feeling comfortable in your clothes makes the world of difference in terms of confidence.
Cinzia: There's nothing worse than being in something that you're not comfortable in.
Sophia: My advice would be to start with the basics. Get your good pairs of jeans, get your vests or your t-shirts in your basic greys, whites and blacks. We love a bit of a uniform and then to accessorise from there.
Cinzia: Start with a good leather jacket, a good denim jacket, one blazer and maybe a trench. Get some jeans and some leather trousers and you're sorted. It's all about the basics.
You can pre-order Sophia and Cinzia's debut book, **'The Girls Bathroom: Living Life Messily and Learning To Love Yourself'**here.