It's no secret that we have a burning desire to keep up with the hottest trends and the latest celebrity gossip.
We are constantly looking up to our fave celebs for inspiration on pretty much everything: fashion tips, make-up trends, relationship tips... The list goes on.
However one thing we're really obsessed with is celebrity power couples. You know, those unbreakable couples who are totally in love, stylish as ever and are, well, hashtag goals.
So we're taking a look at some of our fave celebrity power couples...
Prince Harry and Meghan Markle
Prince Harry and Meghan Markle, aka the Duke and Duchess of Sussex, have been constantly in the public eye since their Royal wedding back in May 2018. Whenever being snapped together, these two lovers never fail to be anything, but, extremely cheerful and madly in love.
A look at their best outfits...
Meghan Markle and Prince Harry outfits heat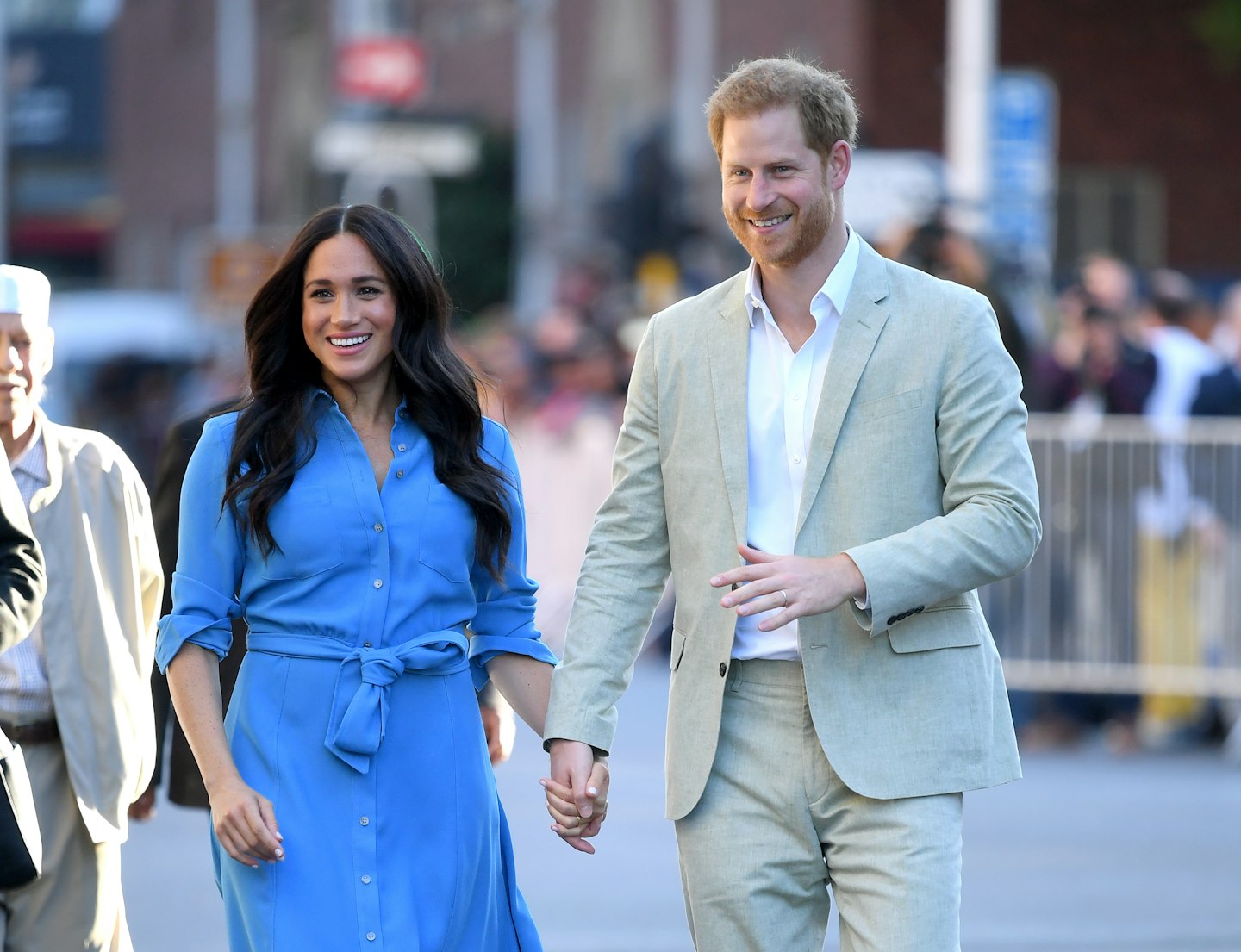 1 of 7
CREDIT: Getty
Meghan Markle and Prince Harry's royal tour
In September 2019, Meghan and Prince Harry underwent their royal tour of South Africa in Cape Town. The South African temperatures certainly didn't put a strain on the couples wardrobe, as they make their appearance in a light, pastel aesthetic that bounces off one another, sealing the photo with beaming smiles.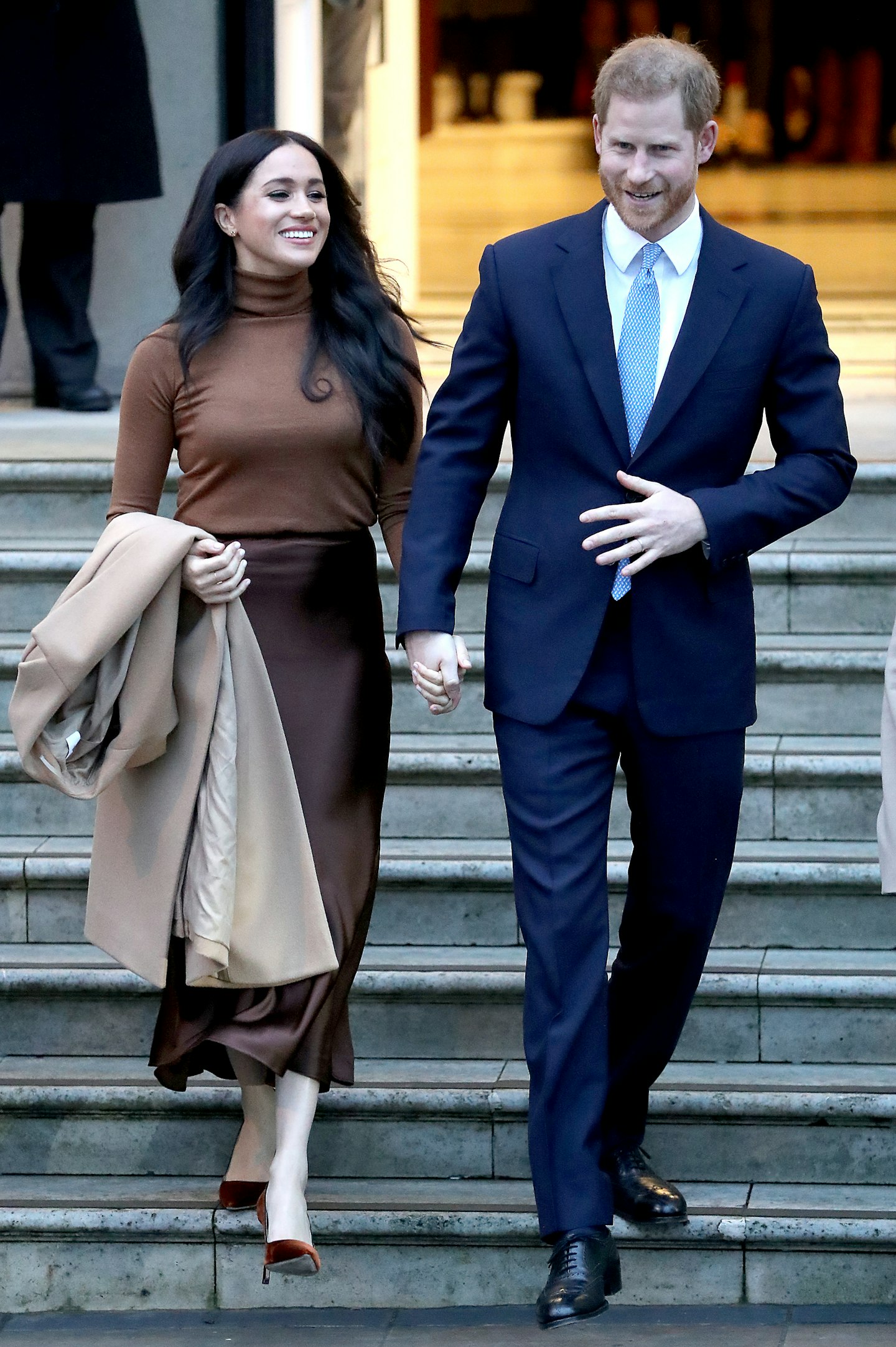 2 of 7
CREDIT: Getty
Conservative appearances
Caught off-guard whilst leaving Canada House in London, the couple didn't shy away from letting their contagious smiles and bubbly personalities smile. In a laid-back, but still as classy as ever attire, the couple look perfect together in this conservative snapshot.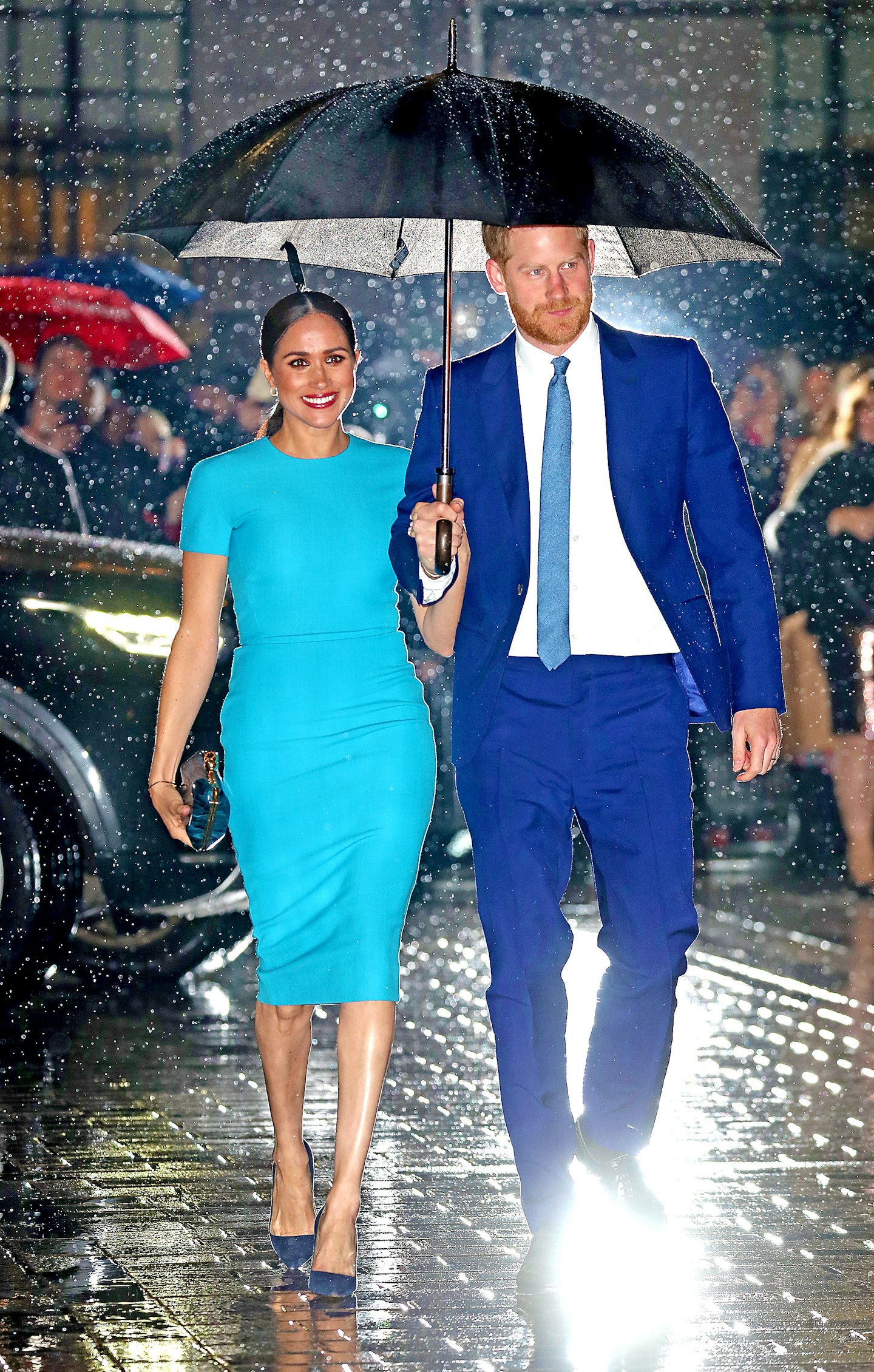 3 of 7
CREDIT: Getty
Nothing but blue under the rainfall☔ufe0f
OMG. This has to be our FAVE pic of Meghan and Harry. It's like something from a fairytale: but way more fierce. Captured underneath the rainfall as the couple attend The Endeavour Fund Awards at Mansion House in London, they serve a collage of blue tones that just couldn't be any more perfect.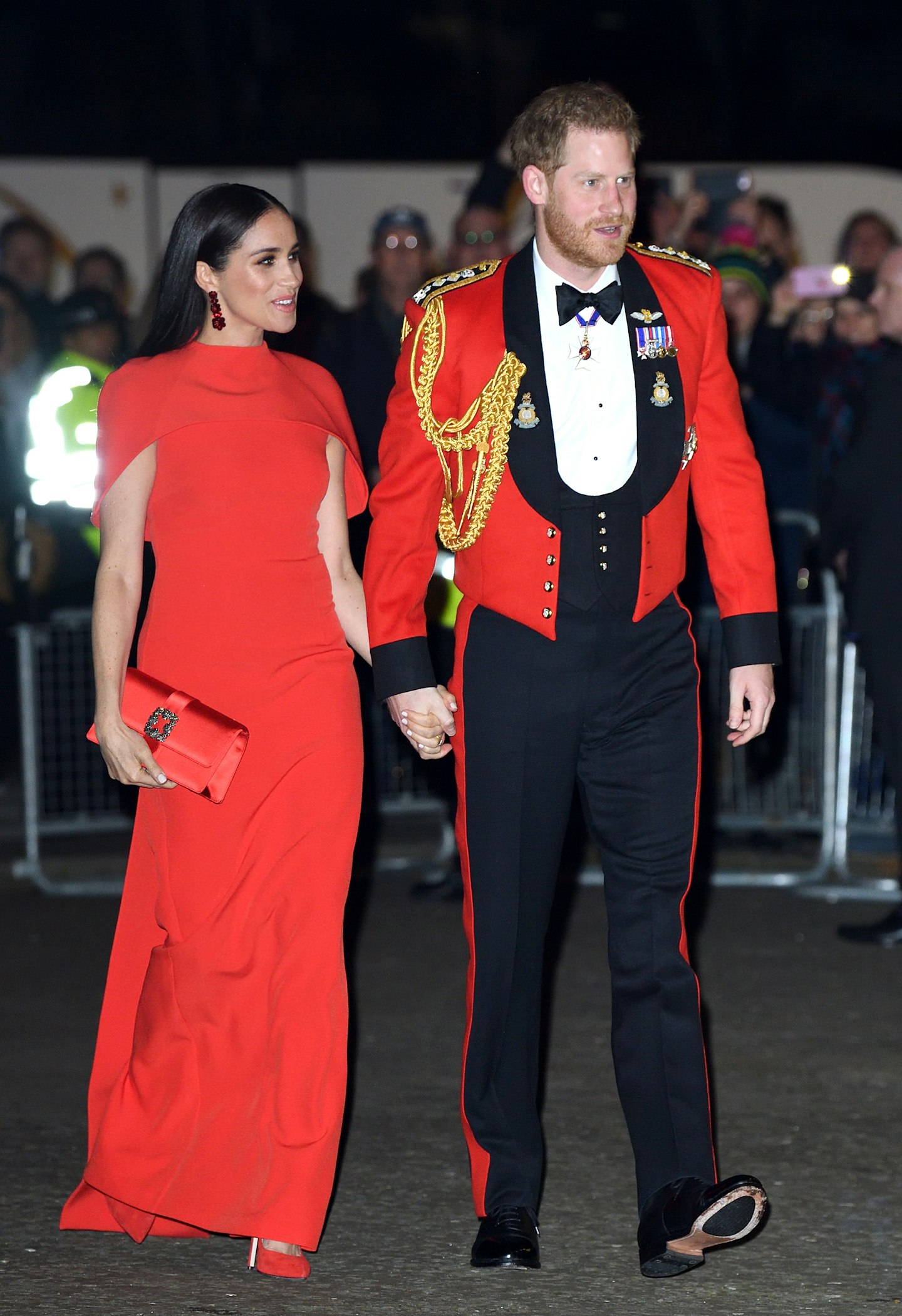 4 of 7
CREDIT: Getty
Royals in red
Meghan and Harry attended the Mountbatten Festival Of Music at Royal Albert Hall on March 07, 2020. Dressed from head-to-toe in royal red Meghan looks absolutely incredible and every minuscule detail was covered: from her heels, bag and deep ruby earrings to the pop of pink on her lips. Harry accompanied the royal red theme by stepping out in his red military uniform and all we have to say is WOW!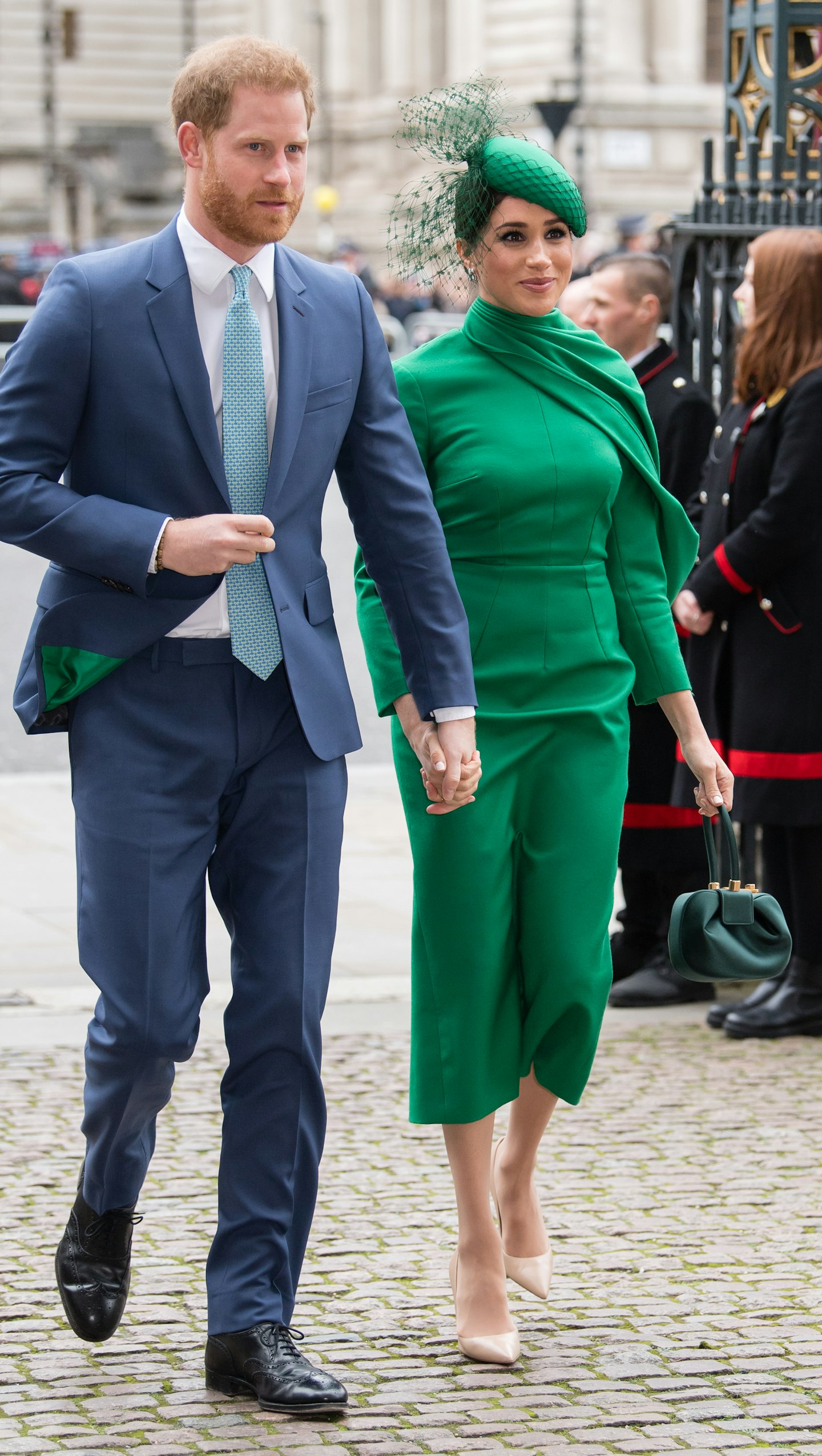 5 of 7
CREDIT: Getty
A classic staple
This elegant look seems to be a classic staple to Meghan and Harry's wardrobe. Simple, yet so classy. You can't go wrong with a navy suit - it fits any occasion - and Meghan looks super sophisticated as she parades in this gorgeous green dress matched with her formal head piece. Chef's kiss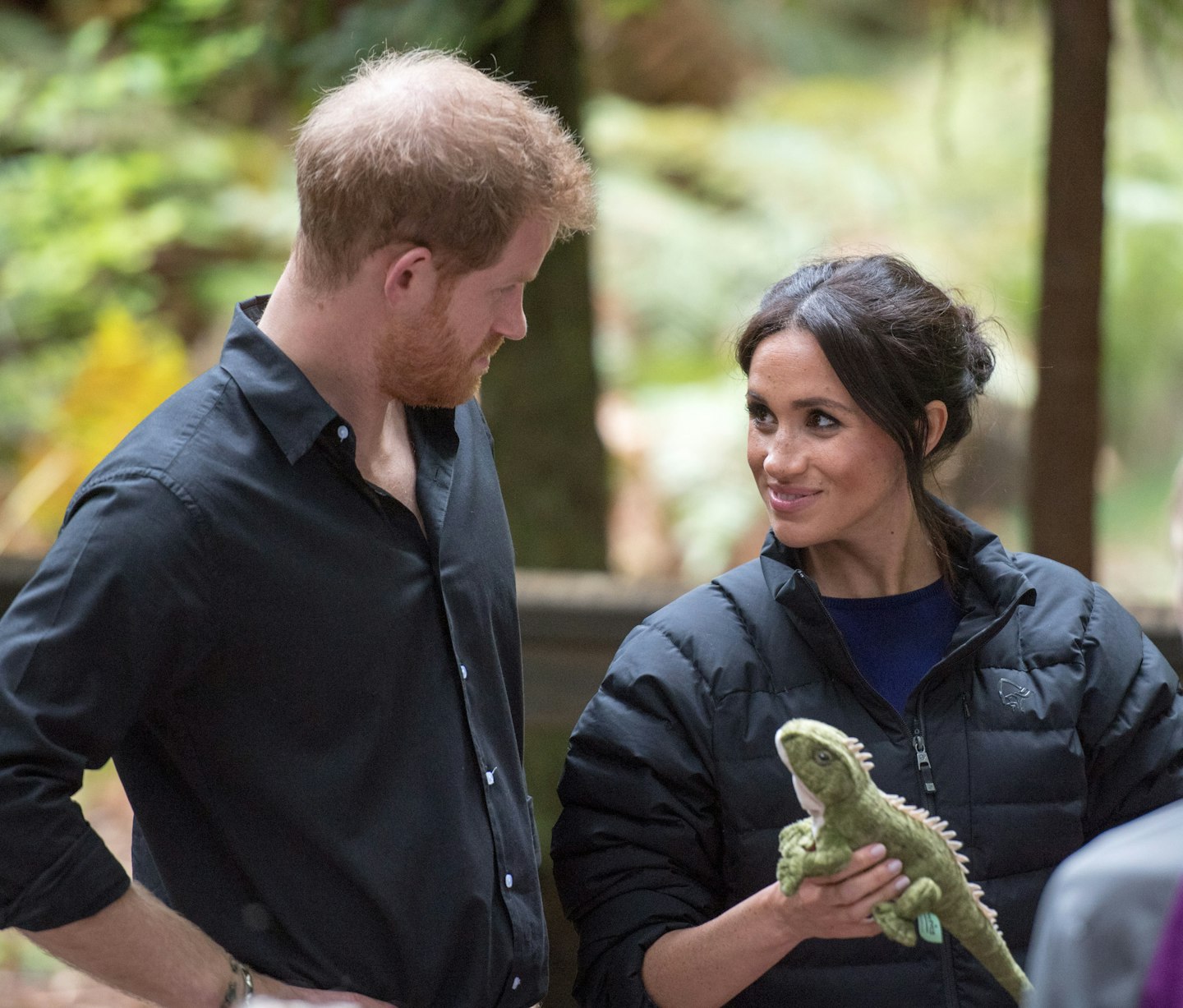 6 of 7
CREDIT: Getty
Meghan Markle and Prince Harry in New Zealand
On their last day of their New Zealand trip in October 2018, the couple dressed down as Meghan wore a puffer jacket paired with jeans, clutching onto a stuffed animal lizard. Whilst Harry wore a plain black shirt paired with chinos. The couple enjoyed an off-guard walk through the scenic views of New Zealand which looks like it was filled with nothing, but romance.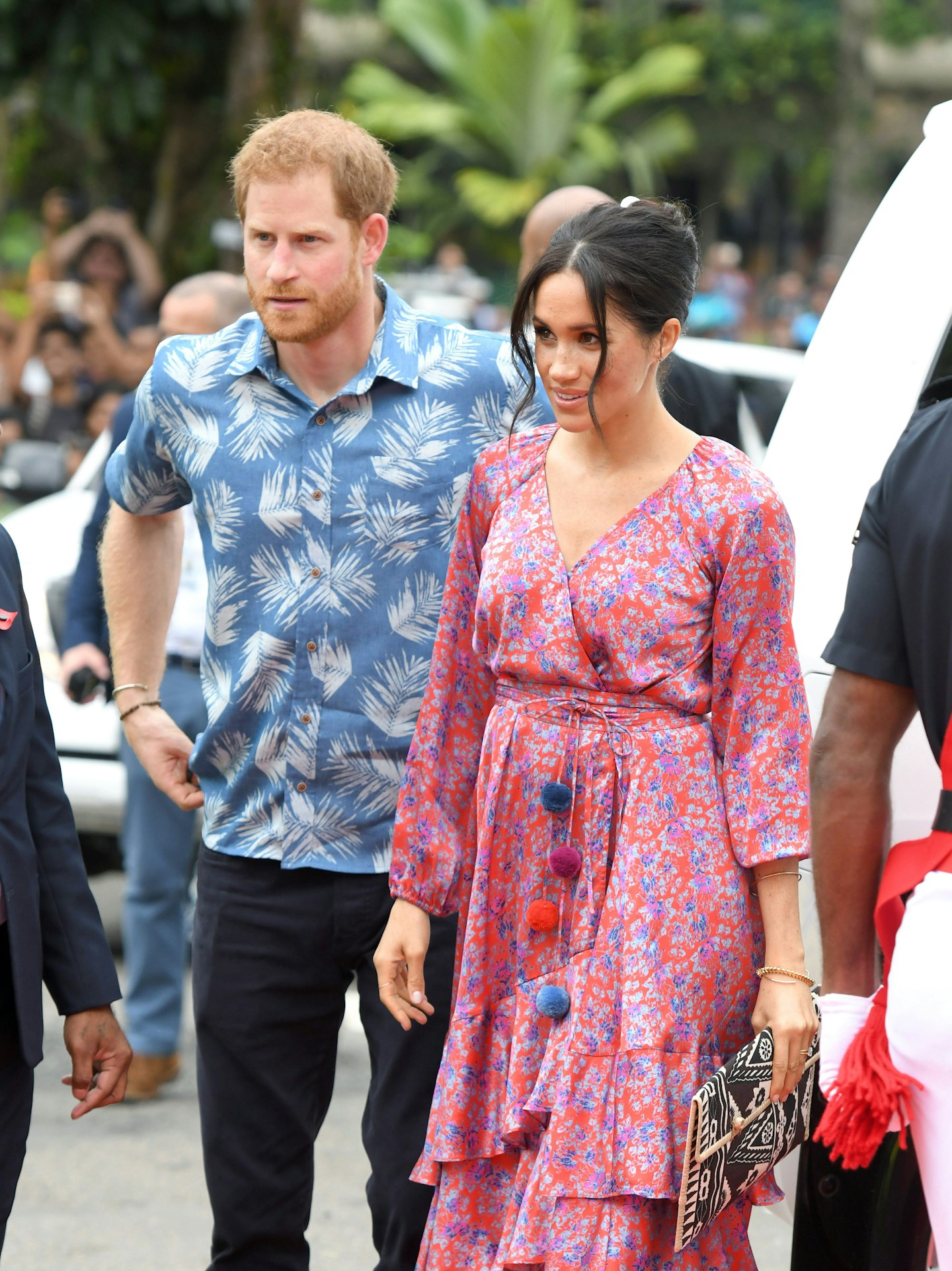 7 of 7
CREDIT: Getty
Floral in Fiji
Whilst the Duke and Duchess of Sussex were on their official 16-day Autumn tour visiting cities in Australia, Fiji, Tonga and New Zealand, this snapshot was taken in October 2018. The duo are seen sporting leafy, floral summer vibes as they strut down the street of Suva, Fiji. This is a more toned down look for the pair, but it certainly doesn't lessen the quality of the looks they're serving.
Kim Kardashian and Kanye West
Beverly Hills' beloved and mega famous reality TV star Kim Kardashian-West and her husband, rapper and fashion designer Kanye West are one of the world's most loved power couples of all time.
After getting married in May 2014, the couple have been photographed together notoriously and if you're ever lucky enough to have Kim and Kanye turn up to your event TOGETHER, you've pretty much won at life.
A look at their best outfits...
Kim Kardashian West and Kanye West outfits heat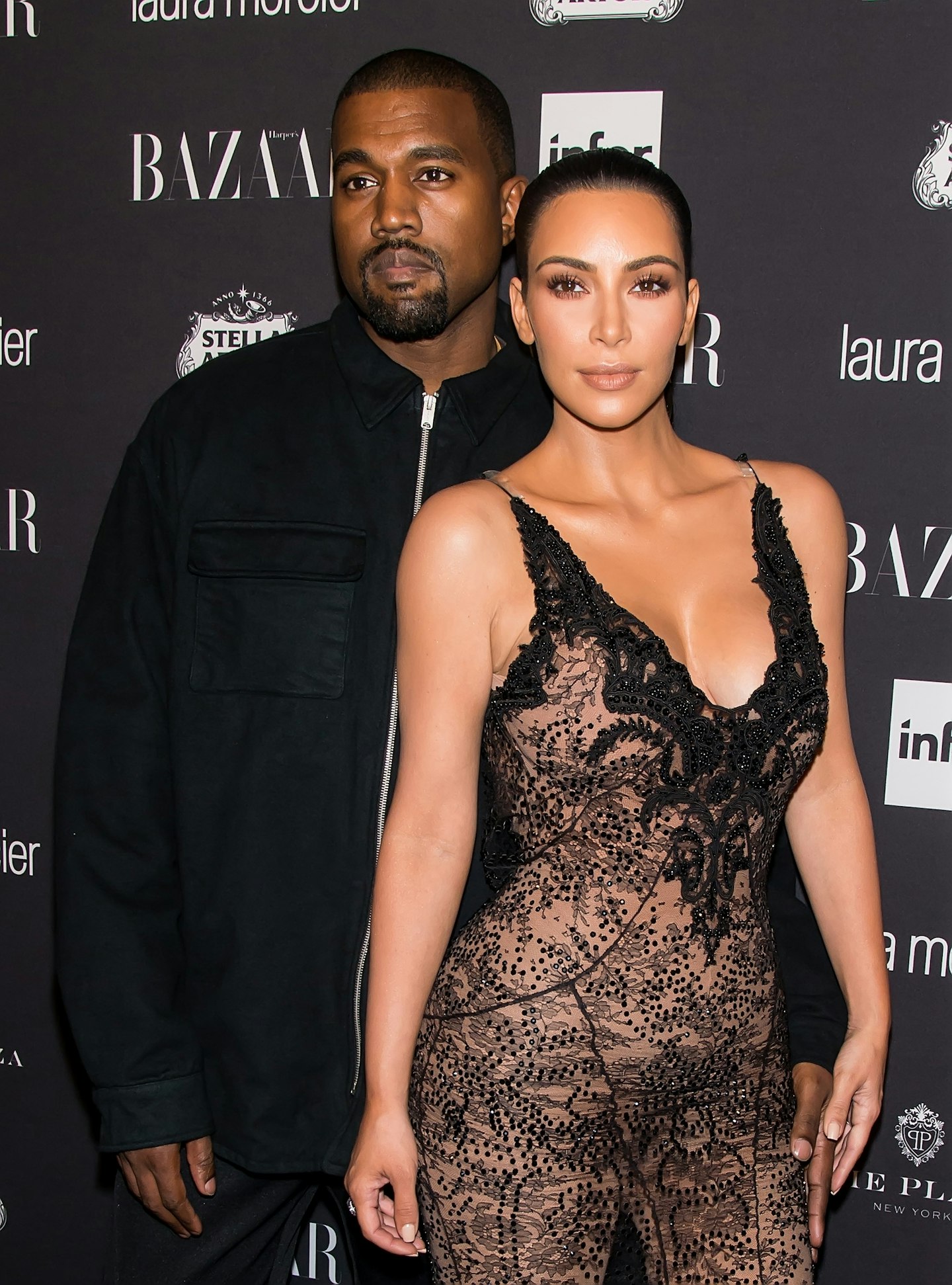 1 of 8
CREDIT: Getty
Kim Kardashian and Kanye West red carpet moment
Kim Kardashian is known for her red carpet looks, and there's many out there. This was the Harper's BAZAAR Celebrates 'ICONS By Carine Roitfeld' event in 2016. Kim was accompanied by her husband Kanye West and they served a simple, yet fierce all black moment. The detailing in Kim's dress is EVERYTHING.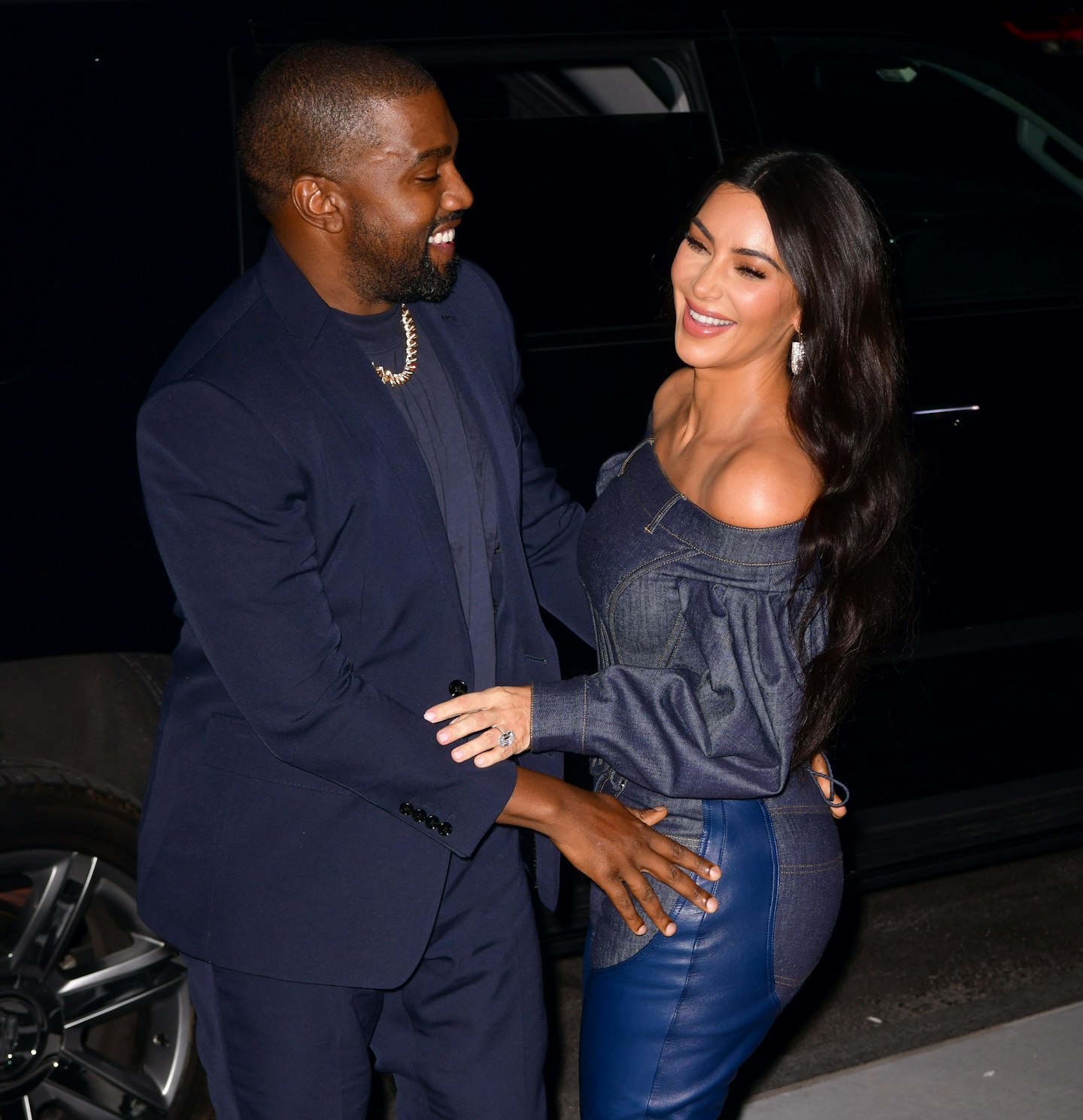 2 of 8
CREDIT: Getty
Fifty shades of navy (and denim)
Smiles all round! This picture captures the couple having a lovable moment where they're seen giggling and seeming super content together. Attending the WSJ Magazine 2019 Innovator Awards, the couple are dressed in a variety of tones of navy, and Kim tops the fashionable moment with her custom-made denim corset piece and denim jeans with leather accent heel boots.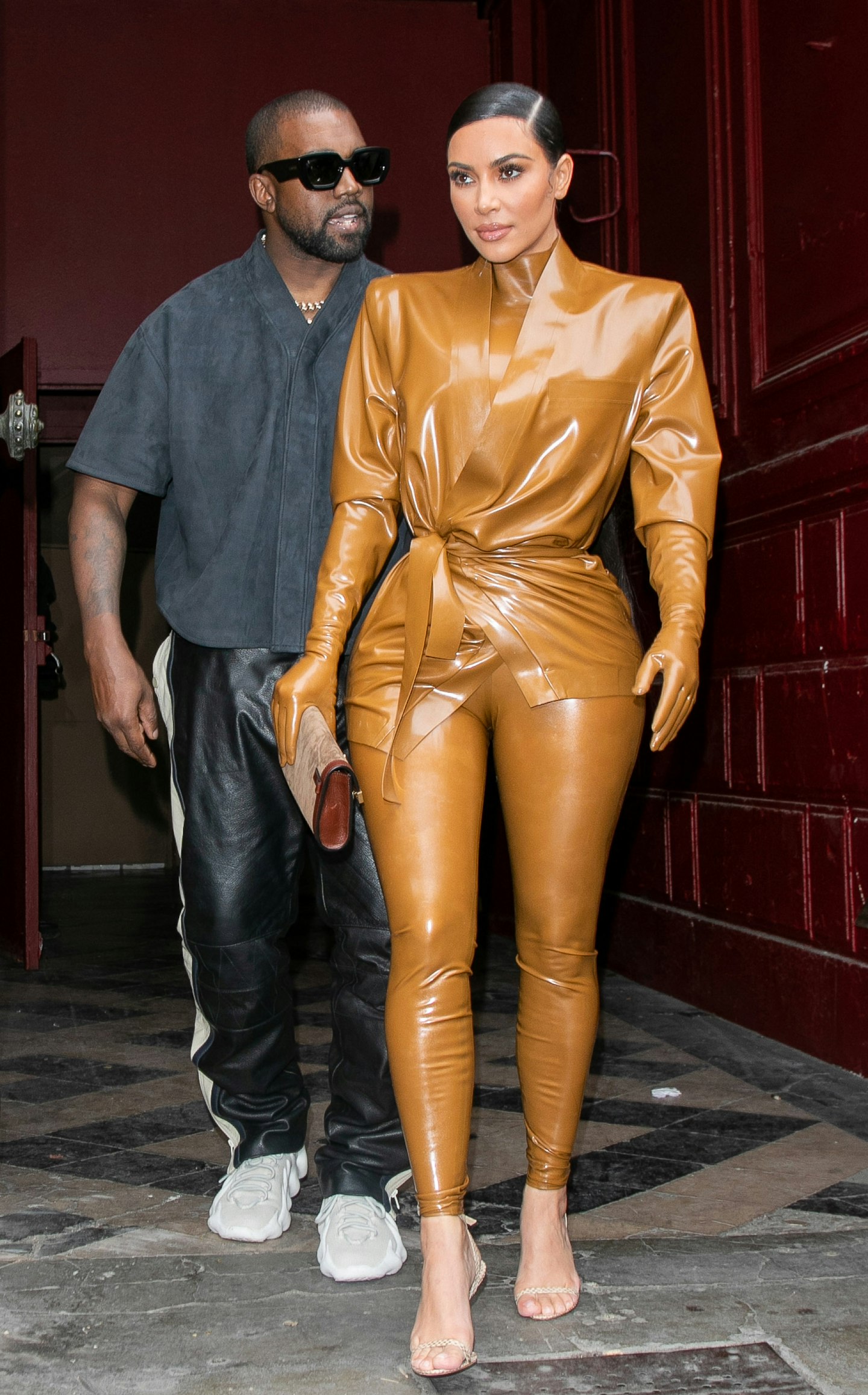 3 of 8
CREDIT: Getty
Kanye West brings his Sunday service to fashion week
If there's one thing Kim can always serve it's her sass! This moment was when the power couple left Kanye's Sunday Service show for Paris Fashion Week in 2020. Don't they just look like they mean business? Fashion business to be exact. What a look ud83dudd25ud83dudd25ud83dudd25.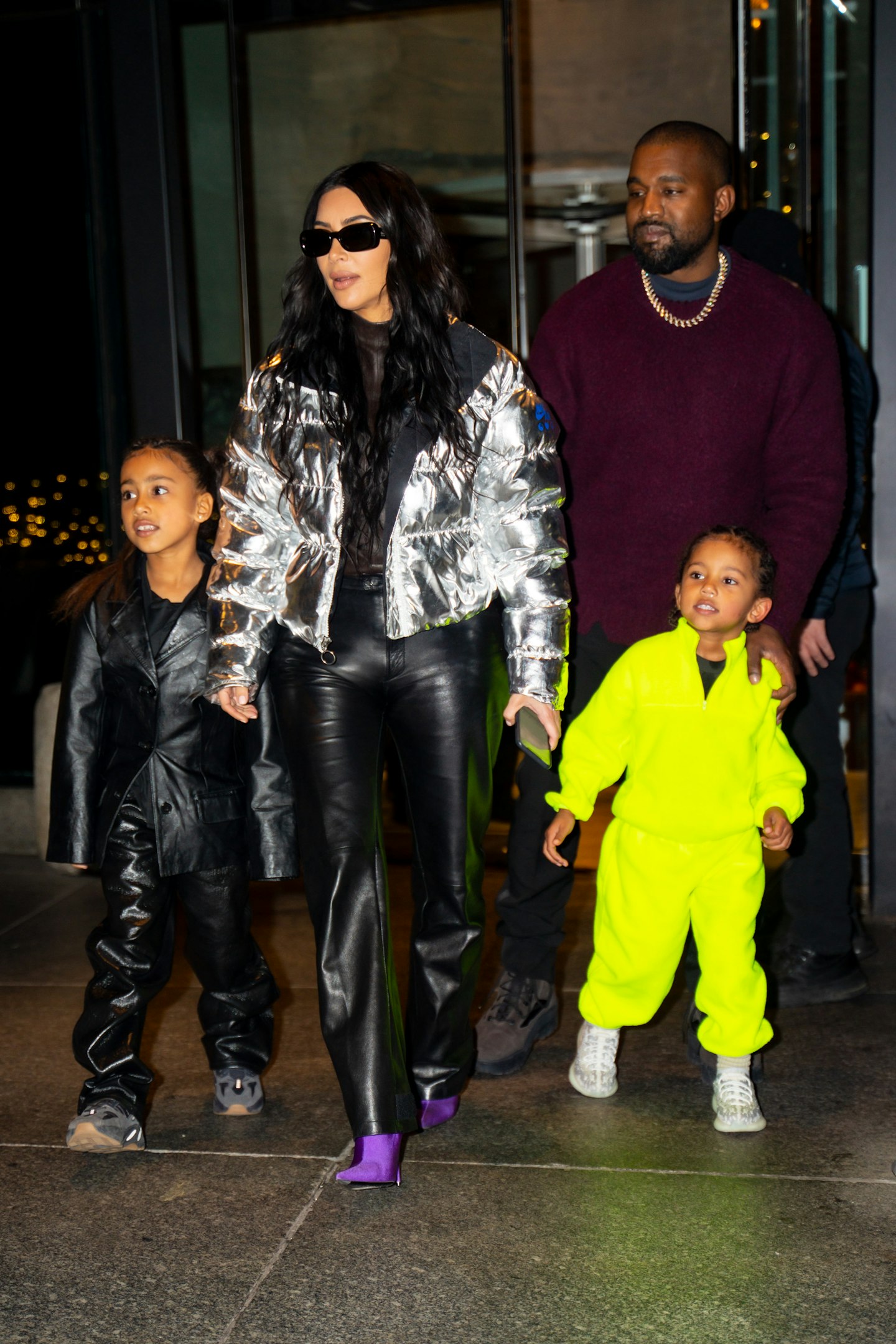 4 of 8
CREDIT: Getty
Kim and Kanye's family outing in New York
We couldn't not include a family pic. After all, it's what the Kardashians are widely known for. This moment is a family snapshot of Kim and Kanye with their eldest children North and Saint West in New York back in 2019. This photo speaks for itself really - look at all of their outfits, they're killing it!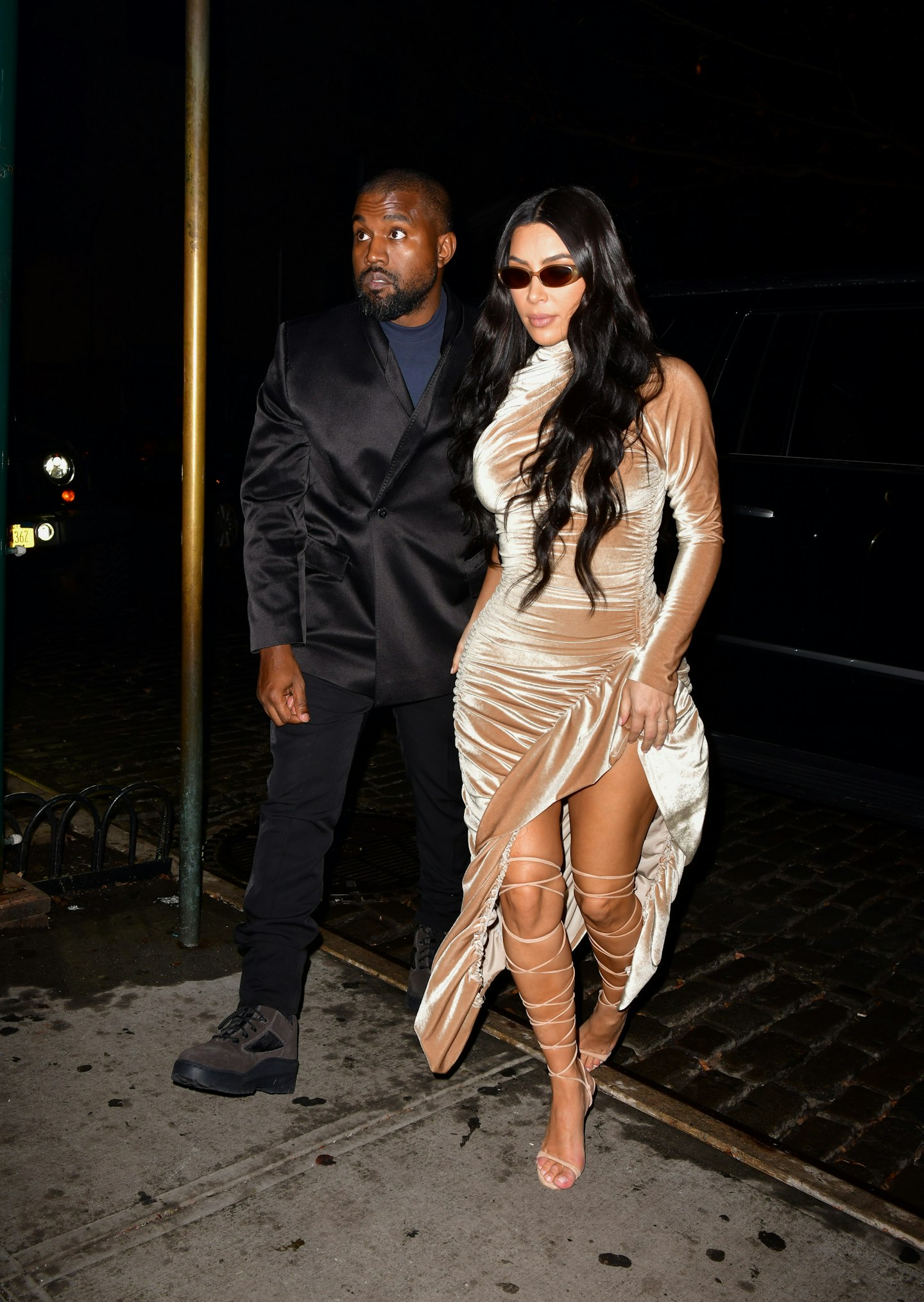 5 of 8
CREDIT: Getty
Velvet duo
Arriving back to their hotel in New York in December 2019, the couple matched in velvet and looked unreal. Kim's dress is insanely gorgeous and is complimented by Kanye's velvet jacket and funky boots. It's always in the details though, and Kim's shades really seal this whole look for us, there's something about wearing shades at night that feels very elite.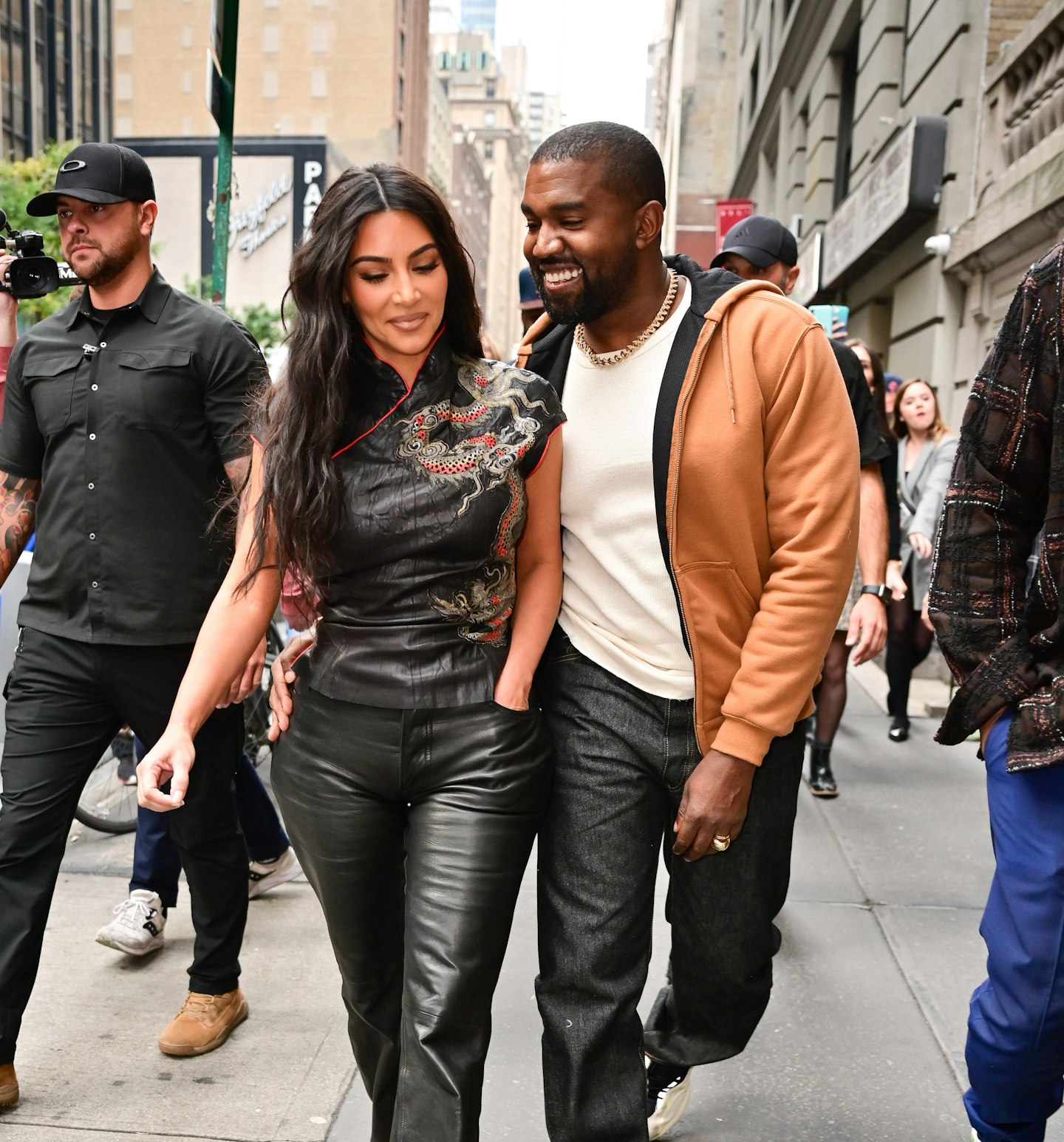 6 of 8
Stroll in NYC
As the couple enjoy a stroll around the streets of New York, they look super content together and as fashionable as always. Nothing makes us happier than seeing our fave power couple look so in love and delighted to be in each other's company.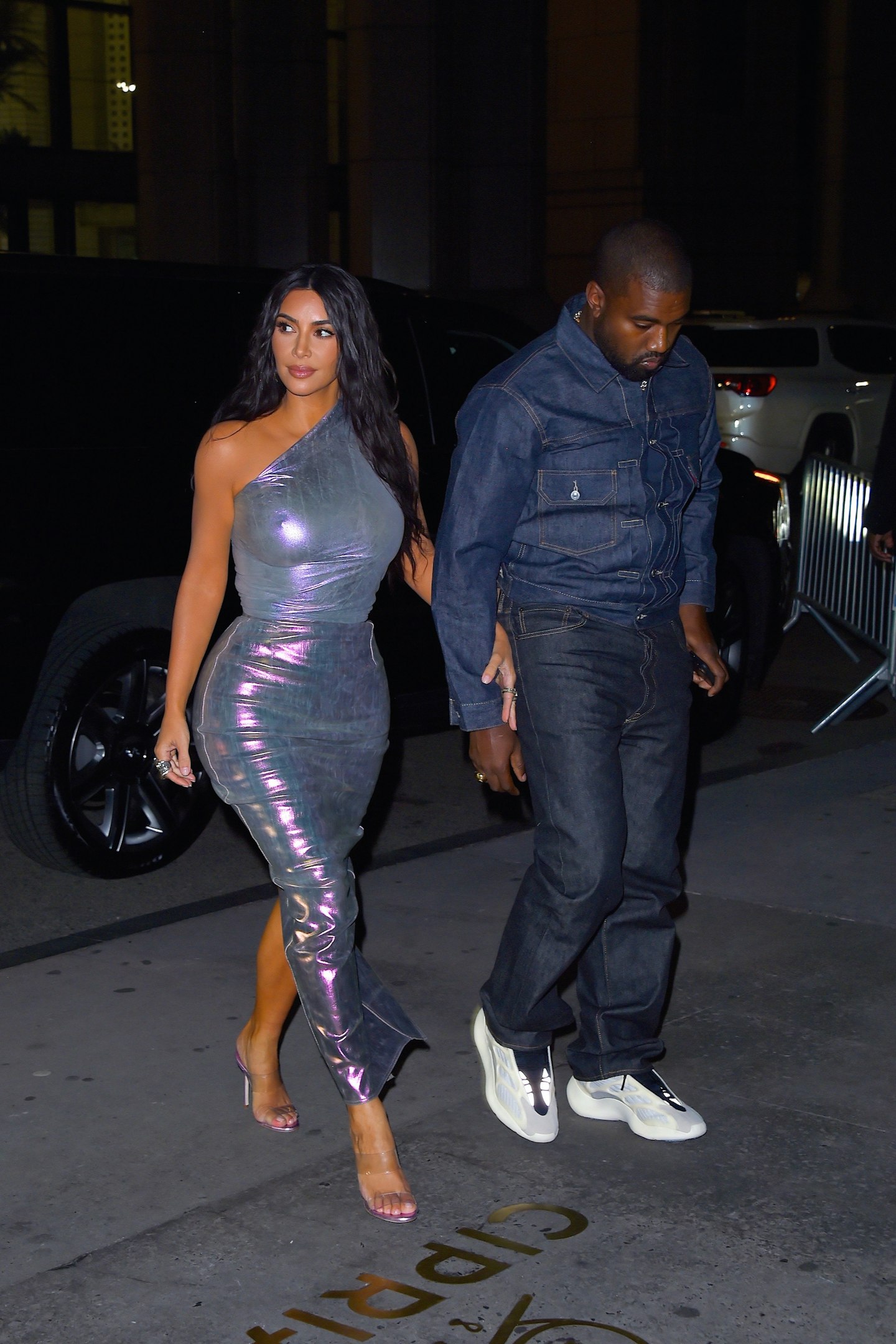 7 of 8
CREDIT: Getty
ud83dudc8eShiny explosion
We love this look so much. The couple's outfits just bounce off one another and it's what makes them both so special. This look wouldn't be half as good, had they not been paired together. They really compliment each other when serving looks, and we all have to admit that they're both true fashion icons.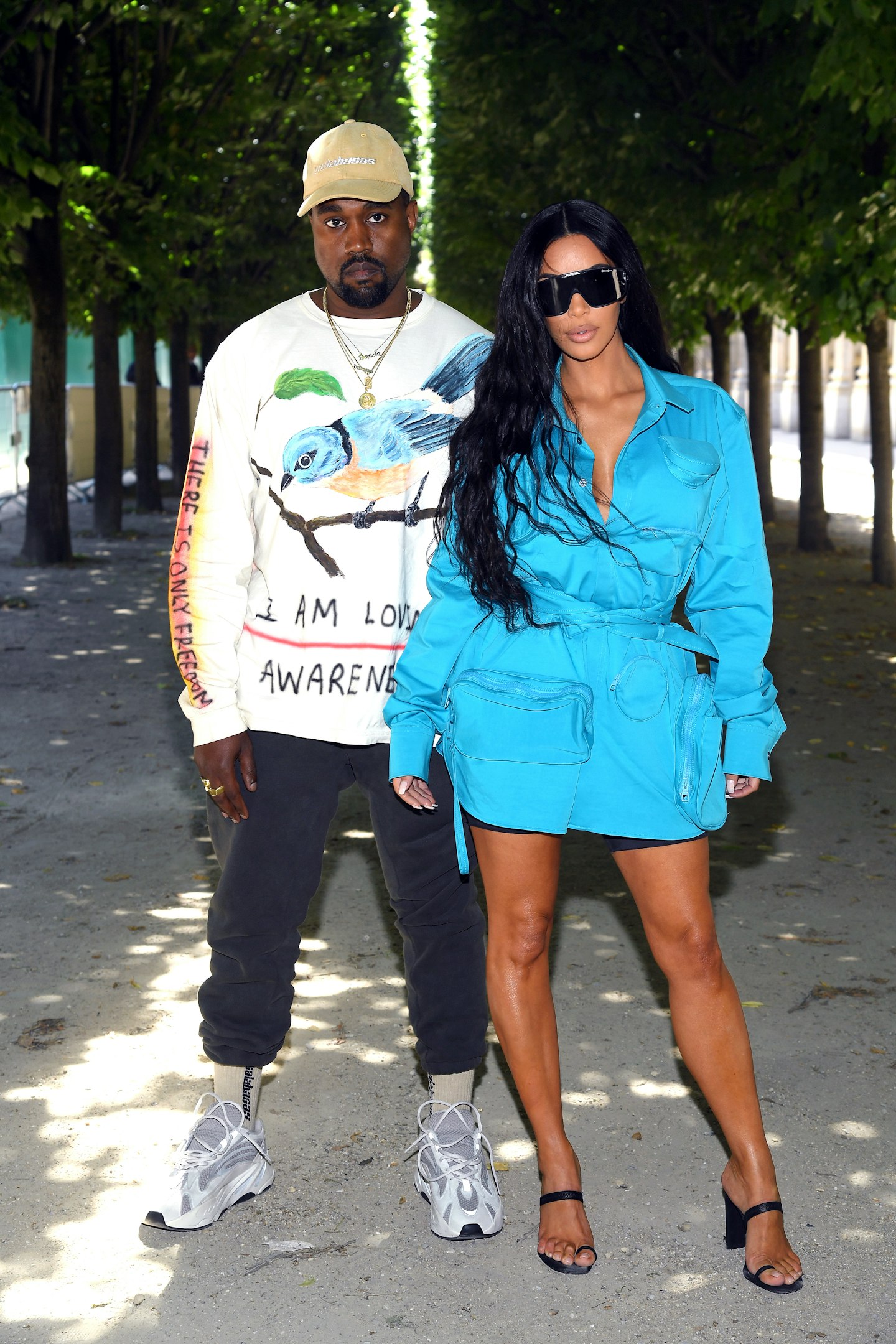 8 of 8
CREDIT: Getty
Paris Fashion Week in 2019
Posing at Louis Vuitton's Menswear Spring/Summer 2019 show as part of Part of Paris Fashion Week, the couple look INCREDIBLE. Kim's turquoise wrap dress was stunning and Kanye sported some light tones, but still keeping it suave. Casual, but classy.
Victoria and David Beckham
Among these A-List celebrity power couples, is of course Victoria Beckham aka Posh Spice and football megastar David Beckham. From performing in an internationally loved girl group and having a global fashion brand, to endless football championships and some spicy underwear campaigns, this English power couple have done it all.
A look at their best outfits...
Victoria Beckham and David Beckham outfits heat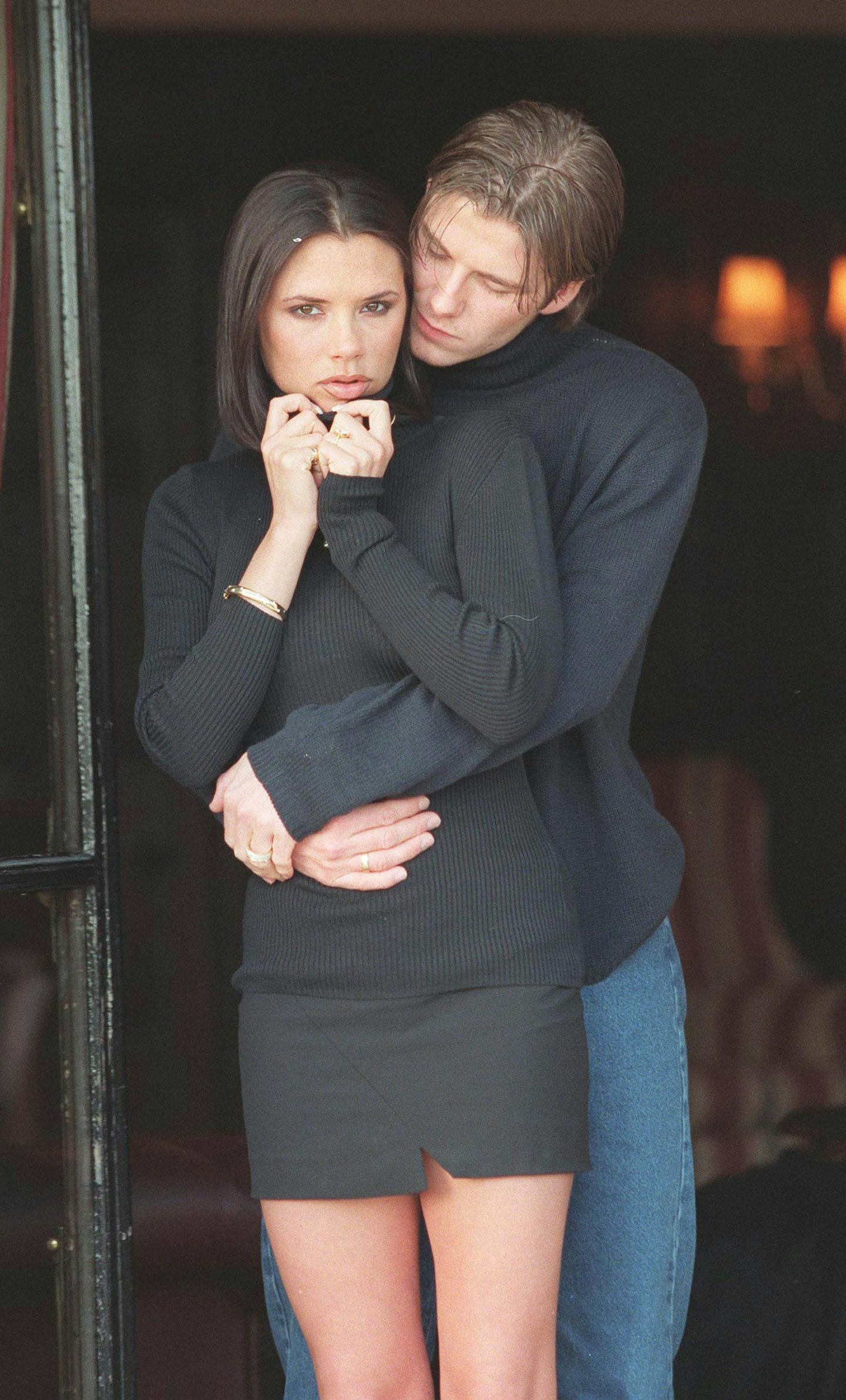 1 of 9
CREDIT: Getty
A romantic candid look in 1998
What a major throwback. This photo was taken on January 25, 1998 after the couple announced their engagement. This candid captures the pair in a casual, raw shot, and don't they look perfect?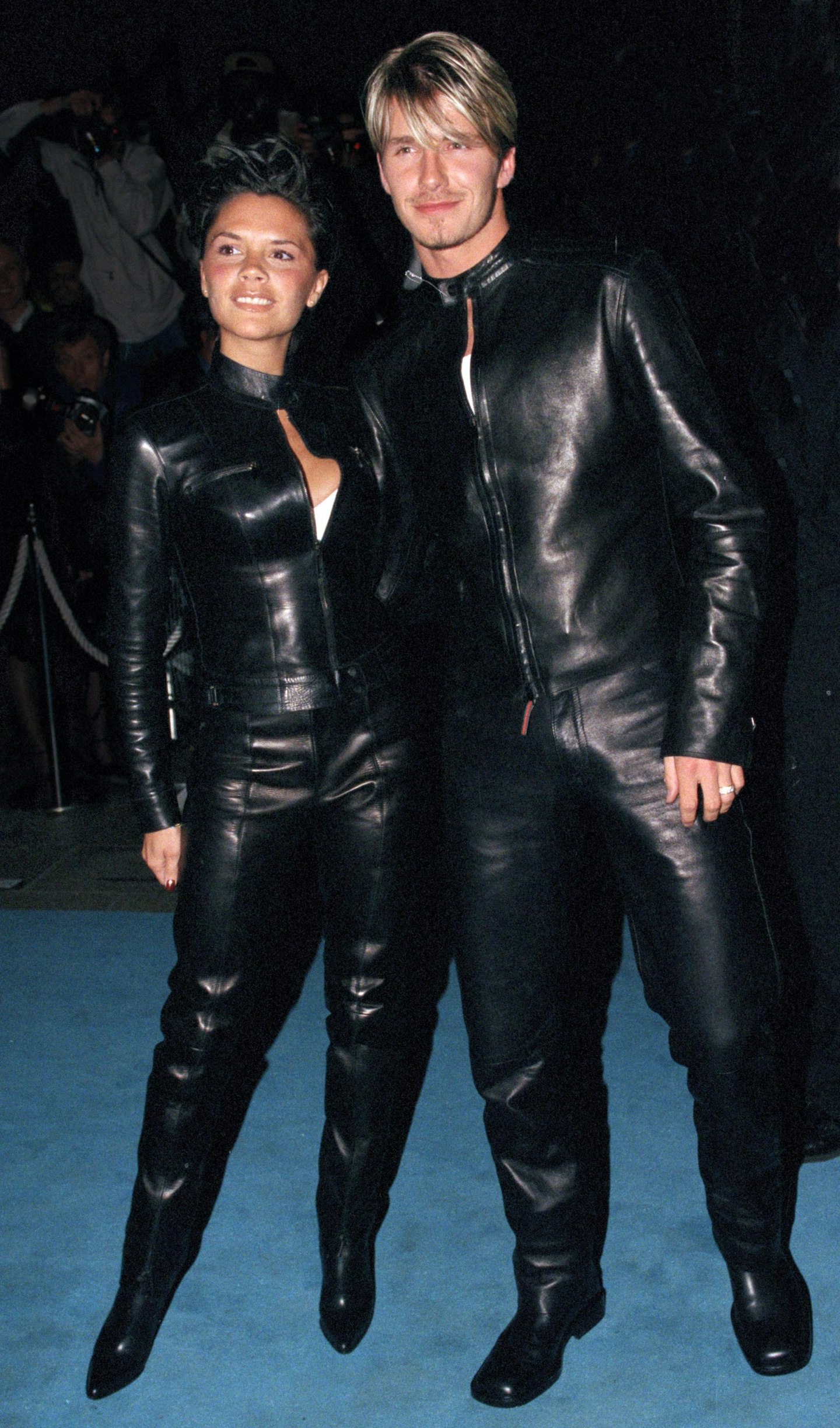 2 of 9
CREDIT: Getty
Leather 'Versace Club' party 1999
Looking like rockstars, in 1999 the pair attended the Versace Store opening party in London. Dressed in matching outfits we bet they had a wild time.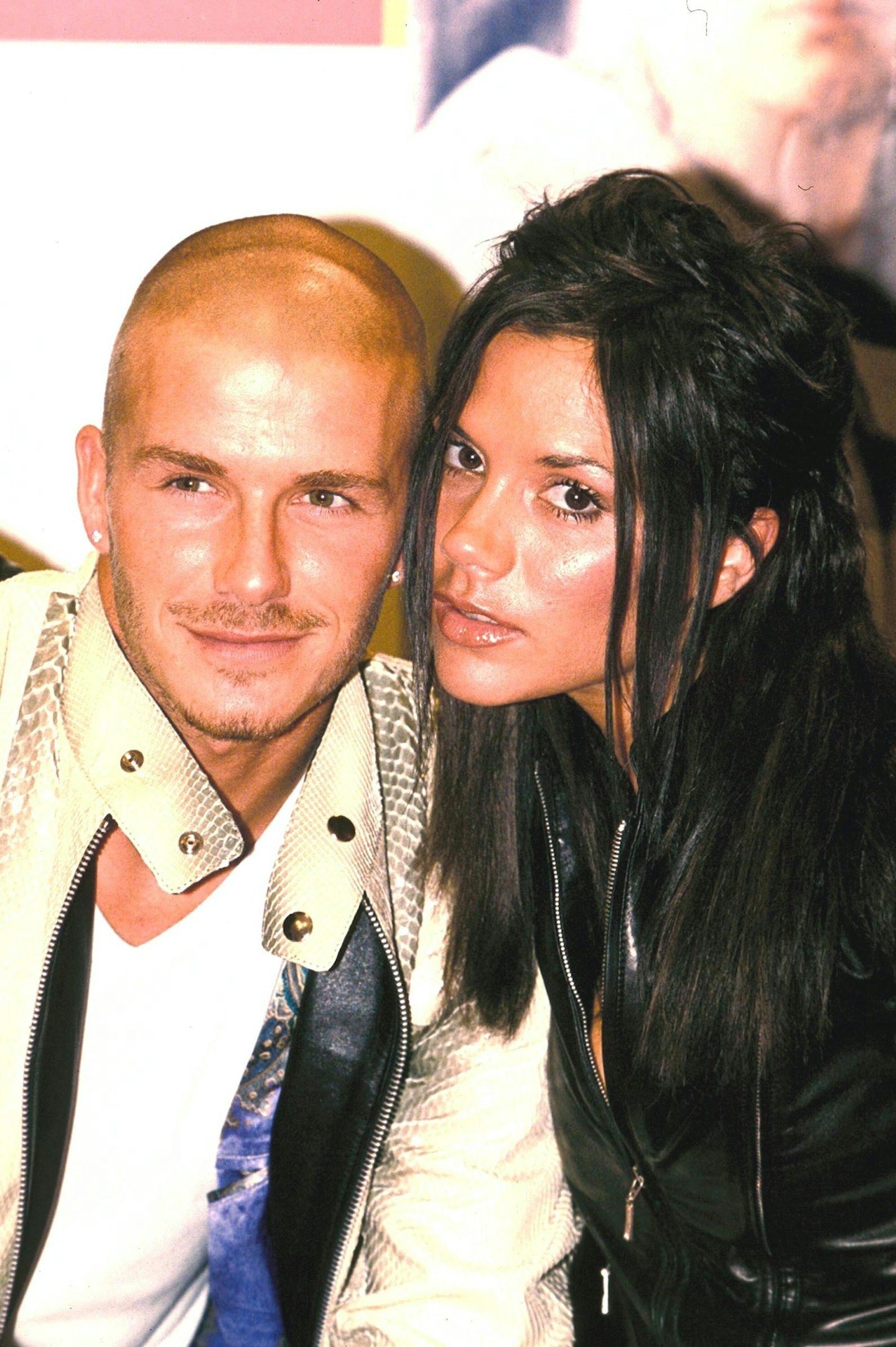 3 of 9
Kicking off the '00s with style
In 2000, the beginning of the noughties, Victoria and David attended Virgin Megastore, Piccadilly to launch Victoria's new single at the time. From David's studded ears to Vic's messy hairdo, this is a timeless classic snapshot.
4 of 9
All white for the 2003 MTV Movie Awards
Dressed head-to-toe in all white were the couple as they attended the 2003 MTV Movie Awards in Los Angeles, and they look like absolute couple goals. They both look stunning.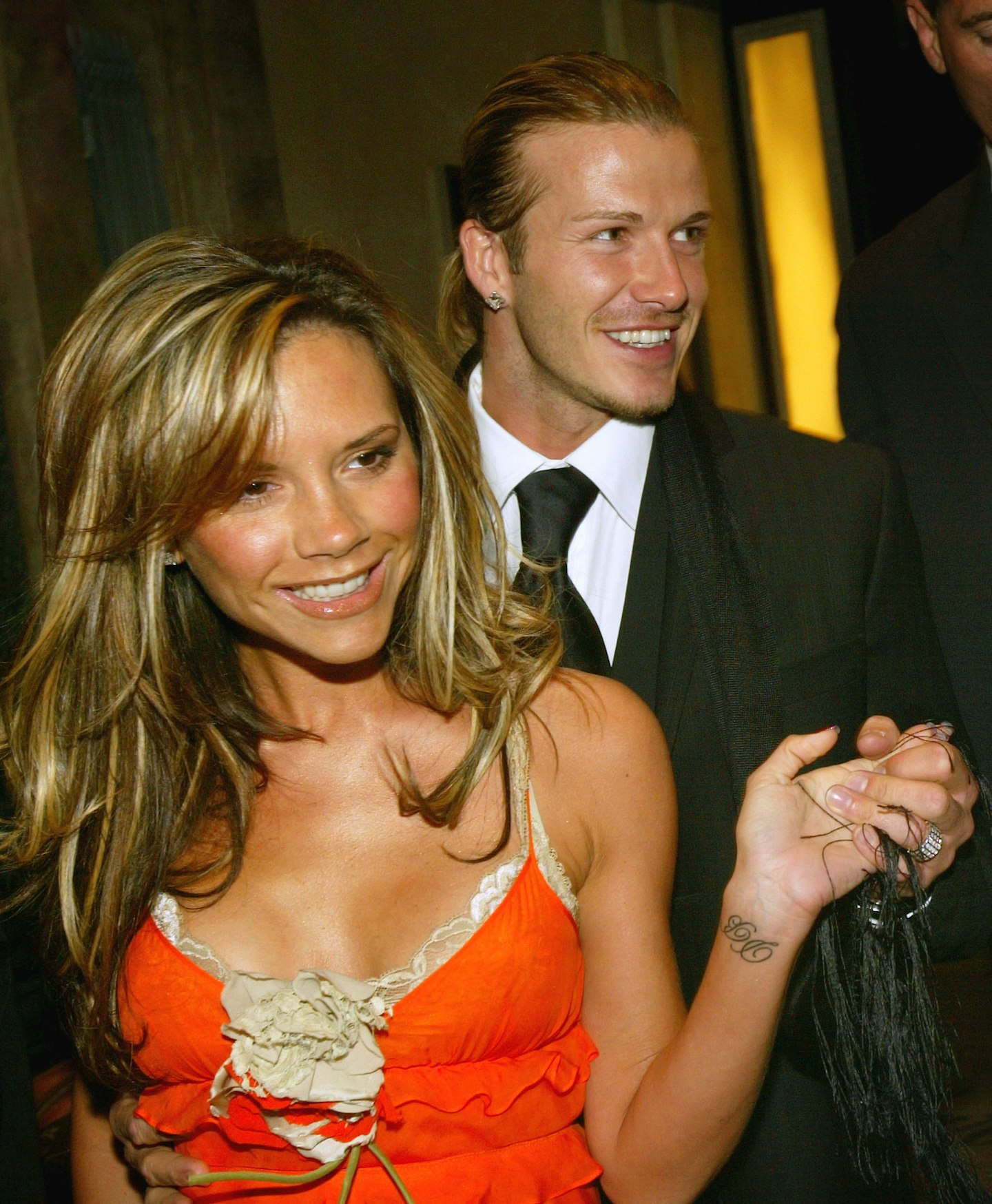 5 of 9
CREDIT: Getty
Night out in London
In 2004, you can see a shift in the couples appearance, especially David's hair length. The couple enjoy some time in London as they are seen leaving their hotel and seem to be super cheerful and smiley - its a good look.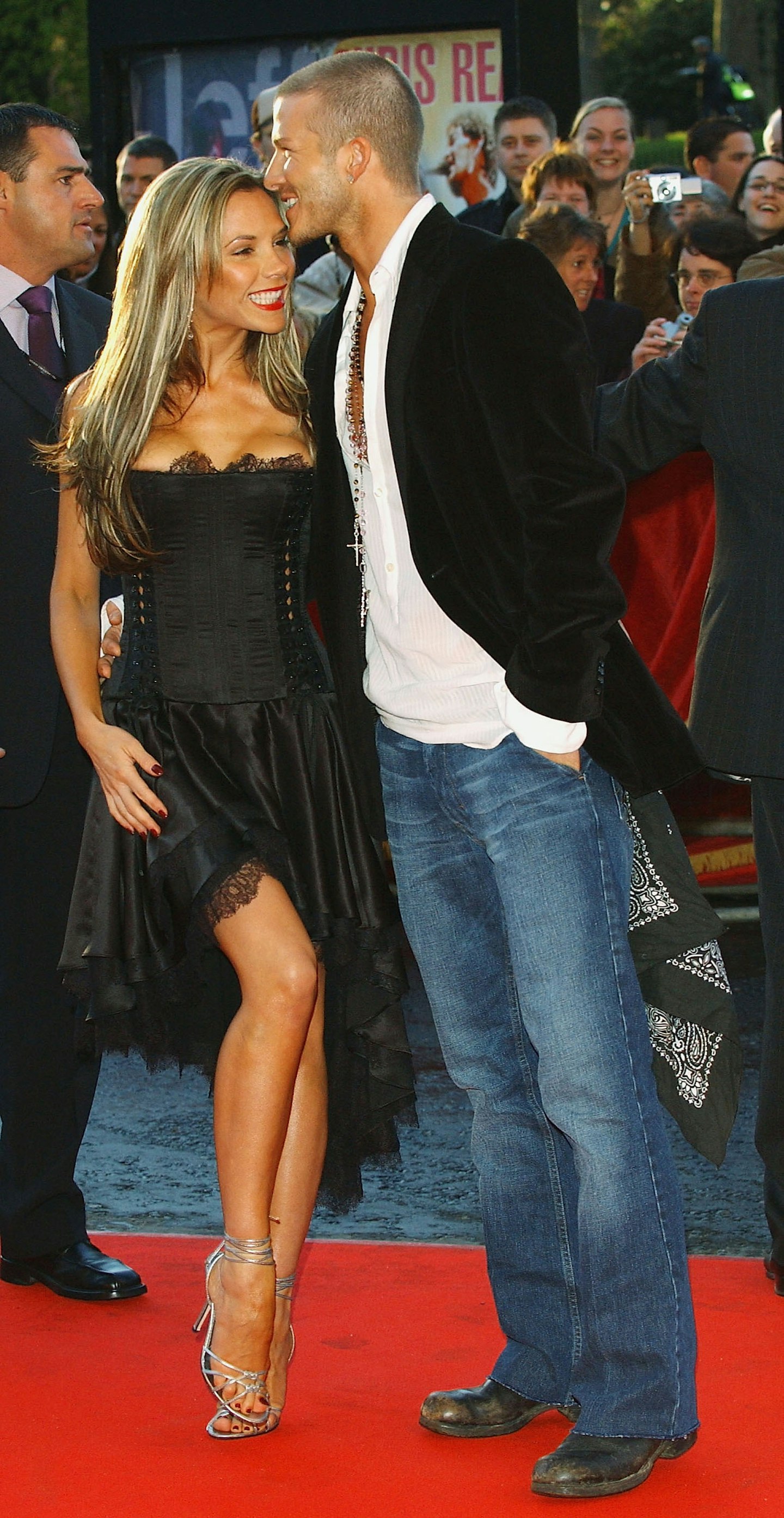 6 of 9
CREDIT: Getty
The Beckhams' and the red carpet
Later in 2004, David returned to the hair clippers, and Victoria introduced some blonde to her hair as they both strut the red carpet for 19 Management's 19th Anniversary Party held at the Royal Albert Hall. Vic's bold red lip and nail polish compliment the look perfectly, with the pairing of David's necklaces, the couple look fab as always.
7 of 9
The beginning of Vic and her shades ud83dudd76
It's no secret that Victoria Beckham loves her big and bold shades. If you google 'Victoria Beckham sunglasses' you'll be sure to see what we're on about. What better way to make a statement? Victoria and David posing on the red carpet for The 2008 ESPY Awards Arrivals at Shrine Auditorium, in Los Angeles. Keeping it straightforward, the couple serve a fierce and sophisticated look.
8 of 9
CREDIT: Getty
Posing in Hollywood
David and Victoria attend the 2012 Vanity Fair Oscar Party on February 26, 2012 in West Hollywood. Looking like super models, they both pose in super classy outfits and knowing how to work the camera, they look amazing. ud83eudd29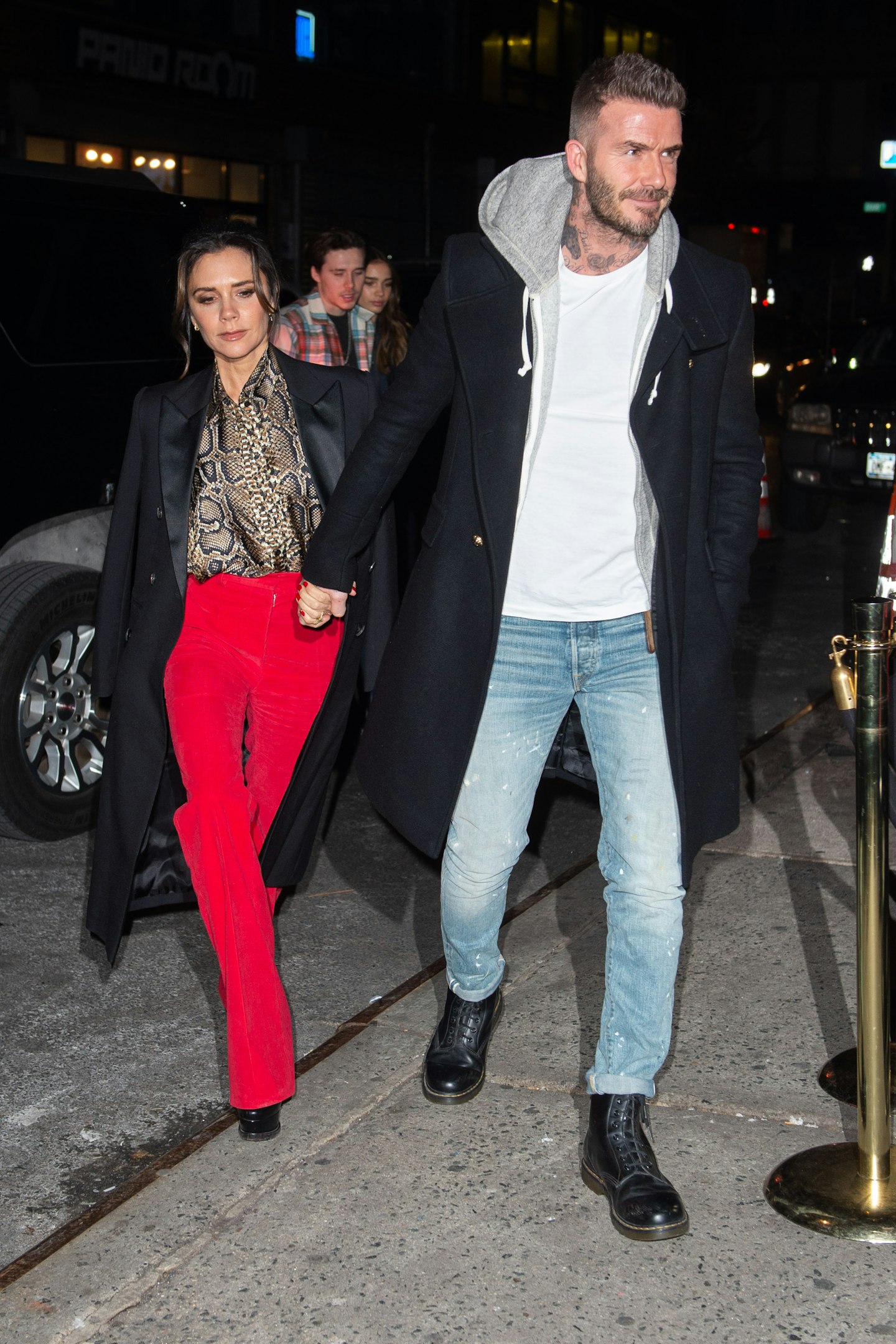 9 of 9
CREDIT: Getty
Spotted in New York
Wrapped up warm, the pair were spotted out in New York in 2019. Taking just a casual stroll through the city didn't stop David and Victoria serving a fashionable moment. Making a statement as always, Vic's pop of colour with her red flared trousers really makes this quite the outfit.
Beyoncé and Jay-Z
When you think of power couples, these two instantly spring to mind.
Global superstar Beyoncé and rapper and hip-hop artist Jay-Z started dating all the way back in 2001, and secretly got married in 2008. Since becoming a couple they have headlined music-venues together, had three children - Blue Ivy and their twins Rumi and Sir Carter - and of course served many INCREDIBLE looks.
A look at their best outfits...
Beyoncu00e9 and Jay-Z outfits heat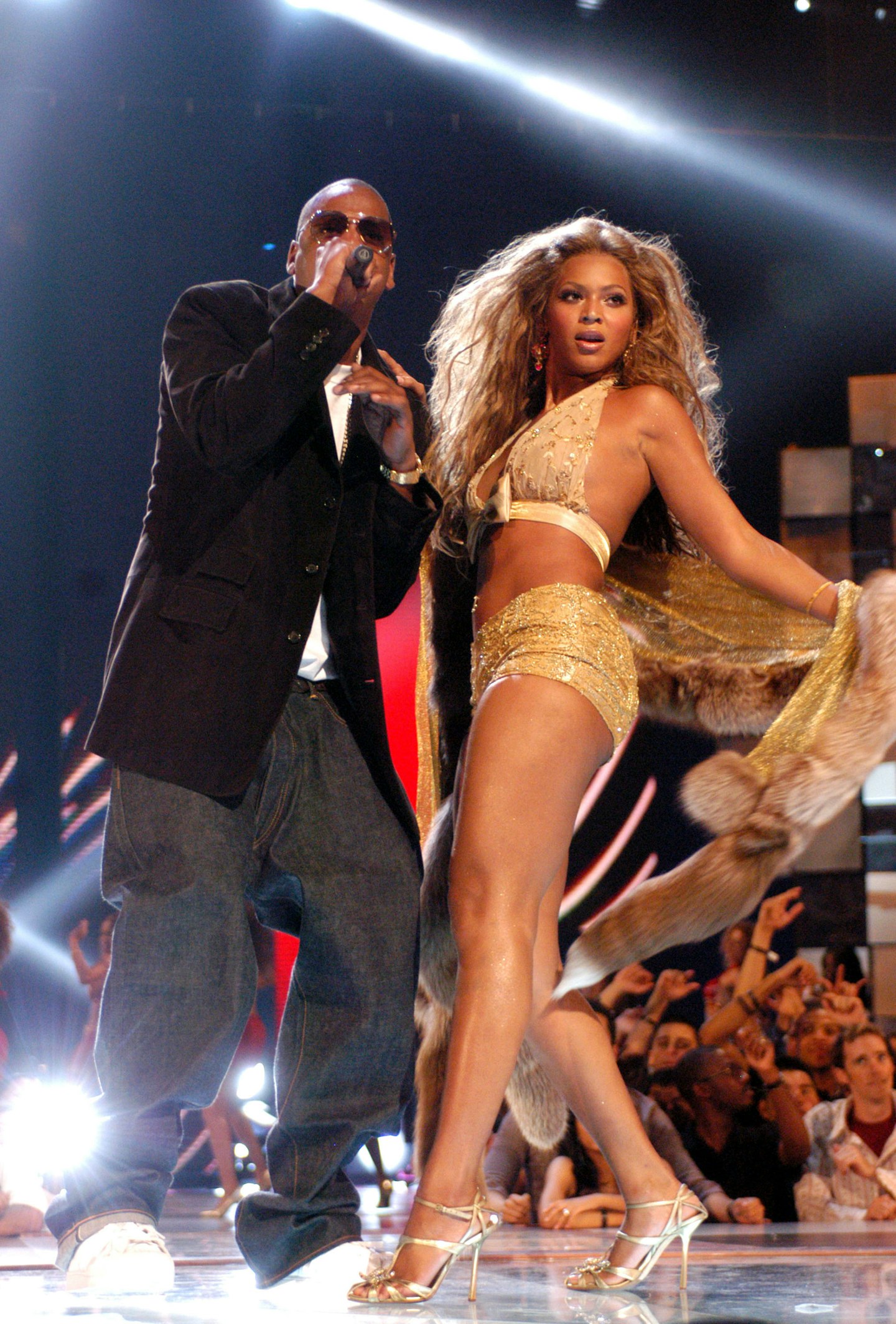 1 of 8
CREDIT: Getty
Jay-Z and Beyonce performing at 2003 MTV Video Music Awards
This one takes us all the way back to 2003 to the earlier days of Beyonce and Jay-Z performing on stage together. We can't think of anything better than performing on stage with your other half, both doing what you love together. Oh, and looking incredible doing it!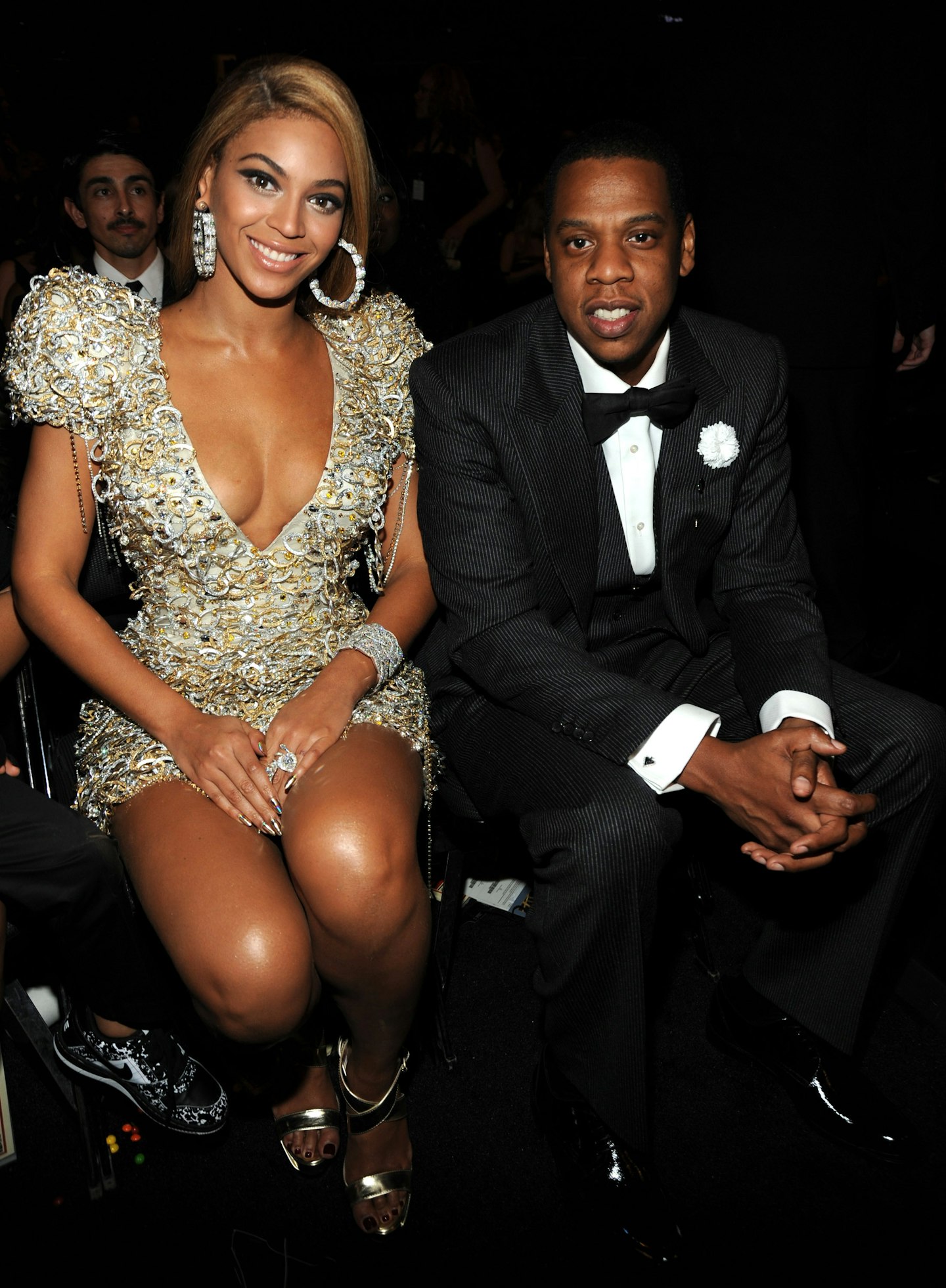 2 of 8
CREDIT: Getty
All the glam
Beyonce and Jay-Z attended the 52nd annual GRAMMY awards in 2010. Dressed in a pinstripe three-piece suit, Jay-Z looked very spruce with the bow tie to complete the look. He was accompanied by Beyoncé dripping in gold and silver from head to toe... Just WOW.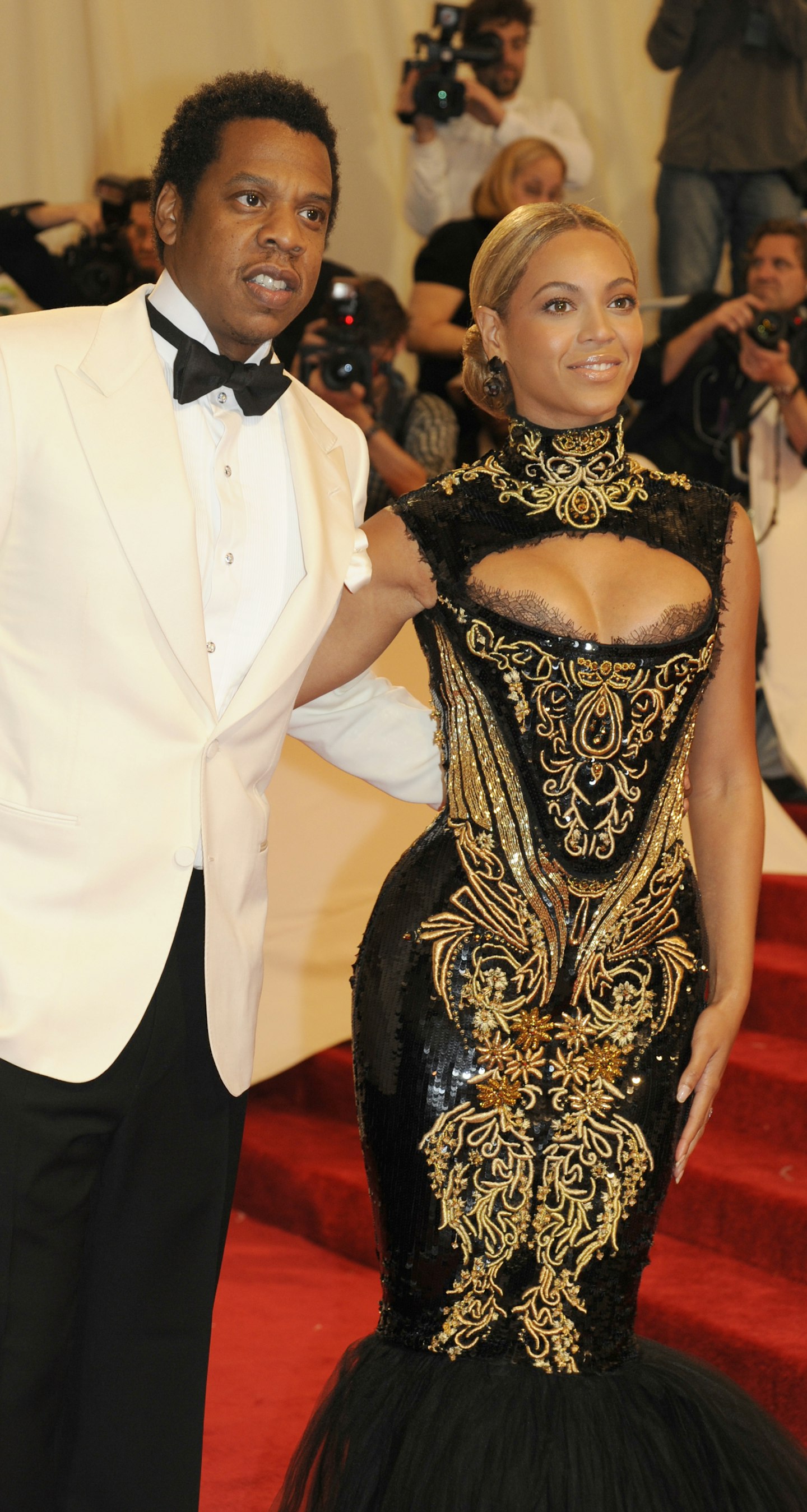 3 of 8
CREDIT: Getty
Alexander McQueen: Savage Beauty" Costume Institute Gala
Attending the Alexander McQueen: Savage Beauty Costume Institute Gala in 2011, the duo parade the red carpet in some golden, beige tones that complete each other's look. The details in Bey's dress are mesmerising. ud83dude0d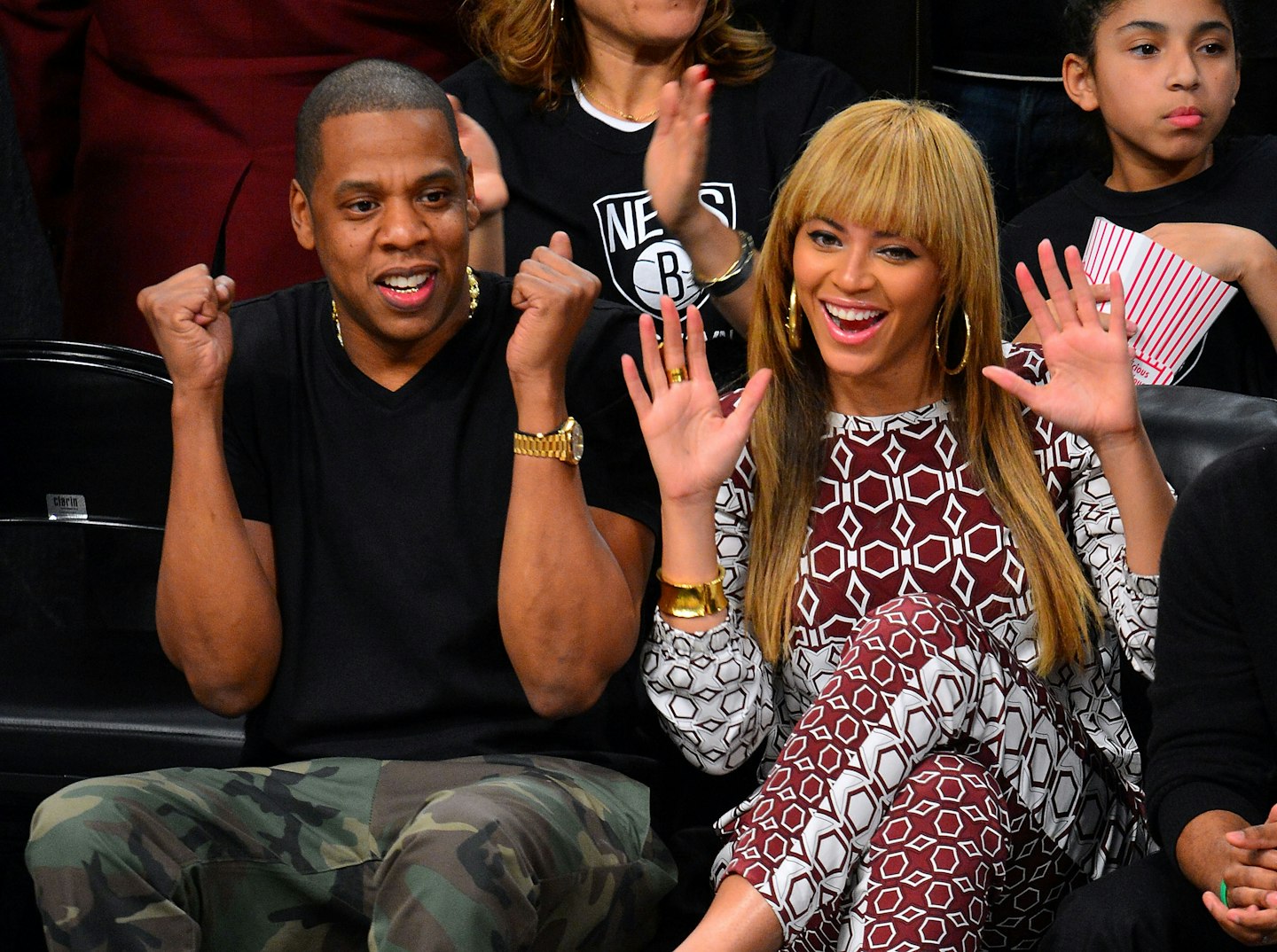 4 of 8
CREDIT: Getty
Keeping it casual at a basketball game
It's no secret that Jay-Z and Bey have a past-time of going to many basketball games, its one thing the couple are always spotted doing. In this casual setting, the couple keep it easy, yet stylish. Bey takes front row in a geometric jumpsuit, with Jay by her side, they both throw in gold accents with their jewellery.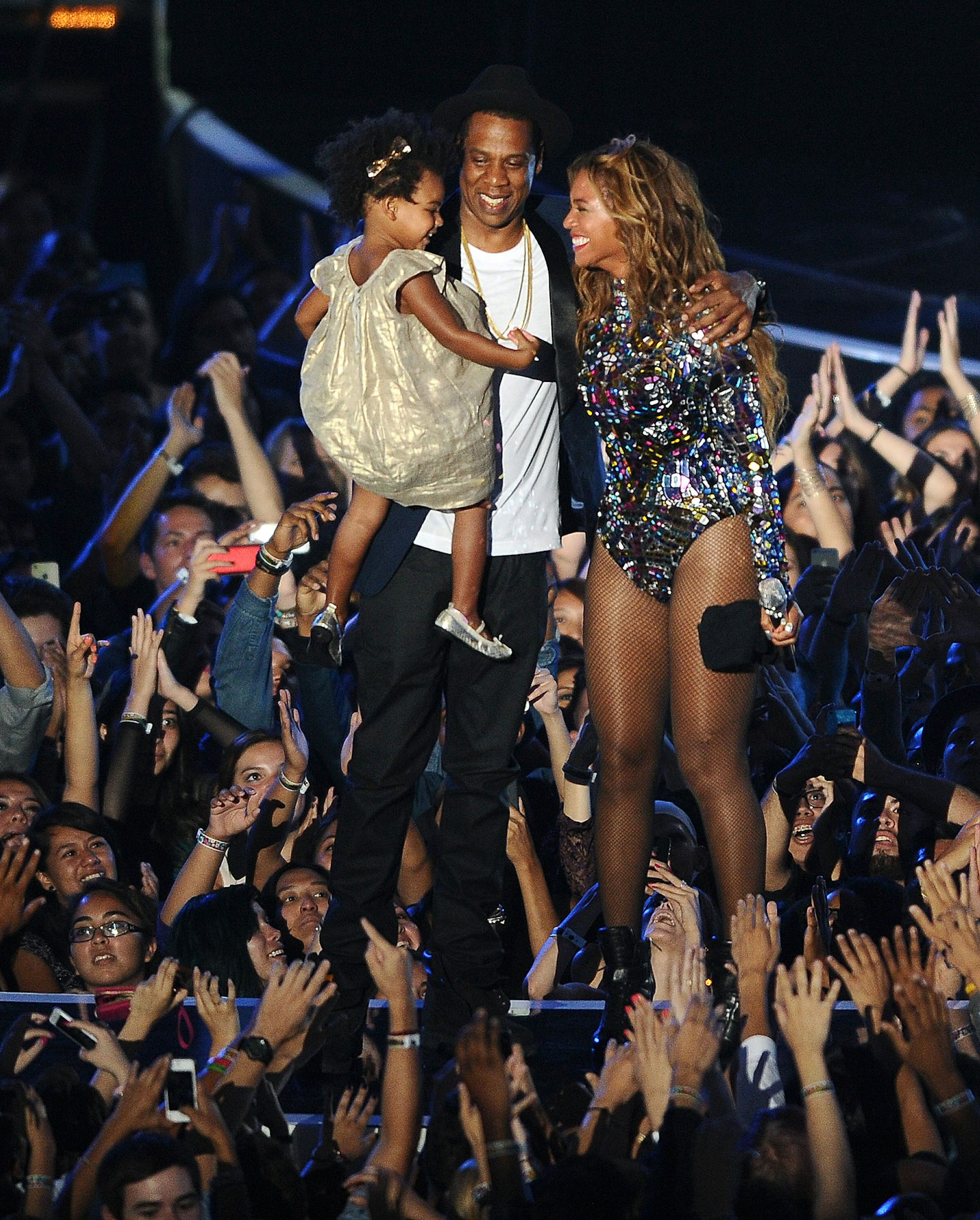 5 of 8
CREDIT: Getty
Family snapshot
Whilst performing at the 2014 MTV VMA's, Beyoncé had hubby Jay-Z and daughter Blue Ivy Carter watching in the crowd. Moments after Bey's performance, Jay-Z and Blue joined Beyoncé on stage to present her with her VMA award. We've never seen such a glamorous looking family.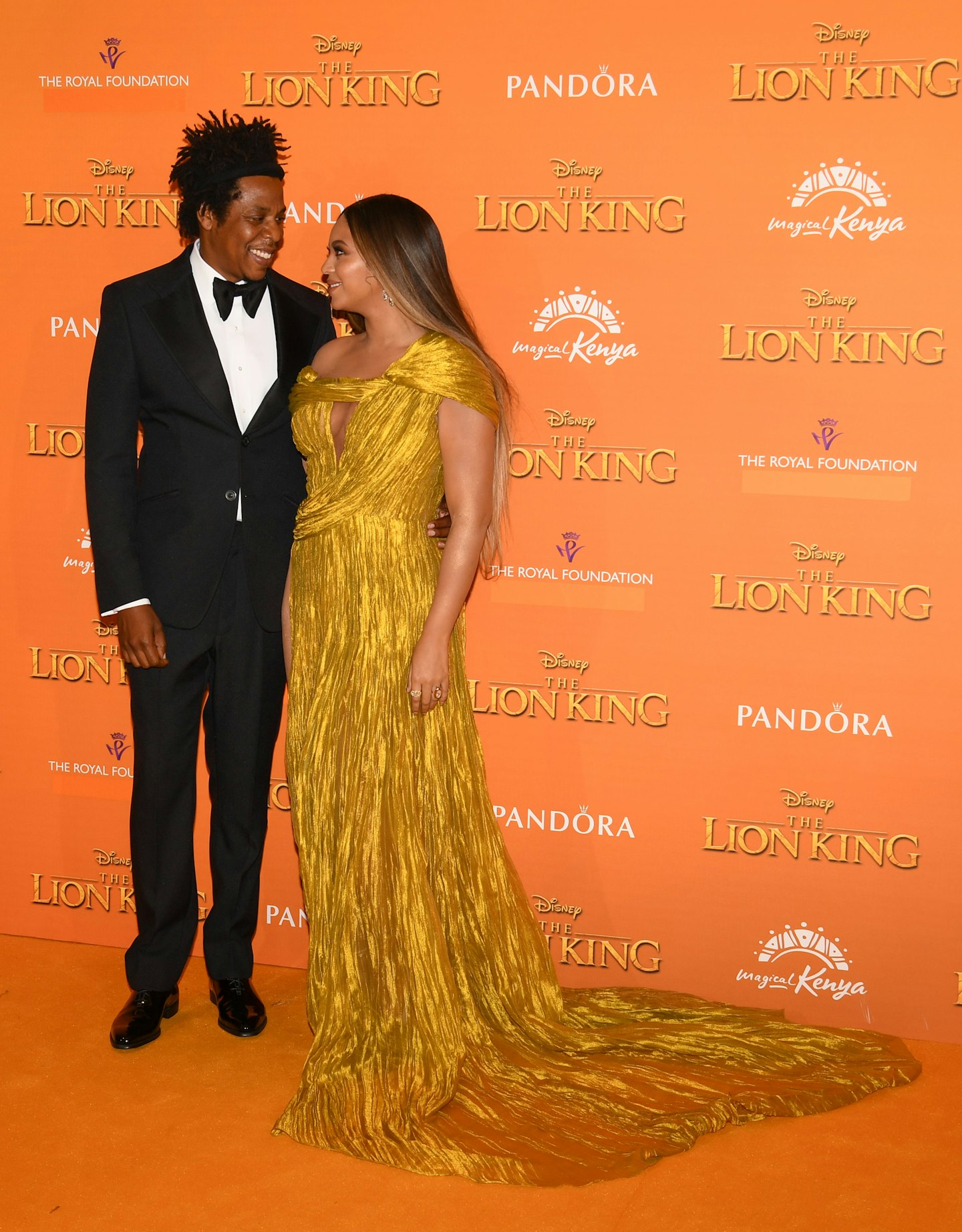 6 of 8
CREDIT: Getty
The Lion King premiere
Gazing into each other's eyes, Beyoncé and Jay-Z share this loveable moment at the premiere of The Lion King. In the Disney remake Bey plays one of the leading characters Nala. The happy couple looked super chic as always.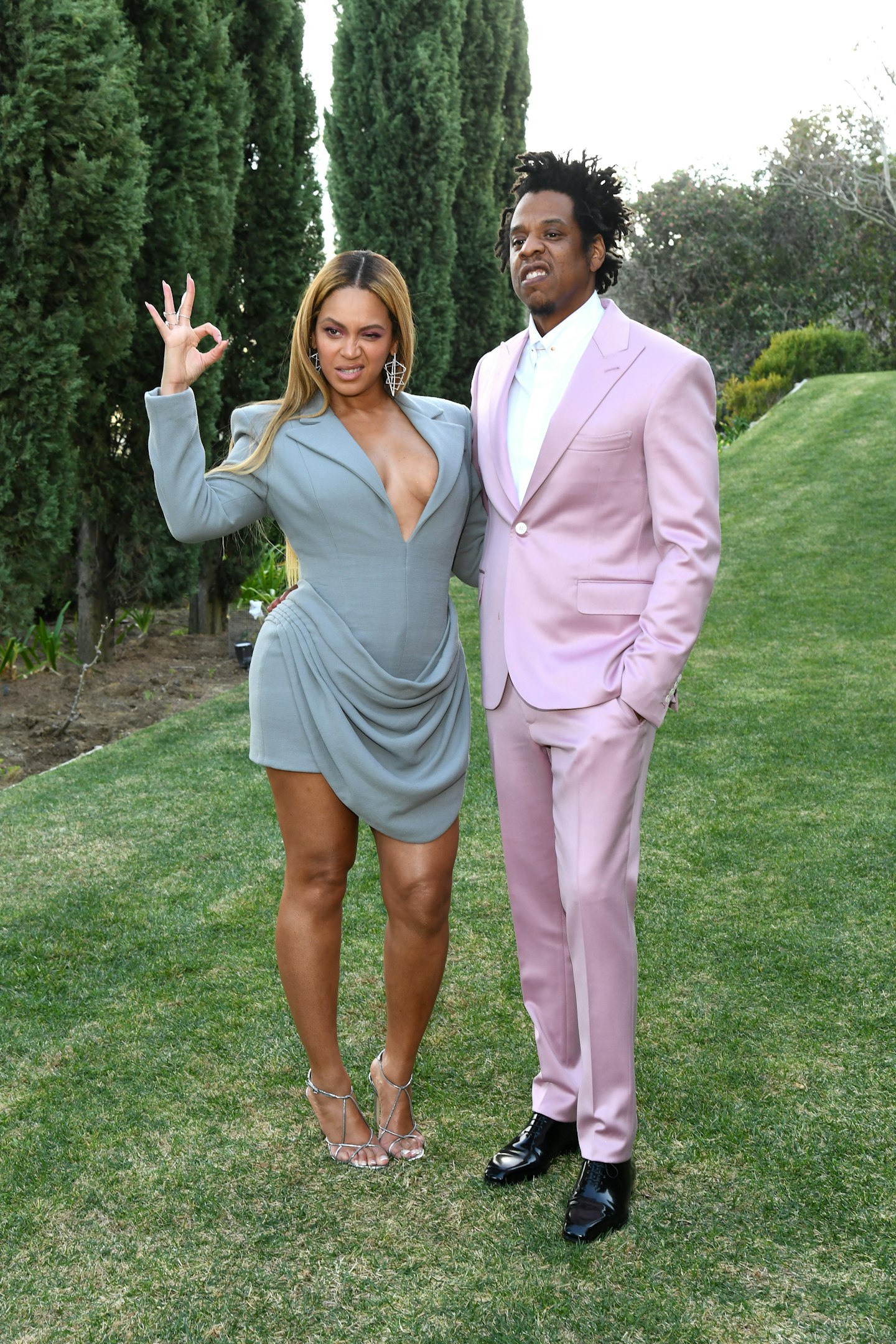 7 of 8
CREDIT: Getty
Brunchin' in style
Bey and Jay-Z dress in a pastel colour palette and match each other perfectly. They attended the Pre-Grammys soirée, which is an event that gives its guests the opportunity to toast and mingle. Complimenting the pastel palette is Beyoncé's silver wired heels and earrings and Jay's gold collar pin - what a look.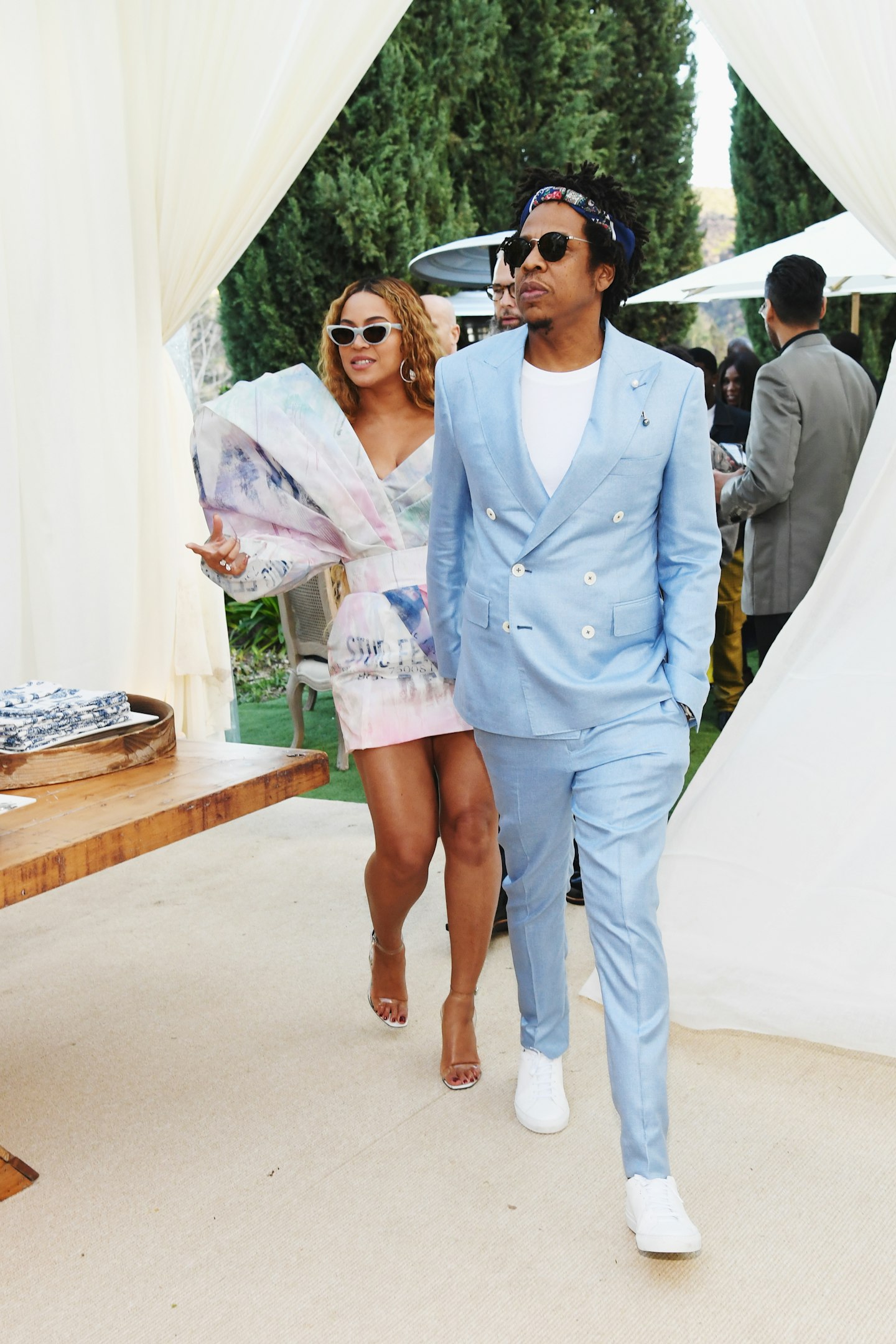 8 of 8
CREDIT: Getty
Brunchin' in style 2.0
We had to include the couples' second look from the Pre-Grammys brunch - just look at them. Continuing with their pastel theme, the couple change into something a bit more vibrant and threw on their best pair of shades. Chef's kiss
Blake Lively and Ryan Reynolds
Some of Hollywood's biggest actors Blake Lively and Ryan Reynolds HAD to be in this list.
A year after filming their 2011 movie Green Lantern, where they played love interests, they became friends and decided to set each other up and go on a double date.
However sparks flew between the actors and they ended up dating, getting married and they've since welcomed three children into the world - James, Inez and (allegedly we're still not 100% sure) Betty.
It's gotta be true love! ❤️
A look at their best outfits...
Blake Lively and Ryan Reynolds outfits heat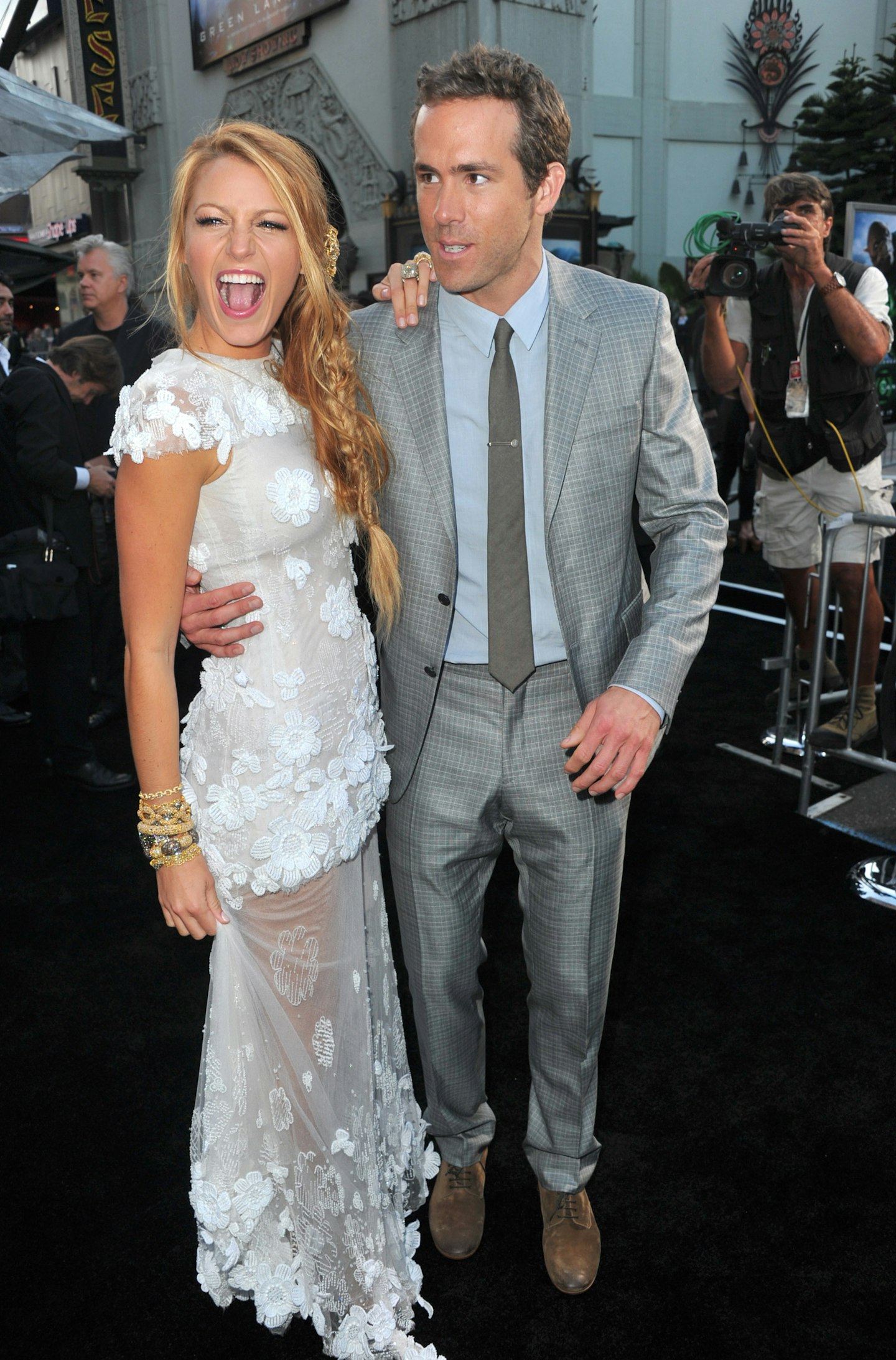 1 of 7
CREDIT: Getty
Green Lantern movie premiere
As these two arrived at the premiere of their movie Green Lantern in 2011, they looked like they're made for each other - despite just being friends at this point.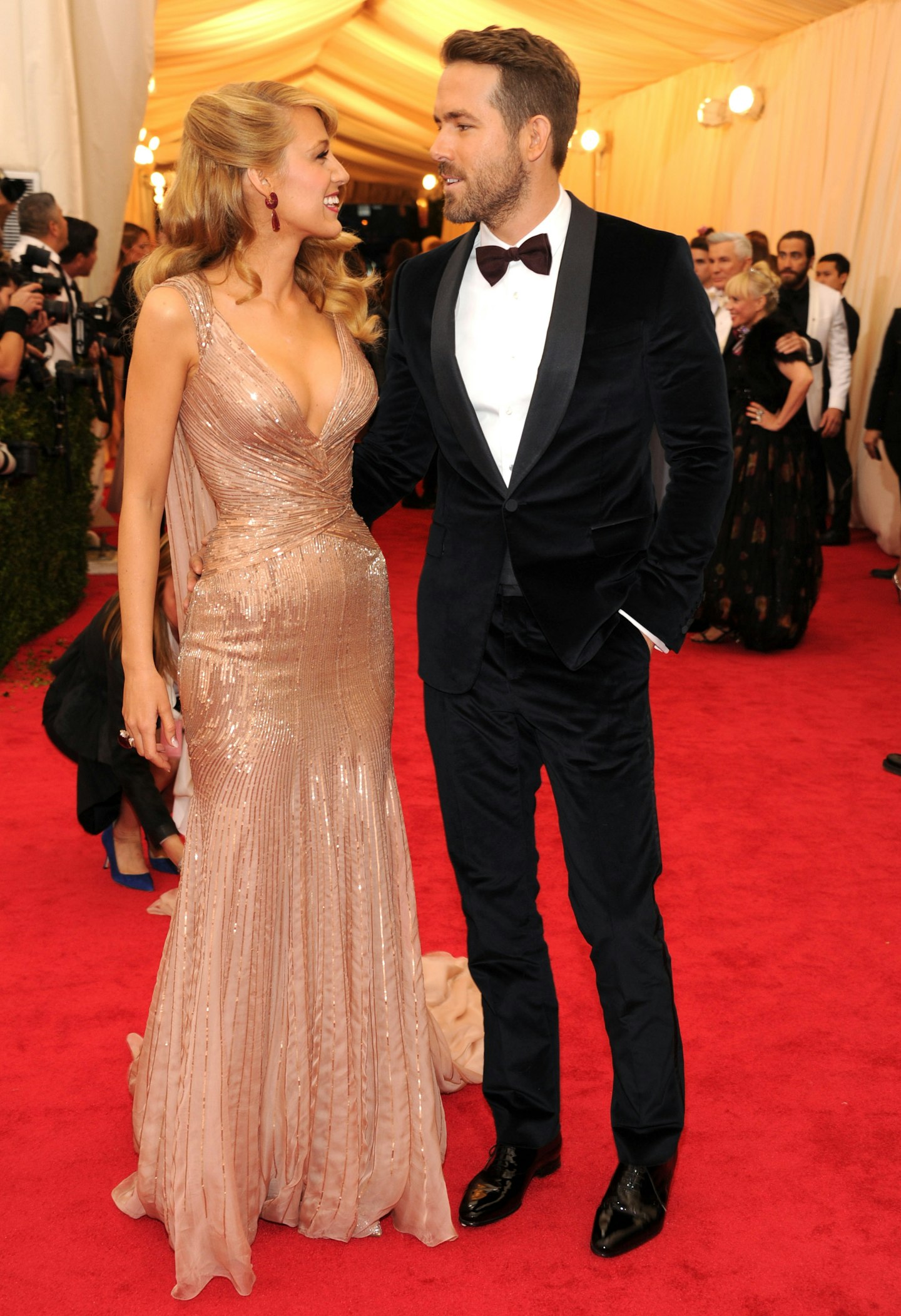 2 of 7
CREDIT: Getty
Love is in the air
WOW. Blake and Ryan look stunning in this snap, like a genuine match made in heaven. As the duo walked the red carpet at the "Charles James: Beyond Fashion" Costume Institute Gala, in 2014, they stunned the crowds with their look - a shimmering gold 1920's inspired gown, and a velvet two-piece suit topped with a bow-tie.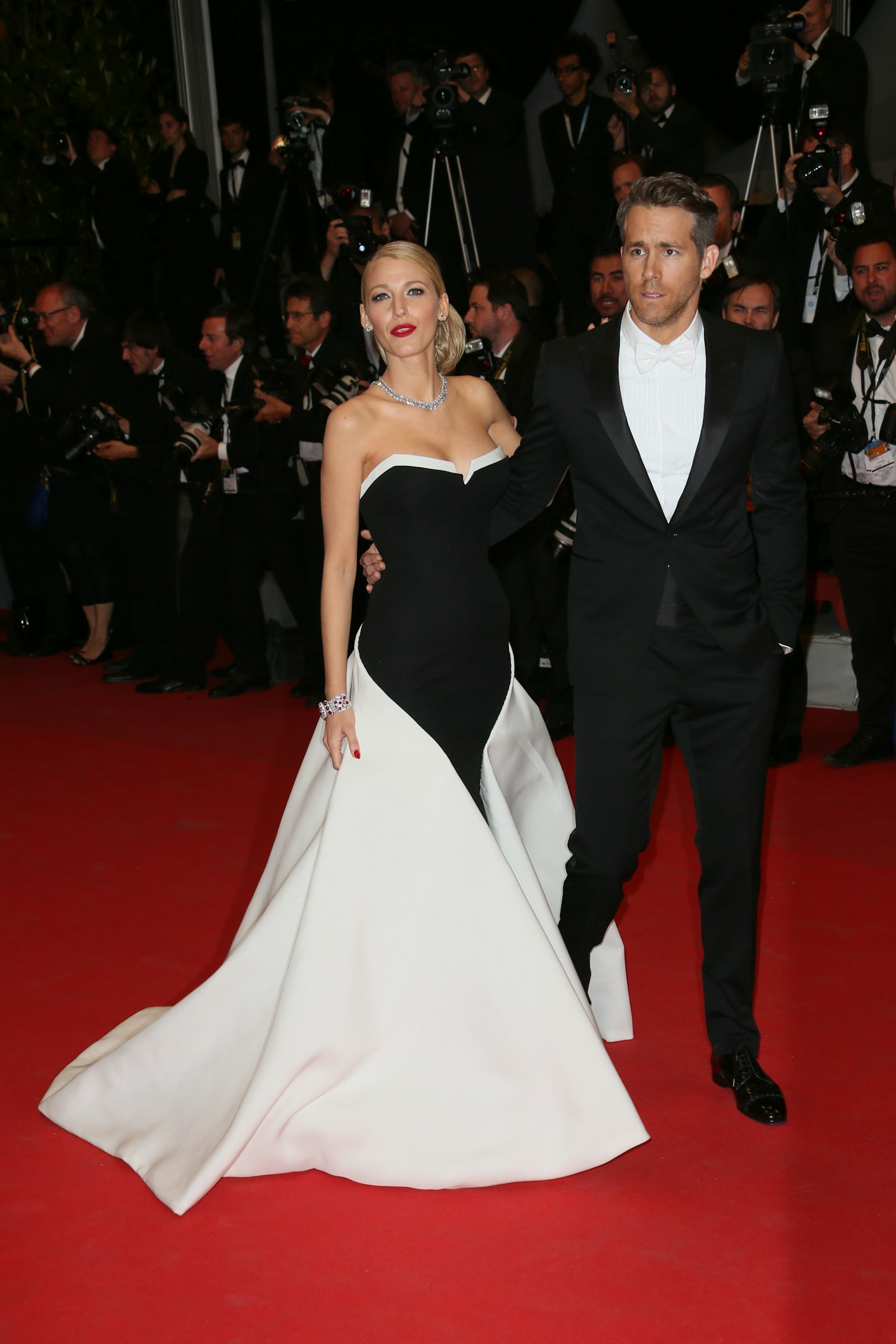 3 of 7
CREDIT: Getty
The Captive premiere in 2014
Something has to be said for this monochrome look - it's a classic. As the couple attended the movie premiere of The Captive in 2014, they looked absolutely fabulous. The simplest of touches like Ryan's white bow tie on top of his white shirt, and Blake's red lip which pairs with her silver and red bracelet just tops this look.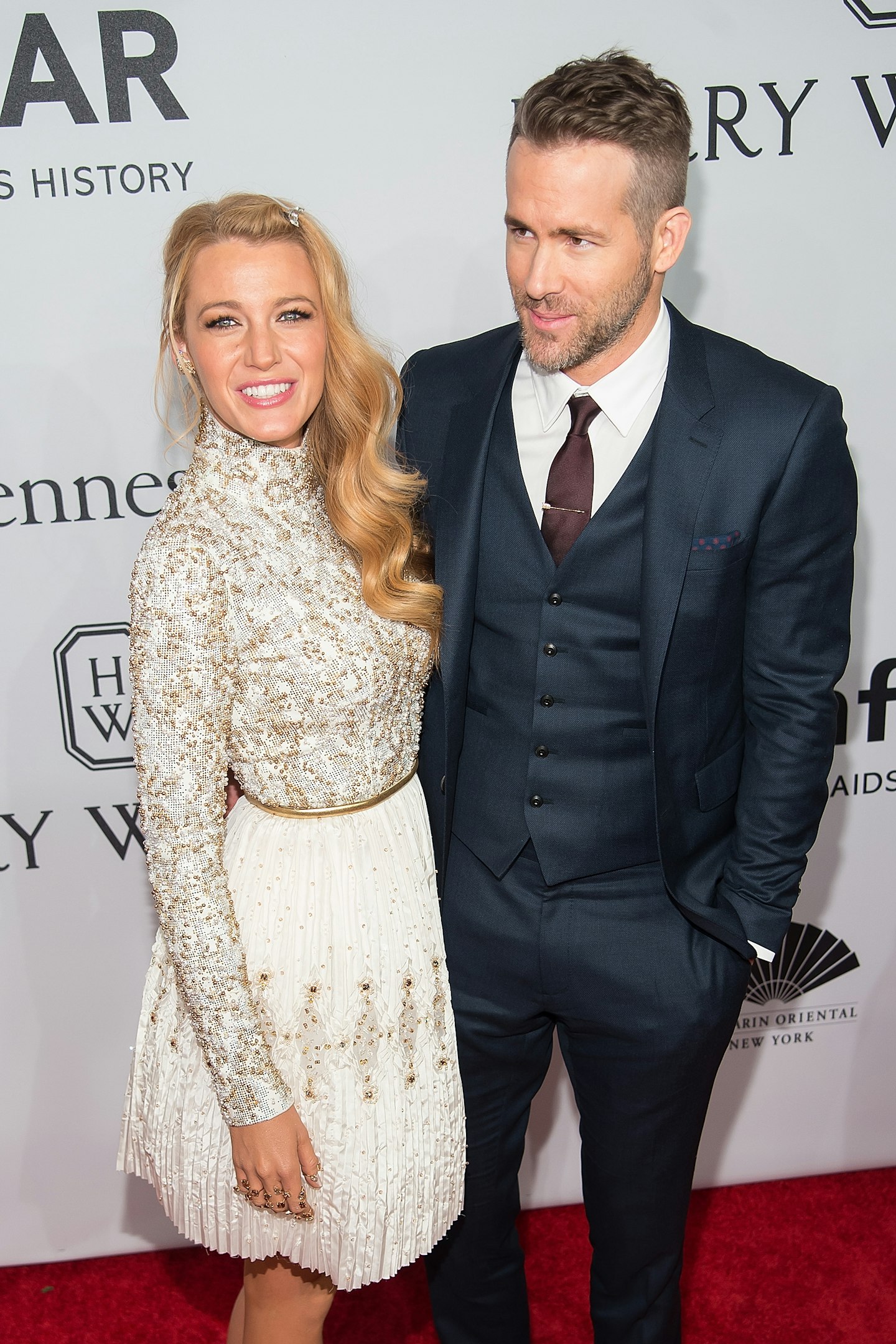 4 of 7
CREDIT: Getty
2016 amfar New York Gala
In February 2016, Blake and Ryan attend the 2016 amfar New York Gala in New York City. We reckon the image speaks for itself - they're perfect.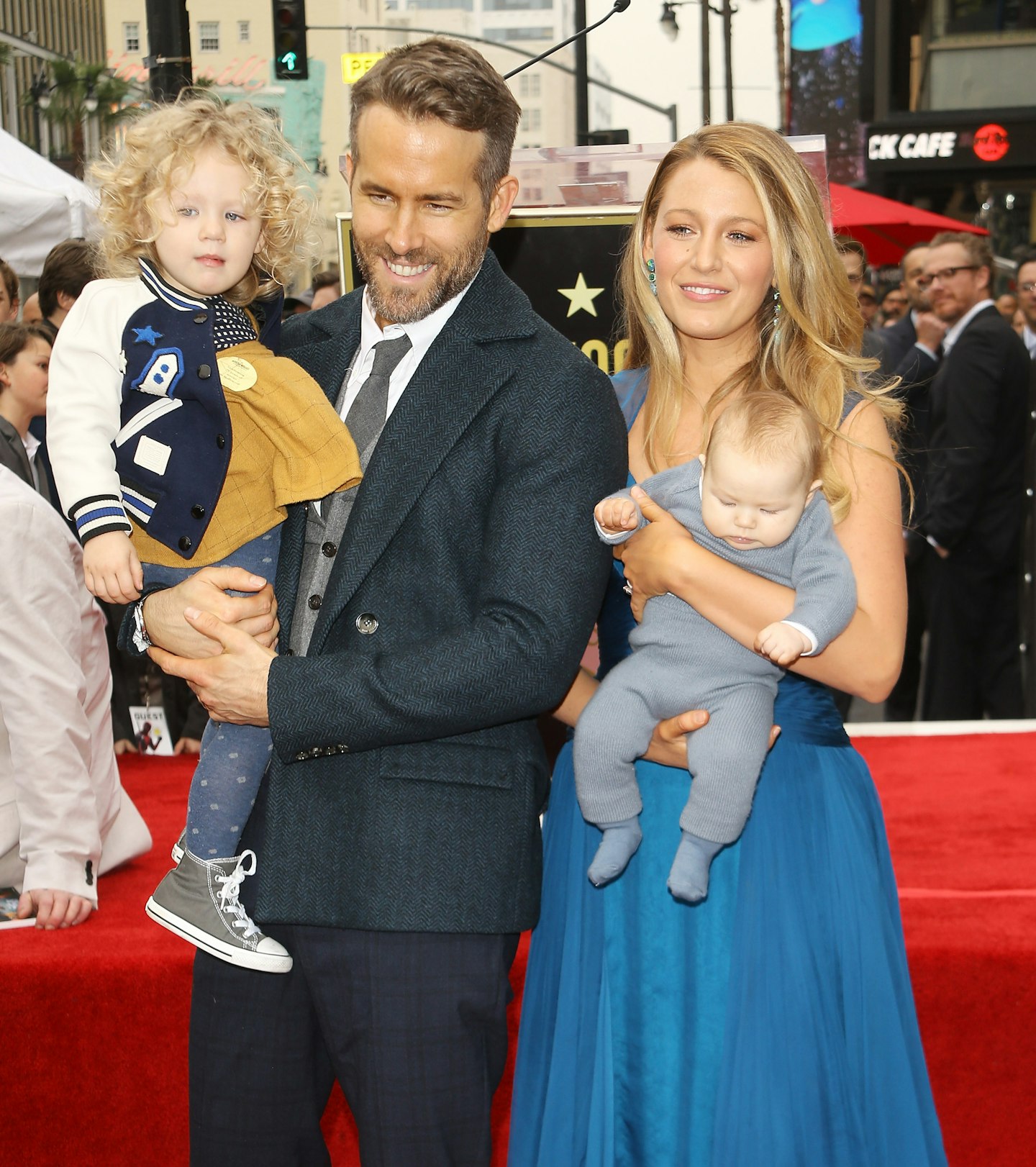 5 of 7
CREDIT: Getty
Ryan's Hollywood Walk of Fame
How cute was this? Ryan and Blake attended the honouring of Ryan receiving a star on the Hollywood Walk of Fame. It was also the first time we'd ever seen their children. Smiles all around tbh.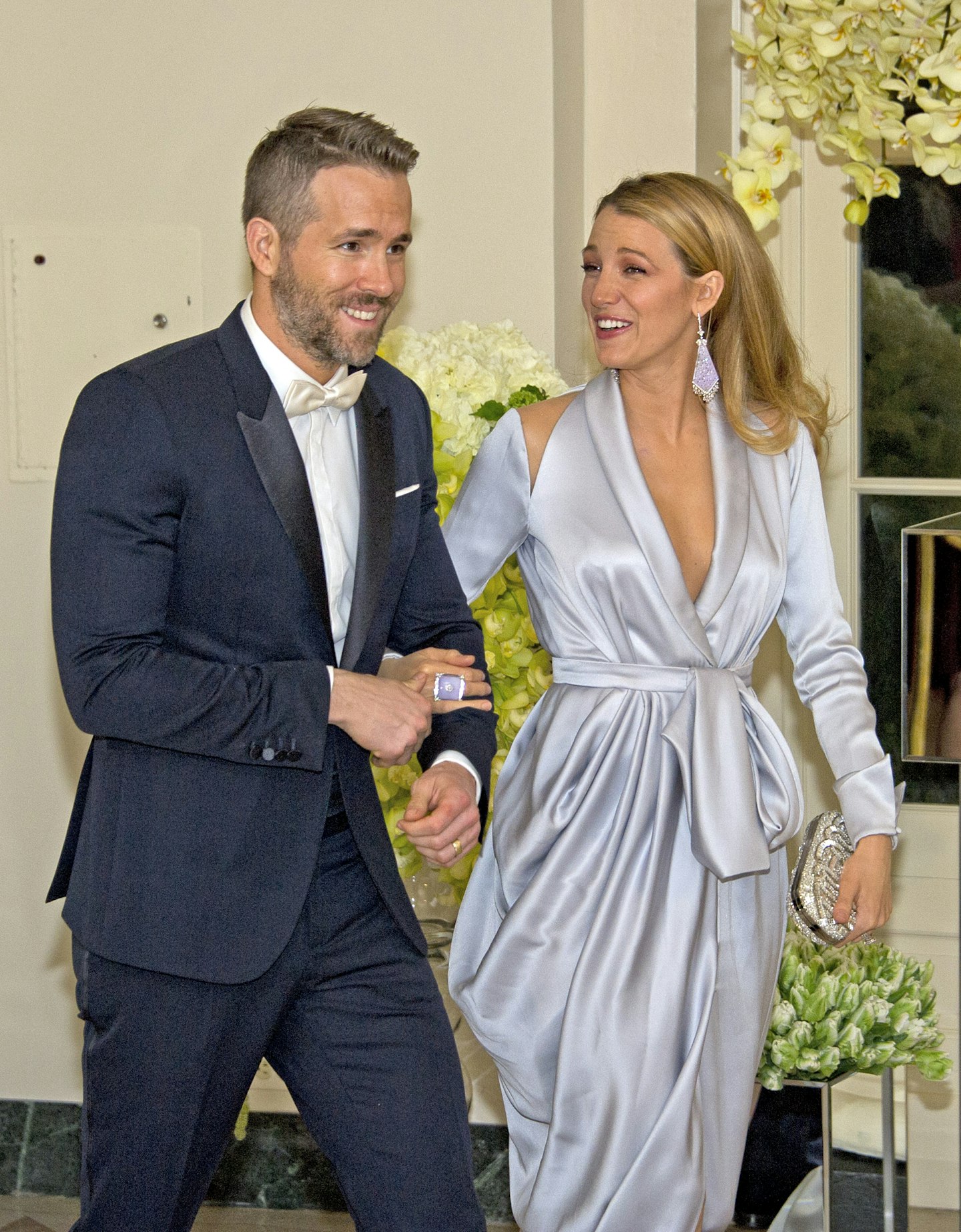 6 of 7
CREDIT: Getty
State dinner in honor of Prime Minister Trudeau and Mrs. Sophie Trudeau of Canada
Attending a state dinner at the White House, the pair looked like royalty. We're in love with Blake's dress. This whole look is a silky success.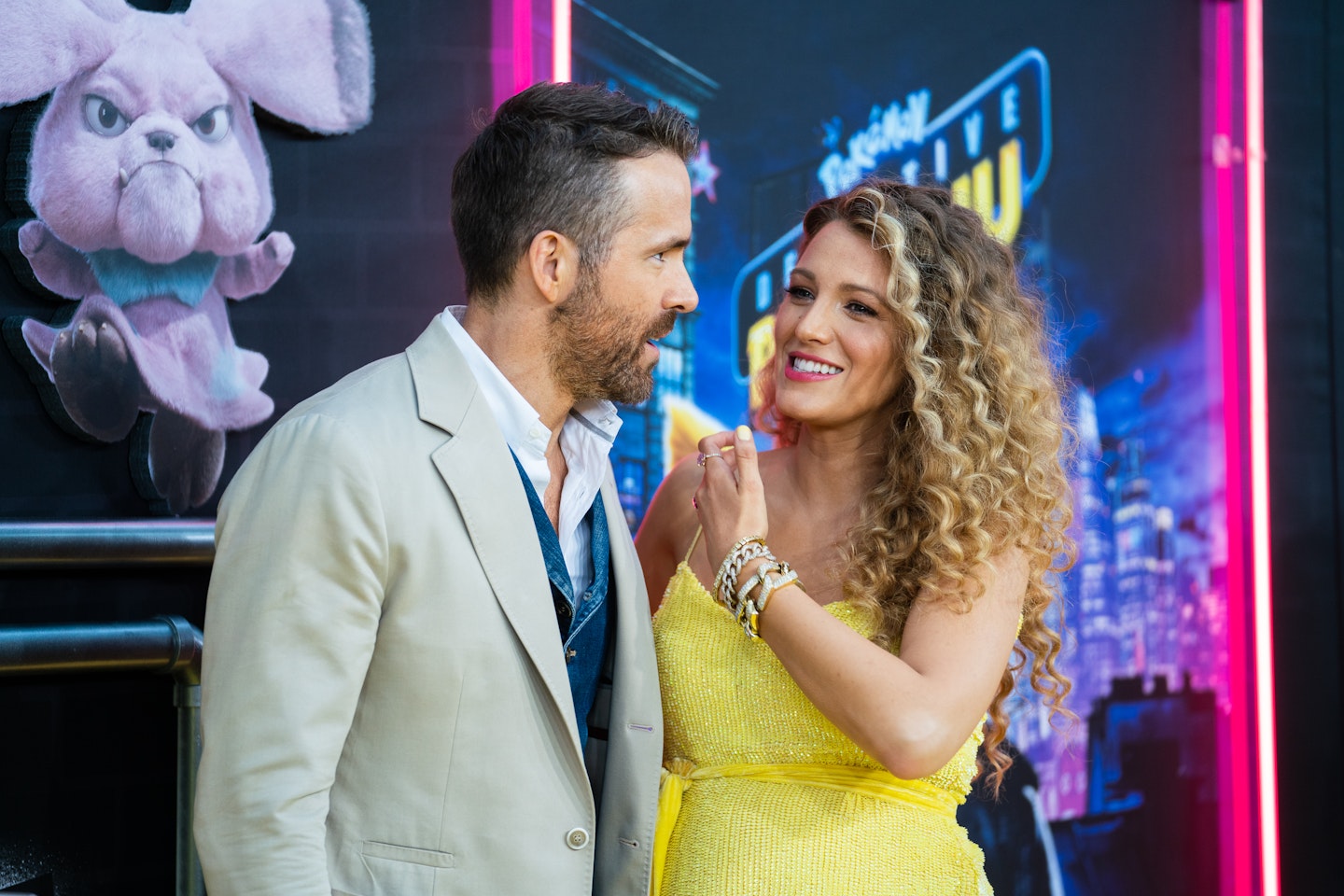 7 of 7
Blake's pregnancy reveal
In 2019 the couple attended the premiere for the Pokemon Detective Pikachu movie. Stepping on to the red carpet, with her baby bump on display for the first time, the couple announced to the world that they were expecting their third child. This didn't stop the couple from looking gorgeous, of course. Blake's yellow dress is stunning, and is gently complimented by Ryan's beige suit, with a denim waistcoat.
Barack Obama and Michelle Obama
There's no way we were leaving the Obama's out of this list.
They made history back in 2008 as the first black President and First Lady of the United States, and have continued to inspire us ever since.
Sharing many loveable candid moments with their beautiful family, the Obamas are certainly a couple who have influenced the world in all the right ways! 💛
A look at their best outfits...
Barack Obama and Michelle Obama outfits heat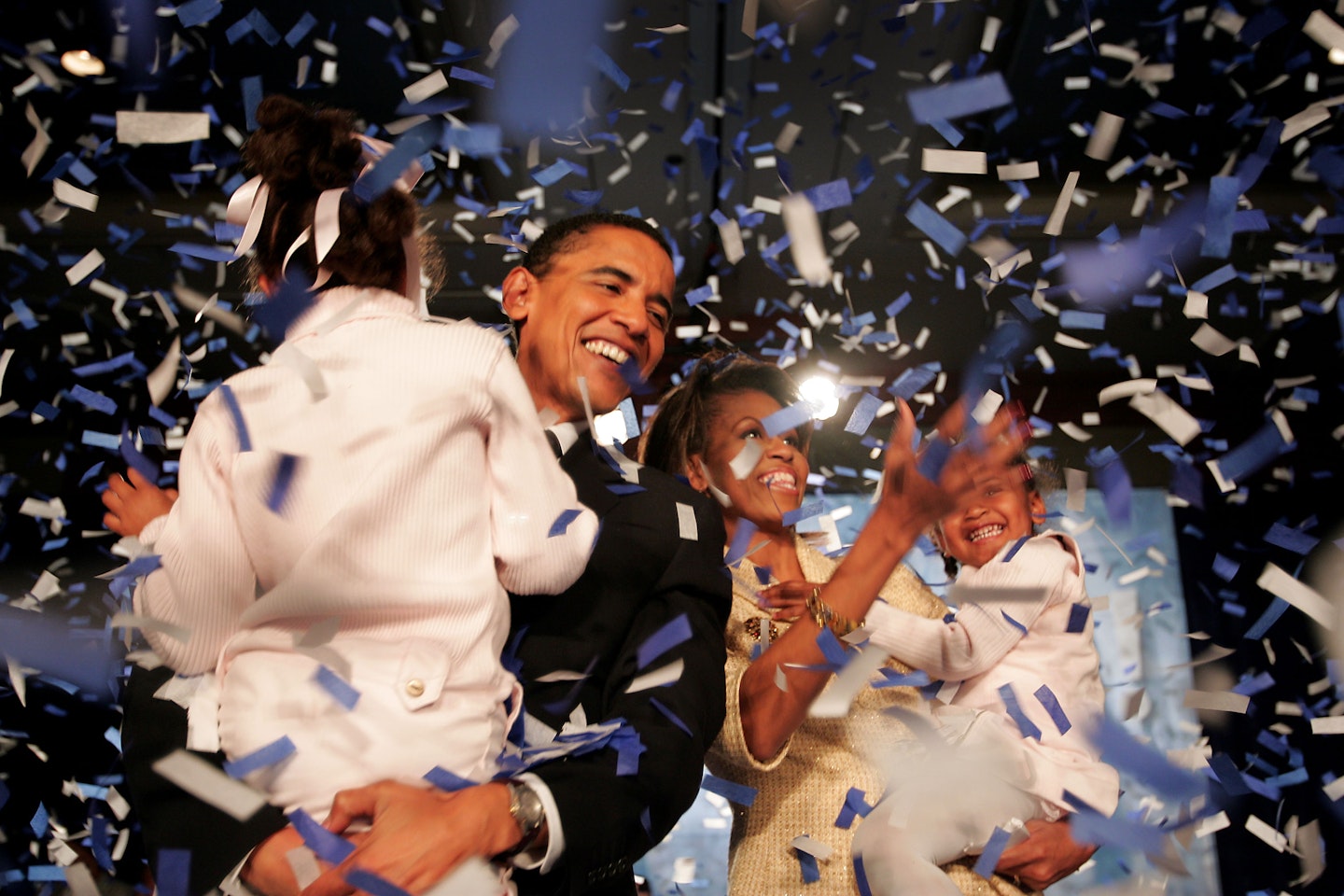 1 of 7
CREDIT: Getty
Obama's celebrate Senate election results
This image was taken back in November 2004, when Barack celebrated his victory with supporters over Republican rival Alan Keyes. He was joined by his wife Michelle and their two daughters Malia and Sasha. They look picture-perfect and insanely beautiful.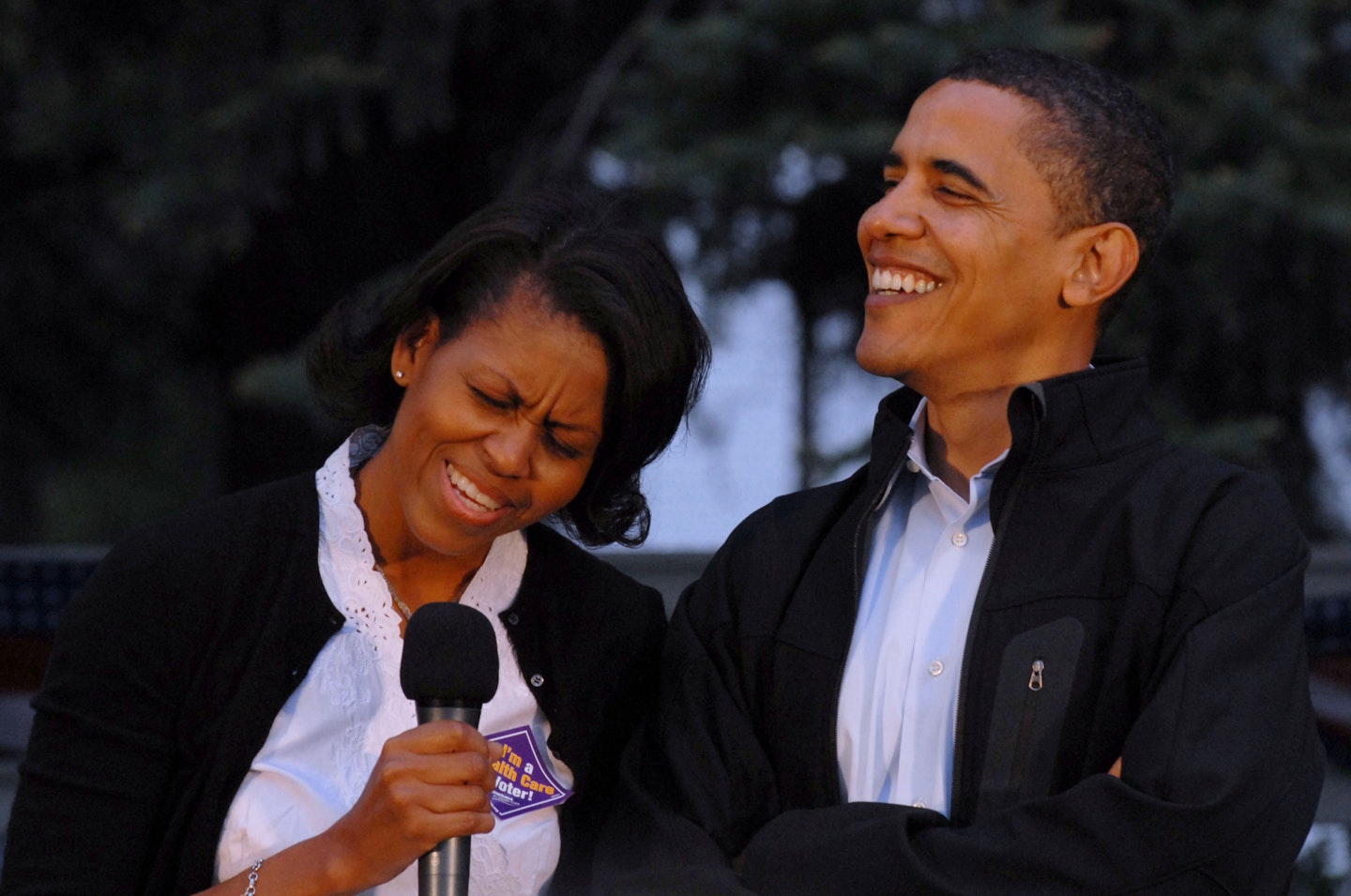 2 of 7
CREDIT: Getty
Love is in the air
We love this snapshot of Barack and Michelle, you can really sense the love. This image was taken at an "ice cream social" campaign event, May 2007, where the couple attended and gave speeches. They also look super sophisticated and madly in love.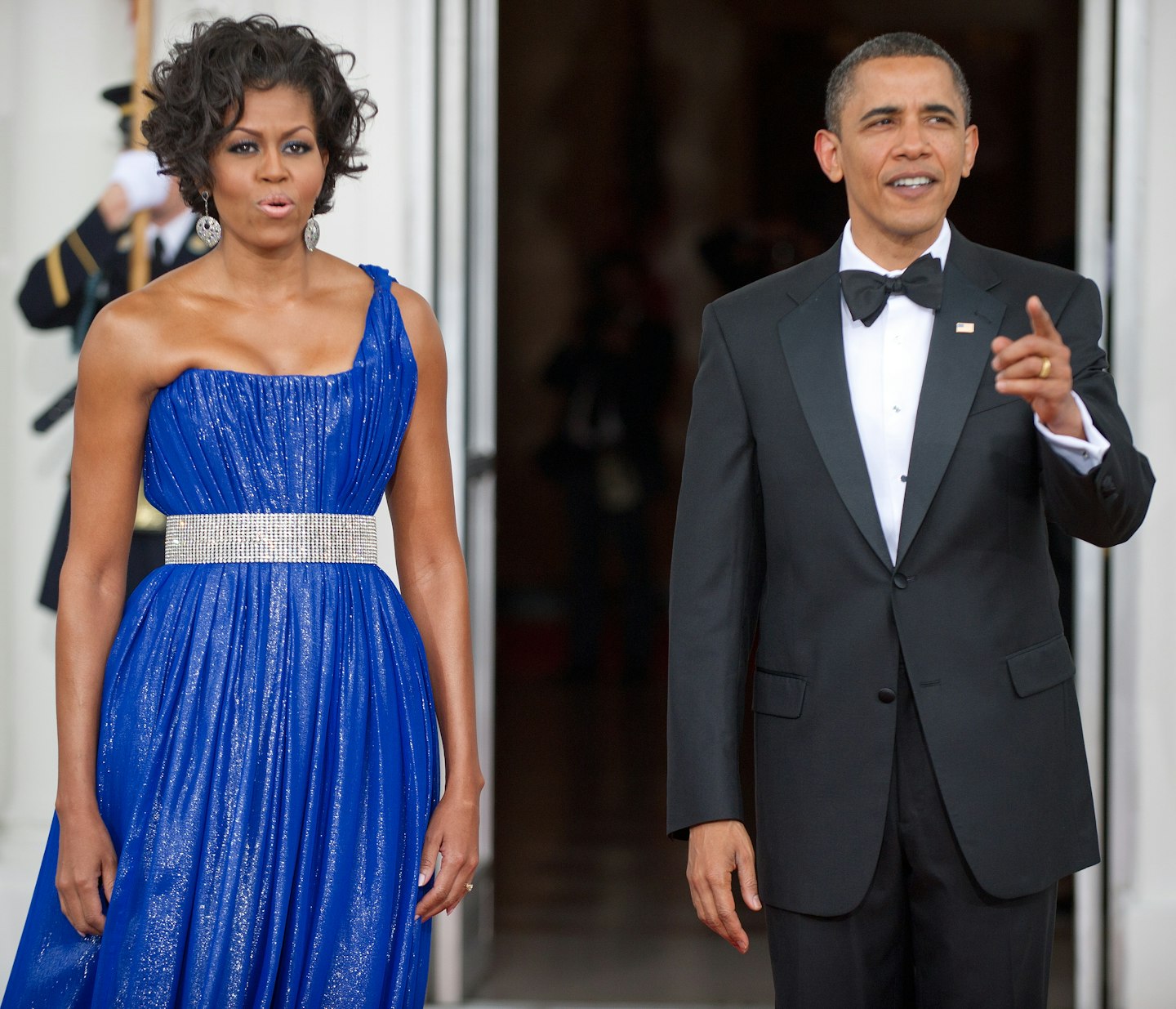 3 of 7
CREDIT: Getty
Awaiting the Mexican President's arrival
Looking absolutely mesmerising, the couple awaited the arrival of the Mexican President and wife at the State Dinner. This elegant, yet glamorous moment for Michelle is one of our most treasured. She looks absolutely remarkable in her shimmery blue gown. Accompanied by Barack by her side, dressed in a super chic suit, they make the perfect pair.
4 of 7
CREDIT: Getty
Awaiting Indian Prime Minister Manmohan Singh and his wife
This image was taken as the Obamas waited for Indian Prime Minister Manmohan Singh and his wife. This was when couple hosted their first official state dinner. We don't even need to comment on this look - you can see it for yourself ud83eudd2f.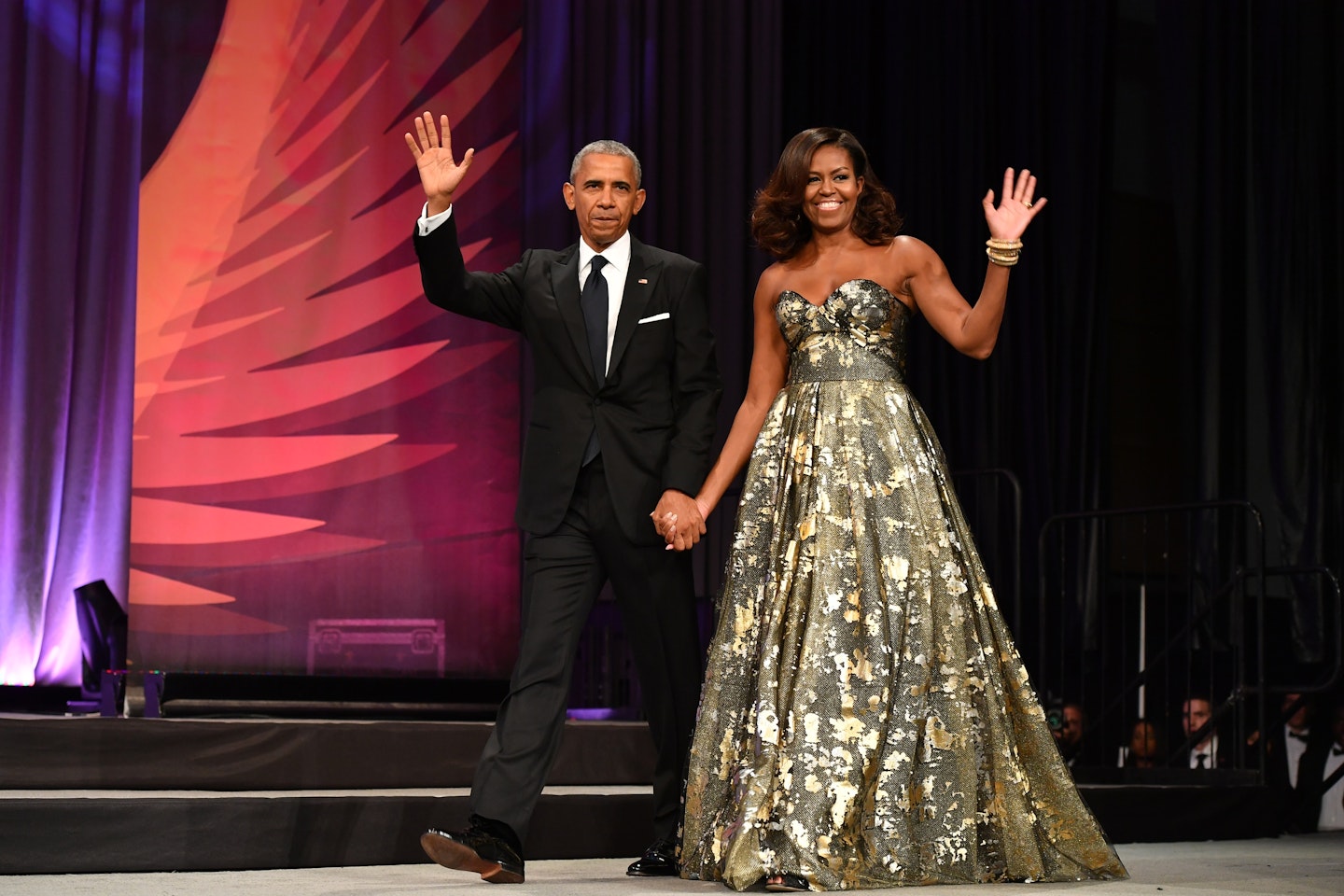 5 of 7
CREDIT: Getty
Phoenix Awards Dinner look
The couple appeared on stage during the Congressional Black Caucus Foundation's Phoenix Awards Dinner in September 2016. Dressed in a marvellous gold gown, Michelle looked breathtaking as always. Obama wore his statement suit and tie, looking spruce and professional.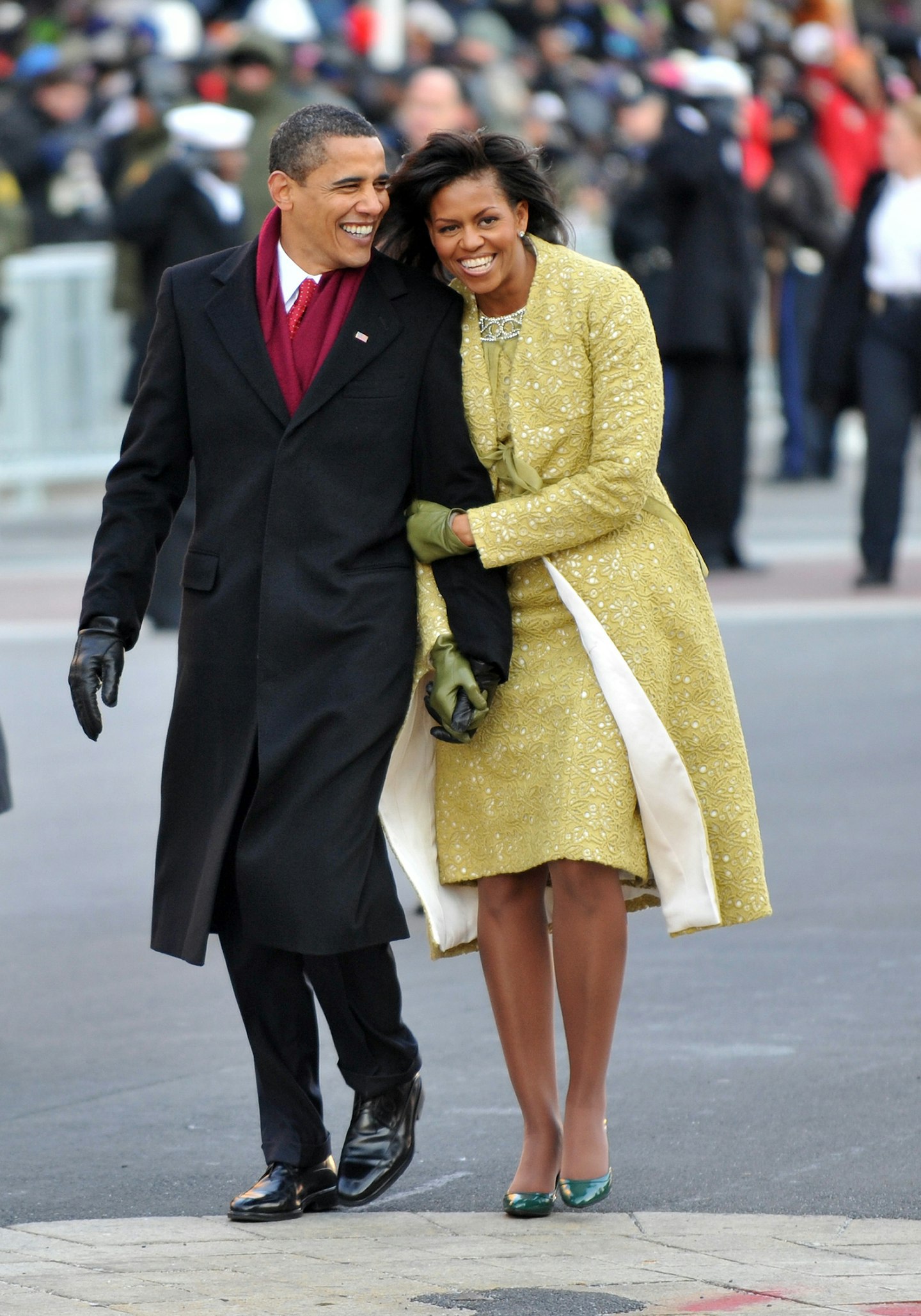 6 of 7
CREDIT: Getty
Celebratory stroll
Obama was sworn in as the 44th President of the United States on 20th January 2009. As the couple walked in the Inaugural Parade, they were certainly dressed the part. Barack is wearing a Brooks Brothers suit and overcoat, with a pop of red and burgundy. Meanwhile, Michelle displayed her uniquely green dress and coat, matched with gloves and shoes, she looked like a delightful collage of green tones. ud83dudc9a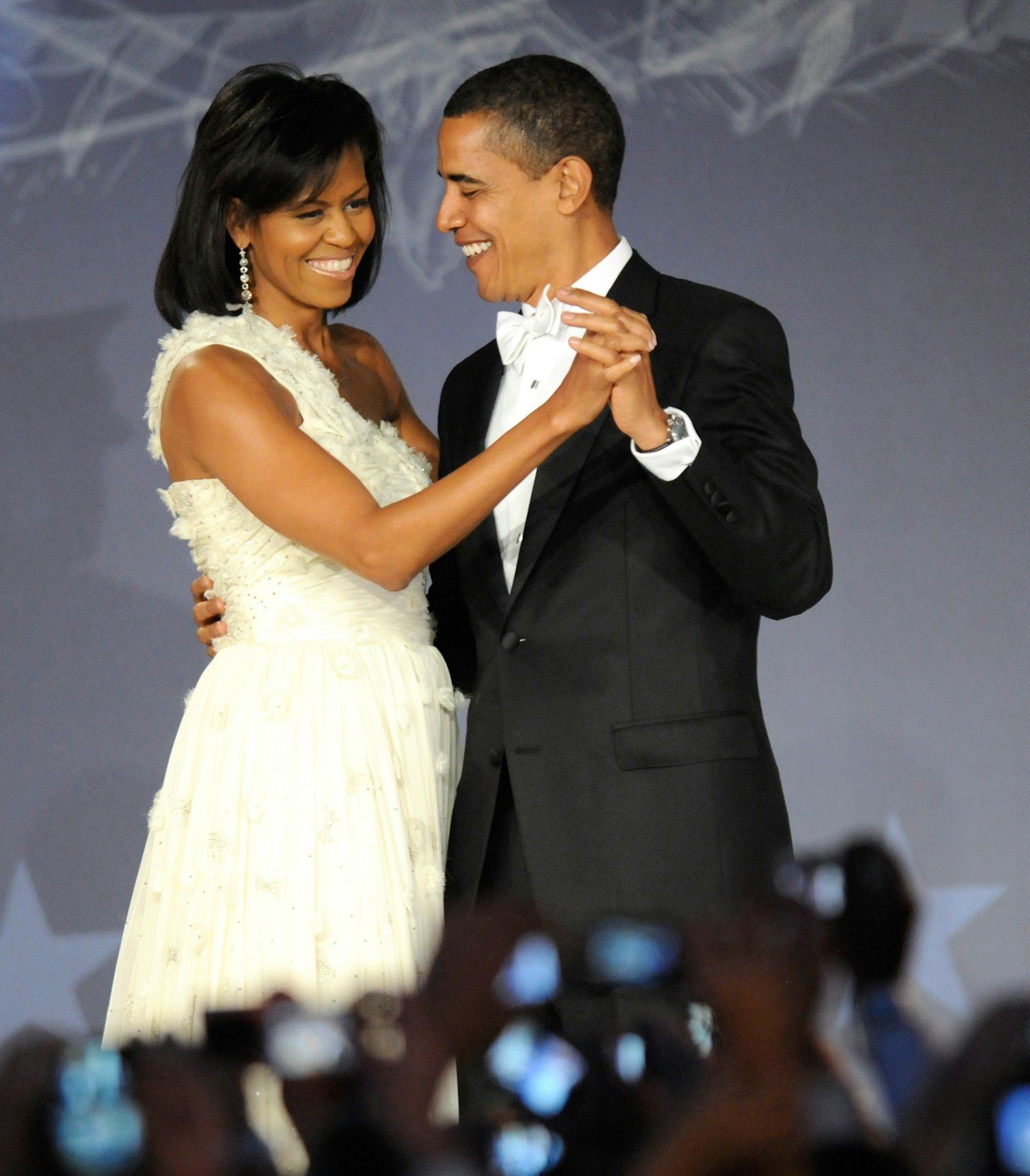 7 of 7
CREDIT: Getty
Dressed for the ball
On Obama's Inauguration Day, the couple attended the MTV and ServiceNation's Be The Change: Live From The Inaugural Ball. Going with a white-on-white theme, the couple looked perfect together, while Michelle stunned in a white gown with feathered accents, Barack wore a simple, chic suit with a white bow-tie layered on his white shirt.
WATCH: Patrick Schwarzenegger & Alex Pettyfer on Arnie, Harry Potter & veganism
READ MORE
The most explosive celeb Twitter feuds you've totally forgotten about
You don't earn the status of power couple overnight, and as defined by Google, a power couple is, "created when two powerful people come together in a relationship and manage to empower one another instead of dragging one another down."
This certainly applies to the couples above, and they seem so effortlessly content in the presence of one another.
A big part of being a power couple is public perception, and we don't think these couples have anything to worry about there. We love them all!
In fact, it makes me a tad jealous of how perfect these couples are...