Gemma Collins surely needs NO introduction. The GC, as she's also known, has been a reality TV stalwart since the dawn of time. She has graced many different television programmes since becoming a household name with her debut on The Only Way Is Essex back in 2011.
Gemma may have begun her showbiz career on TOWIE, but she's also a businesswoman and runs a successful fashion company named after herself (ofc - what else would she name it?), she had her own TV show Gemma Collins: Diva Forever and she's newly engaged.
So we've taken a look at everything you need to know about The GC.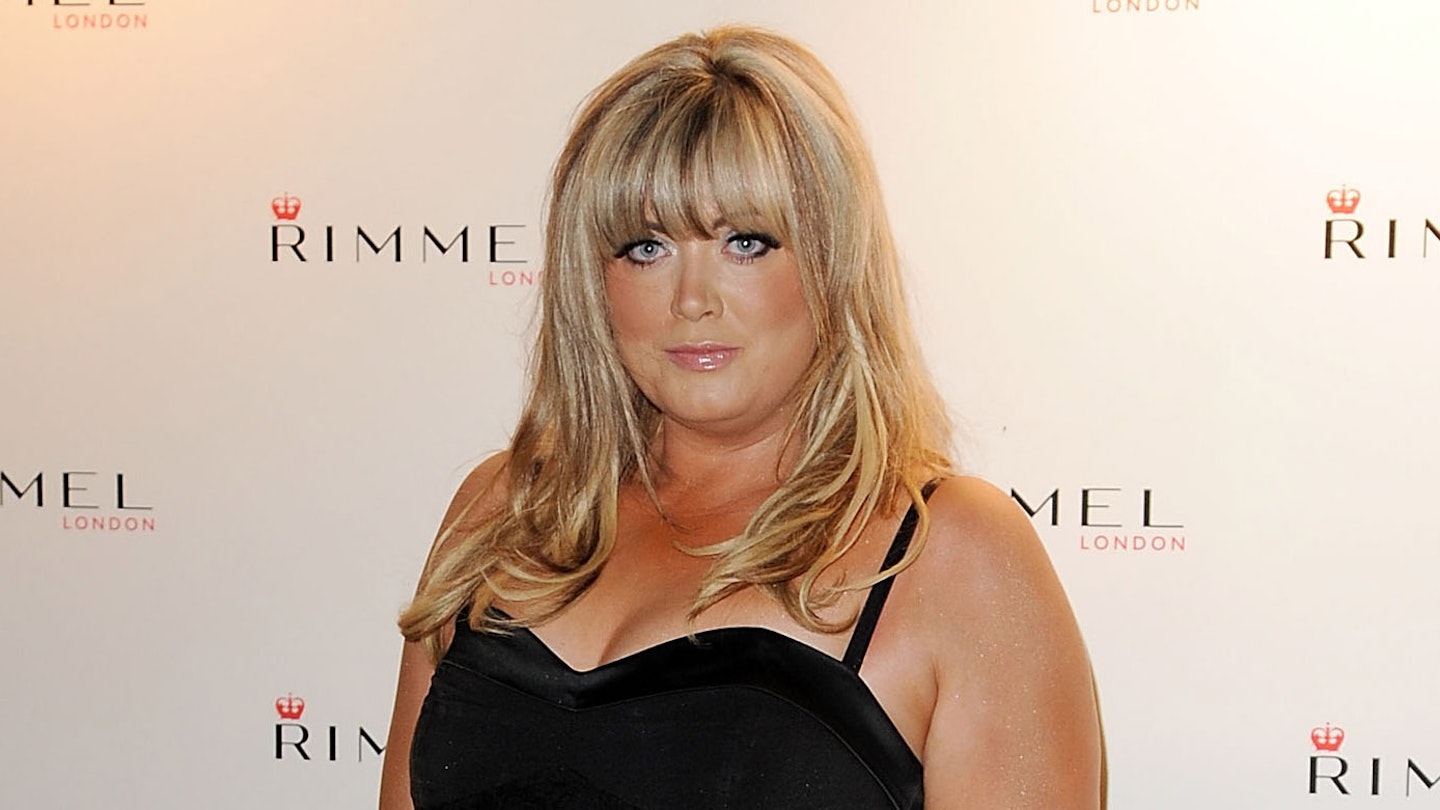 Who is Gemma Collins?
WHAT a question. For those of you who have been living under a rock, Gemma Collins AKA The GC is one of the OG members on The Only Way Is Essex - joining the show in its second series which aired in 2011.
Is Gemma Collins back with James Argent?
Gemma and Arg have had an on/off relationship since their TOWIE days together and in 2018 he hinted that he'd propose the following year.
He told OK! magazine, "I've got a few ideas up my sleeve! I can't tell you when but I'm definitely asking Gemma to be my wife next year."
However it wasn't to last and in lockdown they called it quits after he reportedly sent her horrific text messages.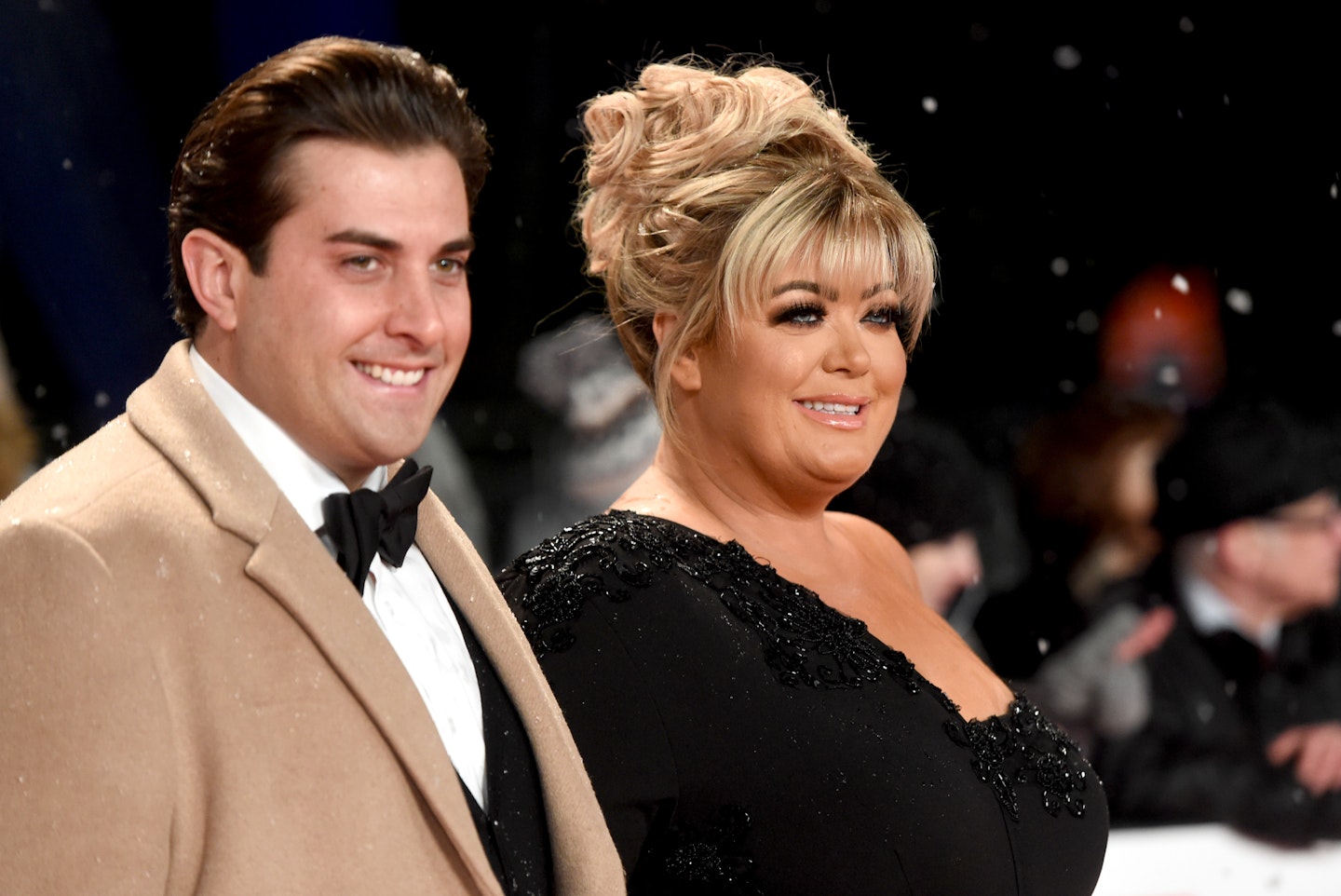 Is Gemma Collins single?
Nope she's actually reunited with an ex...
Is Gemma Collins in a relationship?
As of December 2021, Gemma Collins is engaged to Rami Hawash. If you watched TOWIE then you'll know that Gemma and Rami actually dated back in the day. They've since reunited and look as loved up as ever.
Gemma Collins: 'I'm finally getting the body I want'
Following her split from Arg, Gemma went full-on fitness influencer and was showing fans "the realities of getting a gorgeous feeling about yourself" by sharing her intense workout regime.
She even showed off her impressive weight loss, lifting up her top and telling her followers, "A few weeks ago, I would not have been pulling up my top".
A source close to Gemma told heat she has never been happier after going through a rough time recently when her beloved dad was hospitalised with COVID, as well as ongoing issues with Arg.
"Gemma is feeling in such a great place with her diet and fitness routine right now, and is pushing herself even harder to finally get the body she wants," we were told.
"After getting really down in lockdown with her father's ill health and her relationship with Arg being so difficult, it helped that she was finally able to take control of something.
"She's done loads of different diets and fitness regimes over the years, but the difference this time around is that Gem really has been putting the grind into her workouts and not making any excuses. She'll start workouts at 6am and do different types of circuit training, which she will repeat up to six times a day – and she's being very strict about sticking to a healthy diet."
Was Gemma Collins on Dancing On Ice?
The GC did in fact take part in Dancing On Ice in 2019. Gemma followed in the footsteps of her TOWIE co-star Lauren Goodger, who took part in the show in 2013, and was partnered with Dancing On Ice legend Matt Evers.
During her short time on the show after being knocked out in week 6, Gemma was unsurprisingly at the centre of some pretty major dramz - having fallen out with not only presenters Holly Willoughby and Phillip Schofield, but also judge Jason Gardiner, who she had a very awkward on-air argument with.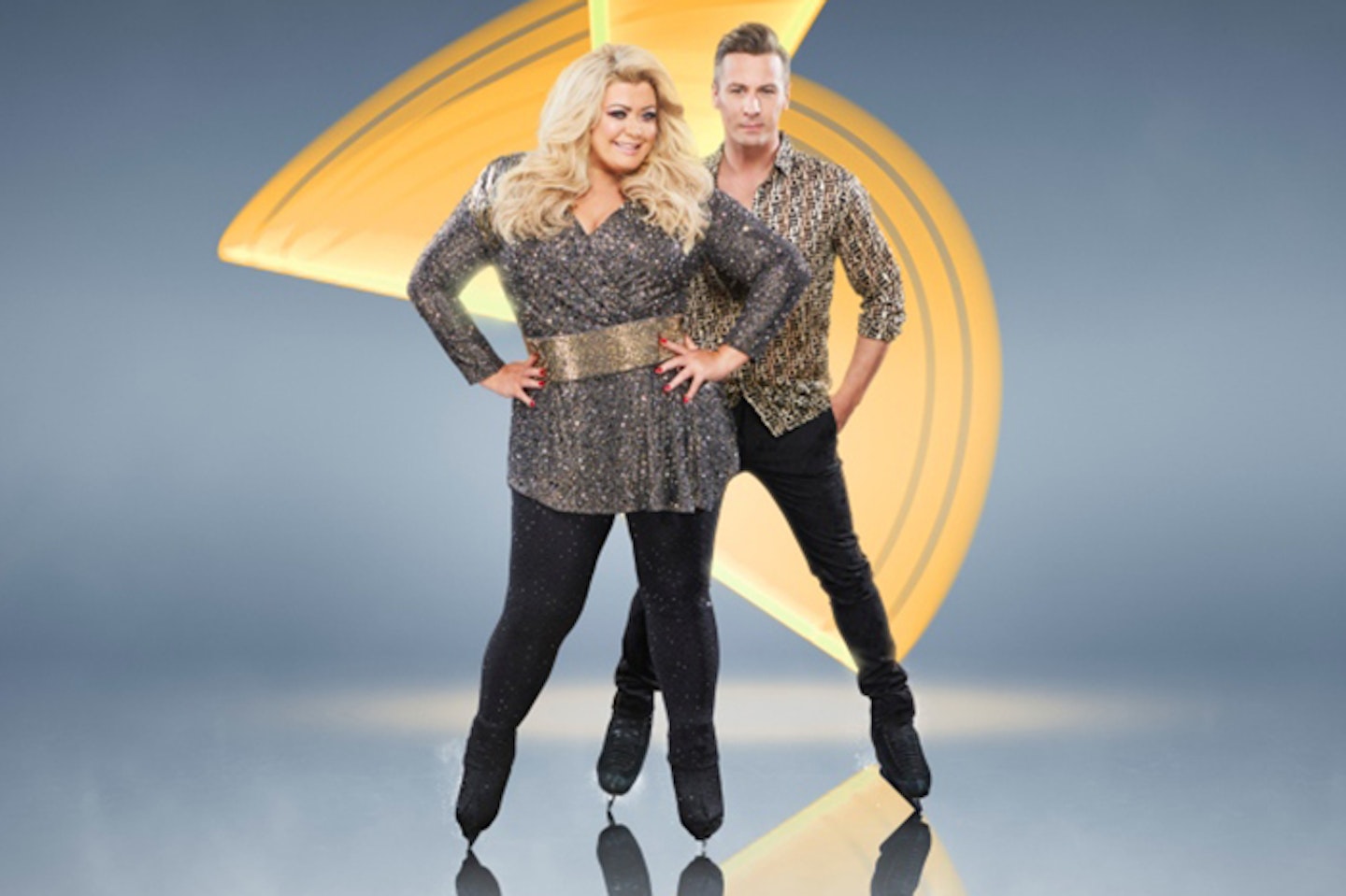 What happened between Gemma Collins and Jason Gardiner?
Gemma's feud with Holly and Phil was short-lived, but she wasn't happy about their comments that she'd been "unprofessional" and "kept producers waiting" and demanded a public apology, even threatening to quit. Her controversy with Jason went a step further following reports that Jason was considering SUING Gemma after she claimed that he'd been selling stories on her. However, he ended up not going down the legal route.
Not only that but fans also witnessed Gemma take a pretty rough fall on the ice. Although some viewers thought that Gemma had 'staged' the fall, she then shut down the rumours by sharing photos of some pretty painful-looking injuries.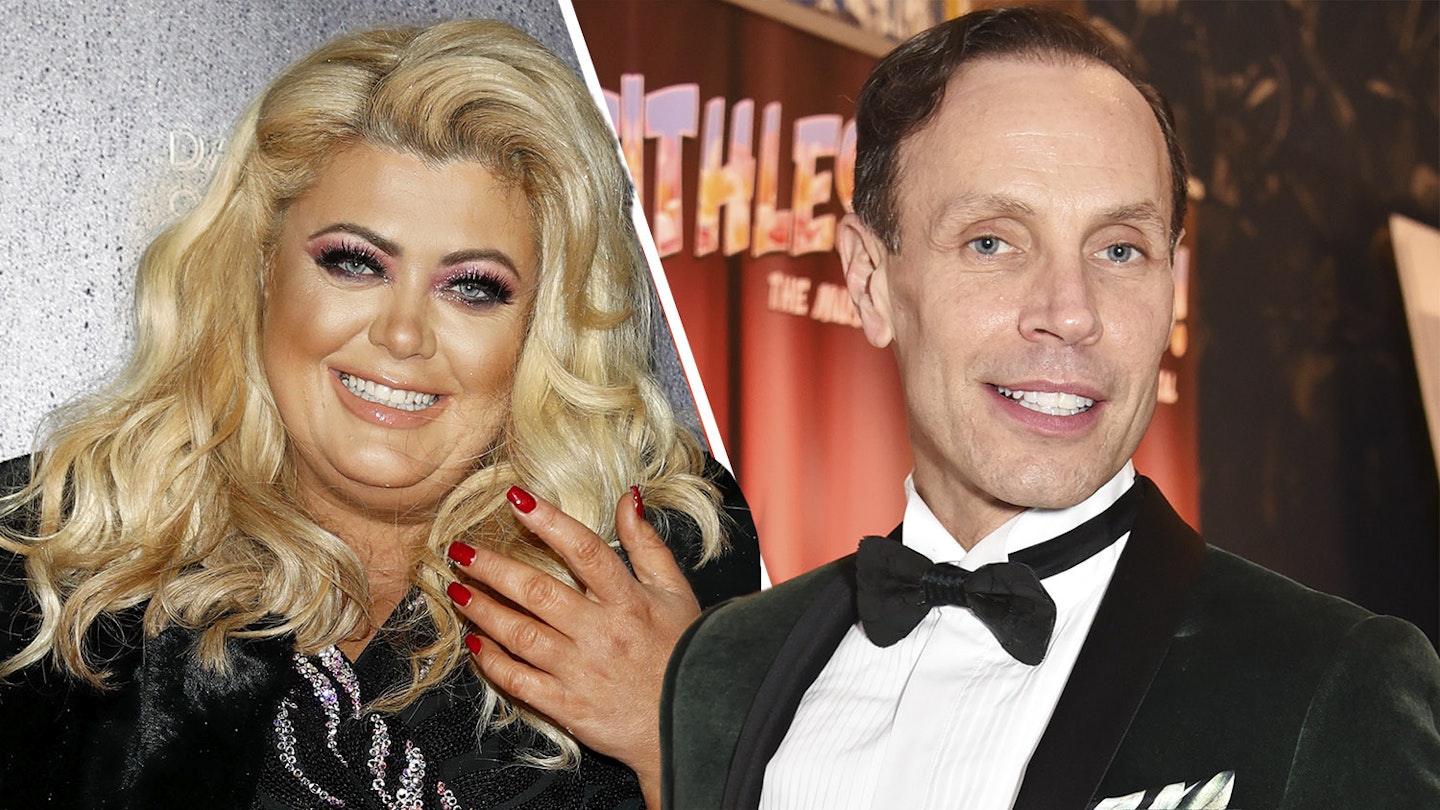 Things didn't improve even after Gemma left the show - she accused Jason of fat-shaming her and calling her a refrigerator in an interview on This Morning, something he vehemently denies. Gemma returned to the ice one last time in the final, performing some of her routine to 'Crazy In Love' by Beyoncé along with her partner Matt - although it didn't go down hugely well with viewers.
Why did Matt Evers defend Gemma Collins?
Before Dancing on Ice had even aired on TV, Matt was forced to defend his co-star following online trolling.
One Twitter user called Paul wrote, "Better reinforce the ice".
However Matt took to social media and condemned the harsh messages, writing, "Who are you to judge and say something like that? Any decent 'MAN' wouldn't body shame a woman.
"Unless your manhood is that small you're threatened that their balls are bigger than yours. I'm sure your mothers well proud. Show your face 'Paul'."
And it wasn't long until Gemma defended Matt in a statement by writing, "I WILL not let @themattevers be BULLIED anymore by the trolls he is very upset by what he is putting up with we are keeping a record of everyone's social media accounts and we WILL BE EXPOSING you you'rve all seen the show when your trolls get confronted IT COULD BE YOU."
Was Gemma Collins on Take Me Out?
Back in 2017 there were reports that Gemma Collins could be starring on Take Me Out.
At the time a source told The Sun, "We're going to have three famous ladies on the show who are determined to find their dream date, and Gemma and Megan are amongst the names bosses are keen to get.
"Producers wanted to do something fun and exciting to celebrate the tenth series and hopefully fans will love the two specials."
Did Gemma Collins appear on The Crystal Maze?
She sure did and her appearance was alongside her then-boyfriend Arg.
When is Gemma Collins' birthday?
Gemma Collins' birthday is 2nd February 1981, which makes her currently 39 years old.
What is Gemma Collins' net worth?
Hello! magazine report that, according to Spear's Wealth Management Survey, Gemma Collins' net worth is around £2.7 million. Considering the fact that she's been on TOWIE since 2011, has appeared on countless other TV shows, has two books, a clothing line, has featured in Netflix adverts and worked with Boohoo, it's hardly surprising. She also runs plenty of sponsored posts on her Instagram.
After appearing in Dancing On Ice, it was reported that Gemma was now charging an eye-watering amount for club appearances, with many publications reporting that she was charging a whopping £13,000 per hour. Swoon.
A look back at Gemma Collins' relationship history
Here's everything we know about Gemma Collins' relationship history...
Did Gemma Collins go on I'm A Celebrity?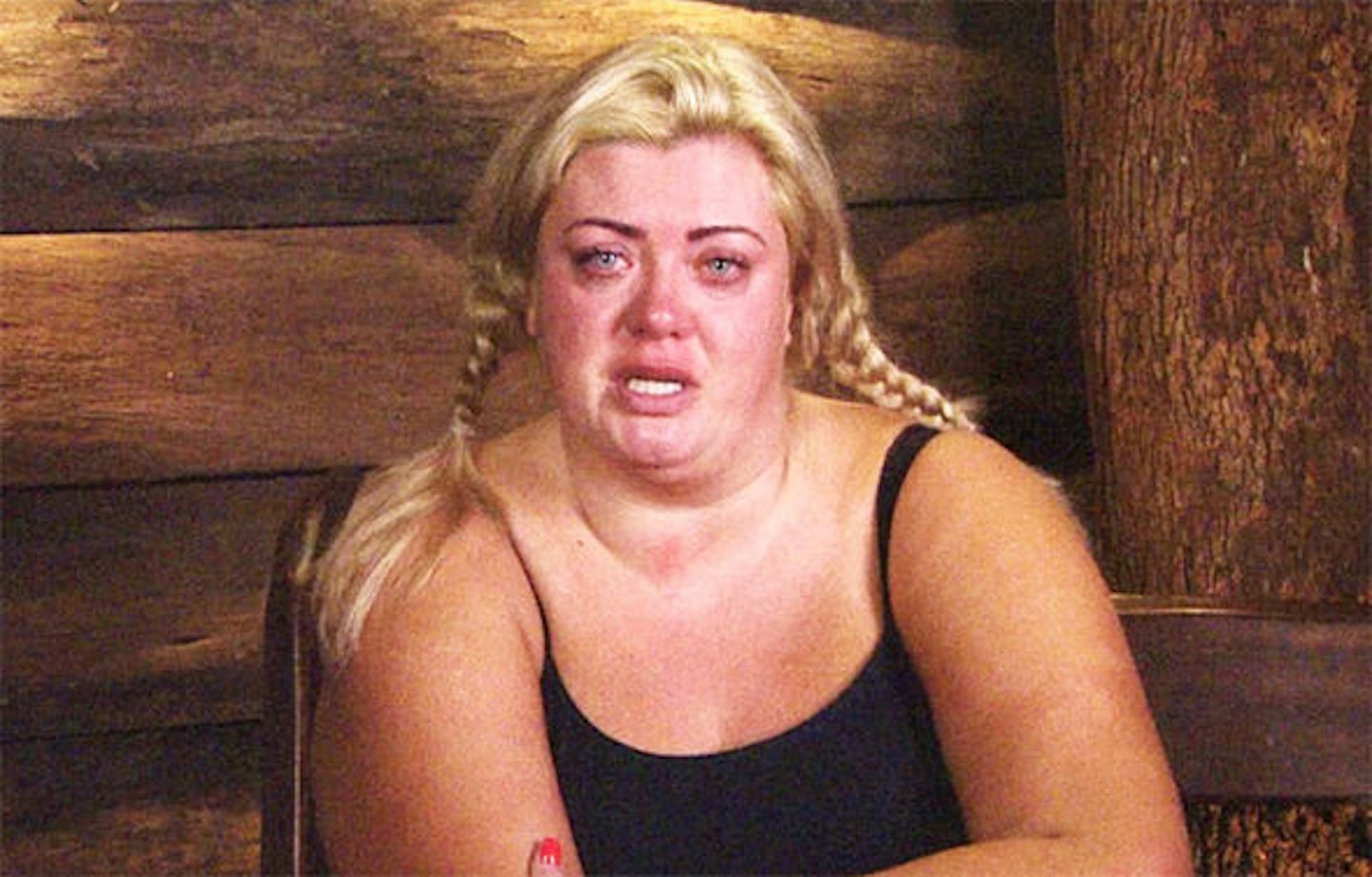 Gemma Collins did in fact go on I'm A Celebrity... Get Me Out Of Here! back in 2014. She infamously managed 72 hours in the Australian jungle before quitting the show.
However that might not be the end of Gemma's jungle experience, as she revealed in 2017 that she'd be interested in returning, telling Good Morning Britain, "Everyone wants to see me back and I don't want to disappoint anyone.
"I'm not going back into it this year, I've just had such a manic year and do you know what? Never say never. You never know, next year I might be in there but not this year, no."
Was Gemma Collins on The Real Housewives of Cheshire?
In February 2019, it was confirmed that the GC would indeed have a cameo on RHOC. While tucking into some pasta at Dawn Ward's Warford Hall mansion, the reality star explained on her Instagram Story, "So guys I am just having a little bit of spaghetti Bolognese.
"And I am doing something very exciting tonight. I am filming, just because I fancied a little rock up, turn up, roll on it. I am a huge fan of the Cheshire housewives. So I'm going to eat this, I'm going to rock up, and yeah, GC style - we're going to have some fun tonight."
Was Gemma Collins on Celebrity Big Brother?
Of course Gemma Collins went on Celebrity Big Brother - if there's an iconic British reality TV series, you can be pretty certain that Gemma Collins has probably been on it.
GC went into the CBB house in 2016, spending 29 day in the house and was the seventh to be evicted. The series was won by Geordie Shore's Scotty T, and Hollyoaks actress Stephanie Davis was the runner-up.
Check out: Gemma Collins' BEST Celebrity Big Brother moments
Gemma Collins' best Celebrity Big Brother moments slider with cover pic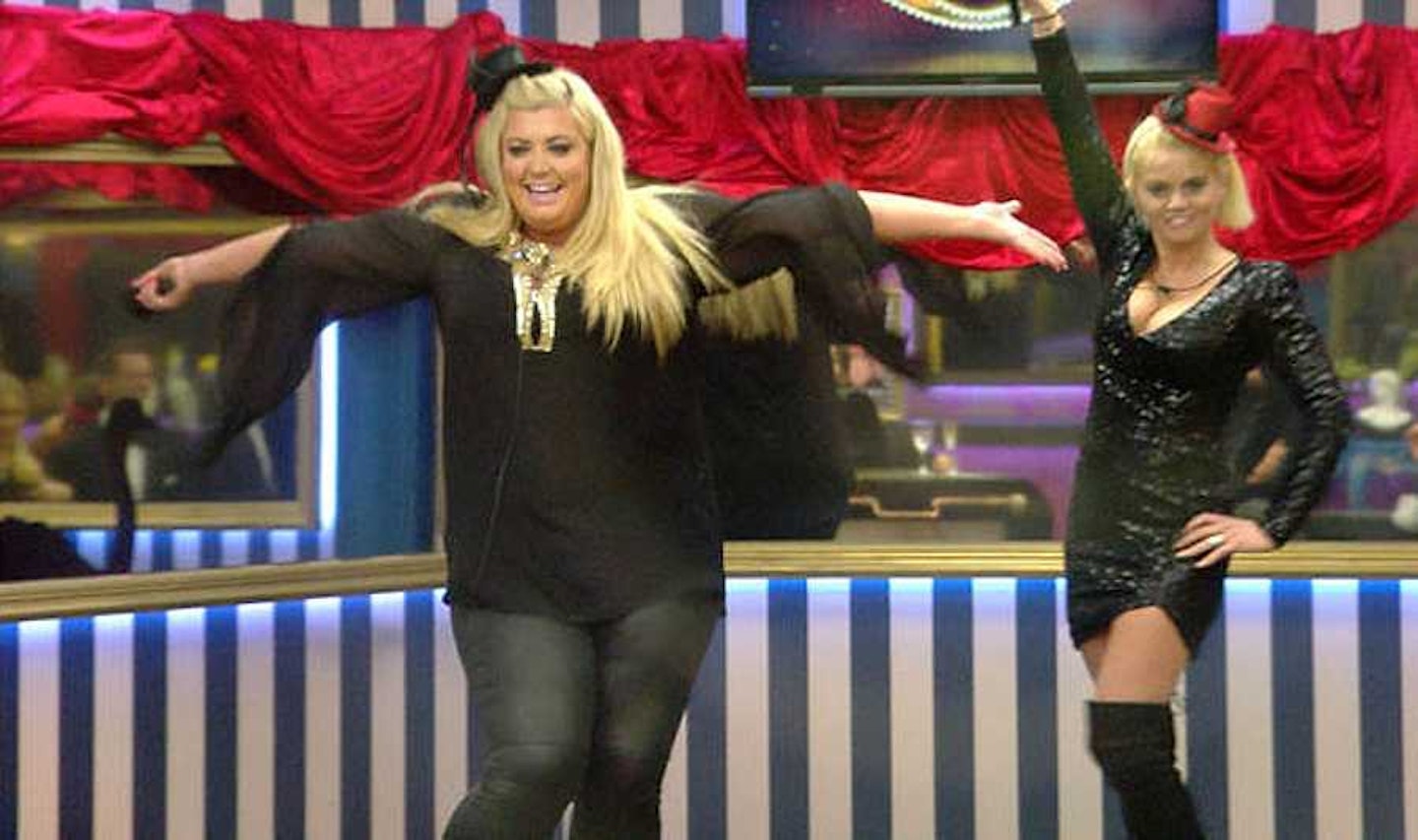 1 of 19
CREDIT: Channel 4
Swipe through to see Gemma Collins' BEST Celebrity Big Brother moments...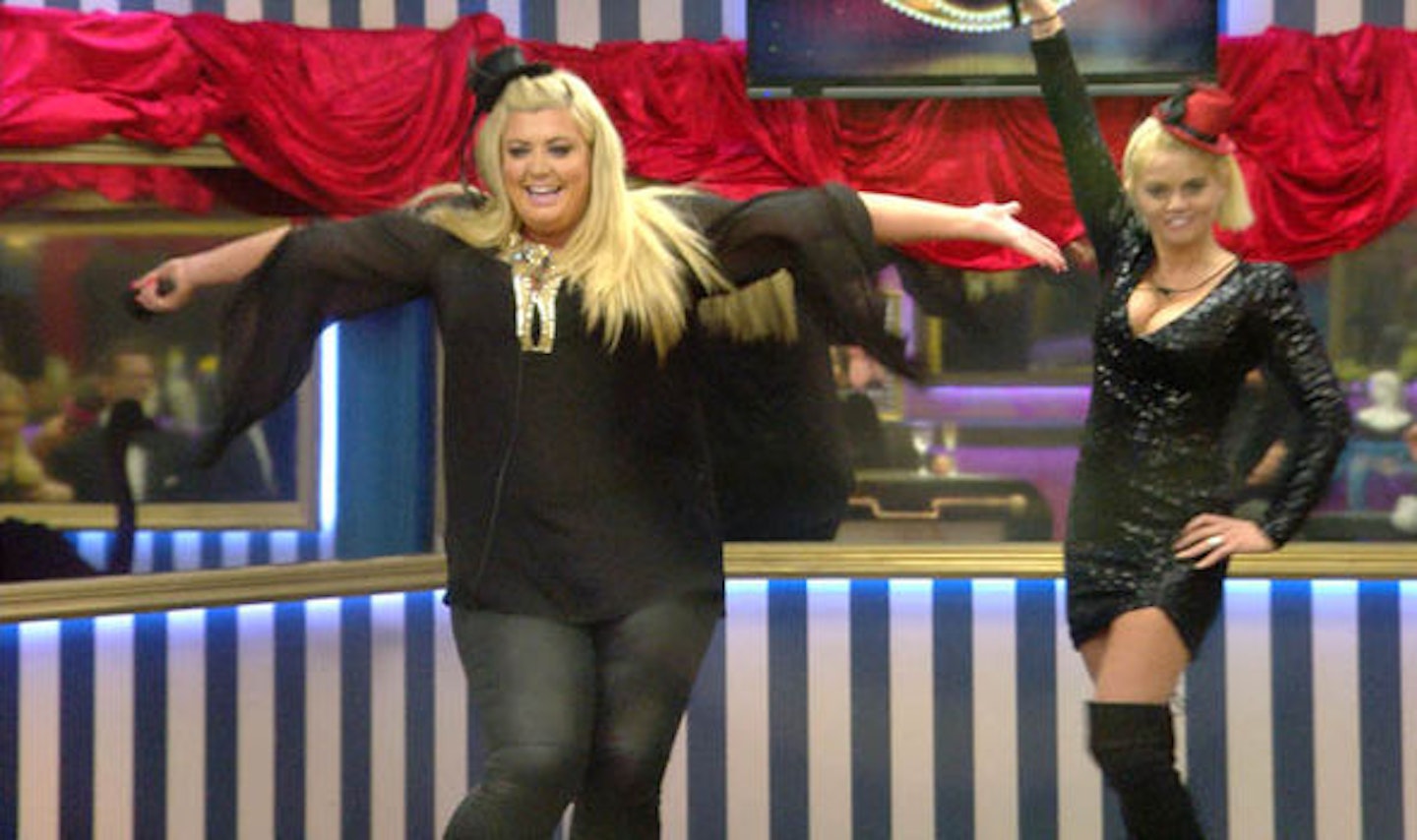 2 of 19
CREDIT: Channel 4
Wouldn't you like to have fun? Fun? Fun?
Gemma gave a roaring rendition of Shirley Bassey's Big Spender while wearing a mini top hat and straddling the table with Daniella Westbrook at her side. Jonathon Cheban, who had recently heard (and smelt) Gemma's fart in the house, had this to say: "I've only heard you fart" but "what came out of the other hole was good".High praise indeed.LOL Level: 7 (she could have given it some more jazz hands)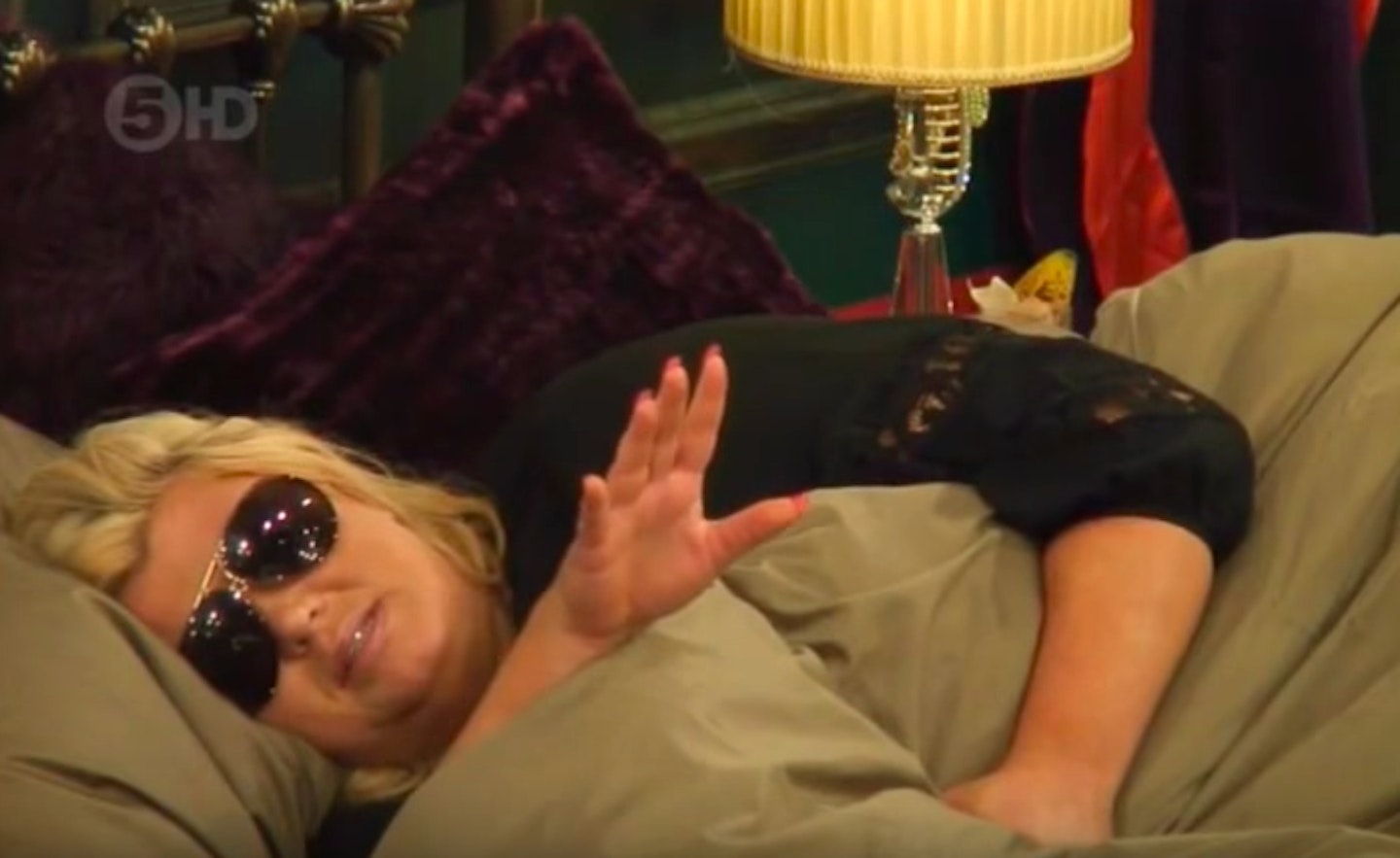 3 of 19
CREDIT: Channel 4
I don't wanna play any more games
Gemma declared she was 'fcking gamed out' and described the tasks as 'having a job and working 24/7 for two days on the trot.' It didn't seem to bother her that every other person in the house was happy to get on with challenges in order to get food. She broke down in tears over this numerous times. LOL Level: 7 (only The GC could have the sheer audacity to try and get sympathy for 'working')**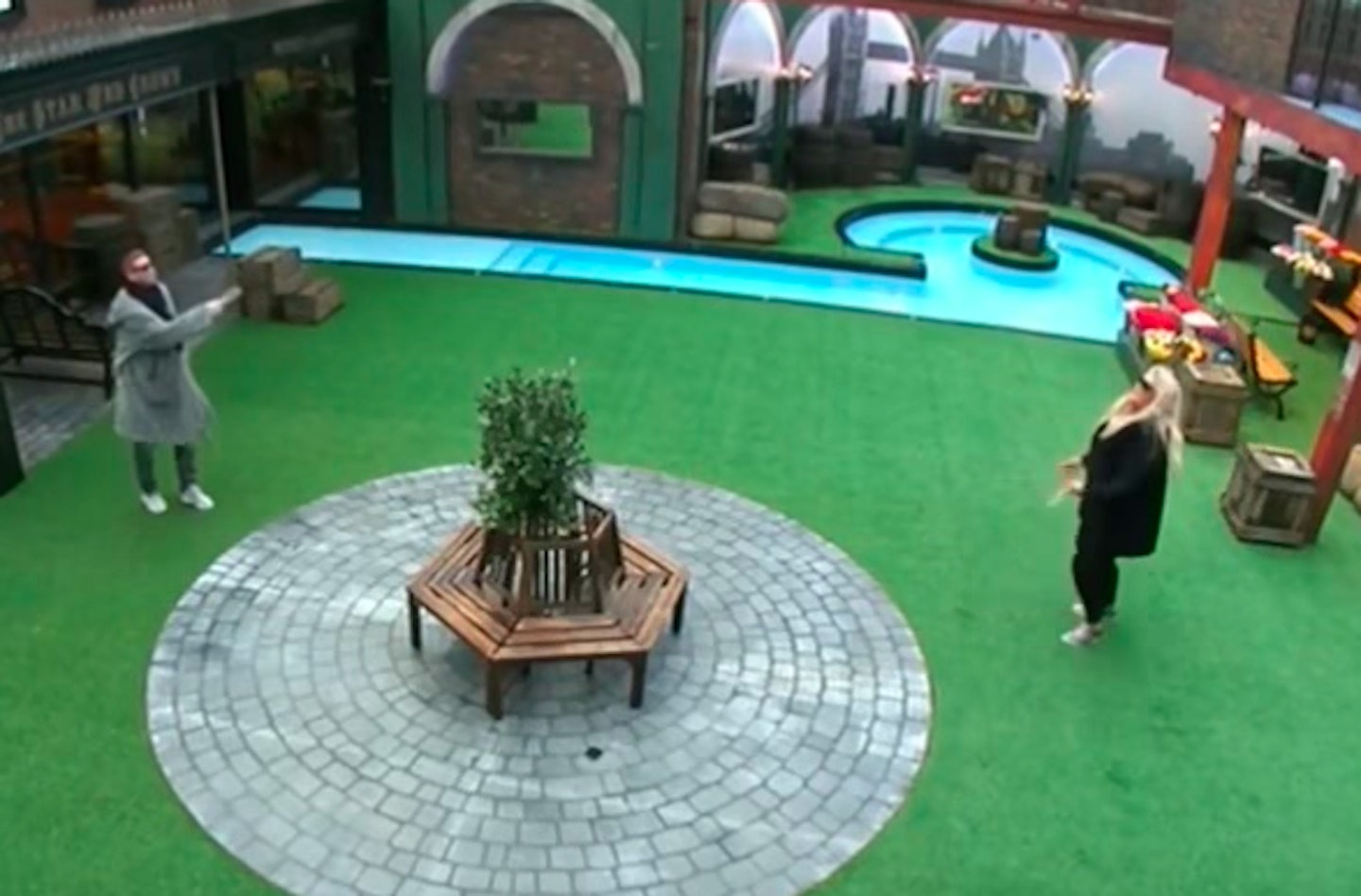 4 of 19
Christopher and Gemma are playing with a lemon in a sock
A neat observation of such a pure and simple act of two bored housemates trying to pass the time with a an item of clothing and a piece of fruit. Maybe that lemon is what ended up causing such bitterness between the pair.LOL Level: 8 (excellent voice over work from Marcus Bentley)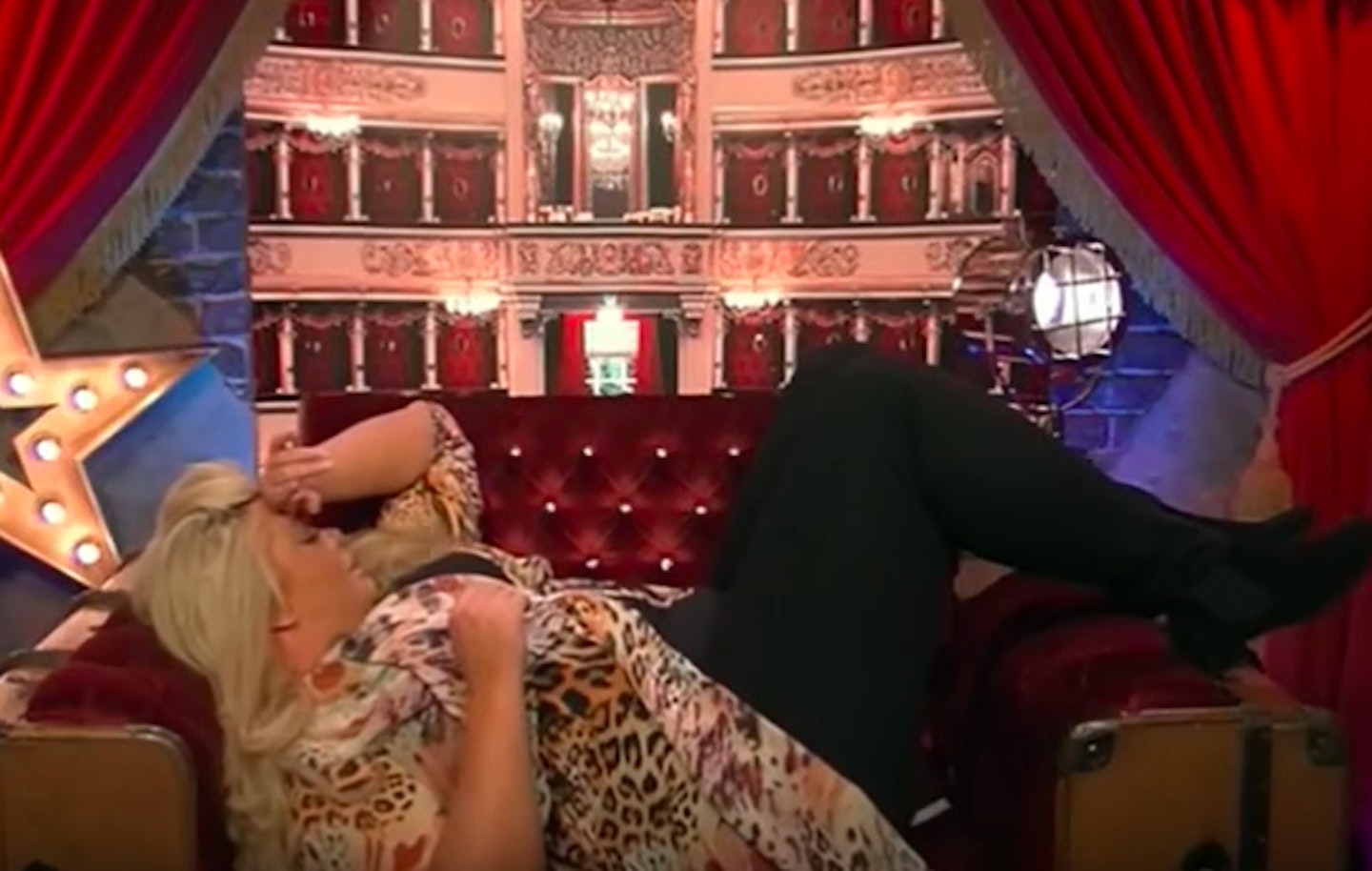 5 of 19
I just want my life back
Taking part in tasks proved so traumatic for Gem, that she broke down in the Diary Room demanding to have her old life back. She said she didn't want to take part in another task 'just to win a bit of smoked salmon'. Stand your ground, Gemma!LOL Level: 6 (we kinda wanted her to just get a grip at this point, right?) But wait, she wasn't finished just yet...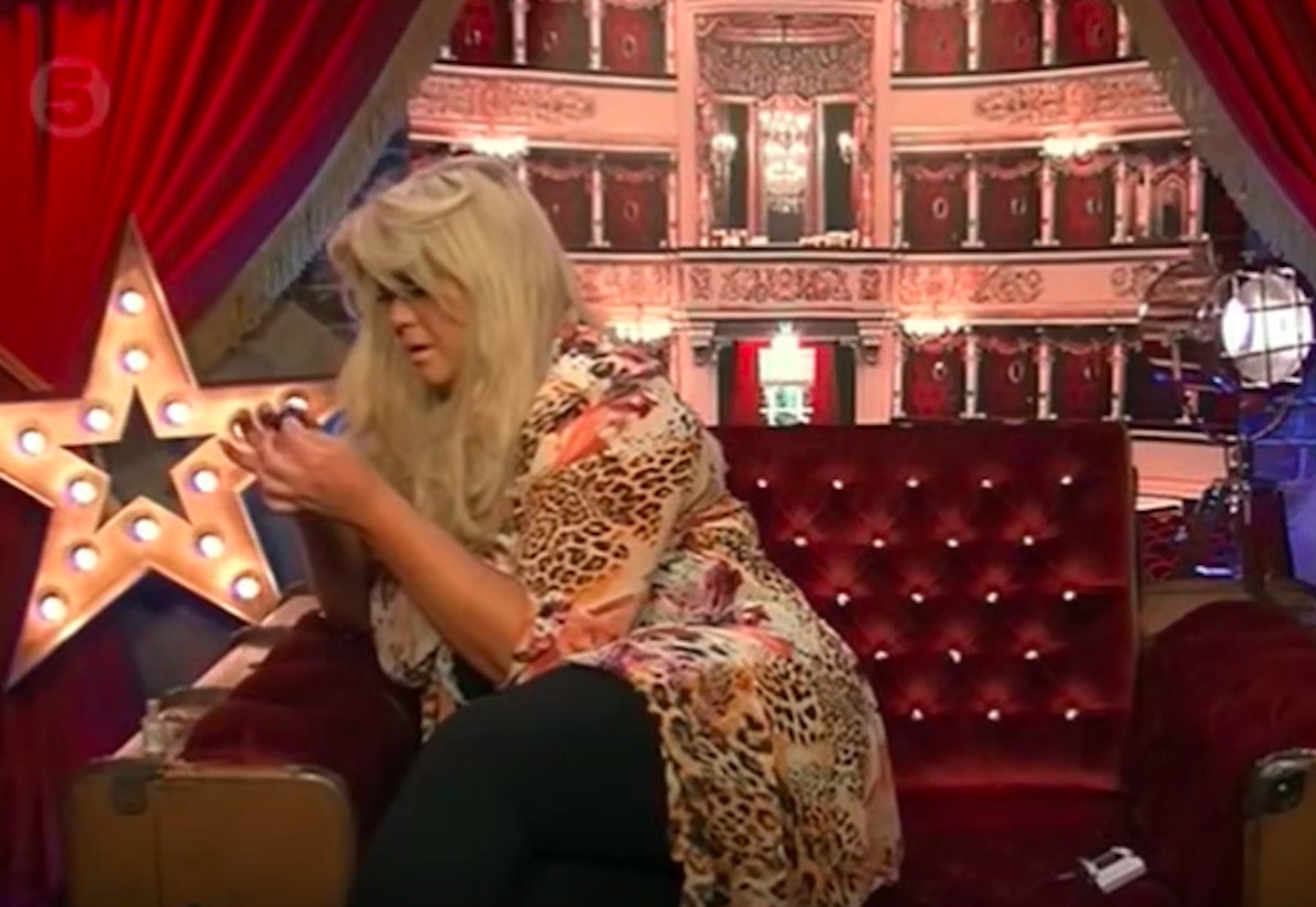 6 of 19
CREDIT: Channel 4
Straighteners are what f**cking weirdos use on their hair
Gemma continued complaining in the Diary Room, this time about how the house was ruining her expensive hair extensions because she couldn't use heated rollers. She whimpered: "The f**cking hair is frazzled."LOL Level: 9 (it was all just too much for EVERYONE at this point)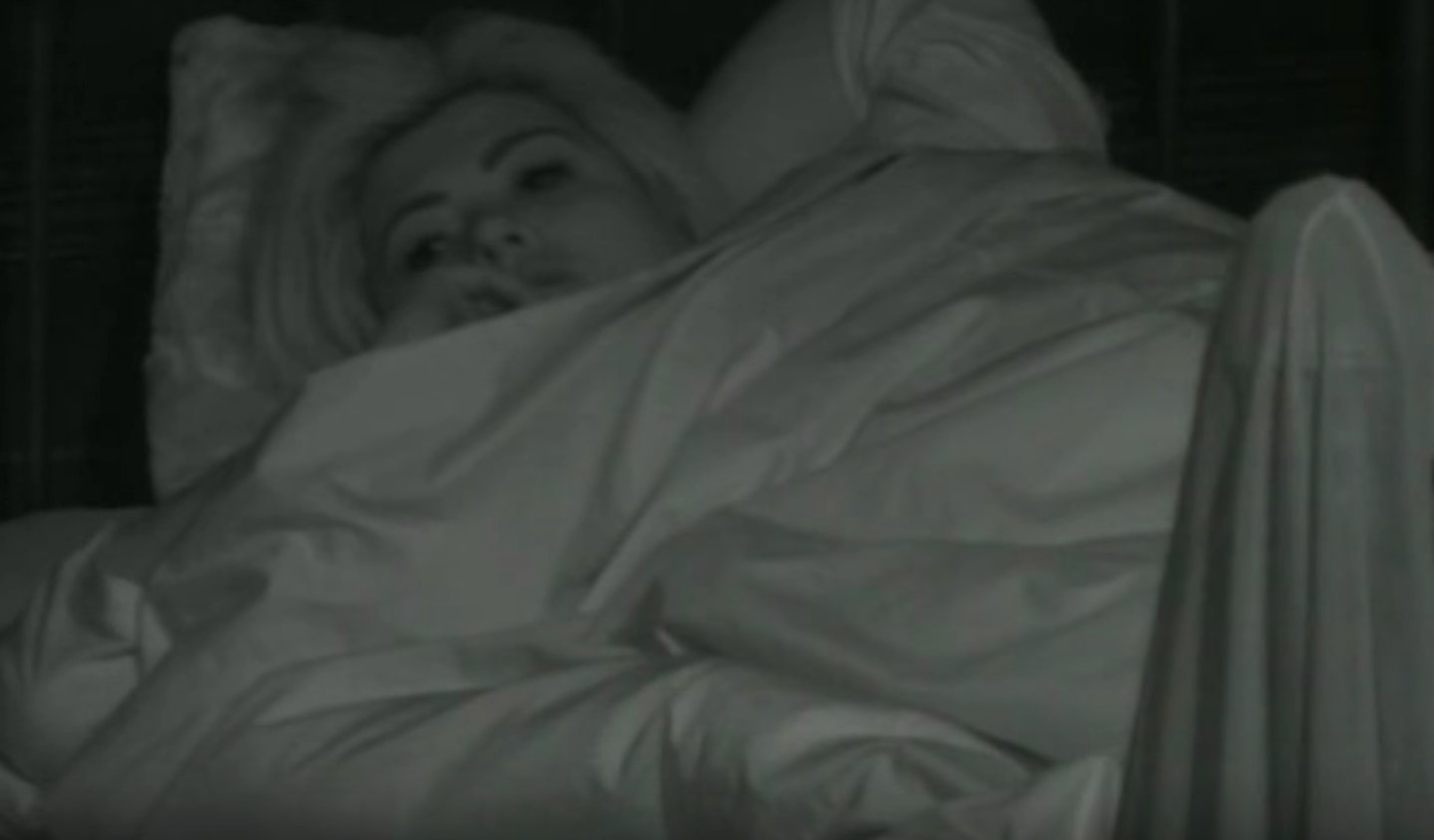 7 of 19
CREDIT: Channel
Gemma thinks she has seen a ghost
More fantastic commentary from Marcus Bentley. Gemma freaked out when she thought she saw a ghost. She clambered out of bed and said: "F**k this, I'm outta here."LOL Level: 8 (get The GC on Most Haunted, pronto)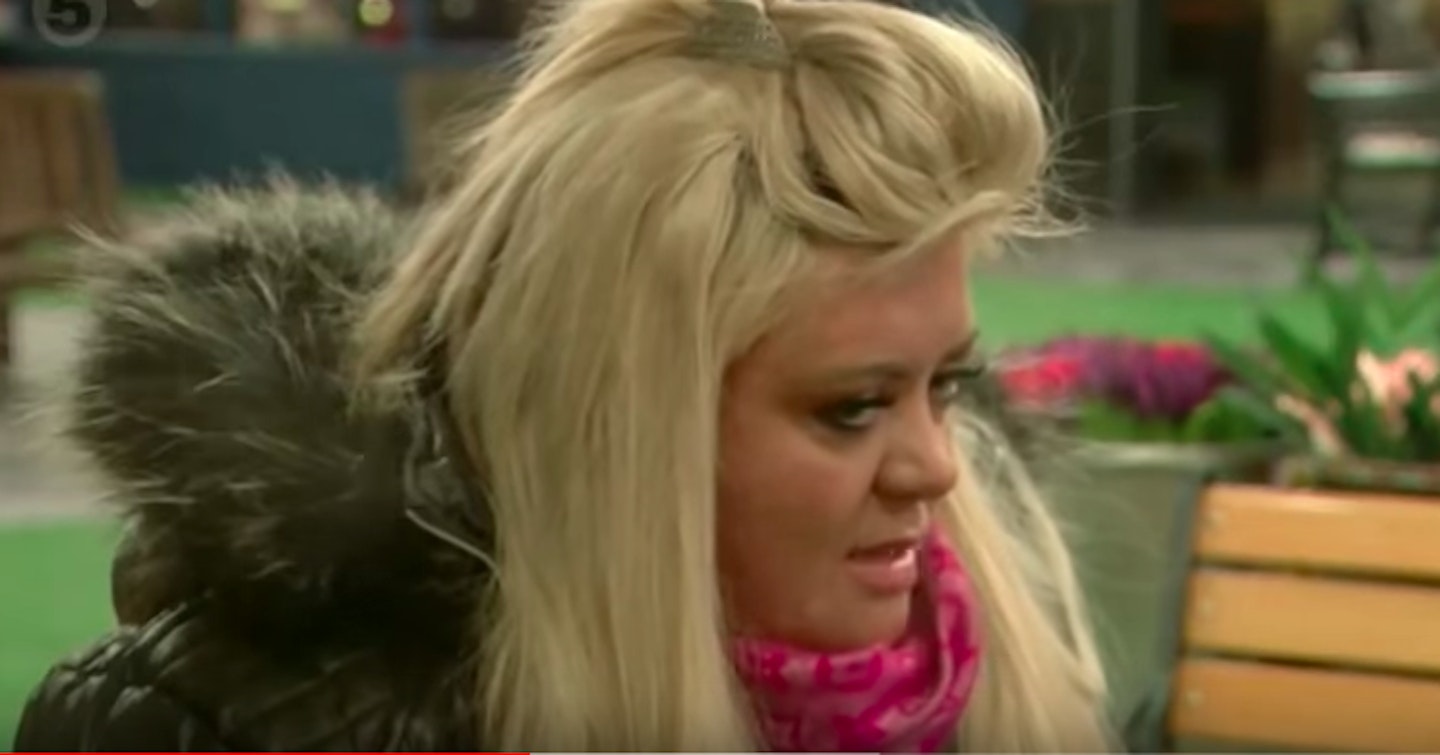 8 of 19
Sometimes I do wish that I had someone who's very financially stable
Gemma confided in Tiffany Pollard that she 'just wants a rich man to look after her and to have kids with' (OK, it's not very 'woke', but we've all been there after a bottle of wine following a bad breakup). She was ALL of us when she called life 'a long slog'. LOL Level: 7 (well we didn't know whether to laugh or cry - it's weird seeing The GC in a vulnerable state)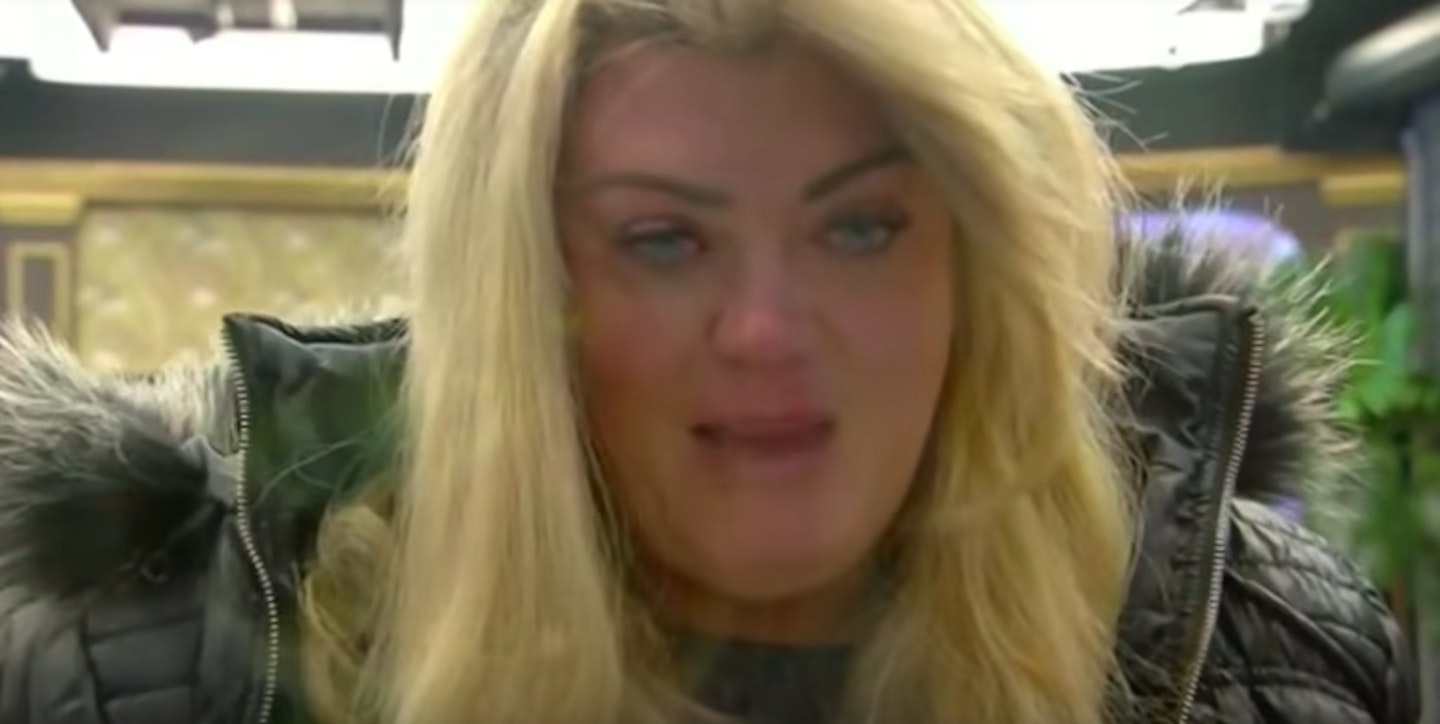 9 of 19
I'm 100% pregnant
"I know it, I know it, I know it" - Gemma was convinced she was pregnant and she even said she could 'feel it'. She told Tiffany she was 'sort of excited but scared'. We were just all confused as Tiffany basically encouraged Gem into believing that she was actually pregnant. LOL Level: 9 (WTF was going on here?)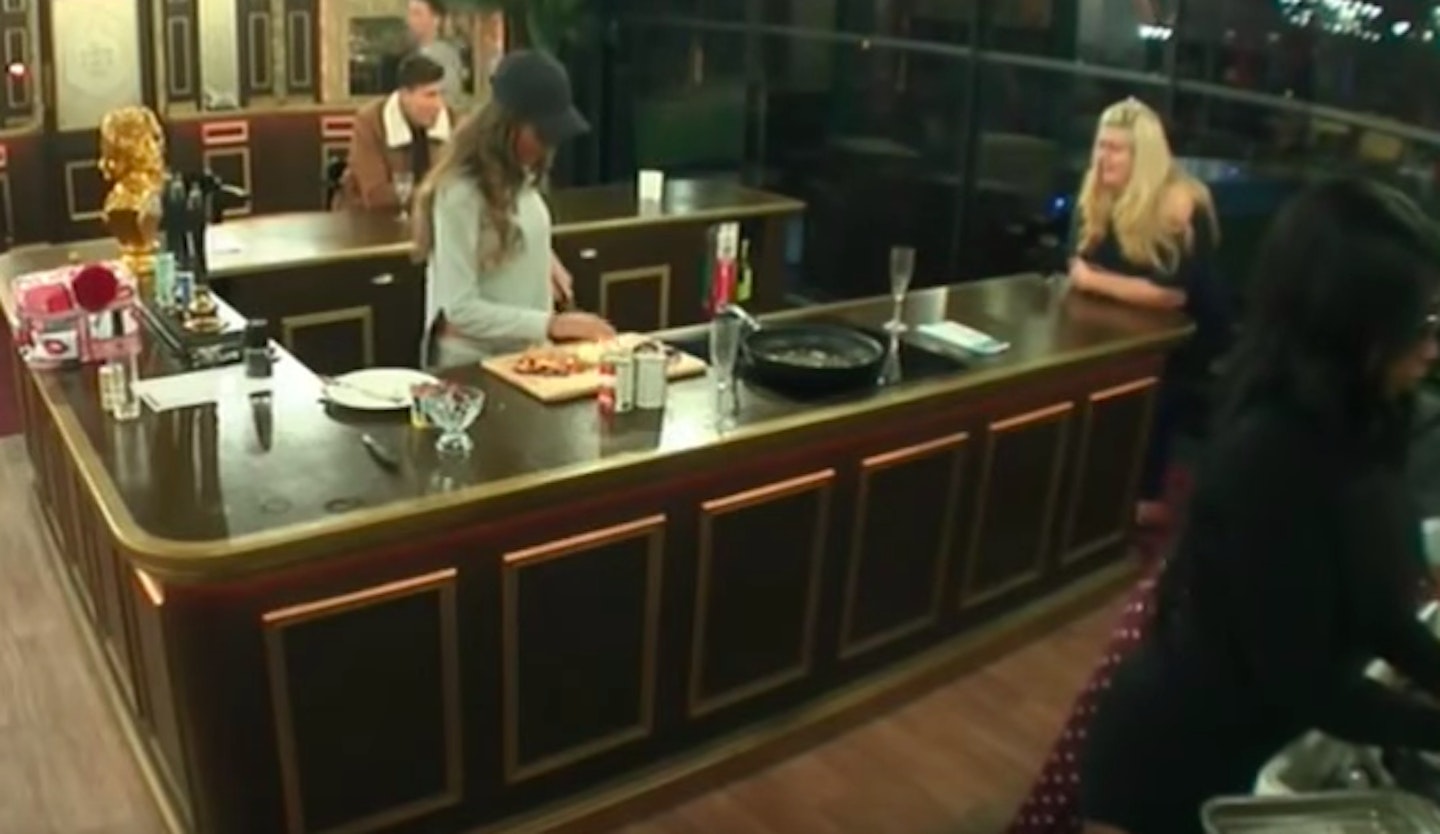 10 of 19
CREDIT: Channel 4
Gemma has found out she's not pregnant after all
Seriously, can the queen please reward Marcus Bentley an OBE for services to TV voice over work?Gemma was relieved she wasn't pregnant because she's 'too busy' to deal with a baby anyway. LOL Level: 8 (one short line, lots of laughs)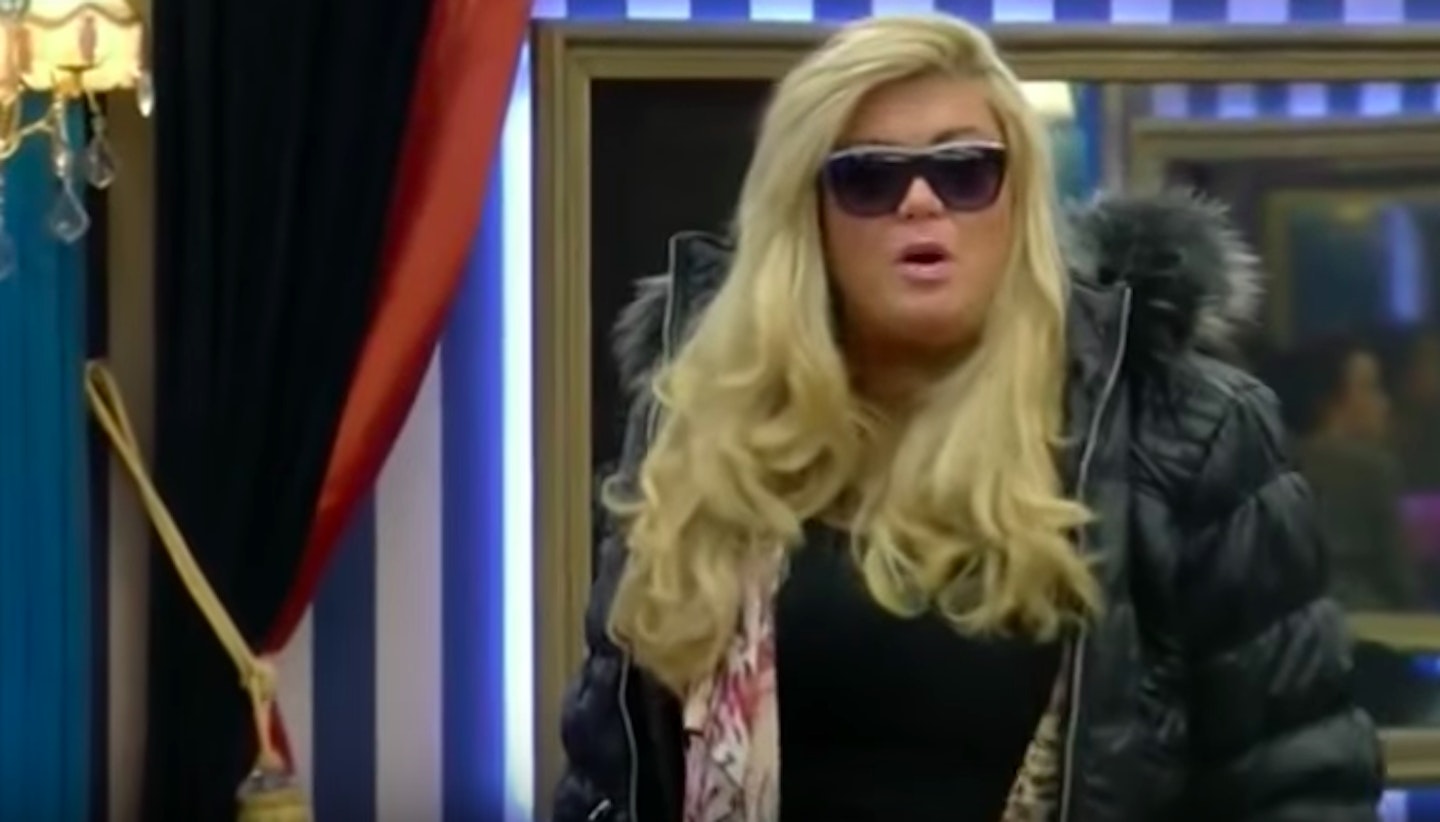 11 of 19
CREDIT: Channel 4
Gemma, ya silly c**t
GIF GOLD, RIGHT HERE. Need we say more. LOL Level: 10 (for all the many LOLZ it gave us in the GIFS that came afterwards)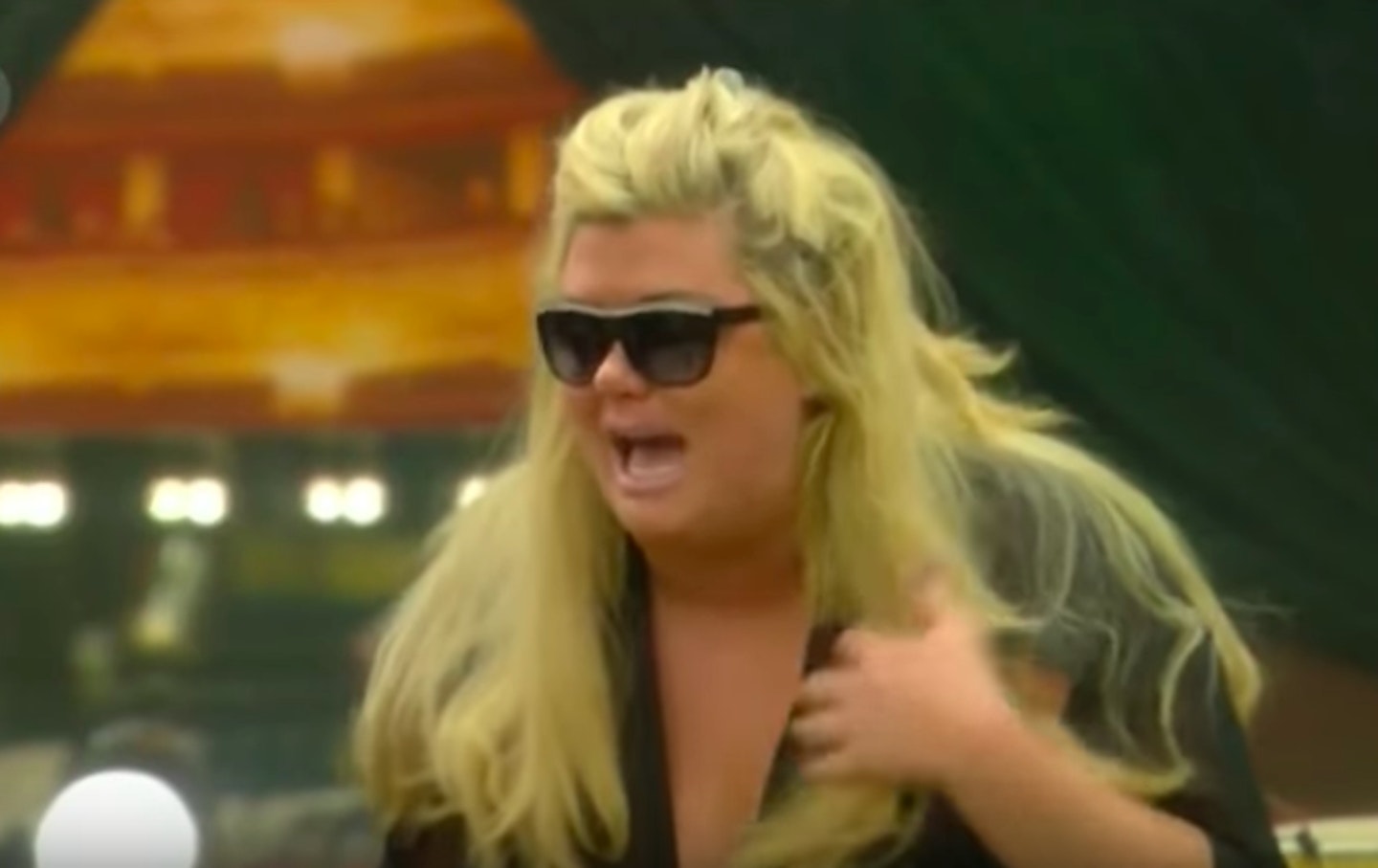 12 of 19
I'm claustrophobic, Darren
Another day, another point-blank refusal to take part in tasks for the house. She then threatened to walk out (again) and shouted: "I don't need the money, I've got money." Gemma explained to Darren Day that the reason she wouldn't take part in this specific task is because she's claustrophobic. LOL Level: 8 (we've never seen someone be so offended by being asked to take part in constructed fun)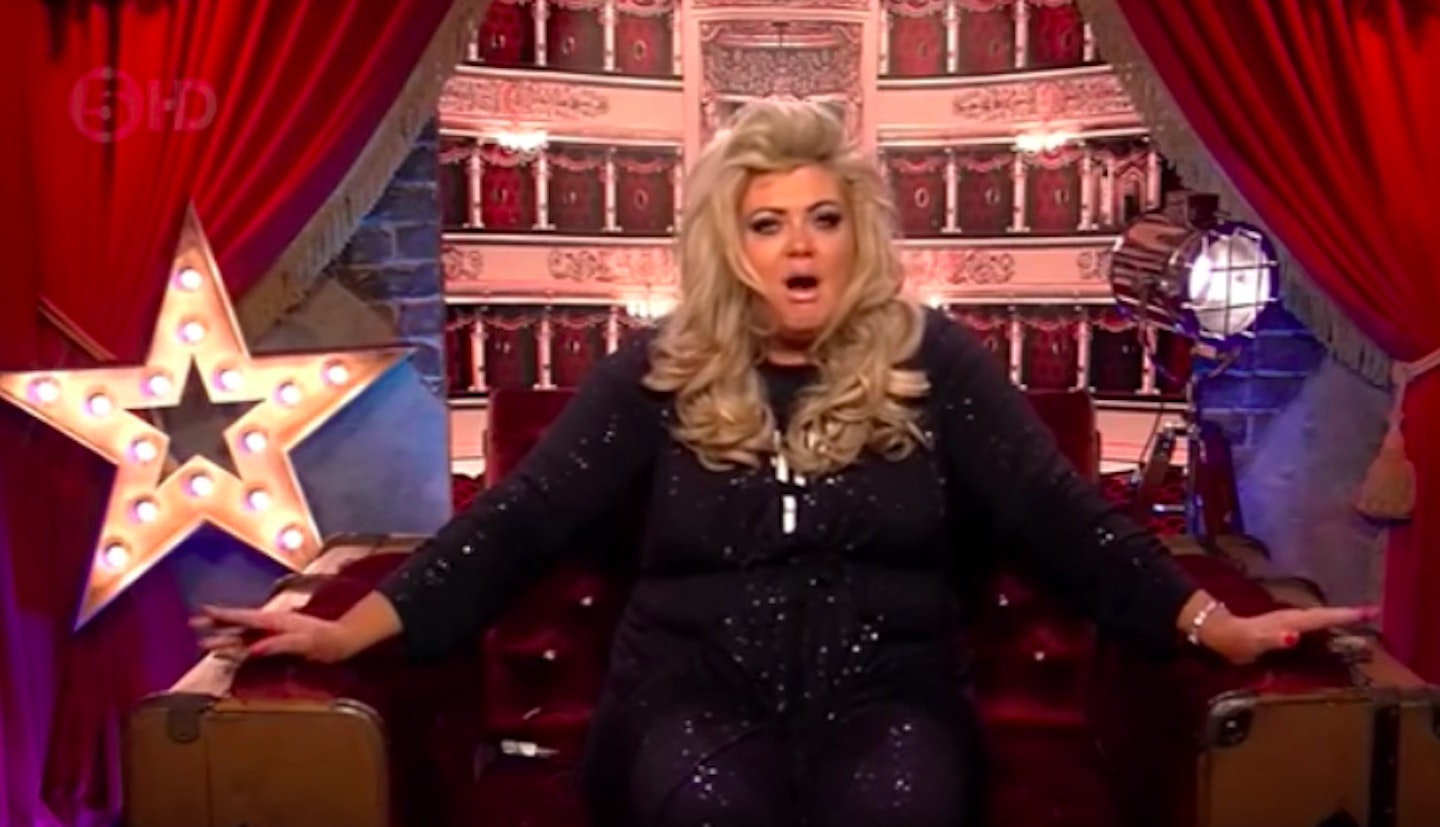 13 of 19
CREDIT: Channel 4
I've never seen gruel before in my life
That's fair enough - we prefer a bowl of sugary cereal or a cheeky croissant on a slow day for breakfast, too. But Gemma didn't even realise gruel is a real food that people still eat. She thought it was made up by Charles Dickens in Oliver Twist. LOL Level: 5 (we don't expect many people on TOWIE eat much gruel TBF)
14 of 19
CREDIT: Channel 4
I don't need any cheap clothes or cheap makeup, honey
MEOW. This time, Stephanie Davis was in the firing line of the GC's wrath. Steph had offered to give her clothes and makeup in exchange for taking part in the task. But Gemma refused and said: "To see you suffer would be lovely darling".LOL Level: 5 (she was borderline nasty here)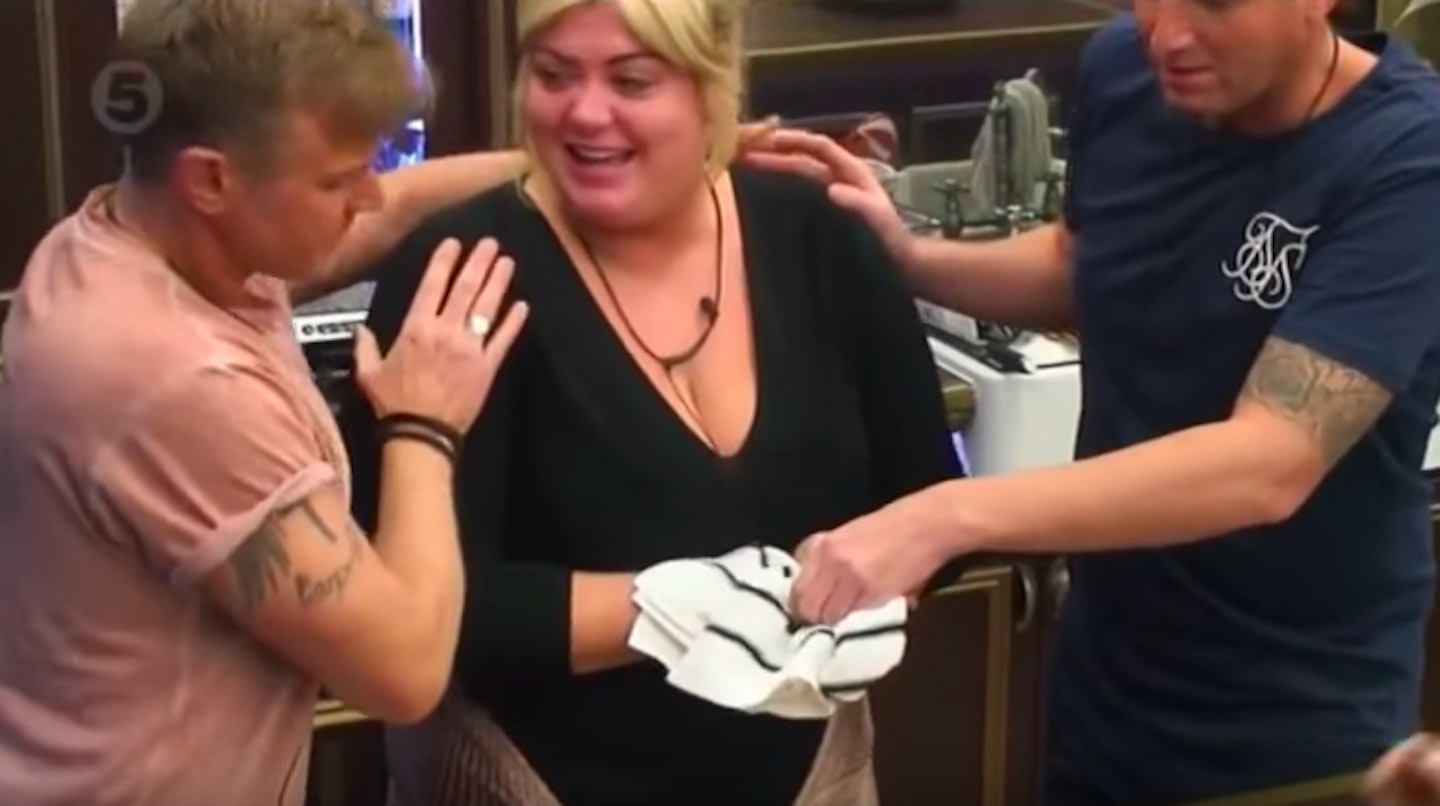 15 of 19
CREDIT: Channel 4
Am I gonna die?
The one time Gemma did offer to help around the house, she cut her finger 'to the bone'. But being the trouper that she is, she said she'd carry on.LOL Level: 8 (the one time it would have been understandable to cry, and there she was laughing her head off)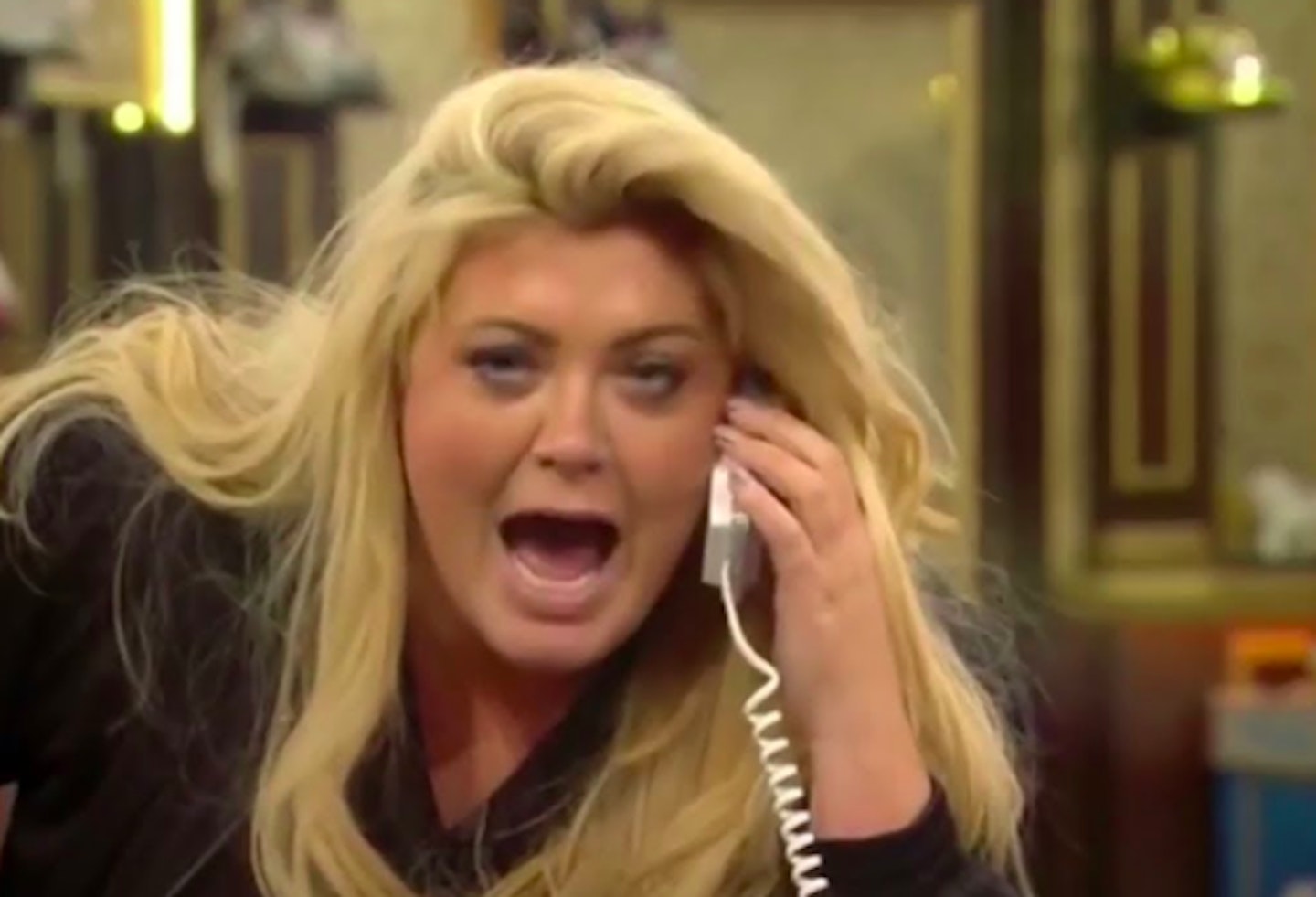 16 of 19
CREDIT: Channel 4
F**k off Gillian McKeith
More meme gold when Gillian McKeith kept ringing Gemma on the house phone. She told the house that Gillian was 'just talking sh*t'.LOL Level: 9 (we don't know why this is so funny, it just is)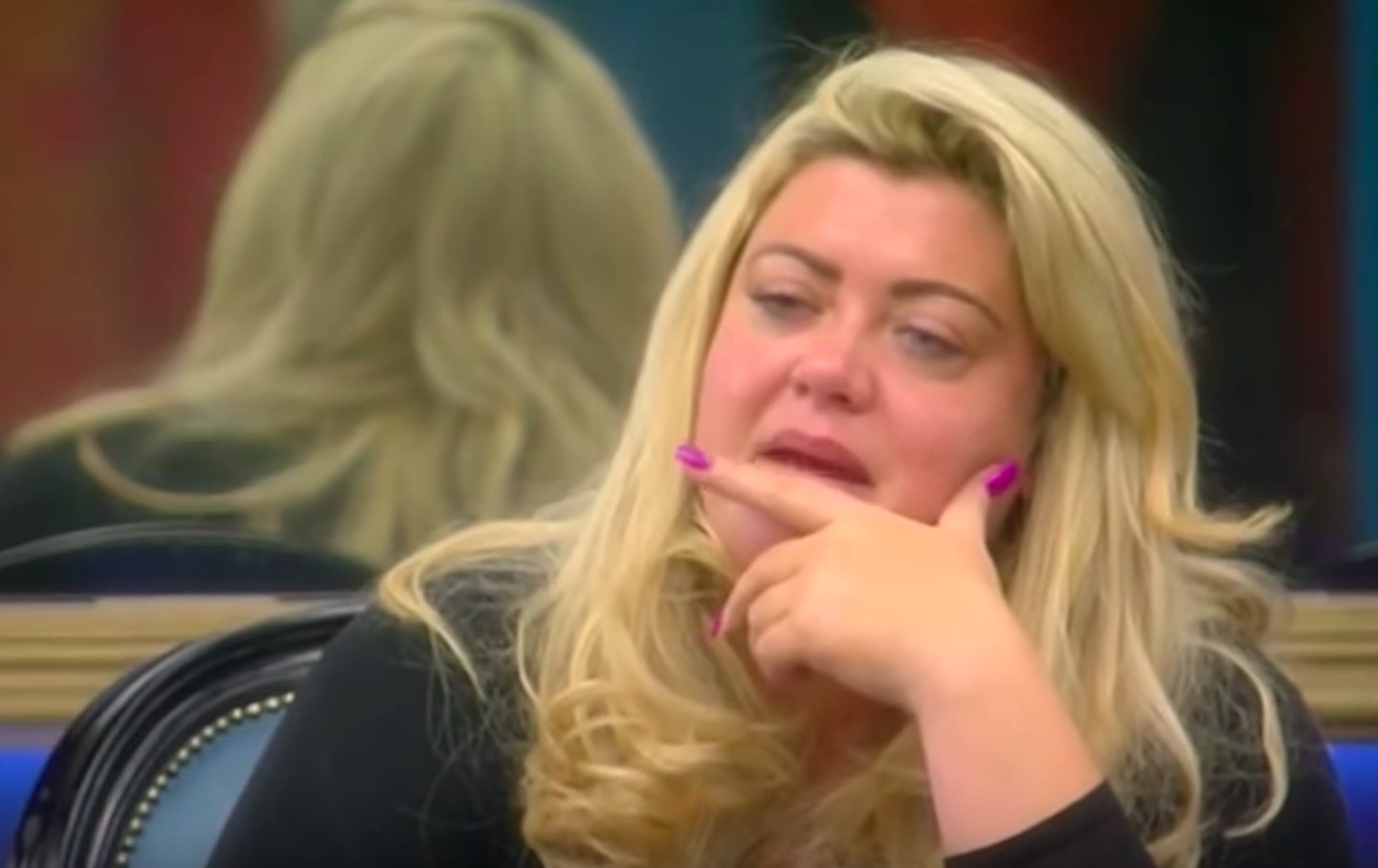 17 of 19
CREDIT: Channel 4
This has been like camping for me
Darren Day tried to get all deep and 'this has been an amazing experience' but Gemma quickly gave him a reality check by comparing the Big Brother house to a camping trip.LOL Level: 6 (it was time to just get The GC outta there)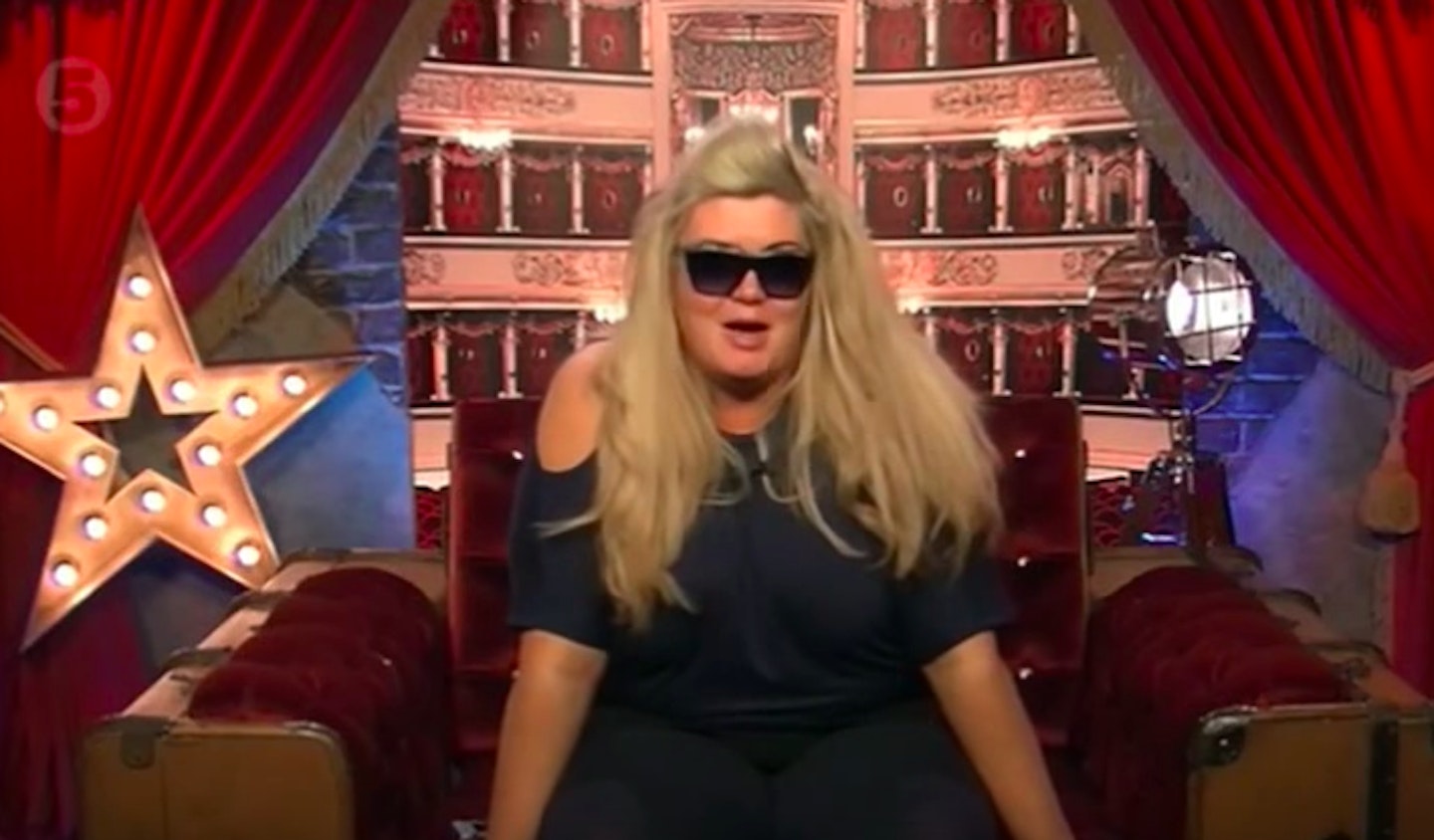 18 of 19
CREDIT: Channel 4
Kiss my designer vagina
In the speech to end all speeches, Gemma said: "I am as I am and I ain't gonna apologise for it or make no excuses about it. Kiss my designer vagina."LOL Level: 10 MIC DROP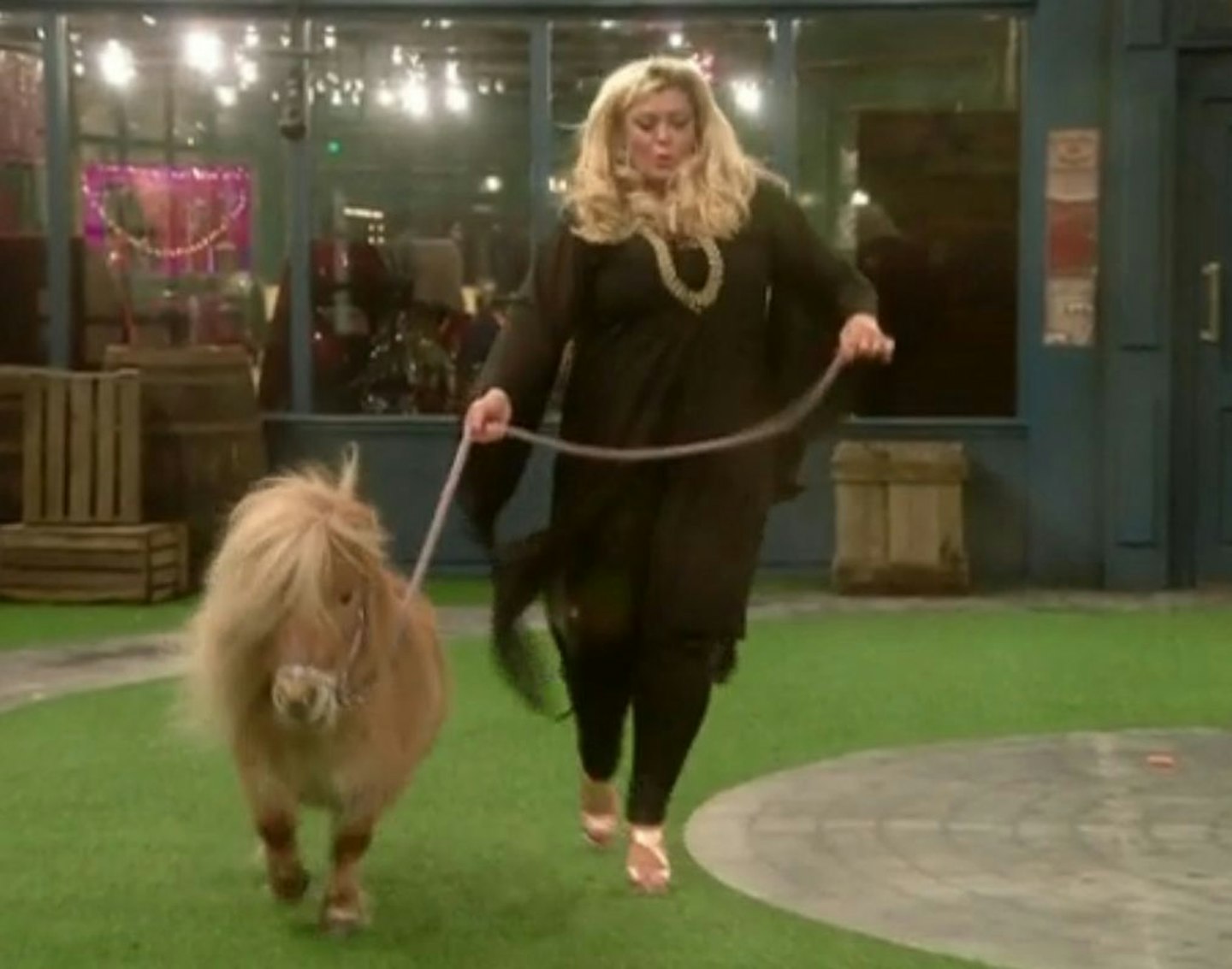 19 of 19
CREDIT: Channel 4
I'd love a little unicorn
This is the moment Gemma met Tony the pony. Gem and her Shetland went for a little trot around the CBB garden and it was a moment of pure TV joy.LOL Level: 8 (it was weirdly beautiful, really)
Gemma Collins memes
Gemma Collins became the Queen of Memes (or mem-ays as she likes to call 'em) sometime in 2017 - most probably thanks to her appearance on Celebrity Big Brother that year. You can see the very best collection of Gemma Collins memes here.
WATCH: 'You're A Liar, Don't Speak To Me Again!' 😧 | TOWIE's Chloe Brockett Unlocks Her Phone
Gemma Collins' biggest TOWIE moments
We've gathered Gemma Collins' best EVER TV moments here - ENJOY.
Gemma Collins' music career
Back in 2019 there was speculation that Gemma could be collaborating with producer Naughty Boy for a Christmas Number 1 after she revealed the news on The Jonathan Ross Show. Naughty Boy himself then confirmed the reports in a tweet.
Gemma said, "Do you know Naughty Boy, who done Running with Beyoncé? He wants to make a track with me. I met him at the BRITs, it's all going ahead."
He wrote in confirmation, "Oh it's happening 😊 @missgemcollins has a beautiful voice.. watch this space people.. #2019 #ballad #christmasno1 💛 @ITV."
This comes after she took part in All Together Now in December 2018, singing a cover of 'Big Spender' on TV show All Together Now. And yano what? She was pretty darn good.
However, plans for the Christmas single were dropped after Gemma revealed they were both too busy to finish the song. Instead, she said they're releasing a summer banger but nothing ever happened.
Gemma has since released a cover of Baby It's Cold Outsidealongside CBB co-star Darren Day.
Did Gemma Collins present Love Island?
Back in 2020, Gemma's name was thrown into the ring as one of the new presenters, alongside Laura Whitmore and Maya Jama.
Speaking on Lorraine, she said, "Lots of people want me to do Love Island and I was trending on Twitter."
However, Gemma admitted she had not been asked to present the show, instead adding, "Would I be a Dancing on Ice judge, maybe one day… Definitely, if I got the call, why not? But you know what it's like in TV… you have to wait your turn."
Where is Gemma Collins' shop?
Gemma Collins' boutique is in Essex, on Ropers Yard. Although she has an online shop, Gemma wanted to branch out into stores, and wrote on her website, 'As well as my online shop, I also have a boutique in Brentwood!
'Why not pop in and see what exclusive items we have in store with great discounts. I am often working in the shop offering free styling consultations for all my Gemdolls, so why not come in and let me and my team help.
'We stock a wide range of items from dresses, tops, coats and winter wear. We offer wide range of sizes from 16 to 28, helping you all to look fabulous! Can't wait to meet you all.'
Gemma also has a second boutique in Marbella, named Candy G.
Gemma Collins tattoo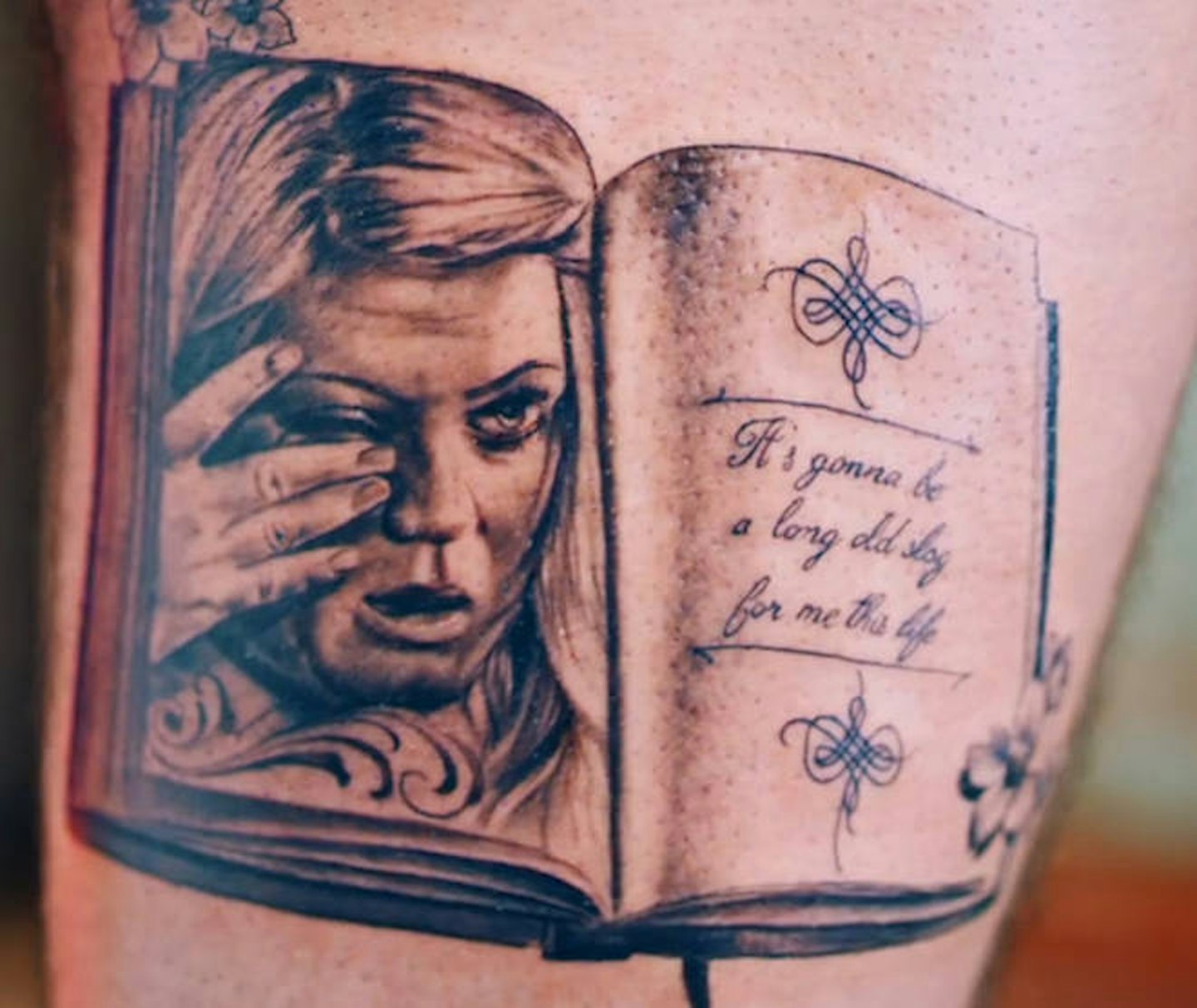 As far as we're aware, Gem doesn't have any tattoos herself - however, she's got a pretty serious superfan out there who has not one, but TWO GC-inspired tats. Appearing on Tattoo Fixers Extreme in January 2019, fan Billy revealed that he had a GC quote on his chest reading, 'Get that fire exit door, I'm off!' from her time in the Celebrity Big Brother house when she was convinced she'd seen a ghost.
He appeared on the show to get another Gemma tattoo, this time having her FACE inked on his leg with yet another quote, reading, 'It's gonna be a long old slog for me this life.'
Does Gemma Collins have Twitter?
Gemma can be found on Twitter using the handle @missgemcollins.
Does Gemma Collins have Instagram?
She sure does and can be found on Instagram at @gemmacollins1.