Although he was unlucky in love in the Love Island villa, following his failed romance with Casa Amor bombshell Amy Day, things were looking up for former PE teacher Hugo Hammond early last year when he went public with his Team GB athlete girlfriend Molly Wilkins.
Sadly, things weren't meant to be, and Hugo and his love life characteristically vanished from our radar for a few months. Boo.
That is UNTIL he did what most of our lovesick Islanders do in these circumstances and teased a brand new relationship on his TikTok to his hundreds of thousands of followers OUT OF NOWHERE.
This week, the Love Island 2021 star posted two TikToks revealing his gorgeous new girlfriend to his followers; a girlfriend who just so happens to look like a former Love Islander from his very own season, btw. One video showed the pair at Melbourne Fashion Week, the other showed the couple before and after a BNO.
And when we say 'looks like' we mean she's the bloomin' doppelgänger of a Love Island 2021 blonde bombshell that our Hugo was once involved with and TikTok literally cannot stop calling it as they see it.
One follower wrote, "Chloe Burrows dupe."
Another commented, "😳 Literal twins with Chloe."
A third commented, "Not me thinking this was Chloe 💀."
To clarify, Hugo's new flame is definitely not 2021 fave Chloe Burrows; she is in fact Love Island Australia series four star Layla Ruby John. Yep, the pair have gone and done a Jessie Wynter and WIll Young on us, proving that there really are endless possibilities within this unpredictable Love Island multiverse.
Although Hugo and Layla have not 100 per cent confirmed their blossoming romance (which appears to be taking place in Australia for the time being), Layla has gone all Instagram official with Hugo after posting a picture of the pair together on her grid. Hugo then did the next best thing by appearing to nod to the new relationship while throwing shade at a former flame on TikTok.
One of his mates commented on his most recent video saying, "Shock Hugo ends up with a blondie 😏", to which Hugo responded, "Blondie not fake amirite 👀😂." Ouch. We don't need to connect the dots here do we?
Who is Hugo Hammond's ex-girlfriend Molly Wilkins?
Hugo and Team GB triathlete Molly put on a series of Instagram PDAs during a romantic getaway to Mallorca in June 2022. Molly even Molly posted a loved-up snap of the pair at dinner with the caption, "All my eggs in one basket ❤️🏝," but fast forward a couple of months and the relationship was no more.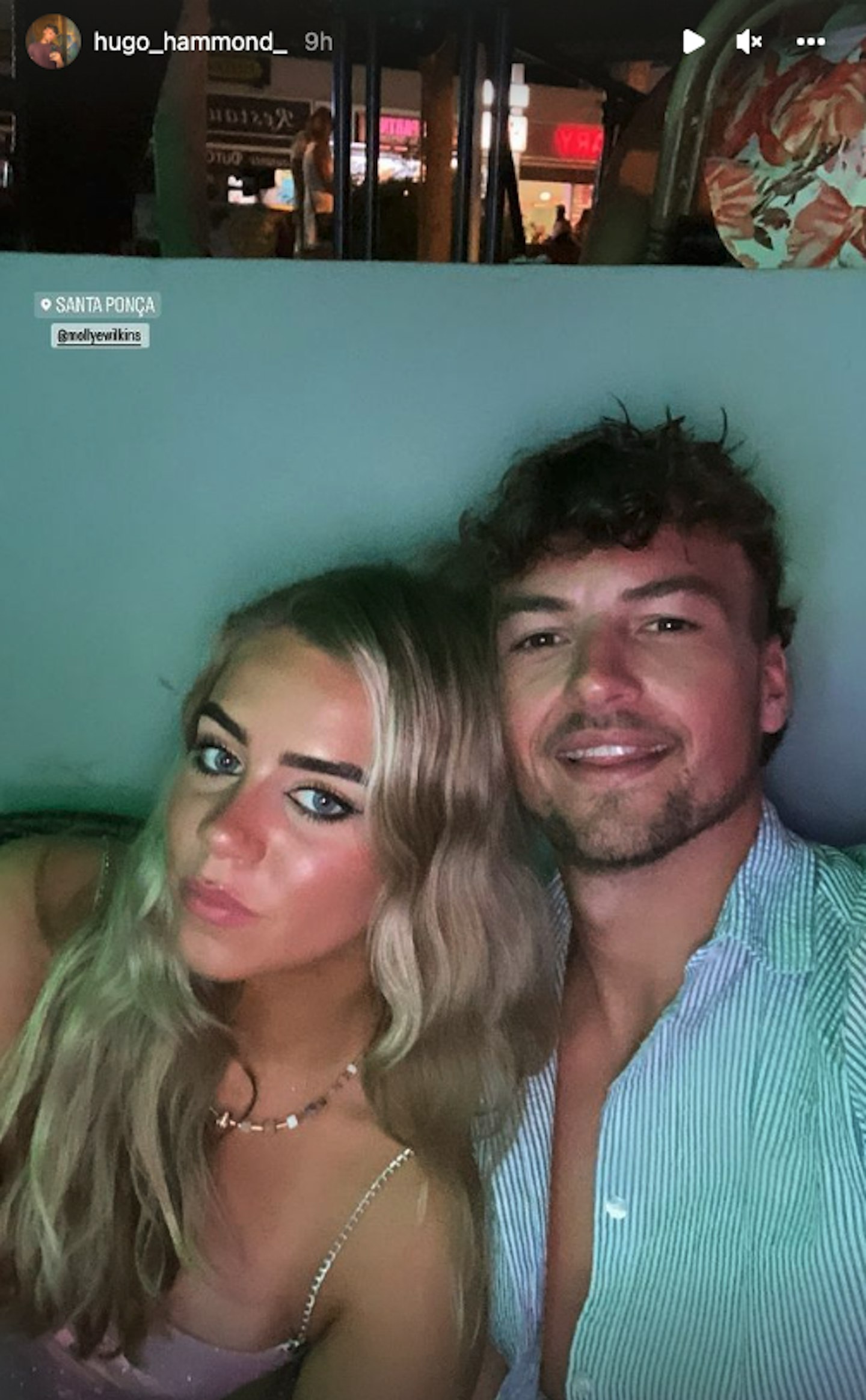 Not only did Molly appear to confirm they're no longer an item in a TikTok video, but she also accused Hugo of cheating on her.
Molly grimaces in the video as the words "how did you find out he was cheating on you?" appear on screen before she replies with, "in a comment on a TikTok video."
Although Hugo wasn't mentioned by name in the video, the post was captioned with the hashtags #hugohammond and #hugone.
Hugo and Molly have also deleted all trace of each other from their Instagram profiles.
Hugo took a break from social media last year after denying The Apprentice star Lottie Lion's claims that he "screamed in her face" after she rejected his romantic advances on a night out.
"Again, we are denying the false allegations and slander made recently. As everyone knows, there are two sides to every story and even more so in false stories fabricated for views. Not everything you see online is true. The social media industry can be a very toxic place and unfortunately filled with users with a single aim of putting others down in an attempt to elevate themselves," his team wrote on his TikTok story at the time.
Lottie's claims came just weeks after 2021 Islander Sharon Gaffka accused Hugo of "inappropriate touching" and "making jokes about her being spiked" - both of which he denies.
What happened with Hugo Hammond and Chloe Burrows?
Hugo coupled up with Chloe on both day five and day 25 of Love Island season seven, before meeting Amy Day in Casa Amor. Chloe went on to come second alongside fellow Islander Toby Aromolaran, although they've since split.
What happened between Hugo Hammond and Amy Day?
Hugo and Amy were dumped together ahead of the final after meeting in Casa Amor. Lots of fans thought that the friend-zone king had finally found the one in Amy – but they were wrong. In their exit interview, Hugo described his "quest for love" as "tragic".
Amy told Hugo, "We leave the villa, and you just flipped and friend-zoned me. You've come across quite fake now."
Hugo responded by saying that he felt like Amy was using him as "green card" into the main villa from Casa Amor.
Hang on, did Hugo Hammond date Francesca Allen?
Shortly after leaving the villa last summer, eagle-eyed fans spotted signs of a potential romance between Hugo and Francesca Allen, a Love Island 2019 contestant. Hugo's Instagram followers noticed sparks flying between him and Francesca when she commented on a post he shared after arriving home from Marbella.
Did Hugo Hammond date Kate Elisabeth?
If you've ever watched any of YouTube, Instagram and TikTok star Kate Elisabeth's videos you'll know she likes going out and she often vlogs it but in a video titled 'I don't even know what to class this week in a life' she was actually partying with Hugo. And it turns out he was already a fan of Kate's before his Love Island stint.
"He used to watch my boarding school videos which is was very interesting. He followed me while he was in the villa and then when he came out I was like, 'Hey, why did you follow me?' and he was like, 'I used to watch you'.
"I was like, 'What?'. And I look back down to my old Instagram pictures from 2019 and he liked some of them."
And after bumping into each other at an event they hung out.
WATCH: 'I Really Felt For Lana' Olivia & Maxwell Clear Up Love Island Drama | Heat Dates
xxx