In the words of High School Musical 2: summer...summer...summer...summer...summer...SUMMER! WHAT TIME IS IT? SUMMER TIME. Get us on a plane ASAP. We need a pool to lounge by and a cocktail in hand, stat. However, most importantly: if there's ONE thing you need to take away with you this summer, it's some cool AF pool inflatables.
Related: The best travel hair dryer to pack in your suitcase
I mean, what else are you going to lounge in while dipping your feet in the pool? How else are you going to get cute Insta shots of you and the gang on your holibobs? We're telling you- pool inflatables are the key to a smashing vacation. And boy oh boy are there some bloody bangin' designs on the market. From pizza slices to unicorn floats, to the biggest darn watermelon slice you've ever seen- the possibilities are almost endless.
Related: This 'genius' £17 Amazon under-seat luggage bag has gone viral on TikTok
Because we're just so bloody nice, we've rounded up some of our absolute favourite pool inflatables, all so that you can look super cool on Instagram and TikTok while you holiday. We've got your back.
The best pool inflatables to take on holiday this summer 2022
The coolest pool inflatables to buy online
1 of 16
CREDIT: amazon
Intex 56283EU - Watermelon Shaped Inflatable Mattress 183 x 23 cm
Go big or go home with this massive watermelon slice pool inflatable.
Review: "My husband and I bought this to take with us on holiday for 9 days and it was perfect! Super comfortable! A really good size - we're 5'8 and 6'3 and it fits both of us comfortably. The rope that comes with it was great for tying it to our villa so we could chill out on it without floating out to sea. Really durable, and had no issues with losing air (it will certainly be coming on our next holiday too!). Would recommend inflating with a hand pump - we did and it took 2 min but as it's quite large I think inflating by mouth would take a long time."
2 of 16
CREDIT: fenwick
Intex Popsicle Float
Ok, this is officially the cutest thing ever.
Review: "Love this float. It looks good and is easy to get on and off."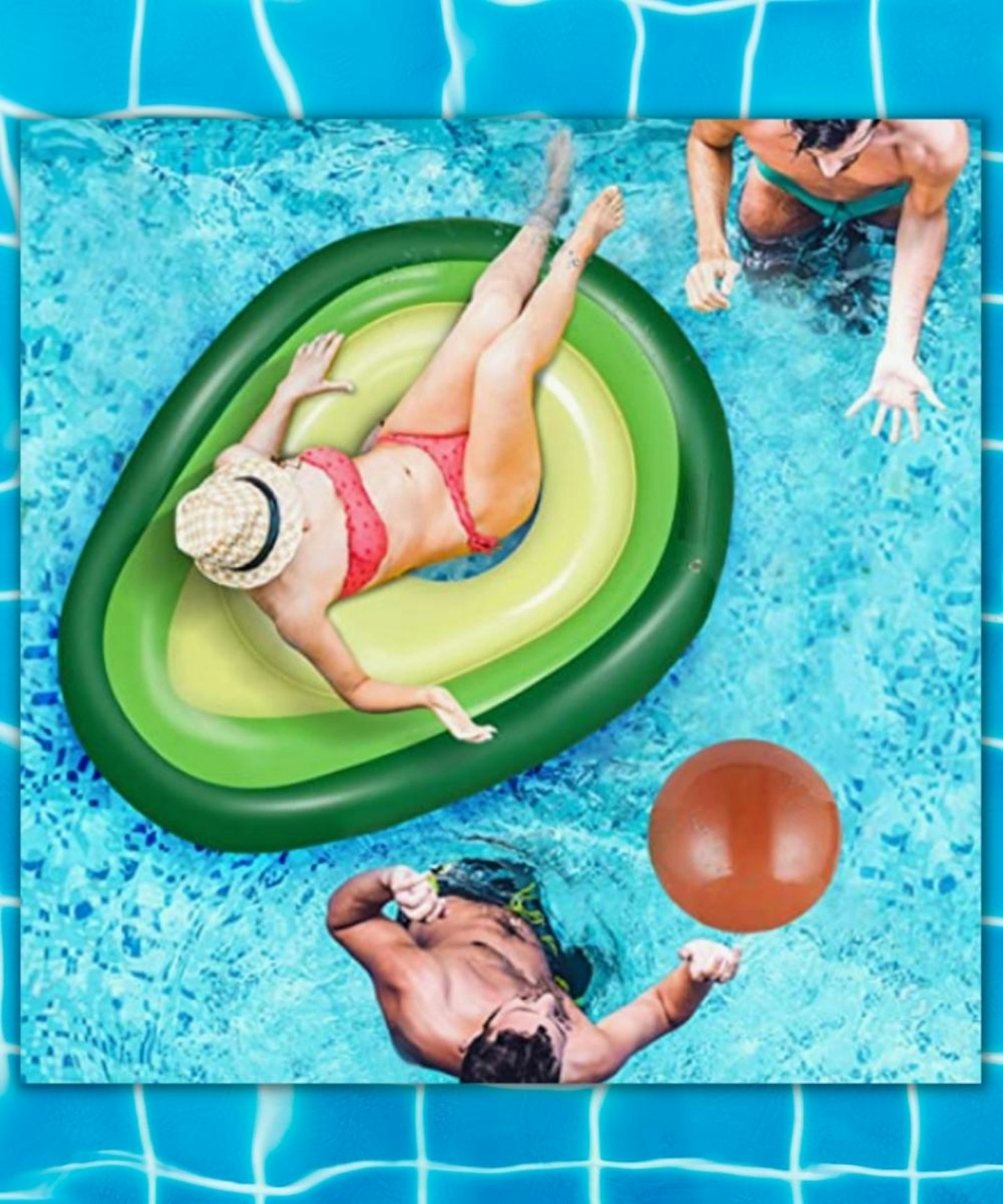 3 of 16
CREDIT: amazon
Jojoin Giant Inflatable Avocado Float
The fact that you're able to take the avocado pit out and use it as a ball float, makes this inflatable one of our favs.
Review: "We have lots of toys and floats in our pool but this is by far the favourite. It is a great shape for chilling and for playing on, and for being pushed off etc. by children and adults. The ball is an added bonus."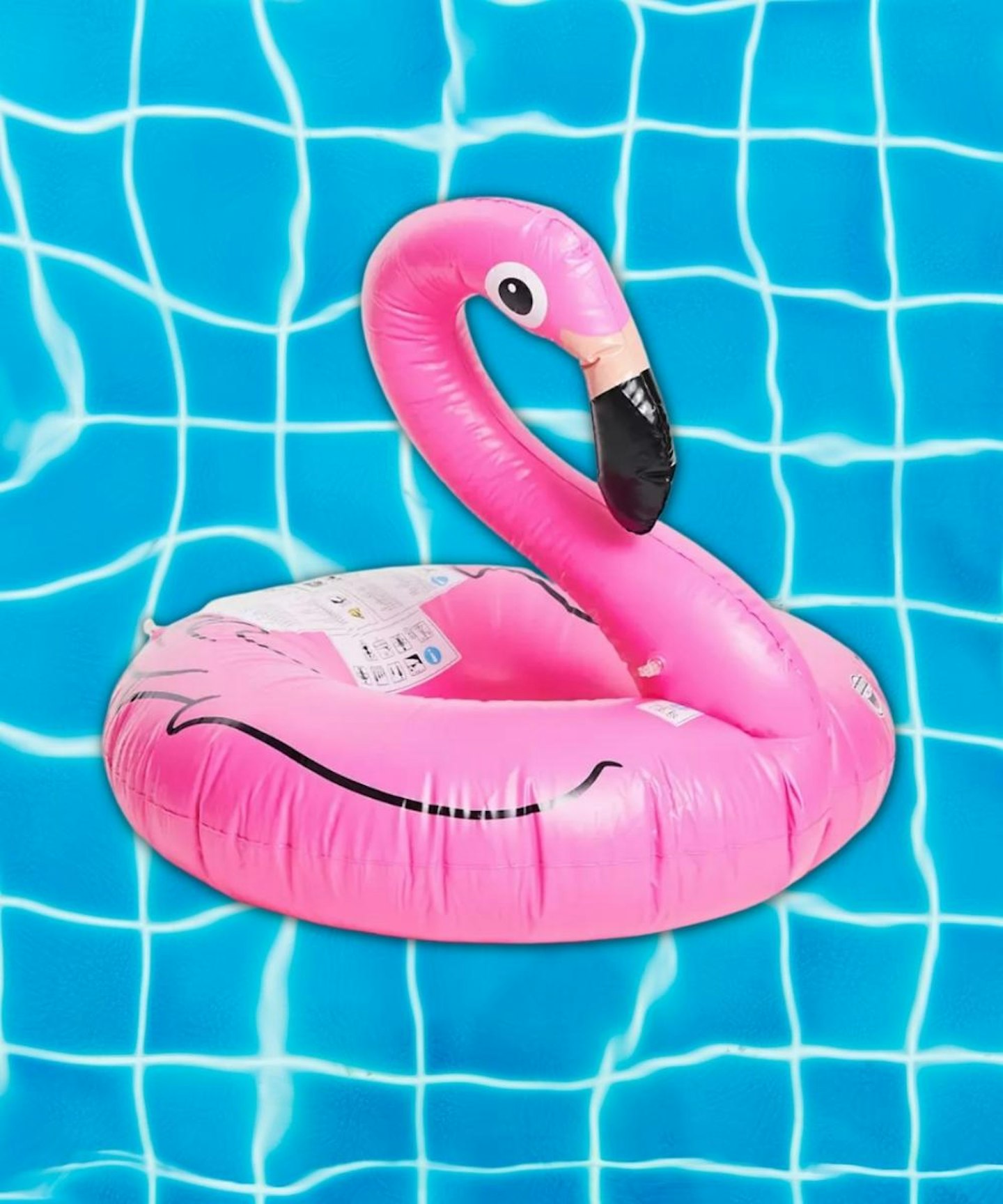 4 of 16
CREDIT: asos
Big Mouth Flamingo Pool Float in Pink
ASOS has two pool inflatables available, this lovely flamingo in either pink or rose gold.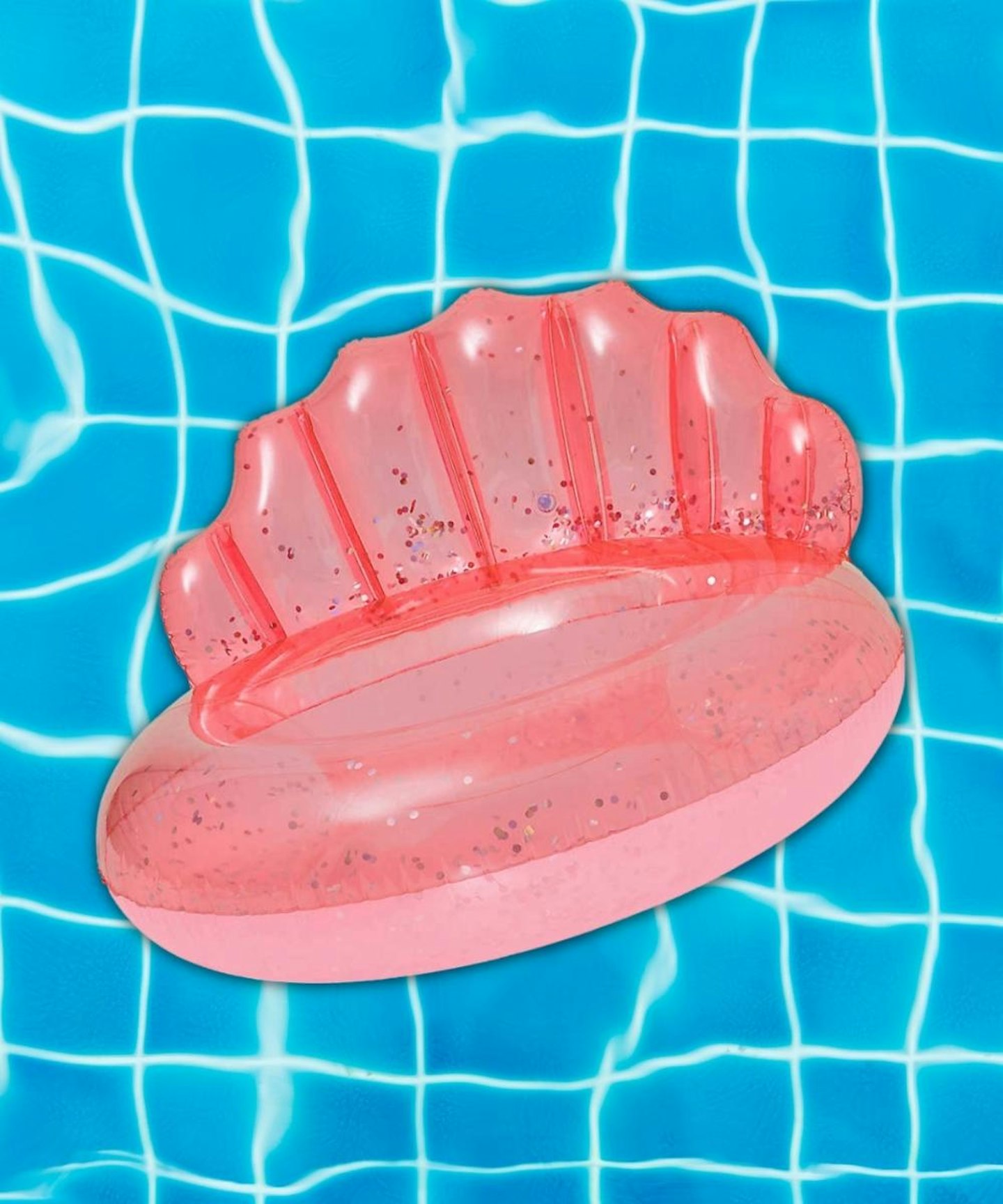 5 of 16
CREDIT: selfridges
SUNNYLIFE Shell inflatable pool ring 60cm
Feel like Ariel in this inflatable clam shell from Selfridges. You'll be belting out "Part of your world" all day.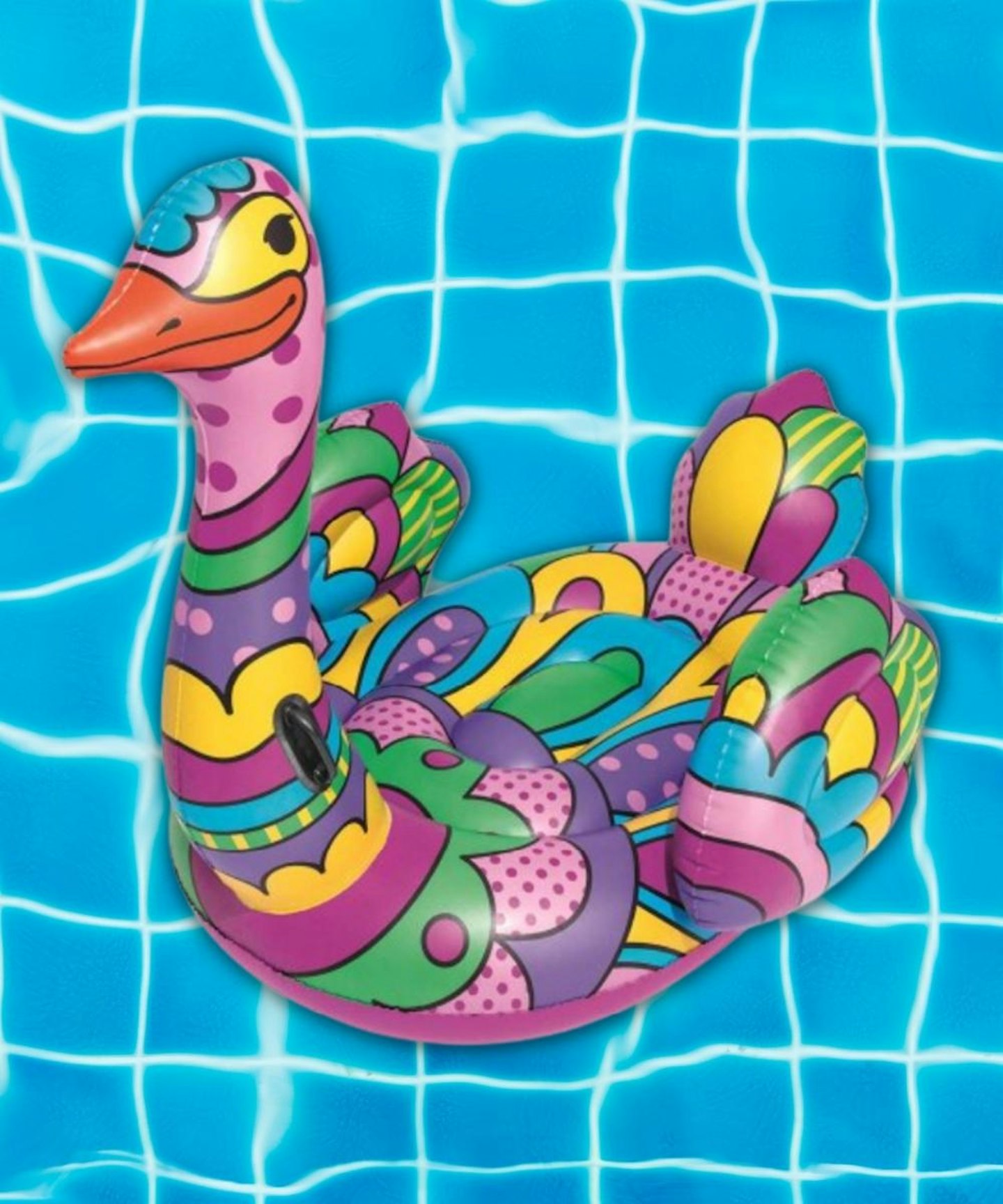 6 of 16
CREDIT: onbuy
Bestway Inflatable Ostrich Pool Float
We're obsessed with this pop art ostrich pool float- so darn pretty, and would look incredible in pics.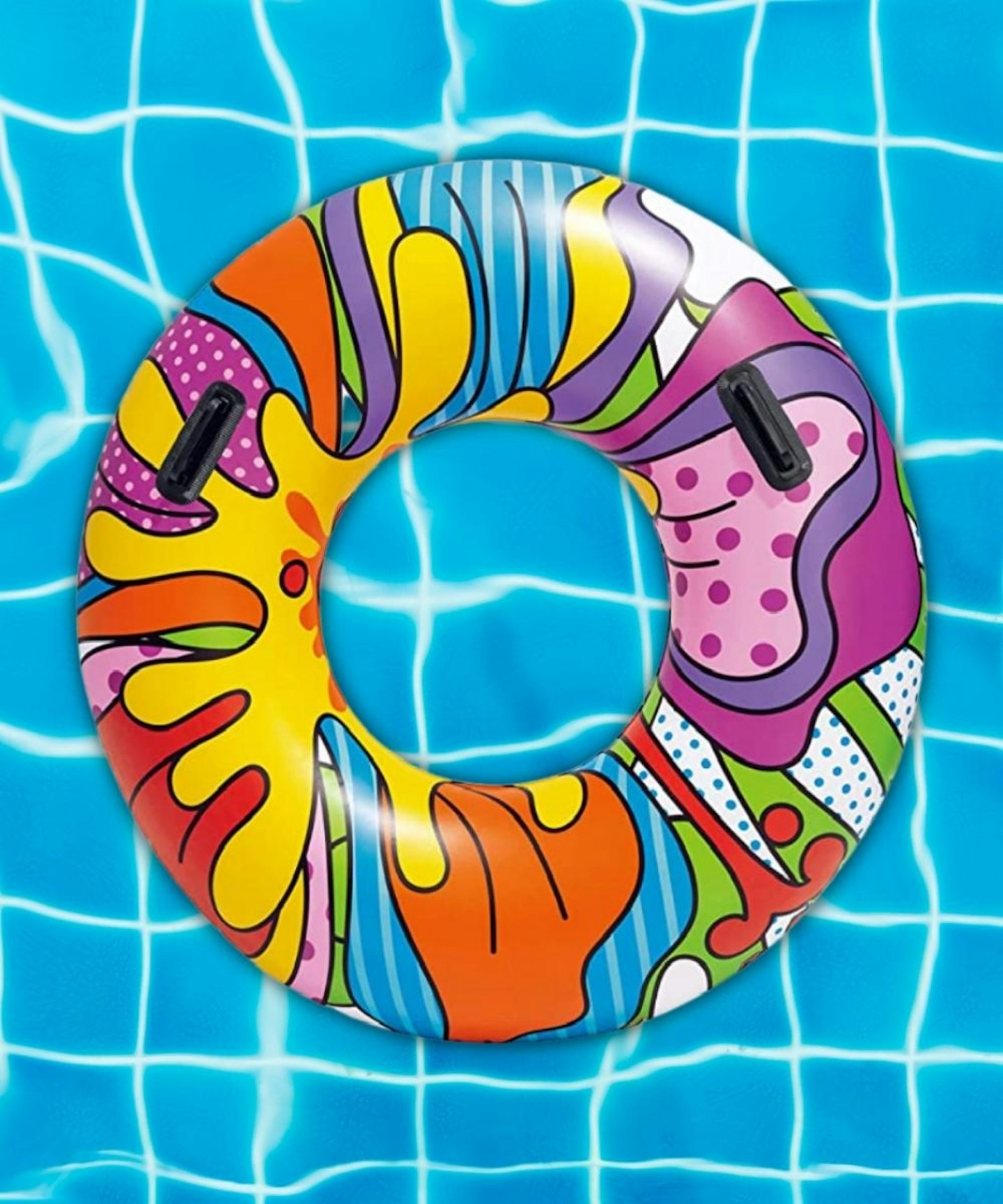 7 of 16
CREDIT: amazon
Bestway 36125-19 Inflatable Rubber Ring
However if you're not feeling the ostritch vibes (you do you sis), then you can get a similar pattern in a simple rubber ring shape.
Review: "Fun and colourful big enough for Teens and Adults. Definitely worth the money."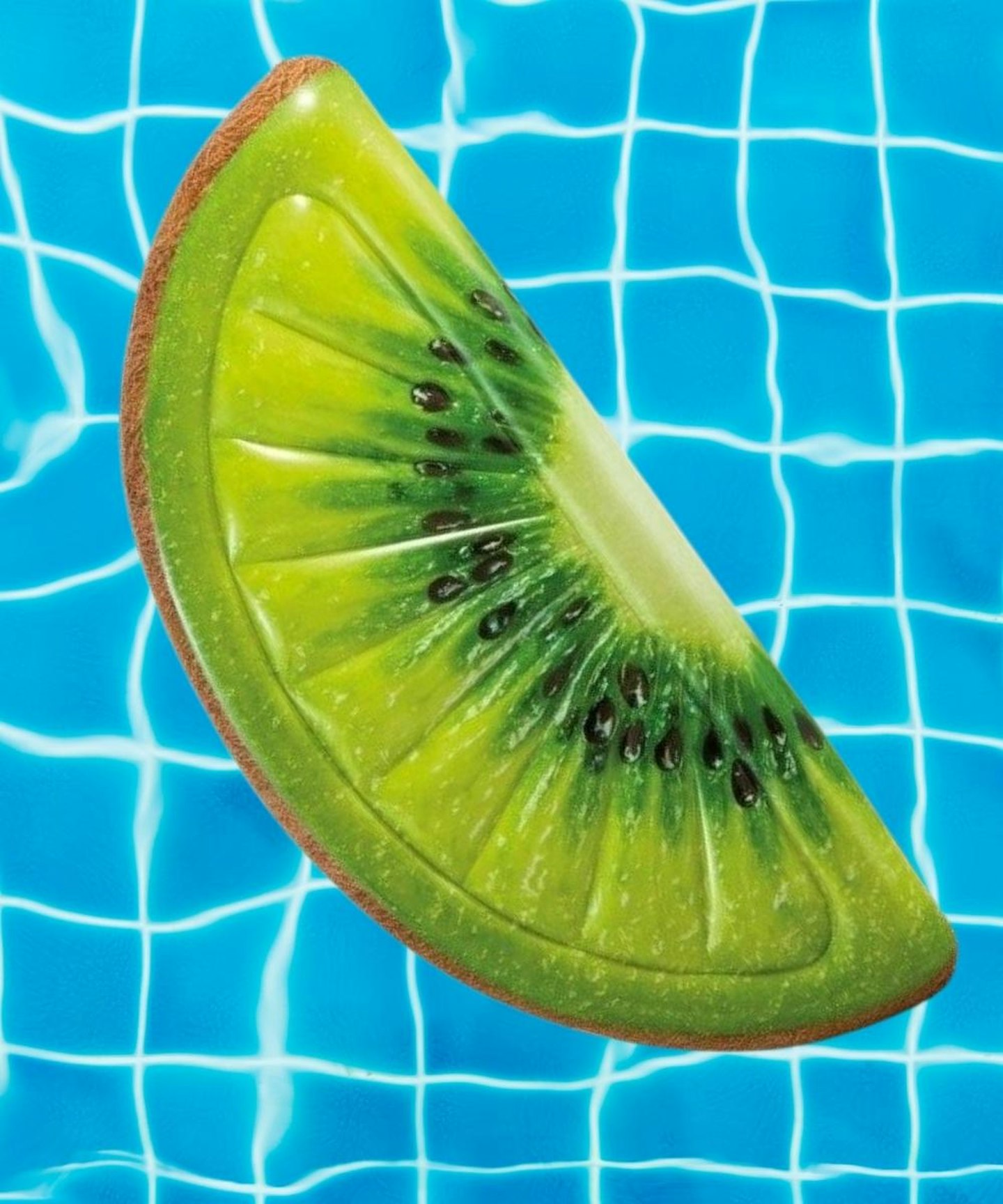 8 of 16
CREDIT: cheerful bargains/ebay
Intex Giant Swimming Pool Large Inflatable Float 6ft Kiwi
When you go on holiday, all you want to do is lounge on a ginormous kiwi slice- imma right?
Review: "Excellent eBayer. Warp-speed delivery. Item as described. Two thumbs up!"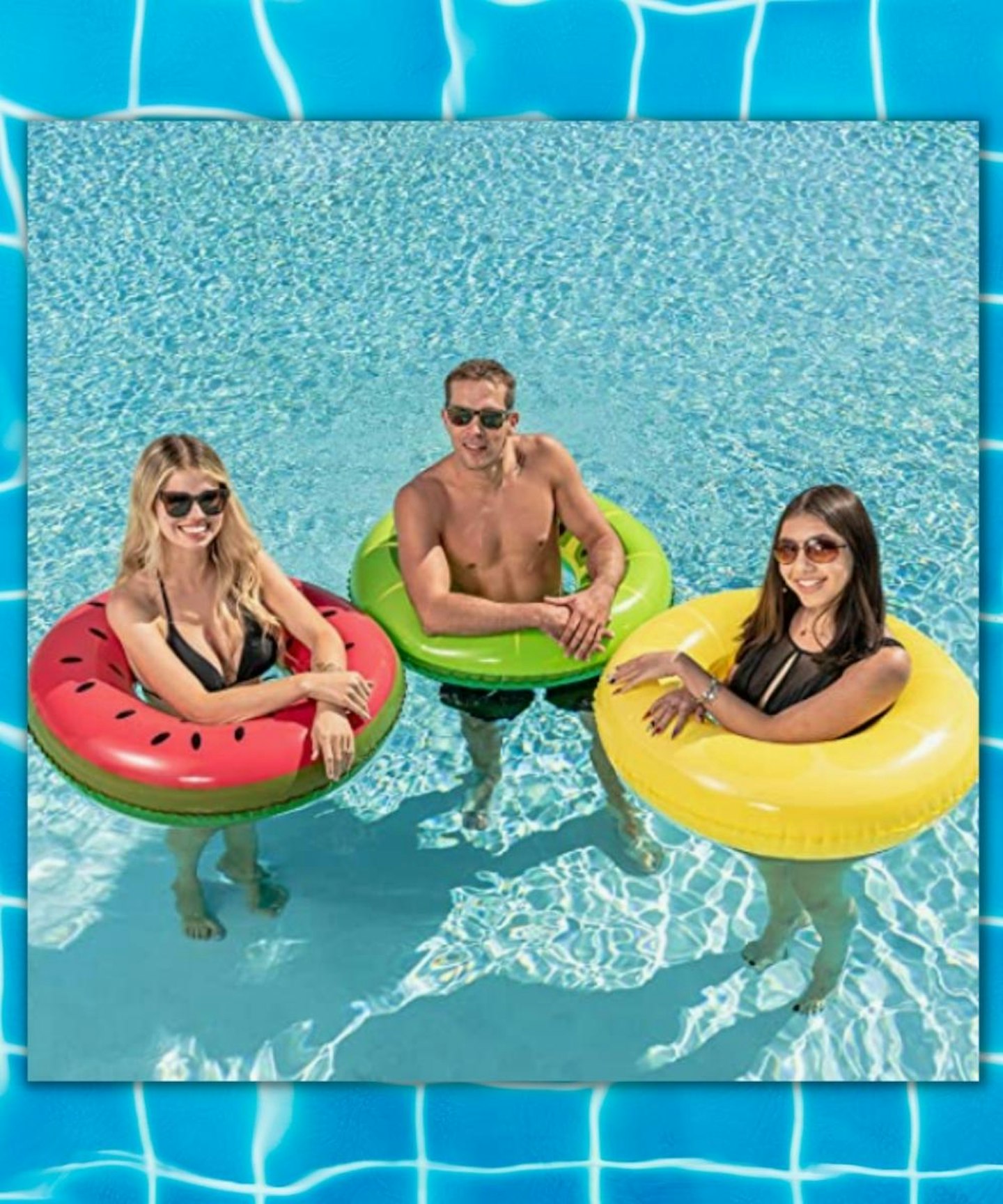 9 of 16
CREDIT: amazon
JOYIN Inflatable Pool Floats 32.5" (3 Pack)
Hey- why not go for three pool inflatables so your friends aren't left out of the fun?
Review: "Brilliant size for big kids and small adults, next day delivery during Pandemic which was fantastic, really easy to blow up took me less than 10 minutes to blow all 3 up, my kids love them in the pool. Lasted 2 weeks so far of everyday rough use lol. Very pleased and happy with purchase and quality."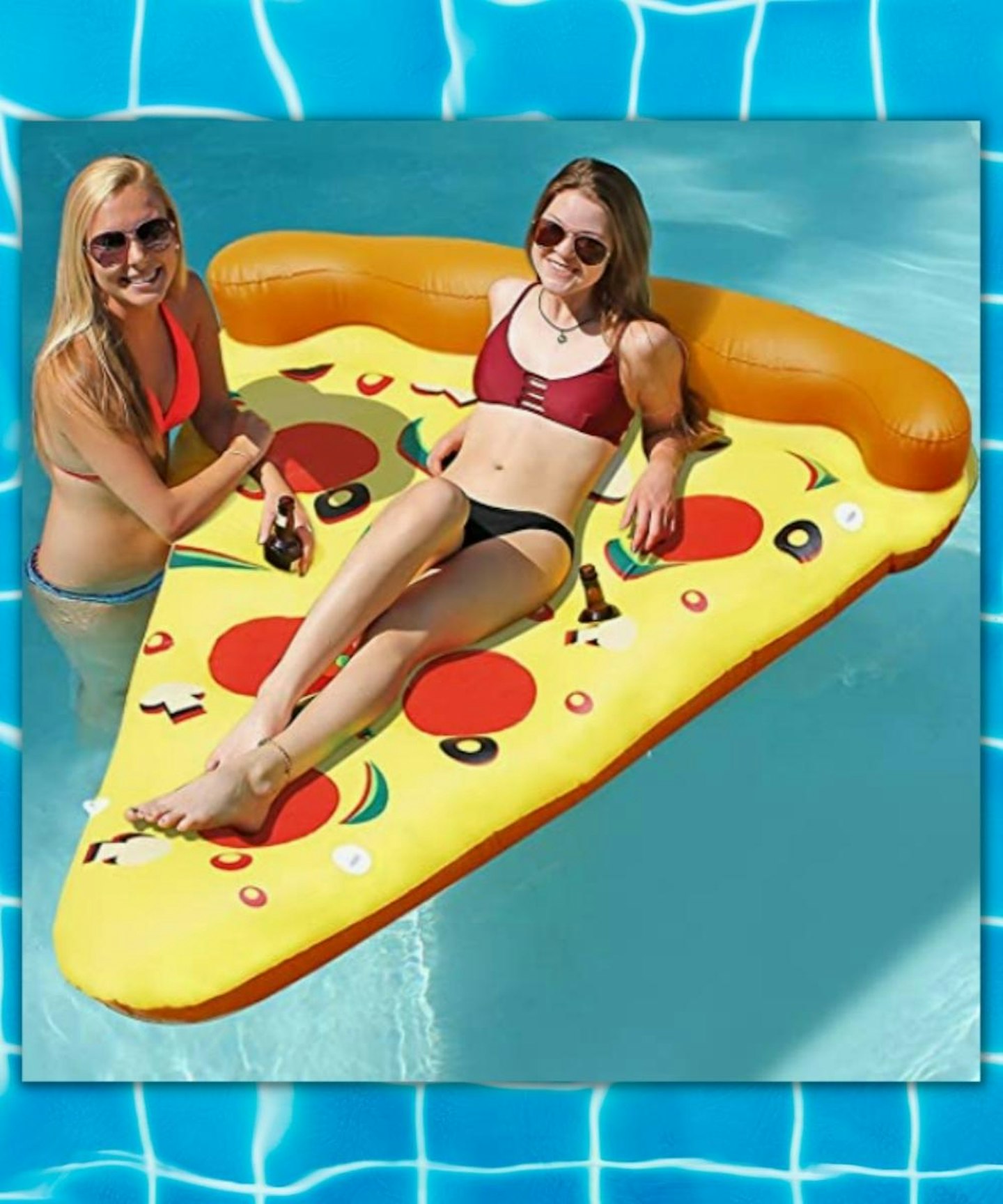 10 of 16
CREDIT: amazon
ThinkMax 6 x 5 Feet PVC Giant Inflatable Pizza Pool Float
You might not have access to Dominoes on your holiday- but doesn't mean you can't celebrate your love of pizza.
Review: "Took this on holiday to Greece and it was perfect. It's pretty huge, so no problems getting on it and floating around for hours without falling off. 2 built-in drinks holders and it came with 3 separate floating drinks holders! We even managed to comfortably get 3 (albeit small) adults on it. It lasted the 9-day holiday without any punctures, which is impressive. Would recommend an electric pump, I can imagine it taking hours to blow up by mouth."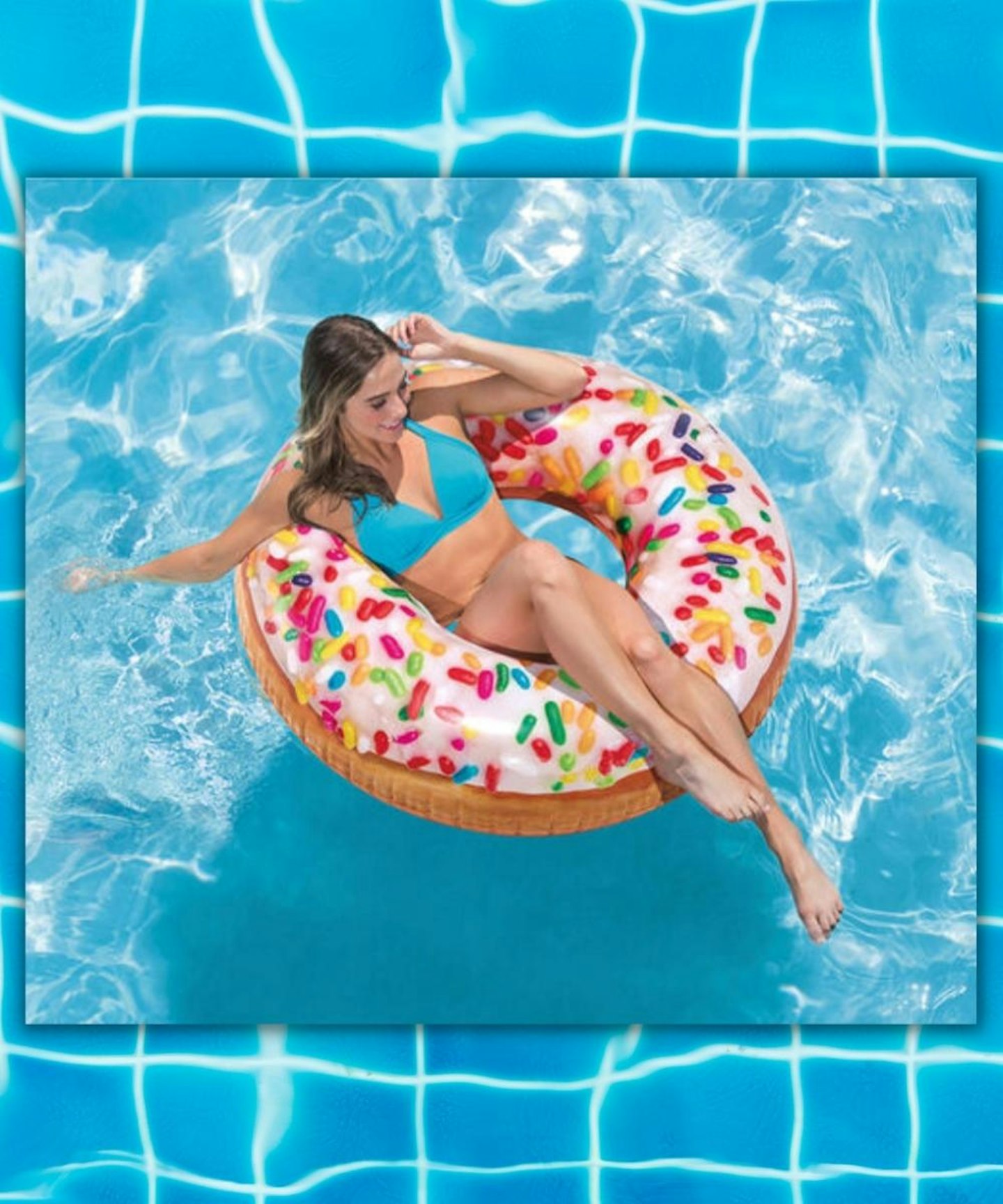 11 of 16
CREDIT: the range
Intex Sprinkle Donut Tube
Intex really took the rubber ring idea and said- why not go full-on doughnut?
Review: "Brilliant product, excellent value for money. Took to Lanzarote with us, took no space up in case & was very easy to blow up. Kids have had the best 2 weeks in the swimming pool & it was still going strong so passed on to another family! I will def buy again."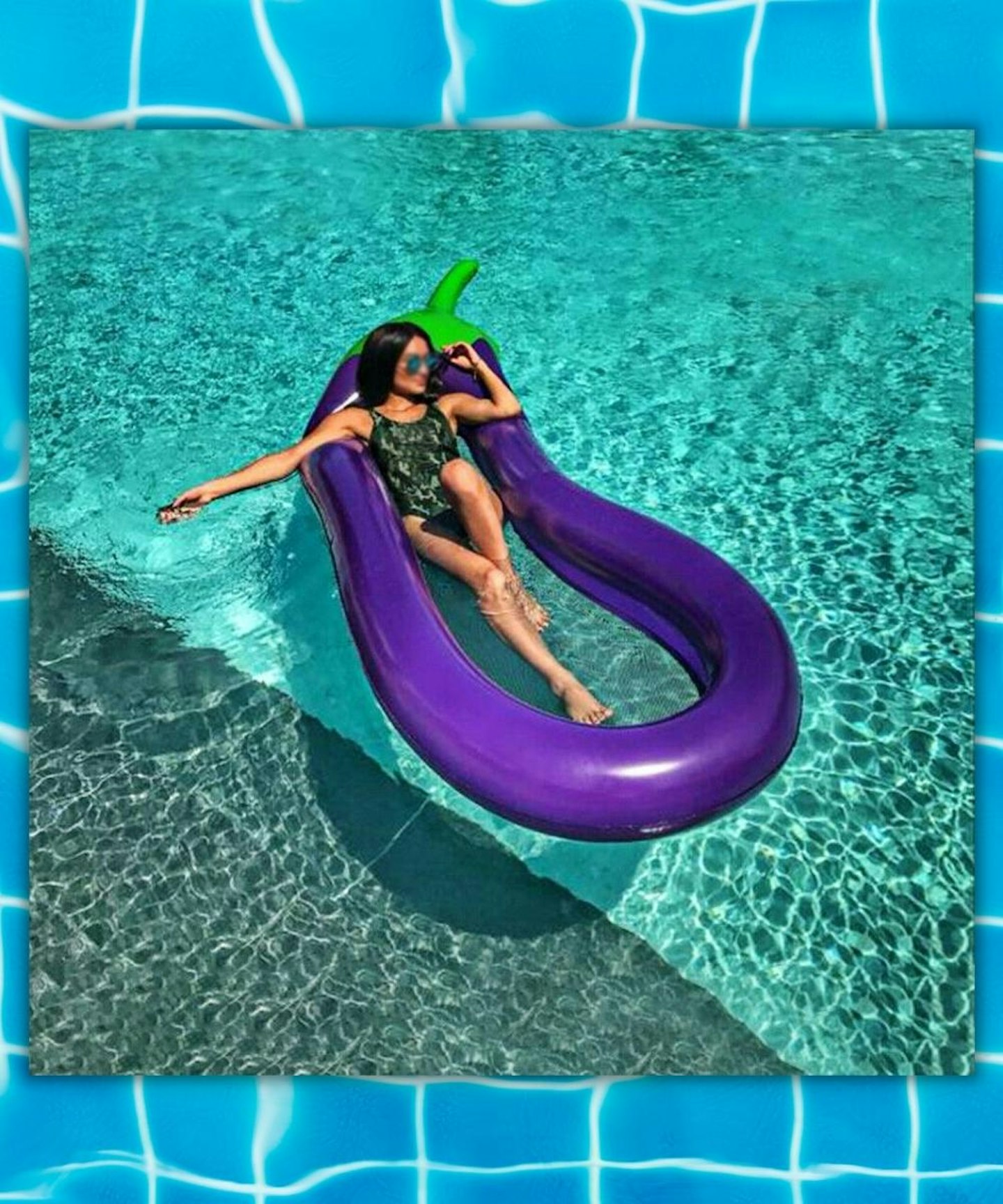 12 of 16
CREDIT: ebay
Eggplant Inflatable Pool Float
Raunchy...but hilarious. This one is perfect for a girl's holiday abroad.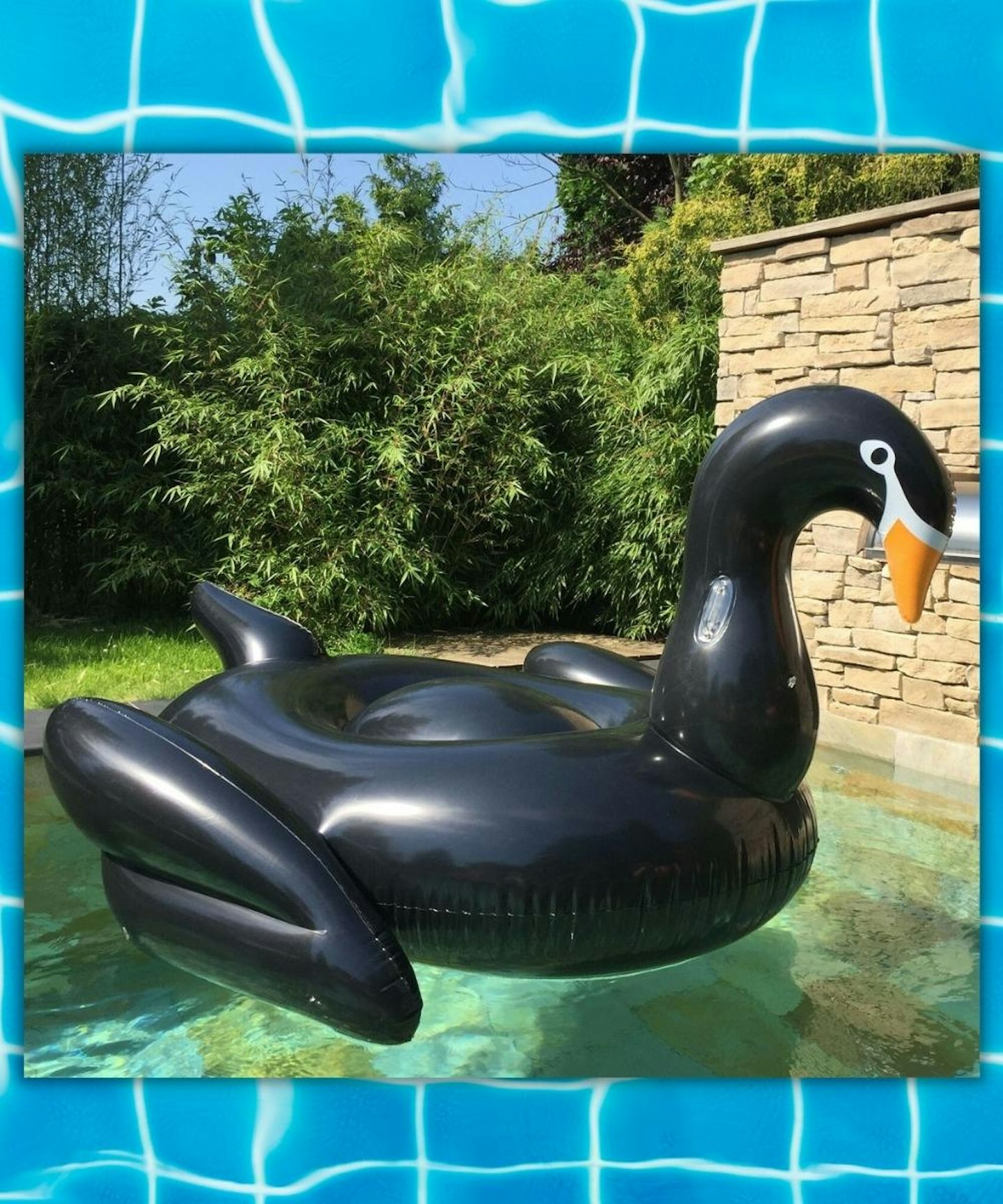 13 of 16
CREDIT: ebay
Inflatable PVC Swan Swim Ring
This swan inflatable is a bit more spenny than the others but it is massive- you will defo fit your whole squad on there. Perfect for a group selfie.
14 of 16
CREDIT: amazon
Intex - Inflateable Unicorn - 198 x 140 x 97 cm
Yes, there's a picture of a child on this pool inflatable. Is this going to stop us fully grown adults from enjoying an adorable unicorn float? Absolutely not.
Review: "Came next day with prime. Bigger than I thought it was though so check the size. We have a 10ft pool and it's a great size for that. Also, we have a smaller pool and it's a bit too big for that one.
Recommend having an electric pump or at least a hand pump to blow it up though or you'd be there a good while. Our daughter loves it though and has withstood some really rough play with the kids. Great buy."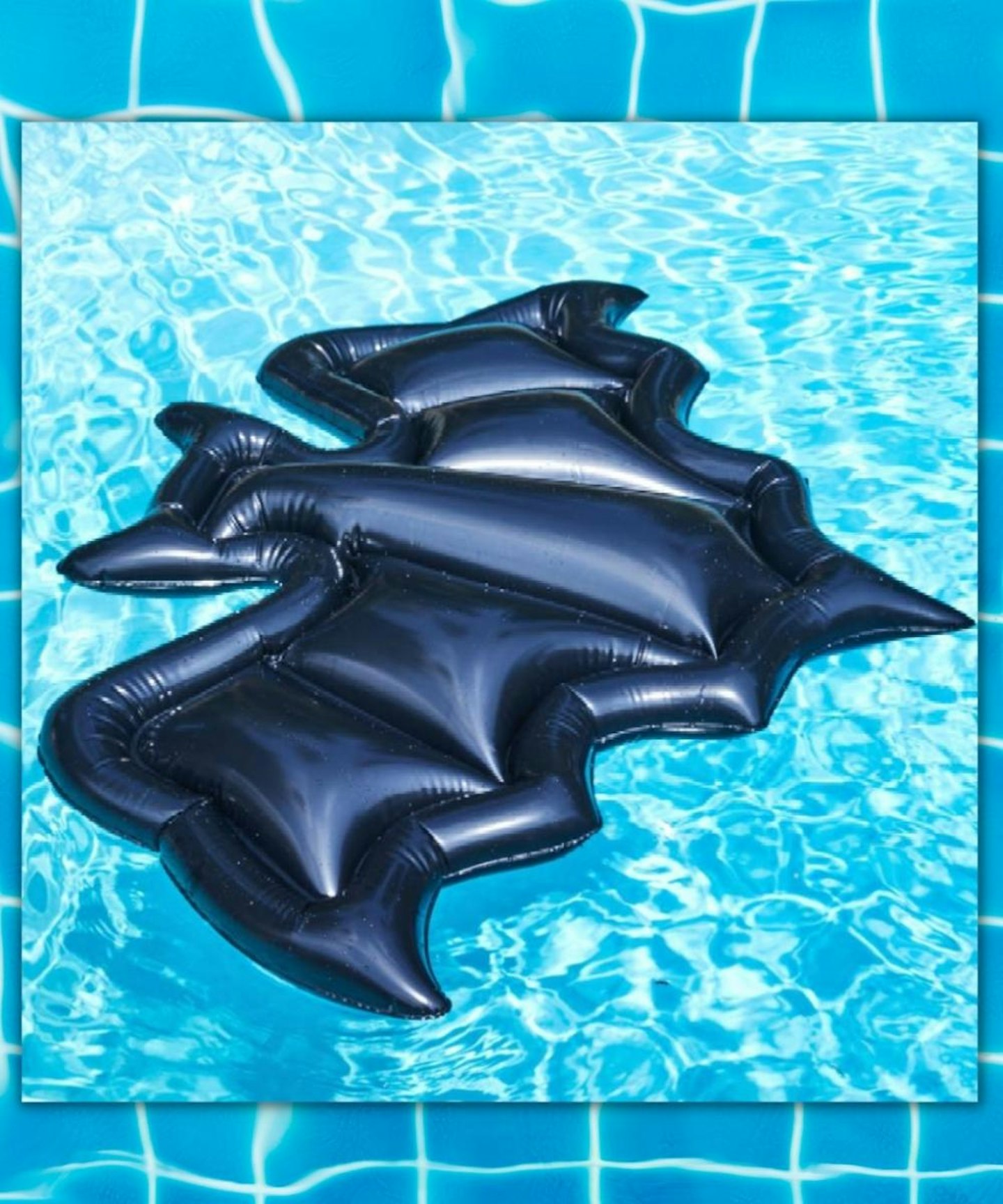 15 of 16
CREDIT: dolls kill
Feeling So Fly Pool Float
If you never left your emo phase (relatable), then this chic bat inflatable will be perfect for you. Goth gals- unite.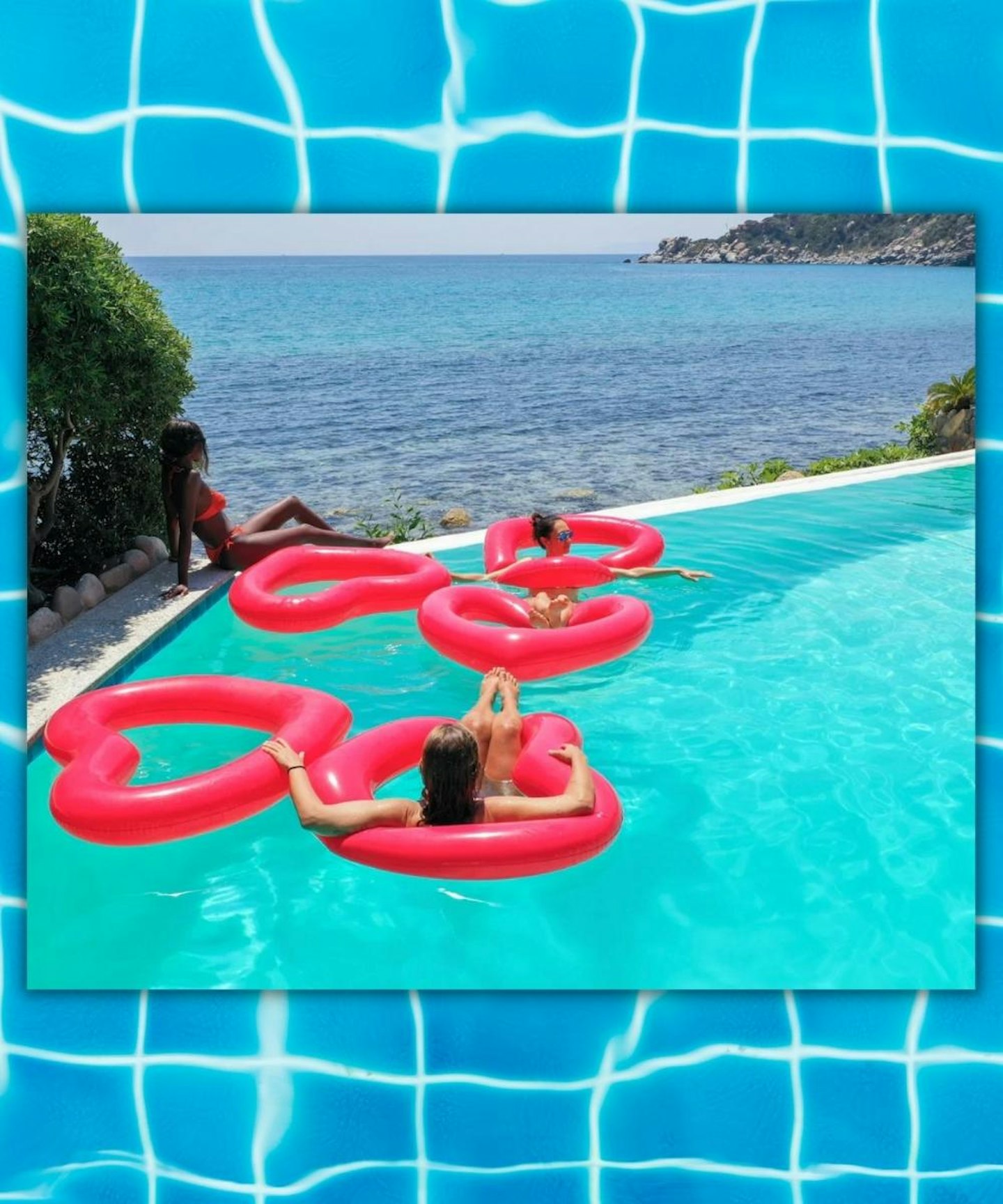 16 of 16
CREDIT: my vibra
Red Heart Pool Inflatable - Pack of 5
Finally on our list, we love this pack of five heart inflatables. We can picture the group picture so vividly. Stunning.