Love Island 2023 star Aaron Waters has seemingly taken aim at fellow Islander Ron Hall after being given the boot from the villa.
Aaron joined the show on day seven alongside fellow Aussie Jessie Wynter, but failed to find a romantic connection with any of the female Islanders and was sent home alongside Spencer Wilks almost two weeks later.
Although he didn't leave the villa with a love interest, Aaron did form a firm friendship with Lana Jenkins amid her on/off relationship with Essex boy Ron.
Ron and Lana coupled up on day one but haven't been able to make a proper go of their relationship as his head has turned for nearly every bombshell that has walked through the villa doors.
And during his exit interview Aaron threw a hefty dose of shade Ron's way as he opened up about his friendship with Lana.
"She's a genuine soul and is in there for the right reasons," Aaron said of Lana. He added, "I think I was a good male presence for her. I wanted to walk out of the villa knowing I said everything I could, honestly, to her."
Although Ron wasn't mentioned by name, it's more about what Aaron didn't say. See, we told you it was shady.
As if that wasn't enough, Aaron failed to mention Ron when asked which of the Islanders he hopes to keep in contact with on the outside world.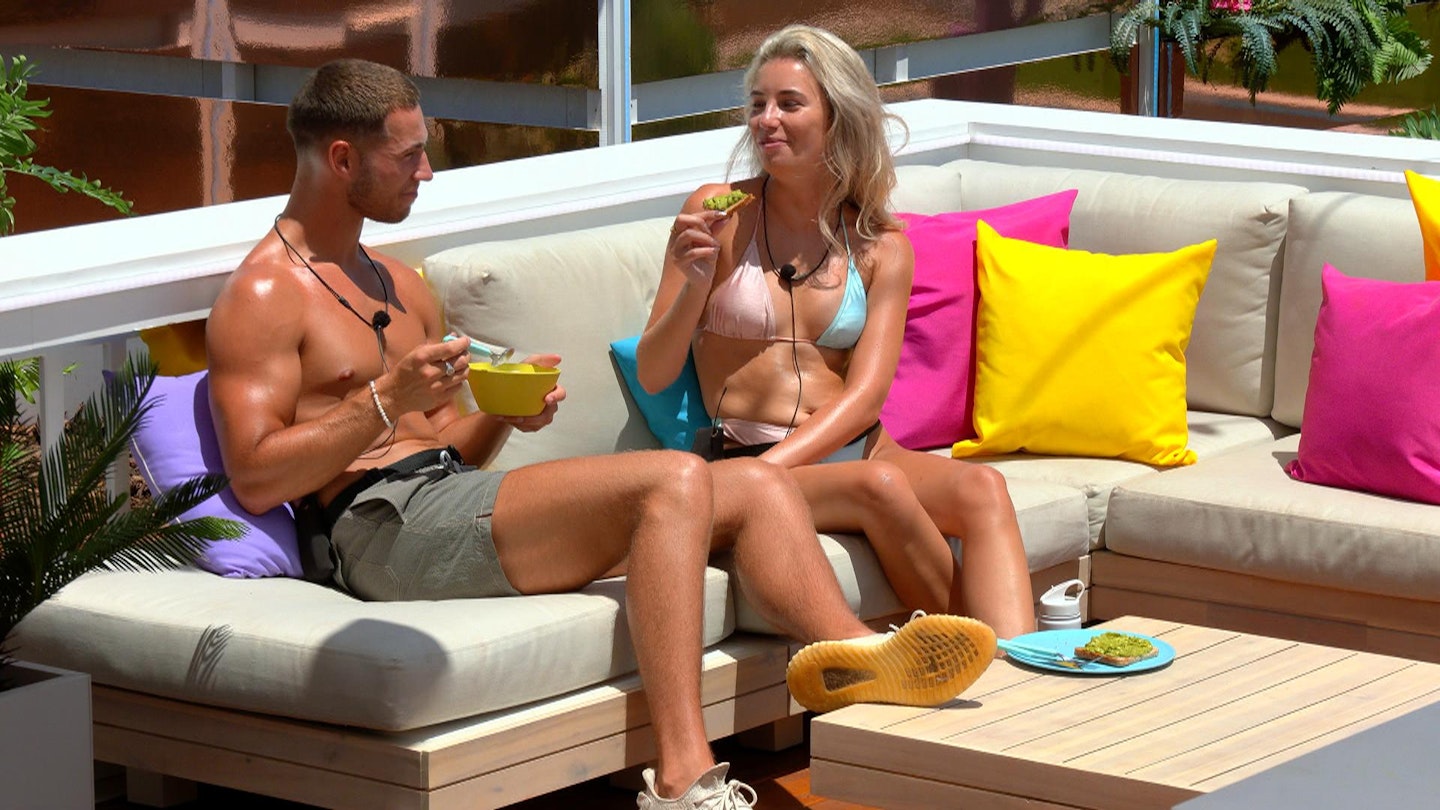 He said, "Tom and I just got along so well from the get-go. I think we both had a laid back nature but we're very confident, very funny in our own way without being loud and obnoxious.
"I enjoyed being around Shaq and Will, too.  We all want to visit Will's farm. And I'll definitely be the host when anyone comes to Australia and show them a good night out in Melbourne."
It's fair to say that Aaron didn't live up to his reputation during his second time in the villa after he was branded a "menace" by viewers who watched him on Love Island Australia last year.
When it was revealed that he would be appearing on Love Island again, fans took to Twitter to share their thoughts and Aaron definitely proved controversial.
"I didn't recognise him at first without the bleached hair, but it's coming back to me. He's an absolute menace," wrote one, while another commented, "Aaron was the worst on Australia btw."
A third tweeted, "I saw both Aaron and Jessie's seasons of Love Island Aus. Aaron was toxic to the girl that he was with and nearly withdrew from the show because of an argument."
However, there were plenty of others that were thrilled to see Aaron making a comeback, with one writing, "So happy Aaron from Love Island Australia is gonna be back on my screen lol."
Another remarked, "Aaron actually looks fit 😩💕."
Who is Aaron Waters?
Aaron is a model, content creator and reality star. He rose to fame on the third series of Love Island Australia in 2021.
How old is Aaron Waters?
Aaron is 25 years old.
Where is Aaron from?
Aaron is originally from Melbourne, Australia.
Aaron Waters on Love Island Australia
Aaron appeared on the third series of Love Island Australia in 2021. He entered the villa on day one and coupled up with Courtney Stubbs and Ari Kumar in the first couple of weeks, before setting his sights on Jess Velkovski. They coupled up on day ten and made it all the way to the final, where they finished in second place.
It's fair to say that Aaron looked VERY different during his time in the Love Island Australia villa as he sported bleached blond hair, whereas he now sports a darker, shorter buzz cut.
Why did Aaron Waters and Jess Velkovski split?
Despite finishing in second place, Aaron and Jess split just days after they left the villa following a series of rows.
Aaron explained, "We still had issues seeing eye to eye on a situation in the villa. I wanted to move past it, and at least thought we could grow from it, but there was no real growth there, so I just felt like it was best to part ways."
He later revealed they no longer speak, although he insisted, "I don't have any bad intentions towards Jess or anything. I wish her all the best and hope the best for her future but unfortunately it didn't work out between us."
Does Aaron Waters have Instagram?
You can find Aaron on Instagram at @aaronmwaters.