Having combination skin is like going out for dinner with that one friend that can't make their mind up when you're ordering.
One minute your skin's screaming, "Hello? I'm really thirsty, please can we get some moisturiser over here," and the next your nose is shining brighter than Blackpool illuminations.
Seriously, make 👏 your 👏 mind 👏up 👏.
Thankfully, there are products equipped with the right ingredients and actives to calm your woes, you just need to know where to look and, lucky for you, we've done the looking.
Now, we may be experts when it comes to buying skincare (you don't write 473892 beauty articles a month without gaining some know-how 😇) but, when it comes to the science behind the products, we need a bit of a helping hand.
We've called in Dr. Ana, aesthetic doctor at Kat & Co clinic, to break down all the hows and whys of combination skin and, boy oh boy, is your skin going to be GLOWING by the time we're done with you.
So, let's get down to business. Here's your six to eight step battle strategy to reduce shine and boost hydration with combination skin...
CHECK OUT: The best combination skincare routine products
Just so you know, while we may receive a commission or other compensation from the links on this page, we never allow this to influence product selections.
First up...
1. First cleanse/make-up removal
Before you get stuck in with your active ingredient skincare, it's really important to remove your make-up with a first cleanse. You can probably skip this step in the morning, or if you don't wear make-up BUT, if you do wear SPF then you're going to want to do a primary cleanse regardless.
SPF can cling to pores like glue and, if you don't remove it, you could encourage an unwanted bout of acne. No, thank you.
One of the best products to help break down SPF is an oil-based cleanser.
Note - Dr. Ana recommends using cold water to cleanse combination skin, as the hot water can lead to further dehydration which is, well, not what we want.
Cleansing routine for combination skin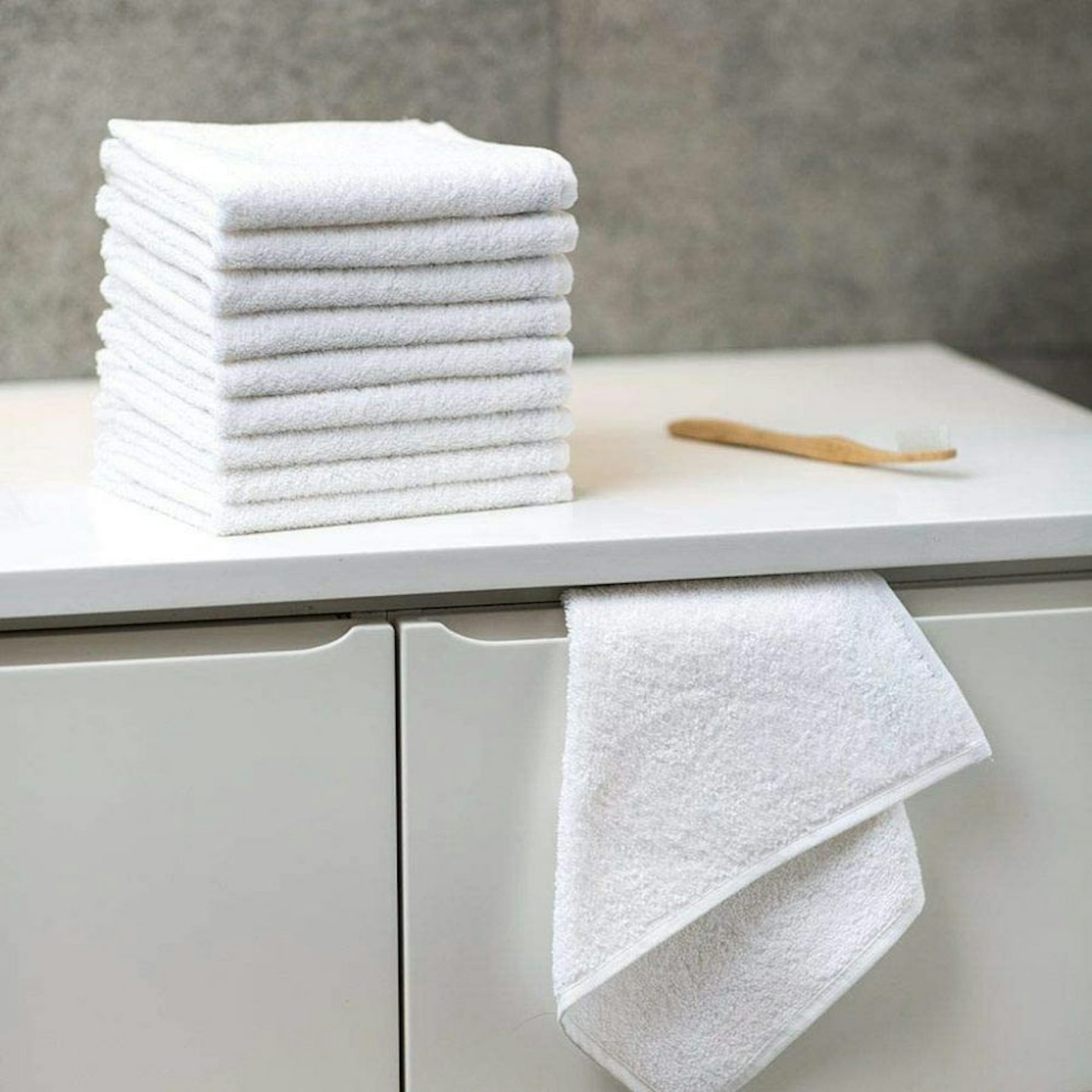 1 of 3
CREDIT: Amazon
Flannels
Before you even LOOK at cleansers, you are going to need at least eight flannels in your arsenal (one for each day of the week + another for laundry day).This is a tip from skincare guru Caroline Hirons and it's one you should get on board with, stat.Washing away your make-up with a splash of water just won't do the job, and you'll be left with residue product. These cotton flannels will wash like a dream, they're soft to the touch and, most importantly, they'll wipe away all the day's make-up and grime no problem.This pack includes 12 flannels for less than a tenner - a bargain, if you ask us.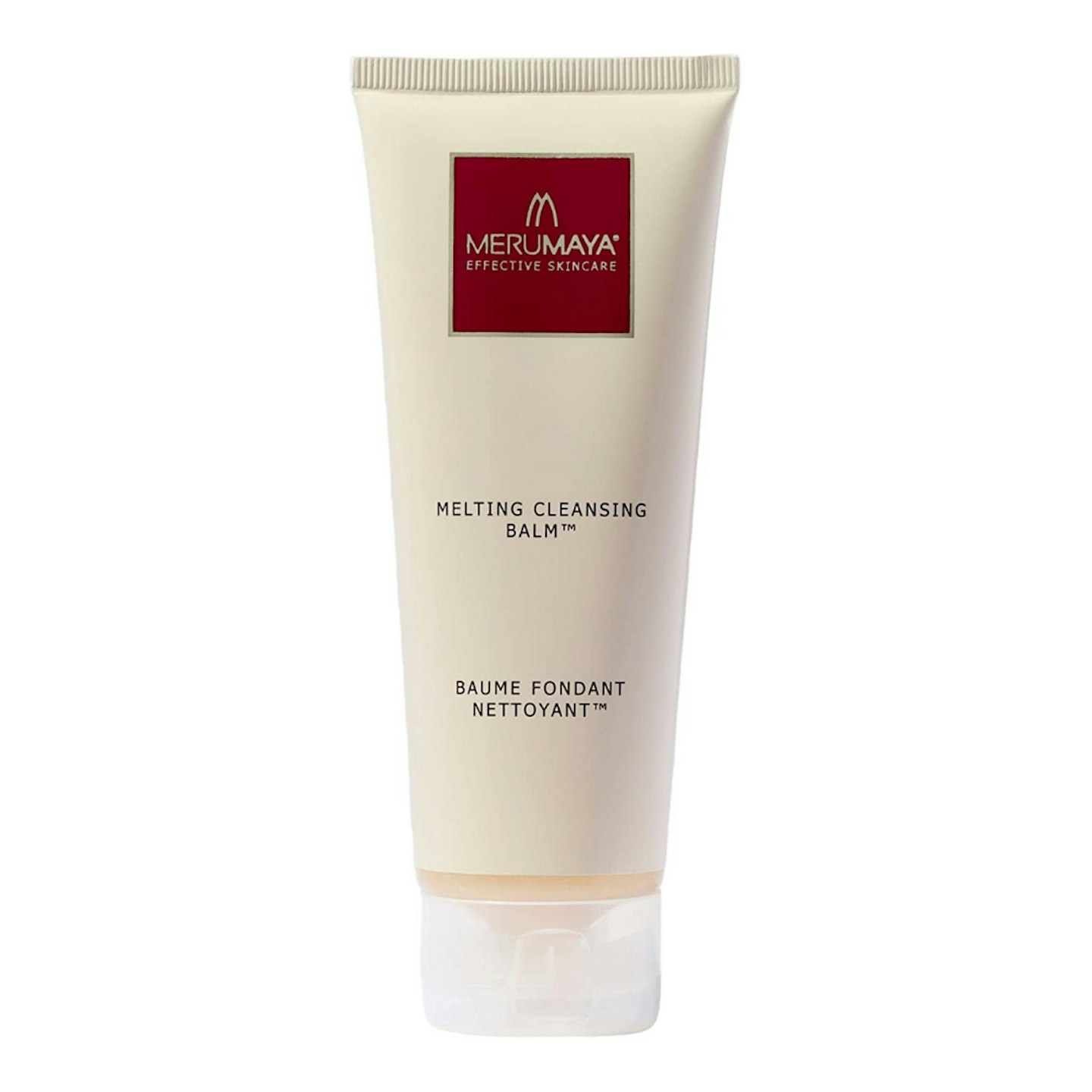 2 of 3
CREDIT: Amazon
Merumaya Melting Cleansing Balm
Best high-end cleanser for combination skinWith hydrating glycerin and antioxidants from exotic mangosteen, the Merumaya cleansing balm will break down SPF and make-up no bother, and it'll do it while reducing inflammation and attracting moisture to the skin.Plus, if Caroline Hirons likes it, we're already sold, tbh.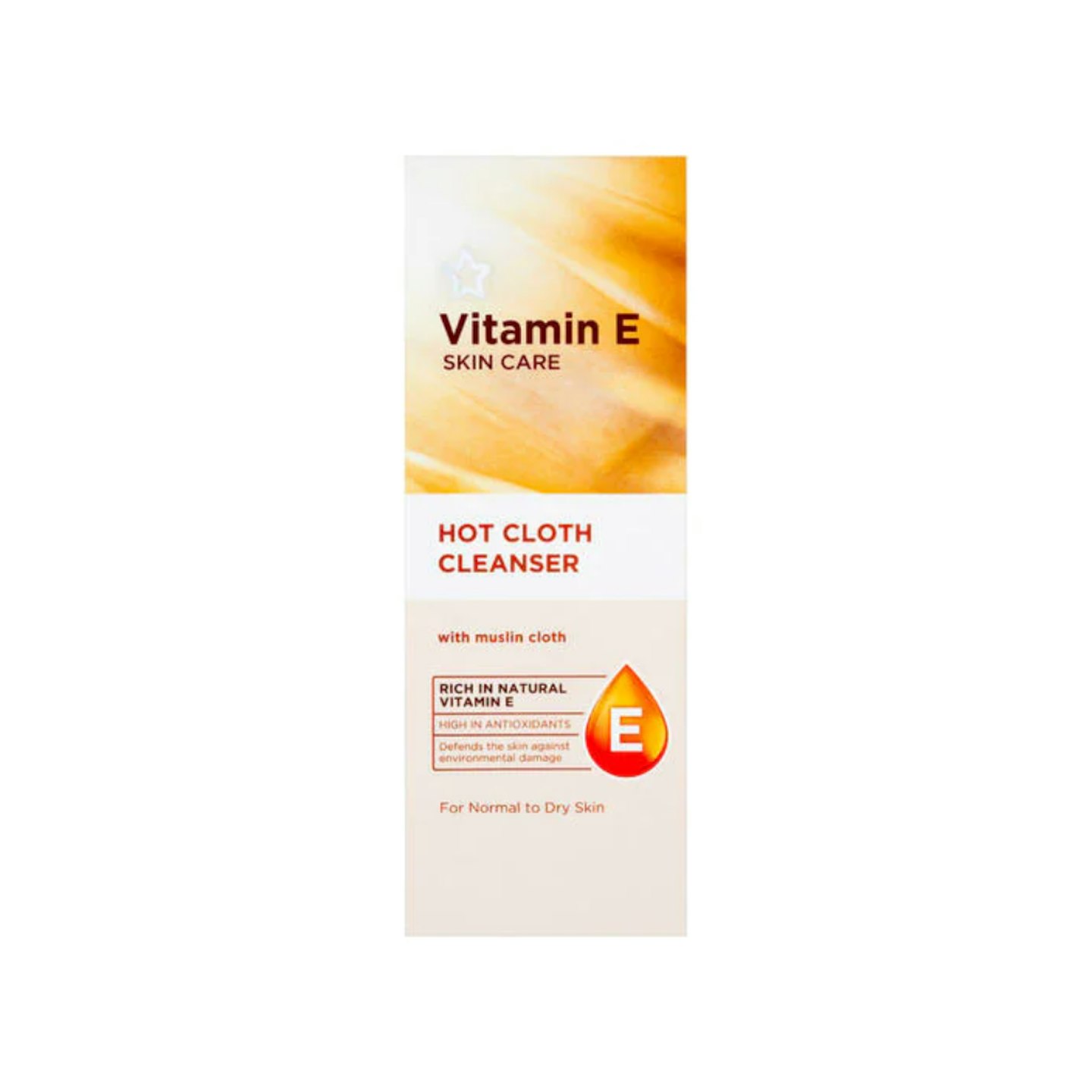 3 of 3
CREDIT: Superdrug
Superdrug Vitamin E Hot Cloth Cleanser
Best budget cleanser for combination skinAt just £4.99, this cleanser is an absolute FIND. It's loved by Queen Sali Hughes (who, if you don't know, you need to get to know) and, with healing Vitamin E and triglyceride (a combination of fatty acids), your combo skin's dry patches will feel moisturised to the max. Don't worry about any T-zone oilyness at this stage; any excess oils lingering here will be washed off in the second cleanse.
2. Second cleanse
After removing your make-up and/or SPF, a second cleanse, or 'skin cleanse', is your first chance to really get in contact with the skin. Because of this, the ingredients in your second cleanser are arguably more important.
Courtesy of Dr. Ana, some ingredients for combination skin types to look out for are...
1 - Humectants (ingredients that act to attract/draw-in water) like hyaluronic acid and glycerin "to hydrate the skin without clogging up the pores and worsening oil production."
2 - Gentle AHA chemical exfoliants such as lacticandglycolic acid "to tackle some of the oil production in the T-zone while also hydrating the dryer areas."
Cleansing routine for combination skin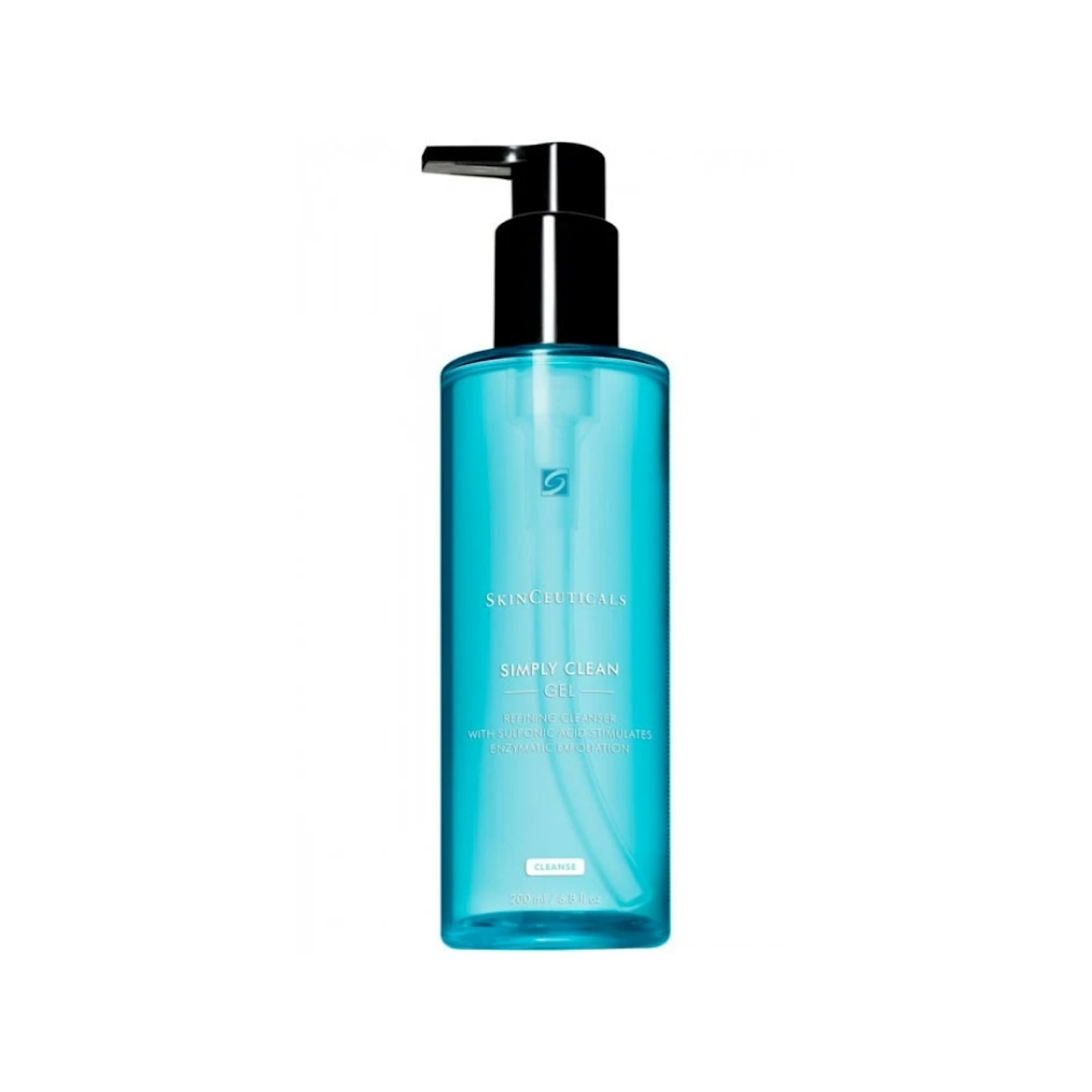 1 of 2
CREDIT: Face The Future
SkinCeuticals Simply Clean Gel Cleanser
Best high-end cleanser for combination skinDr. Ana says, "SkinCeuticals have some excellent products for combination skin," and Simply Clean is no exception. If acids in skincare scare you, this gel cleanser with wash-off hydroxy acids is a great way to bring exfoliation into your routine in a more gentle and less daunting manner. It'll tackle any congestion in your T-zone and, with hydration-boosting glycerin and soothing aloe, it'll be kind to any dry patches, too.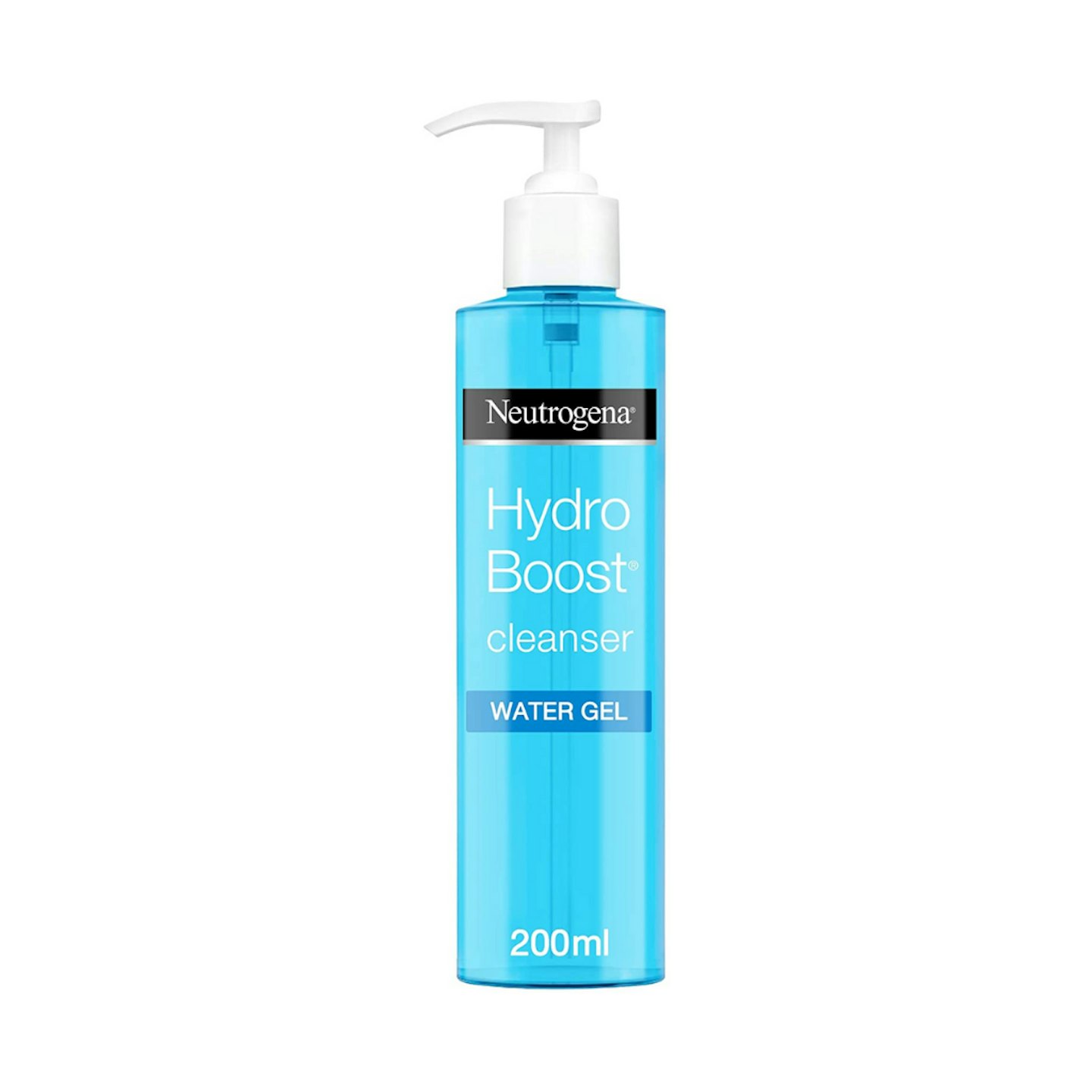 2 of 2
CREDIT: Amazon
Neutrogena Hydro Boost® Water Gel Cleanser
Best budget cleanser for combination skinOnce again, Caroline Hirons recommends this and tbh, at £4, why wouldn't you want to give it a try?WIth hyaluronic acid in a water-based gel (as the name suggests), this cleanser will remove any excess oil from your first cleanse, tackle dehydration in your T-zone, and it won't aggravate any dryness around the circumference of your face, either. A real hero product on a budget and, if you're still worried about dry patches, fret not, because we can (and will) address dryness in the serum and moisturiser stages.
3. Toner
Once you've cleansed, a toner is a really good point in your routine to try and exfoliate any congestion. This can mean excess sebum (oil) and dead cells on the surface of the skin which, if left, could go on to clog pores and create acne.
These days, exfoliating doesn't have to mean rubbing the dear life out of your skin with micro beads and, to be quite honest, micro beads have a horrible impact on sealife aaand they're not exactly fab for your skin, either.
When it comes to combination skin, Dr. Ana warns not to over-exfoliate and recommends using a gentle AHA exfoliant (lactic acid, glycolic acid, mandelic acid etc.) two to three times a week. And, if your T-zone is really giving you a hard time (we feel you 😒), she advises using a BHA, like salicylic acid, across this area.
Note - don't use salicylic acid on any dry patches; it's an 'oil-loving' acid and, chances are, if you're presenting dryness in certain areas, you're already lacking oil/moisture there to begin with. Just on the T-zone, babes.
Skin care combination skin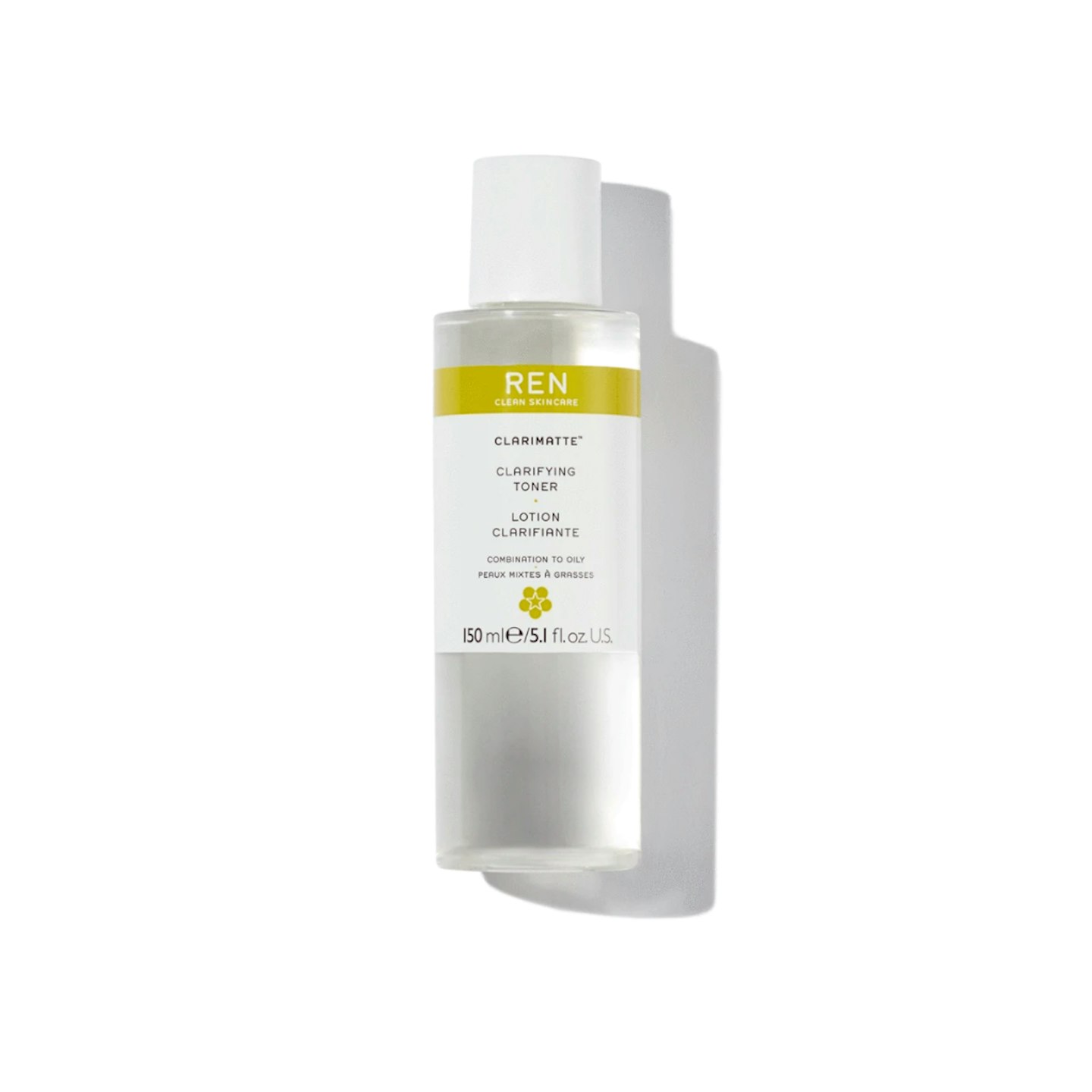 1 of 2
CREDIT: Look Fantastic
Ren Clean Skincare Clarimatte™ Clarifying Toner
Best mid-range toner for combination skinNot quite high-end, but it's effectiveness might as well be, because Ren's Clarimatte toner is everything you want in product for combination skin. It combines glycolic and lactic acid in a mild formula to help decongest any sebum blocked pores and, with antibacterial lavender, it works to prevent any future bouts of acne, too. What's more, with antioxidant grape and anti-inflammatory pineapple extracts, it'll help to tackle any redness and flare ups. An all-round good egg, if you ask us.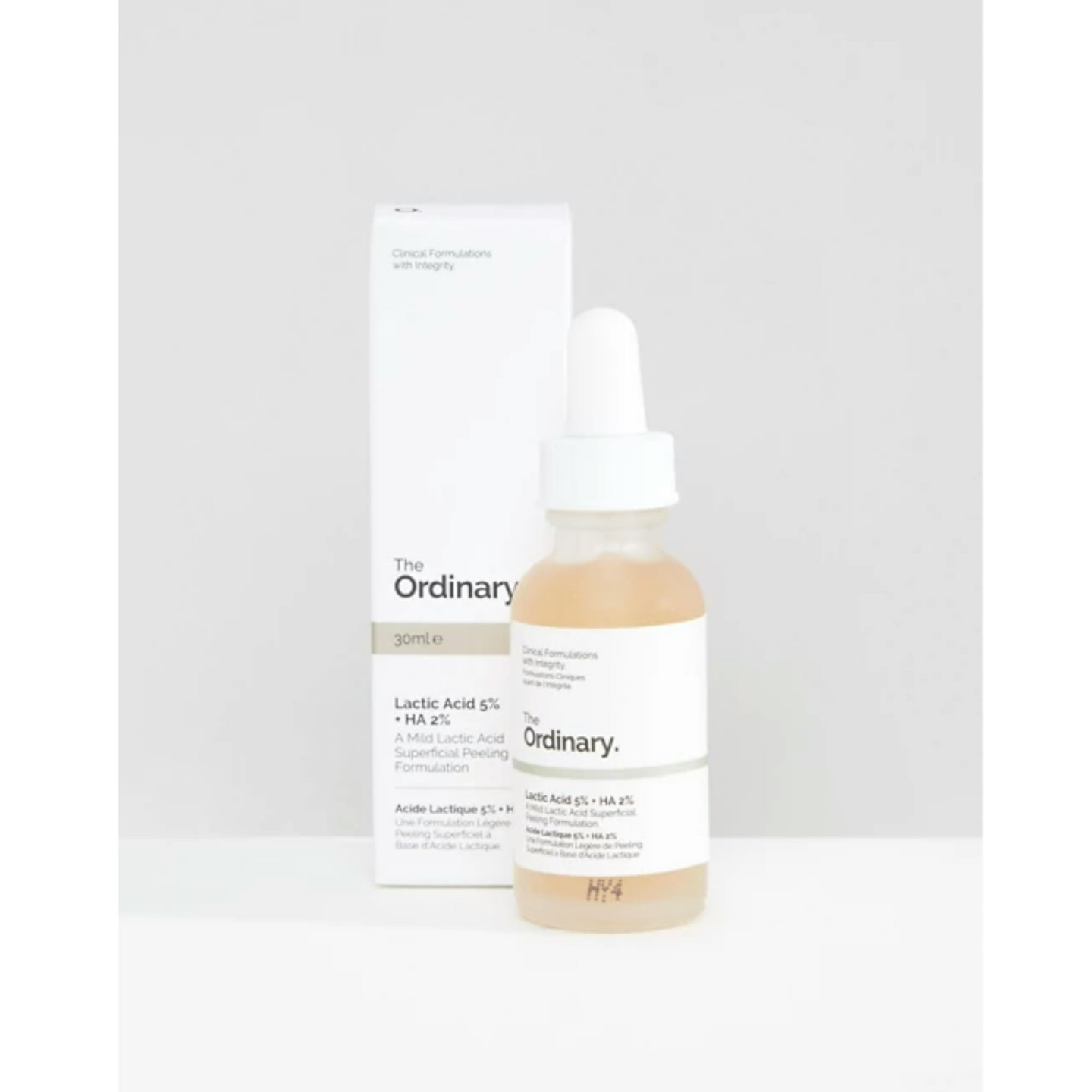 2 of 2
CREDIT: ASOS
The Ordinary Lactic Acid 5% + HA 2%
Best budget toner for combination skinLactic acid is one of the most gentle AHAs and hyaluronic acid is the product your dehydrated skin is craving. Together, the two ingredients prepare your skin for any upcoming mists, serums and moisturisers. With dead cells on the skin's surface banished (lactic acid) and the HA attracting hydration, any subsequent products' effectiveness will be heightened tenfold. Though, a word of warning from Caroline Hirons: be quick with your next steps as, naturally, the less you pay for an HA, the less successful it will be at boosting hydration. A.k.a, get your mists etc. on the skin ASAP before the HA stops doing its job ud83dude02.
4. Spray hydrate
An optional step, but one that can help to boost hydration (a big tick for those pesky dry patches) and, at the end of the day, feels a little luxurious - think spa, wellness retreat.
This is a good place in the routine to pack in hyaluronic acid and glycerin and, in the winter months, if your skin starts to feel a bit tight around midday, just spritz spritz and, boom - instant spurt of hydration.
Skin care for combination dry skin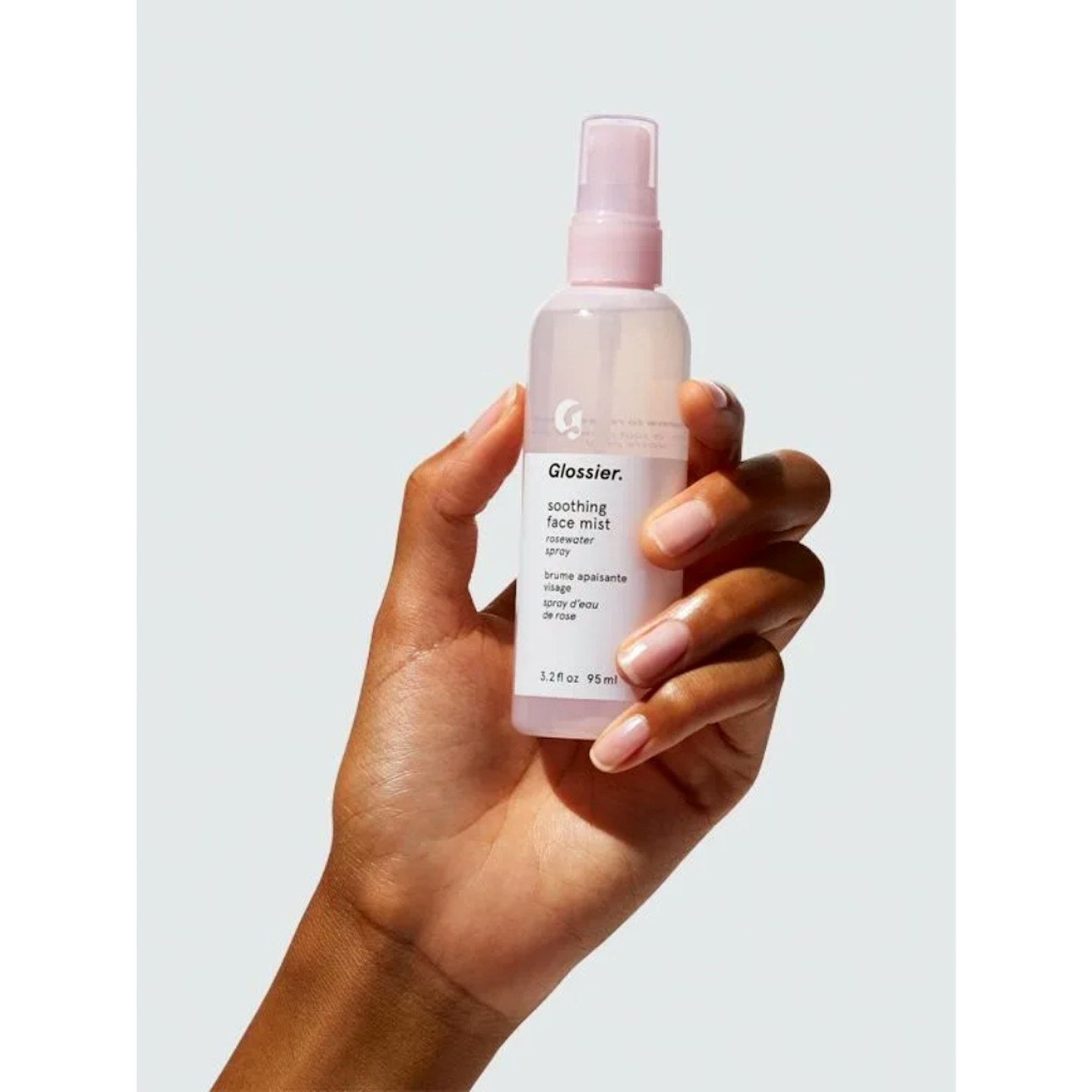 1 of 2
CREDIT: Glossier
Soothing Face Mist
Best mid-range face spray for combination skinSo, we did say that a face mist is optional, but if dryness is a real concern for you, we'd recommend making this step a staple in your routine - any moisture will be a helping hand, basically. For £13 we absolutely love what this spray has to offer, and it ticks two of CH's mist requirements: rosewater and glycerin. Plus, with this bad boy you'll get soothing aloe, which is never unwelcome in our house, tbh, especially if flare ups and redness are a close friend of yours.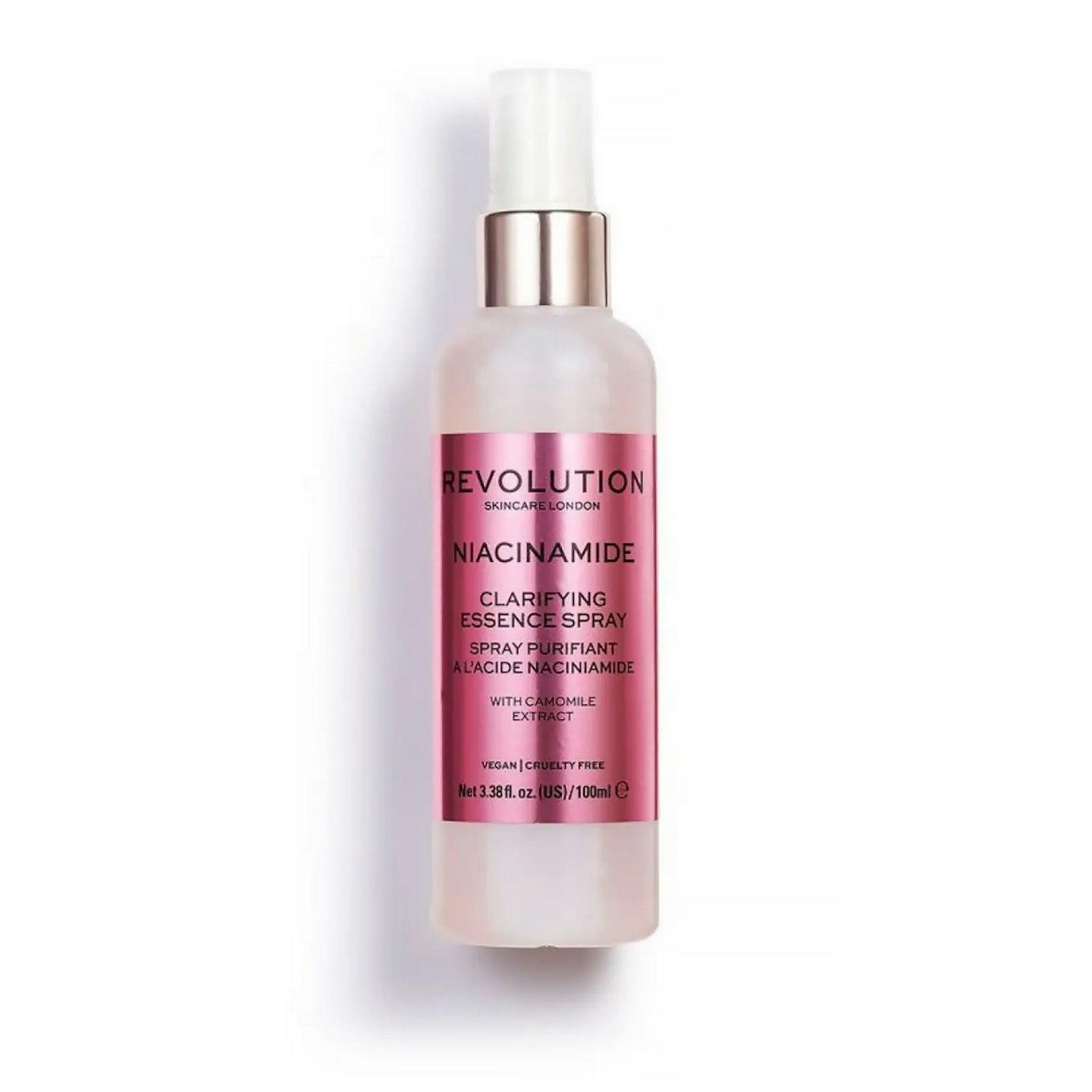 2 of 2
CREDIT: Look Fantastic
Revolution Skincare Niacinamide Mattifying Essence Spray
Best budget face spray for combination skinRevolution always come through with winning products on a budget and, for just £5.40 (it's on sale), you can't go wrong with this one. Bringing together glycerin (our fave) and niacinamide in a delightful formula that's going to champion hydration in your drier areas AND regulate your oil production in your T-zone. Love.
5. Eye cream
Yet another optional step, an eye cream is a luxury that sometimes time and money can't afford, but if crow's feet and fine lines are your nemesis, it might be something to start considering.
Alternatively, if you're a bit of an eye make-up connoisseur, this is a step that your under-eyes will seriously thank you for because, at the end of the day, dragging an eyeliner pencil over your lids isn't the most soothing of motions...
Skin care routine for combination skin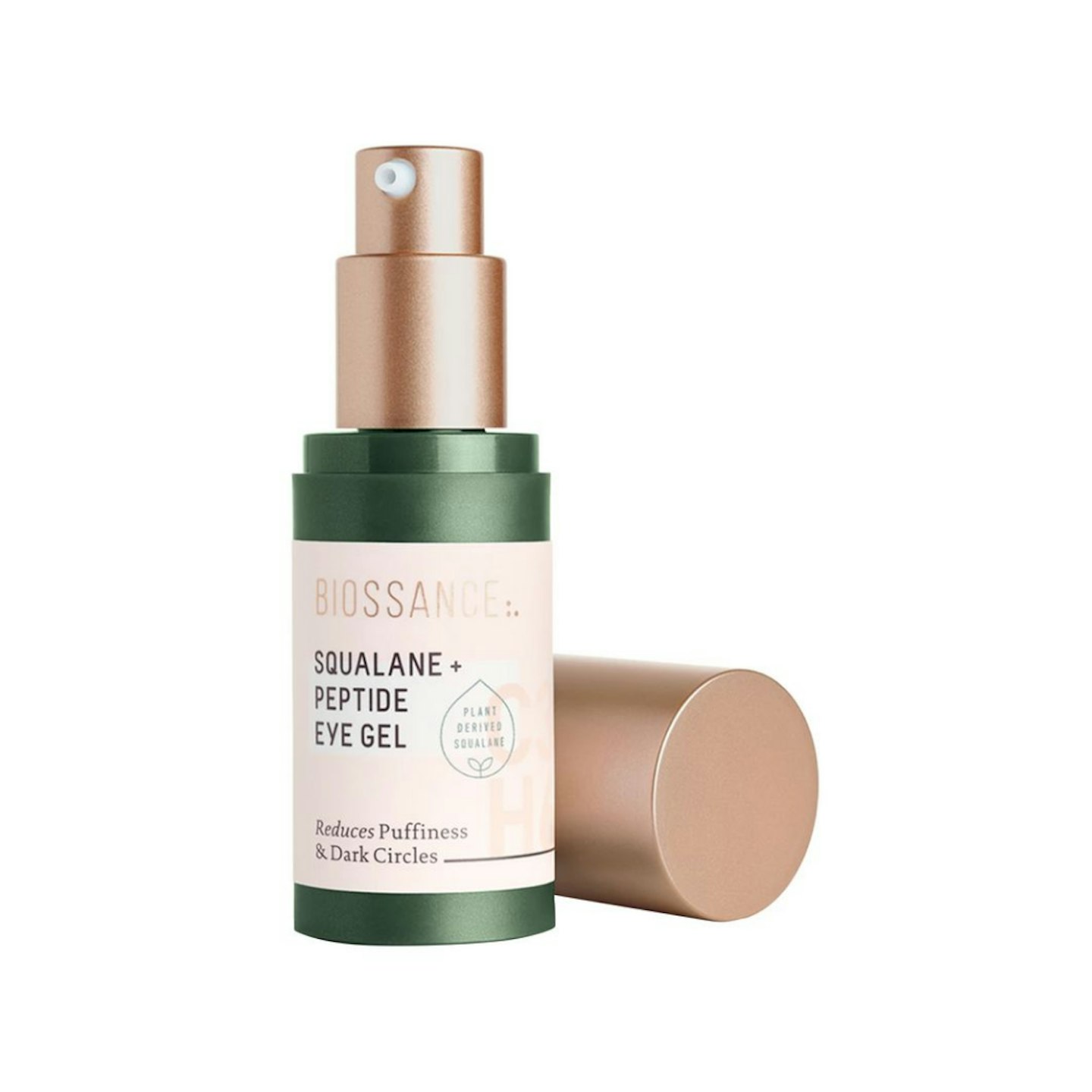 1 of 2
CREDIT: Cult Beauty
Biossance Squalane + Peptide Eye Gel
Best high-end eye cream for combination skinA real treat of a product, this eye cream from Biossance puts the pep(tide) back into tired under-eyes and it'll do it with the help of a whole host of dreamy ingredients. You really get your money's worth with this little pocket rocket and, with everything from HA to caffeine, it'll leave your under-eyes and eyelids looking refreshed and feeling quenched. If you fancy a splurge, give this a go.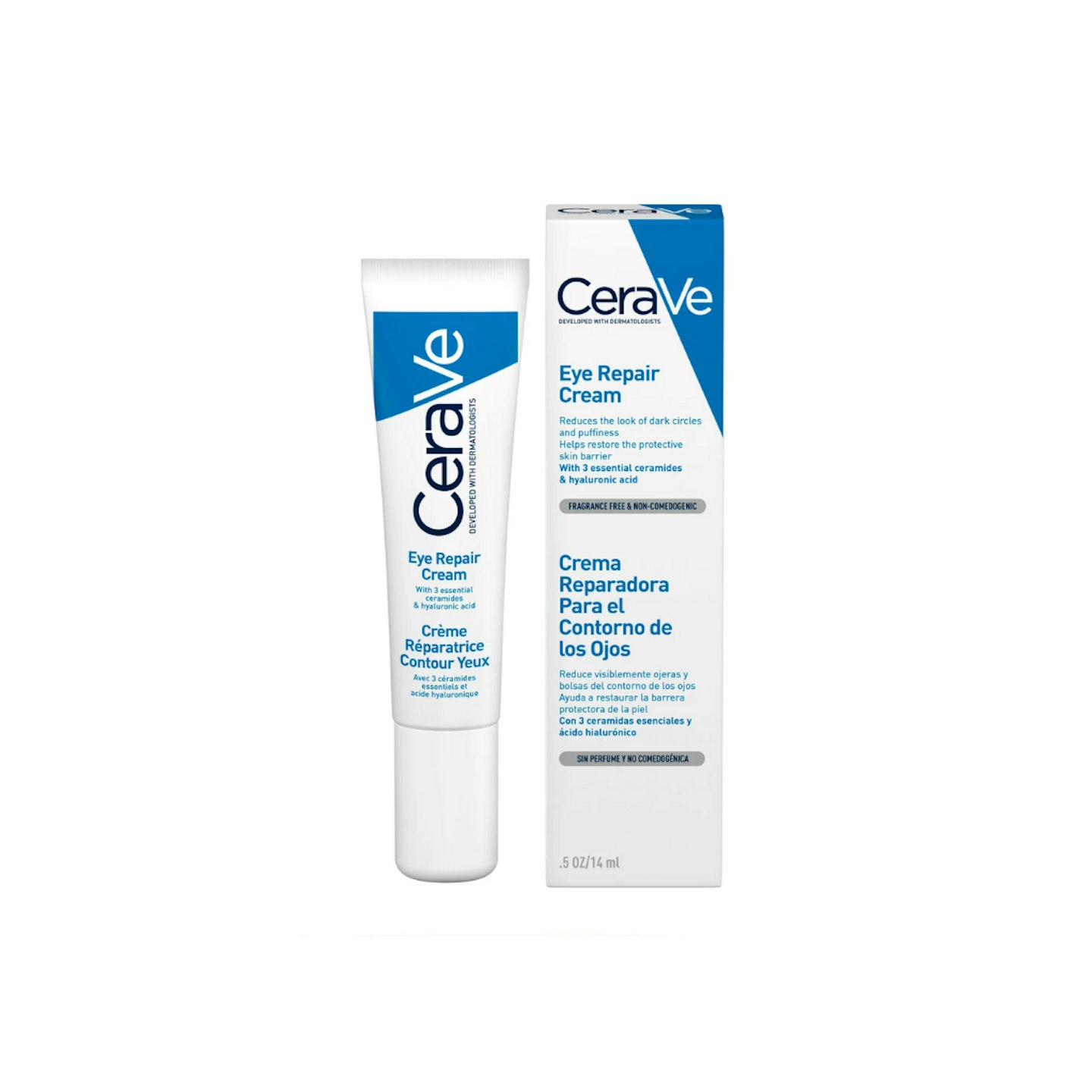 2 of 2
CREDIT: Feel Unique
CeraVe Eye Repair Cream
Best mid-range eye cream for combination skinWith three ceramides and hyaluronic acid to boost moisture and hydration in the eye region, for £12, this cream from CeraVe is a real hero product, much like everything else this brand releases. Plus, with niacinamide in a non-comedogenic formula, you don't need to fret about the consequences of this potentially melting down onto the apples of your cheeks because, even if it does, it's not going to aggravate any existing shine. If anything, it'll help.
6. Serum
For combination skin types it's all about finding a healthy balance between "slap on the thickest moisturiser I can find" and "don't moisturise at all" - neither of which are optimal choices.
As Dr. Ana explains, "Combination skin is a mix between oily skin in the T-zone (chin, nose and forehead) and dryer skin around the cheeks," and so, she suggests adapting your routine to reflect this.
She says, "Applying a lightweight hydrating serum (humectant based) to your T-zone while using a heavier ceramide-based moisturiser to your dryer areas can be highly effective at balancing your skin concerns."
Combination skincare routine products
1 of 2
CREDIT: Amazon
Vichy Aqualia Thermal Rehydration Serum
Best high-end/mid-range serum for combination skinSkirting the boundary between mid-range and high-end, this serum is not shouted about enough and it's exactly what your T-zone is asking for. As Dr. Ana suggests, combo skin wants one thing in one area and another everywhere else (fussy b*tch), so use this for a boost of lightweight hydration in your T-zone (it is chocked full of HA ud83dude4c) and top up any dry patches with a rich moisturiser afterwards. If you still find your T-zone needs a little more moisture, why not try the Cetaphil Daily Hydrating Moisturiser in that area - it's light as air and should do the job no questions asked.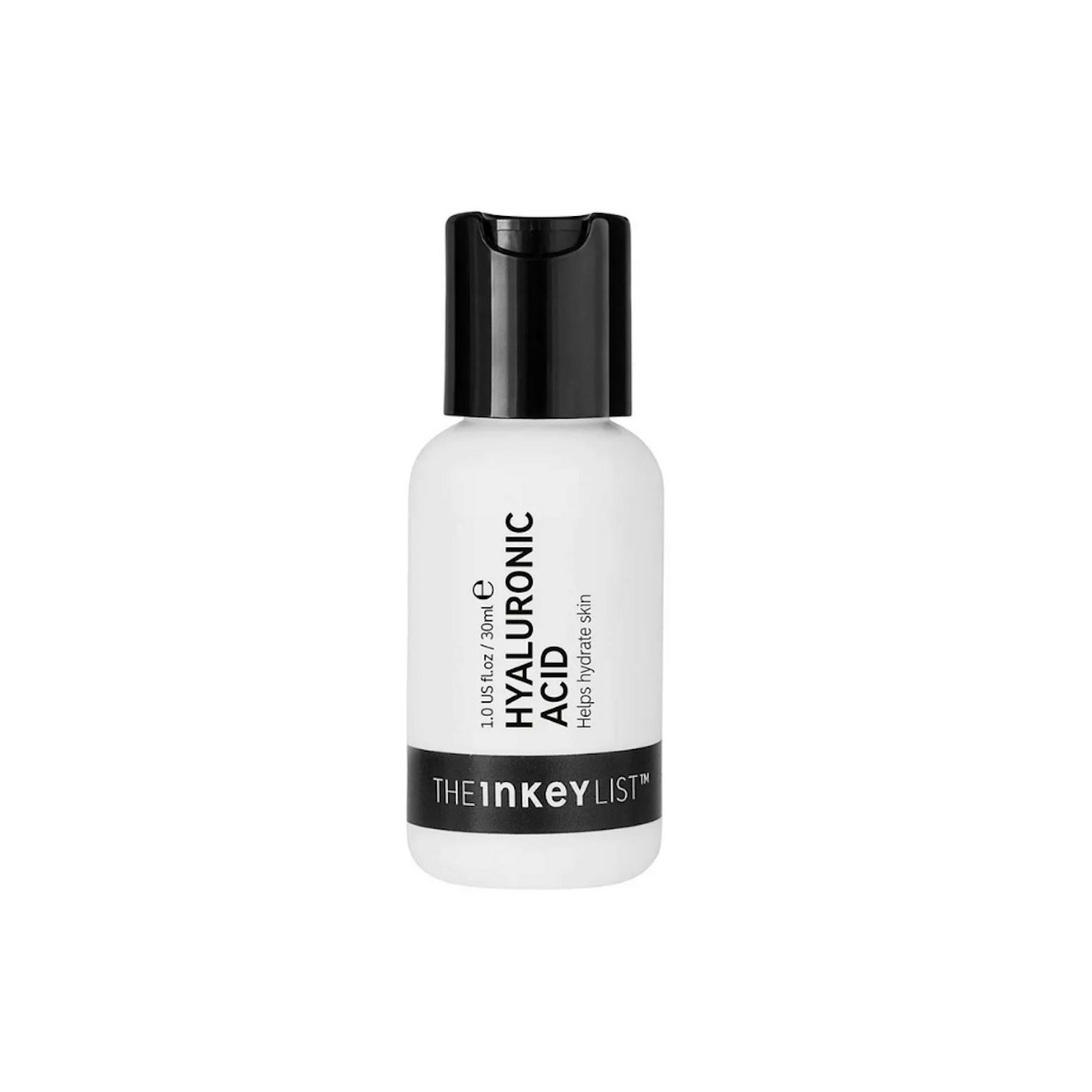 2 of 2
CREDIT: Cult Beauty
The Inkey List Hyaluronic Acid serum
The best budget serum for combination skinA very much 'does what it says on the tin' product, this serum from The Inkey List gives you exactly the level of skincare you'd expect for its price point and, in all honesty, that's not a bad thing. When you've got combo skin and you're trying to juggle two polar opposite skin concerns (seriously, why won't our skin just get its act together ud83dude12), you don't necessarily want to fork out on one does-it-all serum when it's only going to do-it-all for 50 per cent of your face . With radish root to help minimise excess oil and, obviously, hyaluronic acid, this product is going to tackle dehydration and shine buuut, it might not be best suited if dry patches are a real problem of yours. Essentially, apply as needed and we'll address any dryness in the moisturising stage.
7. Moisturiser
The moisturiser stage is where we're going to say one final buh bye 👋to any dry patches.
We're talkin' ceramides, we're talkin' fatty acids and, per Dr. Ana's recommendation, we're talking retinols, too.
"A gentle retinol will help to normalise skin function and balance oil production as well as dryness across the different zones," she says.
Best products for combination skin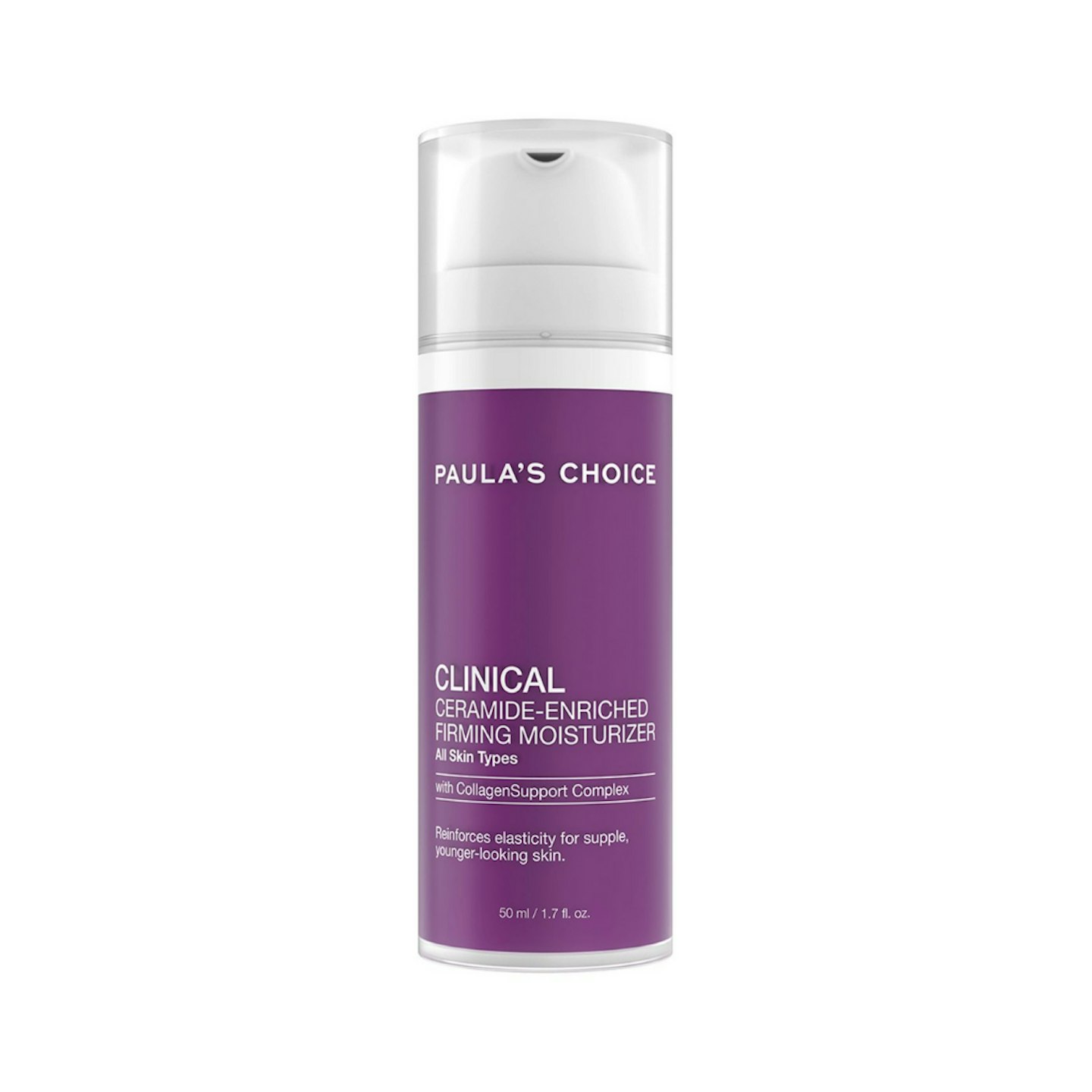 1 of 2
CREDIT: Selfridges
Paula's Choice Clinical Ceramide-Enriched Moisturiser
Best high-end moisturiser for combination skinPaula's Choice are absolutely smashing the options for oily and combination skin types and, though it might be a splurge, this moisturiser is no exception. With as many as FIVE ceramides and 0.1 per cent retinol, it fulfils Dr. Ana's requirements for dryness and, with added vitamin C, it should help to heal flare ups, too. Depending on how oily your T-zone is, this is probably too heavy to use all over but, if you're on a real tight budget, you could always try diluting it with a serum for a lighter feel in that area.
2 of 2
CREDIT: Amazon
Alba Botanica Hawaiian Aloe and Green Tea Oil-Free Moisturizer
Best budget moisturiser for combination skinMore of a 'you can use this all over' pick, this water-based moisturiser from Alba Botanica combines triglycerides (a big tick for dryness) with hyaluronic acid and decongesting papaya extra (an even bigger tick for oily areas) in a budget moisturiser that is just chef's kiss.
8. SPF
Last and definitely not least, sun protection factor.
Now, before you hit us with, "SPF breaks me out," or, "It makes my T-zone greasy," Dr. Ana has assured us that "SPF is your BFF," even__ if you, yes you, have an oily T-zone.
Plus, SPF doesn't have to be like that green (why was it green?) Nivea Kids sun lotion your parents used to plaster you in on a day at the beach.
You should be wearing SPF every day to prevent against ageing and, these days, you can buy ones that range from super lightweight with a barely-there feel all the way up to zinc barrier creams. Seriously, long gone are the days of white streaks across your nose and forehead, so get on the SPF hype.
Best products for combination skin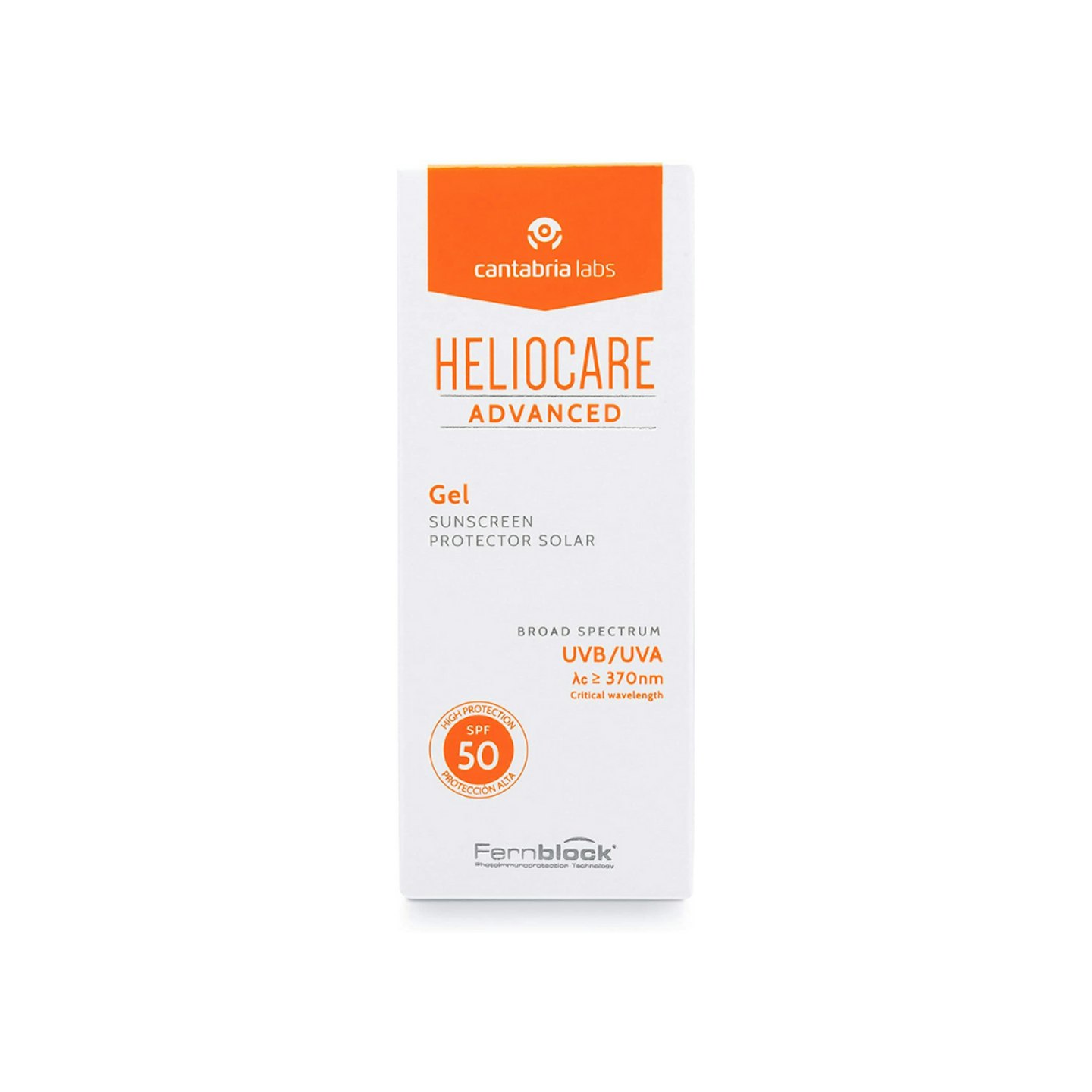 1 of 2
CREDIT: Amazon
Heliocare Advanced Gel SPF 50
Best mid-range SPF for combination skinThe cream formula is an absolute hero product for dry skin and this - the gel formula - is a perfect pick for combo skin types, especially if you've just applied a heavy moisturiser. Water-based and non-greasy, it won't add to any existing shine and, with added glycerin, it should help to maintain hydration levels across the face as a whole. Plus, Caroline Hirons loves it...enough said.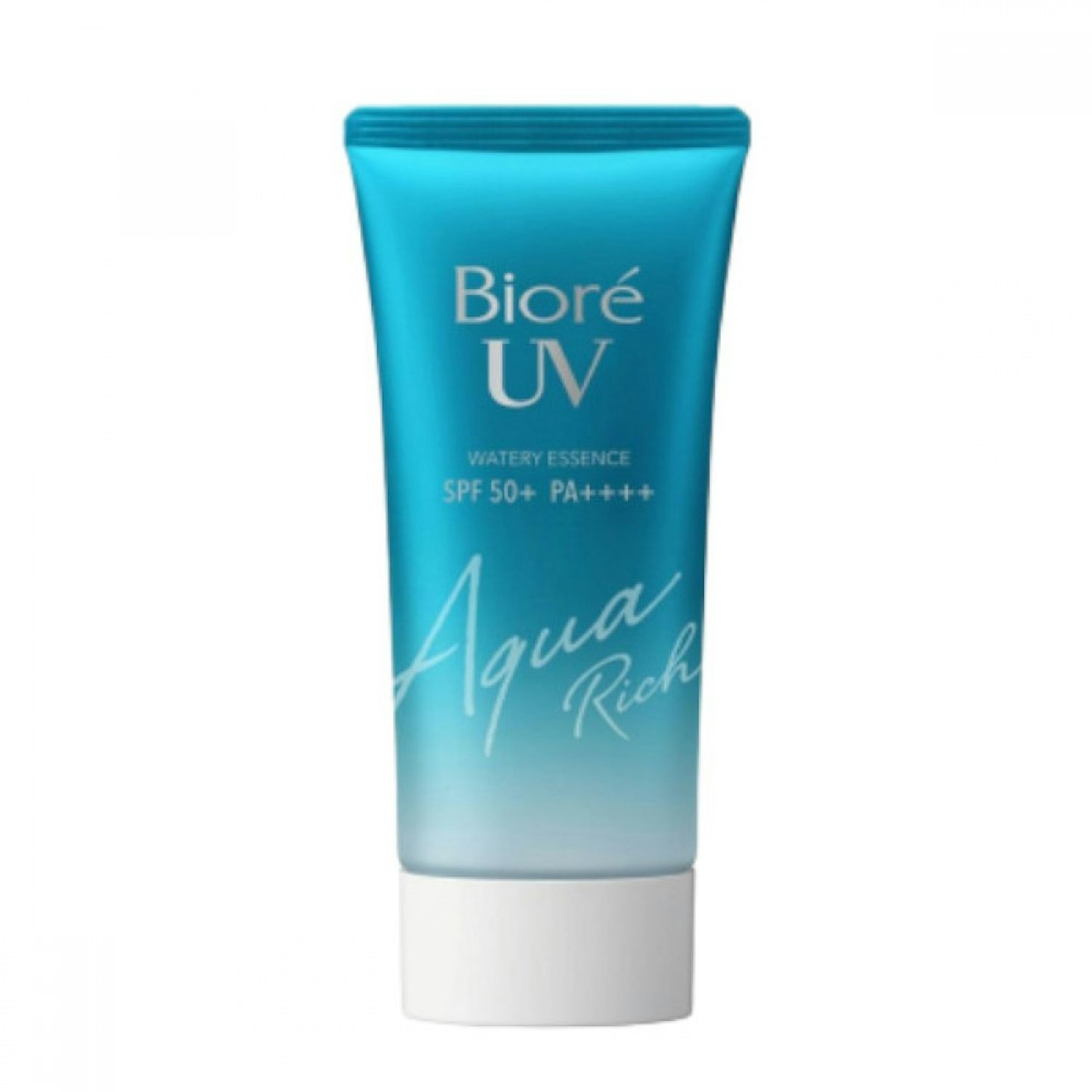 2 of 2
CREDIT: Ebay
Biore UV Sunscreen Aqua Rich Watery Essence SPF50+ PA+++
Best budget SPF for combination skinA firm favourite of Sali Hughes, don't be put off by the Asian packaging (it seems to come from abroad on every site we've spotted it ud83eudd14) because this is an absolute bargain for what you're getting. SPF 50 (get on that anti-aging hype, hun) with hyaluronic acid in a water-based formula? We'll have ten, please.
WATCH: 'People confuse me with Elle Fanning!' Chloë Grace Moretz + Michael Peña | Tom & Jerry
READ MORE
Skincare simplified: The best routine for oily, dehydrated skin
What is combination skin?
Combination skin is usually signified by increased oil production in the T-zone (i.e. a shiny/greasy looking nose, forehead and chin) paired with dryness around the circumference of the face (i.e. flaking/dry patches across the cheeks).
These dry areas lack lipids (natural fats - e.g. ceramides) and lose the ability to retain moisture. While the circumference of the face may feel 'dry', combination skin types can still experience 'dehydration' all over, even in the T-zone.
When skin is dehydrated, rather than dry, it lacks water and, though it may appear shiny, this doesn't mean it is hydrated.
As Dr. Ana explains, "Dehydration can happen to anyone, even the oiliest of skin types.
"In these cases, it can even cause an overcompensation where the skin starts to produce even more oil to compensate for the lack of moisture. Sometimes the dehydration and oiliness can even cause or worsen acne."
Good skincare routine - what IS a good skincare routine?
As most things are, this question is subject to fluctuating opinions and, of course, depends on your skin type.
And, to that we might add, as Caroline Hirons frequently tells her loyal skincare followers: "If it ain't broke, don't fix it," a.k.a, if your skin appears healthy given how you currently treat it, then you must be doing something right!
For the rest of us, here's our in a nutshell guide to a 'good' skincare routine:
Cleanse morning and night (twice if you're already wearing make-up and/or SPF), use a toner to prep the skin (exfoliate away dead skin etc.), add a serum or oil to target your skin's concerns - see above -, followed by a moisturiser and ALWAYS an SPF, even if it's cloudy.
Eye creams and hydrating mists are an extra, but if fine lines, dehydrating and the rest are a particular concern of yours, then you might think about adding them to your arsenal.
Finally, you absolutely do not have to take out a mortgage to curate a 'good' skincare routine.