Let's talk about The Inkey List.
Cult Beauty describes it as "advanced skincare for the price of a couple of coffees" and, tbh, yeah, that's what it is.
We're talking all the hall of fame skincare ingredients - niacinamide, hyaluronic acid, vitamin A - stripped back and made accessible to even the most frugal of skincare shoppers.
Sounds too good to be true, right? Well, the thing is, it kind of is.
Now, before you hardcore Inkey List fans jump down my throat, hear me out. I love The Inkey List, everything I've tried from this dream of a brand has changed my skin for the better. Salicylic Acid Cleanser - love it, Retinol Serum - love it. The only problem is, like The Ordinary, these dreamy budget entryways to skincare are almost always out of stock.
The Inkey List's most coveted product is arguably its Caffeine Eye Cream and, above all their other magic creams, this one is always impossible to get your hands on.
It's no surprise really, even Caroline Hirons loves it - she put it in her Spring CH kit (which I waited online for three hours to buy and still didn't manage to get my hands on cry).
So, after much misery and sadness, I decided to move on from The Inkey List's gold dust eye cream and find a replacement. And, boy, have I found a good one.
Not only does the Q and A Beauty Caffeine Eye Serum have the same holy grail effect as The Inkey List's, but it's actually cheaper (you are welcome).
Yep, for just £6.50 you can wake up to gorgeously de-puffed eyes and, as if this gem of a find wasn't selling itself already, the Q and A Beauty Caffeine cream is vegan, too.
The active ingredients in Q and A Caffeine Eye Serum work together to help reduce the appearance of ageing around the eyes by toning delicate skin and dark circles. Simply apply the serum to the under-eye area every morning and night to see results. And boy will you see results.
Shop the Inkey List dupe: Q and A Beauty Caffeine Eye Serum
SHOP the Q and A Beauty Caffeine Eye Serum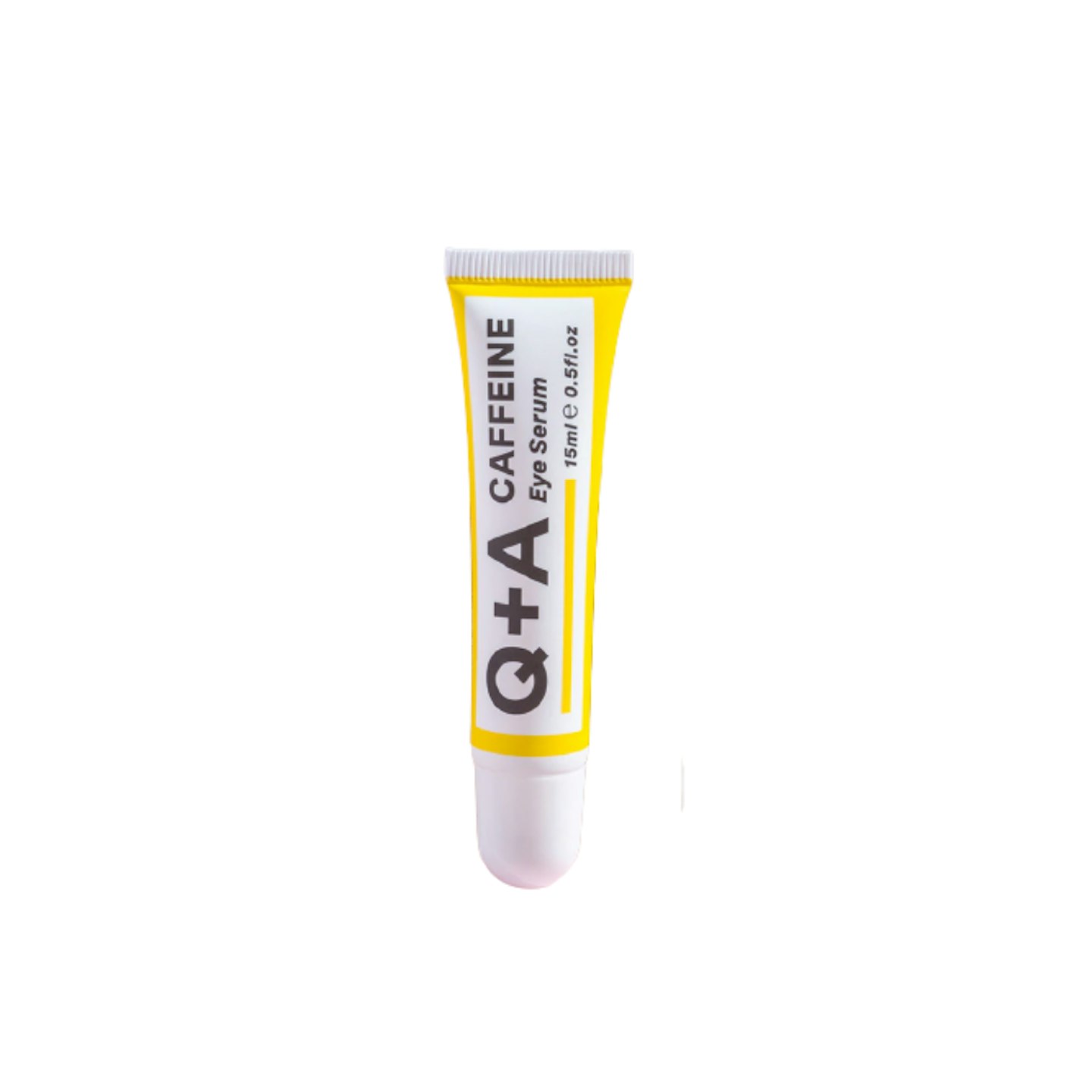 1 of 1
CREDIT: Amazon
Q+A Caffeine Eye Serum. An eye serum to boost circulation and de-puff the under eye area 15ml/0.5fl.oz
Enriched with green tea and pomegranate extract, this caffeine serum will brighten AND soothe under-eyes for a quick de-stress fix. It's a no brainer, really.
Delicately apply to the under-eye area. Dab any excess liquid using your fingertips. Use morning and night.
So sit back, relax, and wait for that delivery box to arrive on your doorstep because the gift of brighter under-eyes is on its way to you.
WATCH: Love Island's Priscilla Anyabu: "They're going to think I'm too dark - no one will pick me"
Now! More news!
Dress ready for a Christmas together again with the latest Tu Clothing collection
The best acupressure mats and all the fab benefits they offer
How does a caffeine eye cream work?
The caffeine ingredient in skincare works to constrict blood vessels. What does this mean? Essentially, on areas on the skin that are naturally more red and/or puffy, a little bit of caffeine can help to 'constrict' the blood vessels underneath and, as a result, reduce the dark circles and inflammation. Just like magic.
What do beauty lovers say about caffeine eye creams?
Beauty bloggers love a caffeine eye cream, Inkey has five out of five stars on Cult Beauty, which is a pretty big deal.
"This eye cream is wow. I just used it twice, I only had 2 and half hours of sleep, and I looked so rested. It sort of flattens the puffiness and really makes you look wide awake", said one reviewer.
Another said, "I am very pleased with this purchase, and will reorder. It's not a miracle worker but has definitely reduced my eye bags after a few weeks of use. I like the consistency and feel of the product on my skin as well."
What causes under-eye dark circles?
Though there can be many reasons you might have dark circles under your eyes, in the modern world, one common possibility is, in fact, screen time. Yep, staring at a screen can encourage your under-eye blood vessels to become inflamed and create dark shadows. Sunlight is another cause of dark circles because the skin beneath your eyes is so thin, it's especially prone to sun-induced pigmentation, too.