Okay, let's be real - finding the best leggings to actually get you in the mood for that gym session can be pretty impossible, but not with Gymshark leggings. Buttery, soft and *definitely* not tugging on any lumps or bumps, we just want something that fits right, and Gymshark is basically the best in the business and loved by celebs all in one.
There's a reason why A-listers like Sofia Richie Grainge and Kendall Jenner have been spotted in a pair of Gymshark leggings on their errand runs and papped en route to the gym. To put it lightly, these gym leggings actually work. Or, werk as you might say.
The best Gymshark leggings, at a glance:
Best everyday Gymshark leggings: Everyday Seamless Leggings, £35 on Gymshark
Best affordable Gymshark leggings: Training Leggings, £30 on Gymshark
Best Gymshark leggings for workouts: Vital Seamless 2.0 Leggings, £45 on Gymshark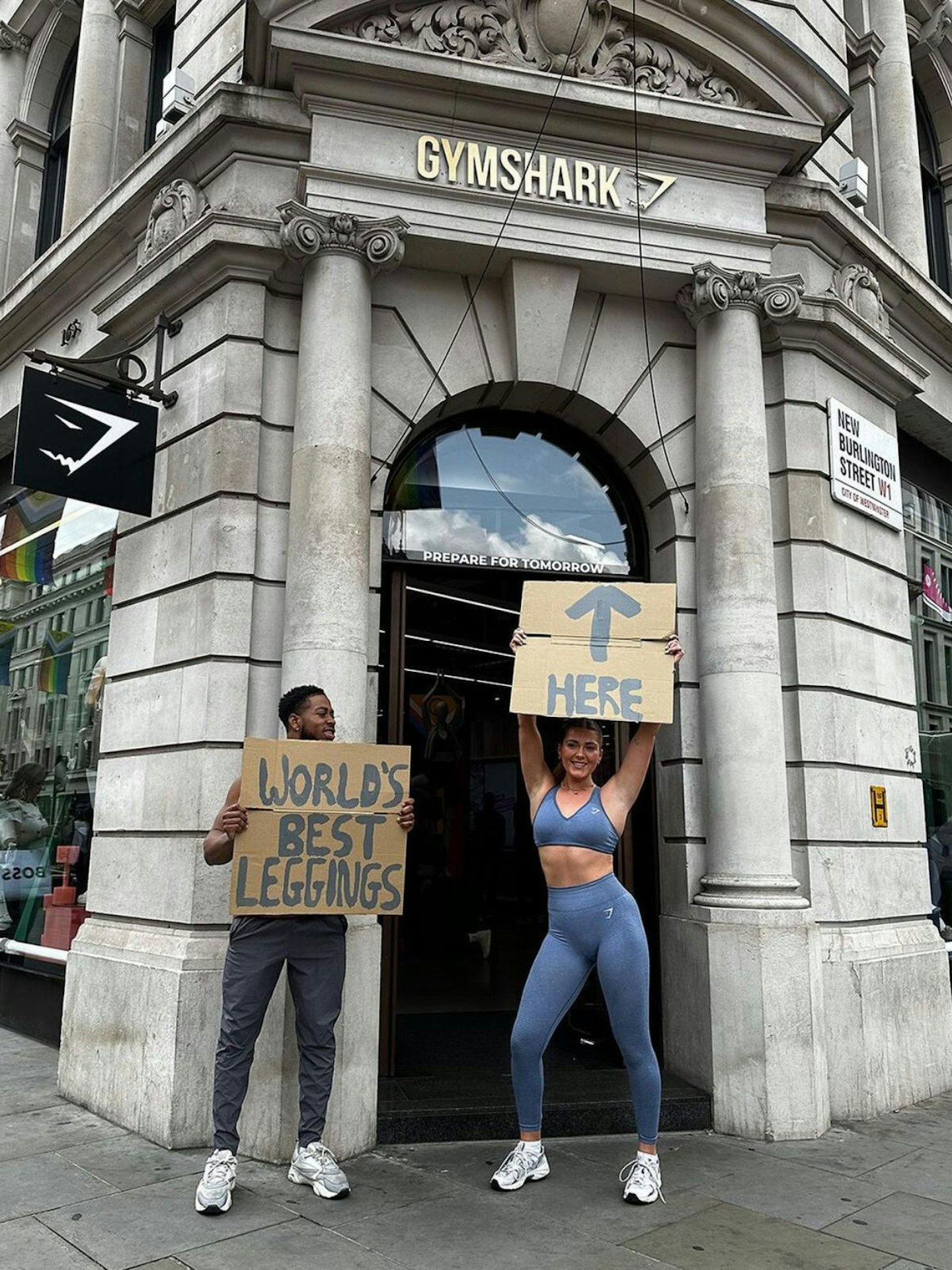 And the truth is, Gymshark have a whopping selection of leggings to choose from. From running leggings to those that are going to support you through weightlifting, there's something for everyone. Not to mention everyday seamless leggings AND a pair with pockets. Yes, you read that right - leggings with pockets.
Although we all know that black leggings are the go-to, Gymshark also has a whopping amount of colours and prints to choose from and we've got a complete guide to what you should be buying, just check out the collection below.
We'll be ready for the gym in no time - or, just to run errands and get an iced coffee tbh.
SHOP: The best Gymshark leggings to buy, tried and tested
Best everyday Gymshark leggings
Description
If you're looking for a pair that you can do everything no matter what the day has ahead, these
Pros
Great for causal and everyday wear
Lightweight, stretchy material
Seamless finish
Cons
Not suitable for high intensity workouts
Best affordable Gymshark leggings
Description
The clues in the name, these Gymshark Training Leggings are perfect to kickstart any gym exercise
Pros
Great value-for-money, affordable option
Available in loads of colours
Cons
Not as fitness-effective as other leggings
Best Gymshark leggings for workouts
Description
When it comes to gym leggings, you'll want to think about investing in a pair that come up
Pros
Over 15 colours to choose from
Seamless finish
Appropriate for intense workouts
Very comfortable
Cons
Style may not be everyone's first choice
Best Gymshark leggings for weightlifting
Description
Into your weights? Gymshark has a set of leggings for that too. These Adapt Fleck Seamless
Pros
Great for weights and reps in the gym
Seamless design
Ribbed waistband for support
Cons
Fleck design may not be everyone's style
Best Gymshark leggings for high-intensity exercise
Description
Okay, so you go to the gym and HIIT, spin or high-intensity reps are your jam. Sometimes we just
Pros
Great for heavy exercise and sweaty workouts
Breathability and cooling technology
Full-length leg
Cons
Quite heavy for an everyday legging
Best retro Gymshark leggings
Description
The Gymshark Legacy range is all about going back to the roots of the brand's history, including a
Pros
Unique Gymshark design
Supportive waistband for lifting
Shaping buttock area
Cons
Can be too tight if you're doing lightweight exercise
Best shaping Gymshark leggings
Description
If you want everyday leggings with a bit more shape, these Gymshark Crossover Leggings are the one
Pros
Buttery soft finish
Crossover waist acts as a shaping element
Perfect for everyday
Cons
Not so suitable for heavy exercise
Best high-waisted leggings
Description
Nobody wants to be rocking really low-waisted leggings at the gym, so look to these Flex
Pros
High-rise waist with seamless fabric
Unique waistband design
Suitable for the gym
Best supportive Gymshark leggings
Description
These Gymshark Sport Sculpt Leggings are both functional as they are stylish, with curved seam
Pros
Mesh panels for breathability
Stylish design with curved seams
Best Gymshark leggings with pockets
Description
What would make Gymshark leggings just that bit more functional? Well, pockets of course. Pop
Pros
Two side pockets make for an efficient design
High-waisted for full support
Cons
Not a seam-free, so may be less comfortable
Which Gymshark leggings should I buy?
When it comes to Gymshark, it's safe to say that there are a LOT of choices. Even those looking for maternity leggings can get involved in the fun - just make sure you're looking for a seamless choice for ultimate comfort.
It all depends on what you're looking for, so with our handy guide below (and a full review of the collection above), you'll be able to choose the perfect pair of leggings for you. Here's what to look out for when shopping for Gymshark leggings, and it all depends on your intended use...
For everyday lounging and running errands: Look to Gymshark staples that are super comfy and flexible like the Everyday Seamless, Training or Crossover leggings.
For high-intensity and weightlifting: Gymshark has a few collections that are intended completely for workout use, and you'll find these in the Sweat (of course), Adapt Fleck and Vital 2.0. These all have different features to really push your workout like breathability, seamless finish and cooling technology. We'd highly recommend these if you're an avid gym-goer or fitness freak.
For light exercise: If you want something that's a little bit on the in-between - think totally comfortable but also functional - then Gymshark has a pair for that too. The Sport Sculpt, Flex High-Waisted and Training leggings are all appropriate choices.
Caitlin Casey is a Senior Beauty & Fashion Products Writer for heat, Closer, and Grazia. She covers shopping, women's lifestyle, popular culture as well as all things trending.